A traditional afternoon tea in Norfolk's historic capital of Norwich is a real treat, perfect for celebrations and special days, or to end a day of shopping in style.
Widely held to offer the best afternoon tea in Norwich, I decided to treat my step-mum and sister to afternoon tea at The Assembly House, a Georgian boutique hotel in the heart of the city.
But is The Assembly House themed afternoon tea as good as they say? Find out in my detailed review.
RELATED POST: The Ultimate Local's Guide to Norfolk England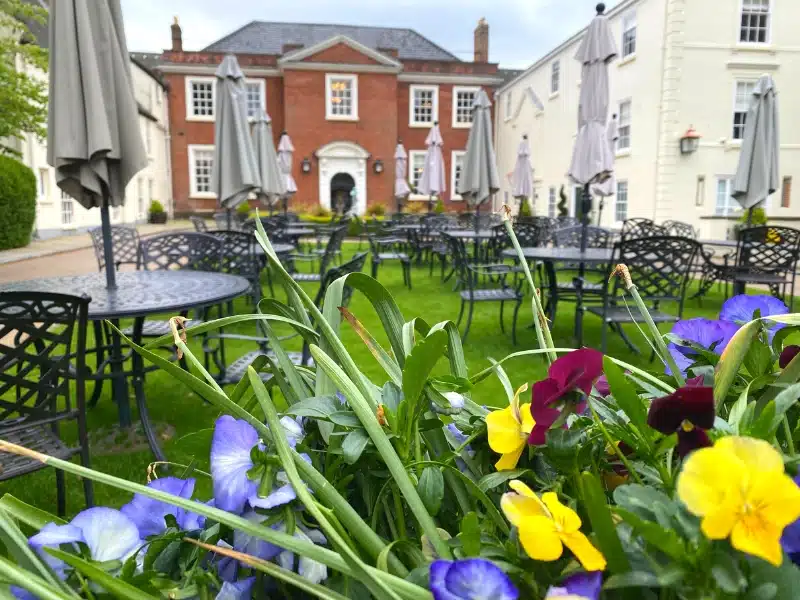 This post may contain affiliate links. If you book something I recommend, I make a small commission without affecting the price you pay!
My step-mum, sister, and I all have birthdays within a few weeks of each other and we decided to celebrate these special days together on my actual birthday with a day of shopping and afternoon tea in Norwich.
Where better to go than The Assembly House for one of their themed afternoon teas? I'm not sure what makes an afternoon tea expert, but I have enjoyed this unique English ritual in some of the United Kingdom's top hotels, like the Ritz in London, Pennyhill Park in Bagshot and Lime Wood in the New Forest.
As a Norfolk local, I've also relished delicious homemade cakes and scones served in tea shops and cafés around the county, so although no expert, I know a good afternoon tea when I see one!
RELATED POST: Afternoon Tea in Norfolk – 15 of the Best Places
When Do The Assembly House Serve Afternoon Tea?
Afternoon tea is served at The Assembly House between 12 noon and 3.30pm daily.
How Much is Afternoon Tea at The Assembly House?
In 2023, the cost of afternoon tea at The Assembly House is £29.50 per person and £59 for two. There is also a 10% service charge automatically added to the bill.
Children's afternoon teas cost £17.95 for a smaller version of the tea and are available for guests aged 12 and under.
You can also purchase afternoon tea gift vouchers as a special treat for a friend or loved one.
Booking at The Assembly House
Booking was easy via their website, which takes you through to the Opentable booking engine. Pick a date and time to see availability and select afternoon tea. You can then pop in your details and add any special requests or occasions. I let them know I was celebrating my birthday.
The day before the booking, Opentable sent an automated email to me to ask me to confirm we would be attending, which I did.
You can also book a table by calling the hotel on 01603 626402.
Our Afternoon Tea Experience
Our first experience of afternoon tea at The Assembly House was disappointing, with slow service and lacklustre food which did not live up to expectations.
I emailed The Assembly House to share my feedback, and to their credit, the Hotel Manager got in touch to express his disappointment that their "usual high standards had not been met" and asked us to give afternoon tea another try as his guests.
I always think the way a complaint is managed is the measure of the service, not that the problem happened in the first place.
Every hotel and restaurant has issues at times – what is frustrating is when those issues are ignored or brushed under the carpet, so top marks to The Assembly House for dealing with the problem in the right way. My review below is based on our second visit.
First Impressions
The exterior of The Assembly House is impressive, with wrought iron railings and gates between the front of the property and street level. There are tables, chairs and parasols set up on the front lawn, and when the weather is kind, which it sadly was not for us, you can enjoy afternoon tea al fresco.
As you enter through the outer double doors there are a few stone steps into reception, which is close to the inner doors and doesn't have a lot of room to spare if there are people in front of you. We had to wait a few minutes before a member of staff was free to acknowledge and welcome us.
The main tea room is gorgeous, painted in shades of pink with classical proportions and the original plasterwork on show. Sparkling chandeliers hang from the ceiling and large windows let in lots of light, showing off the Georgian origins of the building.
I would have loved to have seen snowy white table cloths and fine bone china in the tea rooms, but the tables, which are lined up in rows on either side of the central banquette, are bare marble and dressed in a minimal way, presumably to keep space available for all the afternoon tea accoutrements.
The table and all the settings felt clean.
On our original visit, there was also a birthday card on the table, which was a lovely touch.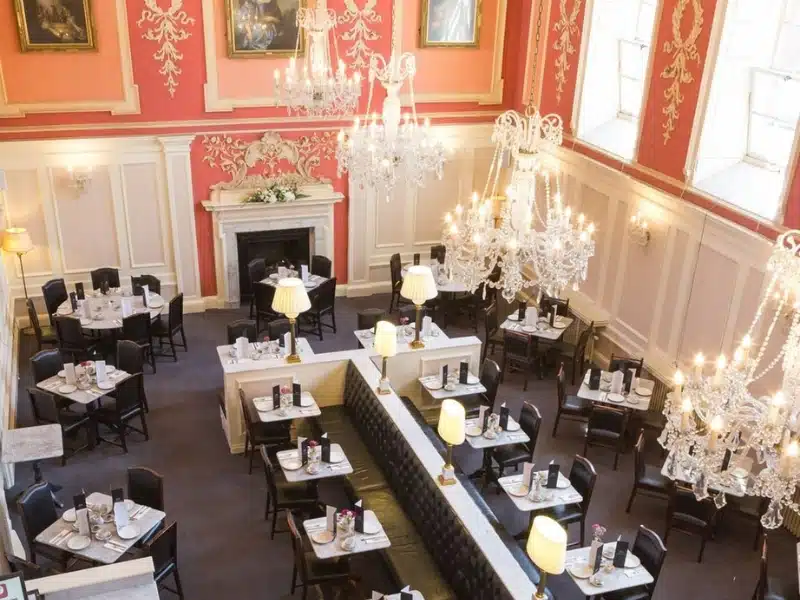 Service
The service on our second visit was 100% improved and the dining room felt well-staffed. We were asked regularly whether we needed top-ups for our tea, and our afternoon tea stand and scones were delivered promptly.
Our waitress greeted us and we were given the afternoon tea menu with details of the current theme, which was 'Sweet Shop'. The Assembly House changes themes every few months, with themes often relating to the time of year, like Christmas and Easter.
Afternoon tea at The Assembly House includes finger sandwiches, a selection of savouries, a variety of scones, a selection of miniature cakes, biscuits and sweet treats and as much tea and coffee as you can drink.
On the reverse were the menu, prices and additional drinks which are not included in the price and could be purchased separately, like cocktails and prosecco.
We were asked about allergies and our tea was organised on two separate plates, as one member of the party has an allergy to onions.
We were advised not to have the cheese scone as it contained chives and garlic, and some of the savouries were swapped or replaced.
On delivery of the afternoon tea stand, the waiter talked us through the plates so we knew what everything was, and then we were able to tuck in! We'd only had a very light lunch in anticipation, so we were pretty hungry!
The Food
The afternoon tea stand was full and there was definitely no shortage of food, with quantities on each level being generous.
The freshly made crustless finger sandwiches were in a variety of brown, malt and white bread with four fillings each; egg mayonnaise and cress, cucumber, whipped cream cheese and chive, Norfolk ham and milk grain mustard, and mature Cheddar cheese and Bramley apple chutney. The fillings were liberal and the bread fresh.
The savouries were delicious; a warm three cheese toasted sandwich in miniature topped with smoked tomato chutney, a tasty sausage roll, a crumbly warm Parmesan and pistachio shortbread, and Coronation chicken in a mini bridge roll.
It was nice to see the alternative no-onion bridge roll being filled with smoked salmon, which was a real treat.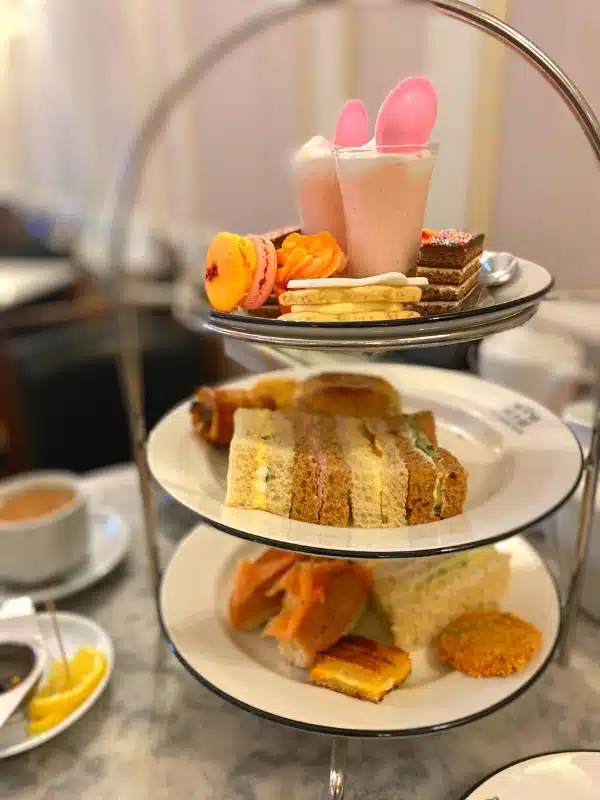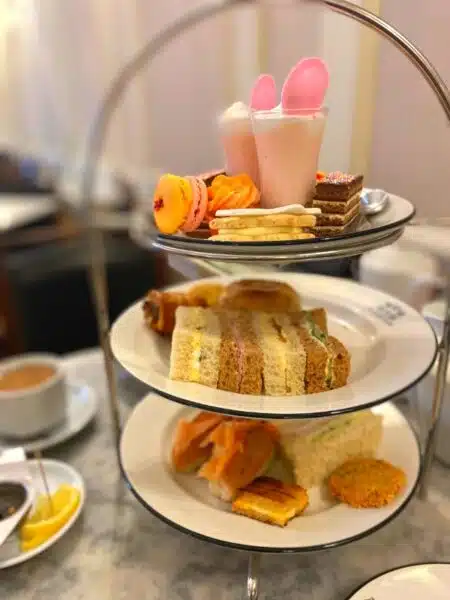 Next up were the scones, which come warmed, and two for each person. You can choose from fruit, plain or cheese scones served with thick slabs of butter, clotted cream and strawberry jam. Our scones were delicious, just warm enough and beautifully crumbly.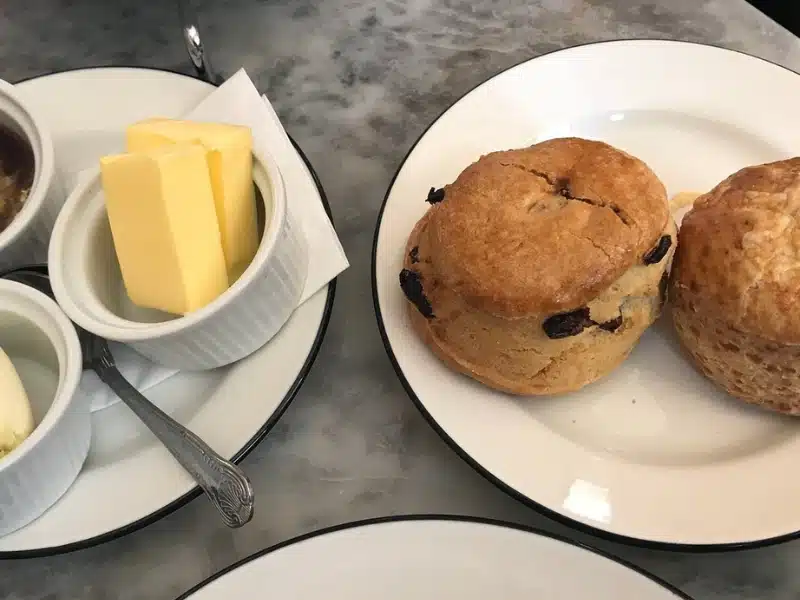 The top tier is where the Sweet Shop theme really kicks in, with brightly coloured mini cakes including a chocolate opera cake with sprinkles on top, a mini macaron, a miniature cupcake and a fried egg biscuit.
The cakes were delicious, but the Sherbert dipper in a shot glass topped with a flying saucer sweet was very sweet and we decided our sugar consumption was high enough for the day!
There was a wide choice of loose-leaf teas, including classics such as English Breakfast, Earl Grey and Lapsang Souchong, which were served in generous pots.
There was also a good selection of fruit and herbal teas and coffee such as latte, cappuccino and flat white.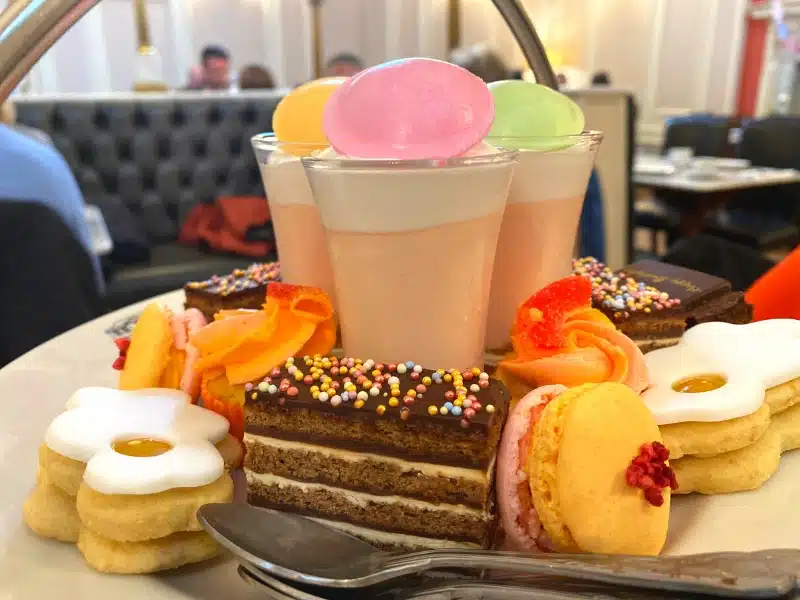 Value for Money
Even though we arrived hungry, we were unable to finish everything on the stand, and asked for the leftovers to be boxed up – I knew a man at home who would enjoy them!
Payment is not taken at the table, you take your bill, which came attached to a red and white sweetie bag filled with Love Hearts and Parma Violets, to the till.
A discretionary 10% service charge is added to the bill, 100% of which is shared equally between all front and back of house staff who work at the Assembly House.
Our second Assembly House afternoon tea was so much better than the first time. The service was friendly and attentive and the food was really tasty. We came away feeling that we'd had a really enjoyable experience, which offered good value for money.
So does The Assembly House offer the best afternoon tea in Norwich? It might, but I don't know until I've tried all the others!
Afternoon Tea Norwich Options
There are several other great places to enjoy afternoon tea in and around Norwich;
Biddy's Tea Room, 15-15a Lower Goat Lane, Norwich – Biddy's Tea Room is a vintage cafe with a warm and welcoming vibe and is a riot of Victoriana, offering homemade cakes and produce from their own bakery.
The Ivy Brasserie, 30 London Street, Norwich – The Ivy Norwich is located in the heart of the Norwich Lanes. Beautifully decorated with a colourful art deco vibe, afternoon tea here under the crystal chandeliers is stylish and decadent.
Maids Head Hotel, 20 Tombland, Norwich – The Maids Head Hotel is one of the oldest hotels in Britain, and serves an award-winning afternoon tea in Norwich city centre in their comfortable and stylish lounges.
Dunston Hall Hotel, Ipswich Rd, Norwich – just outside the city, Dunston Hall serves a delicious afternoon tea with Moet champagne or Hendricks gin, perfect for special occasions.
Alchemista Coffee Co, 4 St Gregorys Alley, Norwich – great coffee and possibly the best cake in Norwich.
Have you had afternoon tea at The Assembly House, or anywhere else in Norwich? Leave a comment so I can go and review their offer!
Love it? Pin it!