It's no surprise that Norwich is known as one of the best small cities in the world. Packed with medieval history, interesting architecture and top attractions, Norwich makes a fantastic destination for a day out or short city break.
There's plenty in and around Norwich to keep the whole family happy. Independent shops in both quirky and modern shopping areas, family friendly attractions, city gardens and museums, as well as it's very own castle, make Norwich a must visit Norfolk destination.
Add to that the nearby nature and wildlife rich Norfolk Broads, the glorious beaches and seaside resorts of Norfolk's coast, and plenty of award-winning Norfolk attractions, it's easy to see why Norwich is so popular!
This round-up of all the must-do things in Norwich and the surrounding area will help you plan your next trip, so here are my top Norwich highlights…
RELATED POST: The Ultimate Local's Guide to Norfolk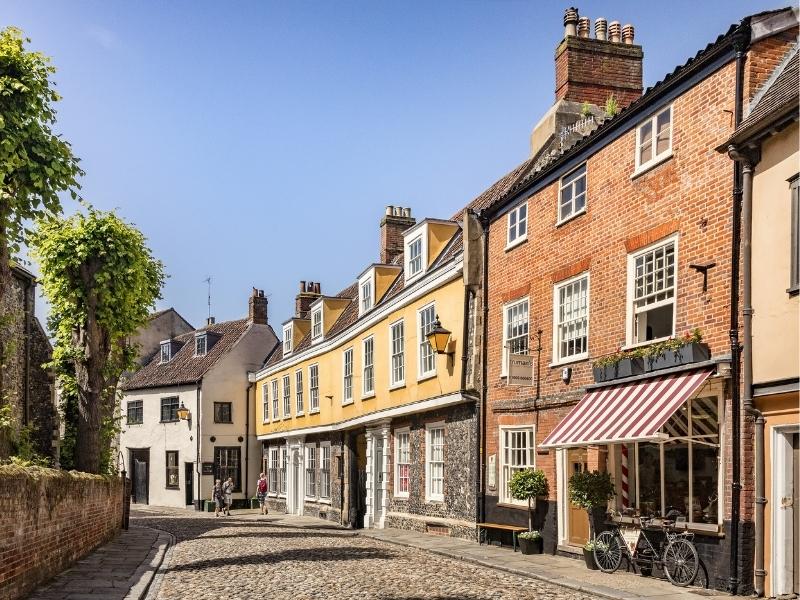 This post may contain affiliate links. If you book something I recommend, I make a small commission without affecting the price you pay!
The Best Things To Do in Norwich
Feast & Shop at Norwich Market
If you only do one thing in this pretty city, visit Norwich market, one of the oldest open air markets left in the country.
The 900 year old market is one of the top Norwich attractions, and is located slap bang in the middle of the city, sprawling proudly at the feet of the contemporary Forum building and Norwich's Art Deco city hall.
Think organic Norfolk fruit and veg, local home-grown flowers and food stalls selling everything from legendary fish and chips (Ron's, row D, stalls 94 and 95), fresh churros y chocolate to cakes and dressed Cromer crab. Grab your bite of choice and watch Norwich life go by.
RELATED POST: 43 Norfolk Farm Shops for Amazing Local Produce!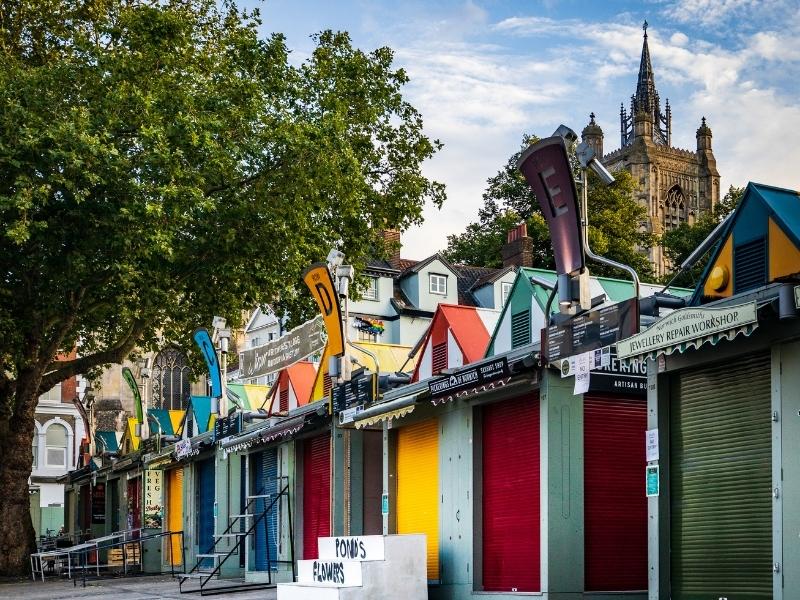 Tour Norwich Cathedral
Built by the Normans between 1096 and 1145, and unique for its soft creamy limestone exterior, Norwich Cathedral is a must see on your Norwich itinerary. The fine 96 metre spire, the second highest in England after Salisbury Cathedral, is also famous for its nesting peregrine falcons, which have become the city's most talked about residents.
With well-preserved Norman character, the Cathedral Quarter is a delightful place to visit for a few hours, especially when you also explore Tombland Alley, home to St. Ethelbert's Gate (1272) and Erpingham Gate (1420), which lead into the idyllic Cathedral Close, with its wealth of historic buildings, including the medieval deanery.
RELATED POST: 26 Pictures of Norfolk England to Inspire Your Trip!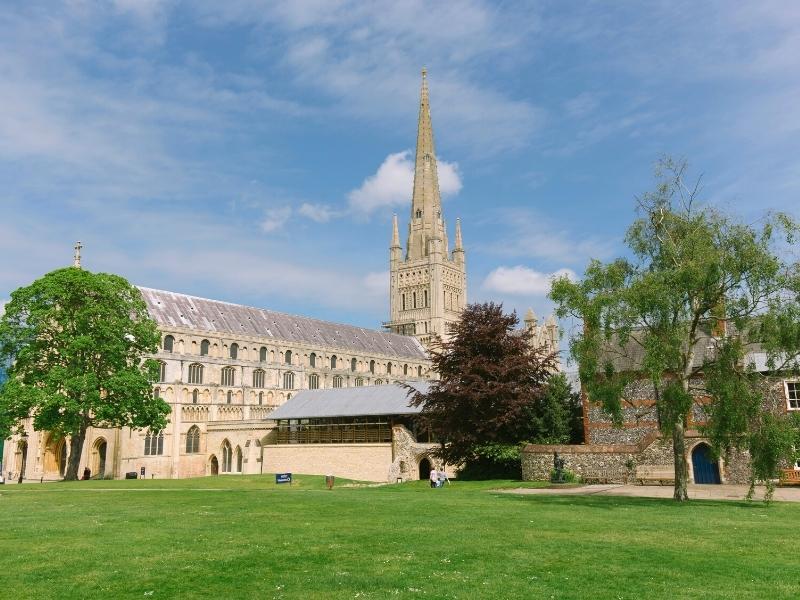 Visit Bishop's House Gardens
This garden in Norwich is actually the historic private garden of the Bishop of Norwich, and is a four acre oasis of colour and calm amidst the hustle and bustle of busy Norwich city center. Full of horticultural delights, you'll enjoy a few hours of respite here.
The Bishop's House Gardens are full of enticing areas including a fragrant herb garden, beautiful long herbaceous borders, a jungle walk, a bamboo walk, organic working kitchen garden, a wonderful wildflower labyrinth and extensive shrubberies containing many rare and unusual plants. There is even a hebe planted (and thriving!) from a sprig taken from Queen Victoria's wedding bouquet in 1840.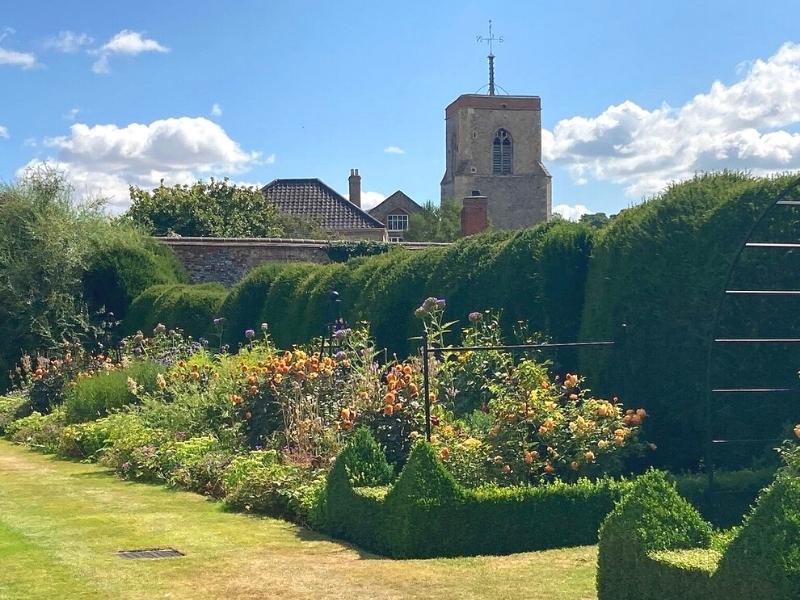 Stroll Elm Hill
The cathedral is close to Elm Hill, a picture-perfect medieval cobbled street near the River Wensum, which is lined with colourful and historic Tudor houses, many of them now pretty shops, restaurants, and cafes. A walk along Elm Hill is one of the best free things to do in Norwich.
RELATED POST: Walks in Norwich – 15 City Walking Routes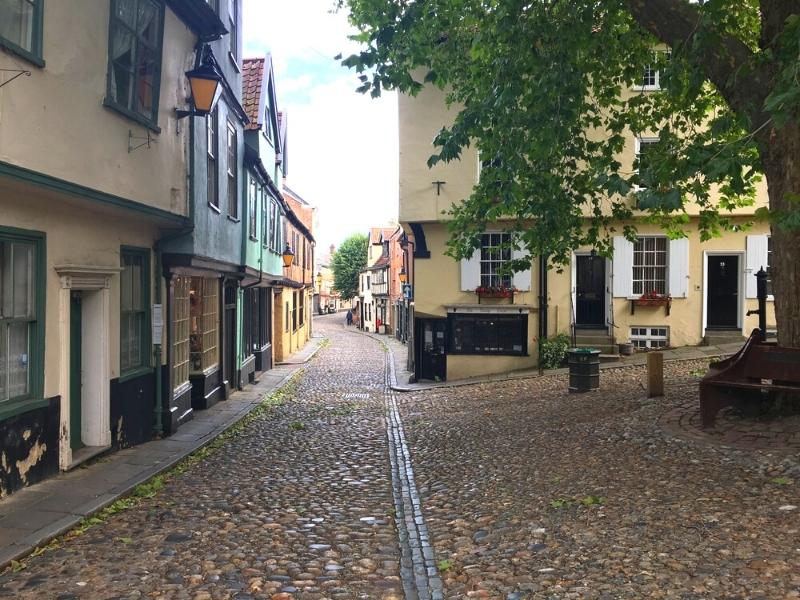 Take a Self Guided City Adventure
If you're looking for things to do in Norwich for families, the Norwich Mystery Treasure Trail is a detective game that's a great way to get kids interested in the history of the city.
Just download from Treasure Trails and follow the map to find clues and work out who has stolen a priceless statue from Norwich Cathedral grounds.
As you weave your way along the 1.5 mile trail between Norwich Cathedral, Elm Hill, Tombland and St Andrews Street, you'll be looking for clues on local landmarks, signs and buildings, whilst trying to solve the 'crime'.
Teenagers may prefer City Escape Games, a self guided city adventure where you can solve cryptic puzzles around Norwich using your phone.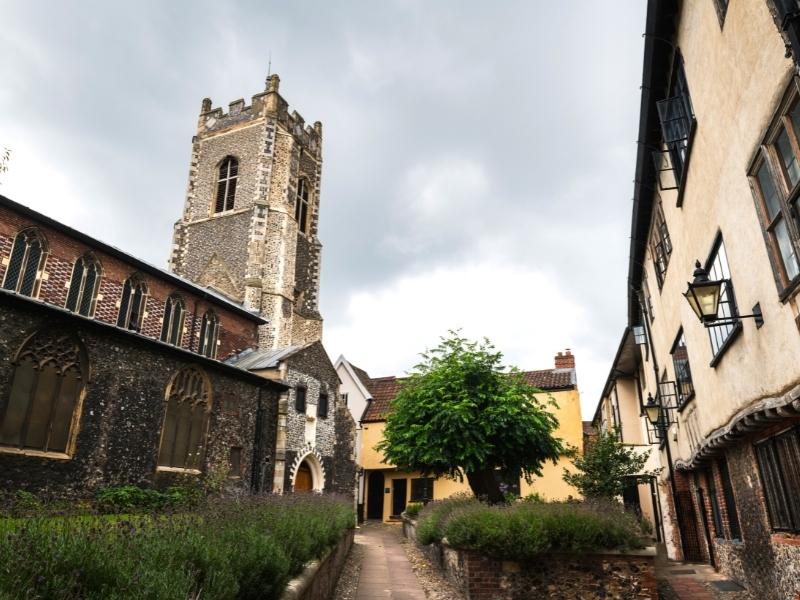 Visit Norwich Castle Museum & Art Gallery
Norwich Castle is built on a large artificial mound in the centre of Norfolk's capital (and only) city, and consists of a magnificent Norman keep constructed in 1095 by William II, as part of his campiagn to subjugate East Anglia after the Normon Conquest of England.
Norwich Castle was a medieval royal fortification before becoming a gaol from 1220 to 1887. It is now home to the excellent Norwich Castle Museum and Art Gallery and the Royal Norfolk Regimental Museum.
The historic national importance of the Norwich Castle site was recognised in 1915 with its listing as a Scheduled Ancient Monument. In 1954, the castle buildings, including the keep, attached gothic style gatehouse and former prison wings, were given Grade I listed building status.
The Castle site comprises the 900 year old Castle, and a large museum art gallery complex converted from the city's Victorian prison, which houses internationally important collections in archaeology, natural history, regimental history, and fine, decorative and contemporary art.
Please note due to the major redevelopment project Norwich Castle: Royal Palace Reborn, the original medieval castle, dungeons and battlements are currently closed to the public.
RELATED POST: 12 Norfolk Castles for You to Explore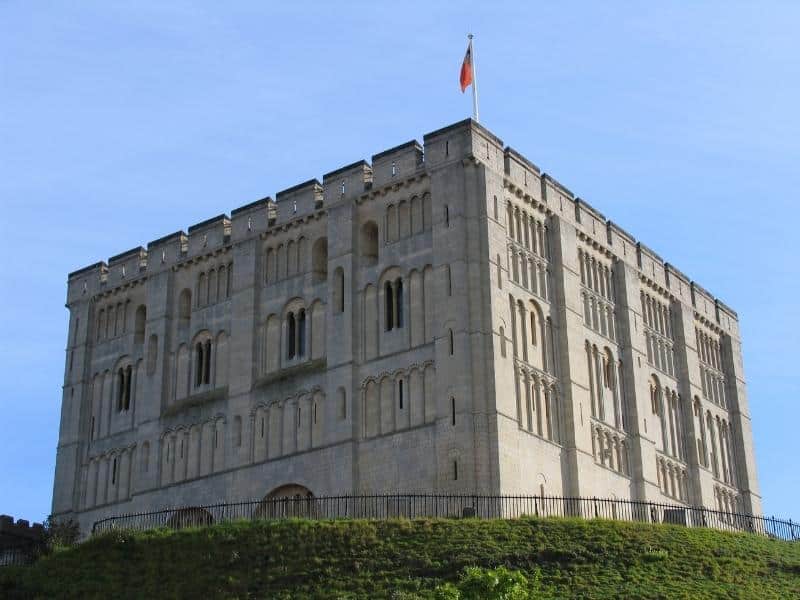 Discover the King Street Quarter
King Street is one of the longest thoroughfares in Norwich and has historically been associated with fishing and the riverside industry. As trade from the river grew, so did the amount of sailors stopping in Norwich – and the amount of hostelries needed for them to visit! Of the 58 pubs which were once found on this street, only one survives today.
There are two very fine examples of historic houses along King Street. The Music House was once owned by a wealthy family and dates from the 12th century. It is thought to be the oldest surviving house in the city. 
Lost for centuries, the superb Grade One listed Dragon Hall, is a restored medieval trading hall dating from 1430. The breathtaking Great Hall features an impressive timber crown-post roof and intricately carved and painted dragon. It was once at the heart of an international trading empire, and would have been used to store and sell wool, cloth, timber, spices and other items of value.
Now, the National Centre for Writing is found at here, befitting for England's first UNESCO City of Literature and honouring the greatest mystic of the Middle Ages, Julian of Norwich, who was the first woman to write a book in English.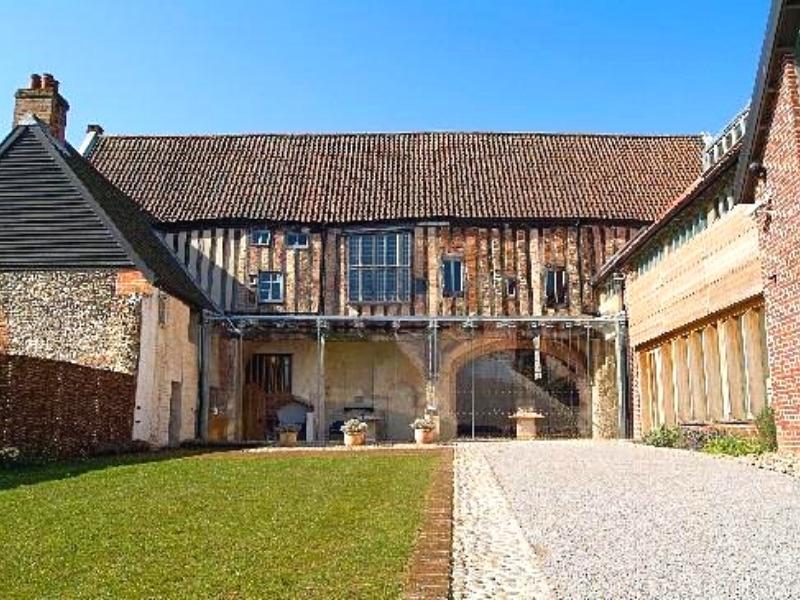 Go Shopping!
One of my favourite places to visit in Norwich, the Lanes personify the lively and independent nature of the city. The Norwich Lanes are a series of mostly pedestrianised small lanes, alleyways and streets nestled between the market and the Castle Quarter, and home to the Victorian Royal Arcade.
Hidden away behind the Forum, just off Bethel Street, is The South Asia Collection Museum and Shop. In an architectural gem of a building, which was once a skating rink, this unique shopping experience is not to be missed.
Along the main shopping thoroughfare, you'll find lots of brands and the incomparable Jarrolds of Norwich. This independent department store has been in this spot on London Street since 1840.
As you enter, skip the cosmetics and head for the basement, where you'll find a fantastic deli and small cafe, along with an award-winning book department – my happy place!
RELATED POST: Five Ideas for a Short Break in Norfolk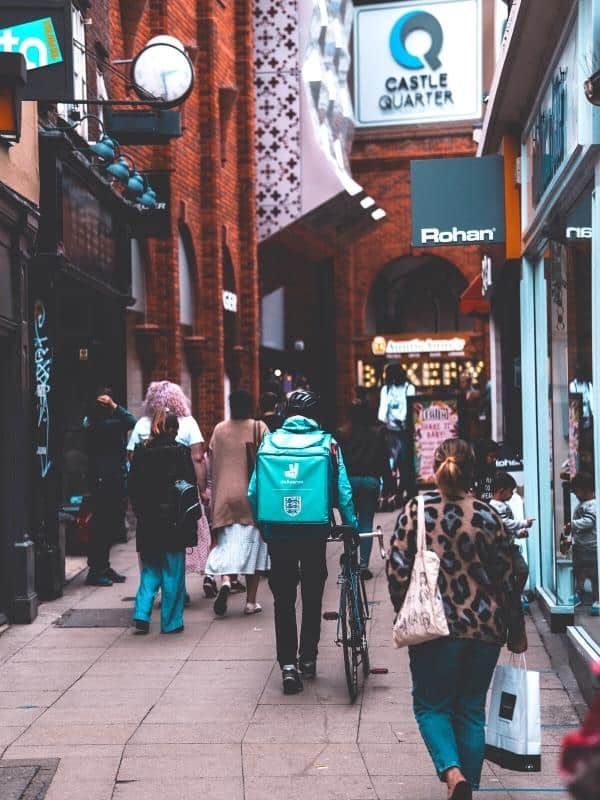 Enjoy Afternoon Tea at The Assembly House
Afternoon tea in the The Assembly House Hotel in Norwich is a real treat and considered the best afternoon tea in Norwich by many.
Served in a beautifully decorated Georgian room, the classic tiered stands, fine white china and traditional offerings make this a perfect spot to celebrate a special occasion.
A mouth-watering menu includes all the afternoon tea favourites like delicate finger sandwiches, delicious savouries, fruit and plain scones with jam and cream, and a fantastic selection of cakes and sweet pastries. To top off your afternoon, you can also enjoy a glass of fizz with your tea.
RELATED POST: Afternoon Tea in Norfolk – 15 of the Best Places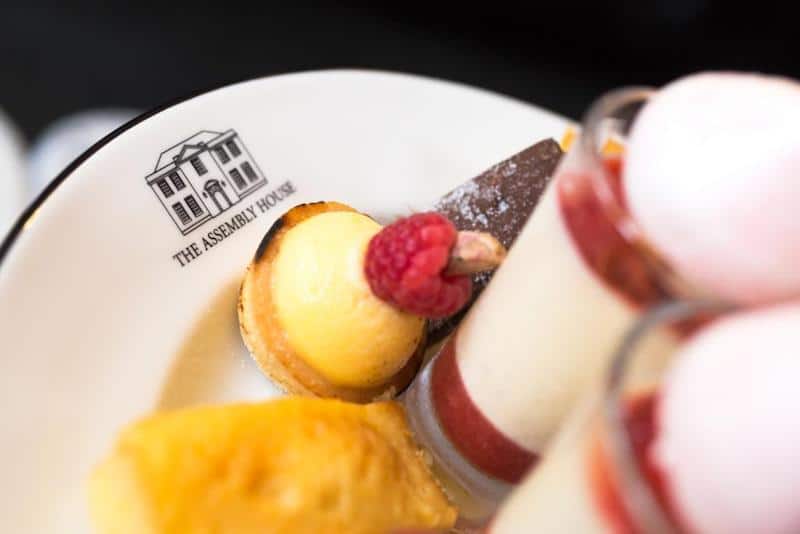 Get Creative at Norwich Puppet Theatre
Norwich Puppet Theatre, one of only three building-based puppet theatres in England, is a venue, theatre company and community outreach organisation.
This registered charity is dedicated to championing the special art form of puppetry and providing magical theatrical experiences.
The NPT programme of creative skills activities and events offers a brilliant introduction to the magic of theatre with original shows and workshops for all ages.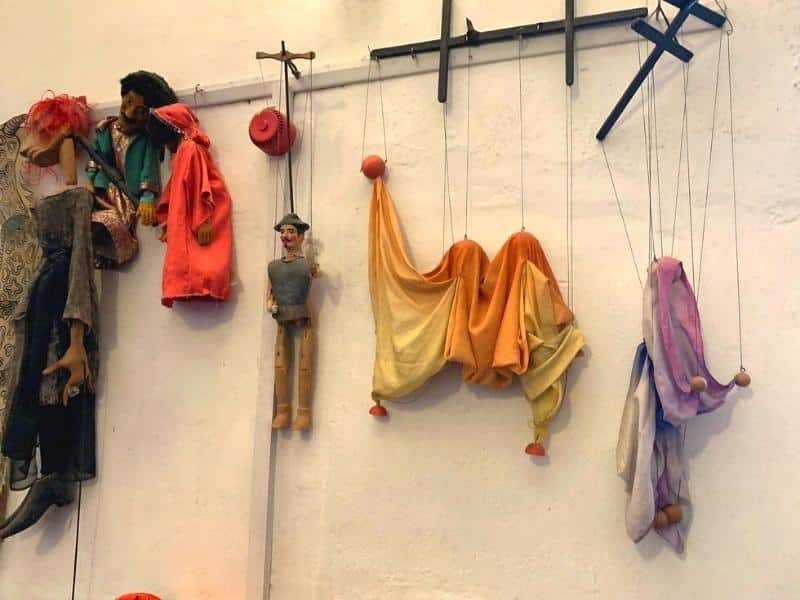 Discover the City of Stories
Located in a 14th century merchant's house in the Lanes, the Museum of Norwich at the Bridewell tells the stories of business and industry in the city over hundreds of years.
You'll discover exhibitions about the medieval wool trade, which created a boom in the 13th century, and find out about other famous Norwich products like shoes, chocolate and Coleman's mustard.
There are also displays about how Norwich fared in the wars and the history of the building which houses the museum.
Just along the way on St Andrews Street is Strangers Hall, a Grade One Tudor merchant's house which has been used as a museum of local history since the 1930s.
The house boasts richly furnished 16th and 17th century interiors and exhibits that show how life was lived in Norwich over the centuries. Behind the house is a pretty knot garden, laid out in the 17th century.
RELATED POST: 21 Museums in Norfolk You Won't Want to Miss!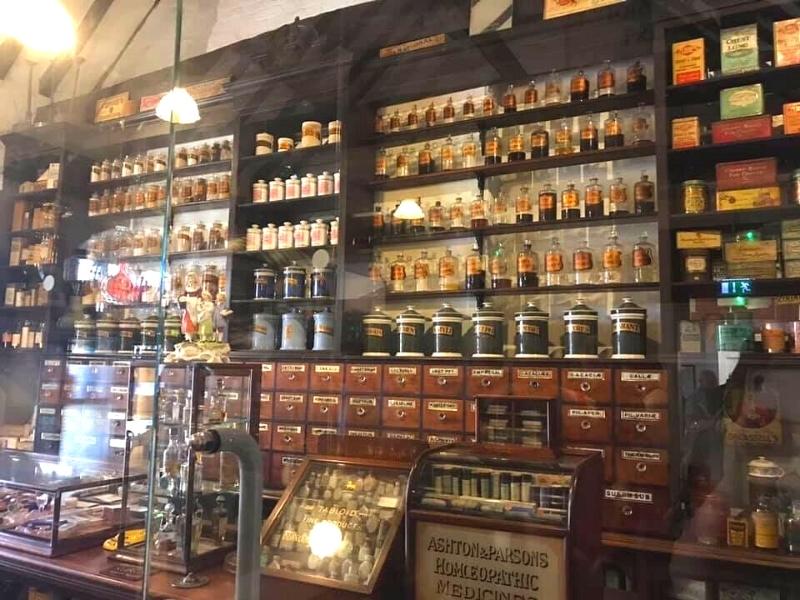 Stroll & Paddle the River Wensum
There is a wonderful mile long walk along the lush and tranquil river Wensum, which starts, surprisingly, just outside Norwich train station, also the starting point of the Wherryman's Way, one of the best walks in the Norfolk Broads.
Cross the bridge outside the train station and on the right, walk through the patio at the Compleat Angler pub and down the stairs.
Here you'll find start of the path lined with statuesque weeping willows.
Follow the river heading north to picturesque Pull's Ferry, past the Red Lion pub where you can stop for a drink and watch their 'resident' kingfishers.
Walk on to Cow Tower, one of the earliest artillery blockhouses in England which dates from 1398.
Continue on the path until you reach Riverside Park, where you can cut through the pay and display car park, past the Adam and Eve pub to Norwich Cathedral.
If you fancy getting on the water instead, hire a paddle board or kayak from Norwich Paddleboard Hire at Gibraltar Gardens Pub opposite Anderson's Meadow, and located right on the bank of the river.
You can paddle up river through tranquil landscapes into the heart of the beautiful Norfolk countryside, or go south and explore Norwich city centre by water, a fascinating way to see the city.
RELATED POST: 30 of the Very Best Things To Do in Norfolk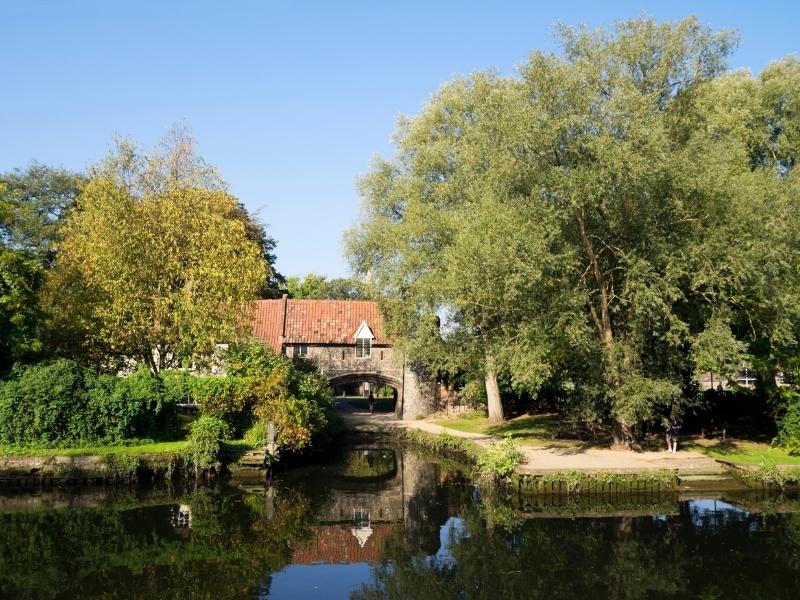 Visit the Forum
Sandwiched between Norwich market and Chapelfield gardens, with St Peter Mancroft, Norwich's largest 15th century parish church standing guard, the The Forum is a contemporary landmark community building which is always busy.
Home to the Norfolk and Norwich Millennial Library and BBC East, you'll also find street performers playing to the crowds outside, live music events, food and craft markets inside, or one of the many other events held here.
The Forum a great place to stop by, grab a coffee, and see what's happening.
RELATED POST: What's On in Norfolk – 46 Dates for Your Diary in 2022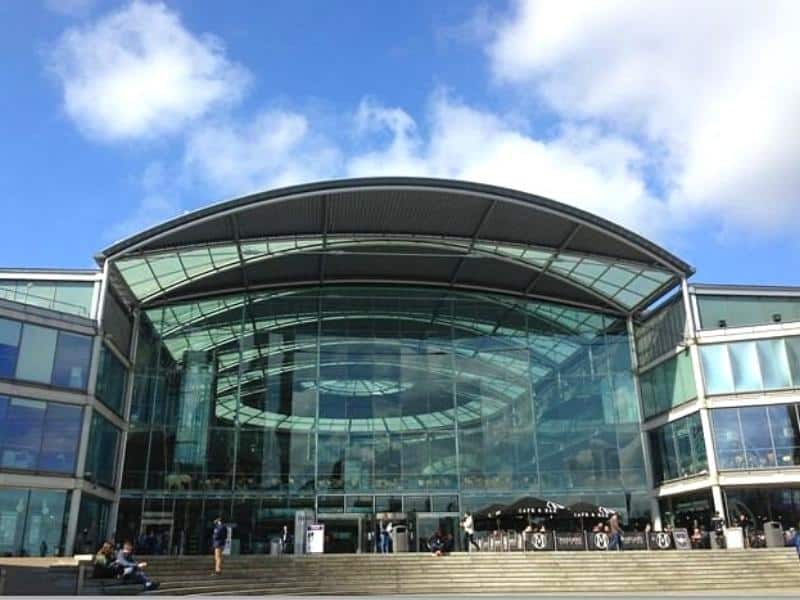 Be Entertained at Riverside
The Riverside area of Norwich is a modern development of entertainment venues and retail park. Here you'll find an Odeon Cinema, Hollywood Bowl and the Gravity Trampoline Park, as well as the usual selection of eateries to keep you all stoked up!
Just over the way is the Carrow Road stadium, home to premier league Norwich City Football Club, known as the Canaries. You can tour Carrow Road, and also stop at the Yellows Bar and Grill, where all the dishes are made to Delia Smith recipes. Delia has strong connections to the club, where she and her husband are majority shareholders.
RELATED POST: 26 Norfolk Food & Drink You Must Try!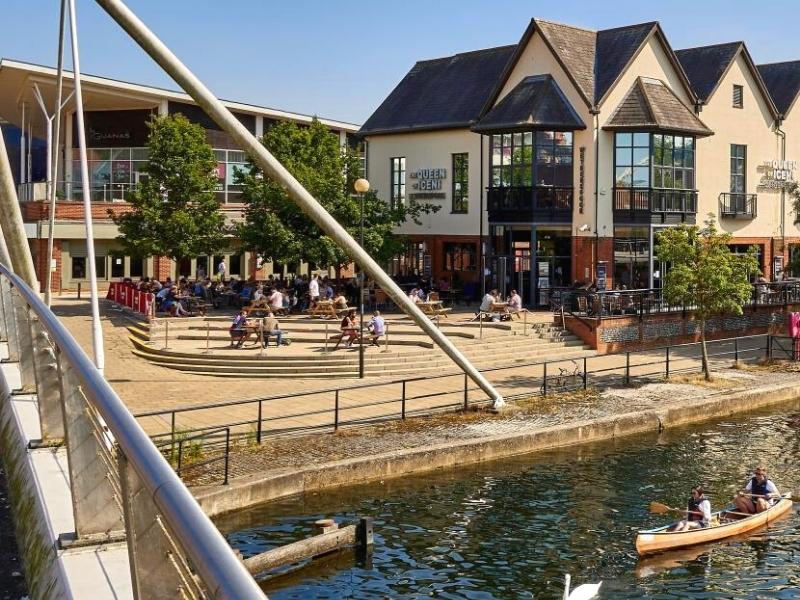 Discover Norfolk Gins
There are four gin distilleries in Norwich, where you can visit and take a tour, try your hand at making gin and of course, sample signature gins. This is a fun way to spend a few hours, especially if the weather is not on your side!
RELATED POST: 12 Norfolk Gins You Have To Try!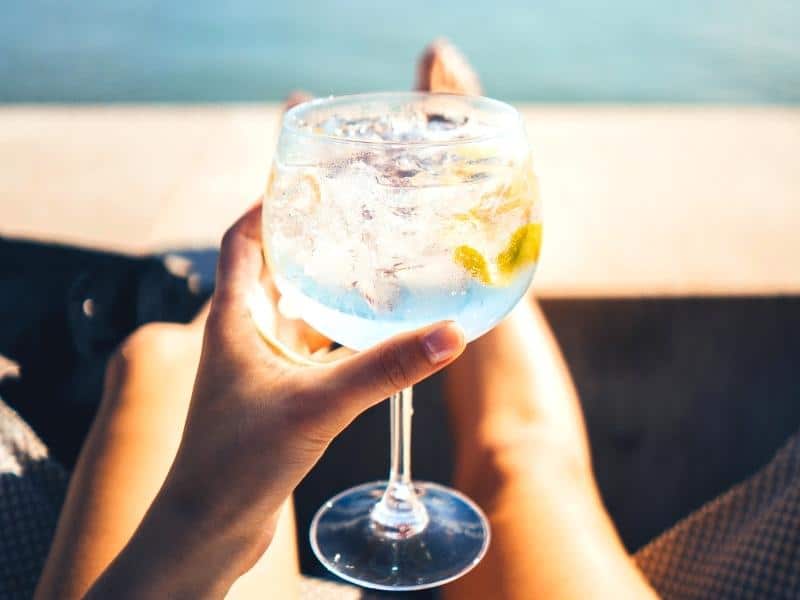 Visit Sainsbury Centre for Visual Arts
One of the first major public buildings to be designed by the architects Norman Foster and Wendy Cheesman, the Sainsbury Centre, in the grounds of the University of East Anglia, was completed in 1978. Not only is this a stunning contemporary building, it is also a light filled art gallery and museum.
The gallery holds a permanent collection which includes works by Picasso, Bacon, Moore, Giacometti and Degas. There is also a sculpture garden and regular exhibitions.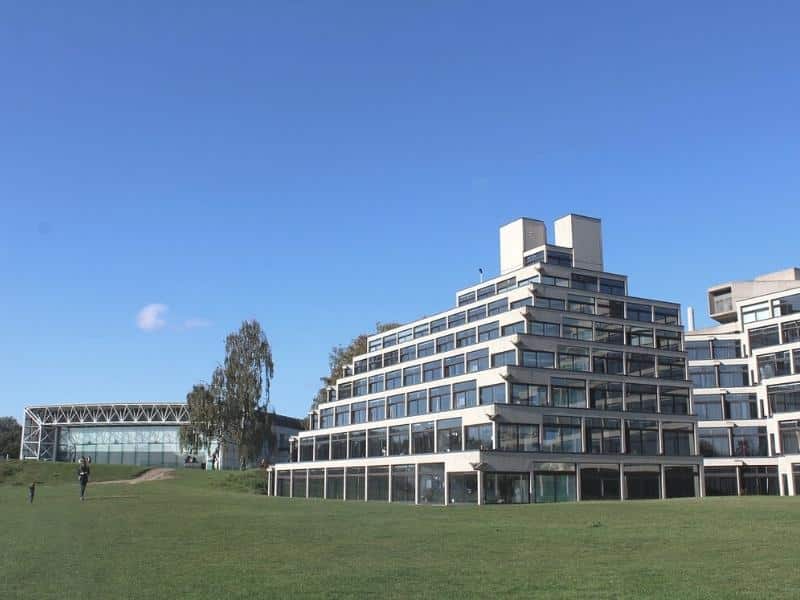 Escape in an Escape Room!
An escape room is an adventure with a mix of physical objects, puzzles and riddles thrown in that must be solved in a specified timeframe before you can 'escape'. Some escape rooms also use virtual reality settings to enhance the experience.
As a group, you must work effectively together to solve the puzzle. Escape rooms are challenging and fun at the same time, and are often used for team building, but they are also great fun for families with teenagers or young adults.
If you want to try an escape room in Norwich check out Escape Hunt at Chantry Place or Cryptic Escape in either Tombland or Rose Lane.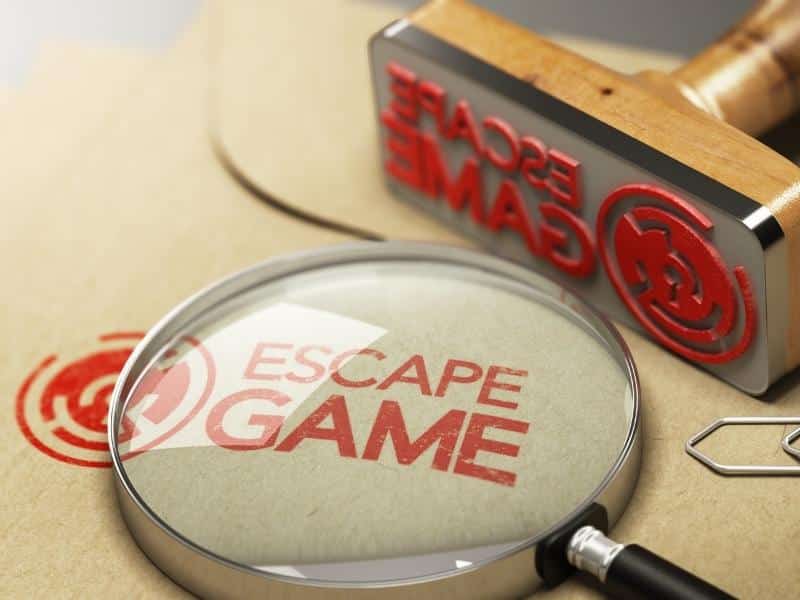 Have Fun at Bowling House
One of three bowling alleys in Norwich, Bowling House is a little different as it is also a cocktail bar, karaoke venue and restaurant, that just happens to be a ten pin bowling alley!
A TripAdvisor Travellers Choice for 2022, there are lots of activities and events suitable for kids, families and adults, making the Bowling House a great destination on your trip to Norwich.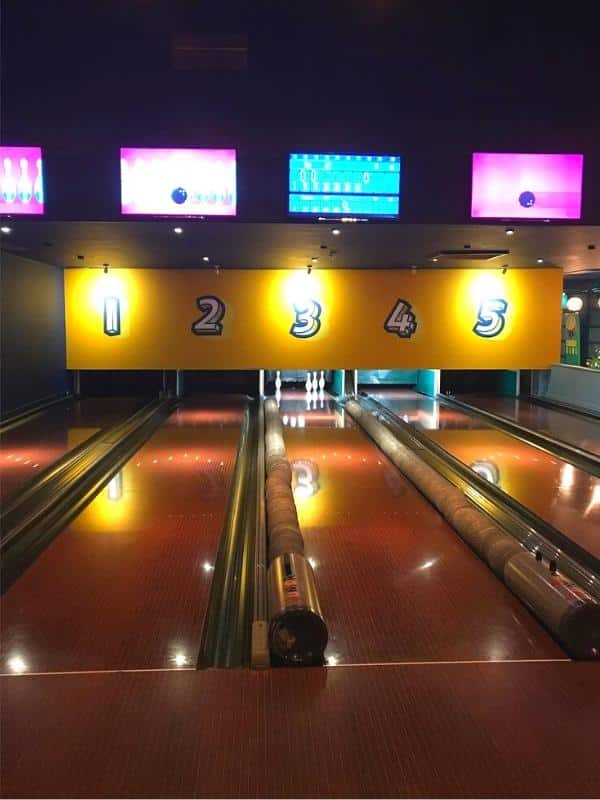 Chill in the Plantation Garden
Known locally as the Secret Garden and one of Norwich's best hidden gems, this three acre Grade II English Heritage registered garden was established over 100 years ago in an abandoned chalk quarry, just a few hundred yards from the city centre. The garden fell into disrepair after the Second World War but was restored in 1980 to the paradise it is today.
With lush green planting, Gothic features, an Italianate terrace, woodland walkways and a gorgeous greenhouse, this is one of the best things to do in Norwich city centre to enjoy a spot of peace and tranquility.
RELATED POST: The 21 Best Gardens in Norfolk to Visit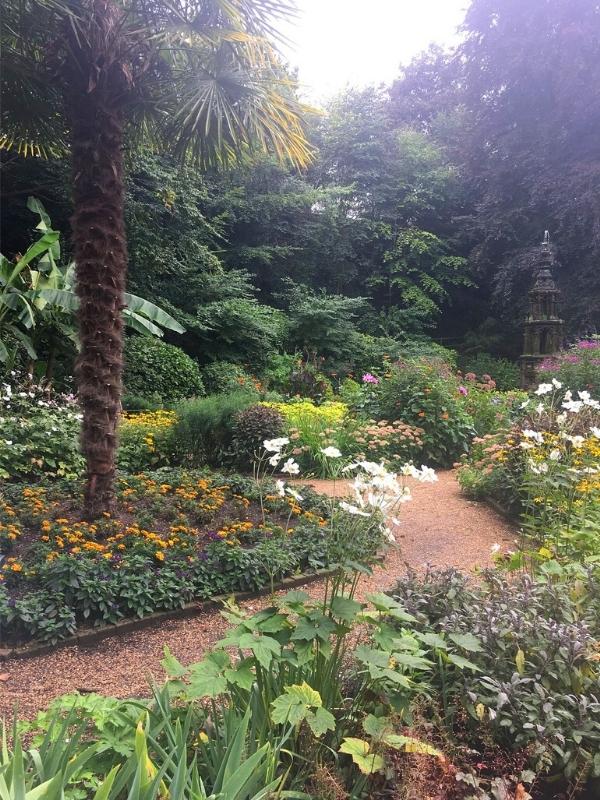 Catch a Show at the Theatre Royal
For a city so well known for literature, it's no surprise that Norwich is big into theatre. There are five permanent theatres, the largest being Norwich Theatre Royal. The original Theatre Royal was opened in 1758, before being rebuilt in 1801 and again in 1935, and then completely refurbished in 2007 by Tim Foster Architects.
With a 1,300 seater auditorium, this historic art-deco theatre has a fantastic programme of touring West End musicals, plays, comedy, dance, music and of course, the obligatory Christmas panto!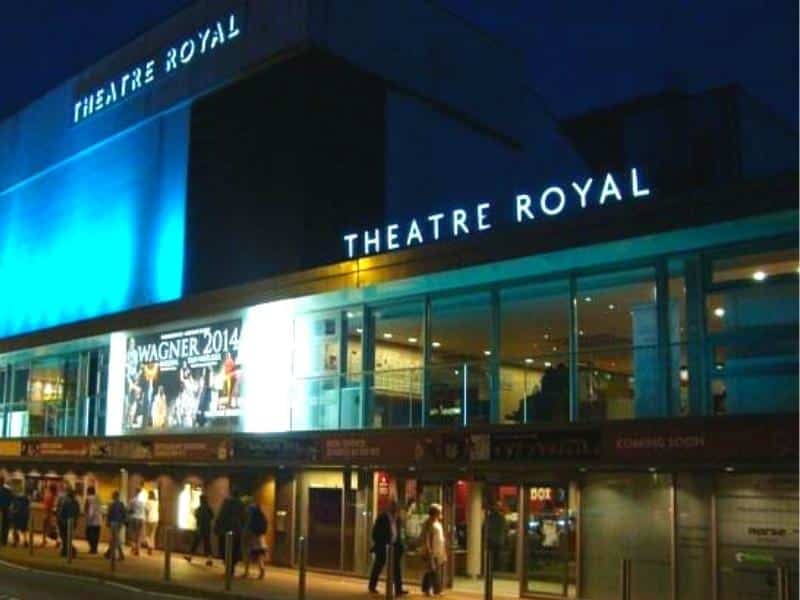 Learn to Climb at Highball Climbing Centre
The Highball Climbing Centre is Norfolk's largest, and a great place for kids to get started. There are a range of climbing and bouldering taster sessions available for kids of all ages.
If your child is an experienced climber they will be required to demonstrate their competence before climbing unsupervised, so allow a little extra time for this or pre-arrange with Highball before visiting.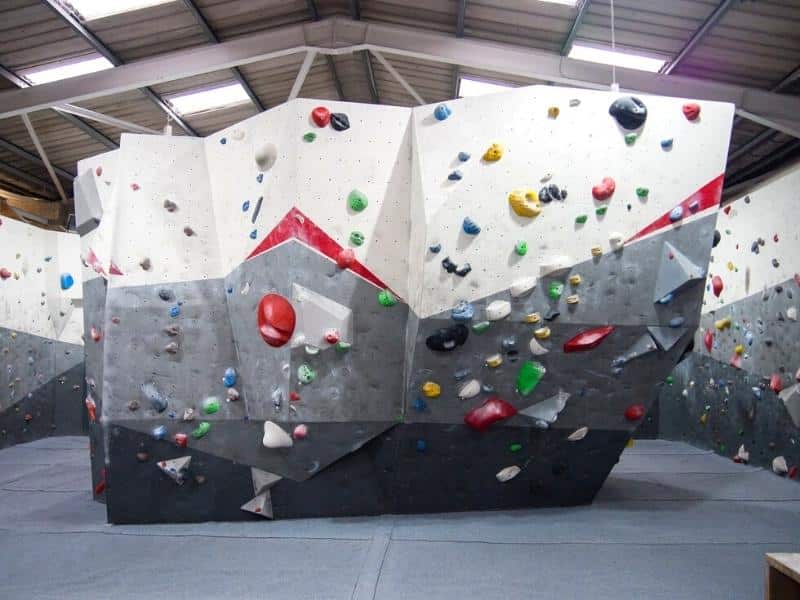 The Best Things to Do Near Norwich
Discover the Norfolk Broads
With huge skies, infinite landscapes, tranquil water and abundant wildlife, the Norfolk Broads are a beautiful place to visit – you can find out how in my Norfolk Broads guide.
The Broads National Park is made up of over 60 open areas of water known as Broads, which, along with the rivers Yare, and its tributaries the Ant, Thurne, Bure, Chet and Waveney, occupy a vast triangle of land formed by Great Yarmouth, Wroxham, and Stalham.
If you don't have lots of time to explore, then head for Hickling Broad, the largest Broad of them all. At the far eastern end of Hickling Broad is the Horsey Windpump, one of the area's most iconic windmills and run by the National Trust. The whole area is incredibly photogenic.
Head for Potter Heigham, Ranworth or South Walsham, small picturesque villages with interesting churches, which make great start points. The beauty and nature of the Broads is best appreciated from the water, and motor cruisers, kayaks and canoes can be rented, or you can take a Broads boat tour if you're not confident on the water.
RELATED POST: 26 Exciting Things To Do On the Norfolk Broads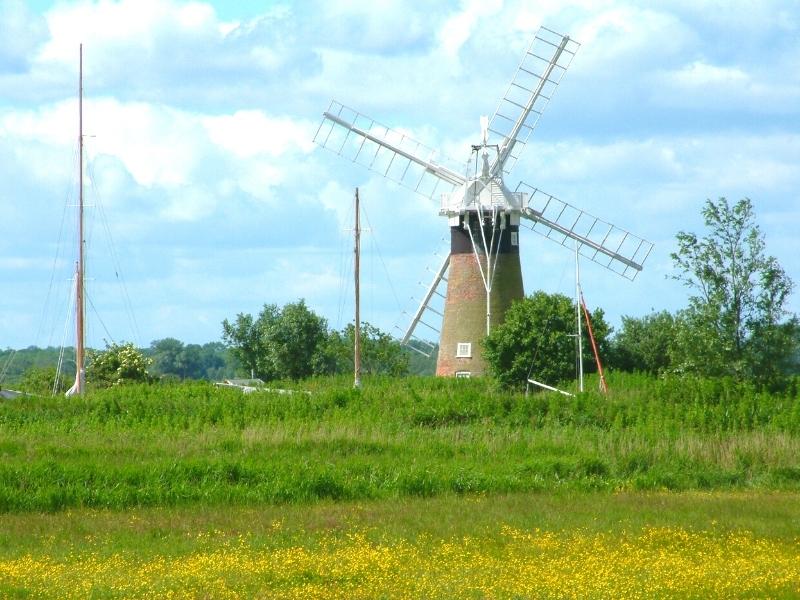 Enjoy Family Fun at BeWILDerwood, Horning
One of the best fun things to do with kids in Norfolk, BeWILDerwood is located in the village of Horning to the east of Norwich. This woodland adventure park is the ideal place for kids to burn off some energy climbing the numerous treehouses, hurling down zip lines and slides, and crossing the many rope bridges strung between the trees.
The whole park is character themed from a series of kids books, and this forms the basis of story-telling and craft sessions. There's also the ubiquitous restaurant and shop. You probably need a full day here, especially in the school holidays when its usually heaving.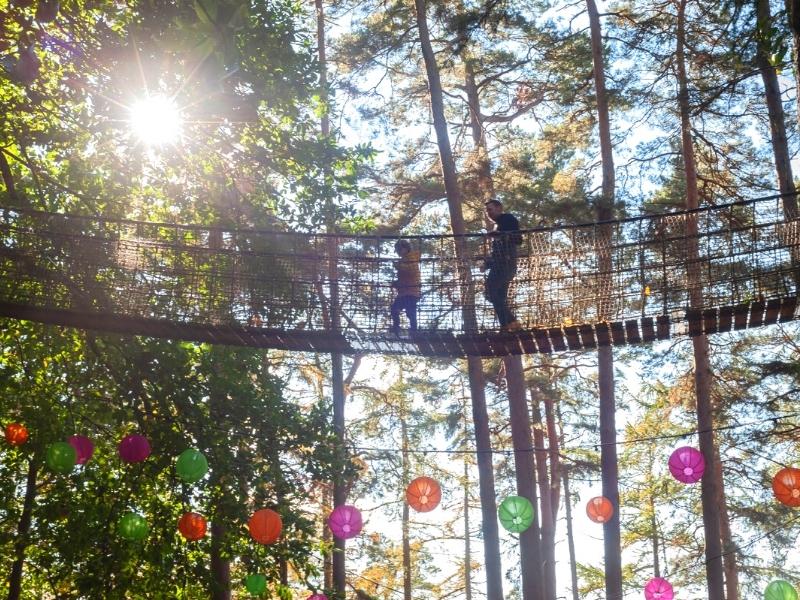 Cycle to Whitlingham Country Park, Trowse
Just southeast of Norwich situated near the pretty village of Trowse ​lies the wonderful Whitlingham Country Park. One of the largest parks in Norwich, you can cycle here on a Beryl Bike picked up in central Norwich in around ten minutes, and the National Cycle Route 1 runs right through the park.
A favourite with visitors, the park offers a tranquil location to get away from it all. Head for the Broads Authority Tourist Information Centre, fittingly in an historic flint barn, where you can learn more about the unique flora and fauna of the Broads.
The two mile trail around Whitlingham Great Broad, the woodland trails and meadows are well worth exploring by bike or on foot, especially if you've got a picnic with you.
One of the best ways to appreciate the wildlife and nature of the park is from the water, and you can hire kayaks and SUP's on the banks of the broad to go exploring.
If you prefer to be in a boat, then book a fun ride in the parks electric tour boat, the perfect chance to get in some wildlife spotting.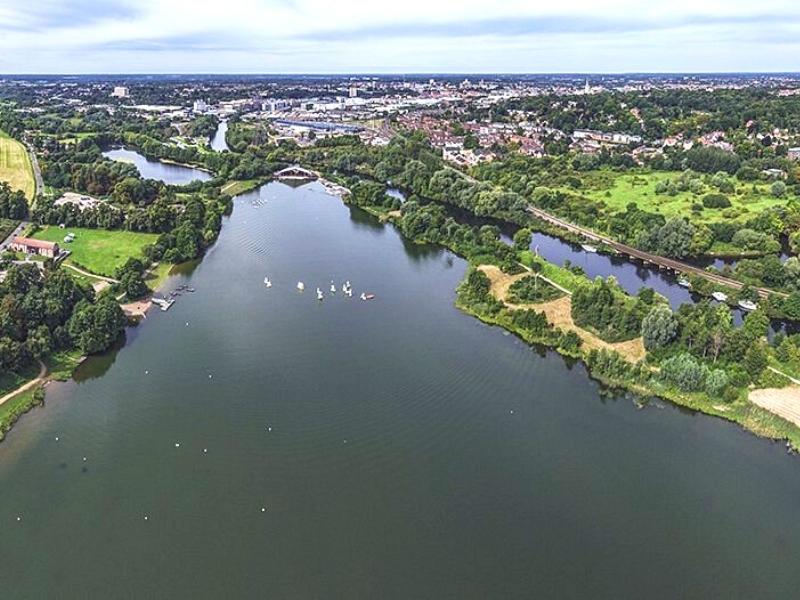 Explore North Norfolk Beaches
For me, North Norfolk has some of the best beaches in the country, all just a stones throw from Norwich. From Winterton-on-Sea to Holkham via Cromer, you'll find huge sandy stretches, grassy dunes, traditional bucket and spade beaches and nature reserves along this windswept and unspoilt part of the Norfolk coast.
RELATED POST: Norfolk Beaches – Ultimate A-Z Guide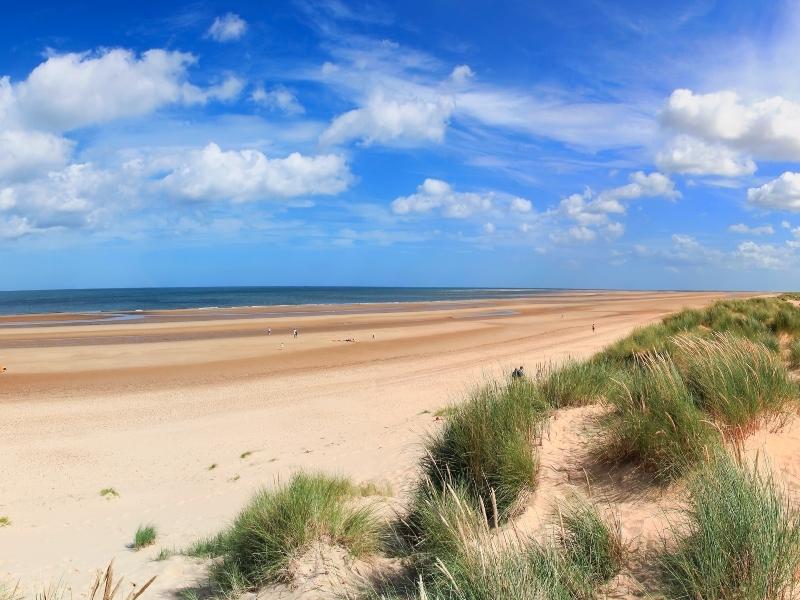 Creep Out at Bugz Parc, Lenwade
A new attraction for 2022 and close to Norwich, BugzUK Parc is perfect if you've got kids who love all things creepy crawly. There are three large tropical invertebrate houses, home to over 200 species, as well as the opportunity to handle live invertebrates, but you do need to book this in advance.
For those that are fascinated by minibeasts, this makes for a great day out and the live handling sessions are excellent. Managed by an insect expert, you'll learn about the bugs in a small group session.
If you really don't like bugs or spiders (my biggest fear!), you can easily bypass the spider and tarantula houses… phew!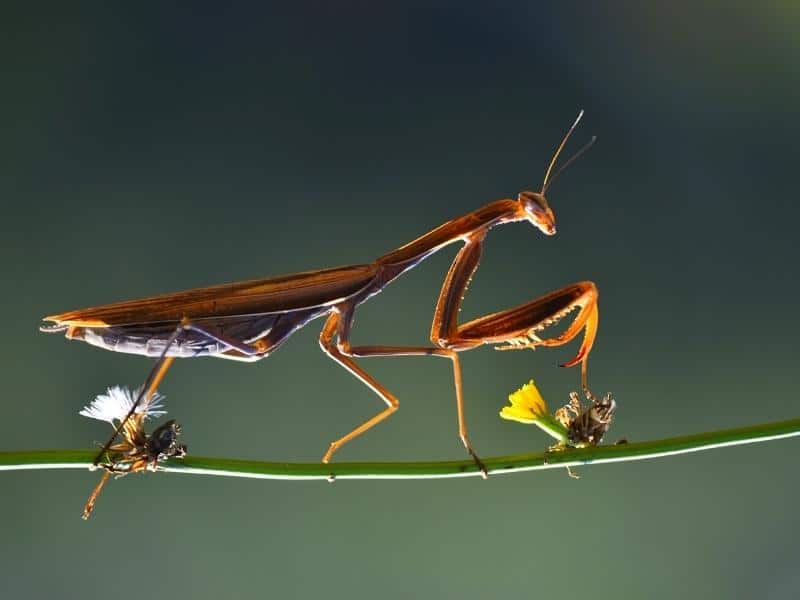 Visit the City of Norwich Aviation Museum, Horsham St Faith
A TripAdvisor Travellers Choice, the City of Norwich Aviation Museum is situated at the northern edge of the former RAF Horsham St Faith airfield, which opened in 1940 and was operational during the Second World War as a fighter and bomber base, before being redeveloped as Norwich International Airport.
The museum's outdoor exhibits include 30 vintage commercial and military aircraft. Indoor exhibits include sections dedicated to the history of the RAF in Norfolk and to that of the United States Army Air Force, units of which were based at various airfields in Norfolk during the Second World War.
The museum has been home to Norfolk's Aviation Heritage for over forty years and is manned by a crew of volunteers, who provide tours in the Avro Vulcan Bomber, Hawker Siddeley Nimrod, Avro RJ85, Fokker Friendship F27 and Handley Page Herald when numbers allow.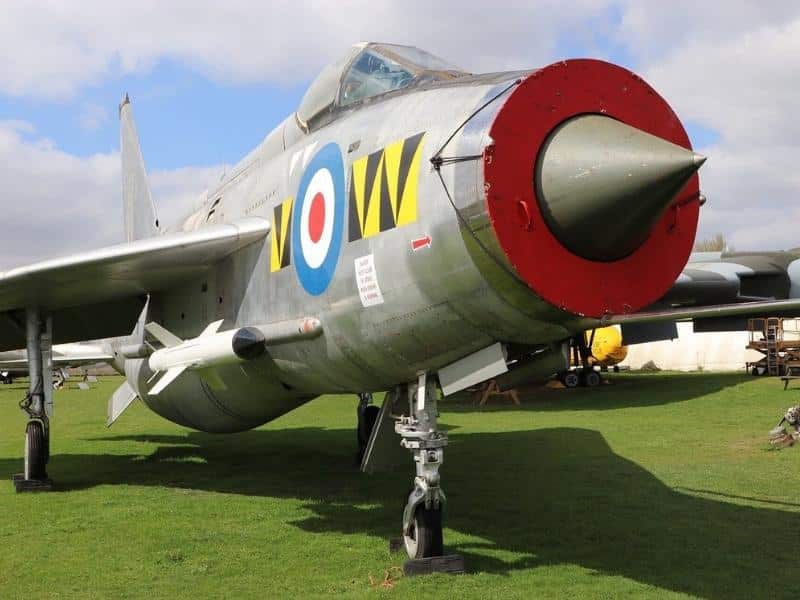 Have Fun in Great Yarmouth
A lively seaside town in Norfolk and just a few miles from Norwich, Great Yarmouth makes for an action-packed day out or holiday destination.
With its famous Pleasure Beach, SEA LIFE Centre, amusements and attractions, there's lots to keep visitors happy!
RELATED POST: 13 Exciting Things To Do in Great Yarmouth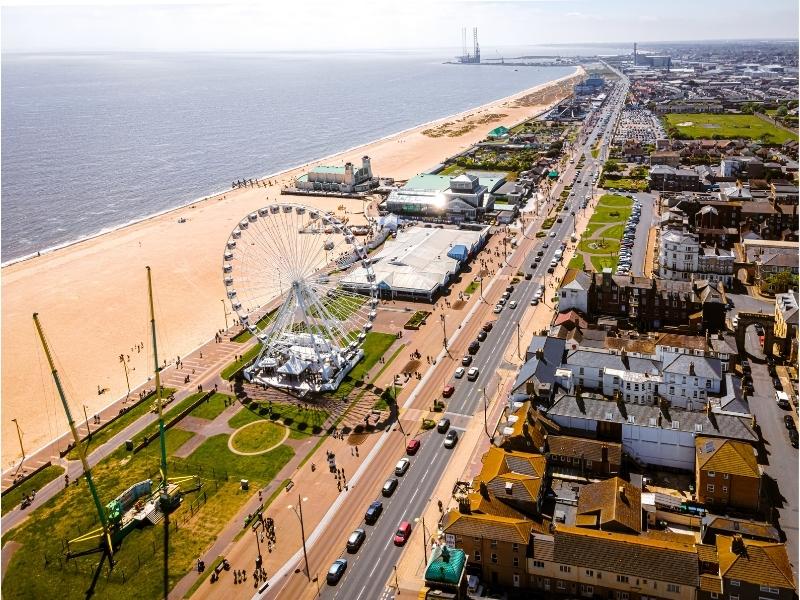 Spend a Day at Blickling Hall
One of the best Norfolk stately homes to visit, Blickling Estate is mentioned in the Domesday Book, was the birthplace of Anne Boleyn, and during the Second World War RAF air crew were billeted here.
The Jacobean house is packed full of history, paintings, tapestries and antiques and the hall is also home to one of England's most important collections of manuscripts and books.
Outside are 55 acres of formal gardens with an orangery, kitchen garden and lake to explore.
RELATED POST: North Norfolk Coast – 19 Unmissable Highlights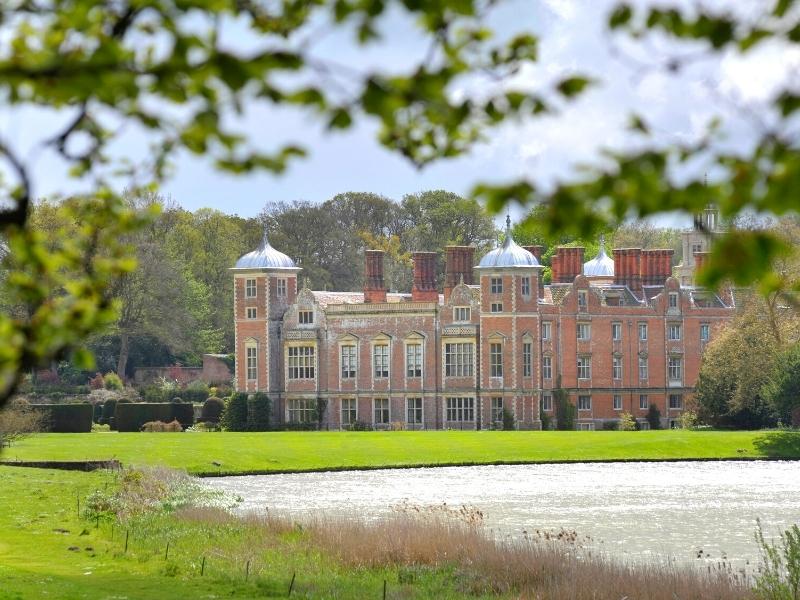 Take a Vineyard Tour & Tasting
Chet Valley Vineyard enjoys a unique climate, with higher than average sunshine hours and the lowest rainfall in England, meaning the grapes grown here ripen beautifully in these ideal conditions.
Take a tour and tastting to explore every aspect of the growing and wine-making process, and have the the opportunity to taste the vineyards delicious wines in the tranquil Norfolk countryside.
RELATED POST: Six Vineyards in Norfolk You Need to Know About!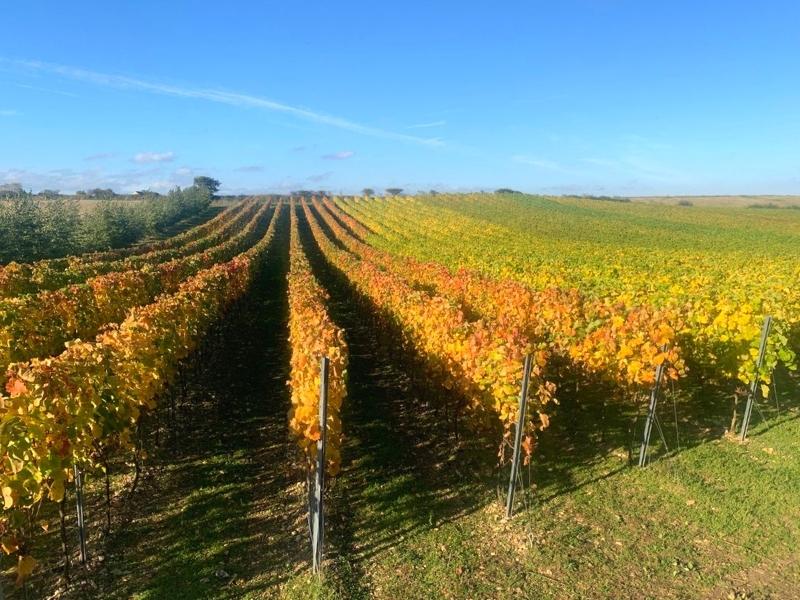 Roarr Dinosaur Adventure Park, Lenwade
Kids still in the big scary monsters stage will love the Dinosaur Adventure Park. Set in 85 acres of woodlands, there are huge realistic sounding dinosaur models waiting to surprise them along the dinosaur trail.
They can also get involved in digging for fossils, explore the maze and have a go on the assault course. There really is a lot to do here, it's a full family day out!
RELATED POST: Norfolk Theme Parks – Ultimate A-Z Guide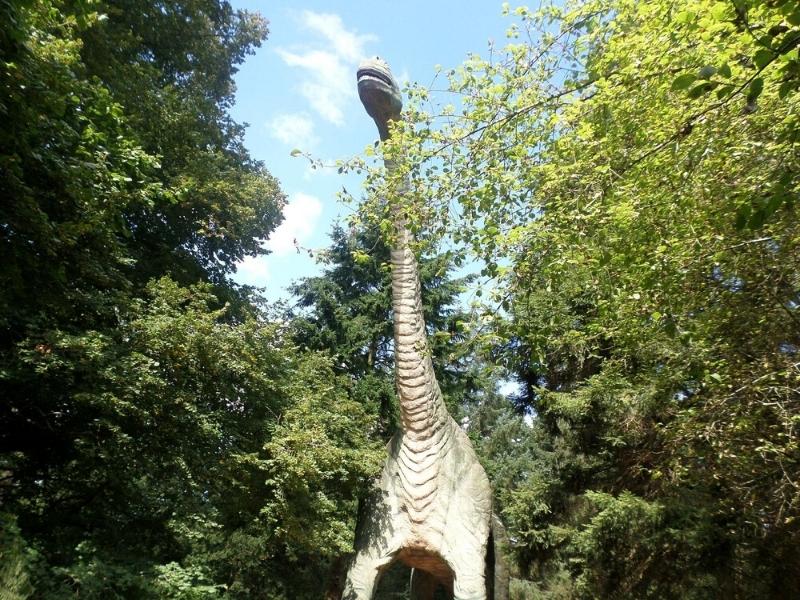 Have I missed a great Norwich attraction from my round up? Let me know in the comments so I can include it on my list of things to do in Norwich Norfolk!
Love it? Pin it!