Nestled in a corner of West Norfolk is the historic port and market town of King's Lynn. With a rich Hanseatic past, streets and squares lined with period architecture and bustling marketplaces and quays, King's Lynn is a Norfolk town well worth visiting.
King's Lynn also makes a great Norfolk holiday base for the whole family. Not only can you explore the town itself, you can also visit the stunning West Norfolk countryside which is just a stone's throw from huge sandy beaches and some of Norfolk's top attractions.
This round-up of all the best things to do in King's Lynn and the surrounding area of West Norfolk, plus recommendations for places to stay and where to eat, will help you plan the perfect King's Lynn trip.
RELATED POST: The Ultimate Local's Guide to Norfolk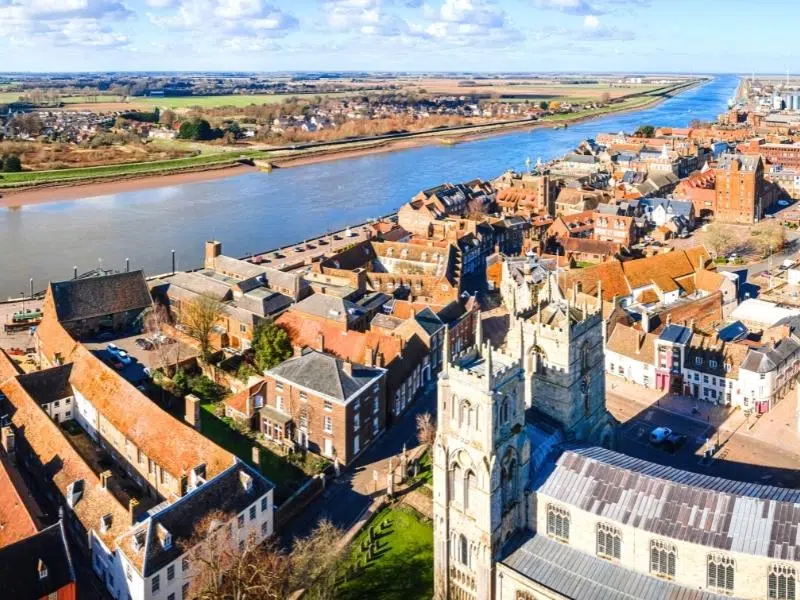 This post may contain affiliate links. If you book something I recommend, I make a small commission without affecting the price you pay!
Is King's Lynn Worth Visiting?
Absolutely! King's Lynn is a town with a rich tapestry of history that can be seen in its buildings, cobbled streets and heritage quay. The story of King's Lynn is weighty with fortunes made and lost, the might of the church, seafaring escapades and civil war seiges and blocakdes. Delve in and you will not be disppointed!
Discover the History & Architecture of King's Lynn
Take a Walk Through King's Lynn History
Considered one of the most perfect medieval towns in England, much of the town's history is displayed in the historic buildings and port area. If you're wondering what to do in King's Lynn, all you have to do is walk, observe and admire!
A walking tour of the town is one of the best free things to do in Kings Lynn. Pick up self-guided trail leaflets from the Tourist Information Centre in the Town Hall, or download them here. Choose from the maritime trail, Hanseatic trail, Pilgrimage trail and King's Lynn town guides, or do them all!
RELATED POST: 30 of the Very Best Things To Do in Norfolk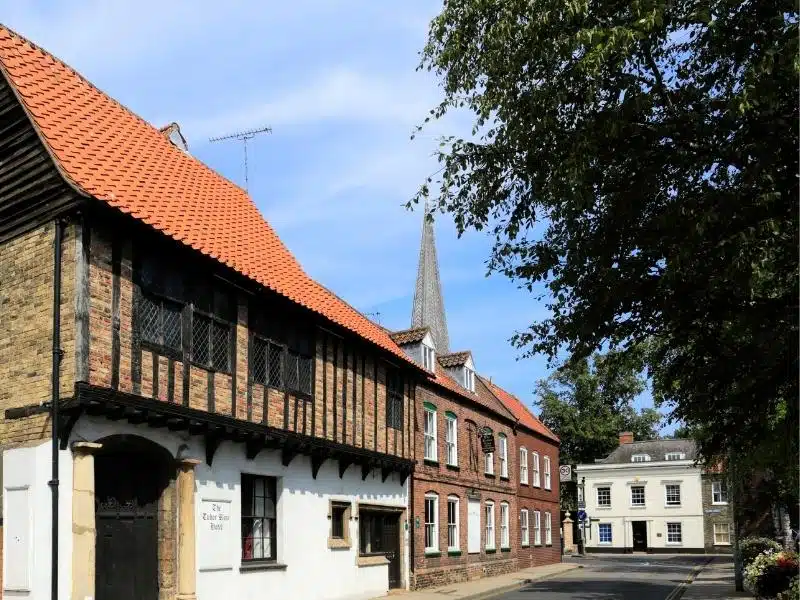 Notable King's Lynn Buildings & Historical Sites
Old Custom House
Fine old merchants' houses stretch down to the river between cobbled lanes to Purfleet Quay and the elegant Custom House, which overlooks the harbour and historic waterfront.
The 17th century Custom House, nominated by Nikolaus Pevsner as the most perfect building in the United Kingdom, was commissioned by Sir John Turner, a local wine merchant, and designed by Henry Bell to be a merchant's exchange.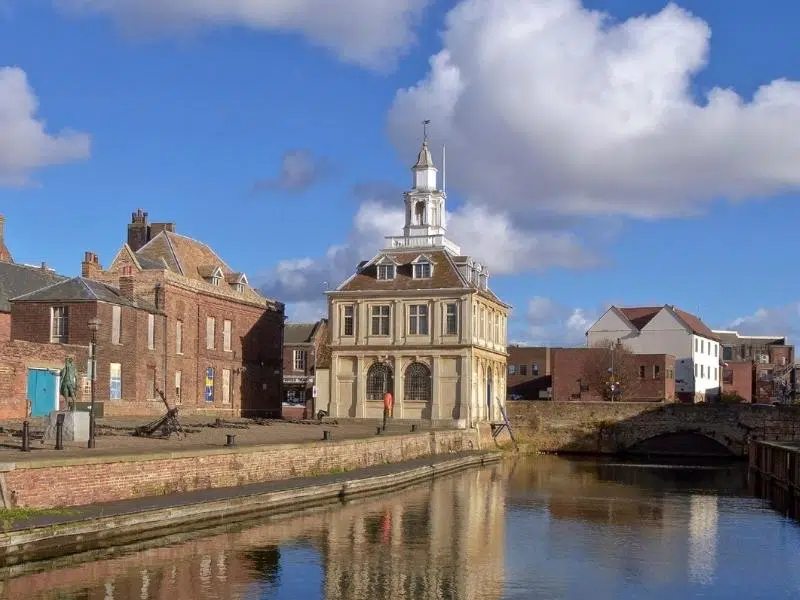 King's Lynn Minster
Designated as a Minster in 2011, not much of the original Norman church remains. Centuries of rebuilding and renovation have swept away original features, and the spire collapsed in a storm in 1741.
However, a fine building remains, with architectural features from the 14th and 15th centuries, and both Georgian and Victorian periods.
The south tower of King's Lynn Minster houses a tide clock, a 20th-century restoration of the original installed by Thomas Tue in 1681, which shows the moon phase and the time of local high tide, indicated by a dragon's hand.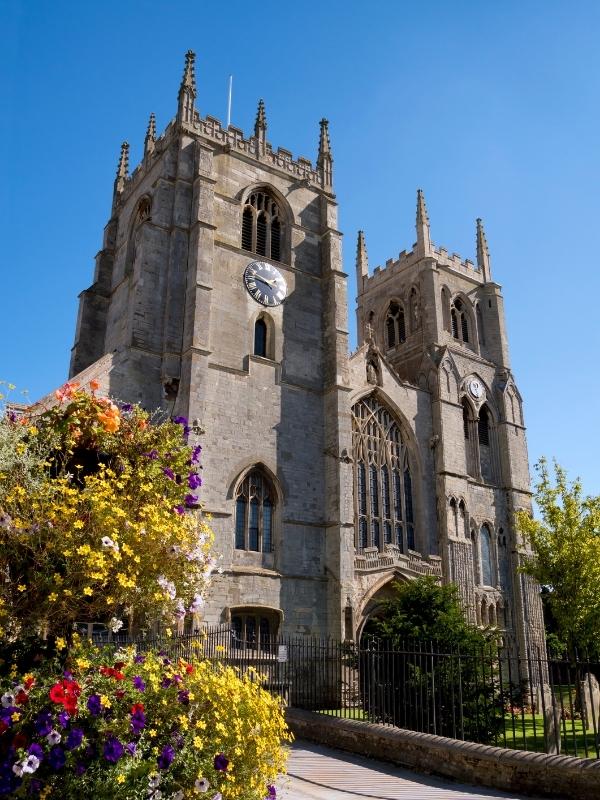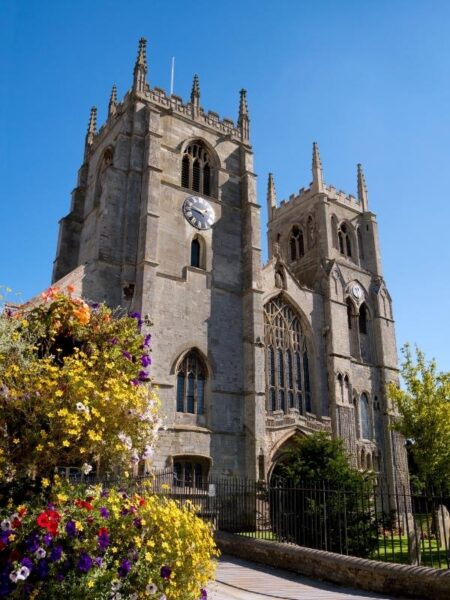 Greyfriars Tower
A short walk from the High Street, this historic bell tower is the only above-ground remains of the medieval Franciscan friary which was closed in 1538 by Henry VIII.
The brick tower stands 28m tall and leans at a noticeable angle of 1.5 degrees, due to its marshy foundations, leading locals to call it the Leaning Tower of King's Lynn.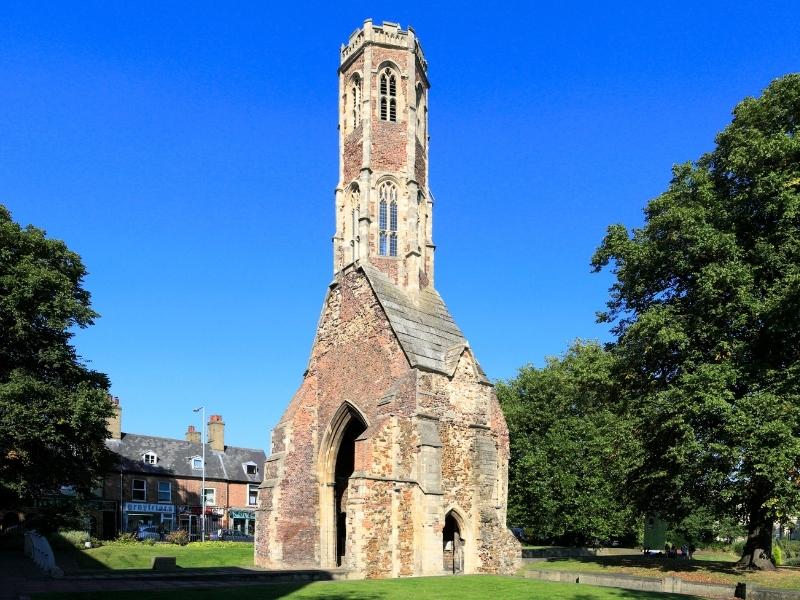 Pilot Street
Numbers 30 and 32 Pilot Street are rare examples of 15th century timber-framed parallel hall houses. Now private dwellings, a wander down Pilot Street on your way to the waterfront gives you a feel for how this town looked in medieval times.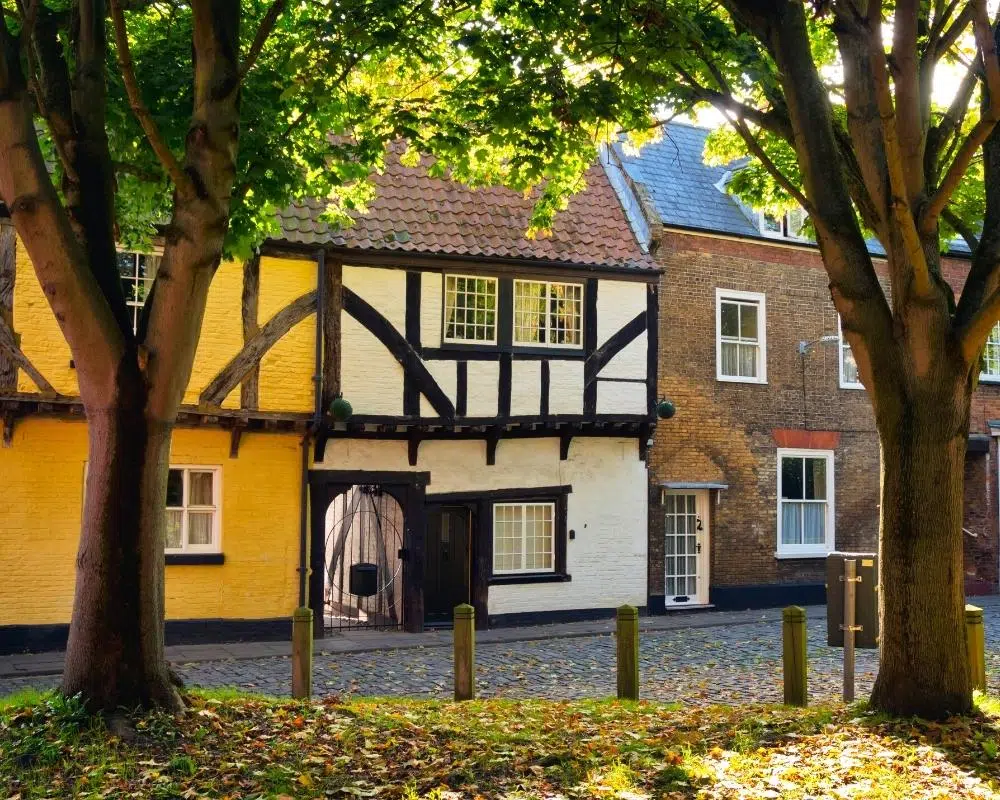 Red Mount Chapel
The late 15th century Red Mount Chapel was a wayside chapel for pilgrims heading to the famous Shrine of Our Lady of Walsingham. This restored Grade I listed building has been used as a place for interdenominational worship and an astronomical observatory.
The chapel is situated in the Grade II listed landscape of The Walks, a historic urban park located in the heart of King's Lynn and the only surviving 18th century town walk in Norfolk.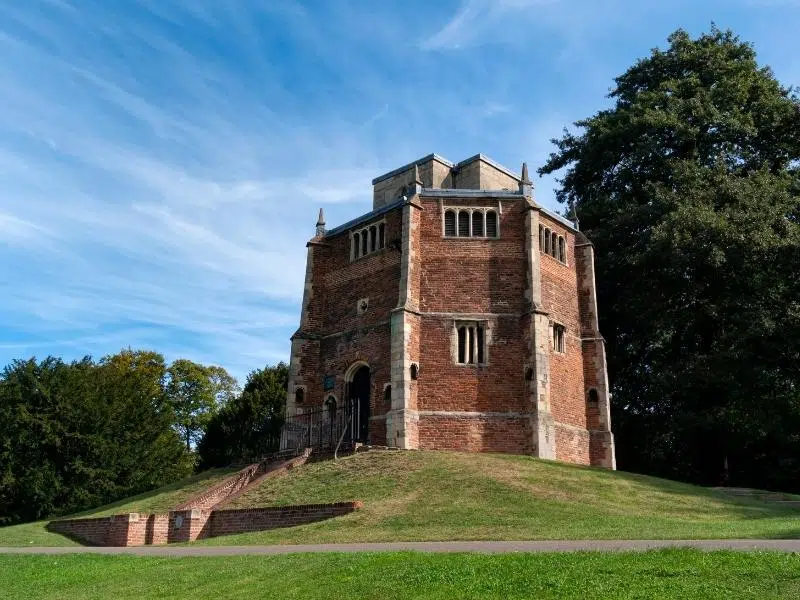 St George's Guildhall
The historic Grade I listed Guildhall of St George is the largest surviving medieval guildhall in England. Created for the Guild of St George in the early 15th century, the guildhall is built of brick dressed with ashlar and the interior is an excellent example of the architectural decoration and style of the day.
Today, the great hall with it's timbered ceiling is used as a public venue for music, the arts, and lectures.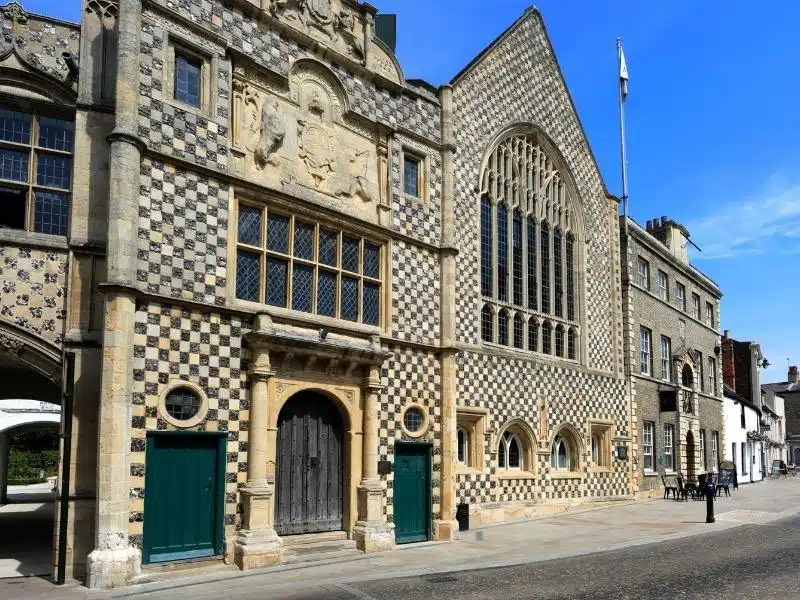 St Nicholas' Chapel
The Chapel of St Nicholas is the largest in all of the United Kingdom and was actually built as a chapel of ease for St Margarets Church (now Kings Lynn Minster) at the far end of the King's Lynn shopping district.
Most of the building is 15th century, though the tower is slightly earlier. The beautifully detailed slender spire is Victorian, and a replacement for the spire which blew down during a storm in 1741 – the same storm which robbed the Minster of its' spire – not a good year for the churches of King's Lynn!
A curiosity about St Nicholas' Chapel is the Robinson Cruso ledger stone, which has been a mystery for many years. It is known that Daniel Defoe, author of the 18th century novel Robinson Crusoe visited Lynn. He wrote of King's Lynn in his Tour through the Eastern Counties of England and it is thought he used a version of the name for his shipwrecked hero.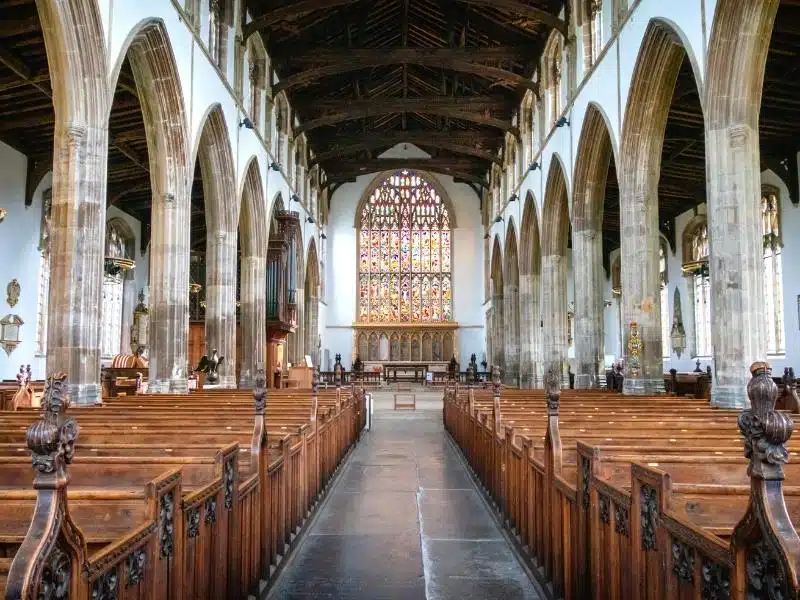 Clifton House
The most significant merchant building in King's Lynn, the distinctive Clifton House is Grade I listed and located in the heart of the town. With rich historic interiors dating from the 13th to the 18th centuries, including two tiled floors from the 13th century, a 14th century vaulted undercroft, and the five-storey Elizabethan tower.
Now a private home, you can visit on a few days a year when they offer tours, otherwise you'll have to admire it from the outside!
Marriott's Warehouse
A grade II listed building which dates from the 1580s, Marriott's Warehouse was an important trade warehouse and one of several granaries on the South Quay in the late 19th century.
Marriott's Warehouse is one of only two Hanseatic League warehouses remaining in England, the other being Hanse House, also in King's Lynn on South Quay.
Between 1550 and 1700, most of the warehouses along the Great Ouse bank were rebuilt in brick, but Marriott's Warehouse has a lower storey in stone. Ships would dock inside to unload cargo, knowing its stone lower storey would protect them against the tides as it stood out in the Wash, long before the quayside was built up around it.
Today, the ground floor is a restaurant (formerly the Green Quay) and upstairs you'll find a display about the building of King's Lynn over the last 900 years, including a fascinating miniature model of the town.
Numbers 15 & 16 Tuesday Market
Look for the diamond carved into the red brick above a window of 15 and 16 Tuesday Market. Hidden in the diamond is the shape of a heart, which according to local legend, is the mark of Margaret Read, who was burned at the stake as a witch called Shady Meg in 1590.
The legend says that as she screamed agony in the flames, her still-beating heart ripped from her chest and smashed into the wall at the marked spot before flying into the River Ouse where it caused the water to bubbleas her heart sank into the murky depths.
RELATED POST: Norfolk Churches: 16 of the Best to Visit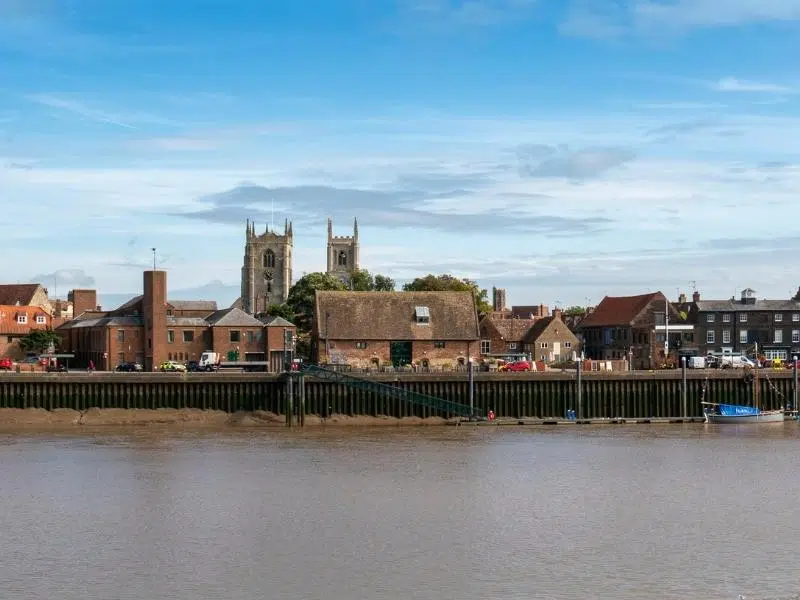 Explore King's Lynn Museums
Seahenge at the Lynn Museum
In 1998 an Early Bronze Age timber circle was discovered on the beach at Holme. An extraordinary find, the arrangement of 55 timber posts surrounding a huge stump buried with its roots upwards, was called Seahenge, as it resembled the famous Stonehenge in Wiltshire.
When Seahenge was created around 2050 BC, the area around Holme was a salt marsh. Over thousands of years, the marshes were covered in peat beds as the sea encroached, and the peat preserved the timbers, keeping them whole.
The timbers were carefully removed from the sea, cleaned, and vacuum freeze-dried to protect them. The original upturned tree stump and many of the upright timber posts are now on display in a special exhibit in the Lynn Museum on Market Street.
The Lynn Museum is not just about Seahenge though, it also tells the story of West Norfolk and King's Lynn through diverse artefacts, artwork from prominent local artists, and interactive displays.
RELATED POST: Norfolk Coast – 8 Amazing Ways to Explore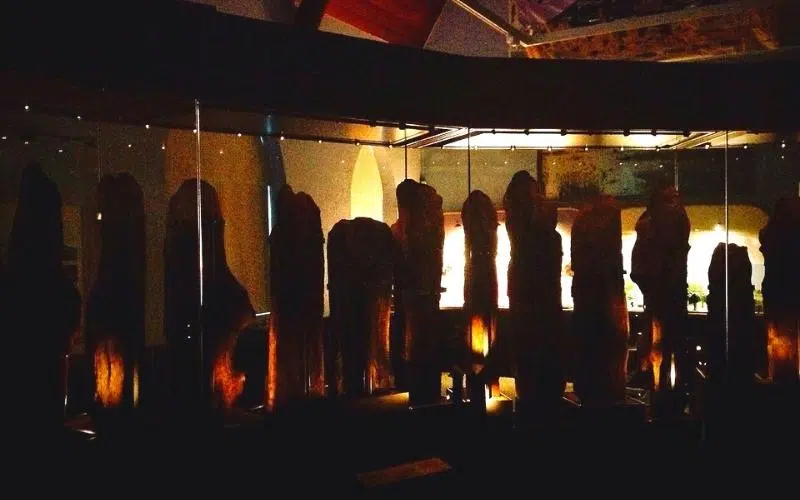 True's Yard Fisherfolk Museum
Traditionally home to a tight-knit fishing community, the North End of King's Lynn was lined with tiny cottages and cobbled yards. The last pair of 18th century fishing cottages were restored and preserved, and are now home to a fantastic small museum which tells the story of fishing in King's Lynn and the hard life of the old fishing community in King's Lynn.
The cottages were built around 1790, on the site of earlier buildings and have served as a bakery, home to fisher families, and a grocer's shop. Lit by oil lamps and heated by coal, there was no running water, no electricity and no toilet. In the 1980s, a local trust was formed to save the buildings and turn them into a museum and heritage resource centre.
The preserved cottages of Trues Yard Fisherfolk Museum on North Street have been carefully refurbished to show what life was like for the fishermen and their families. One small cottage is restored to the 1850s when a family of 11 lived there!
RELATED POST: 21 Museums in Norfolk You Won't Want to Miss!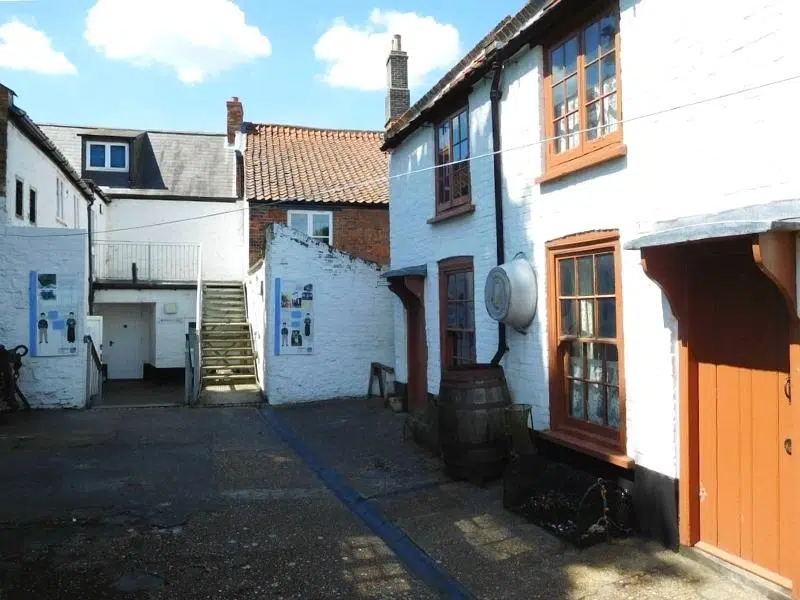 Stories of Lynn Museum
One of the best fun things to do in King's Lynn for families is to find out about the history of the town at the interactive Stories of Lynn Museum, located in the distinctive King's Lynn Town Hall on Saturday Market Place.
An app, along with a timeline of objects brings the local story to life, including its powerful past and more modern-day history.
Discover the stories of local merchants, explorers and seafarers who have shaped King's Lynn, over more than 800 years of history. On your visit, you can tour the old gaol house, try on Mayor's robes and see the fabulous King John Cup (even though it had nothing to do with King John!).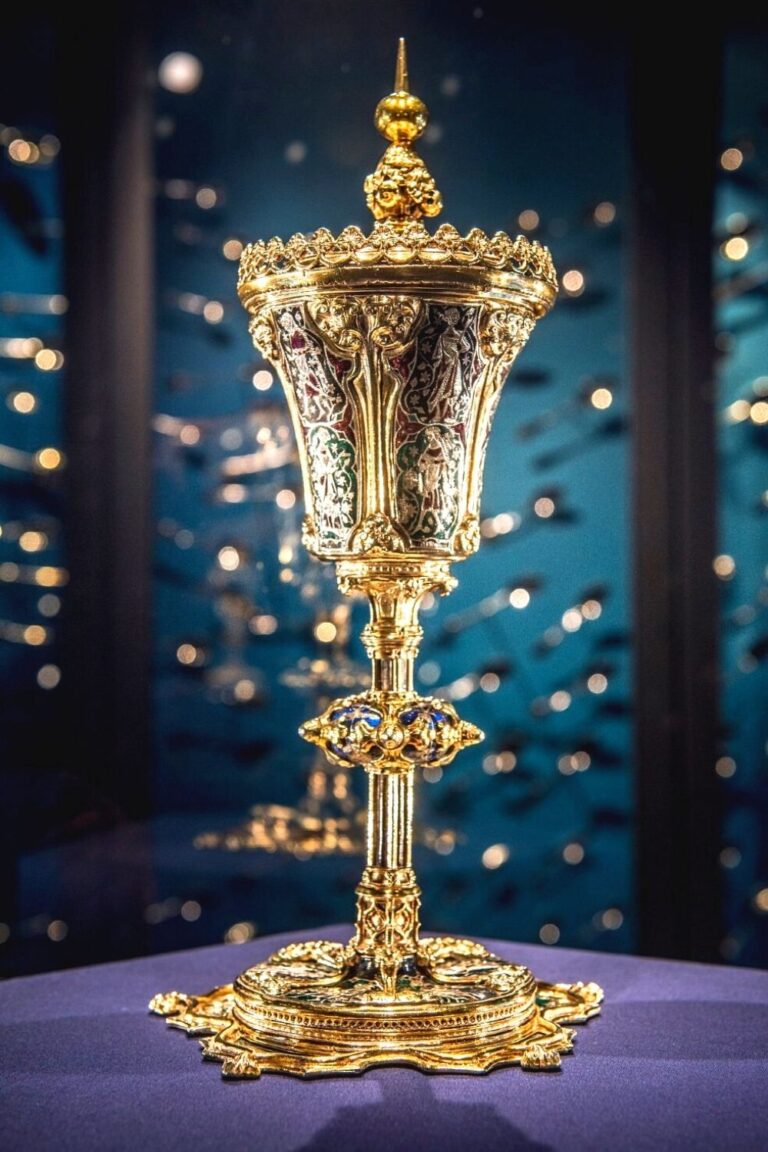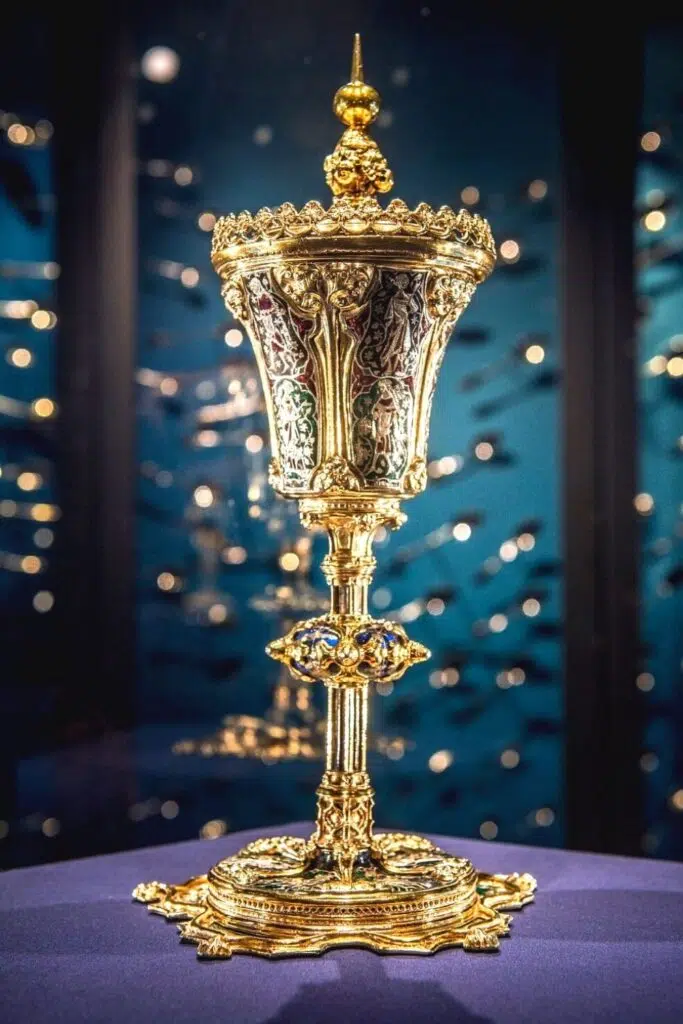 Music & The Arts in King's Lynn
The Corn Exchange
Situated on Tuesday Market Place, the Grade II listed 1854 facade of the King's Lynn Corn Exchange belies a modern interior with a fantastic to-the rafters theatre and two cinemas. Hosting live music, theatre, panto and top box office films, this is a great option for a rainy day in Norfolk – it does happen occasionally!
RELATED POST: What's On in Norfolk – 80+ Dates for Your Diary | Christmas in Norfolk – 45+ Dates for Your Diary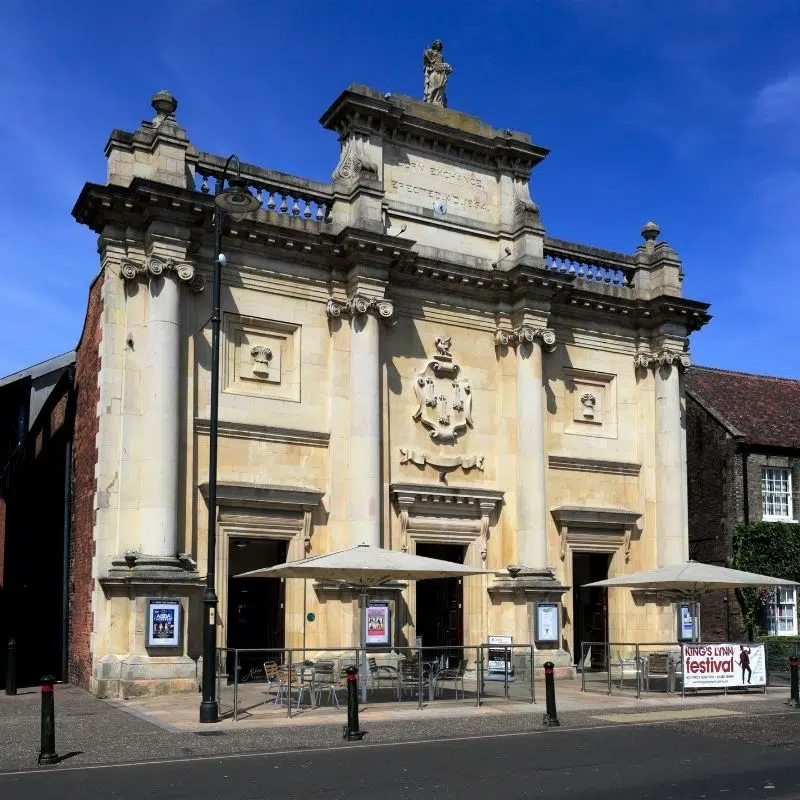 GroundWork Gallery
GroundWork Gallery is all about art and the environment and exhibits work by contemporary artists who care about how we see the world.
Discover how artists are finding new approaches to address climate change with traditional wall art, sculpture and handicrafts, and enjoy events designed to help you learn about the environment and what you can do to make a difference.
King's Lynn Arts Centre
The King's Lynn Arts Centre consists of the medieval Guildhall Theatre alongside four unique art galleries, presenting an ever-changing programme of over 20 exhibitions a year, showcasing the very best in local, regional, national and international art.
Contemporary Outdoor Art Installations
As you walk around King's Lynn, see if you can spot these modern sculptures and installations, which help tell the story of King's Lynn.
The Globe
This large hollow bronze globe is set into the pavement close to the Vancouver Shopping Centre, and shows land masses in raised relief with the British Isles at the top, as is Vancouver Island.
Originally sited in The Square on New Conduit Street, close to the statue of George Vancouver (a British Royal Navy officer, known for his 1791-95 expedition which explored and charted North America's northwestern Pacific Coast regions), it was moved to its present location in November 2005 to mark the completion of the Vancouver Shopping Centre.
Half Fathom Column
This abstract take on a bronze column by Andrew Schumann can be found in the South Quay area. The ripples represent the surface movements on the River Great Ouse which flows through King's Lynn to the Wash, and a solar-powered flashing light on top mimics warning buoys afloat in the sea, whilst the height of the column represents the distance between high and low tides.
Archilenses
Beside the River Great Ouse on the corner of Purfleet South Quay and King's Staithe, you will find Archilenses by Thibault Zambeaux, a glass panel with inlaid magnifying lenses which distort and change the view of the river and marketplace.
Banksy
There was a Banksy in King's Lynn, which the elusive artist has confirmed was his work during his 2021 Norfolk 'Great British Spraycation'. The work included an ice cream cone and tongue placed on the statue of the Victorian fairground manufacturer and town mayor Frederick Savage in Lynn's London Road, but it was removed by West Norfolk Council staff in the mistaken belief that the artwork was vandalism and before Banksy had claimed the piece.
Banksy confirmed he visited Oulton Broad, Lowestoft, Great Yarmouth, Cromer and Gorleston, where he left several artworks as part of his Norfolk trip!
Lynn Lumiere
Lynn Lumière transforms the facades of six landmark buildings in King's Lynn (St Nicholas Chapel, 1–3 Tuesday Market Place, the Custom House, King's Lynn Minster, 18 New Conduit Street and Greyfriars Tower), as a series of spectacular light shows invites you to see the town centre in a different perspective. You can get the Lynn Illuminations trail map here.
RELATED POST: 26 Pictures of Norfolk England to Inspire Your Trip!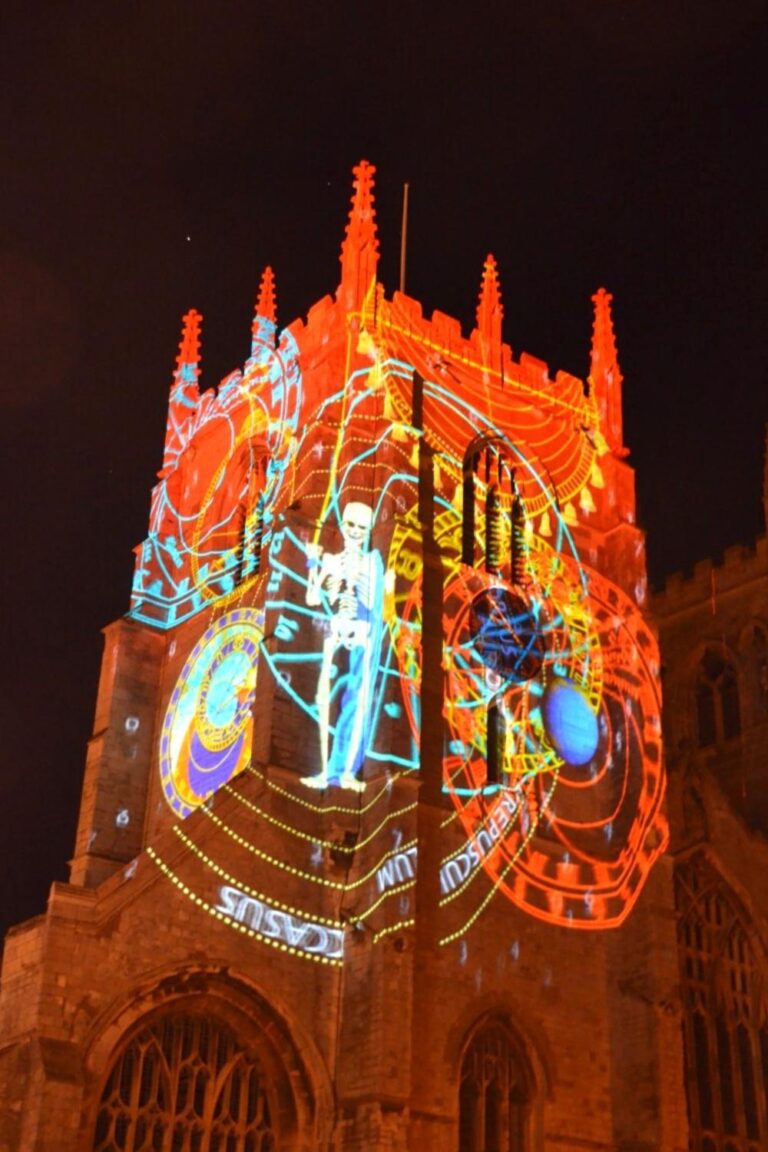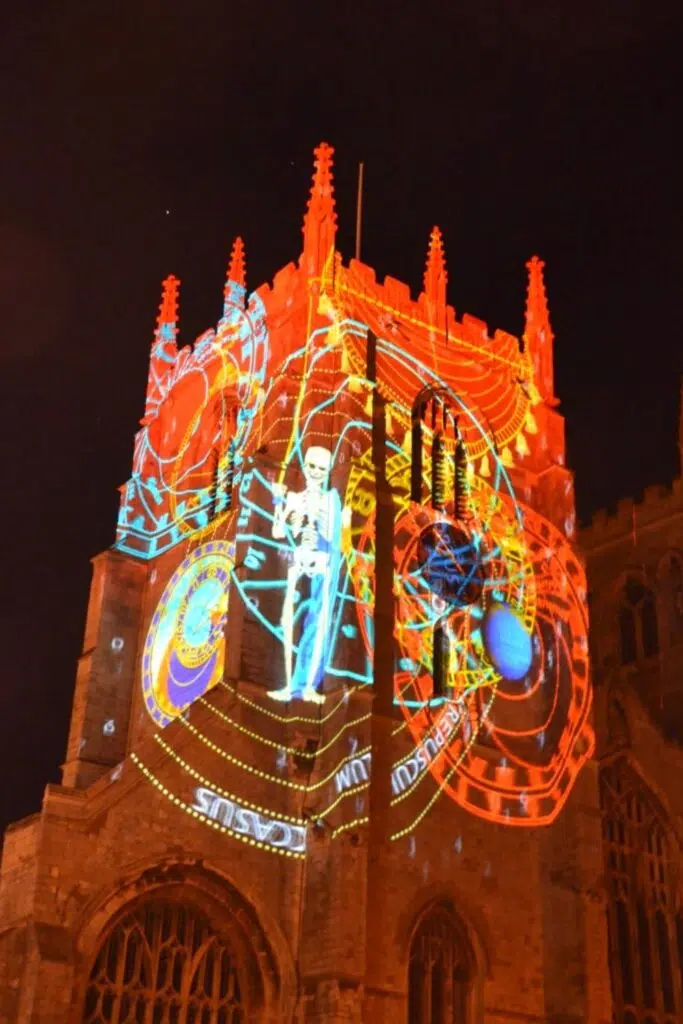 Food & Drink in King's Lynn
Whatahoot Gin Distillery
WhataHoot Distillery is one of King's Lynn's most popular attractions, especially if it's raining! The historic building on King Street not only houses the gin distillery it is also home to a pantry-style shop, gin school and spirit lounge. Their tours, cocktail masterclasses and create-your-own gin experiences make fun gifts for gin enthusiasts.
RELATED POST: 12 Norfolk Gins You Have To Try!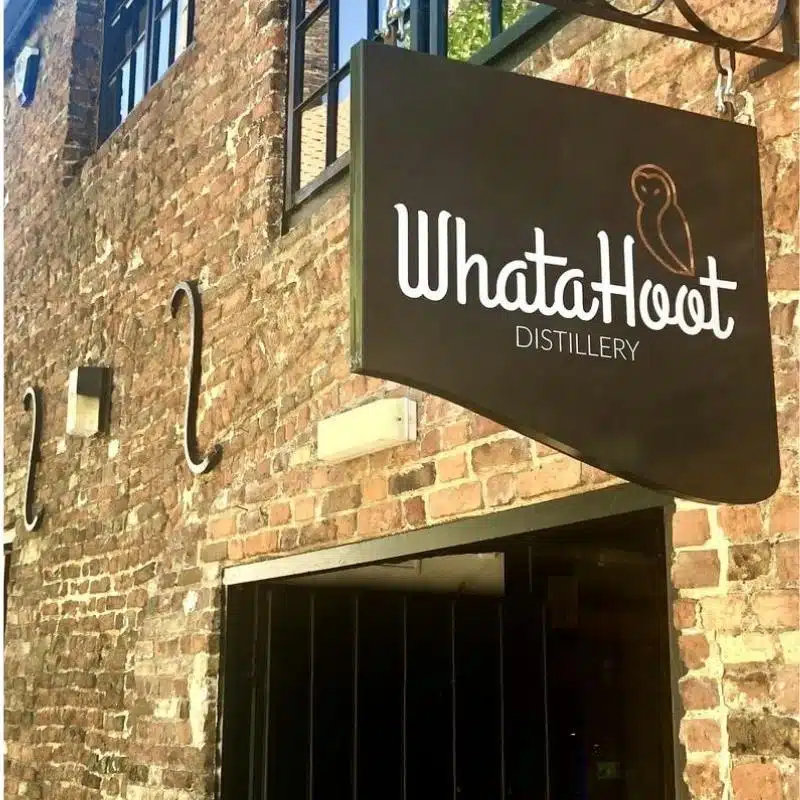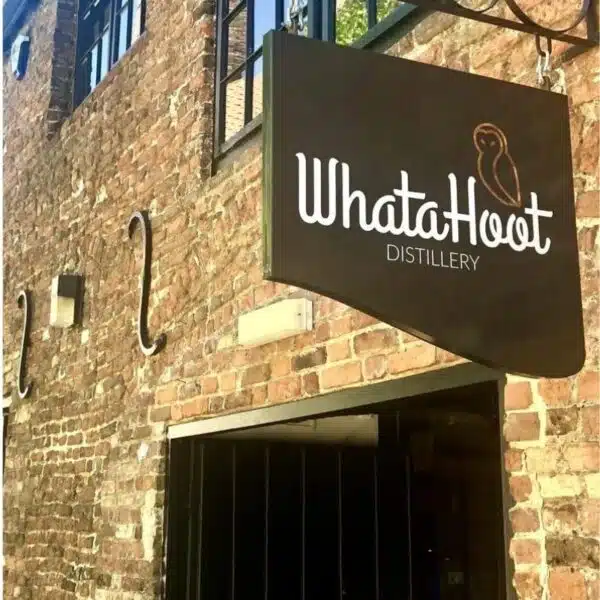 Afternoon Tea
Located in a beautiful square in historic King's Lynn, the Bank House Hotel is a stylish establishment with a warm and welcoming feel.
Their classic afternoon tea offers beautiful warm scones and traditional homemade cakes. For a special occasion, or just because you can, choose the champagne afternoon tea and enjoy a glass of bubbly!
RELATED POST: Afternoon Tea in Norfolk – 15 of the Best Places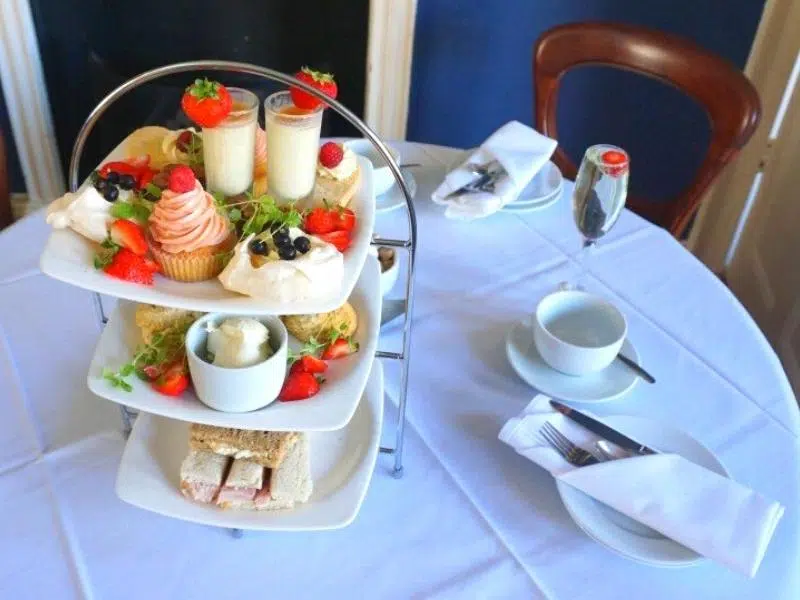 King's Lynn Merchants Market
What was called King's Lynn Farmers Market is now known as King's Lynn Merchants Market. It takes place on the second Saturday of each month between March and December, on Saturday Market Place. The market runs from 9am to 2pm and is held in the Minster when the weather is poor.
The market is the perfect place to buy organic local and seasonal produce, including fruit and veg, home-made chutneys, bread, cakes, specialist cheeses, local honey and homemade pies, alongside local crafts.
RELATED POST: The Best Norfolk Farmers Markets You Won't Want to Miss!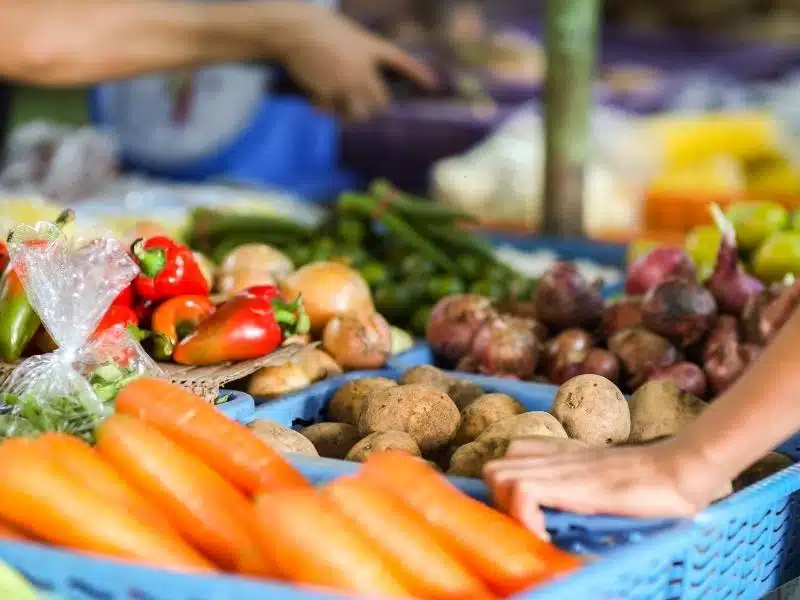 Fish & Chips
There are lots of fish and chip shops in King's Lynn, some have restaurants where you can eat in. Try Loke Fish Bar and Bitson's Fish & Chips for the best of the best.
RELATED POST: 26 Norfolk Food & Drink You Must Try!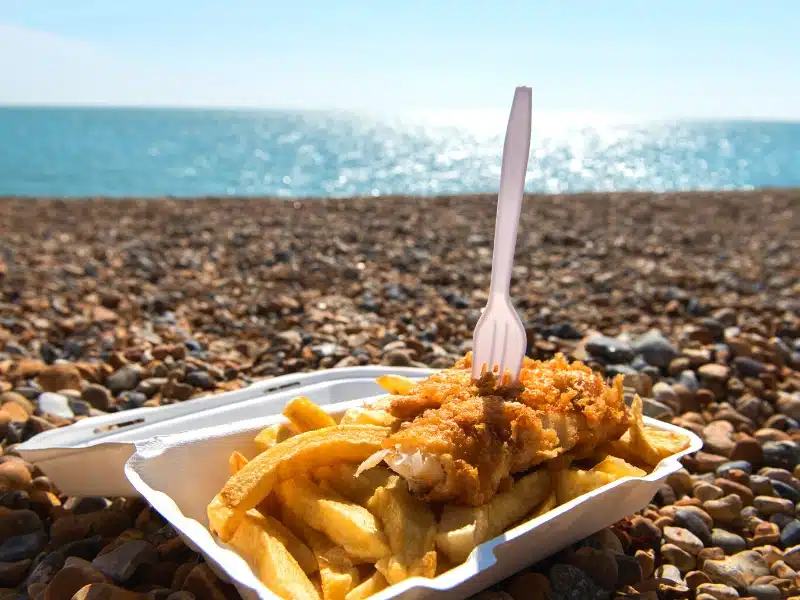 Things to Do Near King's Lynn
Castle Acre
A 25 minute drive from King's Lynn are the Norman ruins of Castle Acre Castle and Castle Acre Priory, one of the largest and best preserved monastic sites in England, which dates back to 1090.
Castle Acre is a tranquil rural village in Norfolk which is home to an extraordinary wealth of history. The village is a complete Norman planned settlement, the work of a baronial family, the Warennes, during the 11th and 12th centuries. Alongside the village, the settlement includes a castle, parish church and Priory.
I loved going to the Castle Acre Castle as a kid, and taking my children, as there are so many grassy areas to run around and have fun. We used to roly-poly down the ancient grass-covered earthworks which surround the site of the ruined castle before heading into the pretty village through the historic Bailey Gate for an ice cream, or cream tea (if we were very lucky!).
The (mostly) ruined Priory is across the small village and you can see the beautiful west-end church gable, prior lodging and remains of many of the buildings around the cloister. The beautiful recreated herb garden grows some of the herbs the monks would have used for medicinal, culinary and decorative purposes.
RELATED POST: 12 Norfolk Castles for You to Explore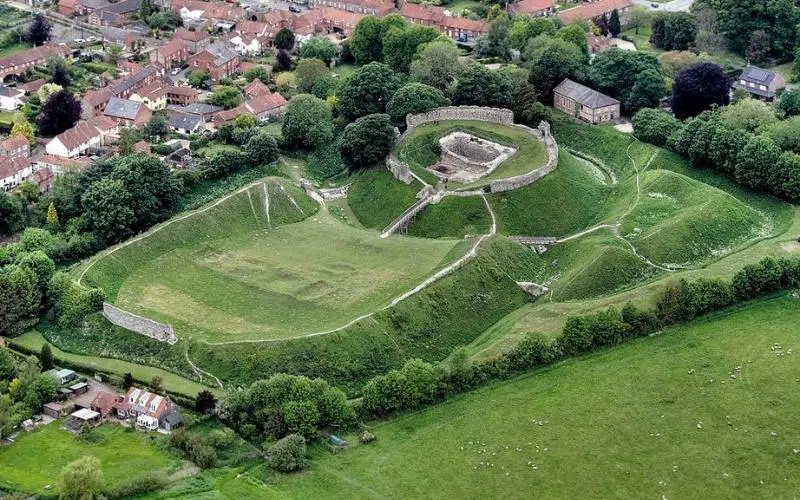 Royal Sandringham
Sandringham, a 20,000-acre estate in the Norfolk Coast Area of Outstanding Natural Beauty, is where the royal family retreats for Christmas, and was reportedly the late Queen Elizabeth's favourite royal residence.
You can visit the house, gardens, parkland and St Mary Magdalene Church in a day, with many of the ground floor rooms of Sandringham House remaining as they were in Edwardian times.
The gardens are beautiful and the parkland and woods which surround the house are a great spot for dog walking, family activities and picnics.
RELATED POST: Norfolk Road Trip – Route, Map and Itinerary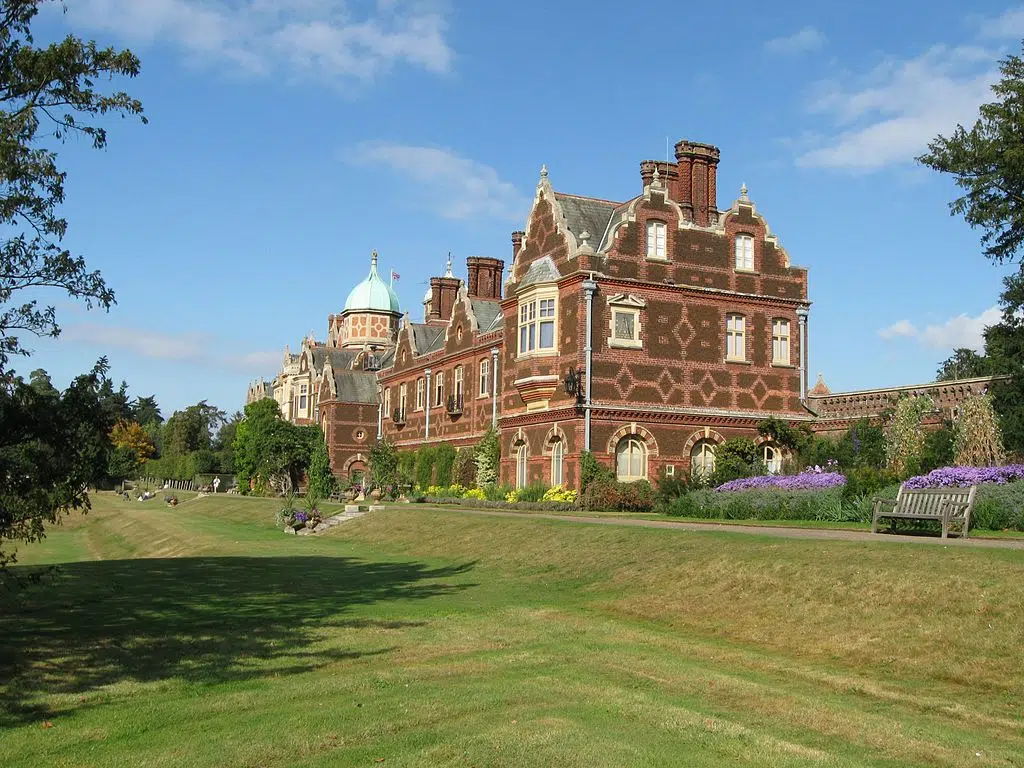 Norwich
Historic buildings, a thriving food scene and a cultural hub make Norwich a wonderful day out. The only city in Norfolk, and gateway to the Norfolk Broads, Norwich is the most complete medieval city in the United Kingdom today.
Home to cobbled streets, ancient buildings, a vibrant culinary scene, twisting medieval lanes, and the winding River Wensum that flows through the city centre, Norwich is a feast of history and architecture just waiting to be explored.
RELATED POST: 37 Best Things To Do in Norwich + Top Tips & Map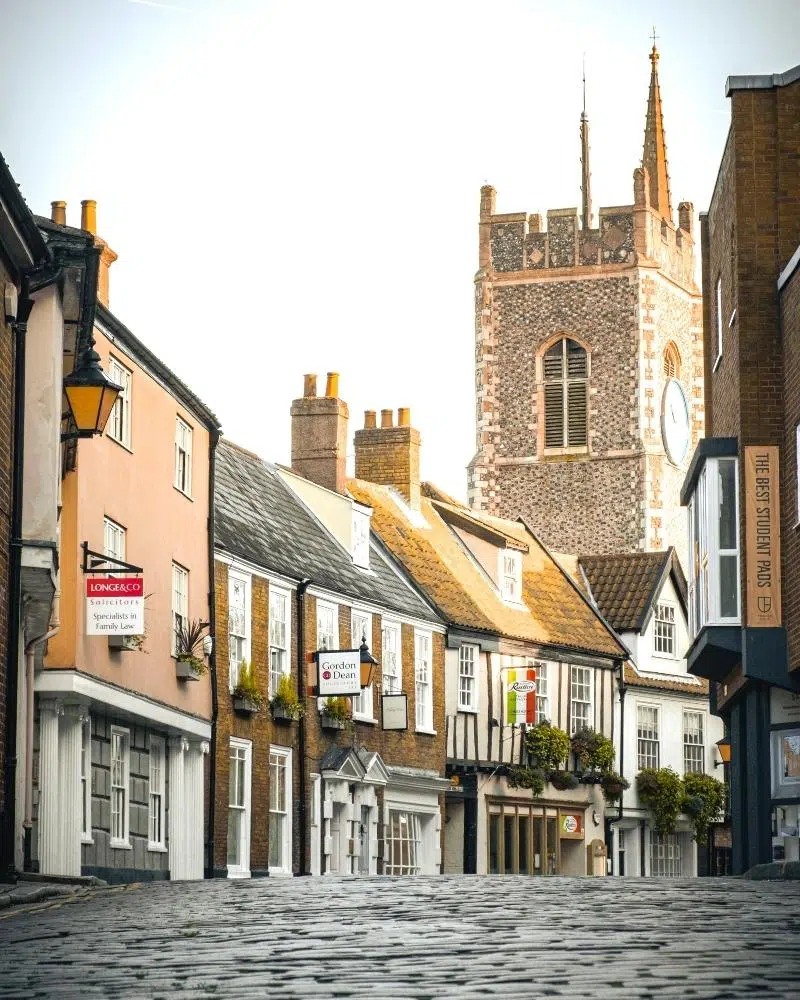 The Royal Station Wolferton
The King's Lynn to Hunstanton line was opened on 3rd October 1862 and was a single track running for fifteen miles from King's Lynn to a new station at Hunstanton.
In February of the same year, the Sandringham Estate was purchased by Queen Victoria for use as a private residence for the then-young Prince of Wales the future King Edward VII.
Wolferton Station would see many Royal Specials during its working life before closing in 1969. It is now preserved in private hands and the Queen gets the train to King's Lynn!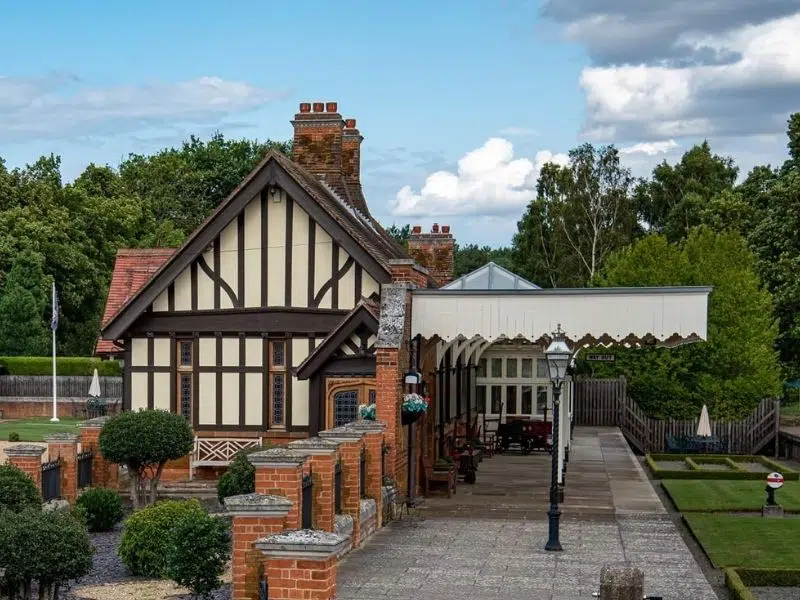 Oxburgh Hall
A National Trust property, Oxburgh Hall is a 15th century moated manor house built by Sir Edmund Bedingfield, whose ancestors still live there today. The house consists of four domestic buildings around a courtyard, built from honeyed stone, and contained within a wide moat.
During the English Civil War, the family lived through turbulent times. Supporting the Royalist cause led to Sir Henry Bedingfield being imprisoned in the Tower of London, one son being wounded, and another forced to flee abroad. Parliamentarian troops ransacked the Hall and destroyed the gardens.
Today, Oxburgh Hall highlights include the King's Room, where Henry VII stayed in 1487, and needlework hangings created by Mary, Queen of Scots while she was held in custody by the Earl of Shrewsbury.
RELATED POST: 14 Stately Homes in Norfolk to Visit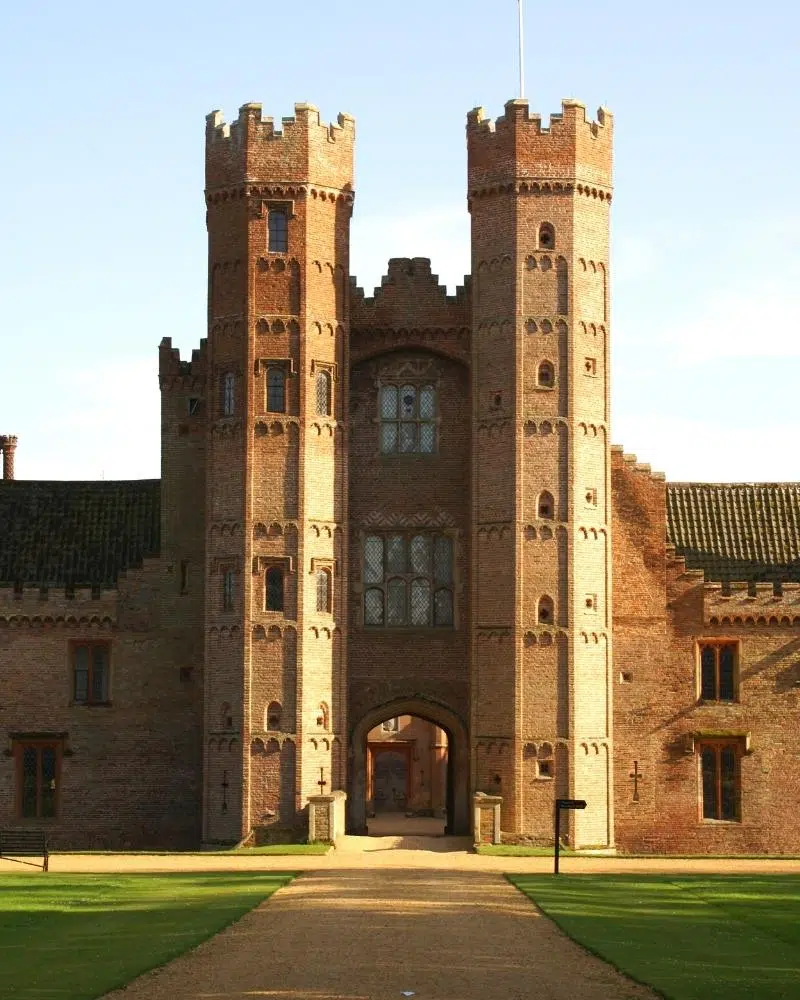 Castle Rising
Castle Rising Castle is one of the most famous 12th century castles in England. The imposing stone keep was built in 1140 CE and is amongst the finest surviving examples of its kind in Great Britain.
The castle was built soon after 1138 by William d'Aubigny II, who had risen to become the Earl of Arundel. With his new wealth, he built Castle Rising as a palatial hunting lodge. It was inherited by William's descendants before passing into the hands of the de Montalt family in 1243.
The Montalts later sold the castle to Queen Isabella of France who lived there after her fall from grace in 1330. Isabella extended the castle buildings and enjoyed a regal lifestyle. After her death, it was granted to Edward, the Black Prince, to form part of the Duchy of Cornwall.
The massive surrounding earthworks, not only ensure that Rising is a castle of national importance but give lots of opportunities for kids to run off steam and play sword fighting!
I love to visit Castle Rising, especially with children. It's one of the few castles where you can get up close to the atmospheric and unspoilt interiors, full of hidden corners, steps worn smooth over centuries, and arrow slits with incredible views.
Another bit of history abour Castle Rising is that it was the first parliamentary seat of Sir Robert Walpole, widely held to be the first British Prime Minister. He left Castle Rising in 1702 so that he could represent the neighbouring borough of King's Lynn, a pocket borough that would re-elect him for the remainder of his political career.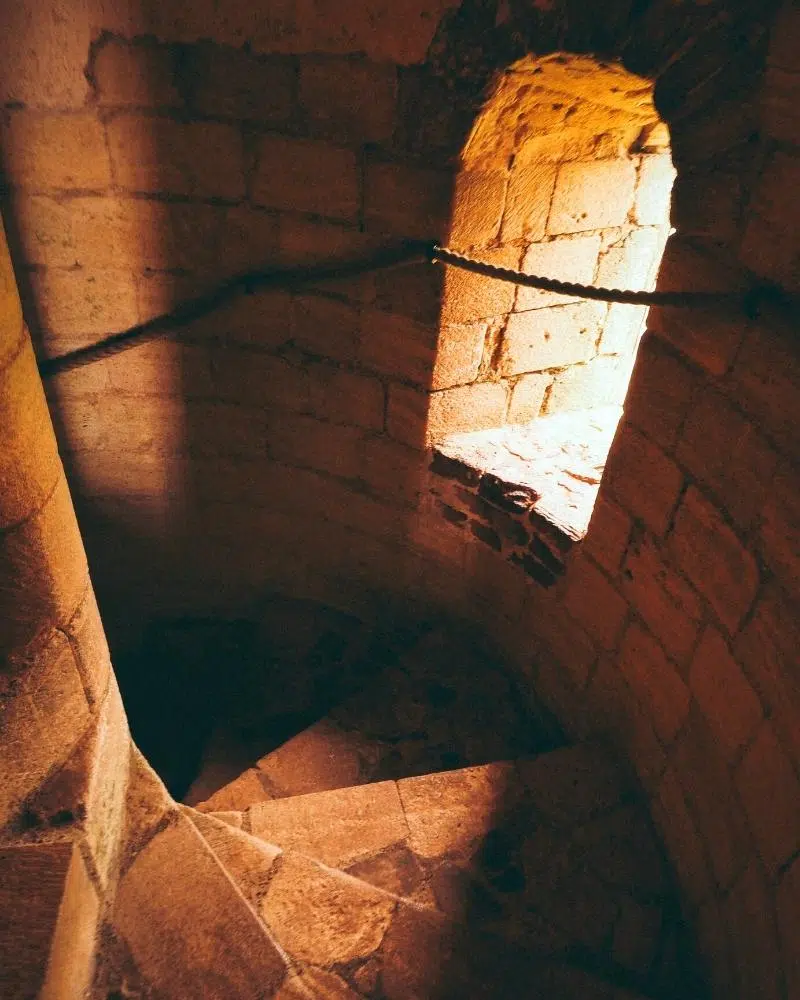 Bircham Windmill
Standing in the heart of Norfolk's rolling fields, Bircham Windmill has been restored and now looks as it did over 100 years ago. At that time, Norfolk was home to over 300 mills which ground corn for bread making and animal feed.
Today, very few are left, and Bircham Mill is considered one of the best still remaining. You can climb the five floors up to the fan stage and, on windy days, you can see the sails and the milling machinery turning.
Bircham Mill still makes their own bread in the bakery adjoining the mill, which has its original, coal-fired oven. You can also try your hand at bread baking, a great activity for families with older children.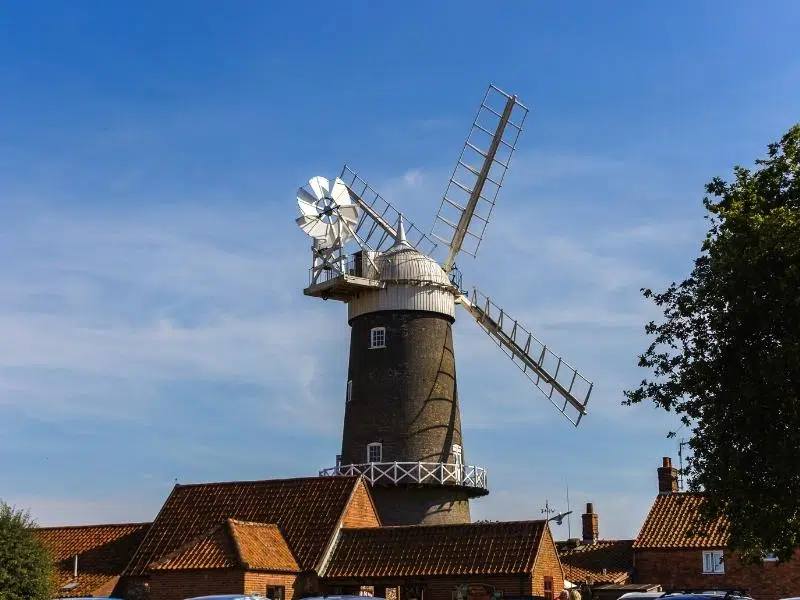 Outdoor Adventures Around Kings Lynn
Fen Rivers Way
The Fen Rivers Way is a long-distance trail running for 50 miles between Cambridge, Ely, Downham Market and King's Lynn, which traces the course of the rivers that drain slowly across the Fens into the Wash. The route takes you through the distinctive Norfolk Fens landscape and traditional Norfolk market towns on a path rich in history and wildlife.
Taking in the internationally significant environment of the Ouse Washes Nature Reserve, the journey follows the River Great Ouse under huge skies through the dramatic landscapes and past the massive flood banks that protect the low-lying Fens.
This is the landscape of my upbringing – as a teenager I yearned for mountains and some relief from the relentless flatness of the Fens – as an adult, the endless skies and long views to the horizon mesmerise me.
If you don't want to walk the whole route, pick it up at Downham Market for a good day's walk. At King's Lynn, the Fen Rivers Way connects with the Wash Coast Path along the remote coast marshes into Lincolnshire or the Nar Valley Way which leads into the heart of Norfolk.
RELATED POST: Walks in Norfolk – 14 of the Best Trails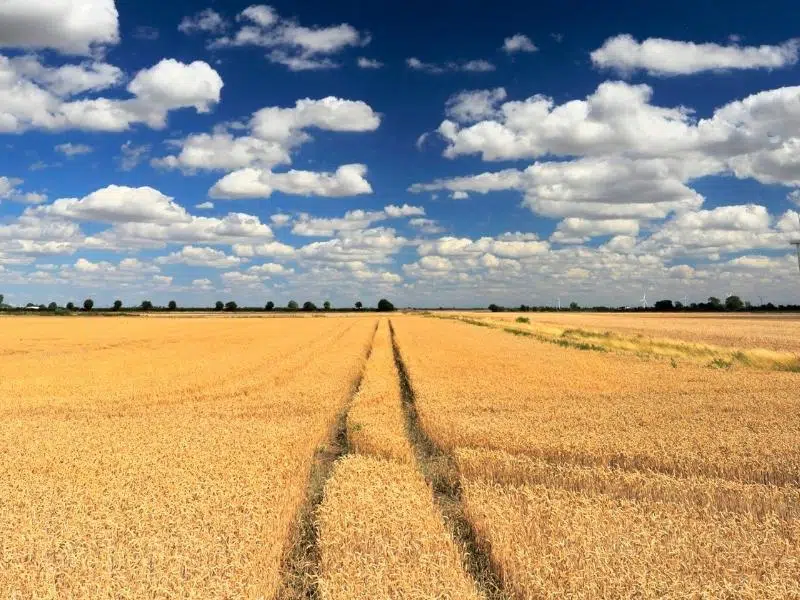 Head for King's Lynn's Beaches
Situated on the River Great Ouse four miles inland from the mud flats and inner tidal bank of the Wash, there is no King's Lynn beach.
But the good news it, there are at least eight Norfolk beaches within a 30 minute drive of King's Lynn, meaning a day at the beach is a real possibility.
Snettisham Beach is the closest beach to King's Lynn and one of Norfolk's three west-facing beaches, perfect for watching the sunset.
The shingle beach is vast, making it a great place for long walks, beach games and wildlife watching, as it backs onto Snettisham Coastal Park and RSPB Snettisham Reserve where you can see the incredible 'whirling wader spectacle'.
Snettisham Beach is not really a bucket and spade destination, because when the tide goes out, it leaves mudflats rather than sand, which makes for very messy sandcastles!
Heacham, the next beach up the coast is actually two beaches, Heacham North Beach and Heacham South Beach. There are bands of sand but both Heacham beaches are predominantly shingle.
The South Beach, known locally as 'Stubborn Sands' is quite rugged and good for long walks with a dog, sea fishing and romantic sunset strolls, whilst the North Beach is a great spot for families.
If you want a proper stretch of sandy stretch, head to Hunstanton South Beach, the next one up from Heacham. Hunstanton is known locally as 'Sunny Hunny', and is a perfect seaside resort for families looking for a great sand-castle building beach with lots of amusements, traditional beach activities and the indoor water park at the Alive Oasis Leisure Centre.
Further still are the often deserted sands of Old Hunstanton Beach, perfect for dog-walking and kitesurfing, Holme-next-the-Sea Beach and Brancaster Beach.
RELATED POST: King's Lynn Beaches: 8 of the Best to Visit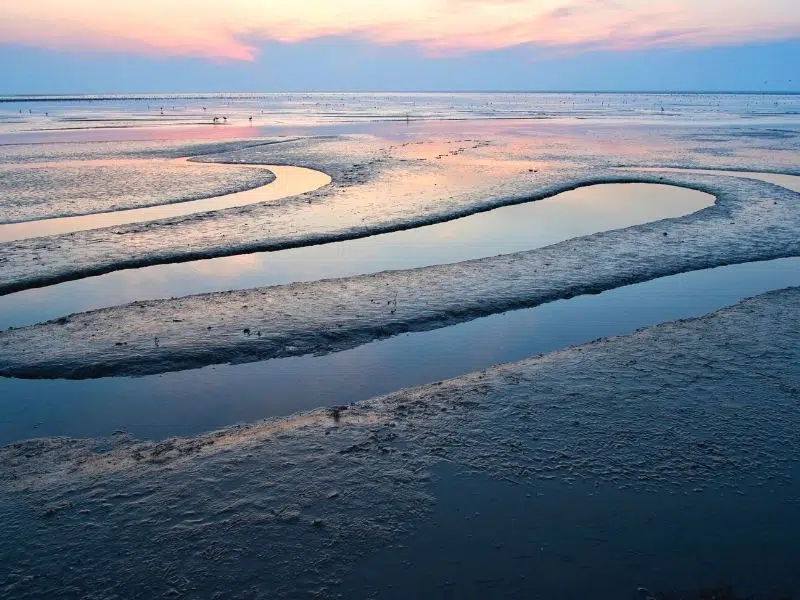 North Norfolk Coast
Spend a day out on this glorious stretch of coastline, which is home to some of Norfolk's best beaches and traditional seaside towns.
Holme Beach is perfect for solitude and picnicking in the dunes; Happisburgh is a great spot for history and fossil hunting; Cromer Beach is ideal for families and crabbing from the pier in the summer months, and Wells Beach has it all – beach huts, acres of sand and clear water, crabbing in the harbour, and the majesty of nearby Holkham Hall and Holkham Beach.
RELATED POST: Best of the North Norfolk Coast: 20 Unmissable Highlights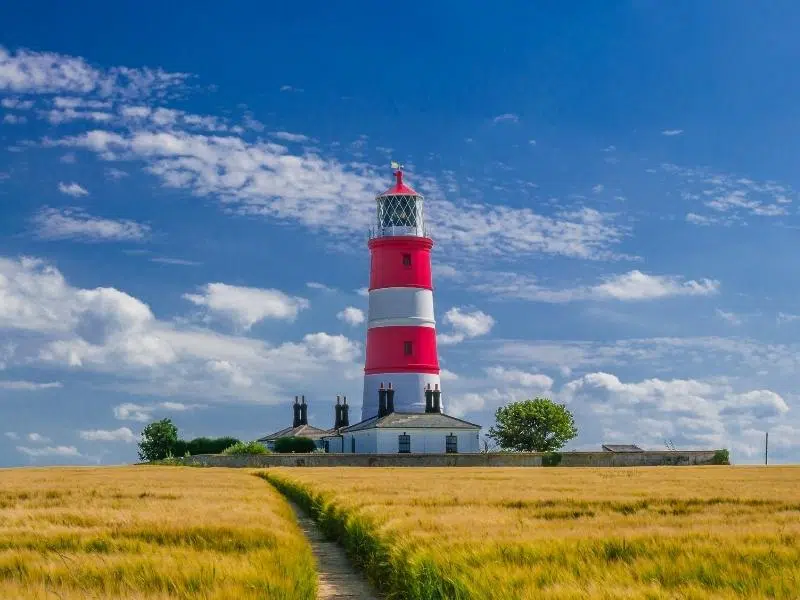 Local Farm Centres
Snettisham Park
Snettisham Park and Park Farm is a working Norfolk farm growing wheat for animal feed, barley, sugar beet and grass, which is grazed by a 400 flock of sheep, a herd of red deer, and horses and ponies from their own stables.
The 329-acre working farm is open to the public and is a brilliant day out with kids. See lambs being born, take a 45 minute deer safari, bottle feed baby animals, collect freshly laid eggs and ride ponies, and take a walk on one of their three wonderful trails – sounds like heaven!
Church Farm Rare Breeds Centre
Church Farm Stow Bardolph is a great place for a day out with the kids. Meet rare breeds and cute baby animals, race around on pedal tractors, enjoy the adventure play areas and the fantastic indoor treehouse, ride on a donkey and even play with piglets, who will roll over obligingly for a belly scratch!
For grown-ups, there's also outdoor theatre in the summer, beautiful woodland walks and a tea room where you should absolutely try one of their delicious homemade cakes.
For grown-ups, there's also outdoor theatre in the summer, beautiful woodland walks and a tea room where you should absolutely try one of their delicious homemade cakes.
RELATED POST: Norfolk Theme Parks – Ultimate A-Z Guide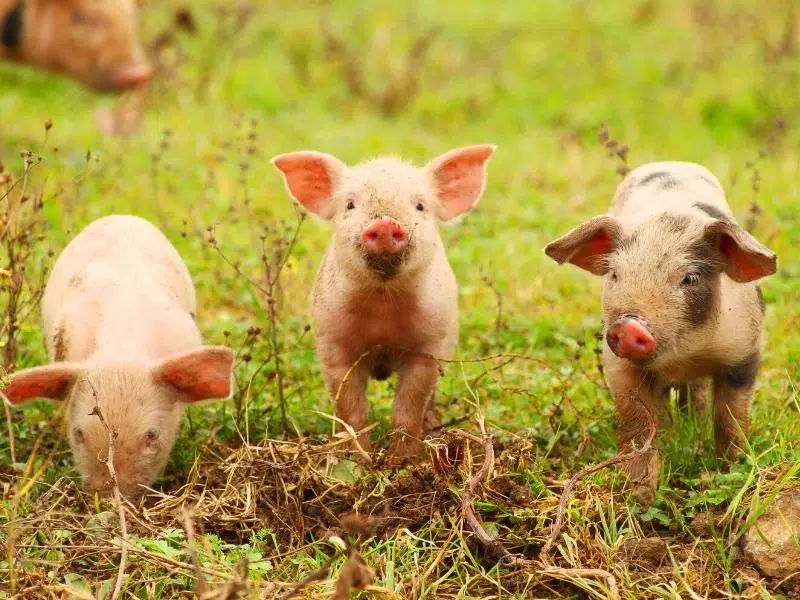 Gooderstone Water Gardens & Nature Trails
Goodserstone Water Gardens and Nature Trail is a unique attraction for all garden lovers. Six acres of lush gardens surrounded by waterways and ponds create the perfect spot to while away a summer's afternoon.
As you wander the trails and cross bridges, keep your eyes out for birds like Kingfishers, and admire the colourful cottage garden and marginal planting which surrounds you.
RELATED POST: The 21 Best Gardens in Norfolk to Visit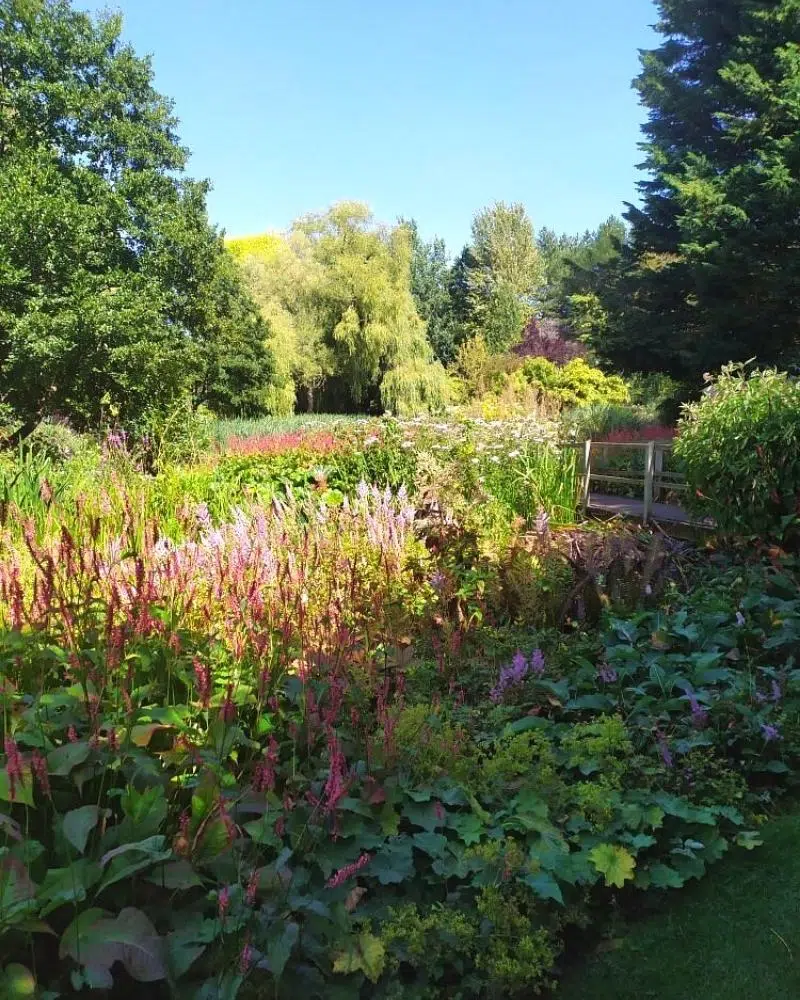 Norfolk Coast Path
Just a few miles north along the coast from King's Lynn, the stunning Norfolk Coast Path runs from Hunstanton in West Norfolk to Sea Palling on the northeast Norfolk coast, with most of the hiking trail passing through the dramatic landscape of the Norfolk Coast Area of Outstanding Natural Beauty and past many internationally recognised wildlife reserves.
Connect with the diverse Norfolk countryside when you hike the coastal path, through sand dunes, around salt marshes, along golden beaches and over the odd cliff or two, taking in views of the Wash and the Lincolnshire Coastline at Hunstanton.
Watch sea birds on the wing, seals bobbing in the North Sea and and meet locals in pretty villages and seaside resorts along the way. There are also a few good pubs on route if you're planning a day's hiking!
Watatunga Wildlife Reserve
A new attraction for Norfolk, Watatunga is situated in 170 acres of unused Norfolk wetland, and is dedicated to the conservation of threatened ungulates (large mammals with hooves) and birds. Deer and antelope species mix with rare pheasants, ducks and the majestic great bustard, reintroduced in Great Britain after extinction in 1832.
Watatunga aims to inspire and showcase the beauty of their animals whilst telling the story of their struggle to survive. Take a guided buggy tour to learn about this approach to conservation and see the incredible wildlife in the beautiful surroundings of Norfolk.
RELATED POST: Norfolk Nature Reserves – Ultimate A-Z Guide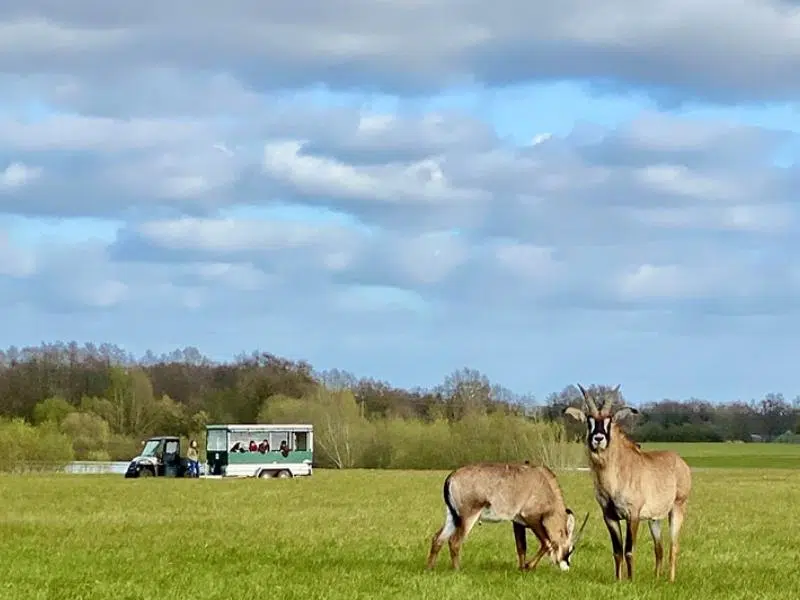 Norfolk Lavender
A highlight on the eastern edge of the Norfolk coast, Norfolk Lavender has over 100 acres of lavender and over 100 lavender varieties. Wandering the scented fields is a real treat, especially when the plants are in bloom in summer.
With tearooms where you can enjoy lavender-smelling goodies, a play park for kids, animal gardens and tours of the lavender fields, this makes a great stop on any Norfolk holiday.
You can also stop at the farm shop for local goodies, and buy lavender plants and their own range of lavender products in the gift shop – time to find the perfect Norfolk souvenir!
RELATED POST: Norfolk Lavender – A Complete Visitor's Guide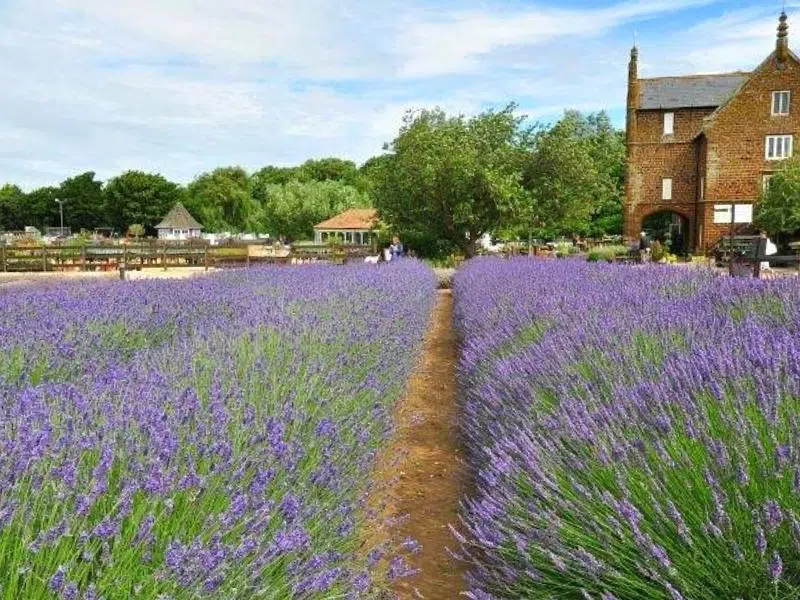 The Best Places to Stay in King's Lynn
Globe Hotel, Tuesday Market Place – In the heart of old King's Lynn, the Globe Hotel was first recorded as a historic Georgian coaching inn in 1650. Today the Globe Hotel offers the best aspects of a modern hotel and bar, making a perfect base for exploring King's Lynn.
Knights Hill Hotel & Spa, South Wootton – Situated in the heart of the beautiful Norfolk countryside on the outskirts of King's Lynn, Knights Hill Hotel and Spa offers the perfect getaway retreat. Classically elegant rooms and suites with great amenities offer stylish and comfortable surroundings in the hotel complex.
Bank House Hotel, King's Staithe Square – The Bank House is located on the Quayside of the River Great Ouse. They have twelve comfortable rooms, each with its own character and design, mixing old antique furniture with new modern paintings and state-of-the-art bathrooms.
Dukes Head Hotel, Tuesday Market Place – The 4* Georgian Dukes Head Hotel enjoys a prime position in the centre of town and has 79 comfortable rooms, a gym, a restaurant and a bar.
Stuart House Hotel, Goodwins Road – The small and stylish family-run Stuart House Hotel is located close to the centre of town and offers an intimate atmosphere and beautifully decorated rooms.
BrickSage Rooms, London Road – Close to historic South Gate, BrickSage is a self-catering guest house offering individually decorated rooms located in a cosy 4-storey terrace.
My Favourite Places to Eat in King's Lynn
Liquor & Loaded, Tower Street – King's Lynn's answer to an American diner, Liquor and Loaded offers a fantastic menu of loaded fries, dogs, chicken wings, burgers and pulled pork with signature toppings and sauces. Yum!
King's Lynn Tandoori, Wootton Road – Serving some of the best Indian food in West Norfolk, the King's Lynn Tandoori serves delicious curries in stylish surroundings. I love their Tandoori Mixed Shashlik Bhuna!
Crown & Mitre, Ferry Street – An independent gastropub, the Crown and Mitre has a lovely position overlooking the river and serves a modern British menu using locally sourced and seasonal ingredients.
The Heron, Stowbridge – A short drive south of town, The Heron is a pretty riverside country inn serving classic pub grub in a welcoming and cosy environment.
Where is King's Lynn Norfolk?
About King's Lynn in Norfolk
Originally it was known as 'Lin', (and is now called Lynn by locals), the town has changed significantly through the ages. The medieval town was founded when Bishop Herbert de Losinga, who was the first Bishop of Norwich, built St. Margaret's Church in 1095 and established a market. Now Kings Lynn Minster, it is sited on Saturday Market Place, home of that original market.
The town became prosperous and in 1204, the Bishop John de Grey of Norwich, named it Bishop's Lynn. Trade flourished along the waterways, due to the town's proximity to the North Sea, and Bishop's Lynn became a member of the medieval Hanseatic League and soon grew to be the most important port in England.
In 1537 Bishop's Lynn became King's Lynn, when Henry VIII's charter dispossessed the Norwich bishops and transferred full political power to the town's merchants.
The English Civil War was a turbulent time for King's Lynn, with bloodless coups, blockades, sieges and fortifications. The town went from being Parliamentarian to Royalist, and back again, in the summer of 1643. By the end of the year, King's Lynn was the strongest fortress town in East Anglia.
In the 16th and 17th centuries, King's Lynn's main export was grain, but the town suffered from the demise of the Hanseatic League and the discovery of the Americas, which benefited ports on England's west coast.
In the late 17th century, imports of wine from France, Spain and Portugal helped King's Lynn remain wealthy. It was cheaper to transport goods by water than by road at the time and large amounts of coal began to arrive from the north-east of England.
The draining of the Fens (get the story of the drainage of the Fens here) began in the mid–17th century and the land turned to agriculture, allowing vast amounts of produce to be sent to London's growing market. King's Lynn was also flourishing as a major fishing port and by the late 17th century shipbuilding, brewing and glass-making had developed.
The coming of the railway in 1847 ensured King's Lynn continued to prosper and grow into the town we know today.
How to Get to King's Lynn
Driving to King's Lynn
For those travelling from the north of the United Kingdom, pick up the A17 south at Newark-on-Trent and follow the route around the Wash to King's Lynn. This road is mainly single-carriageway, and there is usually a lot of slow-moving agricultural traffic and trucks, so add a bit of extra time for your journey.
If you're travelling from the Midlands, you'll arrive in Norfolk from Peterborough and pick up the A47 north and east to King's Lynn. From the south, the A10 brings you through Cambridge directly to King's Lynn.
Getting To King's Lynn by Public Transport
The county of Norfolk is within easy reach of the rest of the UK, with excellent transport links. The best way to get to King's Lynn is by mainline train from London, which takes less than two hours. The regular Greater Anglia service departs from London King's Cross every hour or so.
Alternatively, you can take a National Express coach from Victoria Coach Station to King's Lynn. This takes around 6.5 hours depending on the time of day, and you will need to change at Norwich, but it's often much cheaper than the train, especially if you can book in advance.
Getting Around West Norfolk
The Coastliner 36 bus heads from King's Lynn to Hunstanton, Brancaster, Burnham Market and Holkham before arriving in Wells-next-the-Sea, where you can hop onto the CoastHopper bus to Stiffkey, Morston, Blakeney, Cley, Salthouse, Weybourne, Sheringham, East Runton, West Runton and Cromer, meaning you can get to many of the best spots on the North Norfolk coast by bus.
There is also the regular X44 bus which connects Sheringham to Norwich and Holt, and from there the Norfolk Coastlink service connects Norwich with Great Yarmouth.
How about getting around West Norfolk on a bike? The Rebellion Way passes through the town and the Norfolk Coast Cycleway runs from King's Lynn to Great Yarmouth and follows a network of byways, bridleways and quiet country lanes which are perfect for cycling, and link pretty villages around the county.
These lanes, bordered by fields of wheat, hedgerows and woodlands, see little traffic, which means you can explore the Norfolk coast at a leisurely and safe pace.
You can hire bikes at Coastal Cycle Hire in Snettisham and Wheel Travel, who will deliver your bike to wherever you are in Norfolk!
Map of King's Lynn Attractions
How to use this map – Use your fingers (or computer mouse) to zoom in and out. Click or touch the icons to get more info about a place, and click the arrow in the box top left to open the index. To add to your own Google Maps account, click the star next to the title of the map.
Have I missed any King's Lynn highlights that you'd like to see included? Scroll down to leave a comment…
Love it? Pin It!