Hunstanton is a lively resort town in beautiful West Norfolk. Known locally as 'Sunny Hunny', Hunstanton is one of Norfolk's top seaside towns and makes a perfect base for a family holiday or day out.
There are lots of Hunstanton attractions to keep everyone busy. With two fantastic beaches, both offering a different experience, a traditional Victorian town centre, and lots of top Norfolk attractions nearby, Hunstanton is the perfect place to entertain the whole family.
This round-up of all the best things to do in Hunstanton and the surrounding area plus recommendations for places to stay and where to eat will help you plan your next trip. Here are my top Hunstanton highlights.
RELATED POST: The Ultimate Local's Guide to Norfolk England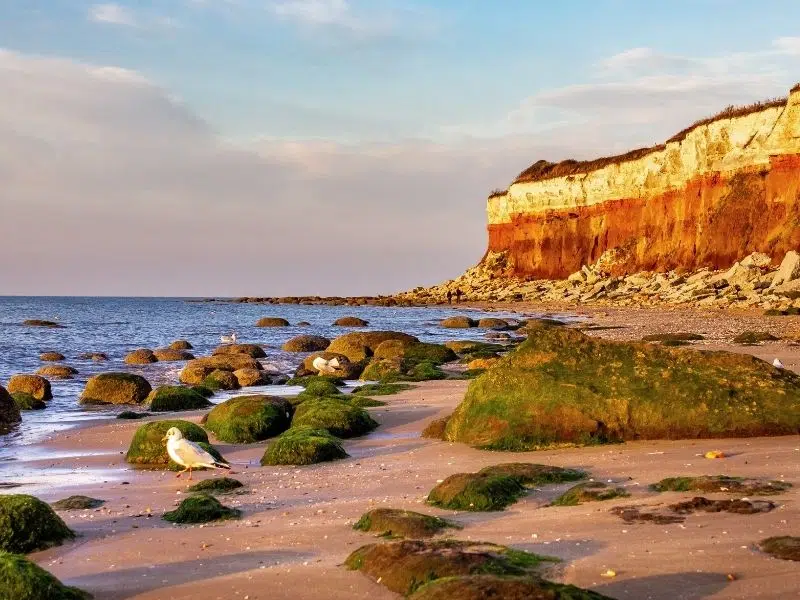 This post may contain affiliate links. If you book something I recommend, I make a small commission without affecting the price you pay!
The Best Things to Do In Hunstanton
Spend a Day at the Beach
Hunstanton is the only seaside town in Norfolk which faces west, even though it's on the east coast of England! This means Hunstanton Beach is relatively sheltered from sea breezes and a great place to enjoy watching the sunset over the Wash.
The Victorian resort of Hunstanton was purpose-built in 1846 and, away from the amusement arcades, fairground rides and in-your-face noise and lights of the front, has an old-world charm.
Often referred to as the main beach or central beach, Hunstanton North Beach is a traditional family destination, where sandcastle building, beach games and paddling in the sea are the order of the day!
The promenade behind the main beach is home to Hunstanton Sea Life Sanctuary and Aquarium, with its famous seal hospital, a mini-train to take visitors along the seafront. The Norfolk Coast Path also starts its long route at the end of the North Promenade.
As the beach extends north its red chalk, white chalk and carrstone striped cliff face becomes more prominent. This part of the beach is best for rock pooling, fossil hunting and dog walking outside of summer.
Located at the southern end of Hunstanton Beach promenade, where it meets Heacham North Beach, lies South Beach, a more peaceful and quiet area of the promenade.
The division between Hunstanton North Beach, often referred to as the main beach, and South Beach is marked by a large slipway, which is used for launching powerboats and other personal watercraft.
Hunstanton Ski Club can be found above the café next to the boat ramp, and Searle's Sea Tours, which offers seal safaris and coastal trips aboard their amphibious Wash Monsters, launch from the same point.
The promenade features long rows of concrete steps leading down to the sand and shingle beach, which disappears entirely at high tide.
Car parking is fairly easy for the south and north beach. There are plenty of pay and display car parks in Hunstanton where you don't have to walk far to reach the sands.
RELATED POST: Norfolk Beaches – Ultimate A-Z Guide
Follow the Hunstanton Wolf Trail
Hunstanton has a long and close association with St Edmund who was born into the Wuffing family (Wuffa was the old English word for a wolf) and was the last of the dynasty that had ruled the Kingdom of East Anglia for over 200 years.
St Edmund landed in Hunstanton in 855 CE and the story of his arrival and his dramatic and bloody martyrdom at the hands of the Vikings, and the legendary appearance of a wolf to guard over his severed head, can be discovered following the Hunstanton Wolf Trail.
Hunstanton's association with St Edmund was celebrated by Henry Le Strange, whose statue stands in front of the Golden Lion Hotel on Cliff Parade. LeStrange built a new sea bathing village in the 1840s which became known as Hunstanton St Edmund's until it was renamed 'New Hunstanton' in 1893, and over time became the Hunstanton we know today.
The Wolf Trail starts at the entrance to the Esplanade Gardens, close to Hunstanton Tourist Information Centre and you can use this audio guide to share the story as you walk.
There is an information board about the story of St Edmund at the start of the one mile trail and the first of six 'Wolf Trail' way markers which take you to the site of St Edmunds Chapel at the cliff top in Old Hunstanton, the surrounding gardens and home of the carved wooden Wolf statue.
RELATED POST: Best of the North Norfolk Coast: 20 Unmissable Highlights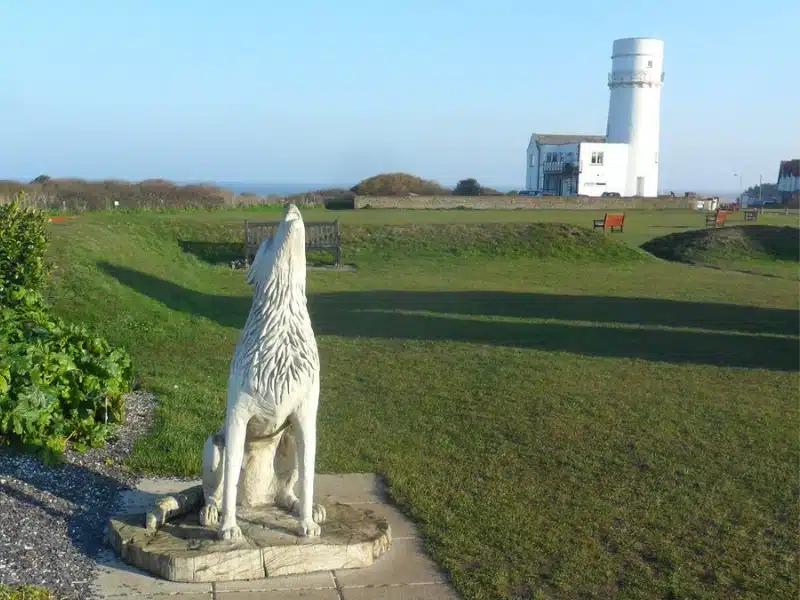 Get Your Thrills at Rainbow Park
I loved coming to the sea-front fairground at Hunstanton as a kid, and then a teenager, for fun things like the dodgems, 2p slot machines and the hot sugared doughnuts straight from the pan!
Rainbow Park is one of the best things to do in Hunstanton for families. There are fairground rides for every age group, and two amusement arcades where you can find all the traditional games like penny falls, fruit machines and grabbing cranes, alongside the most up to date interactive arcade games.
There's plenty of parking in the nearby Seagate Car Park, lots of coffee shops and places to eat including seaside favourites like fish and chips, candyfloss and ice creams, and public toilets opposite the fairground.
RELATED POST: Norfolk Theme Parks – Ultimate A-Z Guide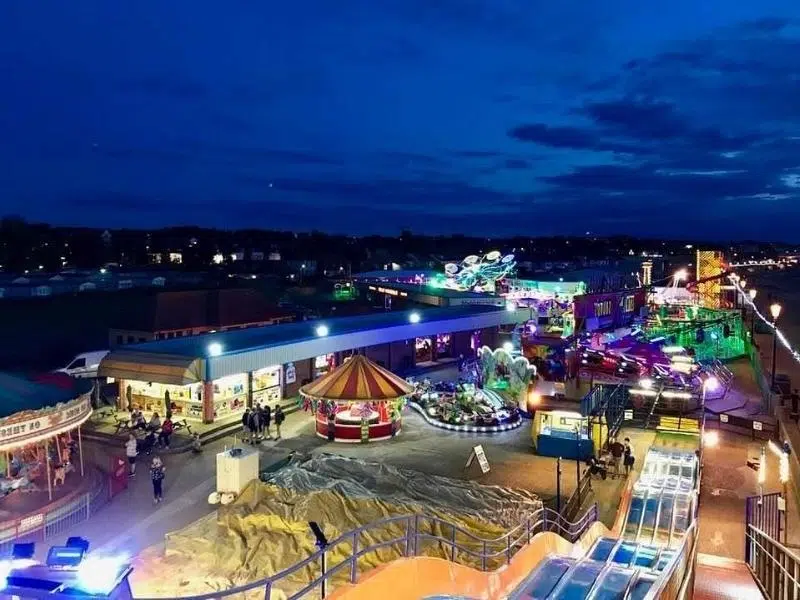 Discover SEA LIFE Hunstanton
Next to the fairground on the South Promenade is the SEA LIFE sanctuary and aquarium. A really popular family attraction, the Hunstanton SEA LIFE centre is a bit different as it's also home to Norfolk's Seal Rescue Centre and Hospital.
Based in Hunstanton because of the large population of Common Seals and Grey Seals along the nearby North Norfolk coast, the seal hospital cares for injured and vulnerable seals and seal pups until they can be released back into the wild.
There is also the brilliant penguin beach, a chance to get up close to insects and creepy crawlies (not for me!) at Rainforest Ranger basecamp, and the underwater tunnel brings visitors face to face with an amazing collection of sea creatures.
RELATED POST: Norfolk Nature Reserves – Ultimate A-Z Guide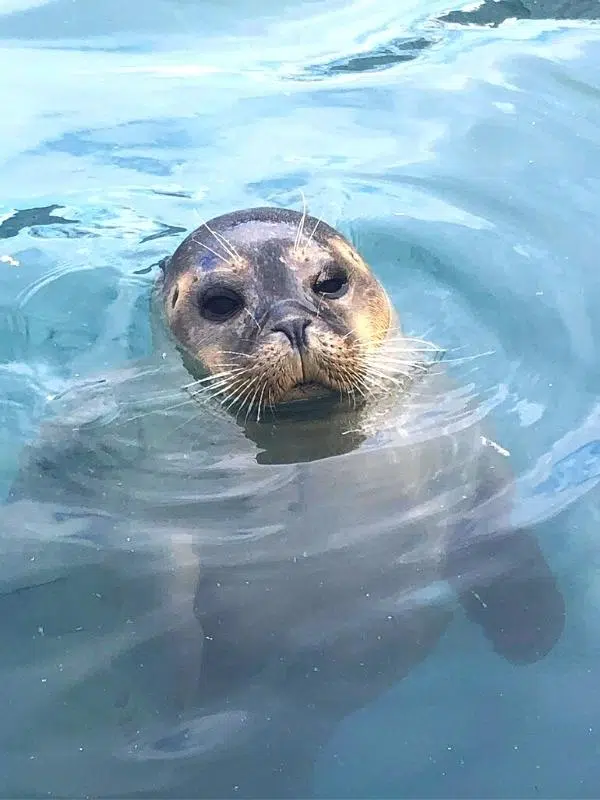 Take a Seal Safari Boat Trip
If you loved SEA LIFE, then a seal safari boat tour from Hunstanton will take you to see the seals in the wild! Jump aboard the famous Wash Monster, an amphibious vessel which departs from Hunstanton's Central Promenade.
These coastal tours provide a truly fascinating and fun way of discovering the local seal population, marine life and coastal areas with panoramic views. You'll also learn about local history and fascinating legends from around the Wash.
Find out about Norfolk's smuggling history, the geological wonder of Hunstanton's red and white striped cliffs, and the bronze age Seahenge found at nearby Holme Beach.
Searles Sea Tours operate daily from 1st April to 31st October – seal safaris must be pre-booked. Find out more here.
RELATED POST: Seals in Norfolk – Where & How to See Them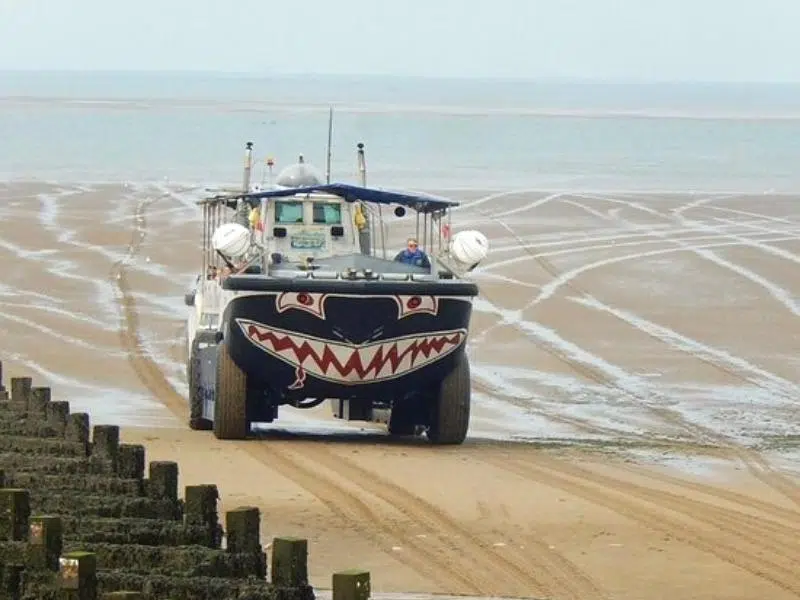 Take in a Show at the Princess Theatre
One of the best things to do in Hunstanton in the rain, the Princess Theatre provides a wide variety of entertainment from panto, live shows and films, including family-friendly Easter, summer and Christmas shows. Check out what's on here.
RELATED POST: What's On in Norfolk – 80+ Dates for Your Diary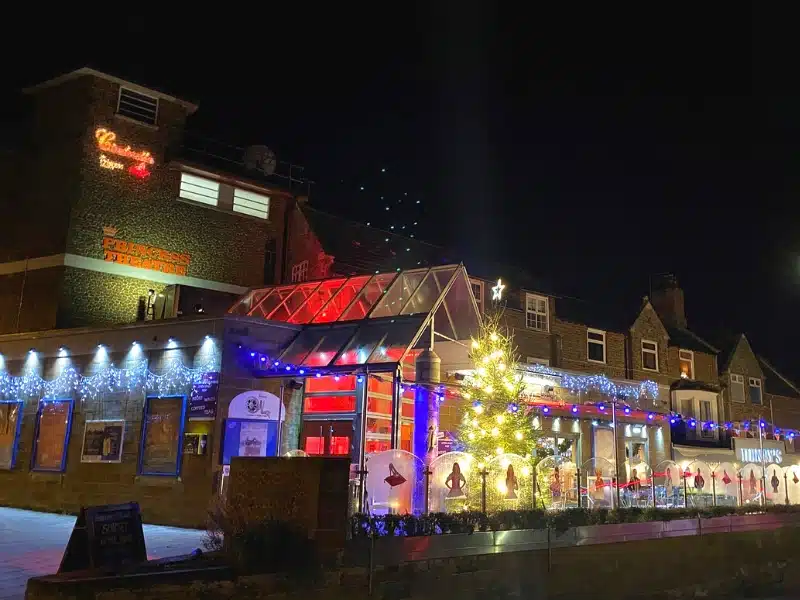 Discover Local Foods at Norfolk Deli
In the centre of town on Greevegate is the Norfolk Deli, where you can pop in for a bite to eat or buy local Norfolk foods like cheeses, wines and gift hampers.
Known for its huge selection of Norfolk cheeses like Norfolk Dapple, Binham Blue, Baron Bigod and Norfolk Mardler, cheese lovers will be in their element here, and may want to attend one of their regular cheese and wine evenings.
They also supply picnic and grazing boxes, perfect for you to collect on your way to the beach or if you're taking a day out to explore Norfolk's attractions.
RELATED POST: 26 Norfolk Food & Drink You Must Try!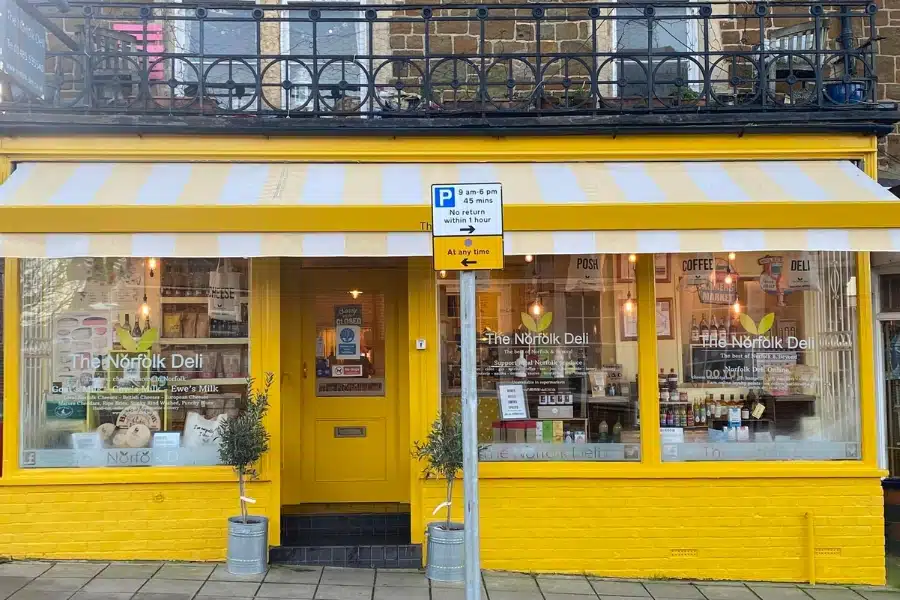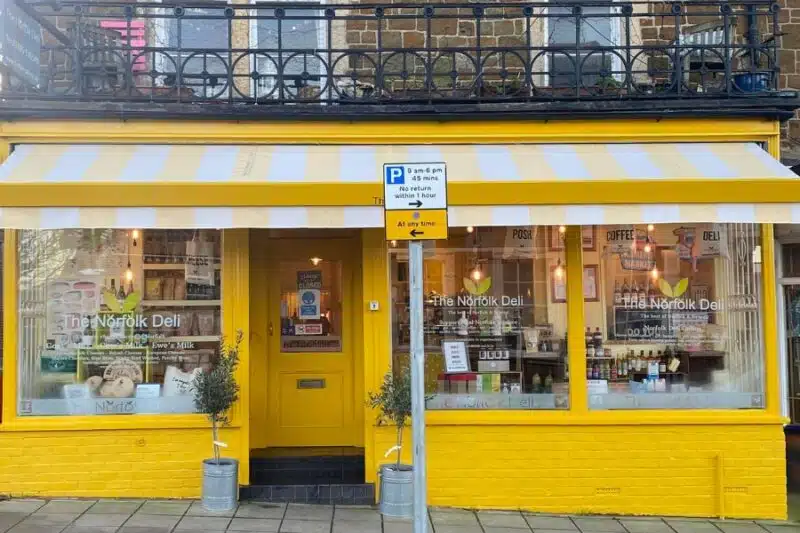 Explore Hunstanton Heritage Gardens
The colourful Hunstanton Heritage Gardens are an open space located over the only stretch of the eastern coast that faces west and enjoy spectacular sunset views across the Wash.
Covering around 6.8 hectares, the gardens are made up of a number of different areas and are the only significant open space within the town of Hunstanton. The Green is at the heart of the resort and gardens and naturally inclines towards the promenade. It looks over the Wash and the site of the former pier that was destroyed in 1978 in heavy storms.
The upper section houses the Town Sign and the Grade II listed Town Cross. It is thought the cross was relocated to its current position from Old Hunstanton when Henry L'Estrange founded the resort. The lower section contains the 'Butterfly Shelters' that were installed during the 1960s and the Bandstand that is still regularly used over the summer months.
The Esplanade Gardens are a highlight! A traditional Victorian Promenade Garden consisting of formally laid out annual beds, which has remained remarkably unchanged since its origination.
Finally, Cliff Parade stretches from the Esplanade Gardens to the north. It consists of a wide expanse of amenity grass, interspersed with three Victorian shelters that date back to 1898.
RELATED POST: The 21 Best Gardens in Norfolk to Visit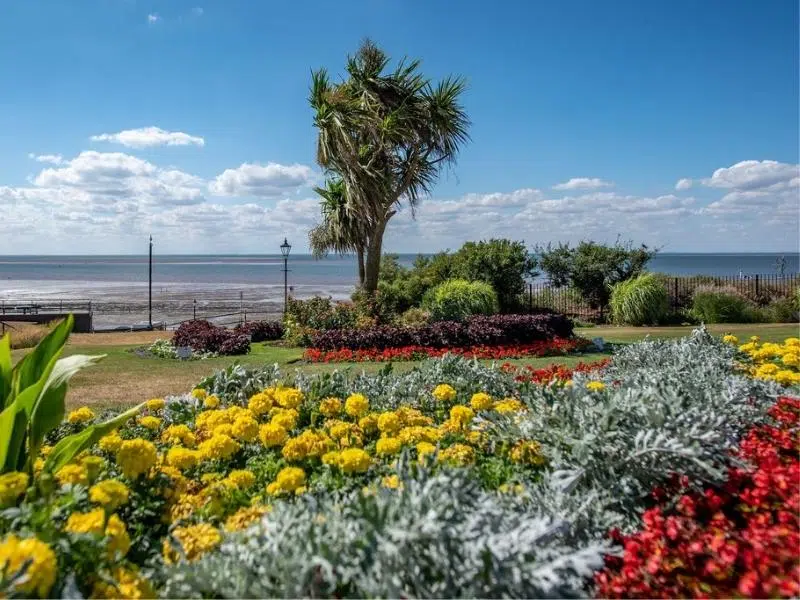 Play Crazy Golf
OK, I have a confession to make. Along with 2p slots and sugared doughnuts, I LOVE crazy golf. It may be naff and laughed at by every other country in the world, but there's nothing like a game for a bit of family bonding!
The best place for a game of mini golf is Blackbeards Adventure Golf, on the South Prom. This crazy golf course has 18 holes and is landscaped around the pirate theme but this is more about family fun and a bit og healthy competition more than anything else!
Celebrate the winner with an ice cream from next-door East Coast Gelato!
Learn at Hunstanton Heritage Centre
Another great option for a rainy day, Hunstanton Heritage Centre is home to the history and formation of Hunstanton. Displays show everything from the geology of Hunstanton and its multi-coloured striped cliffs to the creation of the town, railway and pier, world wars and the events that have shaped the town and its heritage.
RELATED POST: Norfolk Coast – 8 Amazing Ways to Explore
Go Sea Kayaking
See Hunstanton from an alternative perspective and take to the water in an open sea kayak. Beginners can take lessons, you can hire a kayak, or take a kayak tour around the sandbanks of the Wash – you might even meet a seal as they pop up to check you out!
Hunstanton Kayaks on North Promenade provide all the equipment you need, as well as lessons and guided tours.
RELATED POST: 30 of the Very Best Things To Do in Norfolk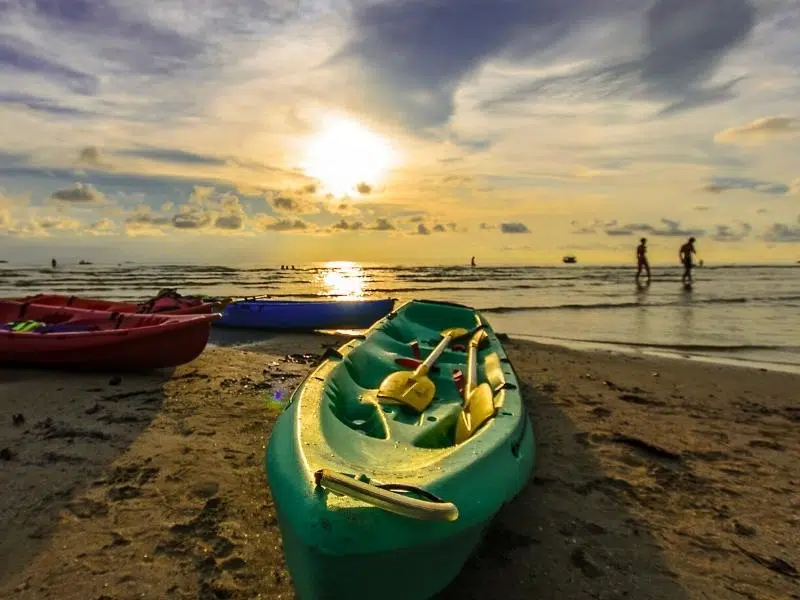 Get Active at Alive Oasis
The Alive Oasis Leisure Centre in Hunstanton has lots on offer throughout the year. Adults can take fitness classes, play squash, table tennis and bowls, and use the well-equipped gyms. For kids, there's roller skating, giant inflatables, an indoor soft play area, and an indoor swimming pool and slide.
RELATED POST: Towns in Norfolk – 27 Towns to Visit in Norfolk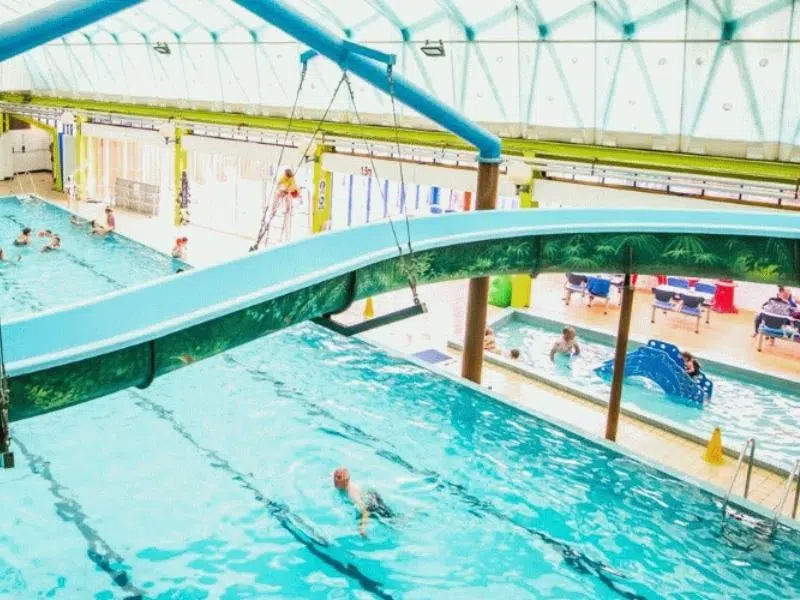 Eat Fish & Chips!
When you visit Hunstanton you HAVE to eat fish and chips – it's such a seaside holiday thing!
There are two really good fish and chip shops in Hunny – Sally's on Seagate Road and Henry's on The Green.
Sally's has been frying in Sunny Hunny for over 30 years and is popular with locals and tourists. The portion sizes are very generous, scraps are readily available and the fish and chips themselves are just how I like them.
Located behind the Rainbow Park fairground, you can eat in, or take away, which makes a great break between the rides and amusements on Hunstanton's seafront.
Henry's Fish and Chips are the new kids on the block and stiff competition for Fishers of Hunstanton, the resort's other well-known and more historic chippy.
Having opened in 2019 hasn't stopped them from being awarded third place by the National Fish and Chip Awards in the Fish & Chip Restaurant of the Year category.
RELATED POST: Best Fish & Chips Norfolk: 14 Top Places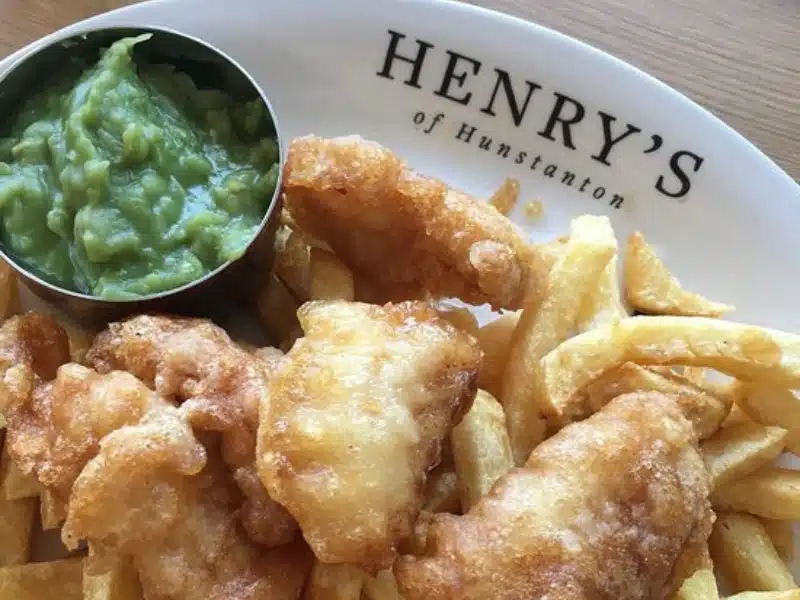 Things To Do Near Hunstanton
Explore Old Hunstanton
Just along the coast north of Hunstanton is the smaller and more peaceful village of Old Hunstanton, which has its own quiet expanse of fine, golden sand.
Old Hunstanton Beach is considered the best kitesurfing beach in the UK and there is also a collection of wonderful beach huts nested in the dunes, where the beach backs onto the Hunstanton Golf Club course.
It's also an awesome body-boarding beach – I can still feel the rash from my ten-year-old's polystyrene board! Do check the tides here though, visitors can be caught out.
There's lots of history to uncover in Old Hunstanton, including an old lighthouse that sits atop the red and white striped cliffs and was built to warn ships of dangerous sandbanks in the Wash. The original Old Hunstanton Lighthouse was constructed in 1666, and the current building dates back to 1844 and is now used as self-catering holiday accommodation.
Make sure to visit the 1272 ruins of St Edmund's Chapel and Le Strange Old Barns, an antiques and craft centre based in the village.
You can also explore the rusty steel shipwreck of the ST Sheraton steam trawler that is visible below Old Hunstanton lighthouse and wedged in the sand at Saint Edmund's Point. Originally used as a fishing vessel, the Sheraton was requisitioned in 1914 and again in 1940 by the Royal Navy and was registered as an armed patrol vessel to serve along the North Sea coast.
After the war, the Sheraton was painted a bright yellow so it could be used as a target ship and was anchored in the wash off Brest Sand until high winds caused it to stray from its moorings in 1947, eventually settling on the beach at Old Hunstanton, where a large section of its hull can still be seen today at low tide.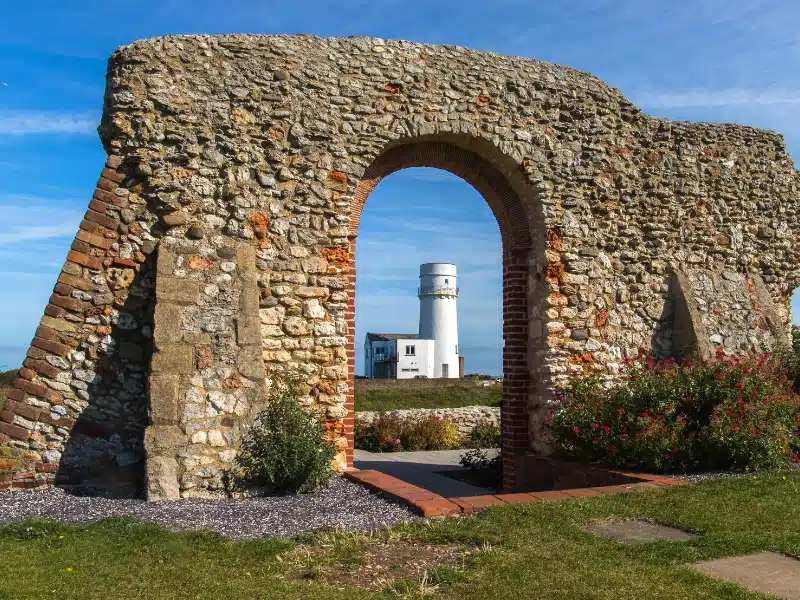 Hike the Norfolk Coast Path
Hunstanton is the starting point of the Norfolk Coast path, which runs for 84 miles east to Hopton-on-Sea and passes through the dramatic landscape of North Norfolk's Area of Outstanding Natural Beauty.
For spectacular views of the coast, walk the route to the Lifeboat Inn at Thornham for lunch and then catch the Coasthopper bus back to Hunstanton. This walk is 5.5 miles and will take around two hours, or more if you want to stop to take photos and explore!
The Norfolk Coast Path begins by the bowling green in Hunstanton. Pick up and follow the black and white National Trail acorns from here. Walk past the Lighthouse at Old Hunstanton and look out for the ruins of St Edmund's Chapel dating back to 1272, close by.
At the RNLI lifeboat station the new route goes straight ahead, initially following behind the dunes and alongside Hunstanton golf course. Just before the final beach hut, waymark signs will direct you to go up onto the dunes from where there are fantastic views of the expanse of Holme Beach and Hunstanton cliffs.
At Holme Beach, you meet the end of the Peddars Way. As you follow the boardwalk through the Holme Dunes reserve the beach to your left is where the 4000-year-old timber circle, known as Seahenge, was discovered.
Please follow the waymarking carefully to avoid nesting birds in the dunes on this National Nature Reserve managed by the Norfolk Wildlife Trust.
At Old Thornham Harbour continue along Staithe Lane until you reach the pub, for a well-deserved cold drink! From here it's a 30 minute walk to the excellent RSPB Titchwell Marsh, or walk the five minutes to where Church Street meets the A149, where you'll find The Orange Tree bus stop.
The CoastLiner 36 bus stops here en route to King's Lynn via Hunstanton, at 13 minutes past every hour between 9am and 7pm.
RELATED POST: Walks in Norfolk – 14 of the Best Trails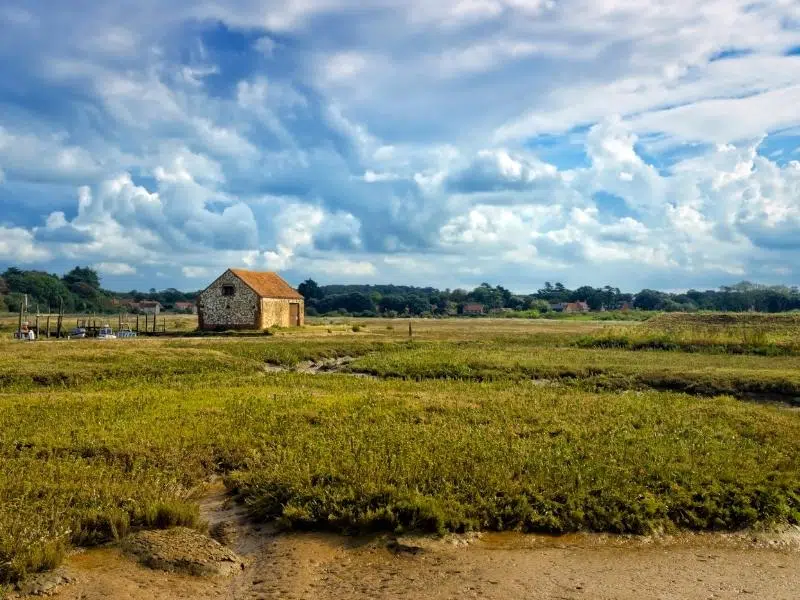 Discover Snettisham Park Farm
Snettisham Park Farm is a working Norfolk farm growing wheat for animal feed, malting barley, sugar beet and grass. The farm is grazed by a flock of 400 sheep, a herd of red deer, and horses and ponies from the stables.
This 329 acre working farm makes for a great day out. With lots of interactive activities for the whole family, this is also a great opportunity to learn about farming in Norfolk.
You can watch lambs being born, take a deer safari, collect freshly laid eggs, bottle feed lambs and piglets, ride ponies and enjoy a walk along one of three fantastic trails.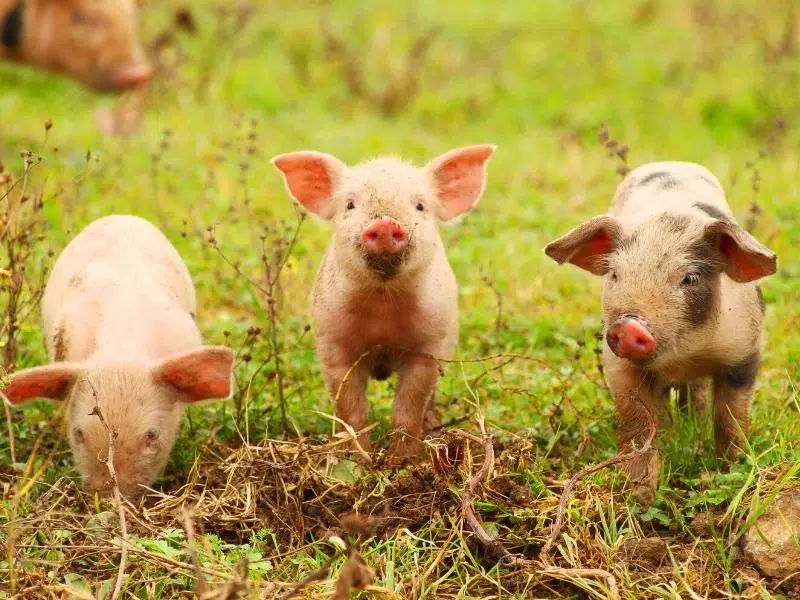 Visit Norfolk Lavender
One of the most famous places to visit in the Hunstanton area, Norfolk Lavender has been a holidaymaker's favourite since 1932. With over 100 acres of lavender and over 100 lavender varieties, wandering the perfumed fields is a pleasure, especially when the plants are in bloom in summer.
With tearooms where you can enjoy a Norfolk afternoon tea with lavender-infused goodies, a farm shop full of Norfolk produce, animal gardens and a play park for kids, and tours of the lavender fields, this makes a great stop on any Norfolk holiday.
You can also buy lavender plants and their own range of lavender products in the gift shop – time to stock up on all those delicious smellies!
RELATED POST: Norfolk Lavender – A Complete Visitor's Guide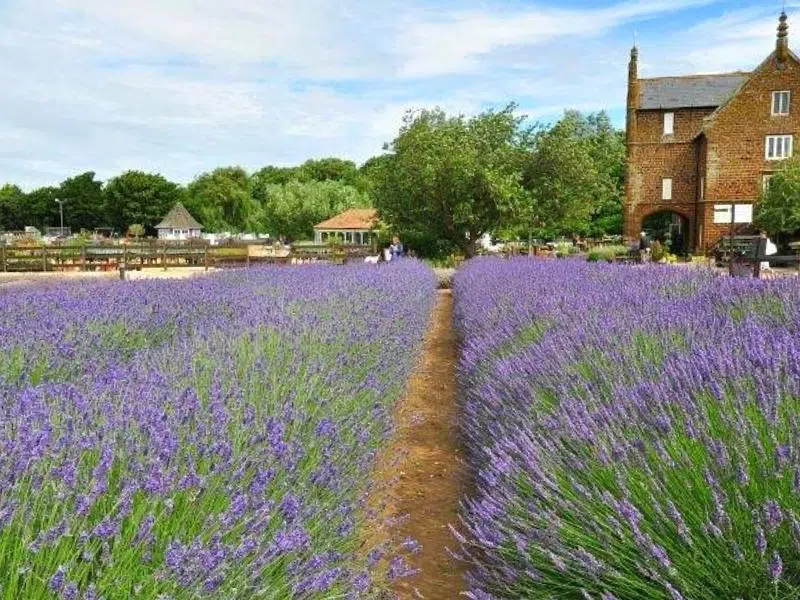 Visit the Local Wildlife
Wild Ken Hill
Wild Ken Hill, famous as a BBC Springwatch, Autumnwatch and Winterwatch filming site in 2021-2022, is a rewilding and regenerative agriculture project just outside nearby Heacham.
Wild Ken Hill is a private site, but guided tours are offered during the spring and summer months. Tours through Wild Ken Hill are led by local guides who aim to show you the wildlife and habitats across the diverse landscape.
NWT Holme Dunes
One of 32 Norfolk Wildlife Trust protected nature reserves in Norfolk, the Holme Dunes National Nature Reserve is also a Site of Special Scientific Interest (SSSI), and an important area for nesting birds.
Just a few miles along the coast from Hunstanton, Holme Dunes is also home to a variety of important habitats such as sand dune, mudflats, pines, scrub, pines, saltmarsh and grazing marsh which support numerous other wildlife species including natterjack toads, butterflies and dragonflies, as well as large numbers of interesting plants.
This fantastic bird observatory has trails to hides and walks around the reserve from the visitor centre on Broadwater Road, where there is also a small shop selling gifts, and a café.
RSPB Snettisham
Wildlife observation hides at Snettisham, seven miles south of Hunstanton, give far-reaching views across the salt lagoons and marshes, and the vast expanse of mudflats that make up the Wash.
On the largest high tides from late summer, tens of thousands of wading birds, like knot and oystercatcher, take to the air as the incoming tide pushes them off the vast mudflats of Snettisham Beach. This is known as the whirling wader spectacle, which is truly amazing to watch.
RELATED POST: Norfolk Nature Reserves – Ultimate A-Z Guide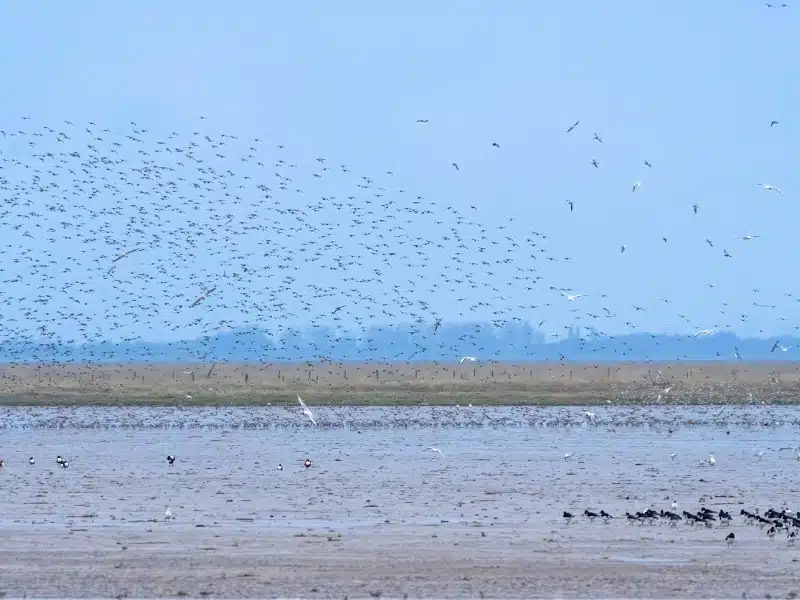 Discover the Sandringham Estate
Sandringham, a 20,000 acre estate in the Norfolk Coast Area of Outstanding Natural Beauty, is where the royal family spends the festive period, and was thought to be the favourite home of the late Queen Elizabeth.
You can visit parts of the house, gardens, parkland and St Mary Magdalene Church in a day, with many of the ground floor rooms of Sandringham House remaining as they were in Edwardian times. The gardens are beautiful and the parkland and woods which surround the house are a great spot for dog walking, family activities and picnics.
RELATED POST: The 21 Best Gardens in Norfolk to Visit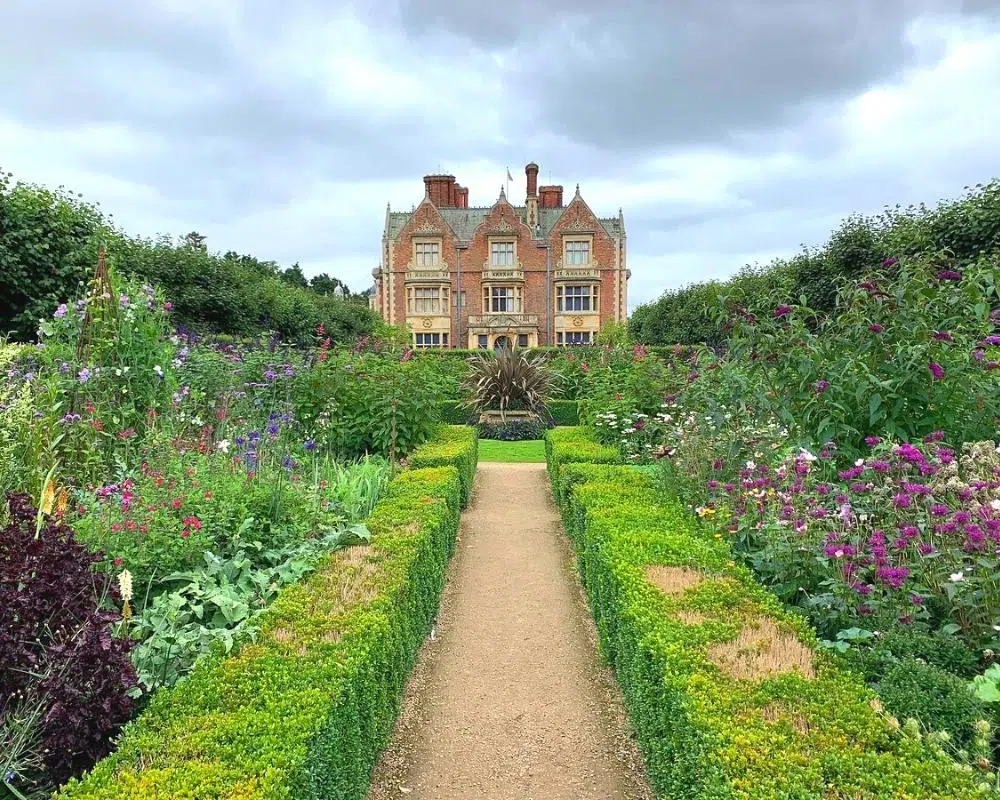 Explore King's Lynn
Nestled in the western corner of Norfolk is the historic port and market town of King's Lynn. With a rich Hanseatic past, streets and squares lined with period architecture and bustling marketplaces and quays, King's Lynn is a Norfolk town well worth visiting.
A walking tour of the town is one of the best free things to do in Kings Lynn. Pick up self-guided trail leaflets from the Tourist Information Centre in the Town Hall, or download them here. Choose from the maritime trail, Hanseatic trail, Pilgrimage trail and King's Lynn town guides, or do them all!
Highlights to look out for are the 17th century elegant Custom House, which overlooks the harbour and historic waterfront, King's Lynn Minster and Pilot Street, where you can see rare examples of 15th century timber framed parallel hall houses.
A wander down Pilot Street through Tuesday Market Place to the Custom House gives you a feel for how this town looked in years gone by.
RELATED POST: All the Best Things To Do in King's Lynn Norfolk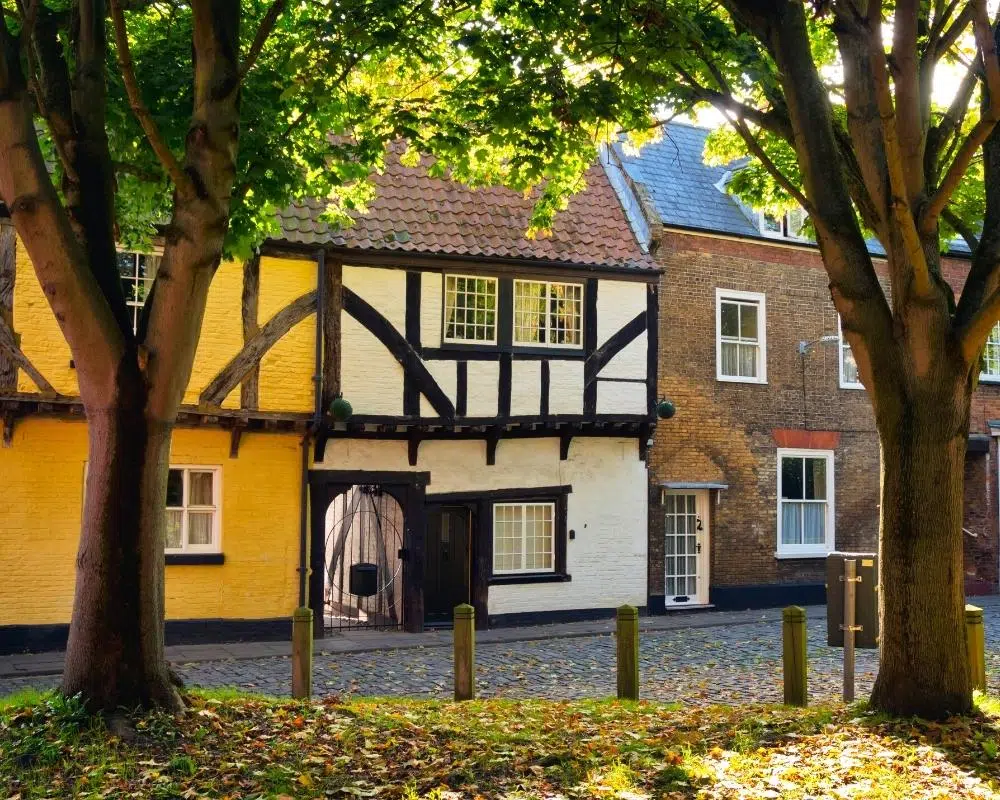 Spend a Day on Holme-next-the-Sea Beach
Holme Beach is the beach of my childhood. I love the huge expanse of sand, the dunes perfect for playing hide and seek, or flying a kite, and the happy family memories it holds for me.
Many prefer the more lively Hunstanton Beach, but for me, the far-reaching views and the soft sand make this one of Norfolk's best beaches. It's a bit of a hidden gem too, not many people head for Holme Beach – or not enough to make it feel crowded anyway!
Holme Beach had its fifteen minutes of fame in 1998 when an Early Bronze Age timber circle was discovered on the sands. An extraordinary find, the arrangement of 55 timber posts surrounding a huge stump that had been buried with its roots upwards, was called Seahenge, as it resembled the famous Stonehenge in Wiltshire.
When Seahenge was created around 2050 BCE, the area around Holme was a salt marsh. Over thousands of years, the marshes were covered in peat beds as the sea encroached, and the peat preserved the timbers, keeping them whole.
The timbers were carefully removed from the sea, cleaned, and vacuum freeze-dried to protect them. The original upturned tree stump and many of the upright timber posts are now on display in a special exhibit in the Lynn Museum in nearby King's Lynn.
RELATED POST: Holme Beach – Complete Visitor Guide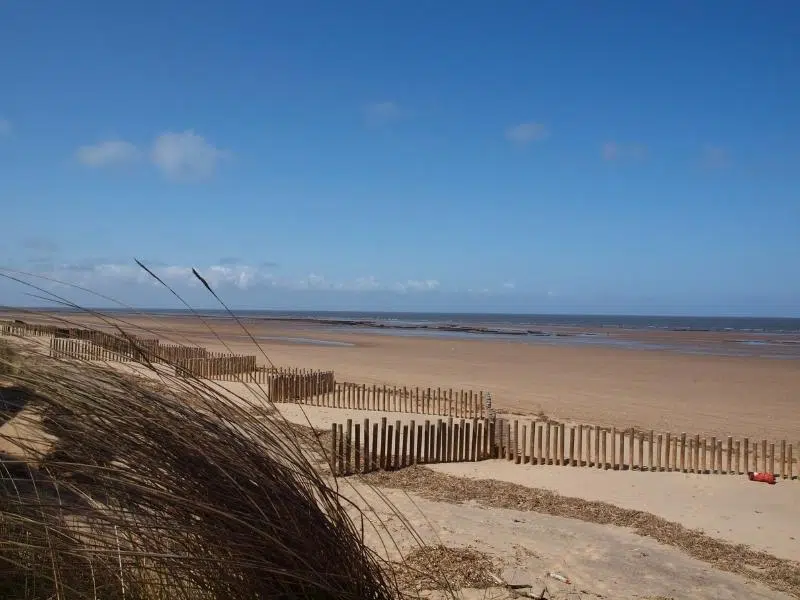 Take a Stroll at Courtyard Farm
Courtyard Farm is a thriving organic farm near Ringstead, producing arable crops to the highest organic standards. Set in beautiful unspoilt countryside, Courtyard Farm provides a haven for wildlife and wildflowers and a welcome break from the hustle and bustle of the coast.
There are two way-marked two mile circular walks and one six mile walk around the farm, on public footpaths, as well as several miles of permissive paths. The walks are varied and have lovely views of the farm and surrounding countryside, all in an official Area of Outstanding Natural Beauty.
You will see two permanent pieces of land art, made by East Anglian artists, on the North Wood circular walk, and at most times of the year there are pigs and cattle roaming. Dogs are welcomed on a lead.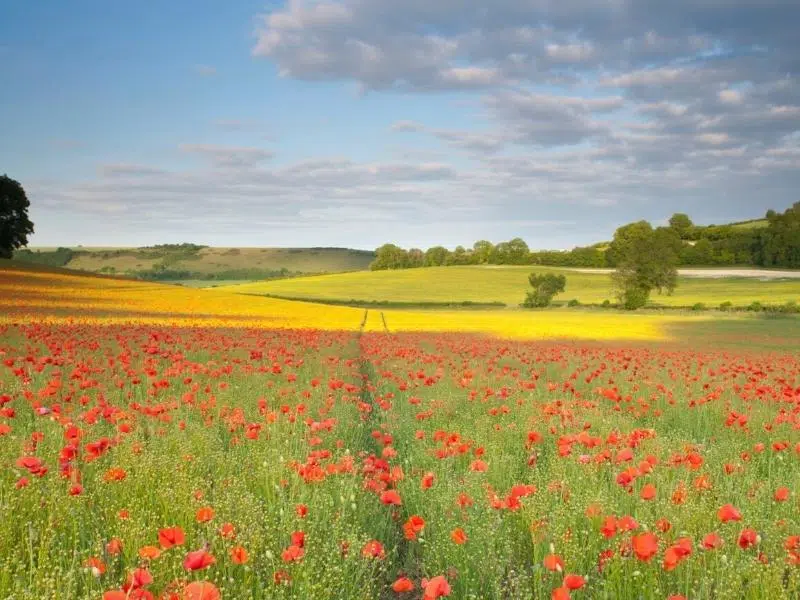 Explore Bircham Windmill
Standing in the heart of Norfolk's rolling fields, Bircham Windmill has been restored and now looks as it did over 100 years ago. At that time, Norfolk was home to over 300 mills which ground corn for bread making and animal feed.
Today, very few are left, and Bircham Mill is considered one of the best still remaining. You can climb the five floors up to the fan stage and, on windy days, you can see the sails and the milling machinery turning.
Bircham Mill still makes their own bread in the bakery adjoining the mill, which has its original, coal-fired oven. You can also try your hand at bread baking, a great activity for families with older children.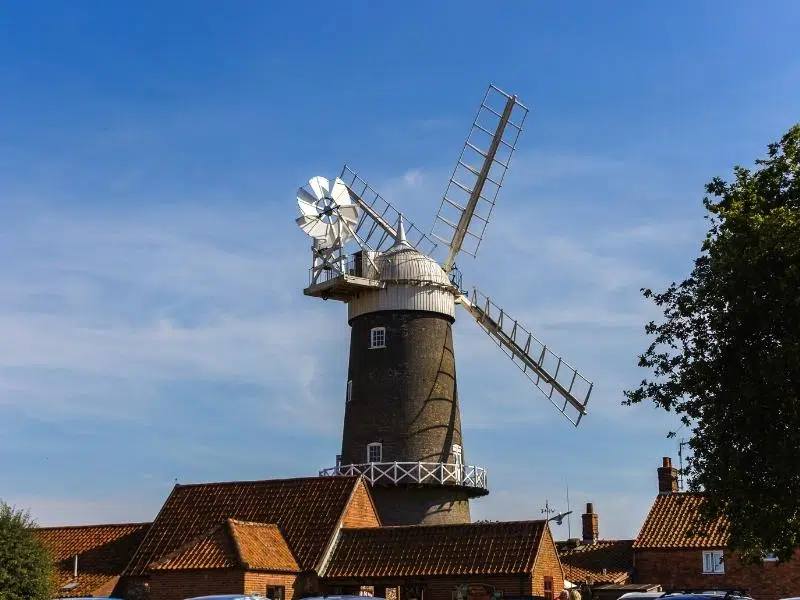 Admire the View from Castle Rising
Castle Rising Castle is one of England's most famous 12th century castles. The imposing stone keep was built in 1140CE and is amongst the finest surviving examples of its kind in Great Britain. The massive surrounding earthworks not only ensure that Rising is a castle of national importance but also give lots of opportunities for kids to run off steam and play at sword fighting!
I love to visit Castle Rising, especially with children. It's one of the few castles where you can get up close to the atmospheric and unspoilt interiors, full of hidden corners, steps worn smooth over centuries, and arrow slits with incredible views.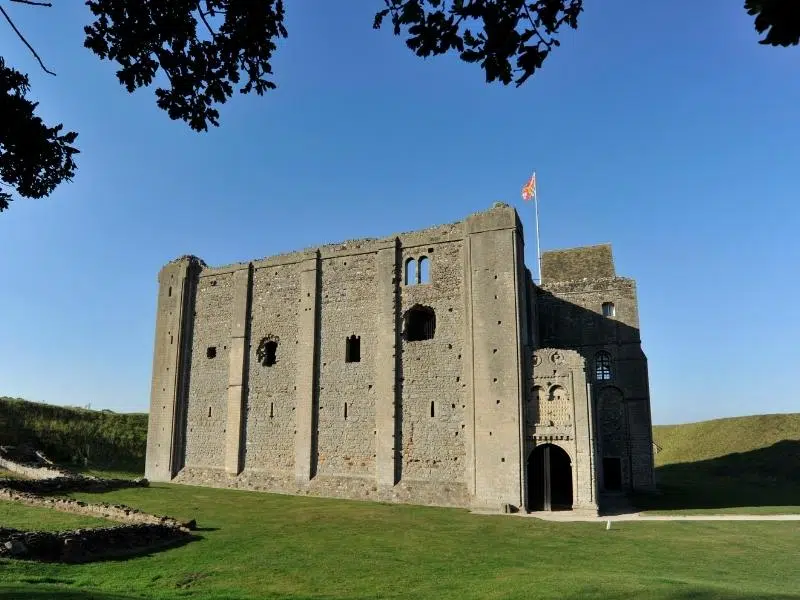 Take a Day Trip to Holkham
A bit further afield than other attractions, Holkham is absolutely worth the 30 minute drive and one of the best places to visit near Hunstanton.
Not only will you see gorgeous scenery along the way, especially if you take the country lanes via Ringstead, but there's loads to explore when you get there!
The small village boasts one of Norfolk's top stately homes, Holkham Hall, a beautiful beach, properly known as Holkham Gap, and the Holkham National Nature Reserve. There's a lot going on here and if you manage to see it all, you'll have a really good day out.
One of the best stately homes in Norfolk, Holkham Hall is an 18th century Palladian masterpiece, with a fantastic walled garden, surrounded by rolling parkland and home to a herd of Fallow dear.
Holkham Beach is simply vast and probably the best beach in Norfolk – even in summer you can find a quiet spot here. The windswept tidelines, miles of dunes and maze of creeks which make up Holkham's nature reserve are ripe for exploring by intrepid adventurers – young and old alike!
Parking for Holkham Beach is along either side of Lady Anne's Drive in Holkham village, just off the A149, opposite The Victoria Inn. Sitting at the top of Lady Anne's Drive, The Lookout is a stunning modern building which blends into the landscape, where you can get drinks, snacks and food.
RELATED POST: Holkham Beach – Complete Visitor Guide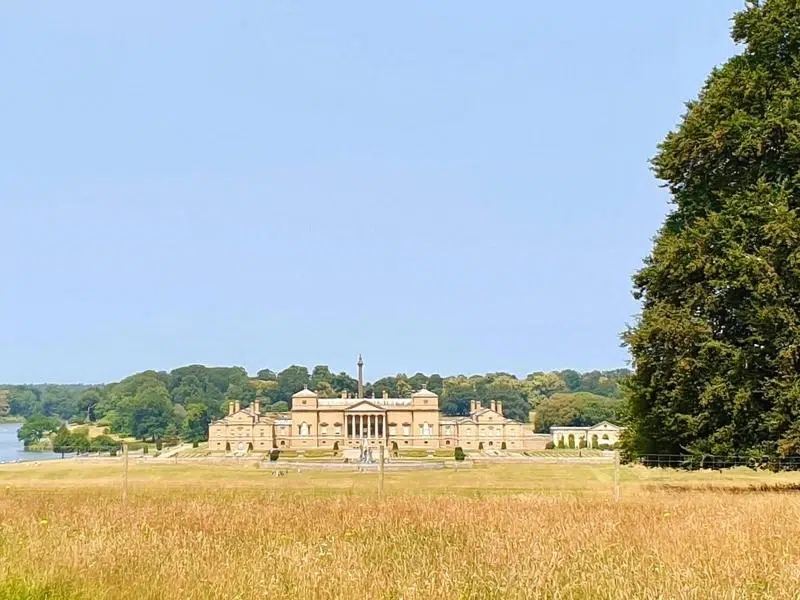 The Best Places to Stay in Hunstanton
Caley Hall Hotel, Hunstanton – The stylish Caley Hall Hotel is a manor house dating back to 1648, with 38 bedrooms, a relaxing bar and an AA rosette-awarded restaurant.
Heacham Manor Hotel, Hunstanton –
The 1680 Grade II listed Heacham Manor Hotel is a golf hotel boasting an 18 hole course and 52 light and airy rooms. Partway between Hunstanton and Heacham, this country house hotel is in the perfect position to explore Hunstanton and the surrounding area.
The Neptune Restaurant with Rooms, Old Hunstanton – The Neptune, with four adults-only rooms, is a stone's throw from the beach at Old Hunstanton and has a Michelin-starred restaurant serving a menu made from fresh and local produce.
The Gin Trap, Ringstead – The Gin Trap is a gorgeous 350-year-old coaching inn with 13 individually styled rooms and cottages not far from Hunstanton and the beach at Holme.
The Wash & Tope, Hunstanton – a great budget option, The Wash and Tope is in the centre of Hunstanton and literally a few steps from the beach.
Ellinbrook Guest House, Hunstanton – an award-winning B&B, Ellinbrook Guest House offers light and bright rooms and a fantastic home-cooked breakfast.
Le Strange Arms Hotel, Old Hunstanton – Fittingly named Old Hunstanton le Strange Arms Hotel is full of traditional charm and has grounds that stretch to the seashore.
Searles Leisure Resort, South Beach Road – Searles is a Hunstanton institution and there are few better places to stay for a family holiday that are as close to all of Hunstanton's many attractions.
Other Accommodation Options for Hunstanton
My Favourite Places to Eat in Hunstanton
If you've had your fill of Henry's and Sally's fish and chips, check out these other great places for good food in Hunstanton:
Berni Beans, High Street – I love quirky Berni Beans for their amazing vintage VIP afternoon tea which is served in their their traditional tea room. A Tripadvisor Travellers Choice for 2023, Berni Beans also offer a great selection of light bites, lunches and evening tapas.
The Coffee Pot, Le Strange Terrace – Another good old-fashioned café serving an excellent home-cooked English breakfast, lunch and coffee and cake.
The Copper Kettle, High Street – Dog-friendly cafe offering breakfast and lunch with a smile.
Chives Wine Bar & Brasserie, High Street – Family-run Chives Brasserie is a popular spot for dinner in central Hunstanton for dinner, offering a classic bistro menu and cocktails.
The White Horse, Kirkgate Holme – Traditional country pub with a beer garden serving pub grub and local dishes like Brancaster mussels and Cromer crab.
Where is Hunstanton Norfolk?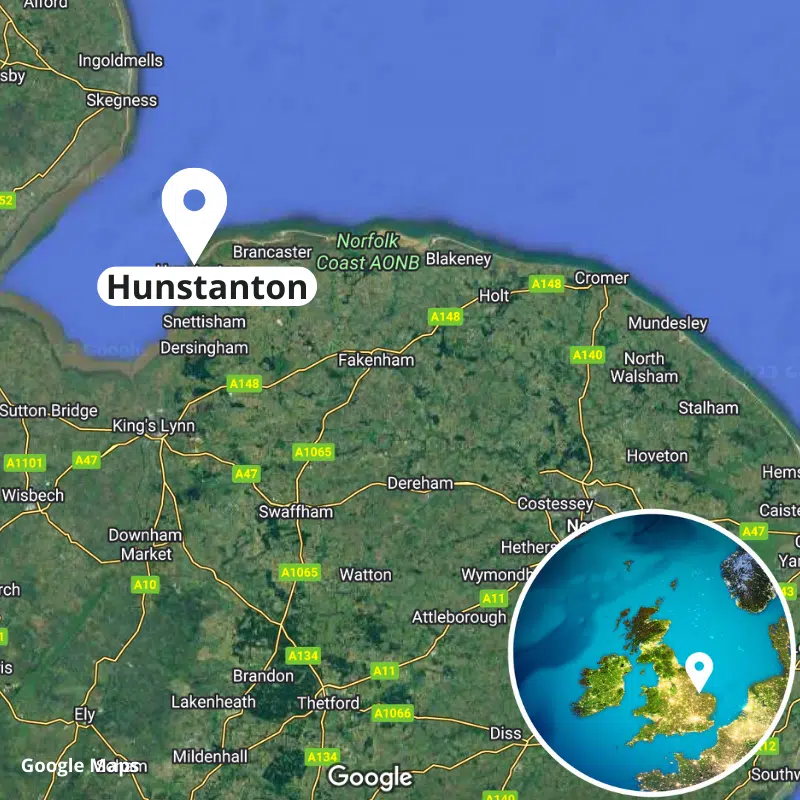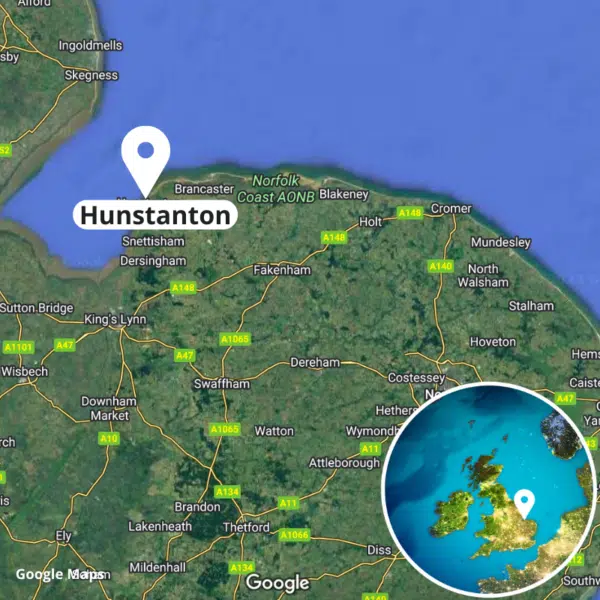 Hunstanton is a traditional coastal town in the West Norfolk district of Norfolk, in East Anglia.
Hunstanton is located on the west-facing coast of Norfolk, overlooking the Wash, a large bay and multiple estuary where Norfolk meets Lincolnshire.
Hunstanton lies 23 miles northwest of Norwich, 16 miles north of King's Lynn and 38 miles west of Cromer. Nearby villages include Heacham, Holme-next-the-Sea and Snettisham.
About Hunstanton in Norfolk
In the Redgate area of Hunstanton, evidence of a settlement from the late Neolithic and early Bronze Age was discovered in 1970. The Iceni and Romans were also active in the area, and an Anglo-Saxon settlement was established around 500 CE.
In 855, a Saxon named Edmund landed on the Norfolk coast at what would become Hunstanton and was crowned King of East Anglia the following year. He was martyred by the Danes in 870 and later became the first patron saint of England.
Old Hunstanton is mentioned in writings from 1038, and 'Hunestanesteda' appears in the Domesday Book of 1086.
The Le Strange family acquired large leaseholdings in the area after the Norman Conquest. However, the creation of today's Hunstanton is credited to Henry L'Estrange Styleman Le Strange, who inherited 10,000 acres of land from Wolferton to Thornham in 1840. He conceived the idea of a new town when he realized that people were coming to enjoy the sea air and stroll along the beach.
The construction of the New Inn in 1846 marked the beginning of the town's development. The railway's arrival triggered further growth, and Henry Le Strange ensured that the town was designed to high standards building Gothic-style terraced housing in the local carrstone.
The railway made seaside trips available to the general population and Hunstanton soon grew beyond the originally planned coastal village to become a fully-fledged Victorian seaside resort.
Under the patronage of Henry's son, Hamon Le Strange, and spurred on by the investment boom between 1850 and 1870, and Queen Victoria's purchase of Sandringham for the Prince of Wales in 1861, Hunstanton became, and remains, a popular holiday destination.
How to Get to Hunstanton
Driving to Hunstanton
For those travelling from the north of the United Kingdom, pick up the A17 south at Newark-on-Trent and follow the route around the Wash to King's Lynn. This road is mainly single-carriageway, and slow-moving agricultural traffic and trucks can cause delays, so build this into your travel plans.
If you're travelling from the Midlands, you'll come into Norfolk via Peterborough and pick up the A47 north and east to King's Lynn. From the south, the A10 brings you through Cambridge directly to King's Lynn.
From King's Lynn, which is well worth a stop on the way through, pick up the A149 coast road to Hunstanton.
Getting To Hunstanton by Public Transport
The county of Norfolk is within easy reach of the rest of the UK, with excellent transport links. The best way to get to the West Norfolk town of King's Lynn is by mainline train from London, and it takes less than two hours. Simply take the regular Greater Anglia service from London King's Cross, which leaves every hour or so.
Alternatively, you can take a National Express coach from Victoria Coach Station to King's Lynn. This takes around 6.5 hours depending on the time of day, and you do need to change at Norwich, but it's often much cheaper than the train, especially when booked in advance.
At King's Lynn train station get the CoastLiner 36 bus from the Transport Interchange next door, and get off at the Hunstanton Bus Station an hour later.
If you're planning a visit from elsewhere in Norfolk, the CoastHopper from Cromer and Sheringham connects with the CoastLiner bus at Wells-next-the-Sea, and Sheringham is connected to Norwich via the Greater Anglia train service.
Getting Around West Norfolk
The Coastliner 36 bus heads on to Hunstanton, Brancaster, Burnham Market and Holkham before arriving in Wells-next-the-Sea, where you can hop onto the CoastHopper bus to Stiffkey, Morston, Blakeney, Cley, Salthouse, Weybourne, Sheringham, East Runton, West Runton and Cromer, meaning you can get to many of the best spots on the North Norfolk coast by bus.
There is also the regular X44 bus which connects Sheringham to Norwich and Holt, and from there the Norfolk Coastlink service connects Norwich with Great Yarmouth.
How about getting around West Norfolk on a bike? The Norfolk Coast Cycleway runs from King's Lynn to Great Yarmouth and follows a network of byways, bridleways and quiet country lanes which are perfect for cycling, and link pretty villages around the county.
These lanes, bordered by fields of wheat, hedgerows and woodlands, see little traffic, which means you can explore the Norfolk coast at a leisurely and safe pace.
You can hire bikes at AE Wallis on the High Street in Heacham Village or Open Sky Cycles at Drove Orchards in Thornham.
Have you had a holiday or day out in Hunstanton? Share your trip and tell us what you love about Hunstanton in the comments below!
Love it? Pin it!