Norfolk is such an eclectic county, with so much to do and see. From the tranquil Norfolk Broads and rolling sand dunes backing huge beaches to traditional seaside resorts, fascinating history, pretty market towns and cities, and a flourishing gastronomic scene… there are plenty of Norfolk attractions to keep you busy in this idyllic corner of the UK.
Trying to work out what to do in Norfolk can be hard though when there are so many exciting and interesting places to go, adventures to have, and things to do in Norfolk. If you're in Norfolk and searching for 'things to do near me', look no further!
I was brought up on the borders of Norfolk, spending many happy holidays in Norfolk as a child. Now grown up, I have travelled all over the county and have put together my absolute favourite best things to do in Norfolk, to help you work out how to spend your time in Norfolk.
RELATED POST: The Ultimate Local's Guide to Norfolk England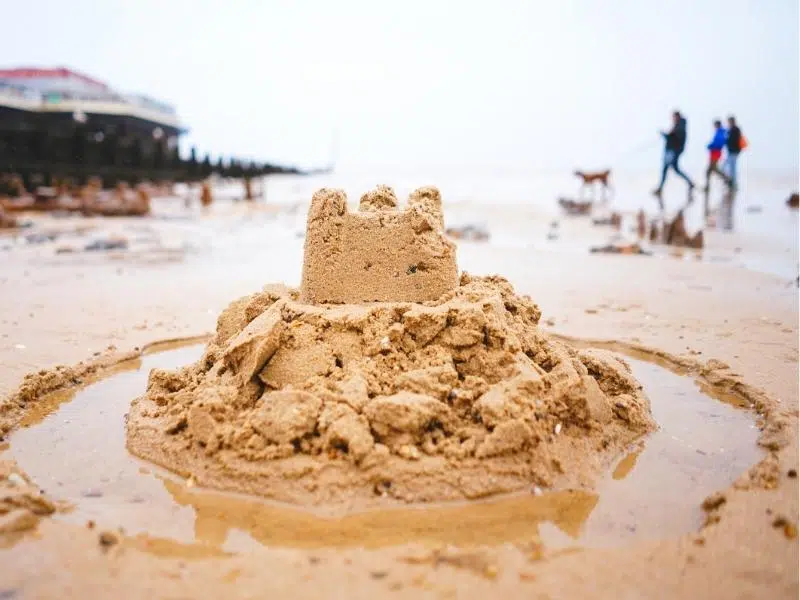 This post may contain affiliate links. If you book something I recommend, I make a small commission without affecting the price you pay!
Explore Natural Norfolk
Norfolk Beaches
One of Norfolk's top tourist attractions, there are an incredible 33 beaches along its beautiful 90-mile coastline. From vast expanses of golden sands and peaceful beaches off the beaten track to traditional seaside beaches perfect for families and dog-friendly beaches ideal for long walks, there's a beach in Norfolk for everyone.
In 2023, TripAdvisor awarded Gorleston-on-Sea Beach the number one Best Beach in the UK and number twelve Best European Beach. It's certainly a huge sandy beach, but only you can judge if you think it's the best beach in Norfolk!
My favourite Norfolk beach is at Winterton-on-Sea. Backed by the wonderful Winterton Dunes National Nature Reserve and some of the finest dunes in Norfolk, this is a peaceful beach where seals pop up to watch as you stroll along and come on shore to pup in the winter.
RELATED POST: Best Beaches in Norfolk – Ultimate A-Z Guide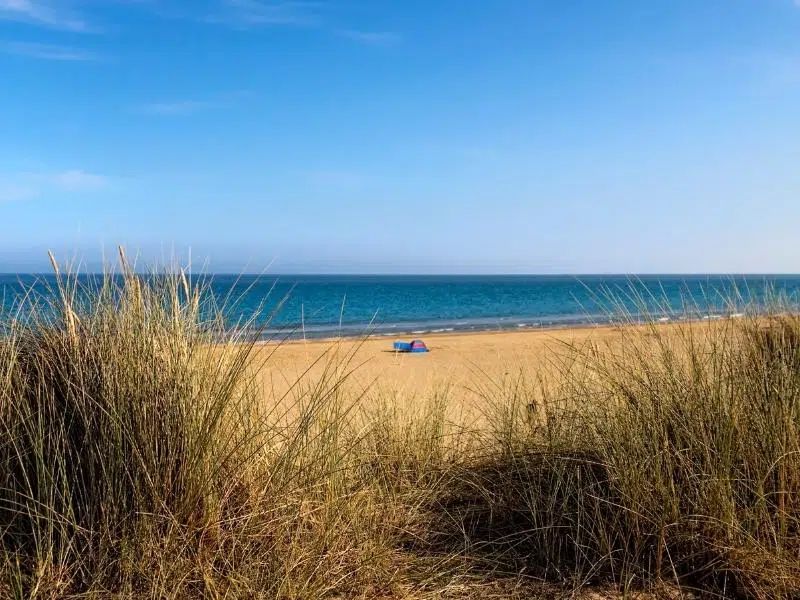 Things to Do in Norfolk FAQs
Is there much to do in Norfolk? Yes, loads! Norfolk has a plethora of outdoor activities, fascinating museums, fabulous beaches and nature that you'll be spoilt for choice! Use Google Maps to find the nearest visitor centre to you for more information in your locality.
Is the Norfolk Coast worth visiting? Norfolk's coastline is one of the best things about the county. From long sandy beaches perfect for dog walks and traditional bucket and spade seaside towns to nature reserves and family resorts, there's something in Norfolk for everyone.
Is Norfolk a good place for a holiday? Yes, it most definitely is. In this guide, you'll discover all the best things to do in Norfolk whether you're travelling as a couple, family or you're going solo.
Norfolk Nature Reserves
The county is home to a LOT of nature reserves and they are some of the best places to visit in Norfolk. The Norfolk Wildlife Trust run 32 reserves alone, the RSPB manage eight sites, and Norfolk's authorities manage another 27 local nature reserves.
Norfolk's flora and fauna are as eclectic as the county itself. From the unique species found in the Norfolk Broads to the birder's paradise on the North Norfolk Coast, the county is a haven for wildlife and plants.
The best Norfolk nature reserve is Ranworth's Floating Broads Wildlife Centre, which is reached by a boardwalk through reed bed habitats and has panoramic views across the water. If you don't fancy the walk, take one of the boat trips from pretty Ranworth staithe. You'll see ducks, cormorants, terns, osprey, swallowtail butterflies and maybe otters, which are seen here regularly.
RELATED POST: Norfolk Nature Reserves – Ultimate A-Z Guide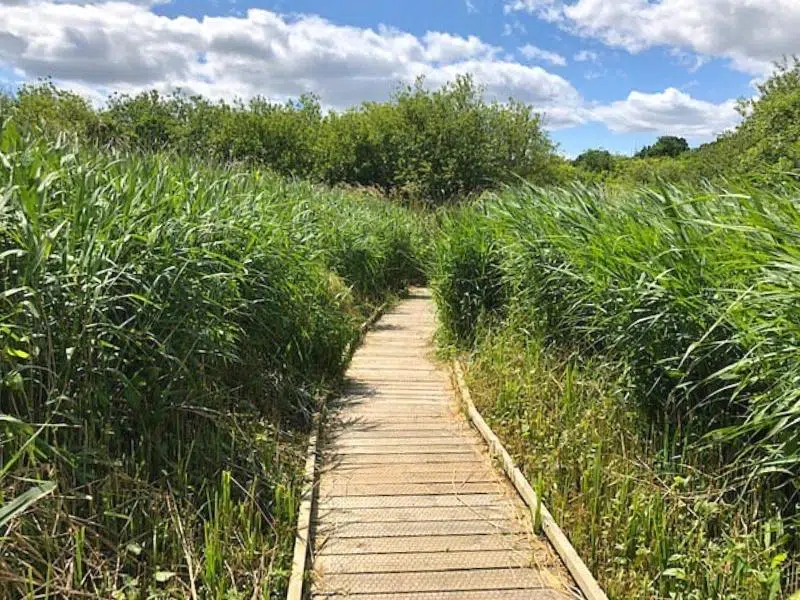 Norfolk Broads
Huge skies, undulating landscapes and LOTS of water… the Norfolk Broads are an Area of Outstanding Natural Beauty where rivers, lakes and sea combine to create a unique and diverse place full of natural beauty, wildlife and cultural heritage.
Formed in medieval times, today Britain's largest protected wetlands and one of the top Norfolk attractions are encapsulated in the Broads National Park, and are home to over 125 miles of navigable waterways surrounded by breathtaking scenery.
With water to mess about on, Broads boat trips, riverside pubs, lively towns like Wroxham and great walking, it is no surprise that visiting the Broads is one of the best Norfolk things to do.
I love off-the-beaten-path Barton Broad, the second largest of the Broads. Hire a canoe at Wayford Bridge and paddle down the River Ant to Barton Broad, and moor at Neatishead staithe. From here you can walk the boardwalk and reward yourself with a drink at the nearby Whitehorse Inn, or bring a picnic and eat it on the pretty staithe. Get more of my favourite Norfolk Broads activities here!
RELATED POST: A Local's Guide to the Norfolk Broads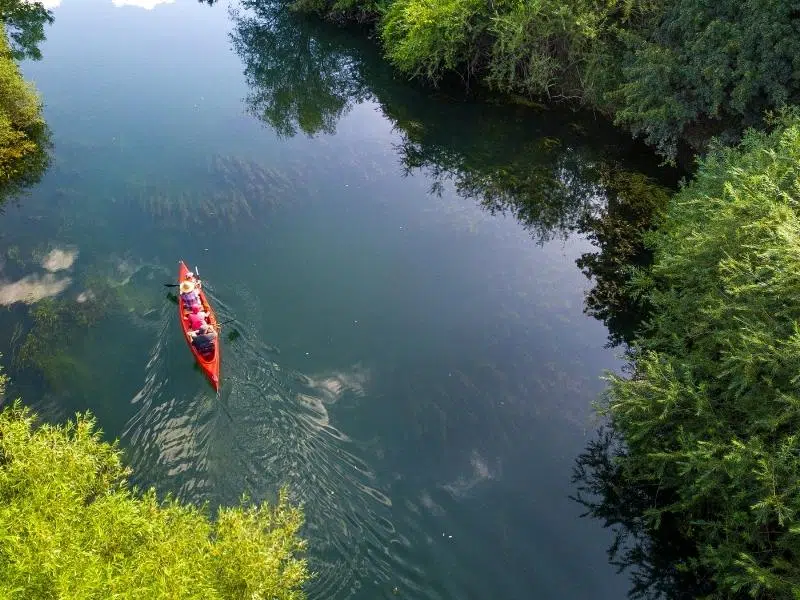 Norfolk Gardens
Norfolk is home to some truly spectacular gardens, including a Victorian walled garden, prairie gardens, water gardens and traditional English cottage gardens. When I'm in Norwich I always take my sandwich to the Plantation Garden, a secret oasis in the busy city centre.
My favourite Norfolk garden is the privately owned and managed, East Ruston Old Vicarage Garden, set over 32 glorious acres, close to the North Sea. There's a real mix of planting here, from lush green exotics to a jumble of traditional English cottage garden planting.
There's also a large swathe of prairie planting, gorgeous glasshouses and lots of interesting corners, archways and doorways that demand you explore!
RELATED POST: The 21 Best Gardens in Norfolk to Visit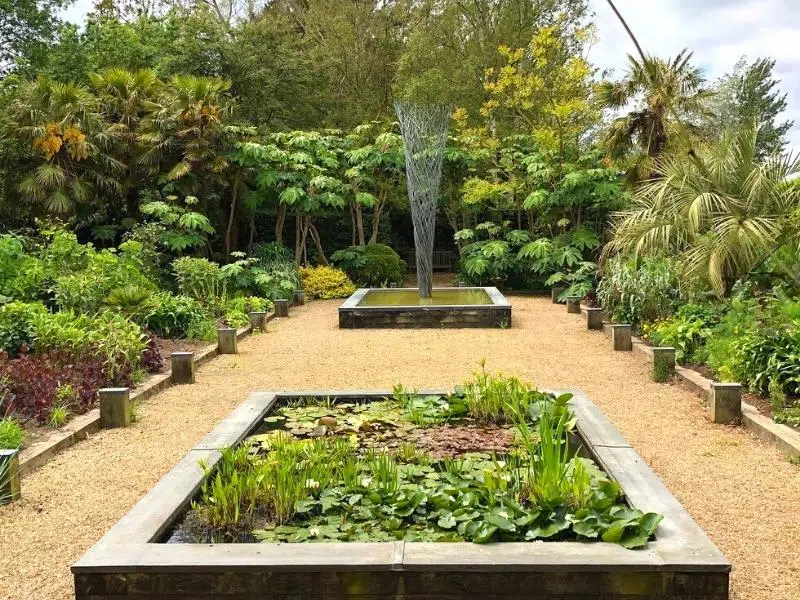 Norfolk's Seal Colonies
When you walk along the North Norfolk coast, you may well be joined by a curious common or grey seal as it pops its head up to check out us humans! Norfolk now holds claim to hosting the largest pupping site in England at Blakeney Point, with over 4,000 seal pups being born most years.
There are eight places to the UK's largest seal colonies in Norfolk – Blakeney Point (only accessible by boat), Horsey Gap, Winterton Beach, Waxham Beach, Brancaster Beach, the Wash (from Hunstanton) and Scroby sands. Blakeney Point offers the best chance to see seals out of the water en masse, but as seals are so nosy, you'll definitely see them swimming near the beaches too!
The eighth place is Sea Life Hunstanton. This Sea Life centre is a bit different as it's also home to Norfolk's Seal Rescue Centre and Hospital which cares for injured and vulnerable grey seals and seal pups until they can be released back into the wild.
One of the best places to see seals in Norfolk is Horsey Beach, where there is an easy 1.5-mile walk from Horsey Mill to Horsey Gap, where you can see the seal pups in the winter months between late October to February. It's an incredible sight as you walk over the dunes to the viewing platform, to look down and see hundreds of seals and their pups soaking up the winter sun.
RELATED POST: Seals in Norfolk – Where & How to See Them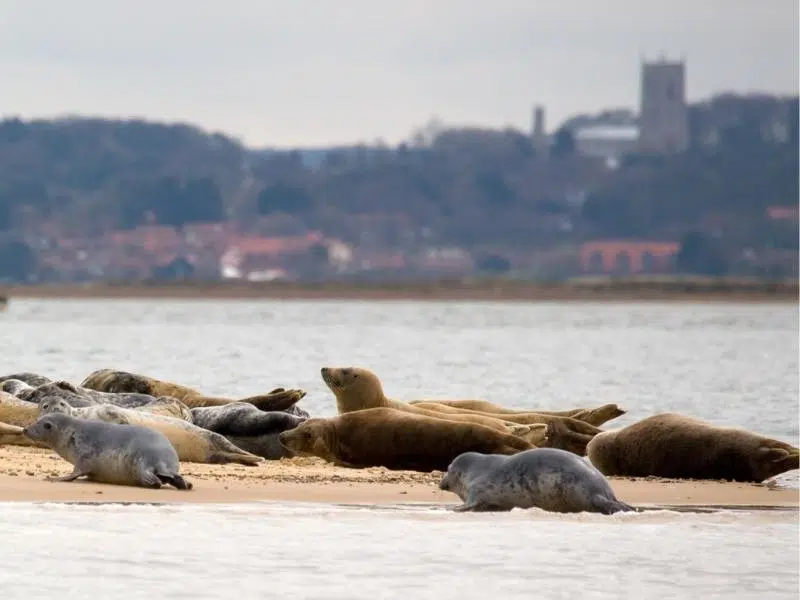 Norfolk Wildlife Parks
Norfolk is home to a number of wildlife parks, where you can see native and more exotic species in the flesh.
Located in Cromer, Amazona Zoo has over 200 animals, ranging from pumas and jaguars to monkeys, snakes, flamingos and many other South American species. There's also a large indoor and outdoor play area and a café, making this a great day out for families.
Thrigby Hall Wildlife Gardens boasts 250-year-old landscaped gardens, play areas, and a stunning willow pattern garden and is famous for its collection of Asian mammals, birds, and reptiles, all set amidst the picturesque grounds.
Near King's Lynn, Watatunga Wildlife Reserve is situated in 170 acres of unused Norfolk wetland and is dedicated to the conservation of threatened ungulates (large mammals with hooves) and birds. Deer and antelope species mix with rare pheasants, ducks and the majestic great bustard, reintroduced in Great Britain after extinction in 1832.
Redwings Horse Sanctuary is not a traditional wildlife park, but deserves inclusion due to the fantastic work they do rescuing abandoned, mistreated and neglected horses and donkeys from across the UK, and giving them a safe place to live. You can meet the 90 residents nose-to-nose, hear their stories and find out more about Redwing's work at the Aylsham sanctuary.
I love the Watatunga Wildlife Reserve for to large open spaces where the animals can roam free, or as good as.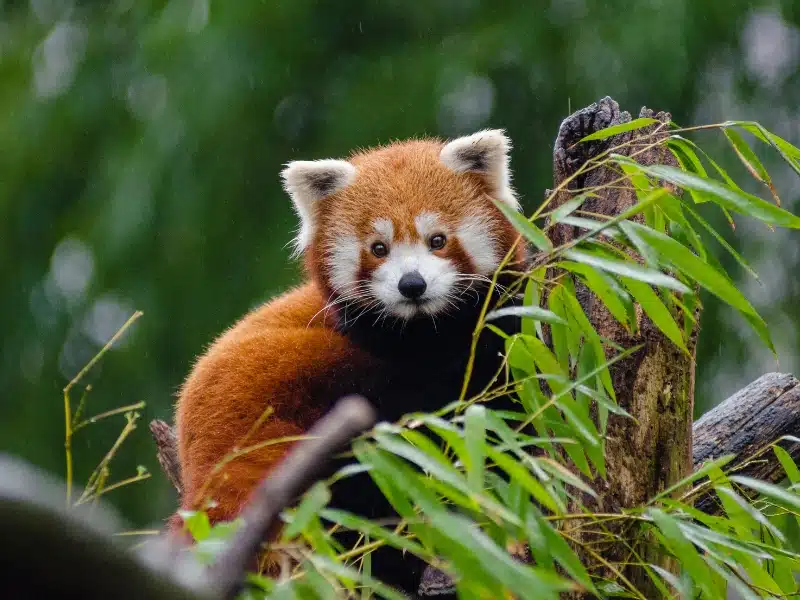 Active Things To Do in Norfolk
Stand Up Paddle in Norfolk
This popular sport of SUP has really taken off in Norfolk, where the gentle water of the Broads and creeks of North Norfolk, make it easy to learn. You can bring your own equipment or hire at various places.
You can paddle board right through the centre of Norwich on the River Wensum, the longest chalk steam in Norfolk, or take to the sea at Cromer. If you prefer something a little more gentle, follow the tidal creeks through the salt marsh from Burnham Overy Staithe, Brancaster Staithe or Salhouse Broad.
My favourite place to paddleboard in Norfolk is Wells-next-the-Sea, where you can take a stand-up paddleboard tour of Wells Harbour with North Norfolk Paddleboards. Spend 2-3 hours with a local expert paddle boarder exploring the Norfolk coast, harbour and local creeks and salt marshes as you paddle along.
RELATED POST: 20 Brilliant Things To Do in Wells-next-the-Sea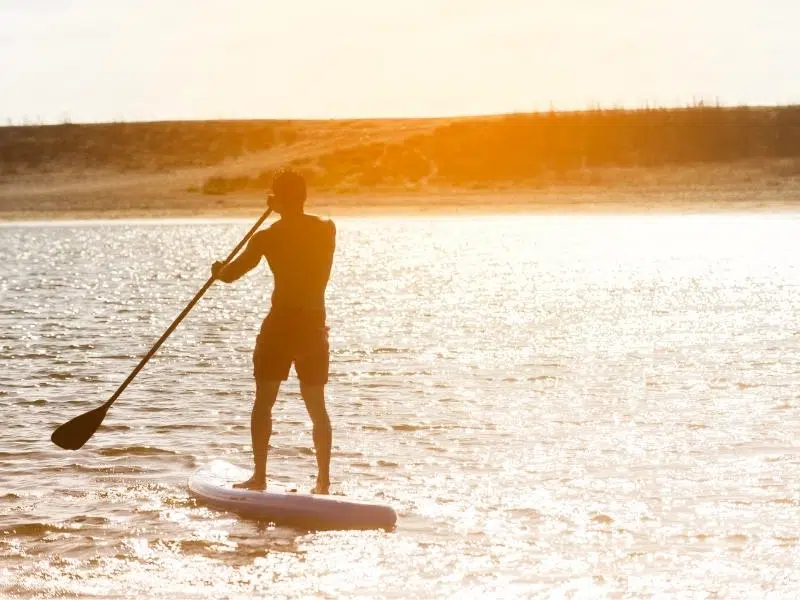 Surfing in North Norfolk
Learning to balance in the waves as you surf from Cromer's beach is great fun. You can take lessons and hire equipment from the highly rated Glide Surf School, a family-run business.
I'm going to confess that I've never tried surfing, so can't say it's my favourite thing! But, Cromer has become an increasingly popular destination for surfers in Norfolk, where I'm reliably informed that deep swells, good waves and ice-cold seas are fast making North Norfolk and Cromer a mecca for the die-hard surfer.
RELATED POST: 22 Of The Best Things To Do in Cromer Norfolk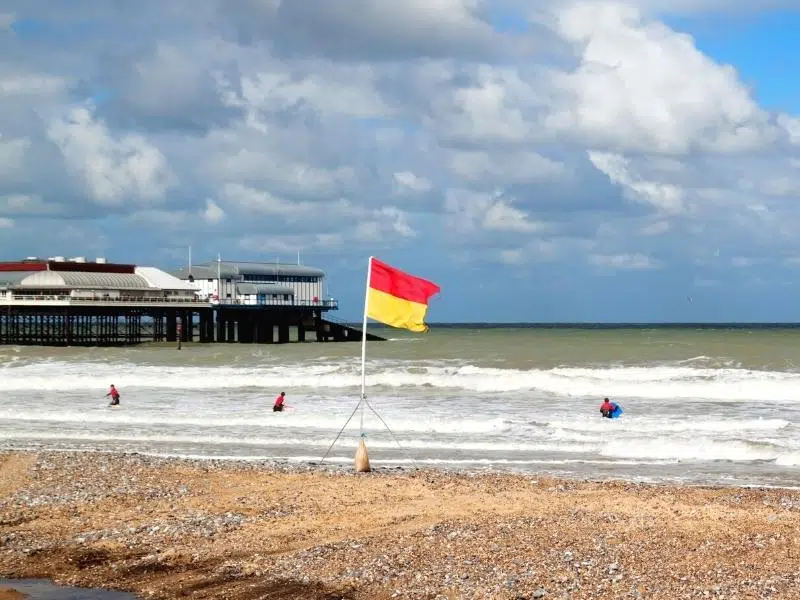 Hiking in Norfolk
Norfolk is a wonderful year-round hiking destination, especially if, like me, you don't like hills! There are a number of national trails throughout Norfolk including;
If you're more of a casual walker, the beaches of Norfolk and various country parks dotted around the county make great spots for an amble on sunny days, as does the city centre of Norwich, where you can take a self-guided walking tour around the history and architecture of the city.
Sheringham Park, run by the National Trust, is a country park that is free for all and has miles of footpaths and trails through the parkland, with lovely views to the North Norfolk coast, perfect for walking.
The best Norfolk hiking has to be along the Norfolk Coast Path, for the sheer beauty of the landscape, the huge skies and the constant sound of the sea as it meets the shore.
RELATED POST: Walks in Norfolk – 14 of the Best Trails
Kayaking & Canoeing the Norfolk Broads
The best way to admire and appreciate the Norfolk Broads is from the water. Wroxham, the capital of the Broads, is a great place to start. Hire a canoe or kayak and set off on a Swallows and Amazons style adventure, with a picnic and binoculars, to spot the many different birds and animals you'll encounter.
For the best opportunities to see kingfishers, bitterns and even the elusive otter, take a guided trail with a local expert, who will take you to backwaters where motorised boats can't go, and share information about life on the Broads.
I love to paddle on Salhouse Broad, where you can hire a canoe or kayak and explore The Wherry Cut, a peaceful place to watch wildlife and surround yourself with nature, or paddle to the Hoveton Great Broad Nature Trail, a real Broadland wilderness.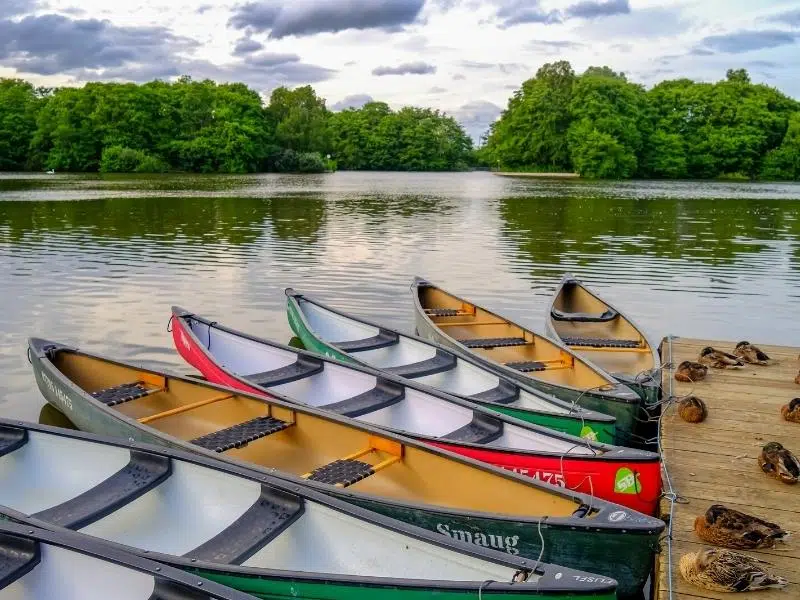 Water Sports in Norfolk
North Norfolk's coast provides a vast water park to enjoy a variety of water and wind sports, from jet skiing to the excitement of windsurfing and kite surfing. There are also a number of sailing clubs and schools in the area, where you hire a dinghy, or take sailing lessons, or even just brush up on your skills.
Hunstanton is the ideal place to learn kite surfing and windsurfing, where Hunstanton Watersports offers courses and lessons. Hunstanton offers wide open beaches with flat, shallow water together with the prevailing south, south-westerly wind. This results in cross-onshore winds, which make it a safe environment to learn the sport.
The Sailcraft Sea School is based in Brancaster Staithe and offers a wide range of resources for sailing and powerboating. The sheltered water, south of Scolt Head Island, provides an ideal area for beginners to enjoy watersports in beautiful surroundings. The more experienced sailor will find plenty of challenges to sharpen their skills.
Whilst I love being on the water, I prefer the gentler sports of SUP and kayaking – the idea of kite surfing terrifies me, but my hubby, who is a kite surfer, says Brancaster Beach is the best place!
RELATED POST: 21 of the Best Things To Do in Hunstanton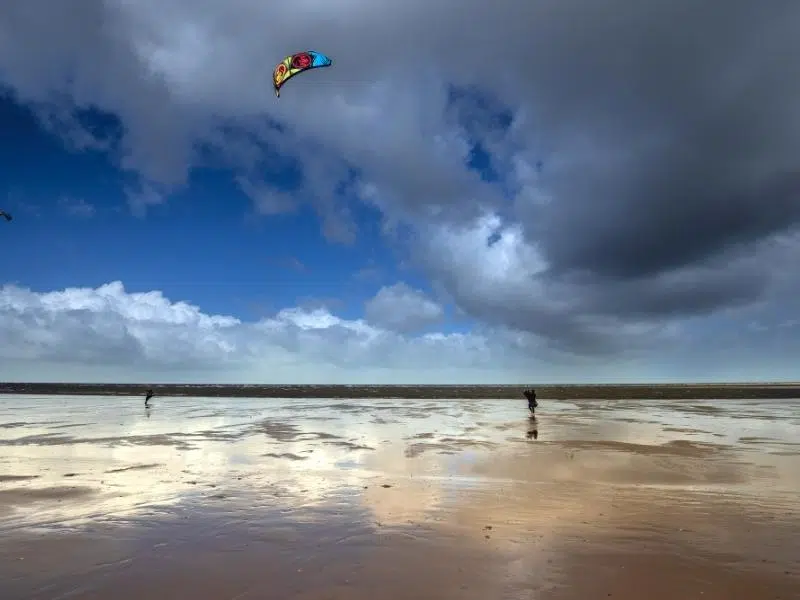 Cycling in Norfolk
Norfolk is a perfect county for cycling with plenty of quiet lanes and cycle paths and of course, it's flat!
The Norfolk Coast Cycleway runs from King's Lynn to Great Yarmouth and follows a network of byways, bridleways and quiet country lanes which are perfect for cycling, and link pretty villages around North Norfolk and the eastern Sunrise Coast.
In the Broads the countryside is gentle and offers miles of quiet country lanes, the perfect place for a bike ride. Get a good cycle map from The Broads by Bike and you'll find it a really enjoyable way to get around the area.
Norfolk's newest cycle route is the Rebellion Way, a 232 mile route around that county that is a scenic tour of Norfolk's historic sites, landscape, culture, and heritage.
I love cycling the quiet lanes of North Norfolk, where the route is bordered by fields of wheat, hedgerows and woodlands and there is an abundance of small villages with pubs, tea rooms and farm shops, and hills are pretty much non-existent!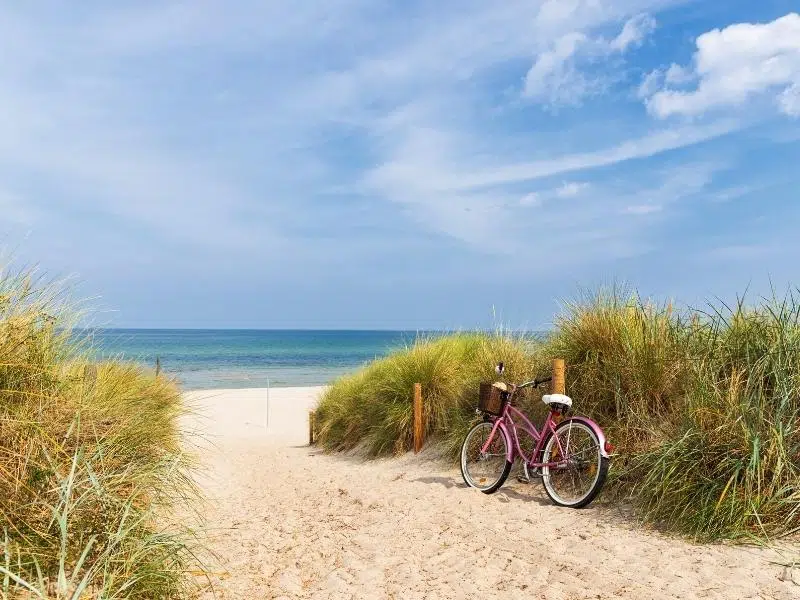 Things To Do In Norfolk with Kids
Explore Magical BeWILDerwood
Probably the number one family attraction in Norfolk, BeWILDerwood is located in the village of Horning to the east of Norwich. This woodland adventure park is a brilliant place for kids to burn off lots of energy by climbing the numerous treehouses, hurling down zip lines and slides, and crossing the many rope bridges strung between the trees.
The whole park is character-themed from a series of kids' books, and this forms the basis of indoor attractions including story-telling and craft sessions held daily, and there is also a cafe and gift shop. You probably need a full day here, especially in the school holidays when it's usually heaving!
I love the vibe at BeWILDerwood. It's gentler than many other theme parks and the fun comes from natural surroundings and lots of running around, rather than loud rides and amusements (although they have their place too!), and is absolutely one of the best things to do in Norfolk with kids outside of term time, big or small!
RELATED POST: Norfolk Theme Parks – Ultimate A-Z Guide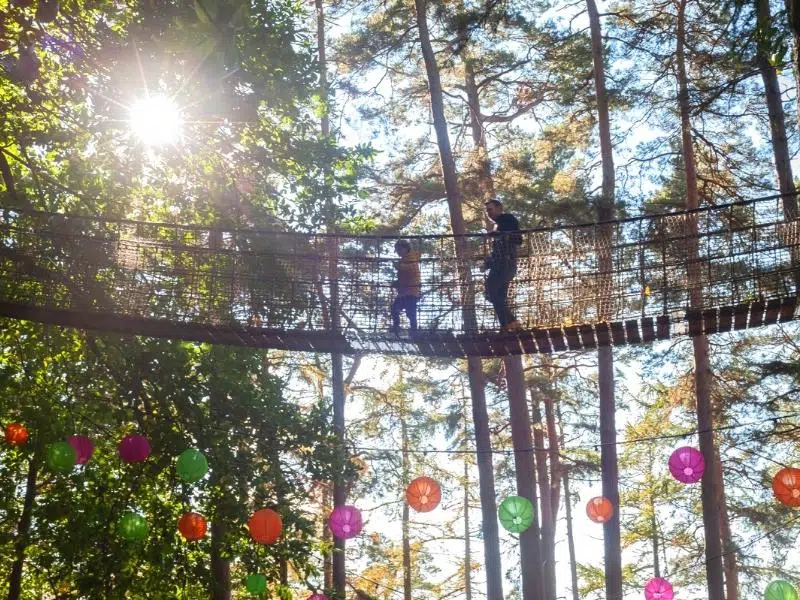 Let off Steam at Norfolk's Outdoor Centres
Older kids and teenagers will love the thrill of high ropes courses, zip lines and climbing walls, and parents will love the peace for a few hours!
Located within 26 acres of picturesque woodlands along the North Norfolk Coast, Hilltop Outdoor Centre is a high-quality, accredited, family-run independent Outdoor Education Centre. This action-packed adventure of high ropes, zip lining, tree top trails and swings, climbing walls and archery is one of the best family days out in North Norfolk.
In South Norfolk, Go Ape in Thetford Forest is where high ropes rule the roost. Pick from the treetop challenge, treetop adventure plus and treetop adventure, for smaller kids. You can also head out on an all-terrain self-balancing Segway. Coupled with terrific woodland trails this is a whole lot of fun.
Over to the west in King's Lynn is ExTREEme Adventure where quad safaris and an army-style assault course make for an action-packed family fun day out.
These places in Norfolk to let off steam and get the adrenalin pumping are all fantastic days out. Well managed, with safety being paramount, I would recommend them all if you're looking for an outdoor adventure in Norfolk.
RELATED POST: 23 Amazing Things To Do in Sheringham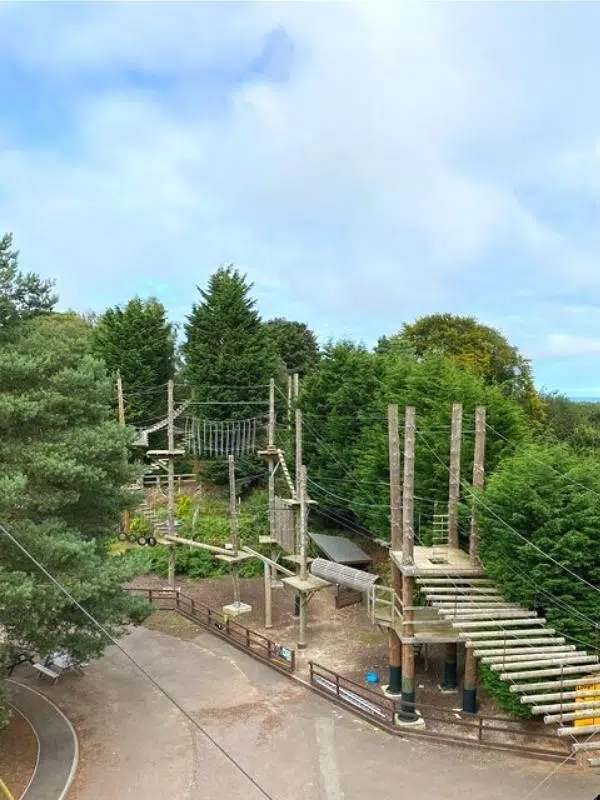 Have Fun at West Norfolk's Farms
Snettisham Park and Park Farm is a working Norfolk farm growing wheat for animal feed, barley, sugar beet and grass, which is grazed by a 400 flock of sheep, a herd of red deer, and horses and ponies from their own stables.
The 329-acre working farm is open to the public and is a brilliant day out with kids. See lambs being born, take a 45 minute deer safari, bottle feed baby animals, collect freshly laid eggs, ride ponies, and take a walk on one of their three wonderful trails.
Church Farm Stow Bardolph, between King's Lynn and Swaffham, is another great place for a day out with the kids. Meet rare breeds and cute baby animals, race around on pedal tractors in the outdoor play area, enjoy adventure play in the fantastic indoor treehouse, ride on a donkey and even play with piglets, who will roll over obligingly for a belly scratch!
For grown-ups, these Norfolk attractions also offer outdoor theatre in the summer, beautiful woodland walks and a tea room where you should absolutely try one of their delicious homemade cakes!
I cannot pick a favourite between these two fantastic attractions! Both are great places to visit and hold many happy memories from when my own kids were small and thought feeding a baby lamb was the best thing ever!
RELATED POST: All the Best Things To Do in King's Lynn Norfolk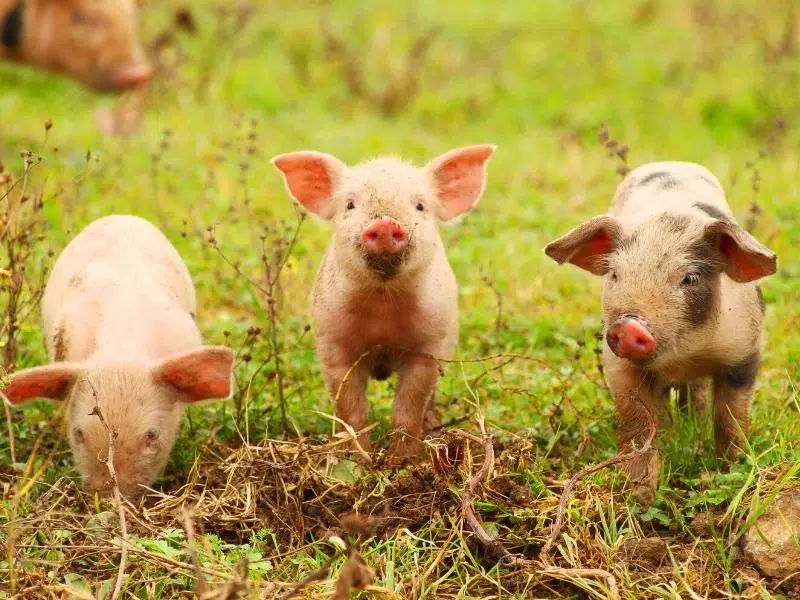 Go Crabbing in North Norfolk
Norfolk is a great crabbing destination because of its estuarial and creek waters in which the crabs like living.
The best spots for crabbing are the Norfolk seaside towns of Cromer, Blakeney and Wells-next-the-Sea, and the tidal creeks at Brancaster Staithe, Titchwell and Burnham Overy Staithe, because they all have the right habitat in abundance.
Crabbing is basically dropping a bait line into the water and waiting for the crab to take the bait. Did you know that in Norfolk, crabbing is sometimes called gillying? The term comes from the name for the crabs that are most commonly caught, which are called Norfolk gillie crabs.
My favourite place to go crabbing in Norfolk is Cromer Pier. I crabbed there, and many other places along the North Norfolk Coast as a kid, and still remember the thrill of the catch, and working out all the tricks I could deploy to catch more crabs than anyone else!
RELATED POST: Crabbing in Cromer – Top Tips & Tricks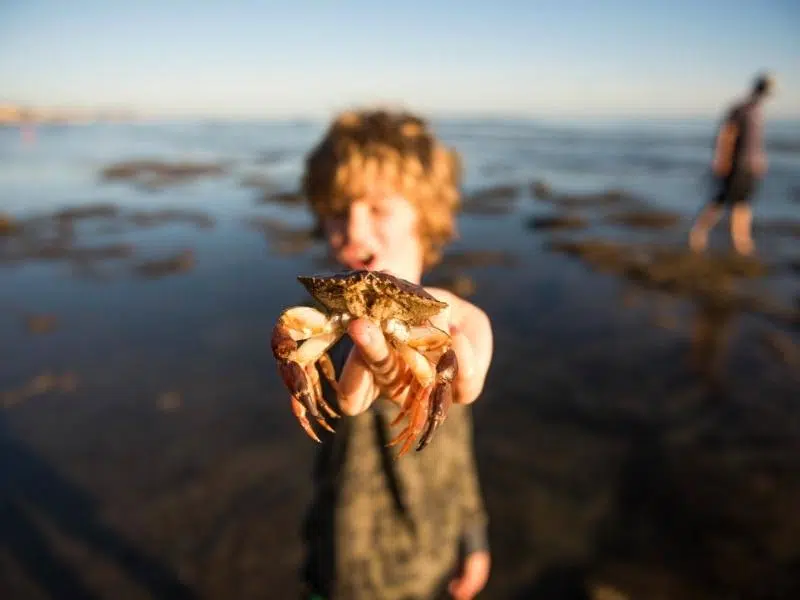 Explore Norfolk's Theme Parks
Kids love a theme park and there is no shortage of these Norfolk attractions!
Pick from Roarr! Dinosaur Adventure, near Norwich, where life-size dinosaur models, play areas and loads of cute animals will keep your little ones entertained.
Over in Reedham is Pettitts Adventure Park, where domestic and exotic animals, kids' rides, live entertainment and a cafe make for a great day out.
Sitting at the top of Great Yarmouth's Golden Mile and sprawling across a huge nine-acre site is the Great Yarmouth Pleasure Beach, the resort town's number one attraction. This theme park is loud, colourful and in your face, making it the perfect day trip for the whole family.
I really enjoy visiting Hirsty's Family Fun Park near Hembsby. I used to take my kids here, and love the farm feel, low-octane activities and laid-back family vibe of the place.
RELATED POST: 13 Exciting Things To Do in Great Yarmouth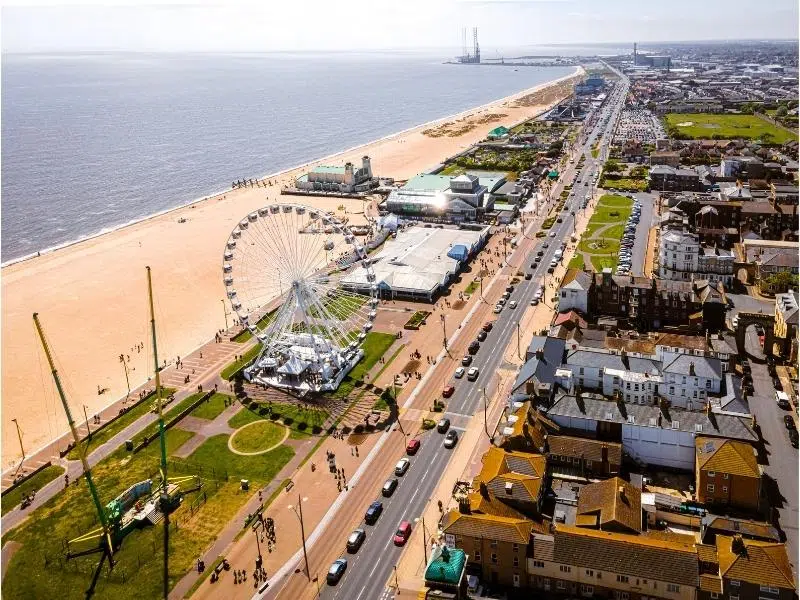 Food & Drink Experiences in Norfolk
Sample Norfolk Seafood
The seas off the coast of Norfolk are bountiful with shellfish including crab, mussels, prawns and lobster, and fish like Longshore herring and skate. This is because an ecosystem is created by a current of cold water which sweeps south from Norway and brings an abundance of nutrients with it.
A longshore drift is created as this current arrives on the North Norfolk coast, creating the perfect environment for seafood and fish to thrive.
Much of this produce is caught and sold to local restaurants and eateries on the same day, meaning when you go out to eat, you're served with the freshest and most local Norfolk ingredients imaginable.
Full of flavour and sweeter than other crabs, the Cromer Crab is Norfolk's most famous food item and a popular attraction for foodies. The juicy flesh and unique flavour make these crabs a Norfolk delicacy. Freshly caught Cromer crabs are available on many Norfolk menus, but you can't beat buying a dressed crab in Cromer and eating it as you wander the pretty town.
Freshly caught mussels from Brancaster Staithe Harbour are a real treat. In season from September to April, these delicious shellfish will be on every menu and in every fishmonger in Norfolk.
The best place in Norfolk for Cromer Crab is Rocky Bottoms in West Runton, between Sheringham and Cromer, where a local family catch crabs using their own fishing boat, and then feed you in their restaurant! You can also buy dressed and prepared crab at the Crab Hut to take home – yummy!
RELATED POST: Restaurants in Cromer – 16 of The Best Places to Eat
RELATED POST: Restaurants in Sheringham – 16 Best Places to Eat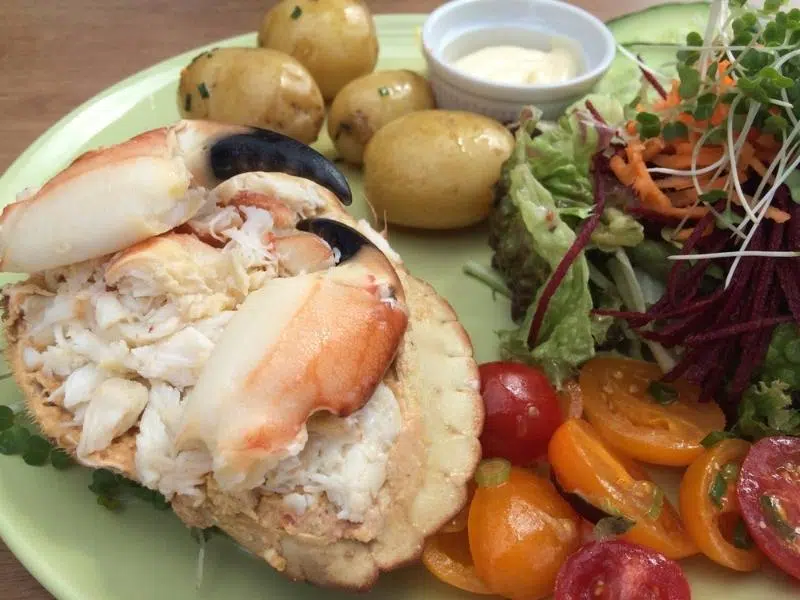 Norfolk Alcohol Tastings
One of the best things to do in Norfolk for adults is a local alcohol tasting. Whether you like a local craft ale, beer, English wine, Norfolk cider or Norfolk gin, you're in for a treat in Nelson's County!
With six Norfolk vineyards producing exceptional award-winning English wines, twelve gin distilleries, Woodfordes Brewery in the heart of the Norfolk Broads, and over 35 micro-breweries spread across Norfolk, there's an alcoholic beverage for everyone!
My favourite Norfolk vineyard is Chet Valley Winery which makes award-winning wines, hand-crafted using distinct varieties of cool-climate grapes. Take a tour and tasting, and enjoy a Norfolk lunch platter as you gaze over the tranquil Norfolk countryside.
RELATED POST: 11 Norfolk Gins You Have To Try!
RELATED POST: Six Vineyards in Norfolk You Need to Know About!
RELATED POST: Breweries in Norfolk – Best 16 to Visit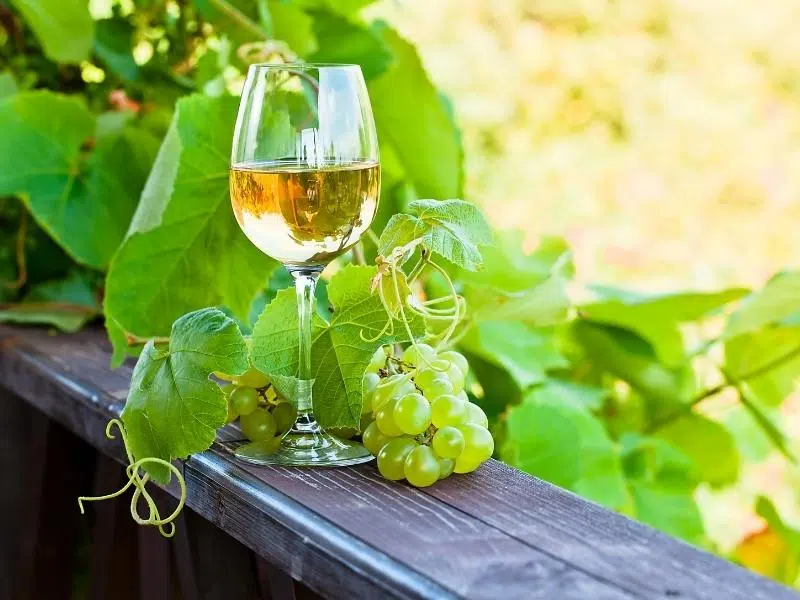 Buy Local in Norfolk Farm Shops & Farmers Markets
There's a huge variety of Norfolk farm shops to discover. If you're looking for local produce that's farm fresh or foraged ingredients like samphire, top quality butchers, fishmongers and cheese makers, honey producers, and all those delicatessens where baked treats are made daily, using only local ingredients, you're in the right place!
I love visiting Wiveton Hall near Blakeney and if anyone's coming for a long Norfolk weekend, we head here! The farm shop sells lots of lovely local food and produce alongside the fantastic cafe, and a trip here makes for a lovely afternoon out, especially if you've watched the BBC2 show 'Normal for Norfolk'!
RELATED POST: The Best Norfolk Farmers Markets You Won't Want to Miss!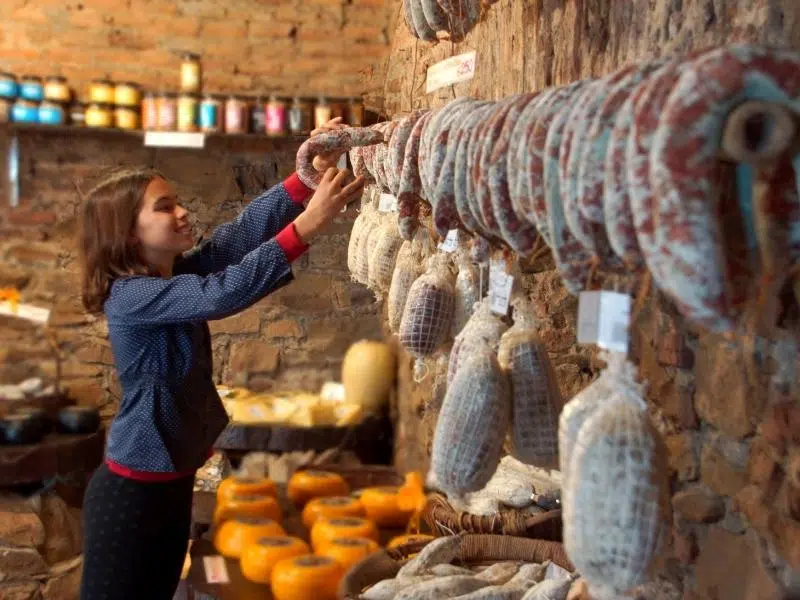 Places to Visit Norfolk for Fish & Chips
Fish and chips are not a Norfolk speciality by any means, but when you're on holiday and by the sea, fish and chips are a must! All of Norfolk's seaside towns have good fish and chip takeaways, and somewhere you can eat in – but for me, nothing tastes so good as eating them from the wrapper, perched on the sea wall or prom!
My favourite place for fish and chips in Norfolk is Ron's Fish and Chips on Norwich Market (row D, stalls 94 and 95), where you'll get hand-cut chips and cod coated in their own delicious homemade batter.
RELATED POST: Best Fish & Chips Norfolk: 14 Top Places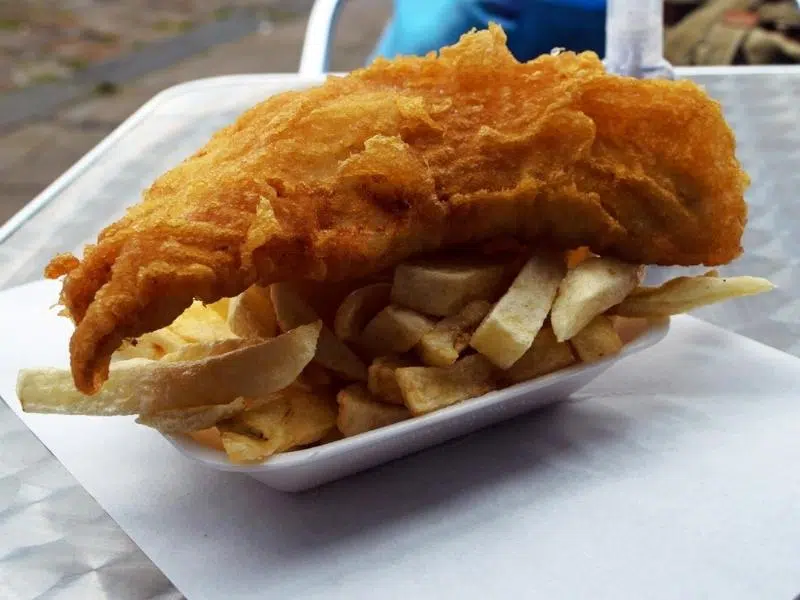 Treat Yourself to Norfolk Afternoon Tea
The afternoon tea ritual is not confined to Norfolk but is a quintessential part of a Norfolk holiday or day out, and it's a great opportunity to indulge your taste buds with homemade and local Norfolk treats.
There are lots of great afternoon tea places in Norfolk, from grand stately homes, cool city coffee shops and village tea shops, where everything is made on the premises.
I think the best place for afternoon tea in Norfolk is the Heydon Village Tea Room. This quintessential English tea room, where almost everything on the generous afternoon tea menu is homemade by the owners on the premises with locally sourced ingredients, is a wonderful place to relax over an afternoon cuppa.
RELATED POST: Afternoon Tea in Norfolk – 15 of the Best Places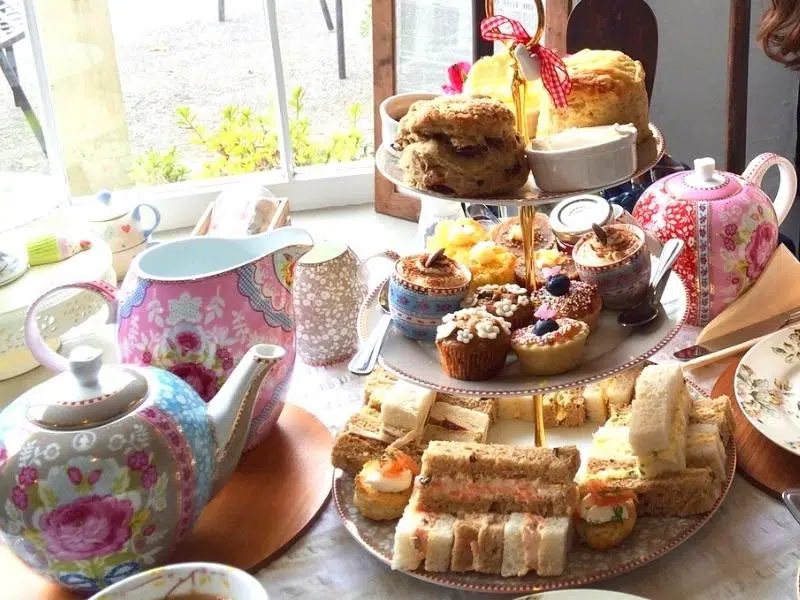 Historic Things To Do Norfolk
Discover Norfolk's Castles
Norfolk is a county full of fascinating history, and that means there are also castles! Dotted around the gorgeous landscapes and pretty rural villages of Norfolk are many historic castles for you to explore.
Some of these places to go in Norfolk are remarkably well-preserved and some are atmospheric tumble-down ruins, whilst others are castles in name only, and all that remains are the massive mounds and grassy earthworks to show what once existed.
My favourite Norfolk castle is Castle Acre Castle, set on the edge of the historic Norman village of the same name. I loved going to this castle as a kid, and taking my children (it's free too), as there are so many grassy areas to run around and have fun.
We used to roly-poly down the ancient grass-covered earthworks which surround the site of the ruined castle, before heading into the pretty village through the historic Bailey Gate for an ice cream.
RELATED POST: 12 Norfolk Castles for You to Explore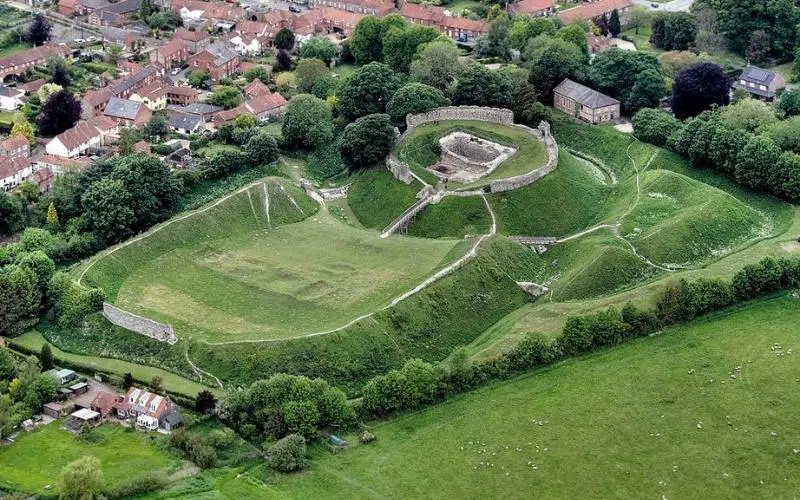 Learn in Norfolk's Museums
There are over 80 museums in Norfolk, run by local authorities, charities and private organisations, and covering many different aspects of life in Norfolk, and wider afield. There are military, technological, transport, historic, local, maritime, religious and art museums spread around the county.
Probably the best way to work out which museum to visit is to search for 'museums near me' – you might even be surprised and find a gem that is really worth visiting!
I really enjoy visiting Gressenhall Farm and Workhouse near Dereham, a family-friendly venue with a recreated historic workhouse, heritage farm with rare breeds, agriculture and rural life displays and steam engines.
RELATED POST: 21 Museums in Norfolk You Won't Want to Miss!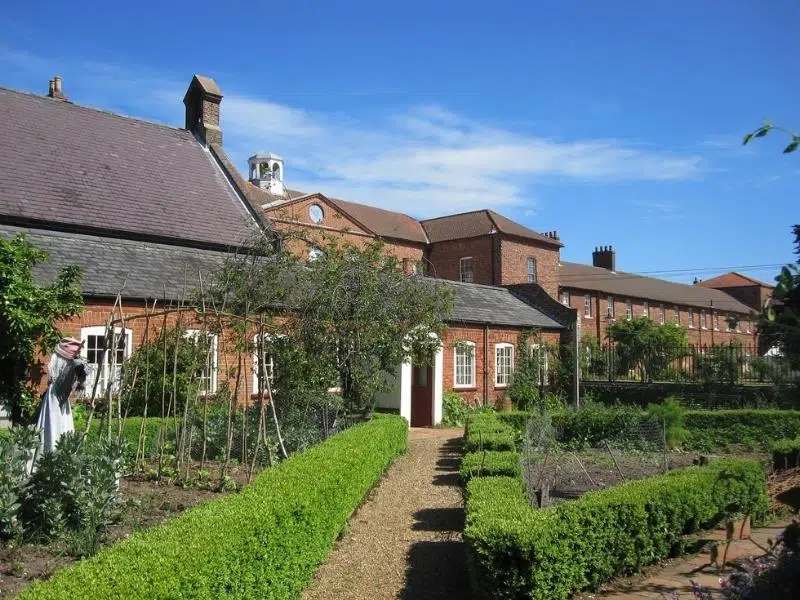 Explore Norfolk's Stately Homes
Once a county of affluent landowners, there is a rich and diverse collection of stately homes in Norfolk. These historic houses offer a unique insight into the story of Norfolk and the people and politics who shaped not only Nelson's County but the United Kingdom too.
Many of these Norfolk attractions have fabulous gardens to discover, and wider parkland, ideal for walking, running around with the kids or simply enjoying the beautiful Norfolk landscapes. Of particular note are the Sandringham Estate, home of the royal family and Holkham Hall, which even has its own beach, deer park and nature reserve!
My favourite Norfolk stately home is Blickling Hall, a superb Jacobean mansion packed full of history, with 4,600 acres of beautiful gardens and parkland to explore in the wider Blickling Estate, but Oxburgh Hall and Felbrigg come a very close joint second!
RELATED POST: 14 Stately Homes in Norfolk to Visit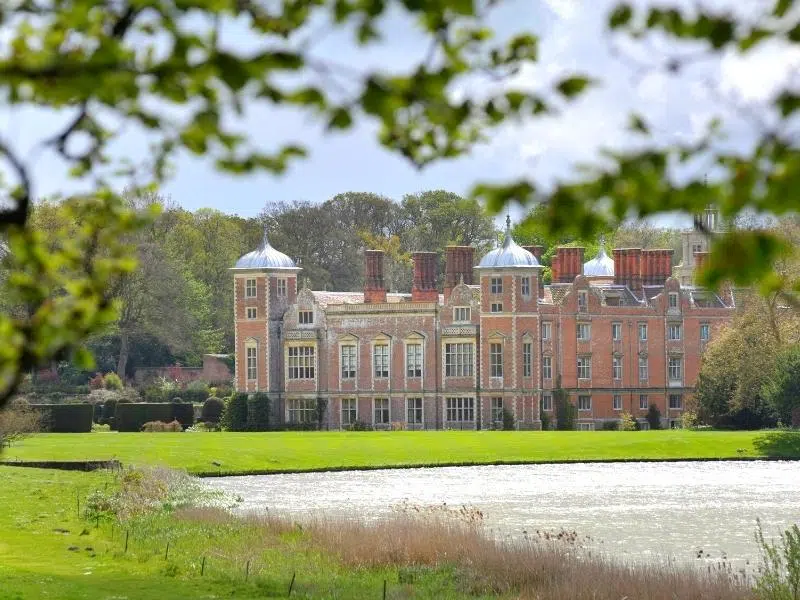 Go Fossil Hunting Along the Deep History Coast
Made up of 22 miles of coastline from Weybourne to Cart Gap, the Deep History Coast is where million-year-old footprints, the earliest evidence of humans in Britain, have been found, alongside the UK's biggest mammoth skeleton remains and a 500,000-year-old flint hand axe.
Exploring the Deep History Coast is one of the top things to do in Norfolk for families, with lots of activities to help you understand the millennia of history in the area. You can fossil hunt along the beautiful beaches between Weybourne and Cart Gap and follow the Discovery Trail to read fact-revealing discovery points along the way.
Try rock-pooling and fossil hunting at West Runton Beach, where the Steppe mammoth skeleton was found. It's a great spot to find fossils, which are common along this stretch, ranging from belemnites to hyena coprolites (fossilised poo!). The best time to hunt is at low tide after a particularly high tide or heavy rainfall.
One of the best places along the Deep History Coast is Happisburgh Beach, where the first ancient footprints were found. This beautiful and unspoilt bay has amazing views of the incredibly photogenic red and white striped Happisburgh Lighthouse and is perfect for a good long walk.
RELATED POST: Things to Do North Norfolk – 19 Unmissable Highlights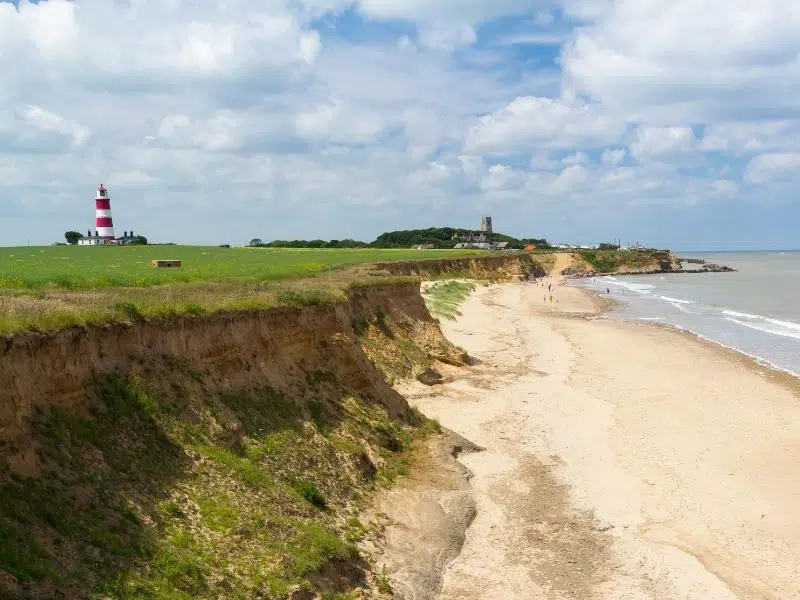 Discover Norfolk's Historic Architecture
Norfolk's capital city of Norwich and King's Lynn both have so much history and medieval architecture to be explored, which tells the story of the successes and downfalls of the county, and its rich Hanseatic trading history.
Norwich city centre has a number of heritage sites including the Norman-built Norwich Castle, and Norwich Cathedral. Around this area, you'll also find Tombland Alley, home to St. Ethelbert's Gate (1272) and Erpingham Gate (1420), which lead into the idyllic Cathedral Close, with its wealth of historic buildings, including the medieval deanery. You can visit many of these using our collection of self-guided walks in Norwich.
Elm Hill, a picture-perfect medieval cobbled street near the River Wensum, is lined with colourful and historic houses, many of them now pretty shops, restaurants, and cafes.
King's Lynn was once the most important port in the kingdom and a member of the medieval Hanseatic League. Today, it is considered one of the most perfect medieval towns in England, and much of the town's history is on display in the historic buildings and port area, all you have to do is walk, observe and admire!
Elsewhere, along the High Street of every market town and Norfolk village you'll find hidden gems, medieval churches and structures that tell the stories of Norfolk's rich agricultural, seafaring and trading past.
I really enjoy Norfolk's historic architecture around King's Lynn Minster and the harbour area, where the elegant 17th century Custom House stands guard over the historic waterfront. A free downloadable walking tour of the town is a great way to learn about the history and architecture.
RELATED POST: Norfolk Churches: 16 of the Best to Visit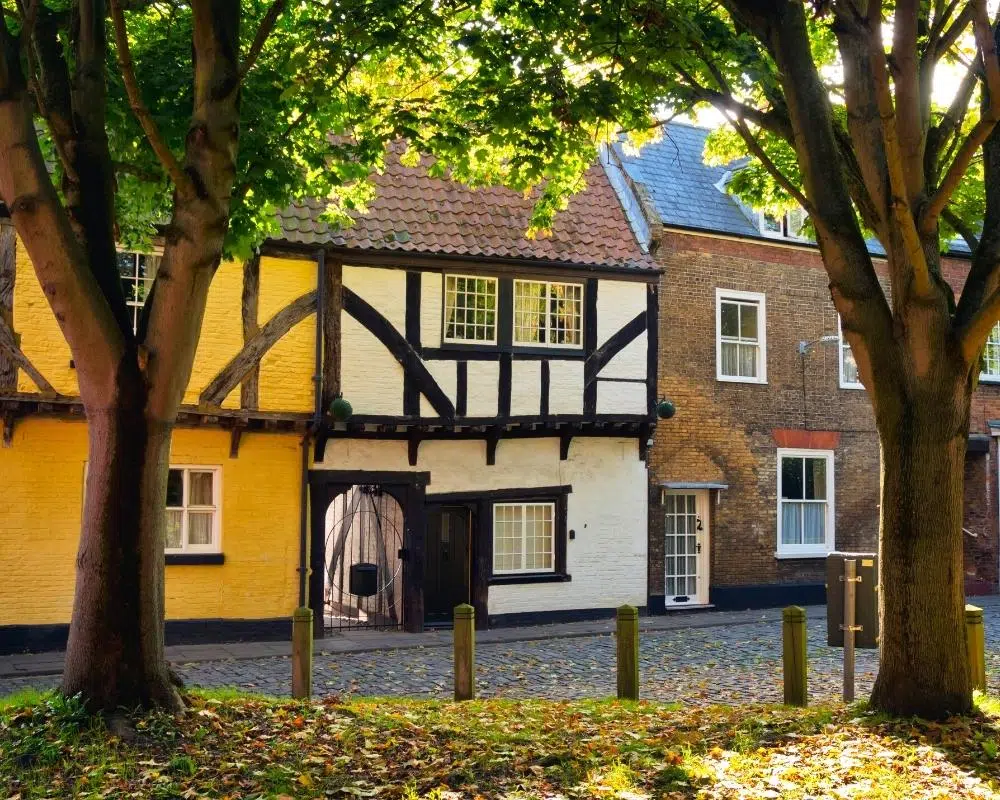 Transport Attractions in Norfolk
Discover Norfolk's RNLI
For generations, the Norfolk coast has been watched over by brave volunteers, who put their lives at risk to rescue others at sea. These original crews were often fishermen, without any special equipment, who knew the tides and sandbanks of this gorgeous, but treacherous, coast.
In the early 19th century, wealthy Norfolk residents and patrons provided towns with a large boat, to act as a lifeboat. Often these were dragged in and out of the water by the crew, but in Wells-next-the-Sea, the lifeboat had to be dragged two miles to Holkham Gap by horses – now commemorated in the brilliant Lifeboat Horse sculpture which stands in the water of Wells harbour during the summer months.
In 1824 the RNLI (Royal National Lifeboat Institution) was inaugurated as a charity, and lifeboat stations began to be built and equipped around the Norfolk coast. There are now nine stations in Norfolk in Caister; Cromer; Great Yarmouth; Happisburgh; Hunstanton; Mundesley; Sea Palling; Sheringham and Wells-next-the-Sea.
All are equipped with state-of-the-art boats and highly trained volunteer crews, and each has a deep connection with its community, and the sea.
It's hard to pick out a favourite lifeboat station because they and their crews are all so worthy and do such good work. But I do love the lifeboat station at Wells because it's instantly recognisable and for me, is iconic Norfolk!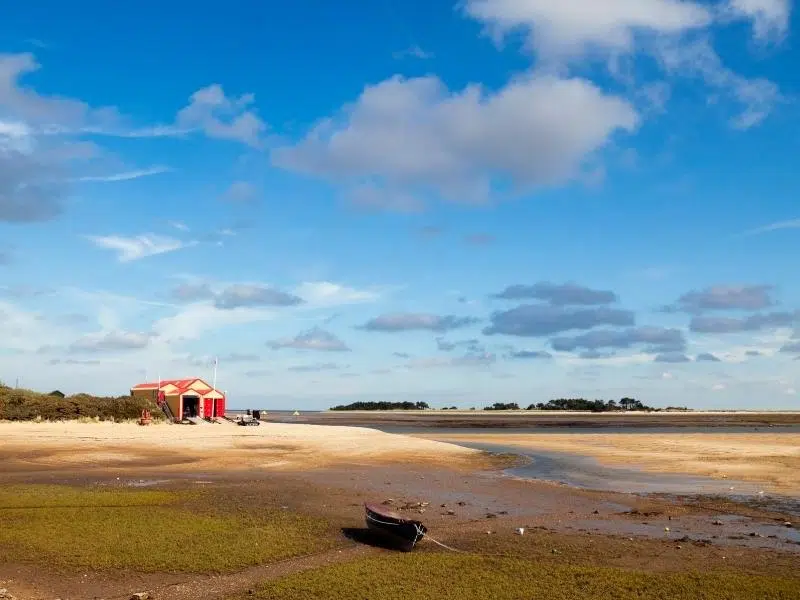 Take a Scenic Train Ride in Norfolk
Railways have played a large part in Norfolk's history, as trade developed and industry flourished, the railway lines followed. This led to Norfolk's railway heritage, which these days is enjoyed by visitors to the county.
The wonderful narrow-gauge Bure Valley Steam Railway runs through the lush Bure Valley and has a great hiking and cycling path alongside, so you can take the train in one direction, and get back under your own steam …see what I did there?
The steam-powered North Norfolk Railway, known as the Poppy Line, will take you on a fantastic journey through the Norfolk countryside between Sheringham and the pretty Georgian market town of Holt. NNR runs lots of North Norfolk events throughout the year from different decades of the 21st century when people dress up and live music is provided.
The Mid-Norfolk Railway has steam and diesel locomotives and is the longest standard-gauge heritage railway in East Anglia, running between Dereham and Wymondham.
I love travelling on the cute Wells and Walsingham Light Railway, the world's smallest public railway, which steams between the lively seaside town of Wells-next-the-Sea and the beautiful village of Walsingham.
RELATED POST: Steam Train Norfolk: 8 of the Best Journeys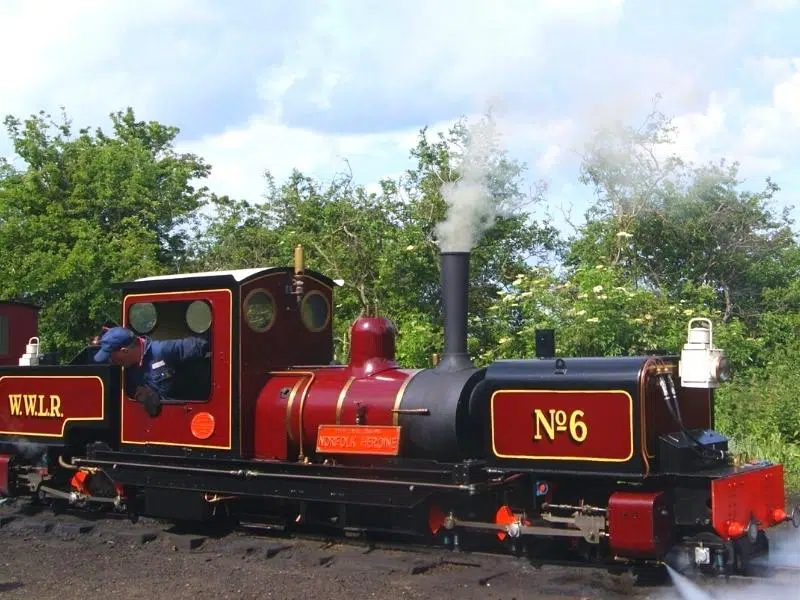 Car & Motorbike Experiences in Norfolk
The Norfolk Motorcycle Museum in North Walsham boasts over 160 classic 20th century bikes. British, European, American, Japanese… they're all here. Tightly packed in rows two layers high, there's a lot to see and explore for bike lovers.
Down the coast at Caister Castle, is the UK's largest privately owned motor collection open to the public. With many fine and rare veteran, vintage, classic, sports and touring automobiles and motorcycles, the collection holds more than 120 cars and 100 bikes, as well as bicycles, horse-drawn vehicles, baby carriages and pedal cars – a mecca for all petrol-heads!
If you love your cars and bikes, you'll love both of these museums. I must confess to not being a petrol-head, so suffer the visits for the sake of hubby and kids, who could spend all day in each whilst I read a book in the car park!
RELATED POST: Norfolk Road Trip – Route, Map and Itinerary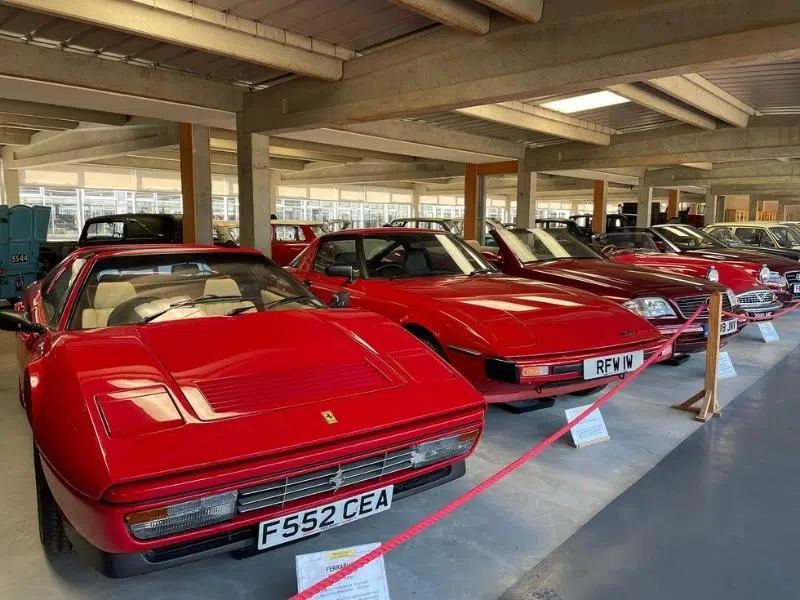 Explore Norfolk's Military Transport
Norfolk has a wealth of military museums, showcasing everything from tanks to aircraft.
The Muckleburgh Military Collection is Norfolk's largest working museum of military vehicles including tanks, guns & a large range of other weapons. The Norfolk Tank Museum houses a collection of military vehicles, weapons and militaria mainly from the 20th century and the Cold War period.
At Old Buckenham airfield, where the American Airforce (and the actor Jimmy Stewert) were stationed during WWII, is the 453rd Bombardment Group Museum, from which Norfolk's only airshow is held annually. It's well worth a visit if you're interested in aviation or WWII.
The best military transport museum in Norfolk has to be Muckleburgh, for the sheer scale and number of exhibits and the fact that you get to watch many of them in action – it's a brilliant day out with kids as well.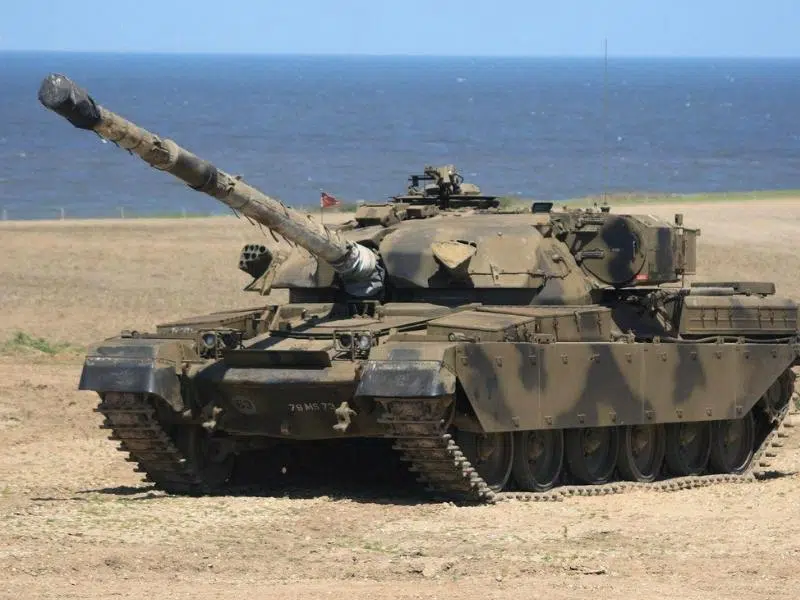 Steam & Traction Engines in Norfolk
There are four excellent traction and steam engine museums in Norfolk, and if you visit in the summer, you'll also find steam engines on display at many summer fetes and fairs.
The Thursford Collection in North Norfolk holds the world's largest collection of steam engines and organs, fairground rides and the Wurlitzer, a kind of electric piano. Watching it being played is an event in itself and their Christmas show is legendary!
The wonderful Strumpshaw Hall Steam Museum has steam engines, 100-ton working beam engines, a narrow gauge railway, a 1930s fairground and mechanical organs to admire.
The fantastic Charles Burrell Museum, housed in a listed Grade II former paint shop in Thetford, is a veritable treasure trove of steam traction engines, agricultural machinery, steam lorries and steam tram engines. And just a few miles south of Norwich is the award-winning Forncett Industrial Steam Museum, which gives a fascinating insight into Norfolk's industrial heritage.
Again, I have to confess to being bored silly by steam engines, but I enjoyed the Charles Burrell Museum for its variety of exhibits, which includes the Jones Butcher's delivery van owned by Lance-Corporal Jones in the BBC comedy series Dad's Army!
RELATED POST: Christmas in Norfolk – 45+ Dates for Your Diary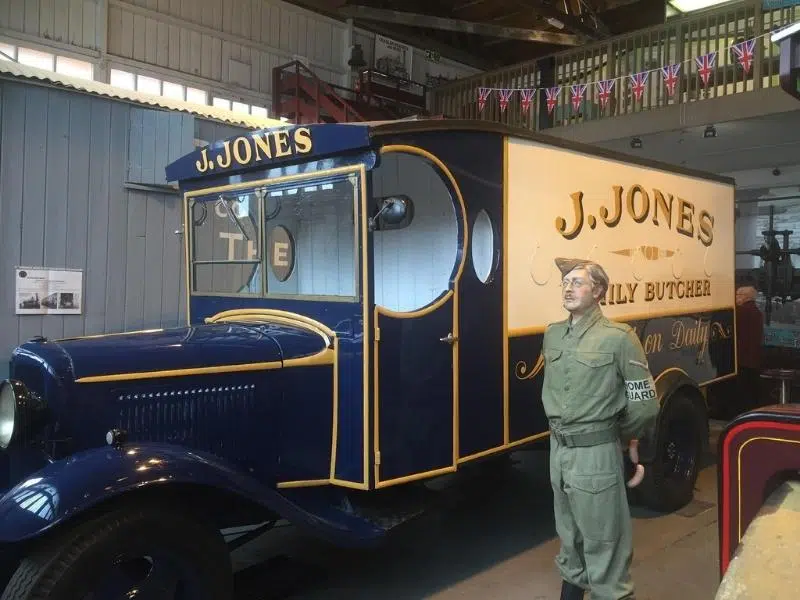 Culture & Arts in Norfolk
Theatre
Norfolk boasts its fair share of theatres, including the one-of-a-kind Pavilion Theatre at the end of Cromer's Victorian Pier.
In Norwich, a city well known for literature, it's no surprise that there are six permanent theatres, including Norwich Puppet Theatre, The Playhouse, The Garage, Sewell Barn and Maddermarket Theatre, with the largest being Norwich Theatre Royal.
Over in West Norfolk, King's Lynn Corn Exchange on Tuesday Market Place is a Grade II listed building with an 1854 facade that belies a modern interior with a fantastic to-the-rafters theatre and two cinemas.
And in Great Yarmouth, the legendary Hippodrome Circus is Britain's only surviving total circus building – and what a building it is! Hidden behind a fairly average facade is a full-sized circus, including a drop ring which becomes a pool!
Art Galleries
There are art galleries all over Norfolk, from small studios to stately homes and large museums, offering everything from local crafts to exhibitions by famous artists.
Probably the best known of these is the Sainsbury Centre for Visual Arts in the grounds of the University of East Anglia. Completed in 1978, it was one of the first major public buildings to be designed by the architects Norman Foster and Wendy Cheesman.
Not only is this a stunning contemporary building, but it is also a light-filled art gallery and museum which holds a permanent collection which includes works by Picasso, Giacometti, Van Gogh, Degas and Francis Bacon. There is also a sculpture garden, with works by Henry Moore, Elisabeth Frink, Lynn Chadwick, and Antony Gormley, all sitting alongside the beautiful River Yare.
Literature
In 1395 Julian of Norwich was the first woman to write a book in English: Revelations of Divine Love. It's no surprise then that Norwich was named England's first UNESCO City of Literature and is host to the National Centre for Writing.
Norfolk celebrates its pride of place within the nation's literary world with a series of year-round events, workshops and readings, including Spring's UEA Literary Festival, June's Felixstowe Book Festival and November's Poetry in Aldeburgh Festival, neither of which are in Norfolk, but are close enough to count!
Art Installations
In August 2021, the stealthy street artist Banksy visited Norfolk on a self-titled 'Great British Spraycation'. Over several days, Banksy left his art in Great Yarmouth, Gorleston, Cromer and King's Lynn, although the latter is no longer on display.
The new Norfolk Way Art Trail is an exciting new public art trail spanning 250 miles of Norfolk, England. The trail features multi-sensory and accessible public artworks that will reveal hidden stories, and inspire visitors to explore the county.
Over at Houghton Hall, there is an impressive collection of contemporary sculptures by world-renowned artists displayed in the gardens and grounds. In Norwich is the Urban Art Trail which follows street art in the City of Stories, and the new Town Wall Art Trail celebrating the fishing history and row houses of Great Yarmouth has its first two sculptures in place alongside the old town walls.
Music
Norfolk holds a wealth of festivals, special events and concerts in many music genres. Venues range from outdoor stages in places like Thetford Forest and Sandringham to small locations in towns and villages across the county.
As an adult, it's hard to beat the Theatre Royal in Norwich, but when my kids were small, the Hippodrome Circus summer show in Great Yarmouth was such a treat!
RELATED POST: What's On in Norfolk – 80+ Dates for Your Diary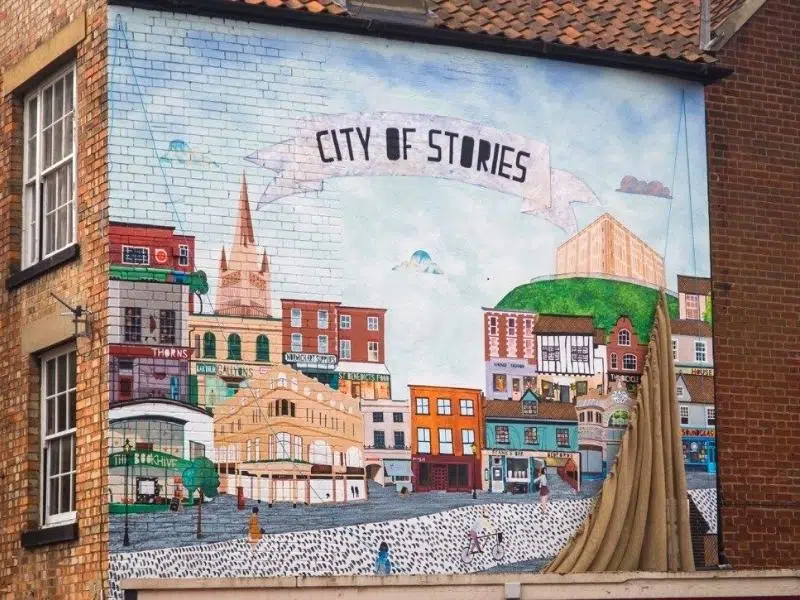 Have I missed your favourite things to do in Norfolk off my list? Leave a comment below so I can check it out!
Love it? Pin it!