Downham Market, a busy town in West Norfolk, is steeped in history and charm. One of Norfolk's oldest market towns, Downham lies on the edge of the starkly beautiful Fens and alongside the River Great Ouse.
The rural town is known for its unique architectural features, lively markets and riverside location, and is rich in character and tradition.
There's plenty to do for visitors to Downham Market, making the town an ideal destination and local base for those looking to explore unspoiled West Norfolk.
RELATED POST: The Ultimate Local's Guide to Norfolk England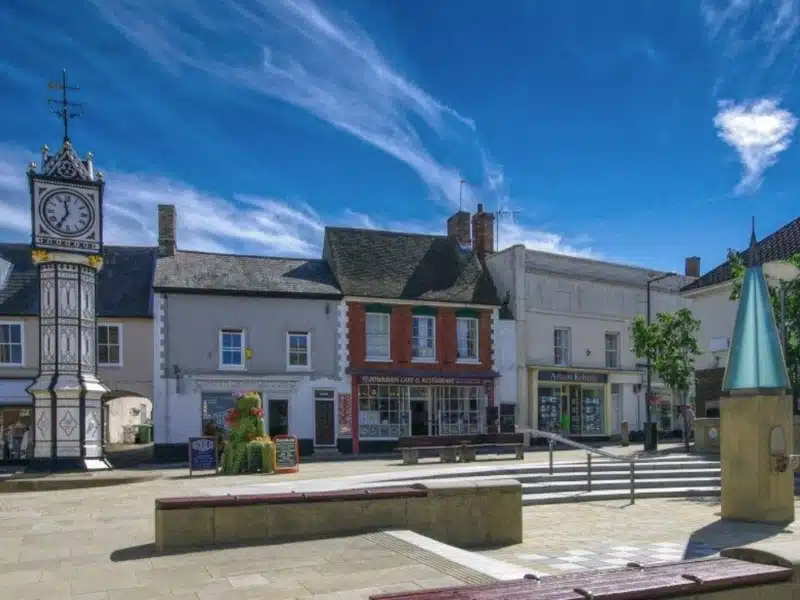 This post may contain affiliate links. If you book something I recommend, I make a small commission without affecting the price you pay!
Where is Downham Market Norfolk?
On the edge of the Fens in the south west corner of Norfolk, Downham Market is 11 miles south of King's Lynn and 48 miles west of Norfolk's capital city of Norwich.
Downham Market is administered by the Borough Council of King's Lynn & West Norfolk.
RELATED POST: 30 of the Very Best Things To Do in Norfolk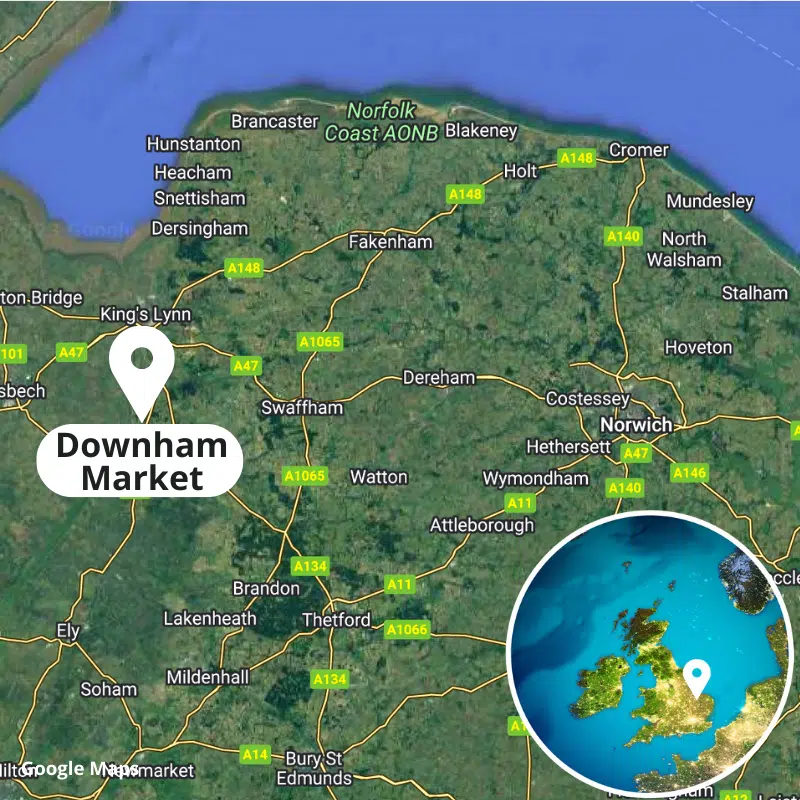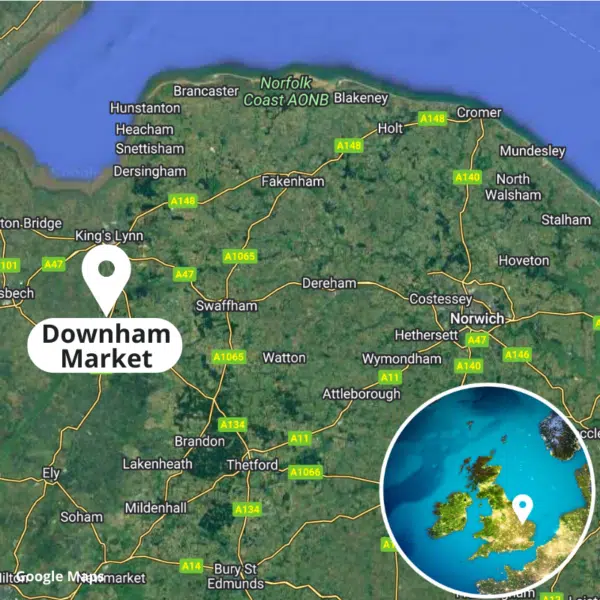 Downham Market – Getting There & Getting Around
Driving to Downham Market
If you're travelling from the north of the United Kingdom, pick up the A17 south at Newark-on-Trent and follow the route around the Wash to King's Lynn. This road is mainly single-carriageway, and slow-moving agricultural traffic and trucks can cause delays, so built this into your travel plans.
If you're travelling from the Midlands, you'll come into Norfolk via Peterborough and pick up the A47 north to Wisbech and then the A1101 and A1122 to Downham Market. From the south, the A10 brings you through Cambridge directly to Downham Market.
Getting To Downham Market by Public Transport
The county of Norfolk is within easy reach of the rest of the UK, with excellent transport links. You can get to the West Norfolk town of Downham Market by mainline train from London in less than two hours. Simply take the regular Great Northern service from London King's Cross, which leaves every hour or so.
Alternatively, you can take a National Express coach from Victoria Coach Station to King's Lynn. This takes around 6.5 hours depending on the time of day, and you do need to change at Norwich, but it's often much cheaper than the train, especially when booked in advance.
At King's Lynn train station get the Lynx 37 bus and get off at the bus station in Downham Market 45 minutes later.
Alternatively, you can catch the Great Northern service from King's Lynn to Downham Market town railway station, an hourly train which takes around 15 minutes.
If you're planning a visit from elsewhere in Norfolk, the CoastHopper from Cromer and Sheringham connects with the CoastLiner bus at Wells-next-the-Sea which terminates in King's Lynn.
Getting Around West Norfolk
The Coastliner 36 bus heads on to Hunstanton, Brancaster, Burnham Market and Holkham before arriving in Wells-next-the-Sea, where you can hop onto the CoastHopper bus to Stiffkey, Morston, Blakeney, Cley, Salthouse, Weybourne, Sheringham, East Runton, West Runton and Cromer, meaning you can get to many of the best spots on the North Norfolk coast by bus.
There is no direct train or bus connection from Downham Market to Norwich, but there are regular trains to both King's Lynn and Ely, where you can pick up a connection to Norwich.
RELATED POST: North Norfolk Coast – 19 Unmissable Highlights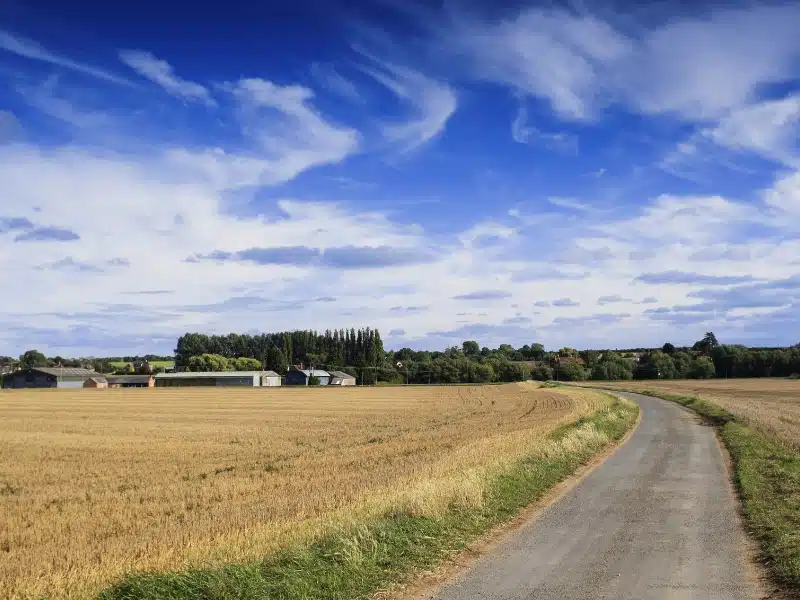 Downham Market History (in brief!)
One of Norfolk's oldest market towns, there has been a settlement where Downham Market lies for over 2000 years. With a history dating back to the Dark Ages, Downham Market came to prominence in Saxon times and received its Charter in 1046 from Edward The Confessor.
The name Downham means 'settlement on a hill', and the town does indeed sit slightly higher than the surrounding Fens in a strategic position which would have allowed the people that lived there to see the approach of potential enemies.
Because of this raised position above the level of the Fens, Downham Market was also immune from the floods that, until 300 years ago when the Fens were created, made the surrounding flat area an expanse of desolate marshland.
During the Middle Ages Downham Market was an agricultural centre and developed as a market for the produce of the Fens with a bridge across the River Great Ouse. Famed for its horse fair, one of the largest in Europe, and weekly livestock and butter markets, the town also had maltings supplying the brewing trade at a time when beer was often safer to drink than well water.
On May Day 1646, King Charles I hid in an Inn that once stood where the Swan Inn now stands. He was disguised as a clergyman attempting to evade capture by Parliamentary forces after the Battle of Naseby during the English Civil War.
With the coming of the railway in 1846 there was rapid industrial and residential development, a steam mill was built and warehousing followed.
Today, Downham Market has become a popular commuter town for Cambridge and the town still hosts a a weekly market, nearly one thousand years since the first one!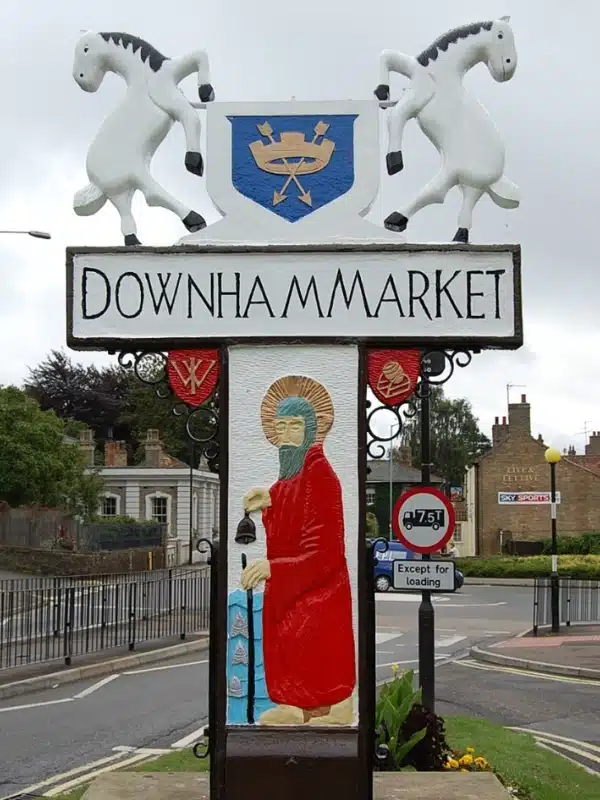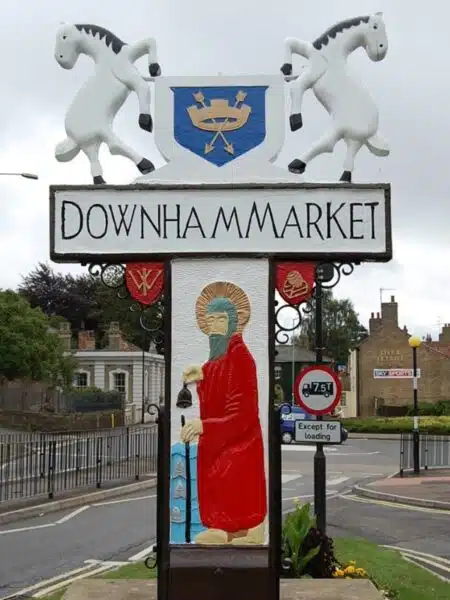 St. Winnold, a 5th century abbot is the main character depicted on the Downham Market town sign.
A Benedictine Priory at nearby Wereham was dedicated to him and a large annual horse fair held there on St Winnold's Day was later transferred to Downham Market.
The sign also recognises that Horatio Nelson went to school in Downham Market, and the butter-making for which the area was famed.
The crest is that of St. Edmund to whom the parish church is dedicated.
Things To Do in Downham Market
Discover the Gingerbread Town Trail
In the late 19th century, many of Downham Market's prominent buildings, including the Town Hall, were built using local white brick and carrstone, a sedimentary sandstone conglomerate formed during the Cretaceous period that varies in colour from light to dark rusty ginger.
Carrstone was quarried locally and the use of this distinctive stone led to Downham being referred to as the 'Gingerbread Town', and you can follow the trail, provided by Discover Downham to see the buildings that gave the town its moniker.
You can also visit the Discover Downham Heritage Centre, housed in a former fire station, that features artefacts and events relating to Downham and the local area. The centre is open between 10am and 4pm on Thursdays and Fridays, and 10am to 1pm on Saturdays.
RELATED POST: Towns in Norfolk – 27 Towns to Visit in Norfolk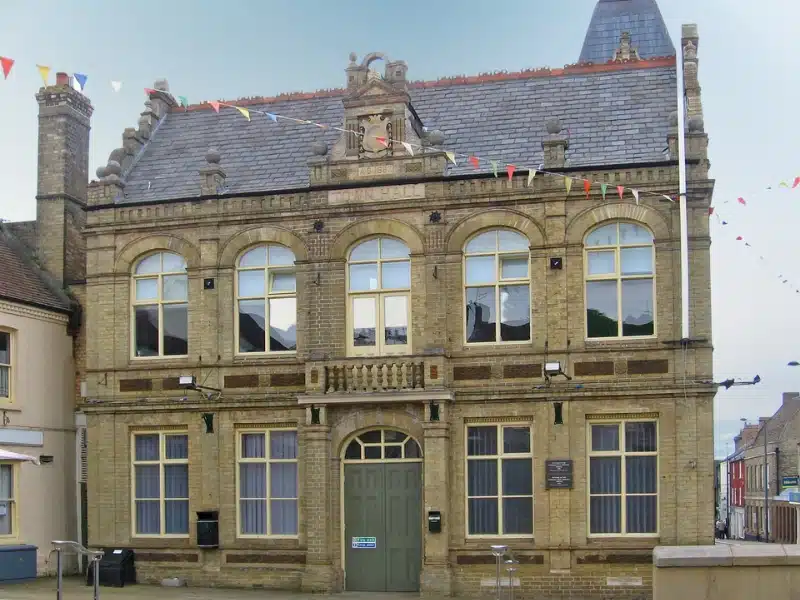 Find Downham's Landmarks
The Town Clock
A neo-Gothic Grade II listed structure, the Town Clock which stands at the intersection of Bridge Street and High Street was a gift in 1878 from James Scott, a local grocer, and was built by William Cunliffe.
Made of cast iron, the clock was originally bronzed and relieved on the prominent parts with gold. Later the clock was painted bottle green, and its current black-and-white finish was applied during the 2004 restoration.
The Town Pump
Second only to the clock tower on the remodelled town square is the Town Pump, a contemporary geometric glass and stone structure which recalls the original stone pump, also an obelisk.
The original pump dated from around 1800 and legend (and the inscription) has it that Admiral Lord Nelson Nelson sailed paper boats down the original gully when he was a boy.
War Memorial
The town's war memorial stands at the junction of London Road and Church Road. It was dedicated in October 1921 to the 73 local servicemen who fell in World War I with the names of the dead of World War II added later.
RELATED POST: 26 Pictures of Norfolk England to Inspire Your Trip!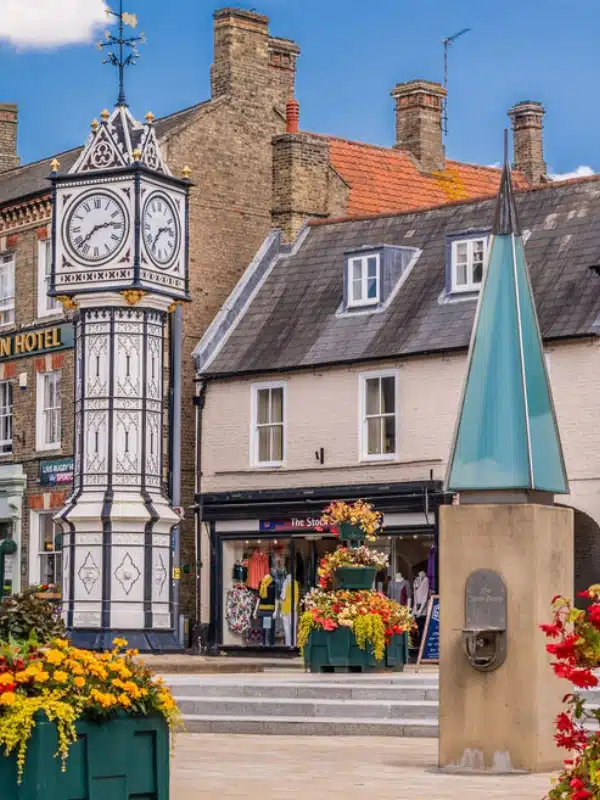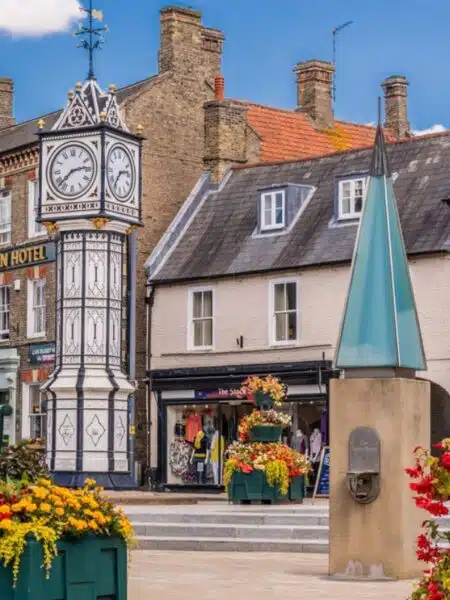 Visit St Edmund's Church
Downham's only Grade I listed building, the Parish Church of St Edmund stands in a dominant position to the east of town overlooking the flat fenlands, but it is not a lofty church like many others in Norfolk.
The church, like the town, was probably an Anglo-Saxon foundation but rebuilt in the 13th century in the town's signature gingerbread carrstone, and extensively altered in the 15th and 16th centuries.
St Edmund's has an elegant lead-covered spire that crowns the squat tower a late 19th century dark interior due to the amount of stained glass present. There are some medieval survivors including a set of 15th century glass panels set in the west window and a font dated to the same century.
RELATED POST: Norfolk Churches: 16 of the Best to Visit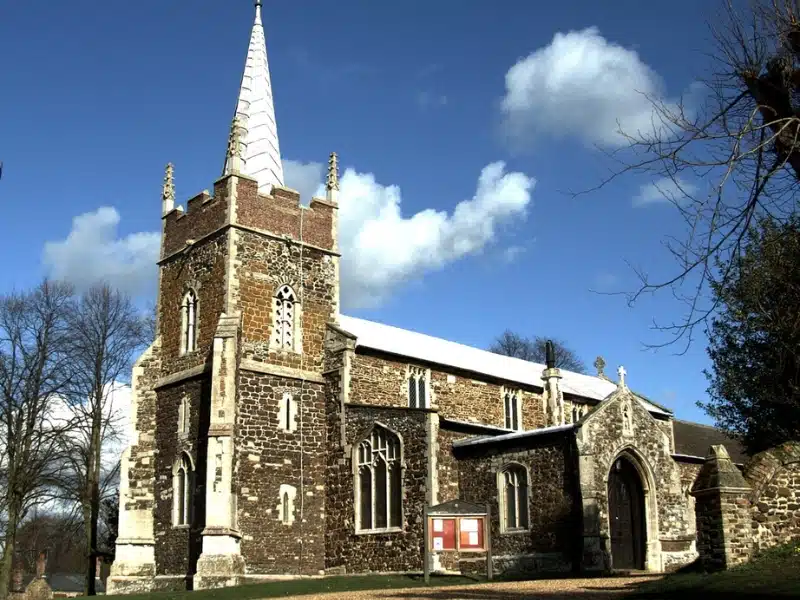 Play an Escape Room Game
A lot of fun and a great activity on a rainy day, escape room games are a real-life experience where participants are locked in a room and must use elements of the room, the group's collective knowledge, and wits to discover clues, solve puzzles, and escape and/or find the missing item within a set amount of time.
You can choose from a variety of games and between two and eight people can play together in one escape room. In Downham Market, highly-rated Hourglass Escapes offer six different games which are perfect for friends and families.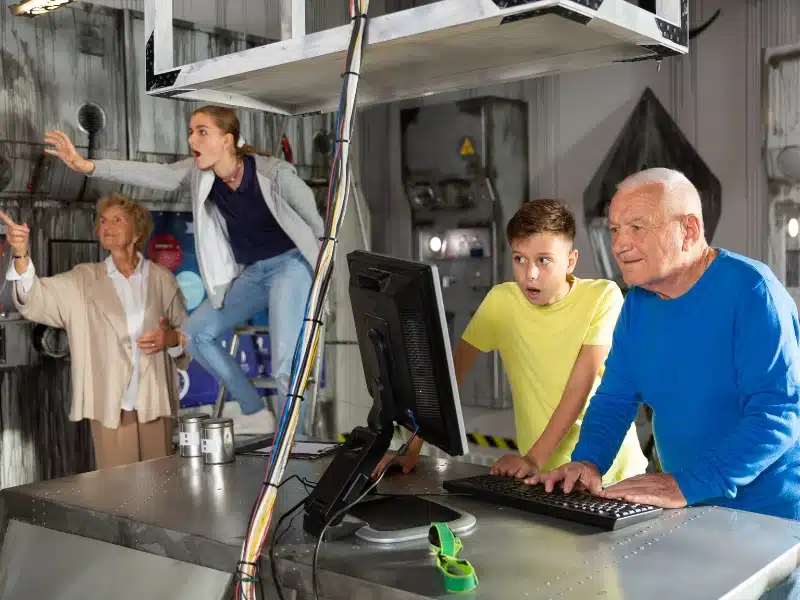 Go to Market!
Downham Market's markets are held on Fridays and Saturdays between 8am and 3pm on the Town Square around the Town Hall and Town Hall car park, where you will find a wide variety of retail traders.
Whether you want to buy fresh meat, eggs, locally caught fish and seafood, homemade bread and cakes, or Norfolk grown fruit and vegetables there is a stall for you.
Other stalls sell clothes, shoes, jewellery, handbags, household items and DIY tools. Cut flowers and potted plants are also available and there are also charity stalls and growers co-operatives.
RELATED POST: 26 Norfolk Food & Drink You Must Try!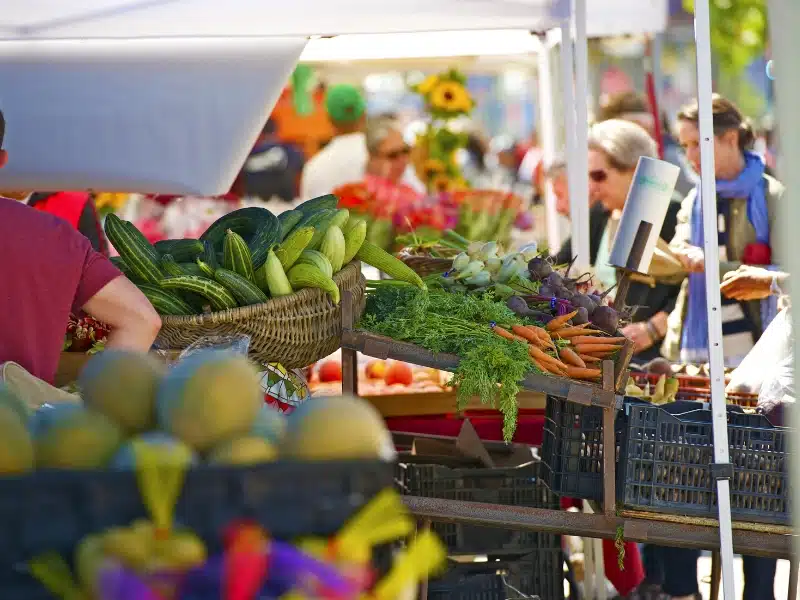 Visit Blackstone Engine Bar at Denver Windmill
Just outside of town is Denver Mill, a Grade II* listed tower mill built in 1835. By 1863 a steam mill had been erected at Denver Windmill, powered by a 12 horsepower (8.9 kW) engine that drove three pairs of millstones, as the windmill had done.
After many years of damage, partial restoration and changes of ownership, the mill was purchased by the Norfolk Historic Buildings Trust in 1995. Restoration work took place and the mill returned to commercial production, but in 2011 part of the mill engine failed and damaged the building and sails.
Today, the Blackstone Engine Bar occupies the engine room and you can enjoy beer from the local Two Rivers Brewery or cider from the Downham Cider Company.
The bar doesn't serve food, but there is an agreement that you can take your drink into Violet's Tea Room next door, or take your food into the bar – that's community spirit for you!
The bar holds events such as cider festivals, live music and farmer's markets that take place on the mill premises and there is often a food truck at the weekends.
RELATED POST: Breweries in Norfolk – Best 16 to Visit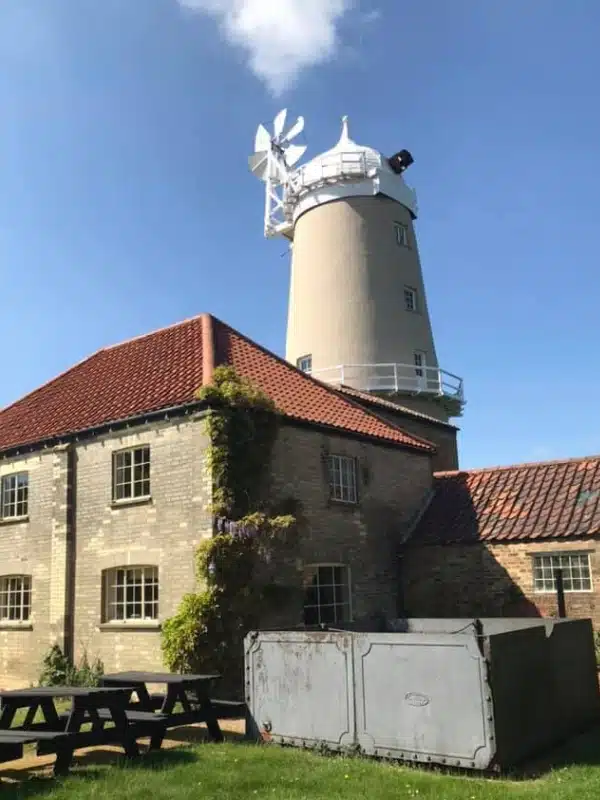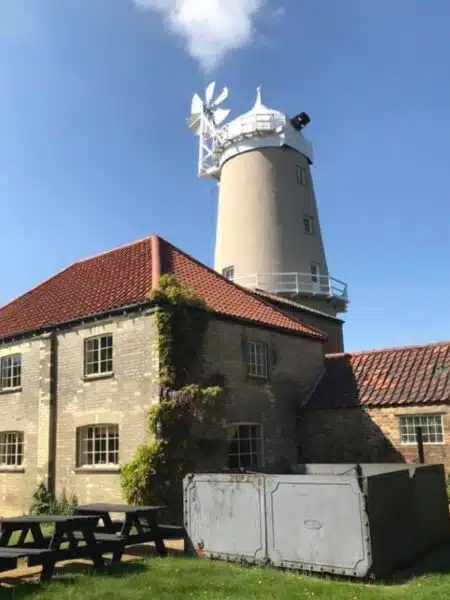 Things to Do Near Downham Market
Explore Historic King's Lynn
The medieval town of King's Lynn was founded when St. Margaret's Church was built in 1095, and a market was established on what is now Saturday Market Place.
Trade flourished along the waterways due to the town's proximity to the North Sea, and Bishop's Lynn, as it was known then, became a member of the medieval Hanseatic League and soon grew to be the most important port in England. However, the town later suffered from the demise of the Hanseatic League and the discovery of the Americas, which benefited ports on England's west coast.
Today, King's Lynn is considered one of the most perfect medieval towns in England and much of the town's history is on display in the historic buildings and port area, all you have to do is walk, observe and admire!
You can pick up self-guided trail leaflets from the Tourist Information Centre in the Town Hall, or download them here. Choose from the Maritime trail, Hanseatic trail, Pilgrimage trail and King's Lynn town guides, or do them all!
RELATED POST: All the Best Things To Do in King's Lynn Norfolk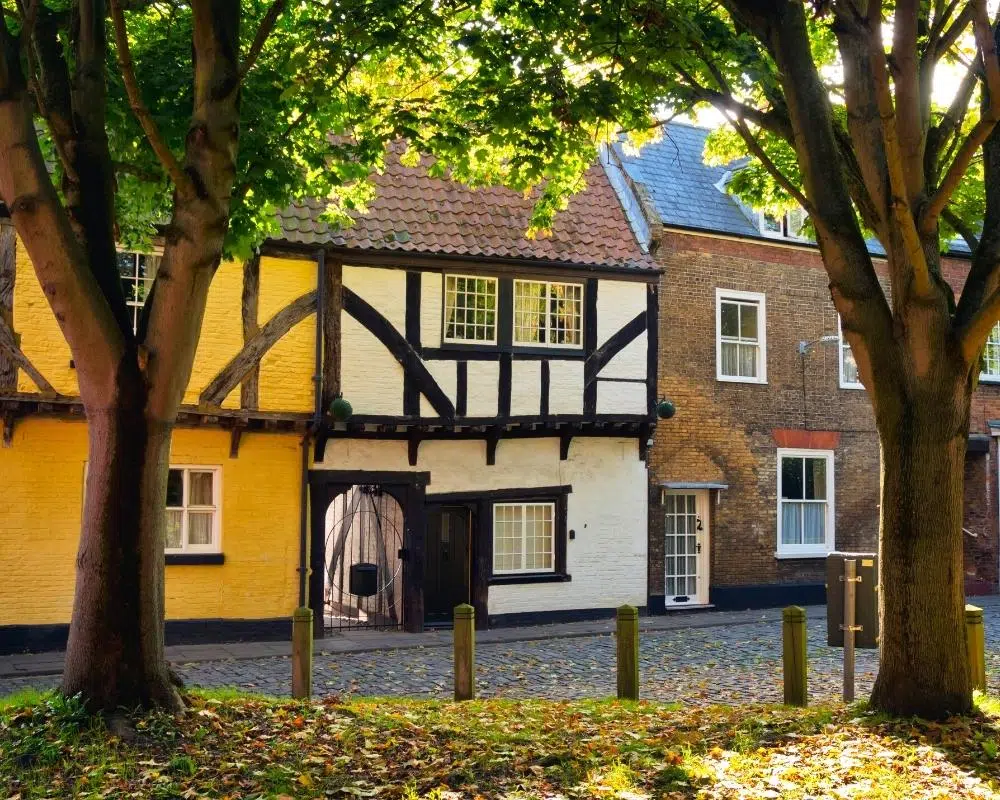 Admire the Local Wildlife
Seal Safaris
You can take a boat trip like no other on the Wash Monster from nearby Hunstanton. An amphibious vessel, the Wash Monster drives over the sand before it launches from the beach!
Choose from the popular safari to see Norfolk's seals or a coastal tour where you'll find out about the geological nature of Hunstanton's famous red and white striped cliffs, Norfolk's secret smuggling history, and the bronze age Seahenge found at nearby Holme-next-the-Sea Beach. It's advisable to book in advance with Searles Sea Tours, as the Wash Monster is very popular!
You can also sail on the Baden Powell, a restored fishing smack moored at the waterfront in King's Lynn. The Baden Powell Project offers trips on their heritage boat along the River Great Ouse and around the Wash, to see the local seals and learn about the maritime history of King's Lynn.
RSPB Snettisham
Wildlife observation hides at Snettisham give panoramic views across the saline lagoons, salt marsh and the vast expanse of mudflats that make up the Wash.
On the biggest high tides from late summer onwards, tens of thousands of wading birds, like knot and oystercatcher, take flight as the incoming tide forces them off the vast mudflats of Snettisham Beach. This is known as the whirling wader spectacle, which is truly incredible to watch.
Welney Wetland Centre
WWT Welney takes in 1,000 acres of the northernmost part of the Ouse Washes – Britain's largest area of seasonally-flooded land, and is just over the border in Cambridgeshire, but only ten miles from Downham Market.
With a beautiful wetland reserve and eco-friendly visitor centre to explore, it's well worth a visit. Every season is different – in spring you can watch breeding birds and chicks and in summer, you'll see dragonflies, butterflies, and wildflowers as you walk through the tranquil reserve.
In winter the Ouse washes are the setting for one of the most magical events in the UK's nature calendar, mass gatherings of many thousands of wild ducks, geese and swans that is an amazing sight.
RELATED POST: Norfolk Nature Reserves – Ultimate A-Z Guide

Visit Gooderstone Water Gardens & Nature Trails
Twelve miles east of Downham Goodserstone Water Gardens and Nature Trail is a unique attraction for all garden lovers. Six acres of lush gardens surrounded by waterways and ponds create a tranquil spot to while away a summer's afternoon.
As you wander the trails and cross bridges, keep your eyes out for birds like kingfishers, and admire the colourful cottage garden and marginal planting which surrounds you.
RELATED POST: The 21 Best Gardens in Norfolk to Visit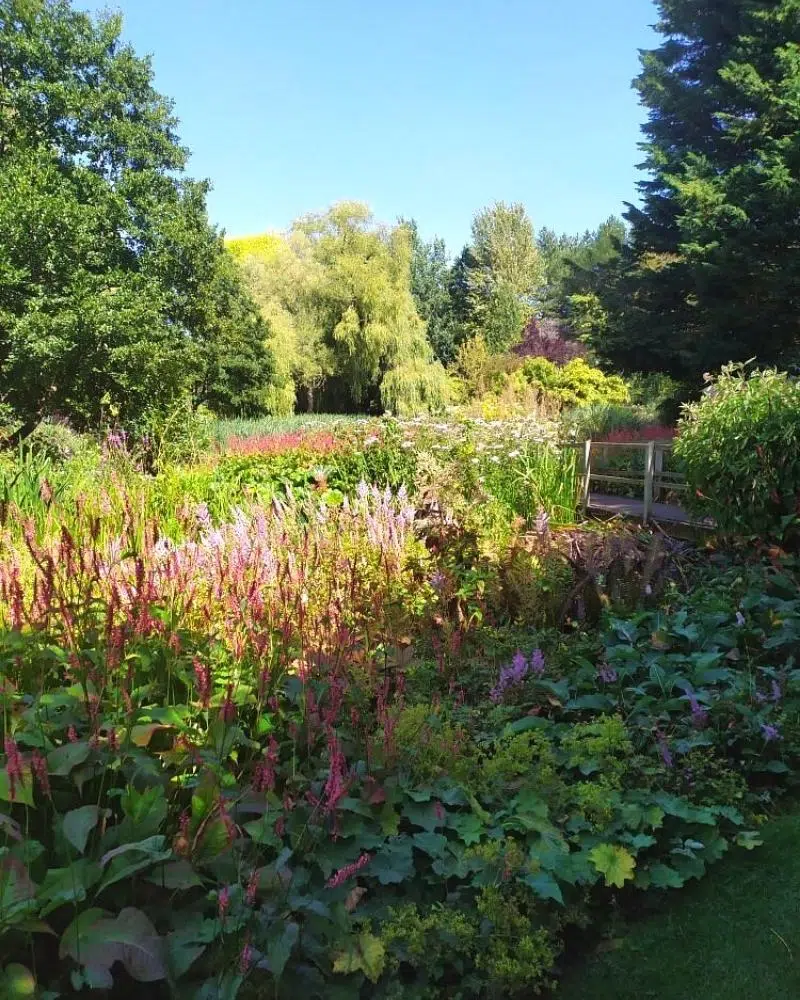 Explore Royal Sandringham
Sandringham, a 20,000-acre estate 16 miles north of Downham Market, is where the royal family retreats for Christmas and was reportedly the late Queen's favourite home. Nearby, the Duke and Duchess of Cambridge, aka Wills and Kate, also have their home, Anmer Hall.
You can visit the house, formal gardens, parkland and St Mary Magdalene Church on the Sandringham Estate in a day. Many of the ground floor rooms of Sandringham House remain as they were in Edwardian times, and are open to visitors between April and October.
The gardens are beautiful and the parkland and woods which surround the house are great spots for dog walking, family activities and picnics.
Sandringham Courtyard has a range of places to eat and drink and does a fabulous afternoon tea, for a real treat. The Sandringham Shop, also in the Courtyard, offers an extensive collection of artisan Norfolk products and is the perfect place to buy Norfolk souvenirs or gifts.
RELATED POST: 14 Stately Homes in Norfolk to Visit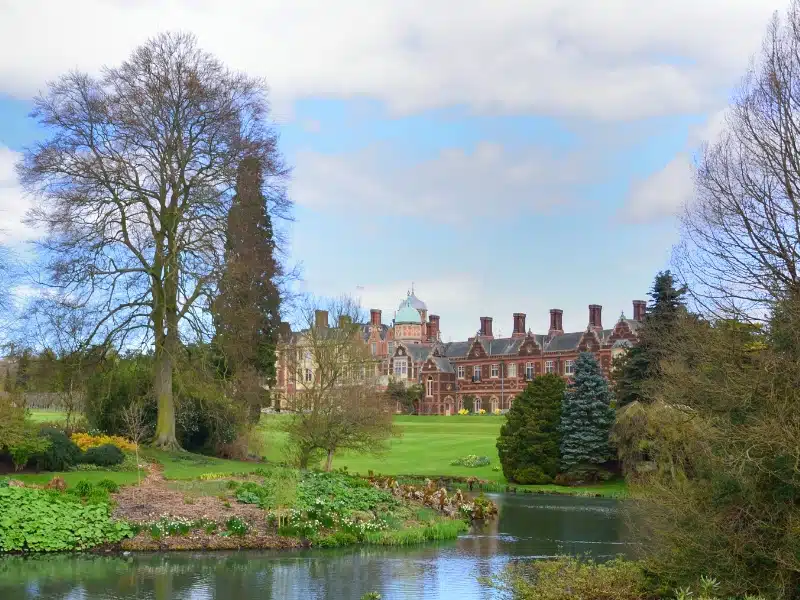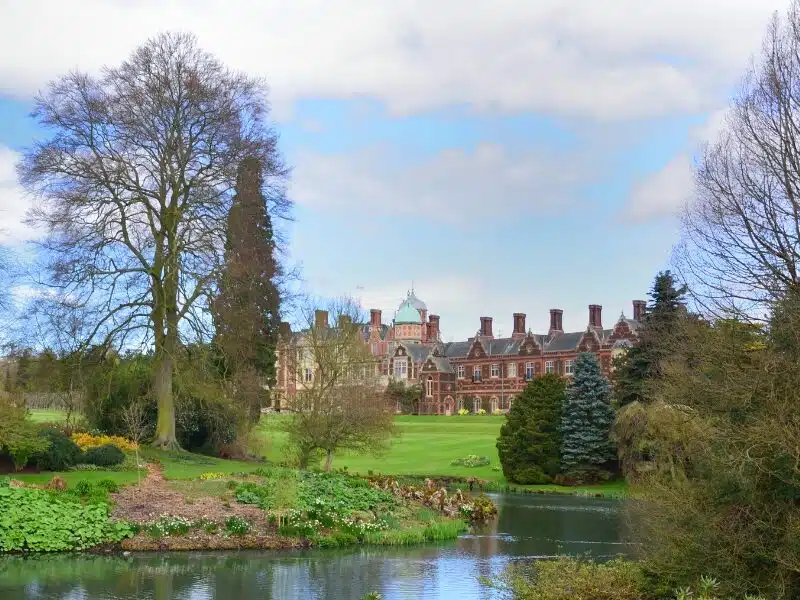 Walk the Fen Rivers Way
The Fen Rivers Way is a long-distance trail running for 50 miles between Cambridge, Ely, Downham Market and King's Lynn, which traces the course of the rivers that drain slowly across the Fens into the Wash.
The route takes you through the distinctive Norfolk Fens landscape and traditional Norfolk market towns on a path rich in history and wildlife.
Taking in the internationally significant environment of the Ouse Washes Nature Reserve, the journey follows the River Great Ouse under huge skies and through the dramatic landscapes and past the massive floodbanks that protect the low-lying Fens.
This is the landscape of my upbringing – as a teenager I yearned for mountains and some relief from the relentless flatness of the Fens – as an adult, the endless skies and long views to the horizon mesmerise me.
Pick it up at Downham Market for a good day's walking one of the sections, either north to Wiggenhall St Mary Magdalen or south to Brandon Creek.
At King's Lynn, the Fen Rivers Way connects with the Wash Coast Path along the remote coast marshes into Lincolnshire or the Nar Valley Way which leads into the heart of Norfolk.
RELATED POST: Walks in Norfolk – 14 of the Best Trails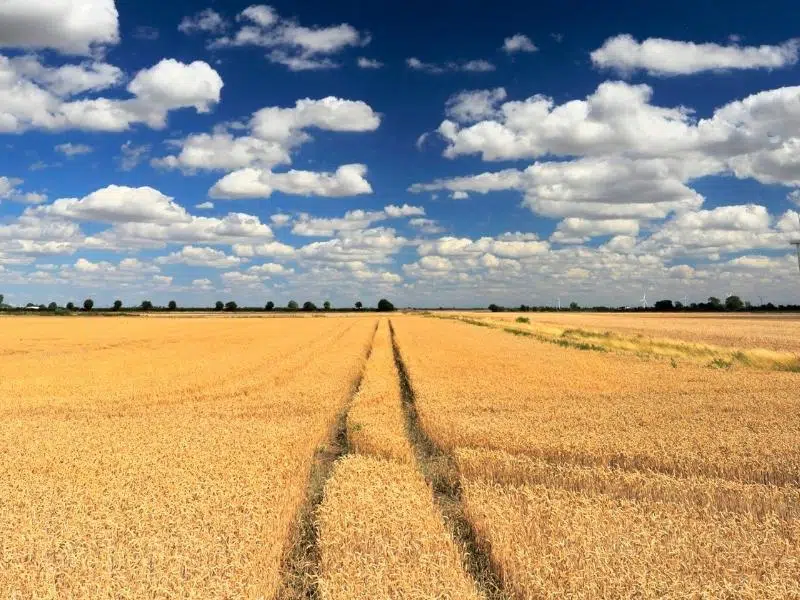 Discover Watatunga Wildlife Reserve
One of Norfolk's newer attractions, Watatunga is situated on 170 acres of unused Norfolk wetland and is dedicated to conserving threatened ungulates (large mammals with hooves) and birds.
Deer and antelope species mix with rare pheasants, ducks and the majestic great bustard, reintroduced in Great Britain after extinction in 1832.
Just six miles north of Downham Market, Watatunga aims to inspire and showcase the beauty of its animals whilst telling the story of their struggle to survive.
Take a guided buggy tour to learn about this approach to conservation and see the incredible wildlife in the beautiful surroundings of Norfolk.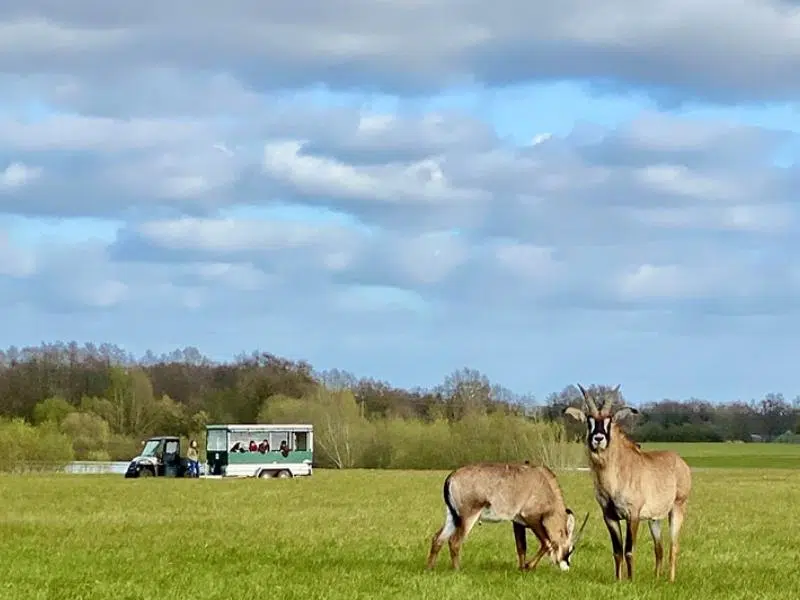 Take a Day Trip to Hunstanton
Hunstanton is a lively resort town 25 miles north of Downham. Known locally as 'sunny Hunny', Hunstanton is one of Norfolk's top seaside towns and makes for a great day out.
There are lots of Hunstanton attractions to keep everyone busy. With two fantastic beaches, both offering a different experience, a traditional Victorian town centre, RNLI Lifeboat Station, leisure centres, the Rainbow Park fair and amusements and SEA LIFE, Hunstanton will easily entertain the whole family for a day.
You can also explore Old Hunstanton, the smaller and more peaceful village to the north, which has its own quiet expanse of fine, golden sand.
Old Hunstanton Beach is considered the best kitesurfing beach in the UK and there is also a collection of wonderful beach huts nestled in the dunes, the old lighthouse that sits atop the red and white striped cliffs and the 1272 ruins of St Edmund's Chapel to discover.
RELATED POST: 21 of the Best Things To Do in Hunstanton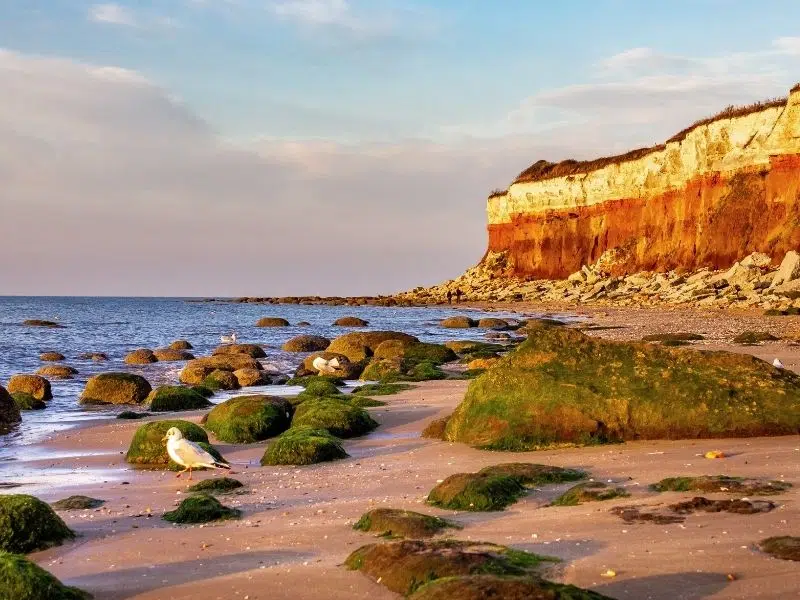 Explore the Local Castles
Castle Rising
Castle Rising Castle is one of England's most famous 12th century castles. The imposing stone keep was built in 1140 CE and is amongst the finest surviving examples of its kind in Great Britain.
The massive surrounding earthworks, not only ensure that Rising is a castle of national importance but give lots of opportunities for kids to run off steam and play sword fighting!
Castle Acre
The Norman ruins of Castle Acre Castle and Castle Acre Priory make up one of the largest and best-preserved monastic sites in England, which dates back to 1090.
Castle Acre is a tranquil rural village in Norfolk which is home to an extraordinary wealth of history. The village is a complete Norman planned settlement, the work of a baronial family, the Warennes, during the 11th and 12th centuries. Alongside the village, the settlement includes a castle, parish church and Priory.
I loved going to the Castle Acre Castle as a kid, and taking my children, as there are so many grassy areas to run around and have fun. We used to roly-poly down the ancient grass-covered earthworks which surround the site of the ruined castle before heading into the pretty village through the historic Bailey Gate for an ice cream, or cream tea (if we were very lucky!).
The (mostly) ruined Priory is across the small village and you can see the beautiful west-end church gable, prior's lodging and remains of many of the buildings around the cloister. The beautiful recreated herb garden grows some of the herbs the monks would have used for medicinal, culinary and decorative purposes.
RELATED POST: 12 Norfolk Castles for You to Explore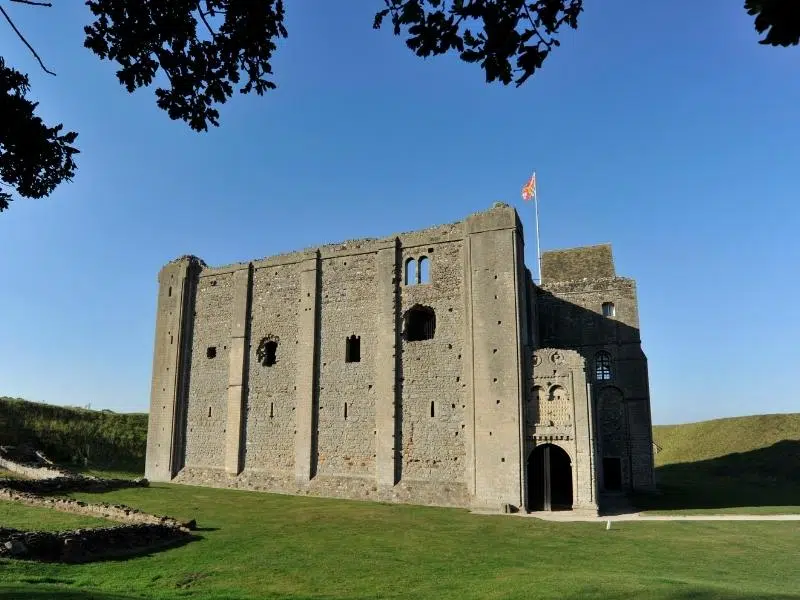 Have Fun at Church Farm Rare Breeds Centre
Church Farm Stow Bardolph is a great place for a day out with the kids. Meet rare breeds and cute baby animals, race around on pedal tractors, enjoy adventure play in the fantastic indoor treehouse, ride on a donkey and even play with piglets, who will roll over obligingly for a belly scratch!
For grown-ups, there's also Stow Hall Gardens, outdoor theatre in the summer, beautiful woodland walks and a tea room where you should absolutely try one of their delicious homemade cakes.
RELATED POST: Norfolk Theme Parks – Ultimate A-Z Guide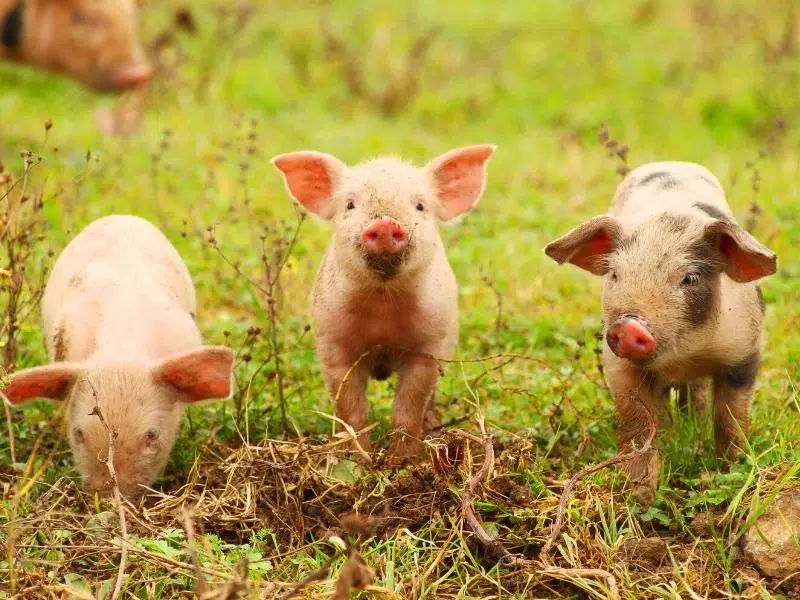 Visit Oxburgh Hall
Run by the National Trust, Oxburgh Hall is a 15th century moated manor house built by Sir Edmund Bedingfield, whose ancestors still live there today. The house consists of four domestic buildings around a courtyard, built from honeyed stone, and contained within a wide moat.
During the English Civil War, the family lived through turbulent times. Supporting the Royalist cause led to Sir Henry Bedingfield being imprisoned in the Tower of London, one son being wounded, and another forced to flee abroad. Parliamentarian troops ransacked the Hall and destroyed the gardens.
Today, Oxburgh Hall highlights include the King's Room, where Henry VII stayed in 1487, and needlework hangings created by Mary, Queen of Scots while she was held in custody by the Earl of Shrewsbury.
RELATED POST: 14 Stately Homes in Norfolk to Visit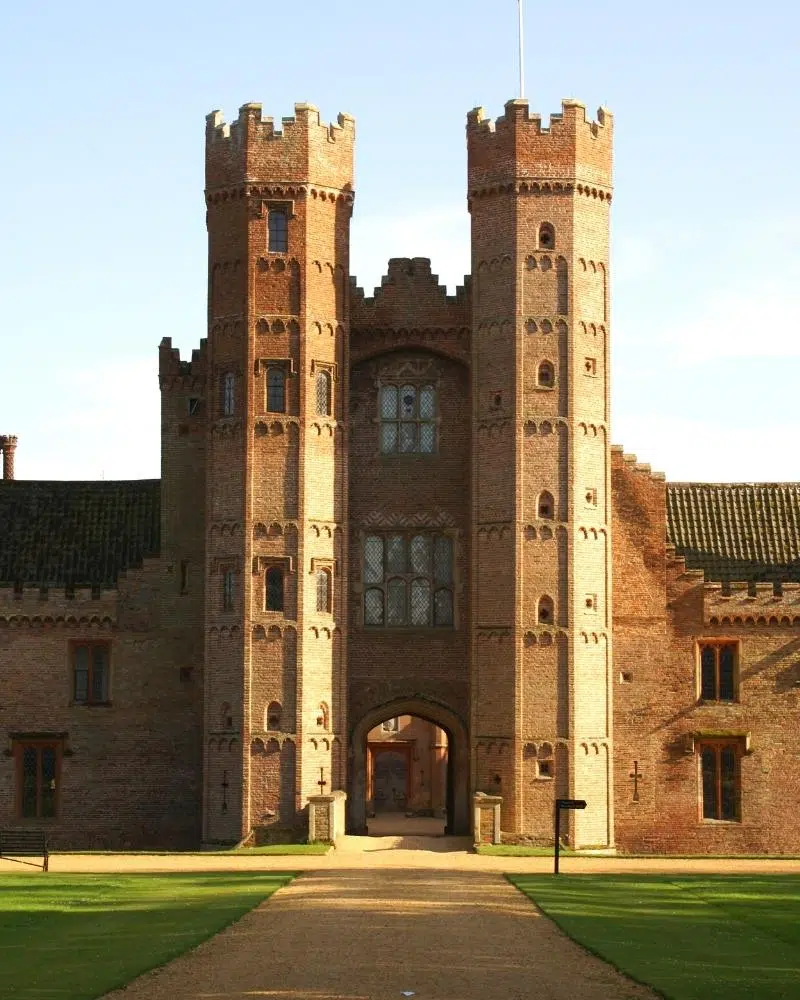 Downham Market Accommodation
Downham Market has a good selection of hotels and B&B's, and some great campsites and holiday parks nearby. Whatever your accommodation style, we've rounded up the best options for your Downham Market trip.
Crown Hotel
The Crown Hotel is an establishment with history! Originally a 17th century coaching inn, just inside the arched entrance are steps leading to a mounting block for horsemen, who would have ridden their mounts hard before stopping to rest here.
Before the Court House was built, magistrates met here. In May 1816 the hotel was the scene of riots, which came to be known as the Ely and Littleport Riots, when the magistrates were besieged by angry and starving agricultural labourers demanding a living wage of two shillings a day. Two of the Downham rioters, Daniel Harwood and Thomas Thody, were hanged on 31st August 1816.
Today, the Crown Hotel offers comfortable accommodation in its historic building which is located in the centre of town.
The Live & Let Live
There are four simple and functional rooms above 'The Livvy', a friendly local pub. The rooms all benefit from an en-suite bathroom, TV and tea tray. There are no catering facilities, but there are many restaurants and cafés close by.
Belle Vue Guest House, Denver
Belle Vue Guest House is a beautiful 18th century Grade II listed building situated in the heart of Denver village, just outside Downham Market. The property has a total of five spacious and stylish en-suite bedrooms, each having its own unique theme – the Nelson would be my pick!
Hawthorn Glen Lodges, Denver
Operated by Hoseasons, Hawthorn Glen Lodges are fully equipped self-catering lodges located at Denver Golf Club with the lodges overlooking the golf course, which is available for guests to use throughout the year.
There is also a bar and restaurant in the holiday park, and some lodges even have hot tubs!
Downham Market Holiday Homes
There are lots of holiday cottages and Airbnb-style holiday rentals in and around Downham Market. From one-bed cottages and static caravans to huge converted barns, use VRBO to search for the best deals and find availability on Downham holiday accommodation.
The Stables Campsite
Set within the flats of Norfolk and nestled alongside the River Great Ouse, this small campsite is ideal for anyone wishing to escape the hustle and bustle of everyday life.
An adult-only site, pitches are offered for tents and electric hook-ups for motorhomes and caravans.
RELATED POST: The Ten Best Campsites in Norfolk
Everglades Caravan Park
Everglades Caravan Park is a quiet and peaceful site located in Denver that welcomes all touring caravans and motorhomes, but not tents.
There are also three modern-day fishing lodges in the caravan park which overlook the main fishing lake, just a couple of steps out of your front door.
RELATED POST: Motorhome Sites Norfolk – 13 Best Places to Stay
Have I missed your favourite Downham Market hotel, campsite, restaurant or activity from my list? Let me know in the comments so I can check it out and add it to this round-up!
Love it? Pin it!