A charming and historic coastal village in North Norfolk, Blakeney is located within the Norfolk Coast Area of Outstanding Natural Beauty and the North Norfolk Heritage Coast, and is a wonderful place for a holiday, or to explore on a Norfolk day out.
Find out all the information you need to know before you visit Blakeney village, including trip practicalities, things to do, travel tips, and road trip guides, with our Blakeney travel guide.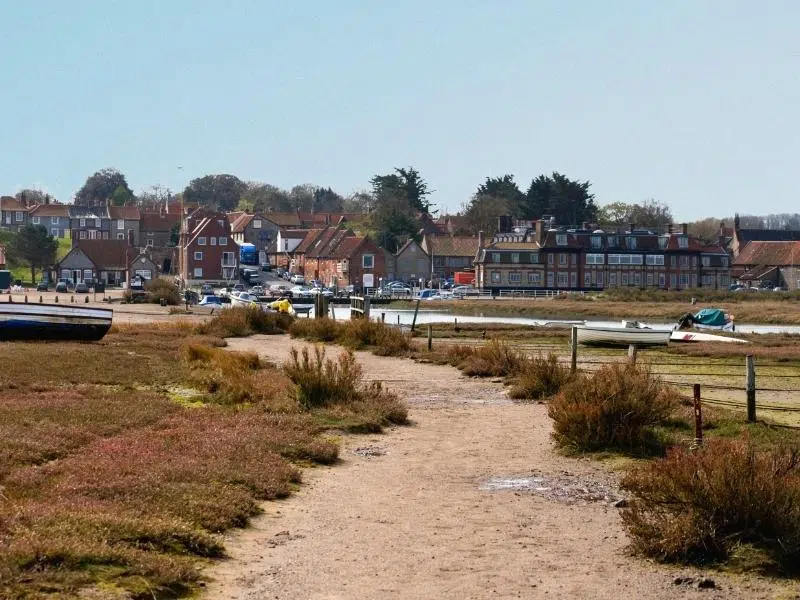 This post may contain affiliate links. If you book something I recommend, I make a small commission without affecting the price you pay!
Where is Blakeney Norfolk?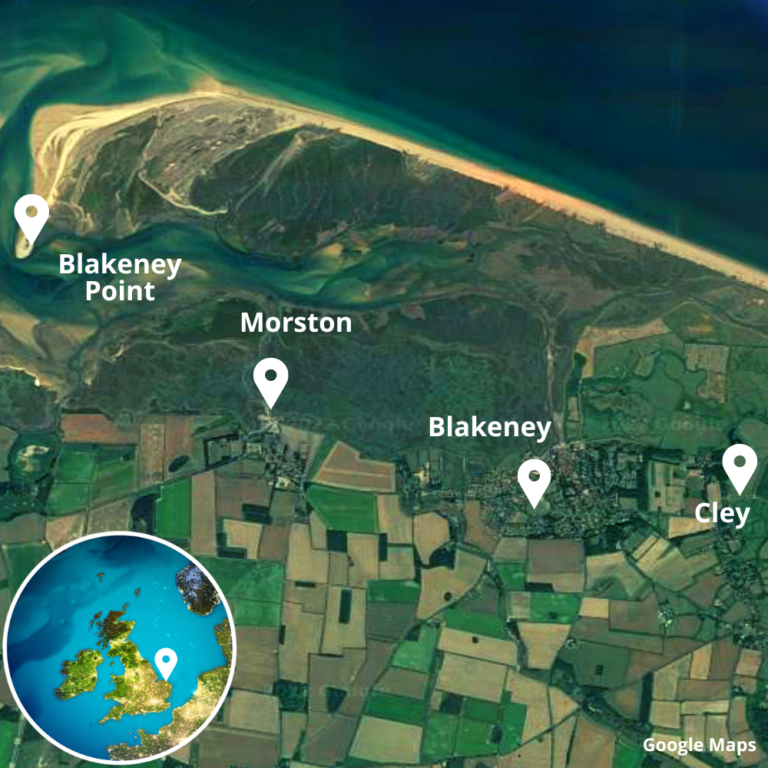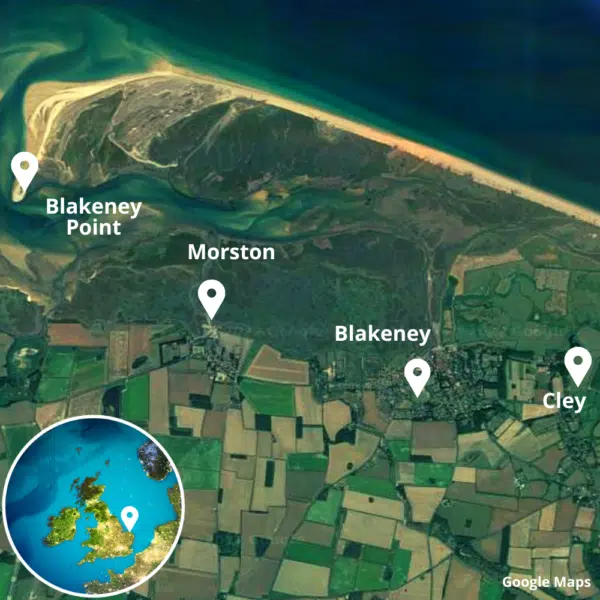 Blakeney is a seaside village situated on the North Norfolk coast between Sheringham to the east and Wells-next-the-Sea to the west.
The village is 21 miles northwest of Norwich, 5 miles from Holt, 11.5 miles west of Cromer and 112 miles north of London.
There is no Blakeney beach, although nearby is the pebble beach of Cley, which leads to Blakeney Point, a four mile shingle spit that juts out into the North Sea, and runs parallel to the coast.
Blakeney Point is in Blakeney National Nature Reserve, which is managed by the National Trust and is an important site for breeding wildlife, and home to one of the UK's largest colonies of Common and Grey seals.
Blakeney Weather
Summer
If you're visiting Blakeney for a Norfolk holiday or short break, the months of July and August offer the highest temperatures, topping out at 22°C (72°F), with around sixteen hours of sunshine a day.
The chances are there will be a breeze on the beach, as is normal for North Norfolk, and you should be prepared for the odd shower or two. Although East Anglia is the driest part of the UK, it has been known to rain unexpectedly – this is England after all!
Spring & Autumn
Outside of these months, all Norfolk coastal towns enjoy balmy weather in spring and autumn, although you should expect spring showers and autumn storms when winds will be high.
Winter
You'll enjoy crisp bright days in winter, perfect for long walks, kite flying and photographing those big moody skies.
The wind on the Norfolk coast can be bitterly cold, and there are the usual dull and drizzly days to contend with. Snow is also a possibility, so pack layers to help you stay warm.
Average Weather in Blakeney
Jan
Feb
Mar
Apr
May
Jun
Jul
Aug
Sep
Oct
Nov
Dec
5°c
5°c
6°c
8°c
11°c
15°c
18°c
17°c
15°c
11°c
8°c
6°c
43mm
35mm
35mm
32mm
38mm
43mm
38mm
40mm
43mm
51mm
47mm
46mm
8hrs
10hrs
12hrs
14hrs
16hrs
17hrs
16hrs
15hrs
13hrs
11hrs
9hrs
8hrs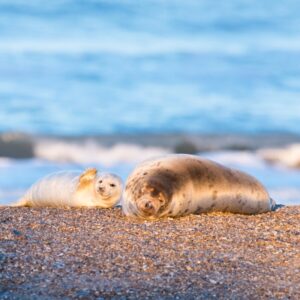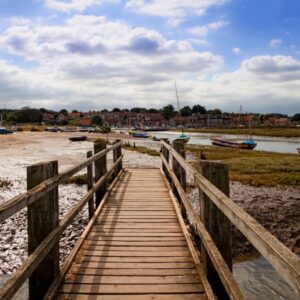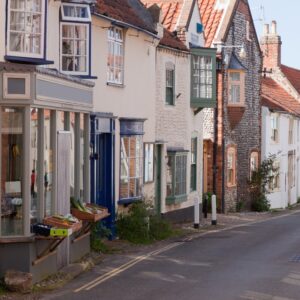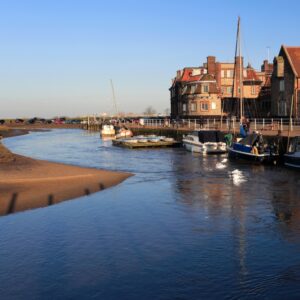 Blakeney Attractions
Blakeney has so much to offer couples and families looking for a Norfolk holiday or day out. Kids big and small will love exploring the Blakeney marshes, creeks and waterways, and crabbing on the quay.
Boat trips from Blakeney and nearby Morston Quay to see the huge seal colony and birdlife at Blakeney Point are one of the most popular things to do in Blakeney, especially in winter, when over 2,000 seal pups are born each year.
Blakeney is a lovely spot for a meander. The pretty village is full of traditional Norfolk flint cottages which were once home to local fishermen, and a good collection of independent gift shops, delis, cafés and art galleries to visit.
For lovers of history and heritage, the region is blessed with stately homes, religious sites and ancient castles to explore. There are also some excellent museums in the local area where you can learn about the fascinating history of North Norfolk and its coastline.
Outdoors enthusiasts will fall in love with the huge skies and wide open spaces, the endless soft golden sands of Norfolk's beaches, nature reserves and wildlife, including a huge variety of bird life and local seals.
If winding down and relaxing is more your thing, Blakeney has several hotels with fabulous views across the salt marshes which are perfect for spending days lazing around, reading and chilling out. When the sun shines, the coast beckons, with walking and bird-watching popular pastimes.
Blakeney Guides
Guides to Nearby Attractions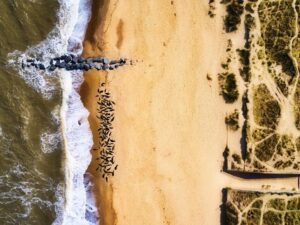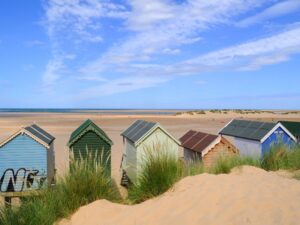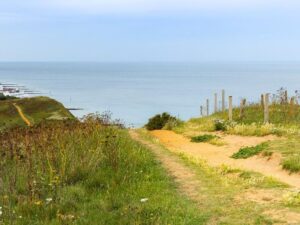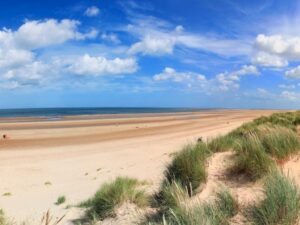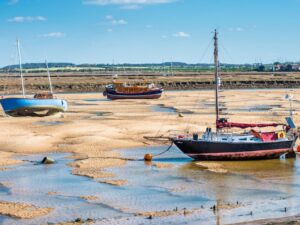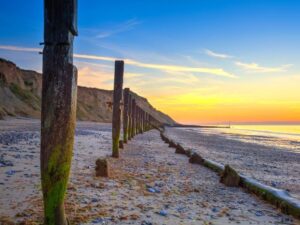 Getting There
Car
If you're travelling from the north of the United Kingdom, pick up the A17 south at Newark-on-Trent and follow the route around the Wash to King's Lynn. This road is mainly single carriageway, and slow-moving agricultural traffic and trucks can cause delays, so built this into your travel plans.
If you're travelling from the Midlands, you'll come into Norfolk via Peterborough and pick up the A47 north and east to King's Lynn.
From King's Lynn, which is well worth a stop on the way through, pick up the A148 through Fakenham towards Holt. Just before Holt, turn left on the B1156, which will take you all the way to Blakeney.
From the south, access is north on the A10 through Ely and Downham Market, where the A47 takes you to Swaffham, and the A1065 to Fakenham before reaching the coast.
Train/Coach
You can get to Norfolk's capital city Norwich by mainline train from London in less than two hours. Simply take the regular Greater Anglia service from London Liverpool Street, which leaves every hour or so.
Change at Norwich station onto the Greater Anglia train to Sheringham, which takes an hour. At Sheringham, get the CoastHopper bus heading west to Wells-next-the-Sea from the Station Approach stop, which takes 30 minutes to reach Blakeney.
Alternatively, you can take a National Express coach from Victoria Coach Station. This takes around four hours depending on the time of day but is often much cheaper – especially when booked in advance.
Bus
Once in Norwich, get the X44 bus from Norwich bus station to the Tesco stop in Sheringham and change to the CoastHopper heading west to Wells-next-the-Sea. Jump off at the Bus Shelter stop in Blakeney after your two hour journey, and you've arrived!
Blakeney Parking
Carnser Car Park
This Quayside car park is jointly owned and managed by Blakeney Parish Council and The National Trust. This is a pay & display car park with the only exceptions being residents of the parish who must display a residents permit and members of the National Trust who may park free of charge.
Be mindful of the tides here – the car park is sometimes submerged during particularly high tides!
This car park is manned with car park attendants throughout the months of April to October and tide times are displayed when attendants are on duty, however, tide heights and times can vary due to weather conditions such as the wind, so ensure you're happy where you have parked as the liability is all yours!
Village Hall Car Park
Owned and managed by Blakeney Parish Council, this car park is located on Langham Road and is free to use.
A very short stroll via Little Lane back into the High Street, makes this the perfect car park for weekenders and holidaymakers as there is no time limit on your stay.
Coronation Car Park
Also managed by Blakeney PC, this car park on the High Street has two sections, with one side of the car park being pay and display for visitors. You can pay with coins and contactless cards.
This car park is monitored all year round and operates a fixed penalty notice system. If you do not have a valid permit, then do not park in the permit holders section of the car park under any circumstance.
Blakeney History
Blakeney (meaning black island) has been the site of a settlement since at least the Doomsday Book. Sheltered behind Blakeney Point, Blakeney, along with Cley-next-the-Sea and Wiveton, was a major shipping area in the Middle Ages.
From the 12th century Blakeney had a reputation for piracy, and between 1328 and 1350 it is recorded that men of Blakeney boarded two vessels sailing from Flanders and sailed them back to Blakeney, where they were stripped of their cargoes, as were many foreign merchant ships which sought shelter in Blakeney. Such was the lawlessness of the residents that the village refused to supply a ship for the battle against the Spanish Armada.
By the 15th century, Blakeney was the third most important port in Norfolk and the wealth that came from the sea trade was put to good use, leaving a fascinating built heritage to explore.
The flint and stone Blakeney Guildhall, on the High Street up from The Quay, is reflective of the importance of the village at the time it was built, and was home to Blakeney's Guild of Fish Merchants who were granted a charter by Henry VIII. Since then it's been used as an inn, a coal cellar and a mortuary for shipwrecked sailors during WWI.
Continue up the High Street, where almost all of the flint cottages are listed, to visit the church of St Nicholas, which stands on a hill above the village. The church has two towers and it is thought the smaller tower held a lantern to guide ships safely back into the harbour.
Cley and Wiverton ports were silted up in the 17th century, but Blakeney continued as a commercial port until the early 20th century. Now Blakeney harbour is also silted up, and only small boats and other craft can make their way out past Blakeney Point to the sea.
Blakeney Highlights
Attractions Near Blakeney
Getting Around
By Car
It's easy to explore Norfolk by car, and you can enjoy the scenic route by staying off the major roads. If you travel to Wells by car, use one of the car parks above, or try and book accommodation with a car parking space included.
By Bus
The North Norfolk CoastHopper bus stops in Blakeney hourly between 10am and 4pm daily, including Saturdays and Sundays. The bus runs from Wells to Stiffkey, Morston, Blakeney, Cley, Salthouse, Weybourne, Sheringham, East Runton, West Runton and Cromer.
There is the regular X44 bus which connects Sheringham to Norwich and Holt, and from there the Norfolk Coastlink service connects Norwich with Great Yarmouth.
By Bike
How about hiring a bike? The Norfolk coast has an abundance of pretty villages linked by a network of byways, bridleways and quiet country lanes, which are perfect for cycling.
These lanes, bordered by fields of wheat, hedgerows and woodlands, see little traffic, which means you can explore the Norfolk coast at a leisurely and safe pace. There are lots of places in Norfolk to hire a bike, including Kelling Heath Holiday Park, Wells-next-the-Sea, Wighton and Sheringham.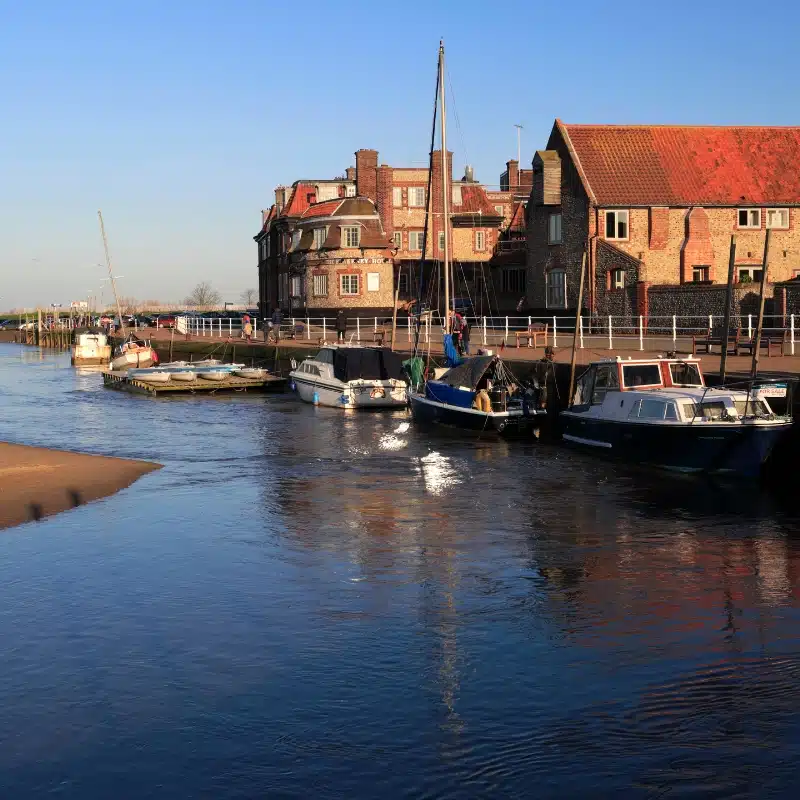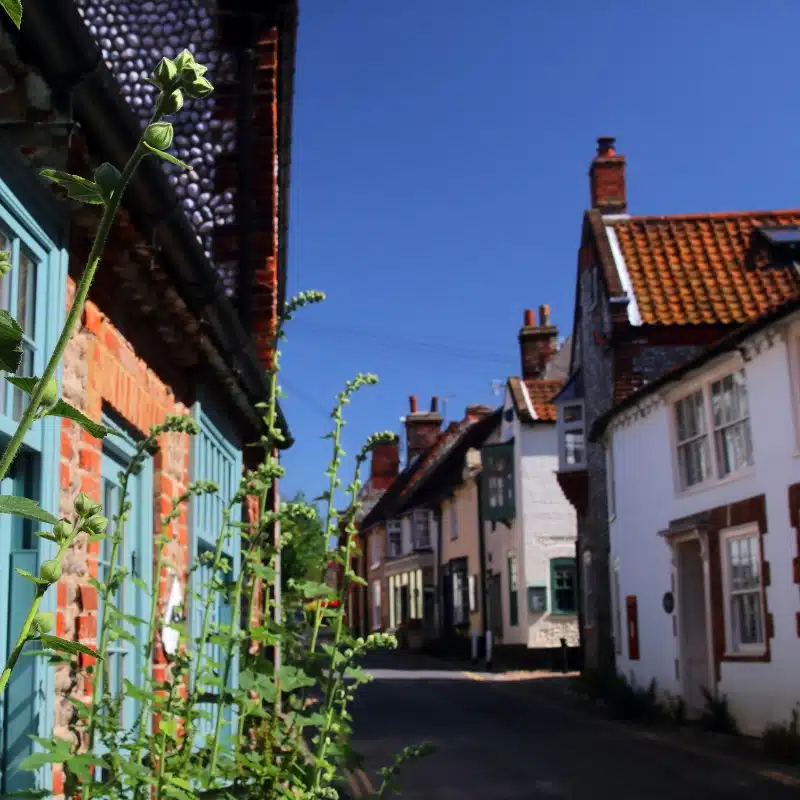 Holiday Homes & B&Bs in Blakeney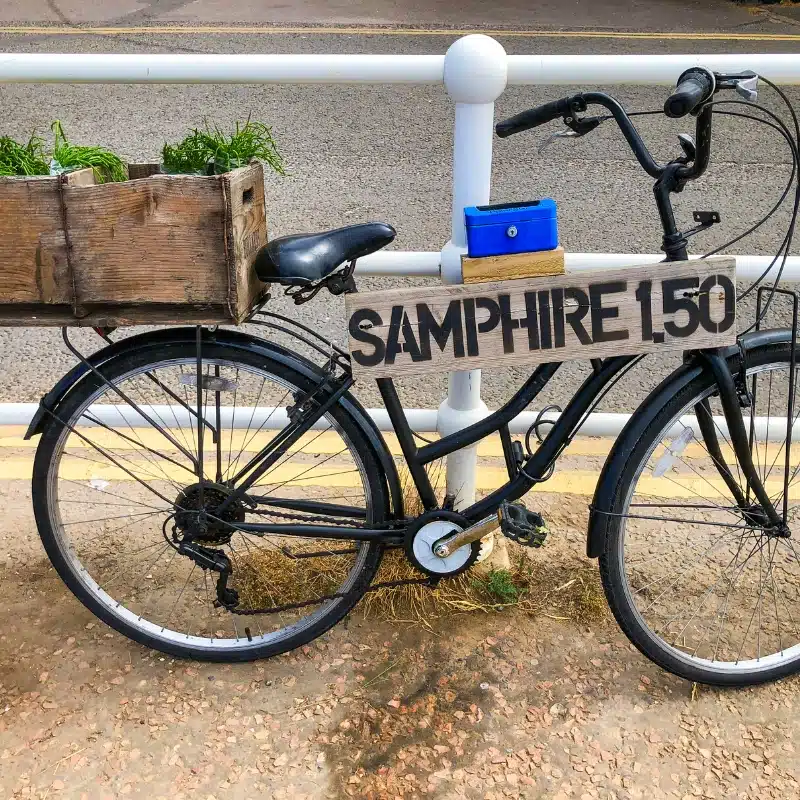 Blakeney Restaurants & Places to Eat
Love it? Pin it!