This round-up of all the must-do things in Sheringham and the surrounding area will help you plan your Norfolk short break or holiday, so here are my top Sheringham highlights…
RELATED POST: The Ultimate Local's Guide to Norfolk England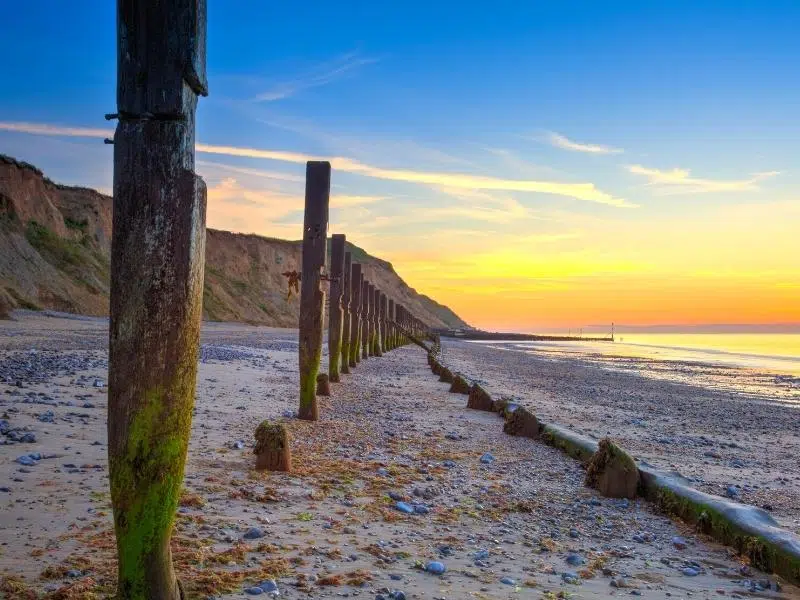 This post may contain affiliate links. If you book something I recommend, I make a small commission without affecting the price you pay!
The Best Things to Do In Sheringham
Did you know that Sheringham's motto is "the sea enriches and the pine adorns"? This motto reflects the area's strong fishing heritage and the beautiful pine woods behind the town.
Spend a Day at the Beach
The Blue Flag Beach at Sheringham is made up of sand with areas of shingle and larger stones, as well as wooden groynes which divide the beach and reduce the erosion and movement of sand.
Sheringham Beach is very popular with families, and RNLI lifeguards patrol here during the summer months. At low tide there is plenty of soft sand for sunbathing, rock pooling and family games. However, as the tide comes in the beach is submerged, so check the tide times here before planning your visit.
You'll find a long promenade perfect for strolling, which runs in and out of the low cliffs, with steps and slopes connecting the prom with the town above. Along the prom are benches, colourful beach huts and a few places to get an ice-cream or cup of tea!
Sheringham has a thriving fishing industry based on crabs, lobsters and whelks, but there is no harbour so fishing boats are pulled up the sand by tractor, the same way that the lifeboat is launched from the RNLI slipway! It's fascinating to watch, and then buy the freshly caught shellfish at the kiosks a stone's throw from the beach.
If you're looking for parking, East Cliff NNDC car park looks down onto the beach and access is provided down the stairs to the prom. The other large car park is Station Approach car park which is adjacent to the North Norfolk Railway. This involves a ten minute walk to the beach, but it's a good alternative if East Cliff is full.
RELATED POST: Norfolk Beaches – Ultimate A-Z Guide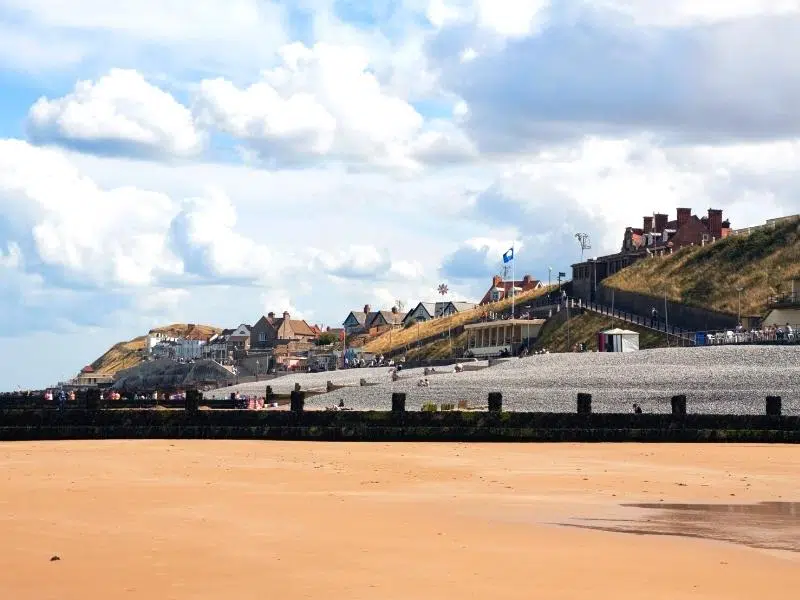 Hire a Beach Hut!
There is a row of colourful beach huts towards the eastern side of the prom, which sit above the beach. Sheringham beach huts are owned and managed by North Norfolk District Council and can be rented for around £200 a week in peak season.
Spending a week in Sheringham with a beach hut is magical, especially with kids. There's no need to cart all your stuff to the beach every day, or spend ages trying to get organised on the beach. Relax by your hut, retreat inside for card games or to read a good book if it rains, and enjoy lunch without the sand in your sandwich!
There are some rules, for example you cannot stay or sleep overnight in the beach huts, and you can't park your car at the beach hut.
RELATED POST: Beach Huts in Norfolk – All You Need to Know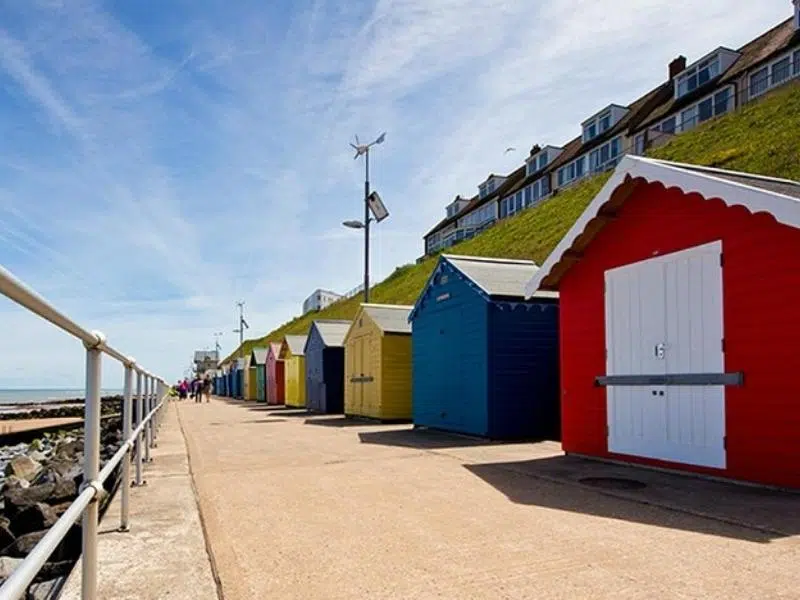 Discover the North Norfolk Railway
The North Norfolk Railway has fought through closure, eviction and redevelopment to become a much loved and voluntarily run major attraction in Norfolk.
Jump onto the Poppy Line for a steam-driven trip between the vintage Sheringham North Norfolk Railway Station and the Georgian market town of Holt, and enjoy amazing views of the countryside as you go.
The railway offers a 10.5 mile round trip by steam train, with vintage diesel trains on some journeys, through the North Norfolk Area of Outstanding Natural Beauty. To the south are rolling woodlands and to the north, infinite sea. This is definitely a journey to remember!
Steam buffs will love the railway experiences on offer, which include a steam driver experience, and a signalling experience day. There are also dining trains, including fish and chip trains, cream tea trains and even gin trains!
North Norfolk Railway also have a full calendar of themed events, so whether you love the forties, the sixties, or vintage transport in general, you'll find an event to attend.
RELATED POST: Best of the North Norfolk Coast: 20 Unmissable Highlights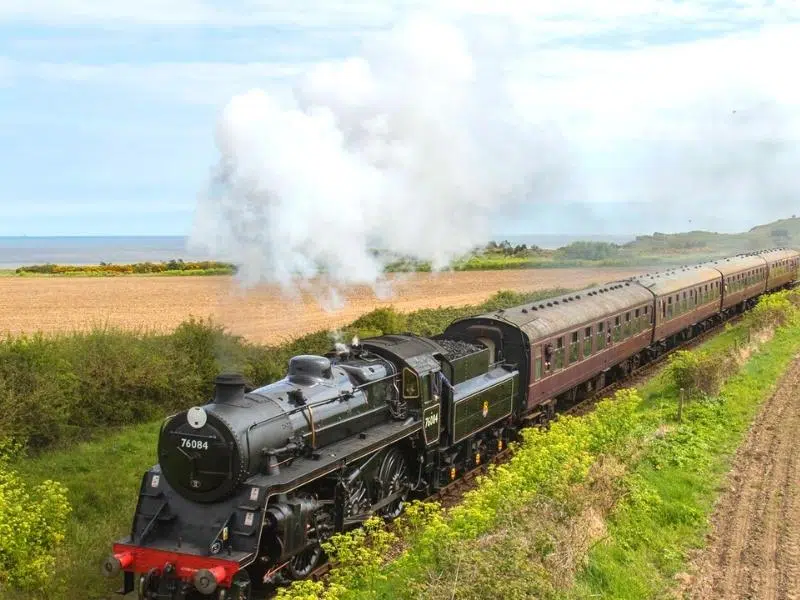 Explore Sheringham Lifeboat Station
Sheringham has celebrated nearly 170 years as an RNLI lifeboat station. Operating as an inshore lifeboat station, it was the first station to receive a B class Atlantic 85 rigid inflatable lifeboat, called The Oddfellows.
The name is a nod to The Oddfellows Hall on Lifeboat Plain which was built in 1867, and was the original RNLI Lifeboat station and a gathering place for local fishermen and boat builders. After years of standing idle, it re-opened in October 2007 as a community centre, having been completely refurbished.
The current lifeboat station is located at the Old Hythe at the far west end of the promenade and was built in 1936 to replace a smaller older station. The Sheringham life boat station is open daily and the volunteers that man the station are happy to show you round and answer questions.
RELATED POST: Norfolk Coast – 8 Amazing Ways to Explore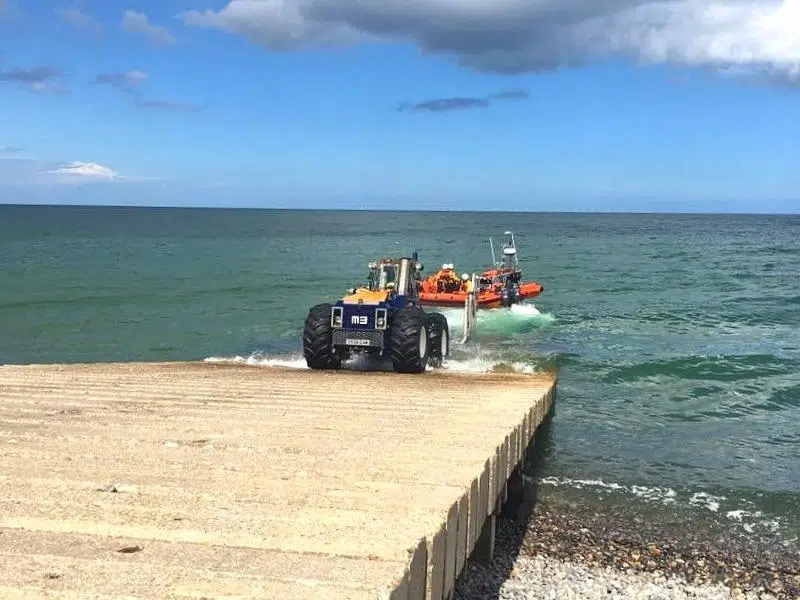 Discover the Sheringham Snorkel Trail
In 2016, a disused Edwardian-era iron sewage pipe was discovered stretching 100 metres into the sea from the Promenade at Sheringham. The pipe was encrusted with seaweed and marine invertebrates and has now become the Sheringham Snorkel Trail, with ropes, life buoys and information signs added to guide snorkellers to explore the ancient chalk reef below.
The chalk reef is more than twenty miles long and is thought to be more than 100 million years old and boasts a diverse range of colourful and interesting sea life. The reef, just a few feet under the sea's surface, has been made a Marine Conservation Zone (MCZ), meaning species like the threatened pink sea fan coral which grows there will be protected.
RELATED POST: 30 of the Very Best Things To Do in Norfolk
Learn at Sheringham Museum
The best place to find out more about the town's history is the Sheringham Museum at the Mo (the 'Mo' was a house named after the daughter, Morag, of a local dignitary). The museum is an independent charity which tells the fascinating story of Sheringham's history, which stretches back over a thousand years, through its people and boats.
The collection includes a rich variety of agricultural and fishing artefacts, as well a small fleet of boats. There is a fascinating collection of fishermen's ganseys, the beautifully knitted pullovers that have become the icon of the coastal fishing industry.
There are also important historic photographs which record Sheringham's past, fossils ranging from tiny ammonites to bones from a prehistoric elephant, and artefacts from both World Wars.
The tower offers panoramic views over the town and sea and is reached by a lighthouse-like set of steps
There is just enough of everything to make the museum interesting, but not so much of anything that it becomes boring! In other words, the Sheringham Museum is well worth a visit!
RELATED POST: 21 Museums in Norfolk You Won't Want to Miss!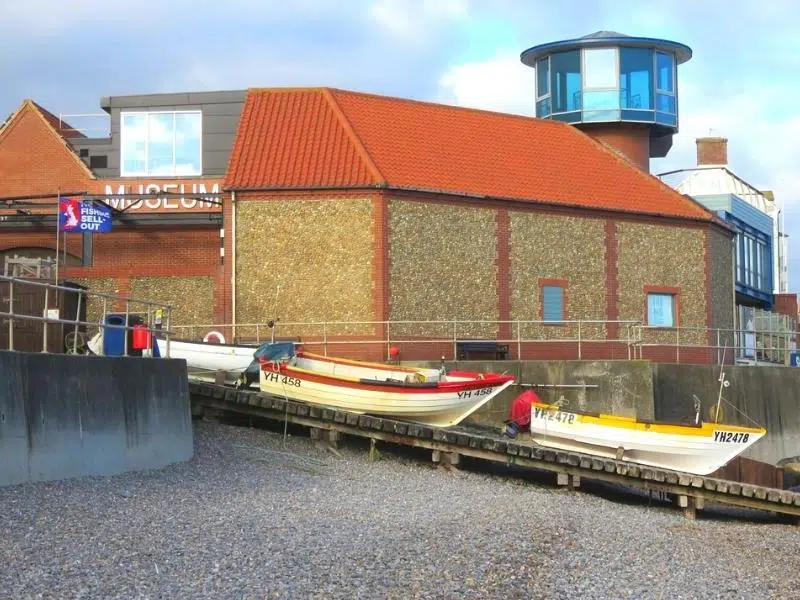 Visit the Peter Coke Shell Gallery
Peter Coke has six careers in his life – consular official, actor, playwright, Army officer, antique dealer, and shell artist. During visits to Barbados, he collected damaged shells to repair, which led to a fascination with the amazing variety of shapes and colours in which seashells, especially from tropical waters, are found.
In 1976, Peter moved to North Norfolk where he established an antiques business at Sharrington Hall, close to Holt. Having collected shells as a hobby for many years, he was eventually persuaded by friends to mount the first of what became a series of exhibitions of his decorative shell work in London.
Eventually, he turned his antiques showroom into the Peter Coke Shell Gallery and devoted all his time to his shell art. He continued working daily on his shell sculptures until his death in July 2008 at the age of 95.
Peter Coke donated a collection of over 100 of his shell art creations to the Preservation Society in 2006, on condition that it was displayed in perpetuity. When he died two years later, he bequeathed more of his work and almost 200 pieces are now on display.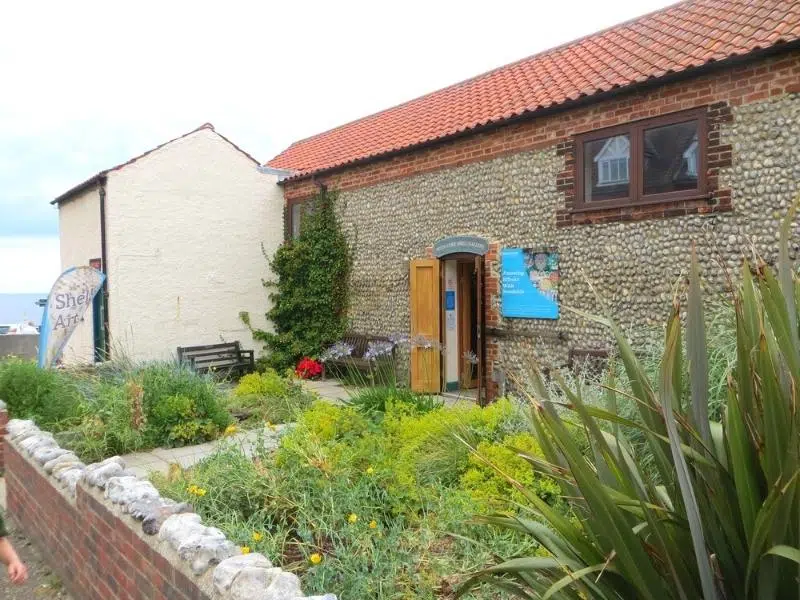 Visit the Fisherman's Lifeboat Museum
The Fisherman's Heritage Musuem shares the history of the fishermen's lifeboats provided by the Upcher family for lifesaving purposes and the fishermen who crewed these boats.
These boats are usually referred to as the private, Upcher or fishermen's lifeboats, distinguishing them from the RNLI Sheringham lifeboats. Before Sheringham ever had an RNLI lifeboat, the Upcher family provided the fishing community with a fishing boat larger than most of the boats then in use by Sheringham fishermen.
It was supplied to enable them to sail further in the hunt for good fish catches, but also came to be used as a rescue boat. In 1838, recognising the need for a true, purpose-built lifeboat, the Upcher family supplied the Augusta, Sheringham's first lifeboat.
The museum is housed in the shed containing the Henry Ramey Upcher lifeboat and also in part of the attached historic Fishing Sheds on Sheringham's West Cliff. Admission is free, but voluntary contributions are appreciated to cover the costs of the buildings and their contents. The museum is closed during the winter months.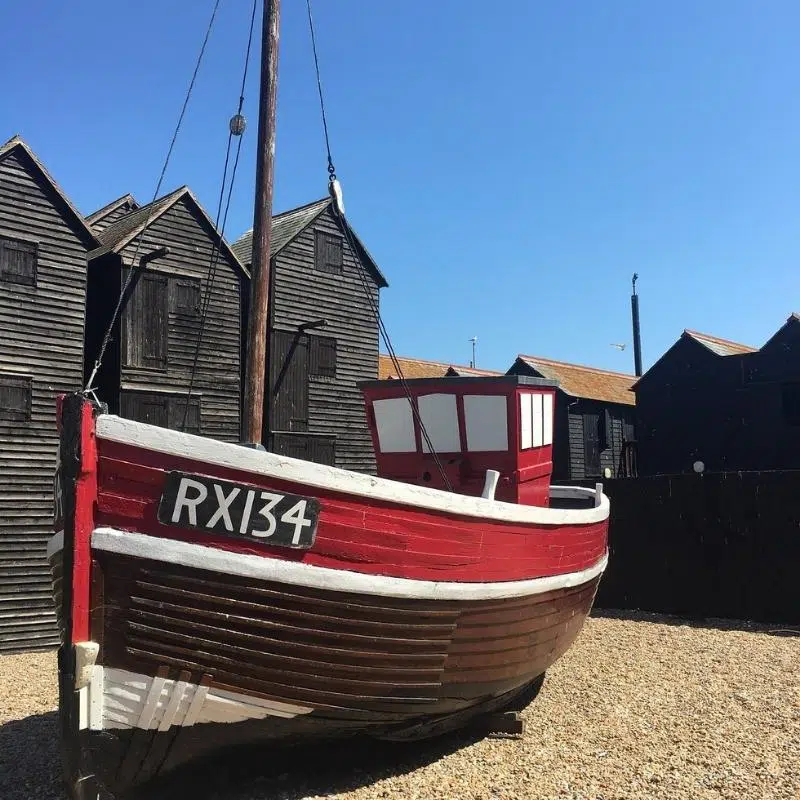 Explore Sheringham Town Centre
Sheringham town is a busy and thriving place, with lots going on, especially in the summer. In the town, you will find pubs, cafes and tea rooms, as well as plenty of shops – whether you're looking for Norfolk souvenirs or ingredients for dinner!
An open-air market is held every Saturday throughout the year and every Wednesday from April to November, in the main car park close to Sheringham railway station.
A focus point of Sheringham is the town clock, built on the site of an 1862 water well, in what was then known as Lower Sheringham. The clock cost £220 and water was piped from the spring into troughs for animals to drink from, and townspeople to collect for domestic use.
In 1903, the tower was fitted with a clock given by Miss Mary Pym and adapted for use as a pleasant shelter for tired shoppers.
RELATED POST: 43 Norfolk Farm Shops for Amazing Local Produce!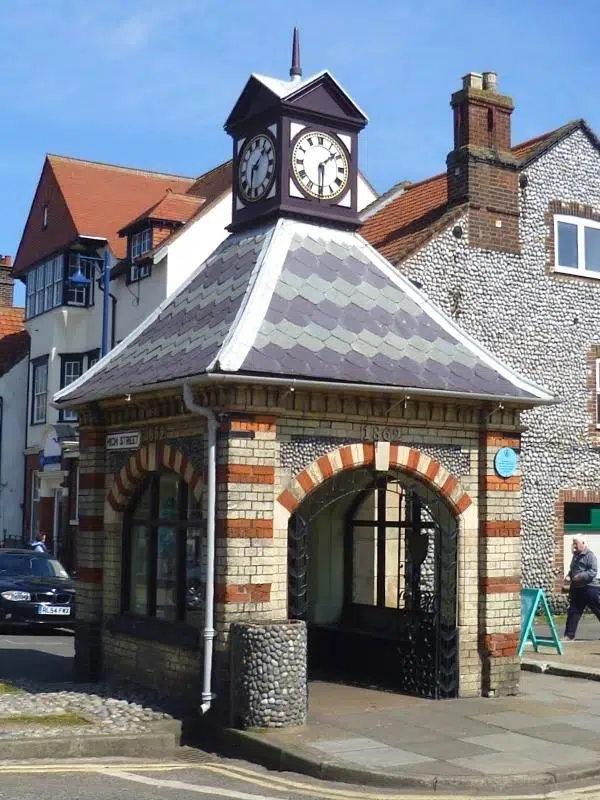 Join the Carnival Fun
Sheringham Carnival Week is usually the first week in August, with the parade taking place on the first Wednesday and fireworks on the Sunday.
Sheringham Carnival is a fun-filled family friendly week of festivities. Enjoy all the usual carnival favourites like Battle of the Bands, the Street Races, the Sandcastle Competition, Beach Sports, the Duck Race, a talent show, and lots more!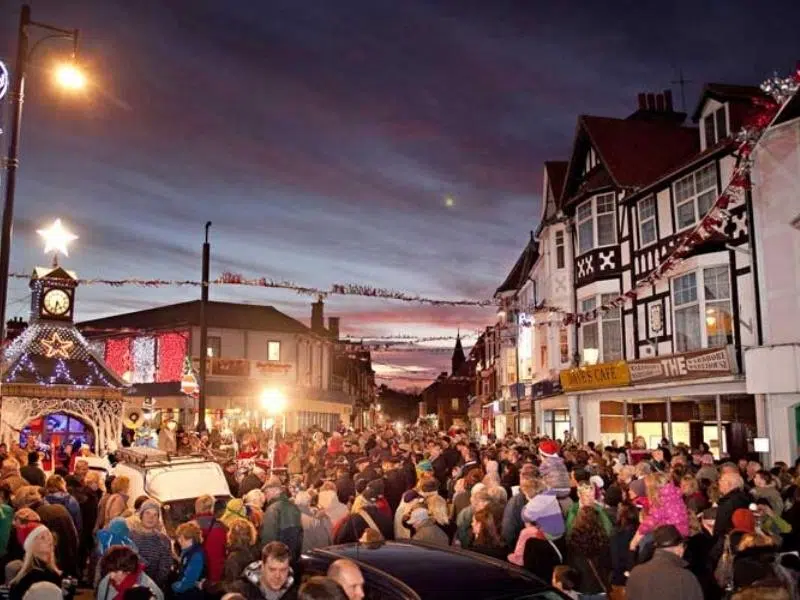 Eat Fish and Chips
Fish and chips are not a Norfolk food speciality by any means, but when you're on holiday and by the sea, fish and chips are obligatory!
There are three fish and chip shops in Sheringham, and all score well in online reviews. I can confirm that Dave's Fish Bar & Restaurant, which just pips the others to the post, does the best fish and chips. And yes, I've tried them all – it was a real hardship 😉
Eat in, or outside at one of the tables provided. If the tables are full, wander down the High Street and eat them on the Prom wall, overlooking the beach and sea.
The Sheringham Trawler and Stevensons Cafe and Fish Bar both serve great fish and chips, but the fish batter is not quite as crispy, and the chips are not quite the right texture to get the top spot. It seems the internet agrees with me!
RELATED POST: Restaurants in Sheringham – 16 Best Places to Eat
RELATED POST: Best Fish & Chips Norfolk: 14 Top Places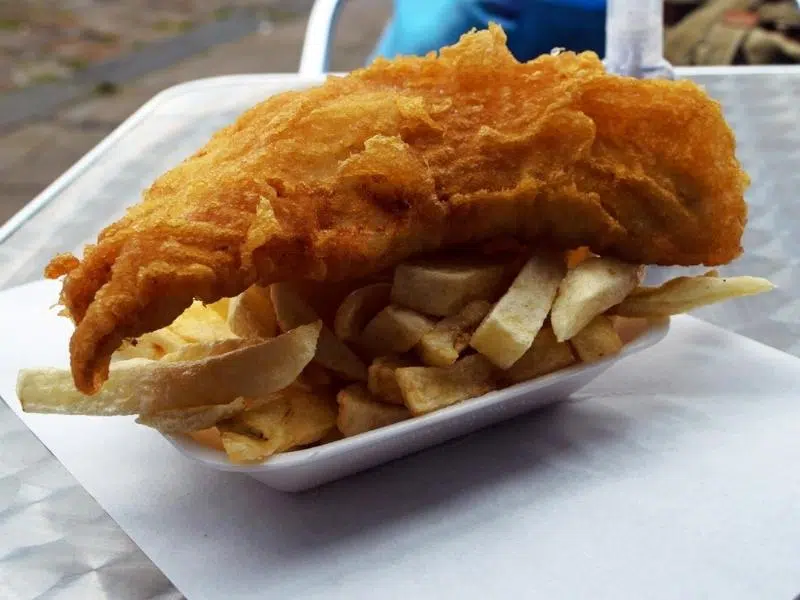 Watch a Show at Sheringham Little Theatre
The small but perfectly formed Sheringham Little Theatre is opposite the town clock on the High Street, and one of the best indoor things to do in Sheringham when it's raining.
The Little Theatre's 160-seat tiered auditorium hosts a wide range of plays, sing-along musicals, and family panto. Movies, and top national arts events are beamed on to the big screen and café style comedy and jazz are staged in the coffee bar, The Hub.
Be a Viking for a Day!
The Sheringham Viking Festival, held in April every year, celebrates the historical Viking links that Norfolk and the Deep History Coast has with these early Norfolk tourists! Enjoy street battle re-enactments, torchlight parades, boat burning and lots of great family entertainment.
RELATED POST: What's On in Norfolk – 42 Dates for Your Diary in 2022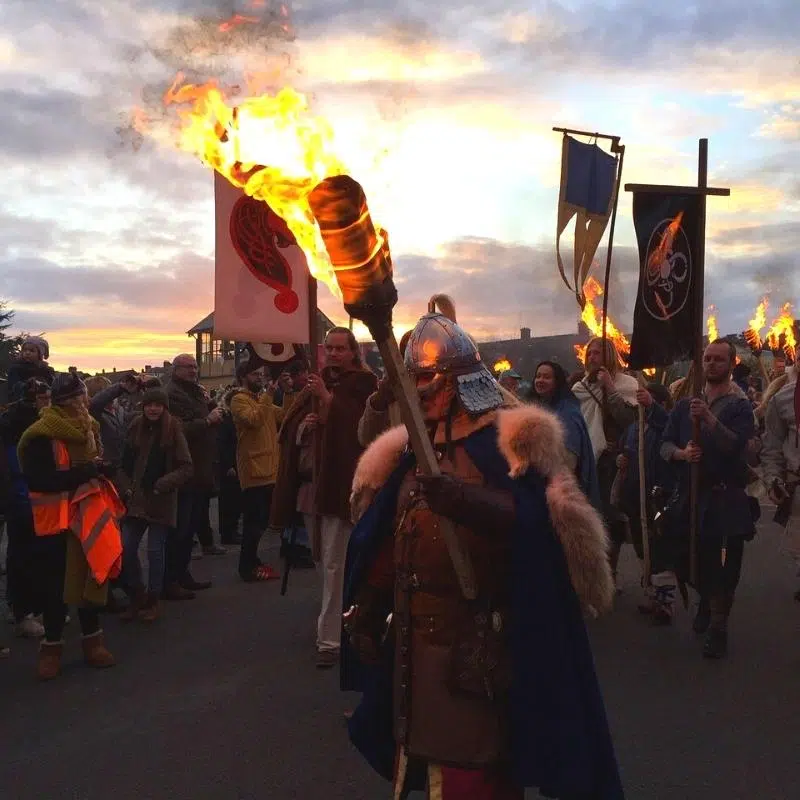 Eat Cromer Crab
The brown crab is found all around the coast of the United Kingdom, but off this stretch of Cromer and Sheringham, in the shallow nutrient-rich waters on the chalk reef, brown crabs are sweeter and more tender than anywhere else, and they've been a staple of the fishing industry here for hundreds of years.
There are lots of restaurants in Sheringham where you can enjoy the famous Cromer crab, and fishmongers where you can buy crab dressed to take home in season, which runs from March to October.
The Crab and Lobster Festival brings the seaside towns of Cromer and Sheringham together in May every year, to celebrate the world-famous seafood caught in the seas off both coastal resorts. This seafood spectacular includes concerts, a street market, cookery theatre, live music, art and seafood trails, and over 35 local eateries taking part.
My fave Cromer restaurant for crab is Rocky Bottoms in West Runton, between Sheringham and Cromer, where a local family catch crabs using their own fishing boat, and then feed you in their restaurant! You can also buy dressed and prepared crab at the Crab Hut to take home – yummy!
RELATED POST: Cromer Crab: All You Need to Know About Norfolk's Favourite Food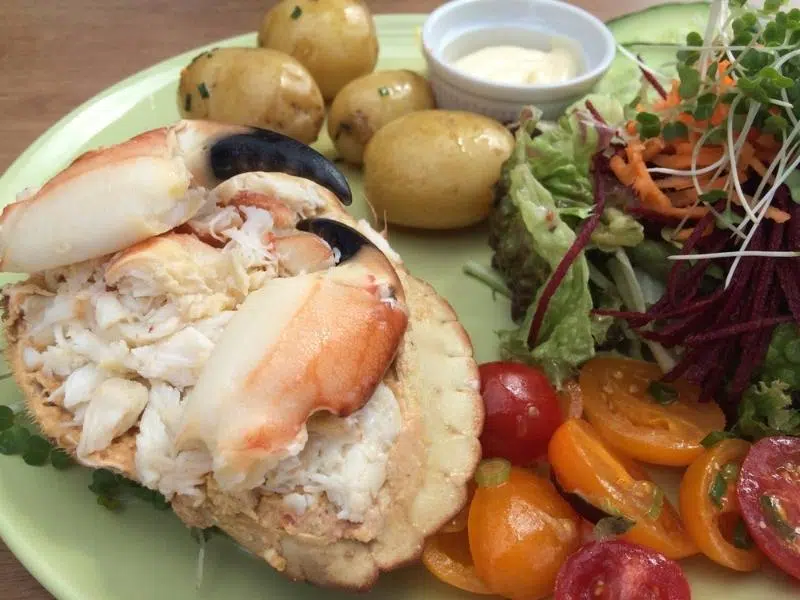 Things to Do Near Sheringham
Take a Day Trip to Cromer
Who can resist Cromer? One of my favourite Norfolk seaside towns, traditional Cromer is home to the much loved Victorian Cromer pier, a fabulous beach and a strong connection with the sea through the RNLI.
Although you won't find amusements or fairground rides here, there is plenty to keep families busy in Cromer. With a growing foodie scene, a one-of-a-kind end-of-pier theatre, a fabulous kid-friendly blue flag beach, surf school, a micro-brewery and gin distillery, and even a Banksy, Cromer is one of the best places to visit on the North Norfolk coast.
RELATED POST: Cromer Visitor Guide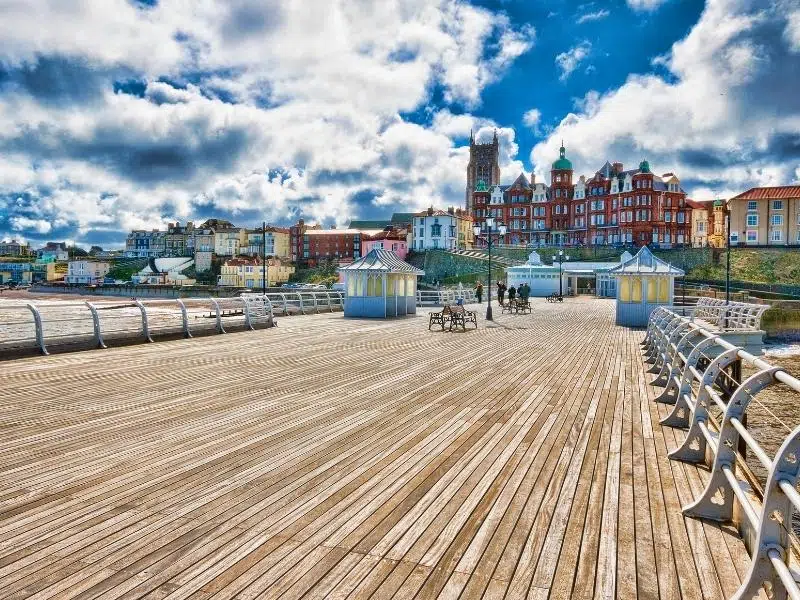 Discover Sheringham Park
Close to the village of Upper Sheringham is the National Trust Sheringham Park, the 19th century legacy of the landscape designer Humphry Repton, who started the commissioned project in 1812 but sadly never lived to see it to completion.
From a plantsperson perspective, the park is noted for its flowering azaleas and nationally important collection of rhododendrons. For me, it is one of the best places to visit near Sheringham for the miles of footpaths and trails through the parkland, with lovely views of the North Norfolk coast, perfect for walking and cycling – in fact, the Rebellion Way cycle route comes right through here! Pick up a map from The Visitor Centre at Wood Farm so you don't get lost!
Don't miss the viewing towers that you can climb to gain superb views, and photographs, over the surrounding countryside and North Norfolk coast.
RELATED POST: The 21 Best Gardens in Norfolk to Visit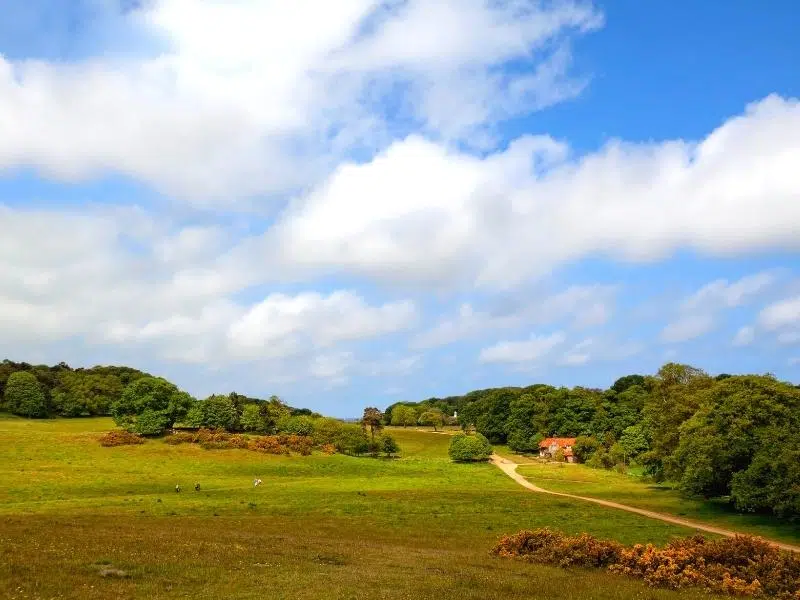 Explore Felbrigg Hall
The sublime Felbrigg Hall is a 17th century English country house just outside Cromer. Run by the National Trust, the unaltered house is known for its fine Jacobean architecture and gorgeous Georgian interior, and is one of the most popular places to visit near Sheringham.
Outside is a colourful walled garden, considered one of the best gardens in Norfolk, an 18th century orangery, orchards over 500 acres or parkland, perfect for a summer afternoon stroll.
With nature trails, conservation projects and seasonal exhibitions, Felbrigg makes a great year-round attraction if you're visiting Sheringham.
RELATED POST: 14 Stately Homes in Norfolk to Visit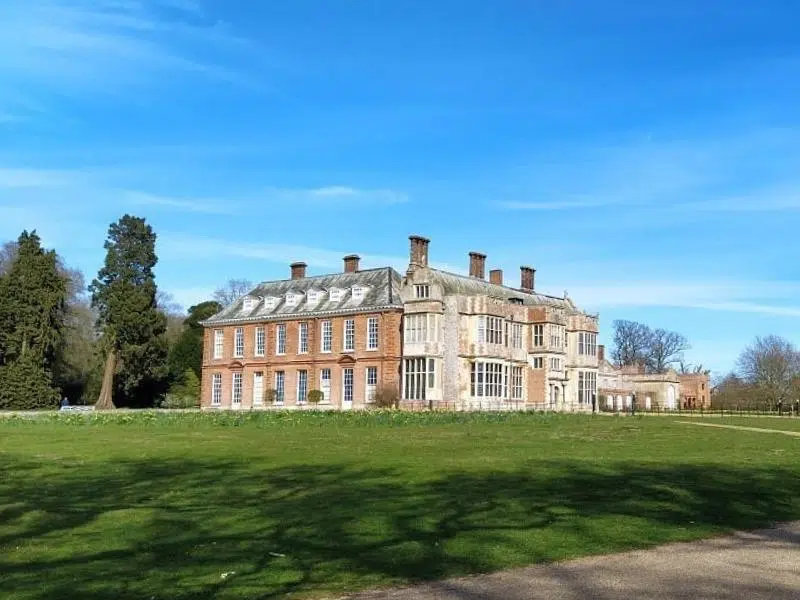 Visit Priory Gardens & Maze
The Priory Gardens are ten acres of tranquillity located in the mild micro-climate of the Beeston Bump, which shelters the gardens from cold weather and harsh winds, meaning plants can be grown here which wouldn't survive elsewhere in Norfolk.
There are a collection of gardens here, including the cool and shady Fern Walk, full of wonderful Tasmanian tree ferns, one of my all-time favourite plants, the Meadow Stream garden, and the delightful Winter garden.
Next door is the maze, a seven-foot tall puzzle which is based on the adjacent ruins of Beeston Priory. The copper beech hedging copies the layout of the priory and the hornbeam infills create the maze. This is not a symmetrical maze, there is no middle, but there is a viewing platform to give visitors a chance to work out how to leave!
Once you escape, you can enjoy homemade tea and cakes created using local Norfolk ingredients, in the attractive cafe.
RELATED POST: Norfolk Nature Reserves – Ultimate A-Z Guide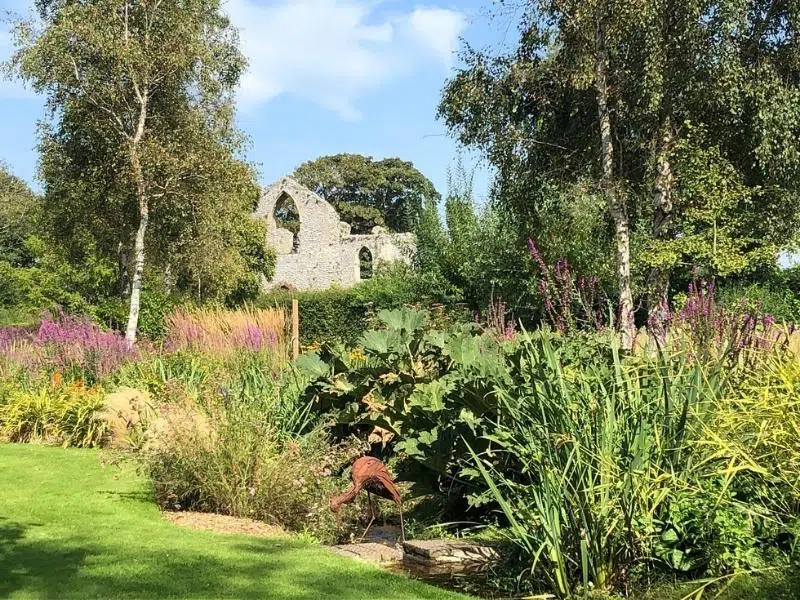 Take a Walk in Pretty Corner Woods
Pretty Corner Woods is a tranquil patchwork of woodland and heathland, which forms part of a larger network of woods and heaths. Together they stretch along the ten mile Holt to Cromer ridge within the North Norfolk Area of Outstanding Natural Beauty.
Located a few miles south of Sheringham, Pretty Corner Woods is a great place to visit for a leisurely stroll, or with kids, who will love the wide range of wildlife found here, like bats, bullfinches, kingfishers, butterflies, owls and woodpeckers. You might even be lucky enough to see a Muntjac deer in the grass or spot an adder or slow worm sunning itself in the heathland areas.
There are two car parks, both of which are free. Make sure to take note of which one you're parked in, it can be easy to get lost!
RELATED POST: Walks in Norfolk – 14 of the Best Trails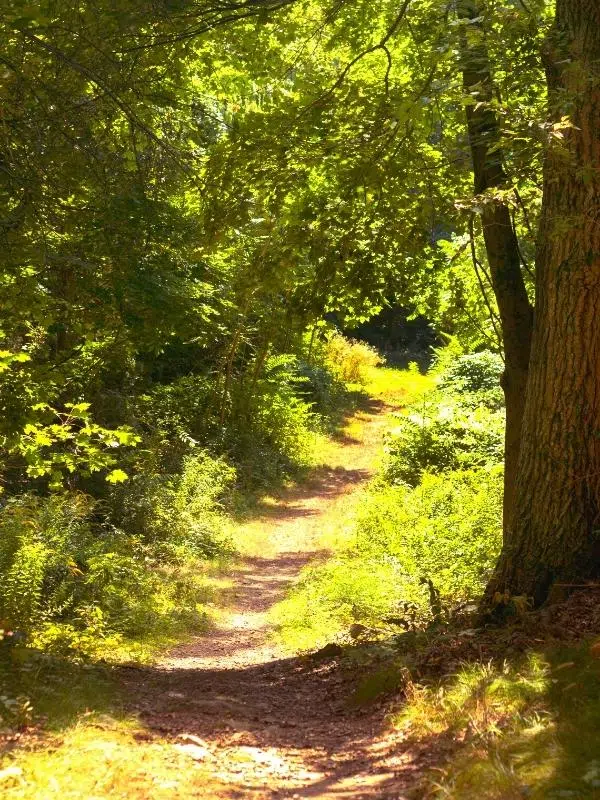 Climb Beeston Bump!
Beeston Bump or Beeston Hill is a 63-metre-high cliff-top hill located just to the east of Sheringham town centre. The hill is made up of mainly sand and gravel, with the odd large boulder, and was created at the end of the last ice age.
At one time, there were two round-topped hills, but the other hill was made up of very soft material and has eroded away, along with many other parts of the North Norfolk coastline.
Take the Norfolk Coast Path from Beeston Hill Putting Green in Sheringham to Beeston Cliffs, for wonderful views back over the town. It is only a 15 minute walk, so it is a popular trek on a sunny day!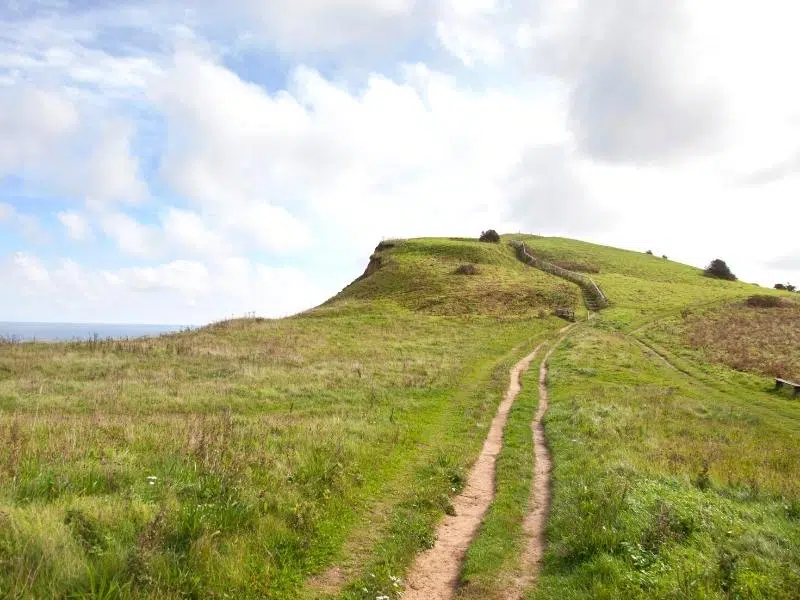 Explore the Deep History Coast
The Deep History Coast is made up of 22 miles of coastline from Weybourne to Cart Gap along the clifftops of the North Norfolk coast. It is where million-year-old footprints, the earliest evidence of humans in Britain, have been found, alongside the UK's biggest mammoth skeleton remains and a 500,000-year-old flint hand axe.
Exploring the Deep History Coast is a fascinating and fun day out for families, with lots of activities to help you understand the millennia of history in the area.
You can fossil hunt along the beautiful beaches between Weybourne and Cart Gap and follow the Discovery Trail to read fact-revealing discovery points along the way.
Try rock-pooling and fossil hunting at West Runton beach, where the Steppe mammoth skeleton was found. It's common to find a fossil along this stretch, ranging from belemnites to hyaena coprolites (fossilised poo!). The best time to hunt is after a high tide or heavy rainfall.
RELATED POST: Norfolk Road Trip – Route, Map and Itinerary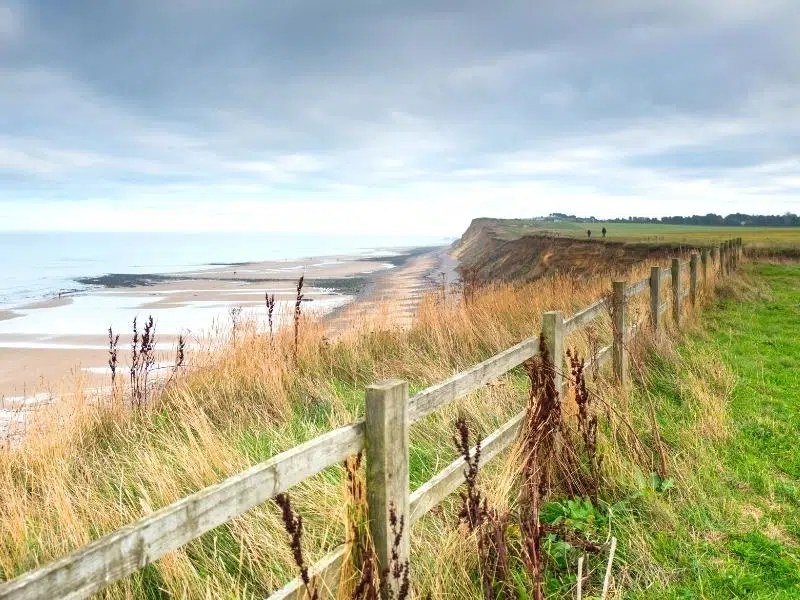 Let of Steam at the Hilltop Outdoor Centre
Located within 26 acres of picturesque woodlands along the North Norfolk Coast, Hilltop Outdoor Centre is a high-quality, accredited, family-run independent Outdoor Education Centre.
Book an action-packed family adventure day at Hilltop and give the kids a real holiday treat. This action-packed adventure of high ropes, zip lining, tree top trails and swings, climbing walls and archery is one of the best family days out in North Norfolk.
Parents are encouraged to join in and book a space to experience the activities, but if you prefer to keep your feet on solid ground you can watch the fun from the sidelines and capture the excitement & adventure on camera or film!
RELATED POST: Norfolk Theme Parks – Ultimate A-Z Guide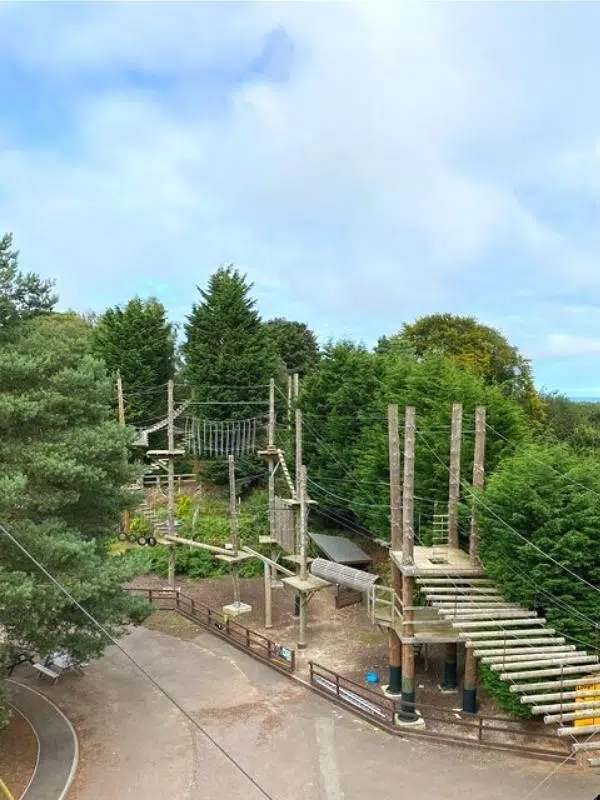 Explore Baconsthorpe Castle
Baconsthorpe Castle, a fortified 15th-century manor house, lies just six miles inland of Sheringham and boasts extensive ruins.
the castle stands as a testament to the rise and fall of the Heydon family, a prominent Norfolk family who built, enlarged, and modernized the castle over 200 years before abandoning it in the mid-17th century.
The castle's history is fascinating, spanning several hundred years of fortunes made and lost in the fabric trade, poor business decisions, and extravagant living, all of which contributed to the Heydon family's eventual downfall.
In the 1940s, the castle was given to the Ministry of Public Works and later opened to the public. Free to visit, the castle is a Grade I and Grade II listed building and a scheduled monument, managed by English Heritage.
RELATED POST: 12 Norfolk Castles for You to Explore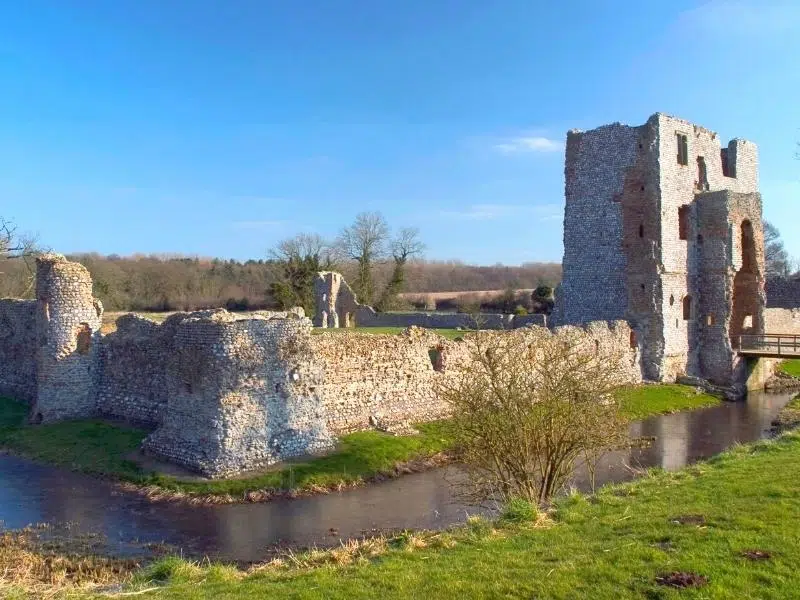 Have you had a holiday or day out in Sheringham? Share your trip in the comments below!
Love it? Pin it!