Cromer is my favourite Norfolk town! With lots to do and a traditional seaside feel, there's a laid-back feel to Cromer which draws me in every time I visit.
There is plenty to keep families busy in Cromer. With a growing foodie scene, a fabulous pier to be explored, a blue flag kid-friendly beach, a surf school and lots of other great things to see and do, Cromer is one of North Norfolk's top holiday destinations.
Cromer should definitely be on your list of places to see on the North Norfolk coast. There are more famous beach towns in England, but I think Cromer beats them all!
This round-up of the absolute must-do things in Cromer Norfolk will help you plan your trip. Here are my top Cromer highlights…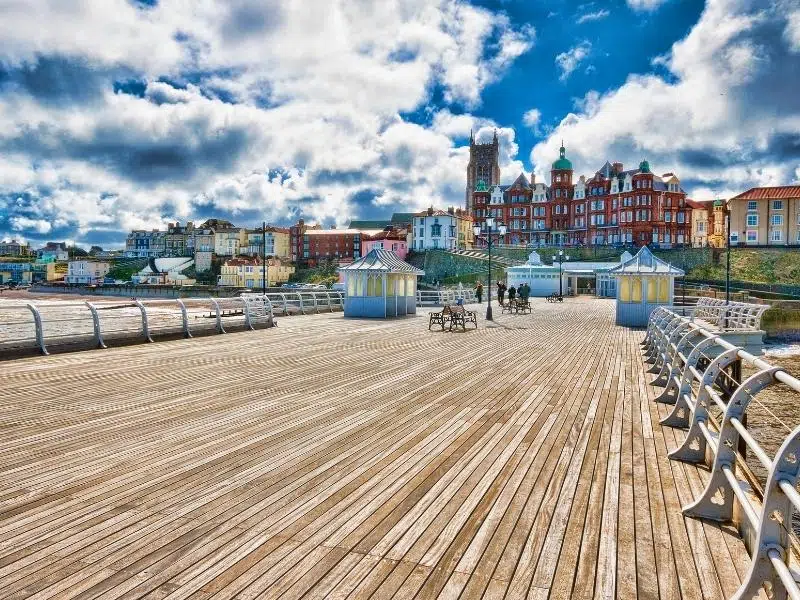 This post may contain affiliate links. If you book something I recommend, I make a small commission without affecting the price you pay!
Is Cromer Worth Visiting?
Absolutely! Cromer has so much to offer families looking for a Norfolk holiday or day out. Kids big and small will love the beach for swimming, beach games, sandcastle building and crabbing on the pier. Teens will want to check out the noisy arcades and skatepark, try their hand at surfing, and enjoy the freedom to explore safely.
For lovers of history and heritage, the region is blessed with stately homes, religious sites and ancient castles to explore. There are also some excellent museums in the local area where you can learn about the fascinating history of North Norfolk and its coastline.
Foodies will love Cromer for its fantastic freshly caught seafood, including the famous Cromer crab. Cromer crabs are so celebrated they even have their own festival – the Crab and Lobster Festival held annually in May. Cromer is also home to a microbrewery and has several vineyards producing award-winning English wine on the doorstep.
For explorers, the beaches and cliffs which form the Deep History Coast around Cromer hold lots of secrets, making fossil hunting an exciting holiday activity. The Steppe Mammoth, found in the cliff face at West Runton beach in 1990, is one of the oldest fossil elephants to be found in the UK.
At Happisburgh Beach, just a few miles east, a receding tide exposed a set of footprints in 2013, dated to over 850,000 years old. On the same beach in 2000, a 500,000-year-old flint handaxe was also discovered.
Outdoors enthusiasts will fall in love with the huge skies and wide open spaces, the endless soft golden sands of Norfolk's beaches, pretty gardens, and local nature reserves which include a huge variety of bird life and seals that you can see along the coast. The beautiful Norfolk Coast Path passes through Cromer, making this a great spot for hikers.
If winding down and relaxing is more your thing, the beach at Cromer, with its Victorian pier and colourful beach huts, provides an opportunity to spend days lazing around, reading and chilling out. When the sun shines, the clear sea beckons for a paddle or gentle swim, to help you cool off.
Dog lovers will find plenty of dog-friendly accommodation and plenty of great spaces for four-legged friends to have fun, and in one of Cromer's top cafés, Doggie Diner, you'll find all sorts of treats for your pooch!
All the Best Things to Do in Cromer
Enjoy Cromer Beach
One of the stars of the show, the Blue Flag Cromer Beach is long, sandy and safe for kids, with lifeguards on duty in the summer months.
Cromer Beach is popular for swimming and surfing and there's always lots going on along the sands, and the beach is within easy walking distance of many of Cromer's top attractions, so makes a good base for long summer days.
Kids will love sand castle building and rock pooling at low tide on Cromer Beach. You'll always be able to find space to fly a kite and play beach cricket or volleyball.
At the far end of the line of colourful beach huts at the eastern end of the prom, you'll find the Banksy Cromer Crabs artwork on the far side of the sea wall. Look carefully though, it's actually quite small!
Dogs are banned from Cromer Beach from 1st May to 30th September, and they must be on a lead if they are walked on the Promenade during this time of year.
RELATED POST: Norfolk Beaches – Ultimate A-Z Guide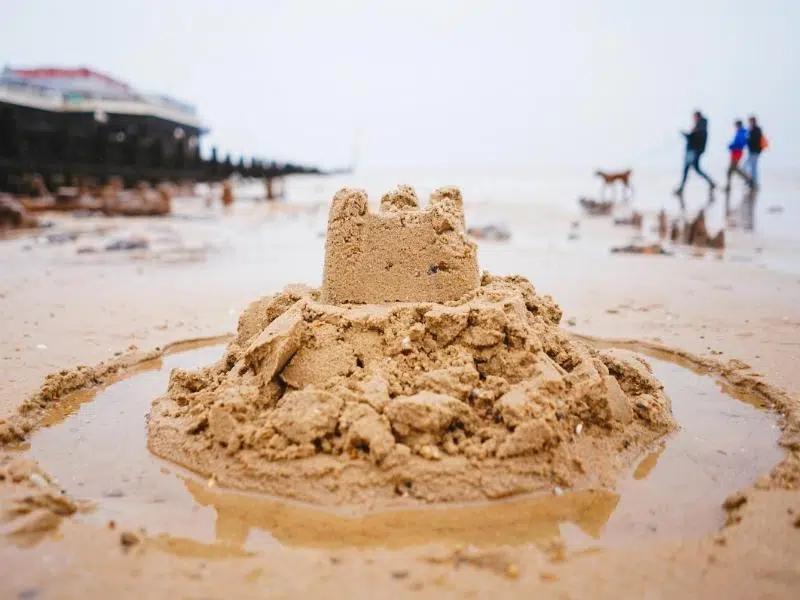 Hire a Cromer Beach Hut!
Cromer Beach has a collection of colourful wooden beach huts along the promenade on the east side of the beach which can be rented on a weekly basis from North Norfolk District Council. They make a great base from which to enjoy the beach and seaside town, and make your holiday planning a whole lot easier!
Spending a week in Cromer with a beach hut is magical, especially with kids. There's no need to cart all your stuff to the beach every day or spend ages trying to get organised on the beach. Relax by your hut, retreat inside for card games or to read a good book if it rains, and enjoy lunch without the sand in your sandwich!
There are some rules, for example, you cannot stay or sleep overnight in the beach huts, and you can't park your car at the beach hut.
RELATED POST: Beach Huts in Norfolk – All You Need to Know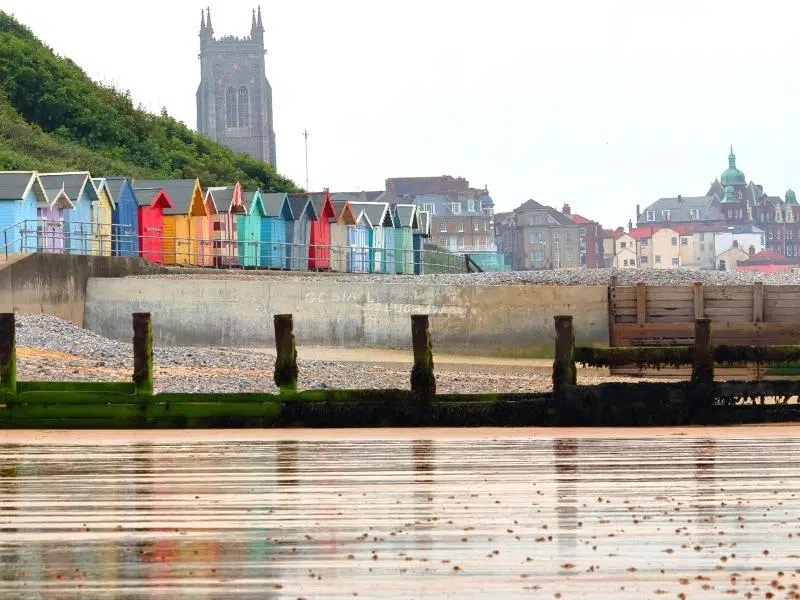 Take to the Water!
Learning to balance in the waves as you surf and stand-up paddle (SUP) from Cromer Beach is great fun.
You can take lessons and hire equipment from the highly rated Glide Surf School, a family-run business.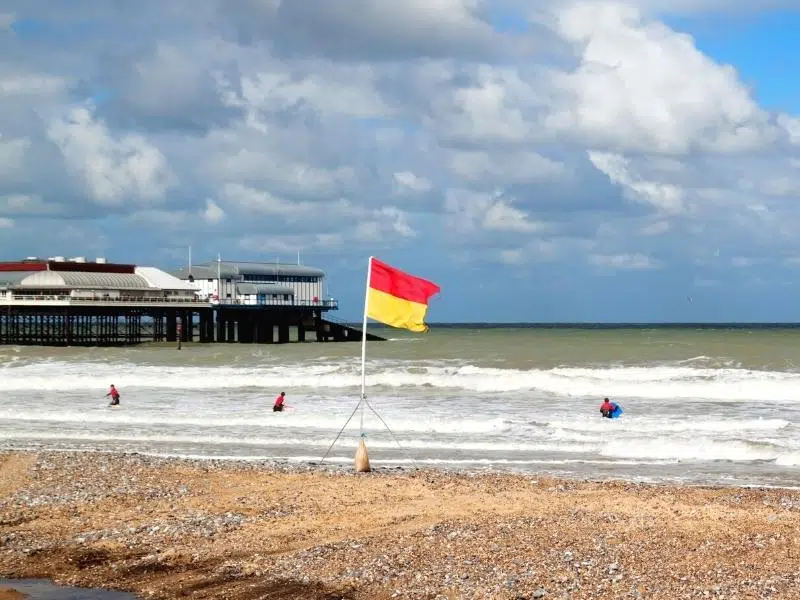 Explore Cromer Pier
If you're wondering what is Cromer famous for, the pier is it! One of the top Cromer attractions, Cromer Pier is a much-treasured and loved heritage landmark along the Norfolk coast.
Built in Victorian times, the pier is a relaxed affair with a theatre, RNLI lifeboat station and café perched along its 151m length.
You can also fish for crabs, enjoy and ice cream and kids will love peering through the cracks in the wood planks that cover the peer, for views of the sea below!
RELATED POST: 26 Pictures of Norfolk England to Inspire Your Trip!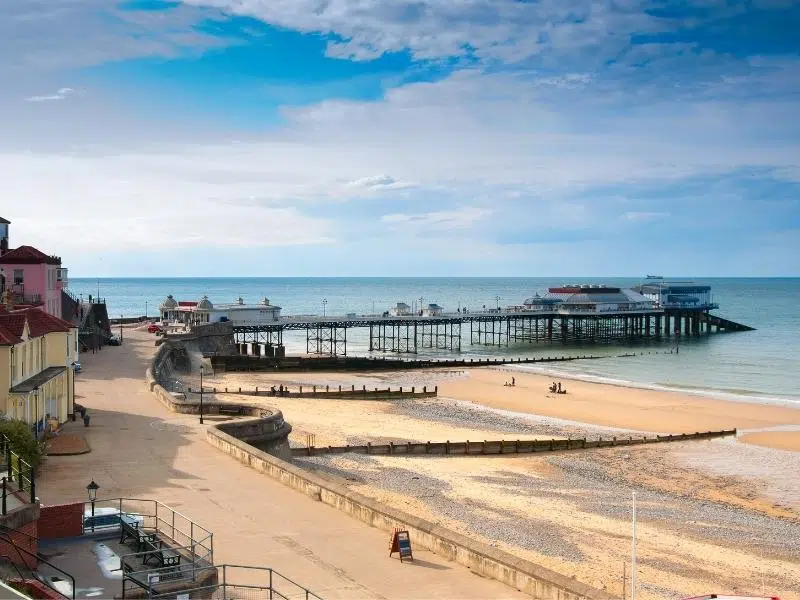 Catch a Show at The Pavilion Theatre
The Pavilion Theatre holds the only end-of-pier show in the ENTIRE world. It's absolutely worth a visit to see one of the 'Seaside Special' pier variety shows held in summer and at Christmas every year.
Some visitors come time and time again to see these unique variety shows, and some travel from all over the world – that's how special they are!
The Pavilion also hosts lots of other shows throughout the year including plays, musicals, comedy and concerts. Make an evening or matinee performance a highlight of your holiday or weekend break.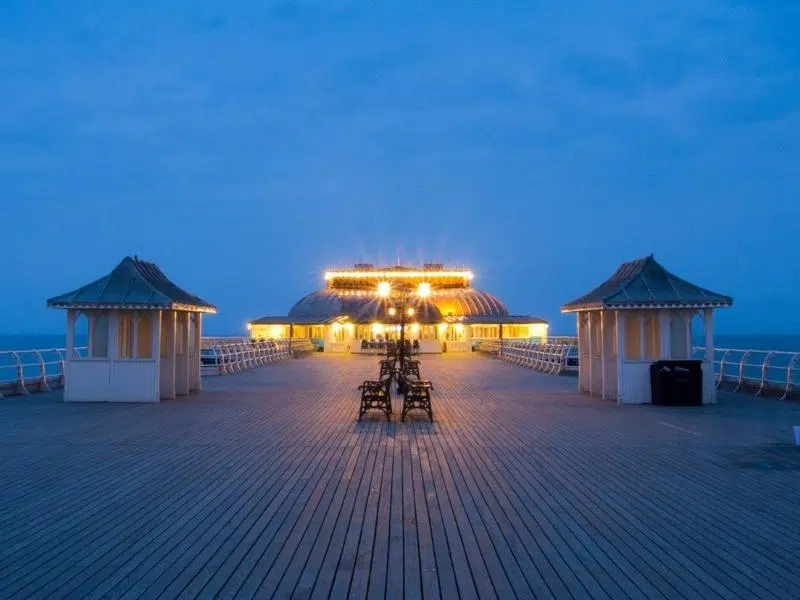 Learn About the Royal National Lifeboat Institution
The RNLI pier-head lifeboat station at the end of Cromer Pier is home to the Tamar class lifeboat, which was the first of its kind on the East Coast. The lifeboat station is free to visit and you can learn about the station, crew and lifeboat, as well as some of the rescues launched from the Cromer lifeboat station.
The staff are super helpful and will show you around, and ask questions. It's so good to know that the RNLI are looking out for Norfolk's residents and visitors when they're in the sea.
If you want to find out more about the RNLI in Cromer (and they've been here for over 200 years), you can also visit the old lifeboat house at the foot of the Gangway and the RNLI Henry Blogg Museum.
The museum is named after and celebrates the most decorated lifeboatman in RNLI history, who served on Cromer's lifeboats for a whopping 53 years and was awarded the British Empire medal. It is well worth a visit.
RELATED POST: Norfolk Coast – 8 Amazing Ways to Explore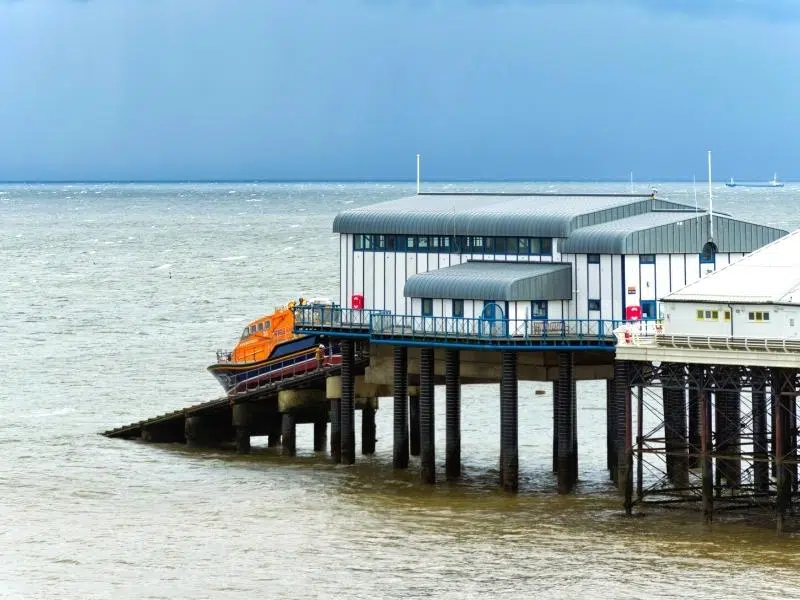 Go Crabbing
Norfolk is a great crabbing destination because of its estuarial and creek waters that the crabs like living in. The best crabbing spots in Norfolk are Blakeney and Wells-next-the-Sea because they have this habitat in abundance. But, you can also crab off Cromer Pier where the World Crabbing competition is held every year in August, so you'll be in good company!
Crabbing is one of the most fun things to do in Cromer, adults and kids alike! Crabbing is basically dropping a baited line into the water and waiting for the crab to take the bait, so you can pull him/her gently up. All you need are a line, bucket, and bait, which you can buy in many Cromer shops.
Our crabbing tips?
When I was a kid, the best bait was raw bacon with rind (who knew?), but anything like chicken, small fish or even dog food works. I even used a bit from inside a pie once!
The best crabbing takes place as the tide is coming in – crabs are clever and know when the tide is heading out and bury themselves in the mud around the pier.
If you need to hold the crab, do so on either side behind the pincers.
Be prepared and have your bucket full of salt water to hand.
No more than two crabs to a bucket, and try and keep the bucket shady. Crabs don't have much sun protection!
Wait – crabbing is a game of patience and you will be rewarded, I promise!
Don't keep the crabs too long, and definitely don't take them home as pets (the crabs you catch here are also not edible). Pop them back into the sea gently with thanks for being your captive!
RELATED POST: Crabbing in Cromer – Top Tips & Tricks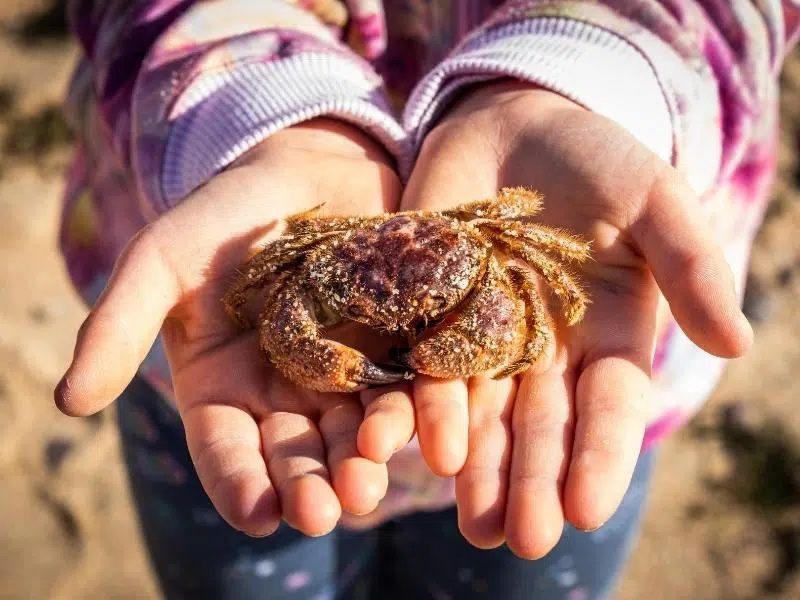 Treat Yourself to a Norfolk Afternoon Tea
Set in an old Victorian building which has been restored, Hatters Tea Shop offers cosy corners and relaxed seating, and they also have a gift shop where you can buy beautiful handicrafts and gifts from Norfolk to take home with you.
Their afternoon tea is beautifully served with mismatched vintage china and includes a selection of traditional afternoon tea sandwiches like egg and cress and smoked salmon and cream cheese, home-made scones and mini cakes.
You can also enjoy your afternoon tea with a bottle or glass of Prosecco for an extra special treat.
RELATED POST: Afternoon Tea in Norfolk – 15 of the Best Places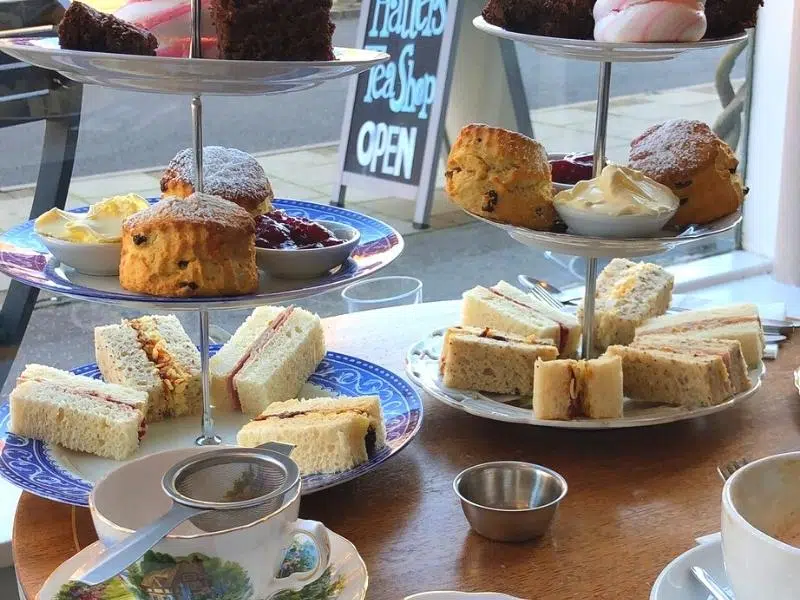 Visit Cromer Parish Church
The Church of St Peter and Paul dates from the 12th century and was restored in the late 1800s. The inside decor ranges from Gothic imagery to modern Post-War stained glass windows commemorating Cromer's lifeboat crews.
You can also take the steps up the 58m high tower, the tallest of any parish church in Norfolk, for a far-reaching of the rooftops of Cromer, the North Norfolk countryside and the coast.
RELATED POST: Norfolk Churches: 16 of the Best to Visit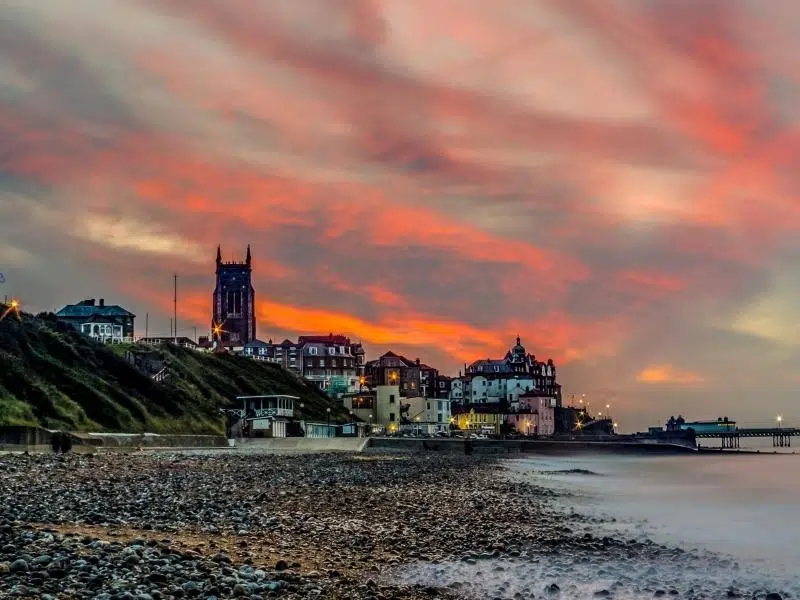 Visit a Microbrewery & Gin Distillery
The Poppyland Brewery brings a whole new meaning to Norfolk artisan beer and gin – it doesn't get much more homemade than this!
Based in Cromer, the brewery was set up in 2012 with the aim of producing small batches of top-quality beer using unusual processes and ingredients. In 2019 the brewery expanded into gin production, to create gins as unique as its beers.
The gin distillery is at the rear of the microbrewery in Cromer, and visitors are welcome to pop in on an ad hoc basis. More formal tours and tastings can also be arranged.
RELATED POST: 12 Norfolk Gins You Have To Try!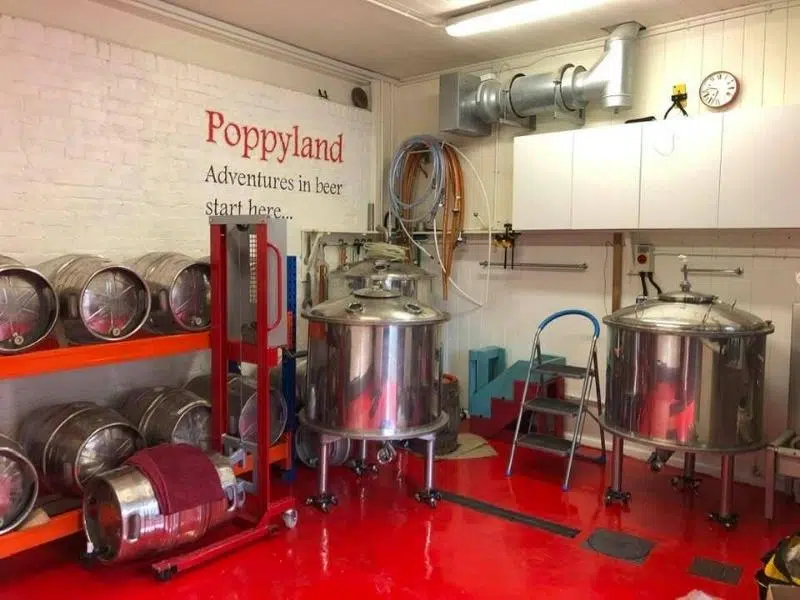 Find the Cromer Goats!
Yes, you read that right! Although historically Cromer produced wool which was traded far and wide across the North Sea, Cromer now has a herd of Bagot goats!
These horned long-haired goats are not bred for their wool but as lawnmowers! Reared by North Norfolk District Council and let loose to graze on the Cromer cliffs each summer. The Cromer Bagots' job is to maintain the vegetation on the cliffs west of town, which is difficult to manage with machinery.
Take a Walk to Cromer Lighthouse
Did you know that Cromer has a lighthouse? Perched on the cliffs of the Cromer Ridge, the current lighthouse was constructed in 1833, a few decades before its predecessor from 1719 was lost to cliff erosion.
That erosion continues today and means the lighthouse you see now was actually built half a mile (800m) from the sea. As the crow flies, the lighthouse now sits less than 300m from the coastline.
Since the light became automated, the lighthouse is closed to visitors, but you can get up close and look around.
There is also a great walk to the lighthouse along a part of the Norfolk Coast Path. From the corner of The Esplanade and Brunswick Terrace follow the path east that borders North Lodge Park, where you'll also find the popular Cromer boating lake. You can't really miss the white lighthouse on the cliffs and there are lots of tracks up from the path.
If you're looking for Cromer Lighthouse on Google Maps, you might struggle to find it – for some reason, it is not labelled. Instead, look for the Royal Cromer Golf Club and follow Overstrand Road north until the end of the road, that's where you'll find the lighthouse!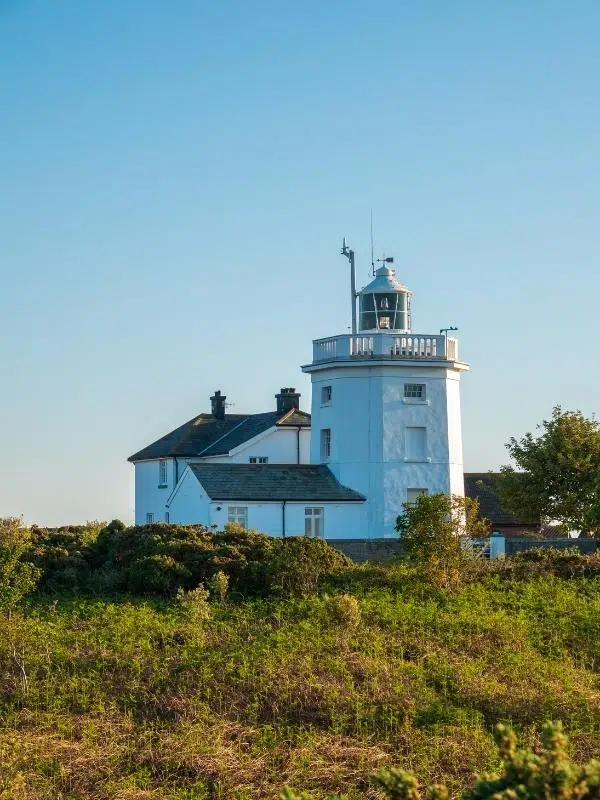 Eat Cromer Crab
A top Norfolk food you should sample, the brown crab is found all around the coast of the United Kingdom, but off our stretch of Cromer, in the shallow nutrient-rich waters on the chalk reef, brown crabs are sweeter and more tender than anywhere else, and they've been a staple of the fishing industry here for hundreds of years.
There are lots of restaurants in Cromer where you can enjoy the famous Cromer crab and fishmongers where you can buy crab dressed to take home when in season, which runs from March to October.
The Crab and Lobster Festival is one of the best things to do in Cromer and Sheringham in May every year, to celebrate the world-famous seafood caught in the seas off both coastal resorts. This seafood spectacular includes concerts, a street market, a cookery theatre, live music, art and seafood trails, and over 35 local eateries taking part.
Our fave Cromer restaurant for crab is Rocky Bottoms in West Runton, where a local family catch crabs using their own fishing boat and then feed you in their restaurant! You can also buy dressed and prepared crab at the Crab Hut to take home – yummy!
If fish and chips are more your thing, the best chippie in Cromer is No.1 Cromer, owned by the Michelin-starred chef Galton Blackiston, who also owns nearby Morston Hall, where you can eat in or out, overlooking the pier and sea.
RELATED POST: Cromer Crab: All You Need to Know About Norfolk's Favourite Food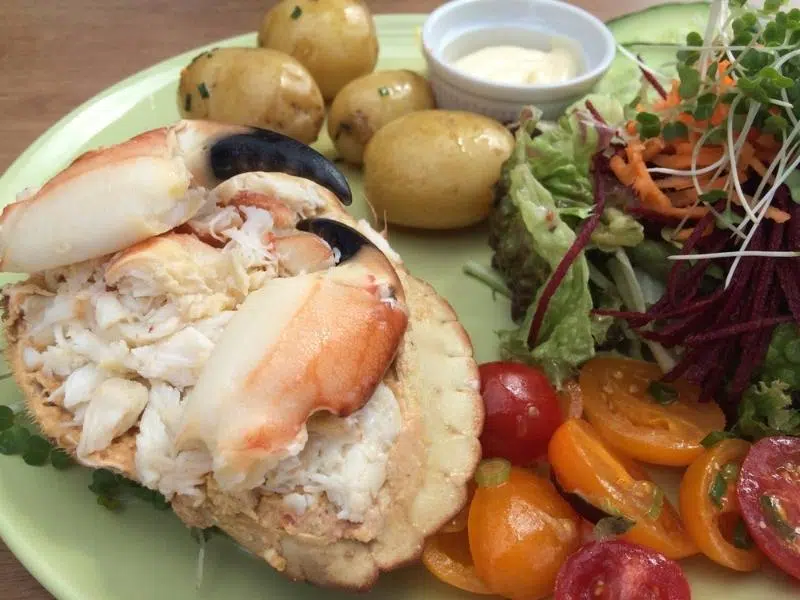 Join the Carnival Fun
Cromer Carnival Week usually starts on the second Saturday in August, with the parade taking place on the following Wednesday.
Cromer Carnival is a week of festival family fun with children's entertainment, live music, rides and local food – it's great fun for the whole family and one of the busiest times in the town.
RELATED POST: What's On in Cromer & Norfolk – 80+ Dates for Your Diary
Explore Cromer Museum
Cromer Museum is housed in what was a row of fisherman's cottages, and you can see inside a restored cosy Victorian fisherman's cottage and imagine what it was like to live in Cromer at the end of the 19th century.
In the 'Old Cromer' Gallery there are displays of historic photographs and illustrations of the town, helping you to learn about Cromer's history as a Victorian seaside resort, with its fine hotels and scandal of mixed bathing, when men and women entered the sea at the same time!
Visit the Geology Gallery to see an amazing collection of fossils, all found in North Norfolk. There are fascinating displays revealing why Cromer is renowned as a geological area of international importance, and you can learn about the famous West Runton Mammoth. The mammoth is Britain's oldest and most complete elephant fossil and in the museum, you're able to see some of its actual bones.
RELATED POST: 21 Museums in Norfolk You Won't Want to Miss!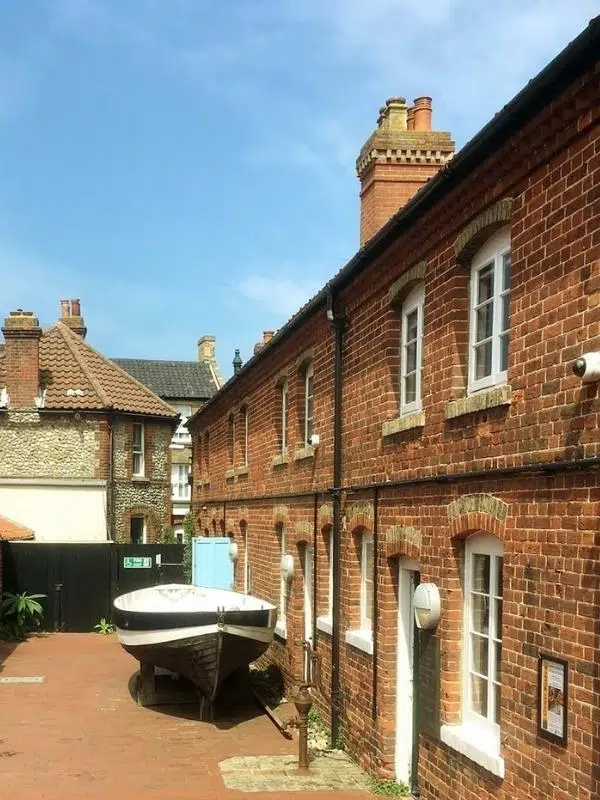 Take a Boxing Day Dip
The official Cromer Boxing Day Dip is managed by North Norfolk Beach Runners and takes place on – you've guessed it – Boxing Day! Dippers often wear costumes or Santa hats, and are required to throw themselves into the freezing North Sea and fully submerge, before they can say they have participated!
The dip helps to raise funds for charity and is supported by the Coastguard, RNLI and St John's Ambulance. The dip usually starts at 9 or 10am depending on tide times, so keep an eye on local news for updated information.
RELATED POST: Christmas in Norfolk – 45+ Dates for Your Diary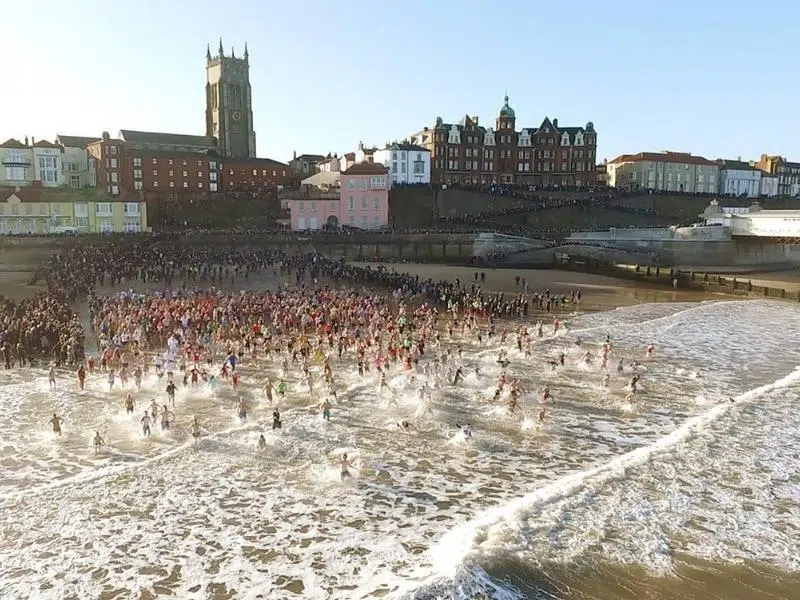 All the Best Things to Do Near Cromer
Hike the Norfolk Coast Path
One of Norfolk's best-loved long-distance trails, the Norfolk Coast Path passes Cromer on its route from Hunstanton in West Norfolk, to Hopton-on-Sea in south Norfolk, where Norfolk meets Suffolk.
The path runs for 84 miles and passes through the stark and beautiful landscape of the Norfolk Coast Area of Outstanding Natural Beauty. You'll visit Norfolk coastal towns and villages along the way, encounter tidal marshes brimming with wildlife, and cross wide sandy beaches under the huge skies that Norfolk is famous for.
It's easy to walk a section of the Norfolk Coast Path from Cromer. Either head west for 4.5 miles to Sheringham by following the cliff path past West Runton to climb over Beeston Bump, or east for 2 miles to Overstrand, starting along the beach following the soft cliffs that are rich in wildlife.
Once you've arrived, if you don't fancy walking back, stop for coffee or an ice cream and catch the Coasthopper bus back to Cromer.
RELATED POST: Walks in Norfolk – 14 of the Best Trails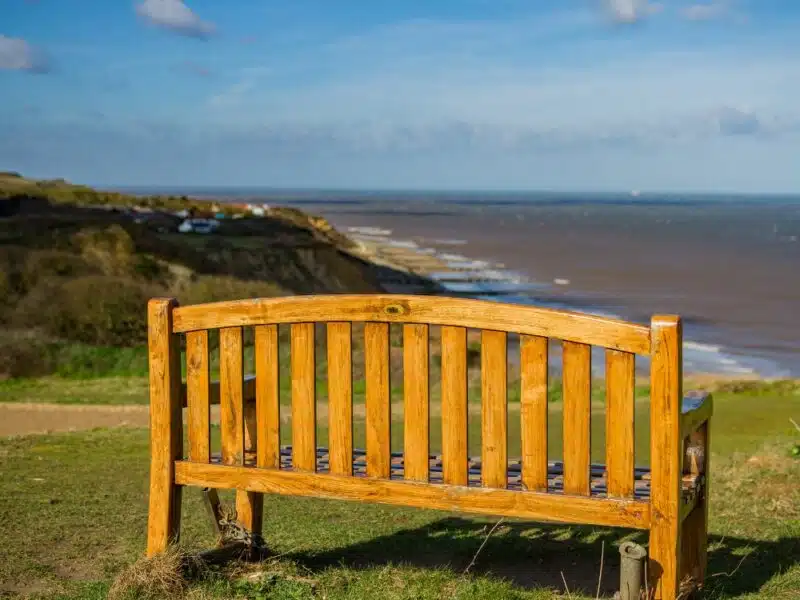 Visit Felbrigg Hall, Gardens & Estate
The sublime Felbrigg Hall is a 17th century English country house is one of the best places to visit near Cromer.
Run by the National Trust, the unaltered house is known for its fine Jacobean architecture and gorgeous Georgian interior and is one of the most popular places to visit near Cromer.
Outside is a colourful walled garden, considered one of the best gardens in Norfolk, an 18th century orangery, orchards over 500 acres or parkland, perfect for a summer afternoon stroll.
With nature trails, conservation projects and seasonal exhibitions, Felbrigg makes a great year-round attraction if you're visiting Cromer.
RELATED POST: A Local's Guide to Norwich Norfolk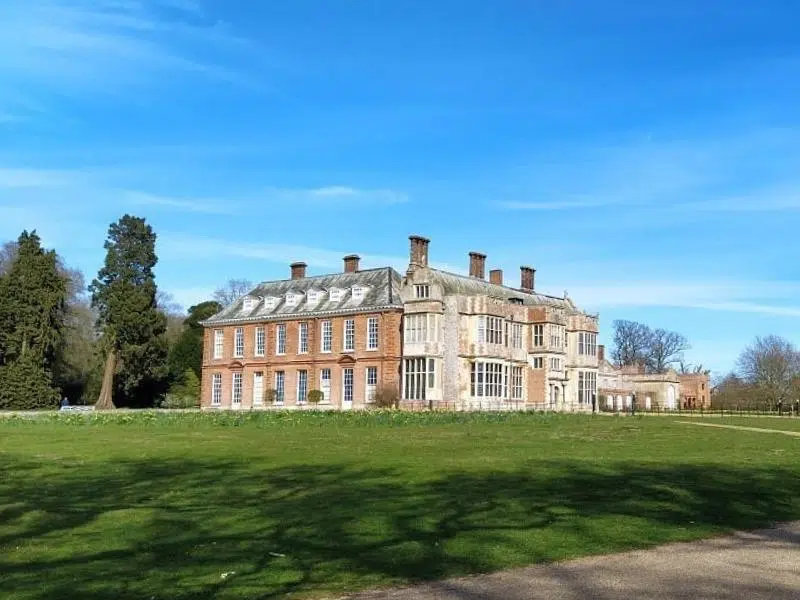 Explore Sheringham
One of the places to visit near Cromer, Sheringham is a traditional Norfolk resort town on the stunningly beautiful North Norfolk Coast, five miles to the west of Cromer.
Known for its fantastic beach, family-friendly vibe and beautiful surroundings, Sheringham is one of the most popular of Norfolk's seaside towns.
There's lots in Sheringham to keep you busy including a bustling town centre, a lovely sandy beach, several really good museums, and the wonderful North Norfolk Railway.
RELATED POST: 21 Amazing Things To Do in Sheringham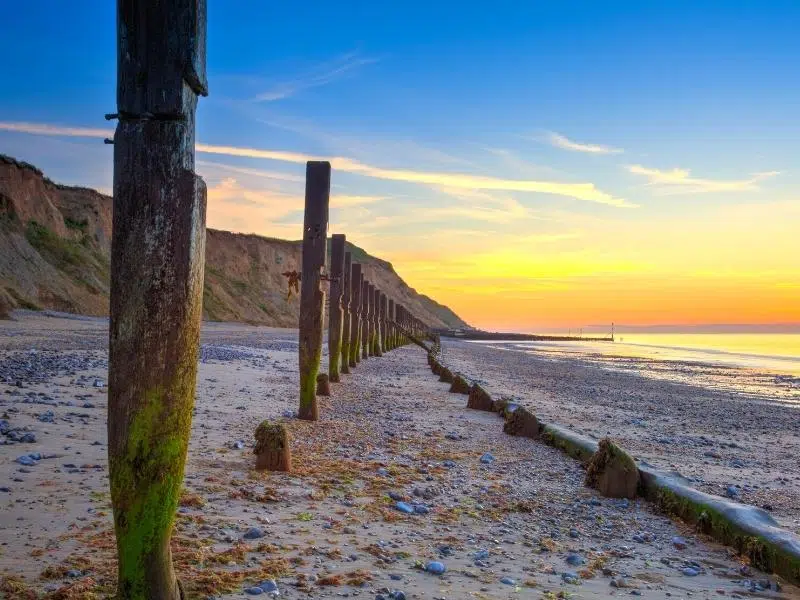 Discover the Deep History Coast
The Deep History Coast is made up of 22 miles of coastline from Weybourne to Cart Gap along the clifftops of the North Norfolk coast and is one of the best things to do around Cromer.
The Deep History Coast is where million-year-old footprints, the earliest evidence of humans in Britain, have been found, alongside the UK's biggest mammoth skeleton remains and a 500,000-year-old flint hand axe.
Exploring the Deep History Coast is a fascinating and fun day out for families, with lots of activities to help you understand the millennia of history in the area.
You can fossil hunt along the beautiful beaches between Weybourne and Cart Gap and follow the Discovery Trail to read fact-revealing discovery points along the way.
Try rock-pooling and fossil hunting at West Runton Beach, where the Steppe mammoth skeleton was found. It's common to find a fossil along this stretch, ranging from belemnites to hyena coprolites (fossilised poo!). The best time to hunt is after a high tide or heavy rainfall.
RELATED POST: Happisburgh: A Deep History Coast Village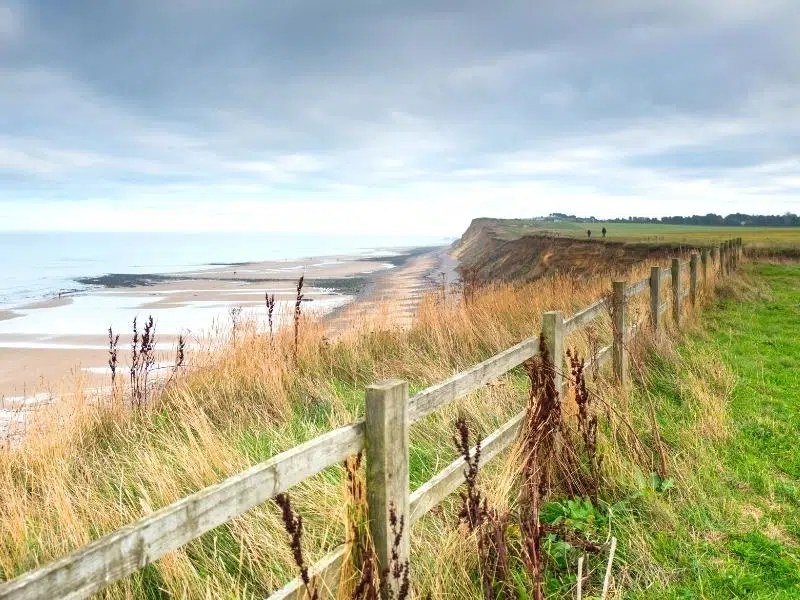 Have Fun at Wizard Maze & Play
Just three miles from Cromer, Wizard Maze and Play is a twelve-acre maize maze and field of fun, which opens late in July every year.
Alongside the maze, there are jumping pillows, tractor train rides around the maze, crazy golf, a zip wire, an interactive shed and craft shack and lots more for kids of all ages to enjoy. Little ones will love to make friends with Michael the Pony and the very cute Pygmy goats!
It's a great family day out for the kids to let off steam. You can take a picnic or enjoy the freshly cooked food from the Wizard Farm Café.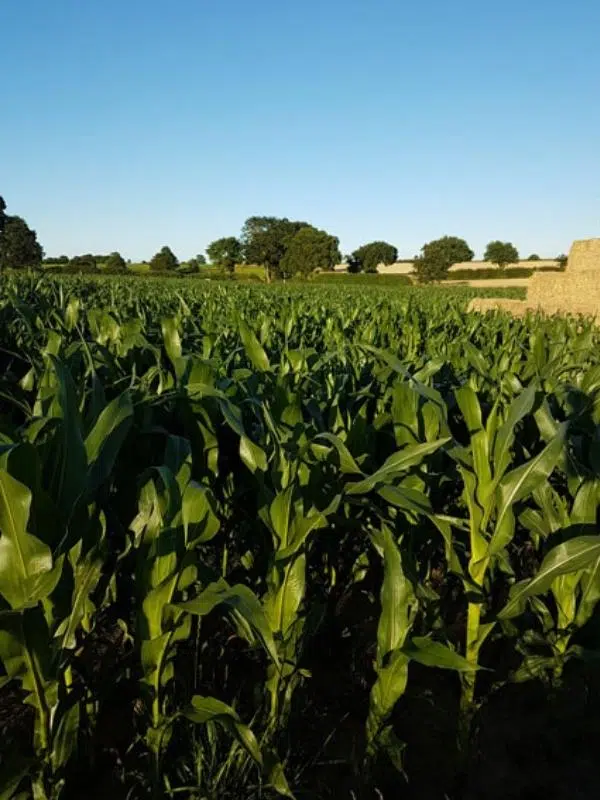 Discover Blickling Hall
Blickling Hall is a 17th stately home, blessed with a beautiful historic garden. The estate map of 1729 shows three radiating avenues meeting at the edge of the enclosed garden, near the house, with a woodland wilderness thought to date back to 1629.
Today, the formal gardens at Blickling Hall cover over 55 acres and include a lake, an 18th century temple, a parterre with yew hedge topiary, four large herbaceous plots in hot and cool colours, and an Orangery, which is home to hardy citrus trees.
For four centuries, Blickling's walled garden supplied enough produce to feed the many families who lived and worked on the 5,000-acre estate.
The garden was restored to its full glory between 2014 and 2021 after falling into disrepair, and now supplies produce to the cafes, for visitors to enjoy.
Don't miss the two secret tunnels, perfect for families to explore – the larger tunnel has tree stump seats where you can enjoy a picnic, or take a rest from playing hide and seek!
RELATED POST: 14 Stately Homes in Norfolk to Visit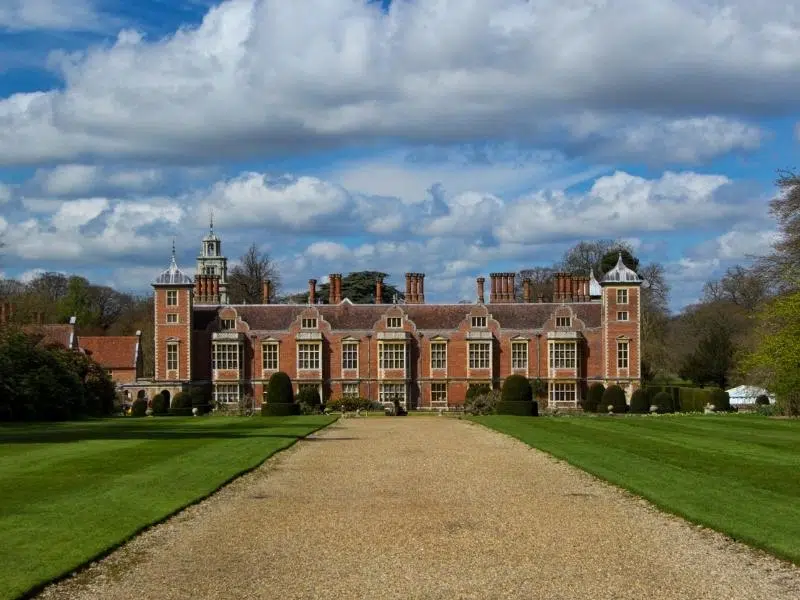 Visit the Hillside Shire Horse Sanctuary
Hillside Animal Sanctuary is a charity in West Runton, just a few miles outside Cromer. Founded in 1995 to help and campaign for animals in need, and most importantly, to bring public awareness to the millions of animals suffering every day in the intensive factory farming industry.
Hillside has given sanctuary to 2,500 horses, ponies and donkeys, and many of their residents have been rescued from the farming industry.
Today, Hillside is home to over 4,000 animals and is well worth a visit – but be warned, it's a moving and uplifting place, so you may need a few tissues.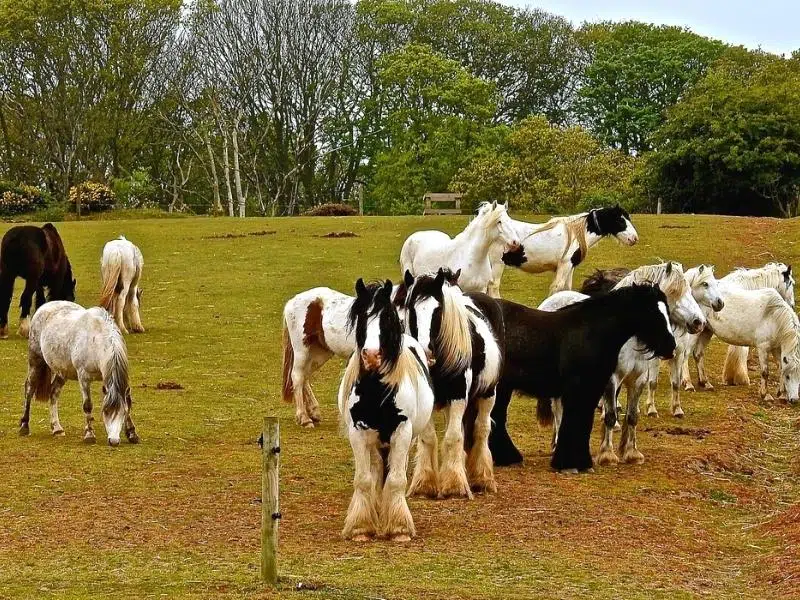 The Best Places Stay in Cromer
The Grove Cromer, Overstrand Road – A family-run 4-star country house hotel on the edge of Cromer town, just a ten minute walk to Cromer beach and a 20 minute walk to the pier.
Hotel de Paris, Cromer – Situated in an enviable position on the Esplanade at the head of the pier, the three-star Hotel de Paris has been a Cromer stalwart since 1830, not long after the first lifeboat station was built here. This must make it one of the oldest Norfolk hotels!
Cliftonville Hotel, Runton Road – This 3-star cliff-top Cromer hotel was opened in 1897. The Edwardian Grade II-listed hotel has an elegant style and features an original grand staircase and stained-glass windows and doors.
The Red Lion Hotel, Brook Street – The Red Lion Hotel is located in the east of Cromer, close to the Esplanade and RNLI Henry Blogg Museum, and provides award-winning food and rooms by the sea.
Cromer Country Club, Overstrand Road – With views of the picturesque Norfolk coastline and many health and leisure facilities, Cromer Country Club by Diamond Resorts is ideally placed for a delightful break in Cromer.
The Beach House, Brunswick Terrace – A stunning boutique holiday home for six, with an excellent almost seafront location and a hot tub!
Ogilvy House B&B, Mundesley Road – A luxury bed and breakfast in an imposing Victorian three-storey townhouse situated in a conservation area, close to Cromer town centre and in strolling distance from Cromer beach.
My Favourite Places to Eat in Cromer
With so much amazing local Norfolk produce on the doorstep, Cromer has a wealth of fantastic restaurants, cafés and bistros to be discovered.
The Old Rock Shop Bistro, Hamilton Road – A favourite spot for a casual weekend brunch, this popular family-run bistro-come cafe in the heart of Cromer has a welcoming feel and serves really good homemade and traditional meals and snacks.
The Grove Restaurant, Overstrand Road – This award-winning fine dining restaurant is known for its locally grown and seasonally inspired Norfolk food. Not only do they support local producers, but they also have their own fruit and vegetable gardens and poly-tunnel which supply the restaurant year-round, and this is reflected in their menu which is full of traditional dishes with a twist.
The Red Lion, Brook Street – This brilliant dog-friendly Victorian pub is right on the seafront in Cromer. Serving traditional pub grub, Sunday roasts and even a doggie menu, this is a perfect spot if you're planning on eating in Cromer.
Rocky Bottoms, West Runton – This is my favourite place for Cromer crab, which is actually in West Runton, three miles from Cromer on the coast road east to Sheringham. This is a locally run family business, where they catch crabs using their own fishing boat, and then feed you in their restaurant.
Upstairs No 1 Cromer, New Street – By far the best eat-in fish and chips in Cromer, if not the Norfolk coast! The restaurant has an enviable pier view and offers a simple menu where fish and chips are the stars of the show. Owned by the Michelin-starred chef Galton Blackiston, who also owns nearby Morston Hall, eating here is a real pleasure.
RELATED POST: Cromer Restaurants – 16 of The Best Places to Eat
Where is Cromer England?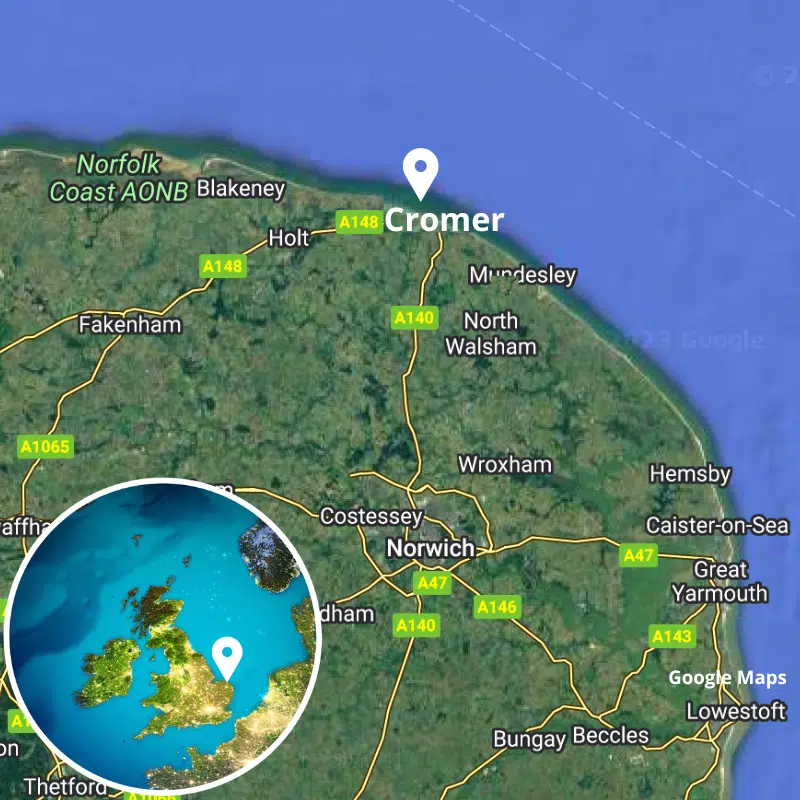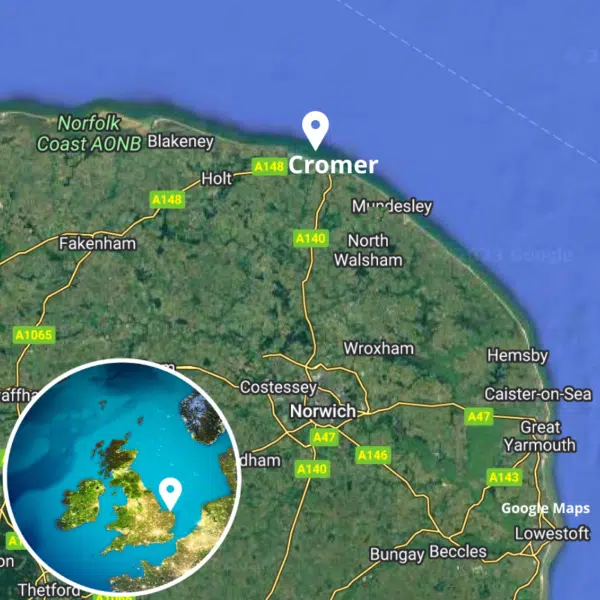 Cromer UK is a traditional seaside town in the North Norfolk district of Norfolk, in East Anglia.
Cromer Norfolk is located between stretches of coastal cliffs which are part of the Norfolk coastline area rich in fossils, known as the Deep History Coast.
Cromer lies 23 miles north of Norwich, 116 miles north-northeast of London, 14 miles east of Blakeney and 4 miles east of Sheringham. Nearby villages include Overstrand, Mundesley, East and West Runton, Felbrigg and Northrepps.
About Cromer in Norfolk
Surprisingly, Cromer is not mentioned in the 1086 Domesday Book. The place-name 'Cromer' is first found in a will of 1262, but there are other possible reasons for the derivation; a north-country word 'cromer' meaning 'a gap in the cliffs' or a direct transfer from a similar-sounding Danish placename.
In 1285 King Edward I granted Cromer a Friday market and an eight day annual fayre. The church of St Peter and St Paul replaced the two earlier churches, that of St Paul, which was a smaller church on the site of the present one, and St Peter, built close to the cliff edge and lost to the sea.
By 1565 Cromer was listed as a landing place with a small wooden pier and 117 households. Local wool merchants traded far and wide, and Cromer's boats crossed the North Sea to the Baltic Sea and even to Iceland and Greenland.
Cromer became a seaside resort in the early 19th century when the rich banking families of Norwich made the town their summer home. In 1883, Clement Scott, a London journalist, began to write about the area and named the stretch of coastline "Poppyland", in reference to the poppies which grow unchecked at the roadside and in meadows.
The combination of the railway reaching Cromer, the Grade II listed Cromer pier opening in 1901, Scotts writing in the national press and a visit by King Edward VII brought the town to prominence, and the first tourists to Cromer followed.
In 1804 the first Cromer Lifeboat Station was established. Since then, Cromer's lifeboat crew has worked tirelessly to save lives at sea and has become the most decorated RNLI lifeboat crew in history, celebrated in the huge stained glass windows in St Peter and St Paul church.
In 1820, the most prominent building on The Esplanade today was originally built as a coastal residence. In 1830, the building became the Hotel de Paris, in response to rising visitor numbers. Norfolk-born architect George Skipper extensively remodelled the building in the 1890s and today, the Grade II-listed Cromer hotel boasts an elevated location overlooking the town's pier and beach and still provides accommodation to visitors.
Cromer suffered several bombing raids during WWII, and on 5th December 2013, the town was affected by a storm surge which caused considerable damage to the pier and seafront.
In 2016, the Cromer shoal chalk beds, known as 'Britain's Great Barrier Reef' were officially designated as a Marine Conservation Zone. You can snorkel out from the beach to take a look at the reef formed in the Mesozoic Era when dinosaurs roamed Norfolk.
Getting to Cromer Norfolk
By Car
If you're driving from the north of the United Kingdom, pick up the A17 south at Newark-on-Trent and follow the route around the Wash to King's Lynn. This road is mainly single carriageway, and slow-moving agricultural traffic and trucks can cause delays, so build this into your travel plans.
If you're travelling from the Midlands, you'll come into Norfolk via Peterborough and pick up the A47 north and east to King's Lynn.
From King's Lynn, which is well worth a stop on the way through, pick up the A149 road before taking the A148 at Knight's Hill directly to Cromer.
From the south, the A10 brings you through Cambridge to Norwich on the A11 and around the ring road, before you pick up the A140 directly to Cromer.
Parking in Cromer
Wells Beach Car Park
There are plenty of car parks in Cromer, all of which require a short walk to reach the beach.
Runton Road Car Park
Grassy Runton Road NNDC car park, a ten minute walk to the pier along the clifftop path, is vast. You can also access the west Cromer beach from this car park by using the path down to the Esplanade.
Cadogan Road Car Park
Cadogan Road NNDC car park is a town centre car park with a ten minute walk to the beach.
Meadow Road Car Park
Also run by NNDC, Meadow Road car park is on East Road, close to the Old Town Hall by Cromer Pitch n' Putt and the Meadows play park, which makes a nice spot for a picnic.
There is also an electric vehicle charging point here and a limited number of 30 minute free parking bays.
Promenade Car Park
The Promenade car park on West Cliff, accessed via Melbourne Slope, has eight spaces and is for blue badge holders only.
Parking in North Norfolk District Council car parks in Cromer costs £1.50 for the first hour, and £1.20 for each hour thereafter. Runton Road parking costs £1.80 per hour.
You can use cash, a card or the MiPermit app to pay for parking.
There are toilet facilities in all these car parks.
By Train & Coach
You can get to Norfolk's capital city Norwich by mainline train from London in less than two hours. Take the regular Greater Anglia service from London Liverpool Street, which leaves every hour or so.
Once in Norwich, get the X44 bus from Norwich bus station to Cromer bus station. The journey takes around one hour and 20 minutes.
Alternatively, you can take a National Express bus service from Victoria Coach Station to King's Lynn. This takes around 6.5 hours depending on the time of day, and you do need to change at Norwich, but it's often much cheaper than the train, especially when booked in advance.
One in King's Lynn, get the Lynxbus Coastliner 36 to Wells-next-the-Sea and change onto the Coasthopper to Cromer.
Cromer Weather
Summer
If you're visiting Cromer for a Norfolk holiday or short break, the months of July and August offer the highest temperatures, topping out at 22°C (72°F), with around sixteen hours of sunshine a day.
The chances are there will be a breeze on the beach, as is normal for North Norfolk, and you should be prepared for the odd shower or two. Although East Anglia is the driest part of the UK, it has been known to rain unexpectedly – this is England after all!
Spring & Autumn
Outside of these months, all Norfolk coastal towns enjoy balmy weather in spring and autumn, although you should expect spring showers and autumn storms when winds are often high.
Winter
You'll enjoy crisp bright days in winter, perfect for long walks, kite flying and photographing those big moody skies.
The wind on the Norfolk coast can be bitterly cold, and there are the usual dull and drizzly days to contend with. Snow is also a possibility, so pack layers to help you stay warm.
What are your favourite things to do in Cromer? Scroll down to leave a comment!
Love it? Pin it!