Norfolk is a county that's perfect for a road trip. Blessed with beautiful landscapes, spectacular beaches, historic towns and the gorgeous Norfolk Broads, Norfolk will captivate you.
Chuck in grand stately homes, a fantastic local gastronomy scene and loads of really great attractions, and you have the ingredients for an incredible Norfolk break.
In this Norfolk road trip planner, you'll find a complete itinerary and road trip route that takes in all the best bits of Norfolk, with an interactive map to help you plan your trip.
We also share recommendations for places to stay where we have stayed ourselves, highlights and must-sees for each stop, and travel tips to help you make the most of your North Norfolk road trip.
About me – not Norfolk born and bred, but pretty close! I was bought up on the borders of Norfolk, spending many happy camping holidays meandering along the North Norfolk coast as a child. Now grown up, I have travelled all over the county and spend long periods of time in Norfolk with my family, who live there. Here's my Norfolk road trip itinerary…
RELATED POST: The Ultimate Local's Guide to Norfolk England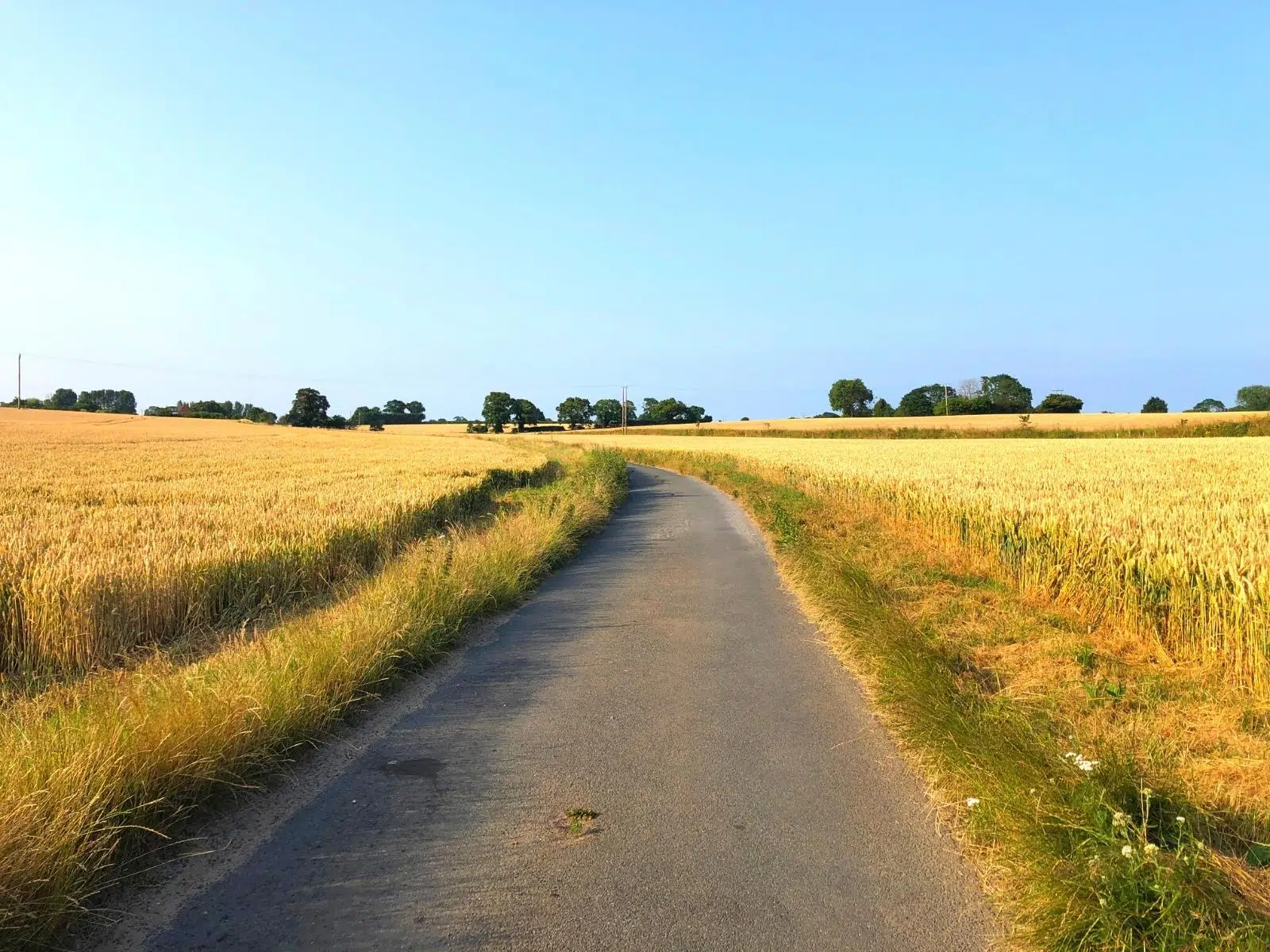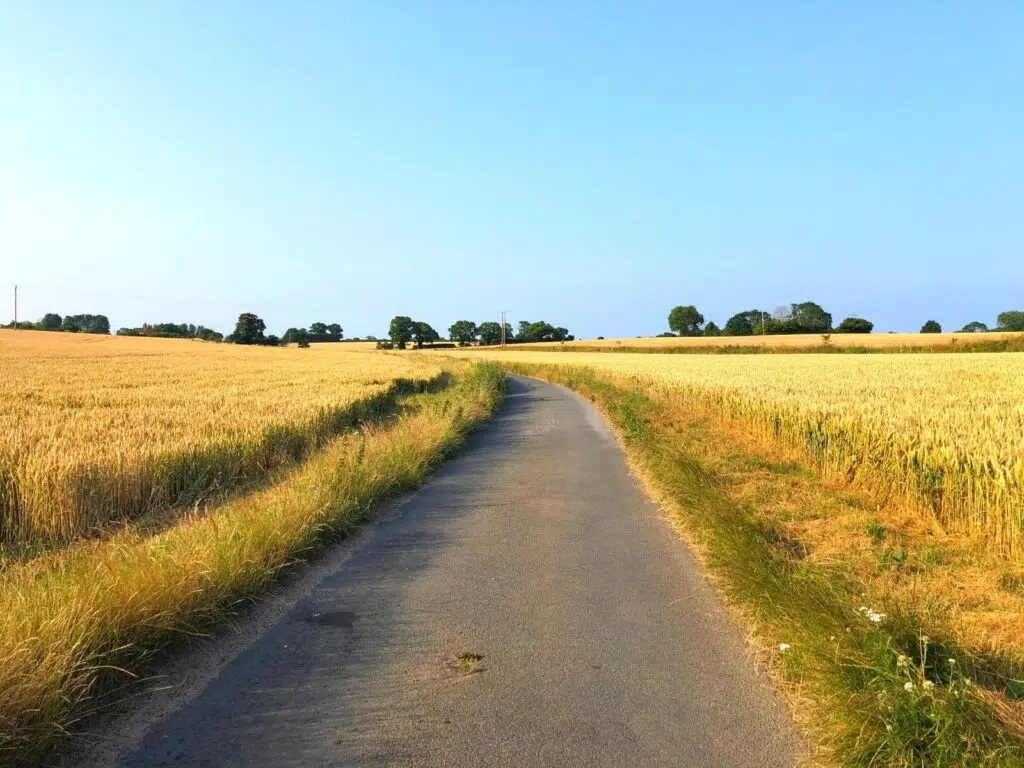 This post may contain affiliate links. If you book something I recommend, I make a small commission without affecting the price you pay!
The Ultimate Norfolk Road Trip
| | | |
| --- | --- | --- |
| Distance: 98 miles | Drive Time: 4 hours | Duration: 10-14 days |
Norfolk Road Trip Interactive Map
How to use this map – Use your fingers (or computer mouse) to zoom in and out. Click or touch the icons to get more info about a place, and click the arrow in the box top left to open the index. To add to your own Google Maps account, click the star next to the title of the map.
Norwich
Our road trip starts in Norwich, taking in the historic buildings, thriving food scene and lively nature of this delightful city.
The capital of Norfolk, Norwich is the most complete medieval city in the United Kingdom today and is a feast of history and architecture. Home to cobbled streets, ancient buildings, half-timbered houses and the winding River Wensum that flows through the city centre, there is lots to see and do here.
Getting to Norwich
Norwich, Norfolk is within easy reach of the rest of the UK, with great transport links. You can get there by mainline train in less than two hours. Simply take the regular Greater Anglia service from London Liverpool Street, which leaves every hour or so.
Alternatively, fly to Norwich airport, or London Stanstead and rent a car. Car hire is easy at both airports and you can organise a one-way rental, but be sure to book in advance.
Norwich Highlights
Shopping and feasting at 900-year-old Norwich market, one of the oldest open-air markets left in the country. Slap bang in the middle of the city and sprawling proudly at the feet of the contemporary Forum building and Norwich's Art Deco city hall, this is a Norwich must-do.
Visiting the Norwich Lanes, a series of mostly pedestrianised small lanes, alleyways and streets nestled between the market and the Castle Quarter, and home to the Victorian Royal Arcade, which personify the lively and independent nature of the city.
Discovering the well-preserved Norman Norwich Cathedral and nearby medieval Tombland Alley and Cathedral Close on a self-guided walking tour of Norwich.
Where to Stay in Norwich
A friendly B&B, 38 St Giles is full of character and quirky touches. Within a minute's walk of Norwich market, this guesthouse is right in the centre of the lively city. Spacious and simply decorated rooms with superbly comfy beds make for a wonderful stay.
Book a glamping yurt, converted goods wagon, shepherd's hut, bell tent or stunning tree-house-style woodland den at the beautiful Whitlingham Broad Campsite. With all the camping amenities you need and a wonderful location on the banks of Whitlingham Broad, you can be in Norwich city centre in a few minutes by car.
RELATED POST: A Local's Guide to Norwich Norfolk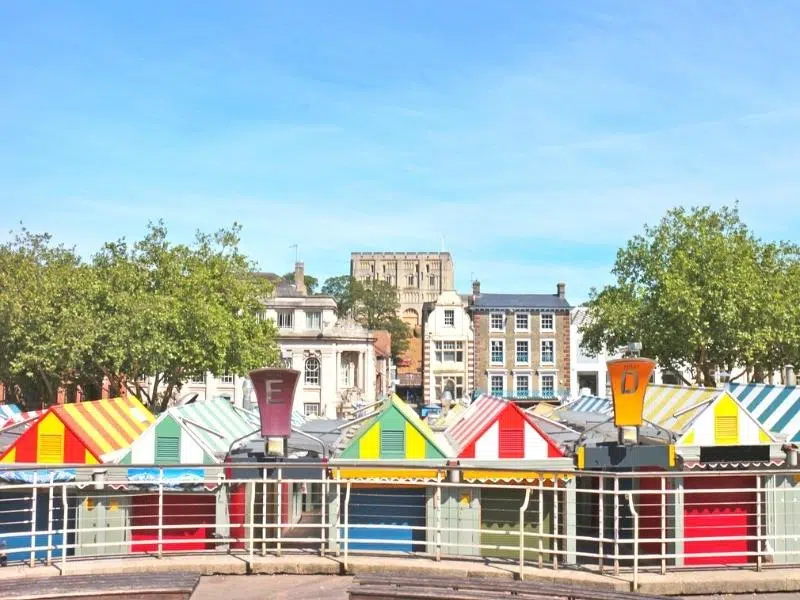 The Norfolk Broads
Today sees you heading east from Norwich, deep into the Norfolk Broads. Huge skies, undulating landscapes and LOTS of water make up the Norfolk Broads Area of Outstanding Natural Beauty, where rivers, lakes and sea combine to create a unique and diverse place full of natural beauty, wildlife and cultural heritage.
Britain's largest protected wetlands, the Broads are encapsulated in the Broads National Park and are home to over 125 miles of navigable waterways, and over a quarter of the UK's rarest plant and animal species.
Take your time and relax into the slow pace of life. The Broads and their rivers are tranquil places, where boats meander slowly alongside swans, owls and otters.
Norfolk Broads Highlights
Hiring a boat in Wroxham to appreciate the Broads from the water. Set off in a canoe on a Swallows and Amazons style adventure, or take to the helm and hire a day boat from Wroxham to explore the beauty of the Broads at your own pace. You can also take one of the skippered Broads boat trips that leave from Wroxham Bridge regularly throughout the day.
Enjoying a steam-driven trip on the fantastic Bure Valley Railway, Norfolk's longest narrow gauge railway, which runs between the historic market town of Aylsham and the bustling town of Wroxham. You'll take in the lush Bure Valley countryside as you follow the meandering River Bure through meadowland and ancient pastures, dotted with sheep and cows.
Exploring The National Wildlife Trust Hickling Broad Nature Reserve, a year-round haven for wildlife. You'll see the common crane, barn owl, bittern and marsh harriers here, and maybe Chinese water deer and otters too, as well as the local specialities of the swallowtail butterfly and Norfolk hawker dragonfly.
Where to Stay in the Norfolk Broads
The Kings Arms has three well-appointed award-winning garden rooms, four boutique bedrooms and a very good restaurant, serving refined pub classics and an excellent seasonal tasting menu, full of Norfolk foods.
RELATED POST: A Local's Guide to the Norfolk Broads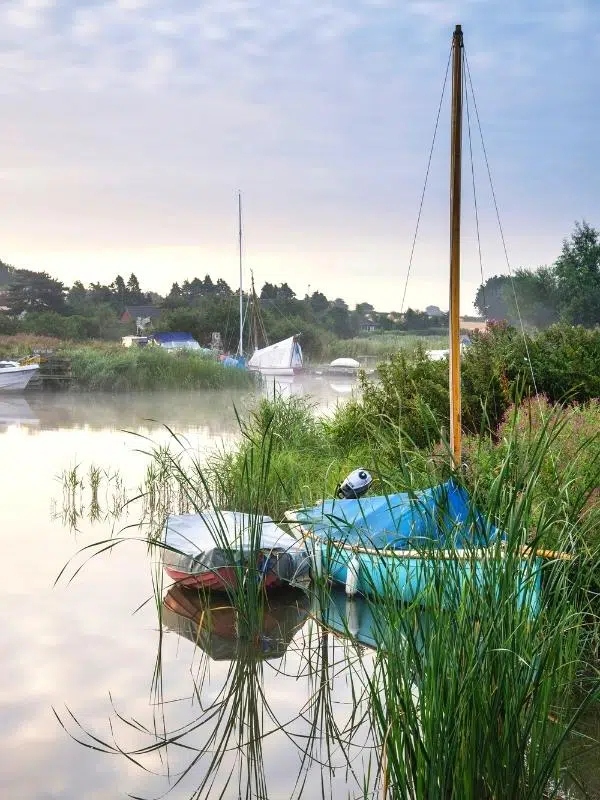 Happisburgh
A key place along Norfolk's Deep History Coast, Happisburgh (pronounced hayz·buh·ruh) is a prime fossil-hunting beach. The Happisburgh Beach Road car park is a Deep History Coast Discovery Point, where you can learn more about the first ancient tourists to Norfolk.
Just inland is the wonderful red and white striped Happisburgh Lighthouse, which is one of Norfolk's most iconic and photogenic landmarks.
Happisburgh is also the start point of the coast road which stretches along the North Norfolk coast, all the way to King's Lynn. You'll pass through pretty villages and mesmerising landscapes, and see lots of places en route to stop for lunch, or even afternoon tea!
Happisburgh & Around Highlights
Visiting the working lighthouse, which has open days where you can climb the 112 steps to the top for fantastic coastal views, and find out more about how the light is operated.
Visiting the glorious Blickling Estate, which is mentioned in the Domesday Book and was the birthplace of Anne Boleyn. One of Norfolk's top stately homes, the Jacobean house is packed full of history and outside are 55 acres of formal gardens with an orangery, kitchen garden and lake to explore.
Where to Stay in Happisburgh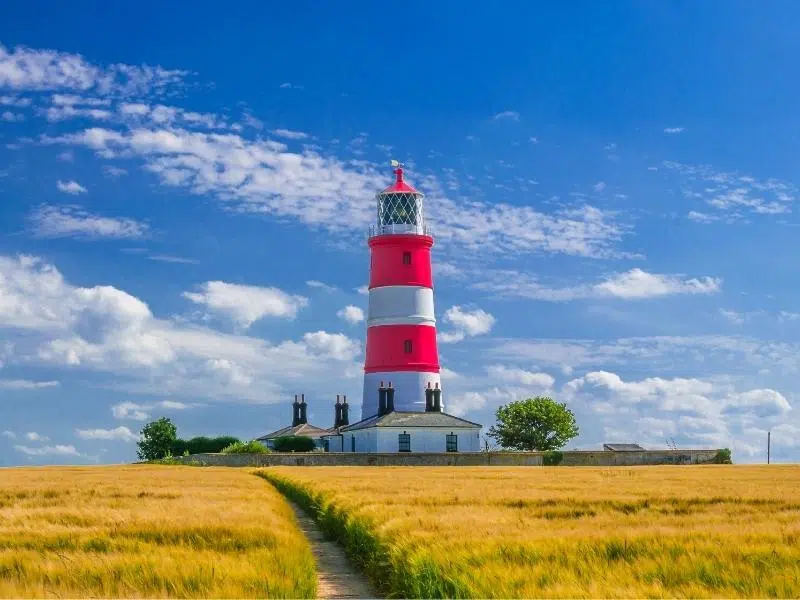 Cromer
Cromer is my favourite North Norfolk town! With lots to do and a traditional seaside feel, there's a laid-back vibe to Cromer which draws me in every time I visit.
From the blue-flag beach to the spectacular Victorian pier and the beautiful surrounding countryside, there are lots of things to do in Cromer, making it a great place to base yourself for a few days on your coast road trip of Norfolk.
Cromer & Around Highlights
Exploring Cromer Pier, a much treasured and loved heritage landmark along the Norfolk coast. You'll find a theatre, RNLI lifeboat station and cafe perched along its 151m length. Wander along with an ice cream, fish for crabs, and enjoy the holiday feel.
Finding out about the RNLI history in Cromer at the Pier Head lifeboat station, the old lifeboat house at the foot of the Gangway and at the RNLI Henry Blogg Museum.
Sampling the famous Cromer crab. The brown crab is found all around the coast of the UK, but off our stretch of Cromer, in the shallow nutrient-rich waters, brown crabs are sweeter and more tender than anywhere else! There are lots of restaurants in Cromer where you can enjoy the famous Cromer crab. Crab season runs from March to October and in May every year, it's the Cromer Crab and Lobster Festival!
Popping along the coast to the neighbouring seaside town of Sheringham, once an old fishing village that now has a blue flag pebble beach, which is perfect for rock pooling. Sheringham is also home to the wonderful North Norfolk Railway, known as the Poppy Line, which holds themed events throughout the summer.
Where to Stay in Cromer
The Grove Hotel is stylish and welcoming, offering rooms and glamping. They have an excellent restaurant and open-air dining with a sea view in the summer.
The Edwardian Grade II listed Cliftonville Hotel offers traditional seaside accommodation with period features and overlooks Cromer Beach. The popular bistro serves locally caught fresh seafood.
RELATED POST: Cromer Visitor Guide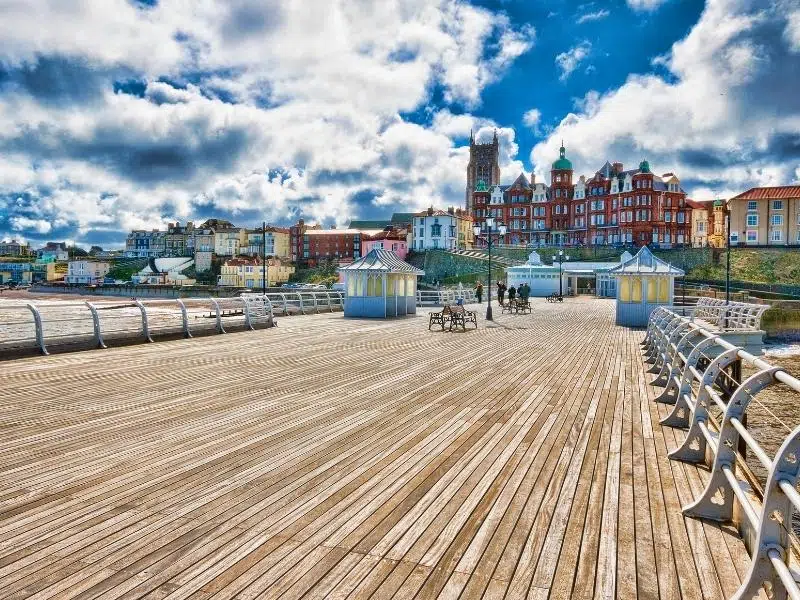 Blakeney
Blakeney, within the Norfolk Coast AONB, is a charming coastal village with bags of history, its very own nature reserve and an otherworldly watery landscape. Along with Blakeney Point, the Blakeney National Nature Reserve is home to England's largest colony of Atlantic Grey seals.
The pretty village is full of traditional Norfolk flint cottages which were once home to local fishermen, and a good collection of independent gift shops and art galleries to visit. The lively quay is buzzing in the summer, with lots to do, including crabbing, boat tours and visitors enjoying the outlook across the marshes.
Blakeney & Around Highlights
Walking the sea wall between Blakeney and Morston Quay to be blown away by sweeping views of muddy creeks, moored boats and a rich variety of seabirds.
Discovering the history at the ruined Augustinian Priory of Walsingham Abbey at Little Walsingham, a place of medieval and modern pilgrimage. The grounds are beautiful with gardens, woodlands and river walks.
Indulging at Wiveton Hall, a farm shop that sells lots of lovely local food and produce alongside a fantastic cafe, with views over the marshes to the sea.
Where to Stay in Blakeney
The award-winning Wiveton Bell is a traditional pub with rooms just outside Blakeney, in the pretty hamlet of Wiveton. Their six luxury rooms and a fantastic local menu showcasing the best of Norfolk produce, make this a wonderful place to stay.
The White Horse Blakeney enjoys a prime position in the village, just up from Blakeney's quay. The pub offers cosy, characterful and stylish rooms, alongside an excellent menu full of beautifully cooked seasonal and locally sourced produce.
RELATED POST: Blakeney Visitor Guide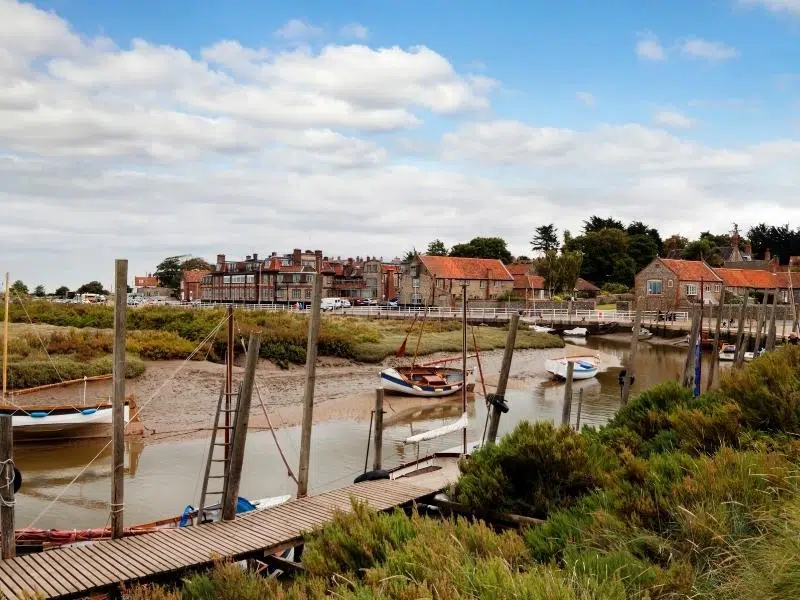 Wells-next-the-Sea
Known simply as Wells, the pretty harbour town lies between the bird sanctuary at Blakeney Point and the fabulous Holkham Bay.
With a harbour sheltered by salt marshes from the open sea, Wells was one of the great Tudor ports of East Anglia. Today, the harbour is used by sailing and crabbing boats and is watched over by a distinctive granary dating from 1904.
Set in North Norfolk's AONB, Wells town has a fine Georgian square and a good mix of independent traditional and contemporary shops.
Wells is probably best known for its long line of colourful wooden beach huts, which you can find if you take a walk through the pinewoods to beautiful Wells beach.
Wells-next-the-Sea & Around Highlights
Crabbing on Wells quay, the crabbing spot on the North Norfolk Coast. Yes, you can crab in lots of other places, but this is where you'll get the best catch because of the abundance of estuarial and creek waters that crabs like living in. I used to crab here every summer, and my kids crabbed here too!
Crabbing Tips
If you're new to crabbing, it involves dropping a baited line into the water and waiting for the crab to take the bait, so you can pull him/her gently up. All you need are a line, bucket, net and bait, which you can buy all over town.
When I was a kid, the best bait was raw bacon with rind (who knew?), but anything like chicken, small fish or even dog food works. I even used a bit from inside a pie once!
The best crabbing takes place as the tide is coming in – crabs are clever and know when the tide is heading out and bury themselves in the mud.
If you need to hold the crab, do so on either side behind the pincers.
Be prepared and have your bucket full of salt water with your net to hand.
No more than three crabs to a bucket, and try and keep the bucket shady. Crabs don't have much sun protection!
Wait – crabbing is a game of patience and you will be rewarded, I promise!
Don't keep the crabs too long, and definitely don't take them home as pets (the crabs you catch here are also not edible). Pop them back into the sea gently with thanks for being your captive!
Visiting the small village of Holkham, which boasts the 18th century Holkham Hall stately home, the vast Holkham Beach, properly known as Holkham Gap, and the Holkham National Nature Reserve. There's a lot going on here!
Spending a day on award-winning Wells Beach, with endless expanses of soft, golden sand perfect for sandcastle building, raised and sheltered dunes to picnic in, space to fly a kite or play games, and the beautiful clear water of the North Sea.
If crab (and lobster) is more your thing, the best place for fresh and local crab is Wells Crab House, a small family-run restaurant serving crab caught locally that day.
Where to Stay in Wells-next-the-Sea
The Globe has been beautifully revamped to just the right degree, meaning it's still at the heart of local village life, but offers luxuriously elegant accommodation in a central Wells location.
RELATED POST: Wells-next-the-Sea Visitor Guide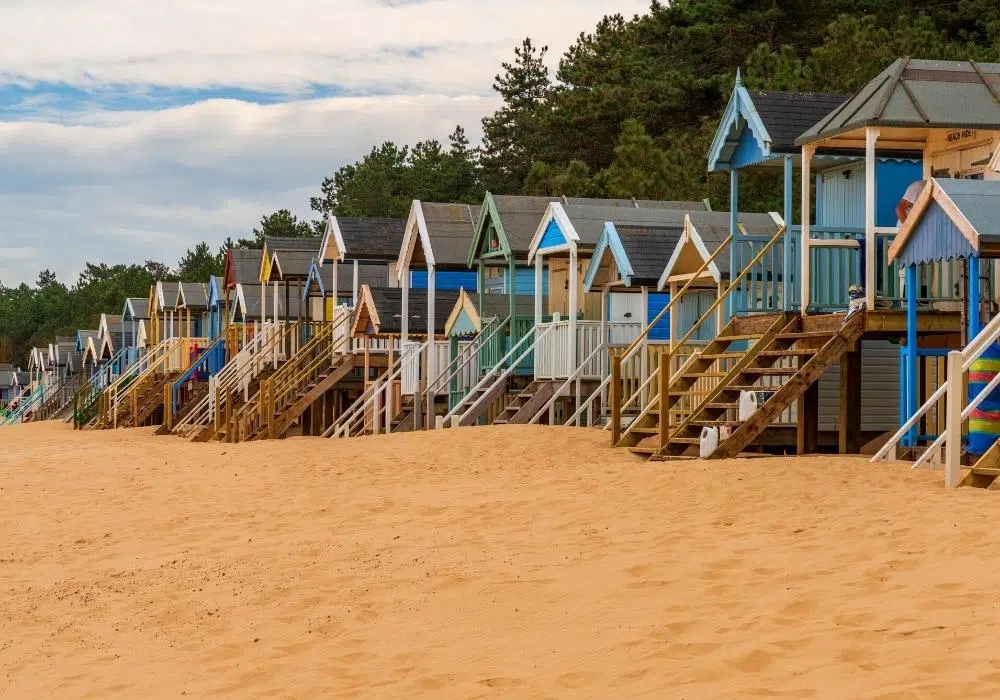 Burnham Market
Popular Georgian Burnham Market is one of the "seven Burnhams by the sea", which are located around the River Burn on the North Norfolk coast. The villages are all picture-perfect and unspoilt, with access to a stunning coastline made up of spectacular beaches and nature reserves.
Burnham Market is the largest Burnham and where you'll find quirky boutiques, cool coffee shops, antique shops, galleries, delicatessens and eateries around the village green, a favourite haunt of celebrities.
Steeped in history connected to the sea and the legacy of Admiral Lord Nelson, there's lots of interest in and around the Burnhams, with walks between the villages to take you to all the best historical spots.
Burnham Market & Around Highlights
Visiting Dalegate Market in Burnham Deepdale, where you'll find pop-up shops, local artisan crafts and the fantastic Deepdale Cafe, where they do a mean cooked breakfast!
Exploring Scolt Head Island National Nature Reserve, which you can get to by ferry from the quay at Burnham Overy Staithe, or by taking an adventurous hike and crossing from Overy Cockle Strand at low tide. Find out how here.
Take a tour and tasting at Burn Valley Vineyard in North Creake. All Burn Valley wines are grown, harvested, fermented and bottled on site and you can learn more about the wine-making process, and enjoy a tasting when you visit.
RELATED POST: Six Vineyards in Norfolk You Need to Know About!
Where to Stay in Burnham Market
The Hoste overlooks Burnham Market's picturesque central green and has been a hotel since the 1650s! The style ranges from traditional character (including Number 5 where Admiral Lord Nelson is rumoured to have stayed) to luxury overlooking the garden. There are a number of dining options from informal to brasserie and traditional. Book well in advance, this is a popular spot!
With a tad less style and hipster vibe, The Nelson nevertheless offers seven well-appointed and comfortable rooms in a traditional and welcoming country inn overlooking Burnham Market's village green
RELATED POST: Burnham Market – All You Need to Know Before You Go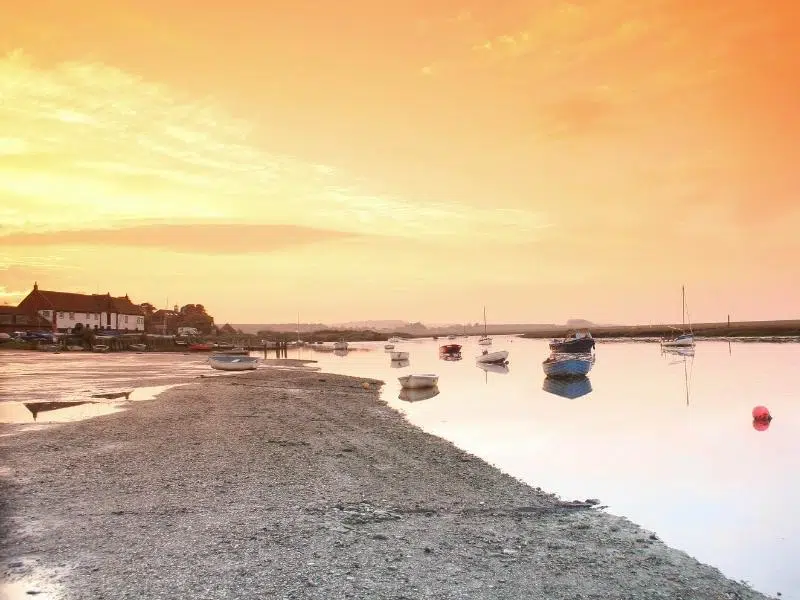 Thornham
Thornham is the perfect place to stay for a few days to explore the northwest coast of Norfolk. A small coastal village, Thornham is separated from the sea by marshes. The RSPB Bird Reserve at Titchwell is just two miles to the east and Holme Dunes one mile to the west.
An attractive year-round venue, Thornham is popular with walkers, bird watchers, photographers and artists, who flock here for the wonderful light and tranquillity of this part of Norfolk.
Thornham & Around Highlights
Spending a day at the huge Brancaster beach, which is blessed with soft sands perfect for picnics, sandcastle building and walking the dog. It's also a popular spot with kite surfers and kite flyers.
Hiking the Norfolk Coast Path, which runs for 84 miles from Hunstanton to Hopton-on-Sea, via Thornham, through the breathtaking landscapes of the Norfolk Coast Area of Outstanding Natural Beauty.
Birding at the RSPB Titchwell Marsh Nature Reserve, which is blessed with diverse habitats that include reedbeds, saltmarsh and freshwater lagoons where avocets, bearded tits and marsh harriers nest. There's also a wide sandy beach here, with wonderful views across the Wash.
Where to Stay in Thornham
Right in the centre of Thornham is The Orange Tree, an excellent restaurant that also has rooms. There are 17 stylish rooms dotted across the Courtyard, Old Bakery and Manor Lodge, all with their own unique features.
The Lifeboat Inn has been a long-time favourite for a pie and a pint after a long walk through the marshes. Their rooms are super comfortable, many of them have views to the sea, and their breakfast is legendary!
RELATED POST: Thornham: A Hidden Corner in North Norfolk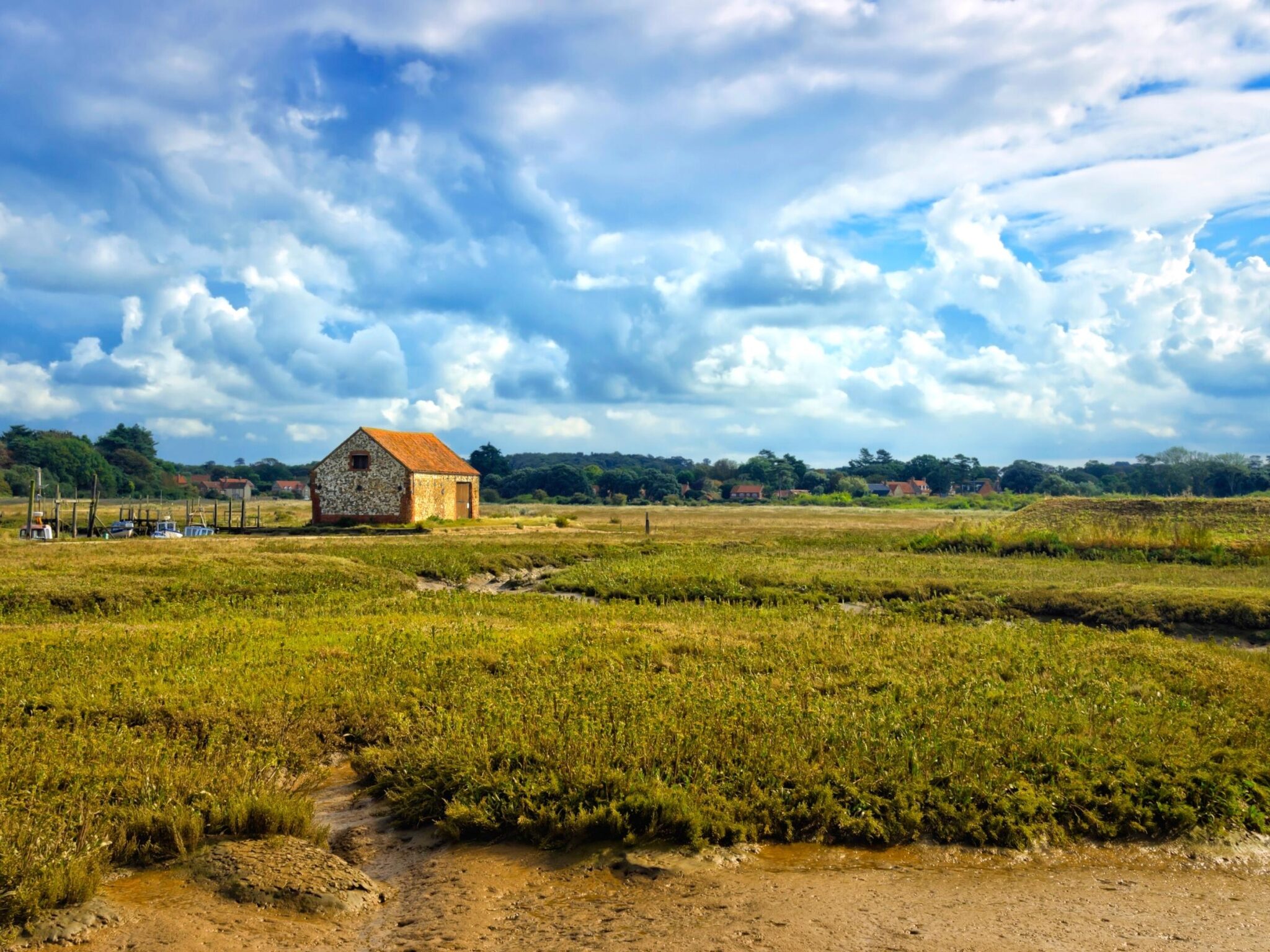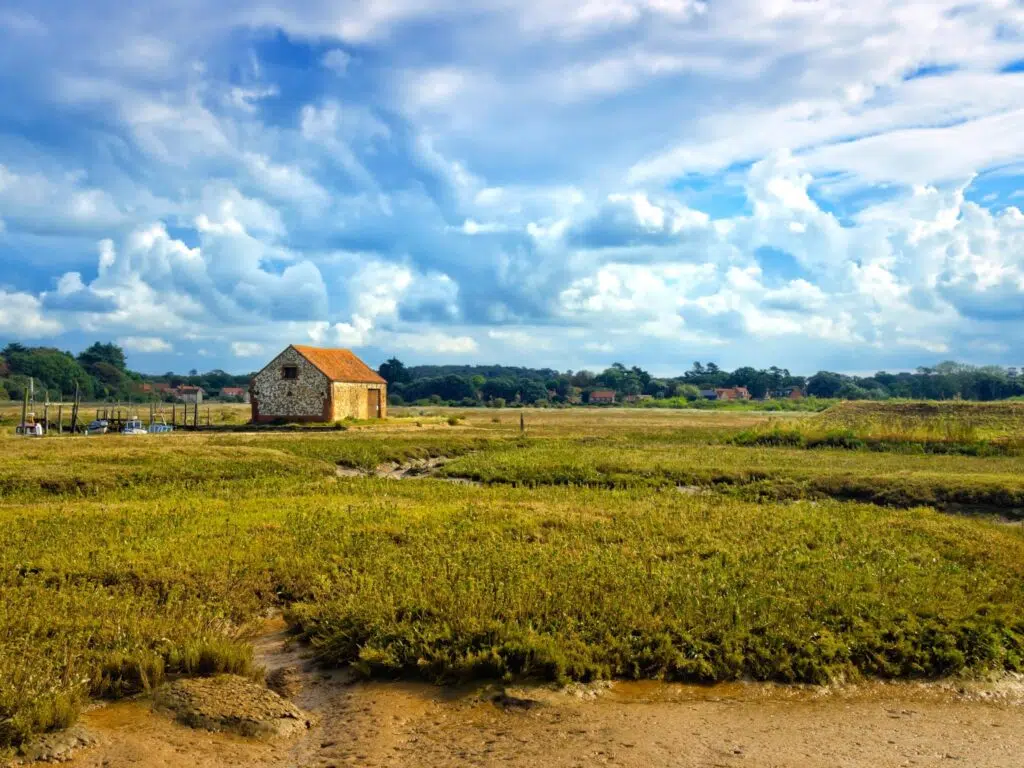 King's Lynn
Nestled in the western corner of Norfolk is the historic port and market town of King's Lynn. With a rich Hanseatic past, streets lined with period architecture and bustling marketplaces, King's Lynn is a great Norfolk town to end your road trip.
Spend a couple of days here so you can explore the town and learn about its rich history as one of the most important ports in England.
Lynn, as it's called locally, is also surrounded by stunning west Norfolk countryside and is just a stone's throw from huge sandy beaches and some of Norfolk's top attractions, making it a perfect stop for trips out and about.
King's Lynn & Around Highlights
Taking a walking tour of King's Lynn, one of the best ways to understand the town's architecture and story. Pick up free self-guided trail leaflets from the Tourist Information Centre in the Town Hall, or download them here. Choose from the maritime trail, Hanseatic trail, pilgrimage trail and King's Lynn town guides, or do them all!
Exploring the tranquil village of Castle Acre, home to the Norman ruins of Castle Acre Castle and Castle Acre Priory, one of the largest and best preserved monastic sites in England, dating back to 1090.
Visiting the 20,000 acre Sandringham Estate close to King's Lynn, where Queen Elizabeth II and the royal family gather for Christmas, reportedly her favourite home. Nearby, the Duke and Duchess of Cambridge, aka Wills and Kate, have their home, Anmer Hall.
Discovering the rich history of Oxburgh Hall, a 15th century moated manor house built by Sir Edmund Bedingfield, whose ancestors still live there today. The house consists of four domestic buildings around a courtyard, built from honeyed stone, and contained within a wide moat.
Going for a long walk on one of the nearby beaches. The shingle of Snettisham Beach is the closest beach to King's Lynn and Norfolk's only truly west-facing beach, perfect for watching the sunset. If you want sand, head to Hunstanton South Beach and all the holiday activities the lively seaside town of Hunstanton offers.
Where to Stay in King's Lynn
An elegant Georgian B&B, The Old Rectory offers light and airy rooms and a cooked to order breakfast in the heart of King's Lynn town.
Just outside town is Knights Hill Hotel and Spa. With everything on site from restaurants, bars and a health club including a spa and pool, this is a perfect stop to re-energise for a few nights.
RELATED POST: All the Best Things To Do in King's Lynn Norfolk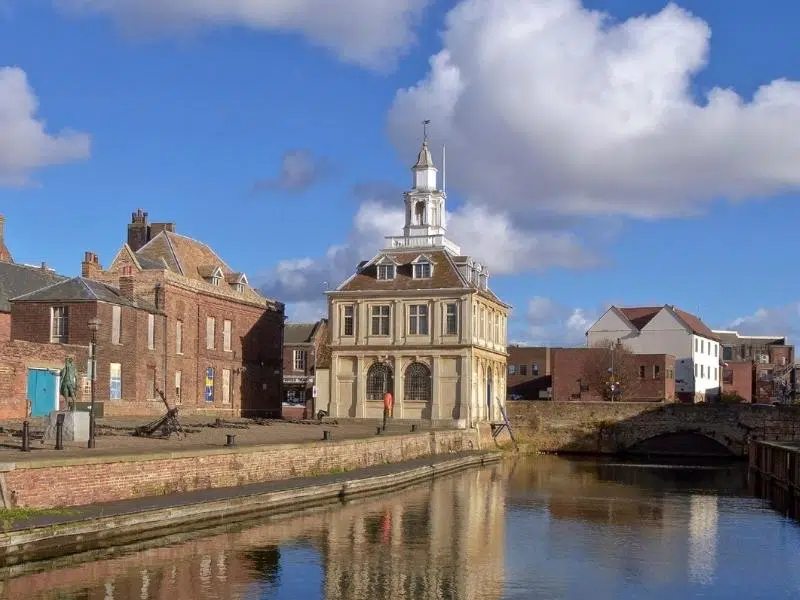 You've covered well over 100 miles of Norfolk countryside – did we miss anything you loved on your Norfolk coast road trip? Let us know below and we'll include it on our Norfolk itinerary!
Love it? Pin it!