Aylsham, a charming and historic Norfolk market town, is situated along the River Bure in North Norfolk. With a rich history dating back to the Norman Conquest, this picturesque town boasts a thriving traditional market square, surrounded by handsome buildings that make for an interesting visit.
Home to the Jacobean Blickling Hall and an important centre for linen and worsted cloth making for over 500 years, Aylsham continues to celebrate its heritage and local traditions as a Cittaslow town and home of Norfolk's slow food movement.
There's plenty to do for visitors to Aylsham, making the town an ideal destination and local base for those who seek history, culture, and natural beauty in Norfolk.
RELATED POST: The Ultimate Local's Guide to Norfolk England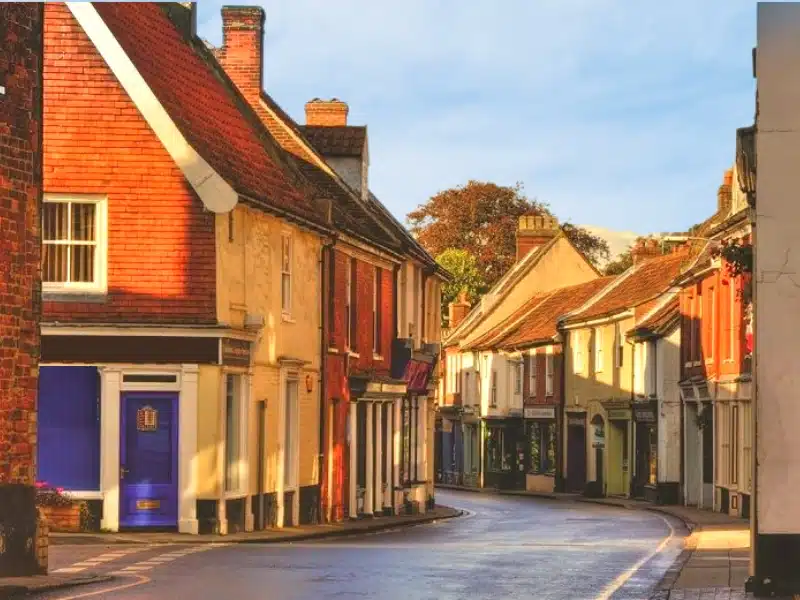 This post may contain affiliate links. If you book something I recommend, I make a small commission without affecting the price you pay!
Where is Aylsham Norfolk?
Connecting the traditional seaside town of Cromer and Norfolk's capital city of Norwich, Aylsham is nestled between the beautiful coast and tranquil Broads.
Reepham, North Walsham and Wroxham all lie within 12 miles of Aylsham, with the nearest beach being 12 miles away at Mundesley.
RELATED POST: 30 of the Very Best Things To Do in Norfolk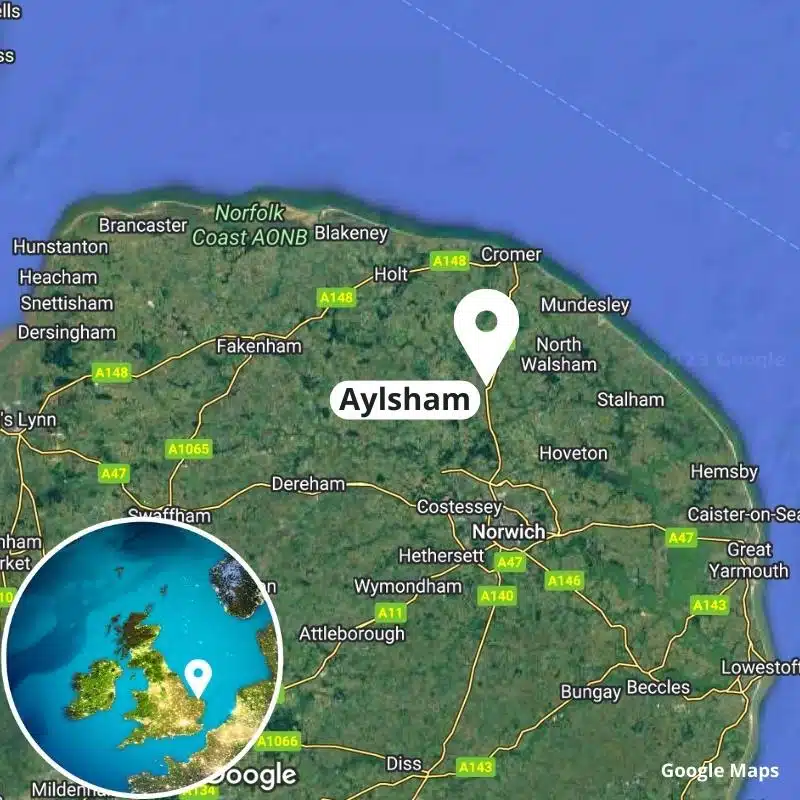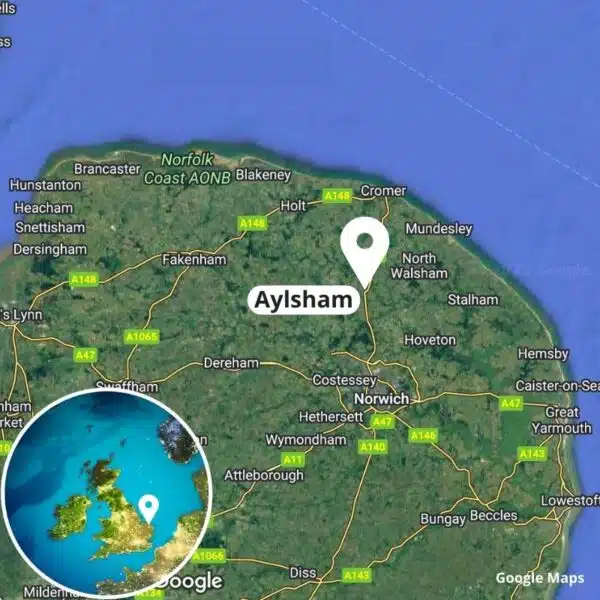 Aylsham- Getting There & Getting Around
Driving to Aylsham
If you're travelling from the north of the United Kingdom, pick up the A17 south at Newark-on-Trent and follow the route around the Wash to King's Lynn. This road is mainly single carriageway, and slow-moving agricultural traffic and trucks can cause delays, so build this into your travel plans.
If you're travelling from the Midlands, you'll come into Norfolk via Peterborough and pick up the A47 north and east to King's Lynn. From King's Lynn, which is well worth a stop on the way through, pick up the A148 to Thursford, before taking the B1354 to Aylsham.
From the south, the A10 brings you through Cambridge to Downham Market the A47 towards Norwich, before picking up the and around the ring road, before skirting around the city to Aylsham.
Parking in Aylsham
Burgh Road Car Park and The Buttlands Car Park are operated by Broadland District Council and offer 57 and 58 free parking spaces respectively.
There are also 28 spots on the Market Place, which are limited to 2 hours. Some of these places are taken by the twice-weekly market held on Monday and Friday.
RELATED POST: All the Best Things To Do in King's Lynn Norfolk
Getting To Aylsham by Public Transport
You can get to Norfolk's capital city Norwich by mainline train from London in less than two hours. Take the regular Greater Anglia service from London Liverpool Street, which leaves every hour or so.
Alternatively, you can take a National Express bus service from Victoria Coach Station to King's Lynn. This takes around 6.5 hours depending on the time of day, and you do need to change at Norwich, but it's often much cheaper than the train, especially when booked in advance.
Once in Norwich, get the Sanders Coaches 44, 44a, x44 or X40 bus to Holt, which stops at Aylsham Tesco / Bure Valley Railway, Aylsham Market Place and Aylsham Dunkirk.
RELATED POST: 22 Perfect Things To Do in Holt Norfolk
Getting Around Norfolk
The 44, 44a, x44 or X40 bus routes travel between Holt, High Kelling, Bodham, Sheringham, West Runton, East Runton, Cromer, Roughton, Alby, Aylsham, Marsham, Hevingham, Stratton Strawless, Hainford, Horsham St Faiths, Hellesdon and Norwich.
At Sheringham, you can pick up the CoastHopper 2 bus which connects with Trimingham, Sidestrand, Overstrand, Cromer, East Runton, West Runton, Sheringham, Bodham, High Kelling and Holt.
The CoastLiner bus at Wells-next-the-Sea connects with Sheringham, Holkham, Burnham Market and Brancaster before arriving at Hunstanton.
From Wells, you can also hop onto the CoastHopper 1 bus to Stiffkey, Morston, Blakeney, Cley, Salthouse, Weybourne, Sheringham, East Runton, West Runton and Cromer, meaning you can get to many of the best spots on the North Norfolk coast by bus.
For the Broads, head into Norwich and ride the Wherry Lines, Greater Anglian's Norfolk Broads train service.
How about getting around by bike? The Norfolk Coast Cycleway runs from King's Lynn to Great Yarmouth and the Rebellion Way is a circular route around Norfolk which passes through Aylsham. Both follow a network of byways, bridleways and quiet country lanes which are perfect for cycling and link pretty villages around the county.
These lanes, bordered by fields of wheat, hedgerows and woodlands see little traffic, which means you can explore the Norfolk coast at a leisurely and safe pace. The nearest place to hire bikes is Aylsham Cycle Centre at Marsham.
RELATED POST: North Norfolk Coast – 19 Unmissable Highlights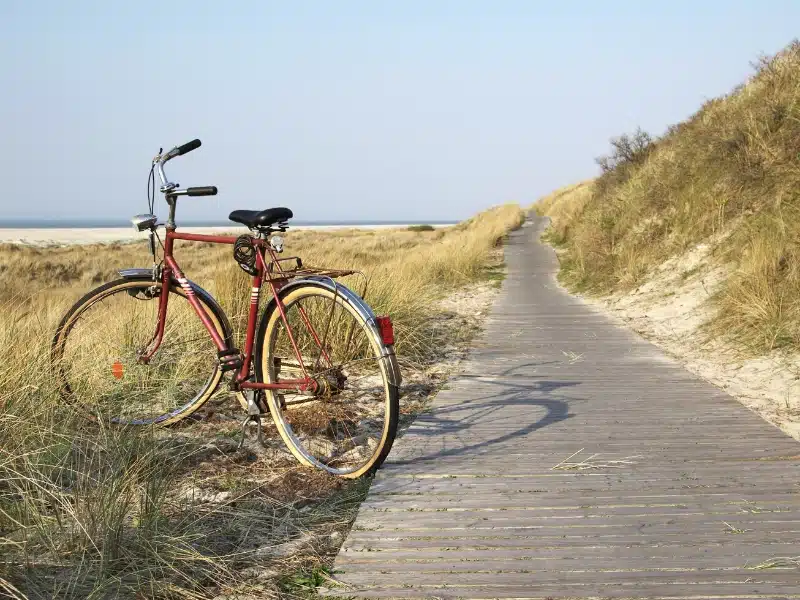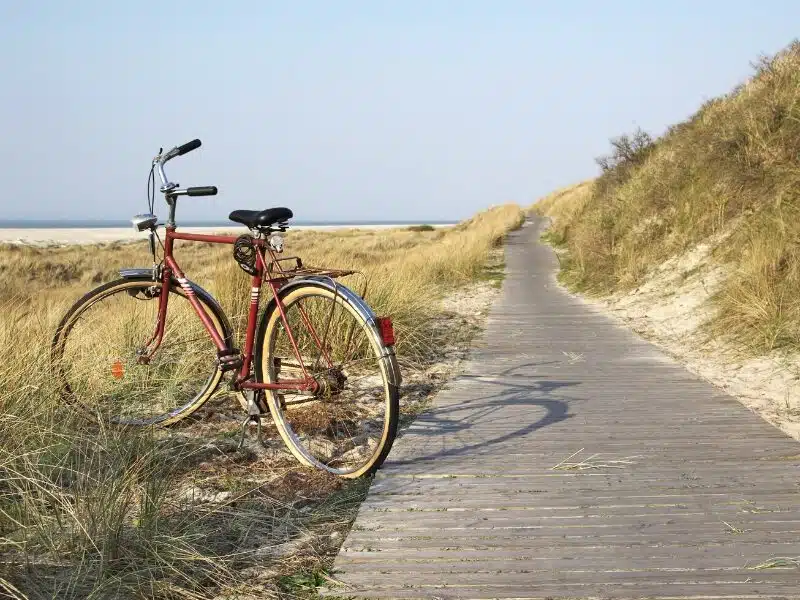 History of Aylsham (in brief!)
Aylsham is believed to have been founded around 500 AD by an Anglo-Saxon thegn named Aegel, with the settlement being called Aegel's Ham.
Aylsham is just over two miles from a substantial Roman settlement at Brampton which is linked to Venta Icenorum at Caistor St Edmund by a Roman road which can still be traced in places.
In recent years, Aylsham has had its own exciting find of a Roman settlement under the soil of Woodgate Nursery. The Aylsham Roman Project is a community-orientated organisation which holds annual digs, talks and presentations as they slowly uncover evidence of Roman life.
The town is mentioned in the Domesday Book of 1086 as Elesham and Ailesham, with a population of about 1,000. During this period, it is believed that Edward II visited the town and granted it certain privileges, contributing to its development.
In 1372 John of Gaunt, depicted on the town sign, was lord of the manor and Aylsham became the principal town of the Duchy of Lancaster. The locals enjoyed many privileges, including exemption from jury service outside the manor and from payment of certain taxes. In 1519 Henry VIII granted a market on Saturdays and an annual fair to be held on 12th March annually.
The weaving of local cloth brought prosperity to the town in medieval times. Aylsham's signature linen material was known as Cloth of Aylsham or Aylsham Webb and the material was used in the royal palaces of Edward II and Edward III in the 14th century.
From the 16th century linen manufacture declined and wool and worsted took priority until the coming of the Industrial Revolution. The principal trade of the town changed from the 19th century to grain and timber.
Today, Aylsham is the oldest established Cittaslow town in the UK. Cittaslow aims to improve the quality of life in towns by pioneering the slow food movement to prevent the disappearance of local food cultures and traditions by promoting the use of local produce and reducing the environmental impact of daily activities.
Even the Tesco store, which opened in July 2008 was built from wood, recyclable plastic and other sustainable materials and claims to be the 'greenest in the world'!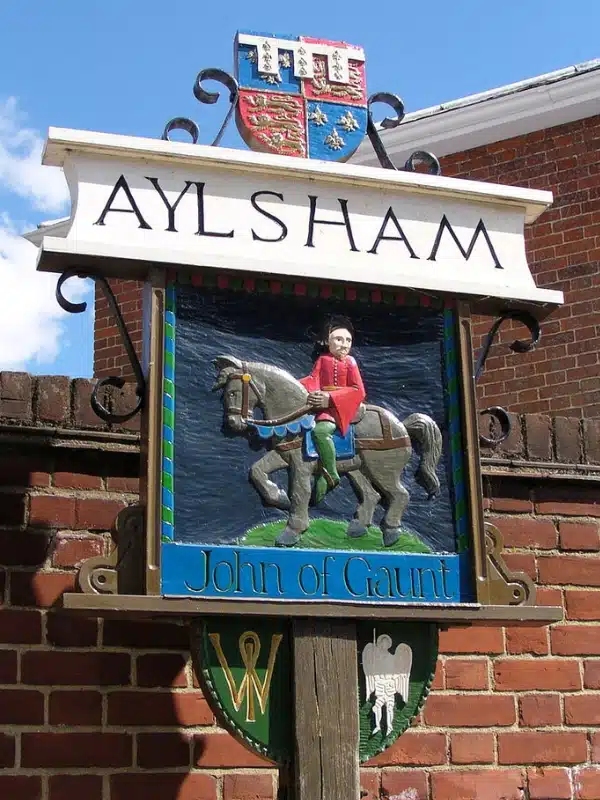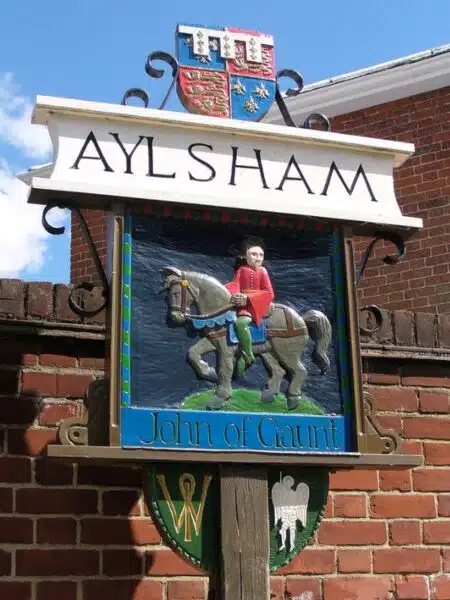 Things to Do in Aylsham
Explore the Town Centre
Aylsham's Market Place lies at the heart of the historical market town. Surrounded by handsome 17th and 18th century buildings, it has been a hub of local trade and activity since before the Norman Conquest.
Weekly markets and monthly farmers markets attract both locals and tourists with a variety of local produce and goods and allow traders to showcase their wares, including locally grown fruit and vegetables, and artisan crafts, offering shoppers the opportunity to support local businesses and discover unique treasures and Norfolk souvenirs.
One of Aylsham's oldest surviving buildings is the Black Boys Inn in the Market Place. The inn is so old it has its own ghost, the original owner who was killed in a fight with one of Oliver Cromwell's men. Buried in the grounds, his ghost was said to have haunted the inn in the 18th and 19th centuries.
For other historic buildings take a stroll along Hungate Street, White Hart Street and Penfold Street to see the thatched water pump which was built in 1911 at Carr's Corner. An artesian well of 170 feet / 52 metres deep, the canopy is thatched in Norfolk reed.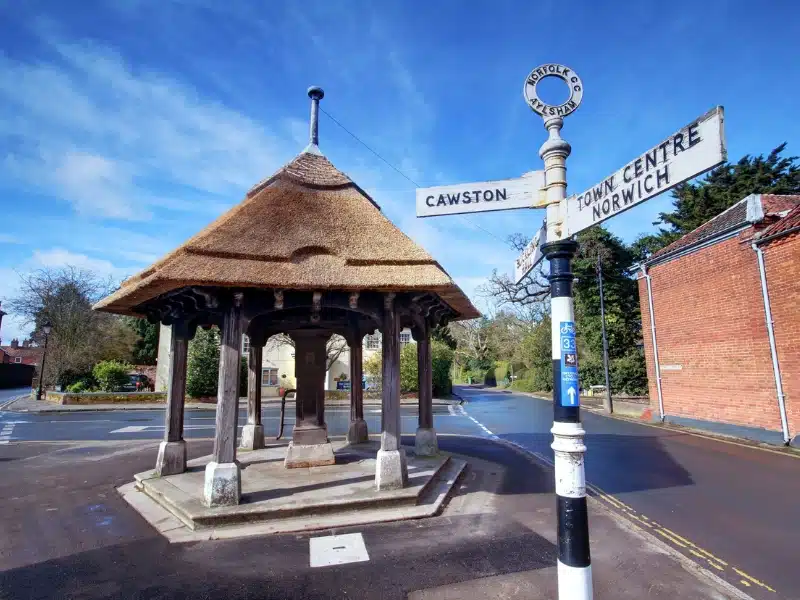 Visit Aylsham Heritage Centre
Aylsham Heritage Centre, located in the old church rooms within St Michael's Church grounds, serves as both a resource for locals to learn about their town's heritage and one of the town's tourist information points.
The Aylsham Local History Society, established in 1984, helps preserve these stories and organises events, lectures, and visits to showcase the town's unique past.
Take a Ride on the Bure Valley Railway
Experience one of Norfolk's best days out on the Bure Valley Railway, Norfolk's longest narrow gauge steam railway, which runs between Aylsham and the bustling village of Wroxham through the heart of the lush and tranquil Norfolk Broads.
The eighteen mile round trip on the puffing steam train takes in the gorgeous Bure Valley countryside following the meandering River Bure through meadowland and ancient pastures, dotted with sheep and cows. Along the line are wayside halts serving the picturesque Broadland villages of Brampton, Buxton and Coltishall.
Running alongside the entire length of the Bure Valley Railway and linking with the Marriott's Way Heritage Trail at Aylsham, is the picturesque Bure Valley Path, a nine mile footpath and cycle path, run by the Broads Authority. It's a great family day out to pack a picnic, walk or cycle the trail and then hop on the train back again!
RELATED POST: Steam Train Norfolk: 8 of the Best Journeys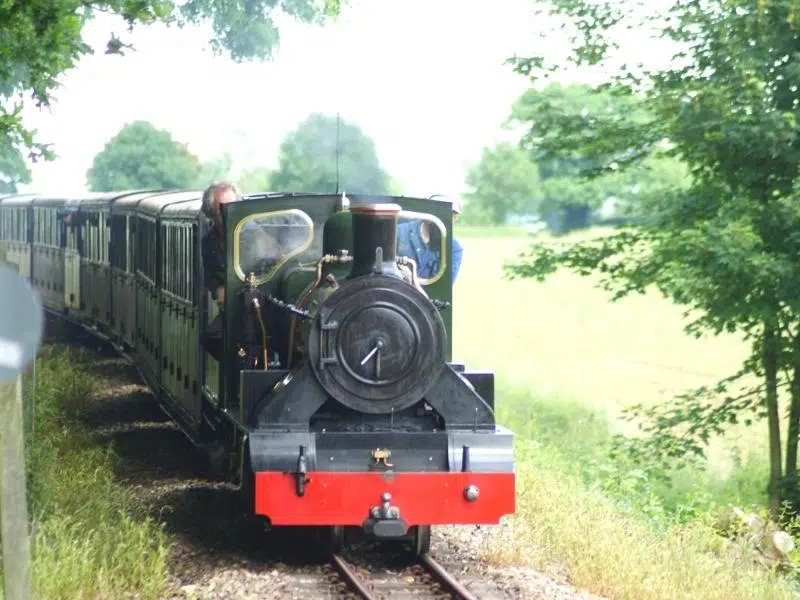 Discover Aylsham Church
The Church of St Michael and All Angels has a rich history dating back to the 14th century. A classic Norfolk wool church, it was built under the patronage of John of Gaunt, lord of the manor of Aylsham, and remains an active parish church today.
This Grade I listed building has undergone several transformations over the years, including a significant Victorian restoration in 1852 by the Reverand Edmund Yates, which saw the replacement of traditional box pews with seating for over 700 and the removal of galleries.
The church's tower is a rare example of its type surviving from the Middle Ages, and it holds ten bells, including the largest cast by Samuel Gilpin in 1700. The tenor bell is tuned to E flat and weighs an impressive 17 long hundredweight, 1 quarter, and 6 pounds (879lbs or 399kgs!). The churchyard also contains a very rare mortsafe, an iron grille placed over a grave to prevent body snatching.
The landscape gardener Humphry Repton, who was born in the neighbouring county of Suffolk in 1752, is buried in the churchyard and is commemorated with a memorial located outside of the chancel door. Repton had purchased a small county estate at Sustead, near Aylsham in 1778, and many of his earliest commissions were from local Norfolk landowners, and one of his last was Sheringham Park.
St Michael's remains an important part of the community, with regular services held and the reorganization of the interior in the later 20th century enabling the hosting of concerts, exhibitions, and a produce market.
RELATED POST: Norfolk Churches: 16 of the Best to Visit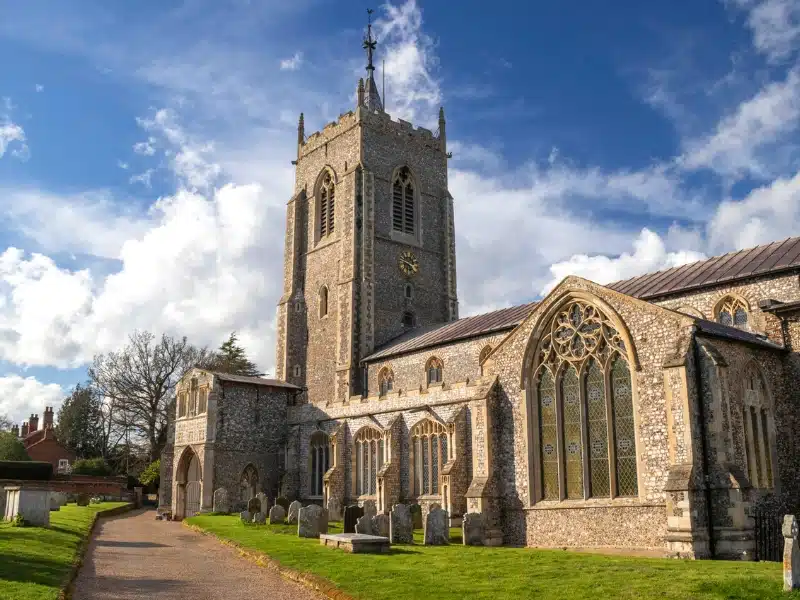 Enjoy Afternoon Tea
Biddy's Tearoom
Biddy's Tea Room on the Market Place is a vintage cafe with a warm and welcoming vibe. Named after the owner's dog, Biddy's is a riot of Victoriana and specialises in afternoon and high tea. All the cakes and products are made at their own bakery right in Aylsham.
The Old Tearooms
The Old Tearooms on Red Lion Street serve light lunches as well as a wide selection of delicious homemade cakes, scones and biscuits and their own cream tea.
Whistlestop Café
The Whistlestop Café at Aylsham station is run by the Bure Valley Railway. They offer pre-bookable afternoon tea which can be added onto your train ride as part of the experience, or taken as a stand-alone treat.
RELATED POST: Afternoon Tea in Norfolk – 15 of the Best Places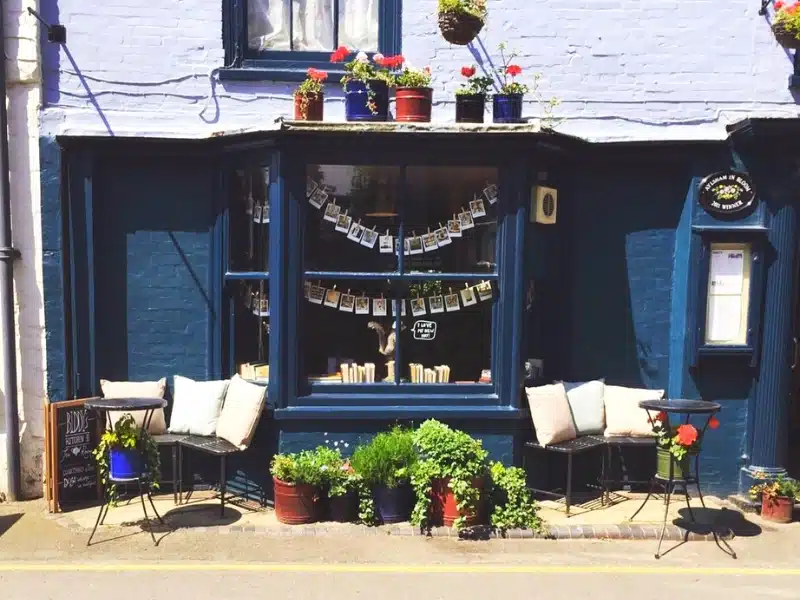 Have Fun at Urban Clay!
A contemporary paint-your-own pottery studio and café in the bustling market town of Aylsham, Urban Clay offers a welcoming and relaxed atmosphere.
Urban Clay makes for a great morning or afternoon holiday activity, birthday treat or fun experience where you can combine bringing out your creative side with a lip-smacking afternoon tea or tasty cocktails – no wonder they got a Tripadvisor Traveler's Choice award for 2023!
Annual Events in Aylsham
Aylsham Show
Billed as 'fun, food and farming for all the family', the Aylsham Show is held in Blickling Park on August Bank Holiday Monday every year.
With Norfolk farming favourites as well as local food, countryside-themed attractions, a funfair, classic cars, livestock competitions, dog agility and lots more, this is one not to miss!
October Food Festival
Celebrating the slow food movement, Aylsham's October Food Festival helps prevent the disappearance of local food cultures and traditions by giving voice and visibility to small-scale producers.
Held in the first week of October, the event is timed to coincide with the monthly Aylsham farmers market and also features 'An evening with' dining event, a wine tasting evening, a juggling chef in the Market Place, plus of course, the traditional Sunday brunch in the Town Hall.
RELATED POST: 26 Norfolk Food & Drink You Must Try!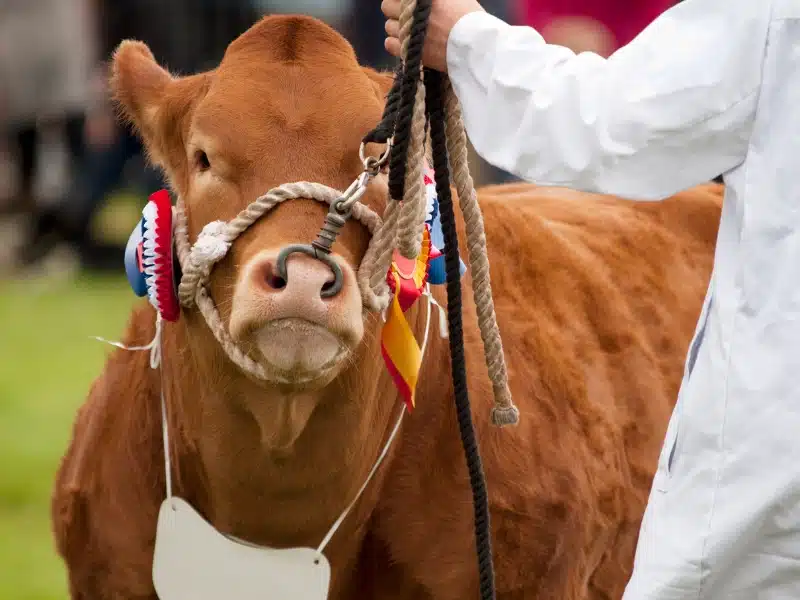 Things to Do Near Aylsham
Explore Blickling Hall
Just half a mile from Aylsham, Blickling Hall is mentioned in the Domesday Book. A Jacobean mansion packed full of history, with 4,600 acres of gardens and parkland to explore, the Blickling Eatste is managed by the National Trust.
The glorious 17th century Blickling Hall has been home to, amongst others, Anne Boleyn, World War II aircrew and Philip Kerr, 11th Marquess of Lothian, who was close to Churchill, and influenced many of his war decisions.
Interior rooms are styled in different periods from the Hall's history, telling the story through paintings, antiques and the furniture used by those that lived there.
The formal gardens at Blickling Hall cover over 55 acres and include a lake, an 18th century temple, a parterre with yew hedge topiary, four large herbaceous plots in hot and cool colours, and an Orangery, which is home to hardy citrus trees.
For four centuries, Blickling's walled garden supplied enough produce to feed the many families who lived and worked on the estate. The kitchen garden was restored to its full glory between 2014 and 2021 after falling into disrepair, and now supplies produce to the cafés, for visitors to enjoy.
RELATED POST: 14 Stately Homes in Norfolk to Visit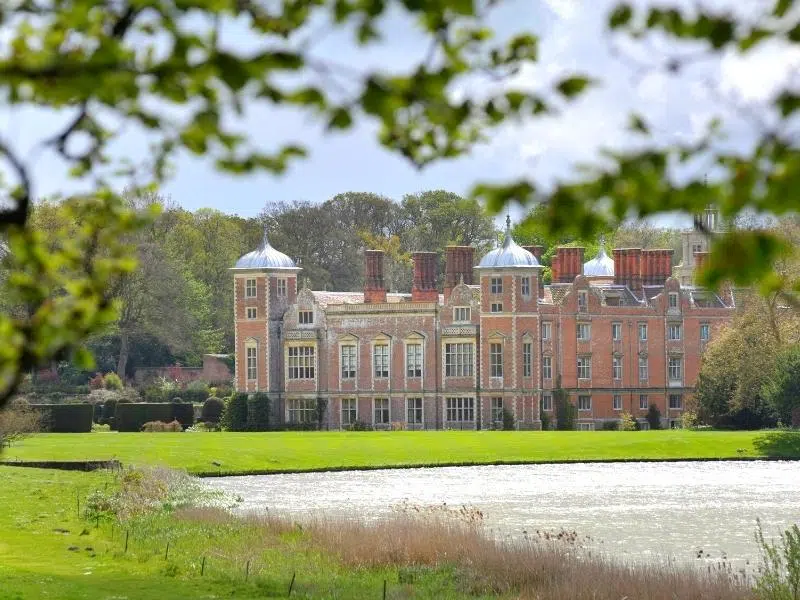 Walking Around Aylsham
Weaver's Way
The Weavers' Way runs from Cromer for 61 miles through the Norfolk countryside, taking in the National Trust properties of Blickling Estate and Felbrigg Hall, the pretty village of Hickling, iconic Thurne Mill and Breydon Marshes before arriving at Great Yarmouth on the east coast of Norfolk.
Named after the weaving industry which dominated medieval trade in Norfolk and gave the county its wealth, this historic trail passes through a diverse landscape of woodland, mixed farmland, historic country estates, disused railway lines and riverside walks, showing off the best of Norfolk.
Crossing Cromer Road in Aylsham, there are both short-distance and circular walks branching off the Weavers' Way around the town, ranging from 4 miles to 8 miles long, so there's something for everyone along this beautiful trail.
Marriott's Way Heritage Trail
The Marriott's Way is a 26 mile footpath, bridleway and cycle route, which follows the routes of two disused railway lines and runs between Barn Road in the medieval city of Norwich, and the Bure Valley Railway northern terminus in Aylsham.
The Marriott's Way has something for everyone, from families and casual walkers to ramblers, cyclists and horse-riders, and is accessible all year round. This is also one of the best walks in Norfolk for those less mobile who use wheelchairs or mobility vehicles, as there are suitable surfaces along much of the route.
Walk this trail for wonderful countryside, wildlife, public art, and a wealth of local history. Marriott's Way itself is a county wildlife site and passes through many interesting landscapes and wildlife-rich habitats, where you'll see a variety of birds, wildlife and plants, including kestrel, owl, hare, deer and butterflies, and if you're lucky, you may see otters or kingfishers!
RELATED POST: Walks in Norfolk – 14 of the Best Trails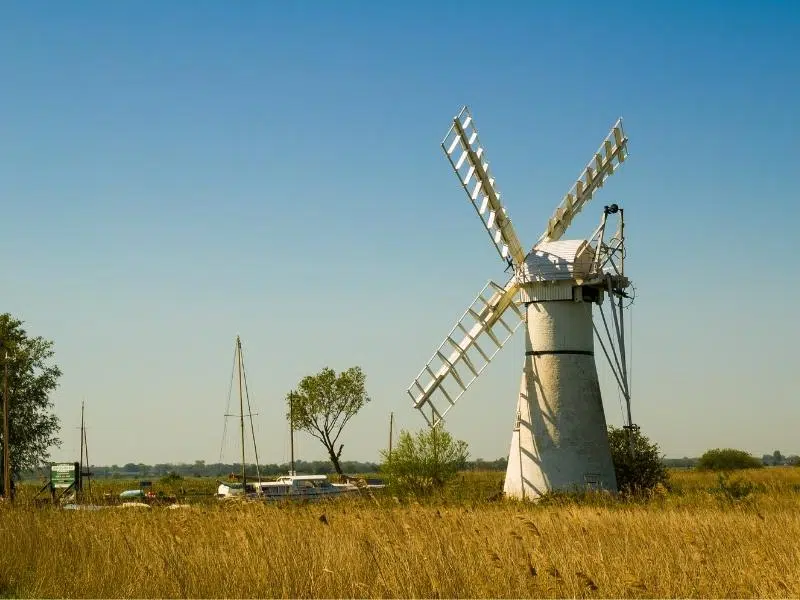 Spend a Day in Cromer
Cromer is my favourite Norfolk town and as it's so close to Aylsham, it should definitely be on your list! With lots to do and a traditional seaside feel, there's a laid-back feel to Cromer which draws me in every time I visit.
There is plenty to keep families busy in Cromer. With a growing foodie scene including the famous Cromer crab, a fabulous pier to be explored, a blue flag kid-friendly beach, a surf school and lots of other great things to see and do, Cromer is one of North Norfolk's top holiday destinations.
RELATED POST: 22 Of The Best Things To Do in Cromer Norfolk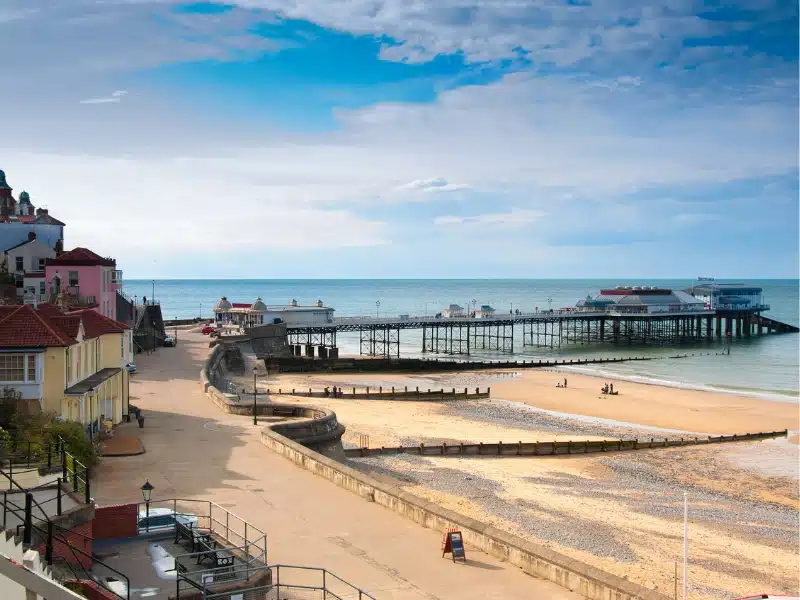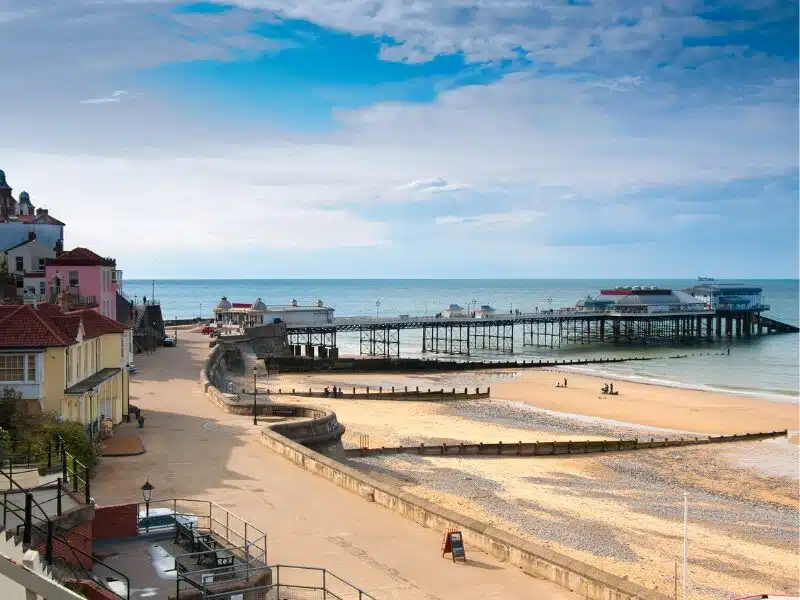 Cycle the Rebellion Way Cycle Path
Launched in October 2022, the Rebellion Way is a 232 mile (373km) long-distance cycling route in Norfolk, showcasing the county's finest scenery, history and attractions.
As well as taking in Norfolk highlights like Norwich, King's Lynn and the North Norfolk Coast, the route also passes through Aylsham as it comes south from Sheringham on route to Wroxham and the Norfolk Broads, taking in endless skies, vast beaches, winding rivers and pretty villages.
RELATED POST: Rebellion Way: Norfolk's Most Exciting Cycle Route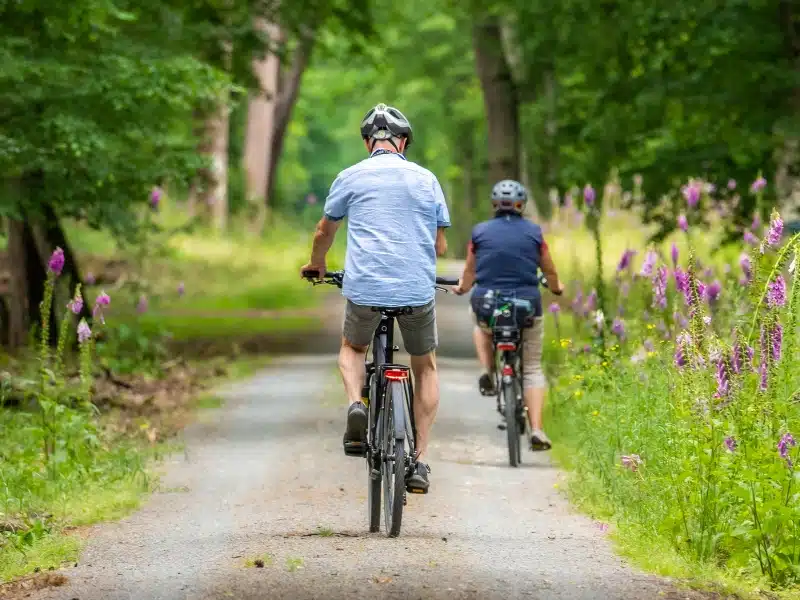 Visit Redwings Horse Sanctuary
Redwings believe that every horse, pony, donkey and mule has the right to a happy and healthy life, free of fear and neglect. They rescue abandoned, mistreated and neglected horses and donkeys from across the UK, giving them a safe place to live and providing essential veterinary treatment, rehabilitation and lifelong care.
Redwings Aylsham is home to almost 90 residents including real-life Black Beauty Maya and donkey duo Wiggins and Wacko. You can meet the residents nose-to-nose, hear their stories and find out more about Redwing's work at the Aylsham sanctuary.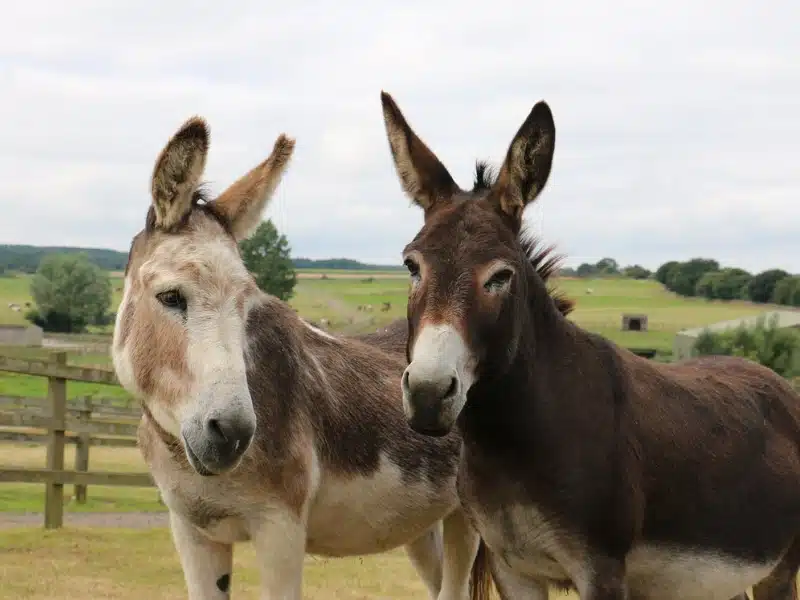 Discover East Ruston Old Vicarage Garden
This is absolutely my favourite garden to visit in Norfolk! Privately owned and managed, East Ruston is set over 32 glorious acres, close to the North Sea. Make sure you pick up a garden map to help you make the most of your visit.
There's a real mix of planting here, from lush green exotics to a jumble of traditional English cottage garden planting. There's a large swathe of prairie planting, gorgeous glasshouses and lots of interesting corners, archways and doorways that demand you explore!
Whenever you visit, East Ruston has something interesting going on. Spring is a particularly vibrant time and the Dutch garden is full to bursting with gorgeous tulips in every direction, heralding the arrival of warmer weather.
The Apple Walk has many old varieties of espaliered apple trees with a fabulous carpet of violet nepeta at their feet and passes through a wildflower meadow with a wildlife pond. The photogenic gap in the hedging at the end of the walk focuses on the view of Saint Mary's Church in Happisburgh sitting on the cliff two miles distant.
RELATED POST: The 21 Best Gardens in Norfolk to Visit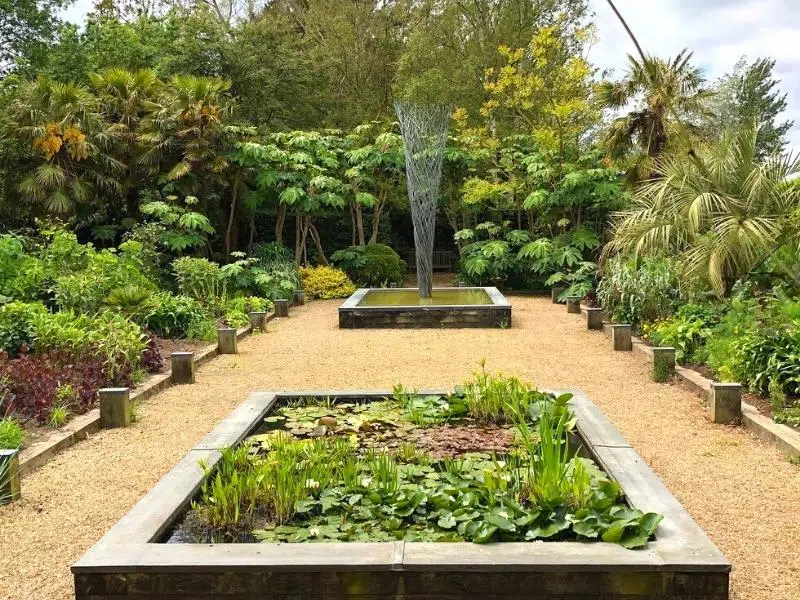 Explore the Norfolk Broads
Huge skies, undulating landscapes and LOTS of water… the Norfolk Broads are an Area of Outstanding Natural Beauty in Norfolk, where rivers, lakes and sea combine to create a unique and diverse place full of natural beauty, wildlife and cultural heritage.
With breathtaking scenery, plenty of attractions for the whole family, boat trips, riverside pubs, pretty market towns and great walking, it is no surprise that people have been flocking to the Norfolk Broads since the 19th century!
Add in the slower pace of life and tranquil atmosphere of The Broads, and you've got all the ingredients for an amazing Norfolk day out.
RELATED POST: 26 Exciting Things To Do On the Norfolk Broads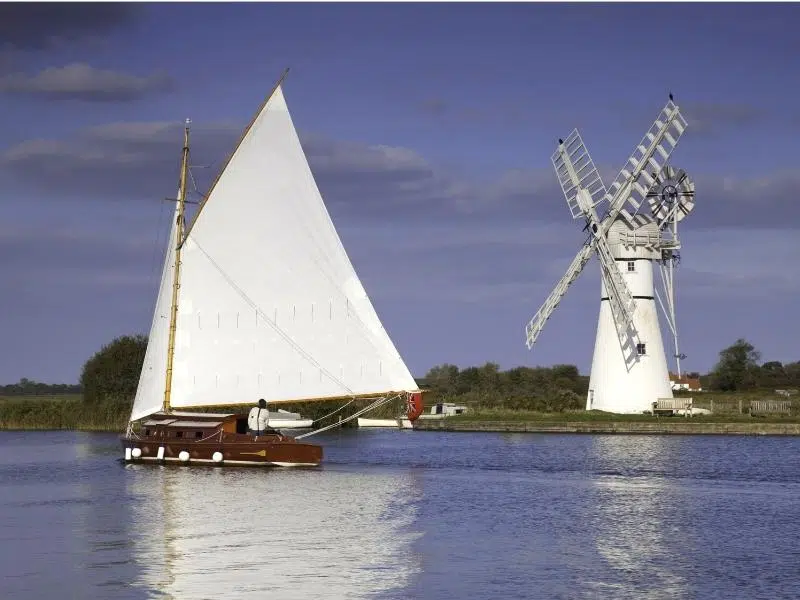 Aylsham Accommodation
Aylsham has a small selection of holiday cottages and holiday homes for rent, and some great campsites and holiday parks nearby. Whatever your accommodation style, we've rounded up the best options for your Aylsham break.
The Ironmongers Boutique Hotel
Uniquely positioned overlooking Aylsham market square, The Ironmongers Boutique Hotel offers the chance to relax and unwind in the heart of the bustling market town.
Originally an Elizabethan townhouse, The Ironmongers offers eight beautifully finished and very stylish Georgian bedrooms, each paying tribute to the historic market trades of Aylsham town including the florist, habadasher, landscaper, tailors, ostlers (a man employed to look after the horses of people staying at an inn), cobblers, confectioners and biscuit makers!
RELATED POST: Boutique Hotels Norfolk: 32 of the Best Places to Stay
Sankence Lodge B&B
A beautifully kept bed and breakfast, Sankence Lodge is a carefully restored Grade II listed Georgian farmhouse. The en-suite bedrooms are in the boutique style and have been individually decorated with antiques and artwork, and the host is a Cordon Bleu cook!
The Black Boys Hotel
An imposing Grade II listed building, The Black Boys Hotel is in the centre of the historic market town. It is a popular pub, bar and restaurant and offers excellent B&B accommodation in eight en suite guest bedrooms.
Aylsham Holiday Homes
There are lots of holiday cottages and Airbnb-style holiday rentals in and around Aylsham. From one-bed cottages and static caravans to huge converted barns, use VRBO to search for the best deals and find availability on Aylsham holiday accommodation.
Top Farm Campsite
Top Farm is situated in the picturesque countryside of rural North Norfolk. The campsite directly adjoins 350 acres of wood and heathland, that's home to an array of wildlife, which can be enjoyed whilst soaking up the splendid views or on one of the many walking and cycling routes.
There are camping and motorhome touring pitches, as well as glamping options including bell tents, camping cabins and shepherd's huts, and even a wild camping field if you want to get back to nature!
RELATED POST: The Ten Best Campsites in Norfolk
Places to Eat in Aylsham
Alongside the local hotels and cafés mentioned above, which all offer a full restaurant service to non-residents, there are a few other great places to eat in and around Aylsham.
The Blind Pig
The Blind Pig is an intimate wine bar and bistro in the heart of the town which serves a modern seasonal menu focussing on the best Norfolk produce. You'll find sharing boards, seafood platters, daily specials and a Sunday roast on offer.
The Bucks Arms
Formerly the Buckinghamshire Arms, The Bucks is a 17th century pub and former coaching inn with indoor and dog-friendly outdoor eating, offering hearty home-cooked dishes. The pub is located in a wonderful setting next to the Blickling Estate, making it a good pit stop after you've visited the Hall.
The Plough Inn Marsham
Just a mile south of Aylsham, The Plough Inn has a well-stocked bar serving local ales and an attractive restaurant offering a wide selection of traditional favourites. Everything is cooked fresh to order making good use of local and seasonal produce sourced
RELATED POST: Breweries in Norfolk – Best 16 to Visit
Bread Source
I love the Bread Source bakery come coffee shop for their artisan loaves and approach to slow food. You can also pick up pastries, buns and sandwiches to fuel your day from their shop on the market place.
Have I missed anything from this local's guide to Aylsham? Let me know in the comments below if there's something you'd like to see covered!
Love it? Pin it!