Located in an enviable position on the North Norfolk coast, Holkham beach is a vast and unspoilt stretch of sand backed by beautiful dunes and its very own nature reserve. Within the Norfolk Coast area of outstanding natural beauty, the far reaching views and soft sand make Holkham one of Norfolk's best beaches.
I played on this beach as a child, and bought my own children to run free here, build sandcastles and spend endless hours paddling and exploring. I love the huge expanse of sand, the massive skies and the shallow dunes which are perfect for peaceful lunchtime picnics. Although Holkham beach is probably one of the best known in Norfolk, it's so huge that it never feels crowded.
My local's guide to Holkham beach has all the information you need to make the most of your Holkham holidays, and enjoy this special place in Norfolk.
RELATED POST: The Ultimate Local's Guide to Norfolk England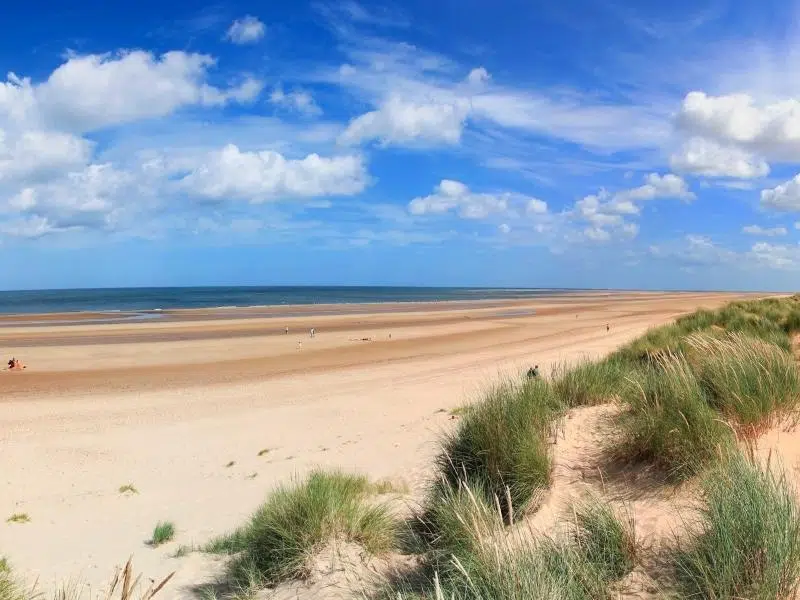 This post may contain affiliate links. If you book something I recommend, I make a small commission without affecting the price you pay!
Where is Holkham Beach?
Sandwiched between Wells-next-the-Sea beach and Burnham Overy Staith, Holkham beach is 24 miles west of Cromer and 28 miles north-east of King's Lynn, in the Norfolk Coast AONB.
Holkham beach lies north of the village of Holkham and the Holkham National Nature Reserve. The whole area, including the beach, nature reserve, and Pinewoods Holiday Park in Wells, belong to the 25,000 acre Holkham Estate, also home to the 18th century Palladian stately home of Holkham Hall.
RELATED POST: North Norfolk Coast – 19 Unmissable Highlights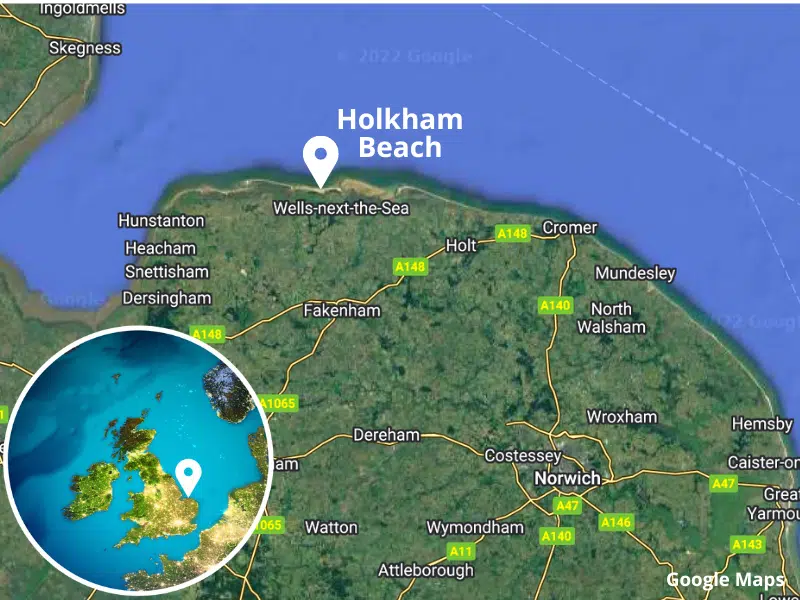 Getting to Holkham Beach
Driving to Holkham Norfolk
If you're travelling from the north of the United Kingdom, pick up the A17 south at Newark-on-Trent and follow the route around the Wash to King's Lynn. This road is mainly single carriageway, and slow moving agricultural traffic and trucks can cause delays, so build this in to your travel plans.
If you're travelling from the Midlands, you'll come into Norfolk via Peterborough and pick up the A47 north and east to King's Lynn. From the south, the A10 brings you through Cambridge directly to King's Lynn.
From King's Lynn, which is well worth a stop on the way through, pick up the A148 road to Hillingdon, then turn left onto the B1153 for a pretty cross country drive to meet the main coastal road, before turning left onto Lady Anne's Drive for beach parking, using the postcode NR23 1RG for your sat nav. It takes around an hour to drive from King's Lynn to Holkham.
RELATED POST: All the Best Things To Do in King's Lynn Norfolk
Getting to Holkham by Public Transport
The county of Norfolk is within easy reach of the rest of the UK, with great transport links. You can get to the West Norfolk town of King's Lynn by main line train from London in less than two hours. Simply take the regular Greater Anglia service from London King's Cross, which leaves every hour or so.
Alternatively, you can take a National Express coach from Victoria Coach Station to King's Lynn. This takes around 6.5 hours depending on the time of day, and you do need to change at Norwich, but it's often much cheaper than the train, especially when booked in advance.
At King's Lynn train station get the CoastLiner 36 bus from the Transport Interchange next door, and get off at the Victoria stop in Holkham village about an hour and 40 minutes later. From here it's a fifteen minute walk to Holkham beach.
If you're planning a visit from elsewhere in Norfolk, the CoastHopper from Cromer and Sheringham connects with the CoastLiner bus at Wells next the Sea, and Sheringham is connected to Norwich via the Greater Anglia train service.
RELATED POST: 21 Of The Best Things To Do in Cromer Norfolk
Holkham Beach Parking
The pay and display car park along Lady Anne's Drive at Holkham is easily accessible and costs £10 for the day, £3.50 for two hours or £6.50 for four hours. The car park is open from 6am to 9pm, and there are attendants available if you need assistance.
On busy days the overflow car park will be opened, which means parking on grass and walking a little further to the beach. If you purchase an all day ticket, you can also use this (on the same day) to park at Holkham Park, for visiting Holkham Hall.
The beach is accessed by following the boardwalk through the pine woods until it opens out onto Holkham Bay. It's a ten minute walk (at adult pace!) from the top end of Lady Anne's Drive nearest the beach, and another fifteen minutes or so to get to the sea, depending on the tide, which goes out a long way!
Holkham beach facilities are non-existent other than at The Lookout, so make sure you take everything you need for the day – a beach cart like this one comes in really handy, especially if they have wheels which can cope with the sand, and the odd stretch of sandy mud which is prevalent as you first get onto the beach.
You can also park at the Wells Beach Car Park, also owned by the Holkham Estate. Walk along Wells beach with its long row of colourful beach huts, or follow the Norfolk Coast Path through the pines to Holkham beach. It costs £9 for the day, which also allows you to park at Holkham Park. Get there early though, it fills up quickly!
Motorhomes and campervans more than 2 metres high or 4.8 metres long are not allowed to park within the Holkham Estate without prior permission, which can be sought by emailing [email protected].
There are public toilets at The Lookout at the top of Lady Anne's Drive, at the Wells beach car park and in Holkham village, opposite the Adnams store.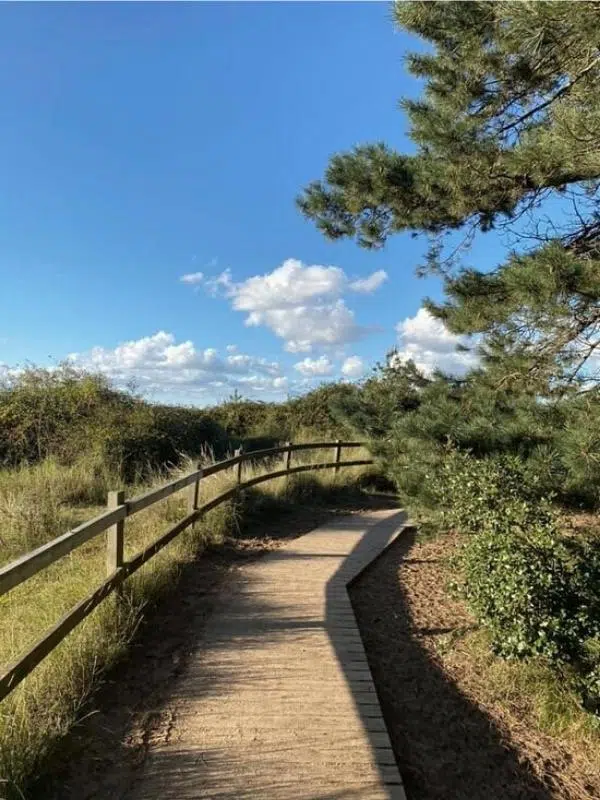 Holkham Beach Weather
If you're visiting Holkham for a holiday or short break, the months of July and August offer the highest temperatures, averaging between 20-26°C (68-79°F), with around nine hours of sunshine a day.
The chances are there will be a breeze on the beach, as is normal for North Norfolk, and you should be prepared for the odd shower or two. Although East Anglia is the driest part of the UK, it has been known to rain unexpectedly – this is England after all!
July and August are also the busiest time for Holkham beach because of school holidays. Parking is often full by mid-morning, so arrive early, although you're unlikely to see many people on the beach because it's so large!
Outside of these months, you can enjoy balmy weather in spring and autumn, and crisp bright days in winter, perfect for long walks, kite flying and photographing those big moody skies.
RELATED POST: 26 Pictures of Norfolk England to Inspire Your Trip!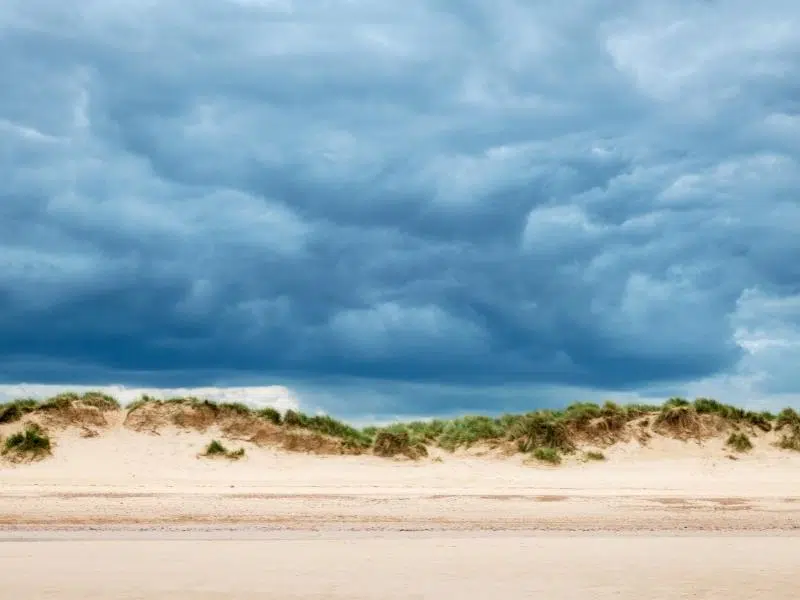 Is Holkham Beach Dog Friendly?
This is a popular year round dog walking beach, but due to the nature reserve, there are some restrictions. From start of April to the end of August, the breeding season begins for shorebirds, which nest amongst the grasses and dunes.
In the area known as Holkham Gap, where the wooden board walk meets the sands, which extend for about a mile either side, dogs must be kept on a lead between 1st April and 31st August.
In the Gun Hill area of the beach, to the far west where the beach meets the River Burn estuary, it is advised that dogs should be on a lead between 1st April and 31st August.
Outside of these areas, dogs are allowed free rein and there are no restrictions at any time of the year.
RELATED POST: Dog Friendly Beaches Norfolk: The Best for Unleashed Fun!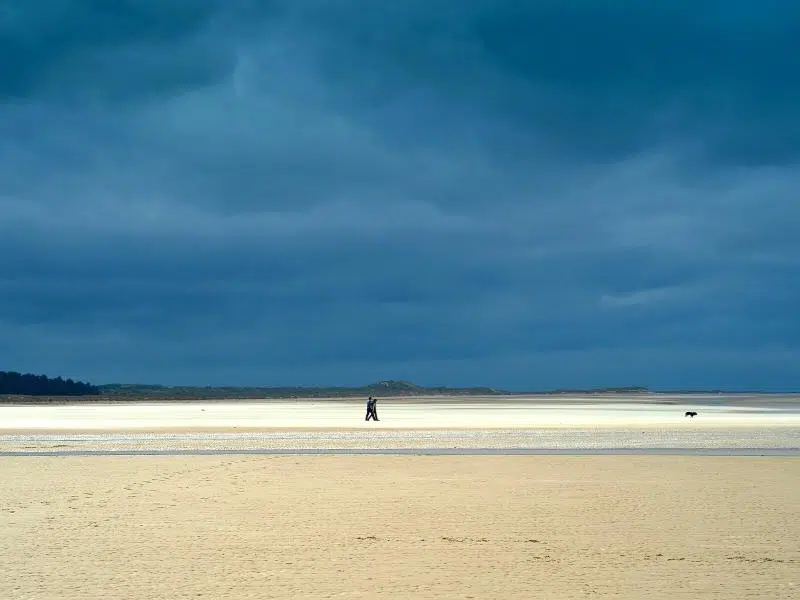 Is Holkham Beach Safe for Kids?
The beach itself is very safe, but it is very large and it's easy for kids running around to get lost, especially if they love to go of exploring! There is a gentle and shallow slope into the water and the waves are usually small. The water is very clear and it's possible to swim here.
However, this beach is not lifeguarded so children will need supervising in the water, as there is always a chance of rip tides and unexpected currents. It is also advised by HM Coastguard not to use lilos or inflatables at this beach. If you prefer a lifeguard on the beach, head next door to Wells beach.
Beach shoes for kids are a good idea, as the sands when the tide is out are rippled, and the shells and pebbles which get left behind can be uncomfortable underfoot.
Tides at Holkham Beach
This is one of those Norfolk beaches where even when the tide is in, the sands are absolutely vast. The swathes of sand are firm and golden, perfect for sand castle building, kite flying and beach games.
The tide does tend to come in quickly here though, so if you're planning on spending the day and have walked out to the shoreline at low tide, expect to move back inland again before the day is out.
Keep an eye on your stuff if you're playing games or kite flying as the speed of the incoming tide has been known to take people by surpise, and many's a picnic has been lost!
You can find out about Holkham beach tide times here.
Is Holkham a Naturist Beach?
In 2013 Holkham beach hit the news when naturism was banned on the beach. This was quickly reversed and there remains a small (and remote) part of Holkham beach where naturism is allowed. The Holkham nudist beach area is to the west, about 1.5 miles from the main entrance to the beach from Lady Anne's Drive.
The easiest route to the nudist area is to take the path from The Outlook heading west along the back of the pine woods, past the bird hide and then the buidlings, until the path veers slightly to the right, towards the sea.
You'll pass through the pine trees onto the beach, where there are signs requesting that naturists don't use the dunes, only the beach. There are also signs on the beach itself alerting members of the public who may be unaware of the naturist area.
Arriving at Holkham Beach
As you arrive at the beach from the boardwalk, you may need to cross an area of slighly muddy sand between dunes before you arrive at the beautiful white sands of the beach proper.
On either side are low sand dunes covered in marram grass, backed by an abundance of pine trees. As you walk further onto the beach, it opens up to the east and west, and seems to go on for ever – in fact the whole curving Holkham Bay is four miles long. The harmany between the huge skies, and long stretch of beach and sky is perfection.
To the east is Wells beach, really just a continuation of Holkham, and to the west is more beach. If you could see far enough, the River Burn enters the sea at Burnham Overy Staithe beach.
RELATED POST: Norfolk Beaches – Ultimate A-Z Guide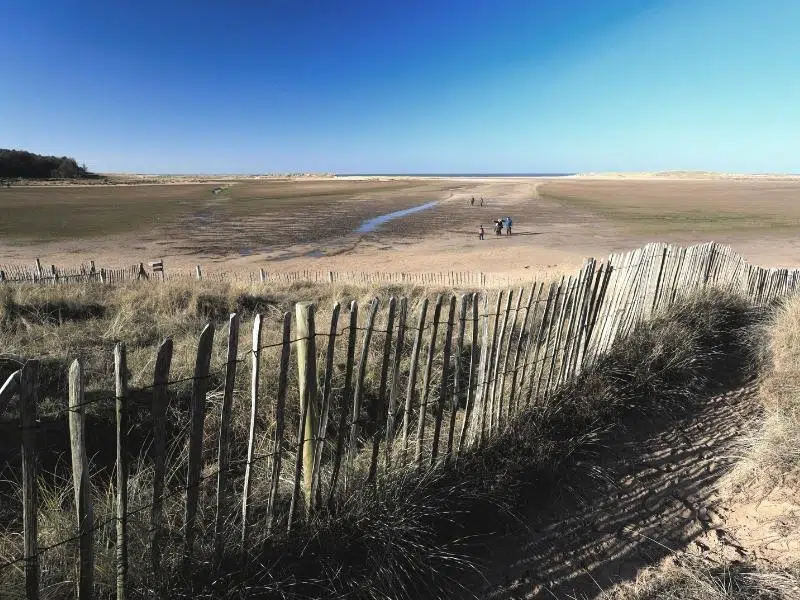 Horse Riding at Holkham Beach
Holkham is a popular beach with horse riders, due to the firm sands and vast amount of space along the shore.
There are some restrictions for horse riders, who are not allowed to ride past the beach huts on Wells beach, or cross the Burnham Overy Channel to Scolt Head Island.
During July and August, riding times are limited to arriving between 6am and 9am and leaving Lady Anne's Drive car park by 11am, and from 4pm, to leave the car park by 6pm.
The Hot To Trot School of Equitation offers beach rides on Holkham beach if you want to experience the wind in your hair as you gallop along the shoreline of these iconic sands.
RELATED POST: Norfolk Coast – 8 Amazing Ways to Explore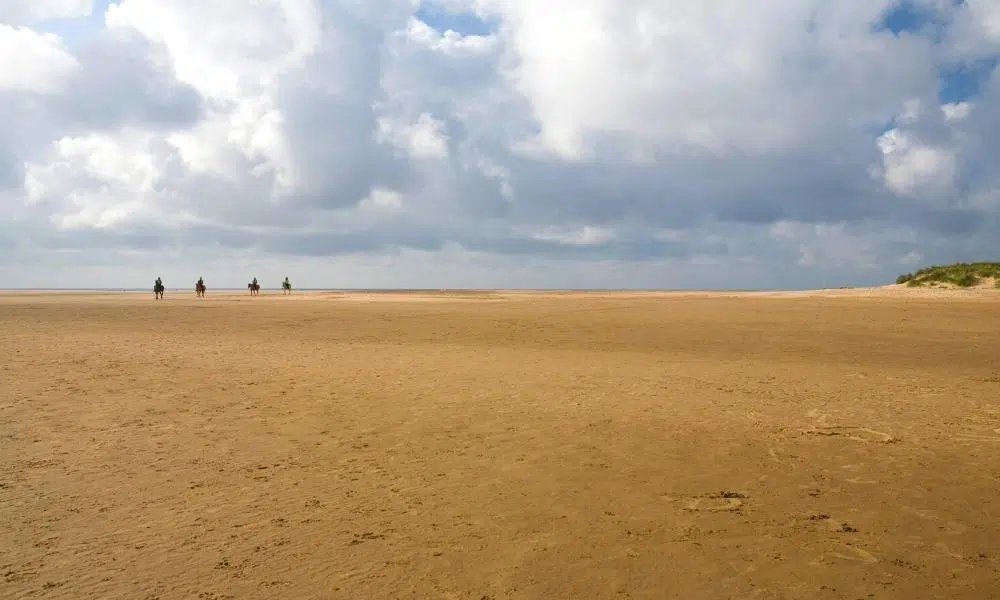 The Household Cavalry at Holkham Beach
Every year in July the Household Cavalry Mounted Regiment take a well earned break from eleven months of ceremonial duties in London, and possibly a tour abroad, so the soldiers and horses can rest and practice their equestrian skills on Holkham beach.
Around 130 horses and their riders excerise on the beach, riding into the waves and splashing around in the surf. This annual summer camp helps to stregthen the bond between horse and rider, and riding in the surf provides resitance that works muscles, apparently a bit like Pilates but for horses!
It really is a spectacle to watch, especially when the saddles are ditched and the soldeirs ride bareback to show of their skills!
Holkham National Nature Reserve
Holkham National Nature Reserve stretches from Burnham Norton to Morston and covers 4,000 hectares of exposed shores, creeks, miles of dunes and sandspits, shady pinewoods, green pastures and marshes. This mix of windswept habitats create the perfect environment for a unique mix of wildlife and plants to flourish.
You can explore most of the area by following footpaths from Holkham and Wells beach car parks. The core section of the reserve stretches from Wells to Holkham Bay, and is crisscrossed by paths allowing access to all the best wildlife habitats.
From Lady Anne's Drive you can walk to the George Washington bird hide, where lapwings, redshanks, marsh harriers, grebes and many species of duck are just some of the birds that can be seen.
RELATED POST: Norfolk Nature Reserves – Ultimate A-Z Guide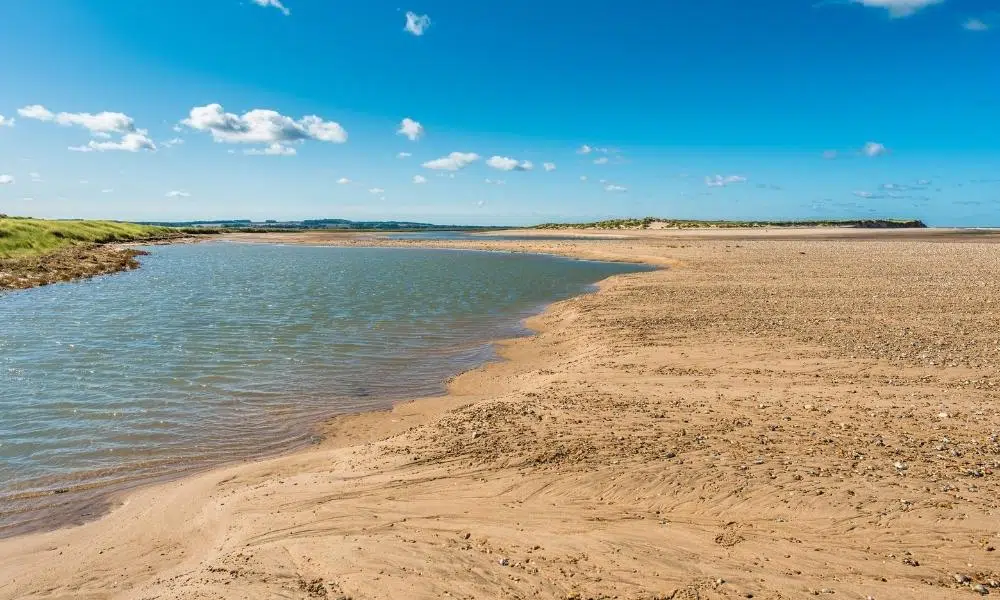 Norfolk Coast Path
The beautiful Norfolk Coast Path tracks Holkham Bay as it makes its way between Hunstanton and Hopton-on-Sea. It's easy to walk sections of the route either side of Holkham, along the beach and through the pine forests, to Wells-next-the-Sea heading east, or Burnham Overy Staith heading west.
This 6.75 mile circular walk starts near The Lookout at Lady Anne's Drive, although it can be started anywhere, and includes a section of the Norfolk Coast Path. Along this Holkham beach walk you'll see nesting birds, bats, small mammals and butterflies, as well as adders, grass snakes and slow worms.
Towards Wells, you'll also spot four rare types of pillbox, survivals from the concentration of defences placed there during World War II, to supplement the beach defences of Holkham Bay.
These defences included a Coastal gunbattery, beach scaffolding, anti tank blocks and a minefield, much of which has been lost to erosion. You can download a map of the route here.
RELATED POST: Walks in Norfolk – 14 of the Best Trails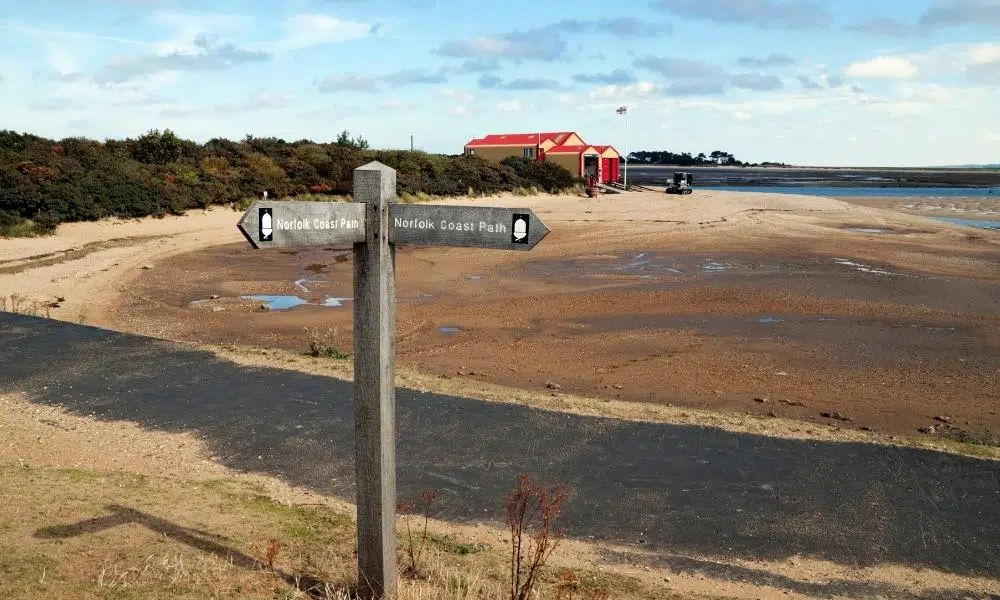 Movies Filmed at Holkham Beach
Probably most famous for the final scene in Oscar-winning Shakespeare in Love (1998) when Gwyneth Paltrow's character Viola walked across deserted Holkham beach, a number of other films have been shot here too.
The beach also featured in Annihilation (2018), based on the Alex Garland (of The Beach fame) bestseller, which starred Natalie Portman. Remember All Saints, the 90's girl band? The video for the seminal Pure Shores was also filmed at Holkham beach.
But Holkham beach was a film set long before Shakespeare in Love made it famous. The gorgeous stretch of sand was also used in The Eagle Has Landed (1976), starring Jenny Agutter and Michael Caine and Operation Crossbow (1965) with Sophia Loren and Sir John Mills.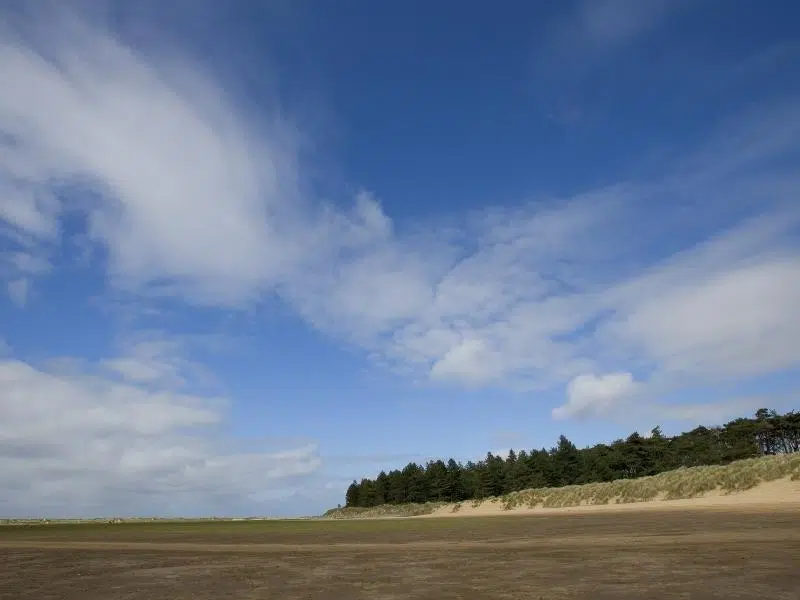 Holkham Hall
One of the best stately homes in Norfolk, Holkham Hall is an 18th century Palladian masterpiece, with a fantastic walled garden, surrounded by rolling parkland and a deer park. There's even a woodland adventure play area to entertain the kids.
Built by the Coke family in 1764, Holkham Hall is today home to the Earl of Leicester and his family. The hall is a wonderful example of the architectural style of the day.
The statuary and art collection, fascinating restored Victorian kitchen and the immense entrance hall, with deeply coved and coffered ceiling supported by towering columns and panelling of English alabaster, make Holkham one of the best stately homes in Norfolk, if not England. You can book tickets online here.
RELATED POST: 14 Stately Homes in Norfolk to Visit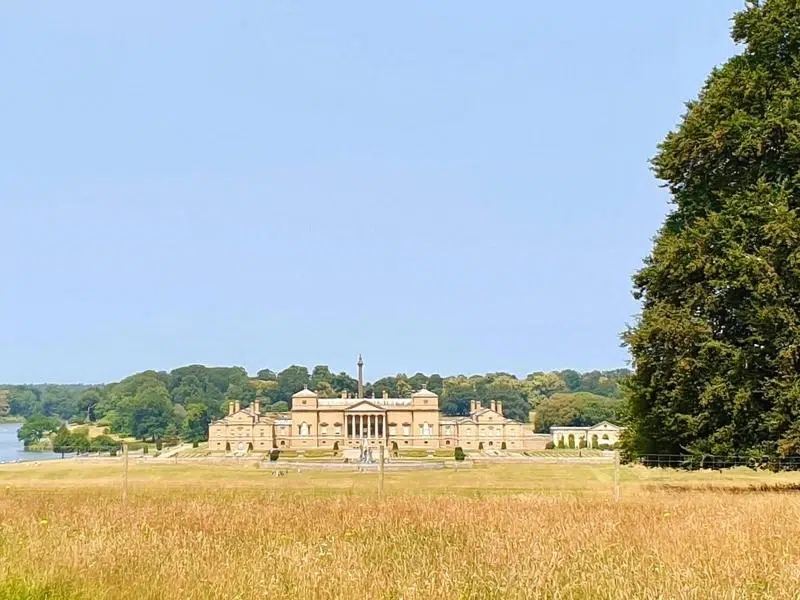 Wells-next-the-Sea
Just a few miles east of Holkham, and sharing pretty much the same stretch of sand, Wells-next-the-Sea is a lively harbour town known locally as Wells. It is one of North Norfolk's top seaside towns and makes for a great Norfolk day out.
There are lots of attractions to keep everyone busy in Wells. With an award winning blue flag beach complete with a line of colourful wooden beach huts which can be rented, a pretty Georgian town centre with a good mix of traditional and contemporary shops and eateries, and a bustling quay perfect for crabbing, Wells will entertain the whole family.
RELATED POST: 20 Brilliant Things To Do in Wells-next-the-Sea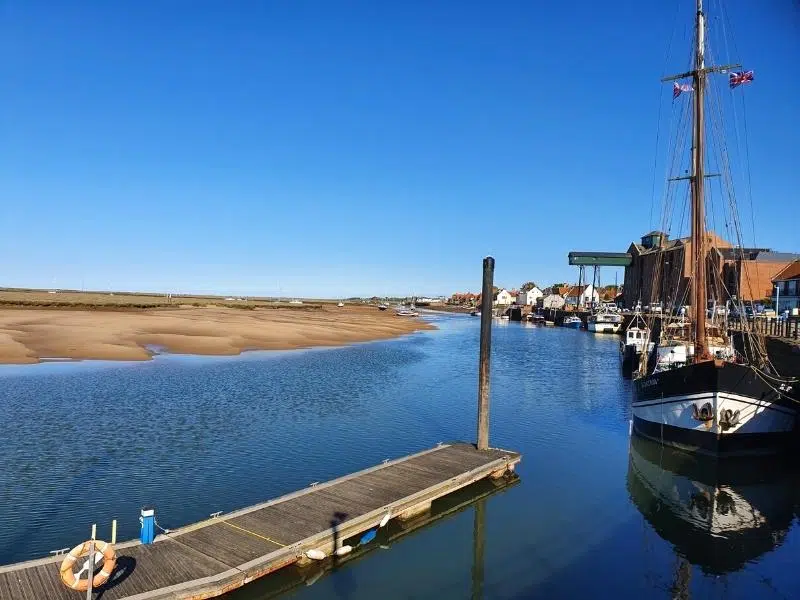 Food at Holkham Beach
The nearest place to get food to the beach is the The Lookout, the Holkham Nature Reserve uber-modern visitor centre. This dog friendly unique building is at the top of Lady Anne's Drive, and inside there are binoculars and bird guides to help you make the most of the outside panoramas.
This Holkham beach café serves sandwiches, sausage rolls, cakes, ice creams and hot and cold drinks, and also has toilets.
In Holkham village itself, The Victoria is equidistant from the beach and Holkham Hall. The Victoria's menu aims to showcase the very best locally sourced ingredients and includes produce from farm tenants, vegetables from Holkham's walled garden and venison from the estate's herd.
Pick from a table in the orangery, where you'll enjoy stunning views over the nature reserve, or the restaurant which is perfect for the winter months, when a log fire roars.
RELATED POST: 26 Norfolk Food & Drink You Must Try!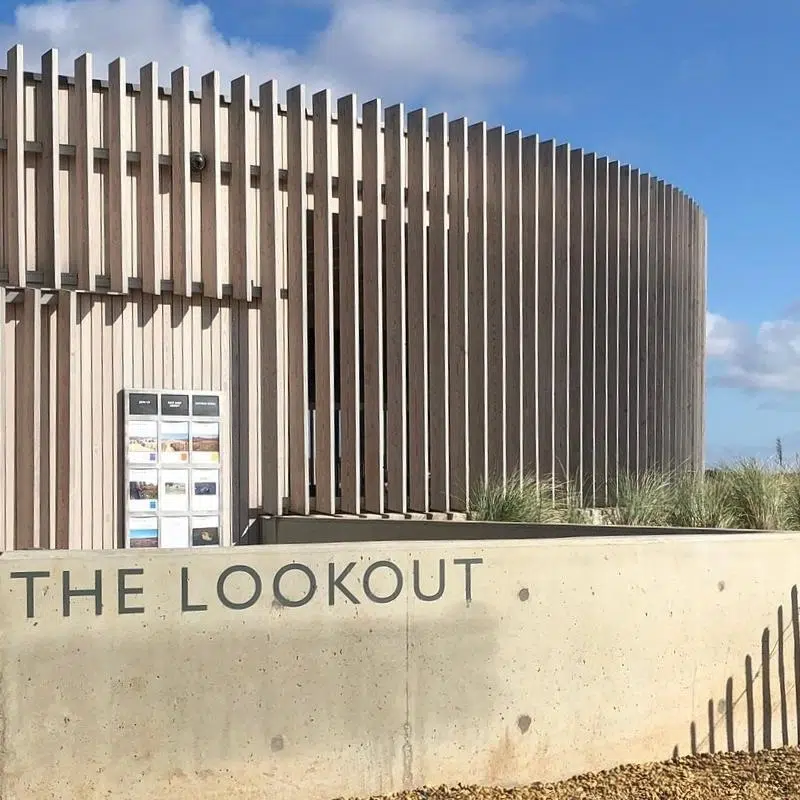 Where to Stay at Holkham Beach
The Victoria Holkham have twenty dog friendly traditionally decorated rooms, spread across the original building and the Ancient House, which has a private walled rose garden.
No 52 Sea Holly in Holkham village is a B&B in a traditional brick and flint building. With a welcoming host and a fabulous breakfast, this is a great place to spend a few night near Holkham beach.
Nearby at Mill Farm in Wells is a back to basics campsite, motorhome and caravan site and DIY livery making it possible to have that dream ride on the beach with your own horse.
RELATED POST: Norfolk Glamping – 15 of the Best Spots | The Ten Best Campsites in Norfolk
Do you love Holkham beach as much as I do? Tell us about your visit there in the comments!
Love it? Pin it!