On the northwest corner of the North Norfolk coast, Holme beach is a gloriously unspoilt stretch of sand backed by beautiful dunes. Within the Norfolk area of outstanding natural beauty, the far reaching views and soft sand make Holme one of Norfolk's best beaches.
Maybe I'm biased as Holme is also the beach of my childhood. I love the huge expanse of sand, the dunes which are perfect for playing hide and seek, or finding shelter on windy days, and the happy family memories it holds for me. One of my favourite Norfolk hidden gems, not many people head for Holme beach – or not enough to make it feel crowded anyway!
My locals guide to Holme beach has all the information you need to make the most of your trip, and enjoy this beautiful place in Norfolk.
RELATED POST: The Ultimate Local's Guide to Norfolk England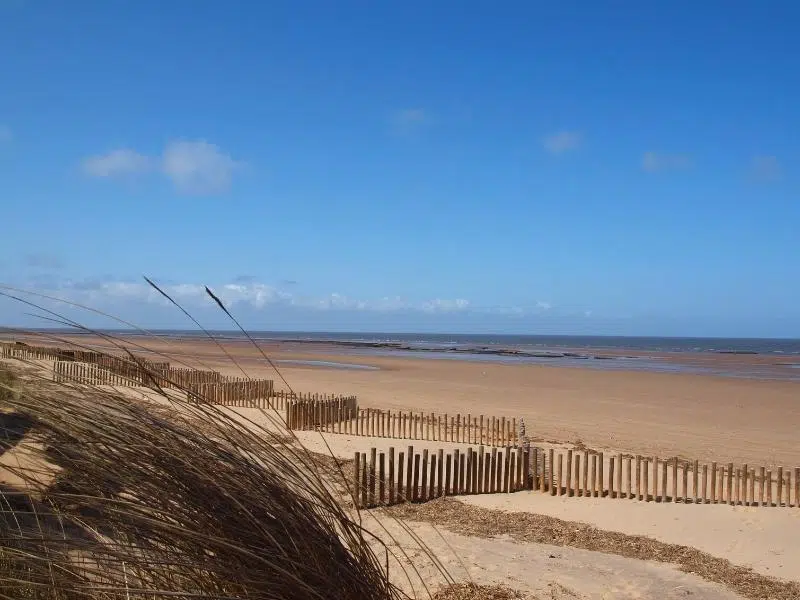 This post may contain affiliate links. If you book something I recommend, I make a small commission without affecting the price you pay!
Where is Holme Beach?
Three miles north of Hunstanton is Holme-next-the-Sea, a traditional Norfolk seaside village full of traditional cottages constructed with local Carrstone and Clunch, as well as brick, flint and cobbles.
Holme beach lies north of the village, and is backed by grassy dunes and a relatively thin strip of land made up of salt marsh, popular with birds for feeding and breeding.
RELATED POST: North Norfolk Coast – 19 Unmissable Highlights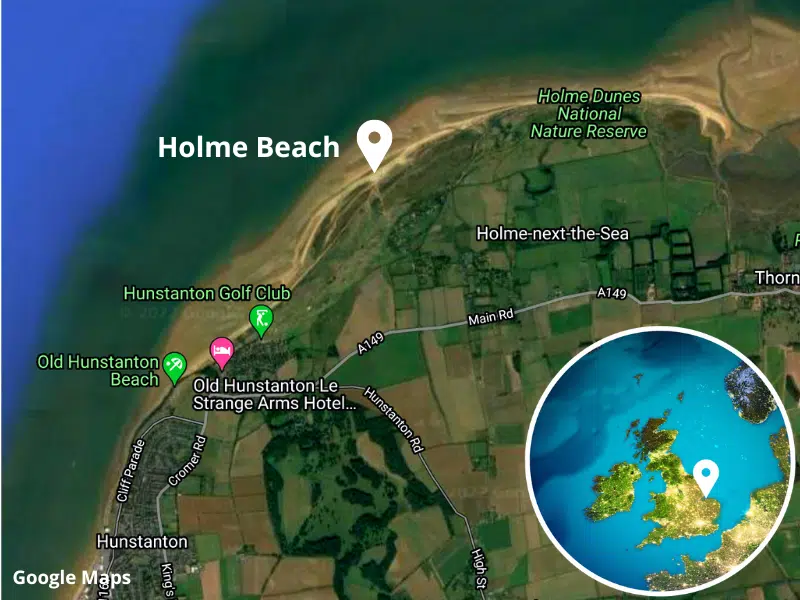 Getting to Holme Beach
Driving to Holme Norfolk
If you're travelling from the north of the United Kingdom, pick up the A17 south at Newark-on-Trent and follow the route around the Wash to King's Lynn. This road is mainly single carriageway, and slow moving agricultural traffic and trucks can cause delays, so build this in to your travel plans.
If you're travelling from the Midlands, you'll come into Norfolk via Peterborough and pick up the A47 north and east to King's Lynn. From the south, the A10 brings you through Cambridge directly to King's Lynn.
From King's Lynn, which is well worth a stop on the way through, pick up the A149 coast road past Hunstanton, turning right onto Beach Road in Holme.
RELATED POST: All the Best Things To Do in King's Lynn Norfolk
Getting to Holme by Public Transport
The county of Norfolk is within easy reach of the rest of the UK, with great transport links. You can get to the West Norfolk town of King's Lynn by main line train from London in less than two hours. Simply take the regular Greater Anglia service from London King's Cross, which leaves every hour or so.
Alternatively, you can take a National Express coach from Victoria Coach Station to King's Lynn. This takes around 6.5 hours depending on the time of day, and you do need to change at Norwich, but it's often much cheaper than the train, especially when booked in advance.
At King's Lynn train station get the CoastLiner 36 bus from the Transport Interchange next door, and get off at the Holme Beach Road stop about an hour later. From here it's a fifteen minute walk to Holme beach.
If you're planning a visit from elsewhere, you can explore the Norfolk coast on the CoastHopper from Cromer and Sheringham, which connects with the CoastLiner bus, and Sheringham is connected to Norwich via the Greater Anglia train service.
RELATED POST: 21 Of The Best Things To Do in Cromer Norfolk
Holme Beach Parking
The pay and display car park on Beach Road at Holme is easily accessible and costs £5 for the day. You do need to walk through the golf course and dunes to get to the beach, so look out for flying golf balls! The walk takes around ten minutes over compacted paths and soft sand – make sure to take everything you need with you.
If this car park is full, take the right turn just before it onto Broadwater Road. About half a mile along on the right hand side is another small (and free) car park, which is just over the track from the Norfolk Coast Path. You can walk back along the path Beach Road and access the beach.
Continue along Broadwater Road, and you'll find more parking at the Norfolk Wildlife Trust Holme Dunes Nature Reserve. The car park is free to NWT members and non-members will need to pay a parking charge, however the NWT has introduced a car park booking system during the summer months, so this may not be an option unless you can plan well ahead.
There are public toilets opposite the entrance to Holme Beach pay and display car park and a small kiosk where you can buy ice creams and lollies, hot and cold drinks and even dog treats!
Is Holme Beach Dog Friendly?
This is a popular dog walking beach, with no restrictions at all. Please use the dog waste bins provided.
Some of the dunes to the east are part of the Holme Dunes Nature Reserve and dogs must be kept under control, or on a short lead, and away from cordoned off areas in order to protect nesting birds and wildlife.
RELATED POST: Dog Friendly Beaches Norfolk: The Best for Unleashed Fun!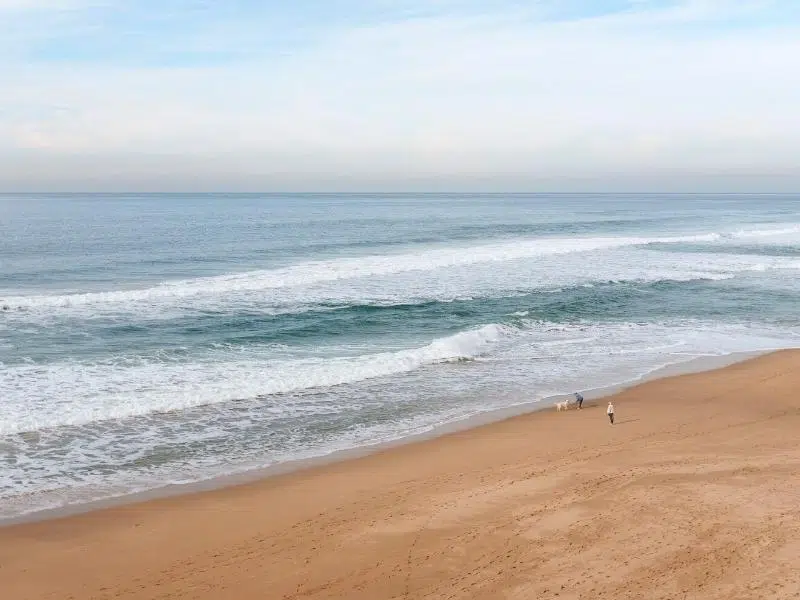 Is Holme Beach Safe for Kids?
The beach itself is very safe. Smaller children will benefit from jelly sandals or beach shoes as some of the shingle can be sharp, but this does tend to sit in a single line where the high tide reaches and once you've hopped your way over the pebbles, the sand is beautifully soft.
There is a gentle slope into the water and waves are usually small. However, this beach is not lifeguarded so children will need supervising in the water, as there is always a chance of rip tides and unexpected currents. It is also advised by HM Coastguard not to use lilos or inflatables at this beach.
Tides at Holme Beach
Even when the tide is in, this beach is huge! Towards the high-tide mark the sand is softer and mixed with shingle which slopes gently up to the grassy dunes.
As the tide goes out, Holme beach is revealed in all its glory with a vast swathe of firm and flat golden sand, perfect for sand castle building, kite flying and beach games.
There are also numerous small sandy pools where water gets trapped as the tide retreats, and in summer these are great for smaller kids to play in, and also get lovely and warm on a sunny day.
You can find out about Holme beach tide times here.
RELATED POST: 30 of the Very Best Things To Do in Norfolk
Arriving at Holme next the Sea Beach
As you cross the dunes onto the sandy beach you can see white lighthouse of Old Hunstanton to the west (look left), and the colourful cliffs and beach in the distance beyond.
To the east is nothing but endless skies and Thornham Beach, the next one along on the North Norfolk Coast!
RELATED POST: Norfolk Beaches – Ultimate A-Z Guide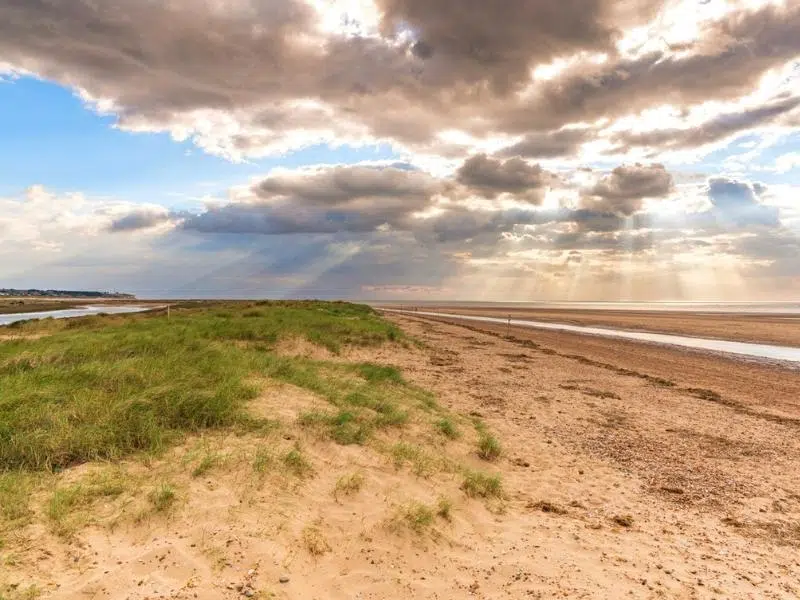 Seahenge
Holme Beach had its fifteen minutes of fame in 1998, when an early Bronze Age timber circle was discovered on the sands. An extraordinary find, the arrangement of 55 timber posts surrounding a huge stump that had been buried with its roots upwards was called Seahenge, as it resembled the famous Stonehenge in Wiltshire.
When Seahenge was created around 2050BC, the area around Holme was a salt marsh. Over thousands of years, the marshes were covered in peat beds as the sea encroached, and the peat preserved the timbers, keeping them whole.
The timbers were carefully removed from the sea, cleaned, and vacuum freeze-dried to protect them. The original upturned tree stump and many of the upright timber posts are now on display in a special exhibit in the Lynn Museum in nearby King's Lynn.
A second timber circle, known as Holme II was discovered around the same time, but this circle was allowed to naturally deteriorate, and has once again been lost to the sea.
Even though you can't see Seahenge at the beach, you can still explore! Three post medieval wrecks have been recorded on Holme beach, and during WWII pillboxes, gun emplacements and a target-railway used to train artillery were constructed in the dunes, the remains of which can still be seen.
RELATED POST: 21 Museums in Norfolk You Won't Want to Miss!
NWT Holme Dunes Nature Reserve
One of 32 NWT protected nature reserves in Norfolk, the Norfolk Wildlife Trust Holme Dunes Nature Reserve is a Site of Special Scientific Interest (SSSI), an important area for nesting birds, and perfectly located to attract migrating birds.
Holme Dunes is also home to a variety of important habitats such as mudflats, sand dunes, scrub, pines, saltmarsh, freshwater and grazing marsh which support numerous other wildlife species including natterjack toads, butterflies and dragonflies, as well as a large number of interesting plants.
This wonderful bird observatory has trails to hides, and walks around the reserve from the visitor centre on Broadwater Road, where there is also a small shop selling gifts and a café.
RELATED POST: Norfolk Nature Reserves – Ultimate A-Z Guide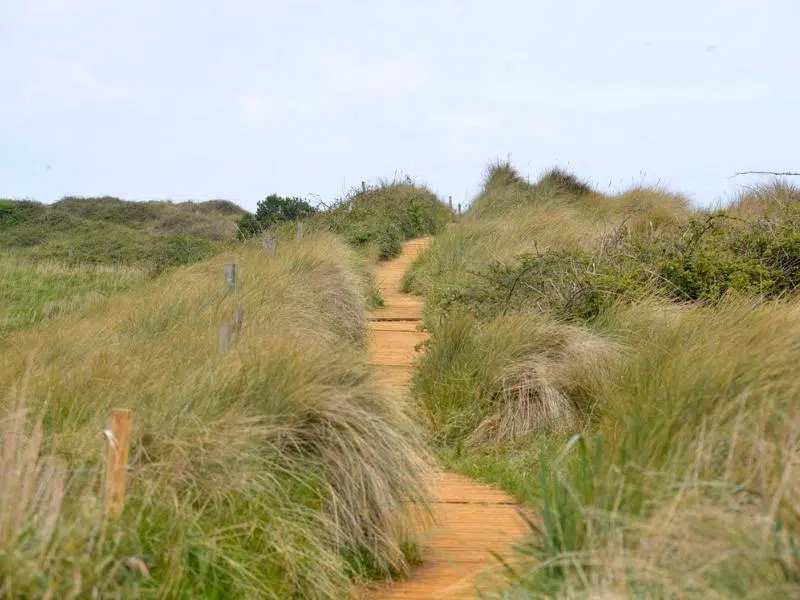 Norfolk Coast Path
Holme Beach is also where the Peddars Way, which follows the route of an ancient Roman road for 49 miles to Holme from Knettishall Heath Country Park in Suffolk, comes to and end.
The Peddars Way meets the Norfolk Coast Path here, and this latter route of 84 miles, wends it way from Hunstanton to Hopton-on-Sea, through the breathtaking scenery and landscape of the North Norfolk Coast Area of Outstanding Natural Beauty.
It's a beautiful and windswept three mile walk east on the Norfolk Coast Path to the excellent (and dog friendly) Lifeboat Inn at Thornham, passing through the nature reserve, across Thorham Marshes and past Thornham old harbour. Your lunch will be well deserved!
RELATED POST: Walks in Norfolk – 14 of the Best Trails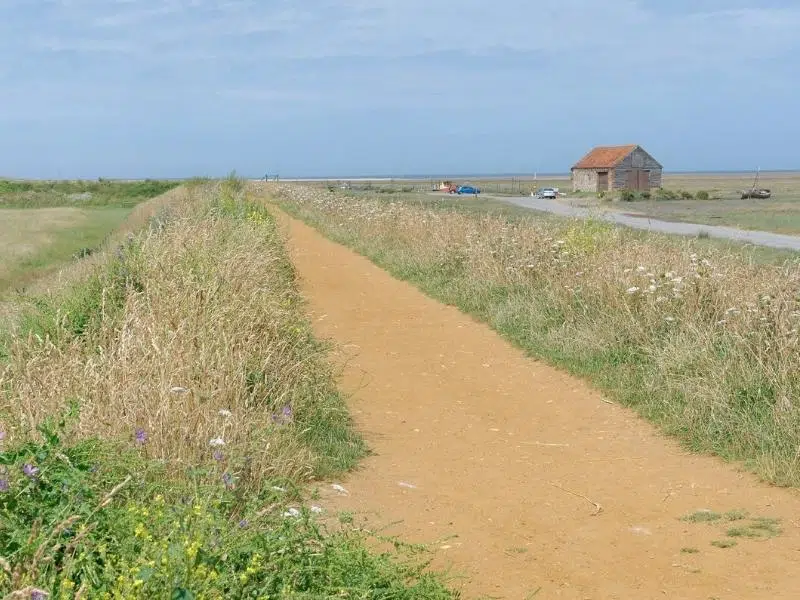 Hunstanton Golf Club
The western reaches of the beach are next to the Hunstanton Golf Club course, a classic 18 hole links course and one of the top 100 courses in Great Britain and Ireland.
The course is open to visitors, and enjoys wonderful views of the beach and sea.
RELATED POST: 21 of the Best Things To Do in Hunstanton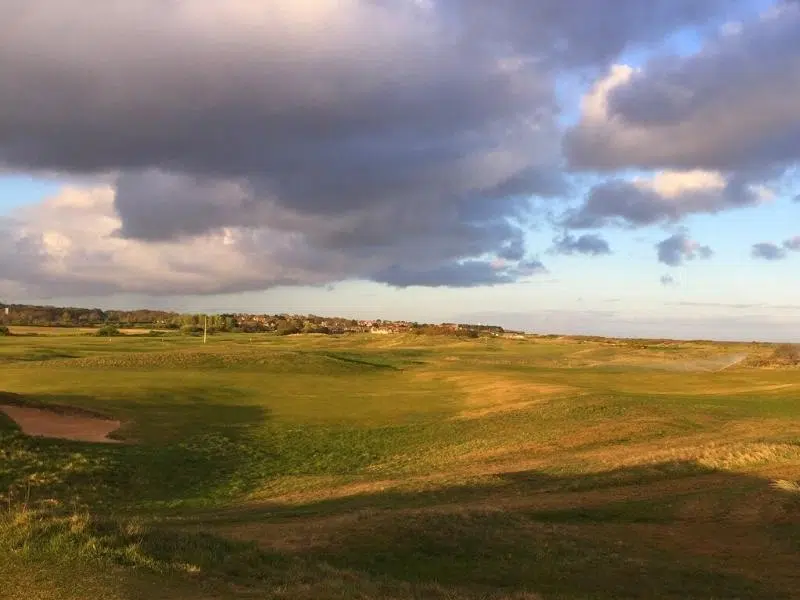 Food at Holme Beach
Other than the small car park kiosk, there are no restaurants or cafés at the beach. If you're going for the day you could buy ther makings of a picnic at the fantastic Thornham Deli, or one of the supermarkets in Hunstanton.
Eateries nearby include the White Horse in Holme village close to the parish church, Eric's Fish and Chips on the A149 between Thornham and Holme, The Lifeboat Inn at Thornham and the Old Town Beach Café in Old Hunstanton.
RELATED POST: 26 Norfolk Food & Drink You Must Try!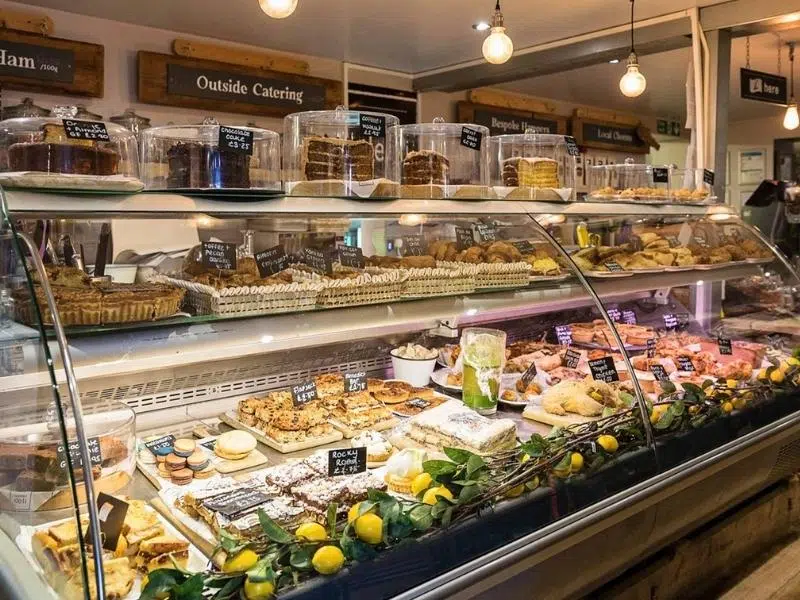 Where to Stay at Holme Beach
Driftwood Cottage in Holme-next-the-Sea is a holiday home which sleeps five, has its own parking and is just ten minutes walk from Holme beach.
The Lifeboat Inn in Thornham not only does great food, they also have a collection of stylish and quirky rooms, meaning you can eat to your heart's content and then collapse into a comfortable bed!
Caley Hall Hotel in nearby Old Hunstanton is set around a manor house dating back to 1648, and boasts an AA rosette awarded restaurant.
The Tractor Shed is a holiday cottage for five in Holme village, a seven minute bike ride from the beach, with its own garden and car parking space.
If you fancy a spot of Norfolk glamping, try the delightful Wild Luxury Glamping just up the road in Thornham. Their luxury safari lodges are perfect for couples and families and provide a real getaway from the hustle and bustle of the North Norfolk coast.
RELATED POST: The Ten Best Campsites in Norfolk
Do you love Holme beach as much as I do? Tell us about your visit there in the comments!
Love it? Pin it!