There are lots of amazing seaside towns in Norfolk! From beautiful parishes steeped in history to traditional bucket and spade resorts with fabulous beaches, there are plenty of places to explore along Norfolk's miles of coastline.
Whether you're looking for a few picturesque spots to visit on a Norfolk road trip, or for the perfect setting as a base while you explore Norfolk, these Norfolk coastal towns are all ideal. From lively resort towns to sleepy villages with beautiful beaches, there's something for everyone here.
As a Norfolk local, I have a lot of happy holiday memories of seaside towns in Norfolk, spending the long hot summer months enjoying crabbing, beach games, ice creams and exploring. I hope to share a bit of that love for the seaside towns of Norfolk and have rounded up some of the best in the county for you to discover.
RELATED POST: The Ultimate Local's Guide to Norfolk England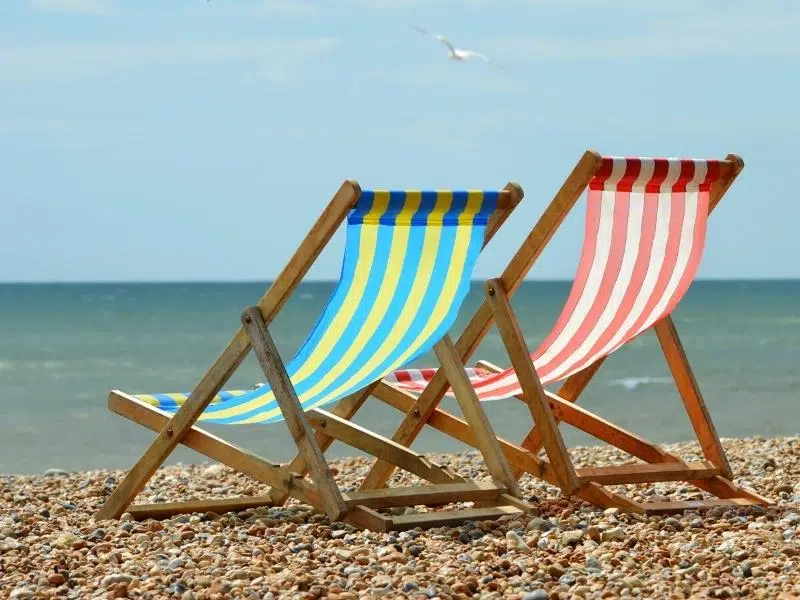 This post may contain affiliate links. If you book something I recommend, I make a small commission without affecting the price you pay!
A-Z of the Best Seaside Towns Norfolk
Blakeney
Best for: nature, walking, seal watching, local seafood
A firm favourite with locals and visitors, Blakeney is one of the most charming Norfolk coastal villages within the Norfolk Coast Area of Outstanding Natural Beauty, with its very own nature reserve and a maze-like watery landscape, created when the medieval estuary silted up.
What remains is a fascinating landscape of marshes, sand hills and mud banks, with many creeks and channels twisting their way through between land and sea. Along with Blakeney Point, the Blakeney National Nature Reserve is home to England's largest colony of Atlantic Grey seals.
The picturesque village is full of traditional flint cottages which were once home to local fishermen, a good collection of independent shops selling gifts and local crafts, and art galleries to visit.
The lively Blakeney quay is buzzing in the summer, with crabbing, boat tours to see the seal colony, and visitors enjoying the outlook across the marshes and walking the Norfolk Coast Path, one of Norfolk's best hiking trails.
Where to Stay in Blakeney
The White Horse Blakeney enjoys a great spot in the village, just up from Blakeney's quay. This Blakeney hotel offers cosy, characterful and stylish rooms, alongside an excellent menu full of beautifully cooked local produce. If you prefer AirBnB style accommodation, check out these Blakeney cottages.
RELATED POST: Blakeney Norfolk: All You Need to Know Before you Go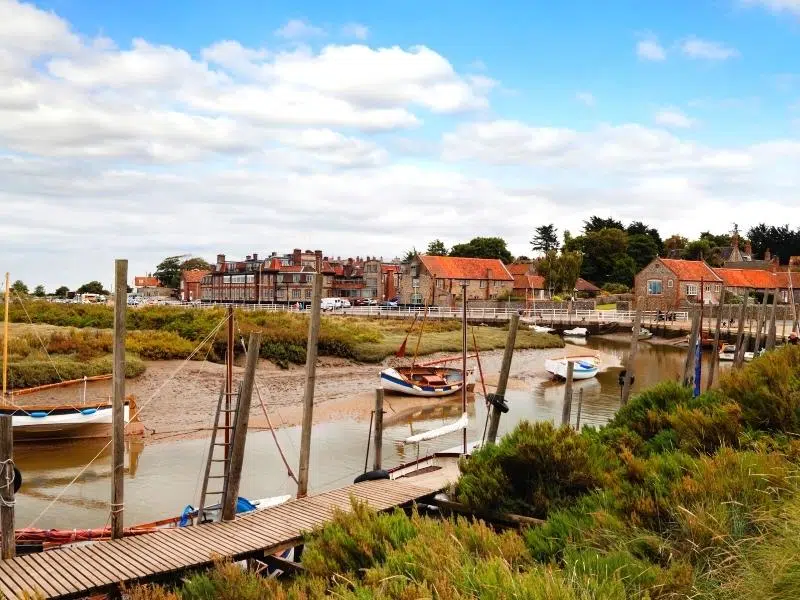 Brancaster Staithe
Best for: outdoor activities, wildlife, camping
A down-to-earth and unspoiled North Norfolk village, Brancaster Staithe is closely linked with its near neighbour Burnham Deepdale, with which it shares many ties.
Located along the A149, Brancaster Staithe and Burnham Deepdale merge into one village along the coast road. Look beyond the road and you'll discover fantastic water sports and hiking, unique nature in and around the creeks and marses, fantastuc coastal views and two lively yet merged villages with lots to do and see.
Nearby is the vast Brancaster Beach, a popular spot for kitesurfers and wind buggies, and golfers will appreciate the Royal West Norfolk Golf course, set between the beach and salt marshes.
RSPB Titchwell Marsh is another close attraction, where you can retreat from the hustle and bustle of the coast, enjoy quiet walks and experience wildlife up close.
Where to Stay in Brancaster Staithe
I love Deepdale Camping, a quiet and friendly Norfolk campsite that has been named as the most popular campsite in the UK! If camping is not your thing, book into The Ship, a boutique hotel and restaurant offering excellent dining and memorable stays, with nine beautiful dog-friendly sea-themed rooms.
RELATED POST: Brancaster Staithe: A Hidden Gem in North Norfolk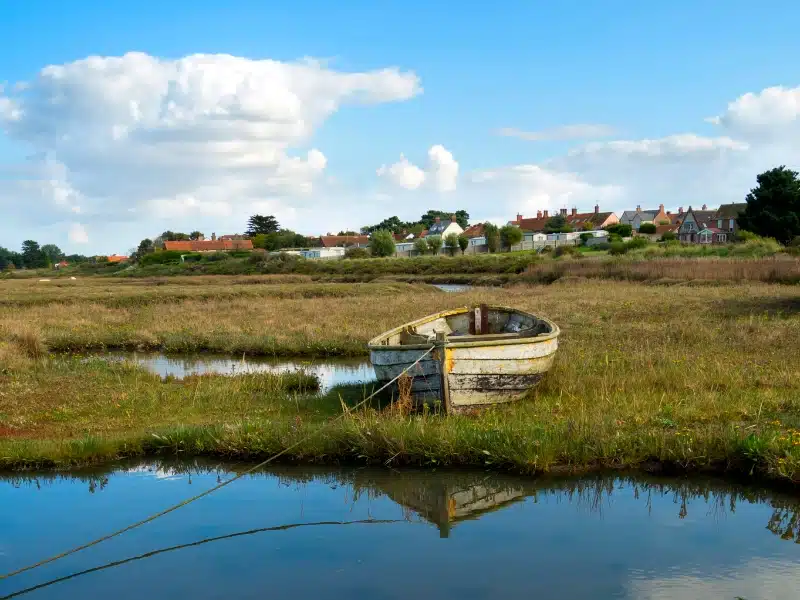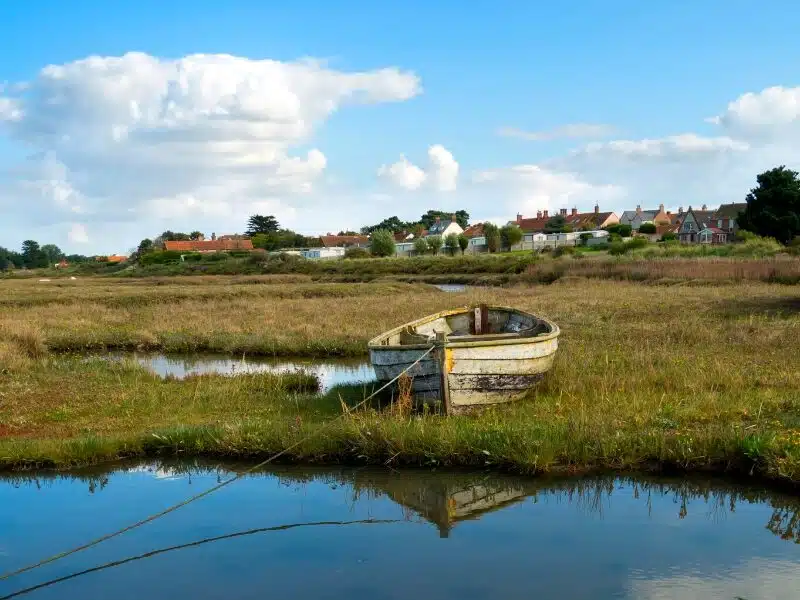 Burnham Overy Staithe
Best for: nature, walking, sailing, activity
A thriving fishing village, pretty Burnham Overy Staithe occupies an enviable harbourside position between Burnham Market and Burnham Thorpe, the birthplace of Admiral Lord Nelson.
Between Burnham Overy Staithe and the sea, a web of tidal creeks reaches out through the marshes that line this stretch of coast, and finally reach the sea by passing through a gap in the sand dunes.
This gap, known as Gun Hill, allows small sailing boats, kayaks and canoes access to Burnham Overy Staithe, making the town a major recreational sailing centre. You can also hire stand-up paddleboards to explore the Norfolk coast.
Burnham Overy Staithe has a fabulously unspoilt and secluded beach which can only be reached by walking for a mile to get there. The huge expanse of beach stretches as far as you can see, and you can walk all the way to Wells along this unspoilt bit of Norfolk coast.
Where to Stay in Burnham Overy Staithe
The Hero is a lively gastro pub with three chic en-suite rooms, located in a separate building from the main pub with its own private entrance. All bookings include a fantastic à la carte breakfast, created using local Norfolk produce.
RELATED POST: Burnham Market – All You Need to Know Before You Go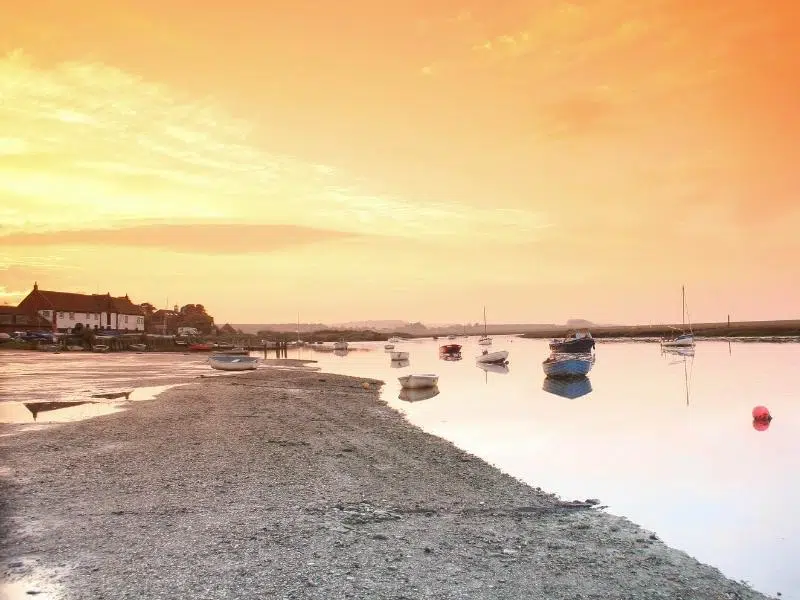 Caister-on-Sea
Best for: families, beach lovers, activity seekers
Caister-on-Sea is a popular choice for summer holidays, known for its beautiful wide, sandy beaches surrounded by grassy dunes.
Casier has a superb selection of holiday centres, caravan and chalet parks and offers plenty of amenities and things to do for visitors, meaning it has become one of Norfolk's top self-catering destinations.
The name Caister comes from the Latin word Castra which means fortress and it is known that the Romans first settled in the Great Yarmouth area in the first century, building a Saxon Shore fort in Caister around 200 CE. The partially excavated remains, including wall and ditch sections and building foundations can still be seen.
Caister Castle, built in 1432, is located at the western edge of town and houses an impressive Classic Car collection, and nearby Yarmouth Stadium stages greyhound racing three nights a week and also regular stock car racing for a fun night out.
Where to Stay in Caister
The Old Hall Hotel is a great place for a spot of luxury with a spa, dining terrace and indoor pool. Families with kids will enjoy one of the holiday parks in Casiter, including Haven, Eastern Beach Caravan Park and Sand Dunes Cottages.
RELATED POST: 12 Norfolk Castles for You to Explore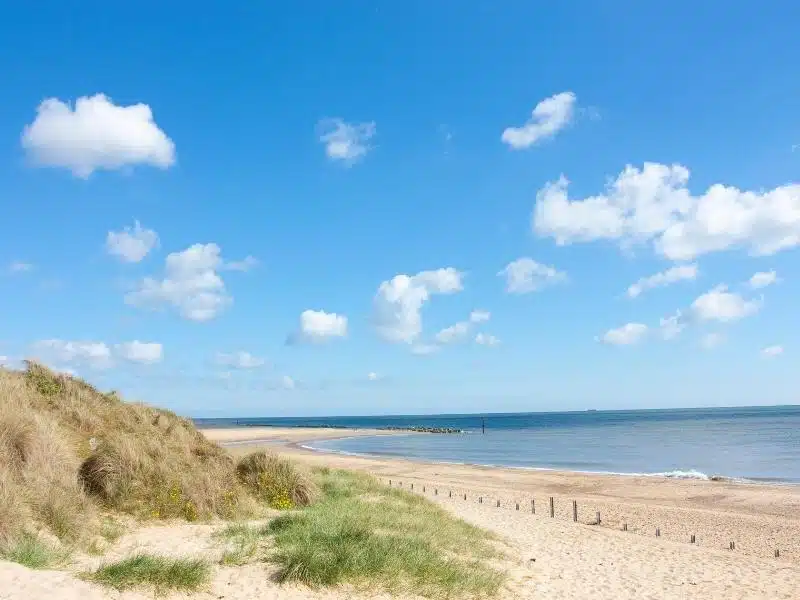 Cley next the Sea
Best for: bird watching, nature, walking, tranquillity
Cley next the Sea, known locally as Cley (and pronounced Cl•eye), was an important trading port in the Middle Ages and is today best known for the renowned Cley Marshes, a nature reserve owned by the Norfolk Wildlife Trust.
The reserve offers some of England's best birdwatching and has six hides providing fantastic views. Cley's lagoons and beach, grazing marsh and reedbeds attract wintering and migrating wildfowl and waders, making it a haven for birdwatchers.
The quaint village has a tiny harbour by the infamous Cley windmill, and picture-perfect houses, along with the wonderful Cley Smokehouse, The George pub, a fascinating bookshop and an impressive 13th century church, all of which make Cley the perfect place for a short break on the Norfolk coast.
Where to Stay in Cley
Book the Mariners Hard Cottage for cosy self-catering accommodation in the centre of Cley. With far-reaching views and fantastic facilities, this three-bedroom cottage has everything you need for a memorable Norfolk break.
RELATED POST: Norfolk Nature Reserves – Ultimate A-Z Guide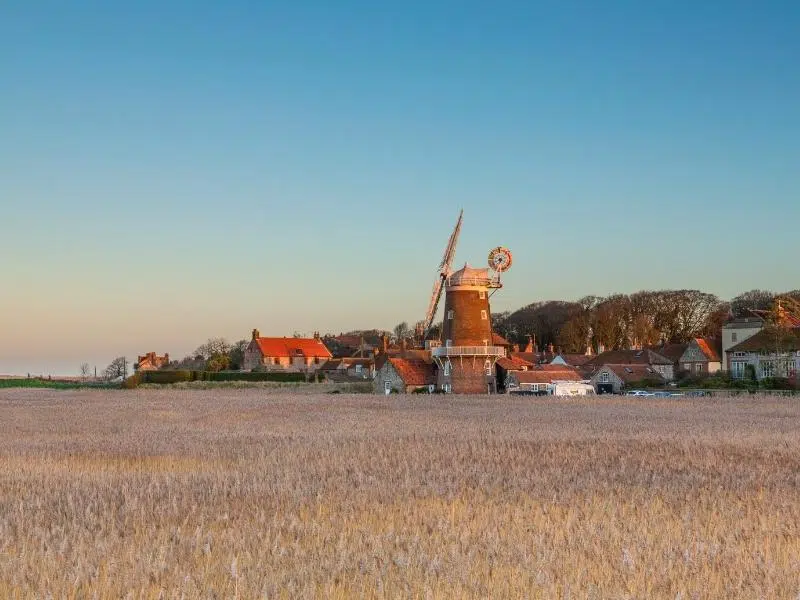 Cromer
Best for: family fun, foodies, surfers, day trippers
Who can resist Cromer? One of my favourite Norfolk seaside towns, traditional Cromer is home to the much loved Victorian Cromer pier, colourful beach huts, famous Cromer crabs and a strong connection with the sea through the RNLI. For many, is the best seaside town in Norfolk.
Although you won't find lots of amusements or fairground rides here, there is plenty to keep families busy in Cromer. With a bustling town centre, great gastro scene, the unique end-of-pier Pavilion Theatre, crabbing from the pier, a fabulous kid-friendly blue flag beach, RNLI Henry Blogg Museum, surf school, a microbrewery and gin distillery, Cromer Museum and even a Banksy, Cromer is the place to visit on the Norfolk coast.
There's also lots to do around Cromer if you like days out, like visiting 17th century Felbrigg Hall, exploring the beaches of the North Norfolk Coast and getting to know the deep history of the shoreline.
There are more famous beach towns in East Anglia, but I think the quintessential Norfolk seaside town Cromer beats them all.
Where to Stay in Cromer
The Grove Hotel is a stylish and welcoming family-friendly hotel, offering rooms, dog and family-friendly cottages and glamping. The property has an excellent restaurant, an indoor heated swimming pool and open-air dining with a sea view in the summer.
RELATED POST: 23 Of The Best Things To Do in Cromer Norfolk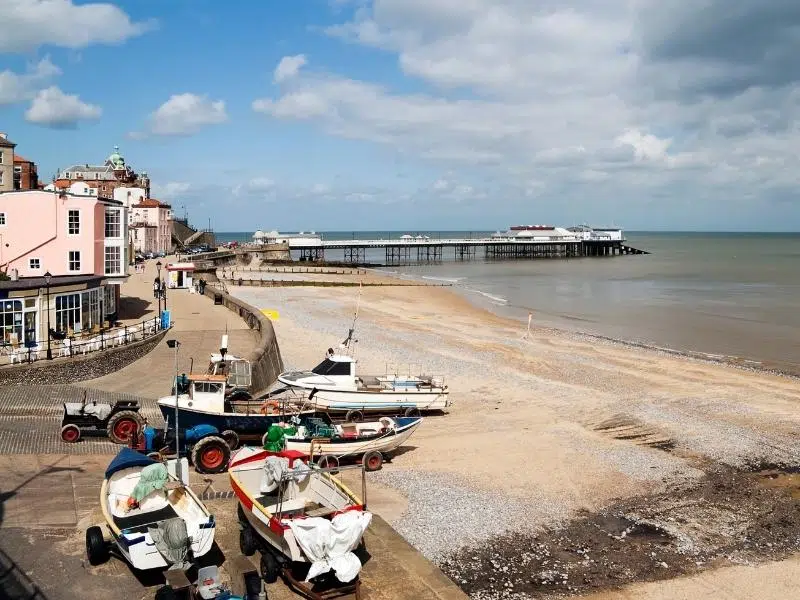 Great Yarmouth
Best for: families, budget holidays, days out, amusements
One of the liveliest Norfolk seaside resorts, Great Yarmouth makes for an action-packed east coast day out or holiday destination. The main attraction, Great Yarmouth's famous Pleasure Beach, has plenty to keep visitors (especially kids!) busy.
It's easy to see why Great Yarmouth is one of the most popular holiday resorts in Norfolk. There is loads to see and do in the town itself, and kids and teenagers will find plenty to keep them amused.
Close to the long sandy beach are traditional seaside attractions like fairground rides, the SEA LIFE Centre, amusements, crazy golf, bouncy castles, trampolines and fast food. And on the beach itself are traditional donkey rides, sand sculpting and banana boat rides.
Don't go to Great Yarmouth if you're looking for history or culture – this is a brash, loud, and in-your-face kind of place. What you will get is good value accommodation, a great beach and LOTS to do!
Where to Stay in Great Yarmouth
Hotel Victoria, just two minutes from the beach, has traditionally decorated and simple rooms, with an outdoor pool, live entertainment in the evenings and free WiFi, a must if you're on holiday with teens!
RELATED POST: 13 Exciting Things To Do in Great Yarmouth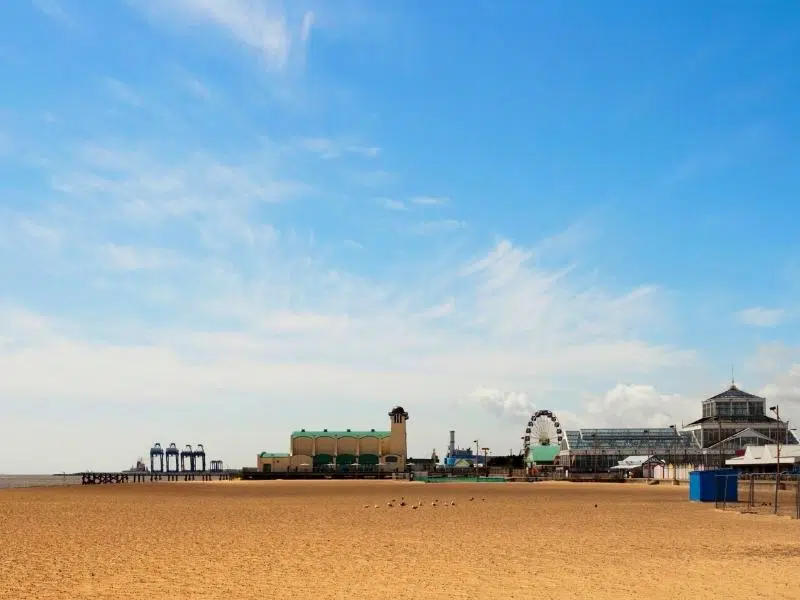 Happisburgh
Best for: adventurous families, history lovers, photographers, fossil hunters
A key place along Norfolk's Deep History Coast, Happisburgh (pronounced hayz·bruh) is a sleepy village, in a great location on the North Norfolk Coast. Known for the coastal erosion the village and beach have suffered, there is much more to Happisburgh than this.
Happisburgh's prime claim to fame is the insanely photogenic Happisburgh Lighthouse, an iconic red and white Norfolk landmark. Built in 1790, originally one of a pair, the tower is 26m tall and the lantern is 41m above sea level. The lighthouse has open days where you can climb the 112 steps to the light for fantastic coastal views, and find out more about how the light is operated.
Happisburgh Beach made international headlines in 2013 when a layer of sediment was exposed by the tide to reveal ancient footprints, which were dated to over 850,000 years ago. Along with the discovery of the West Runton Mammoth, they have now made the Norfolk coastline an integral part of ancient British history, and you can search for your own fossils at low tide on the beach today.
Where to Stay in Happisburgh
Lanterns Shepherds Hunts and Glamping offer a range of luxury glamping pods and huts, fully equipped for a self-catering camping stay. Perfect for taking advantage of Happisburgh's dark sky status, which promises amazing star gazing.
RELATED POST: Happisburgh: A Deep History Coast Village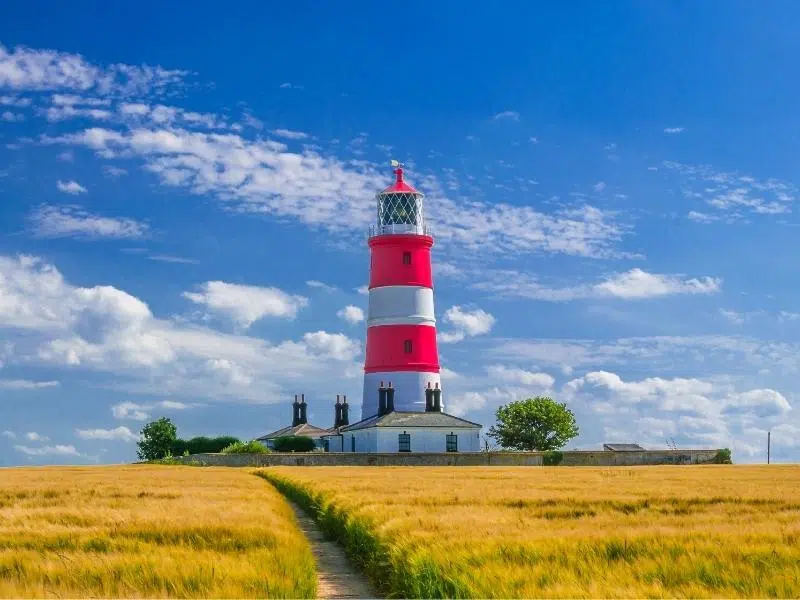 Holkham
Best for: history buffs, beach lovers, gardeners, nature
A popular destination in North Norfolk, Holkham has it all. The small village boasts the top Norfolk's top stately home, Holkham Hall, one of the best beaches in Norfolk, and the Holkham National Nature Reserve. There's a lot going on here!
One of the best stately homes in Norfolk, Holkham Hall is an 18th century Palladian masterpiece, with a fantastic walled garden, surrounded by rolling parkland and home to a herd of Fallow deer.
Holkham Beach is simply vast and probably the best beach in Norfolk – even in summer, you can find a quiet spot here. The windswept tidelines, miles of dunes and maze of creeks which make up Holkham's nature reserve are ripe for exploring by intrepid adventurers – young and old alike!
Where to Stay in Holkham
A delightful B&B, No 52 Sea Holly is right in Holkham village itself. A ten minute walk from both the beach and Holkham Hall, all rooms are en-suite with a shared garden and lounge.
RELATED POST: Holkham Beach – Complete Visitor Guide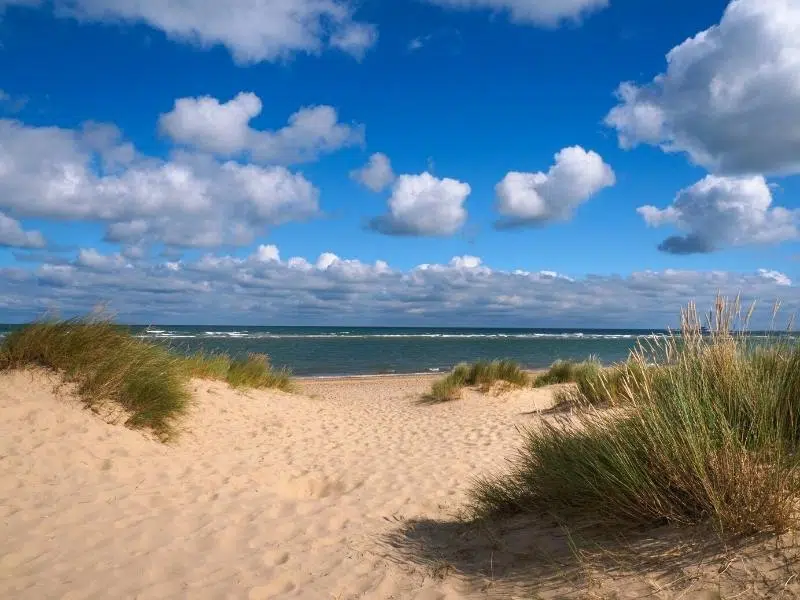 Hunstanton
Best for: family holidays, beach entertainment, seal safaris, water sports
Hunstanton, or 'Sunny Hunny' as it's known by locals, is a real mixed bag of a traditional seaside resort, great beach, fairground rides, crazy golf, amusements – and the best hot sugared doughnuts on the coast!
It's a wonderful West Norfolk family holiday destination with lots for all ages to do and see. The beach is a focal point, with lots of water sports and rides available, as well as traditional donkeys and family beach games.
Grown-ups will love the beautiful 19th century heritage gardens and village green, catching a show at the Princess Theatre, and the unique red and white striped cliffs.
Along the prom are rock shops, amusement arcades, fairground rides and ice cream vendors to keep children happy, and when they get bored of that, there's SEA LIFE Hunstanton. One of the resort's most popular attractions, visitors can get up close to a range of underwater creatures and learn about sea life along Norfolk's shoreline.
Where to Stay in Hunstanton
Stay at Searles Leisure Resort, just a few hundred metres from Hunstanton South Beach. With well-equipped self-catering lodges, indoor and outdoor swimming pools and a hot tub and sauna, this is a perfect sport for a family holiday.
RELATED POST: Best Things to Do in Hunstanton Norfolk: 25 Top Attractions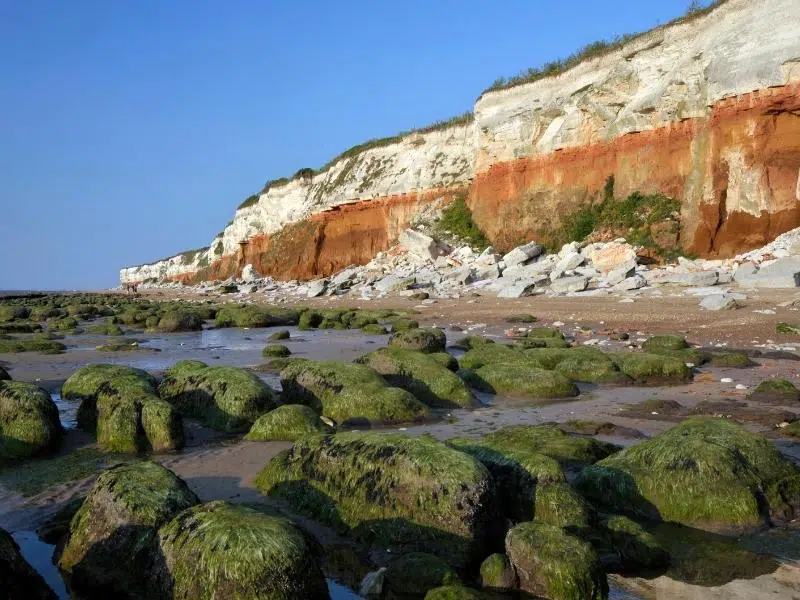 Mundesley
Best for: family holidays, golfers, beach fun, fish and chips!
Located around nine miles from busy Cromer is the pretty Victorian village of Mundesley, a great destination where families can enjoy a traditional holiday away from the hustle and bustle. Home to one of the finest stretches of blue flag beach along the North Norfolk Coast, the lifeguarded beach here is gently sloping and a perfect spot for paddling.
As well as the beach, there are cliff-top gardens and a traditional promenade, with brightly painted beach huts, to be explored. Golfers can enjoy the popular activity of crazy golf on the seafront and then retreat to the nine-hole course for a more serious game.
Mundesley is also home to the world's smallest maritime museum, located in an original coastguard hut from the 1920s, and several good fish and chip shops!
Where to Stay in Mundesley
Stay at Mundesley Holiday Village for a range of family-friendly accommodation close to the beach.
RELATED POST: Mundesley: Norfolk's Best Kept Secret?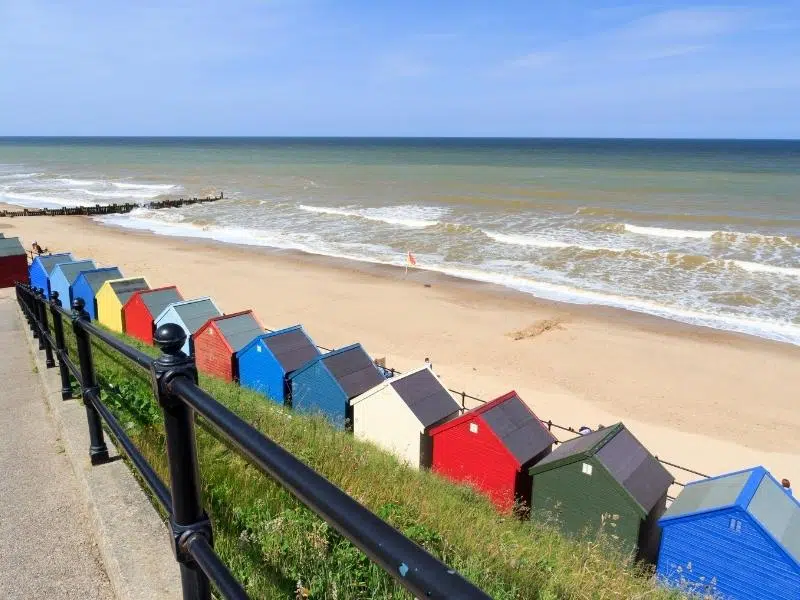 Old Hunstanton
Best for: couples, history lovers, dog owners, eating out
Just along the coast from lively 'new' Hunstanton is the smaller and more peaceful village of Old Hunstanton.
Just below the gentle cliffs is Old Hunstanton Beach, a large sandy beach that is dog-friendly all year round, and also popular with kitesurfers. Look closely to see the pastel painted beach huts nestled behind the dunes, which curiously face the Hunstanton golf course instead of the sea!
There's lots of history to uncover in Old Hunstanton, including Hunstanton Lighthouse that sits atop the red and white striped cliffs, the 1272 ruins of St Edmund's Chapel and Le Strange Old Barns, an antiques and craft centre based in the village.
Old Hunstanton is also home to a few great places to eat including fine dining at The Neptune, The Old Boathouse and Chives Brasserie.
Where to Stay in Old Hunstanton
Continuing the foodie and history theme, stay at the stylish Caley Hall Hotel, a manor house dating back to 1648, with a relaxing bar and AA rosette-awarded restaurant.
RELATED POST: 26 Norfolk Food & Drink You Must Try!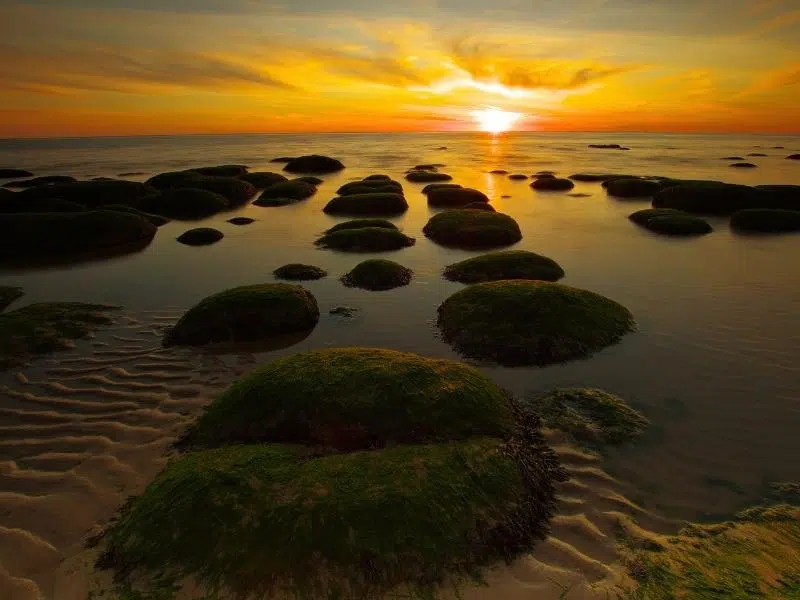 Overstrand
Best for: relaxing, walking, escaping Cromer, families
Overstrand is an attractive coastal village to the east of Cromer, situated on a cliff top overlooking a fine sandy beach, great for families. Around a two mile walk from Cromer, Overstrand is one of the best North Norfolk villages in which to base yourself if you prefer somewhere quieter but want access to all the attractions.
The village grew up around its fishing industry and a few fishing boats are still based here. In the latter part of the 19th century, the village came into prominence, and was known as "the village of millionaires". The famous Edwardian architect Sir Edwin Lutyens designed a number of houses in and around the village.
Some excellent coastal walks begin in this area including the well-signed Overstrand circular path. The village is also on The Norfolk Coast Path and the Deep History Coast Discovery Trail.
Where to Stay in Overstrand
Forest Park Caravan Site has touring pitches for tents and motorhomes, glamping tents and holiday cottages. Perfect for families, the site is set within 100 acres of rolling Norfolk countryside.
RELATED POST: 10 Brilliant Reasons to Visit Norfolk!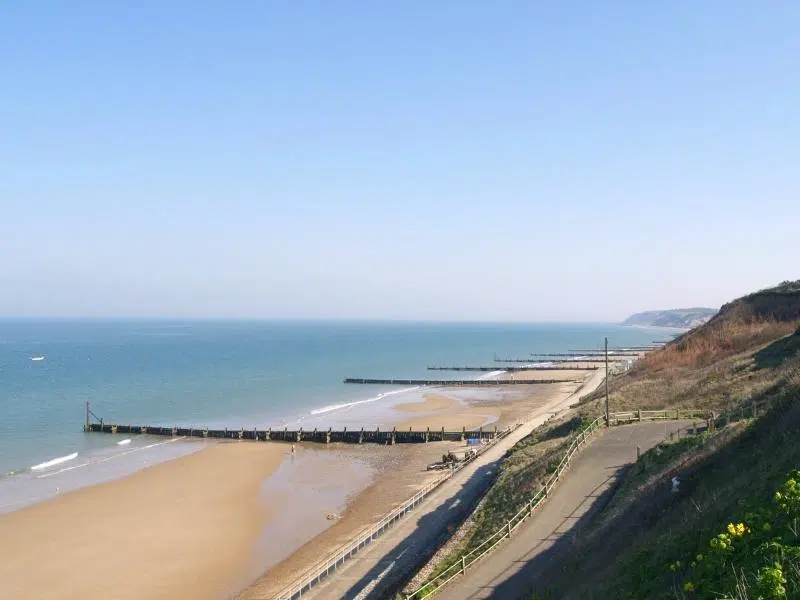 Sea Palling
Best for: families, water sports, the Broads
Sea Palling is a peaceful village on the North Norfolk Coast, boasting an award-winning and family-friendly Blue Flag beach, backed by grassy dunes and calmed by artificial coastal defence reefs.
The beach has lifeguards on duty during the summer season and a inshore lifeboat based right on the beach. There are also amusements, shops and cafés and set back from the beach – just enough to keep everyone fed and entertained, but not enough to make it into a really touristy beach.
An ideal destination for a quiet holiday away from the hustle and bustle, Sea Palling is just a few miles from Hickling Broad and Horsey, and perfectly situated for exploring both Norfolk Broads and coast, both unique areas of unspoilt natural beauty.
Sea Palling has a rich history, which includes sea flooding, shipwrecks, and heroism on the waves. Nowadays, water sports ranging from swimming to jet skiing are popular activities for both visitors and locals.
Where to Stay in Sea Palling
Keith Farm Caravan & Camping Site is right in the centre of the village and offers touring and tent pitches. There are no hotels in Sea Palling, but a plethora of holiday cottages dot the village and local area.
RELATED POST: Norfolk Beaches – Ultimate A-Z Guide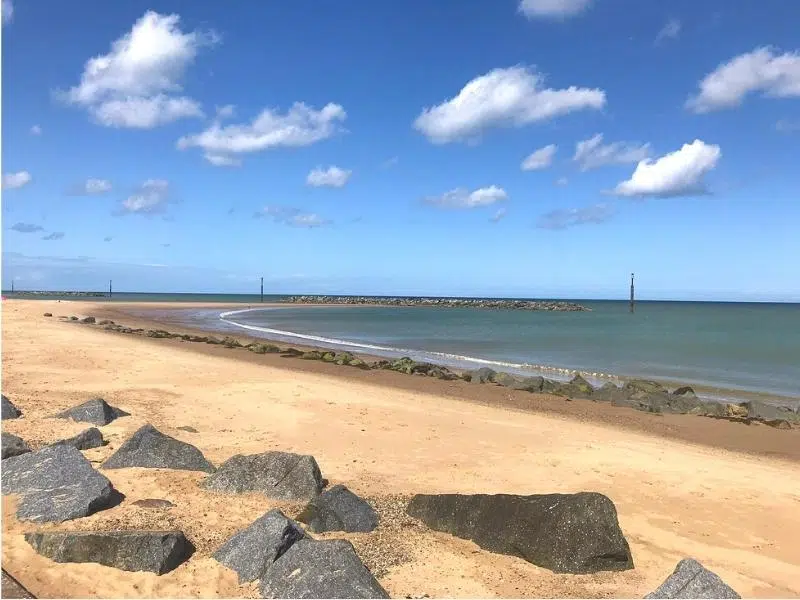 Sheringham
Best for: families, attractions, steam trains, festivals
Sheringham is a traditional Norfolk seaside town developed around a once-thriving fishing village. Today, you can still watch wooden fishing boats bring in their catch of the day up the blue flag shingle and sand beach, as you stroll the seafront promenade lined with pretty cottages, cafes and places to eat.
Sheringham is one of Norfolk's most popular seaside resorts for families and is host to a couple of Norfolk's biggest annual events – the Sheringham Viking Festival in April, and the Cromer and Sheringham Crab and Lobster Festival in May.
You can catch a Norfolk steam train from Sheringham to the pretty Georgian market town of Holt on the heritage North Norfolk Railway, known as The Poppy Line. Travelling in one of the beautifully restored carriages is a wonderful way to enjoy the spectacular coastal scenery.
There are over 1,000 acres of woodland, parkland and landscaped gardens at the National Trust Sheringham Park, where you can climb the viewing towers for superb views, and photographs, over the surrounding countryside and the North Norfolk coast.
Where to Stay in Sheringham
Turnstone Cottage, just a few steps from Sheringham Beach, is a family-friendly four-bedroomed holiday cottage. Perfect for self-catering, you'll find everything you need for a fantastic seaside holiday.
RELATED POST: 21 Amazing Things To Do in Sheringham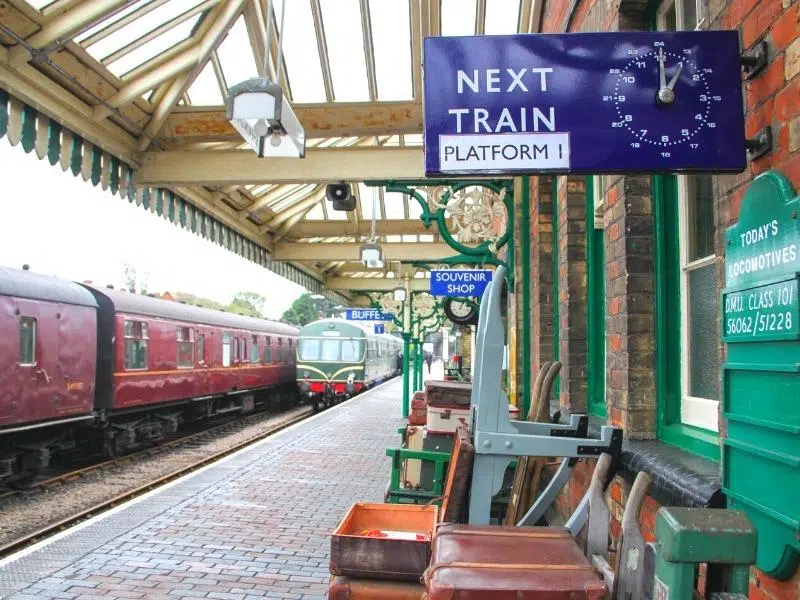 Wells-next-the-Sea
Best for: families, beach, crabbing, activities
Known simply as Wells, the pretty harbour town in North Norfolk's Area of Outstanding Natural Beauty, lies between the bird sanctuary at Blakeney Point and the fabulous Holkham Bay.
Wells town has a fine Georgian square and a good mix of independent traditional gift shops, cafés and restaurants, and is one of the top seaside resorts in Norfolk.
With a lively harbour sheltered by salt marshes from the open sea, Wells was one of the great Tudor ports of East Anglia. Today, the harbour is used by sailing and crabbing boats and is watched over by a distinctive granary dating from 1904. One of the best ways to experience the harbour is on board the Wells Ferry, which tours daily from March to October.
You must try your hand at crabbing on Wells Quay, the crabbing spot on the North Norfolk Coast. Yes, you can crab in lots of other places, but this is where you'll get the best catch because of the abundance of estuarial and creek waters that crabs like living in. I used to crab here every summer, and my kids crabbed here too!
Wells is probably best known for its long line of colourful beach huts, which you can find if you take a short walk through the beach car park and Pinewoods, to the award-winning Wells-next-the-Sea Beach.
With endless expanses of soft, golden sand perfect for sandcastle building, raised and sheltered dunes to picnic in, the nearby lifeboat station to explore, space to fly a kite or play games, and the clear shallow water of the North Sea, this is one of the best family beaches in Norfolk.
Where to Stay in Wells-next-the-Sea
Bakers House is a four-bedroom Wells holiday home with a terrace, close to the quay in the centre of Wells. Sleeping up to 12, this is an ideal option for a family holiday. If you prefer a hotel, check out these top Wells hotel options.
RELATED POST: 22 Brilliant Things To Do in Wells-next-the-Sea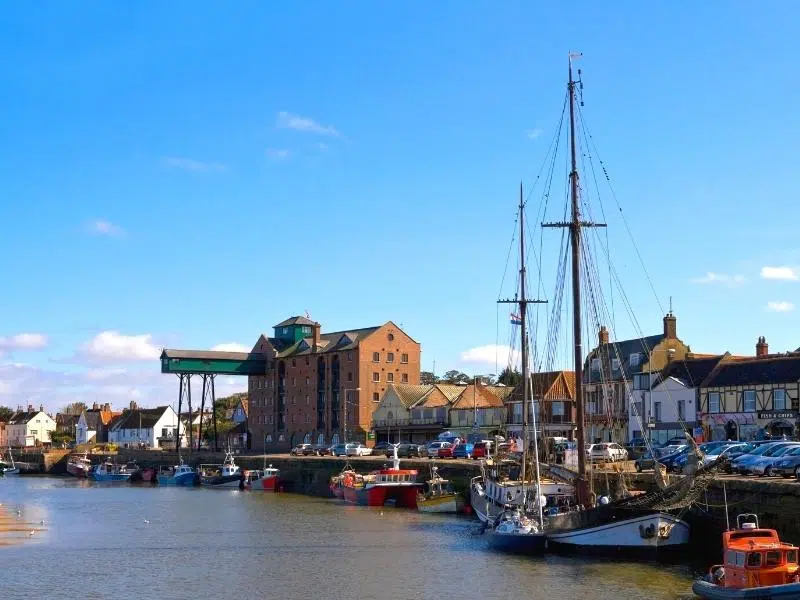 West Runton
Best for: families, beach, fossil hunting, walking
West Runton is a sleepy village on the Deep History Coast, sandwiched between Sheringham and Cromer. With a blue flag lifeguarded beach and lots of local interest, the village is a great option for those looking for a quieter staycation.
West Runton is probably best known for the Steppe Mammoth, found in the cliff face in 1990, and one of the oldest fossil elephants to be found in the UK. The mammoth appeared because of the fierce erosion found all along this coast, which also makes the beach here a popular place for fossil hunters. It's great fun with kids to scrabble around looking for something interesting or search in the many rock pools that form as the tide goes out.
The area is ideal for gentle walking and just 1.5 miles inland is Beacon Hill, the highest point in Norfolk at 105 metres above sea level. From here you'll have a great view of the sea and surrounding countryside, including the easily recognised Beeston Bump just east of Sheringham.
Walk to the top to find out about Beacon Hill's World War Two history as a wireless interceptor station and for a lovely wander around West Runton & Beeston Regis Heath.
Where to Stay in West Runton
The delightful St Joseph's Cottage is a three-bedroomed holiday home. A ten minute walk from the beach and on the edge of the village, this makes a perfect family retreat!
RELATED POST: 30 of the Very Best Things To Do in Norfolk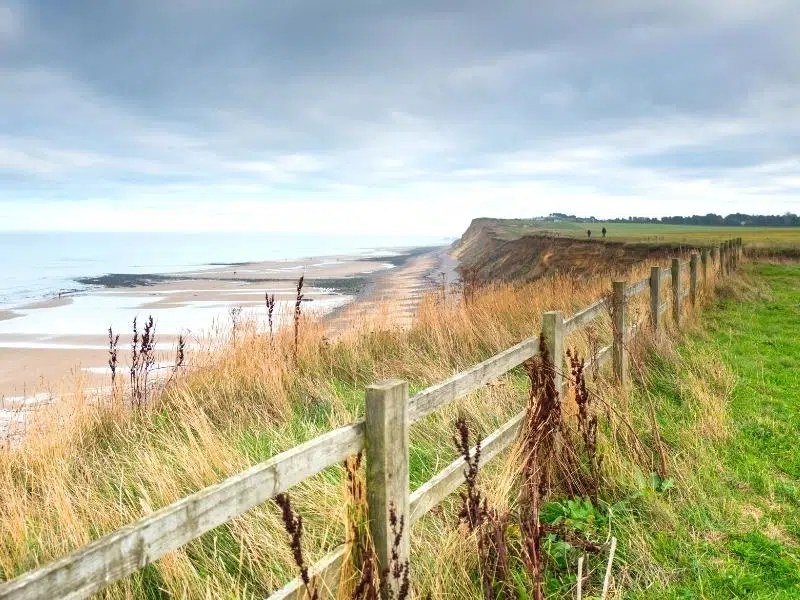 Winterton-on-Sea
Best for: seals, couples, winter visits, dog owners
Historic Winterton-on-Sea is a small picture-postcard village with beautiful floral displays and pretty little thatched cottages, mentioned in the Domesday book. There is a good pub and a great fish and chip shop in the village, making it a great location to get away from it all.
Winterton-on-Sea is at the furthest point south of North Norfolk and has a cracking three mile stretch of sandy beach, backed by the Winterton Dunes National Nature Reserve and some of the finest sand dunes in Norfolk.
At the northern end of Winterton Beach is Horsey, home to an Atlantic Grey seal colony. You can see the seals swimming all along Horsey Beach and Winterton Beach year round, as they pop up their heads to check out what's happening on the beach and have a nosy at us humans!
In the winter months between late November and mid-December, the female seals start to come onto the beaches at Winterton and Horsey to have their pups. You are asked not to walk on the beaches from November to late January or early February (depending on the year) to prevent the seals from being disturbed, but you can see the seals and their pups from the dunes and roped-off viewing areas.
Where to Stay in Winterton-on-Sea
The dog-friendly Fisherman's Return has seven recently renovated rooms above the lovely pub, perfect for North Norfolk escapes, and the self-catering Skipper's Lodge, ideal for family holidays.
RELATED POST: Seals in Norfolk – Where & How to See Them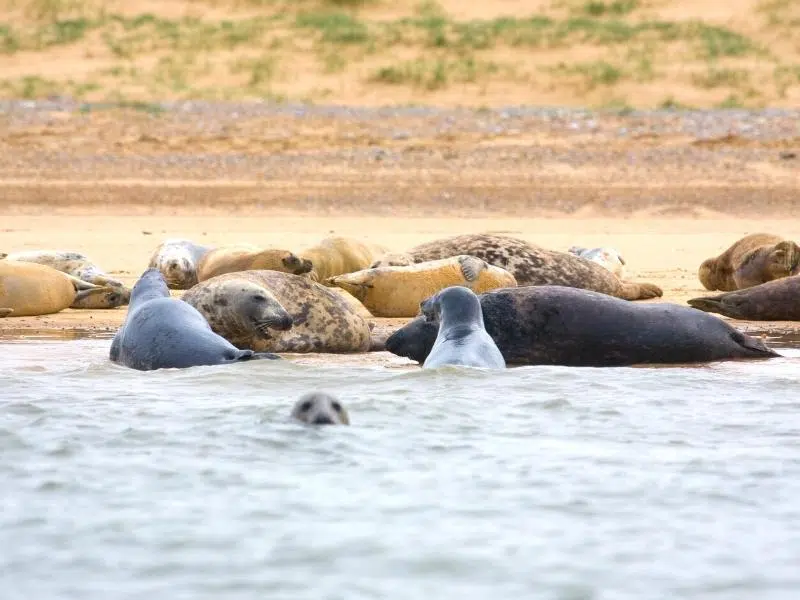 Norfolk Seaside Towns FAQs
Finding the best seaside town in Norfolk really depends on what you enjoy doing when you visit. Families will love Caister and Hunstanton for their lively vibe, large variety of entertainment and activities and lifeguarded beaches.
Nature lovers will prefer towns of the North Norfolk Coast, where seals and migrating birds are common visitors.
Couples may enjoy the Norfolk coast towns of Cromer, Mundesley and Overstrand, which have all the holiday amenities, but are a bit more low-key than traditional family destinations.
Ohhh, that's an unfair question! I prefer Cromer because I spent a lot of time there as a kid and know it well.
But, objectively, I would say Sheringham has more to do, like the North Norfolk Railway and its snorkel trail.
Hunstanton is not better than Cromer, it's different. Hunstanton is lively with fairgrounds, entertainment and amusement. Cromer is slightly more genteel, with the Victorian Pier taking pride of place.
Again, it depends. West Norfolk is fantastic for nature and sunsets, with a bit of bling from Hunstanton thrown in.
North Norfolk has wild and windswept beaches, great for playing games and spotting seals. The Sunrise Coast on the east has fantastic beaches and lots of great holiday resorts.
Map of Norfolk Seaside Towns
How to use this map – Use your fingers (or computer mouse) to zoom in and out. Click or touch the icons to get more info about a place, and click the arrow in the box top left to open the index. To add to your own Google Maps account, click the star next to the title of the map.
Have you stayed in one of my favourite seaside towns in Norfolk? Share your experience in the comments below!
Love it? Pin it!