The historic Georgian town of Holt is a charming North Norfolk market town. Close to the coast and the seaside town of Sheringham, Holt makes a wonderful holiday destination or day trip.
Holt's fine 18th century Georgian buildings, local flint walls and secret yards make the town one of the most attractive in North Norfolk, and with its many art galleries, antique and book shops, independent boutiques and places to eat, it's a lovely setting in which to while away an afternoon.
There's lots to see in and around Holt for the whole family, and this round-up of all the must do things in Holt and the surrounding area will help you plan your day out, so here are my top Holt highlights…
RELATED POST: The Ultimate Local's Guide to Norfolk England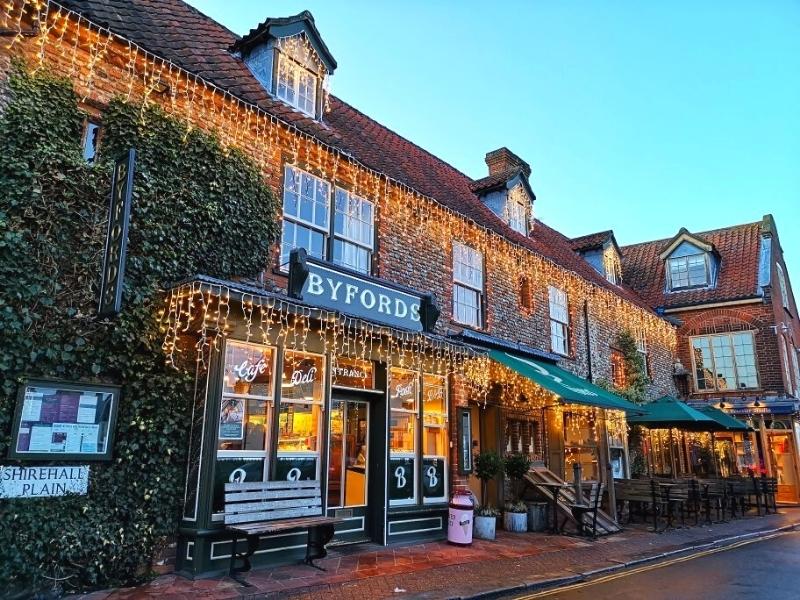 This post may contain affiliate links. If you book something I recommend, I make a small commission without affecting the price you pay!
Things To Do in Holt
Explore the Holt Owl Trail
Probably the best way to get to know the pretty North Norfolk town, is to follow the Holt Owl Trail, one of the best free things to do in Holt. The project was created in 2017 by Holt Town Council, Holt Chamber of Trade and the Holt Society to promote the rich and unique history of the town.
The trail of 24 pavement plaques meanders between key places in the town and reveals fascinating history, interesting facts, and even some of Holt's hidden locations. Visit the website to read the story behind each plaque and find out more about local figures and places.
From historic monuments and memorials dotted around the town, historic listed buildings and links with Admiral Lord Nelson, to the famous Gresham's School, founded by Sir John Gresham, the Holt Owl Trail is a walk through the history of Holt.
You'll also learn about the 1708 fire, which broke out amongst wooden market stalls and swept through the town, its wooden medieval half-timbered buildings and the church.
Over the next 100 years, Holt was rebuilt using local materials like stone and flint, and this is why the Market Place and High Street are predominantly Georgian in design and architecture, and the pretty back lanes, streets and flint stone yards are mainly Victorian, as they were added later.
RELATED POST: Towns in Norfolk – 27 Towns to Visit in Norfolk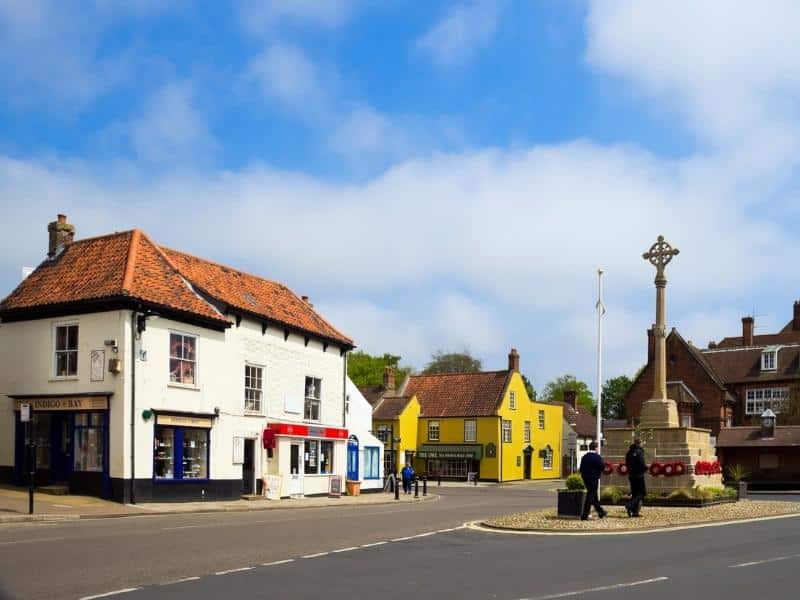 Take a Ride on the North Norfolk Railway
The historic steam engines of the North Norfolk Railway chug to Holt station on their route across the gorgeous Norfolk countryside from Sheringham.
The ride between Sheringham and Holt is just eleven miles, and the landscape, coastal views and experience of being on a steam train make the Poppy Line a must do attraction in North Norfolk.
The railway station at Holt, whilst not on the original site, is a faithful re-creation of a Midland and Great Northern country station in the early 20th century, and uses station buildings recovered from various locations around East Anglia.
There's lots to do and see at Holt station, so make sure to stop on your way to, or from, the train. There is a small buffet and gift shop near the ticket office where you can pick up a snack, or a souvenir of your journey.
A model railway depicts Broad Sidlinch, a fictional town featured in Thomas Hardy's short story The Grave. Also on site is the William Marriot Museum, housed in a recreated goods shed. The museum tells the story of M&GN, and beautifully restored goods vehicles can be viewed in the loading bay just outside the museum.
Holt town centre is approximately one mile from the station. It's a 25 minute walk or a five minute trip on the regular bus service from the stop on the main road, at the entrance to the station site.
RELATED POST: North Norfolk Coast – 19 Unmissable Highlights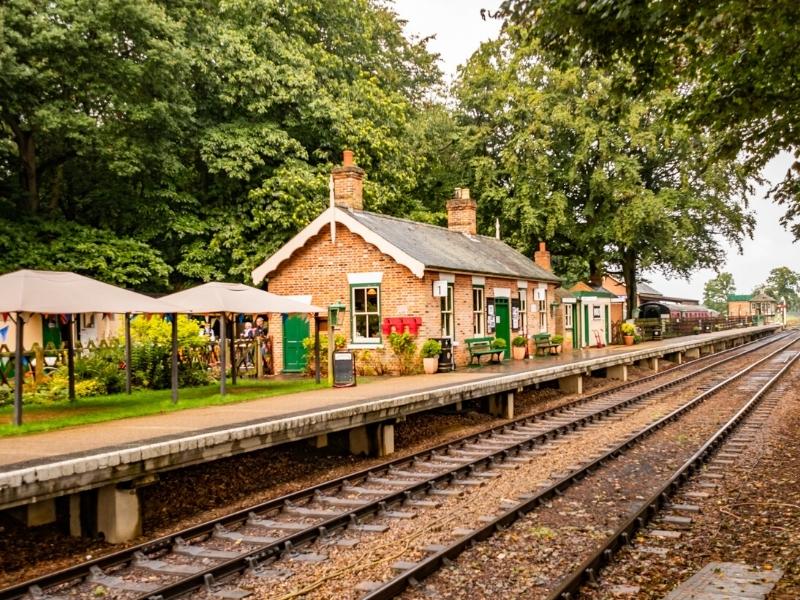 Visit the Church of St Andrew the Apostle 
The parish church of St Andrew the Apostle was established in Holt before even the Doomsday book in 1086. Situated in the heart of town, the church can be found at the end of Church Street, behind the War Memorial, at the east end of what was the original Market Place.
Nothing of the original 11th century building survives, with most of the present church dating back to the 14th century. During this time, churches in the nearby coastal ports were being built on a grand scale. In those days, Holt did not share the prosperity bought by the sea, and the church was built to a modest design, although there was originally a small spire. The church was rebuilt in 1727, and further restored in the 1860's to the pretty flint church we see today.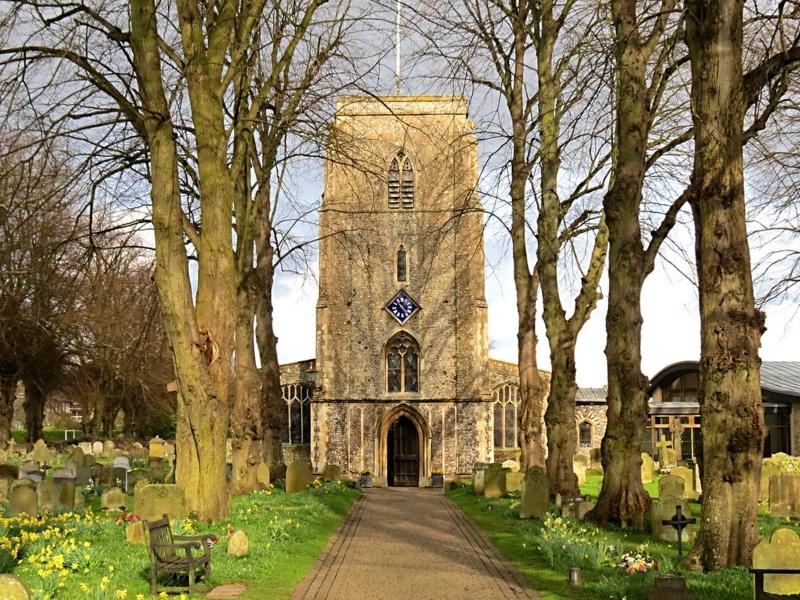 Discover Baker & Larners Department Store
Bakers and Larners of Holt is not your run-of-the-mill department store, rather a local treasure that's been serving the people of Holt for over 250 years!
The property at 8 Market Place was built in 1631, the date set in brick amongst the flint pebbles of the west gable. There has been a shop in this location since 1730, with the involvement of the Baker family beginning in the mid-1760's. Before becoming a department store, the offer was eclectic through the ages and included a blacksmith, brewer, builders' merchant, ironmonger, and plumber!
Having survived two world wars, by 1958 the company employed 29 staff and was heavily into agricultural supplies. The business went into decline after the death of the Managaing Director, Jimmy Baker, and was almost sold, but the 1970's saw a turnaround with a new generation of family members joining the Board. A period of rebuilding, rebranding and acquisition saw the business flourish and become the stalwart of shopping in Holt that it remains today.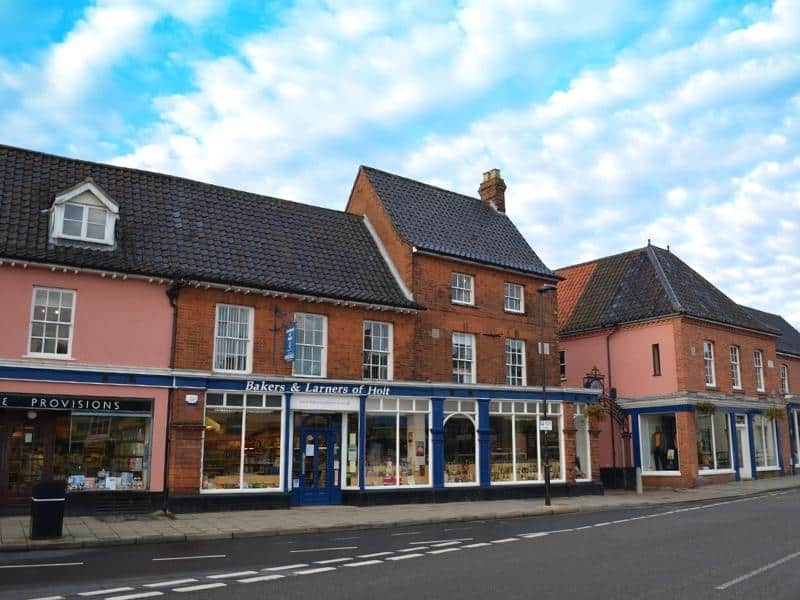 Stroll Around Spout Hills
Just a one minute walk from the pineapple-topped obelisk and Blind Sam is Spout Hills, fourteen acres of lush green space, often called Spouts Common by locals.
Rich in wildlife, its most significant feature, and the one from which it derives its name, is a spring-line around the valley which provided water for the town until the 1940's, and now sustains a diverse wetland flora of streams, ponds, marsh orchids and colourful wild flowers.
Spout Hills makes a perfect spot for picnicking, dog friendly walks, playing games, and enjoying a quiet stroll. Just walk past Obelisk Plain and continue right leaving the High Street. Immediately opposite, you'll see a wide entrance with houses and cars parked. Cross the road, walk straight ahead, and the beauty of Spout Hills will open up before you. You can also access Spout Hills from Letheringsett road, near the Old Rectory, or from the disused railway line.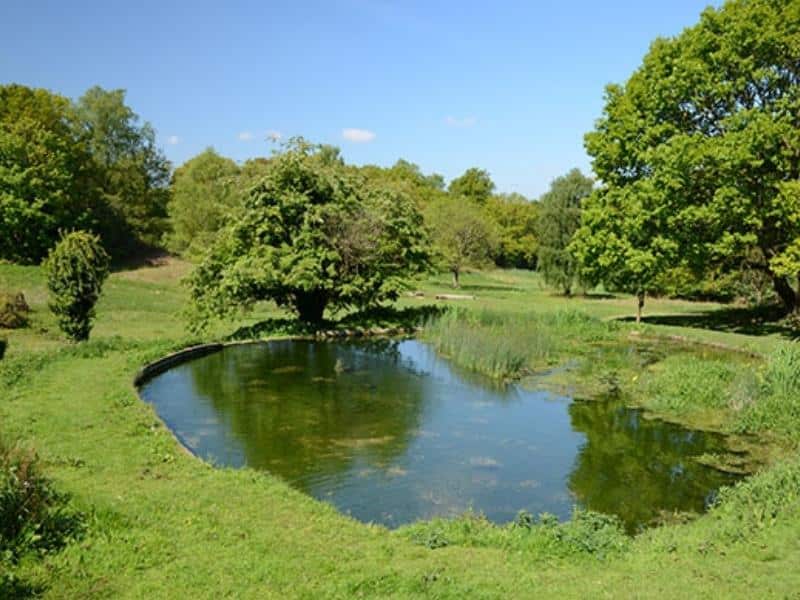 Shop the Art Galleries
There are over ten art galleries in Holt, with pieces by local and international artists for sale and on display. Work ranges from the traditional to the contemporary, and includes paintings, photography and sculpture.
It's very easy to spend an afternoon mooching from gallery to gallery, stopping for a coffee and to browse in the many bookshops, boutiques, antiques and interiors shops which can be found in Holt's pretty flintstone yards. Lees Yard and Hoppers Yard are particularly good examples, once home to Victorian cottages which now house a variety of interesting and independent shops and cafés.
If you love shopping, you're looking to stock up on Norfolk gifts, or just enjoy browsing, then the shops in Holt will most definately deliver!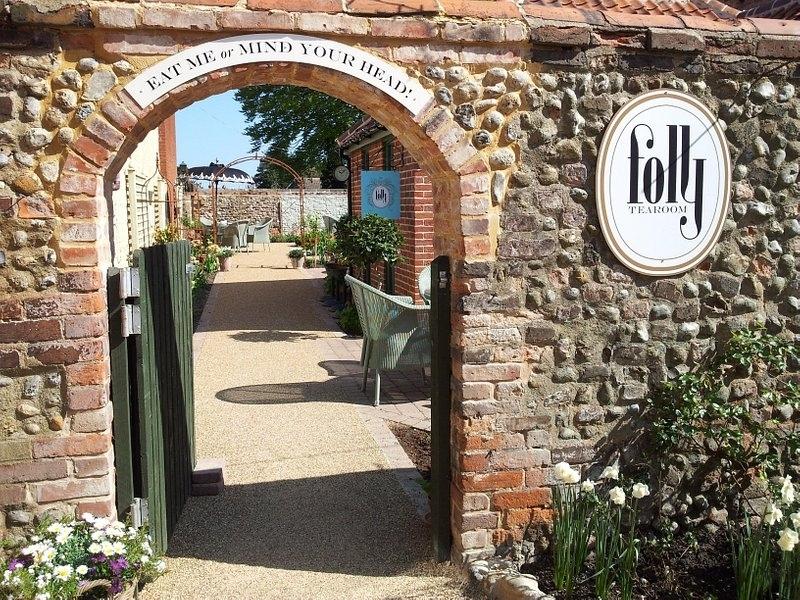 Visit the Obelisk and Blind Sam
Obelisk Plain is home to two of Holt's most interesting landmarks, both with their own stories to tell!
The pineapple-topped obelisk is one of a pair of gateposts which were relocated from Melton Constable Park in 1757. The matching obeslisk was given to the town of East Dereham. Each stone panel depicts the distance to various locations in Norfolk, and although these are incorrect now, they would have been accurate when the gatepost originally stood at the entrance to Melton Constable Hall.
The Queen Victoria Golden Jubilee Lantern was erected in 1887 in the centre of the Market Place, before being moved to its current position in Obelsik Plain, to make way for Holt's War Memorial. The gas powered light proved to be erratic and more off than on, earning it the nickname of Blind Sam.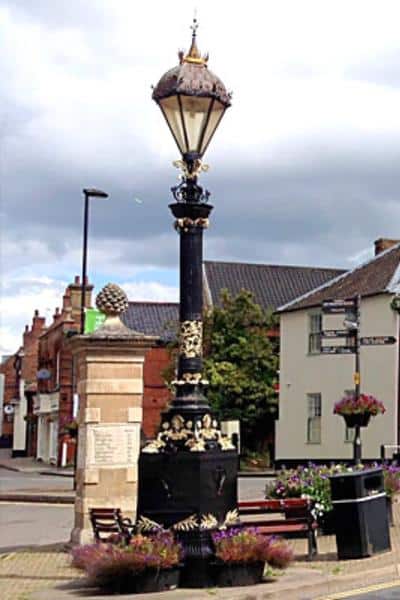 Wander Holt Sunday Market
Sundays are the new Saturdays in Holt, because that's Holt market day! Holt's vibrant and local Sunday market is well worth a visit for street entertainment, pop-up food stalls, local producers and a great atmosphere.
The idea was born during the pandemic, and as soon as it was safe to do so, a group of over 30 makers and producers came with their wares and stalls to Appleyard every Sunday during the summer or 2020. The market was praised for its authenticity and quality, and numbers steadily increased until it was decided that a more significant Sunday Market should be formed.
The Holt Sunday market is now held, fittingly, on the Market Place, where regional makers, food vendors and local buskers ply their wares and trade, and many of Holt's independent shops are open, making Holt the place to be on Sundays!
RELATED POST: 26 Norfolk Food & Drink You Must Try!
Fill Up at Byfords
One of the best places to eat in Holt, Byfords on Shirehall Plain has long been a go to destination in North Norfolk. Styling itself as a posh B&B, café, delicatessen and store, Byfords is perfect for a post-beach brunch at the weekend, a lovely location for a cuppa and home-made cake, great for all your picnic goodies, and a celebration of Norfolk's fantastic local produce.
RELATED POST: Afternoon Tea in Norfolk – 15 of the Best Places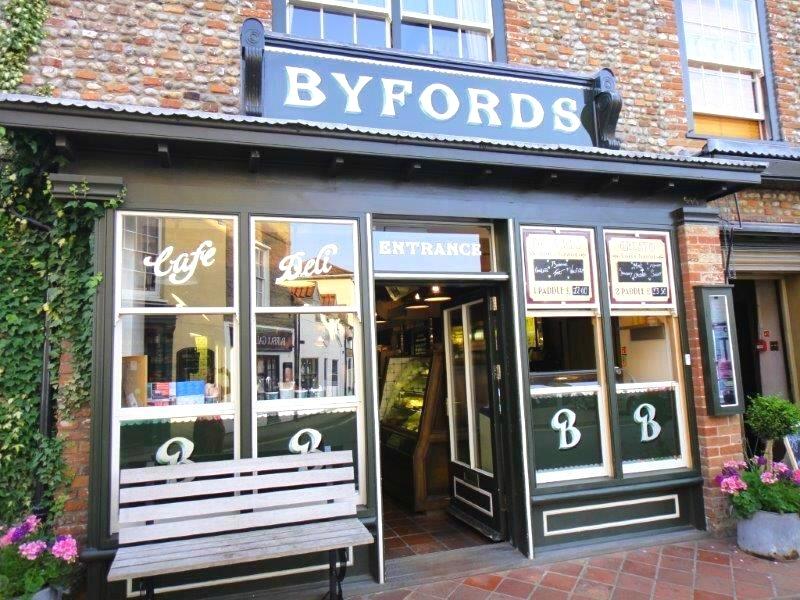 Experience the Holt Festival
The Holt Festival takes place in July every year. Look out for a lively and eclectic mix of international music, drama, visual arts, comedy, literature, street theatre and cinema.
RELATED POST: What's On in Norfolk – 46 Dates for Your Diary in 2022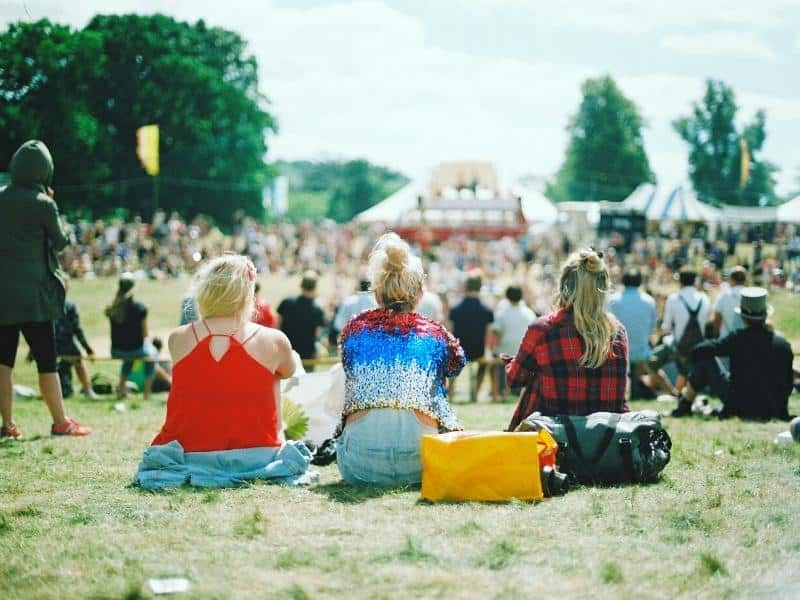 Things To Do Near Holt
Explore Baconsthorpe Castle
Located just four miles from Holt are the extensive ruins of Baconsthorpe Castle, a moated and fortified 15th century manor house which is testament to the rise and fall of a prominent Norfolk family. The Heydons built, enlarged and modernised this castle over 200 years, before finally abandoning it in the mid-17th century.
The castle has a fascinating history which weaves through several hundred years of fortunes being made and squandered in the fabric trade, poor business decisions and lavish living, all of which led to the eventual downfall of the Heydon family.
During the 1940s, the castle was given to the Ministry of Public Works, and it was later opened to the general public. Today, it is a Grade I and Grade II listed building, and is also a scheduled monument, managed by English Heritage.
RELATED POST: 12 Norfolk Castles for You to Explore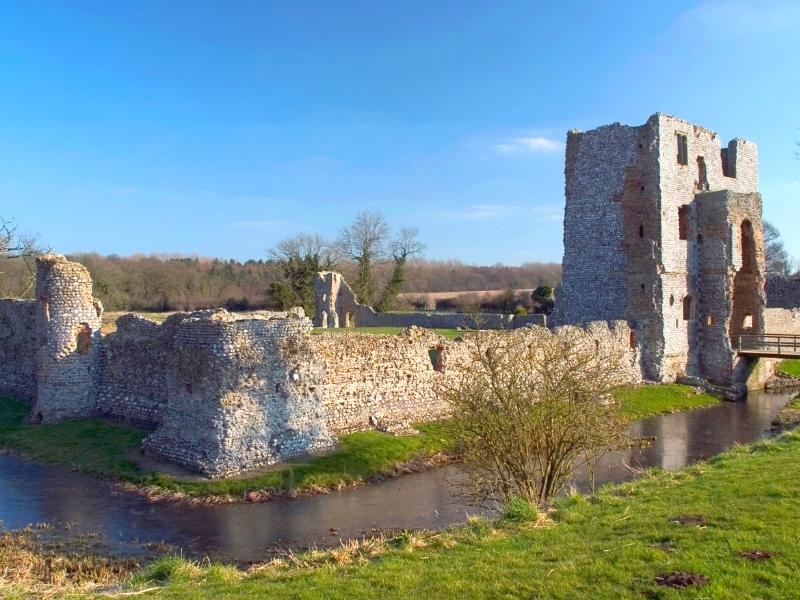 Ramble Around Holt Country Park
On the edge of Norfolk Coast Area of Outstanding Natural Beauty, and bordered by the River Glaven, Holt Country Park is set in 100 acres of mixed woodland and heathland. It's a perfect spot for wildlife enthusiasts, dog walkers, families and people looking for a peaceful walk.
A Green Flag award winning country park, the tranquil woods are dominated by Scots Pines, Oak, Silver Birch and other native broadleaves, and the rich ground flora supports an abundant array of wildlife including many varieties of butterfly, dragonflies, goldcrests, greater spotted woodpeckers, reptiles and deer.
There is also a children's play area, Hetty's House Tea Room (who make a mean Victoria sponge), waymarked trails, a cycle route, visitor centre (in the summer), viewing tower and sculptures to discover, as well as an annual programme of lively countryside events, such as Ranger led mini-beast hunts and discovery trails.
RELATED POST: Walks in Norfolk – 14 of the Best Trails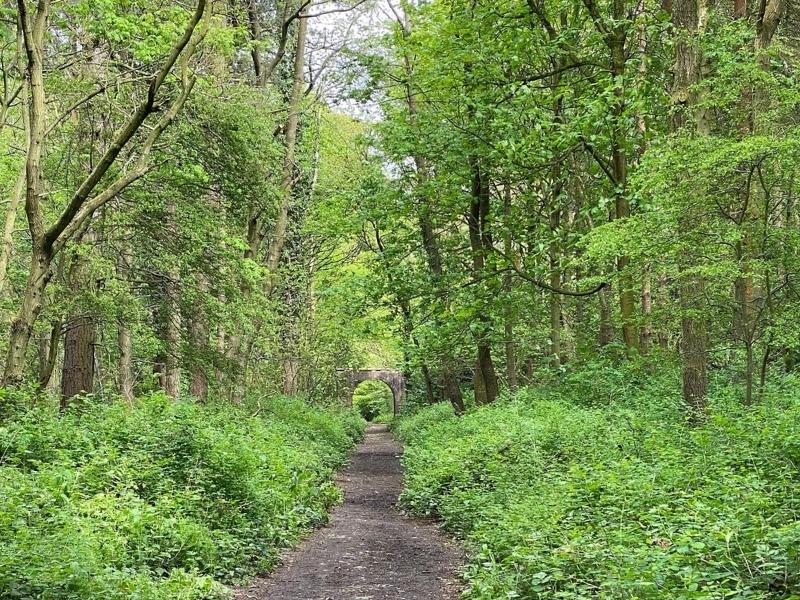 Visit Natural Surroundings
Just three miles from Holt, Natural Surroundings is a hybrid business, offering a combination of wildlife friendly gardens and grounds, as well as a cafe, shop and plant sales. With a mission to champion wildlife and to promote wildlife friendly gardening, Norfolk's wildflower centre is one of the best places near Holt to visit.
There are 20 demonstration gardens to inspire and encourage your gardening efforts. All the gardens are designed to showcase wildlife and wildflower friendly garden design, from the tiny bog garden to the larger woodland garden and the fascinating reptile refuge. The gardens are similar in size to the average household garden, making it easy to transplant ideas to your own patch.
RELATED POST: The 21 Best Gardens in Norfolk to Visit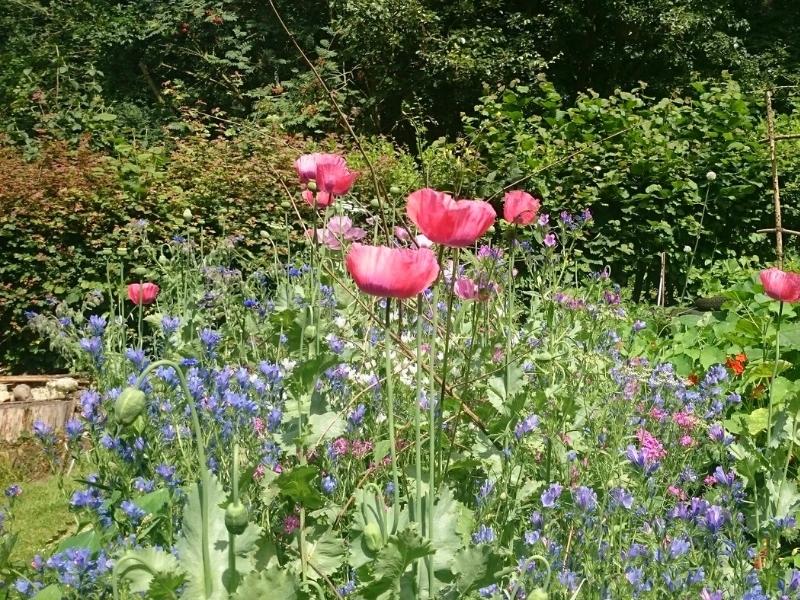 Spend a Day in Sheringham
Sheringham is a traditional Norfolk seaside town just seven miles from Holt. Known for its fantastic beach, family friendly vibe, good restaurants and places to eat, leisure centres with swimming pools, and beautiful surroundings, Sheringham is one of the most popular of Norfolk's seaside towns.
There are lots of Sheringham attractions to keep everyone busy. With an award winning beach, traditional Victorian town centre, a really good local museum and even a snorkel trail, Sheringham will entertain the whole family.
You could even leave the car behind and pop over on the North Norfolk Railway for the day!
RELATED POST: 23 Amazing Things To Do in Sheringham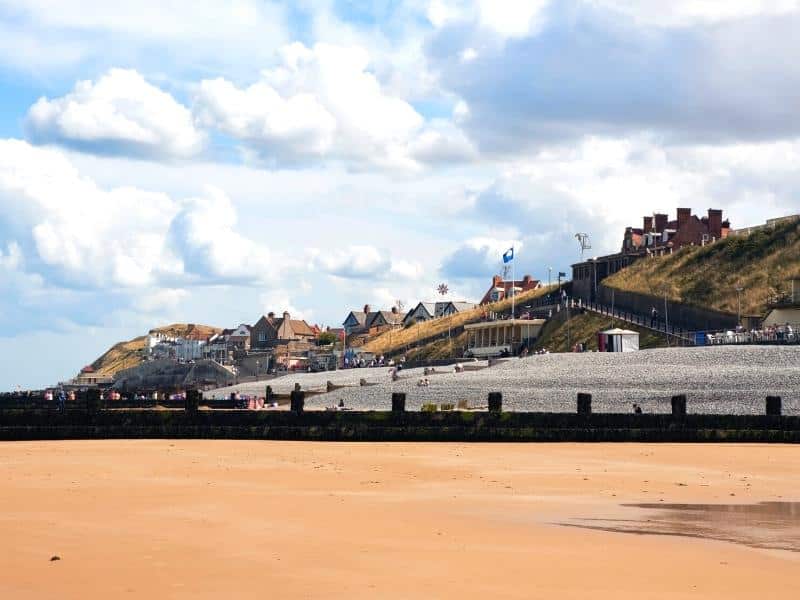 Explore the Langham Dome Museum
RAF Langham was an active airfield for eighteen years, playing a key role in both World War II and the Cold War with Russia, and Langham Dome Museum is a great place to visit with slightly older kids, to help them learn about the UK's history.
With lively and thought-provoking displays, you'll learn about the Dome from friendly and knowledgeable volunteers, and be inspired by the stories of those who served here.
You can try your hand at Morse code using a Wellington bomber radio, walk in the footsteps of the service men and women who were stationed at Langham during the war, find your favourite uniform in the dressing up locker and play table-top board games to find out more about military missions.
RELATED POST: 21 Museums in Norfolk You Won't Want to Miss!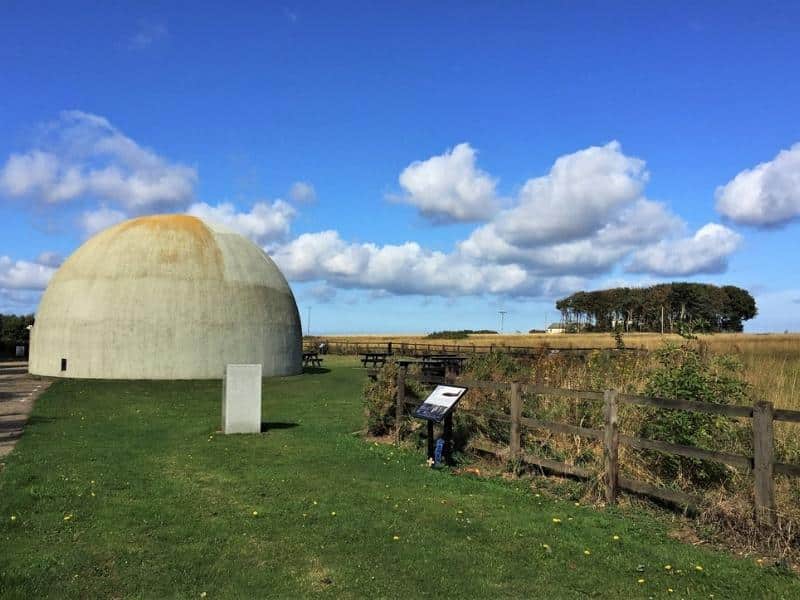 Visit the Seals at Blakeney Point
Blakeney, within the Norfolk Coast AONB, is a charming coastal village with bags of history, its very own nature reserve and an otherworldly watery landscape. The nature reserve is home to Blakeney Point and England's largest colony of Atlantic Grey seals, one of the most popular North Norfolk attractions.
Blakeney can be busy in summer as it's a perfect crabbing destination, and boat trips take visitors out to Blakeney Point on seal watching tours. For a quieter experience, walk the sea wall between Blakeney and Morston Quay and be blown away by sweeping views of muddy creeks, moored boats and a rich variety of seabirds.
RELATED POST: Seals in Norfolk – Where & How to See Them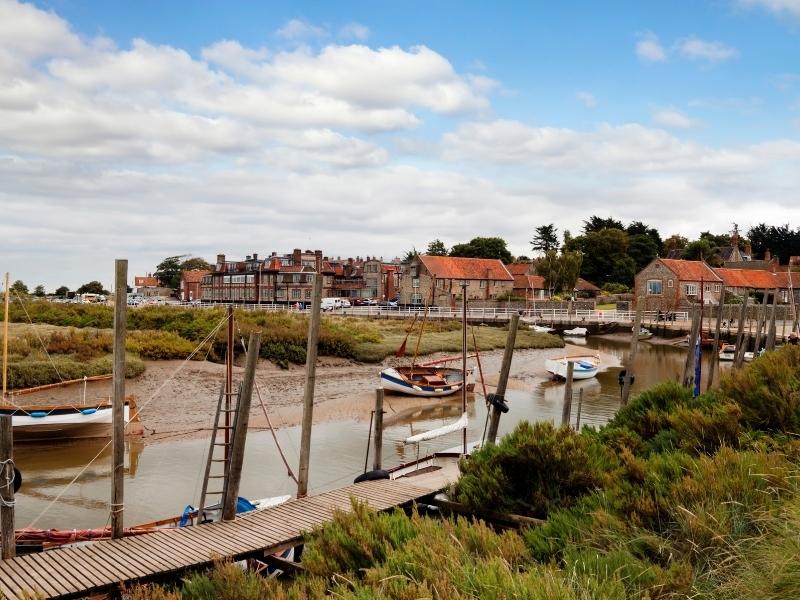 Discover Walsingham
Just eleven miles from Holt, Walsingham is steeped in the history of religious pilgrimage which dates back to the 11th century, when The Lady Walsingham received visions of the Virgin Mary and requested that a replica of the Holy House at Nazareth be built at Walsingham.
Today's pretty rural village has many 14th and 15th century buildings and incorporates both Great Walsingham and Little Walsingham. Pop into The Shirehall Museum, Walsingham's Georgian Courtroom where you can discover village history from 1061.
Through the small museum is the entrance to Walsingham Abbey, where the grounds surrounding the historic house are famous for the ruins of the medieval Priory of our Lady of Walsingham, as well as beautiful swathes of snowdrops in early spring. Later in spring the grounds burst to life with daffodils, and the woods with bluebells.
RELATED POST: 20 Brilliant Things To Do in Wells-next-the-Sea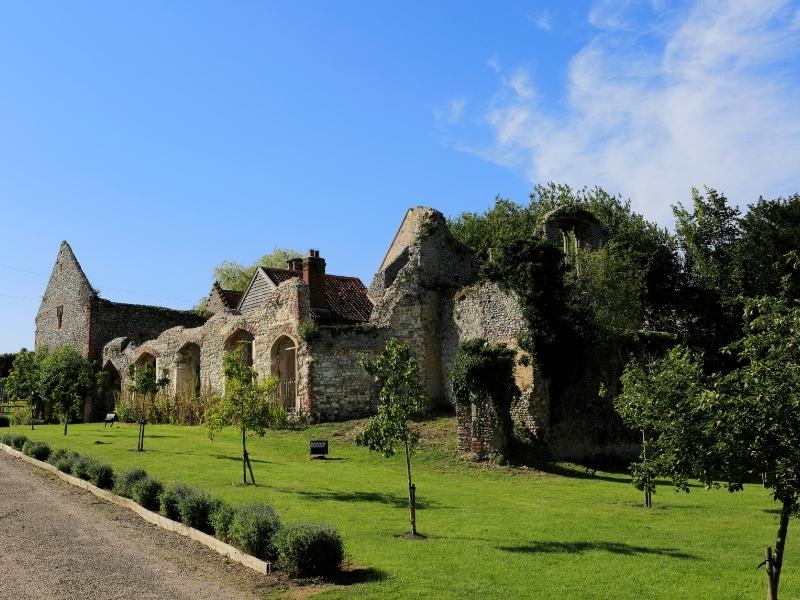 Go Wildlife Watching at Pensthorpe Natural Park
A little further away is Pensthorpe, one of the best wildlife parks in Norfolk and well worth the twelve mile drive from Holt. Home to a nature reserve, beautiful gardens and lots of stuff to keep kids entertained, Pensthorpe Natural Park makes a fantastic day out for the whole family.
Pensthorpe is a natural home for many species of birds, mammals, invertebrates and plants, which live in a diverse range of habitats like wetlands, hedgerows, woodland, water meadows and riverbanks, all managed by Pensthorpe Conservation Trust.
Alongside the nature reserve are four fantastic gardens, including a stunning meadow style garden of colour and texture, planted with swathes of grasses and perennials, and a wildlife habitat garden, planted with species designed to encourage animals and insects to visit.
For the kids, there are interactive trails, bird hides and boardwalks that weave through the wilderness of the reserve, whilst hands-on activities such as wildlife spotting, pond dipping and bird feeding give younger visitors a chance to get closer to the native and visiting wildlife.
There's also an indoor play area and an outdoor eco-play area including towers to climb, zip-wires, underground tunnels to explore and worm-like slides, all next to a perfect paddling stream!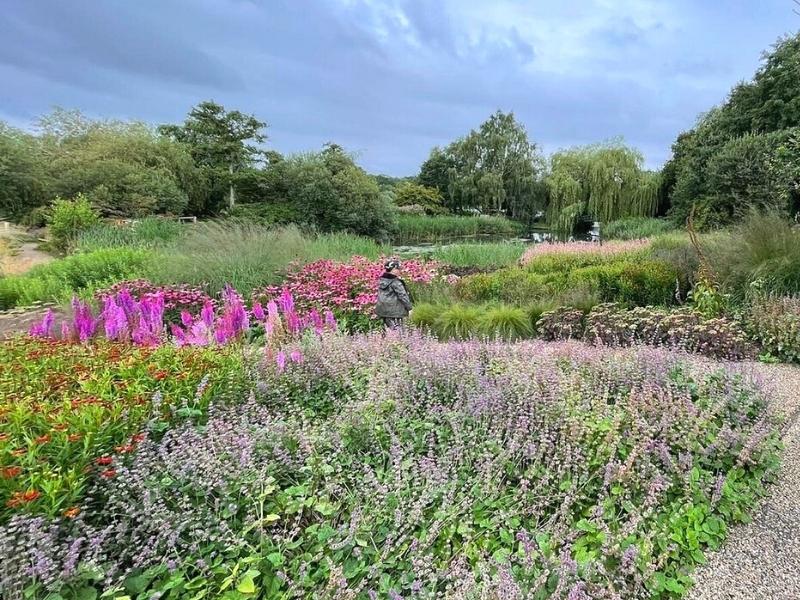 Explore the Muckleburgh Military Collection
Sited at the former Royal Artillery Anti-Aircraft training camp near Weybourne, the Muckleburgh Military Collection is Norfolk's largest working museum of military vehicles including tanks, guns and a large range of other weapons.
Most of the extensive range of tanks and armoured cars are maintained in working condition and exhibits include artillery, machine guns and missiles, in addition to a fine collection of ships and land warfare models. You can even book to drive a tank here!
The museum also includes the Suffolk and Norfolk Yeomanry collection of uniforms, weapons, photographs and documents, as well as RAF Reconnaissance and Air Sea Rescue and Marine Craft exhibits.
RELATED POST: 30 of the Very Best Things To Do in Norfolk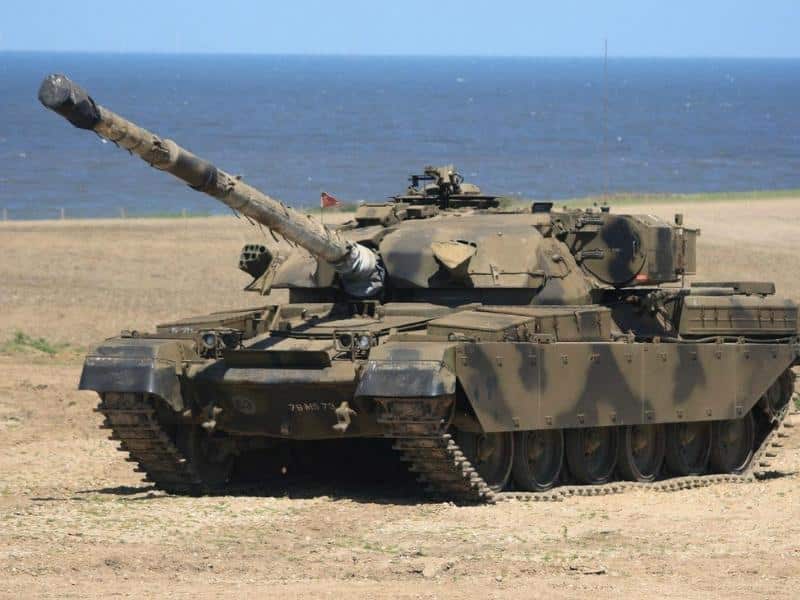 Go Bird Watching & Walking
For bird watchers, Norfolk's coastal nature reserves, with their open expanses of marshes and reedbeds, are a haven for all sorts of bird life. The Norfolk Wildlife Trust's Cley Marshes is one of the best places to visit near Holt to see many bird species in their natural habitats. There are six hides accessible via boardwalks to give far reaching views across pools and scrapes that are specially managed to attract breeding and passage birds.
The nature reserve is bordered by Cley Beach – definately not of the bucket and spade variety, but a wonderful place for for solitude, big skies, bracing sea air and miles of shingle. The beach car park is also the starting point for a fantastic walk out to Blakeney Point.
RELATED POST: Norfolk Coast – 8 Amazing Ways to Explore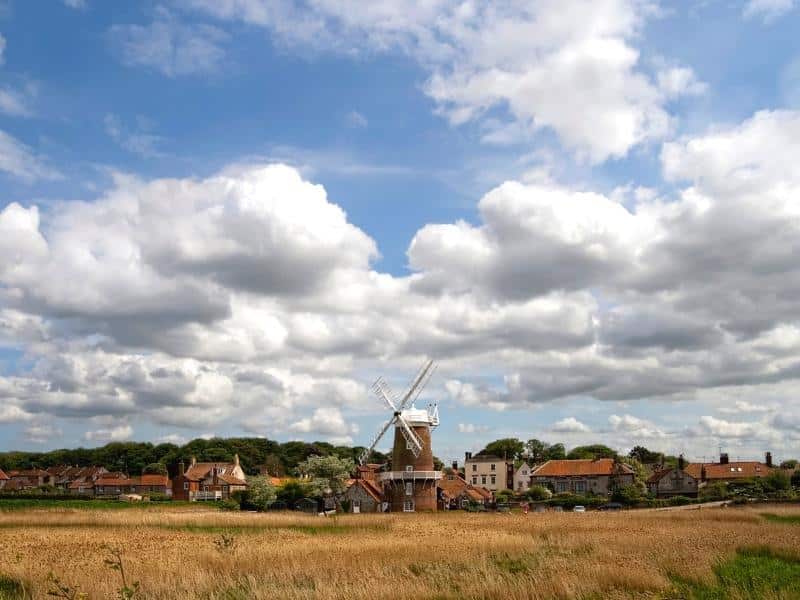 Visit The Shell Musuem
The Shell Museum at Glandford is the oldest purpose-built museum in Norfolk, and houses one of the finest seashell collections in Great Britain. The quantity and quality of the shells is unique, and the museum also contains fossils, birds eggs, pottery, local archaeological finds and a gorgeous tapestry, Panorama of the Norfolk Coast, by the local artist and fisherman John Craske.
Nearby is pretty Glandford Church and the Art Cafe, a very good vegetarian restaurant, gallery and licensed cafe.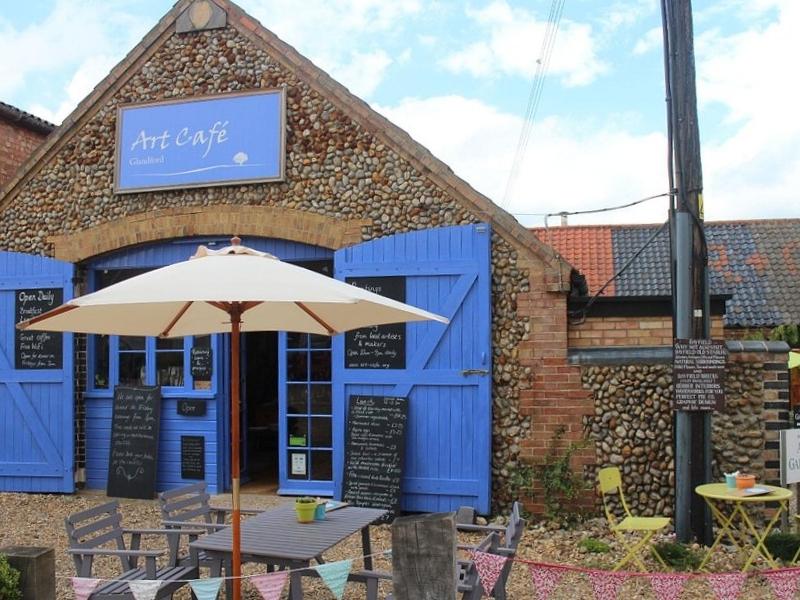 Explore Binham Priory
Eight miles from Holt, Binham Priory is one of the most complete and impressive monastic ruins in Norfolk. This Benedictine priory was founded in 1091 by Peter des Valoines, a nephew of William the Conqueror.
Binham Priory's history is one of almost continuous scandal. Many of its priors proved to be unscrupulous and irresponsible, and by the time of the priory's suppression in 1539 the community had been reduced to just six monks. 
The nave of the priory church, with its splendid 13th century west front and fine tiers of Norman arches, is now the parish church, and displays the former rood screen with medieval saints overpainted with Protestant texts. The extensive ruins beyond emphasise the original size of the monastery.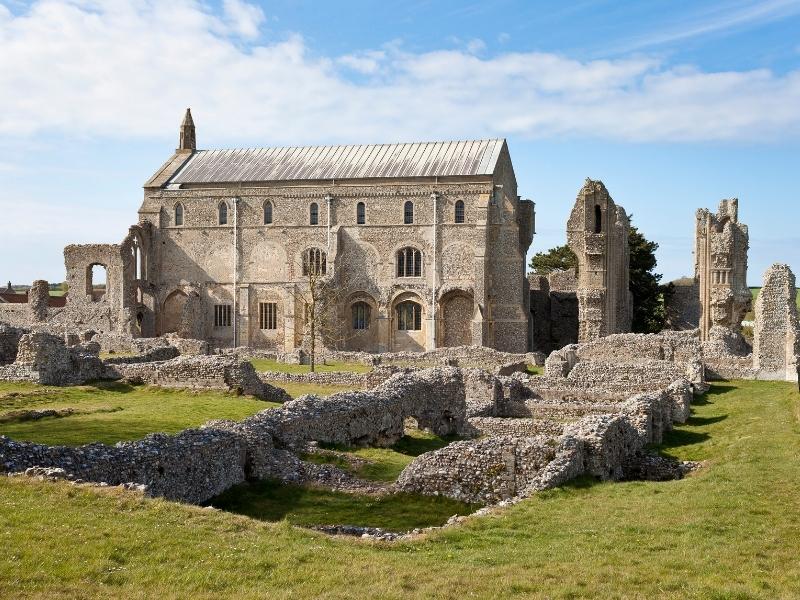 Have you had a holiday or day out in Holt? Share your trip in the comments below!
Love it? Pin it!