Gorleston-on-Sea is an unspoiled and traditional bucket and spade seaside resort on the Norfolk coast, sandwiched between the Norfolk Broads, the river Yare, Great Yarmouth and the Suffolk border.
Newly famous for the fabulous Gorleston beach, voted by TripAdvisor as the number one Best Beach in the UK and number twelve Best European Beach, Gorleston-on-Sea, known locally as just Gorleston, has much more to offer than the golden sands!
Don't bypass Gorleston for its larger and louder neighbours. Stop and soak up the 'Oh we do like to be beside the seaside' atmosphere, explore that fabulous sandy beach and enjoy the simplicity of spending time at the good old-fashioned Norfolk seaside.
RELATED POST: The Ultimate Local's Guide to Norfolk England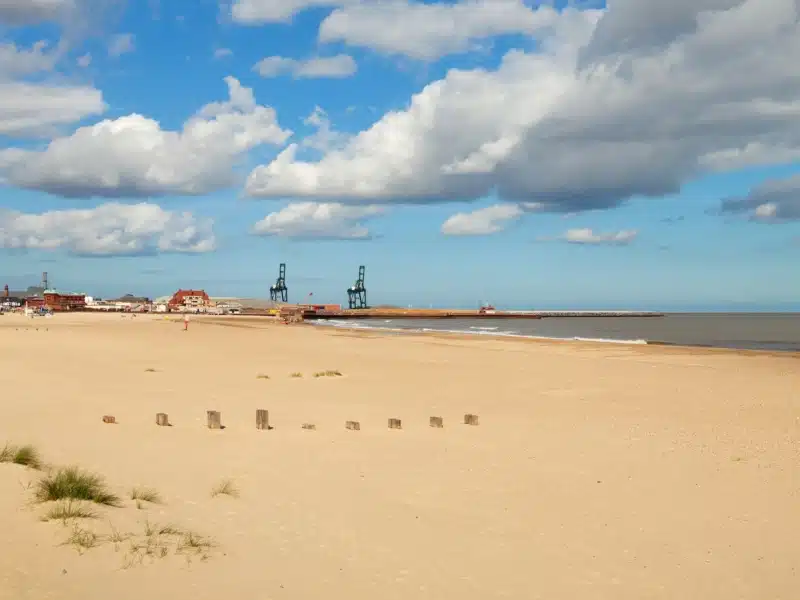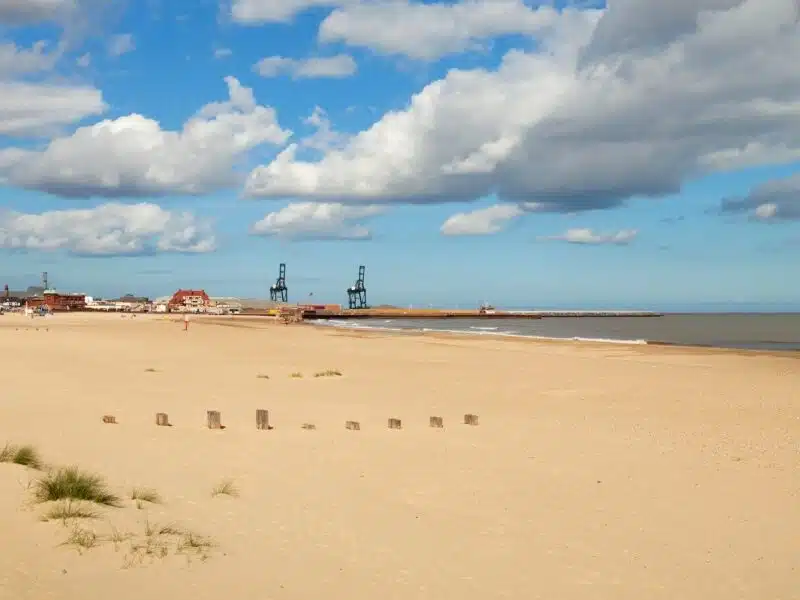 This post may contain affiliate links. If you book something I recommend, I make a small commission without affecting the price you pay!
Where is Gorleston-on-Sea Norfolk?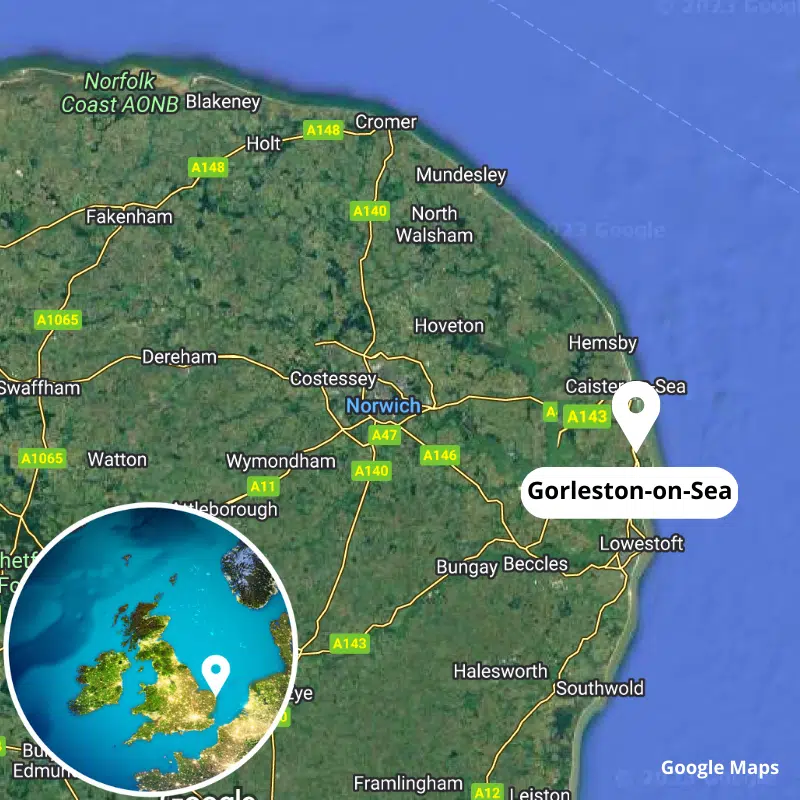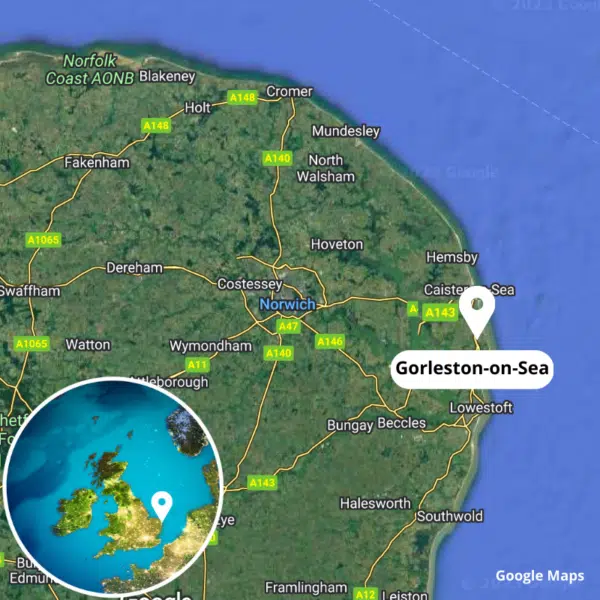 Located on the east coast of south Norfolk, Gorleston is on the opposite bank of the Yare river from Great Yarmouth, Norfolk's famous family holiday destination, and 24 miles east of Norwich.
Gorleston is nestled into a bend of the river Yare, which rises south of Dereham, and flows through Norwich and the Norfolk Broads, joining with other rivers along the way, before finally entering the North Sea at Gorleston.
Gorleston-on-Sea – Getting There & Getting Around
Driving to Gorleston-on-Sea
If you're travelling from the north of the United Kingdom, pick up the A17 south at Newark-on-Trent and follow the route around the Wash to King's Lynn. This road is mainly single carriageway, and slow-moving agricultural traffic and trucks can cause delays, so build this into your travel plans.
From King's Lynn pick up the A47 to Norwich. If you're travelling from the Midlands, you'll come into Norfolk via Peterborough and pick up the A47 east. From the south, the A11 brings you through Cambridge directly to Norwich.
From Norwich, the A47 east takes you all the way to Great Yarmouth, where you'll cross the river Yare before heading south to Gorleston-on-Sea.
Parking in Gorleston-on-Sea
There is plenty of parking in Gorleston with hundreds of places in numerous car parks close to both beach and the shops in town.
The best parking for the beach is Marina Parade car park, along the seafront. The car park has 78 places and is managed by Great Yarmouth Borough Council. Parking is free, but places fill quickly, especially in summer, and there is a 2m height restriction. There is also free roadside parking along Marina Parade.
A good alternative is the pay and display Harbour car park, at the north end of the beach, which is marked as 'pier parking' on Google Maps. This car park costs £6 for the day, which must be paid in cash.
If you're happy with a slightly longer 5-10 minute walk, or you're looking to visit town, try parking in Morrisons, or head for Brush Quay car park (free) or Gorleston High Street car park which charges £0.80 per hour for first 2 hours and £1.20 per hour after 2 hours, between 8am and 4pm daily.
RELATED POST: 31 Amazing Things To Do in Norwich
Getting To Gorleston-on-Sea by Public Transport
The county of Norfolk is within easy reach of the rest of the UK, with great transport links. You can get to Norwich by mainline train from London in less than two hours. Simply take the regular Greater Anglia service from London Liverpool Street, which leaves every hour or so.
Alternatively, you can take a National Express coach from Victoria Coach Station. This takes around four hours depending on the time of day, but is often much cheaper than the train, especially when booked in advance.
Once in Norwich, hop on the Greater Anglia train service to Great Yarmouth, which leaves every hour or so and takes around an hour to arrive.
At Great Yarmouth train station take the ten minute walk south to the Town Hall bus stop and hop onto either the Coastal Clipper 1, Coastal Red 6 or 8, Waveney 580 or LineX1 Coastlink buses for the ten minute ride to Gorleston town centre.
If you're heading to the beach, walk for eight minutes to the bus stop at St Nicholas' Church, before catching the Coastal Clipper 1 or 1A to the Clarence Road bus stop, a few minutes walk to the beach.
Although it used to have three railway stations, Gorleston has none, meaning the local buses are the only form of public transport to the town.
RELATED POST: 13 Exciting Things To Do in Great Yarmouth
Getting Around Gorleston-on-Sea
First Bus operates services from Gorleston-on-Sea. The Coastal Clipper head north as far as Martham, for Winterton-on-Sea and Horsey beach and south to Lowestoft in Suffolk, and the Coastlink line will take you into historic Norwich for a day out.
There is no train station in Gorleston, but Greater Anglia operates connections from Great Yarmouth to the Broads stations of Acle, Beccles, Berney Arms, Brundall, Brundall Gardens, Buckenham, Cantley, Haddiscoe, Hoveton and Wroxham, Lingwood, Oulton Broad, Reedham, Salhouse, Somerleyton and Worstead on the Wherry Line.
How about getting around by bike? The Broads' countryside is gentle and flat, offering miles of quiet country lanes, perfect for cycling. The Norfolk Coast Cycleway runs from King's Lynn to Great Yarmouth and the Rebellion Way is a circular route around Norfolk. Get a good cycle map from The Broads by Bike and you'll find it a really enjoyable way to get around the area.
RELATED POST: Norfolk Coast – 8 Amazing Ways to Explore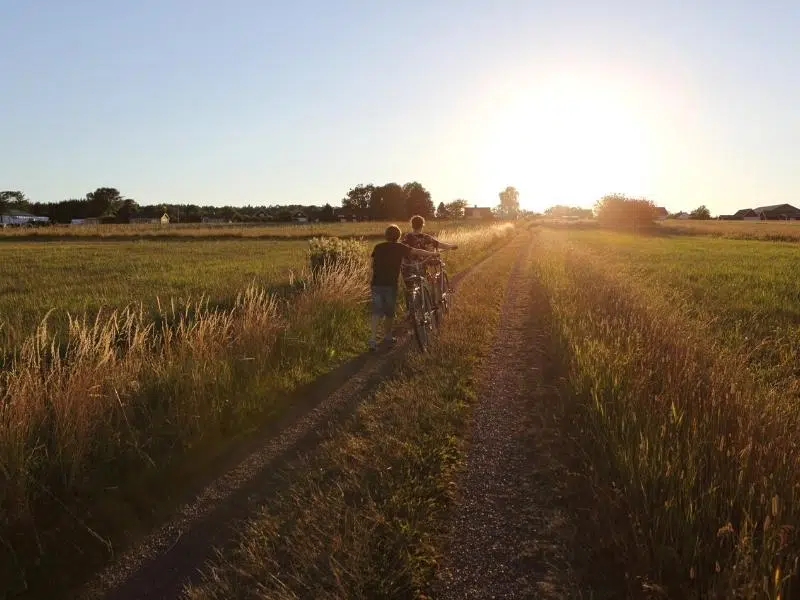 Gorleston-on-Sea History (in brief!)
Gorleston-on-Sea was recorded in the Domesday Book as a port town called Gurlestona, which became a centre of herring fishing along with salt pans used for the production of salt to preserve the fish.
In the Middle Ages, Gorleston had two manors and the medieval church of St. Andrew, which still stands in the town. The town gives its name to the Gorleston Psalter, an important example of 14th century East Anglian illuminated art held in the British Library.
Originally in Suffolk, Gorleston became part of the Great Yarmouth district in the county of Norfolk in 1835. During the Edwardian period the fishing industry rapidly declined and over the 20th century the town's role changed to that of a seaside resort attracting holidaymakers from all over England.
Since then, Gorleston has had a few moments of fame! In the Great Storm of 1987, the town experienced the highest wind speed recorded in the UK on that day, which was 122 mph (196 km/h), and in 2019 the Pier Hotel and Gorleston beach feature as a key location in Danny Boyle's film Yesterday.
Gorleston has also been meticulously described in the 1995 novel Gorleston by Henry Sutton and in Philip Leslie's novels The History of Us published in 2009 and What Remains in 2013.
Things To Do in Gorleston-on-Sea
Spend a Day at Gorleston-on-Sea Beach
Gorleston beach is a delightful two mile stretch of lifeguarded (in season) clean, golden sand backed by gentle grassy cliffs. When the tide is out, the beach curves around the bay and a vast expanse of soft sand is revealed without a stone in sight, perfect sand castle-building material!
But is this really the best beach in the UK? Since TripAdvisor voted Gorleston beach as the number one best beach in the UK and number twelve best European beach and gave it a Traveller's Choice Award 2023, I've been asked that question many times!
My response? It's definitely the biggest and sandiest beach for miles around but is often overshadowed by its loud and cheerful neighbour Great Yarmouth, and its wild and windswept cousins in North Norfolk. It certainly deserves to be in my top five beaches in Norfolk and is a wonderful beach for families because of its nearby amenities.
Kids will love the fiendishly difficult yachting pond, learning to fly a kite, getting wet at Splashpad, the summer funfair and exploring the wide esplanade below the grassy cliffs, before enjoying fish and chips and an ice cream for tea!
Gorleston beach is also a top spot for kite surfers, surfers, buggiers and windsurfers, with big tides uncovering perfect hard sands for landboarding, and wind and tide conditions usually favourable for all kinds of surfers. There is often a local kite school on the beach if you want to learn to kitesurf.
You cannot take dogs onto the main section of the beach between 1st May and 30th September. Dogs are allowed on the beach south of Cliff Avenue (where the tennis courts are located) all year round, giving them miles of sand, all the way to Hopton, to run around on. There's even a doggie diner near the Pier Gardens where you can get yummy food for yourself and your pooch.
There are public and disabled toilets near the harbour and close to the Gorleston Cliffs playground, and there are also a couple of cafés along the promenade, as well as deckchair hire in summer.
RELATED POST: Norfolk Beaches – Ultimate A-Z Guide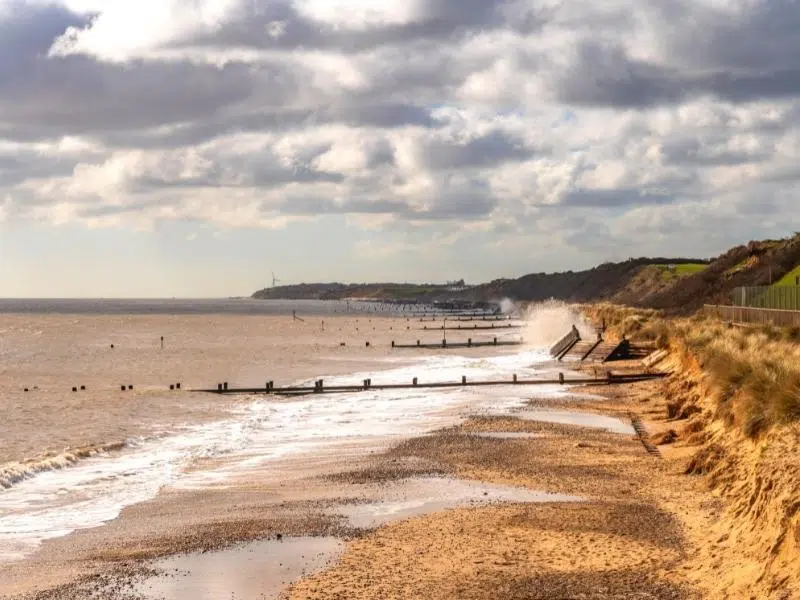 Hire a Gorleston Beach Hut
When you hire a beach hut, there's no need to cart all your stuff to the beach every day or spend ages trying to get organised on the sands. Relax by your hut, retreat inside for card games or lazily read a good book if it rains, and enjoy lunch without the sand in your sandwich!
There is a mix of local authority and privately owned beach huts in Gorleston. Great Yarmouth Borough Council currently have 48 modern wooden huts along the Lower Esplanade, with plans to add more in coming years.
The council owed beach huts can only be hired on an annual lease though, making them ideal for locals but not so attractive to holidaymakers. These beach huts are equipped with two chairs and a table, plus access to a dedicated amenity block with wash basins, toilets and drinking water.
Privately, there are a few beach huts to hire including Bertie Boutique Beach Hut, Happy Days Beach Hut and Dickie's Beach Hut, and you'll find facilities like a gas ring to make tea and coffee, beach games, books, picnic rugs and cutlery.
RELATED POST: Beach Huts in Norfolk – All You Need to Know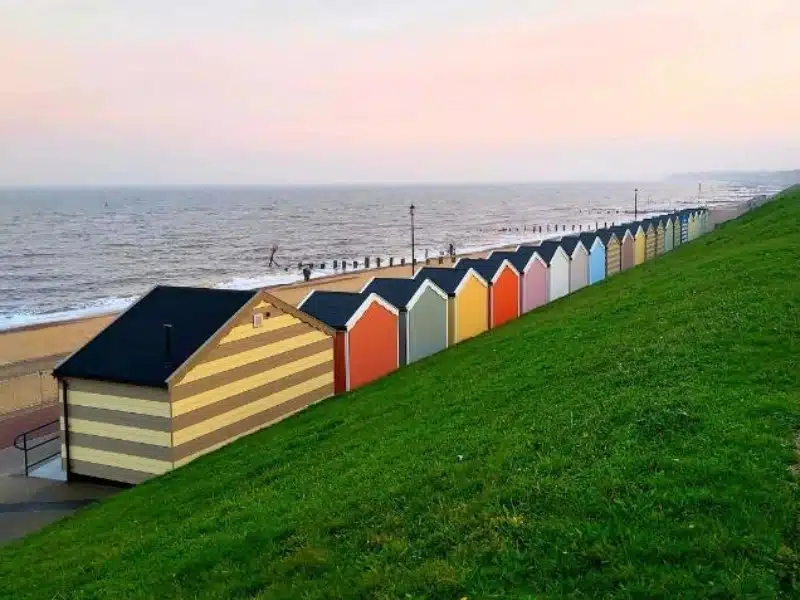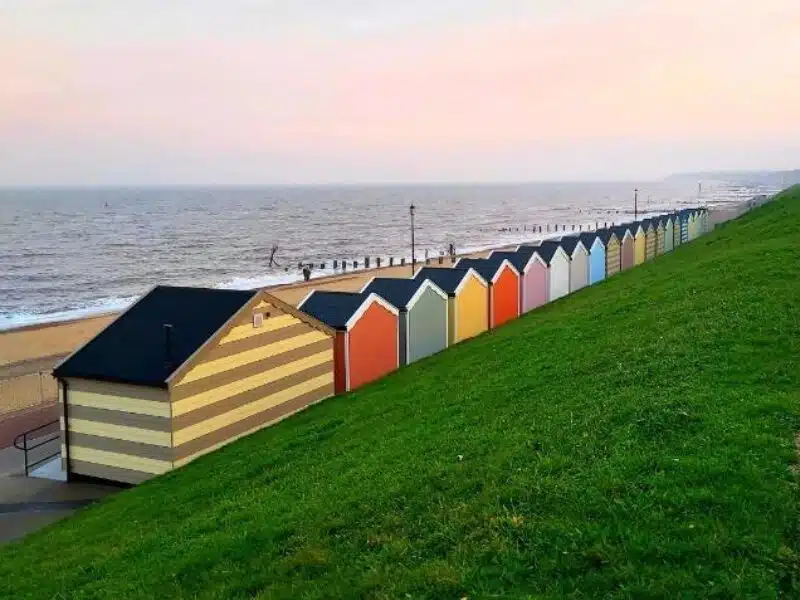 Set Sail in the Model Boat Pond!
Gorleston-on-Sea model boat pond, built in 1919, is a slightly old-fashioned but iconic place by the beach, which appears in lots of Gorleston images because of its prominent position.
The model yacht pond is a favourite with families who come to sail their model boats or watch others sailing yachts, tugs, fishing boats, bulk carriers and workboats. There are events and competitions throughout the summer, and Gorleston Model Boat Club run sailing events on Sunday mornings at 10am and Tuesday evenings at 5pm.
RELATED POST: 30 of the Very Best Things To Do in Norfolk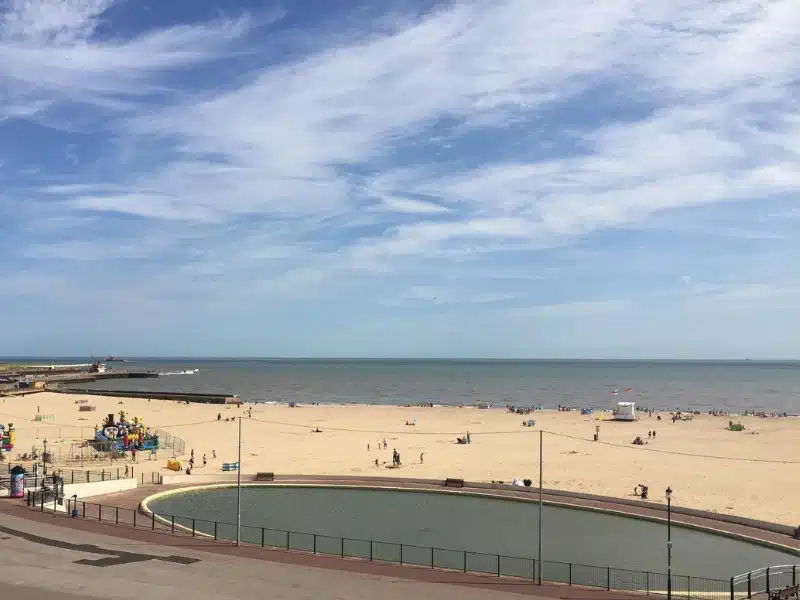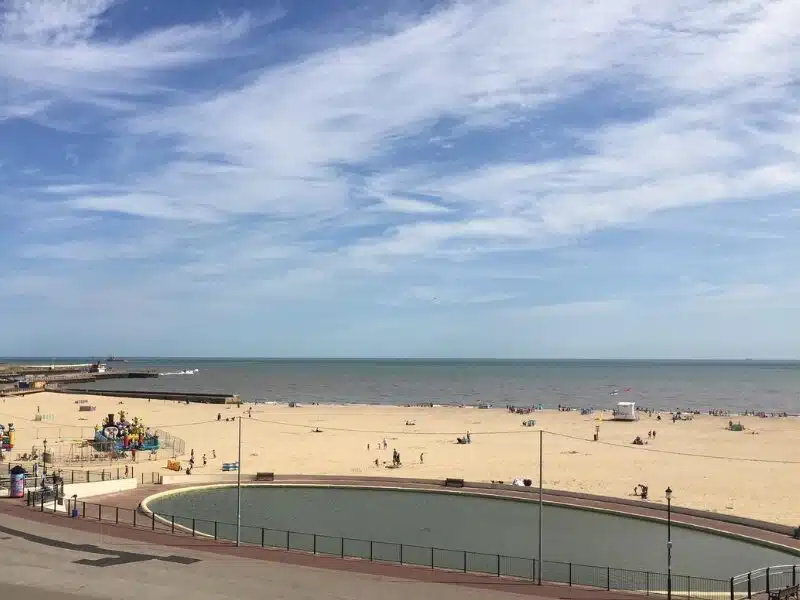 Take the Kids to Splashpad
Run by Great Yarmouth Borough Council and built to replace the 1960s paddling pool, Splashpad is great fun. A wet play facility (so bring towels!), there are sprays, jets, tipping buckets, spinning and splashing sails, a moored boat with water firing cannons and an interactive butterfly, crab and a fish that, you've guessed it, squirt water!
Suitable for kids of all ages, the facility is completely free and located next to the yacht pond. During the summer, Splashpad is open from 10am to 4pm daily. Outside of the high season, the wet play area is open on reduced days – find opening times here.
Find the Gorleston Banksy
Banksy's Great British Spraycation is a series of 2021 artworks by the anonymous British street artist in various East Anglian towns including Great Yarmouth, Oulton Broad, Lowestoft, Cromer, King's Lynn and Gorleston-on-Sea.
The Banksy in Gorleston depicts an arcade claw machine above a bench in a seaside shelter between the yacht pond and Marine Parade. The artwork was altered by the addition of six teddy bears stencilled beneath the claw and tagged 'Banksy Collaboration Emo' by the local artist Emo Raphiel Astoria, whose artwork can also be seen in the Lawn Avenue underground passage and at Gorleston riverside on a sea defence wall outside the RNLI lifeboat station.
Since taking this photo, the work has since been defaced with a red blob of paint on the teddy bear poised under the claw and Emo's name crossed out and replaced with 'Ego' also in red paint. Since 2021, the Banksy part of the mural has been protected by clear acrylic.
Holidaymakers like to sit on the bench, posing under the claw looking like they're waiting to be picked up, which is ironic as these amusement arcade games rarely manage to grab anything, the whole point of Banksy's piece!
RELATED POST: 22 Of The Best Things To Do in Cromer Norfolk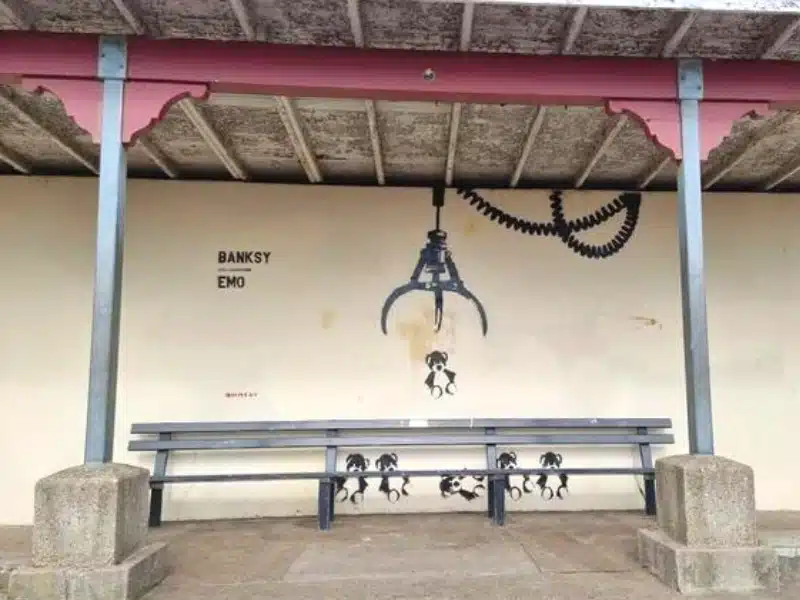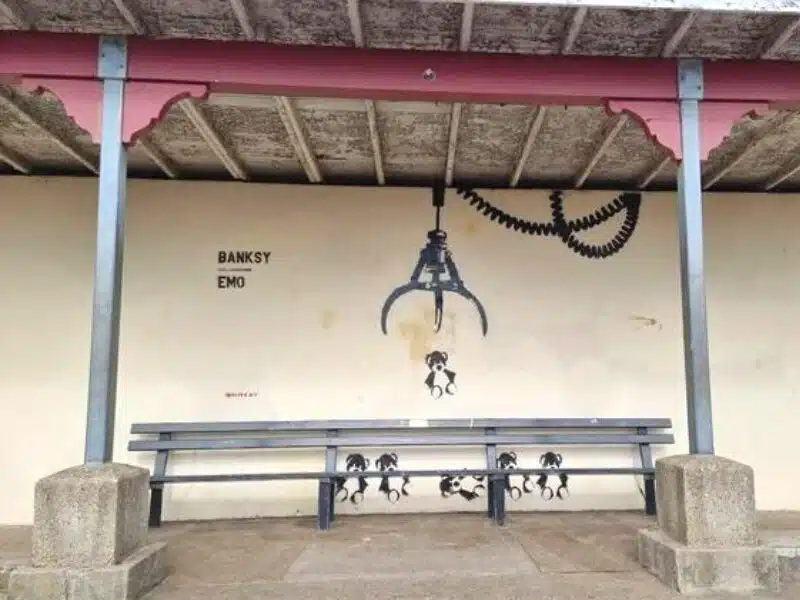 Visit the RNLI Lifeboat Station
The RNLI Great Yarmouth and Gorleston Lifeboat Station is on Gorleston Riverside Road and can be visited daily between March and November.
The RNLI has had a lifeboat stationed here for nearly nearly 200 years as a lifeboat station and Great Yarmouth and Gorleston has been presented with 58 awards for outstanding rescues. Currently, a Trent Class and a B Class lifeboat operate from this station, and seeing one being launched is a real experience.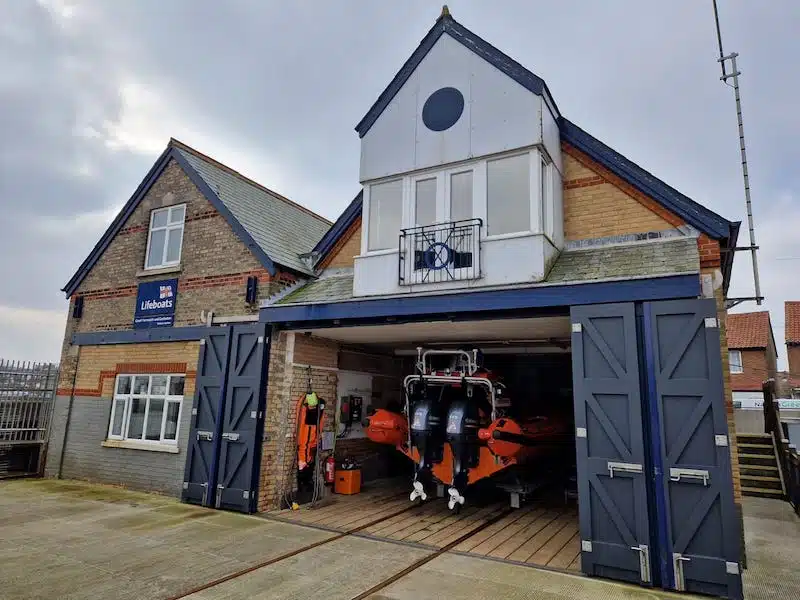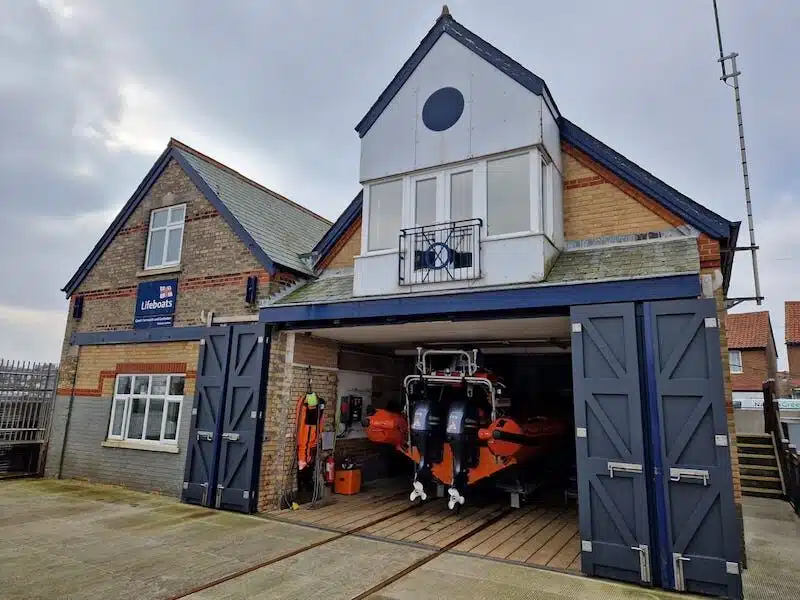 Get Active on Gorleston Cliffs
On the top of the cliffs in Gorleston, there are basketball courts, bowling greens, tennis courts and a 9-hole putting green available for public use from May until September. To book or to hire woods and clubs see the bowling green attendant.
Next door is a calisthenic Trim Trail, a fun way to get in a workout with a view. You'll find various equipment including pull-up bars, parallel bars, abs benches, monkey bars and rings.
There is also the popular Gorleston Cliffs parkrun to help keep you in shape on your holidays. The 5k route starts on the clifftop path where Marina Parade meets Park Road every Saturday at 9am.
Towards the far south of the beach is Gorleston Golf Club, which runs a 6,341 yards par 71 course, the most easterly golf course in Great Britain. The 7th green and the 8th tee are the most easterly parts of this cliff-top course and the views across the sea are stunning. The club welcomes visitors looking to play a round.
Have Fun in Gorleston Amusements!
OK, confession time! I love amusements – the noise, the smell and the thrill of winning all remind me of being a kid by the seaside in Norfolk.
There are a few places to play the penny slots, arcade games, one armed bandits and air hockey in Gorleston including Ocean Bay near the Pavilion Theatre or Marine Amusements on the Lower Esplanade.
Take in a Show at the Pavilion Theatre
The Pavilion Theatre is an Edwardian seaside theatre and open-air bandstand in Gorleston close to the pier. Built in 1898, the building has an eclectic history, and at various times had a sliding roof, was occupied by the British Army, and was used as a radio studio.
Today, there's a great programme of theatre, live music, pantomime, tribute bands, musicals and outdoor summer bandstand concerts. You can also join a Heritage Open Days backstage tour to see everything that's not normally open to the public and learn about the theatre's 120+ year history.
Enjoy the Gorleston Clifftop Festival
This award-winning festival is jam-packed with family fun on the cliffs above the beach. Expect over 40 hours of live music on the main stage and acoustic arena, arts and crafts activities in the kid's arena, live displays, a dog show and a fun fair including waltzers, dodgems and other adrenaline-raising rides!
There are also many, many stalls selling food and drink, local crafts, collectables and lots of other goodies to take home with you.
The Gorleston Clifftop Festival takes place each year on the last full weekend in July and is free to enter. It attracts over 100,000 visitors every year, so plan your travel and accommodation well in advance.
RELATED POST: What's On in Norfolk – 70+ Dates for Your Diary in 2023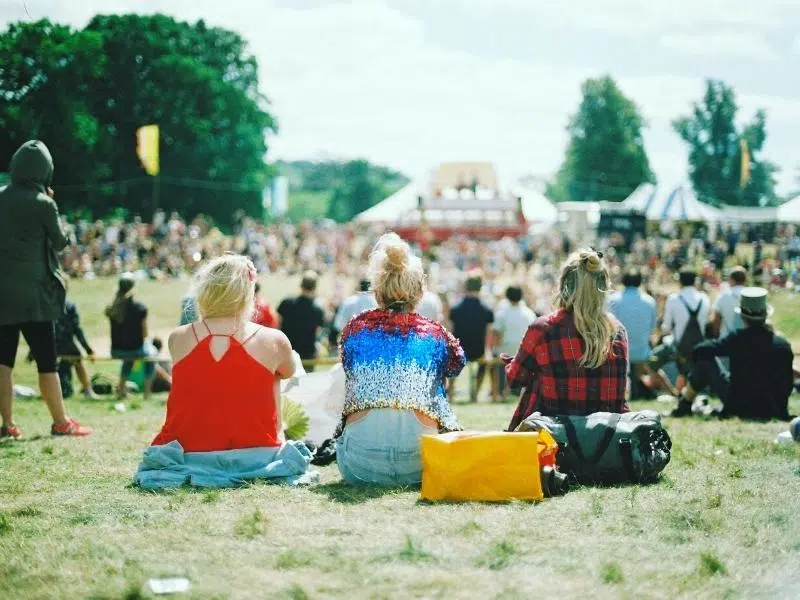 Visit St Peter's Roman Catholic Church
The parish church of St Peter the Apostle Roman Catholic Church in Lowestoft Road was built between 1938 and 1939, and is well worth a visit for its architectural significance and beautiful interior.
The Grade II* listed church is the only complete architectural work by Eric Gill, a famous 20th century sculptor, letter cutter, typeface designer, and printmaker, who was considered a great artist-craftsman during his lifetime, but fell out of favour when revelations about his private life became public in 1989.
The cruciform church is designed around a central altar which then was considered a radical change from the Catholic practice of the altar being at the east end of a church. The tower above the altar is supported on pointed crossing arches which spring from the floor and are repeated throughout the building.
A major feature which is not the work of Gill is the 1963 stained-glass east window, depicting the Risen Christ flanked by his Blessed Mother and St Peter, designed by Joseph Nuttgens, who had been Gill's friend. Nuttgens' claimed that he had helped Gill to design the church, but had never been credited, and as Gill had insisted on plain glass in the church, Nuttgens called the colourful east window his 'revenge on Gill'.
RELATED POST: Norfolk Churches: 16 of the Best to Visit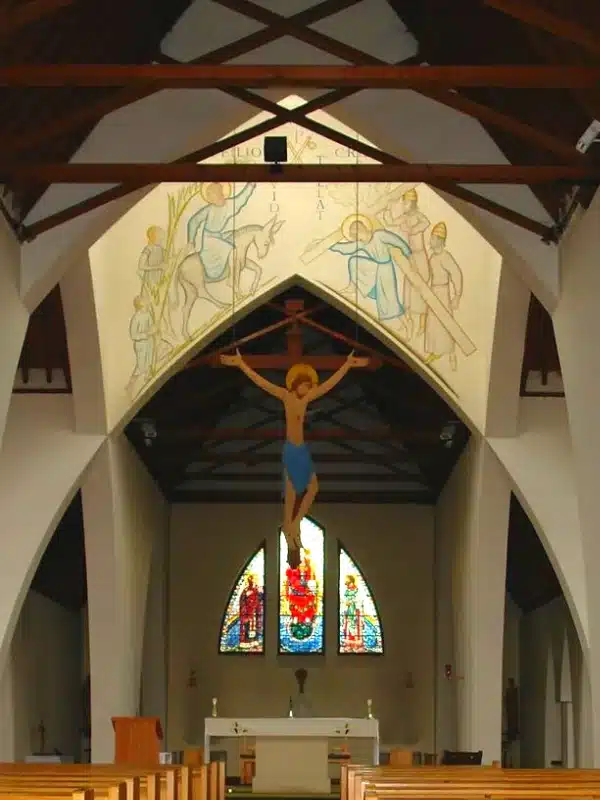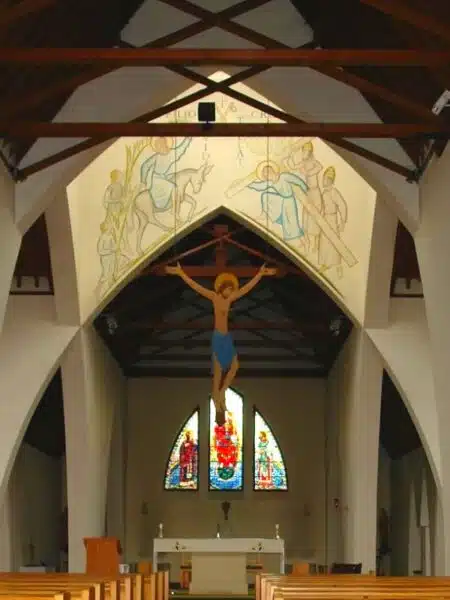 Take a Hike from Gorleston
Norfolk Coast Path
The best-loved of the Norfolk trails, and one of the best ways to experience the unique landscapes of the Norfolk coastline, the Norfolk Coast Path runs from Hunstanton in West Norfolk, to Hopton-on-Sea in South Norfolk.
Head north on the coastal path for a 5 mile urban hike to North Denes that celebrates the region's maritime heritage. This route offers great variety with opportunities to step back in time, explore Great Yarmouth's past or watch the huge ships beginning or ending their long voyages at Gorleston's modern working port. You can continue on for another 2.5 miles to Caister-on-Sea before catching the Coastal Red 8 or LineX1 Coastlink back to Gorleston.
Head south for a shorter 2.5 miles walk to Hopton-on-Sea, the end of the line for the Norfolk Coast Path. Hopton beach has been affected by erosion, but recent stabilisation efforts have placed rock groynes which create sheltered and sandy bays, the perfect place to cool off with a swim after your walk. Get the Coastal Clipper 1 or 1A back to Gorleston.
Angles Way National Trail
Just inland and walkable from Gorleston-on-Sea, you can ramble around the majestic 3rd century Roman flint walls at Burgh Castle, one of 12 castles in Norfolk.
On a clear day, you can see for miles with panoramic views across the rivers Waveney and Yare to the marshes and Berney Arms windmill in the distance, perfect for capturing that iconic Norfolk image.
From the ruins, head to the river and join the Angles Way National Trail to Great Yarmouth. At the river, turn right and you'll find the path that runs alongside the river, before arriving at Breydon Water nature reserve where the sea meets the Broads.
From here, the path takes you to Breydon Bridge, where you can cross the river back into Great Yarmouth and then onto Gorleston. This Norfolk walk is 4 miles one way, which will take a couple of hours at a relaxed pace.
RELATED POST: 13 of the Best Norfolk Broads Walks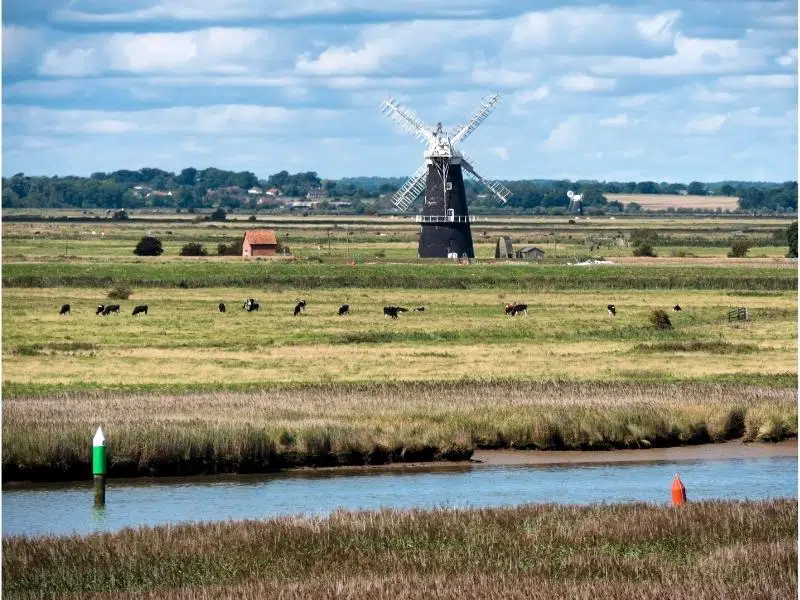 Things To Do Near Gorleston-on-Sea
Explore Great Yarmouth
A lively seaside town, Great Yarmouth makes for an action-packed day out. With the famous Great Yarmouth Pleasure Beach theme park, Sea Life Centre, Merrivale Model Village, amusements, crazy golf and lots of other attractions, there's plenty to keep visitors (especially kids!) busy.
RELATED POST: 13 Exciting Things To Do in Great Yarmouth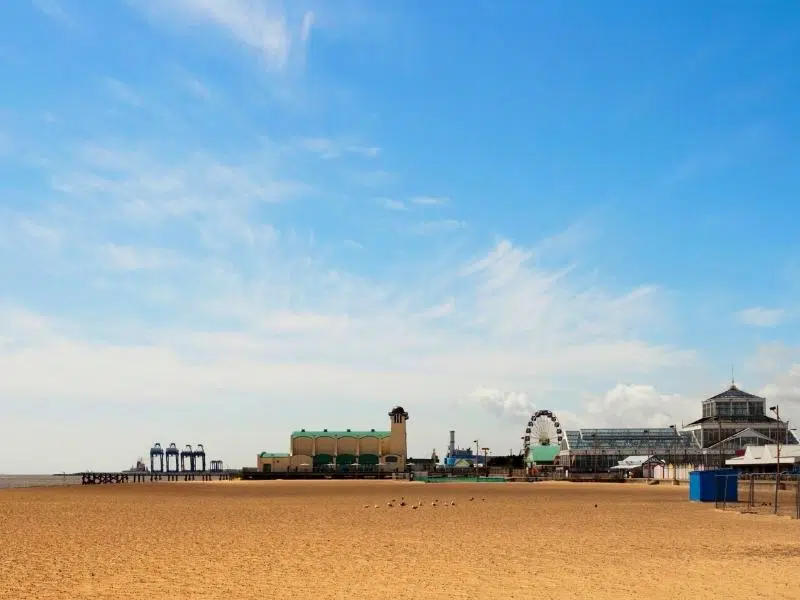 Discover the Norfolk Broads
The Norfolk Broads are an Area of Outstanding Natural Beauty inland from Gorleston, and a unique network of navigable rivers and lakes which meet the Norfolk coast at Horsey, to create a diverse landscape rich with unique flora and fauna.
There are lots of Norfolk Broads attractions which make a great day out from Gorleston. Find adventure on the miles of tranquil waterways, take to the water in a boat or kayak, hike and cycle the local nature trails and explore the rich Broads history.
RELATED POST: 26 Exciting Things To Do On the Norfolk Broads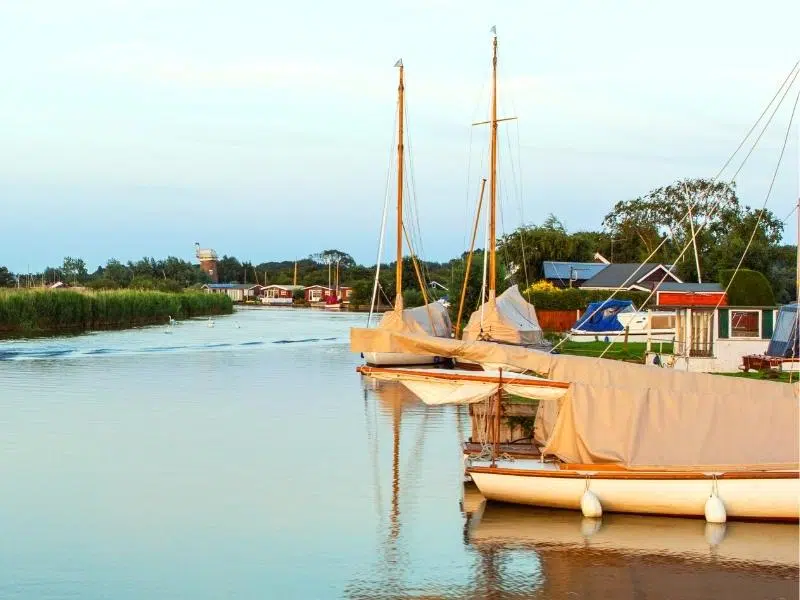 Go Norfolk Seal Watching
You might, if you're lucky, see the odd seal or seal pup on Gorleston beach, but this is not their usual stomping ground, and there are numerous opportunities in Norfolk to see the resident seals in their colonies.
In North Norfolk, Blakeney Point is home to one of the largest colonies, and the beaches at Winterton-on-Sea and Horsey are where many seals go to pup in the winter months.
But did you know there is a seal colony just a mile off the coast of Great Yarmouth at Scroby Sands? Scroby Sands is also famous for its 30 wind turbines that generate 60 megawatts of electricity, enough to power 41,000 homes, and in the past, Scroby Sandbank was responsible for many shipwrecks.
You can see both seals and wind turbines up close when you take a two hour trip on a RIB with Jet Adventures, departing from Lowestoft. There are large numbers of seals to see on this trip. At low water, they'll be on the sandbank en masse and at high water, the seals will be surrounding the boat and bobbing about in the water.
RELATED POST: Seals in Norfolk – Where & How to See Them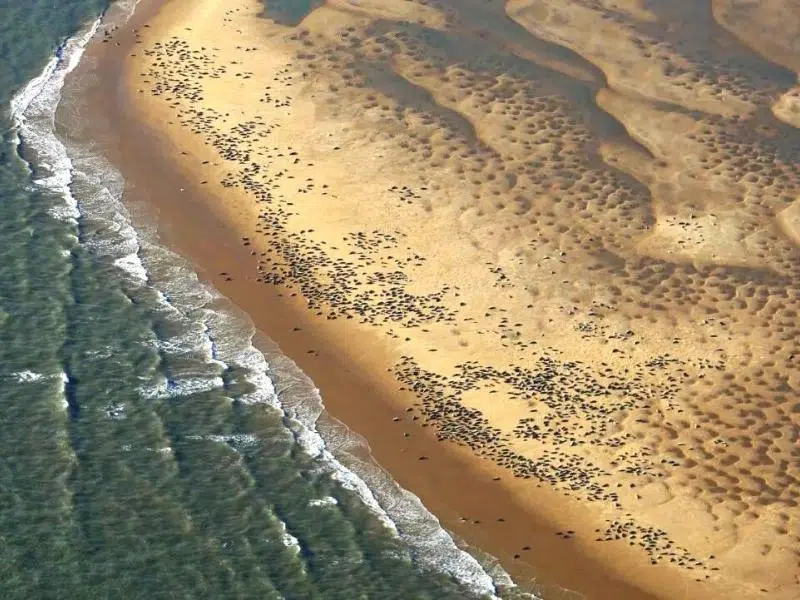 Gorleston-on-Sea Hotels & Places to Stay
Gorleston-on-Sea has a good collection of Airbnb-style accommodation and seaside holiday homes and a couple of good campsites nearby. Whatever your accommodation style, we've rounded up the best options for your Norfolk holidays.
The Pier Hotel Gorleston on Sea
Famous as a set from Danny Boyle's Yesterday, which was filmed in Gorleston-on-Sea, The Pier is a quintessential seaside hotel just a few metres from the beach and close to the entrance of the historic harbour.
The Pier has 21 modern and comfy bedrooms, some with sea views and some with private balconies. In-room amenities include tea and coffee-making facilities, free WiFi and parking.
There is an elegant restaurant, a beach bar for alfresco meals and a wine bar. Menus are freshly prepared and created using locally sourced ingredients, and there is a full English cooked breakfast on offer every morning.
RELATED POST: Norfolk Coast Hotels: 18 of the Best Places to Stay by the Sea
The Cliff Hotel Gorleston on Sea
Overlooking the award-winning Gorleston beach is The Cliff Hotel, a unique hotel in a picturesque setting, between Gorleston and Great Yarmouth.
The hotel offers 38 luxurious bedrooms designed with comfort and convenience in mind. Beds are topped with crisp white linen and rooms have hot beverage-making facilities, free WiFi access and complimentary bottled water.
The Cliff Hotel restaurant offers dining using locally sourced ingredients, and the terrace makes a wonderful spot to enjoy eating outside. Next door there are pretty gardens, perfect for lounging in the sun with a good book.
Gorleston-on-Sea Holiday Homes
There are lots of holiday cottages and Airbnb-style holiday rentals in and around Gorleston. From one-bed Edwardian houses to stunning sea view penthouses, use VRBO to search for the best deals and find availability on Gorleston holiday accommodation.
Rose Farm Touring Park
Rose Farm campsite is a peaceful site, situated in a rural village just 3.5 miles from Gorleston beach, and perfect for a long or short Norfolk getaway with friends, as a couple or with family.
Pitches are a generous size and can accommodate any size of touring caravan, motorhome or tent. Seasonal pitches are on grass, with a few hard-standing pitches available for winter touring, as the site is open year-round. There is a choice of electric or non-electric, with all waste and water services being at a central point.
RELATED POST: Motorhome Sites Norfolk – 13 Best Places to Stay
Whether you're looking for a static caravan, a chalet, a glamping pod, or a pitch for your own touring caravan, motorhome or tent, you'll find it at Burgh Hall. In a convenient location that's perfect for easy access to Gorleston, and set in private grounds near Burgh Castle, this holiday park offers a great combination of convenience and peace.
Facilities include the usual water and waste services and electric hook up, as well as an outdoor swimming pool, children's play area, laundrette and bar where food is also served.
RELATED POST: The Ten Best Campsites in Norfolk
Gorleston-on-Sea Restaurants & Places to Eat
SW1 Restaurant
SW1 is a traditional restaurant serving good British food, with a fantastic view over the harbour from Gorleston riverside. With six years of consistently good reviews and a menu full of classics with a twist, and plenty of local options like Cromer crab and Dingley Dell pork, SW1 makes a great option whether you're celebrating a special occasion or planning a family meal out.
RELATED POST: 26 Norfolk Food & Drink You Must Try!
Bar 1 Gorleston
Bar 1 is a friendly pub with a kitchen, serving classic pub grub like fish and chips, burgers, steak and chips, pizzas and Sunday roasts. They often show sporting events and hold live music and quiz nights, so if you're looking for a lively setting for a meal, this is it!
RELATED POST: Breweries in Norfolk – Best 16 to Visit
The Shed Tapas Bar
The Shed is a warm and inviting eatery next to the old red-brick Gorleston Lighthouse, which serves homemade tapas and a great selection of drinks and cocktails. These small dishes, which originate in Spain, bring the flavour of the Mediterranean to Norfolk and make sharing a meal with friends or family a real experience.
Olive Garden Restaurant
The Olive Garden is a Greek and Cypriot restaurant which uses fresh locally sourced produce, prepared using authentic recipes. Lunch and dinner are popular, but I love their early grazer menu, which offers a selection of fantastic meze on weekday lunchtimes.
Have I missed your favourite Gorleston-on-Sea activity, hotel or restaurant from my list? Let me know in the comments so I can check it out and add it to this round-up!
Love it? Pin it!