A pretty coastal North Norfolk village, Burnham Overy Staithe has strong links with the other Burnhams and Norfolk's favourite son, Horatio Nelson.
Tucked away off the A149 coast road, between marshes and the sea, The Quay at Burnham Overy Staithe is lively with sailors and paddlers preparing to set sail, and hikers passing through on the coastal path.
Most people drive through Burnham Overy Staithe, en route to its bigger and better-known neighbours, but make the effort to stop and visit and you won't be disappointed!
RELATED POST: The Ultimate Local's Guide to Norfolk England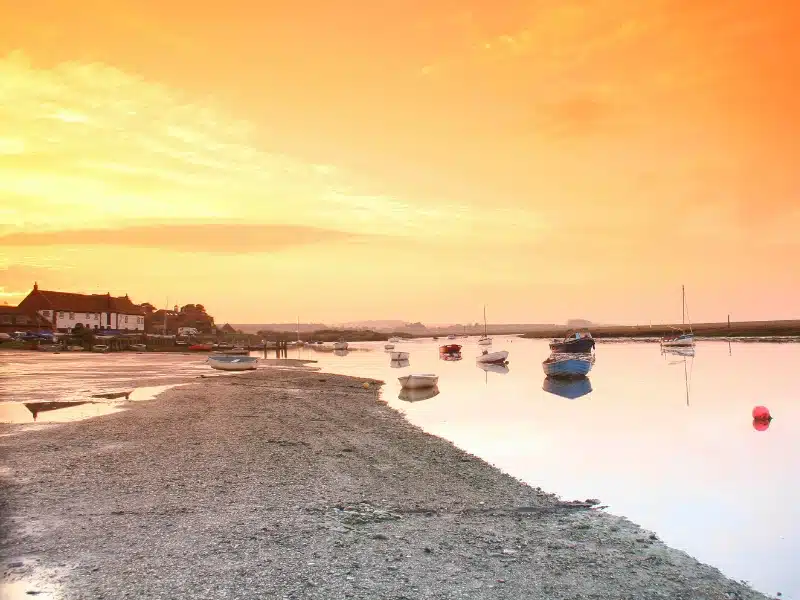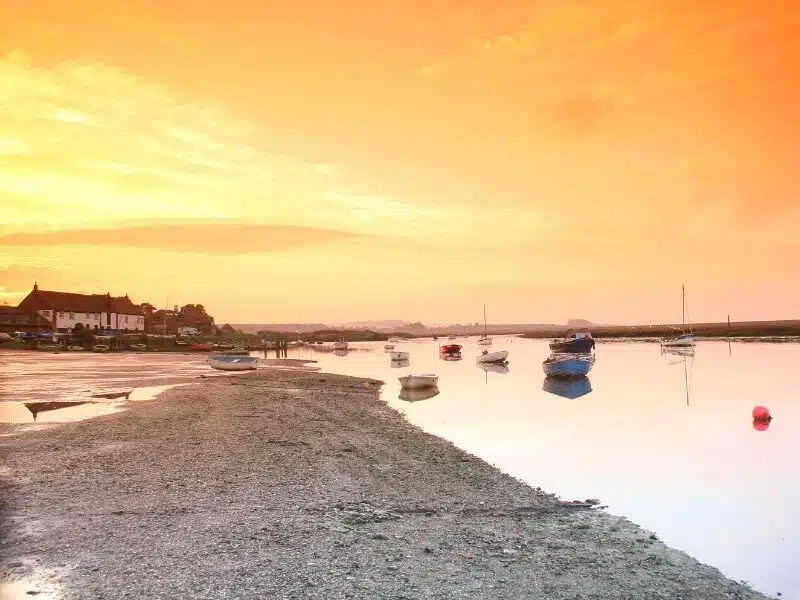 This post may contain affiliate links. If you book something I recommend, I make a small commission without affecting the price you pay!
Where is Burnham Overy Staithe Norfolk?
Sandwiched between the beach, sea, salt marsh, river and land in the North Norfolk Area of Outstanding Natural Beauty, Burnham Overy Staithe is situated 38 miles northwest of Norwich and 24 miles northeast of King's Lynn.
Burnham Overy Staithe is located on the edge of the river Burn just over half a mile inland from Gun Hill, known locally as Burnham Harbour, and Burnham Overy Staithe beach.
Between the village and the sea are multiple tidal creeks through the salt marshes which lead to a gap near Burnham Harbour through which small boats and craft can move bewteen Burnham Overy Staithe and the open sea.
The nearest villages are Burnham Norton to the west and Burnham Overy Town to the south, and trendy Burnham Market, which is 1.5 miles south.
RELATED POST: North Norfolk Coast – 19 Unmissable Highlights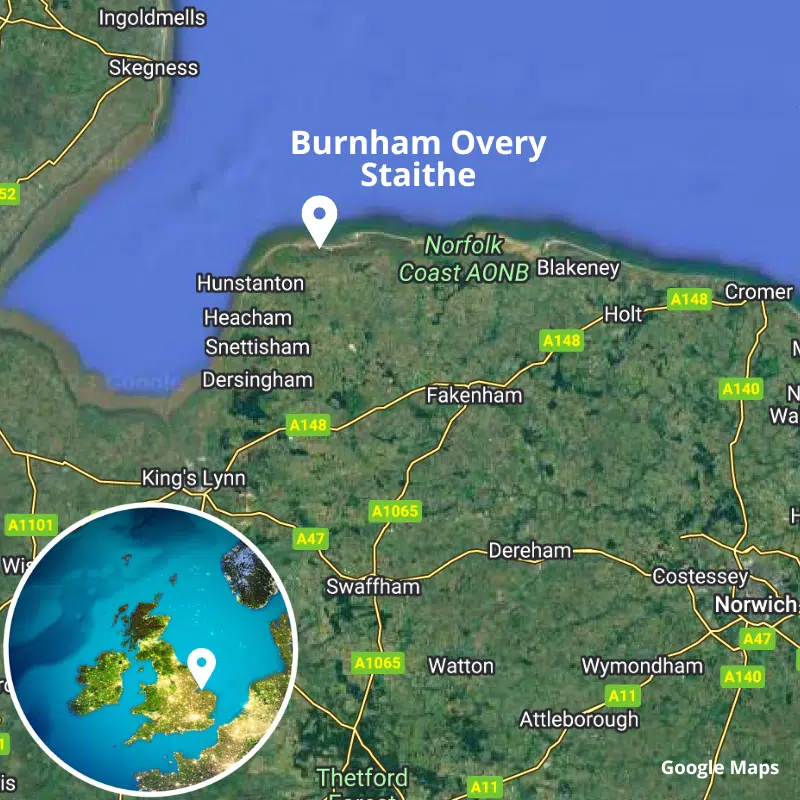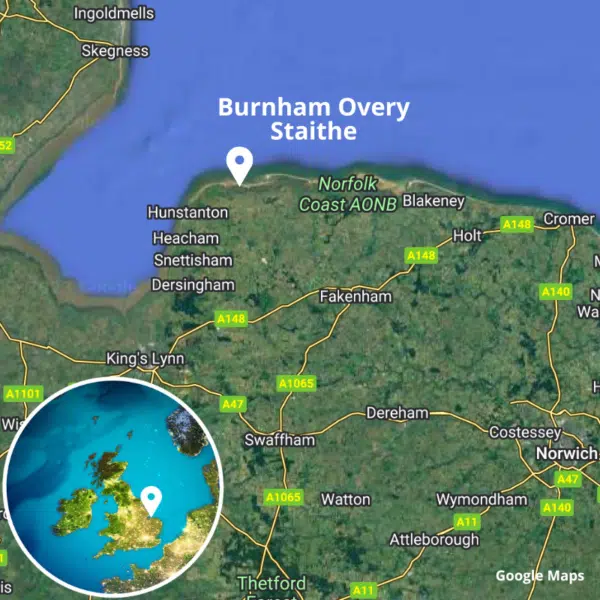 Burnham Overy Staithe – Getting There & Getting Around
Driving to Burnham Overy Staithe
If you're travelling from the north of the United Kingdom, pick up the A17 south at Newark-on-Trent and follow the route around the Wash to King's Lynn. This road is mainly single-carriageway, and slow-moving agricultural traffic and trucks can cause delays, so built this into your travel plans.
If you're travelling from the Midlands, you'll come into Norfolk via Peterborough and pick up the A47 north and east to King's Lynn. From the south, the A10 brings you through Cambridge directly to King's Lynn.
From King's Lynn, which is well worth a stop on the way through, either pick up the A149 coast road to Burnham Overy Staithe or go cross-country via Bircham Tofts and Stanhoe.
Parking in Burnham Overy Staithe
There is no official car park in the village but there is some street parking on the one way system on West Harbour Way, and a parking area known as 'The Hard', to the east of the quayside. Parking here is free, but it does get busy early in the day, with a jumble of cars pulling boats and paddlers blowing up their boards and kayaks.
The Hard can become completely covered with water during high tides, and it has been known for visitors to come back and find their car submerged! If you're unsure about whether it's safe to leave your vehicle, check with a local, look up tide times online, or see the tide clocks on the Boathouse door.
The postcode for this Burnham Overy Staithe parking is PE31 8JF.
RELATED POST: All the Best Things To Do in King's Lynn Norfolk
Getting To Burnham Overy Staithe by Public Transport
The county of Norfolk is within easy reach of the rest of the UK, with excellent transport links. You can get to the west Norfolk town of King's Lynn by mainline train from London in less than two hours. Simply take the regular Greater Anglia service from London King's Cross, which leaves every hour or so.
Alternatively, you can take a National Express coach from Victoria Coach Station to King's Lynn. This takes around 6.5 hours depending on the time of day, and you do need to change at Norwich, but it's often much cheaper than the train, especially when booked in advance.
At King's Lynn train station get the CoastLiner 36 bus from the Transport Interchange next door, and get off at the Hero stop, just over an hour and a half later.
If you're planning a visit from elsewhere in Norfolk, the CoastHopper from Cromer and Sheringham connects with the CoastLiner bus at Wells-next-the-Sea, and Sheringham is connected to Norwich via the Greater Anglia train service.
RELATED POST: 21 Of The Best Things To Do in Cromer Norfolk
Getting Around North Norfolk
The Coastliner 36 links Burnham Overy Staithe to Holkham before arriving in Wells-next-the-Sea, where you can hop onto the CoastHopper bus to Stiffkey, Morston, Blakeney, Cley, Salthouse, Weybourne, Sheringham, East Runton, West Runton and Cromer, meaning you can get to many of the best spots in the North Norfolk coast by bus.
There is also the regular X44 bus which connects Sheringham to Norwich and Holt, and from there the Norfolk Coastlink service connects Norwich with Great Yarmouth.
How about hiring a bike? This area of the Norfolk coast has an abundance of pretty villages linked by a network of byways, bridleways and quiet country lanes, which are perfect for cycling, and nearby Burnham Market is on the National Cycle Network and the Rebellion Way.
These lanes, bordered by fields of wheat, hedgerows and woodlands, see little traffic, which means you can explore the Norfolk coast at a leisurely and safe pace. You can hire bikes at Deepdale Farm in Burnham Deepdale and at Burnham Cycles on North Street in Burnham Market.
RELATED POST: Norfolk Coast – 8 Amazing Ways to Explore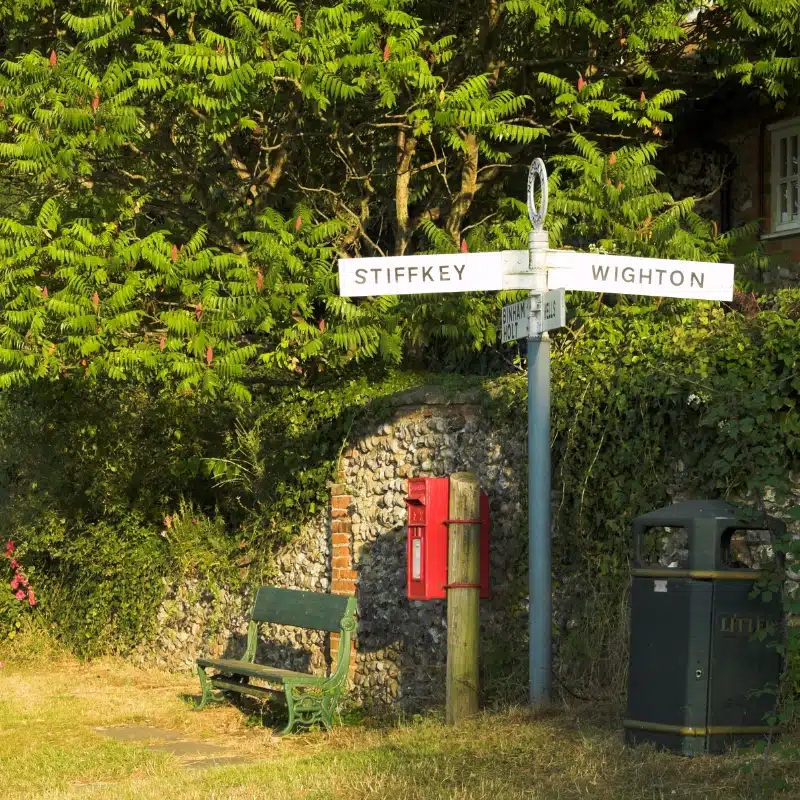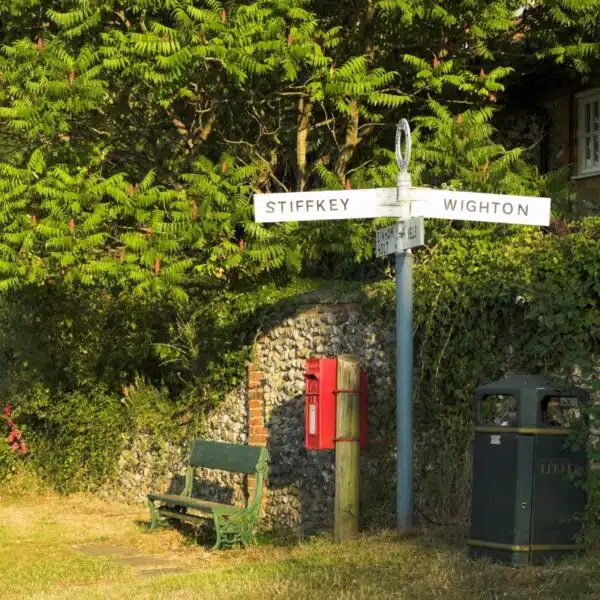 Burnham Overy Staithe History (in brief!)
Historically Burnham Overy Town, the original village adjacent to Burnham Overy Staithe which lies on the river Burn, was the port for the surrounding villages of the Burnhams. Until the end of the middle ages, trading ships were able to reach the village, however as the river silted up, commercial traffic switched to the more accessible Burnham Overy Staithe.
Burnham Thorpe, the birthplace of Horatio, Admiral Lord Nelson, lies just a mile to the south-east, and according to letters and documents, Nelson learned to row and sail at Burnham Overy Staithe, at the age of 10, just two years before he joined the Navy.
With the coming of the railway to the Burnhams in 1866, commercial shipping declined and the last cargo is believed to have been shipped from the Staithe soon after the end of the First World War.
Over the 20th century, the Staithe developed into a recreational sailing centre and today is a point of departure for Scolt Head Island National Nature Reserve and a hub of outdoor activity in North Norfolk.
The land and creek at Burnham Overy Harbour were bought by the Earl of Leicester, owner of Holkham Estate, in 1922 and today are leased to Burnham Overy Harbour Trust, a charity set up in 1982 to manage the harbour and creek for the benefit of its users.
Things To Do in Burnham Overy Staithe
Hike to Burnham Overy Staithe Beach
A fabulously unspoilt and secluded beach, Burnham Overy Staithe can only be reached by walking for a mile to get there. Once you step onto the beach through the gap in the dunes at Gun Hill, you soon realise that the walk was absolutely worth it!
The walk will take about 20 to 25 minutes, so pack everything you need for your beach visit. And I mean everything… there are no facilities at this back-to-nature beach. No ice cream van, no toilets, no food kiosk, no shop selling windbreaks, just miles of soft powdery sand lapped by the clear and sparkling North Sea.
The huge expanse of beach stretches as far as you can see, and you can walk all the way to Holkham and Wells-next-the-Sea along this unspoilt bit of Norfolk coast, making this a super dog-friendly beach, where your four-legged friend can run around and splash in the surf without restriction.
The walk may not be suitable for younger kids who just want to get stuck in with their bucket and spade. If the walk is not for you, head to nearby Wells beach, where you can be toes deep in the sand within five minutes of parking the car.
The walk to the beach is along a sandstone path on the raised banks of the Burnham Overy Footpath, a section of the Norfolk Coast Path, which is well-signposted from the village. You'll pass boats, salt marshes, creeks, sand dunes and many birds along the way.
As you near the beach, the sandstone path becomes a wooden boardwalk, and then grassy sand dunes over a steep incline, from where the whole expanse of beach is laid out before you.
As you arrive at the beach, the Norfolk Coast Path path heads east towards Holkham Gap through a grassy valley that follows the beach dune ridge for a few hundred metres, before rejoining the beach and passing north of Holkham pinewoods.
RELATED POST: Norfolk Beaches – Ultimate A-Z Guide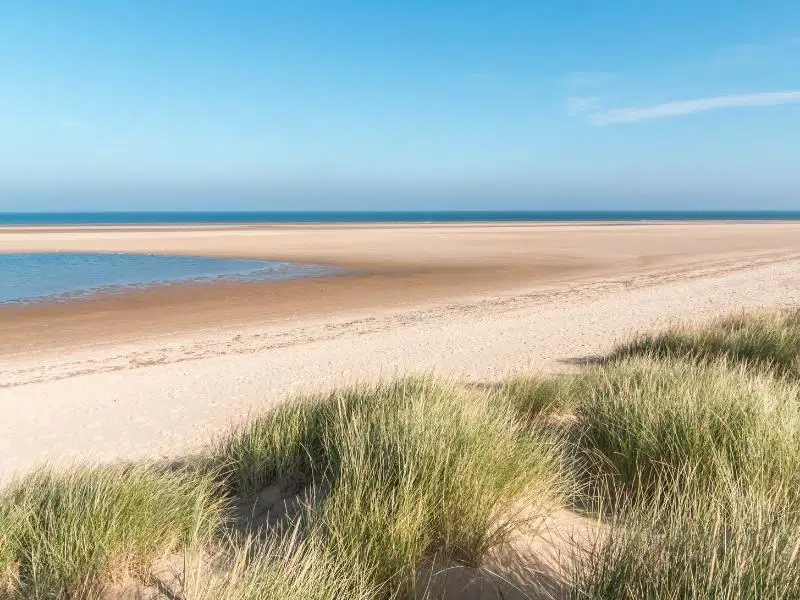 Explore The Quay
There are lots of things to do around the busy Quay, with a traditional Norfolk ice cream van usually present in summer, and a coffee kiosk to keep you fed and watered!
When the tide is low on a hot summer's day you can wade across the river to cool off and find a spot on the sandy area opposite The Quay for a spot of sunbathing. You can pick wild samphire here too, a traditional Norfolk food that is delicious when steamed and dressed with butter and goes perfectly with fish or locally caught seafood like Cromer crab or Brancaster mussels.
You can also practice crabbing off the jetty at high tide, but remember the crabs you catch here aren't for eating. If you're new to crabbing, or gillying as its known in Norfolk, you can get all my crabbing tips here.
RELATED POST: 26 Norfolk Food & Drink You Must Try!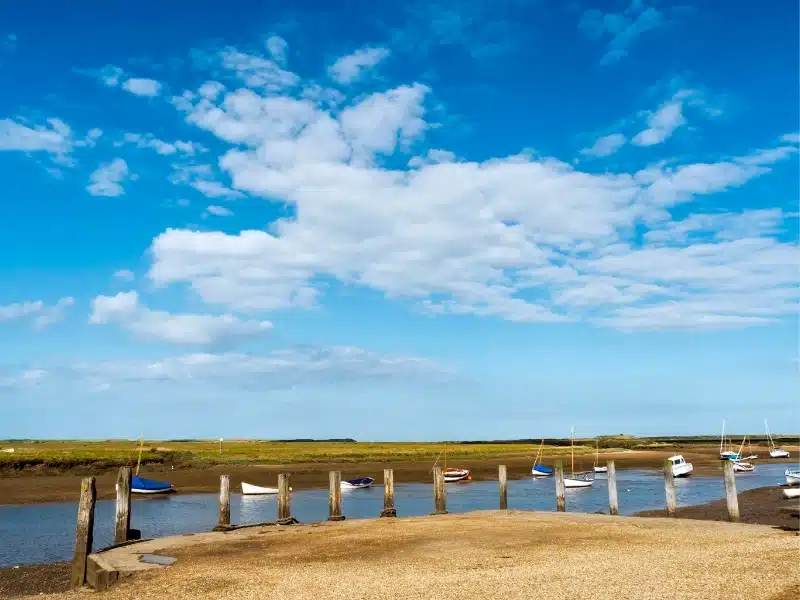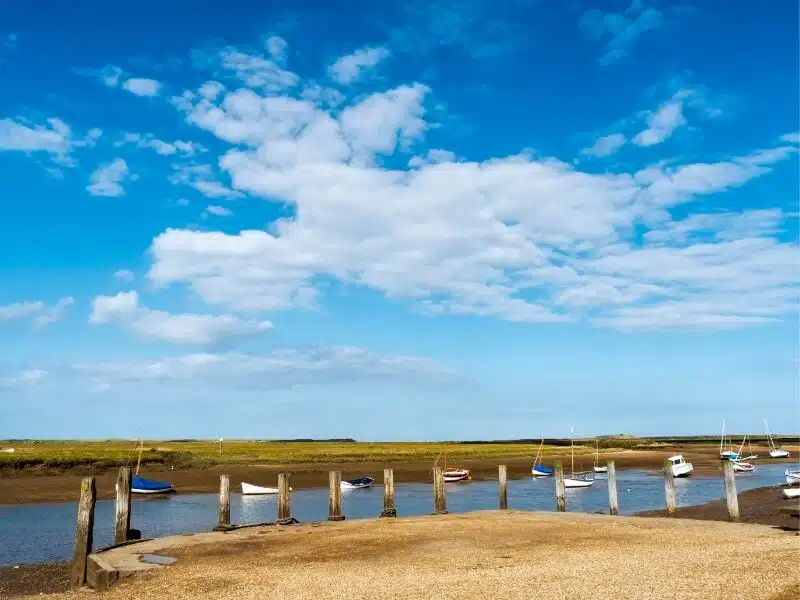 Take to the Water
Burnham Overy Boathouse
The handsome Burnham Overy Boathouse dominates the quay and is a hub of much water-based activity in Burnham Overy Staithe. The boathouse also provides useful information about Burnham Overy Staithe tides and weather, and manages the Burnham Overy Staithe webcam.
If you own a boat or are looking to own one, they will also provide boat storage, repair, sales and brokerage service.
Local Boat Trips
The Welcome ferry departs from The Hard to both Scolt Head Island on the west side or Gun Hill, on the east side, and returns depending on tide times.
The Welcome runs from about the third week of May until early September, one and a half hours on either side of high tide, weather permitting, and sunset tours are offered for late evening tides. Find out more at Welcome Burnham Overy Staithe.
The Burnham Overy Island ferry runs through the summer from mid-May onwards, and departs from The Quay opposite The Boathouse, running every 20 to 30 minutes, depending on demand.
Paddle Board & Kayak
The salt marsh and network of creeks around Burnham Overy Staithe are fascinating to explore from a paddleboard or kayak. The ever-changing conditions and tides present the perfect opportunity to explore the unique wildlife and nature along this stretch of the North Norfolk coast.
North Norfolk Paddle Boards offer lessons for beginners, SUP safaris and tours, and equipment rental whatever your level of skill on a board.
The Boathouse has a number of double and single sit-on kayaks for hire if you're happy finding your own way. Hire rates include seats and paddles, and buoyancy aids can be hired separately.
Sailing
There is fantastic sailing from Burnham Overy Staithe, and it's possible to launch your own craft from the harbour.
Boats of 8 feet or more must be licensed to use the harbour and it is a requirement that you have third party insurance before you launch. You can find out more about sailing conditions from Burnham Overy Harbour Trust.
Faire Sailing offer sailing tuition for children and adults, and Burnham Overy Staithe harbour familiarisation. You can also book a sailing experience, where you get to sail around the harbour, take the helm and learn the ropes to find out if you want to learn to sail. Faire Sailing also hire Norfolk Oysters and Laser Pico boats.
RELATED POST: 30 of the Very Best Things To Do in Norfolk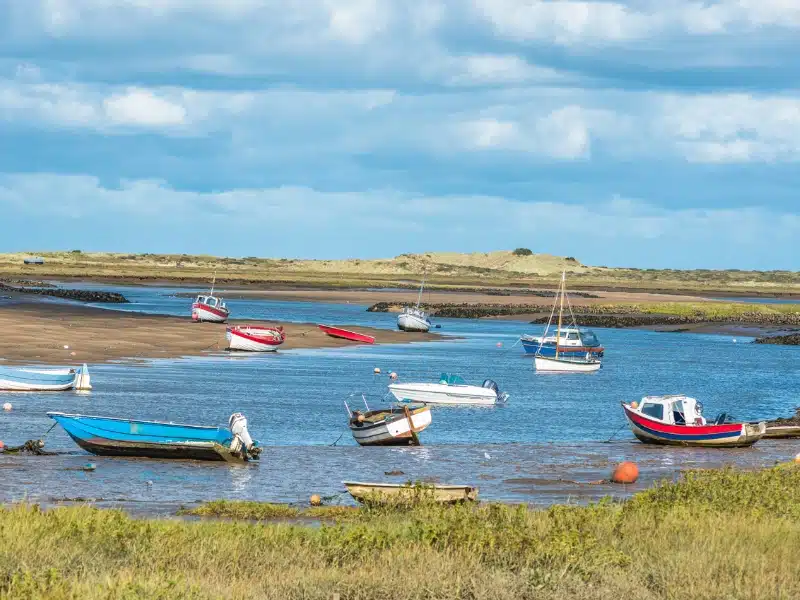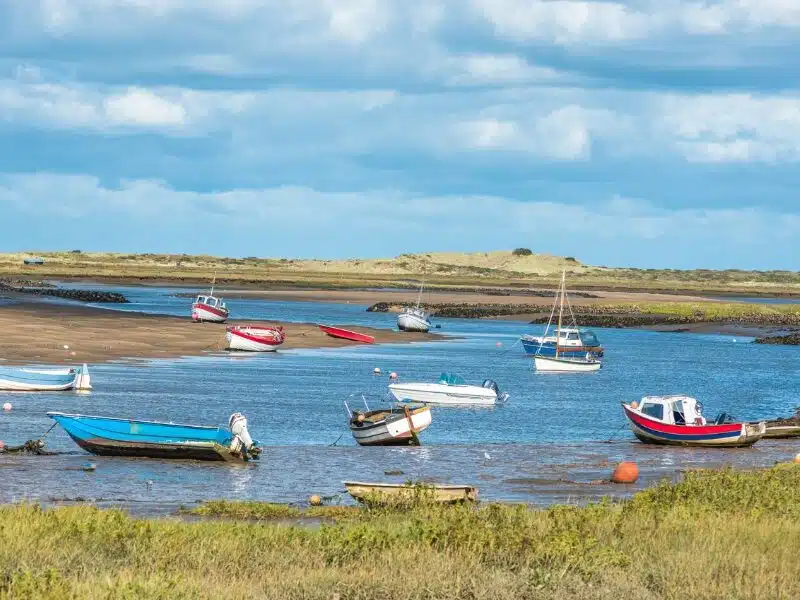 Explore the Norfolk Burnhams
There are four other Burnham villages – Burnham Market, Burnham Norton, Burnham Deepdale and Burnham Thorpe. Many years ago, Burnham Sutton, Burnham Ulph and Burnham Westgate came together to create the large village of Burnham Market.
Together these Burnhams, all within a two mile radius around the River Burn, became the Burnhams of the medieval verse which speaks of "London, York and Coventry, and the Seven Burnhams by the sea". Centuries ago, Nelson Of Thorpe Died Well Under Sail was a well-known mnemonic for the seven Burnhams.
Burnham Market
Burnham Market enjoys a pretty setting and interesting history, with 17th and 18th century buildings arranged around a market place and central green.
In the village are top Norfolk hotels, eateries and shops, which, along with easy access to the beautiful beaches and coast attract plenty of weekenders from London, giving the village the nickname of Chelsea-on-Sea.
Burnham Norton
With a population of less than 80, Burnham Norton is the smallest of this group of Norfolk villages. Home to St Margaret's, a Grade I round tower church, it's worth a visit for the magnificent 15th century pulpit and the ruins of Burnham Norton Friary.
Burnham Deepdale
Inextricably linked with Brancaster Staithe and home to a distinctive round tower church, the Dalegate Market with pop-up shops, stores and a café, and Deepdale Camping, the dark skies of Burnham Deepdale are perfect for star gazing.
Burnham Thorpe
The birthplace of Lord Admiral Horatio Nelson, Burnham Thorpe is a sleepy village worth a quick visit. The Parsonage where Nelson was born on 9th September 1758 no longer exists, but Nelson's Barn, built in its place, has a plaque set into the flintstone wall to mark the spot. You can find the barn on Creake Road, south of the village.
From Nelson's Barn, it's a half a mile walk north towards the village, where Nelson's father was the rector at All Saint's Church. Nelson's parents are buried in the church, and a bust of Nelson is set on the north wall of the chancel above the site of his parent's grave.
RELATED POST: Burnham Market – All You Need to Know Before You Go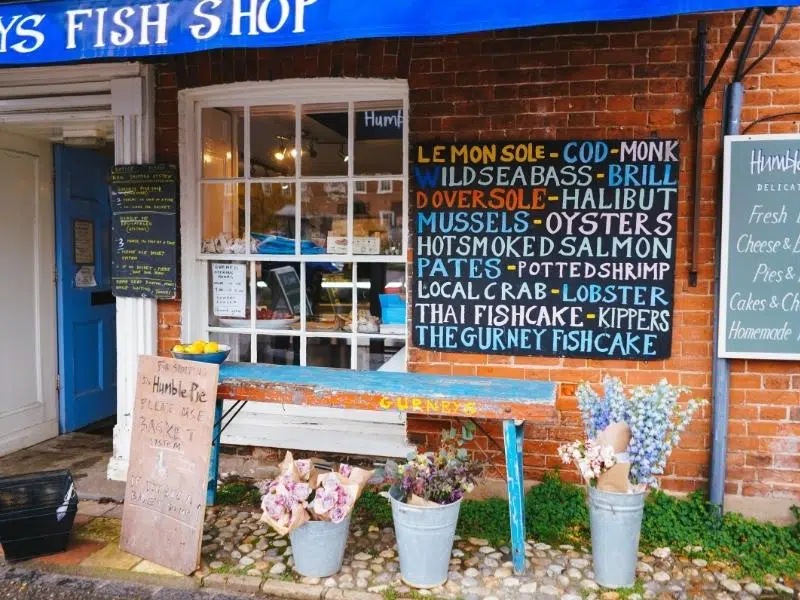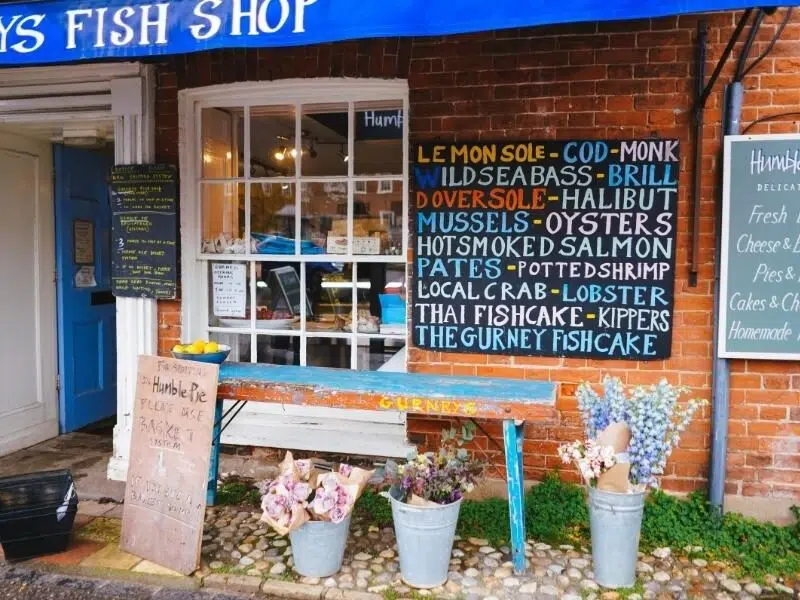 Discover Scolt Head Island Nature Reserve
Scolt Head Island, an offshore barrier island between Brancaster and Wells-next-the-Sea is jointly owned by the National Trust and Norfolk Wildlife Trust.
Accessible by a couple of seasonal ferries from the quayside, or by or by taking an adventurous hike and crossing from Overy Cockle Strand at low tide, the island is made up of sand dunes, salt marsh, intertidal sand and mud flats, and shingle.
Scolt Head supports internationally important numbers of breeding Sandwich and little terns, and nationally significant populations of common and Arctic terns, as well as wintering waders and wildfowl, and a host of plants that have evolved to thrive in harsh coastal conditions.
It is possible to swim from Scolt Head Island and explore Norton Creek (the water between Scolt Head and the mainland), where sun-warmed tidal pools lend an exotic feel. Don't attempt wild swimming from Scolt Head Island unless you're an experienced swimmer and you fully understand the dangers of the tides on this part of the coast.
RELATED POST: Norfolk Nature Reserves – Ultimate A-Z Guide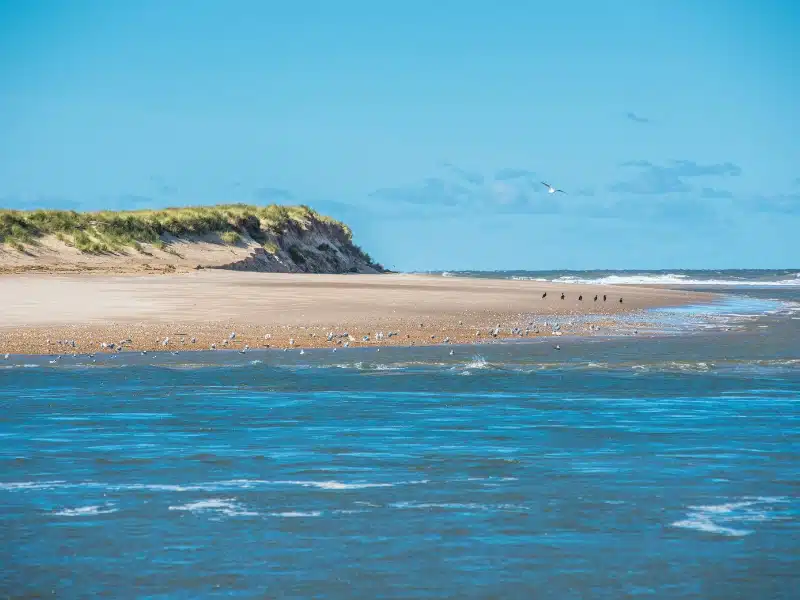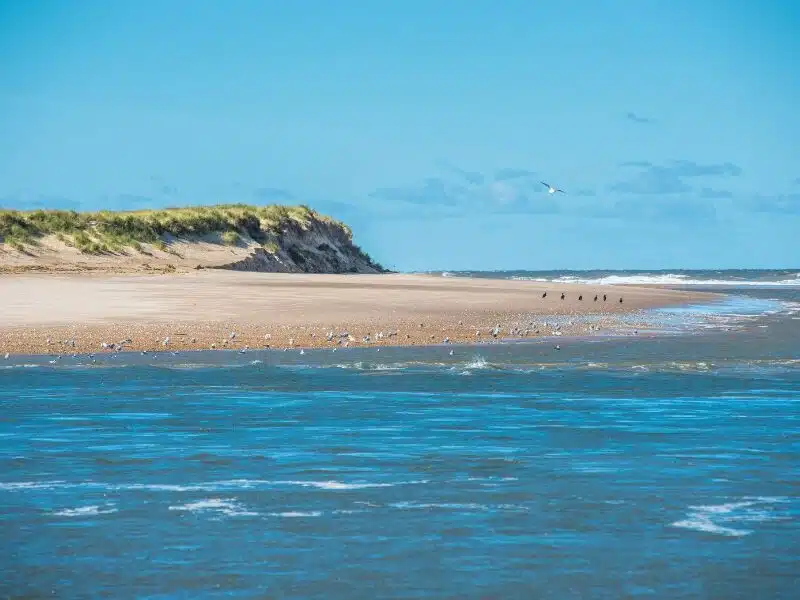 Visit St Clement's Church
The church for the two linked parishes of Burnham Overy Staithe and Burnham Overy Town is in the latter village, in a beautiful position backing onto open fields and farmland.
A squat Norman cruciform church with a central tower, St Clement's was granted the canons of Walsingham Priory in the early 12th century.
This is a simple country church with no stained glass, allowing the principal building materials of wood and stone to shine. Around 1200 a passageway was created between the nave and chancel, which makes two separate spaces, with the nave being late Norman in character and the chancel Early English. This must be the only church in Norfolk, if not England, with such an odd quirk!
The grassy churchyard is a good place to wander and spot headstones telling of shipwrecks as the sea breeze gently blows. The children's author Joan G Robinson is buried here, in the village where she set When Marnie Was There, a tale of a girl who lives in a house overlooking the marshes.
Nearby, on aptly named Friar's Lane in Burnham Norton, is the Carmelite Friary, founded in 1241. Thought to be the first Carmelite Friary established in Norfolk, the brick and flint gatehouse with its fine 14th century decoration is still standing. It's a perfect spot for a picnic!
RELATED POST: Norfolk Churches: 16 of the Best to Visit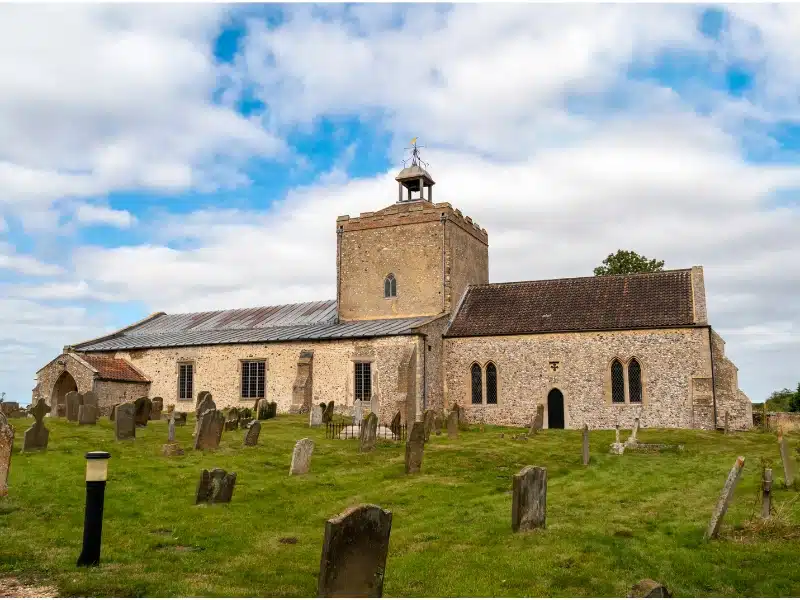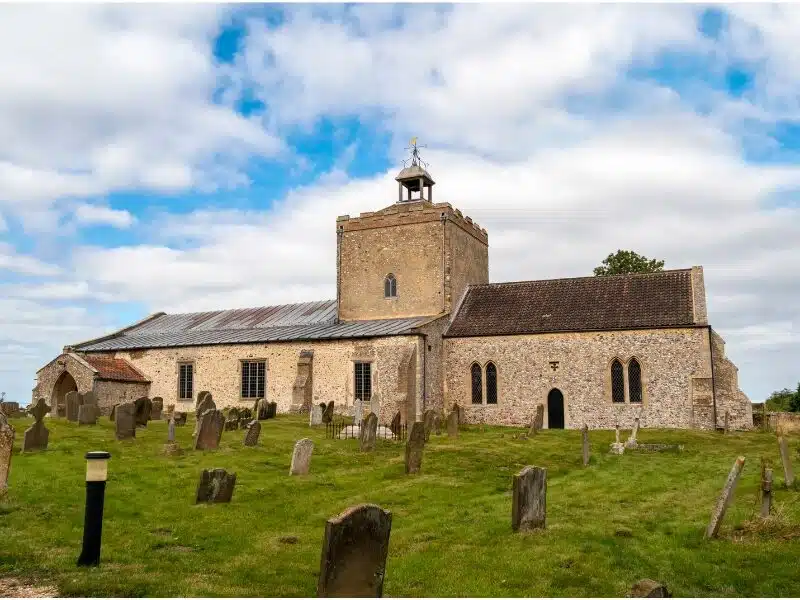 Be a Superhero!
The Norfolk Superhero Challenge is a quadrathlon event which involves swimming, kayaking, cycling, and running, all through sand, mud and marsh, and all for charity.
Participants take part in teams of two over a course that starts at Gun Hill and includes a one mile swim, a four mile kayak paddle, a 45 mile circular cycle route and an eight mile run across the beach, finishing with the last mile over the marsh …ouch!
Burnham Overy Staithe comes alive over the Superhero weekend, usually in early June every year. It's great to watch the teamwork on display, and anyone can register to be a competitor or volunteer.
RELATED POST: What's On in Norfolk – 70+ Dates for Your Diary in 2023
Hiking from Burnham Overy Staithe
Nelson Way
This 404-mile-long distance walk celebrates Britain's naval heritage and England's finest sailor Admiral Horatio Nelson. It follows a route from Burnham Thorpe and links locations associated with Nelson between Norfolk and the HMS Victory, Nelson's flagship in the Battle of Trafalgar, at the wonderful Portsmouth Historic Dockyard.
The Nelson Way is a fitting trail for Norfolk, also known as Nelson's County. If like me, the thought of walking 404 miles is a bit much, you can try my favourite bit of the route from Burnham Thorpe to Holkham.
This 11 mile Norfolk hike through the wetlands, dunes and sands of Holkham National Nature Reserve will reward you with magnificent beach views and huge skies, which accompany you for much of the route.
Norfolk Coast Path
The best-loved of the Norfolk trails, and one of the best ways to experience the wilderness and unique landscapes of the Norfolk coastline, the Norfolk Coast Path runs from Hunstanton in West Norfolk, to Hopton-on-Sea in South Norfolk, where Norfolk meets Suffolk.
The path runs for 84 miles and passes through the stark and beautiful landscape of the Norfolk coast Area of Outstanding Natural Beauty, where you'll encounter tidal marshes brimming with wildlife, and cross wide sandy beaches under the huge skies that Norfolk is famous for.
Burnham Overy Staithe is right on the coastal path and it's easy to walk a stage from the village – you'll find the path signed in both directions at The Quay.
Head northeast for the three mile walk to Burnham Overy Staithe Beach, across the salt marshes alongside Burnham Overy Creek, to sand dunes and the wonderful expanse of sand to Holkham Gap, from where you can catch the Coastliner bus back to Burnham Overy Staithe.
Head west for a fantastic six mile hike to Brancaster beach. Wide open areas of marshland, sailing boats and the site of Branodunum Roman Fort offer plenty of interest, together with three pubs, perfect for a brisk day's walking!
The Burnhams Circular Walk
This is a lovely 4.5 mile circular walk from Burnham Overy Staithe which takes in the salt marshes, St Mary's Friary at Burnham Norton, St Margaret's Church in Burnham Market, and rewards you with a wonderful view of Grade II* listed Burnham Overy Windmill. You can find details and a map here.
RELATED POST: Walks in Norfolk – 14 of the Best Trails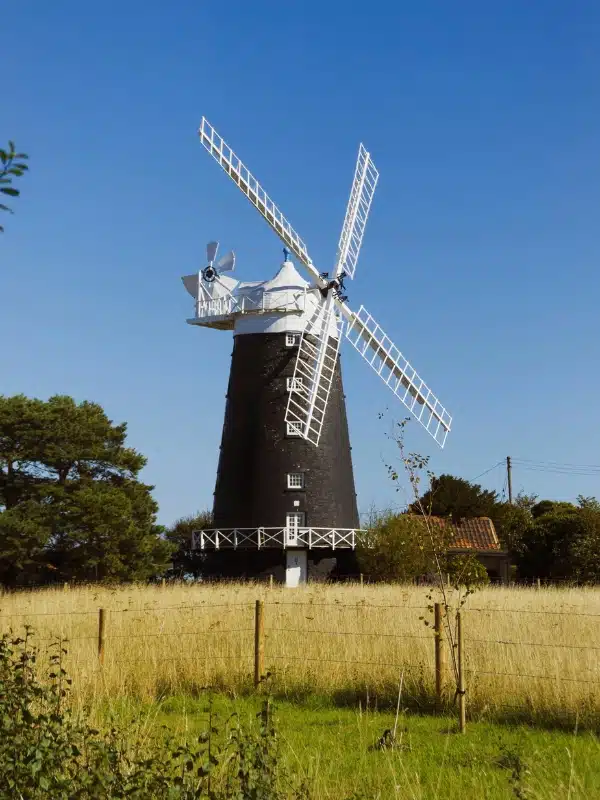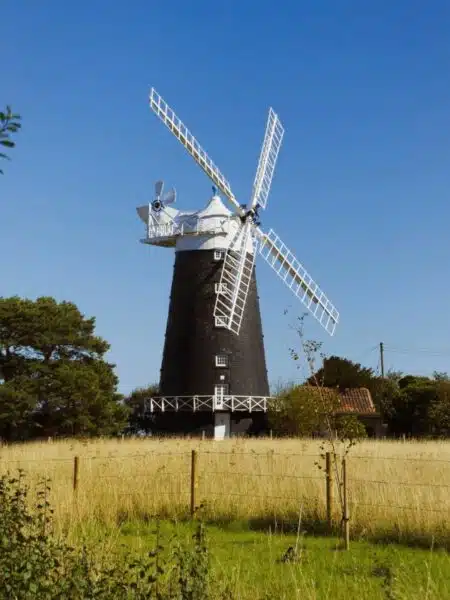 Burnham Overy Staithe Accommodation
Burnham Overy Staithe has a small collection of Airbnb-style accommodation, pretty holiday cottages and holiday homes for rent, and has one of the UK's best campsites nearby. Whatever your accommodation style, we've rounded up the best options for your Norfolk holidays.
The Hero, Burnham Overy Staithe
The Hero is a delightful pub with rooms named after Admiral Lord Nelson, Norfolk's most famous son who learnt to sail in these waters.
A laid-back and lively pub, The Hero is a wonderful place to base yourself to explore the coastal walks & remote nature trails of Nelson's County, and the perfect place to stay to escape the hustle and bustle of everyday life.
The Hero's three unique rooms are located in a separate building from the main pub with their own private entrance. All rooms are dog friendly and come with a fantastic a la carte breakfast included.
RELATED POST: Norfolk Coast Hotels: 18 of the Best Places to Stay by the Sea
The Hoste, Burnham Market
Of all the Burnham Market hotels, The Hoste Arms is the best and has become a destination in its own right. Once a traditional village pub, The Hoste is now a luxury Norfolk hotel across two sites, the dog-friendly original Hoste inn and the adults-only Georgian Vine House.
In a wonderful location to explore the coast, the Hoste is both comfortable and stylish, with lots of traditional Norfolk touches. Regularly voted as one of the UK's coolest hotels, with a beautiful courtyard garden and a movie room where you can catch a show on a rainy day, this place offers a real escape from the hustle and bustle of everyday life.
Burnham Overy Staithe Holiday Cottages
There are lots of holiday cottages and Airbnb-style holiday rentals in and around Burnham Overy Staith. From one bed cottages to huge converted barns, use VRBO to search for the best deals and find availability on Burnham Overy Staithe holiday accommodation.
Deepdale Camping & Rooms
A quiet and friendly Norfolk campsite, Deepdale Camping has been named as the most popular campsite in the UK and is just 3 miles from Burnham Overy Staithe.
This dog-friendly campsite in the village of Burnham Deepdale has 85 pitches suitable for tents, campervans, motorhomes & trailer tents, but no caravans due to a planning restriction. Set in six well-maintained grassy paddocks, the site is a haven of peace and quiet.
Camping facilities include 16a electric hook-up, chemical toilet disposal points, fully serviced hard-standing pitches, and underfloor heated toilet & shower blocks, together with lots of landscaping including hedging, trees and landscaping for the farm paddocks. There's also a laundry facility, free Wifi and fire pit hire.
If you're planning a self-catering holiday without a tent, Deepdale will supply you with a fully equipped and erected safari-style glamping tent on a large grass pitch, or check out their basic, but comfortable, private en-suite rooms.
RELATED POST: Norfolk Glamping – 15 of the Best Spots
If you're visiting in August, Burnham Breck pop-up campsite makes a great place to stay with an easy cycle or walk to The Quay in Burnham Overy Staith, just a mile away.
This is a back-to-basics site with no electric hook up (but facilities to charge phones in the nearby church!), but what you do get are 32 pitches in five acres of beautiful landscape with amazing sea views.
Where to Eat in Burnham Overy Staithe
The Hero
With a wood burner, a fantastic outdoor area, locally sourced quality produce, seasonal menus and a great selection of craft beers, wines and Norfolk gin, The Hero is a great place for lunch or dinner.
Menus are changed regularly with the seasons and include an all-day dining menu and Sunday lunch. Food is of the gastro-pub style, with classics like fish and chips, burgers and pie of the day topping the menu.
Dogs are welcome and biscuits for your four-legged friend are provided, alongside bowls of water and a pat to say hello!
Norfolk Coffee Pedler
A coffee stand on Easr Harbour Way, the Norfolk Coffee Pedler serves delicious, ethical coffee from beautiful pottery cups, with a piece of homemade cake. What's not to love?
Further afield, there are plenty of dining options in Burnham Market and Brancaster Staithe, easily accessible by car or bike.
RELATED POST: Breweries in Norfolk – Best 16 to Visit
Have I missed your favourite Burnham Overy Staithe activity from my list? Let me know in the comments so I can check it out and add it to this round-up!
Love it? Pin it!