A highlight on the western edge of the Norfolk coast near King's Lynn, Norfolk Lavender has been a holiday-maker's favourite since 1932. Wandering the fragrant fields is a real treat, especially when the plants are in bloom in summer.
But there's more than just lavender fields here – there are tearooms where you can enjoy lavender infused goodies, pretty gardens to enjoy, a shop to stock up on your lavender smellies, animal gardens and a play park for the kids and tours of the lavender fields and distillery, making Norfolk Lavender a must see on any Norfolk holiday.
As a Norfolk local, I've been visiting Norfolk Lavender since I was a child. Back then I visited with my Grandma, then with my own children, and now as an avid gardener who has a definate love affair with lavender! Read on to find out everything you need to know about visiting Norfolk Lavender.
RELATED POST: The Ultimate Local's Guide to Norfolk England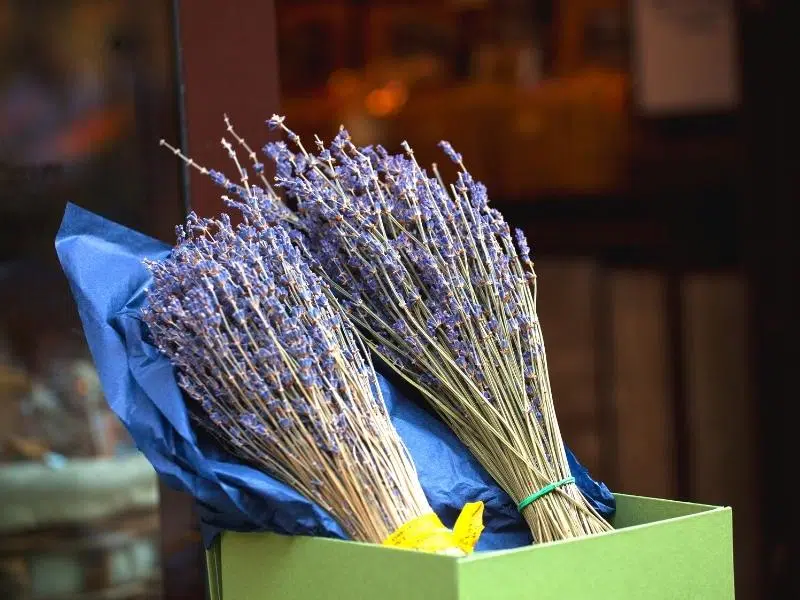 This post may contain affiliate links. If you book something I recommend, I make a small commission without affecting the price you pay!
A Brief History of Norfolk Lavender
It is thought that lavender was first bought to Great Britain by the Romans, in their first aid kit of herbs, which would have also include rosemary, parsley, sage and thyme.
Lavender was used through the centuries as a homely remedy and became known as the herb of cleanliness and calm, and was utilised in many household applications, before slowly losing its value as a commercial crop at the end of Word War I.
Linn Chilvers, a nursery gardener and florist from Heacham had always dreamed of growing lavender, but local farmers dismissed the idea and it seemed that his vision to save lavender as a commercial crop would never come to fruition.
But in 1932, Linn met Francis 'Ginger' Dusgate, of Fring Hall, who thought his plan was worth exploring, and the two men went into partnership to grow and distill lavender.
Today, the essential oil from Norfolk Lavender plants is used to make the world renowned Norfolk Lavender products, which hold a Royal Warrant by appointment to The Prince of Wales.

Norfolk Lavender Location
Address: Norfolk Lavender, Caley Mill, Lynn Rd, Heacham PE31 7JE
Website: https://norfolk-lavender.co.uk/
From Norwich: 43 miles / 1 hour 10 minutes drive time
From King's Lynn: 15 miles / 25 minutes drive time
From Cromer: 39 miles / 1 hour drive time
From Hunstanton: 2.4 miles / 5 minutes drive time
RELATED POST: Heacham: Beaches & Family Fun in West Norfolk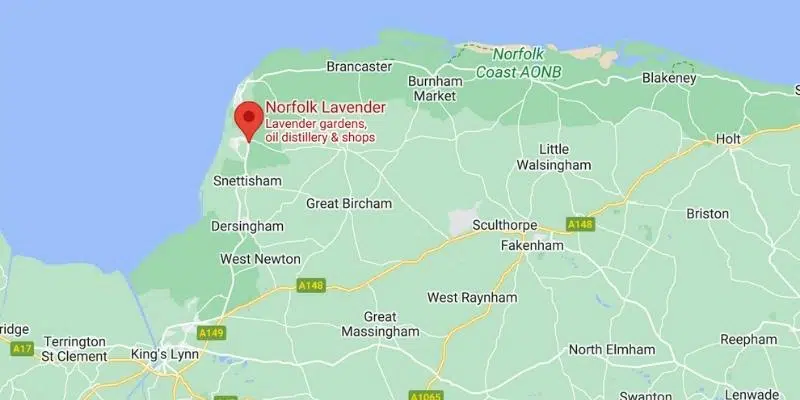 Getting to Norfolk Lavender
By Car
Norfolk Lavender is easy to reach by car, as it's located off the main A149 road. Locally known as 'the coast road', the A149 runs along the North Norfolk coast from King's Lynn, passing through small seaside towns before leaving the coast at Cromer for the Norfolk Broads.
On Foot & By Bike from Hunstanton
You can walk to Norfolk Lavender in about an hour, or cycle there in 20 minutes from Hunstanton. It is possible to take a back route but you would have to cross the busy A149 at some point.
By Bus
Routes 34, 35 and 36 between King's Lynn and Hunstanton make a stop at the Fox and Hounds pub Heacham, and run a regular daily service. From this stop it's a fifteen minute walk to Norfolk Lavender. The bus journey from King's Lynn takes 34 minutes and from Hunstanton bus station, it's ten minutes.
You can also connect to this bus route at King's Lynn from Norwich, using the First Bus service.
By Coach
If you prefer to take a day trip or tour to see Norfolk Lavender, then you can catch a coach from London, Lincolnshire, Rayleigh, Leicester and this tour, which offers pick up's along the M11, A1 and A10, for a fully escorted day out.
RELATED POST: 21 of the Best Things To Do in Hunstanton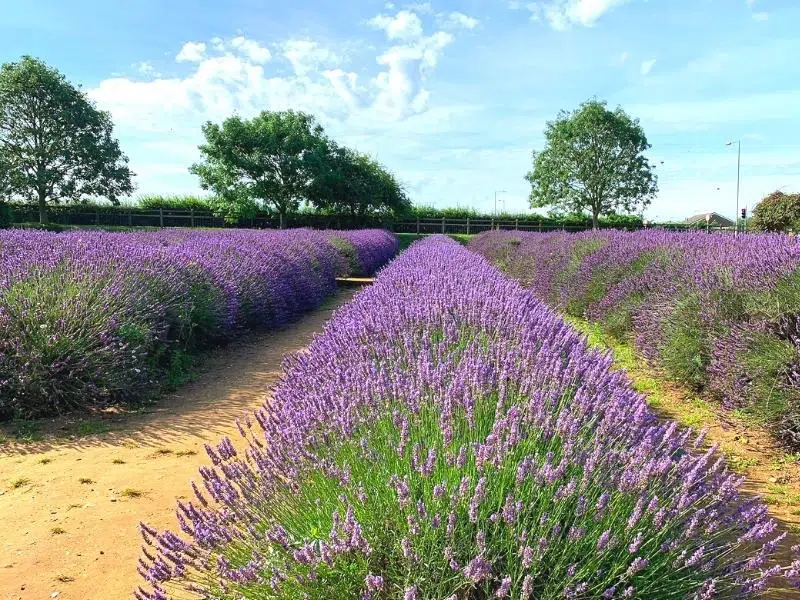 Planning Your Visit
Norfolk Lavender Opening Times
From March to October Norfolk Lavender is open from 9.30am to 5pm seven days a week.
From November to February, oepning hours are from 9.30am to 4.30pm seven days a week.
Norfolk Lavender is closed on Christmas Day, Boxing Day, 27th December and New Years Day.
RELATED POST: Christmas in Norfolk 2022 – 40+ Dates for Your Diary
When is The Best Time to Visit Norfolk Lavender?
Norfolk Lavender is open all year round, but by far the best time to visit for the fabulous lavender fields in bloom is in summer, from mid June to mid August.
At this time of year, you will also be able to take a guided tour to fully appreciate the history of Norfolk Lavender. You'll also learn about the use of lavender as a herb, find out how the flowers are harvested, and see how the lavender oil distillery works.
Outside of the summer season, Norfolk Lavender makes a great stop for afternoon tea after a bracing beach walk, or a hearty breakfast before! It is also the perfect place to shop for gifts and Norfolk produce from the farm shop.
RELATED POST: North Norfolk Coast – 19 Unmissable Highlights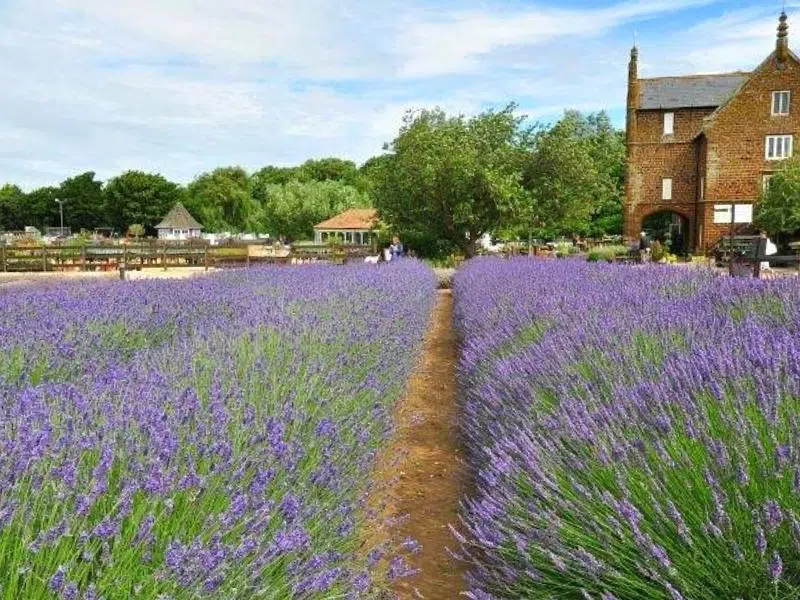 Admission
The main Norfolk Lavender site is free to visit, and this includes the National Collection of Lavenders, the Herb Garden, Meadown Gardens and all of the shops.
The animal gardens & outdoor play area have a charge £5.50 per adult and £4.50 for children and concessions.
Summer tours of the lavender fields and lavender distillery cost £5.50 per adult.
A family ticket for two adults and two children is £18.00.

Accessibility
There are designated places for the disabled as close to the entrance as possible.
The Norfolk Lavender site is all on one level with only slight inclines in places, so wheelchair users will be able to move about between the various areas, which are connected by mostly concrete, and some gravel, paths.
There is a split-level in the shop, with stairs between the two levels. However, it is possible to access the higher level with a wheelchair from the rear of the shop – just ask the staff to show you.
Accesing the lavender fields themselves may be tricky if it's been raining and the ground is wet, unless an off-road wheelchair can be used.
There is a regular wheelchair on site which can be loaned, but it must be reserved in advance and a refundable deposit paid on collection.
There are also two toilets for the disabled.
Norfolk Lavender says it is dog friendly. Dogs on a lead are allowed into the gardens and outside areas, but not into the animal park, gift shops or tearooms.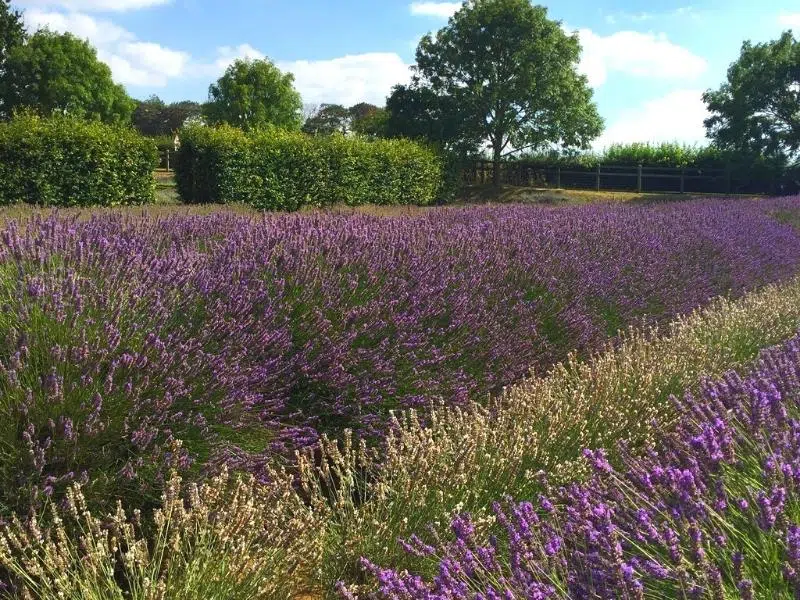 Norfolk Lavender Attractions
Norfolk Lavender Tour
During the summer months of June, July and August, a mini-bus tour is run to the lavender field, so you can wander through the blooms and take photographs of the stunning spectacle of acres of frangrant lavender in bloom.
During the 45 minute tour, your guide will explain about the history of Caley's Mill, the art to growing lavender, how it is used as a herb, and the workings of the oil distillery, which operates during the lavender harvest.
Although you won't see all one hundred acres that Norfolk Lavender has under cultivation around Norfolk, including on the Sandringham Estate, you will get to see the field closest to the attraction, which covers around 36 acres and is full of the classic lavender rows we all love to photograph.
The tour costs £5.50 per person, and you need to book it at the gift shop when you arrive on site. There are usually four or five tours a day in peak season starting around 11am and finishing around 3pm, but you can check before visiting by calling 01485 570384.
If you choose not to take the tour, there is a mini-lavender field in front of the site which is free to visit. It doesn't have the scale of the nearby lavender field if you want to take Instagram worthy photos, but the blooms and the fragrance are just the same!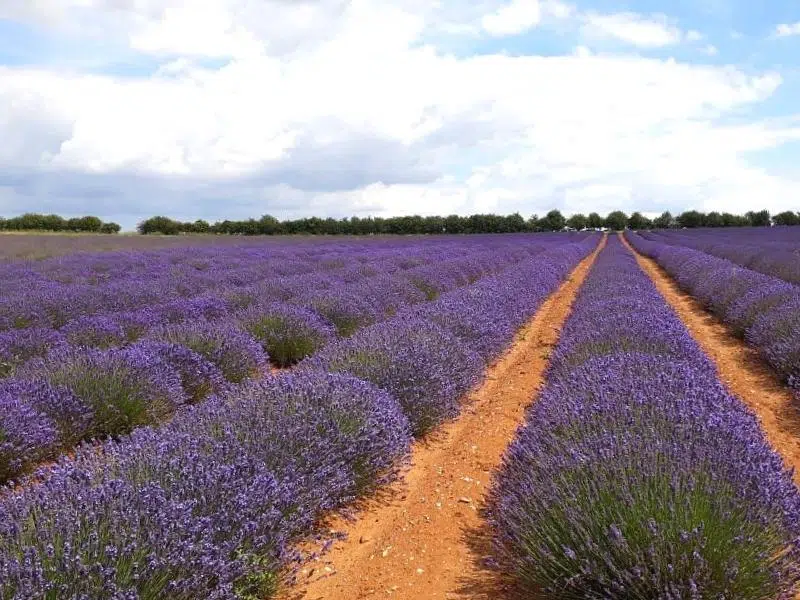 Gardens at Norfolk Lavender
The Meadow Gardens are a peaceful area and free to visit. They encompass a number of areas including the rose spring, bamboo and mediterranean gardens, a woodland area, buddleia beds and an island retreat.
Wander over the bridge, spotting the fish in the waters around the old mill, and explore the tranquil landscaped gardens, planted with beautiful flowers, trees and shrubs.
On the other side of the site close to the entrance, you'll also find a small herb garden and lavender garden, where the plants are grown taller than those in the fields, making another great spot for photographs.
RELATED POST: The 21 Best Gardens in Norfolk to Visit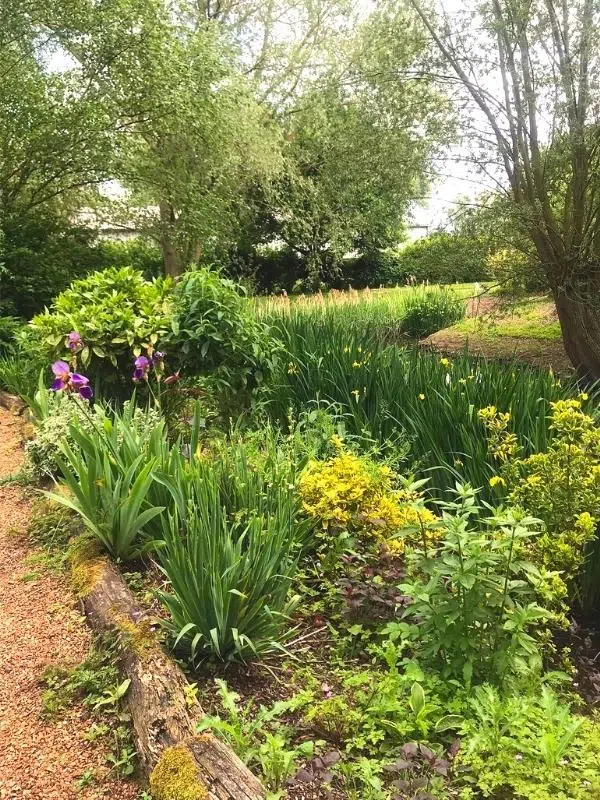 The National Lavender Collection
Norfolk Lavender is home to over 100 different lavenders, managed in association with Plant Heritage, the world's leading garden plant conservation charity.
At Norfolk Lavender you can see many different types of lavenders up close, helping you to choose the right plant for your garden.
Seeing the different lavenders in bloom in both field and greenhouse is a real spectacle, with colours of the lavender spectrum from really deep purple to almost white, laid out in a patchwork of colours.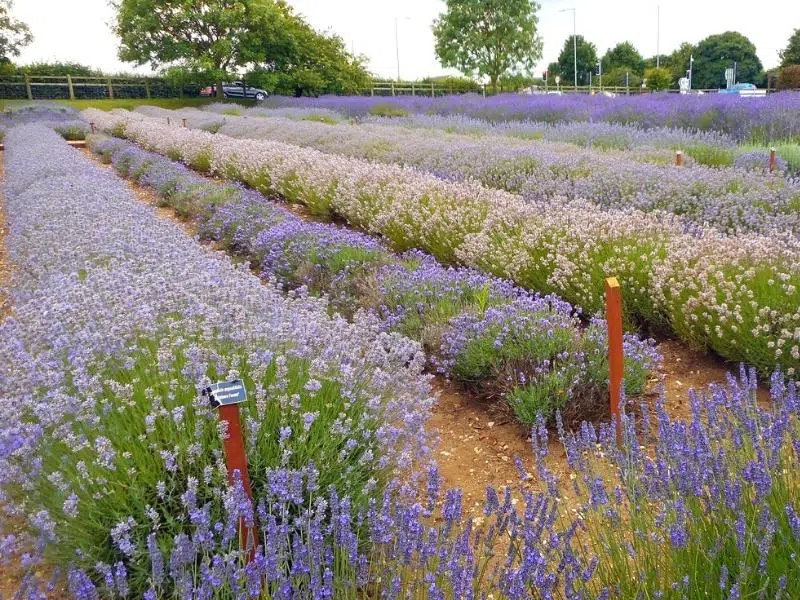 The animal gardens at Norfolk Lavender are a great place for kids to experience both domestic and wild animals whilst learning about their natural environment.
With meerkats, wallabys, pigs, ducks, peacocks, donkeys, ponies, owls, bearded dragons, and lots of insect species, there is the opportunity to pet and engage with the animals, and learn from the staff who look after them.
Nearby is the outdoor play area where kids can let off steam, drive mini tractors and get lost in the maze. Don't confuse this area with Farmer Fred's Play Barn, an independently run indoor advenure play area for kids up to 12 which is next door to the car park.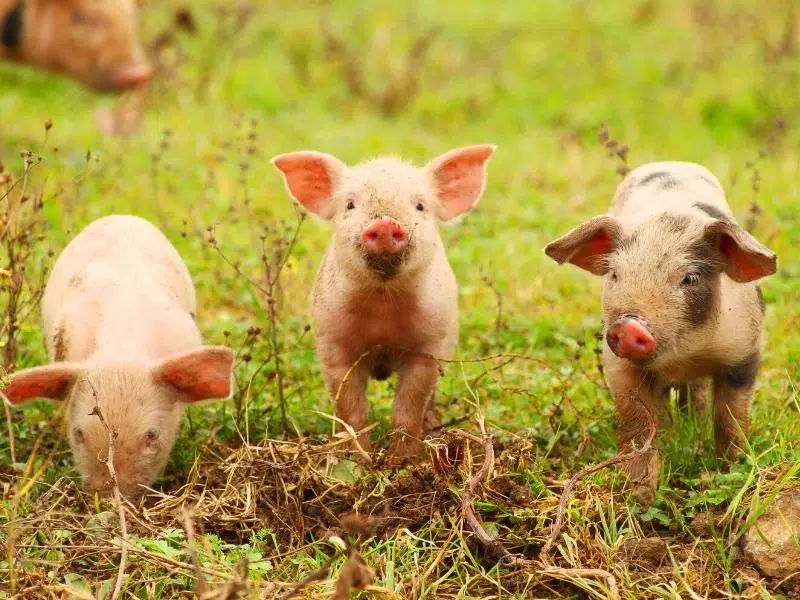 The Lavender Lounge tea room and restaurant serves breakfast, lunch, light bites and coffee and cake, right at the centre of the Norfolk Lavender site. Enjoy inside seating on colder days, or bask in the sunshine outside in spring and summer.
Utilising lavender grown in their fields around Norfolk, the cakes and scones have a delicious balance and a hint of lavender to remind you of your location!
Well known for their tasty breakfast and good value senior citizens lunches, the Lavender Lounge makes a great stop for a cup of tea and a slice of lavender cake as you pass, or as part of your visit to Norfolk Lavender.
RELATED POST: Afternoon Tea in Norfolk – 15 of the Best Places
The gift shop has a fantastic range of Norfolk Lavender products, all made using the natural ingredients grown in their own lavender fields.
From their classic bath and body range including the famous Norfolk Lavender soap, to food and drink made using lavender products, this has to be one of the biggest ranges of lavender inspired items in the country!
The shop is large and it's easy to get lulled into filling your basket with homewares, smellies, candles and gifts. But, remember you're paying a premium for shopping here and may be able to get the same or similar products at other Norfolk Lavender stockists or online.
Don't let me spoil your fun though – if you're stocking up on bath-time treats, Norfolk Lavender gifts for loved ones or just fancy a holiday splurge, then enjoy!
If you can't visit, but love the sound of all these gorgeous products, you can order Norfolk Lavender products online here.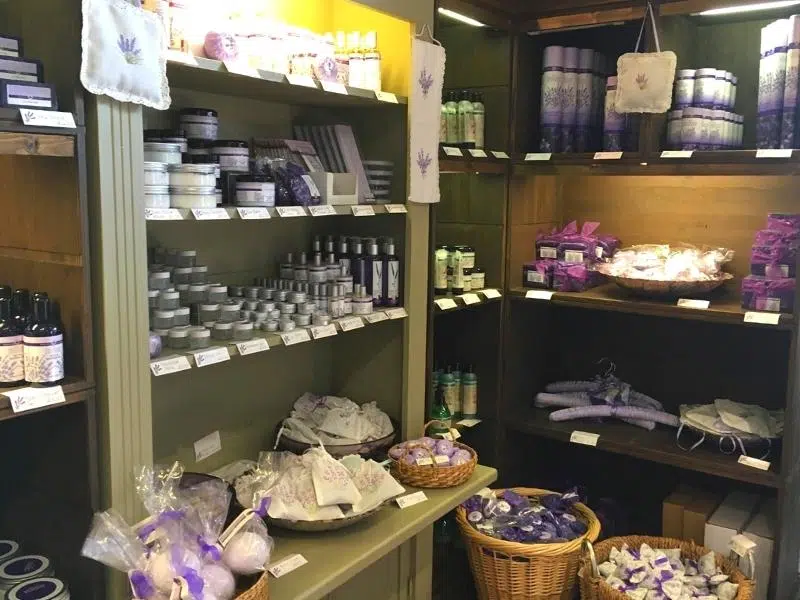 I love the farm shop! It's easy to pop in on the way past and stock up on all those delicious locally produced Norfolk goodies.
With locally sourced meat, home made pies and pasties, Norfolk cheese, locally grown fruit and veg, and pretty legendary sausage rolls, as well as lots of other fresh produce, you'll find lots of good things to eat here.
RELATED POST: 43 Norfolk Farm Shops for Amazing Local Produce!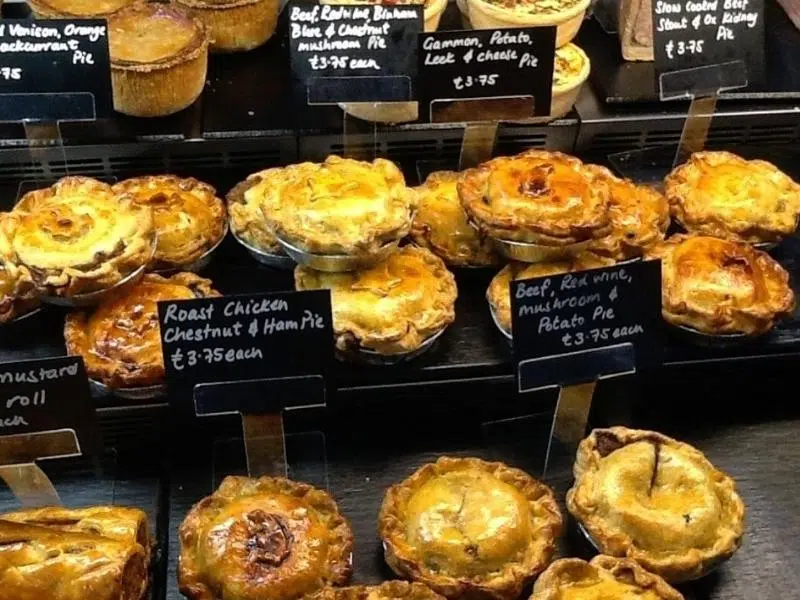 I'm a keen gardener and love to plant lavender in my garden at home. The fragrance, waving flowerheads in vibrant purples and mauves and the long flowering life, make this a wonderful (and easy) plant to grow. Nothing creates an English cottage garden feel more than lavender.
Whenever I visit, I can't resist a popping into the plant centre to see what varieties of lavender they have in stock.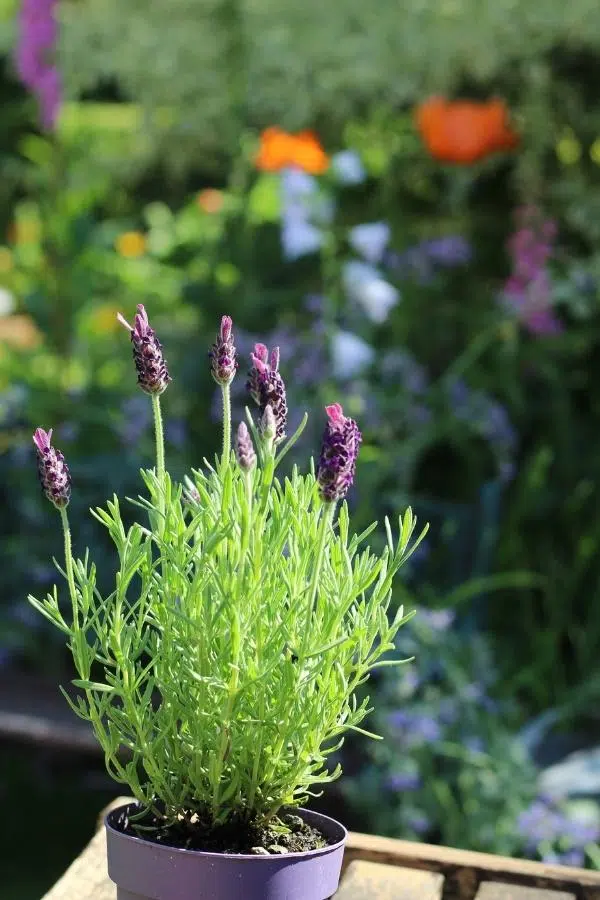 Have you visited Norfolk Lavender? Share your experience in the comments below!
Love it? Pin it!