A long-established seaside resort on Norfolk's west coast, Heacham is a great bucket and spade destination, known for fantastic sunsets and family-friendly beaches.
Heacham makes a great base for family holidays, with so much to explore nearby. Whether it's fun with the kids, beach activities, playing the amusements or visiting the local wildlife, Heacham will give you a memorable Norfolk holiday.
If good old-fashioned fun, holiday activities and plenty of options for nearby days out are important, then Heacham makes a fantastic choice for your next family holiday.
RELATED POST: The Ultimate Local's Guide to Norfolk England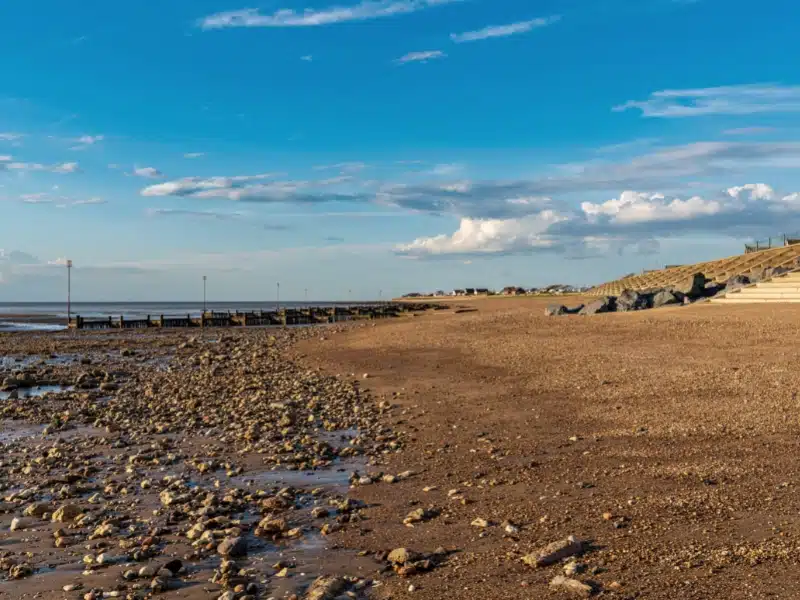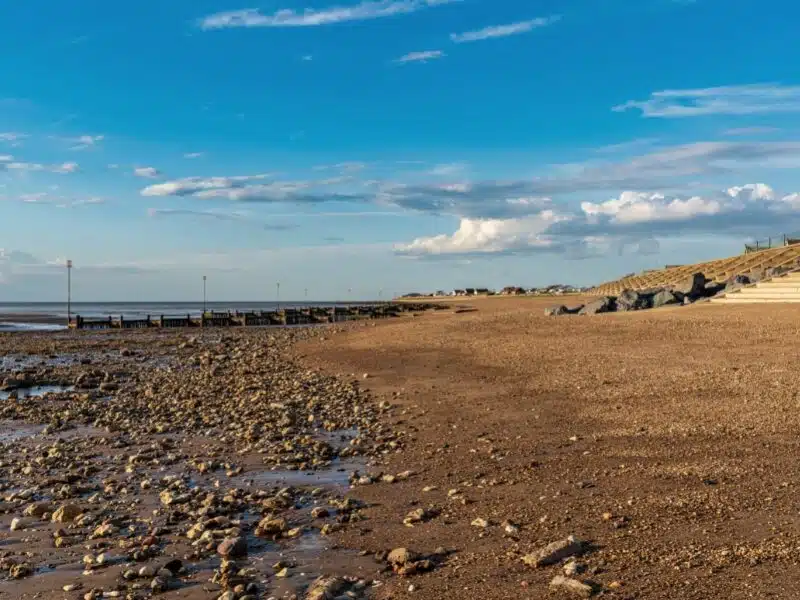 This post may contain affiliate links. If you book something I recommend, I make a small commission without affecting the price you pay!
Where is Heacham Norfolk?
On Norfolk's west coast facing the Wash, Heacham is situated 44 miles northwest of Norwich and 15 miles north of King's Lynn. The village lies to the west of the A149 coast road, north of Snettisham and south of Hunstanton.
RELATED POST: Norfolk Coast – 8 Amazing Ways to Explore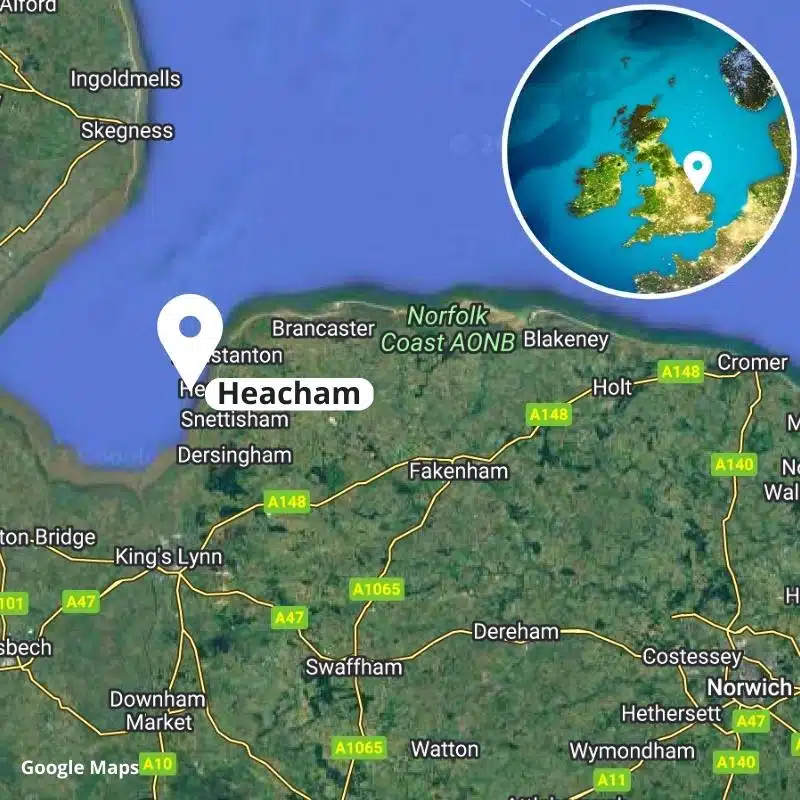 Heacham – Getting There & Getting Around
Driving to Heacham
If you're travelling from the north of the United Kingdom, pick up the A17 south at Newark-on-Trent and follow the route around the Wash to King's Lynn. This road is mainly single-carriageway, and slow-moving agricultural traffic and trucks can cause delays, so built this into your travel plans.
If you're travelling from the Midlands, you'll come into Norfolk via Peterborough and pick up the A47 north and east to King's Lynn. From the south, the A10 brings you through Cambridge directly to King's Lynn.
From King's Lynn, which is well worth a stop on the way through, pick up the A149 coast road to Heacham.
Parking in Heacham
The Ken Hill South Beach Car Park is managed by Napier Parking, and offers at least 100 places in a field a one minute walk from the beach. There is a pay and display machine, which takes cash or you can pay using the Just Park app.
There is a height barrier at 2.13m so this car park is not suitable for high vehicles, and it will be muddy after any significant rain.
Literally next door is the Heacham South Beach Car Park, run by the Borough Council of King's Lynn & West Norfolk. There are 20 spaces and 2 disabled spaces on hardstanding and it fills quickly in the summer. There is a pay and display machine which only takes cash, but no height barrier.
There is a café next to the car park, together with icecream and kiosks, a beach shop and a seafood shack which sells local seafood like cockles, mussels and whelks. There are public toilets at the entrance to the car park.
The Heacham North Beach Car Park is also operated by the local council and offers 80 spaces and 4 disabled spaces here. There is a 2 metre height restriction, and payment is cash only.
At the south end of the car park is Silver Sands, a family-run pub which also offers takeaways.
If you are visiting West Norfolk on holiday, you can save money by purchasing a Rover car parking ticket. These tickets are valid on all the council-run Heacham and Hunstanton car parks and all long-term car parks in King's Lynn. Rover tickets cost £27 for a seven day period and can be purchased online.
RELATED POST: All the Best Things To Do in King's Lynn Norfolk
Getting To Heacham by Public Transport
The county of Norfolk is within easy reach of the rest of the UK, with excellent transport links. You can get to the West Norfolk town of King's Lynn by mainline train from London in less than two hours. Simply take the regular Greater Anglia service from London King's Cross, which leaves every hour or so.
Alternatively, you can take a National Express coach from Victoria Coach Station to King's Lynn. This takes around 6.5 hours depending on the time of day, and you do need to change at Norwich, but it's often much cheaper than the train, especially when booked in advance.
At King's Lynn train station get the CoastLiner 36 bus from the Transport Interchange next door, and get off at either the Jennings Close or Fox and Hound stop, 35 minutes later.
If you're planning a visit from elsewhere in Norfolk, the CoastHopper from Cromer and Sheringham connects with the CoastLiner bus at Wells-next-the-Sea, and Sheringham is connected to Norwich via the Greater Anglia train service.
RELATED POST: 21 Of The Best Things To Do in Cromer Norfolk
Getting Around West Norfolk
The Coastliner 36 bus heads on to Hunstanton, Brancaster, Burnham Market and Holkham before arriving in Wells-next-the-Sea, where you can hop onto the CoastHopper bus to Stiffkey, Morston, Blakeney, Cley, Salthouse, Weybourne, Sheringham, East Runton, West Runton and Cromer, meaning you can get to many of the best spots on the North Norfolk coast by bus.
There is also the regular X44 bus which connects Sheringham to Norwich and Holt, and from there the Norfolk Coastlink service connects Norwich with Great Yarmouth.
How about getting around by bike? The Norfolk Coast Cycleway runs from King's Lynn to Great Yarmouth and the Rebellion Way is a circular route around Norfolk. Both follow a network of byways, bridleways and quiet country lanes which are perfect for cycling, and link pretty villages around the county.
These lanes, bordered by fields of wheat, hedgerows and woodlands, see little traffic, which means you can explore the Norfolk coast at a leisurely and safe pace. You can hire bikes at AE Wallis on the High Street in Heacham village.
RELATED POST: North Norfolk Coast – 19 Unmissable Highlights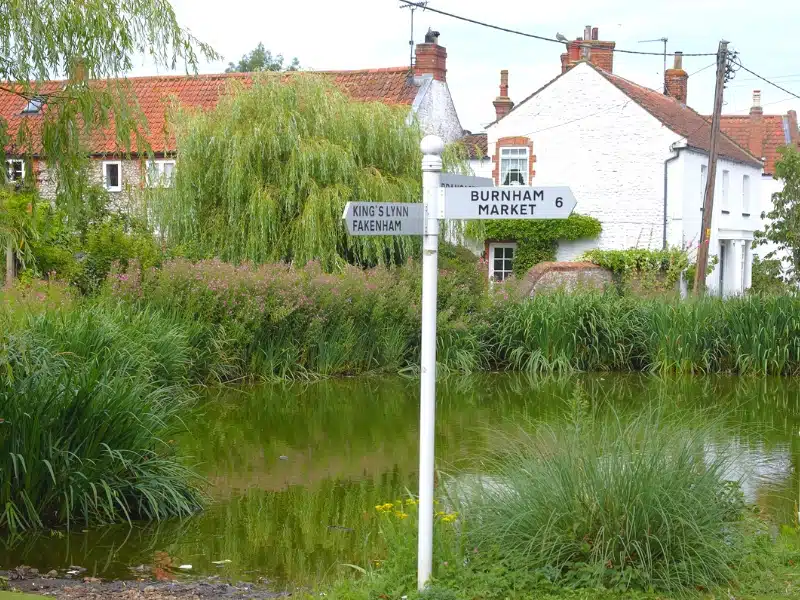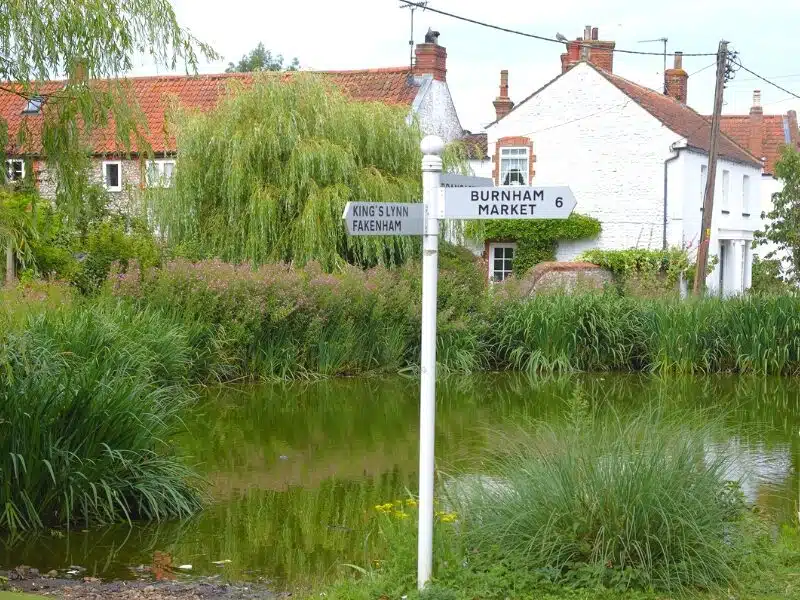 Heacham History (in brief!)
Running water along with fertile surrounding lands made Heacham an ideal place for settlement by early man and there is evidence of habitation in the Heacham area over the last 5,000 years, with numerous Neolithic, Bronze Age, Iron Age and Roman era finds within the parish.
The present village of Heacham probably didn't appear until the 5th century, with the Anglo-Saxon invasion and the beginnings of modern-day East Anglia, and the name Heacham was noted in the 1086 Domesday Book.
In 1272 Heacham was granted by royal charter a weekly market on Wednesdays and three days during the mid-August Fairs. By 1300 CE the population of Heacham was estimated at 1200 to 1500, making Heacham a small town.
It's known that in 1337 some Heacham tenants owned fishing boats and there was some long-distance trade, like wood from Scandinavia, woollen cloth from Flanders and stone from Normandy. Most Heacham sea traffic was with Bishop's Lynn (now King's Lynn) where Heacham sent fish, salt, corn, flour, and sacks of wool in cogs, traditional flat bottomed boats.
The rise in popularity of seaside holidays during the mid-19th century led to an expansion of Heacham, particularly after the railway station opened in 1862. It closed in 1969, but the village remained a popular venue for seaside visitors.
Heacham's most famous son is John Rolfe, the husband of Matoaka, better known as Pocahontas, and her likeness adorns the village sign. John and Rebecca (her Anglicised name) married on the 5th April 1614 at a church in Jamestown, Virginia. Rolfe took his wife and their two-year-old son to visit his family at Heacham Hall in 1616, and just a year later, Pocahontas died in Gravesend as she was returning to Virginia. It is thought John lost his life in the 1622 Native American massacre near Jamestown. The Rolfe family home, Heacham Hall, burned down in 1941.
Things To Do in Heacham
Spend the Day at Heacham Beach
Heacham actually has two beaches, Heacham North Beach and Heacham South Beach. There are bands of sand but both Heacham beaches are predominantly shingle.
The south beach, known locally as 'Stubborn Sands' is quite rugged and good for long walks with a dog, sea fishing and romantic sunset strolls, as it's located on the west coast of Norfolk. However, that also means the beach is on the Wash, so when the tide goes out, you're left with estuary mud, not hard sand.
The north beach tends to be busier, with easy access to the promenade and holiday cottages and caravans beyond. Jet skis are also allowed to operate from here. The prom is stepped down to the beach, making a perfect place to perch with an ice cream and admire the sea view, without getting your feet in the shingle.
Dogs are welcome on South Beach Heacham but must be kept on a lead during nesting season which is from the 1st April to the 30th August, to protect the birds that nest directly on the shingle and sand.
There are no dog restrictions on North Beach Heacham, making it one of Norfolk's best dog friendly beaches where your four-legged friend can run around and splash in the water all day long.
RELATED POST: Norfolk Beaches – Ultimate A-Z Guide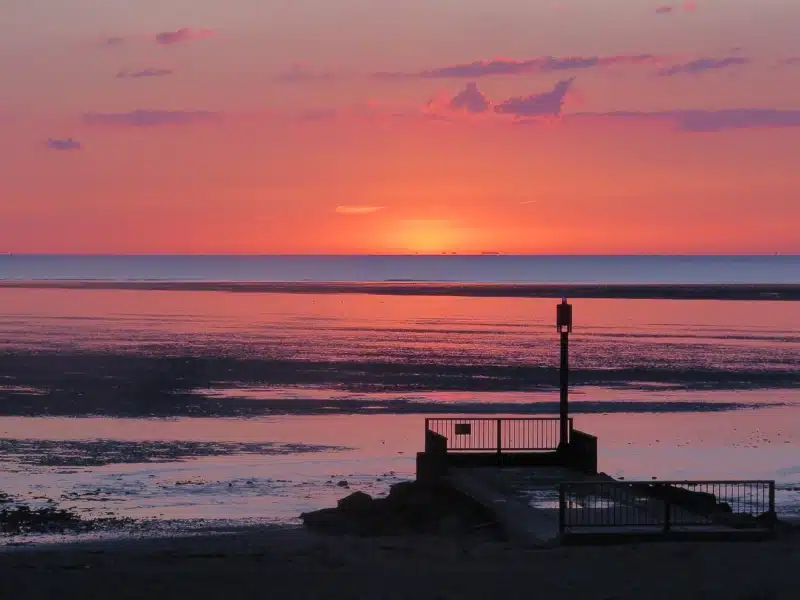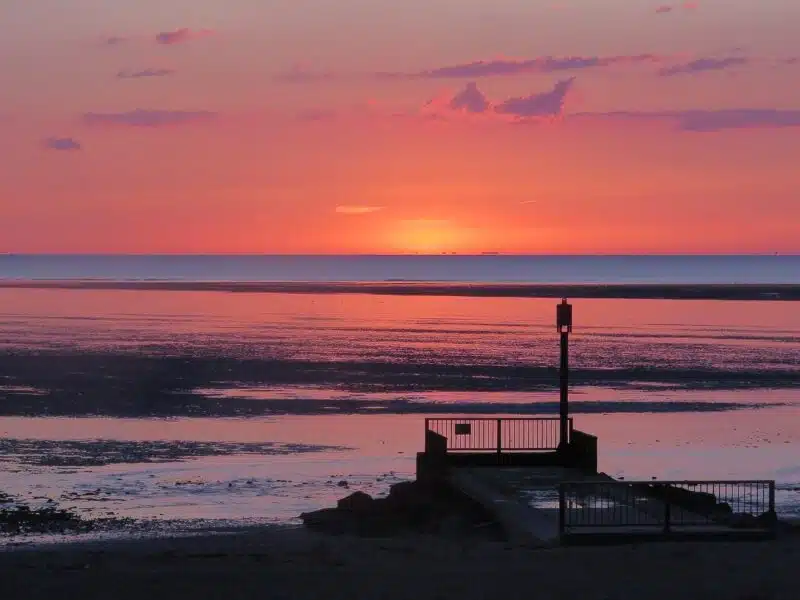 Visit Norfolk Lavender
Just over the A149 opposite the village is Norfolk Lavender, an enduring and much-loved Norfolk attraction since 1932. Wandering the fragrant fields is a real treat, especially when the plants are in bloom in summer.
But there's more than just lavender fields here – there is the Lavender Lounge Tearoom where you can enjoy lavender-infused edible goodies and the Norfolk Lavender Farm Shop where you can stock up on fresh and local Norfolk produce.
There are also pretty gardens to enjoy, a gift shop where you can stock up on lavender smellies, animal gardens and a play park for the kids and tours of the lavender fields and distillery, making Norfolk Lavender a must-see on any Norfolk holiday.
RELATED POST: Norfolk Lavender – A Complete Visitor's Guide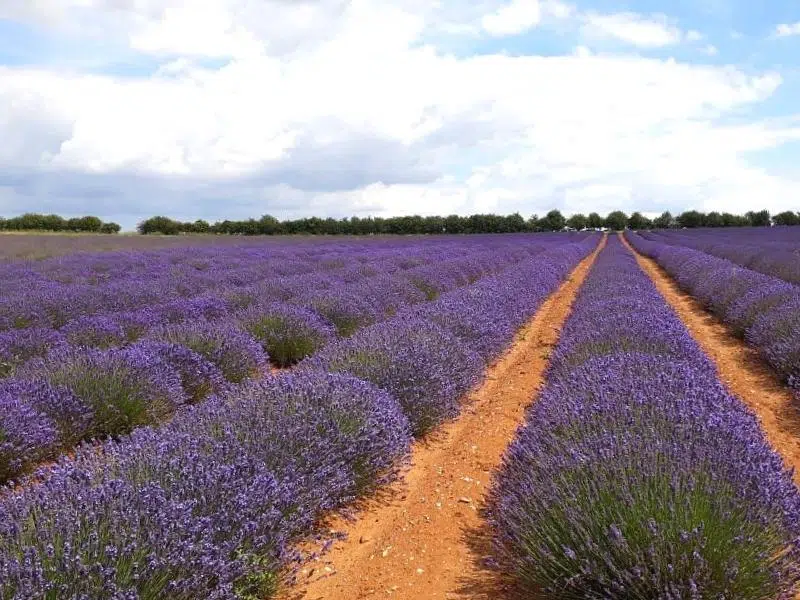 Discover Farmer Fred's Adventure Play Barn
Next to the Norfolk Lavender car park is the independently run Farmer Fred's Adventure Play Barn, where kids can let off steam and run around to their heart's content.
There's a farm-themed adventure area where kids between 4 and 12 can climb and scramble up a 3D rock face before racing back down to the farmyard on giant spiral, racing and astra slides. Back on ground level, the challenge of the giant ball maze and interactive game barn awaits!
Younger children can enjoy the large baby and toddler area, designed for kids under 2 and full of stimulating, sensory equipment. 2-4 year-olds have a specially designed low ropes adventure course, so they can experience the thrills and spills of adventure in a safe age-designed environment.
Parents and carers can enjoy food from The Orange Tree in Thornham, and barista-quality coffee, and there are healthy and homemade meals for the kids too.
RELATED POST: Norfolk Theme Parks – Ultimate A-Z Guide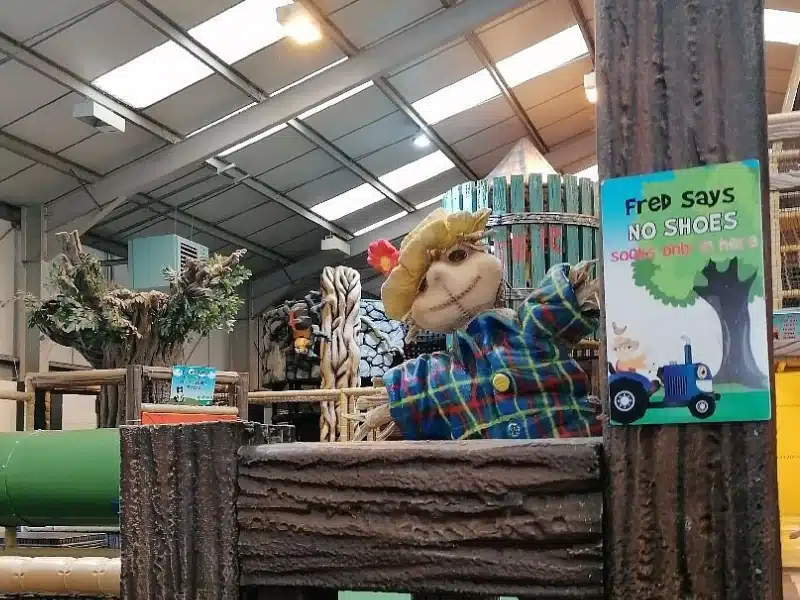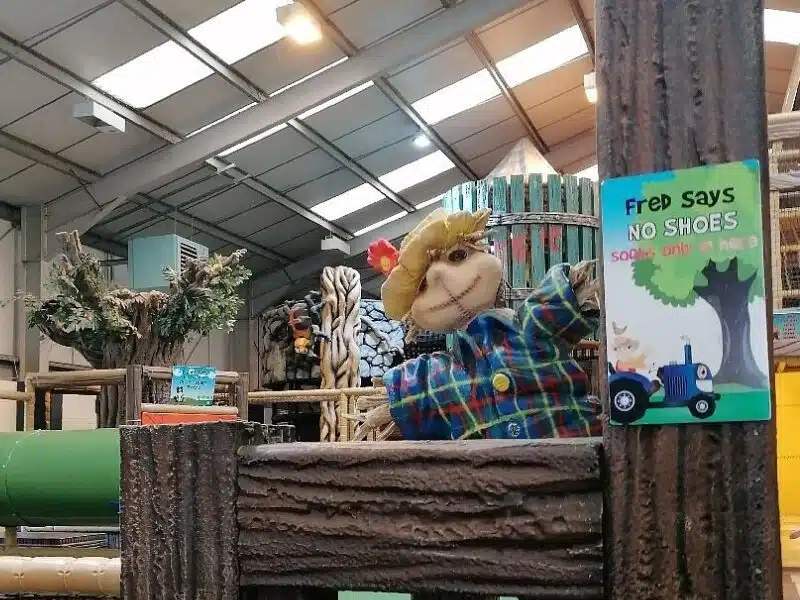 Visit the Local Wildlife
Wild Ken Hill
Famous as a BBC Springwatch, Autumnwatch and Winterwatch filming site in 2021-2022, Wild Ken Hill is a rewilding and regenerative agriculture project just outside Heacham.
Wild Ken Hill is a private site, but guided tours are offered during the spring and summer months. Journeys through Wild Ken Hill are led by friendly local guides and showcase wildlife and habitats across the diverse landscape.
There are guided tours where you can learn about rewilding, find out about the big picture, or learn specifically about beavers, bats and butterflies.
Seal Safaris
You can take a boat trip from nearby Hunstanton on the Wash Monster, an amphibious vessel that also drives over the sand, as it launches from the beach!
Choose from a safari to see Norfolk's seals, or a coastal tour where you'll find out about Norfolk's smuggling history, the geological wonder of Hunstanton's red and white striped cliffs, and the bronze age Seahenge found at nearby Holme beach. It's advisable to book in advance with Searles Sea Tours, as the Wash Monster is super-popular!
NWT Holme Dunes
One of 32 NWT-protected nature reserves in Norfolk, the Holme Dunes National Nature Reserve is a Site of Special Scientific Interest (SSSI), an important area for nesting birds, and perfectly located to attract migrating birds.
Seven miles along the coast from Heacham, Holme Dunes is also home to a variety of important habitats such as mudflats, sand dunes, scrub, pines, saltmarsh, freshwater and grazing marsh which support numerous other wildlife species including natterjack toads, butterflies and dragonflies, as well as large numbers of interesting plants.
This wonderful bird observatory has trails to hides and walks around the reserve from the visitor centre on Broadwater Road, where there is also a small shop selling gifts, and a café.
RSPB Snettisham
Wildlife observation hides at Snettisham, five miles south of Heacham, give panoramic views across the saline lagoons, salt marsh and the vast expanse of mudflats that make up the Wash.
On the biggest high tides from late summer onwards, tens of thousands of wading birds, like knot and oyster catchers, take flight as the incoming tide forces them off the vast mudflats of Snettisham beach. This is known as the whirling wader spectacle, which is truly incredible to watch.
RELATED POST: Norfolk Nature Reserves – Ultimate A-Z Guide

Explore Royal Sandringham
Sandringham, a 20,000-acre estate seven miles south of Heacham, is where the royal family retreats for Christmas and was reportedly the late Queen's favourite home. Nearby, the Duke and Duchess of Cambridge, aka Wills and Kate, also have their home, Anmer Hall.
You can visit the house, formal gardens, parkland and St Mary Magdalene Church on the Sandringham Estate in a day. Many of the ground floor rooms of Sandringham House remain as they were in Edwardian times, and are open to visitors between April and October.
The gardens are beautiful and the parkland and woods which surround the house are great spots for dog walking, family activities and picnics.
Sandringham Courtyard has a range of places to eat and drink and does a fabulous afternoon tea, for a real treat. The Sandringham Shop, also in the Courtyard, offers an extensive collection of artisan Norfolk products, and is the perfect place to buy Norfolk souvenirs or gifts.
RELATED POST: 14 Stately Homes in Norfolk to Visit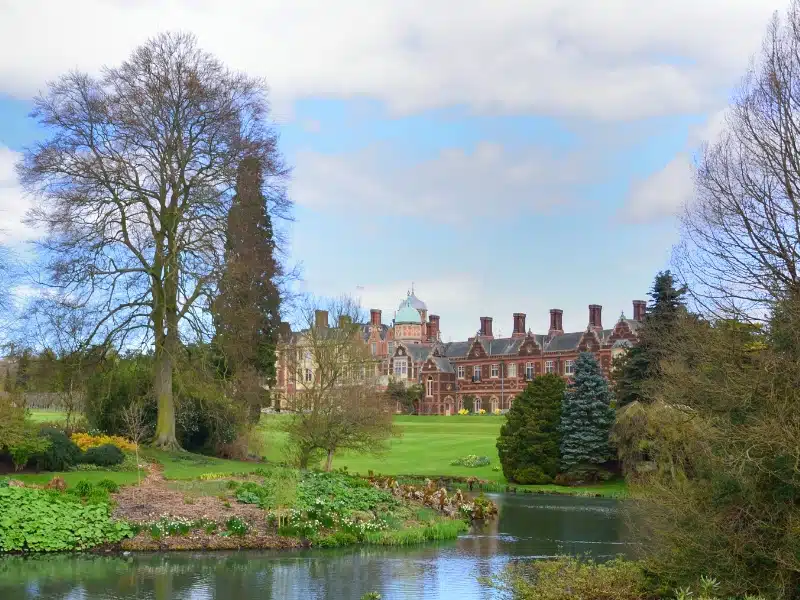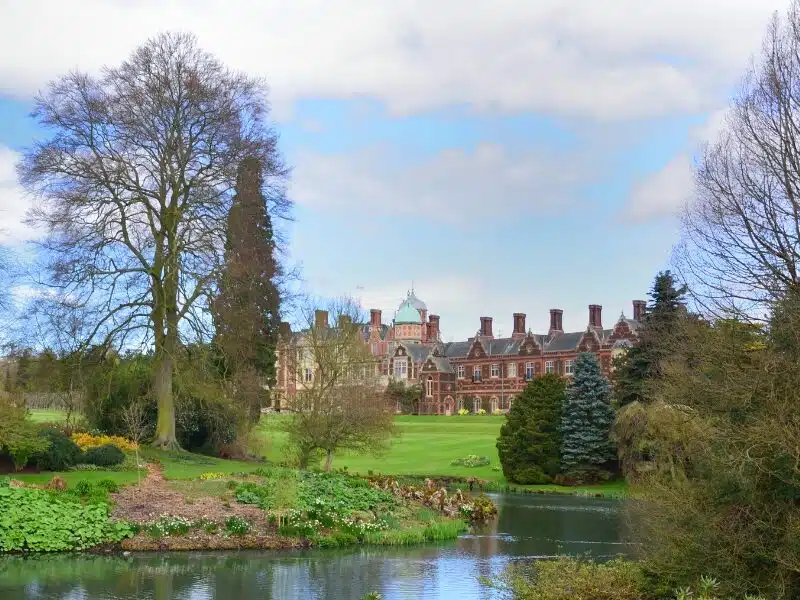 Take a Day Trip to Hunstanton
Hunstanton is a lively resort town three miles north of Heacham. Known locally as 'sunny Hunny', Hunstanton is one of Norfolk's top seaside towns and makes for a great day out.
There are lots of Hunstanton attractions to keep everyone busy. With two fantastic beaches, both offering a different experience, a traditional Victorian town centre, RNLI Lifeboat Station, sea safaris, leisure centres, the Rainbow Park fair and amusements and SEA LIFE, Hunstanton will easily entertain the whole family for a day.
You can also explore Old Hunstanton, the smaller and more peaceful village to the north, which has its own quiet expanse of fine, golden sand. Old Hunstanton beach is considered the best kitesurfing beach in the UK and there is also a collection of wonderful beach huts nestled in the dunes, the old lighthouse that sits atop the red and white striped cliffs and the 1272 ruins of St Edmund's Chapel to discover.
RELATED POST: 21 of the Best Things To Do in Hunstanton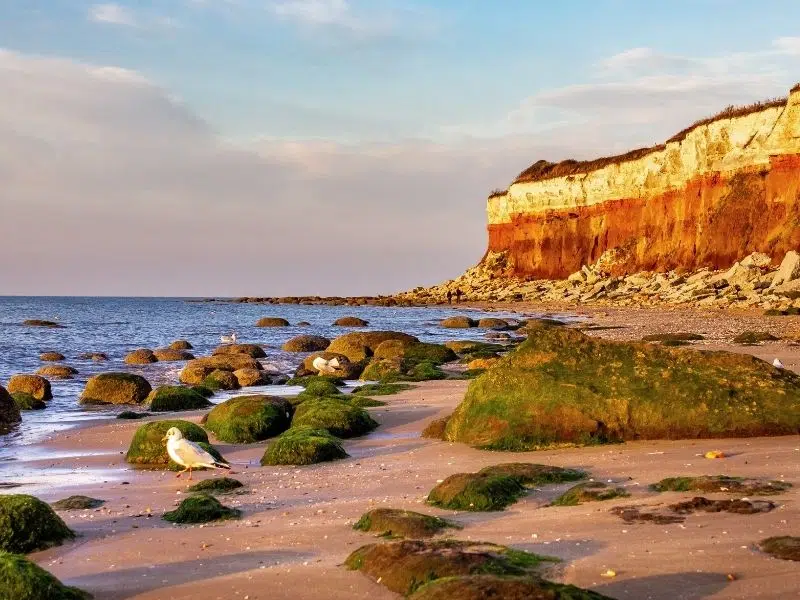 Snap Heacham's Poppy Fields
Every year in June, a stunning display of bright red poppies in full bloom amongst the unripe wheat can be seen in fields along the A149 coast road at Heacham Bottom.
The beautiful scarlet flowers stretch as far as the eye can see, and although the famous quote by writer Clement Scott, "Neath the blue of the sky in the green of the corn, it is here that the regal red poppies are born" refers to Poppyland, the coastline between Cromer and Overstrand, it is just as apt for this pretty corner of West Norfolk.
Maybe climate change is making a difference to poppies because they seem to be coming through stronger, brighter and more widespread with each passing year.
RELATED POST: 26 Pictures of Norfolk England to Inspire Your Trip!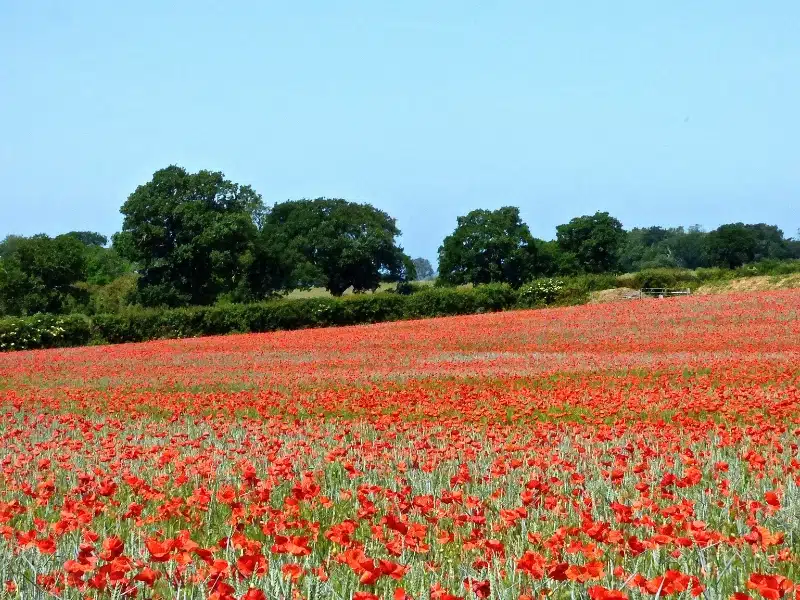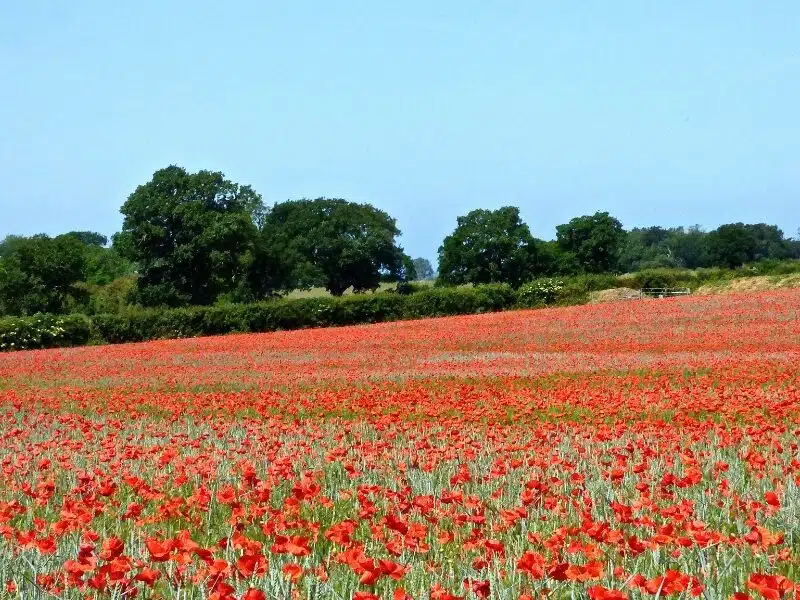 Explore Castle Rising
Castle Rising Castle is one of the most famous 12th century castles in England. The imposing stone keep was built in 1140 CE and is amongst the finest surviving examples of its kind in Great Britain.
The massive surrounding earthworks, not only ensure that Rising is a castle of national importance but give lots of opportunities for kids to run off steam and play at sword fighting!
I love to visit Castle Rising, especially with children. It's one of the few castles where you can get up close to the atmospheric and unspoilt interiors, full of hidden corners, steps worn smooth over centuries, and arrow slits with incredible views.
RELATED POST: 12 Norfolk Castles for You to Explore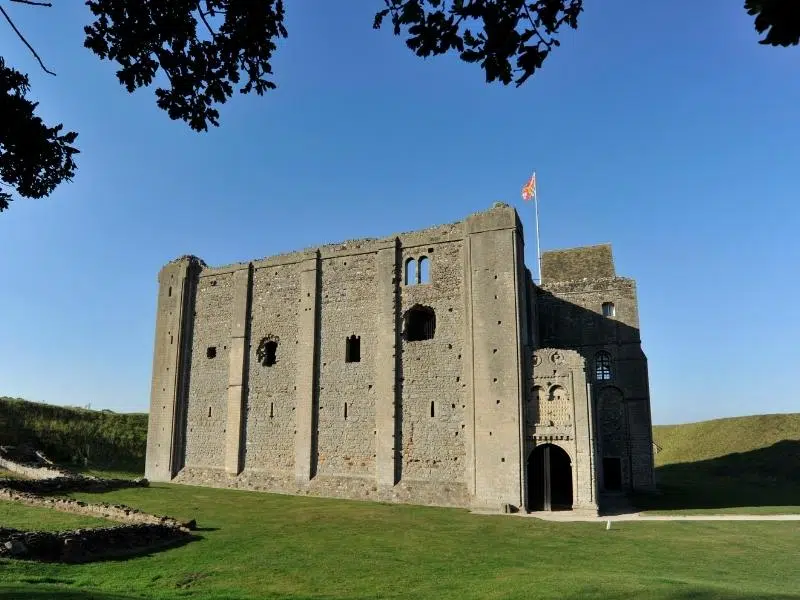 Bircham Windmill
Standing in the heart of Norfolk's rolling fields seven miles inland from Heacham, Bircham Windmill has been restored and now looks as it did over 100 years ago. At that time, Norfolk was home to over 300 mills which ground corn for bread making and animal feed.
Today, very few are left, and Bircham Mill is considered one of the best still remaining. You can climb the five floors up to the fan stage and, on windy days, you can see the sails and the milling machinery turning.
Bircham Mill still make their own bread in the bakery adjoining the mill, which has its original, coal-fired oven. You can also try your hand at bread baking, a great activity for families with older children.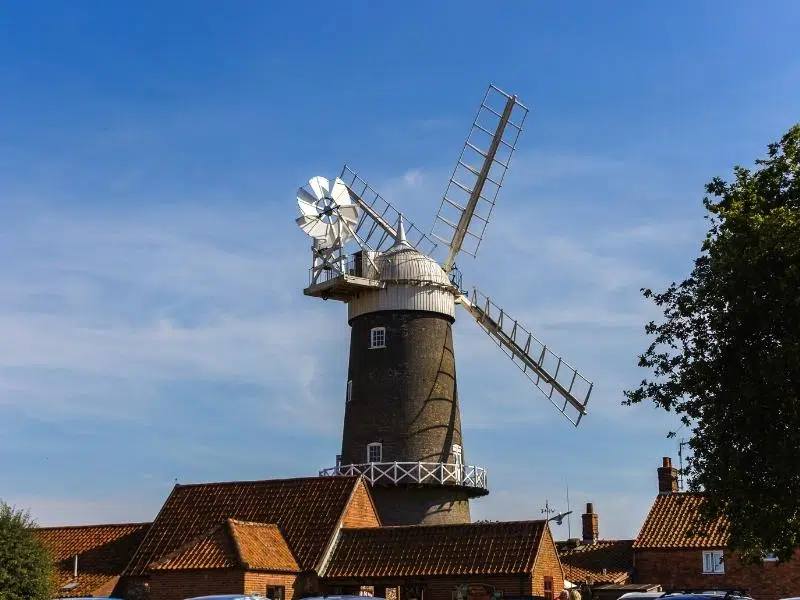 Head Out for a Walk
Norfolk Coast Path
Very probably the best-loved of the Norfolk trails, and one of the best ways to experience the wilderness and unique landscapes of the Norfolk coastline, the Norfolk Coast Path runs from Hunstanton in West Norfolk, to Hopton-on-Sea in South Norfolk, where Norfolk meets Suffolk.
The path runs for 84 miles and passes through the stark and beautiful landscape of the Norfolk coast Area of Outstanding Natural Beauty, meeting Pedders Way at Holme beach.
Thornham is right on the coastal path and the stage between there and Hunstanton is my favourite part of the whole route. You'll encounter tidal marshes brimming with wildlife and cross wide sandy beaches under the huge skies that Norfolk is famous for on this six mile stretch, which will give you a real flavour of the wild and raw nature of this part of Norfolk's coastline.
Heacham Circular
The Heacham circular is a 4.25 mile walk which provides far-reaching views across the Wash. On clear days 'Boston Stump', the tower of St Botolph's Church in Lincolnshire, 12.4 miles away as the crow flies, can be seen.
The route runs to and from the shore at Heacham and the southern tip of Hunstanton, passing a plaque commemorating Mercedes Gleitze's historic feat as the first person to swim the Wash, the Jubilee Bridge which was built to celebrate Queen Victoria's 50th year on the throne, and a monument to local victims of the 1953 North Sea Floods. You can download a route map here.
RELATED POST: Walks in Norfolk – 14 of the Best Trails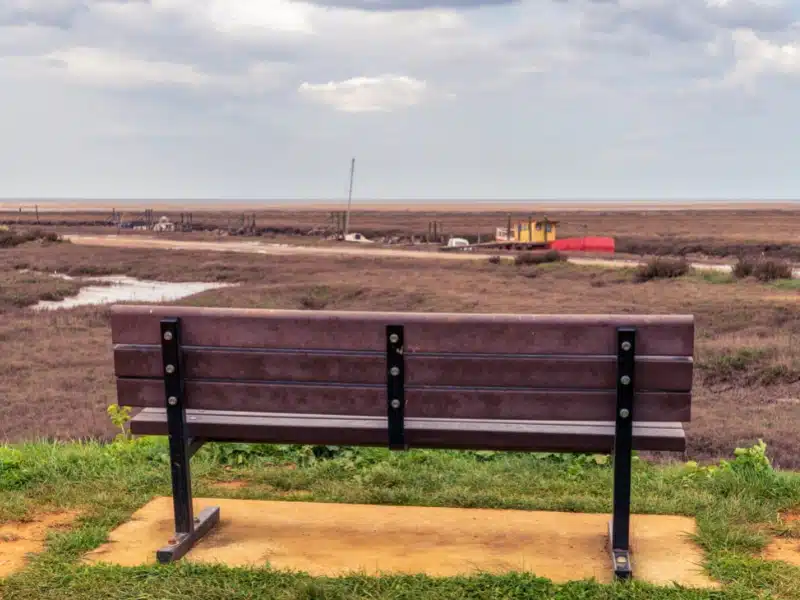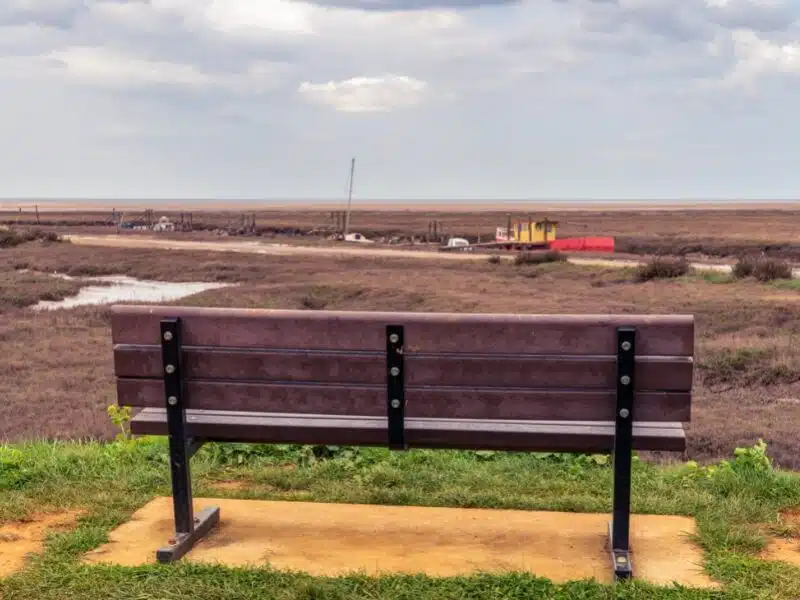 Visit the Animals at Snettisham Park
Snettisham Park and Park Farm is a working Norfolk farm which is grazed by a 400 flock of sheep, a herd of red deer, and horses and ponies from their own stables.
The 329 acre working farm is open to the public, and is a brilliant day out with kids. See lambs being born, take a 45 minute deer safari, bottle feed baby animals, collect freshly laid eggs, ride ponies, and take a walk on one of their three wonderful trails – it sounds like heaven!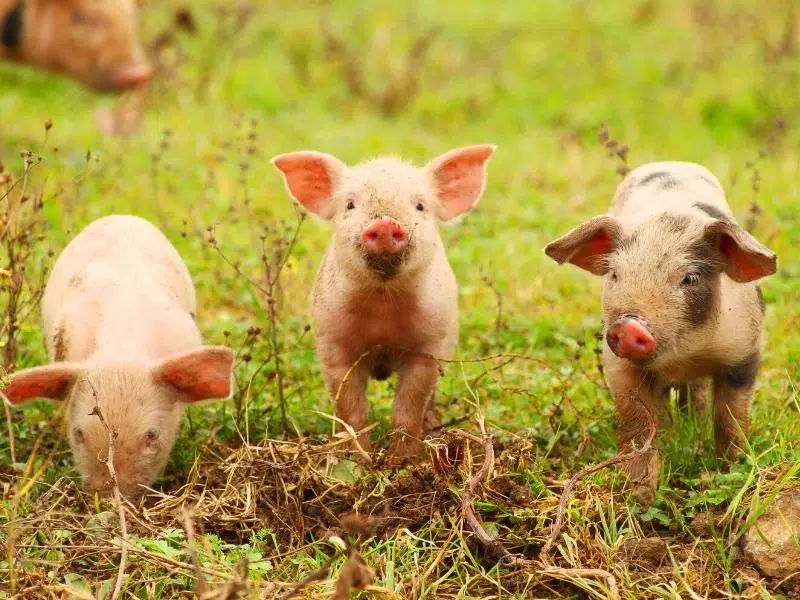 Heacham Accommodation
Heacham has a good selection of holiday cottages, static caravans and holiday homes for rent, and some great campsites and holiday parks nearby. Whatever your accommodation style, we've rounded up the best options for your Heacham holidays.
Heacham Manor Hotel
The seriously pretty Heacham Manor country house was built in 1680 and has been operating as Heacham Manor Hotel since 2009. A Grade II listed building, the hotel is historic yet modern.
There are 52 dog friendly rooms ranging from bright and airy doubles to the opulent four-poster manor suite. Rooms are stylishly designed and furnished and include everything you need for your stay.
Heacham Manor also has an 18-hole golf course which is considered one of the best in East Anglia and welcomes hotel guests and visitors.
RELATED POST: Norfolk Coast Hotels: 18 of the Best Places to Stay by the Sea
The Rose & Crown Snettisham
A favourite of Wills and Kate, the Rose and Crown is a traditional country pub with bed and breakfast accommodation, and a great place to both stay and eat.
Their 16 rooms are stylishly and individually decorated in seaside colours, with top-quality beds, crisp white linen, fluffy towels, comfortable chairs, and all the other amenities you'd expect.
Caley Hall Hotel Hunstanton
The stylish Caley Hall Hotel is a manor house dating back to 1648, with a relaxing bar and AA rosette-awarded restaurant.
There are 38 bedrooms at Caley catering for families of various sizes and couples, in classic, superior and luxury rooms and a 'family unit' – two adjoining bedrooms and one bathroom.
The Gin Trap Inn Ringstead
The Gin Trap is a charming 350-year-old coaching inn with rooms in Ringstead, 3.5 miles inland from Heacham.
The pub has thirteen new and individually designed boutique rooms and cottages, in keeping with the traditional charm of the old coaching inn. The rooms are both characterful and sumptuous and the three cottages are all different.
The food at The Gin Trap is focused on simplicity, sustainability and valuing the amazing local produce of Norfolk. Menus and dishes have been created to showcase the ingredients found on their doorstep, with an al a carte menu, a vegetarian menu and a Sunday roast set menu for you to enjoy.
Heacham Holiday Homes
There are lots of holiday cottages and Airbnb-style holiday rentals in and around Heacham. From one-bed cottages and static caravans to huge converted barns, use VRBO to search for the best deals and find availability on Heacham holiday accommodation.
Heacham Beach Holiday Park
Operated by Parkdean Resorts, Heacham Beach Holiday Park has a great location facing onto the south beach. They offer 2 or 3-bedroom caravans, sleeping up to eight people.
All caravans are extra-wide and pet friendly and include a fully equipped kitchen and TV. Many also include central heating and double glazing, as well as everything else you need for your holiday.
This Heacham holiday park park boasts an indoor swimming pool with its own water slide and paddling pool for toddlers, as well as an adventure playground and amusement arcade. There is also WiFi across the park, and a Nisa convenience store.
Cedar Springs
Cedar Springs offer self-catering log cabins and lodges a five minute walk from the beach. Beautifully laid out and landscaped, their lodges are cosy and spacious, and fully equipped for your holiday.
Cedar Springs is a very quiet park with no on-site facilities such as a shop or a club, but there are shops, pubs, takeaways, and amusements all within easy walking distance.
RELATED POST: The Ten Best Campsites in Norfolk
South Beach Farm Camping
This small one-acre meadow campsite has pitches for a combination of up to seven family-sized tents and three small camper vans, just a few minutes walk from the south beach.
The site is open during the summer season only and is certified by The Greener Camping Club, where the land is looked after and the site is managed sustainably. Each pitch measures approximately 13×13 metres and is surrounded by wild grass to encourage wildlife and biodiversity.
There are two unisex showers, flushing toilets and a hand basin, as well as a shed kitchenette with a fridge freezer, microwave, toaster and charging points. There is no electric hook up. Campfires are permitted with fire pits provided.
mYmini Break Camping in Hunstanton
Something of a misnomer, this dog-friendly campsite is actually in Heacham, a few minutes walk to south beach.
They offer camping pitches for tents, campervans, caravans, and motorhomes as well as a few pre-pitched glamping bell tents and shepherd's huts for those interested in glamping in Heacham.
There are the usual facilities, but again no EHU, so you'll need to be pretty self-sufficient.
RELATED POST: Norfolk Glamping – 15 of the Best Spots
Places to Eat in Heacham
Alongside the Heacham hotels mentioned above, which all offer a full restaurant service to non-residents, there are lots of other great places to eat in and around Heacham.
Fish & Chips
A traditional take-away fish and chip shop, there are often queues outside the Heacham Fish Bar as people wait for their fish and chip supper! Usually open at lunchtime, and from 4.30pm to 8pm, this chippy is a popular option and gets great reviews.
Close to north beach on Jubilee Road, North Beach Fish and Chips has the option to take away, eat in or sit on their outside benches enjoying the sea view. They also stay open until 11pm if you're after a later meal.
Bushel and Strike
A warm and welcoming pub set with a pretty beer garden in the heart of the village of Heacham, the Bushel and Strike serves an everchanging pub grub menu alongside a daily specials board and a delicious Sunday carvery. You'll also find local Norfolk ales and a wide range of wine and spirits at the bar.
RELATED POST: Breweries in Norfolk – Best 16 to Visit
The West Norfolk
The family-run West Norfolk Pub serves home-cooked pub classics and a good range of beverages. Think steak and ale pie, sausage and mash, and scampi and chips …yum!
RELATED POST: Best Fish & Chips Norfolk: 14 Top Places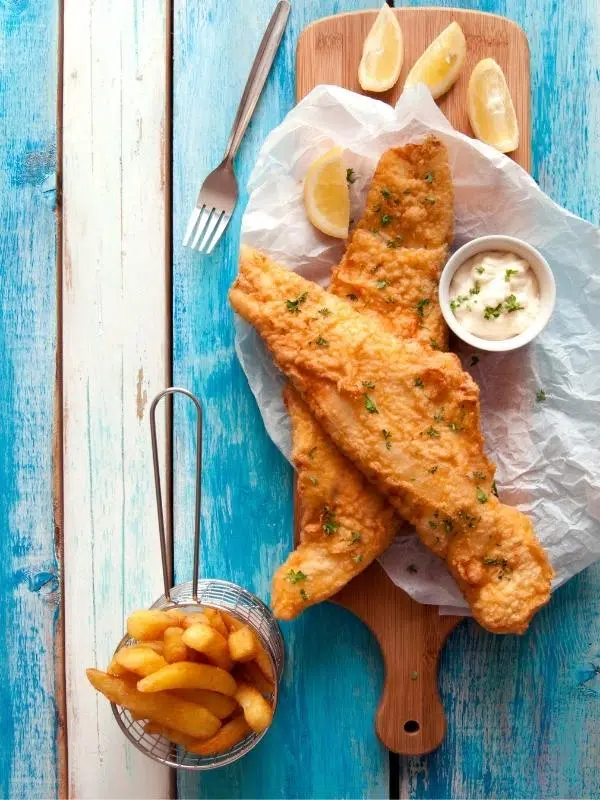 Have I missed your favourite Heacham hotel, campsite, restaurant or activity from my list? Let me know in the comments so I can check it out and add it to this round-up!
Love it? Pin it!