Where do I start with my love affair with the Norfolk coast? This beautiful ever-changing coastline stretches from the muddy estuarial waters of the Wash to Hopton-on-Sea, right where Norfolk's county boundaries head inland.
With remarkable natural landscapes, stunning beaches, unique wildlife, fabulous local produce and a distinct culture with deep connections to the sea, the Norfolk coast retains a wilderness feel that will draw you in and leave you wondering when you can return.
I started my love affair with this fabulous coast as a child, growing up on the borders of Norfolk. In this post I hope to share some of my love for the area, along with some great ideas about how to explore the Norfolk coast.
RELATED POST: The Ultimate Local's Guide to Norfolk England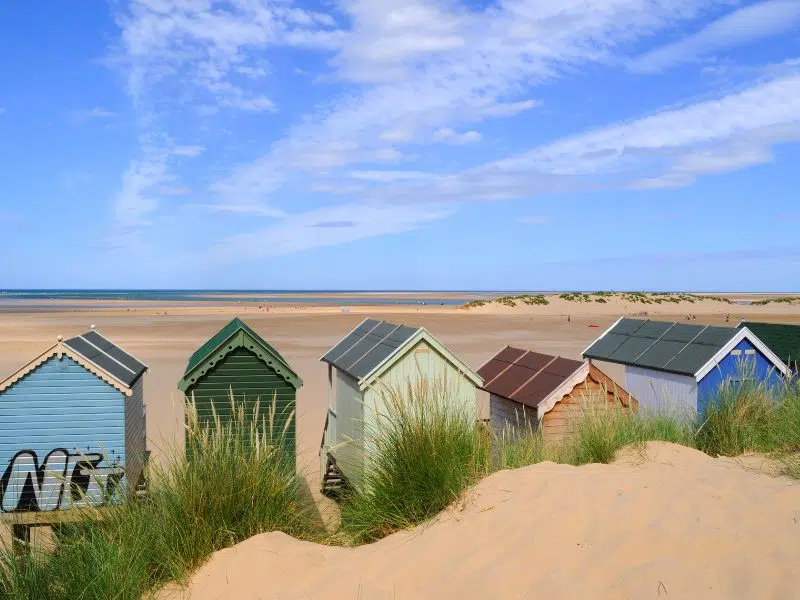 This post may contain affiliate links. If you book something I recommend, I make a small commission without affecting the price you pay!
Hike the Norfolk Coast Path
One of the best ways to experience the wilderness and unique landscapes of the Norfolk coastline is to hike the Norfolk Coast Path, which runs from Hunstanton in West Norfolk to Hopton-on-Sea in south Norfolk, where Norfolk meets the county of Suffolk.
The Norfolk coast path runs for 84 miles and passes through the stark and beautiful landscape of the Norfolk Coast Area of Outstanding Natural Beauty. You'll visit Norfolk coastal towns and villages along the way, encounter tidal marshes brimming with wildlife and cross wide sandy beaches under the huge skies that Norfolk is famous for.
Walking the whole Norfolk Coastal Path will take around 28 hours, depending on your fitness level and walking pace. It's easy to plan stops at pubs, hotels and campsites along the route, and even take a few days off if you spot somewhere you want to explore.
If you don't have the time or inclination to walk the whole route, do a few of the stages and then get the CoastLiner (which runs between Hunstanton and Wells-next-the-Sea) or CoastHopper (which runs between Wells-next-the-Sea and Cromer) back to where you're staying.
I think one of the best stages is Hunstanton to Thornham, a six mile stretch which will give you a real flavour of the wild and raw nature of this part of Norfolk's coastline.
Norfolk Coastal Walk – Hunstanton to Thornham
The Norfolk Coast Path begins by the bowling green in Hunstanton. Pick up and follow the black and white National Trail acorns from here. Walk past the Lighthouse at Old Hunstanton and look out for the nearby ruins of St Edmund's Chapel dating back to 1272.
At the RNLI lifeboat station, the route goes straight ahead, initially following behind the dunes and alongside the Hunstanton golf course. Just before the final beach hut, waymark signs will direct you to go up onto the dunes from where there are fantastic views over the expanse of Holme Beach and Hunstanton cliffs.
At Holme Beach, you meet the end of the Peddars Way. As you follow the boardwalk through the Holme Dunes Nature Reserve, the beach to your left is where the 4000-year-old timber circle, known as Seahenge, was discovered.
Please follow the waymarking carefully to avoid nesting birds in the dunes on this National Nature Reserve managed by the Norfolk Wildlife Trust.
At Old Thornham Harbour continue along Staithe Lane until your reach The Lifeboat Inn, for a well-deserved cold drink!
From here it's a 30 minute walk to the excellent RSPB Titchwell Marsh, or walk the five minutes to where Church Street meets the A149, where you'll find The Orange Tree bus stop.
The CoastLiner 36 bus stops here en route to King's Lynn via Hunstanton, at 13 minutes past every hour between 9am and 7pm.
RELATED POST: Walks in Norfolk – 14 of the Best Trails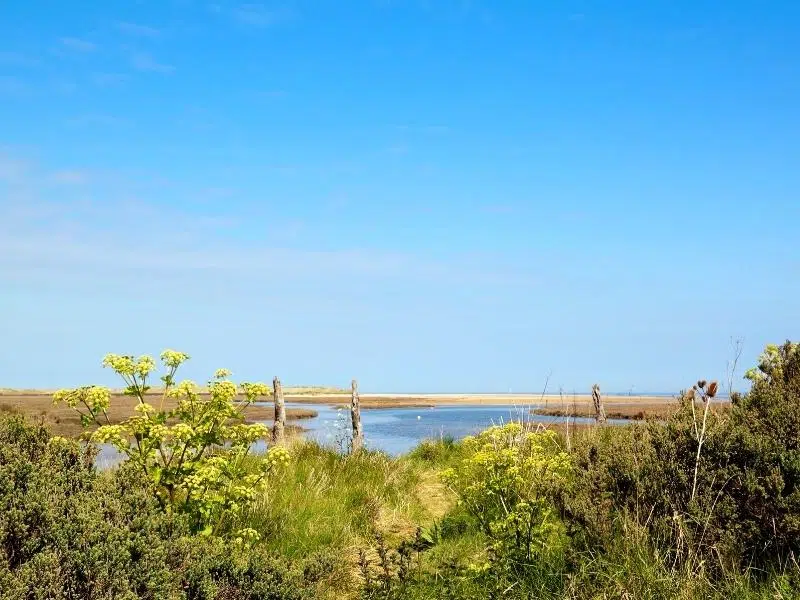 Explore the Best Beaches in Norfolk
The Norfolk coast is home to some of the best beaches in the UK – in fact, Wells-next-the-Sea beach and Holkham beach are in The Telegraph's list of the twenty best beaches to visit across the UK this spring and summer.
There is a beach in Norfolk to suit everyone. From family-friendly sands perfect for sand castle building, beaches with colourful beach huts, and great dog walking stretches, to beaches with rock pools and fossils to discover, and remote beaches perfect for a spot of solitude, Norfolk's beaches are as eclectic as the country itself.
Before you visit any of Norfolk's beaches, check out my guide which has information and details about the type of beach, tide times, where to park and local facilities.
Whichever beach you visit, remember that Norfolk tides can come in quickly, and every year, people get cut off from the mainland. Currents around Norfolk can also be unpredictable, so if you're not a strong swimmer, pick a beach with a lifeguard for your holidays.
RELATED POST: Norfolk Beaches – Ultimate A-Z Guide
West Norfolk Coast Beaches
To the west of the county, the beaches tend to be wilder and harder to access, but if you love having the sands to yourself, bird watching or walking, then dog friendly Holme, Thornham, Snettisham and Brancaster beach are perfect.
Snettisham is the only truly west-facing beach in Norfolk, making it a magnet for sunset watchers!
RELATED POST: Norfolk Nature Reserves – Ultimate A-Z Guide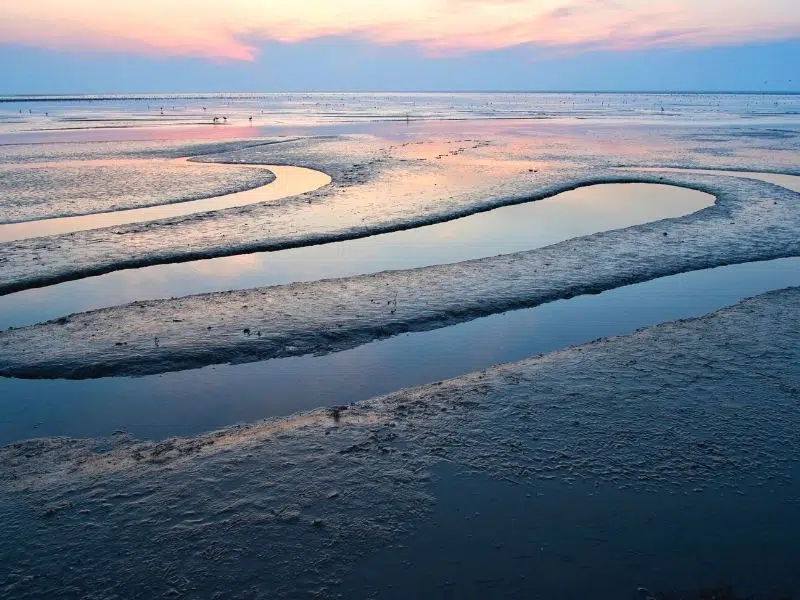 North Norfolk Beaches
In North Norfolk, you'll find the blue flag beaches of some of the best Norfolk seaside towns. Cromer, East Runton, West Runton, Sheringham, Mundesley and Sea Palling, which is often touted as the best beach in North Norfolk, are perfect for family days out. 
With the traditional seaside resort attractions of a busy promenade, amusements and beach activities, everyone will be entertained!
RELATED POST: North Norfolk Coast – 19 Unmissable Highlights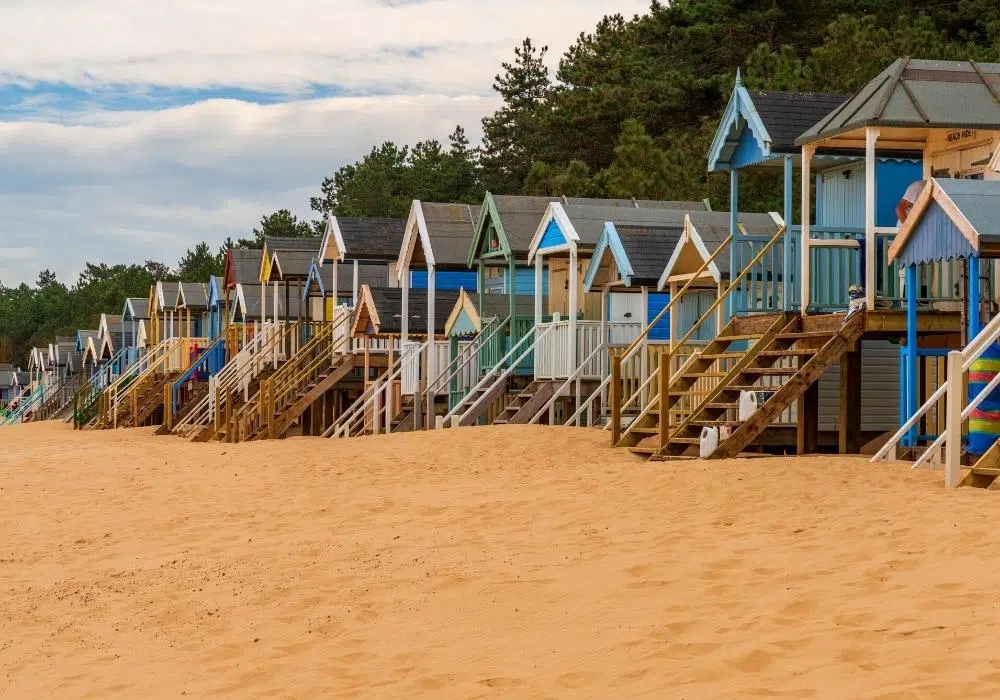 East Norfolk Coast Beaches
Around to the east of Norfolk are the beaches near Norwich – the closest being Winterton on Sea Beach, 23.6 miles as the crow flies. 
The long sandy stretches of Waxham, Winterton and Horsey are perfect for observing seals bobbing around in the water, and coming on shore to pup in the winter. Further along still are the busy resort sands of Caister, Great Yarmouth and Gorleston-on-Sea, recently voted by TripAdvisor as the number one Best Beach in the UK and number twelve Best European Beach.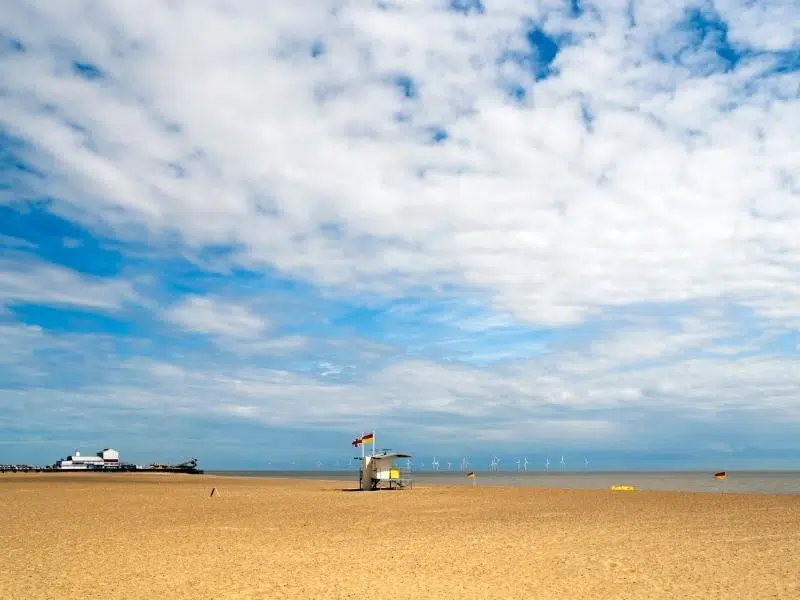 Get Up Close to Norfolk Coast Nature
The Norfolk coast is home to many different habitats which support a diverse range of wildlife, including its famous seal colonies, the largest in Britain, and a wide variety of birdlife.
Norfolk Coast Seals
There are six good places to see seals in Norfolk – Blakeney Point in the Blakeney National Nature Reserve (only accessible by boat), Horsey Gap, Winterton Beach, Waxham Beach, Brancaster beach, and by boat from Hunstanton.
Blakeney Point offers the best chance view Norfolk seals out of the water en masse, but as seals are so nosy, you'll definitely see them swimming and popping their heads up near the beaches too!
At Blakeney Point, Horsey Gap and Winterton Beach, you can see seals coming onto the beach to give birth, with over 3,000 pups being born along the Norfolk coast every year.
If you visit the seals in winter at Horsey or Winterton, you're in for a treat as you walk over the dunes to the viewing platforms, to look down and see hundreds of seals and their pups soaking up the winter sun.
RELATED POST: Seals in Norfolk – Where & How to See Them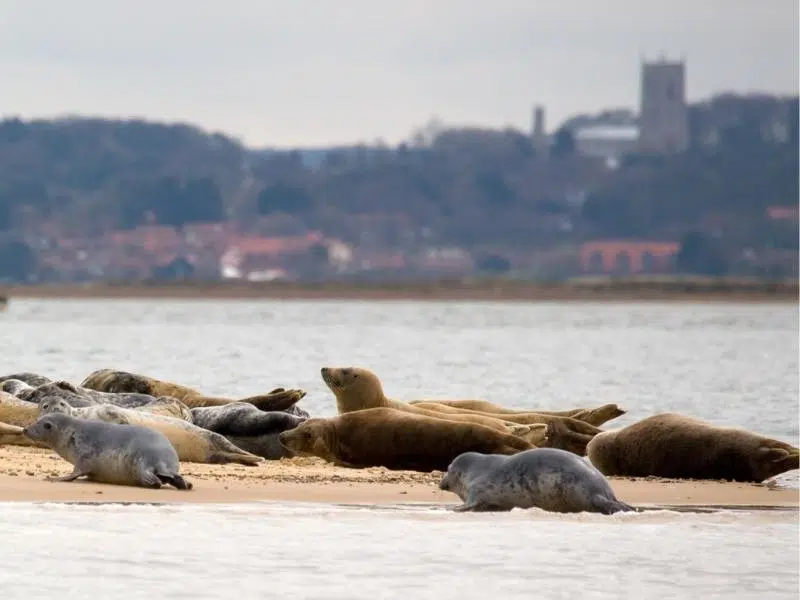 Norfolk Coast Bird Life
For bird watchers, Norfolk's coastal nature reserves, with their open expanses of marshes and reedbeds, are a haven for all sorts of bird life. The Norfolk Wildlife Trust's Cley Marshes, the RSPB's Titchwell Marsh Nature Reserve and Snettisham Nature Reserve offer fantastic opportunities to see many bird species in their natural habitats.
At Snettisham, on the biggest high tides that happen in late summer, literally tens of thousands of wading birds like knot and oystercatchers, take flight as the incoming tide forces them off the vast mudflats. This is known as the whirling wader spectacle, which is truly incredible to watch.
Scolt Head Island, an offshore barrier island between Brancaster and Wells-next-the-Sea is jointly owned by the National Trust and Norfolk Wildlife Trust.
Accessible by a seasonal ferry from the village of Burnham Overy Staithe, or by or by taking an adventurous hike and crossing from Overy Cockle Strand at low tide, the island is made up of sand dunes, salt marsh, intertidal sand and mud flats, and shingle.
Scolt Head supports internationally important numbers of breeding Sandwich and little terns, and nationally significant populations of common and Arctic terns, as well as wintering waders and wildfowl, and a host of plants that have evolved to thrive in harsh coastal conditions.
The privately owned Holkham Nature Reserve stretches from Burnham Norton to Blakeney, through the Norfolk Coast AONB and backs the vast stretches of sand that makeup Holkham Beach and Wells-next-the-Sea Beach.
You can walk through its freshwater grazing and sand dunes, on the Peddars Way and Norfolk Coast Path, to see ground-nesting and over-wintering wildfowl and waders.
RELATED POST: Norfolk Nature Reserves – Ultimate A-Z Guide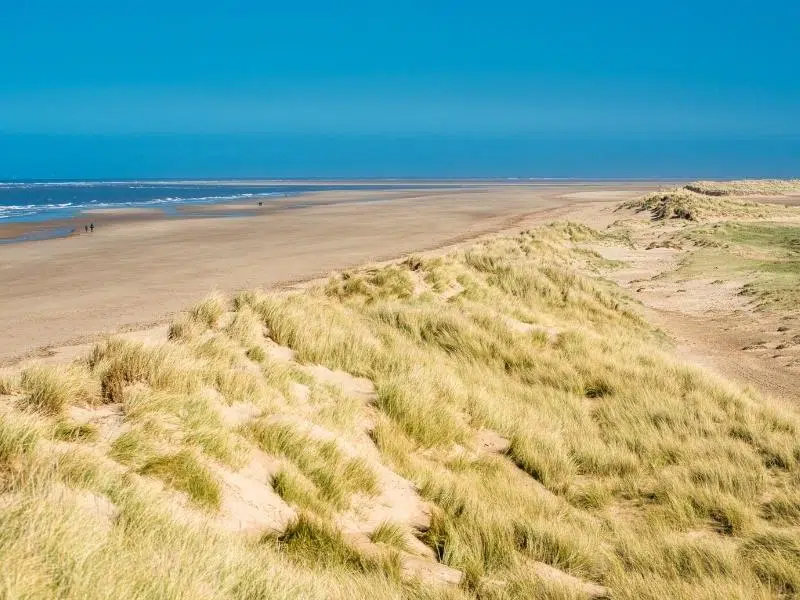 Take a Norfolk Coast Cycle Ride
The Norfolk coast has an abundance of pretty villages linked by a network of byways, bridleways and quiet country lanes, which are perfect for cycling. These lanes, bordered by fields of wheat, hedgerows and woodlands, see little traffic, which means you can explore the Norfolk coast at a leisurely and safe pace.
There is an abundance of small villages along the route with pubs, tea rooms, coffee shops and farm shops, and hills are pretty much non-existent!
There are lots of places in Norfolk to hire a bike, including at Wells-next-the-Sea, Burnham Deepdale (where there is also a truly excellent campsite!), Wighton, Weybourne, Sheringham, and Caister-on-Sea.
Norfolk Coast Cycleway
The Norfolk Coast Cycleway runs from King's Lynn to Great Yarmouth and follows more suitable roads than the busy A149 coast road. The cycleway follows the Hull to Harwich Sustrans National Cycle Network (NCN route 1) from Kings Lynn to Wighton (look out for Sustrans red 1 symbols).
At Wighton, the formerly named regional route 30 begins and follows quieter roads through to the traditional seaside town of Cromer. It then passes through the Quiet Lanes network before following the coast south to Great Yarmouth. There are regular route markers (blue 30 symbols) to follow throughout. You can buy a map here.
Norfolk Coast Explorer Routes
The map also includes ten localised explorer routes, which branch off from the Norfolk Coast Cycleway, allowing you to explore small villages and places of interest along the coast, and the beautiful Quiet Lanes network of north-east Norfolk.
RELATED POST: 15 Norfolk Seaside Towns for Your Next Trip
Rebellion Way
Discover the beauty of Norfolk on a thrilling new cycling adventure, the Rebellion Way. Developed by Cycling UK, this 232 mile route is a scenic tour of Norfolk's landscape, culture, and heritage.
The trail gives cyclists a fantastic introduction to multi-day, on- and off-road touring as it meanders along quiet, mostly flat back roads, byways, cycle paths, and bridleways, allowing cyclists to explore some of Norfolk's lesser-known gems and hits many of the top spots of the Norfolk coast.
RELATED POST: Rebellion Way: Norfolk's Most Exciting Cycle Route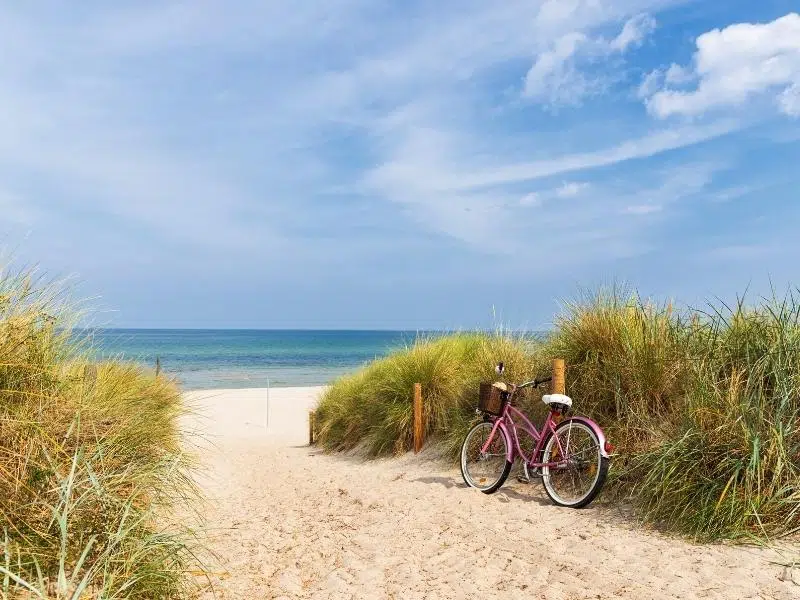 Discover Norfolk Coast History
It's no surprise that the people and communities of Norfolk's coastal towns and villages have a strong bond with the sea, which is a constant presence, and both provides and takes away.
RELATED POST: 21 Museums in Norfolk You Won't Want to Miss!
Fishing on the Norfolk Coast
A provider of livelihoods for generations of fishermen, and smugglers, the sea is now also supplying electricity to 280,000 homes via the Sheringham Shoal Offshore Wind Farm, where there are 88 wind turbines.
There are some fantastic smaller museums telling the story of Norfolk and its fishermen – check out Time and Tide in Great Yarmouth, True's Yard Fisherfolk Museum in King's Lynn and Cromer Museum.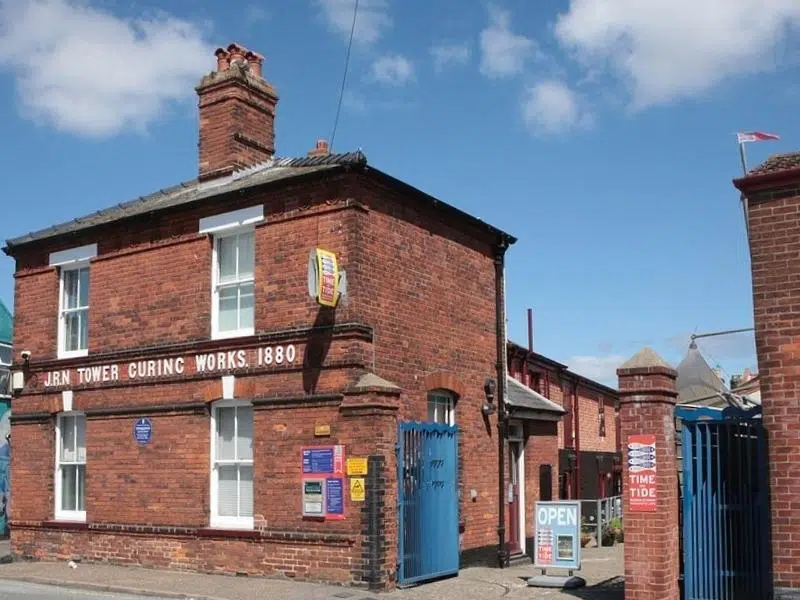 Norfolk's RNLI
For generations, the Norfolk coast has been watched over by brave volunteers, who put their lives at risk to rescue others at sea. These original crews were often fishermen, without any special equipment, who knew the tides and sandbanks of this gorgeous, but treacherous, coast.
In the early 19th century, wealthy Norfolk residents and patrons provided towns with a large boat, to act as a lifeboat. Often these were dragged in and out of the water by the crew, but in Wells-next-the-Sea, the lifeboat had to be dragged two miles to Holkham Gap by horses – now commemorated in the brilliant Lifeboat Horse sculpture which stands in Wells' harbour.
In 1824 the RNLI (Royal National Lifeboat Institution) was inaugurated as a charity, and lifeboat stations began to be built and equipped around the Norfolk coast. There are now nine stations in Norfolk, kitted out with state-of-the-art lifeboats and highly trained volunteer crews.
You can find and visit these lifeboat stations in Caister; Cromer; Great Yarmouth; Happisburgh; Hunstanton; Mundesley; Sea Palling; Sheringham and Wells-next-the-Sea.
RELATED POST: Cromer Visitor Guide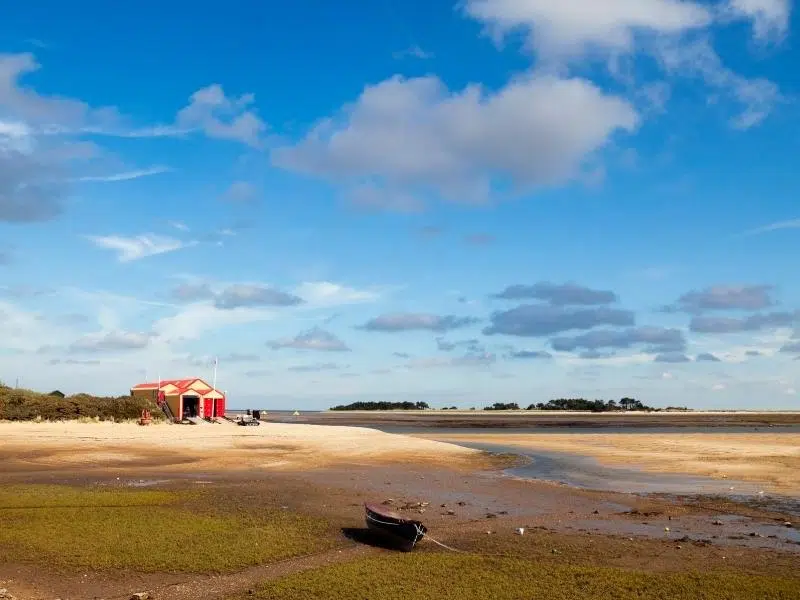 Stately Homes
Once a county of affluent landowners, there is a rich and diverse collection of historic country houses in Norfolk that offer a unique insight into the story of Norfolk and the people and politics who shaped not only Nelson's County but the United Kingdom too.
Many of them also have fabulous gardens to discover, and wider parkland, ideal for walking, running around with the kids or simply enjoying the beautiful Norfolk landscapes.
The famous trio of Holkham Hall with its beach and the Holkham National Nature Reserve, the Jacobean mansion Blickling Hall and 17th century Felbrigg are all must-visits close to the Norfolk coast for a fascinating glimpse of Norfolk's past.
RELATED POST: 14 Stately Homes in Norfolk to Visit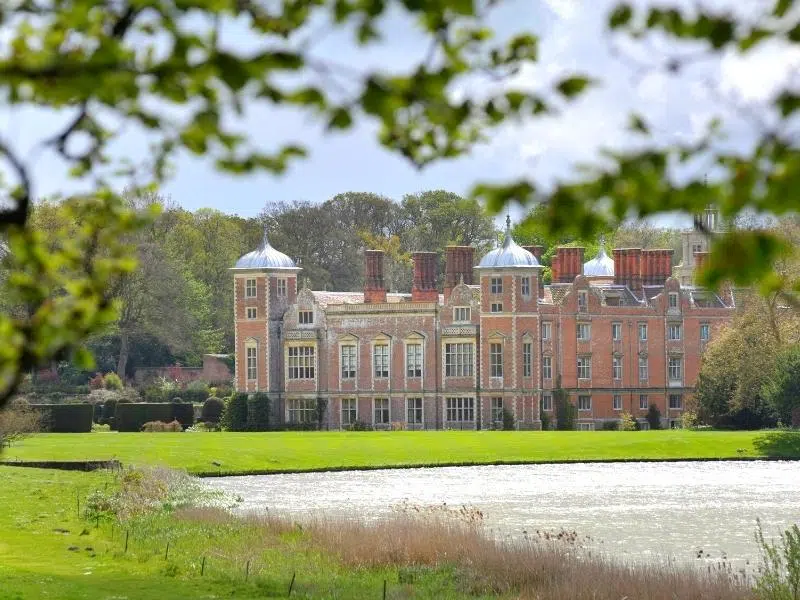 Deep History Coast
The coastal erosion that is happening along the Norfolk coast has dramatically revealed a number of ancient historical finds in the past few decades, helping historians to understand the deep history of the coastline.
The Steppe Mammoth, found in the cliff face at West Runton Beach in 1990, is one of the oldest fossil elephants to be found in the UK. West Runton Beach is now a popular place for fossil hunting and it's great fun with kids to scrabble around on the sand and shingle beach looking for something interesting, or in the many rock pools that form as the tide goes out.
The majority of the West Runton Mammoth is in special storage at the Norfolk Collections Centre at Gressenhall Farm and Workhouse, where regular public tours are put on, but there is also a dedicated display at Cromer Museum, as well as a small display in Norwich Castle Museum.
Holme Beach had its fifteen minutes of fame in 1998 when an Early Bronze Age timber circle was discovered on the sands. An extraordinary find, the arrangement of 55 timber posts surrounding a huge stump that had been buried with its roots upwards, was called Seahenge, as it resembled the famous Stonehenge in Wiltshire.
The timbers were carefully removed from the sea, cleaned, and vacuum freeze-dried to protect them. The original upturned tree stump and many of the upright timber posts are now on display in a special exhibit in the Lynn Museum in nearby King's Lynn.
Happisburgh Beach made international headlines in 2013 when a layer of sediment was exposed by the tide to reveal a set of footprints, dated over 850,000 years old. In fact, 50 footprints were discovered, belonging to five adults and children making their way south – sadly they washed away within two weeks!
The footprints, along with the discovery of a 500,000-year-old flint handaxe also discovered in Happisburgh, have now made this part of the Norfolk coastline an integral part of ancient British history.
The Deep History Coast celebrates all of these finds and more and has information points along the coast between Weybourne and Cart Gap. Happisburgh Beach and West Runton Beach are both excellent places to look for fossils and artefacts dating back to a time when huge wild animals roamed the earth.
RELATED POST: Happisburgh: A Deep History Coast Village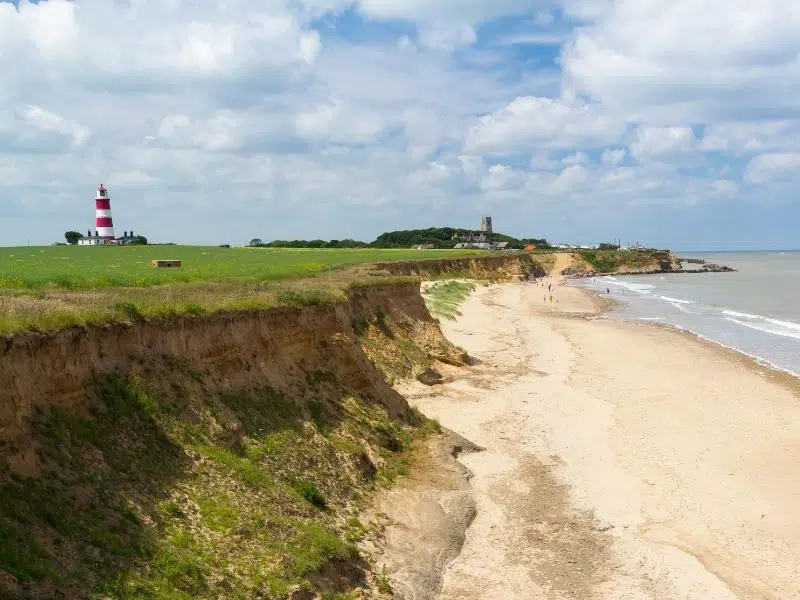 Take a Norfolk Coast Boat Trip
Heading out to sea, away from the land, is a great way to get a different perspective on the Norfolk coast. Take a boat trip to discover the fascinating coastal landscapes inaccessible on foot and experience unique encounters with Norfolk's wildlife.
Seal Safaris
Blakeney Point seal trips are a real highlight of any trip to the Norfolk coast, and allow you to get up close to the seal colonies that live in our seas. Trips depart from Blakeney Quay or Morston Quay regularly throughout the year, with more trips on offer in the summer months.
Bishop's Boats depart from Blakeney and Bean's Boats from Morston. You don't have to book, but I would advise that you do as the boats fill quickly, and you may not get a seat on the day.
A boat trip from Hunstanton on the Wash Monster is great fun! This amphibious vessel can drive over sand and swim in the water!
Choose from a seal safari, or coastal tour where you'll find out about Norfolk's smuggling history, Hunstanton's red and white striped cliffs, and the bronze age Seahenge found at nearby Holme Beach. Again, it's advisable to book in advance with Searles Sea Tours.
RELATED POST: 21 of the Best Things To Do in Hunstanton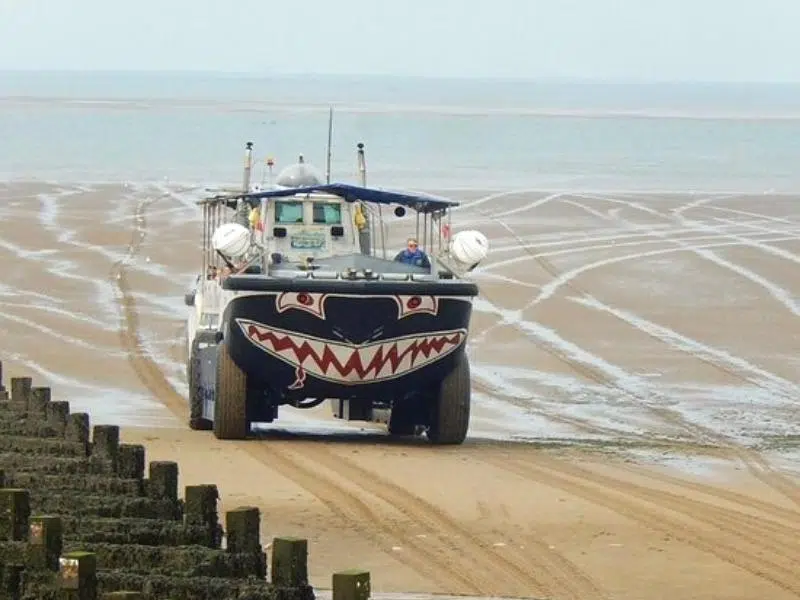 Coastal Trips
East and south along the coast is Scroby Sands, located just over a mile offshore from Great Yarmouth and where 30 wind turbines generate 60 megawatts of electricity, enough to power 41,000 homes.
In the past Scroby Sandbank was responsible for many shipwrecks, but it is now the home to a colony of grey seals. You can see both seals and wind turbines up close when you take a trip on a RIB with Jet Adventures.
On the North Norfolk coastline, Wells was one of the great Tudor ports of East Anglia and home to many fishing boats. Today, the harbour is used by sailing and crabbing boats and is watched over by a picturesque granary dating from 1904.
You can see Wells from a different perspective with a boat tour of the harbour, beach and marshes. The skipper will provide commentary and share the history of Wells harbour in detail, whilst kids get the opportunity to hop off the boat onto the marshes.
Wells Harbour Tours offers boat trips which take around an hour and depart regularly every day from the end of March to the end of October, weather permitting. Make sure to book in advance.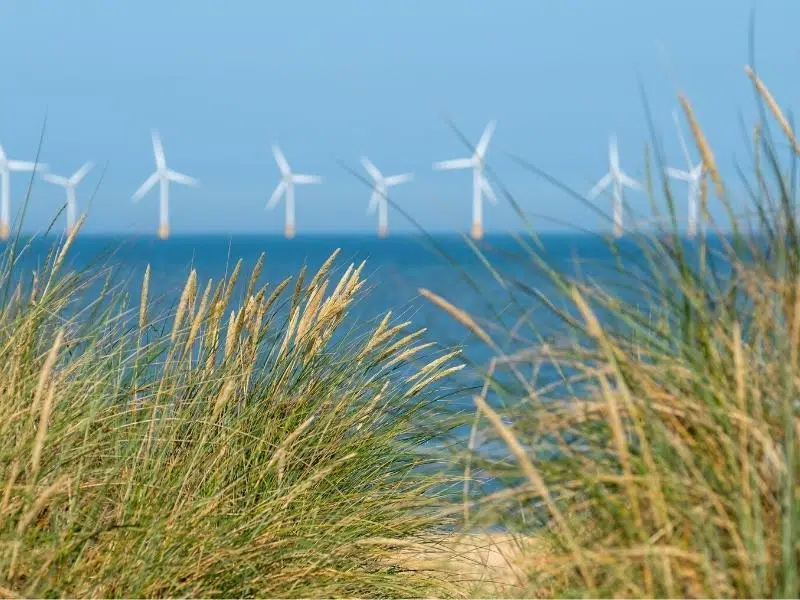 Heritage Boat Trips
For a fantastic heritage experience, tour Wells-next-the-Sea harbour in the boat Lucy Lavers. This former lifeboat and Dunkirk veteran was restored by Rescue Wooden Boats and now lives in Wells' working fishing port, acting as a floating ambassador to help people understand and experience Norfolk's maritime heritage.
Dunkirk Little Ship Lucy Lavers is operated by Curlew Coastal Charters, who offer daily cruises of 1.5 hours in or near Wells harbour, where you can learn about the fascinating history of the boat. You can also privately charter the boat for trips along the Norfolk coastline, visiting local harbours and areas of outstanding natural beauty.
Plan a really special outing and explore the wilderness of the North Norfolk coast with the Coastal Exploration Company, on a professionally skippered traditional wooden fishing boat, whilst enjoying a delicious locally sourced picnic and the solitude of this wonderful coastline.
RELATED POST: Norfolk Broads Boat Trips – 17 Top Boating Activities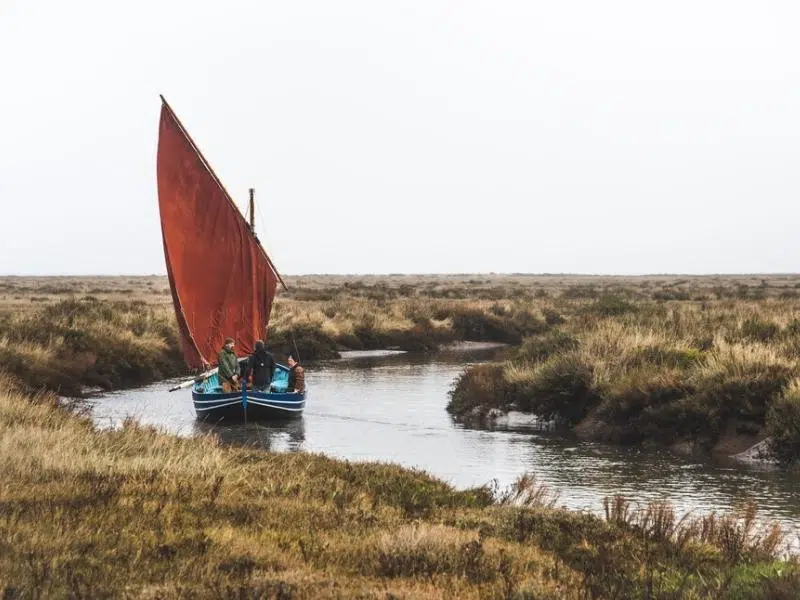 Explore Norfolk Coast Gastronomy
Cromer Crab
Full of flavour and sweeter than other crabs, the Cromer Crab is Norfolk's most famous food item. The juicy flesh and unique flavour make these crabs a Norfolk delicacy. Freshly caught Cromer crabs are available on many Norfolk menus from March to October, but you can't beat buying a dressed crab in Cromer and eating it as you wander the pretty town.
The best place in Norfolk for Cromer Crab is Rocky Bottoms in West Runton, between Sheringham and Cromer, where a local family catch crabs using their own fishing boat, and then feed you in their restaurant! You can also buy dressed and prepared crab at the Crab Hut to take home – yummy!
RELATED POST: Cromer Crab: All You Need to Know About Norfolk's Favourite Food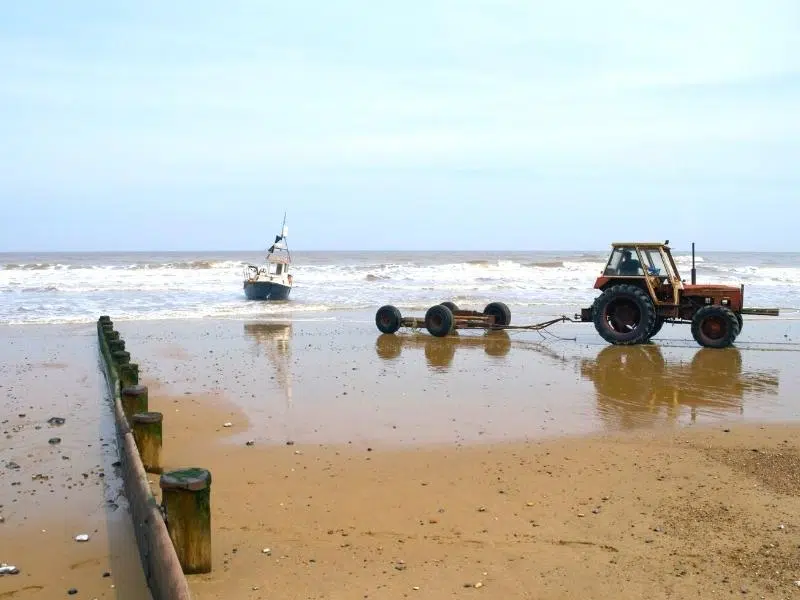 Brancaster Mussels
Freshly caught mussels from Brancaster Staithe harbour are a real treat. The mussels are collected when they are at the juvenile stage from wild settlements around the Wash and then placed in the harbour, where they can feed on the nutrients running off the salt marshes and grow into the delicious product that Brancaster is famous for.
In season from September to April, these delicious and juicy shellfish will be on every restaurant menu, and in every fishmonger in Norfolk during this time. Get your mussel fix at The White Horse Inn in Brancaster Staithe, with glorious views across the marshes, or the slightly more formal Titchwell Manor, just up the road.
RELATED POST: 26 Norfolk Food & Drink You Must Try!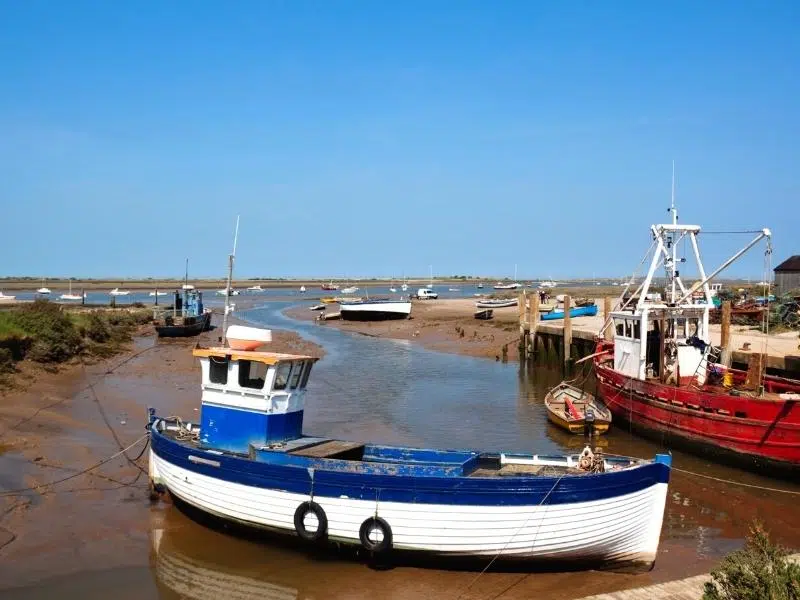 Stiffkey Blue Cockles
Known as Stewkey Blues because of their distinctive grey-blue colour, cockles from Stiffkey (pronounced stew•key) are generally held to be the best cockles in the UK. The muddy creeks here provide a good habitat for cockles to flourish, where they live buried an inch under the muddy sand.
Stiffkey cockles are still harvested traditionally by hand, using broad rakes and nets, and are best enjoyed by the seaside, with vinegar and a sprinkle of pepper.
RELATED POST: Restaurants in Sheringham – 16 Best Places to Eat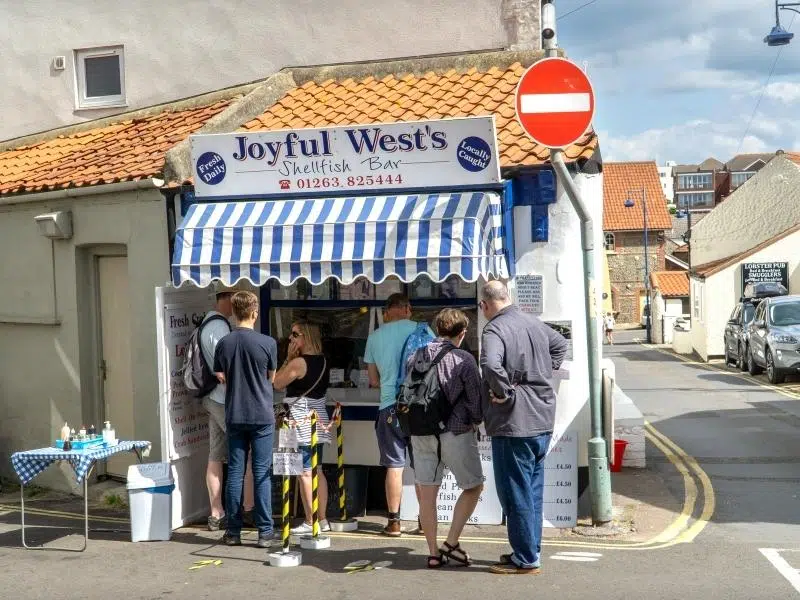 Samphire
Samphire, pronounced locally as sampha, thrives in the salt marshes of North Norfolk. Known as 'sea asparagus' or 'sea pickle', samphire can be purchased throughout Norfolk from spring onwards. You'll find it for sale in countryside lay-bys, outside cottages villages along the coast, at local farmers markets and in North Norfolk farm shops.
This unique wild plant, which tastes like the sea, is best enjoyed steamed with a little bit of butter.
RELATED POST: 43 Norfolk Farm Shops for Amazing Local Produce!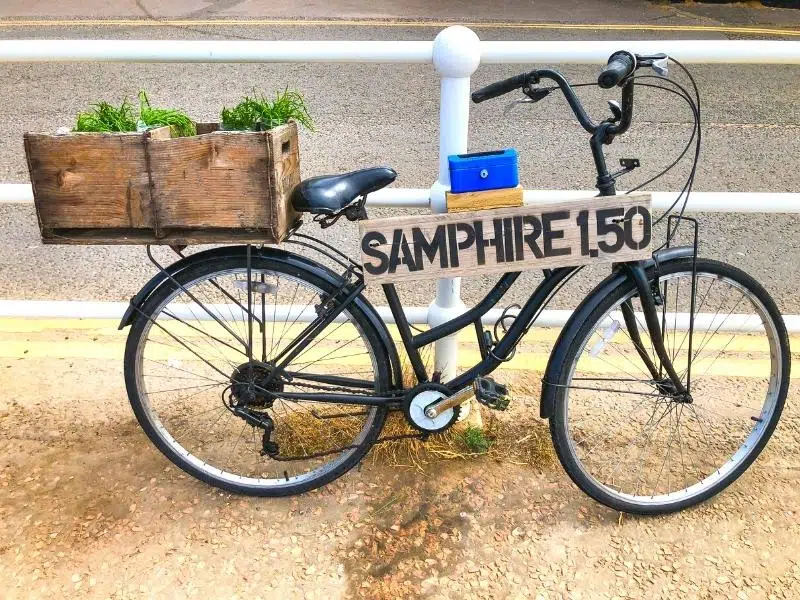 Fish & Chips
Fish and chips are not a Norfolk speciality by any means, but when you're on holiday and by the sea, fish and chips are a must! All of Norfolk's seaside towns have good fish and chip takeaways, and somewhere you can eat in. For me, nothing tastes so good as eating them from the wrapper, perched on the sea wall or prom!
The best place for fish and chips on the coast is No.1 Cromer, where you can eat in or out, overlooking the pier and sea.
RELATED POST: Best Fish & Chips Norfolk: 14 Top Places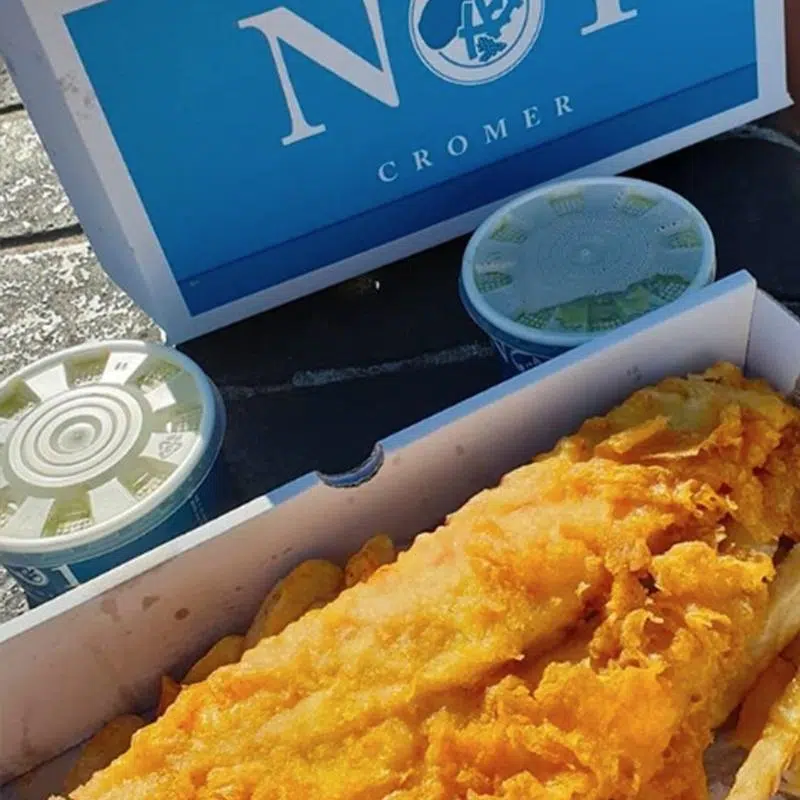 Get In the Norfolk Sea!
Go Swimming
The act of swimming from a beach now seems to be called 'wild water swimming'. Brought up around the Norfolk coast, I can't move beyond it being …well, swimming! You can swim off all of Norfolk's beaches, but some are more suitable than others, due to tides, currents and steep drop-offs.
The North Sea doesn't usually get warm enough for swimming until at least July, so if you're planning an earlier trip to the beach a wet suit might be a good idea! And talking of kit, why not take a body board, especially to Cromer and West Runton, where you might catch a few waves to surf in on?
The beaches at Wells-next-the-Sea; Sheringham; West Runton; East Runton; Cromer; Mundesley; Sea Palling; Hemsby; Great Yarmouth and Gorleston all have lifeguards on duty over the summer months, and unless you're a strong swimmer, it's advisable to stick to these beaches if you want more than a paddle!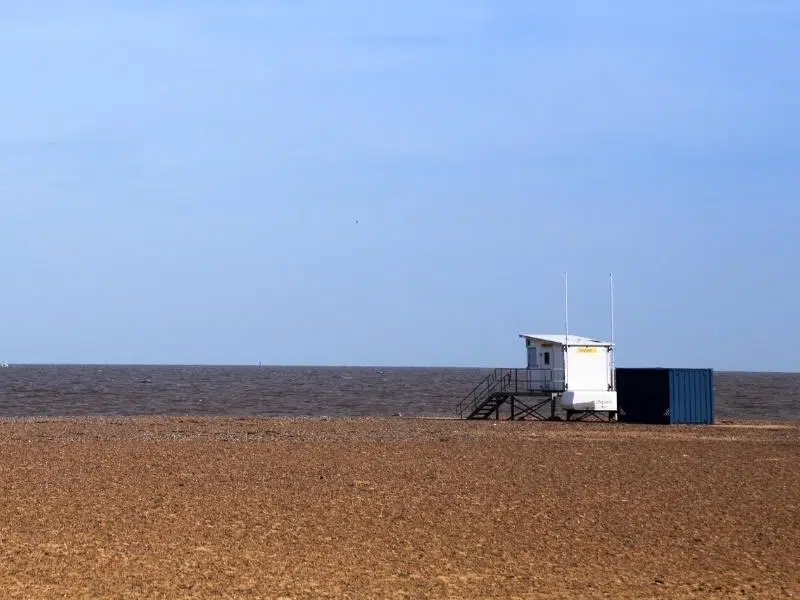 Stand Up Paddle
This popular sport of SUP has really taken off in Norfolk, where the gentle waters of the creeks of North Norfolk, make it easy to learn. You can bring your own equipment or hire a board at various places along the coast.
A good place to paddleboard in Norfolk is Wells-next-the-Sea, where you can take a stand-up paddle tour of Wells harbour with North Norfolk Paddleboards. Spend a couple of hours with a local expert paddle boarder exploring the harbour and local creeks and salt marshes as you paddle along.
Another great option is paddle boarding from Brancaster Staithe, for a two to three hour guided tour of Brancaster Staithe and Scolt Head Island, also with North Norfolk Paddleboards.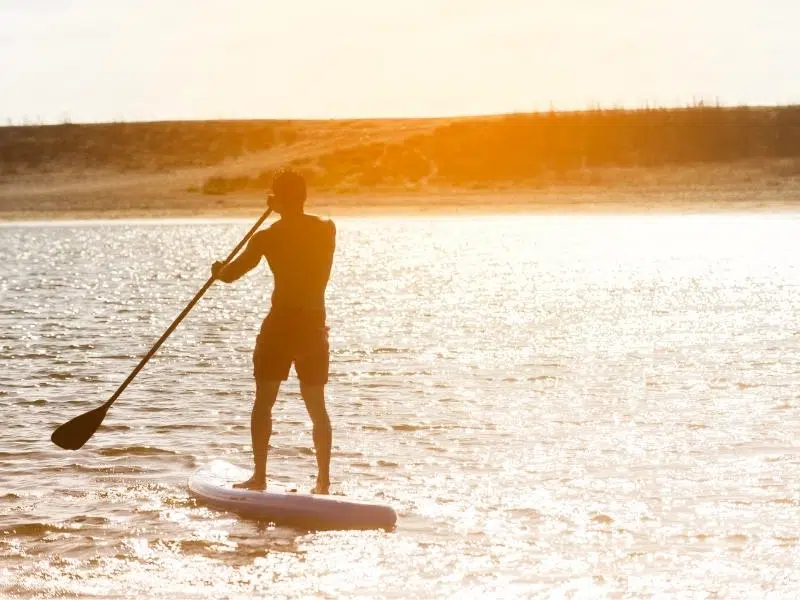 Sheringham Snorkel Trail
In 2016, a disused Victorian iron sewage pipe was discovered stretching 46 metres into the sea from the award-winning beach at Sheringham. The pipe was encrusted with seaweed and marine invertebrates and has now become the Sheringham Snorkel Trail, with ropes, life buoys and information signs added to guide snorkellers to explore the ancient chalk reef below.
The chalk reef is more than twenty miles long, is thought to be more than 100 million years old, and boasts a diverse range of colourful and interesting sea life. The reef, just a few feet under the sea's surface, has been made a Marine Conservation Zone (MCZ), meaning species like the threatened pink sea fan coral which grows there will be protected.
RELATED POST: 23 Amazing Things To Do in Sheringham
Have I missed your favourite way to explore the Norfolk coast off my list? Let me know in the comments below, so I can check it out and get it added!
Love it? Pin it!