A pretty Victorian seaside resort, Mundesley is tucked away in an Area of Outstanding Natural Beauty where the east and north Norfolk coast meet, and is a haven of peace and tradition.
Mundesley makes for a good old-fashioned holiday with a wonderful award-winning Blue Flag beach and is perfectly located to explore the north Norfolk coast, the Deep History Coast, the Norfolk Broads and Norfolk's historic capital city, Norwich.
With a delightful village centre and old-world charm of brick and flint cottages and thatched roofs, Mundesley will appeal if you're looking for a quieter alternative to Cromer, and a good starting point for local walking.
RELATED POST: The Ultimate Local's Guide to Norfolk England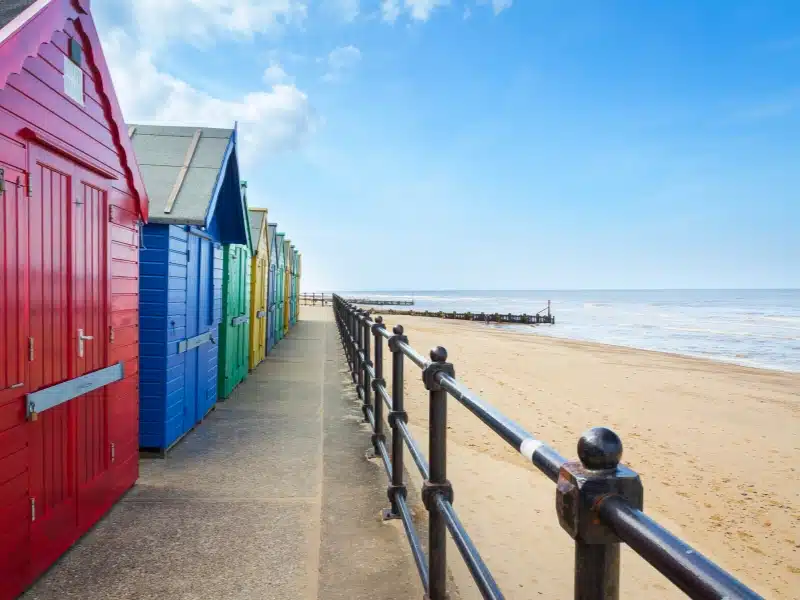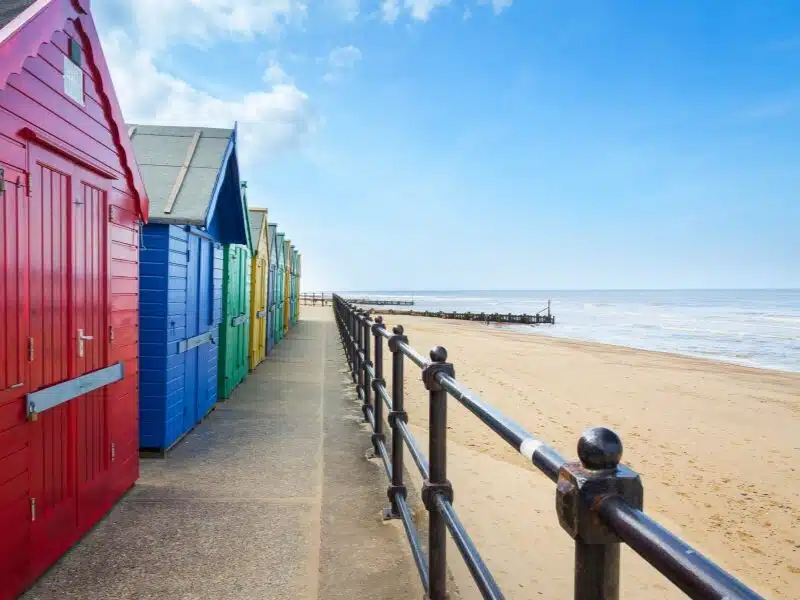 This post may contain affiliate links. If you book something I recommend, I make a small commission without affecting the price you pay!
Where is Mundesley Norfolk?
On the north Norfolk coast, Mundesley is situated 21 miles north of Norwich and 52 miles east of King's Lynn.
Mundsely lies between Cromer and Happisburgh, with the adjacent villages of Trimingham to the north and Bacton to the south.
RELATED POST: Norfolk Coast – 8 Amazing Ways to Explore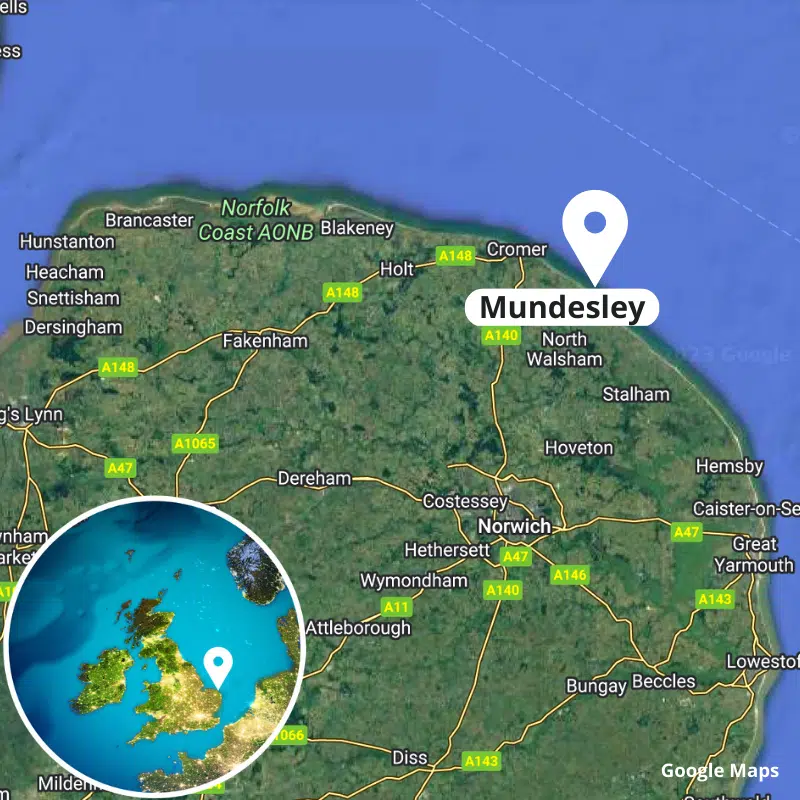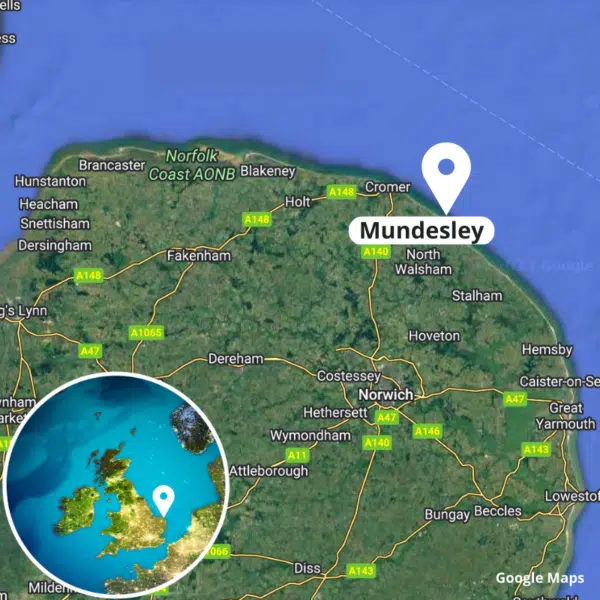 Mundesley- Getting There & Getting Around
Driving to Mundesley
If you're travelling from the north of the United Kingdom, pick up the A17 south at Newark-on-Trent and follow the route around the Wash to King's Lynn. This road is mainly single carriageway, and slow-moving agricultural traffic and trucks can cause delays, so build this into your travel plans.
If you're travelling from the Midlands, you'll come into Norfolk via Peterborough and pick up the A47 north and east to King's Lynn.
From King's Lynn, which is well worth a stop on the way through, pick up the A149 road before taking the A148 at Knight's Hill directly to Cromer. From there, pick up Cromer Road which takes you through Overstrand and Trimingham to Mundesley.
From the south, the A10 brings you through Cambridge to Norwich onto the A11 and around the ring road, before you pick up the Broadland Northway A1270, before taking the B1150 to North Walsham, and then Mundesley.
Parking in Mundesley
North Norfolk District Council operates the Beach Road Car Park at Mundesley. This car park has 80 spaces on hard standing, public toilets, and is open 24 hours a day, with parking free between 6pm to 8am.
There are no height restrictions here, and motorhomes under 3,500kg are welcome to park but must pay for the number of spaces they use. There is no overnight sleeping permitted.
During busy periods in summer, the grassy Gold Park is used for car parking, but you should not use this area unless signage lets you know that overflow parking is in use.
RELATED POST: All the Best Things To Do in King's Lynn Norfolk
Getting To Mundesley by Public Transport
You can get to Norfolk's capital city Norwich by mainline train from London in less than two hours. Take the regular Greater Anglia service from London Liverpool Street, which leaves every hour or so.
Alternatively, you can take a National Express bus service from Victoria Coach Station to King's Lynn. This takes around 6.5 hours depending on the time of day, and you do need to change at Norwich, but it's often much cheaper than the train, especially when booked in advance.
Once in Norwich, get the X55 bus from Norwich bus station to Mundesley Gold Park. The journey takes around 1 hour and 10 minutes.
RELATED POST: 21 Of The Best Things To Do in Cromer Norfolk
Getting Around North Norfolk
The CoastHopper 2 from North Walsham connects with Trimingham, Sidestrand, Overstrand, Cromer, East Runton, West Runton, Sheringham, Bodham, High Kelling and Holt, and the CoastLiner bus at Wells-next-the-Sea connects with Sheringham, meaning the whole of the North Norfolk coast is accessible by bus.
The CoastLiner bus at Wells-next-the-Sea connects with Sheringham, Holkham, Burnham Market and Brancaster before arriving at Hunstanton.
From Wells, you can also hop onto the CoastHopper 1 bus to Stiffkey, Morston, Blakeney, Cley, Salthouse, Weybourne, Sheringham, East Runton, West Runton and Cromer, meaning you can get to many of the best spots on the North Norfolk coast by bus.
How about getting around by bike? The Norfolk Coast Cycleway runs from King's Lynn to Great Yarmouth and the Rebellion Way is a circular route around Norfolk. Both follow a network of byways, bridleways and quiet country lanes which are perfect for cycling, and link pretty villages around the county.
These lanes, bordered by fields of wheat, hedgerows and woodlands, see little traffic, which means you can explore the Norfolk coast at a leisurely and safe pace. You can hire bikes at Woods Cycles Ltd on Cromer Road in the village.
RELATED POST: North Norfolk Coast – 19 Unmissable Highlights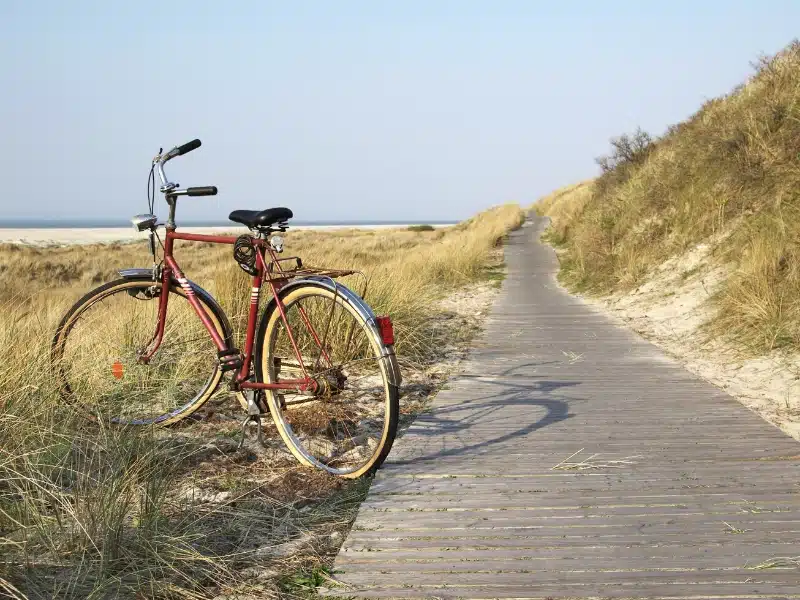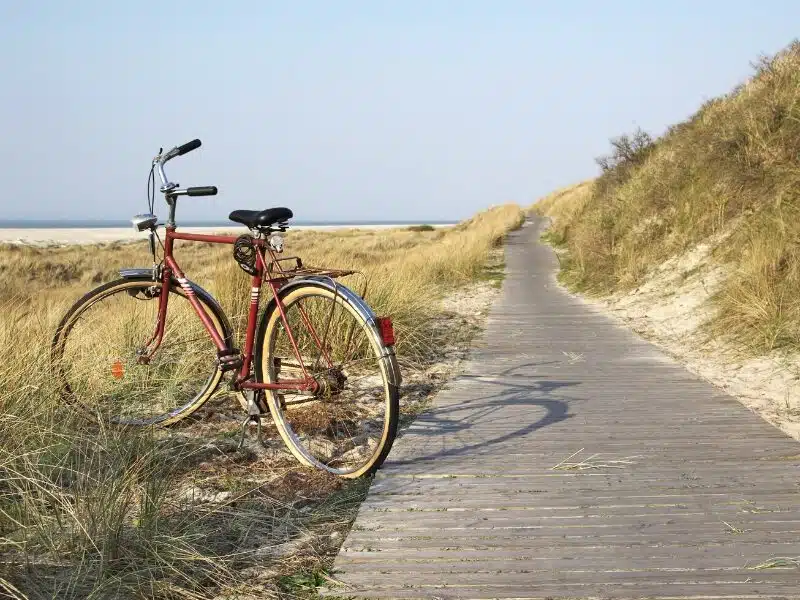 Mundesley History (in brief!)
The earliest evidence of human activity in Mundesley comes in the form of prehistoric but otherwise undateable flint tools, followed by finds from nearly every significant historic period, including the Palaeolithic, Mesolithic, Neolithic, and Bronze Age, with only the Iron Age missing. A possible Roman road passed through the parish, running from Cawston to Mundesley via Bacton and linking with a known route to the coast, and Roman coins have been found in the area.
Mundesley has its place in the Domesday Book of 1086. It was then known as Museleai and was one of the many areas given by William the Conquerer to William de Warenne in gratitude for his allegiance.
The medieval period gave Mundesley it's oldest surviving building, All Saints' Church. This is a Norman 14th and 15th century church, almost completely rebuilt between 1899 and 1914 after standing in ruins for a hundred years.
In the late 19th century, the Norfolk and Suffolk Joint Railway came to Mundesley (and left again in 1953) and with it, the first tourists to 'Poppyland', as this part of the coast became known. You can see fasicnating images of Mundesley from this time on the Mundesley Village website.
The landscape in and around Mundesley changed dramatically during World War Two with the construction of a huge network of anti-invasion structures along the Norfolk coast, which included pillboxes, tank traps, coastal defences, gun emplacements and slit trenches.
The huge scale of these defences can be seen in aerial photographs, and although most of them were dismantled and cleared away after the war, some still exist today, like the Emergency Coastal battery on the cliff top and the pillboxes in the gardens of 20 Beckmeadow Way and 19 Marina Road.
The Mundesley Memorial Bomb is dedicated to Army teams who removed mines after WWII, and there is a war memorial inside the Church and on the seafront at the Coastwatch station and museum.
Things To Do in Mundesley
Spend the Day at Mundesley Beach
Mundesley is considered by many to be one of Norfolk's finest beaches and in September 2022 Mundesley beach won North Norfolk District Council's Battle of the Beaches, to be recognised as the top beach in North Norfolk in a close run-off against West Runton beach.
Long and sandy, the beach is backed by a promenade lined with brightly painted beach huts and small grassy cliffs, with beautiful cliff top gardens offering a quiet area to sit and enjoy the sea view.
Mundesley beach is a fantastic child-friendly beach with safe paddling and swimming. There is lots for kids to explore in the small tide pools and around the groynes, which help prevent erosion and drifting sand. When the tide is out, the sand is firm and hard, perfect for beach games and sand-castle building.
The beach at Mundesley has a first aid station and a lifeguard in summer, and is usually given Blue Flag status, meaning that water quality, beach safety and the beach environment meets a rigorous set of international standards.
Unlike Cromer beach, there are no fairground rides, but there is a café, ice cream parlour, small amusement arcade, skate park and crazy golf course at the top of the cliffs if you need some respite from the sand, and in the village there are a good selection of arts and crafts and gift shops to browse.
There are summer restrictions for dogs on Mundesley Beach, with dogs being banned from the Promenade section of the beach between 1 May and 30 September. But once you head east or west from the prom, there's lots of empty space for your pooch to run around outside of the restricted zone.
The nearest dog friendly beaches with no restrictions at all are Trimingham and Happisburgh.
RELATED POST: Norfolk Beaches – Ultimate A-Z Guide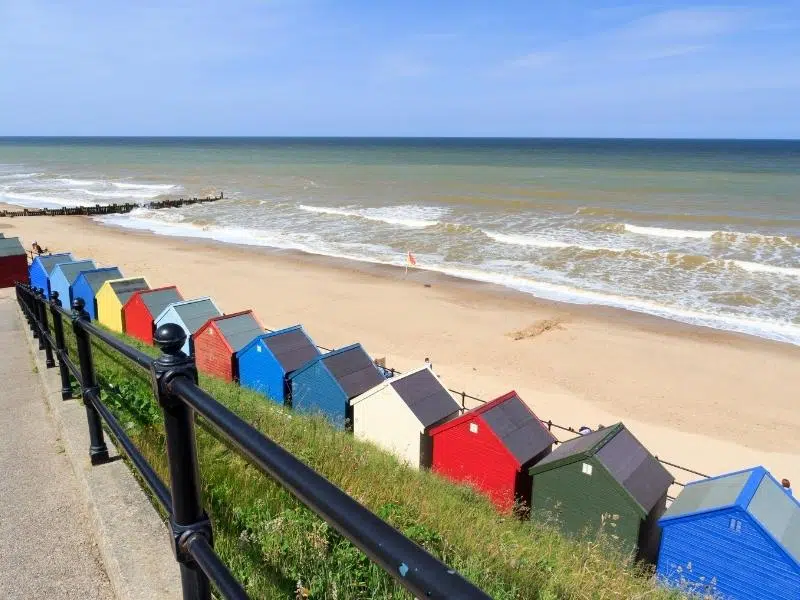 Hire a Mundesley Beach Hut!
Mundesley beach has a colourful collection of wooden beach huts along the Promenade on the east side of the beach which can be rented on a weekly basis from North Norfolk District Council. They make a great base from which to enjoy the sands and seaside town, and make your holiday planning a whole lot easier!
Spending a week in Mundesley with a beach hut is magical, especially with kids. There's no need to cart all your stuff to the beach every day or spend ages trying to get organised on the beach.
Relax by your hut, retreat inside for card games or to read a good book if it rains, and enjoy lunch without the sand in your sandwich!
RELATED POST: Beach Huts in Norfolk – All You Need to Know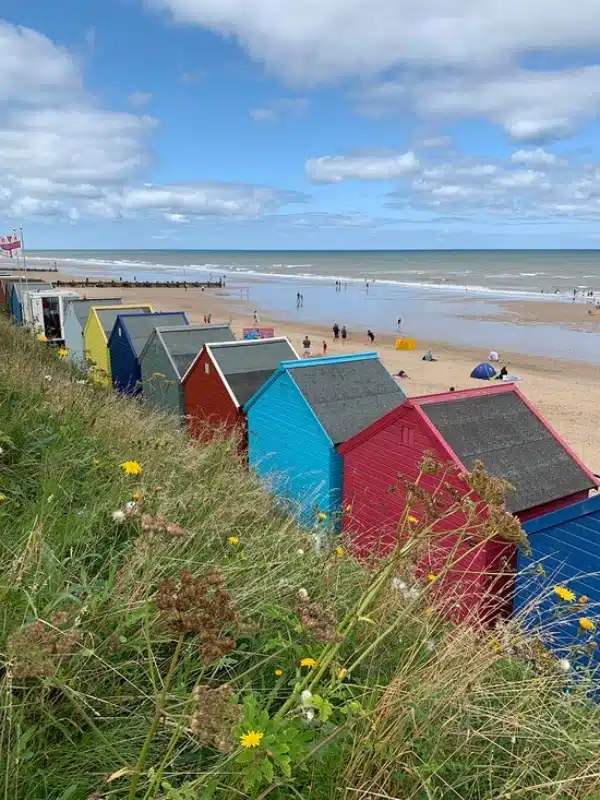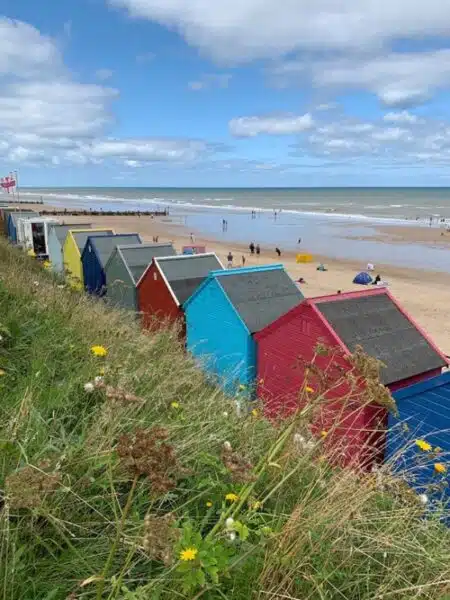 Discover Mundesley Maritime Museum
The Lees green on the cliffs above Mundesley beach is home to the Mundesley Maritime Museum, built in 1928 and thought to be the smallest of its kind in the UK!
Displays include information about lifeboat adventures, shipwrecks, the local fishing industry, maritime artefacts and fossils discovered nearby.
The tiny 1st floor has been reinstated as a coastguard lookout station of the 1930s and 40s era with a tide clock, fog horn and binoculars. There is also modern equipment like a radar and VHF radio, as the National Coastwatch Institution provides a visual watch service.
Next to the museum is the memorial to the Royal Engineer Bomb Disposal personnel that cleared the Norfolk coast of landmines after World War Two.
RELATED POST: 21 Museums in Norfolk You Won't Want to Miss!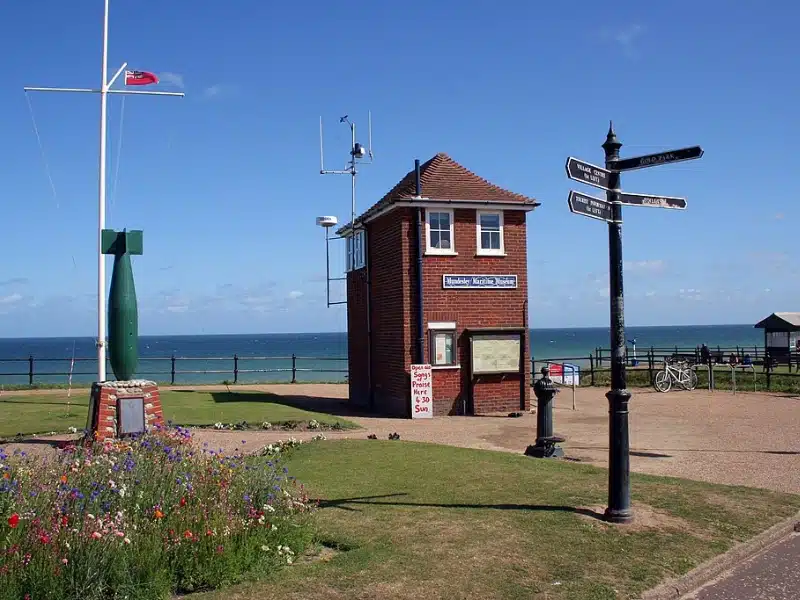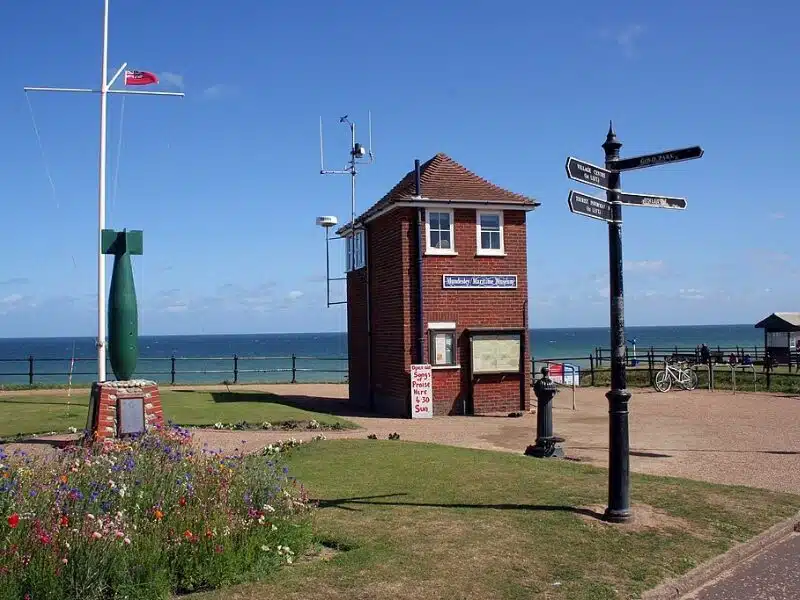 Play a Round of Golf
Situated half a mile inland from the coast, Mundesley Golf Club sits on the rolling hillside of the River Mun valley. Mundesley is a great 18-hole course to visit and play all year round, with exceptional panoramic views over the surrounding countryside.
If 'real' golf is not your thing, try a round at Adventure Island Crazy Golf! This 12 hole mini golf course is a lot of fun and features dinosaurs, bridges, water features and a few fiendishly difficult holes.
Head Out for a Walk
Norfolk Coast Path
Very probably the best-loved of the Norfolk trails, and one of the best ways to experience the wilderness and unique landscapes of the Norfolk coastline, the Norfolk Coast Path runs from Hunstanton in West Norfolk, to Hopton-on-Sea in South Norfolk, where Norfolk meets Suffolk.
You can hike a section of the well-signed route on either side of Mundesley from the Maritime Museum, catching the Coasthopper 2 bus back to Mundesley, making for a pleasant day's walking.
The route to Cromer is 8 miles of beach, road and clifftop walking, passing through designated Sites of Special Scientific Interest, wildlife havens and small seaside villages. Get the route map here.
Head 9.5 miles south to Sea Palling, a bracing seaside walk that follows the beach and cliff path for much of the way. You'll be passing the renowned Norfolk landmarks of Stow Mill just 350 meters from the cliff top near Mundesley and the red and white striped Happisburgh Lighthouse, as well as wildlife sites and old military defences. Get the route map here.
Paston Way
The Paston Way is a 22 mile walk between Cromer and North Walsham, discovering fourteen beautiful and historic churches, pretty villages and rolling farmland of northeast Norfolk.
Each church has its own fascinating history, and one was even moved a brick at a time from the nearby clifftop, to save it from the encroaching sea!
As you walk from church to church, the trail meanders along peaceful lanes, through picture-perfect towns and villages, between vast fields of crops, over disused railway lines and across grazing pastures with glimpses of the Norfolk coast.
The route takes its name from the Paston family, writers of the famous Paston Letters, and wealthy landowners in the area during the medieval and Tudor periods. The family in turn had taken their name from the small village of Paston on the northeast Norfolk coast.
Get the route, interactive map and points of interest, including all the churches, here.
RELATED POST: Walks in Norfolk – 14 of the Best Trails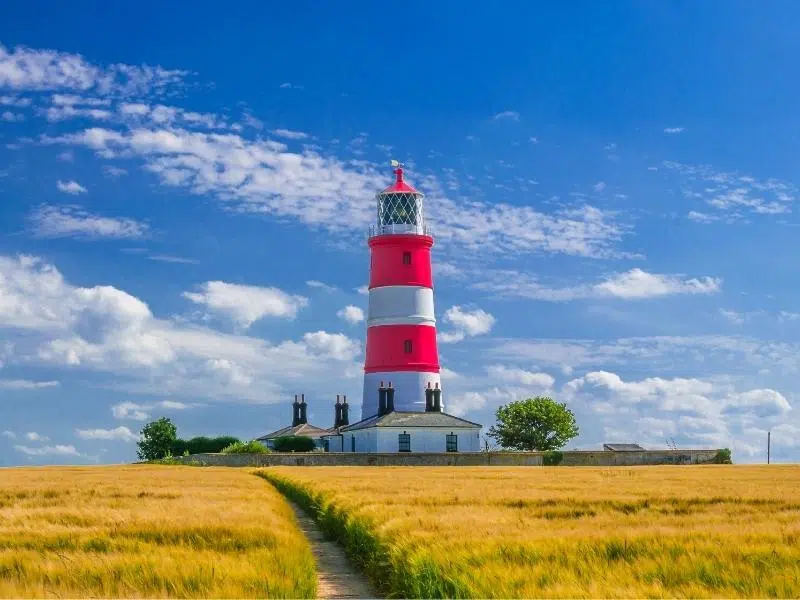 Things To Do Near Mundesley
Explore the Deep History Coast
The Deep History Coast is made up of 22 miles of coastline from Weybourne to Cart Gap along the clifftops of the North Norfolk coast. It is where million-year-old footprints, the earliest evidence of humans in Britain, have been found, alongside the UK's biggest mammoth skeleton remains and a 500,000-year-old flint hand axe.
Exploring the Deep History Coast is a fascinating and fun day out for families, with lots of activities to help you understand the millennia of history in the area. You can fossil hunt along the beautiful beaches between Weybourne and Cart Gap and follow the Discovery Trail to read fact-revealing info along the way.
Try rock-pooling and fossil hunting at West Runton beach, where the Steppe mammoth skeleton was found, or at Happisburgh beach, where the first footsteps were discovered.
It's common to find fossils along these beaches, ranging from belemnites to hyena coprolites (fossilised poo!). The best time to hunt is after a high tide or heavy rainfall.
RELATED POST: 30 of the Very Best Things To Do in Norfolk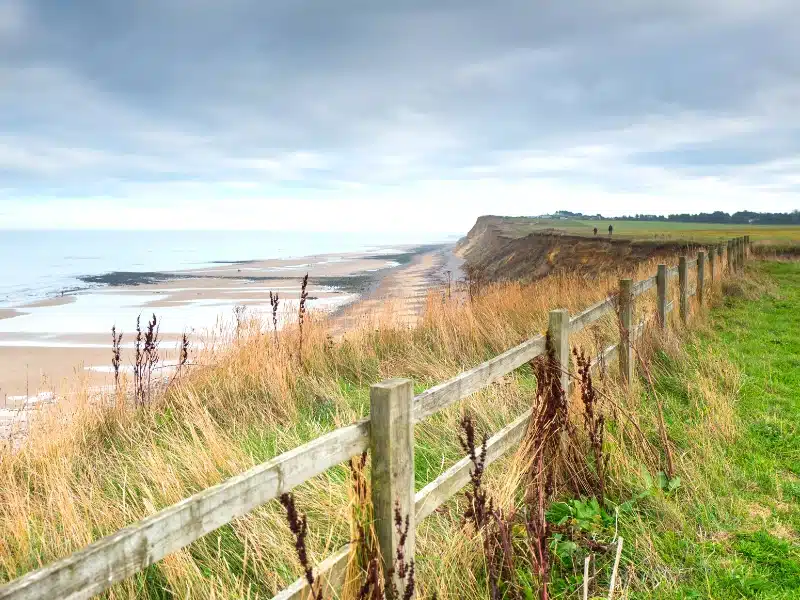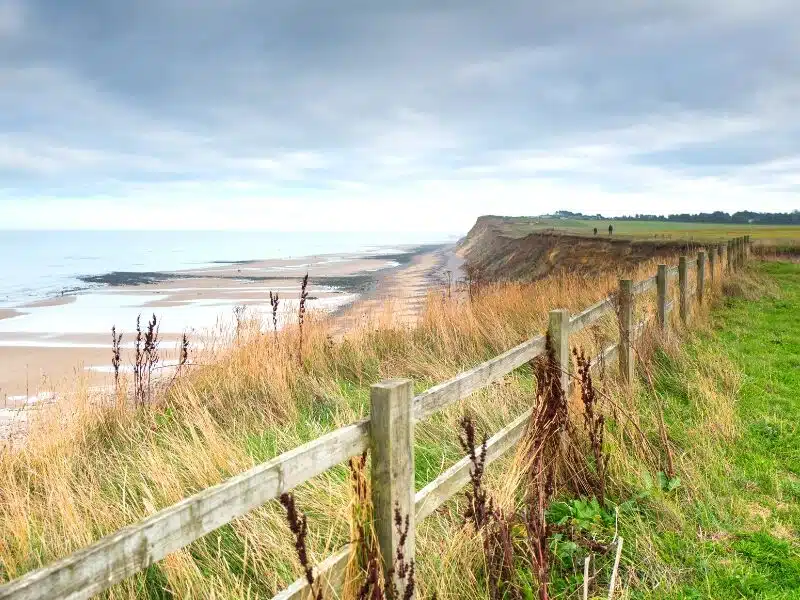 Tour Norfolk's Stately Homes
Blickling Estate
13 miles inland from Mundesley and home to Anne Boleyn amongst others, 17th century Blickling Hall is a Jacobean mansion packed full of history, with 4,600 acres of gardens and parkland to explore, run by the National Trust.
Interior rooms are styled in different periods from the Hall's history, telling the story through paintings, antiques and the furniture used by those that lived there.
The formal gardens cover over 55 acres and include a lake, an 18th century temple and an Orangery. The wider estate covers some 4,600 acres with 950 acres of woodland and parkland, with marked trails, perfect for walking and a picnic.
Felbrigg Hall
16 miles from Mundesley near Cromer, Felbrigg Hall is a 17th century historic hall and one of the most elegant country houses in East Anglia. Also run by the National Trust, the unaltered house is known for its fine Jacobean architecture, stained glass windows, original features and gorgeous Georgian interior.
Outside is a colourful walled garden, an 18th century Orangery, orchards, and over 500 acres of parkland which a number of local trails criss-cross, including the Weavers' Way, a walking route through the wonderful Norfolk Broads.
Holkham Estate
A wonderful destination close to Wells-next-the-Sea, Holkham has it all. The small village boasts a stately home and estate, Holkham Hall, Holkham beach and the Holkham National Nature Reserve. There's a lot going on here, making the 31 miles from Mundesley a worthwhile drive.
Built in 1764, Holkham Hall is an 18th century Palladian masterpiece and a wonderful example of the architectural style of the day. The statuary and art collection, fascinating restored Victorian kitchen and the immense entrance hall, with a deeply coved and coffered ceiling supported by towering columns and panelling of English alabaster, make Holkham one of the best stately homes in Norfolk, if not England.
RELATED POST: 14 Stately Homes in Norfolk to Visit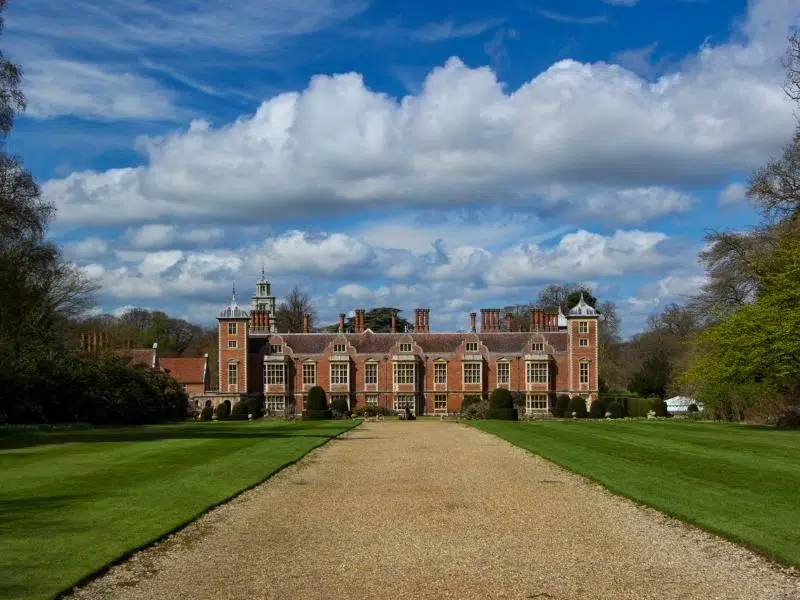 Discover the Norfolk Broads
With huge skies, infinite landscapes, tranquil water and abundant wildlife, the Norfolk Broads are a beautiful place to visit – you can find out how in my Norfolk Broads guide.
The Broads National Park is made up of over 60 open areas of water known as Broads, which, along with the rivers Yare, and its tributaries the Ant, Thurne, Bure, Chet and Waveney, occupy a vast triangle of land formed by Great Yarmouth, Wroxham, and Stalham.
If you don't have lots of time to explore, then head for Hickling Broad, the largest Broad of them all. At the far eastern end of Hickling Broad is the Horsey Windpump, one of the area's most iconic windmills and run by the National Trust. The whole area is incredibly photogenic.
Head for Potter Heigham, Ranworth or South Walsham, small picturesque villages with interesting churches, which make great starting points. The beauty and nature of the Broads are best appreciated from the water, and motor cruisers, kayaks and canoes can be rented, or you can take a Broads boat tour if you're not confident on the water.
RELATED POST: 26 Exciting Things To Do On the Norfolk Broads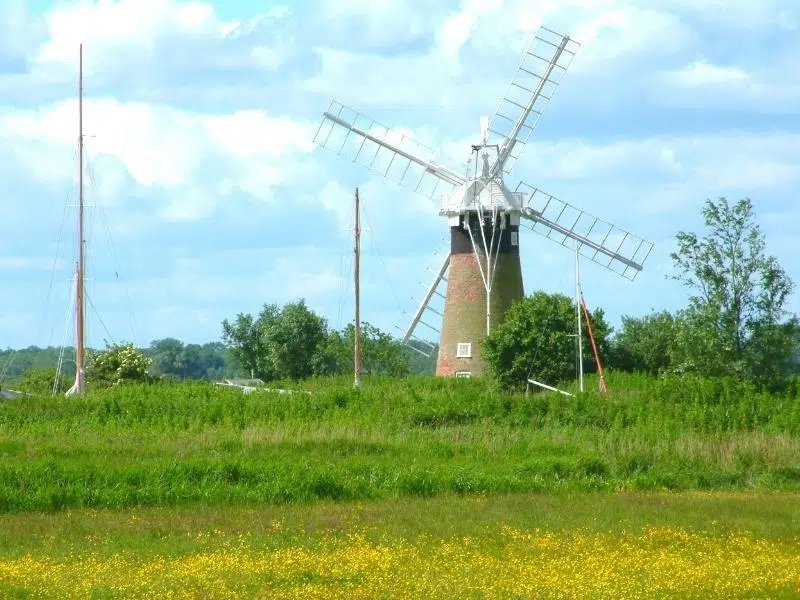 Explore the Local Gardens
East Ruston Old Vicarage Garden
10 miles south of Mundesley, East Ruston is absolutely my favourite garden in the whole of Norfolk. Set over 32 glorious acres, close to the North Sea, East Ruston is an interesting and eclectic space.
There's a real mix of planting here, from lush green exotics to a jumble of traditional English cottage garden planting. There's a large swathe of prairie planting, gorgeous glasshouses and lots of interesting corners, archways and doorways that demand you explore!
Hoveton Hall Gardens
14 miles from Mundesley, Hoveton Hall Gardens were first planted in the early 19th century and are a delight throughout the seasons.
Enjoy a visit to the gardens in springtime when the grounds are carpeted with hundreds of different varieties of snowdrops and daffodils, some of which are very rare.
May and June see the spectacular colours of the azaleas and rhododendrons take centre stage, closely followed by the perfect manicured lawns and glory of the formal herbaceous borders, featuring over 600 plant varieties, in July and August.
How Hill Estate
15 miles from Mundesley, the How Hill Estate is a study centre with a fine thatched Edwardian house set in acres of reed, marsh and woodland at the edge of the River Ant.
The formal gardens of the house, planted in a traditional English cottage garden style, are bursting with colour in the summer months and are a haven for butterflies and bees. The house gardens are closed when study groups are in residence, so best to check that the house garden will be open before visiting.
Explore the hidden woodland gardens, which were established in the early 1920s. The area was once a windswept piece of rough grazing marsh and you can find out how marshmen lived and worked at the restored drainage mills and the tiny Toad Hole Cottage Museum. Then follow the nature trail or take a boat trip through the reed beds to the banks of the River Ant.
RELATED POST: The 21 Best Gardens in Norfolk to Visit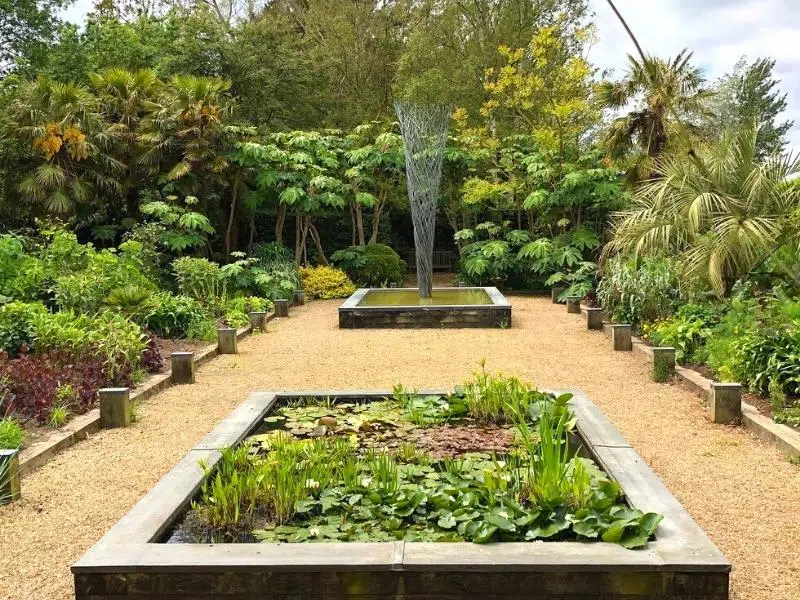 Mundesley Accommodation
Mundesley has a good selection of hotels, holiday cottages and holiday homes for rent, and some great campsites and holiday parks nearby. Whatever your accommodation style, we've rounded up the best options for your Mundesley holidays.
The Royal Hotel
Housed in a 16th century building, The Royal has been under the same ownership since 1980. In the 18th century it was known as the 'New Inn' and it was here that Admiral Lord Nelson (born in Burnham Thorpe, hence Norfolk being known as 'Nelson's County') is alleged to have stayed whilst attending nearby Paston Grammar School in North Walsham. He left at the age of 12 to join the Royal Navy and the rest is history!
Today, The Royal is a 3-star hotel, offering comfortable accommodation, including superior and executive rooms, in a quiet location in the village.
There is a good menu offering seasonal produce which is sourced locally where possible. Their popular carvery is served on Sunday lunchtimes and Wednesday evenings and offers four meat choices along with the usual accompaniments.
RELATED POST: Norfolk Coast Hotels: 18 of the Best Places to Stay by the Sea
The Ship Inn
On the cliff-top with glorious views of the sea, this Mundesley pub is a coastal restaurant and inn with rooms.
There are seven rooms, decorated in a style which reflects the beachside location and features seaside colours and driftwood headboards. All are unique and extremely comfortable, and some are dog friendly.
In the restaurant, simple, freshly prepared food is served, using only the best north Norfolk produce. They offer a seasonal menu of pub classics and a fantastic Sunday lunch.
RELATED POST: Boutique Hotels Norfolk: 32 of the Best Places to Stay
Sea Marge Hotel Overstrand
Built to take advantage of its commanding seaside position, this Grade II listed house has been lovingly restored to create a luxurious seaside family hotel near Mundesley. Original features combine with modern comforts and impeccable service to ensure you enjoy your Norfolk break.
Each of the 25 en-suite rooms has its own style and many rooms have sweeping sea views. The deluxe wing provides larger suites for the ultimate in luxury, and there are five acres of peaceful gardens that give you room to relax.
The Sea Marge has a range of dining, from the formal restaurant to a great bar menu, al fresco dining on the terrace and Sunday lunch, which they term 'roast on the coast'! They also do a wonderful afternoon tea for a real treat.
RELATED POST: Afternoon Tea in Norfolk – 15 of the Best Places
Mundesley Holiday Homes
There are lots of holiday cottages and Airbnb-style holiday rentals in and around Mundesley. From one-bed cottages and static caravans to huge converted barns, use VRBO to search for the best deals and find availability on Mundesley holiday accommodation.
Mundesley Holiday Village
Originally built in the 1930s, Mundesley Holiday Village was one of the first holiday camps on the North Norfolk coast. The holiday village has undergone major investment and now boasts luxury accommodation which includes lodges, bungalows, cottages and barns in a stunning cliff-top location, just to the south of Mundesley.
There are a wide range of holiday lets, to sleep up to six people, many of which are dog friendly, and some even have hot tubs! There is a gym and sauna on the site, along with a games and lounge room for guests to enjoy which houses snooker, pool, table tennis and football tables.
Links Camping and Caravan Parl
The Links Camping and Caravan Park is adjacent to Mundesley golf course and offers the peace of the countryside a five minute walk from Mundesley village.
The small site has capacity for 32 caravans and motorhomes with electric hook up, and 28 tents in a grassy field. There are all the amenities you would expect and a super friendly welcome.
RELATED POST: The Ten Best Campsites in Norfolk
Hayfield Hideaways
Hayfield Hideaways is a family-run campsite just outside Mundesley. Surrounded by natural rural beauty and within walking distance of Mundesley's sandy beach, the family owners decided to diversify their smallholding to provide rustic camping with quirky facilities.
The campsite's ethos is to give people a rural escape, allowing them to unwind amongst nature and reconnect with the environment, with grassy pitches without electricity. Facilities, including hot showers, loos and washing-up areas are in rustic shacks and sheds that are clean and spacious.
Places to Eat in Mundesley
Alongside the Mundesley hotels mentioned above, which all offer a full restaurant service to non-residents, there are lots of other great places to eat in and around Mundesley.
Fish & Chips
A traditional take-away fish and chip shop, there are often queues outside the Village Chippy on Beach Road as people wait for their fish and chip supper! Open from 11.30pm to 8pm (not Sunday) this chippy is a popular option.
At the other end of Beach road next to the Ship Inn is The Catch, open between 5pm and 8pm daily. Serving traditional fish and chips, they also have vegan options of all the favourites. You can eat your fish and chips on the benches in front of the pub.
RELATED POST: Best Fish & Chips Norfolk: 14 Top Places
Beach Hut Café
Right at the top of the ramp down to the beach, the popular Beach Hut Café serves all-day breakfasts, loaded fried, jackets, burgers, sandwiches and ice cream.
They also have a great selection of Mundesley and Norfolk souvenirs – I love the miniature painted beach huts, which are really cute!
The Lobster Pot
A fresh seafood kiosk behind the butchers in the village, the Lobster Pot catch all their own seafood including the famous Cromer crab, lobsters, whelks, mussels and prawns. You can buy dressed crab, ready to eat when it's in season, usually between May to October.
Lucy's on the Beach
At the bottom of the ramp on the promenade is Lucy's on the Beach, an eat-in fish and chip restaurant, only open in the summer months.
If you go, try their battered samphire, which is truly delicious and very inventive! A traditional wild-growing Norfolk crop, samphire, pronounced locally as sampha, thrives in the salt marshes of North Norfolk. Known as 'sea asparagus' or 'sea pickle', samphire can be sampled throughout Norfolk from spring onwards.
RELATED POST: 26 Norfolk Food & Drink You Must Try!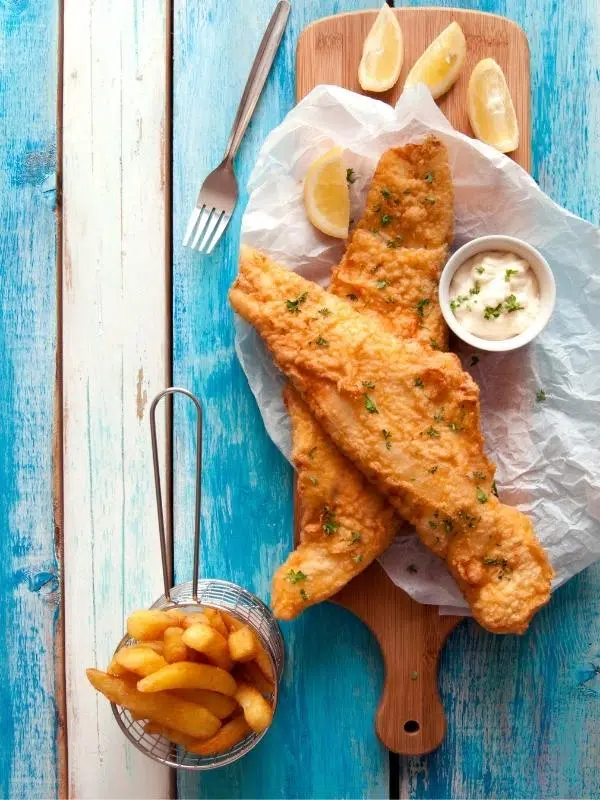 Have I missed your favourite Mundesley hotel, campsite, restaurant or activity from my list? Let me know in the comments so I can check it out and add it to this round-up!
Love it? Pin it!