Norfolk is full of wonderful gardens to visit, from cute cottage gardens and tranquil water gardens to formal stately home gardens. If you love plants then you'll love my selection of the best gardens to visit in Norfolk.
Gardening is one of my passions and I've spent many years being inspired by the gardens of my home county. Some open just a few times a year when their display is at its best, whilst others embrace the changing of the seasons and provide year-round interest and colour.
I've rounded up the top twenty-one of Norfolk's gardens for you to enjoy.
RELATED POST: The Ultimate Local's Guide to Norfolk England
Remember to check each garden's website for news about opening dates and times before planning your visit.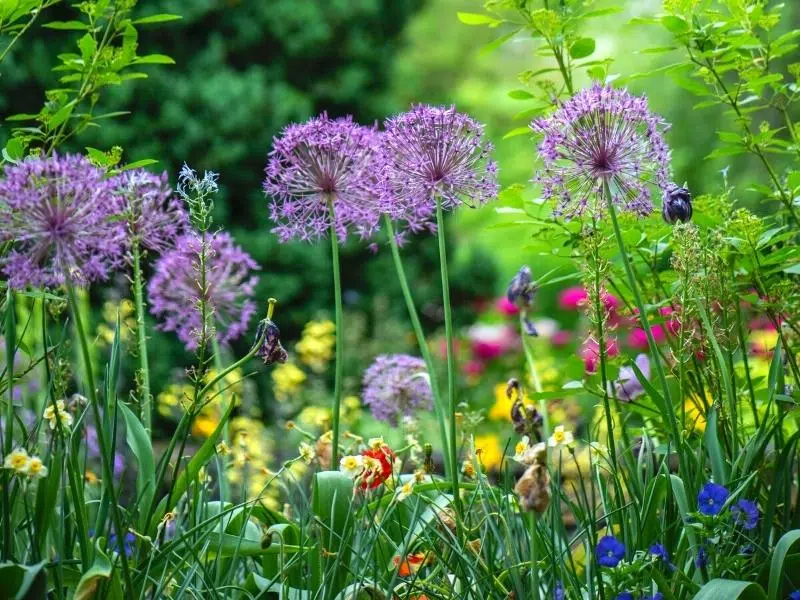 This post may contain affiliate links. If you book something I recommend, I make a small commission without affecting the price you pay!
Bishop's House Gardens
Address: Bishop's House, Norwich NR3 1SB
Website: https://www.dioceseofnorwich.org/about/senior-staff/bishop-of-norwich/gardens/
This secret garden in Norwich is actually the Bishop of Norwich's historic private garden and is a four-acre oasis of colour and calm amidst the hustle and bustle of the busy city. Full of horticultural delights, you'll enjoy a few hours of respite here, or add a visit to your Cathedral Close Walk.
The garden is full of enticing areas including a fragrant herb garden, beautiful long herbaceous borders, a jungle walk, a bamboo walk, a wonderful wildflower labyrinth and extensive shrubberies containing many rare and unusual plants.
There is an organic working kitchen garden, fruit orchard and bee hives, and a popular plant sales area, where you can buy the plants, mostly grown from seed or propagated, that you see in the garden today.
DON'T MISS: The hebe planted (and thriving!) from a sprig taken from Queen Victoria's wedding bouquet in 1840.
RELATED POST: 31 Amazing Things To Do in Norwich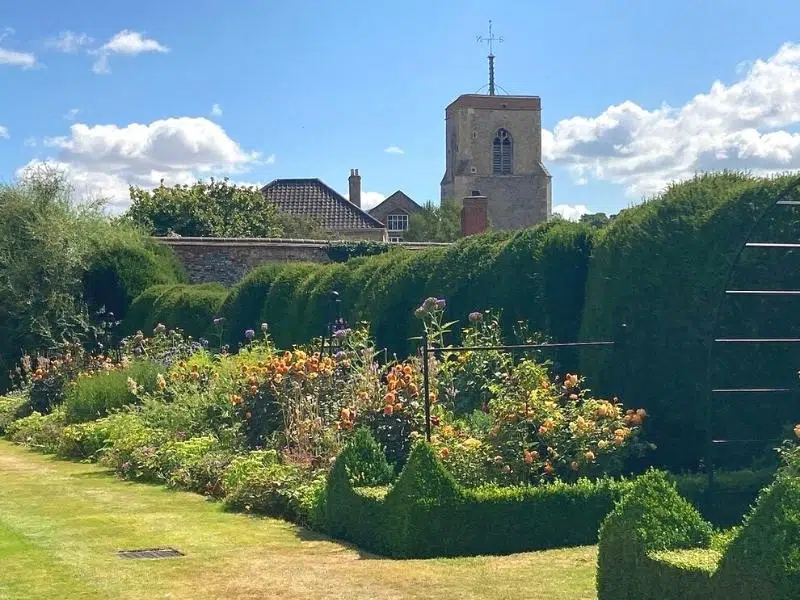 Blickling Hall
Address: Blickling, Norwich NR11 6NF
Website: https://www.nationaltrust.org.uk/blickling-estate/features/discover-the-gardens-at-blickling-estate
Blickling Hall is a 17th stately home, blessed with a beautiful historic garden. The estate map of 1729 shows three radiating avenues meeting at the edge of the enclosed garden, near the house, with a woodland wilderness thought to date back to 1629.
Today, the formal gardens at Blickling Hall cover over 55 acres and include a lake, an 18th century temple, a parterre with yew hedge topiary, four large herbaceous plots in hot and cool colours, and an Orangery, which is home to hardy citrus trees.
For four centuries, Blickling's walled garden supplied enough produce to feed the many families who lived and worked on the 5,000-acre estate. The garden was restored to its full glory between 2014 and 2021 after falling into disrepair, and now supplies produce to the cafes, for visitors to enjoy.
DON'T MISS: The two secret tunnels, perfect for families to explore – the larger tunnel has tree stump seats where you can enjoy a picnic, or take a rest from playing hide and seek!
RELATED POST: 14 Stately Homes in Norfolk to Visit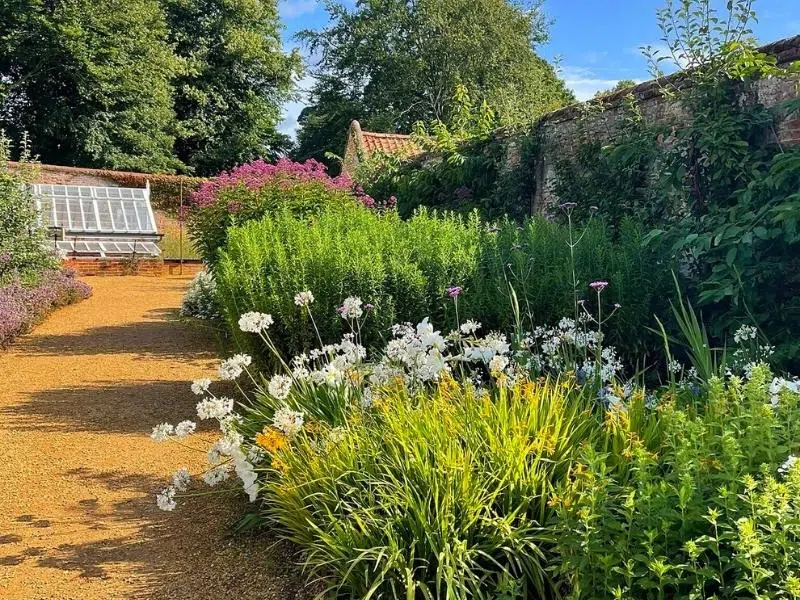 The Bressingham Gardens
Address: Low Rd, Diss IP22 2AA
Website: https://www.thebressinghamgardens.com/
Close to the market town of Diss on the border between Norfolk and Suffolk, The Bressingham Gardens were originally developed on grazing farmland to display Bressingham nursery's perennial plants.
Today, the seventeen-acre gardens feature over 8000 species and varieties of plants in six interlinked gardens. The gardens are evolving all the time, with new ideas, spaces and planting designs bringing something new to the gardens with every season.
What better way to explore the beautiful gardens, woodlands and countryside of Bressingham than by climbing aboard a magnificent steam engine! With over four miles of narrow gauge steam lines and three journeys to choose from, it's the perfect way to relax and enjoy the scenery.
DON'T MISS: The Bressingham Dell Garden, which was created by the late Alan Bloom, is famous for its stunning island beds of perennials.
RELATED POST: Steam Train Norfolk: 8 of the Best Journeys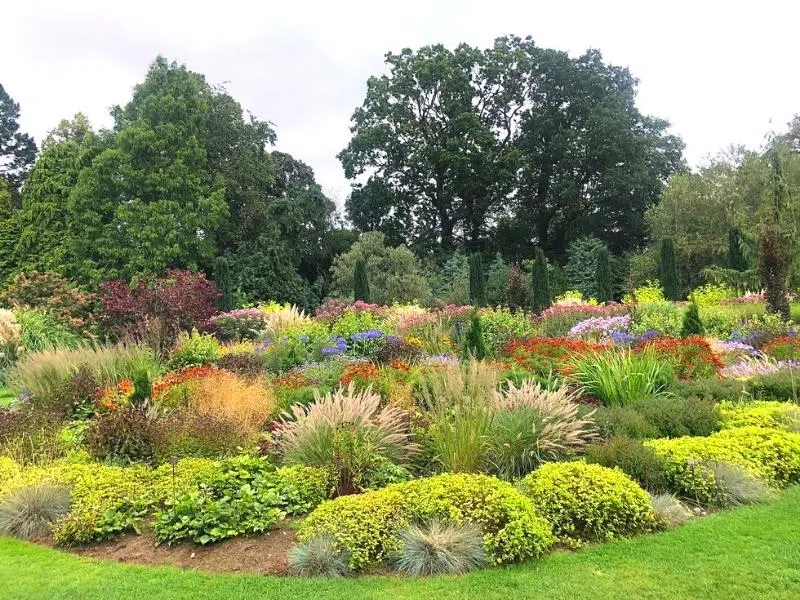 East Ruston Old Vicarage Garden
Address: East Ruston Old Vicarage, East Ruston, Norwich NR12 9HN
Website: https://eastrustonoldvicarage.co.uk/
This is absolutely my favourite garden to visit in Norfolk! Privately owned and managed, East Ruston is set over 32 glorious acres, close to the North Sea. Make sure you pick up a garden map to help you make the most of your visit.
There's a real mix of planting here, from lush green exotics to a jumble of traditional English cottage garden planting. There's a large swathe of prairie planting, gorgeous glasshouses and lots of interesting corners, archways and doorways that demand you explore!
Whenever you visit, East Ruston has something interesting going on. Spring is a particularly vibrant time and the Dutch garden is full to bursting with gorgeous tulips in every direction, heralding the arrival of warmer weather.
DON'T MISS: The Apple Walk has many old varieties of espaliered apple trees with a fabulous carpet of violet nepeta at their feet and passes through a wildflower meadow with a wildlife pond. The photogenic gap in the hedging at the end of the walk focuses on the view of Saint Mary's Church Happisburgh sitting on the cliff two miles distant.
RELATED POST: 10 Brilliant Reasons to Visit Norfolk!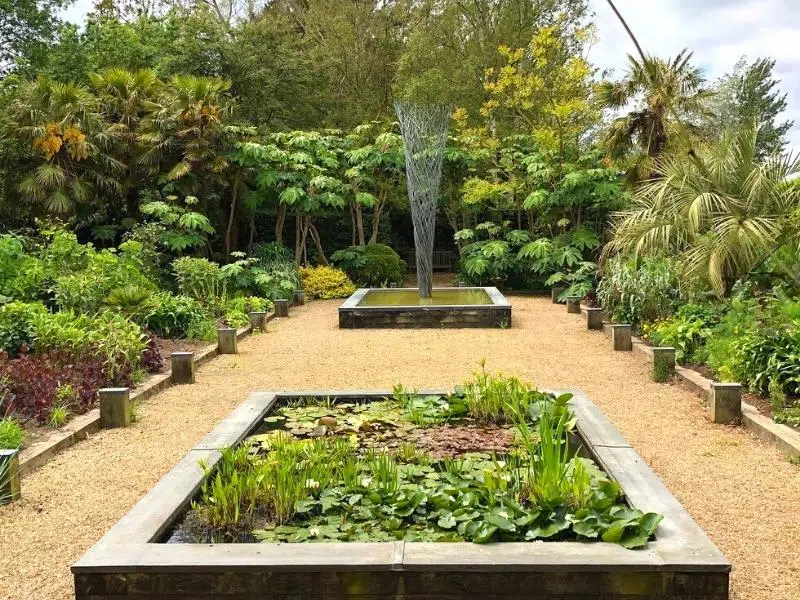 Elsing Hall Gardens
Address: Elsing Hall, Elsing, Dereham NR20 3DX
Website: http://elsinghall.com/
Elsing Hall Gardens are set in the beautiful surroundings of a medieval moated manor house dating from 1470.
The gardens, which cover 20 acres, include marginal planting around the moat, a formal yew garden, a ginkgo avenue, a small arboretum including a pinetum, a viewing mound and terrace beds.
DON'T MISS: The collection of old English roses that adorn the walls of the house, the walled garden and many borders, giving off a fabulous heady scent when in bloom.
RELATED POST: 30 of the Very Best Things To Do in Norfolk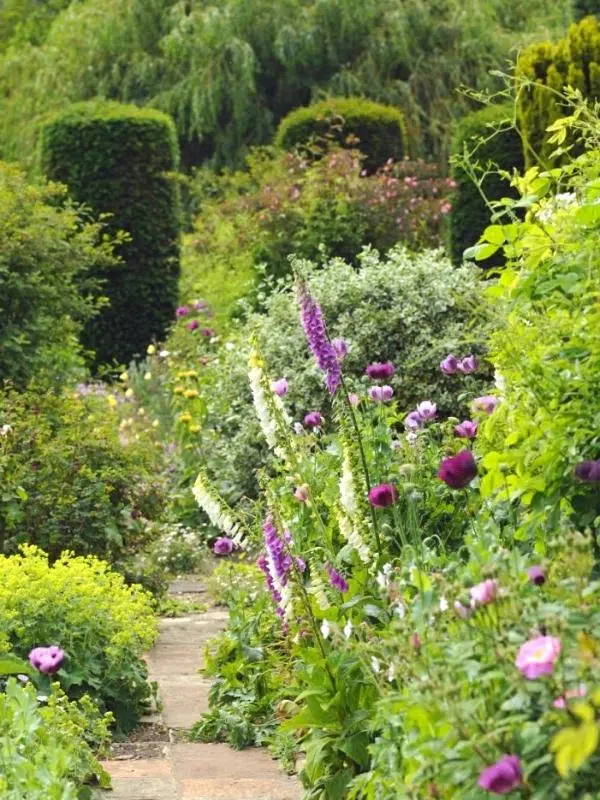 Fairhaven Woodland and Water Garden
Address: School Road, South Walsham, Norwich NR13 6DZ
Website: https://www.fairhavengarden.co.uk/
Fairhaven is a fantastic Norfolk day out. With over 130 organic acres of cultivated, wild and natural planting, and a four mile path snaking its way through the gardens, Fairhaven's award-winning woodland water garden is a great place to let explore.
There's lots of year-round interest here with the UK's finest collection of candelabra primulas blooming in spring, alongside bluebells, camellia and wood anemones. In autumn, expect to see flaming colours, migrant birds, fascinating fungi and toadstools. Winter walks are perfect for spotting elusive kingfishers, otters and deer.
The house and gardens have a fascinating history and were a convalescent home and training ground for the home guard during World War II. Tanks were even hidden in the garden, alongside boats sunk within the Broad to prevent flying boat landings!
Fairhaven holds events throughout the year, including boat trips, paddle boarding and family canoeing on South Walsham Broad, warden walks and wildlife photography courses.
DON'T MISS: The King Oak Path, home to the King oak tree, which is over 900 years old and would have been a sapling at the time of the Battle of Hastings in 1066!
RELATED POST: Norfolk Broads Boat Trips – 17 Top Boating Activities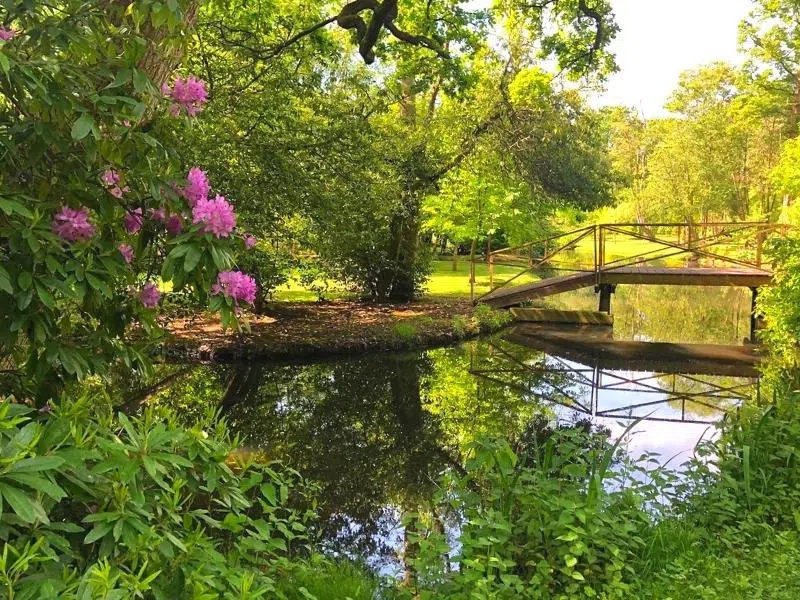 Felbrigg Hall
Address: Felbrigg, Norwich NR11 8PR
Website: https://www.nationaltrust.org.uk/felbrigg-hall-gardens-and-estate/
Felbrigg Hall is an elegant Grade I 17th century English country house noted for its Jacobean architecture and fine Georgian interior. Outside is a fantastic, and productive, walled garden, a beautiful orangery, orchards and 520 acres of rolling parkland with a lake, woods and waymarked trails.
The walled garden is beautifully laid out and maintained, and you'll find lots of interest, including lots of old variety and unusual plants. The octagonal working dovecot, one of only a few in the county, dates back to the 1750s and lends itself well to the symmetry of the garden design, as well as being wonderfully photogenic!
In the West Garden, which surrounds the house at Felbrigg, you'll find a ha-ha, gravel paths through the garden amongst the trees and shrubs, and the 1704 Orangery, with its fantastic collection of camellias.
DON'T MISS: The fine, and highly scented, herb border in the walled garden. Breath in the scent of lavender, sage, mint, thyme and oregano – along with the bees!
RELATED POST: 6 Of The Best Things to Do in Cromer Norfolk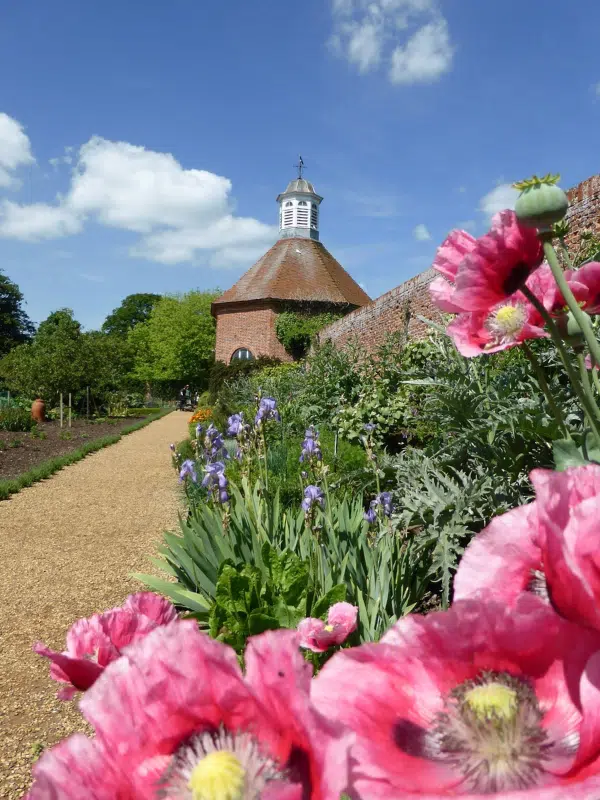 Gooderstone Water Gardens
Address: The Street, Gooderstone, King's Lynn PE33 9BP
Website: http://www.gooderstonewatergardens.co.uk/
Goodserstone Water Gardens are a unique attraction for all garden lovers. Six acres of lush gardens surrounded by waterways and ponds create a tranquil spot to while away a summer's afternoon.
As you wander the trails and cross bridges, keep your eyes out for birds like kingfishers, and admire the colourful cottage garden and marginal planting which surrounds you. Everywhere you go you can hear the gentle sounds of running water, which makes visiting here such a tranquil experience.
There is a good variety of planting here and lots of landscaped areas, including a natural trout stream, waterways, thirteen bridges (yes, thirteen!) nature trails and grass paths, mature trees and shrubs. This is a truly tranquil setting where you feel you've really got away from it all.
DON'T MISS: The Monet Pond, which does a pretty good impression of the real thing, the famous Water Lilies and the Japanese Bridge, painted by Claude Monet in 1897-1899.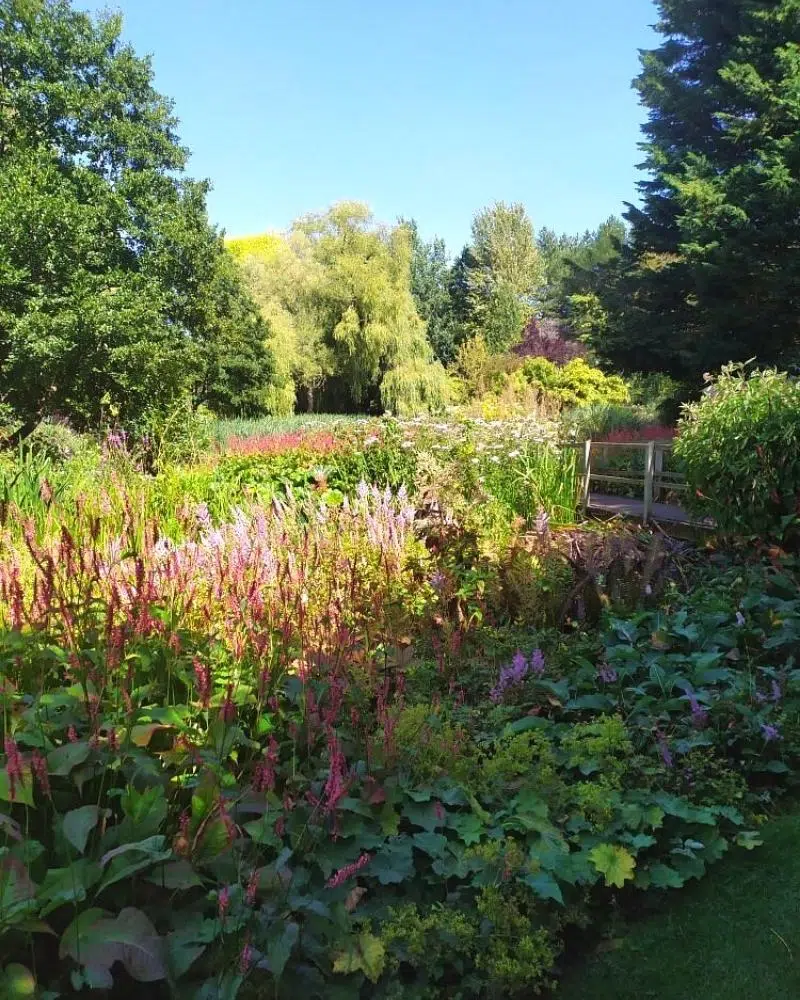 Hindringham Hall Gardens
Address: Blacksmiths Lane, Hindringham NR21 0QA
Website: https://www.hindringhamhall.org/
This is a garden for garden lovers! Created in an arts and crafts style, with secret corners, lush planting, a fairytale Tudor manor house and a medieval moat and fish ponds, you won't regret visiting this wonderful, and somewhat off-the-beaten path, garden.
Hindringham has a working walled fruit and vegetable garden alongside an eclectic mix of planted areas including a Victorian nut walk, wild garden and a bog garden – there's lots of diversity here to explore and inspire.
The formal herbaceous borders are at their best in May and June when they burst with colour and every plant looks pristine. In July and August, the working kitchen garden is in full swing, with crops picked daily and scrambling sweet peas just begging to be sniffed!
DON'T MISS: The heady scent and stunning colours of the pergolas surrounding the Hall, laden with roses, wisteria and clematis.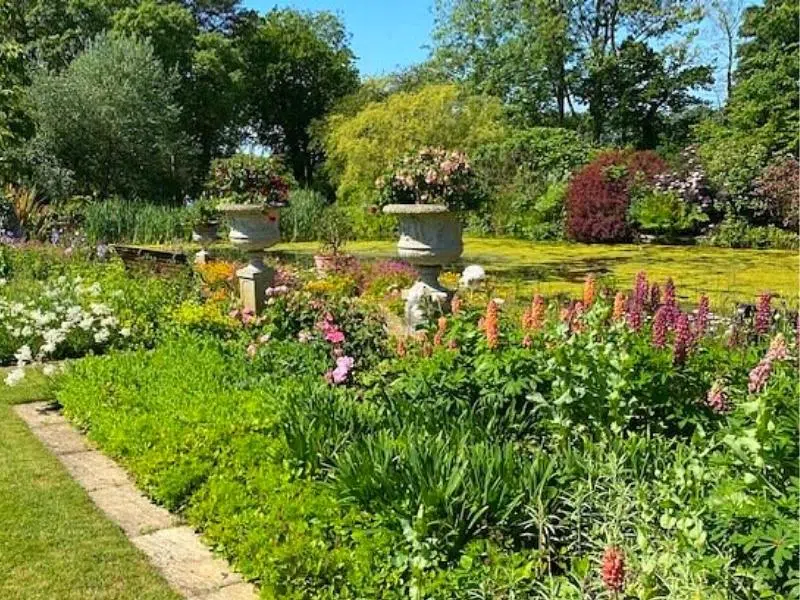 Houghton Hall Gardens & Park
Address: Bircham Rd, King's Lynn PE31 6TY
Website: https://www.houghtonhall.com/
One of the gems of the North Norfolk Coast, Houghton Hall was built in the 1720s for Great Britain's first Prime Minister, Sir Robert Walpole, and is one of Norfolk's most beautiful stately homes and one of England's finest Palladian houses.
The five-acre, award-winning walled garden is a riot of colour in summer and an absolute joy to visit. The old kitchen garden has been divided into several contrasting garden 'rooms', including a spectacular double-sided herbaceous border, an Italian garden, a formal rose parterre and fruit and vegetable gardens, alongside a wonderful wooden framed Victorian glasshouse. This has to be one of the best walled gardens in Norfolk.
Elsewhere in the parkland surrounding Houghton Hall, you'll find the contemporary Sculpture Park, showcasing the work of world-renowned artists.
Marking its 300th year in 2022, Houghton Hall brings together the traditional with the contemporary, making it a fascinating place to visit and explore.
DON'T MISS: The Mediterranean Garden is one of my favourite areas. With formal box hedging in tight spirals, beautiful symmetry and peaceful tranquillity, it's a lovely place to take a rest and soak up the swirls!
RELATED POST: North Norfolk Coast – 14 Unmissable Highlights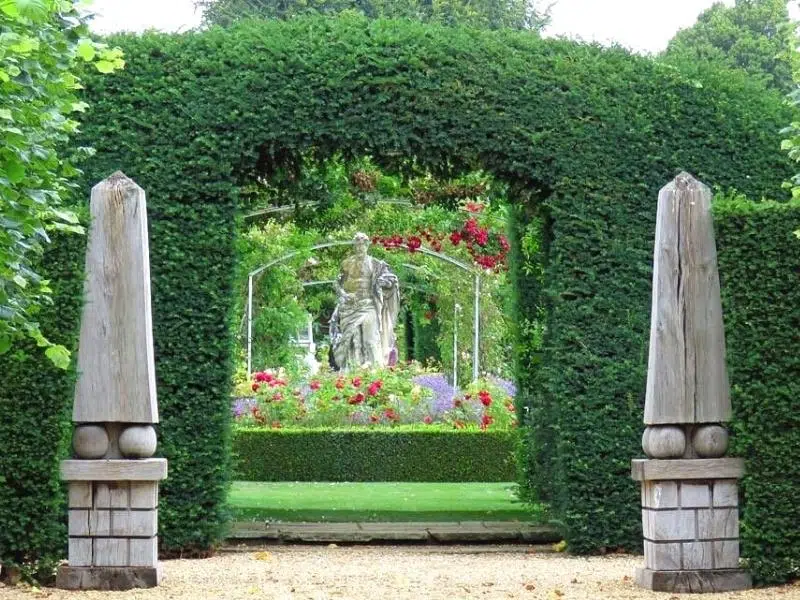 Hoveton Hall Gardens
Address: Hoveton, Norwich NR12 8RJ
Website: https://www.hovetonhallestate.co.uk/gardens/
First planted in the early 19th century, Hoveton Hall Gardens are a delight throughout the seasons.
Enjoy a visit to the gardens in springtime when the grounds are carpeted with hundreds of different varieties of snowdrops and daffodils, some of which are very rare.
May and June see the spectacular colours of the azaleas and rhododendrons take centre stage, closely followed by the perfect manicured lawns and glory of the formal herbaceous borders, featuring over 600 plant varieties, in July and August.
In the wider parkland are woodland walks, the magnolia garden and a lake, lined with weeping willows.
DON'T MISS: The beautifully restored 19th century iron glasshouse is a must-see for all visitors to the gardens.
RELATED POST: 26 Exciting Things To Do On the Norfolk Broads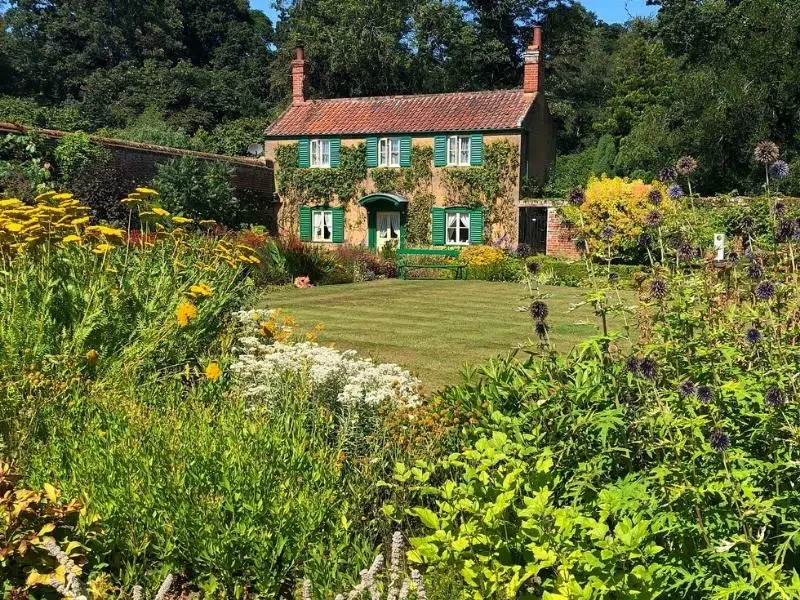 How Hill Estate
Address: How Hill Rd, Ludham, Great Yarmouth NR29 5PG
Website: https://howhilltrust.org.uk/
A few miles from Wroxham, the How Hill Estate is a study centre with a fine thatched Edwardian house set in acres of reed, marsh and woodland at the edge of the River Ant. The house is not open to the public, but the estate is, and it makes for a wonderful afternoon of enjoying the local flora and fauna in this picturesque corner of the Broads.
Explore the hidden woodland gardens, which were established in the early 1920s. The area was once a windswept piece of rough grazing marsh. To create the sheltered garden seen today, oak, sweet chestnut and hornbeam trees were planted and many exotic species were introduced from seeds from around the world.
The formal gardens of the house, planted in a traditional English cottage garden style, are bursting with colour in the summer months and are a haven for butterflies and bees. The house gardens are closed when study groups are in residence, so best to check that the house garden will be open before visiting.
Once you've explored the gardens, visit the three restored drainage mills before following the nature trail or taking a boat trip through the reed beds to the banks of the River Ant.
DON'T MISS: Find out how marshmen lived in the restored marshman's cottage at the tiny Toad Hole Cottage Museum.
RELATED POST: A Local's Guide to the Norfolk Broads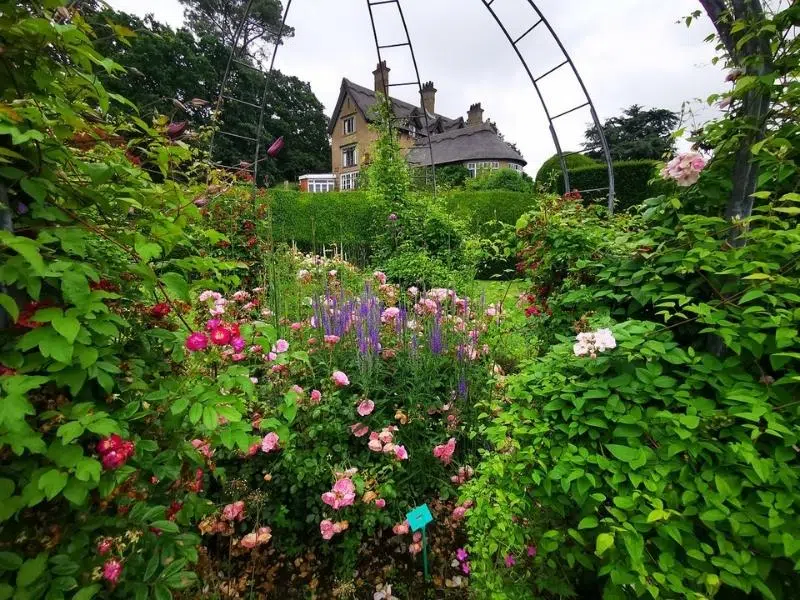 Natural Surroundings
Address: Bayfield Park, Holt NR25 7JN
Website: http://www.naturalsurroundings.info/
Between Blakeney and Holt, Natural Surroundings is a hybrid business, offering a combination of wildlife-friendly gardens and grounds, as well as a cafe, shop and plant sales. With a mission to champion wildlife and to promote wildlife-friendly gardening, Norfolk's wildflower centre is a wonderful place to visit.
There are 20 demonstration gardens to inspire and encourage your gardening efforts. All the gardens are designed to showcase wildlife and wildflower-friendly garden design, from the tiny bog garden to the larger woodland garden and the fascinating reptile refuge. The gardens are similar in size to the average household garden, making it easy to transplant ideas to your own patch.
DON'T MISS: The chalk bank, which has been planted with a selection of beautiful native wildflowers that are characteristic of chalk grassland.
RELATED POST: 22 Perfect Things To Do in Holt Norfolk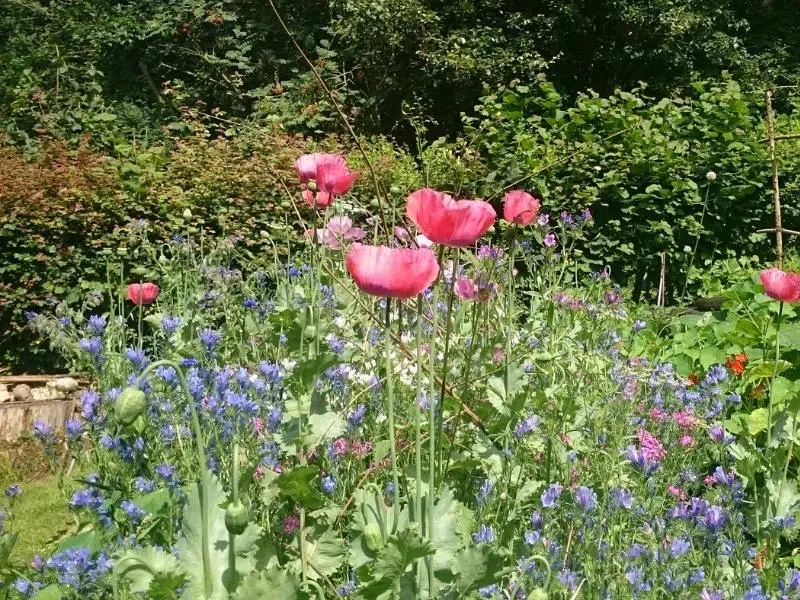 Norfolk Lavender
Address: Caley Mill, Lynn Rd, Heacham PE31 7JE
Website: https://norfolk-lavender.co.uk/
A highlight on the eastern edge of the Norfolk coast near Hunstanton and Heacham, Norfolk Lavender has been a holiday-maker's favourite since 1932.
With over 100 acres of lavender and over 100 lavender varieties, wandering the fragrant fields is a real treat, especially when the plants are in bloom in summer.
With tearooms where you can enjoy lavender-infused goodies, animal gardens and a play park for kids, and tours of the lavender fields, this makes a great stop on any Norfolk road trip.
DON'T MISS: You can also buy lavender plants and their own range of lavender products in the gift shop – time to stock up on all those delicious smellies!
RELATED POST: Norfolk Lavender – A Complete Visitor's Guide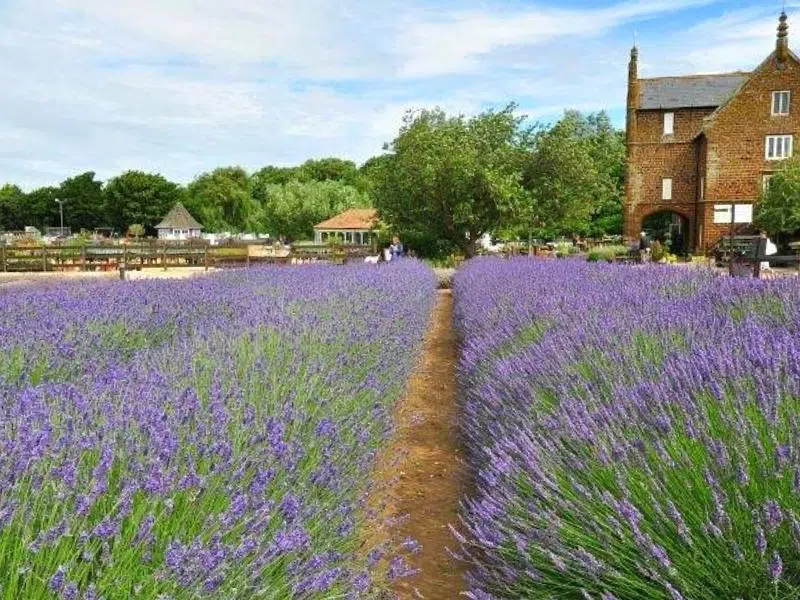 Pensthorpe Natural Park
Address: Pensthorpe Rd, Fakenham NR21 0LN
Website: https://www.pensthorpe.com/
Home to four of the most spectacular Norfolk gardens, including a colourful wild meadow and a beautiful lakeside environment, Pensthorpe Natural Park in Fakenham provides year-round colour and interest for visitors. As you explore these gardens, you'll discover wildlife-rich landscapes, inspiring sculptures and diverse habitats.
The Millennium Garden is simply breathtaking and offers a meadow-style landscape of colour and texture, planted with swathes of grasses and perennials like echinacea, verbena and persicaria. Designed by world-famous Dutch plantsman and garden designer, Piet Oudolf, I could spend all day here. But there's more…
The Wildlife Habitat Garden is planted with species designed to encourage animals and insects into the tranquil water-focused setting, where the gardens and the park meet.
In the Wave Garden, you'll find gently rolling yew hedging, a simple planting structure and contemporary sculpture beneath a canopy of native oak and birch trees.
And finally, to the Infinity Garden, the newest garden at Pensthorpe, which is wrapped by an impressive curved piece of rusty Corten steel, and is home to exotics like banana and ginger plants.
DON'T MISS: The Millenium Garden in winter, when seedheads sparkle with frost providing nesting material and seeds for birds throughout the cold months.
RELATED POST: Norfolk Nature Reserves – Ultimate A-Z Guide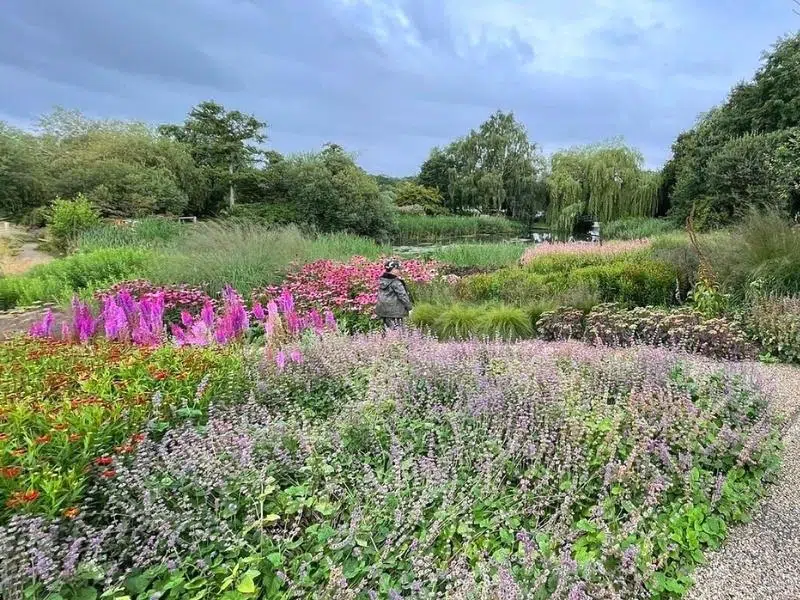 Peter Beales Roses
Address: London Rd, Attleborough NR17 1AY
Website: https://www.classicroses.co.uk/our-gardens
Ever since the first roses for Peter Beales nursery were planted in 1983, there have been gardens alongside, showcasing and helping to preserve the best of the species.
The rose gardens provide a chance to see and learn about unique, historic, rare and contemporary roses growing in unison with other complimentary plants, giving lots of inspiration for rose lovers. The St Albans Walkway is a stunning six-metre gazebo, with specially chosen cultivars clambering over the structure, creating a fabulous display when in full bloom.
There is also a wildlife area, planted with specially chosen rose and plant species to create the perfect habitat for attracting insects and small animals.
DON'T MISS: The annual Rose Festival, which is held in the rose gardens in June, just as the roses are reaching their magnificent peak.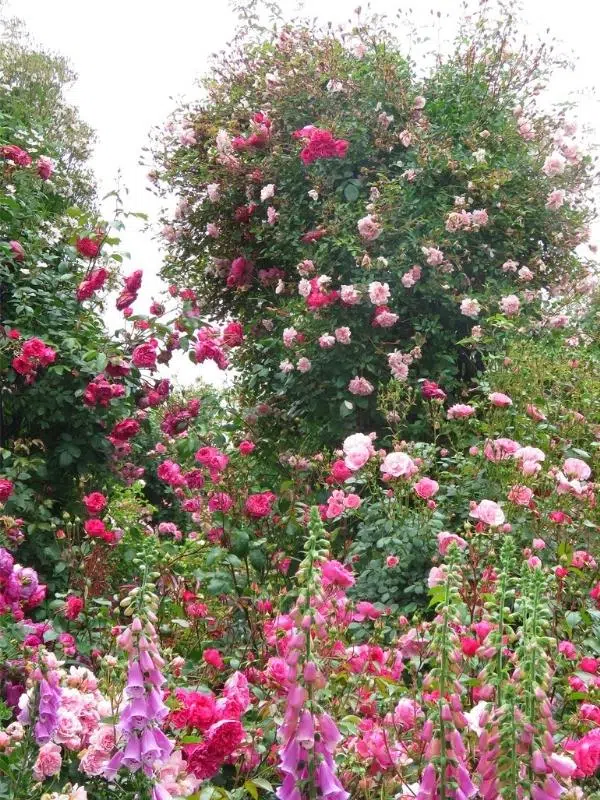 Plantation Garden
Address: 4 Earlham Rd, Norwich NR2 3DB
Website: https://www.plantationgarden.co.uk/
Known locally as the 'Secret Garden' and one of Norwich's best-hidden gems, this three-acre Grade II English Heritage registered garden was established over 100 years ago in an abandoned chalk quarry, just a few hundred yards from the city centre. The garden fell into disrepair after the Second World War but was restored in 1980 to the paradise it is today.
With lush green planting, gothic features, an Italianate terrace, woodland walkways and a gorgeous greenhouse, this is the perfect place to get away from the buzz of Norwich city centre for a few hours to enjoy a spot of peace and tranquillity.
DON'T MISS: Take a good book and a picnic lunch and find a bench in a quiet nook to enjoy a bit of downtime!
RELATED POST: Five Ideas for a Short Break in Norfolk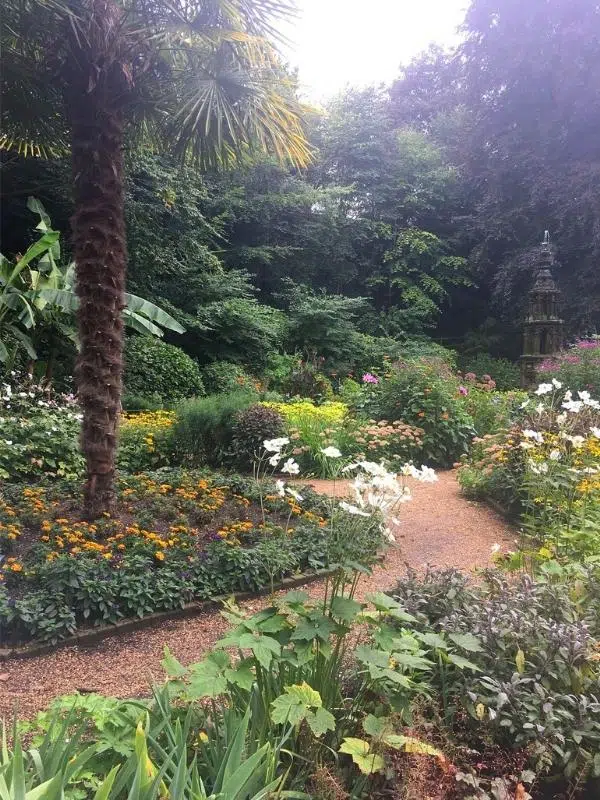 Priory Maze & Gardens
Address: Cromer Road, Sheringham NR26 8SF
Website: http://www.priorymazegardens.co.uk/maze-gardens/
The Priory Gardens are ten acres of tranquillity located in the mild micro-climate of the Beeston Bump close to the seaside town of Sheringham, which shelters the gardens from cold weather and harsh winds, meaning plants can be grown here which wouldn't survive elsewhere in Norfolk.
There are a collection of gardens here, including the cool and shady Fern Walk, full of wonderful Tasmanian tree ferns, one of my all-time favourite plants, the Meadow Stream garden, and the delightful Winter garden.
Next door is the maze, a seven-foot tall puzzle which is based on the adjacent ruins of Beeston Priory. The copper beech hedging copies the layout of the priory and the hornbeam infills create the maze. This is not a symmetrical maze, there is no middle, but there is a viewing platform to give visitors a chance to work out how to leave!
DON'T MISS: The Norfolk Riviera garden, with it's statuesque Verbascum and drought-resistant plants.
RELATED POST: 23 Amazing Things To Do in Sheringham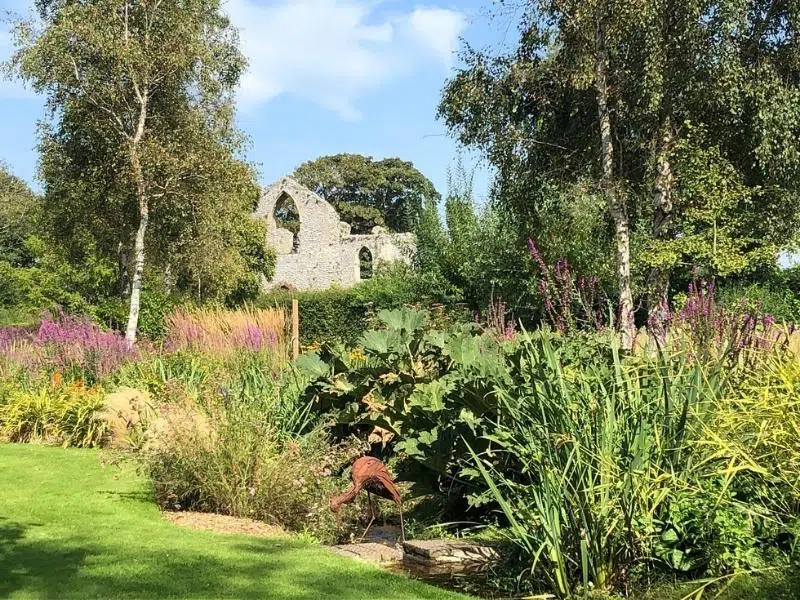 Raveningham Gardens
Address: The Estate Office, Raveningham NR14 6NS
Website: http://raveningham.com/gardens/
The Raveningham Estate is a traditional 5,500-acre rural estate, south of Norwich. The estate's main activity is farming, but the wonderful Raveningham Gardens are open for both individual visits and group tours and their equally wonderful tearoom is open whenever the gardens are open!
Discover woodland, herbaceous and mixed borders, a rose garden, stumpery, rolling lawns and wildflower meadows. The walled Victorian kitchen garden was brought back to life as a working garden in the last 20 years, and now provides fruit, vegetables and cut flowers for the estate.
DON'T MISS: The fantastic 19th century Boulton and Paul glasshouses, full of cuttings, pelargoniums, succulents, grape vines and other delights.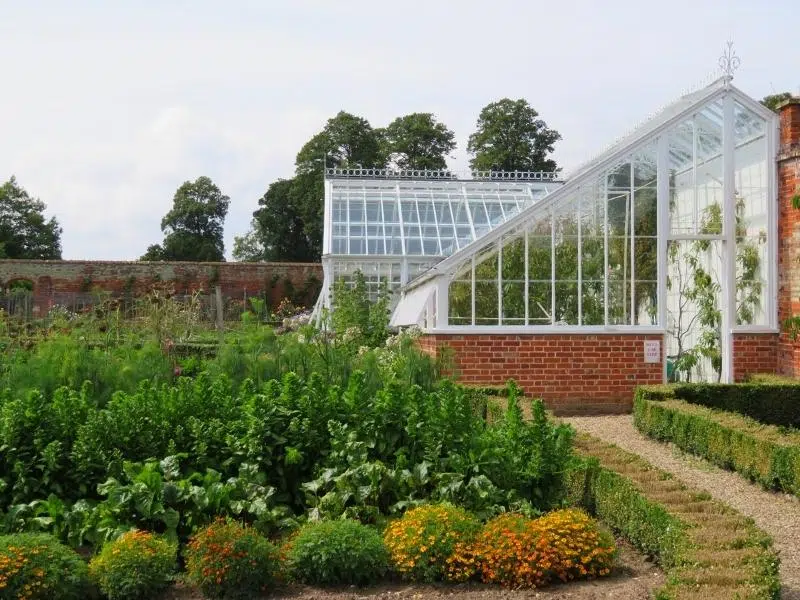 Royal Sandringham Gardens
Address: Sandringham PE35 6EN
Website: https://sandringhamestate.co.uk/attractions/gardens
Built in 1870 by the then Prince and Princess of Wales, later King Edward VII and Queen Alexandra, Sandringham is now the country estate of Her Majesty the Queen.
Sandringham has beautiful gardens covering over 60 acres which were created in 1947 for King George VI. The enclosed areas of the garden close to the house are informally planted in a cottage garden style and are usually at their best in late July when the stunning herbaceous borders act as a haven for bees and butterflies.
In the wider parkland around the house are informal lawns dotted with trees of all ages including an oak tree planted by Queen Victoria, two ornamental lakes, a densely planted shrubbery with a shady woodland walk, and a fantastic collection of rhododendron, camellia and magnolia trees.
DON'T MISS: The meadow areas where natural springs feed a meandering ornamental stream, planted with moisture-loving plants.
RELATED POST: All the Best Things To Do in King's Lynn Norfolk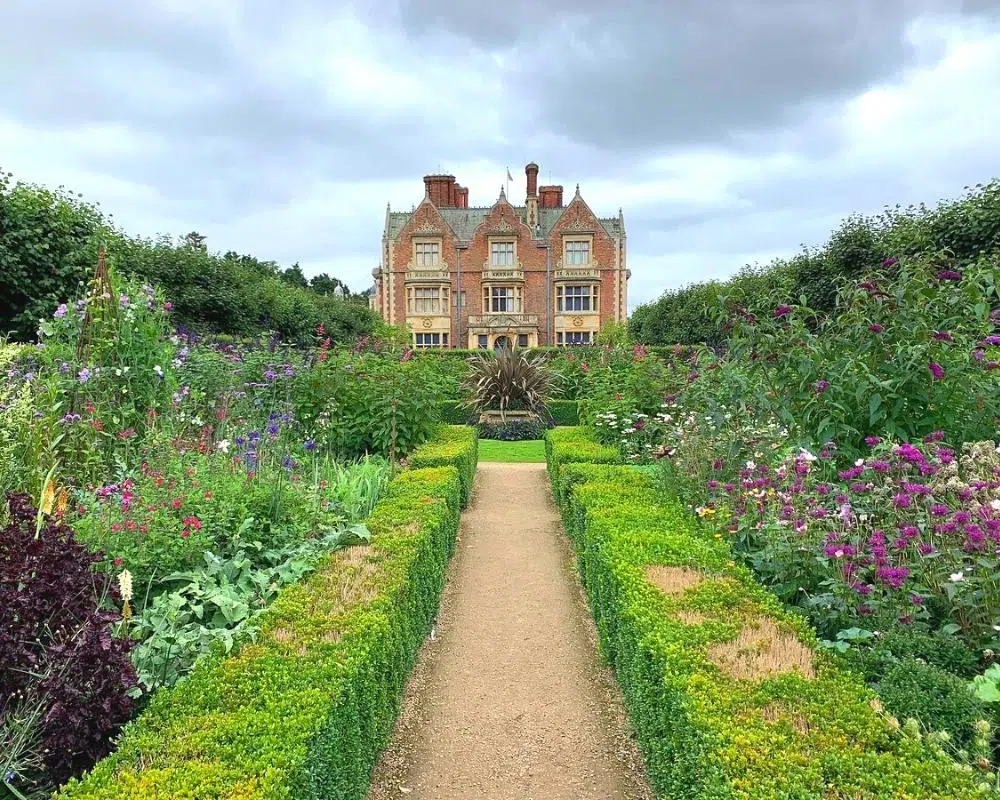 Sheringham Park
Address: Visitor Centre, Wood Farm, Sheringham NR26 8TL
Website: https://www.nationaltrust.org.uk/sheringham-park/
Sheringham Park is the 19th century legacy of the landscape designer Humphry Repton, who started the commissioned project in 1812 but sadly never lived to see it to completion.
From a plants person perspective, the park is noted for its flowering azaleas and nationally important collection of rhododendrons. But the best bit is the miles of footpaths through the parkland, with lovely views of the North Norfolk coast, perfect for walking and cycling.
There's winter interest here too – due to its close proximity to the coast and the micro-climate created by the large rhododendron collection, the park is well protected from winter frosts. This enables two rhododendron species to flower throughout most winters, and camellias and snowdrops to flourish in early January.
DON'T MISS: The viewing towers that you can climb to gain superb views, and photographs, over the surrounding countryside and North Norfolk beaches.
RELATED POST: 21 Amazing Things To Do in Sheringham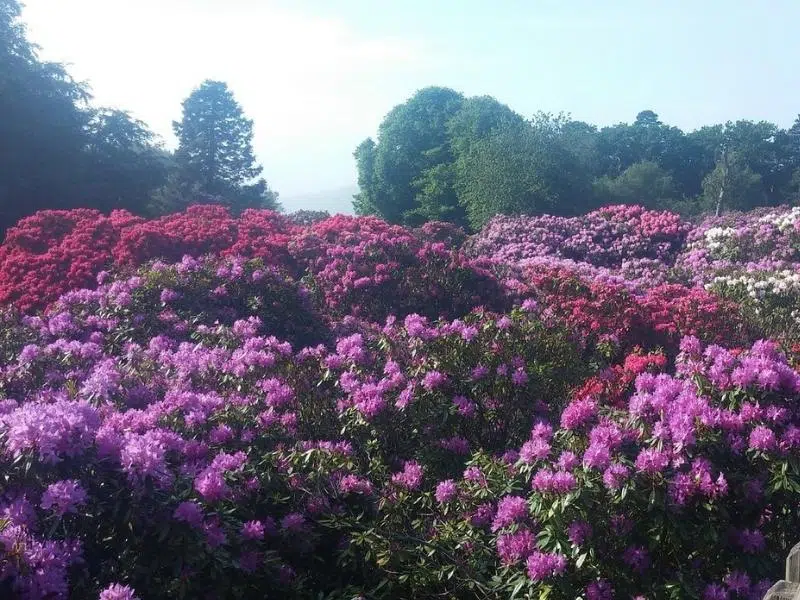 Open Gardens Norfolk
If you're looking for secret and hidden gardens in Norfolk, then check out the Norfolk open garden scheme run by the National Garden Scheme.
This scheme enables visitors to see and enjoy over 60 Norfolk gardens that would normally be private, but are open for a few selected days every year, whilst raising money for charity. Refreshments are often available in the garden – some of the best cake we've ever eaten has been consumed in an open garden!
Sometimes whole towns and villages co-ordinate and open a number of gardens on the same day, making it a really fantastic day out for garden lovers. There is often a free shuttle bus to help you get from one garden to another, and refreshments in the local village hall.
Use the map on the NGS website to find gardens open near you, information about when they will be open and details to help plan your visit. Hidden garden gems include Gayton Hall, Mannington Estate, Dale Farm and Swaffield Hall.
RELATED POST: What's On in Norfolk – 42 Dates for Your Diary in 2022
Have I missed any Norfolk gardens you love off this list? Scroll down to leave a comment…
Love it? Pin it!