Are you planning a trip to Norfolk England? Here's my ultimate guide to help with working everything out. This beautiful and diverse county in East Anglia has so much to offer.
From the tranquil Norfolk Broads, rolling sand dunes backing huge beaches and traditional sea-side resorts, to a fascinating history, historic market towns, flint cottages and a foodie scene to die for… there's plenty to keep you busy in this idyllic corner of the UK.
About me – not Norfolk born and bred, but pretty close! I was bought up on the borders of Norfolk, spending many happy camping holidays along the North Norfolk coast as a child. Now grown up, I have travelled all over the county and spend long periods of time in Norfolk with my family, who live there. Here's my guide to Norfolk England…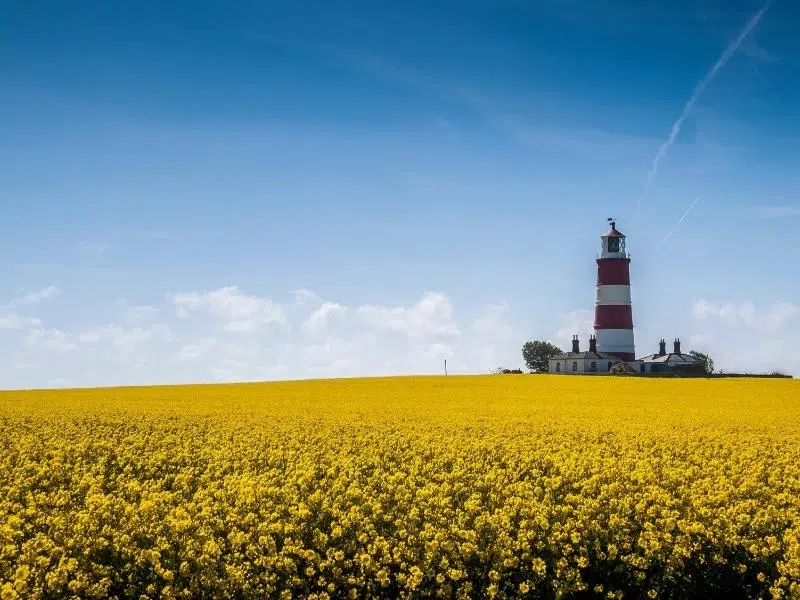 This post may contain affiliate links. If you book something I recommend, I make a small commission without affecting the price you pay!
This Norfolk travel guide is going to be a fairly simple directory, highlighting all the best things to do, places to stay, foods to eat and more, but without getting too in-depth.
I've got lots of other posts which feature a lot more detail, so I'll be linking to them throughout. That way, you can get more info about anything that interests you! Use the links below to jump ahead in the post, or just keep reading for all my top tips for making the most of a trip to Norfolk, England!
RELATED POST: Where Is Norfolk? Finding The Best Of The County
Where to Stay in Norfolk England
Check out my hotel reviews and carefully selected camping and glamping sites for some top tips on where to stay in Norfolk.
Best Hotels in Norfolk
The Georgian Townhouse, Norwich
Holly Lodge Boutique B&B, Thursford
Barnham Broom Hotel, Barham Broom
The Black Swan Inn, Horsham St Faith
The Hoste Arms, Burnham Market
RELATED POST: Norfolk Coast Hotels: 18 of the Best Places to Stay by the Sea
RELATED POST: Hotels with Spas in Norfolk: 14 Places to Pamper Yourself
RELATED POST: The Best Hotels in Wells-next-the-Sea
RELATED POST: Boutique Hotels Norfolk: 32 of the Best Places to Stay
RELATED POST: Luxury Hotels Norfolk: 14 of the Best Places to Stay
RELATED POST: Accommodation Wells-next-the-Sea: 34 of the Best Places to Stay
RELATED POST: Blakeney Hotels: The Best Places to Stay
RELATED POST: Cottages in Blakeney: The Best Holiday Rentals
RELATED POST: Hotels in Cromer: 15 of the Best Places to Stay
Best Camping, Glamping & Lodges In Norfolk
Pitch Perfect Camping Norfolk, Little Hautbois
Glamp & Tipple, Great Ellingham
Kings Lynn Camping and Caravan Park, North Runcton
Clippesby Hall Camping & Touring Site, Clippesby
RELATED POST: The Five Best Campsites in Norfolk
RELATED POST: Norfolk Glamping – 15 of the Best Spots
RELATED POST: Motorhome Sites Norfolk – 13 Best Places to Stay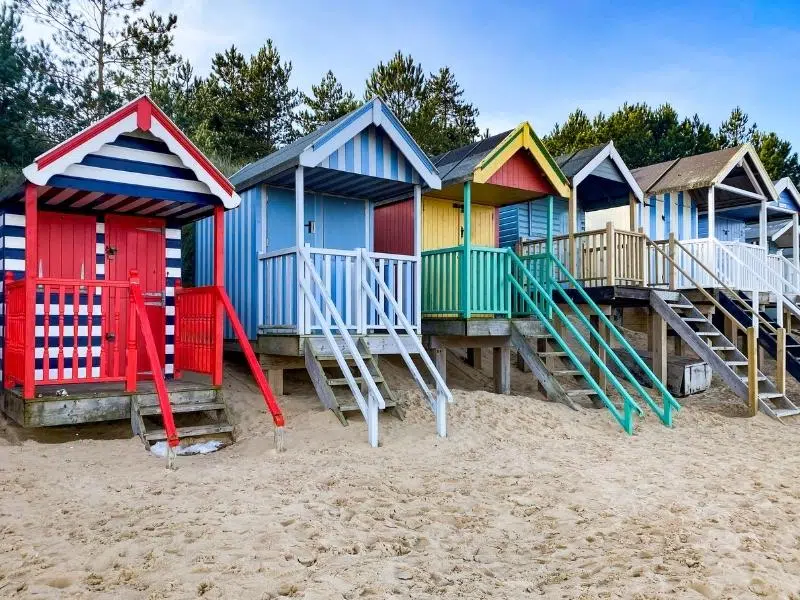 When to Visit Norfolk England
There's really no bad time of year to visit Norfolk, which is a true year-round destination.
Summer is the best time if you want good weather for all those outdoorsy days out and time on the beach. Summer is also the season for festivals, so there's even more going on than usual, but you might see a bit more traffic on the roads!
During spring, Norfolk comes to life with wildflowers in the hedgerows and fields, and the crops starting to come through. This is a great time to visit or plan a Norfolk road trip if you want warm-ish weather (and East Anglia is the driest country in the UK, so showers are less likely) and prefer to visit without crowds.
Autumn is also a wonderful time of year, with the leaves changing and mists clinging to the low-lying and serene Norfolk Broads, where you'll be able to spot lots of migrating birds and even local otters!
And although winter can be cold and windy, there's nothing like a frosty beach walk on a clear winter's day with the wind whipping through your hair. Plus, you'll be able to see seals all along the North Norfolk coast as they come onto land to have their pups.
RELATED POST: 26 Pictures of Norfolk England to Inspire Your Trip!
Norfolk Festivals & Events for Your Diary
Life can be unpredictable right now, so please check that events are still going ahead before you make the journey.
Norfolk Spring Fling, Norfolk Showground – fun for all the family at Easter
Proudly Norfolk Spring Food and Drink Festival
The Gin & Rum Festival, Norwich
The Royal Norfolk Show, Norfolk Showground
Wide Skies and Butterflies Festival, Fakenham
Sundown Festival, Norwich – live music, a funfair and magical woodlands
North Norfolk Food Festival, Holkham
RELATED POST: What's On in Norfolk – 70+ Dates for Your Diary in 2023
RELATED POST: Christmas in Norfolk 2023 – 45+ Dates for Your Diary
RELATED POST: Halloween in Norfolk: 34 of the Best Spooky Events in 2023
Best Beaches in Norfolk
There are plenty of incredible beaches to choose from, and they're the best free days out in Norfolk!
Gorleston-on-Sea Beach
Gorleston beach is a delightful two mile stretch of lifeguarded (in season) clean, golden sand backed by gentle grassy cliffs. When the tide is out, the beach curves around the bay and a vast expanse of soft sand is revealed without a stone in sight, perfect sand castle-building material! TripAdvisor recently voted Gorleston beach as the number one best beach in the UK and number twelve best European beach and gave it a Traveller's Choice Award 2023.
RELATED POST: Gorleston-on-Sea: A Traditional Norfolk Seaside Town
RELATED POST: Norfolk Beaches – Ultimate A-Z Guide
Holkham Beach
Holkham Beach is widely recognised as being one of the finest beaches in Norfolk, if not England. Just walking through the pine trees to the beach reminds me of all those childhood summer holidays, when the sun was always shining and there were adventures to be had – it's still one of my favourite places to visit in Norfolk.
The beach itself is a huge, wild expanse of unspoilt golden sand which stretches on into the distance forever. At low tide, it will take you a while to get to the waves that (usually!) gently lap the shore.
Holkham Beach is so vast that even in the summer you will be able to find a peaceful spot, and in the winter this is the perfect beach for blowing away the cobwebs.
RELATED POST: Holkham Beach – Complete Visitor Guide
Cromer Beach
Located within the Norfolk Coast Area of Outstanding Natural Beauty, the traditional seaside resort of Cromer enjoys a wide sand and shingle beach popular for swimming and surfing, colourful beach huts for hire and plenty to keep the whole family entertained.
The beach has a Victorian Pier with Pavilion Theatre and houses the offshore lifeboat which performs a number of rescues every year – you can visit the lifeboat station and learn about the work that the RNLI does.
Spend a day on Cromer Beach building sandcastles, crabbing, swimming and rock pooling at low tide. You can also surf here, with the best spot being close to the pier – surfing equipment and lessons are available in summer.
RELATED POST: 22 Of The Best Things To Do in Cromer
RELATED POST: Cromer Visitor Guide
Winterton-on-Sea Beach
Another family favourite for dog walking (but on a lead in seal pup season), Winterton Beach has some of the finest sand dunes in Norfolk. The Winterton Dunes National Nature Reserve is a 109-hectare mix of dunes, heath and grassland behind the beach, all crisscrossed with paths, making it a great spot for a run, walk or a gentle stroll.
At the beach car park are a couple of airstreams acting as a cafe, although they've already moved inland several times because of the erosion that is having a devastating effect on the beach and cliffs. Please be mindful of this when you visit.
Winterton is also a haven for wildlife and shares the Horsey-Winterton Dunes National Nature Reserve with nearby Horsey beach, a great seal-watching spot. The area is both a Site of Special Scientific Interest (SSSI) and an area of outstanding natural beauty (ANOB). As well as being home to the rare Natterjack toad the dunes are a haven for breeding and overwintering birds and Winterton beach is some-time home to the Horsey seal colony.
RELATED POST: Winterton on Sea – All You Need to Know Before You Go
Titchwell Beach
Best known through the RSPB nature reserve, Titchwell Beach is home to lots of birds due to its diverse freshwater and saltwater habitats.
The beach can be found about half a mile beyond the nature reserve, the walk to get there takes you across tranquil reed beds and marshes. Make sure to take binoculars – even if you aren't a birder, there's lots to see here.
The Lifeboat Inn at Thornham is just along the road from the nature reserve makes a great place for lunch after a long walk through the local flora and fauna.
RELATED POST: North Norfolk Coast – 14 Unmissable Highlights
RELATED POST: Thornham: A Hidden Corner in North Norfolk
Hunstanton Beach
Known locally as "sunny Hunny", the beach is a great family spot on a summer's day. Gently sloping with blue flag status, the two mile long beach and seaside has lots to offer for families. With boat trips, pitch and putt, amusements and a Sea Life Centre, Hunstanton is one of the best places to visit in Norfolk and you'll have a fun-packed day out.
Located on the east coast of England, the town actually faces west – it's one of the very few places on the east coast in England where the sun can be seen to set over the sea. There are great extremes with the tides here too. At low tide, walking to the sea takes you over acres of golden sandy beach, yet at high tide, the waves break just a few yards from the beach huts.
RELATED POST: 21 of the Best Things To Do in Hunstanton
RELATED POST: Heacham: Beaches & Family Fun in West Norfolk
Brancaster Beach
Brancaster Beach or "Branny" is blessed with soft sands perfect for picnics, sandcastle building and walking your dog – it's one of the best of the North Norfolk beaches. It's also a popular spot with kite surfers and kite flyers.
The water at Brancaster recedes to leave shallow lagoons where young children can safely paddle and play – try and time your family visit as the currents can be strong with the tide in.
RELATED POST: Brancaster Beach – Complete Visitor Guide
RELATED POST: Brancaster Staithe: A Hidden Gem in North Norfolk
RELATED POST: Norfolk Coast – 8 Amazing Ways to Explore
Scratby Sands
Named #13 in a poll of the UK's secret beaches is Scratby Sands near Great Yarmouth in the south of Norfolk.
Although this beach is not so much a secret, it is much less visited than other beaches close to the lively seaside town.
With low sandy dunes surrounding the sand and shingle beach, it's a perfect spot for swimming and fishing in summer. Outside of the summer season, it's an ideal dog-walking beach and good for surfing too!
RELATED POST: 13 Exciting Things To Do in Great Yarmouth
RELATED POST: Dog Friendly Beaches Norfolk: The Best for Unleashed Fun!
Holme Beach
The beach of my childhood and a Norfolk hidden gem, Holme beach is often deserted, even in the height of summer!
RELATED POST: Holme Beach – Complete Visitor Guide
Wells-next-the-Sea Beach
Wells-next-the-Sea beach is a beautiful award-winning sweeping sandy beach famous for its many colourful beach huts, miles of soft golden blue-flag sands and dunes that are home to nesting shorebirds. If you're lucky, you may see sunbathing seals at the water's edge.
RELATED POST: Wells-next-the-Sea Beach – Complete Visitor Guide
Mundesley Beach
Mundesley is considered by many to be one of Norfolk's finest beaches and in September 2022 Mundesley beach won North Norfolk District Council's Battle of the Beaches, to be recognised as the top beach in North Norfolk in a close run-off against West Runton beach.
With blue flag status, long and sandy, the family-friendly beach is backed by a promenade lined with brightly painted beach huts and small grassy cliffs, with beautiful cliff top gardens offering a quiet area to sit and enjoy the sea view.
RELATED POST: Mundesley: Norfolk's Best Kept Secret?
Iconic Norfolk
Norfolk is a truly breathtaking county with over 90 miles of stunning coast, beautiful countryside, forest, heath and fens, unique Broads, traditional seaside resorts and vibrant cities.
RELATED POST: 15 Norfolk Seaside Towns for Your Next Trip
Norfolk Broads National Park
With vast skies, endless landscapes, tranquil water and abundant wildlife, the Norfolk Broads are a fascinating place to visit, and you can find out all you need to know in my local's guide to the Norfolk Broads.
The Broads National Park is made up of over 60 open areas of water known as Broads, originally dug out in medieval times to provide peat for fuel. In the 14th century, these peat diggings flooded, creating the beautiful waterways we see today.
The national park is also home to seven rivers; the Ant, Bure, Chet, Thurne, Waveney, Wensum and Yare, which together with the Broads create over 125 miles of open waterways.
The Broads enjoy a rich boating heritage and are also home to a huge variety of the rarest wildlife, more than any other national park in Britain. Wroxham, the capital of the Norfolk Broads makes a great base from which to explore and take Norfolk Broads boat trips.
If you love messing about on the water, or taking a long Norfolk Broads walk, this is the perfect place for you, with lots of fantastic attractions to keep the whole family busy!
RELATED POST: 26 Exciting Things To Do On the Norfolk Broads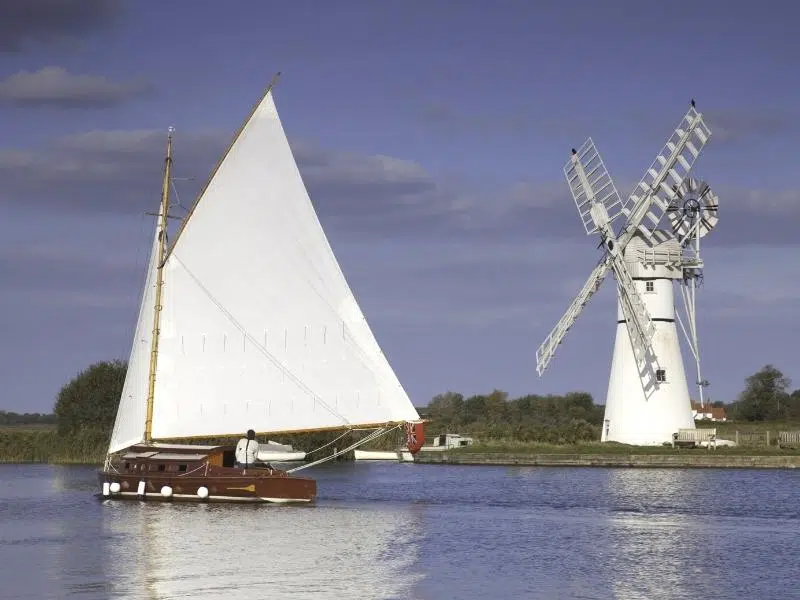 Deep History Coast
North-east Norfolk is home to the unique Deep History Coast, where some of the earliest evidence of human British civilisation was found in the form of footsteps left by England's first visitors nearly one million years ago.
The most well-known find was the world's biggest mammoth skeleton remains at West Runton and in Happisburgh, the oldest archaeological site in northern Europe, a 550,000-year-old flint axe was unearthed. You can try your own fossil hunting here too!
RELATED POST: Happisburgh: A Deep History Coast Village
Stately Homes
Norfolk has a long history of wealthy landowners, which means a legacy of incredible stately homes that are now open to the public. Norfolk's very own Downton Abbeys include Sandringham, Holkham Hall, Houghton Hall, the home of Britain's first Prime Minister, and the National Trust owned Blickling Hall, Felbrigg Hall and Oxburgh Hall.
RELATED POST: 14 Stately Homes in Norfolk to Visit
Blakeney
Often the poster child for Norfolk, Blakeney is a charming coastal village on the Norfolk Coast Path, which was once a medieval commercial port transporting spices and oriental cloth.
Nowadays, there's lots to do in Blakeney and crabbing from Blakeney Quay is a rite of passage for kids visiting Norfolk (I can remember the wails when I wasn't allowed to take my crabs back to our tent as pets!), and a visit to the seal colony at Blakeney Point and Morston Quay, a highlight.
RELATED POST: Blakeney Visitor Guide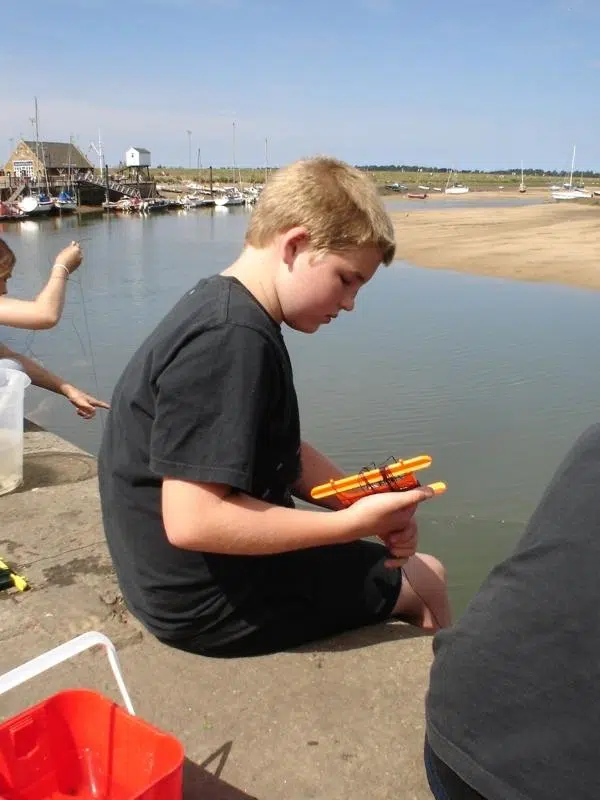 Cromer Pier
A very British affair, Cromer's Victorian pier stretches 151 metres out over the North Sea. The Pavilion Theatre is home to the only end-of-pier show in Europe and the RNLI Pier-head lifeboat station can be visited, right at the end of the pier.
RELATED POST: Crabbing in Cromer – Top Tips & Tricks
Best Norfolk Attractions & Days Out
RELATED POST: 30 of the Very Best Things To Do in Norfolk
RELATED POST: Norfolk Theme Parks – Ultimate A-Z Guide
BeWILDerwood, Hoveton – award-winning forest full of family fun.
Gressenhall Farm and Workhouse, Dereham – a family-friendly venue with a recreated workhouse, museum of life on the land and rare breeds farm.
Pensthorpe Natural Park, Fakenham – nature reserve & woodland conservation park, with interactive trails & eco play areas.
RELATED POST: Fakenham: A North Norfolk Heritage Town
Thursford Collection, Fakenham – a large collection of steam engines, organs and fairground attractions with a famous annual Christmas spectacular show.
RELATED POST: Christmas in Norfolk 2022 – 40+ Dates for Your Diary
Sheringham Park, Sheringham – 1,000 acres of woodland with way-marked routes and three species of deer which can be seen alongside birds and butterflies.
Raveningham Estate, Raveningham – 5,500 acres of gardens featuring wildflower meadows, glasshouses and a walled Victorian kitchen garden, plus a really good cafe.
Broads Boat Tours – hire a boat or book a Broads trip to see the best of this unique landscape.
North Norfolk Railway, Sheringham – jump onto the Poppy Line for a steam-driven trip between Sheringham and the Georgian town of Holt, and enjoy amazing views of the countryside as you go.
RELATED POST: North Norfolk Railway: Is It Worth It?
RELATED POST: Steam Train Norfolk: 8 of the Best Journeys
Norfolk Lavender – acres of fragrant lavender fields, an animal park and outdoor play area for kids and beautiful gardens to wander through.
RELATED POST: 21 Amazing Things To Do in Sheringham
RELATED POST: 22 Perfect Things To Do in Holt Norfolk
RELATED POST: Norfolk Lavender – A Complete Visitor's Guide
Experience one of Norfolk's best days out on the Bure Valley Railway, Norfolk's longest narrow gauge steam railway, which runs between Aylsham and the bustling village of Wroxham through the heart of the lush and tranquil Norfolk Broads.
RELATED POST: Aylsham: A Historic Market Town in Norfolk
Nature Reserves & Spots in Norfolk England
Titchwell Marsh Nature Reserve – this RSPB haven for birds is blessed with diverse habitats that include reedbeds, saltmarsh and freshwater lagoons where avocets, bearded tits and marsh harriers nest.
Sculthorpe Moor Nature Reserve – a peaceful place with a huge variety of wildlife in a rich and unusual mosaic of woodland, fen and reedbed habitats.
Gooderstone Water Gardens and Nature Trail – six acres of beautiful gardens including a natural trout stream, ponds, waterways, bridges and colourful borders connected by grassy paths near Downham Market.
RELATED POST: The 21 Best Gardens in Norfolk to Visit
RELATED POST: Norfolk Nature Reserves – Ultimate A-Z Guide
RELATED POST: Downham Market: West Norfolk's Hidden Gem
Adventurous Things to Do in Norfolk
Go Ape, Thetford – high ropes, zip lines and Segways in Thetford Forest.
RELATED POST: 18 Top Things to Do In Thetford
ExTREEme Adventure, King's Lynn – quad safaris and assault courses in the beautiful woodlands of west Norfolk.
RELATED POST: All the Best Things To Do in King's Lynn Norfolk
Vector VR Escape Room – adrenalin pumping teamwork, puzzle solving and a LOT of high energy fun in a virtual reality escape room world!
RELATED POST: Escape Rooms Norwich: Vector VR Review
Hilltop Outdoor Centre, Sheringham – an action-packed adventure of high ropes, tree top trails and swings, climbing walls and archery, for one of the best days out in North Norfolk.
Coastal Exploration, Wells – explore the wilderness of the north Norfolk coast on professionally skippered traditional wooden fishing boats under sail.
See the Northern Lights – North Norfolk is one of the few places where you can see the aurora borealis in England. Wiveton Downs and Kelling Heath both have Dark Sky Status and are designated 'two-star' sites – where the seven stars of the Orion constellation and the Milky Way are visible to the naked eye.
Learn to Kitesurf – the beaches at Hunstanton, Heacham and Brancaster allow kite surfing with a stunning backdrop and ideal conditions. With kite schools and places to hire equipment, it is easy to give kitesurfing a go.
Stand Up Paddle – hire a board in Wells-next-the-Sea or Burnham Overy Siathe and find your balance and get out on creeks and salt marshes of North Norfolk.
Get on your bike on Norfolks quiet lanes, Norfolk Cycle Route and the Rebellion Way Cycle Path.
RELATED POST: Rebellion Way: Norfolk's Most Exciting Cycle Route
RELATED POST: Five Ideas for a Short Break in Norfolk
RELATED POST: Burnham Overy Staithe: Off-The-Beaten-Path Norfolk
Walking in Norfolk
The beautiful landscape of Norfolk is perfect for walking. Richly agricultural and low-lying, with huge skies and dramatic moments, Norfolk is ideal for hikers who enjoy exploring natural surroundings and local culture.
RELATED POST: Walks in Norfolk – 14 of the Best Trails
RELATED POST: 13 of the Best Norfolk Broads Walks
RELATED POST: Walks in Norwich – 15 City Walking Routes
Best Places to Learn About Norfolk's History
Castle Acre, Swaffham – Castle Acre is one of the best preserved monastic sites in England. The Norman manor house was founded after the Norman Conquest in the 1070s and, although there is not much-built stone left, the earthworks are still very impressive.
RELATED POST: 12 Norfolk Castles for You to Explore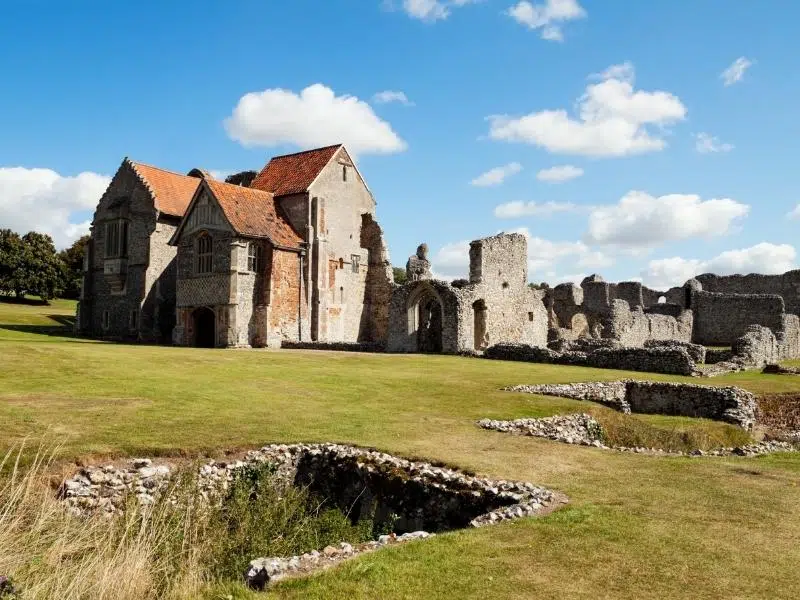 Strangers Hall, Norwich – named after Flemish weavers who migrated to Norwich to escape religious persecution, Strangers Hall is one of Norwich's oldest and most fascinating buildings and dates back to 1320.
Castle Rising, King's Lynn – built in the 12th century, Castle Rising was the largest building in England. Castle Rising has served as a hunting lodge and royal residence and has some of the largest ramparts in Britain.
Norwich – Norwich is the only city in Norfolk and has a rich history to share. The city flourished during the Norman Conquest and grew to a population of 5,500. During Medieval times the land that surrounds the city was (and still is) very fertile, this helped the city to further prosper and grow. Visit Norwich Cathedral, Norwich Castle, the Guildhall, and some of the many museums in the city to learn more, or take a self-guided walk in Norwich to explore the city's highlights.
RELATED POST: 31 Amazing Things To Do in Norwich
Grimes Graves, Thetford – one of the more unusual places to visit in Norfolk, Grime's Graves is the only Neolithic flint mine open to visitors in Britain. The grassy landscape of 400 pits was excavated in 1870 to identify the flint mines dug over 5,000 years ago.
Toad Hole Cottage Museum, Great Yarmouth – a fascinating small museum which explores how marshmen and eel catchers of the Norfolk Fens lived in Victorian times.
RELATED POST: 21 Museums in Norfolk You Won't Want to Miss!
RELATED POST: Norfolk Churches: 16 of the Best to Visit
Wymondham Abbey, a 900-year-old world church and one of Norfolk's finest.
RELATED POST: Wymondham: A Window to Norfolk's Past
Food & Drink in Norfolk
The locally grown and produced food and drink of Norfolk are bountiful and comes from the land and sea. With everything from seafood and fish caught in the North Sea, to organic fruit and vegetables, farm-reared meat and poultry, free-range eggs, local honey, pungent Norfolk cheeses and delicious wine and gin, Norfolk is a fantastic county in which to tempt your tastebuds!
RELATED POST: 43 Norfolk Farm Shops for Amazing Local Produce!
RELATED POST: The Best Norfolk Farmers Markets You Won't Want to Miss!
Cromer Crab
Full of flavour and sweeter than other crabs, the Cromer Crab is Norfolk's most famous food item. Its juicy flesh and unique flavour make these crabs a Norfolk delicacy. Freshly caught Cromer crabs are available on many Norfolk menus, but you can't beat buying a dressed crab in Cromer and eating it as you wander the small town.
RELATED POST: Cromer Crab: All You Need to Know About Norfolk's Favourite Food
RELATED POST: Restaurants in Cromer – 16 of The Best Places to Eat
Brancaster Mussels
Freshly caught mussels from Brancaster Staithe Harbour are a real treat. In season from September to April, these delicious shellfish will be on every menu and in every fishmonger in Norfolk.
Samphire
Samphire is a sea vegetable that loves salt marshes, samphire is prolific in Norfolk. It has a crisp texture, tastes of the sea and is gathered from June to September. You'll find stalls in lay-bys selling samphire alongside other local produce – just blanch and eat with a little bit of butter and seasoning.
RELATED POST: 26 Norfolk Food & Drink You Must Try!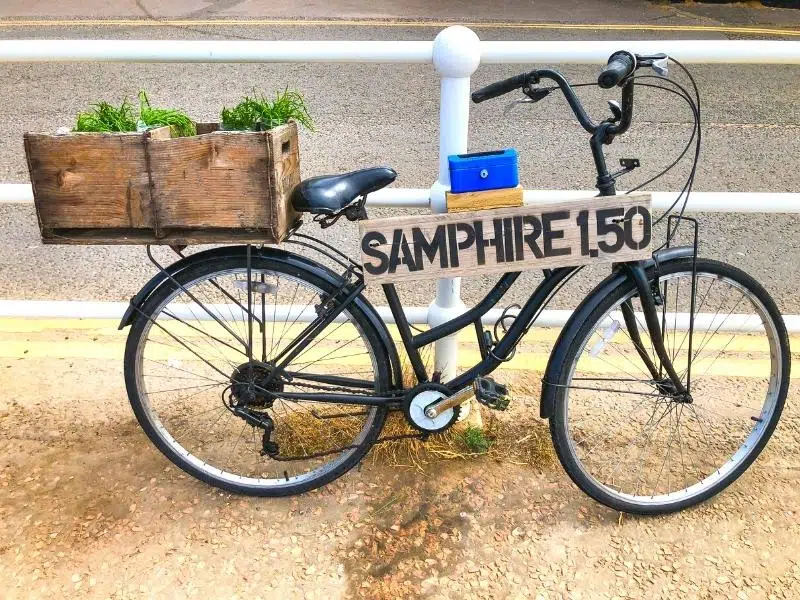 Norfolk Vinegar Cake
It doesn't sound very appetising, but you're in for a treat! Norfolk vinegar cake is a super-light fruit cake, which makes the most of a chemical reaction between the acid in the vinegar and bicarbonate of soda as the cake's raising agent. The cake uses no eggs and apple vinegar for preference. There is no taste of vinegar and the cake is really moist – delish!
Woodfordes Beer
Woodfordes is probably the most recognised brewery in Norfolk, Woodforde's boasts four decades of beer history. The Fur and Feather is Woodforde's very own brewery tap and sits adjacent to the brewery itself – the perfect place to sip a Norfolk beer!
RELATED POST: Breweries in Norfolk – Best 16 to Visit
Norfolk Gin
Norfolk Gin is handcrafted in Norwich and made to a secret recipe which uses a selection of botanicals to give it its unique flavour and delicate green colour. It's always on my Christmas list! There are a further eleven gin distilleries in Norfolk, where you can take a tour and tasting, and even try making your own gin!
RELATED POST: 12 Norfolk Gins You Have To Try!
Fish & Chips
Fish and chips are not a Norfolk speciality by any means, but when you're on holiday and by the sea, fish and chips are a must! Head for Ron's Fish and Chips on Norwich Market, row D, stalls 94 and 95, where you'll get hand-cut chips and cod coated in their own delicious homemade batter.
RELATED POST: Best Fish & Chips Norfolk: 14 Top Places
RELATED POST: Restaurants in Sheringham – 16 of The Best Places to Eat
Norfolk Wine
There are six amazing vineyards in Norfolk, producing award-winning English wine. Whether you love red, white, rose or sparkling, you'll find a Norfolk wine to suit your tastes.
RELATED POST: Six Vineyards in Norfolk You Need to Know About!
Afternoon Tea
Afternoon Tea is another non-Norfolk speciality, but a must when you're on holiday! The best afternoon tea in Norfolk can be had at Biddy's Tearoom in Norwich. With five afternoon tea options and loads of different loose-leaf teas to choose from, you'll be in afternoon tea heaven!
RELATED POST: Afternoon Tea in Norfolk – 15 of the Best Places
RELATED POST: Afternoon Tea in Norwich: The Assembly House Review
Books, TV & Films Set in Norfolk
Books Set in Norfolk
David Copperfield by Charles Dickens – his eighth novel follows the life of David Copperfield from childhood in Great Yarmouth to adulthood.
The Hippopotamus by Stephen Fry – hard-working drunk, Ted Wallace, is fired from his newspaper job and leaps at the chance to drown his sorrows at his old friend's country estate, Swafford Hall in Norfolk.
The Future Homemakers of America by Laurie Graham – set in 1953, this is a tale of five US Airforce wives stationed in the Norfolk Fens.
Waterland by Graham Swift – set in the East Anglian Fens, Waterland spans an epic 240 years in the lives of its narrator and his ancestors. The novel explores several key themes, including incest, eels, ale-making and madness.
RELATED POST: Towns in Norfolk – 27 Towns to Visit in Norfolk
TV Shows Filmed in Norfolk
Alan Partridge – a failed television presenter, Alan now presents a programme on local radio in Norwich. He desperately tries to revive his broadcasting career. Alan is brilliantly played by Steve Coogan.
Normal for Norfolk – the BBC commissioned the first series of Normal for Norfolk in 2015 and a producer and cameraman followed life at Wiveton Hall through the seasons from summer through to winter – four half-hour episodes were aired in the spring of 2016.
Dad's Army – almost all of the external scenes in Dad's Army were shot in or around Thetford. Particular locations include Thetford Guildhall, the Palace Cinema and even Stanford Battle Arena.
The Chief – Norwich resident Martin Shaw stars as 'the chief' in command of the fictitious Eastland Constabulary. Set in East Anglia, the programme used locations in Norwich, Great Yarmouth and Gorleston.
Film Sets in Norfolk
Holkham Beach – the stunning beach made a dramatic film set for The Eagle Has Landed (1976), Shakespeare in Love (1999), and Annihilation (2018).
The Sainsbury Centre, Norwich – this contemporary building plays the American HQ of Marvel's Avengers in Age of Ultron (2015), Ant-Man (2015) and Spiderman: Homecoming (2017).
Gorleston-on-Sea Beach – More than 6000 people gathered on the sands to play extras in Danny Boyle's Yesterday.
Holkham Hall – the 18th century Palladian house has been used for The Duchess (2008), All The King's Men (1999) and Dean Spanley (2008).
Have I missed anything from this local's guide to Norfolk? Let me know in the comments below if there's something you'd like to see covered!
Love it? Pin it!