Wymondham is a charming market town celebrated for its Elizabethan and Jacobean architecture, vibrant town centre, and rich heritage dating back to its days as a centre for the trade of wool and fine wooden crafts.
One of the key highlights of Wymondham, pronounced Windum, is the 900-year-old Wymondham Abbey, which possesses a unique blend of history, architectural beauty, and a sense of community.
With its rural surroundings and location on the picturesque River Tiffey, but close to Norwich, Wymondham makes a fantastic base for exploring Norfolk's capital and the nearby Norfolk Broads.
RELATED POST: The Ultimate Local's Guide to Norfolk England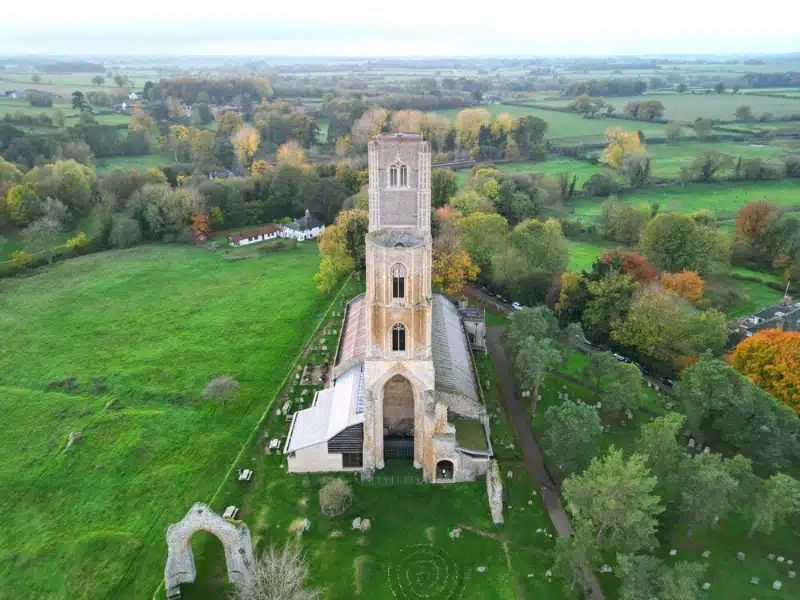 This post may contain affiliate links. If you book something I recommend, I make a small commission without affecting the price you pay!
Where is Wymondham Norfolk?
Wymondham is in the South Norfolk district of Norfolk, 12 miles south-west of Norwich. The parish, one of Norfolk's largest, includes rural areas to the north and south, with hamlets of Suton, Silfield, Spooner Row and Wattlefield.
RELATED POST: 30 of the Very Best Things To Do in Norfolk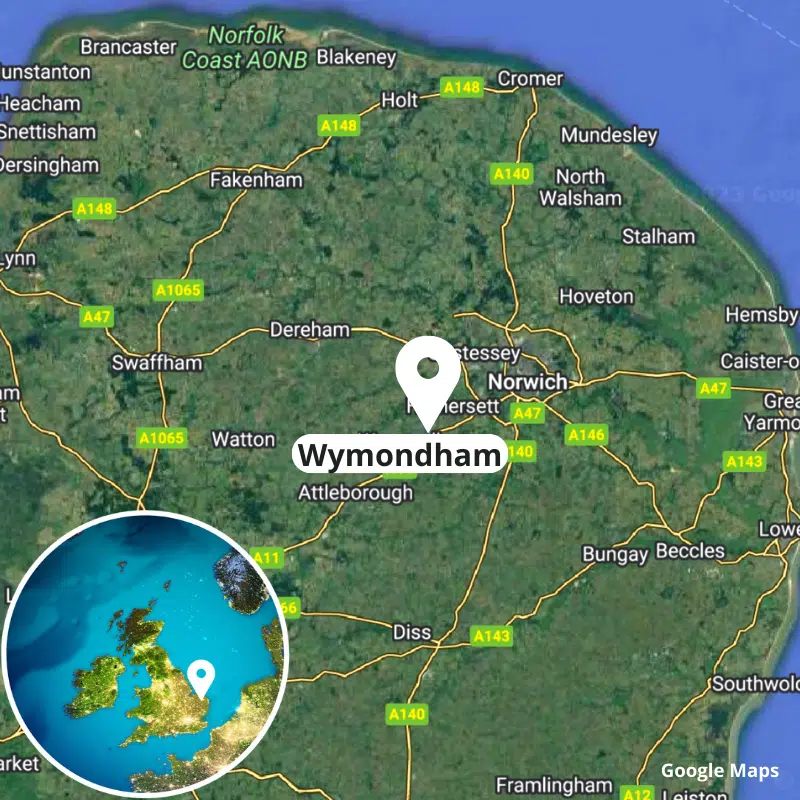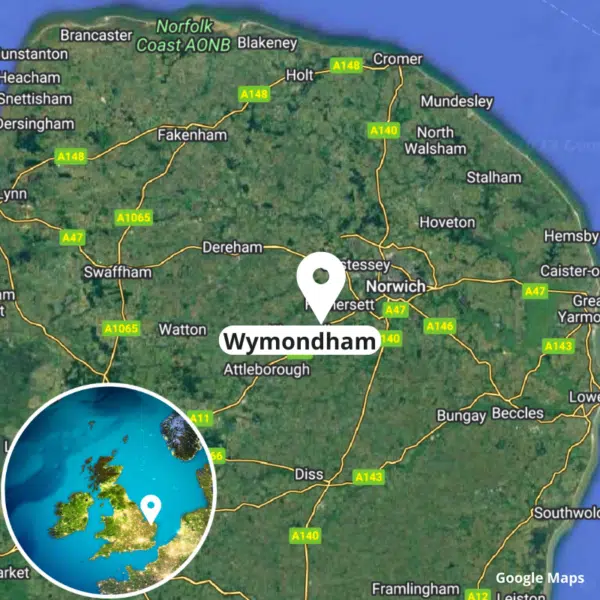 Wymondham- Getting There & Getting Around
Driving to Wymondham
If you're travelling from the north of the United Kingdom, pick up the A17 south at Newark-on-Trent and follow the route around the Wash to King's Lynn. This road is mainly single carriageway, and slow-moving agricultural traffic and trucks can cause delays, so build this into your travel plans.
If you're travelling from the Midlands, you'll come into Norfolk via Peterborough and pick up the A47 north and east to King's Lynn. From King's Lynn, which is well worth a stop on the way through, pick up the A47 to meet with the A11 south of Norwich.
From the south, the A11 brings you through Cambridge to Thetford, and directly to Wymondham on the A11.
Parking in Wymondham
South Norfolk and Broadland District Councils operate four car parks in the town where charges apply between 8am and 6pm Monday to Saturday. All council-operated car parks accept payment by cash, card, contactless and the RingGo app.
Back Lane Short Stay – 51 spaces with parking for up to an hour free. There are disabled places in this car park and a height restriction of 2m.
Cemetary Lane Long Stay – 90 spaces with the first hour free. There is a height restriction of 2m.
Market Street Long Stay – 65 spaces, the first hour is free of charge. this car park has disabled spots, EV charging points and a height restriction of 2m.
Town Green Long Stay – 51 spaces, with the first hour free. There are disabled spaces and a height restriction of 2m in this car park.
RCP Parking has 129 spaces at Central Hall, chargeable between 6am and 6pm Monday to Saturday. You can pay by cash or phone with the PayByPhone app. There are no height restrictions in this car park.
Getting To Wymondham by Public Transport
You can get to Norfolk's capital city Norwich by mainline train from London in less than two hours. Take the regular Greater Anglia service from London Liverpool Street, which leaves every hour or so.
Alternatively, you can take a National Express bus service from Victoria Coach Station to King's Lynn. This takes around 6.5 hours depending on the time of day, and you do need to change at Norwich, but it's often much cheaper than the train, especially when booked in advance.
From Norwich train station you can catch the Greater Anglia service to Wymondham which leaves hourly and takes eleven minutes to arrive.
Getting Around Norfolk
The First Bus Green Line 14 and 15 routes travel between Norwich, Hethersett and Wymondham every 15 minutes on a daily basis.
From Norwich you can catch the Greater Anglia service to Sheringham and connect with the CoastHopper 2 bus to Trimingham, Sidestrand, Overstrand, Cromer, East Runton, West Runton, Bodham, High Kelling and Holt.
The CoastLiner bus at Wells-next-the-Sea connects with Sheringham, Holkham, Burnham Market and Brancaster before arriving at Hunstanton.
From Wells, you can also hop onto the CoastHopper 1 bus to Stiffkey, Morston, Blakeney, Cley, Salthouse, Weybourne, Sheringham, East Runton, West Runton and Cromer, meaning you can get to many of the best attractions on the North Norfolk coast by bus.
For the Broads, head into Norwich and ride the Wherry Lines, Greater Anglian's Norfolk Broads train service.
How about getting around by bike? The Norfolk Coast Cycleway runs from King's Lynn to Great Yarmouth and the Rebellion Way is a circular route around Norfolk which passes through nearby Long Stratton. Both follow a network of byways, bridleways and quiet country lanes which are perfect for cycling and link pretty villages around the county.
There is also a Beryl Bike Bay on Market Street in Wymondham, meaning you can make the most of the Beryl bike sharing scheme which operates in and around Norwich.
RELATED POST: North Norfolk Coast – 19 Unmissable Highlights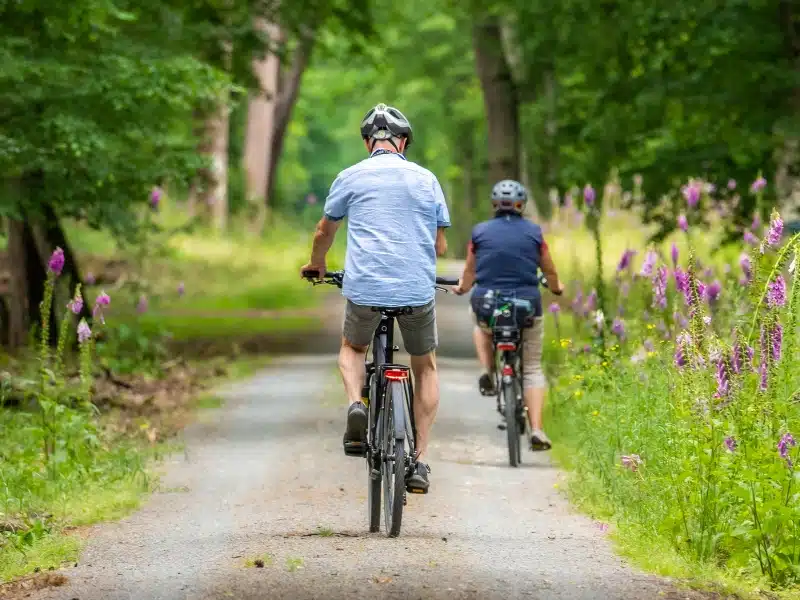 History of Wymondham (in brief!)
In the Domesday Book of 1086, Wymondham was listed as a small settlement, but it grew into a thriving market town over the centuries.
The town's origins can be traced back to the founding of Wymondham Abbey in 1107 by William d'Aubigny, or William d'Albini, an Anglo-French baron and administrator who served King Henry I as Chief Butler of England and acquired large estates in Norfolk.
One notable event in Wymondham's history is the rebellion led by Robert Kett in 1549. Kett, a resident of Wymondham, was a wealthy yeoman who protested against the enclosure of common land in Norfolk.
His rebellion turned into a widespread uprising that eventually led to the siege of Norwich Castle. Unfortunately, the rebellion was suppressed, and Kett and his brother William were captured and hanged – Robert from Norwich Castle and William from the west tower of St Mary and St Thomas of Canterbury Church, now known as Wymondham Abbey.
In 1615 Wymondham suffered a great fire which spread quickly through the wooden and thatched buildings. It was a Sunday, everyone was at church and the winds fanned the flames, making the catastrophe much worse.
Much of Market Street and Bridewell burned down and Vicar Street was also affected. More than 300 people lost property or belongings in the fire. Market Cross, which was built in 1617 after the Great Fire of Wymondham remains a central landmark in the town to this day.
Besides its connections to the Abbey and history as a centre for the medieval wool trade, Wymondham also has a rich industrial heritage featuring woodturning, brush-making, and the production of agricultural implements.
Today, Wymondham is a thriving market town which is not only home to the Abbey, but Wymondham College, the largest co-educational state boarding and day school in the UK.
The town sign depicts a crossed spigot and spoon to represent the town's history in the wood-turning industry. The abbey is depicted on the top, and the central panel shows Kett's Rebellion.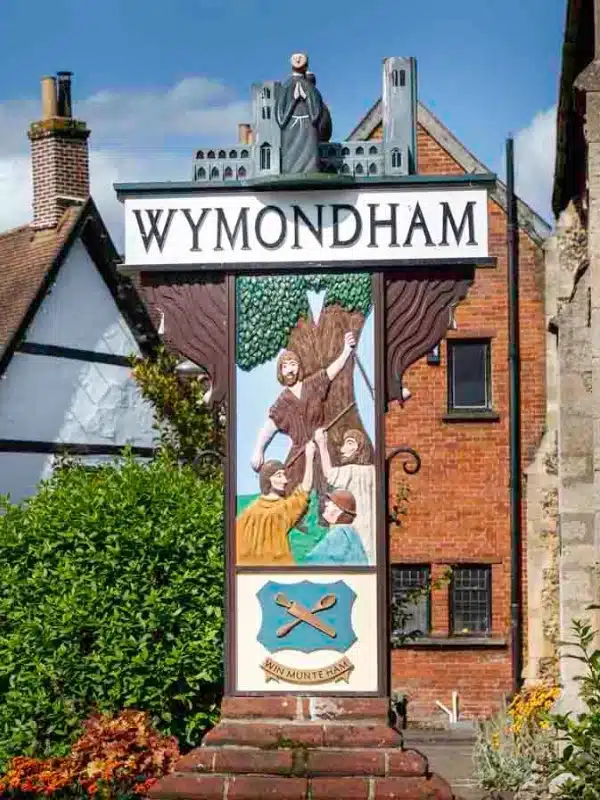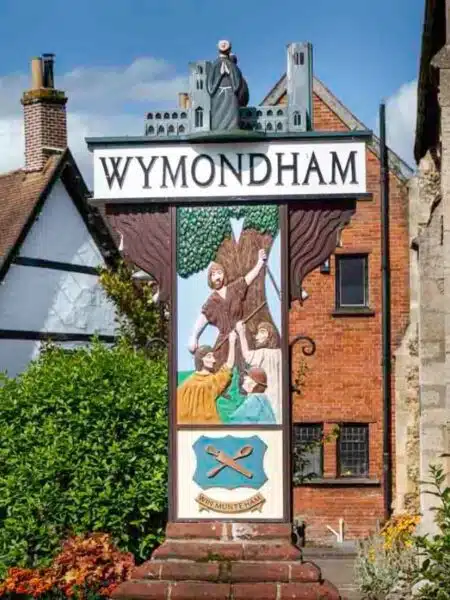 Things to Do in Wymondham
Discover Wymondham Abbey
Wymondham Abbey is a historic church located to the southwest of the town. Over the years, the abbey has been expanded and renovated, resulting in a beautiful blend of architectural styles. The abbey is renowned for its impressive stone carvings, intricate stained glass windows, and stunning vaulted ceilings.
Originally established as a small priory for just twelve monks in 1107, Wymondham Abbey was a daughter house of the Benedictine Abbey of St Albans.
The founder William d'Aubigny and his wife Maud, who was the daughter of Roger Bigod, a Norman knight who travelled to East Anglia in the Norman Conquest, and sister of Hugh Bigod, 1st Earl of Norfolk, richly endowed the priory with lands, churches, tithes, and rents. Later, King Henry's widow, Alice de Louvrain, married d'Aubigny's son, further strengthening the family connections with the Abbey.
Disputes between the Wymondham and St. Albans monks were quite common, and in 1448, following a successful petition to the king, the Pope granted Wymondham the right to become an Abbey in its own right.
King Henry VIII's Dissolution of the Monasteries between 1536-1541 brought about the closure of Wymondham Abbey, which was surrendered to the King in 1538. The monks had, apparently willingly, already signed the Oath of Supremacy, and were given generous pensions.
The architecture of Wymondham Abbey is a showcase of medieval skill and craftsmanship and the church is striking for its double towers at each end. The east tower is a shell, built in the 14th century when an earlier tower became unsafe.
The abbey's nave, which is over 100 feet long, is a stunning example of Norman architecture, while the chancel, which was rebuilt in the 14th century, features exquisite Gothic-style windows and intricate stonework.
The abbey also boasts a magnificent 15th-century rood screen, which is considered one of the finest examples of its kind in England and the stunning 20th century painted and gilded reredos created by Ninian Comper.
Today, Wymondham Abbey, which is properly called Wymondham St Mary and St Thomas of Canterbury, plays an important role in the local community, serving as both a place of worship and a cultural hub. The abbey also hosts a variety of events throughout the year, including concerts, art exhibitions, and historical tours.
Wymondham Abbey is open for visitors between 10am and 4pm Monday to Saturday and 12noon to 1pm on Sundays. You can also book a private guided tour of the Abbey.
Whether you are a history buff, an architecture enthusiast, or simply looking for a peaceful place to reflect, Wymondham Abbey is a must-visit destination.
RELATED POST: Norfolk Churches: 16 of the Best to Visit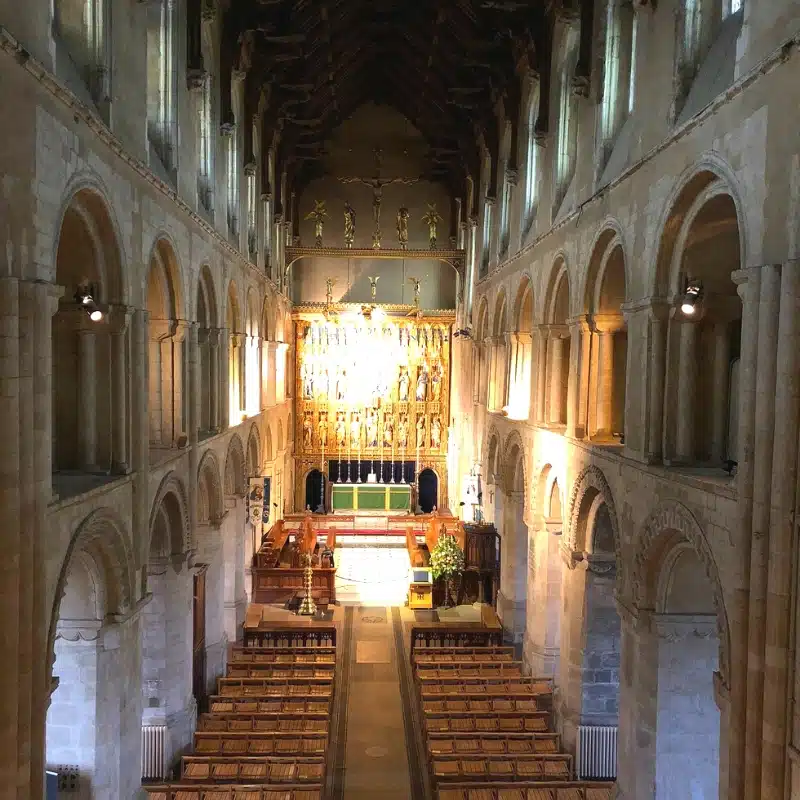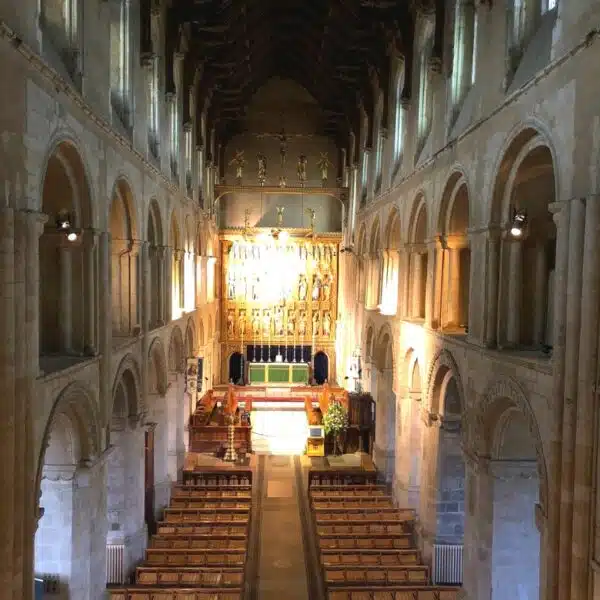 Explore Wymondham Town Centre
The market has a significant history, which can be observed through the presence of the Market Cross on Market Place. This iconic structure has been standing tall since the 17th century and serves as a symbol of Wymondham's trading past.
The building itself, now home to the local Tourist Information Centre, consists of an octagonal building supported over an open ground floor – to protect valuable town documents from flood and vermin – by eight timber buttress-like posts and a middle post. There is a carved decoration on the upper floor, which is reached by an outer stair from the back, and the building is crowned by a pyramidal roof.
Today, the Market Place is still very much alive, with a regular Friday market that has been running since the 13th century, and a farmer's market held every third Saturday. Both offer a diverse range of products and local produce that attract both residents and tourists alike.
Near the market square are more Elizabethan and Jacobean buildings and the Grade I Becket's Chapel, established in 1174 by the son of William d'Aubigny and dedicated to St Thomas à Becket. This independent medieval chapel was a grammar school in the 16th century and is now a library.
There are six Grade II* listed buildings in Wymondham;
The Green Dragon Inn – A 15th century pub on Church Street which once served as a guesthouse for visitors to Wymondham Abbey.
Kimberley Hall – A Queen Anne House built in 1712 which is now a private wedding venue.
Priory House – A private dwelling built c. 1670 on Middleton Street.
Stanfield Hall – A Tudor-style hall dating from the late 18th or early 19th century and the scene of an infamous double murder in 1848.
The Chestnuts – An 18th century house on Cock Street.
3 Market Street – A timber-framed shop built in the 16th century.
Wymondham also boasts a variety of independent shops, ranging from boutiques and gift shops to artisan bakeries, cafés and restaurants. These local businesses provide a unique shopping and dining experience, while also supporting the local economy and preserving the town's individuality.
RELATED POST: The Best Norfolk Farmers Markets You Won't Want to Miss!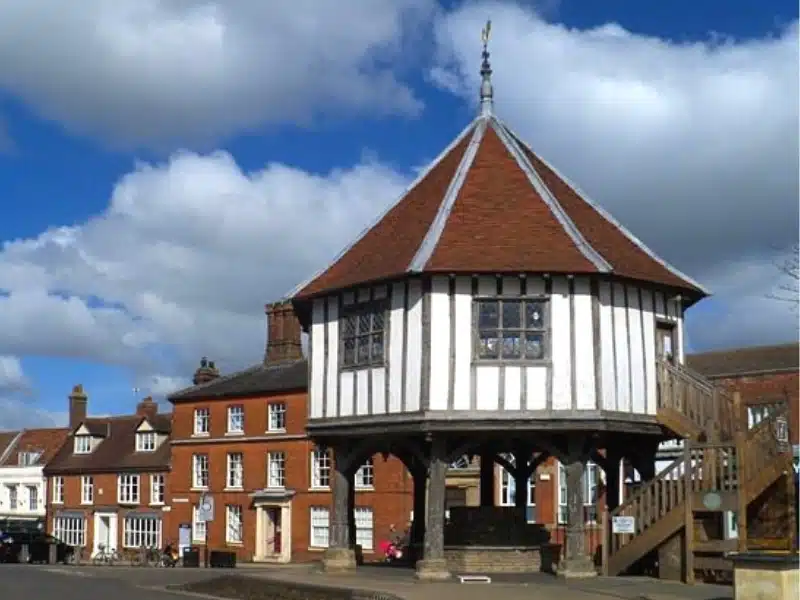 Visit the Wymondham Heritage Museum
The Wymondham Heritage Museum tells the story of Wymondham, the daily lives of its inhabitants, the town's heroes and villains and great events from its past.
The eclectic collection is housed in The Bridewell, a nationally important building and model prison that redefined how prisoners should be incarcerated. Visitors can also step into a recreated dungeon in the basement to see what life was like for a prisoner 200 years ago.
Exhibits are displayed in the rooms once occupied by the prison, courthouse and police station. Here you can find out about prehistoric times, the Iron Age, the Romans and Saxons, and follow the story of Robert Kett, leader of Tudor England's most inspiring rebellion.
Find out about Wymondham's Great Fire of 1615 and how a new Market Cross was built, and discover the history of farming and the brush industry in Victorian Wymondham.
Wymondham Heritage Museum is open between March and October, Monday to Saturday from 10am to 4pm and is run entirely by volunteers. No trip to Wymondham is complete without a visit to this small but informative museum.
RELATED POST: 21 Museums in Norfolk You Won't Want to Miss!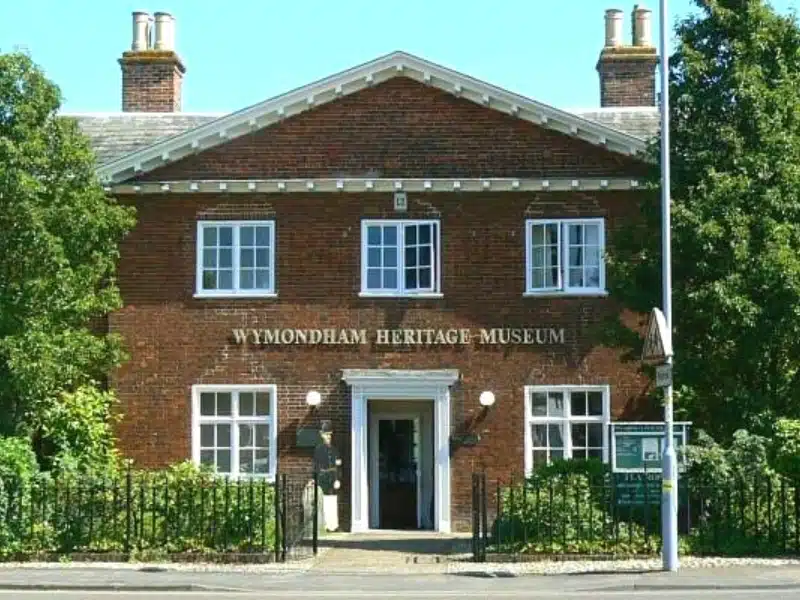 Take a Ride on the Mid-Norfolk Railway
The Brecks Mid-Norfolk Railway is the longest standard-gauge heritage railway in East Anglia and runs through the heart of Norfolk between Wymondham and the charming market town of Dereham.
This award-winning Norfolk heritage railway has been operating since 1997 by the Mid-Norfolk Railway Preservation Trust. Since opening, the MNR has restored Dereham station to its former glory, and installed run-round loops at Dereham, Wymondham and the Tudoresque Thuxton, which has a fully operational signal box fitted with a 26-lever McKenzie and Holland frame, recovered from Seven Sisters signal box in London.
The railway operates both steam and diesel locomotives over 17.5 miles of track and passes through eight stations, five of them belonging to MNR. From the historic Dereham station, the stations south to Wymondham Abbey are Yaxham, Thuxton, Hardingham and Kimberley Park, which are being tastefully restored to retain many original features.
During the Norfolk holiday season and certain other times of the year, the steam locomotive runs and the Mid Norfolk Railway holds events like the popular Polar Express at Christmas, afternoon high tea trains and my favourite, fish and chip trains!
RELATED POST: Steam Train Norfolk: 8 of the Best Journeys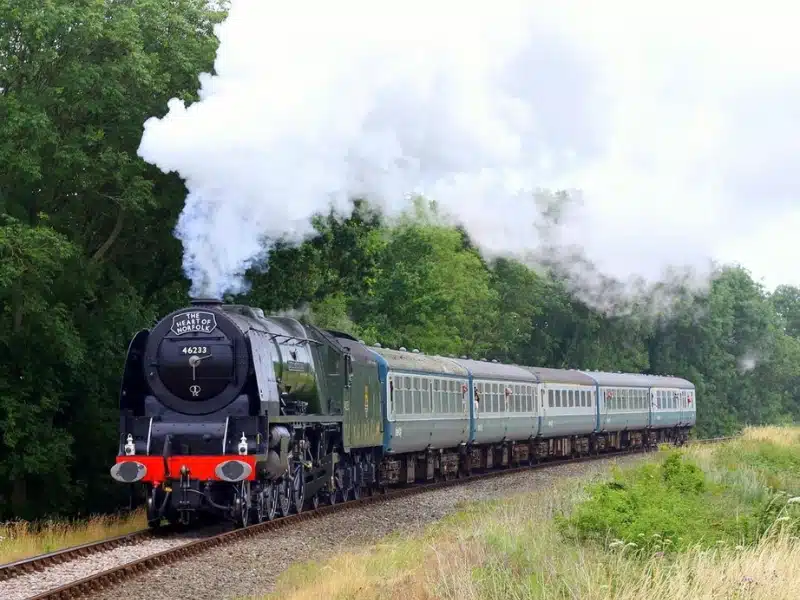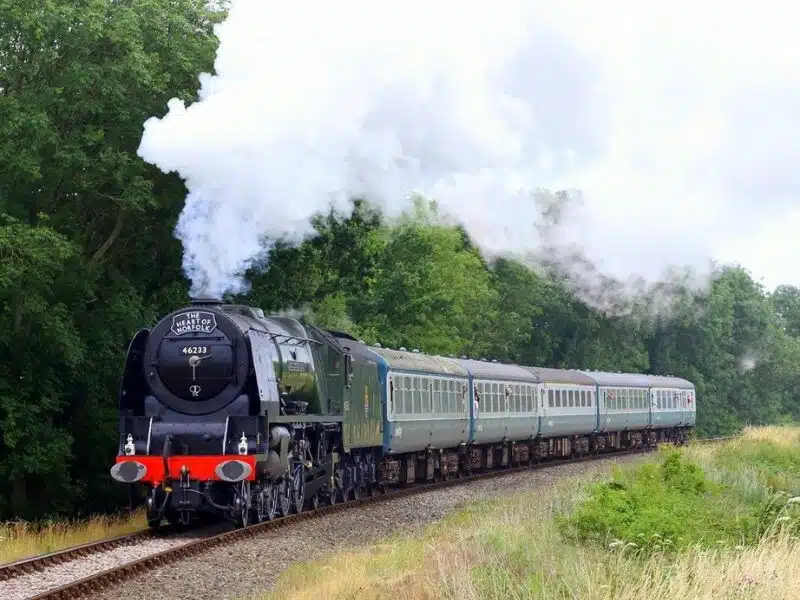 Go Back in Time at Wymondham Historic Railway Station
A short walk from the Mid-Norfolk Railway, but totally unconnected, is Wymondham railway station, a Grade II working mainline station on the Norwich to Cambridge line.
A wonderful, multi-award-winning station which has been in operation since 1845, you'll find charming surroundings full of memorabilia from the golden age of steam. At the themed restaurant, Station Bistro, you can take a step back in time and experience a historic train carriage setting for your meal, with a real log fire on cold days.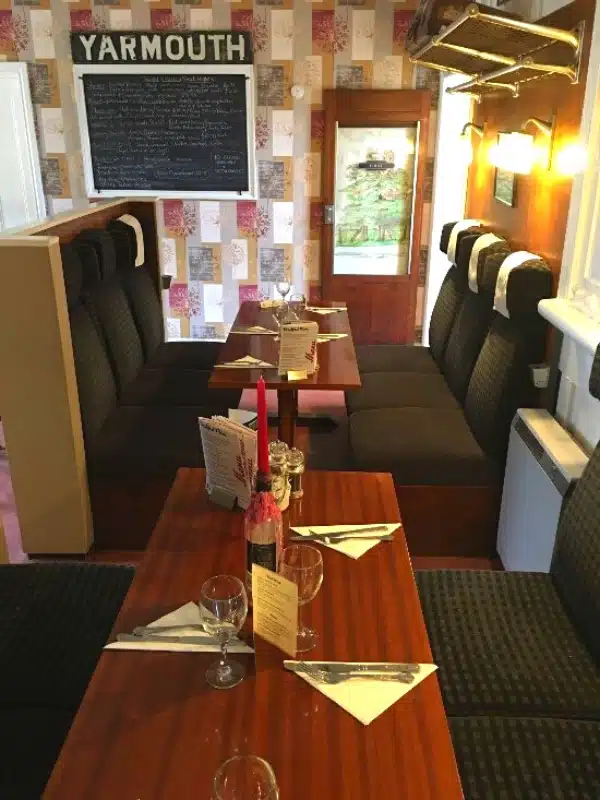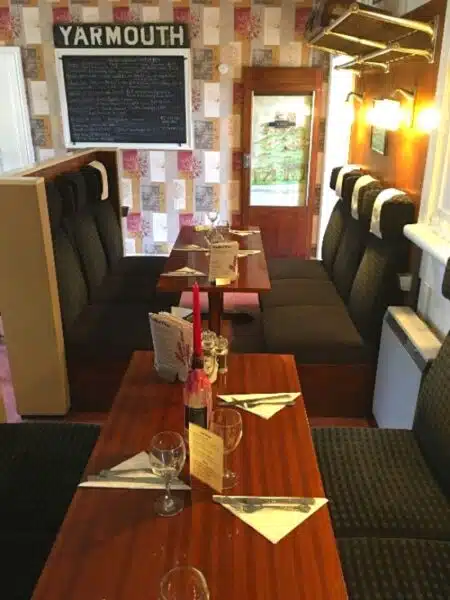 Try the Local Food
Wymondham is a rural town surrounded by mainly arable farmland, so what better place to sample locally grown and produced Norfolk food?
The Queens Head on Bridewell Street serves a modern menu using fresh, high-quality, local ingredients and works with local suppliers to receive daily deliveries. They also serve local Norfolk gins, ales and wines at the bar, alongside an extensive cocktail menu.
Wymondham's loaf.microbakery makes delicious organic sourdough loaves over three days using local organic freshly milled flours, and sweet treats like cinnamon buns, and a range of gorgeously flavoured cookies. They also serve single-origin coffee from a local independent roaster.
G. W. Woodbine & Sons is the local fish and chip shop, where you can take away a traditional fish and chip supper, or get lucky and bag one of the few indoor seats. There are other fish and chip shops in town, but I think this one is the best.
About 7.5 miles north of Wymondham is Fielding Cottage, makers of Norfolk Mardler and Wensum White, both goat's cheese. Along with the Goat Shed farm shop, you can also enjoy delicious food from their Goat Shed Kitchen and take a cheese-making course, an immersive experience of all things cheese.
RELATED POST: 26 Norfolk Food & Drink You Must Try!
Visit Wymondham Arts Centre
The Wymondham Arts Centre is a versatile space hosting a selection of art exhibitions, performances, and workshops throughout the year.
Housed within a restored medieval church, the centre provides a unique and inspiring atmosphere for appreciating local artistic talent and a place to buy local artists' work.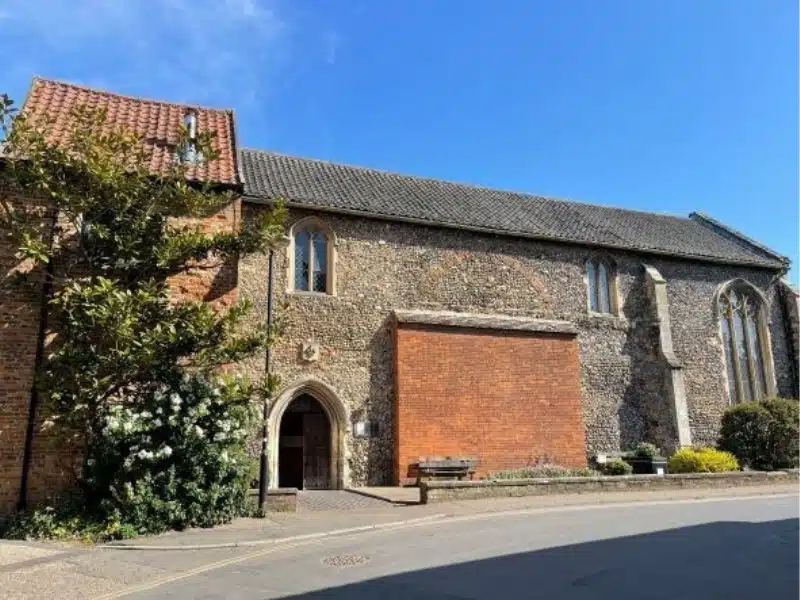 Explore Cavick House Farm
Just outside of town to the south is Cavick House Farm, a small family farm in the heart of Norfolk that produces free-range eggs which are available to buy from Norfolk's first egg vending machine!
RSPCA assured, high welfare, free range & British Lion quality marked, these are seriously good eggs that come from very happy hens.
Alongside buying eggs, you can enjoy good coffee and really delicious homemade savoury scones, sausage rolls and cakes at the Farm Café which is situated in and around the huge barn. You can also buy Norfolk souvenirs, cards, handmade pottery, kitchenware, stationary, scented candles and local British flowers in the pretty gift shop.
Things to Do Near Wymondham
Tour the Classic Team Lotus Works in Hethel
Petrol heads will love the opportunity to visit the Classic Team Lotus Works to learn about historic motor sport activity in the Lotus group of companies.
The Team Lotus mechanics that supported champions such as Ayrton Senna, Nigel Mansell, Mario Andretti, Emerson Fittipaldi, Graham Hill and Jim Clark continue to care for the World Championship winning Lotus F1 cars that won past Grands Prix.
This insight of everything that went into creating the Team Lotus legend includes and film presentation of a slice of Team Lotus history, a tour of the Classic Team Lotus race shop, a visit to the Team Lotus archive and plenty of photo opportunities with an F1 car.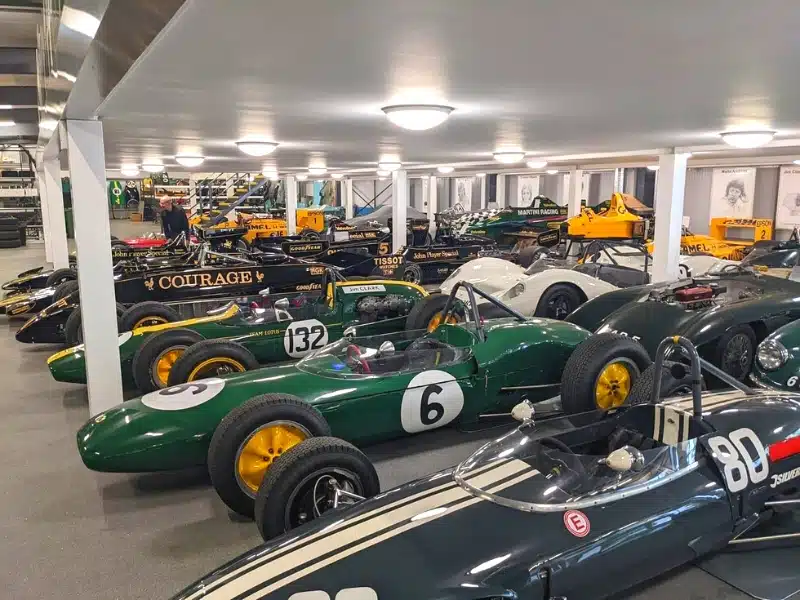 Explore the Norfolk Broads
With huge skies, infinite landscapes, tranquil water and abundant wildlife, the Norfolk Broads are a beautiful place to visit – you can find out how in my Norfolk Broads guide.
The Broads National Park is made up of over 60 open areas of water known as Broads, which, along with the rivers Yare, and its tributaries the Ant, Thurne, Bure, Chet and Waveney, occupy a vast triangle of land formed by Great Yarmouth, Wroxham, and Stalham.
If you don't have lots of time to explore, then head for Hickling Broad, the largest Broad of them all. At the far eastern end of Hickling Broad is the Horsey Windpump, one of the area's most iconic windmills and run by the National Trust. The whole area is incredibly photogenic.
Head for Potter Heigham, Ranworth or South Walsham, small picturesque villages with interesting churches, which make great starting points. The beauty and nature of the Broads are best appreciated from the water, and motor cruisers, kayaks and canoes can be rented, or you can take a Broads boat tour if you're not confident on the water.
RELATED POST: 26 Exciting Things To Do On the Norfolk Broads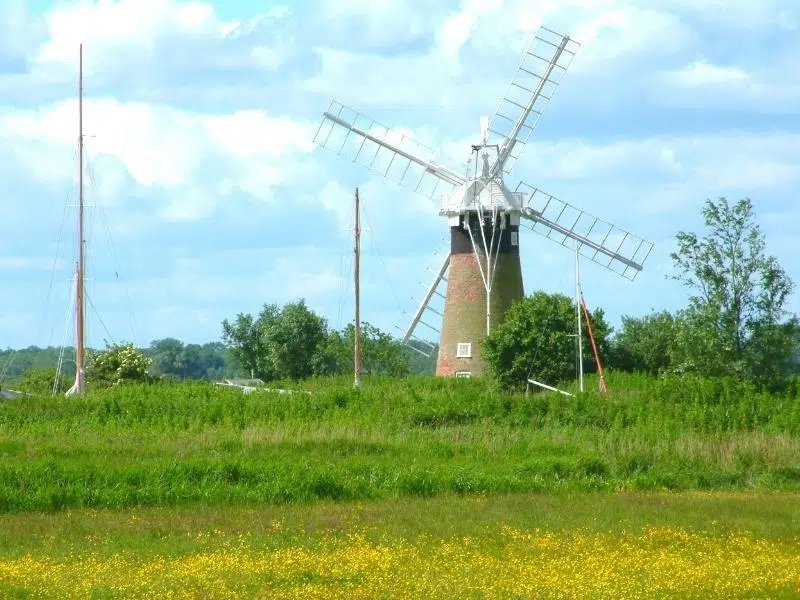 Discover Historic Norwich
The only city in Norfolk, Norwich is the most complete medieval city in the United Kingdom today. Home to cobbled streets, historic buildings, half-timbered houses, a thriving foodie scene and the pretty River Wensum that flows through the city centre, Norwich is a feast of history and architecture.
Add Norwich to your list of must-do places and explore the growing gastro scene in the city, the famous market, a city-wide focus on culture, the arts and literature, and the flourishing mix of quirky independent boutiques and high street stalwarts.
RELATED POST: 31 Amazing Things To Do in Norwich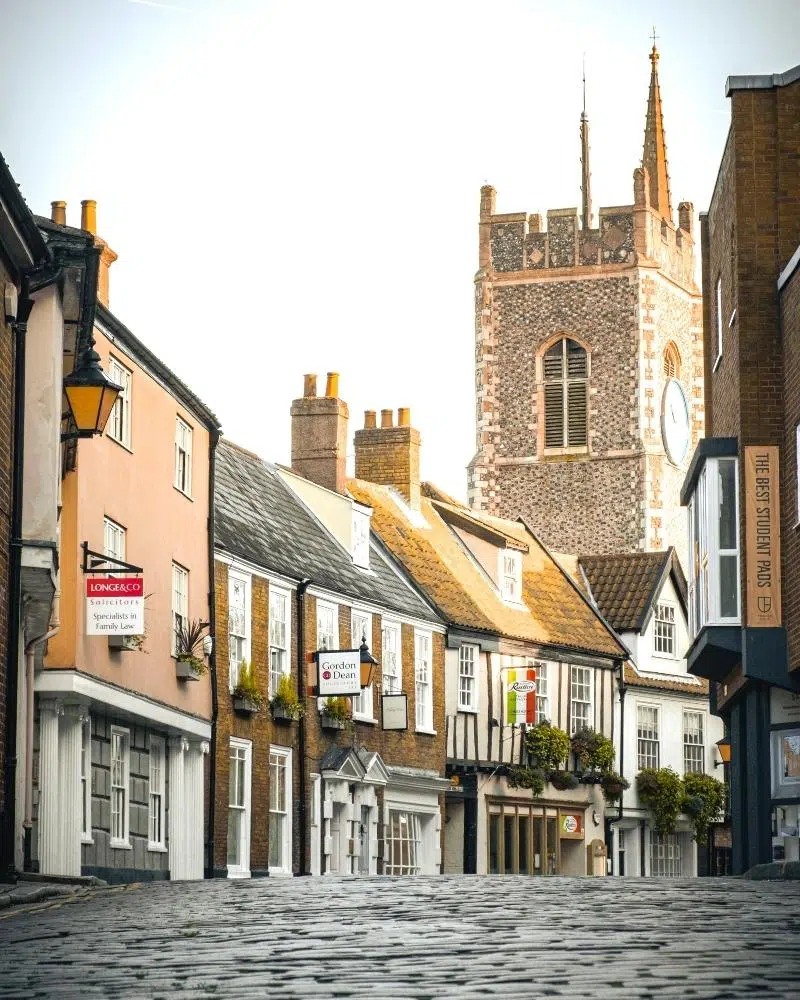 Walk the Boudicca Way
Named after the legendary red-headed warrior and Queen of the Iceni whose tribes once inhabited the area, the Boudicca Way (pronounced boo·duh·kuh) runs for 36 miles between Norwich and Diss, roughly along the route of the old Roman 'Pye' Road, which is now the A140.
The Boudicca Way passes through the rural and gently rolling countryside of south Norfolk and the Waveney Valley using public rights of way and quiet country roads, where walkers will see local flora and fauna in abundance.
Along the way, the trail passes picturesque villages such as Shotesham, Saxlingham Nethergate, Pulham Market and Caistor St. Edmund, a settlement which can trace its roots to the Roman period which lies ten miles east of Wymondham.
The route starts at and finishes at mainline railway stations, making it a perfect option for those wanting to travel sustainably. You can find an interactive map and more information here.
RELATED POST: Walks in Norfolk – 14 of the Best Trails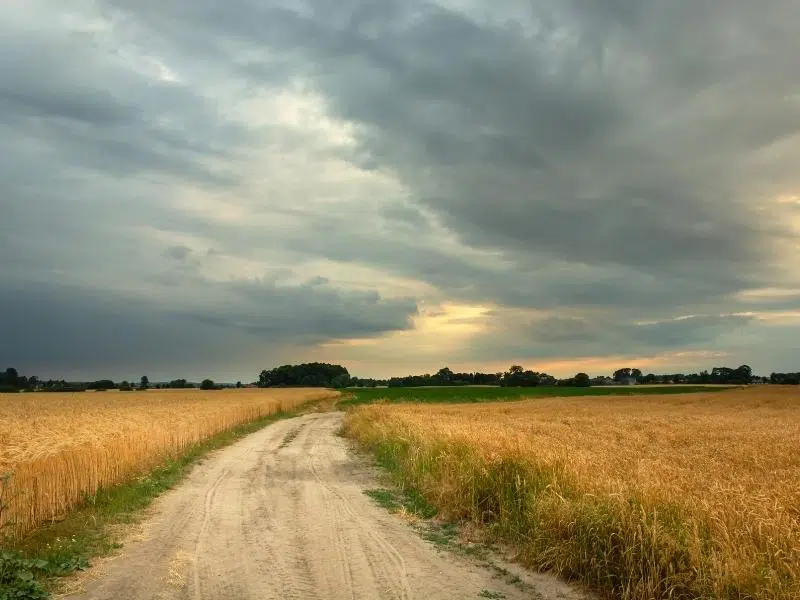 Places to Stay in Wymondham
Wymondham has a small selection of holiday cottages and holiday homes for rent, and some great campsites and holiday parks nearby. Whatever your accommodation style, we've rounded up the best options for your Wymondham break.
No 10 The Abbey
Perfectly positioned for Wymondham Abbey, No 10 the Abbey is an aparthotel offering 20 self-contained and flexible living spaces which include your own kitchen and luxury bathroom with superfast Wifi, an onsite gym and breakfast offer in conjunction with a local café, the Hideout.
Rooms are beautifully furnished and extremely well equipped, meaning you'll have everything you need for your stay.
RELATED POST: Boutique Hotels Norfolk: 32 of the Best Places to Stay
Park Farm Hotel & Leisure
Park Farm is a wellness hotel set in 200 acres of countryside 3 miles northeast of Wymondham, with 52 luxury rooms and a full spa and gym. This a great place to pamper yourself after a long day exploring Norfolk.
The rooms are located in the Georgian house, most have a fantastic view of the gardens, and there are a handful of suites with private terraces and lodges set amongst the wonderful aspen trees.
RELATED POST: Hotels with Spas in Norfolk: 14 Places to Pamper Yourself
Hethersett Lodge B&B
Four miles northeast of Wymondham, Hethersett Lodge is a family bed and breakfast offering family suites, luxury and standard rooms which are fully equipped for your stay.
Wymondham Holiday Homes
There are lots of holiday cottages and Airbnb-style holiday rentals in and around Wymondham. From one-bed cottages and static caravans to huge converted barns, use VRBO to search for the best deals and find availability on Wymondham holiday accommodation.
Chestnuts Campsite, Fundenhall
A back-to-basics site for tents, motorhomes and caravans. Dogs are welcome and you can even light a campfire, and grab a pizza and coffee from the on-site pizza oven and coffee shop.
There are no facilities here, so you need to have your own loo as a minimum.
RELATED POST: The Ten Best Campsites in Norfolk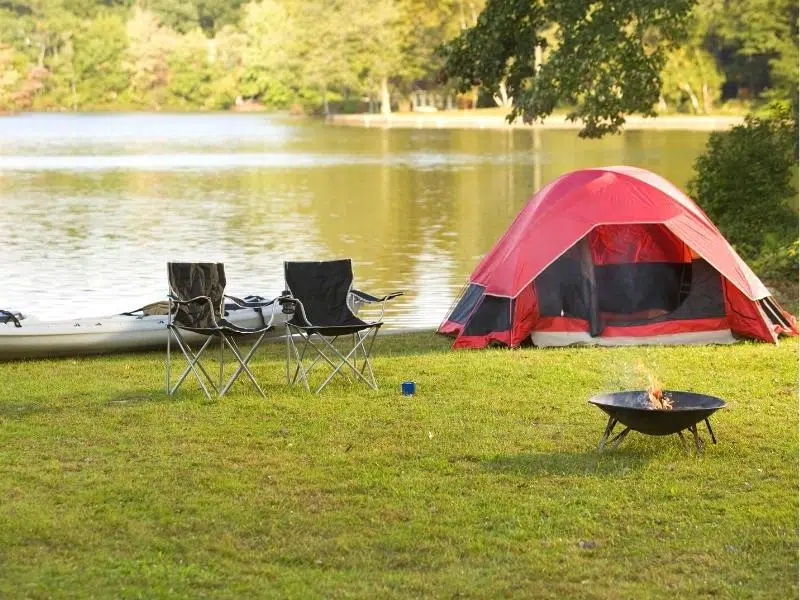 Have I missed anything from this local's guide to Wymondham? Let me know in the comments below if there's something you'd like to see covered!
Love it? Pin it!