Did you know that there are not one, but six vineyards in Norfolk? The fertile mix of sandy and clay soil, and the gentle climate, make Norfolk one of the UK's premier wine growing counties, and it's no surprise that the region is producing some seriously top-quality English wines.
Whether you're an oenophile, or simply an enthusiastic wine lover (like me), a vineyard tour and tasting is a great way to try something a little different as you explore Norfolk.
Eating, drinking and buying local Norfolk produce is always a great way to get to know the region, and support local businesses at the same time. Be sure to plan a vineyard visit on your next trip to Norfolk!
RELATED POST: The Ultimate Local's Guide to Norfolk England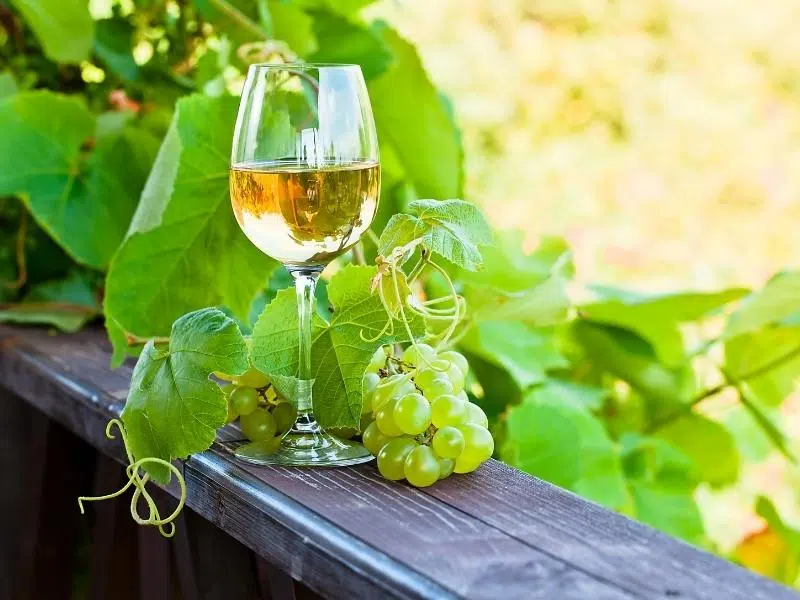 This post may contain affiliate links. If you book something I recommend, I make a small commission without affecting the price you pay!
The Best Vineyards in Norfolk
Flint Vineyard
Camphill Farm, Middle Road, Earsham, Bungay NR35 2AH
Right on the Norfolk-Suffolk border, on the gravel and flint slopes of the Waveney Valley is Flint Vineyard, one of Norfolk's most exciting wine producers.
A family affair, Ben and Hannah Witchell have been making wine at Flint since 2016. Having travelled to some of the most famous wine making places in the world, and then Ben studying Oenology and Viticulture, they decided to start their wine making journey in dry and sunny south Norfolk.
Since then, they've won The Independent's 'Indy Best Buy English Still Wine 2018', have included in The Times Top 50 White Wines and won two silver medals in the Decanter World Wine Awards 2021.
Flint Vineyard offer tours on Wednesdays and Saturdays between April and mid September, where you will enjoy a really special experience being guided through the vineyards and winery and learning about wine-making. The tour includes a full tutored tasting of current wines with plenty of time to ask questions as you go.
We highly recommend booking the 15 Mile Lunch with your tour. Lunch goodies include charcuterie, cheeses and artisan bread, all from local farms within a 15 mile radius of Flint.
These tours are extremely popular so make sure to book well in advance here.
RELATED POST: 26 Norfolk Food & Drink You Must Try!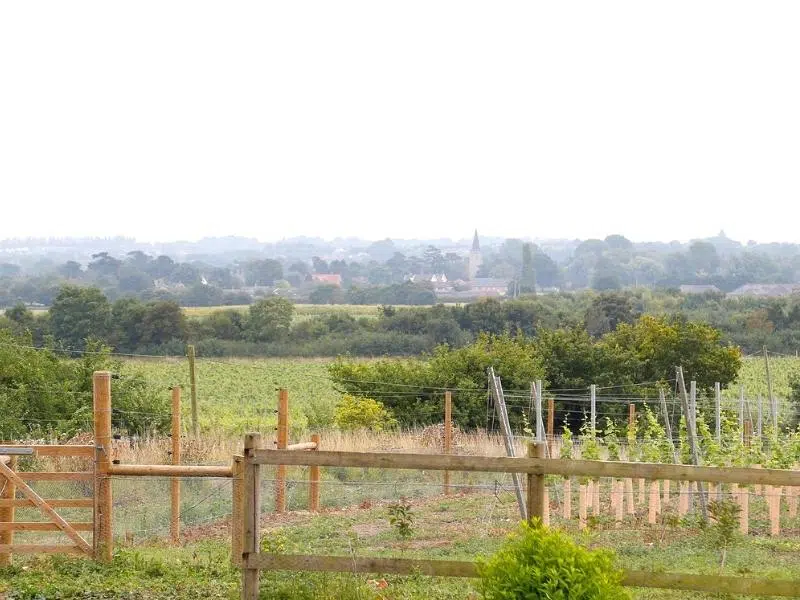 Chet Valley Vineyard
Loddon Road, Norwich NR15 1BT
Nestled in the sun-drenched and sheltered Norfolk village of Bergh Apton, Chet Valley Vineyard is another family run establishment. Once a traditional farm, this Waveney Valley vineyard enjoys a unique climate, with higher than average sunshine hours and the lowest rainfall in England. With a sea breeze to keep diseases at bay, the grapes grown here ripen beautifully in these ideal conditions.
Owned by winemaker John Hemmant, the son of a local farmer, and his wife Bridget, the vineyard has been producing award winning artisan English sparkling wines and still English wines, hand crafted using distinct varieties of cool-climate grapes, since 2010.
The varieties grown here are Solaris, Phoenix, Schönburger, Chardonnay, and Seyval Blanc for the whites, grown the reds of Pinot Noir, Pinot Meunier, Cabernet Noir, and Regent.
John leads vineyard tours every Wednesday and Saturday from the beginning of April, until harvest time in October. You'll explore every aspect of the growing and wine-making process, and have the the opportunity to taste the vineyards delicious wines in the tranquil Norfolk countryside.
You can also include a lunch platter to enjoy after your morning vineyard tour or before your afternoon tour. Lunch is served on the balcony of the winery, where you'll have an amazing view across the vineyard. You can choose from a meat and cheese platter, fish platter or vegetarian/vegan platter, with much of the produce sourced locally.
You must book wine tours and lunch platters in advance – for lunch, this must be at least five days in advance of your chosen date. Bookings can be made online here.
RELATED POST: 30 of the Very Best Things To Do in Norfolk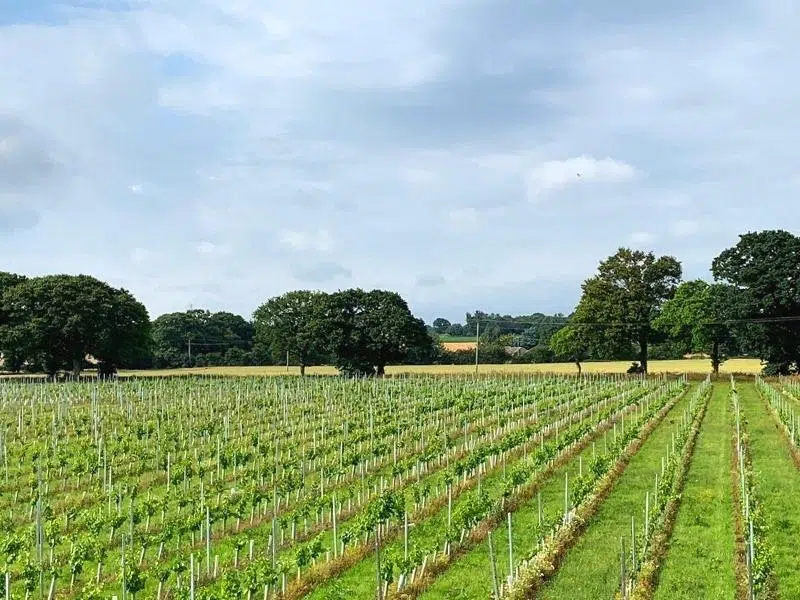 Winbirri Vineyards
Bramerton Road, Surlingham, Norwich NR14 7DE
Located in a lesser known part of the Norfolk Broads and close to the banks of the River Yare, Winbirri Vineyard is owned by grower and winemaker Lee Dyer. Inherited from his father, who in 2007 planted 200 vines as a hobby, Winbirri now covers 33 acres of sandy and flinty Norfolk soil.
Winbirri is well-established in the international scene and produces a fine selection of award winning wines. In 2017 Winbirri's 2015 Bacchus won The Platinum Decanter award 'Best in Show', and their annual Bacchus offering is now a best-seller.
Take a vineyard tour and tasting experience and enjoy a guided tour by Lee himself, and find out about the history of the vineyard and the methods used to care for the vines. The experience finishes with a wine tasting, always the best bit!
To compliment the tasting, book a cheese and charcuterie platter, with goodies chosen specifically to pair well with the wines, which can be enjoyed in the wonderful wine garden, amongst the grape vines.
Book your tour in advance here.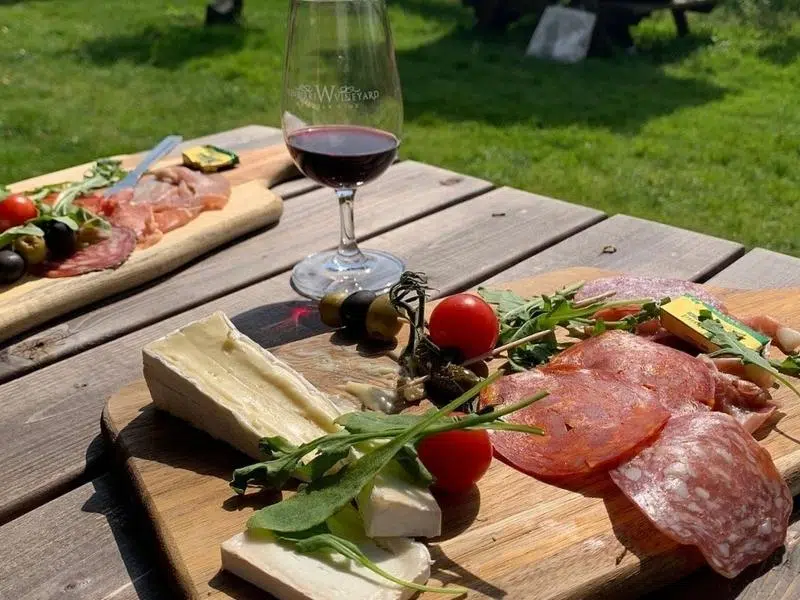 Humbleyard English Wine
Paddock Farm Shop, Mulbarton NR14 8JT
Humbleyard English Wine is an eight acre vineyard in Mulbarton, just south of the medieval city of Norwich. The vines here were planted by owner Robert Preston, on well draining south facing slopes, between 2010 and 2012.
The vineyard now has nine varieties of grapes, across 10,000 vines, with each variety ripening at different times of the summer and autumn. Amongst the most popular varieties are Bacchus, rapidly becoming a top East Anglia export, and Solaris, which makes a deliciously fruity dry white.
The vineyard is open to the public, with self guided maps available from the farmshop, a ten minute walk from the vineyard, which is open Monday to Saturday from 9am to 5pm. Alongside the full range of Humbleyard wines, you'll also find a fantastic selection of locally grown fruit and vegetables, apple juice from their orchards and honey from hives kept on the farm. In summer you can get messy picking your own soft fruit!
In 'normal' years, the vineyard also offer tours and tastings, with release dates published on their website. These are really popular events and include a relaxed walk and talk around the vines, and lots of wine with some nibbles in the farm shop. Register to get news about dates by emailing here.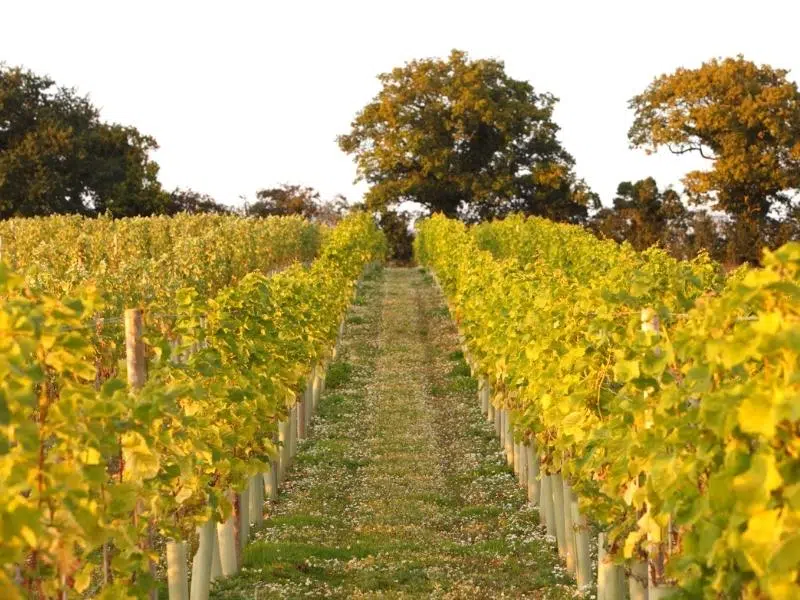 Burn Valley Vineyard
Beacon Hill Road, King's Lynn NR21 9LN
Nestled on south facing land surrounded by the family farm, Burn Valley Vineyard is run by two sisters, Laura and Samantha, who work alongside their farming brother, Jack. The family moved to North Creake in the stunning North Norfolk countryside in 1989, and have lived there ever since.
The soil is free draining and flinty with a chalk base and the naturally stony ground aids ripening of the grapes and acts as a hot-water bottle, keeping the grapes warm on chilly Norfolk nights! In 2019 a new winery was completed and now all Burn Valley wines are grown, harvested, fermented and bottled on site.
Burn Valley Vineyard hold a variety of events throughout the year. From 'meet the winemaker' tastings, to informal steak nights and the popular secret suppers, which include a tasting menu and wine flight, there is something to get your tastebuds tingling.
Book in advance or buy a special person a gift voucher here.
RELATED POST: Burnham Overy Staithe: Off-The-Beaten-Path Norfolk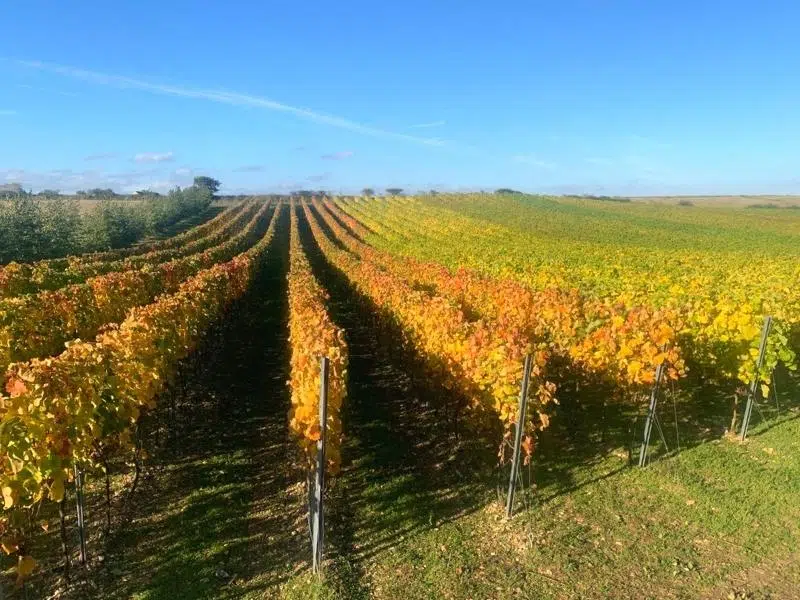 South Pickenham Estate
Home Farm, South Pickenham, Swaffham PE37 8DZ
The South Pickenham Estate Vineyard covers two hectares and was originally planted by a former owner for private consumption over 25 years ago.
In 2010 the vineyard was turned into a small commercial enterprise, selling up to 3,000 bottles of its own still and sparkling vintage each year, mainly to Norfolk pubs and restaurants.
Of particular note is their 2015 Brut, an English sparkling wine made from Seyval Blanc, Muller Thurgau and Chardonnay – this wine won bronze at the 2019 Decanter World Wines Award. Other varieties of grape grown here include Bacchus and Schonburger.
The grapes from South Pickenham Vineyard are pressed, fermented and bottled at a Suffolk winery. However, you can visit the Swaffham vineyard and enjoy a tour and tasting to learn about the management and production processes involved in wine-making on the estate.
Check dates here and book by calling the Estate Office on 01760 756376.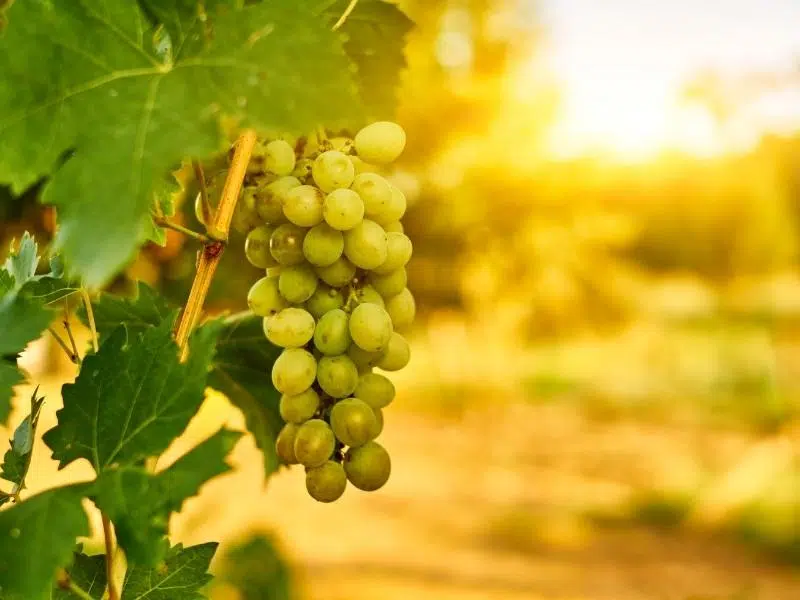 Are there any Norfolk vineyards missing from this round up? Scroll down to leave a comment if you think I need to add one!
Love it? Pin it!