Crabbing is a favourite family activity when holidaying in North Norfolk, and it doesn't get much better than crabbing in Cromer. With the backdrop of pretty Cromer and its fabulous beach, crabbing from Cromer Pier is a lot of fun for the whole family.
I crabbed here, and many other places along the North Norfolk Coast as a kid, and still remember the thrill of the catch, and working out all the tricks I could deploy to catch more crabs than anyone else!
Find out everything you need to know about Cromer crabbing in my guide, where I share everything I learned about crabbing as a child, and that I taught my kids too!
RELATED POST: The Ultimate Local's Guide to Norfolk England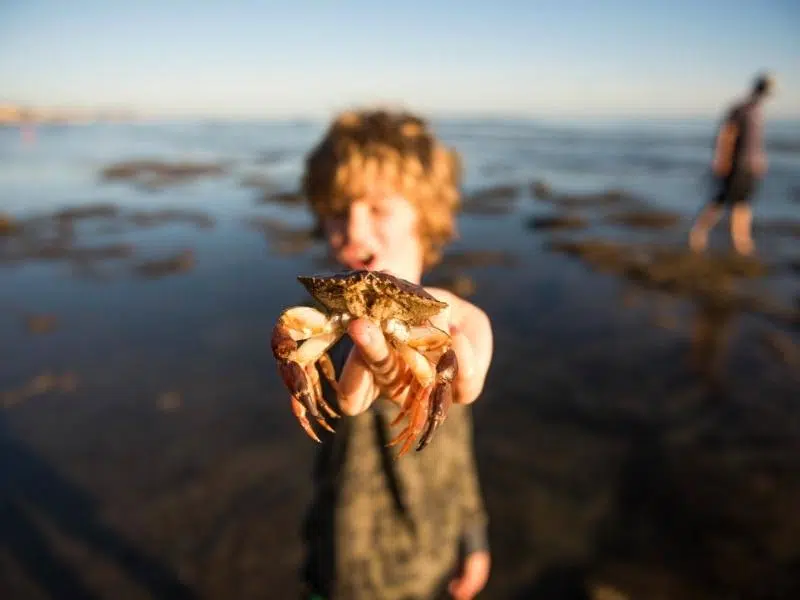 This post may contain affiliate links. If you book something I recommend, I make a small commission without affecting the price you pay!
Top Tips for Crabbing in Cromer
Norfolk is a great crabbing destination because of its estuarial and creek waters that the crabs like living in. The best spots for crabbing in Norfolk are the seaside towns of Cromer, Blakeney and Wells-next-the-Sea, and the tidal creeks at Brancaster Staithe, Titchwell and Burnham Overy Staithe, because they all have the right habitat in abundance.
RELATED POST: 22 Of The Best Things To Do in Cromer Norfolk
Crabbing is the sport of catching crabs from the sea using a line or net. Crabbing is one of the most fun things to do in Cromer for adults and kids alike, and it's free! Crabbing is basically dropping a baited line into the water and waiting for the crab to take the bait.
There is actually an annual World Crabbing Championships held in Cromer every year when hundreds of people compete to catch the most or largest crabs. Anyone can take part, and the event is part of the Cromer Crab and Lobster Festival – check my post about what's on in Norfolk for news about dates.
Did you know that in Norfolk, crabbing is sometimes called gillying? The term comes from the name for the crabs that are most commonly caught, which are called Norfolk gillie crabs.
RELATED POST: 30 of the Very Best Things To Do in Norfolk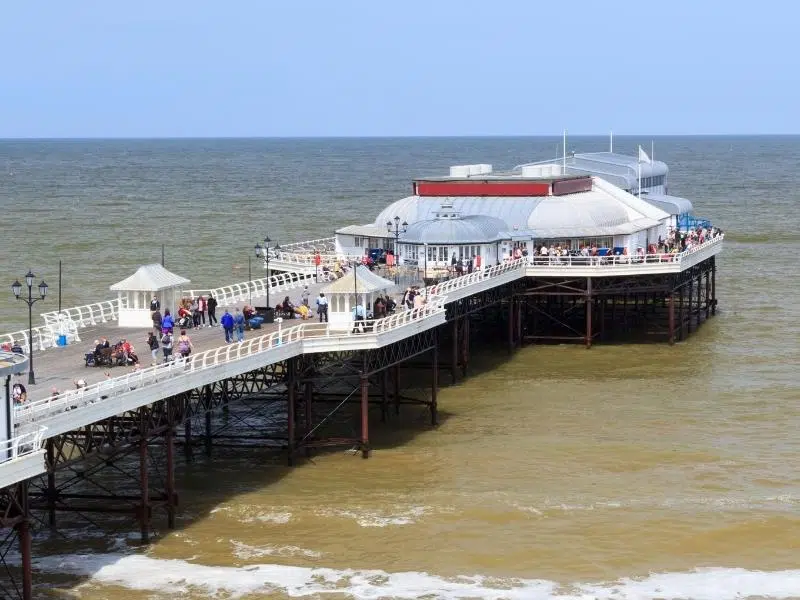 Planning a visit to Cromer? I share tips on getting there, where to stay, places to eat + things to do locally in my ultimate Cromer visitor guide.
The majority of the crabs you catch will be Common Shore Crabs or Gillie Crab (Carcinus Maenas). It's rare that this type of crab fishing will catch an edible Brown crab (Cancer Pagurus). These are the delicious, reddish-brown crabs which you see for sale in the seafood shops of Cromer, and are usually much bigger.
RELATED POST: Cromer Crab: All You Need to Know About Norfolk's Favourite Food
All you need are a line, weight and a crabbing bucket which you can buy all over town as a kit.
Back in the day, the line was good old-fashioned garden string wrapped around a wooden frame, but for the last few decades, the string has been replaced with indestructible nylon and frames are neon-coloured plastic. Now it's eco-friendly to use bio-degradable string again!
You could easily make your own eco-friendly DIY kit, with garden string and a 'lucky' stone with a hole in the middle for the weight, and a metal bucket from the garden shed.
The use of drop nets is not necessary, and they are harmful to marine life if lost in the sea. But, if you're planning on rock pooling for crabs on Cromer Beach, then a net is ideal.
Hooks are also not required and should never be used. The crabs grab onto the bait with their pincers, rather than their mouth, so hooks are pretty redundant really.
Your line needs to be long enough to reach the sea bottom beneath, strong enough to last the day and not break when wet, and your bucket large enough to accommodate a couple of crabs.
When I was a kid, the best bait was raw bacon with rind, but anything like chicken, small fish or even dog food works. I even used a bit from inside a pie once!
Crabs are greedy creatures with a heightened sense of smell. The smellier the bait the better! Other good options are raw liver, sardines, mackerel, squid and fish heads.
Pick a good spot along the pier. The best crabbing takes place as the tide is coming in, or in slack water – when the tide is in, but before it goes out.
Crabs are clever and know when the tide is heading out and bury themselves in the mud around the pier. You can check out the Cromer tide times here.
Add a few bits of seaweed or small rocks to the seawater in your bucket, if you want the crabs to feel at home!
Tie the bait to the bottom of your line, and then tie the weight slightly above it. Some kits come with a little mesh bag for bait, already attached to the line.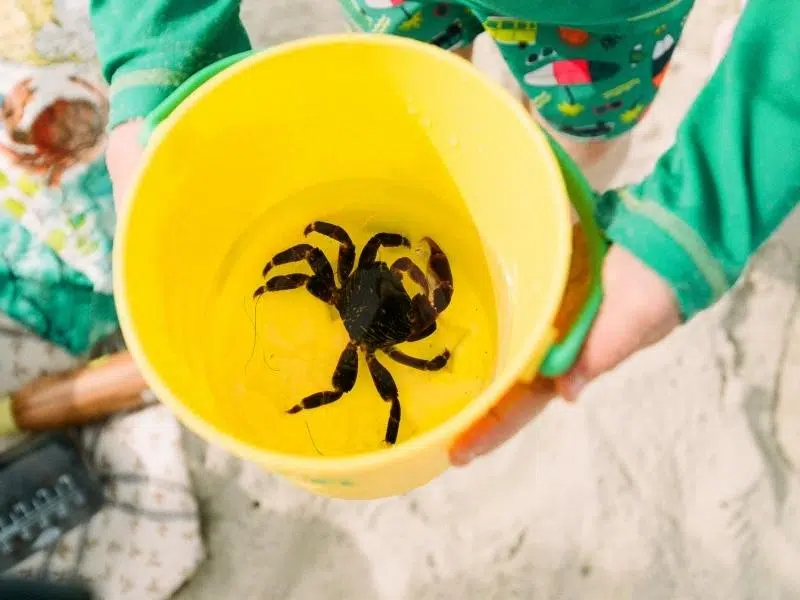 Now you're ready to start fishing for crabs!
Be prepared and have your bucket full of seawater (never tap water). The water in your bucket needs to be changed every hour or so, otherwise, the crabs could die from asphyxiation.
Lower your prepared line into the water until you feel it hit the sea bed. Then wait…. crabbing is a game of patience and you will be rewarded, I promise!
Once you feel the tug as the crab grabs the bait, you can reel him/her in. Do this gently and slowly, or you risk the crab falling off – not great if you're keeping count, but also potentially harmful for the crab, especially if it falls from a height.
If you need to hold the crab, do so at either side behind the pincers. Adults should show small children how to handle crabs safely. Never try and pick the crab up by its claws or legs – it will hurt the crab and it will probably hurt you!
Your bucket should have enough space for each crab – don't cram too many in, you wouldn't like it! Keep the bucket shady as crabs don't have much sun protection.
You may get the odd aggressive male crab in your bucket, who might start a fight with another crab. Keep an eye on things and take them back to the sea, if a scrap does break out!
Don't keep the crabs too long, and definitely don't take them home as pets, or for dinner – the crabs you catch here are usually not edible.
Don't throw them back into the sea from the pier, as this can be traumatic and painful for the crab. Instead, take them to the beach and watch them scuttle home from your bucket, with thanks for being your captive!
There are good rock pools on Cromer Beach, to the west of town. The best time to go rock pooling for crabs, and lots of other interesting creatures, is on a retreating tide. Make sure to wear shoes with a strong grip and take a net and bucket, so you can examine your catch, before returning them to their home.
Cromer's rock pools are inhabited by many species which are otherwise difficult or impossible to see from land, such as winkles, crabs, prawns and anemones. You may also find small lobsters, sea scorpions and hermit crabs at the lowest tide.
Take all of your crabbing gear with you when you leave. Lines, nets and other plastic items will end up in the sea if you don't and will harm marine animals.
If you want to try some delicious edible Cromer crab, you can get some to take home from one of the stalls near the beach.
Most Cromer hotels and restaurants will have freshly caught dressed crab on their menu during the May to October Cromer crab season – it's best served simply with a salad and new potatoes, or in a delicious crab sandwich.
If you want to find out the best places to eat Cromer crab, including my favourite, check my post about the best places to eat in Cromer.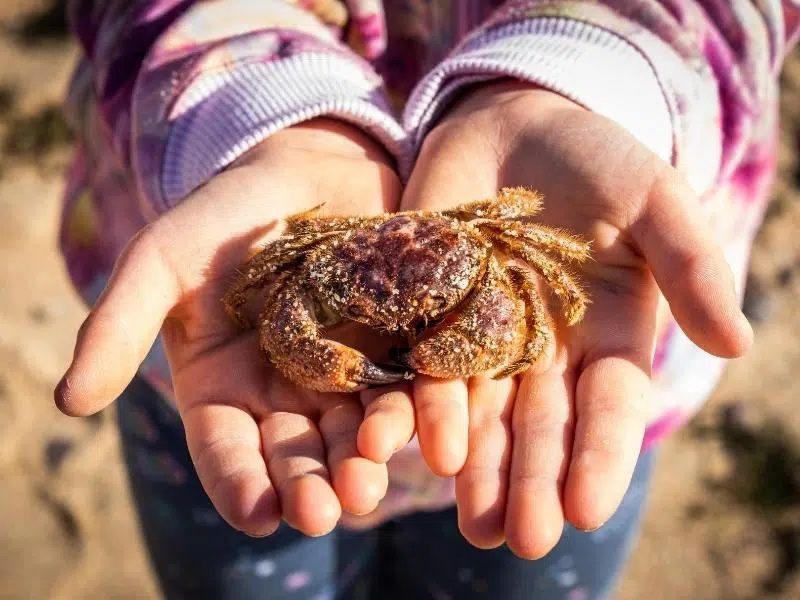 Have you been crabbing in Cromer? Share your top tips in the comments below!
Love it? Pin It