Cromer crab is a delicacy that has been enjoyed by locals and visitors to the Norfolk coast for centuries. From the way it is caught to the way it is prepared, Cromer crab is steeped in tradition and has a rich history to be explored.
Whether you are a foodie looking to expand your culinary horizons or a traveller seeking to experience the local flavours of Norfolk, you'll want to uncover the history of this beloved food, the traditional methods of catching and cooking it, and the best places to enjoy it in Norfolk.
As a Norfolk local, Cromer crab has been on my list of favourite foods for years. In this post, I'll share everything you need to know about Cromer crab, the famous Norfolk delicacy that has captured the tastebuds of so many.
RELATED POST: The Ultimate Local's Guide to Norfolk England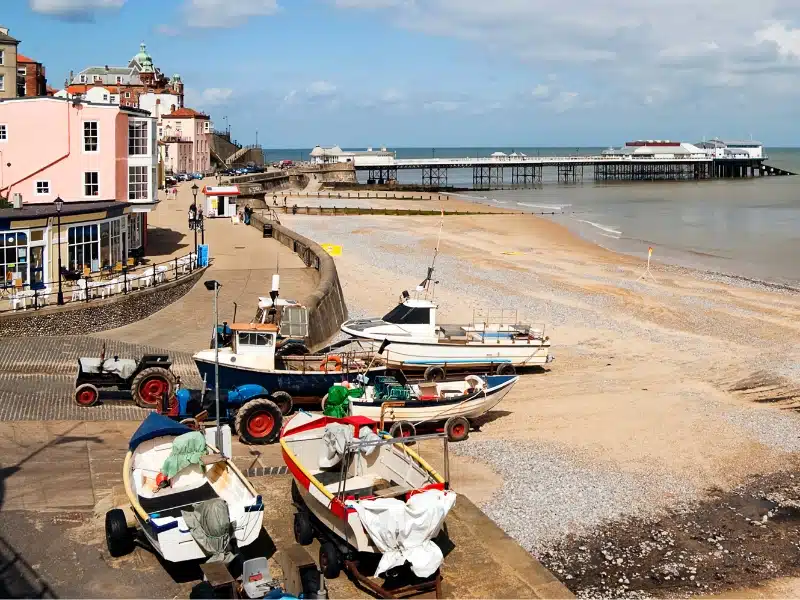 This post may contain affiliate links. If you book something I recommend, I make a small commission without affecting the price you pay!
Cromer Crab: A Culinary Delight of the Norfolk Coast
The Cromer crab, known for its exceptional flavour and tenderness, has garnered a special place among seafood enthusiasts.
Caught in the North Sea, in the nutrient-rich waters surrounding the Norfolk town of Cromer, this particular species of crab has become one of Norfolk's most renowned exports.
The exceptional taste can be attributed to the unique chalk shelf and environment in the area, which creates ideal conditions for these delicious crustaceans to thrive.
RELATED POST: 22 Of The Best Things To Do in Cromer Norfolk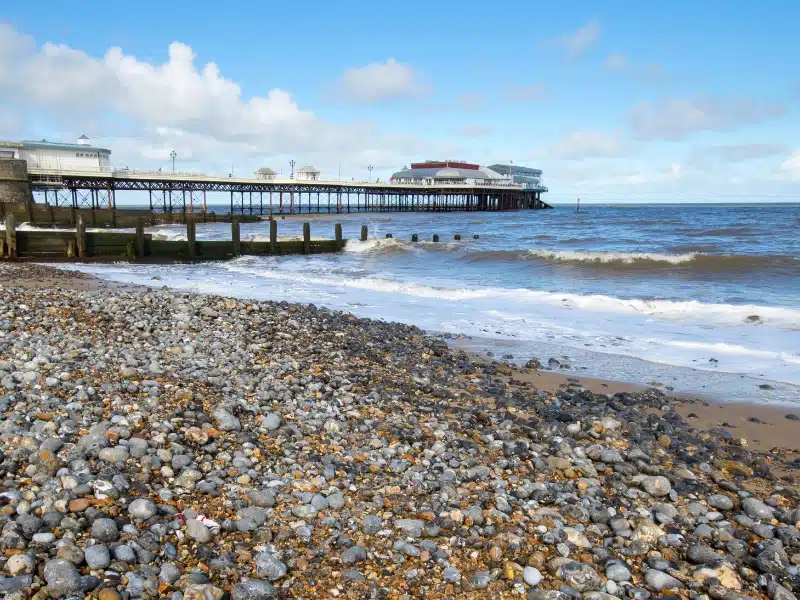 Planning a visit to Cromer? I share tips on getting there, where to stay, places to eat + things to do locally in my ultimate Cromer visitor guide.
What Is Cromer Crab?
Cromer crab is a type of brown crab (Cancer Pagurus) caught in the North Sea around the Norfolk town of Cromer.
This area is known for its nutrient-rich waters and chalk reef, believed to be the largest in Europe, which contribute to the unique flavoursome and tender quality of the brown crabs caught here.
Fishing has been a long-standing tradition in Cromer, with local fishermen initially catching a variety of species such as herring, cod, crabs, and lobsters. However, over time, the focus has shifted primarily to crabs, making the Cromer crab an essential source of income for local fishermen and a must-try delicacy for vistors to the town.
Apart from their distinct sweet Cromer crab taste, there's more to these crabs than just their flavour. They are also considered a healthy dietary choice, being high in protein, omega-3 fatty acids, zinc, selenium, and vitamin B2, and low in fat.
RELATED POST: 26 Norfolk Food & Drink You Must Try!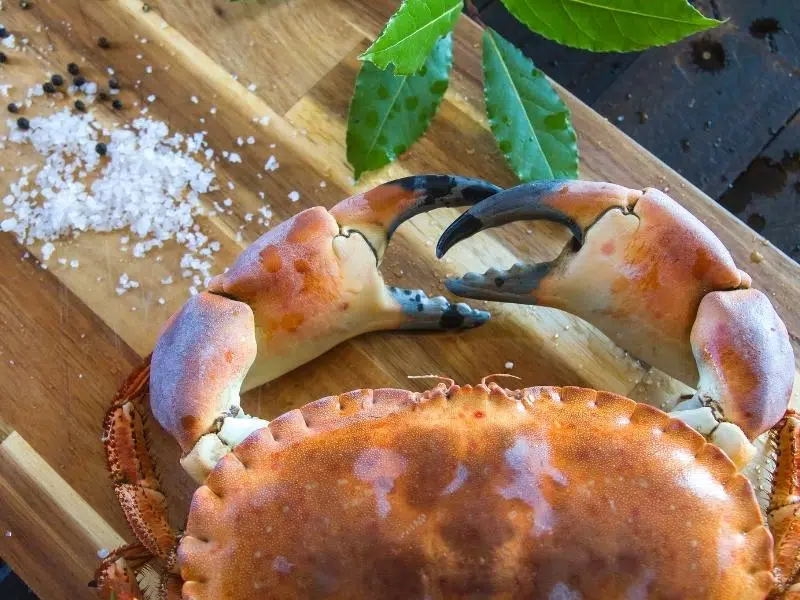 Why Is Cromer Famous for Crabs?
Cromer's clean waters, rich in nutrients, and its long sandy beaches provide the perfect habitat for these crustaceans, allowing them to thrive in the waters of the North Sea.
Because of the ideal conditions, Cromer crab is well-meated, has a relatively high proportion of white to brown meat and a juicy sweet taste. These attributes have helped Cromer crab develop an excellent reputation which places Cromer crab in high demand – not just in Norfolk but across the UK and internationally.
This reputation is bolstered by the popular annual Cromer Crab and Lobster Festival, held in May each year. The festival is a feast of seafood, fun and heritage held over a weekend and shared between Cromer and its nearby coastal neighbour, Sheringham. For news of the festival, check my guide to what's happening in Norfolk.
Ultimately, the combination of high-quality crabs, favourable environmental conditions, and the perseverance of the local fishing industry has cemented Cromer's status as a famous destination for crab lovers.
RELATED POST: 23 Amazing Things To Do in Sheringham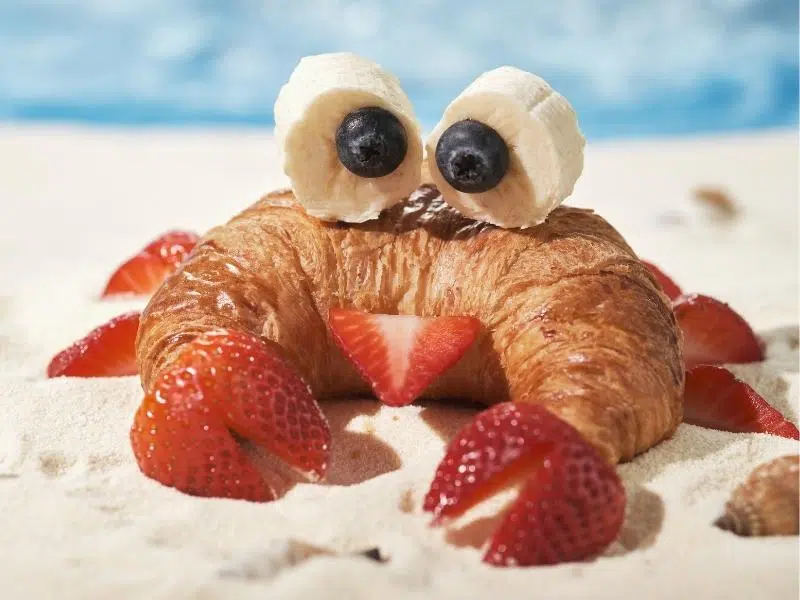 Why Is Cromer Crab So Delicious?
The sweet taste of Cromer Crab is a direct result of the crab feeding on the nutrient-rich food available in the waters surrounding Cromer. This pure and natural diet is what ultimately lends the crab its unbeatable and distinct flavour.
RELATED POST: 30 of the Very Best Things To Do in Norfolk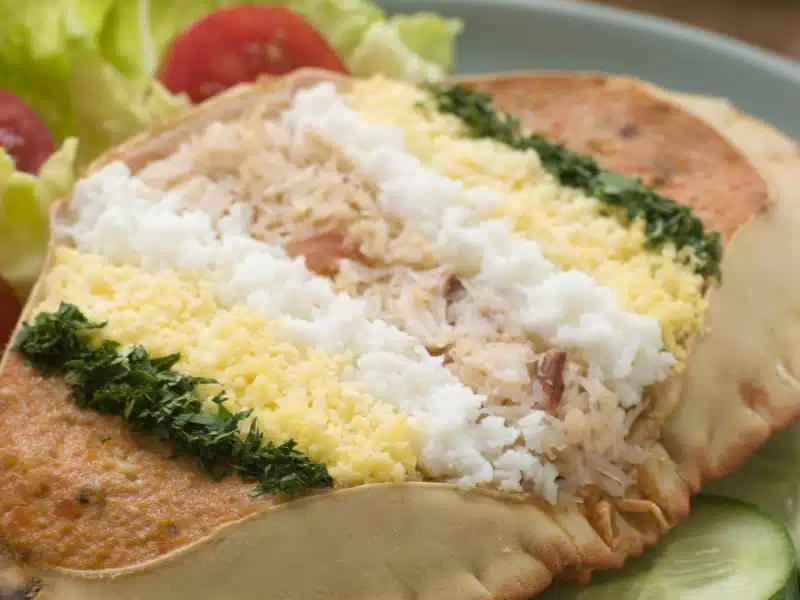 How is Cromer Crab Caught?
The practice of potting for crabs in Cromer has been going on for centuries, dating back at least as far as the 1720s when Daniel Defoe mentioned crabs being transported from Cromer to Norwich and even London.
In Cromer, fishing for crab is in the blood and locals have made their living from the sea for generations. Not much has changed today and barrel-shaped crab pots called creels are still in use.
Local crab fishermen launch wooden boats off the beach and lay rows of crab pots tethered together into a shank in the sea. At each end, there's an anchor and a dan buoy, which shows where the line starts.
The crab pots are baited up with scads (mackerel) and frames (cod bones), and left for 12 to 24 hours or two to three weeks, depending on what is caught.
The crab pots attract crabs and lobsters which are able to enter but prevented from leaving. They are then hauled back to the boats, where the crabs are sorted and collected for further processing.
When the crabbing boats return to Cromer Beach, they are hauled out of the surf by rusty tractors and the crabs are sold locally to be prepared to eat, or cooked and prepared by the fishermen themselves.
Approximately ten boats continue to ply their trade from the beach east of the pier in Cromer, and the strong connection between the town and its crabs has become a vital part of Cromer's identity and the local economy.
The methods used for catching Cromer crabs are sustainable and carefully regulated to ensure the viability of the crab population in the area, and any crabs which are too small are placed back into the sea.
RELATED POST: 21 Museums in Norfolk You Won't Want to Miss!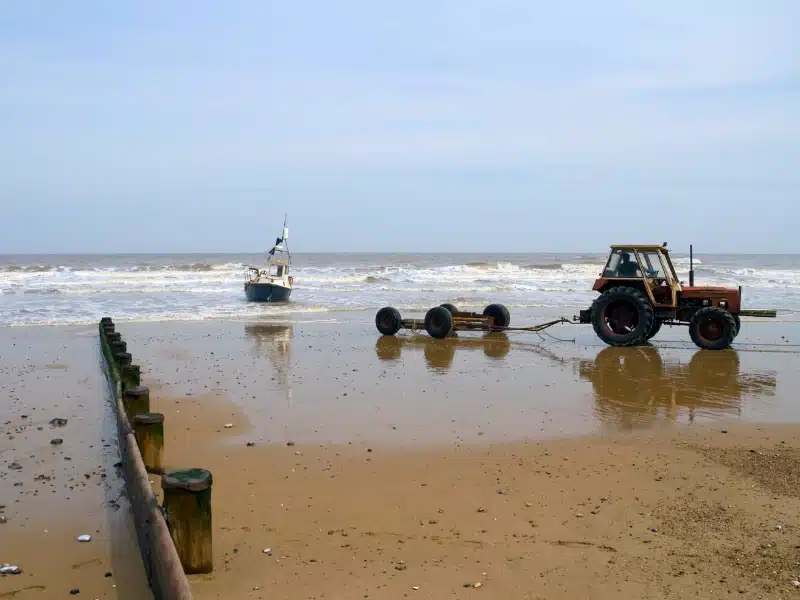 What is Cromer Crabbing?
Not to be mistaken with fishermen and their crab pots, crabbing is the sport of catching crabs from the sea using a line or net. Crabbing in Cromer is basically dropping a baited line from Cromer Pier into the water and waiting for the slow-moving crab to take the bait.
Did you know that in Norfolk, crabbing is sometimes called gillying? The term comes from the name for the crabs that are most commonly caught, which are called Norfolk gillie crabs. It's rare that this type of crab fishing will catch an edible Cromer crab.
When Is Cromer Crab Season?
Crab season in Cromer lasts for about eight months, from March to October, with the peak period being in May and June.
During these peak months, crab populations are at their largest, making it the ideal time to catch and eat these delicious treats.
The season slightly dips in July and August, as the crabs enter their breeding phase, moult, and grow new shells. During this time, it is still possible to catch Cromer crabs, but they may not be as abundant as in the previous months.
RELATED POST: North Norfolk Coast – 19 Unmissable Highlights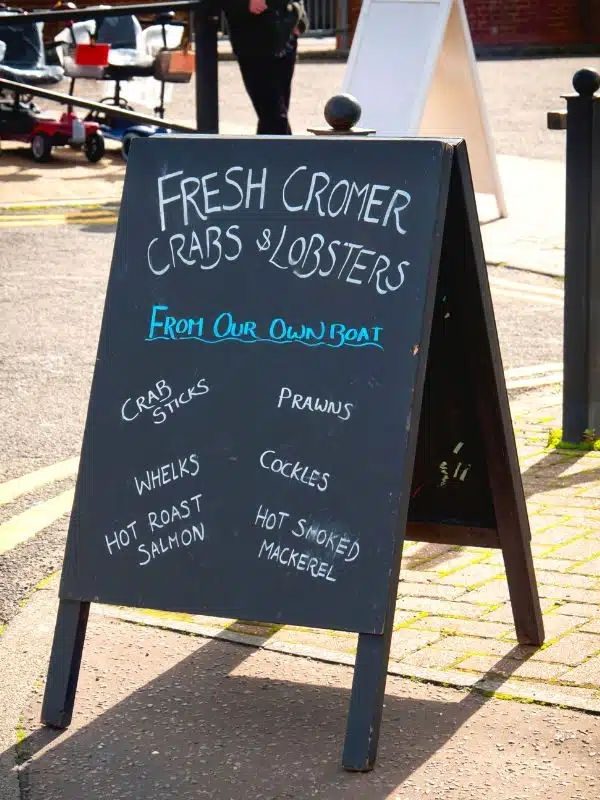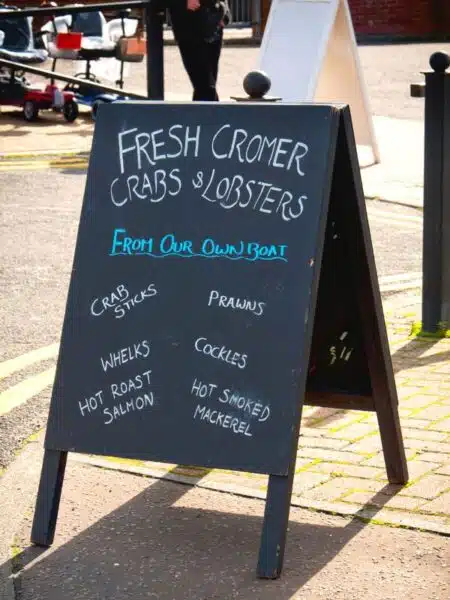 Where Can I Buy Fresh Cromer Crab?
If you want to buy Cromer crab in and around Norfolk, just look out for chalkboards and road side signage. There are many seafood stands and stalls dotted around the coastal villages, where you can find prepared and dressed Cromer crab for sale. These are our top spots;
J Lee Crabstall, Cromer: Considered by many to be the best crab in Cromer and caught by local fisherman John Lee himself.
Davies' Fish Shop, Cromer: Davies' crabs are caught daily by their own boat and cooked and dressed in their premises on Garden Street in the centre of town.
Wiveton Hall Farm Shop, Wiveton: One of my fave farm shops, you can pick up fresh Cromer crab and plenty of other local foods.
Cley Smokehouse, Cley: The smokehouse offer a range of smoked seafood, including smoked Cromer crab, which is available to buy online or in-store.
Gurneys Fish Shop, Burnham Market and Thornham: A Norfolk stalwart, Gurneys offers a huge range of fresh seafood and lots of other Norfolk goodies too.
CA Seafoods, Sheringham: A local fishmonger with decades of experience, all their Cromer crabs are boiled and dressed by hand.
The Fish Shed, Brancaster Staithe: This local fishmonger offers a range of fresh seafood caught by their own fishermen.
The Crab Hut, Brancaster Staithe: A stand-alone seafood stall right by the sea, you can buy all sorts of Norfolk seafood here including whelks and muscles.
Joyful West's Shellfish Bar, Sheringham: This shellfish stand is located close to the seafront and is an ideal stop for a special seafood snack.
For Cromer crab delivery outside of Norfolk, Jonas Seafood is a specialist Cromer-based online fishmonger that sells handpicked crab meat layered into clean and natural scallop shells. These Cromer crabs by post are traditionally pot caught and purchased from local fishermen, which helps support the local fishing industry.
RELATED POST: 43 Norfolk Farm Shops for Amazing Local Produce!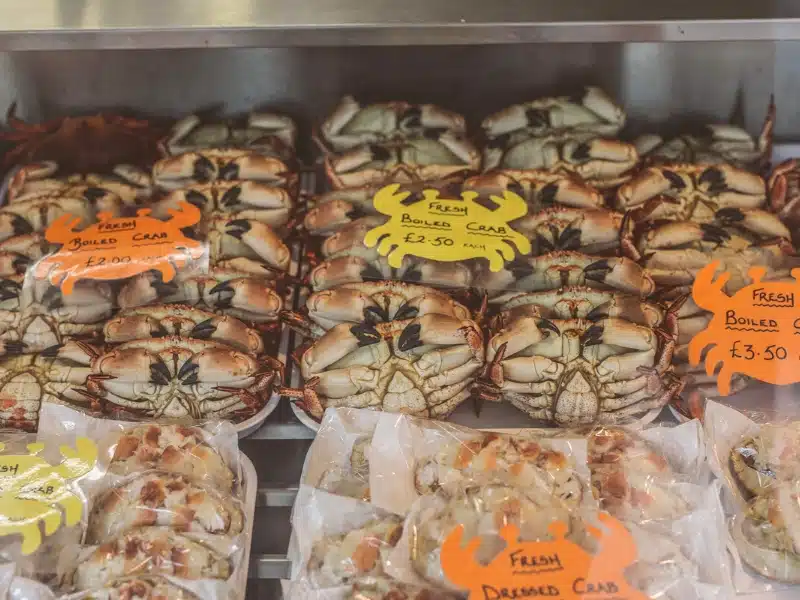 How Can I Prepare Cromer Crab?
When you buy Cromer crab, it will usually be cooked, so you don't have to worry about that part of enjoying your seafood! You can buy dressed Cromer crab or a whole crab and dress it yourself.
There is definitely a technique to dressing a crab! It's not difficult but you do need nimble fingers, a spoon or skewer and a large, sharp knife. The process involves removing the crab meat from the shell, body, legs and claws, and disposing of the inedible parts like the mouth, stomach sac and gills.
You may know the latter as 'dead man's fingers' but despite the name they are not poisinous and can't kill you if you eat them, but they do taste really bitter which is why they're removed.
Once the crab is broken up, the brown meat can be extracted from the main shell and body. This dark meat is well-flavoured, rich and smooth.
The white meat is removed from the claws and legs, and there may be some in the body too. This lighter meat is milder and has the light and fresh flavours of the sea.
It's much easier to watch this excellent video to understand how to dress a crab, than for me to try and explain it!
For a quick and easy snack, mix the dressed crab white and brown meat, and spread it on buttered seeded bread slices. This simple crab sandwich is delicious on its own, or with a side salad. Alternatively, eat from the shell with a squeeze of fresh lemon juice and a grind of black pepper.
What Dishes Can I Make with Cromer Crab?
Search Google and you'll find literally thousands of crab recipes. Below are a few of my favourites, although I have to confess, I prefer eating crab at one of Norfolk's specialist seafood restaurants than cooking it for myself!
Garlicky Crab with Chilli and Coriander
To prepare this dish combine the dressed crab meat with minced garlic, chopped chilli and chopped coriander in a pan over low-medium heat – be careful not to overcook or the meat will be tough. Season with salt and pepper, and add a splash of white wine for extra flavour. Continue cooking until heated through and serve immediately with a side salad.
Cromer Crab Ravioli
This elegant pasta dish involves pasta dough filled with a mixture of diced Granny Smith apple, cucumber, and both white and brown Cromer crab meat. This unique combination of fresh flavours perfectly compliments the sweet and delicate taste of the crab.
Baked Cromer Crab with Berkswell Cheese
Inspired by Rick Stein's Seafood Lovers' Guide, this dish sees the crab mixed with the rich and savoury flavours of Berkswell cheese (which can be swapped with Wissington cheese for an all-Norfolk dish) making for an indulgent and satisfying meal. Cooked to perfection, the baked crab can be enjoyed as a starter, a main course or even as a snack.
Crab & Corn Chowder
A hearty Crab and Corn Chowder amplifies the sweetness of the crab by pairing it with corn, resulting in a filling and comforting meal.
Baked Cromer Crab Thermidor
If you're looking to experiment with a more decadent meal, this recipe consists of a rich and cheesy sauce made with Parmesan cheese, spring onions, and cayenne pepper, mixed with both the white and brown crab meat from Cromer crab.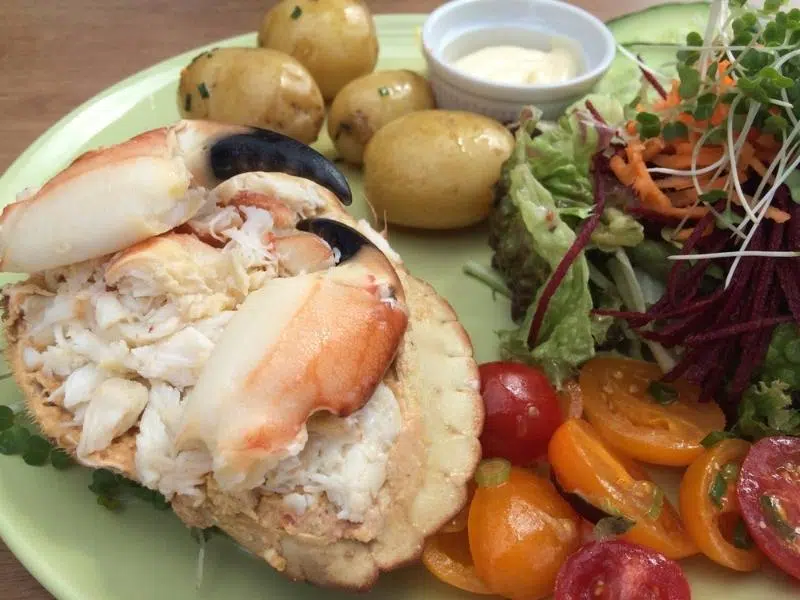 Where Are the Best Places to Eat Cromer Crab?
Rocky Bottoms, West Runton
My favourite place for Cromer crab is Rocky Bottoms, a locally run family business, where they catch crabs using their own fishing boat, and then feed you in their cliff top restaurant.
They also serve other local delicacies like samphire which grows wild in the nearby dunes. You can also buy dressed and prepared crab at their Crab Hut to take home – yummy!
Brownes on Bond Street, Cromer
Brownes on Bond Street is a traditional family-run café known for its locally sourced and homemade produce, including scrumptious crab dishes.
If the weather is good, the beautiful, flower-filled courtyard is an idyllic space to enjoy lunch. The crab baguettes, salads and sandwiches are huge and the lemon drizzle cake really is to die for!
Crab Pot Cafe, Cromer
The Crab Pot Café is a traditional seaside café, which serves some of the best Cromer crab in the town and also does an excellent breakfast and proper afternoon tea, with a cake stand and a variety of sandwiches before the sweet treats.
The crab here is freshly prepared on the day it is caught in the waters off Cromer, and the café offers it in a variety of ways. From the well-known crab salad or sandwich to crab and asparagus quiche and really tasty crab cakes, however you like crab, you'll find it here!
The Jetty Cafe, Cromer
Another great café doing local Cromer seafood, the Jetty Café is simple and unfussy, and doesn't even have a website or Facebook page for me to link to!
But, they put a whole Cromer crab in every sandwich, make enormous and very delicious fruit scones and serve one of the best breakfasts, especially good after a long walk on Cromer Beach. Oh, and I love to read the quirky and informative chalkboards outside!
Wells Crab House, Wells-next-the-Sea
An intimate and informal restaurant of just eleven tables, Wells Crab House offers beautifully prepared local and seasonal seafood dishes and seafood platters. Crabs, lobsters, oysters and mussels come from local fishermen, all caught daily in the waters of the north Norfolk coast.
Book early though as they get very busy in season, or grab one of their salads and platters to take away.
RELATED POST: Restaurants in Cromer – 16 of The Best Places to Eat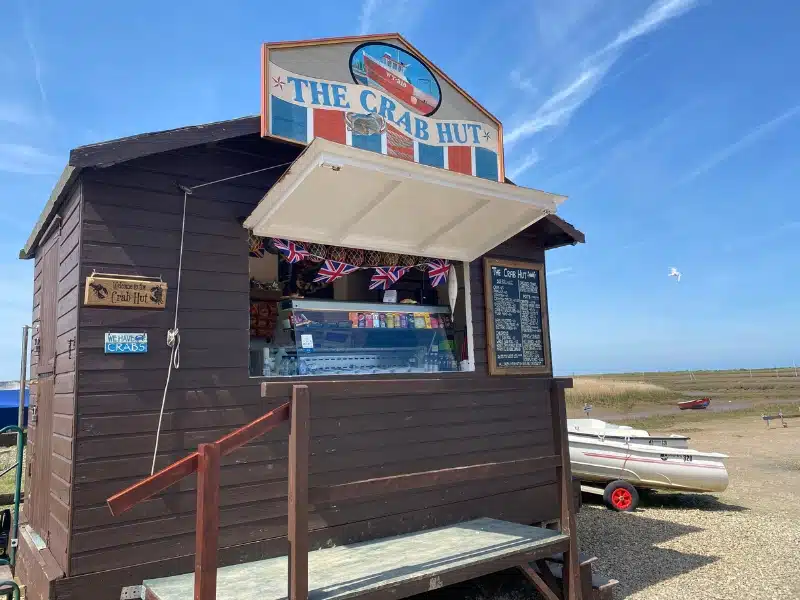 Have I missed your favourite place to eat or buy Cromer crab? Let me know in the comments so I can check it out and add to my Cromer Crab round-up!
Love it? Pin it!