Discover the beauty of Norfolk on a thrilling new cycling adventure, the Rebellion Way. Developed by Cycling UK, this 232 mile route is a scenic tour of Norfolk's landscape, culture, and heritage.
The trail gives cyclists a fantastic introduction to multi-day, on- and off-road touring as it meanders along quiet, mostly flat back roads, byways, cycle paths, and bridleways, allowing cyclists to explore some of Norfolk's lesser-known gems.
Whether you're a novice or an experienced cyclist, a family or a solo rider, I've got all the info and tips you need to enjoy an amazing cycling adventure on the Rebellion Way in Norfolk.
RELATED POST: The Ultimate Local's Guide to Norfolk England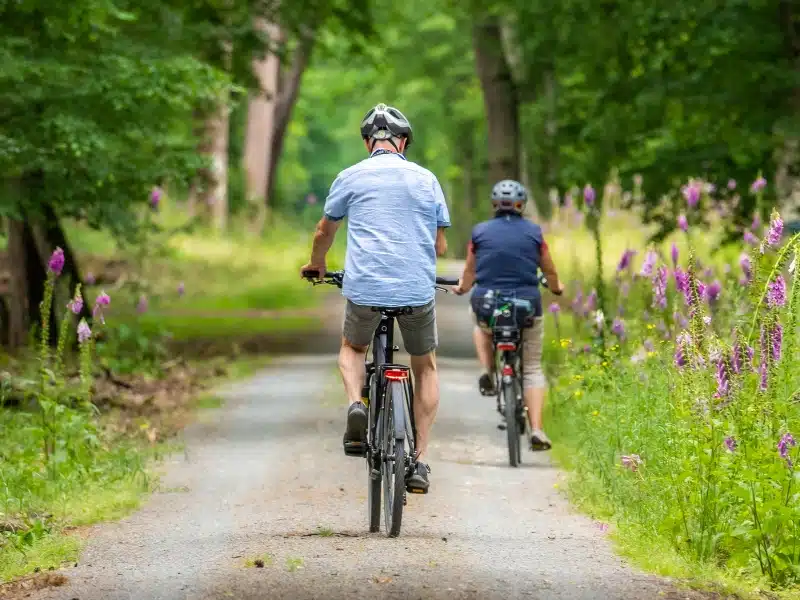 This post may contain affiliate links. If you book something I recommend, I make a small commission without affecting the price you pay!
What is the Rebellion Way?
Launched in October 2022, the Rebellion Way is a 232 mile (373km) long distance cycling route situated in Norfolk, showcasing the county's finest scenery, history and attractions.
The long-distance circular cycle route meanders through a combination of quiet back roads, mostly flat terrain, and picturesque landscapes, making it an ideal introduction to multi-day, on- and off-road cycling for any enthusiast.
As well as taking in Norfolk highlights like Norwich, King's Lynn and the North Norfolk Coast, the route also passes through Thetford Forest and the Norfolk Broads, taking in endless skies, vast beaches, winding rivers and pretty villages.
Why is it Called the Rebellion Way?
Although it may seem a quiet and peaceful country, Norfolk actually has a fascinatingly turbulent history from the Iron Age onwards, and the Rebellion Way name comes from two uprisings that took place in Norfolk; those of Boudicca and Robert Kett.
Boudicca, a cultural icon renowned for leading a rebellion against Roman rule almost two millennia ago, has left her mark on the route. As the trail winds out of Norwich, it passes by Venta Icenorum, the capital of Boudicca's Iceni tribe, where remnants of the settlement can still be seen today.
The route also incorporates portions of the Boudicca Way, which are accessible by bicycle.
The trail also traverses Kett's Heights, a pivotal site in Kett's Rebellion, a response to the enclosure of land in Norfolk. Beginning in Wymondham in July 1549, rebels began by dismantling fences erected by wealthy landowners.
The group singled out yeoman Robert Kett, and rather than fighting the rebels he joined their cause and offered to lead them. The rebellion swelled to 10,000 strong and marched on Norwich, seizing the city after a fierce battle.
Kett's Rebellion was ultimately unsuccessful, but its aims still resonate today in the continuous struggle for public access to the English countryside.
How Long Does it Take to Cycle the Rebellion Way?
Designed to be ridden in 4-6 days, there is no fixed timeframe for the route. If you prefer to spend longer exploring as you go, then the route would make an amazing 10-14 day holiday experience, and you'd be able to fit in a few no-cycle days too.
How Fit Do I Need to Be to Cycle the Rebellion Way?
Cycling UK designed the route, and its curator Guy Kesteven says "The idea was to create a route that you can do whether you're eight or 80, there's nothing very technical."
The route receives support from the European Regional Development Fund and the Experience Project, ensuring a well-maintained and easily accessible route for all, and is designed to be manageable by anyone of reasonable fitness on most types of bike.
However, contrary to popular belief, Norfolk isn't entirely flat and there are rolling hills in some areas. The route doesn't climb above 100m at any point and where it does it's usually a gentle push rather than a Tour de France climb!
The route can be affected by wind where it touches the North Norfolk coast, so a bit of stamina may be required here. Most of the ride though is sheltered by trees and thick hedgerows making pedalling when it's windy relatively easy.
You will need the energy to keep you going after a long day in the saddle, and a reasonable level of fitness. If all else fails, you can always get off and push!
What Type of Bike Do I Need for the Rebellion Way?
When embarking on the Rebellion Way cycling route there are multiple bike types suitable for the adventure, and you could even tackle to route on a mountain bike:
Gravel bikes – Gravel bikes are ideal for navigating the mix of road surfaces encountered throughout the 232-mile route.
E-bikes – With their electric assistance, e-bikes help riders cover long distances with less exertion. Remember to take note of charging opportunities along the way when you're looking at accommodation.
Hybrids – Suitable for both road and off-road cycling, hybrid bikes offer a versatile option for riders participating in the Rebellion Way adventure.
Rebellion Way Route Map & Navigation
The Rebellion Way is not a signposted route. However, it does overlap with the National Cycle Network Route 1, Pedders Way and Boudicca Way in places, so those signposted routes can be followed where they converge. The maze-like cycle route into and out of King's Lynn is also well-signposted.
In addition to the overlapping trails, and tranquil back roads, the Rebellion Way boasts a mix of tranquil back roads, quiet lanes, byways, cycle paths, and bridleways, to enhance and give variety to the cycling experience.
We have provided a Rebellion Way map below as a route guide, but when cycling the Rebellion Way we recommend using a GPS like this Garmin Edge Explore bike computer as some parts of the route won't show up on a regular map and turns can be easily missed. You can download the Rebellion Way GPX file here.
How to use this map – Use your fingers (or computer mouse) to zoom in and out. Click or touch the icons to get more info about a place, and click the arrow in the box top left to open the index. To add to your own Google Maps account, click the star next to the title of the map.
Rebellion Way Highlights
Norwich to Thetford
Norwich
The Rebellion Way officially starts from Norwich Train Station, an ideal spot if you're bringing your bike to Norfolk by train.
Packed with wonderful buildings, a thriving food scene and historic stories, cycle friendly Norwich is well worth exploring at the start or end of your Rebellion Way adventure.
The only city in Norfolk, Norwich is the most complete medieval city in the United Kingdom today. Home to ancient buildings, twisting medieval lanes, two cathedrals, half-timbered, the Art Nouveau 1899 Royal Arcade and the pretty River Wensum flowing through the city centre, Norwich is rich in history and architecture.
A visit to the 900-year-old Norwich Market is a must. Located slap bang in the middle of the city, the market sits at the feet of The Forum and Norwich's Art Deco city hall.
You can buy local organic fruit and veg, North Norfolk coast seafood and fish, locally grown flowers, crafts, Norfolk cheese and wine, and pretty much anything else made in Norfolk you can think of!
There are also plenty of food stalls selling everything from legendary fish and chips (Ron's, row D, stalls 94 and 95), Indian street food, pies and pasies, homemade cakes and dressed Cromer crab. Grab your bite of choice and watch Norwich life go by before you hit the city.
The Norman-built Norwich Cathedral is unique for its soft creamy limestone exterior and the fine 96-metre spire, the second highest in England after Salisbury Cathedral.
Visit here and then stroll the Cathedral Quarter and visit Tombland Alley, home to St. Ethelbert's Gate (1272) and Erpingham Gate (1420), which lead into the idyllic Cathedral Close, with its wealth of historic buildings, including the medieval deanery.
RELATED POST: 32 Amazing Things To Do in Norwich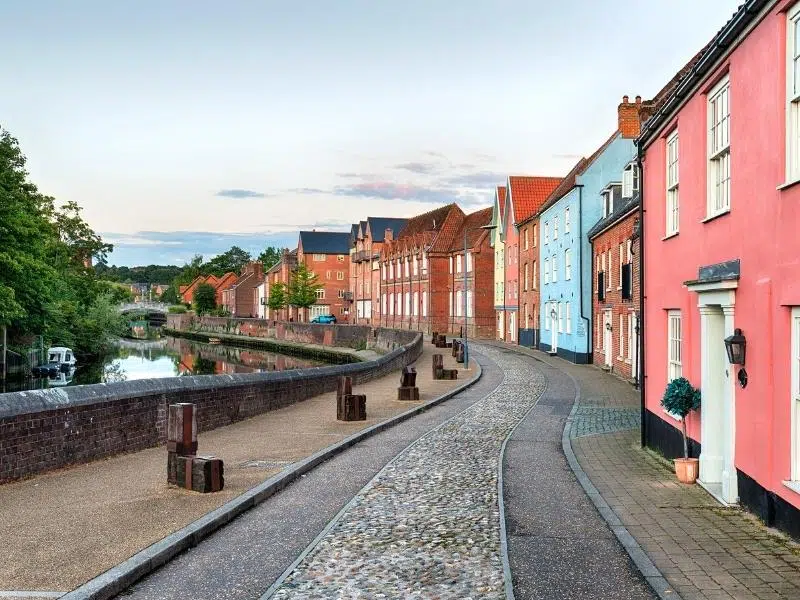 Caistor St Edmund
Caistor St Edmund is a small village located a few miles south of Norwich. The village is situated on the River Tas, which flows through the surrounding countryside. The village is home to a number of historic landmarks, including the ruins of a Roman town, Venta Icenorum, and a Saxon church.
The Roman town of Venta Icenorum was established in the 1st century CE and was an important centre of trade and commerce in Roman Britain, and was home to a number of public buildings, including a forum, temples, and a public bathhouse.
The town played an important role in the history of Boudicca, the queen of the Iceni tribe. In CE 60 or 61, Boudicca led a rebellion against the Roman occupation of Britain, and her forces marched on Venta Icenorum, which was then under the control of the Roman governor Gaius Suetonius Paulinus.
Despite being vastly outnumbered, Suetonius managed to defeat Boudicca's army in a decisive battle, which historians believe took place somewhere near Caistor St Edmund. The exact location of the battle is unknown, but it is believed to have been fought along the Roman road that ran from Venta Icenorum to London.
Today, the ruins of Venta Icenorum are a popular tourist attraction, and visitors can explore the remains of the town's walls, gates, and other structures.
The village of Caistor St Edmund is also home to a number of other historic landmarks, including the ruins of a Saxon church. The church, which dates back to the 9th century, was built on the site of a Roman temple and features a number of fascinating architectural features, including a Norman doorway and a 14th century tower.
Long Stratton
Long Stratton is a fairly unremarkable town but does have a couple of excellent museums, a few good pubs and an excellent farm shop.
The nearby award-winning Forncett Industrial Steam Museum, which gives a fascinating insight into Norfolk's industrial heritage and the Norfolk Tank Museum, which houses a collection of military vehicles, weapons and militaria mainly from the 20th Century and the Cold War Period, are both worth a visit.
RELATED POST: 21 Museums in Norfolk You Won't Want to Miss!
100th Bomb Group Memorial Museum
The 100th Bomb Group Memorial Museum is located in the original control tower and other remaining buildings of RAF Thorpe Abbotts and is dedicated to the American soldiers and members of the United States 8th Air Force who fought with the Allies in Norfolk in World War II.
The area became known as the 'Fields of Little America' due to the number of American servicemen and women stationed there.
The former control tower is now a museum space that exhibits historic documents, photographs, uniforms and service equipment. This collection includes a number of maps and other war-related artefacts relating to the 'Bloody Hundredth', as the bomb group became known, due to their heavy losses.
The roof of the control tower is known as the glasshouse, from where the remaining airstrips are visible. Frozen in time, it is as it was when the airfield was operational with the addition of a model of the airbase in the 1940s.
Diss
An ancient Norfolk market town with real character, Diss sits just north of the Suffolk border in the delightful Waveney Valley.
With historic churches, timber-framed buildings and the Diss Mere with its central fountain and underground springs, Diss makes the perfect base for exploring both Norfolk and Suffolk.
Diss is also home to the fabulous Bressingham Steam Museum & Gardens, where you can explore the seventeen-acre gardens with over 8000 species and varieties of plants, before hopping on the narrow-gauge steam train for a ride through the local woodlands.
Thetford
Thetford is a historic market town in the unspoilt Breckland area of Norfolk. Known for its turbulent and influential past and Norman history, this medieval Norfolk town has lots to discover.
There are lots of Thetford attractions to keep everyone busy. With the award-winning Dad's Army Museum, a heritage trail and medieval motte and bailey castle to explore, this often overlooked Norfolk town is well worth a visit.
Thetford also lends its name to the fantastic Thetford Forest, through which you'll be cycling. The 73 square miles of pines, heathland and broadleaves make the ideal setting for a great cycling day and a welcome refuge for a rich variety of animals and plant life.
RELATED POST: 19 Top Things To Do in Thetford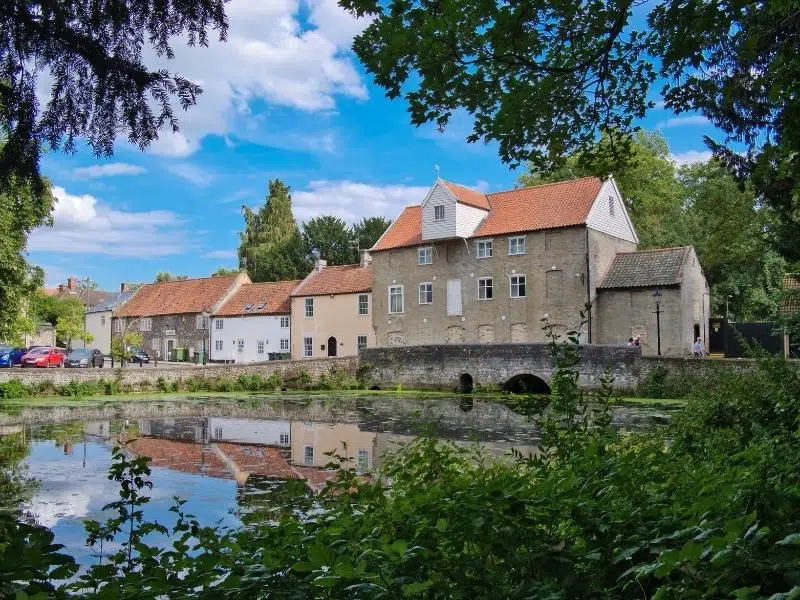 Thetford to King's Lynn
Grimes Graves
Not a grave, nor a burial place, Grime's Graves is a fascinating Neolithic flint mine that worked between about 2200 and 2500 BCE and is the only ancient flint mine open to visitors in Britain.
If you didn't know what was beneath, you might think you were walking over a particularly bumpy meadow, but this grassy lunar landscape hides 400 flint mines beneath. First named Grim's Graves by the Anglo-Saxons, it was not until one of them was excavated in 1870 that they were identified as flint mines that were dug over 5,000 years ago.
A small exhibition area illustrates the history of this historic site. Visitors can descend nine metres by ladder into one excavated shaft to see the jet-black flint, which was used for making axes which were highly prized tools and were traded across the British Isles.
Lynford Arboretum
Lynford Arboretum is a beautiful woodland that covers an area of approximately 35 hectares and is home to a stunning collection of trees and shrubs from around the world – and you'll be cycling right through the middle of it!
The arboretum was established in the late 19th century by the Honourable Charles Rothschild, who was a keen botanist and conservationist and planted a wide variety of trees and shrubs in the arboretum, many of which were exotic species from Asia, North America, and Europe.
Today, the arboretum is managed by the Forestry Commission and is open to visitors throughout the year. You can explore the woodland on a network of footpaths and trails, which wind through the trees and offer stunning views of the surrounding countryside.
One of the highlights of the arboretum is the collection of rhododendrons and azaleas, which bloom in a riot of color in the spring and early summer. The arboretum is also home to a wide variety of wildlife, including deer, foxes, and a range of bird species.
In addition to its natural beauty, Lynford Arboretum was used as a training ground for the British Army during World War II, and remnants of the military training ground can still be seen in the woodland today.
Desert Rats Memorial
The 7th Armoured Division was stationed in Thetford Forest between January and May 1944 while they prepared for the invasion of Normandy.
This was the only time the division was in the United Kingdom in its entire existence – they fought from El Alamein to Berlin via Monte Cassino in Italy, Thetford Forest, France, Belgium and Holland. The Division sailed from Felixstowe on the 5 June 1944 with the first tanks landing on Gold Beach on the evening of 6th June 1944.
The Desert Rats Memorial and main plaque were inaugurated on 23rd October 1998 and are located on the A1065 2 miles north of Mundford and 11 miles north of Thetford. The additional plaque commemorating the Desert Rats of the 4th & 7th Armoured Brigades from 1945 to 2003 was added to the plinth and inaugurated on 27th June 2004.
The moving memorials are dedicated to all who served in the 7th Armoured Division (The Desert Rats), the 4th Armoured Brigade (The Black Rats) and the 7th Armoured Brigade (The Green Jerboa), throughout history.
Oxburgh Hall
Run by the National Trust, Oxburgh Hall is a 15th century moated manor house built by Sir Edmund Bedingfield, whose ancestors still live there today. The house consists of four domestic buildings around a courtyard, built from honeyed stone, and contained within a wide moat.
During the English Civil War, the family lived through turbulent times. Supporting the Royalist cause led to Sir Henry Bedingfield being imprisoned in the Tower of London, one son being wounded, and another forced to flee abroad. Parliamentarian troops ransacked the Hall and destroyed the gardens.
Today, Oxburgh Hall highlights include the King's Room, where Henry VII stayed in 1487, and needlework hangings created by Mary, Queen of Scots while she was held in custody by the Earl of Shrewsbury.
RELATED POST: 14 Stately Homes in Norfolk to Visit
Gooderstone Water Gardens
Goodserstone Water Gardens is a unique attraction for all garden lovers. Six acres of lush gardens surrounded by waterways and ponds create a tranquil spot to while away a summer's afternoon.
As you wander the trails and cross bridges, keep your eyes out for birds like kingfishers, and admire the colourful cottage garden and marginal planting which surrounds you. Everywhere you go you can hear the gentle sounds of running water, which makes visiting here such a tranquil experience.
There is a good variety of planting here and lots of landscaped areas, including a natural trout stream, waterways, thirteen bridges (yes, thirteen!), the Monet pond, nature trails and grass paths, mature trees and shrubs. This is a truly tranquil setting where you feel you've really got away from it all.
RELATED POST: The 21 Best Gardens in Norfolk to Visit
Swaffham
Swaffham is an attractive Norfolk market town which sits at the very northern point of the beautiful Brecks.
Swaffham's streets are lined with elegant Georgian buildings and there is a busy Saturday market and twice-monthly farmer's market. Look out for the medieval church of St Peter and Paul with its magnificent double hammer-beam angel roof.
Nearby is the EcoTech centre with its wind turbine where you can climb the 300 steps for superb views as far as Ely Cathedral, which sits atop the highest hill in the Fens at 26 metres above sea level, and is known as the Ship of the Fens.
Castle Acre
The tranquil rural village of Castle Acre is home to an extraordinary wealth of history. The village is a complete Norman planned settlement, the work of a baronial family, the Warennes, during the 11th and 12th centuries. Alongside the village, the settlement includes a castle, parish church and Priory.
The Norman ruins of Castle Acre Castle, founded soon after the Battle of Hastings by the first William de Warenne, a close associate of William the Conqueror, are a superb and well-preserved example of a motte and bailey castle, and remain one of the most impressive Norman earthworks in the country.
I loved going to the Castle Acre Castle as a kid, and taking my children, as there are so many grassy areas to run around and have fun. We used to roly-poly down the ancient grass-covered earthworks which surround the site of the ruined castle before heading into the pretty village through the historic Bailey Gate for ice cream, or Norfolk cream tea (if we were very lucky!).
The (mostly) ruined Castle Acre Priory is across the small village and you can see the beautiful west-end church gable, prior's lodging and remains of many of the buildings around the cloister. The beautiful recreated herb garden grows some of the herbs the monks would have used for medicinal, culinary and decorative purposes.
There are some lovely Castle Acre walks in the surrounding countryside and the village sits on the Nar Valley Way, a delightful Norfolk walking route from King's Lynn to Gressenhall.
King's Lynn
Nestled in a corner of Norfolk is the historic port and market town of King's Lynn. With a rich Hanseatic past, streets and squares lined with period architecture and bustling marketplaces and quays, King's Lynn is a Norfolk town well worth exploring.
Considered one of the most perfect medieval towns in England, much of the town's history is on display in the historic buildings and port area, all you have to do is walk, observe and admire! Make sure to find King's Lynn Minster, the Old Custom House, Clifton House and Pilot Street to see the best of King's Lynn's historic architecture.
At Lynn Museum you can see Seahenge, the Early Bronze Age timber circle discovered on Holme Beach in 1998. An extraordinary find, the arrangement of 55 timber posts surrounding a huge stump that had been buried with its roots upwards resembling the famous Stonehenge in Wiltshire.
You should also try and fit in a visit to WhataHoot Distillery. The historic building on King Street not only houses the gin distillery, but it is also home to a pantry-style shop, gin school and spirit lounge – go on, take a break from the bike!
RELATED POST: All the Best Things To Do in King's Lynn Norfolk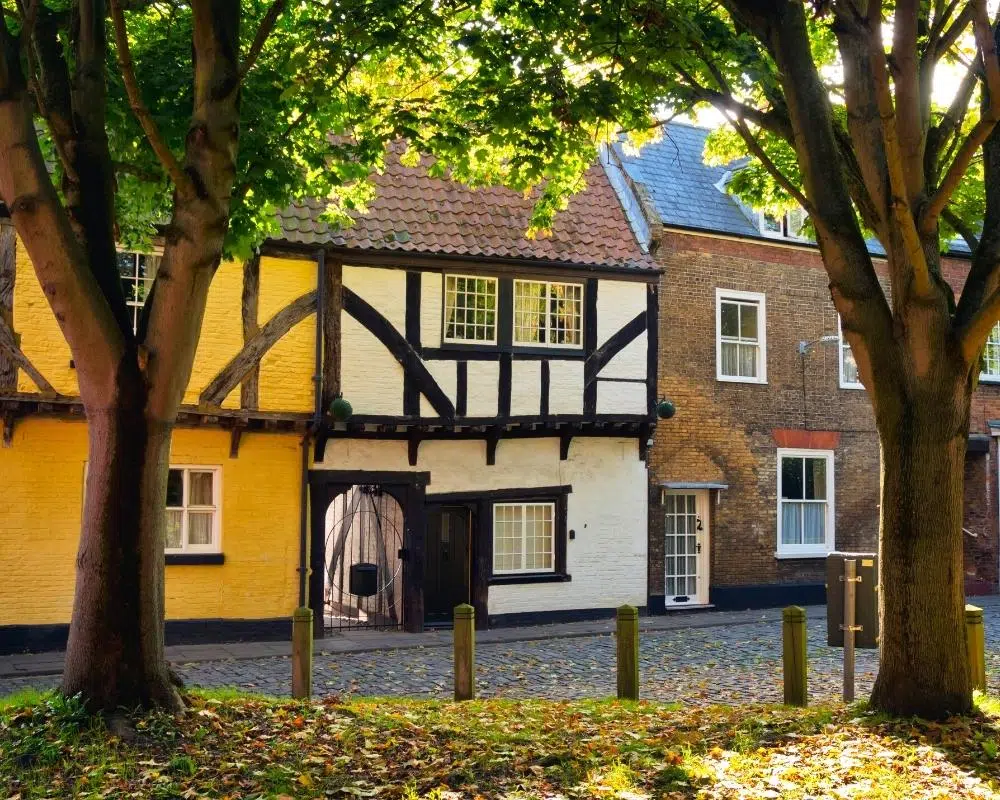 King's Lynn to Wells-next-the-Sea
Castle Rising
Castle Rising Castle is one of the most famous 12th century castles in England. The imposing stone keep was built in 1140CE and is amongst the finest surviving examples of its kind in Great Britain.
The massive surrounding earthworks, not only ensure that Rising is a castle of national importance but give lots of opportunities for kids to run off steam and play at sword fighting!
I love to visit Castle Rising, especially with children. It's one of the few castles where you can get up close to the atmospheric and unspoilt interiors, full of hidden corners, steps worn smooth over centuries, and arrow slits with incredible Norfolk views.
RELATED POST: 12 Norfolk Castles for You to Explore
Sandringham
Sandringham, a 20,000-acre estate seven miles south of Heacham, is where the royal family retreats for Christmas and was reportedly the late Queen's favourite home. Nearby, the Duke and Duchess of Cambridge, aka Wills and Kate, also have their home, Anmer Hall.
You can visit the house, formal gardens, parkland and St Mary Magdalene Church on the Sandringham Estate in a day. Many of the ground floor rooms of Sandringham House remain as they were in Edwardian times, and are open to visitors between April and October.
Sandringham Courtyard has a range of places to eat and drink and does a fabulous afternoon tea, for a real treat. The Sandringham Shop, also in the Courtyard, offers an extensive collection of artisan Norfolk products and is the perfect place to buy Norfolk souvenirs or gifts.
RSPB Snettisham
Wildlife observation hides at Snettisham give panoramic views across the saline lagoons, salt marsh and the vast expanse of mudflats that make up the Wash.
On the biggest high tides from late summer onwards, tens of thousands of wading birds, like knot and oystercatchers, take flight as the incoming tide forces them off the vast mudflats. This is known as the whirling wader spectacle, which is truly incredible to watch.
RELATED POST: Norfolk Nature Reserves – Ultimate A-Z Guide
Norfolk Lavender
A highlight on the western edge of the Norfolk coast near Heacham, Norfolk Lavender has been a holiday-maker's favourite since 1932. Wandering the fragrant fields is a real treat, especially when the plants are in bloom in summer.
But there's more than just lavender fields here – there are tearooms where you can enjoy lavender-infused goodies, pretty gardens to enjoy, a shop to stock up on your lavender smellies, animal gardens and a play park for the kids and tours of the lavender fields and distillery, making Norfolk Lavender a must-see on your Rebellion Way itinerary.
RELATED POST: Norfolk Lavender – A Complete Visitor's Guide
Hunstanton
Hunstanton is a lively resort town in beautiful West Norfolk. Known locally as 'sunny Hunny', Hunstanton is one of Norfolk's top seaside towns.
There are lots of Hunstanton attractions to keep everyone busy. With two fantastic beaches both offering a different experience, stripey red and white cliffs, a traditional Victorian town centre, and the nearby village of Old Hunstanton to explore, Hunstanton makes a great pit stop.
RELATED POST: 22 of the Best Things To Do in Hunstanton
North Norfolk Coast Diversion
The route cuts inland at this point to avoid the busy A149 coast road. This would be a challenging ride in summer, but outside of July and August, the road is not too busy, making the coast easier to explore.
If you take the diversion, you'll be able to visit the fabulous windswept beaches of Holme, Thornham and Brancaster and the villages of Brancaster Staithe and Burnham Overy Staithe. Many of these places are hidden gems and remain peaceful year-round, despite the busy road that passes through them.
There's lots to see and do on this section of the coast – birdwatching at RSPB Titchwell Marsh, kite-flying and eating mussels in Brancaster and paddling through the marshes from Burnham Overy Staithe.
RELATED POST: Best of the North Norfolk Coast: 20 Unmissable Highlights
Burnham Market
Back ON the Rebellion Way route, the next stop is Burnham Market, a charming and historic village with strong links to Admiral Horatio Nelson.
Burnham Market enjoys a pretty setting and interesting history, with 17th and 18th century buildings arranged around a marketplace and The Green. In the village are top Norfolk hotels, eateries and shops, which, along with easy access to the beautiful beaches and coast attract plenty of weekenders from London, giving the village the nickname of Chelsea-on-Sea.
This is a good place to stop and refuel thanks to the abundance of artisan bakeries, coffee shops and cafés in the village, and if you have time, explore the other Burnhams; Burnham Deepdale, Burnham Norton, Burnham Overy (encompassing Town and Staithe) and Burnham Thorpe.
RELATED POST: Burnham Market – All You Need to Know Before You Go
Holkham Hall
You'll be cycling right past Holkham Hall, an 18th century Palladian masterpiece, with a fantastic walled garden, surrounded by rolling parkland and a deer park. There's even a woodland adventure play area to entertain the kids.
Built by the Coke family in 1764, Holkham Hall is today home to the Earl of Leicester and his family. The hall is a wonderful example of the architectural style of the day.
The statuary and art collection, fascinating restored Victorian kitchen and the immense entrance hall, with a deeply coved and coffered ceiling supported by towering columns and panelling of English alabaster, make Holkham one of the best stately homes in Norfolk, if not England.
The Holkham Estate also owns the vast and unspoilt Holkham Beach and Holkham National Nature Reserve, which are just a few miles north of the route.
RELATED POST: Norfolk Beaches – Ultimate A-Z Guide
Wells-next-the-Sea
Before you arrive in Wells, you'll be passing the beach. You're so close to the golden sand, you should climb the stairs and take in the joy that is Wells-next-the-Sea Beach, along with its long row of colourful wooden beach huts – and maybe grab an ice cream…
From here it's a mile or so into Wells itself, a lively heritage harbour town in North Norfolk's Area of Outstanding Natural Beauty and one of North Norfolk's most popular seaside towns, and if you stop anywhere for a day, make it here!
Kids big and small will love the beach for swimming and the RNLI lifeboat station, and crabbing on the quay. There are boat trips to see local seals, and harbour tours by boat or stand-up paddle to admire the contemporary Lifeboat Horse sculpture and see the iconic granary building from the water.
Head into the cute Georgian town for a spot of shopping and browsing, before settling down on the harbour wall for some of the best fish and chips in Norfolk!
RELATED POST: 20 Brilliant Things To Do in Wells-next-the-Sea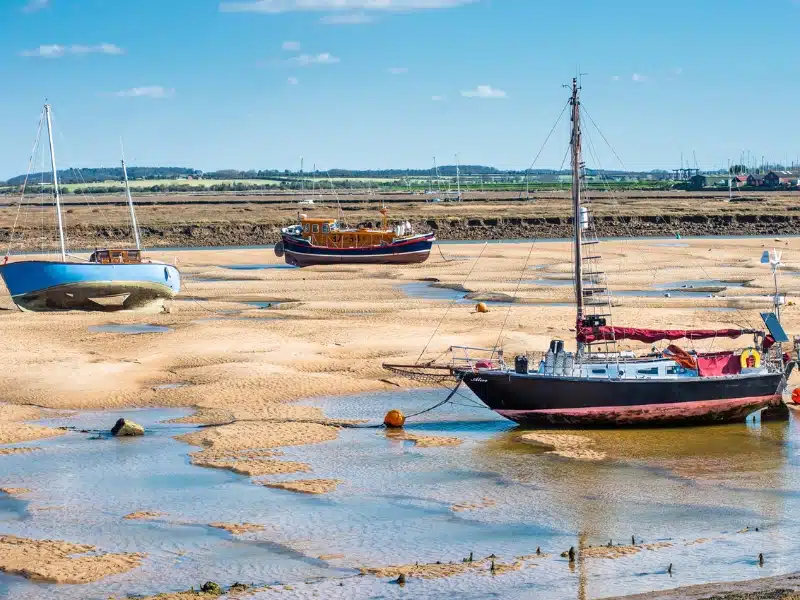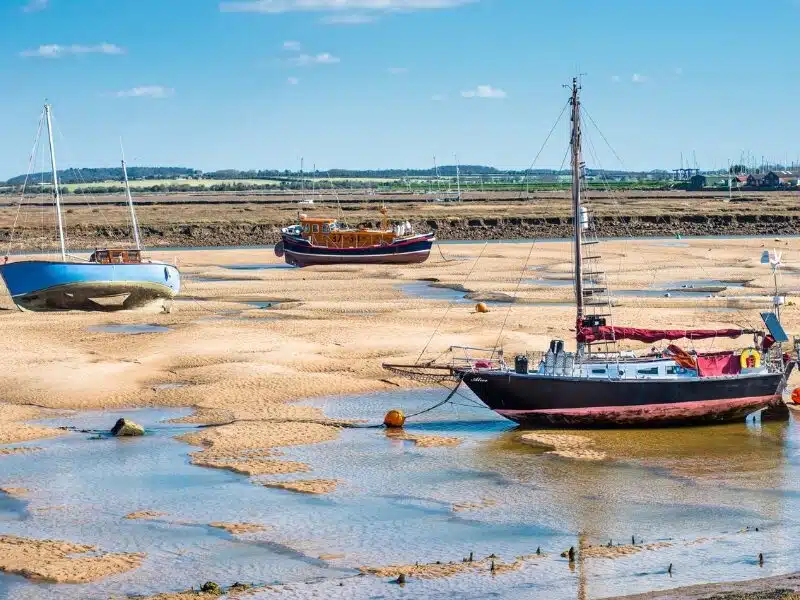 Wells-next-the-Sea to Sheringham
Little Walsingham
Little Walsingham has been a place of religious pilgrimage since the 11th century, when The Lady Walsingham received visions of the Virgin Mary and requested that a replica of the Holy House at Nazareth be built at Walsingham.
Today's pretty rural village has many historic half-timbered buildings and incorporates both Great Walsingham and Little Walsingham. The Shirehall Museum, Walsingham's Georgian Courtroom where you can discover village history from 1061, is well worth a visit.
Through the museum is the entrance to Walsingham Abbey, where the grounds surrounding the historic house are famous for the ruins of the medieval Priory of our Lady of Walsingham, as well as beautiful spring flowers like snowdrops, daffodils and bluebells.
RELATED POST: Norfolk Churches: 16 of the Best to Visit
Thursford Collection
The Thursford Collection in North Norfolk holds the world's largest collection of steam engines and organs, fairground rides and the Wurlitzer, a kind of electric piano. It's a curious place, but steam lovers will enjoy visiting.
Blakeney
A little bit of the route but well worth the detour, Blakeney is one of the most charming Norfolk coastal villages within the Norfolk Coast Area of Outstanding Natural Beauty, with its very own nature reserve and an otherworldly watery landscape, created when the medieval estuary silted up.
What remains is a fascinating landscape of marshes, sand hills and mud banks, with many creeks and channels twisting their way through between land and sea. Along with Blakeney Point, the Blakeney National Nature Reserve is home to England's largest colony of Atlantic Grey seals.
The pretty village is full of traditional Norfolk flint cottages which were once home to local fishermen, and a good collection of independent gift shops and art galleries to visit.
The lively Blakeney quay is buzzing in the summer, with crabbing, boat tours to see the seal colony, and visitors enjoying the outlook across the marshes and walking the Norfolk Coast Path, one of Norfolk's best hiking trails.
RELATED POST: 13 of the Best Things To Do in Blakeney
Natural Surroundings
Just outside the village of Glandford is Natural Surroundings, a hybrid business offering a combination of wildlife-friendly gardens and grounds, as well as a café, shop and plant sales.
With a mission to champion wildlife and promote wildlife-friendly gardening, Norfolk's wildflower centre is a great place to stop for a break.
Holt
Follow the Holt Owl Trail to discover the rich and unique history of the town before visiting Byfords on Shirehall Plain, a posh B&B, café, delicatessen and store. Byfords is a lovely location for a cuppa and homemade cake and great for all your picnic goodies which celebrate Norfolk's fantastic local produce.
RELATED POST: 22 Perfect Things To Do in Holt Norfolk
Baconsthorpe Castle
Not far from Holt are the extensive ruins of Baconsthorpe Castle, a moated and fortified 15th century manor house which was built by the then-important Heydon family.
The family mismanaged their business and fortune so badly, that the castle was abandoned by them in the 17th century and left to ruins.
Today, the castle is a Grade I and Grade II listed building and is also a scheduled monument, managed by English Heritage.
Sheringham
Sheringham is a traditional Norfolk seaside town known for its fantastic beach, family-friendly vibe, good restaurants and beautiful surroundings, including the National Trust Sheringham Park, which you will have pedalled through on the descent into town.
There are lots of Sheringham attractions to keep everyone busy including the award-winning beach, a traditional Victorian town centre, a really good local museum and even a snorkel trail for warmer days.
It's also home to the North Norfolk Railway, one of Norfolk's top visitor attractions. You can take a ride on one of their historic steam engines to Holt whilst enjoying a meal or drinks from the bar – the fish and chip train has to be my favourite!
RELATED POST: 23 Amazing Things To Do in Sheringham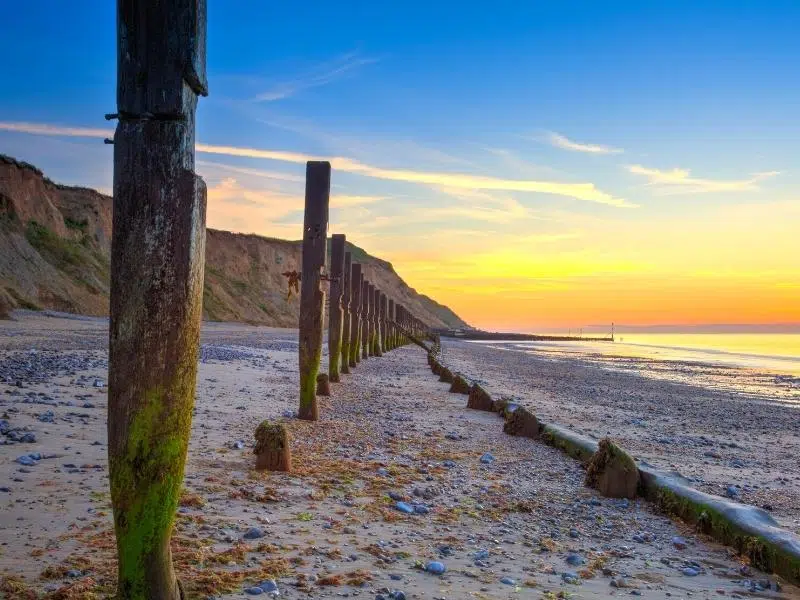 Sheringham to Norwich
West Runton Beach
Situated between the towns of Sheringham and Cromer the lovely sands of West Runton are often overlooked in favour of their more famous neighbours. Most people visit this beach for its history and geology though, and it's an important location on Norfolk's Deep History Coast.
Best known for the Steppe Mammoth found in the cliff face in 1990, and one of the oldest fossil elephants to be found in the UK, West Runton Beach is a popular place for fossil hunters. It's great fun for kids (and grown-ups) to scrabble around looking for something interesting on the beach or in the many rock pools that form as the tide goes out.
Just 1.5 miles inland is Beacon Hill the highest point in Norfolk at 105 metres above sea level – you may want to get off and push for this one! From the top you'll have a great view of the sea and the surrounding countryside.
Felbrigg Hall
The sublime Felbrigg Hall is a 17th century historic hall and one of the most elegant country houses in East Anglia. Run by the National Trust, the unaltered house is known for its fine Jacobean architecture, stained glass windows, original features and gorgeous Georgian interior, and is one of the best stately homes to visit in Norfolk.
Outside is a colourful walled garden, considered one of the best gardens in Norfolk, an 18th century Orangery and orchards over 500 acres of parkland, with local trails, perfect for a summer afternoon stroll.
The wider landscaped park comprises over 520 acres of woods, perfect for discovering the local flora and fauna. A number of local trails criss-cross the grounds, including the Weavers' Way, a Norfolk walking route which links the North Norfolk Coast at Cromer to the east Norfolk coast at Great Yarmouth, via the wonderful Norfolk Broads.
Blickling Hall
Blickling Hall, which is mentioned in the Domesday Book, is a Jacobean mansion packed full of history, with 4,600 acres of gardens and parkland to explore. In 1940, the Blickling Estate was passed to the National Trust which is now responsible for running and maintaining the site.
The glorious 17th century Blickling Hall has been home to, amongst others, Anne Boleyn, World War II aircrew and Philip Kerr, 11th Marquess of Lothian, who was close to Churchill, and influenced many of his war decisions.
Interior rooms are styled in different periods from the Hall's history, telling the story through paintings, antiques and the furniture used by those that lived there.
The formal gardens at Blickling Hall cover over 55 acres and include a lake, an 18th century temple, a parterre with yew hedge topiary, four large herbaceous plots in hot and cool colours, and an Orangery, which is home to hardy citrus trees.
For four centuries, Blickling's walled garden supplied enough produce to feed the many families who lived and worked on the estate. The garden was restored to its full glory between 2014 and 2021 after falling into disrepair, and now supplies produce to the cafés, for visitors to enjoy.
Aylsham
One of the prettiest market towns in Norfolk, traditional Aylsham is located beside the tranquil River Bure.
Home to Norfolk's slow food movement, Aylsham is just one of three UK Cittaslow towns, making it the perfect spot to shop for local Norfolk produce at one of the two weekly markets or monthly farmer's market. It's also home to the wonderful Biddy's Tea Room, which serves one of the best afternoon teas in Norfolk!
Aylsham's unspoilt and traditional 18th century market square surrounded by elegant Georgian architecture and the Bure Valley Steam Railway and the start of the Marriotts Way Heritage Trail, make it a charming place for a stop en route.
RELATED POST: Aylsham: A Historic Market Town in Norfolk
Wroxham
RELATED POST: 22 Fantastic Things to Do in Wroxham
Woodforde's Brewery
The best known of Norfolk's beer makers is Woodforde's Brewery, on the edges of Salhouse Broad in pretty Woodbastwick. The brand is named after Parson Woodforde, a noted 18th century Norfolk clergyman whose diaries reveal he had a passion for good food and ale, which he often brewed himself.
Woodforde's Norfolk Ales produced the first commercial brew of Wherry Ale in 1981. Visitors can see this and other famous beers, such as Nelson's Bitter and Bure Gold, being brewed in the visitors centre, where a guided Woodforde's brewery tour will reveal all (well, almost all!) their beer-making secrets!
Once inside the brewery, your guide will talk you through the various stages of the brewing process before a guided tasting session and the opportunity to visit Woodforde's brewery shop.
Adjacent to the brewery is The Fur & Feather Inn, where you can sample all the beers from Woodforde's brewery tap for yourself, enjoy a meal or treat yourself to their excellent Norfolk cream tea.
RELATED POST: Breweries in Norfolk – Best 16 to Visit
Ranworth
Overlooking Malthouse Broad, Ranworth is a charming Broads' village. Take a walk along the boardwalk (or get a ferry from Ranworth staithe) which passes through reed bed habitats, to the Norfolk Wildlife Trust floating wildlife centre on Ranworth Broad.
With far-reaching views across Ranworth Broad, widely considered the most beautiful Broad of them all, you can learn more about how this unique area enriches the local wilflife and view many of the different birds that visit the area, at the wildlife centre.
In Ranworth village, climb the 89 uneven steps and two ladders to pass through the trap door to get to the top of St Helen's Church, otherwise known as the 'Cathedral of the Broads'. The views from the top are breathtaking – literally!
After your climb and descent, reward yourself with a glass of something cold at the village pub, The Maltsters.
RELATED POST: 26 Exciting Things To Do On the Norfolk Broads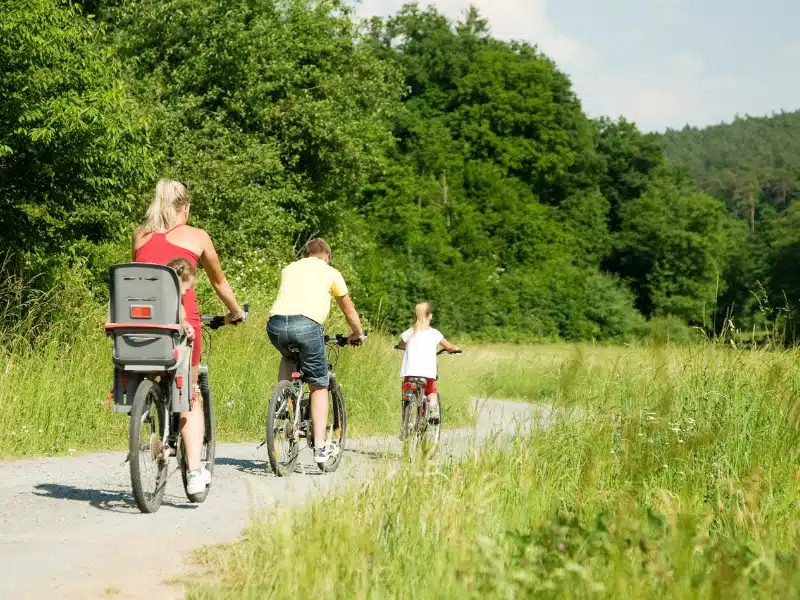 Practical Information
Can I Hire a Bike in Norfolk?
There are several cycle hire centres along the route, including:
Wheel Travel offers a bike delivery service straight to you at your chosen accommodation in Norfolk. With daily, multiple-day, weekly hire or longer hires available, adult bikes, child bikes, accessories and even doggy trailers can be hired.
What Do I Need to Pack?
Packing and carrying your stuff can be made easy with pannier racks or bikepacking bags, and you can get away with minimal kit in a part of the country which is well-used to hikers on local trails.
Although Norfolk typically enjoys drier weather compared to other parts of the UK, it is still advisable to bring a waterproof and warm layers as unexpected wet or windy conditions can occur at any time of the year.
However, Norfolk's huge panoramic skies provide ample warning to prepare for such conditions, and there are plenty of churches, pubs, hedges, woods and cafés that can offer shelter.
It is worth noting that flint is present along much of the route, which can cause damage to tyres, so it is recommended to carry an extra tube and patch kit. Fortunately, there are several bike shops located on or near the route which support cycling ensuring that you are never too far from assistance.
Luggage Transfer Services
Hike Help is a Norfolk-based company who move your bags between your accommodation every night, leaving you to enjoy the beautiful countryside without the hassle of carrying full panniers. Just let them know your route, dates and accommodation and they'll do the rest!
Have you ridden all or part of the Rebellion Way? Share your experience in the comments below – I'd love to hear your thought!
Love it? Pin it!