In the sleepy backwaters and quiet villages of Norfolk, something of a gin revolution is taking place. There are now a whopping eleven gin distilleries in Norfolk, some of which you can visit to see the gin-making process and sample a drop of the good stuff.
Forget 'mother's ruin' – a recent study says that gin drinkers are more likely to feel energetic, confident and sexy. No wonder we're all so obsessed with the stuff!
I'm a Norfolk local and gin lover, and I've done all the *hard work* so you don't have to! I have visited, sampled (such a chore…) and found out about each one of these Norfolk gin makers, for my Norfolk distilleries guide.
RELATED POST: The Ultimate Local's Guide to Norfolk England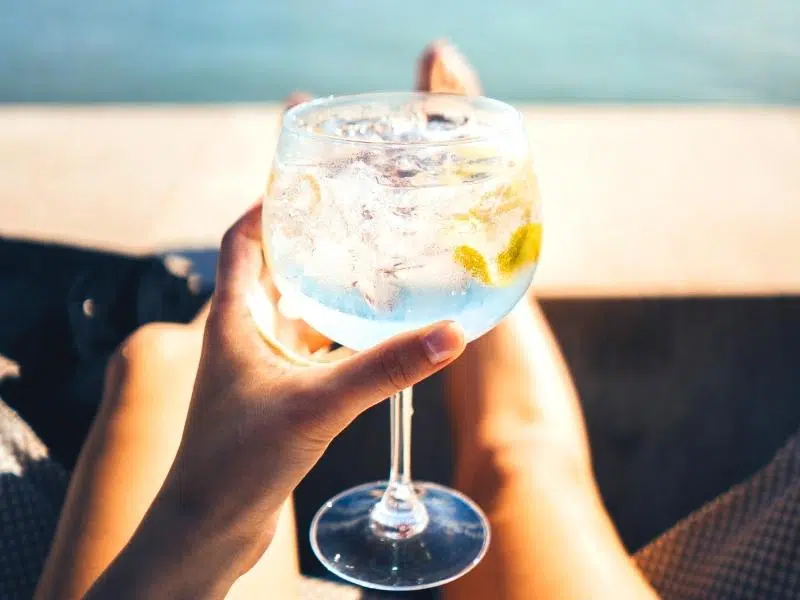 This post may contain affiliate links. If you book something I recommend, I make a small commission without affecting the price you pay!
Norfolk Gin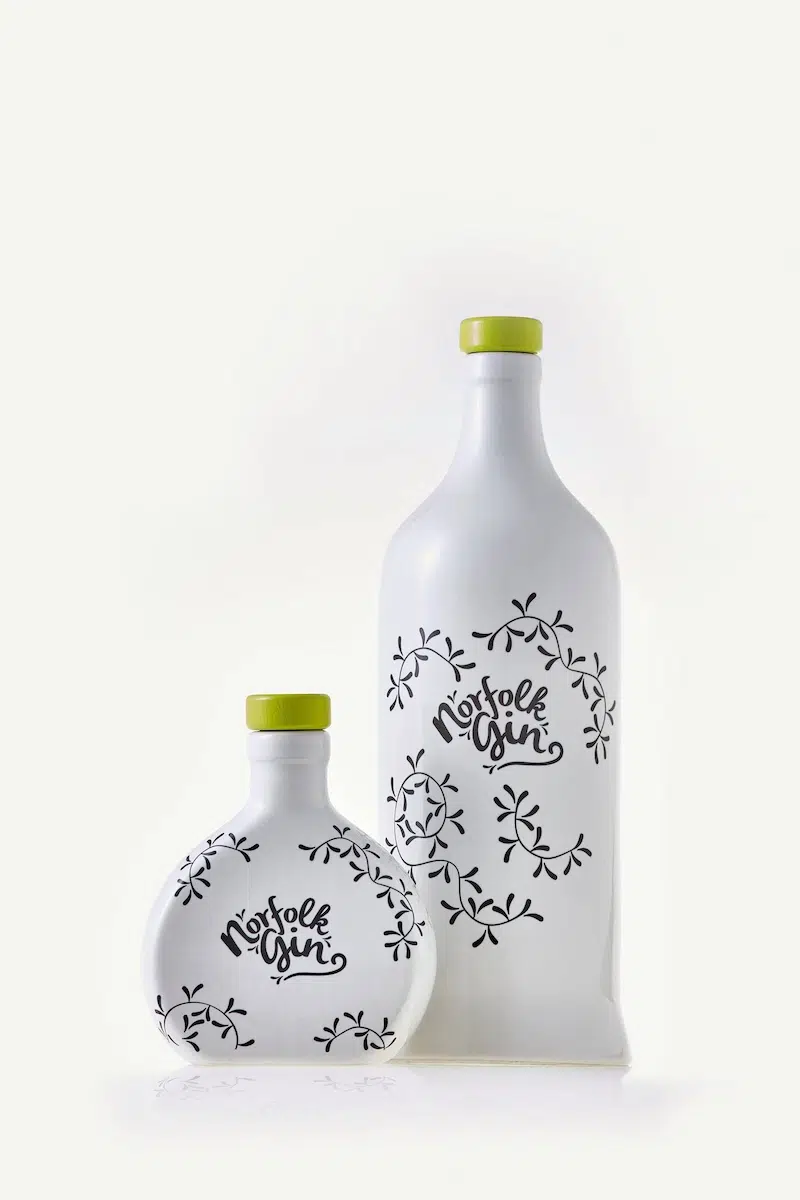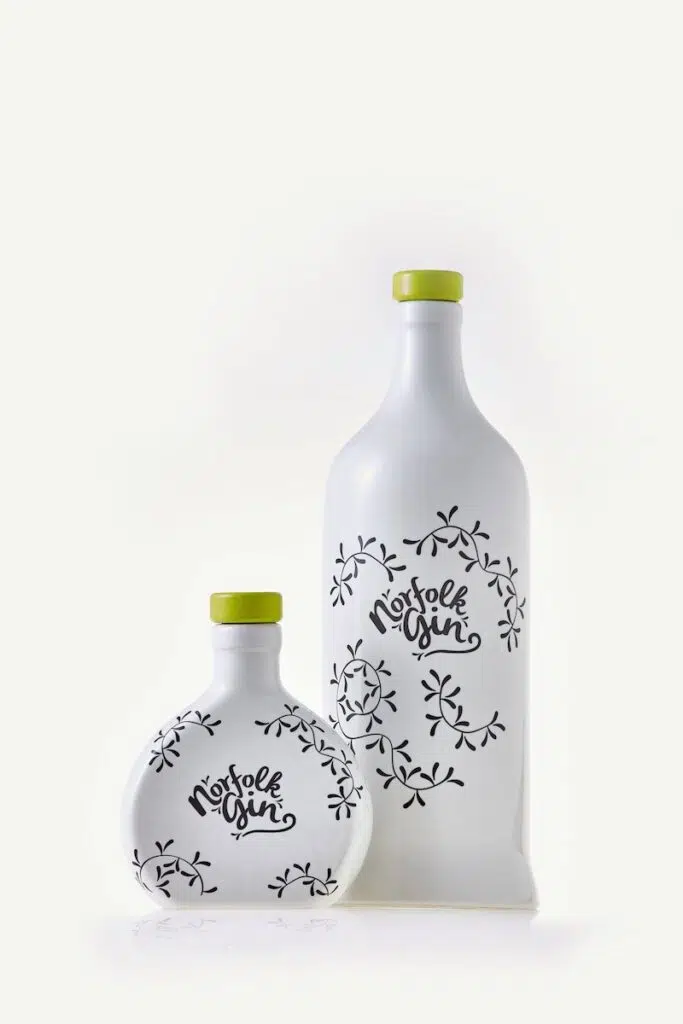 Created by a small husband and wife team and launched in the summer of 2014, Norfolk Gin is probably the best-known East Anglian gin brand.
Handcrafted in Norwich, Norfolk Gin is a classic bathtub style gin made to a secret and undisclosed recipe that mixes a selection of botanicals to give it a unique flavour and pretty pale green hue, which matches the bottle stopper!
There are scents of fresh juniper, a little spice, and lively citrus notes with just a touch of sweetness, followed by mouth-watering floral and herbal scents. With a clean and fresh taste, zingy on the palate but rich and satisfying, Norfolk Gin makes a classic G&T, with ice and a citrus slice.
Norfolk Gin comes in a distinctive Wade ceramic bottle marked with a unique batch and bottle number. Each bottle is filled, labelled and sealed by hand, making Norfolk Gin the ideal gift for gin lovers.
Jarrold of Norwich also offers an in-store refill service for Norfolk Gin, one of the most popular brands of local gin that they stock. Just take your bottle along for a top-up!
RELATED POST: 26 Norfolk Food & Drink You Must Try!
Boadicea Gin
Boadicea Gin, distilled at the Wild Knight Distillery in Beachamwell near Swaffham, is made by a husband and wife team, using locally sourced ingredients like Norfolk-grown barley.
Boadicea Gin is vapour-infused in a copper pot still to gently extract the delicate flavours. Produced in three varieties, Classic, Spiced and Rosa, all the Boadicea Gins are smooth and understated, well able to be drunk alone over ice.
Their Classic take is a traditional London dry gin. Zesty with lemon, soft with spice and ultra-smooth, this works well with just a splash of tonic – elderflower is a good option – and a slice of orange, or even a sprig of thyme.
The Spiced gin invokes roaring fires and winter scents with notes of cranberry, citrus and delicate spices. This is delicious neat over ice as an aperitif or topped with ginger ale for a longer drink.
Their beautiful pink gin, Rosa, has tongue-tingling peach and cherry notes with a slight tartness, followed by delicious sweetness. Mix with champagne or prosecco for a celebratory cocktail, and add fresh strawberries for a real treat.
Archangel Gin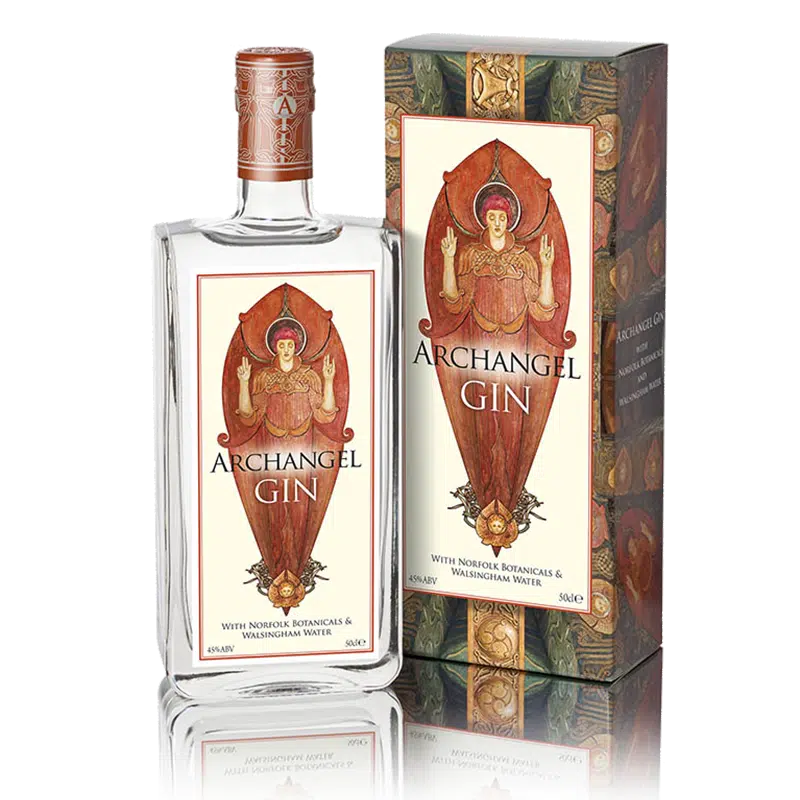 Archangel Gin is handcrafted in the heart of Norfolk, between Walsingham and Castle Acre. With a distinctive Norfolk heritage, Archangel gins are made in small-scale production on a working farm, using local produce and local labour.
Archangel Gin is rich and deep, with the mix of juniper, verbena and sea-buckthorn botanicals creating a delicious fragrance, topped off by sharp citrus notes which make your mouth water. This makes for a beautifully fresh and crisp gin and tonic served over ice with an orange slice. Or, enjoy it as a digestif straight from the freezer, with slices of orange peel.
One of my favourite Christmas drinks is sloe gin – my Mum used to collect the berries after the first frost and it became a ritual to make the gin in the weeks leading up to the festive season. I was intrigued to try Archangel's Sloe and Mulberry Gin, and was not disappointed! With hand-picked Norfolk sloes, mixed with mulberries for added depth, this gin is really special.
You can take a tour of the Archangel Distillery where you can learn about the history of gin, and the story of Archangel, visit the still room and see how Archangel Gin is made. Afterwards, you get to taste three different gins!
Black Shuck Gin
Black Shuck Ltd have been producing a wide variety of gins at their distillery in Fakenham since 2012.
Made by a Norfolk family, named after the legend of Black Shuck, and using ingredients from the bountiful North Norfolk Coast, this really is a gin rooted in the county.
Their award-winning Norwich Dry Gin includes the Norfolk botanicals of sea buckthorn and lavender. Alongside coriander, juniper and bitter orange peel, these flavours give the gin a distinctive fruity taste, perfect for a G&T.
Other varieties include Cacao and Pistachio Gin, traditional Sloe Gin, Blush Gin with flavours of rhubarb and strawberry, Passion Gin, with over fifteen botanicals, the citrus and blueberry Whirlybird Gin, Pink Grapefruit Gin and the feisty Ignite Gin with 57% ABV (alcohol by volume) – there is something here for everyone!
If you're undecided about which one to buy, check out their gift hampers and tasting club, a great excuse to give them all a try!
Bullards Gin
Bullards Spirits was the first gin distillery in Norfolk. Bullards has been in Norwich for six generations as the Anchor Brewery and now makes award-winning handcrafted gin.
Bullards is the only distillery in the UK that uses tonka beans in its recipe. These beans, which have a vanilla-like flavour with fruity and spicy notes, give the gin its distinctive taste, leading to a 'Best London Dry Gin in the World' prize at the World Gin Awards in 2017.
This classic G&T-making gin has a dry juniper core, with gentle cardamom, coriander and cinnamon spicing which works well with the Tonka bean undertones. Serve with an orange slice, or cinnamon stick, with ice and tonic.
Alongside their signature gin is a Coastal Gin, with a delicate, salty influence, the honey and mango flavours of Old Tom Gin, and Strawberry and Black Pepper Gin, a real summer favourite.
A real USP for this distillery is their eco-friendly credentials. With their 'bottle for life' and eco-refill pouches, you don't need to worry about sustainability.
You can also book a gin experience at their Norwich store. An experienced Bullards' ambassador will take you on a sensory journey through their gins, where you'll learn more about their unique botanicals and the origins of gin. You'll also find out about interactive tasting techniques and how to taste gin like a pro, followed by a tasting of the four Bullards' gins.
One of their experience gift cards, or even a gin subscription with monthly delivery, makes a wonderful gift for any Norfolk gin lover!
St. Giles Gin
St Giles gins have been lovingly created after years of exploration and experimentation, finally coming to rest between the huge skies and wide coastlines of beautiful North Norfolk, and the gentle waterways of the Norfolk Broads.
Distilled in a custom-made copper still named Anna in an 18th century gin shop in historic Norwich, and bottled in the finest Italian glass, St Giles gins are hand-crafted, exotic and elegant.
Their Signature St Giles Gin is created from a mix of eleven botanicals including rose petals, lemon grass and grains of paradise, to create a modern and sophisticated gin. With an explosion of ripe berries and peppery warmth, this well-rounded and smooth gin goes down a treat!
Alongside, St. Giles Divers' Edition (Naval Strength), boasts a higher ABV than the original gin and uses a distinctive blend of ten botanicals including Norfolk samphire, cubeb berries, sea kelp and liquorice root.
Their refreshing Raspberry, Rhubarb and Ginger Gin uses fresh and local fruit, and their Spiced Orange and Cranberry Gin is a perfect winter tipple.
A thoughtful and fun gift, a St Giles gin experience is a two hour discovery of the distillery where you can try your hand at making gin and naming, bottling and labelling your own mini-bottle to take away. Of course you get to sample all their gins too!
Norfolk Farmhouse Gin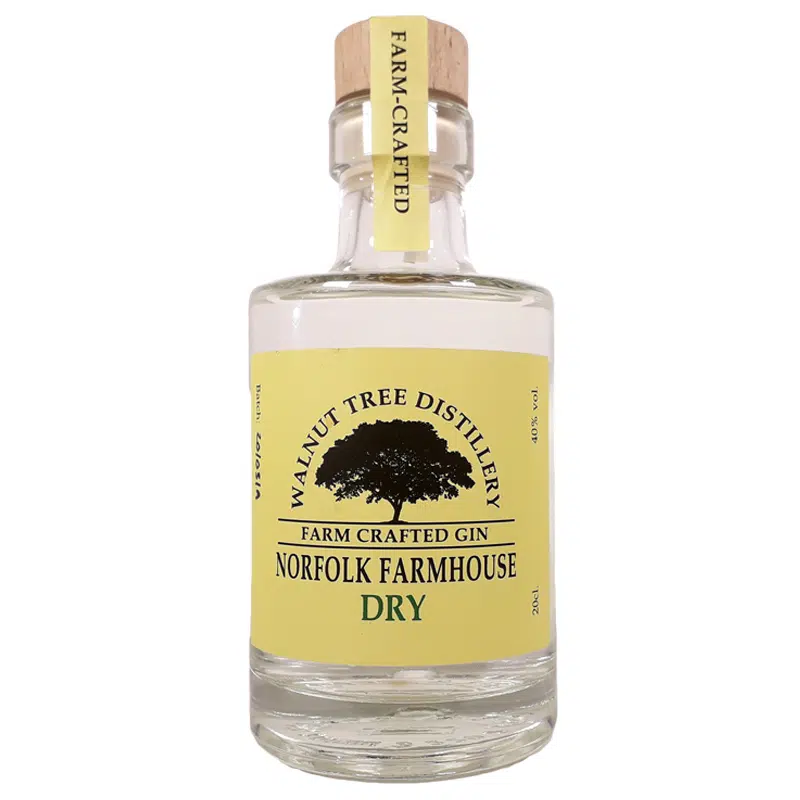 The Walnut Tree Distillery makes award-winning farm-crafted gin in the beautiful Breckland district of rural Norfolk. Every bottle reflects the Norfolk countryside and the history of the farm where it is made.
The distillery forms part of the farm's old dairy building and the gins are small-batch distilled in custom-made milk churn stills. All of Walnut Tree's spirits contain botanicals which are hand-picked on the farm, including walnuts and are made using natural Norfolk spring water from their own well.
Their Norfolk Farmhouse Dry Gin is an award-winning gin which is light and floral, with lively citrus and fragrant Mediterranean herbs, perfect for a classic long G&T on a summer's evening, as you enjoy the view of wherever you are!
Other offerings include Norfolk Farmhouse Pink, which is based on their dry gin, with juicy raspberries added for a subtle fruit flavour that goes wonderfully with elderflower tonic.
Norfolk Farmhouse Spiced has added nutmeg, cinnamon, ginger and a little bit of chilli to give a unique and complex flavour which invokes winter and festivities. Norfolk Farmhouse Rose is full of edible rose petals, which create a fragrant and distinctive spirit with a sweet flavour.
There are also the Norfolk Farmhouse Summer Cup and Winter Cup, which are blends of dry gin, fortified Norfolk wine and seasonal herbs and spices, which make delicious aperitifs.
WhataHoot
Distilled in historic King's Lynn, the husband and wife team at WhataHoot make a range of hand-distilled and locally inspired gins, which reflect the Norfolk surroundings.
The WhataHoot Distillery is a 17th century warehouse, packed full of original features including original beams and exposed brickwork, which has been sympathetically restored and converted to create a home for the brand.
WhataHoot Signature Dry Gin is a refreshing blend of traditional botanicals including juniper, coriander and citrus, perfectly balanced with the iconic Norfolk flavours of sea samphire and lavender for an incredibly smooth and floral gin.
The range also includes a warming Tawny Orange Gin made with real fruit, and the 114% proof Navy Strength Gin, inspired by Norfolk's deep connections to the sea.
WhataHoot Distillery is also a Norfolk attraction. The historic building on King Street not only houses the distillery, but it is also home to a pantry-style shop, gin school and spirit lounge. Their tours, cocktail masterclasses and create-your-own gin experiences make fun gifts for gin enthusiasts.
Home Farm Gin
Home Farm Gin is bottled by hand, at Home Farm in Hethersett. Created in 2019, Home Farm Gin was born out of passion and the desire to make a living from a love of gin.
With help from Matilda, the copper still, Home Farm Gin is made in small batches using only natural ingredients and pure Norfolk water from a private water supply on the farm.
Their artisan London Dry Gin is distilled with nine undisclosed exotic botanicals for a distinctively clean, crisp and smooth gin which makes a fantastic classic G&T over ice, with a slice – any citrus will do!
Their Raspberry Gin uses the London dry gin as a base and adds fresh and plump raspberries for a real fruity hit. Likewise, the delicious Strawberry and Mint Gin is a great alternative to Pimms and ideal to serve at a summer garden party.
You can visit Home Farm for an intimate gin-tasting and cocktail-making experience hosted by their Head Distiller and Cocktail Master. Have some fun by taking a couple of hours out of everyday life, mixing some cocktails and appreciating good gin!
Gyre and Gimble
Gyre & Gimble is an internationally recognised distillery producing award-winning and creative gins in the heart of Norwich.
Championing a sustainable ethos, Gyre & Gimble strives to be environmentally conscious and their cocktail bar is zero waste, using re-purposed ingredients and innovative recipes to ensure nothing goes to waste.
Their Nohow London Dry Gin is ultra-dry and citrusy with lots of juniper flavour and hints of pink peppercorns, a classic G&T gin.
Their Callooh Callay Coastal Gin is big on Norfolk flavours, with foraged rock samphire and Norfolk lavender making the cut. With salty undertones, this is the perfect gin to take home from a Norfolk holiday, to remind you of the sea!
Their Queen of Hearts Cherry Gin is full of cherry flavour, with undertones of nutmeg and banana, giving a rich, smooth taste.
Gyre & Gimble also hold regular gin academies, where, with the help of an expert distiller, you will be guided through developing your very own gin. Choose your botanicals, create your recipe, dilute your spirit and distil your gin, ready for bottling to take home.
Poppyland Brewery and Distillery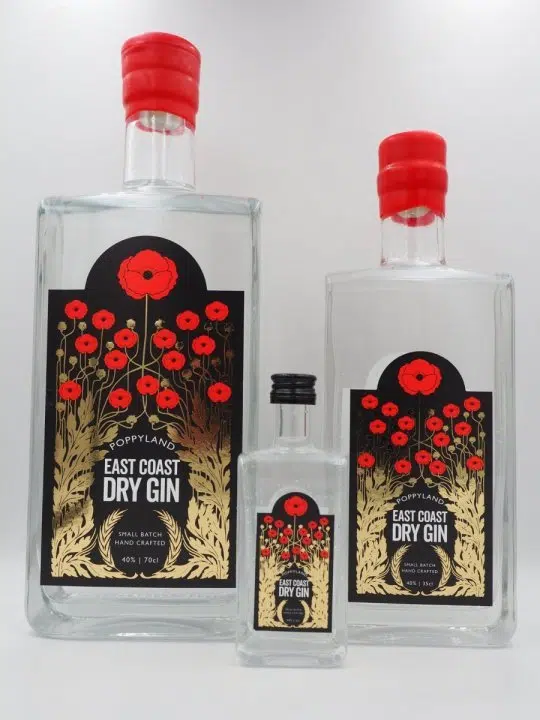 The Poppyland Brewery brings a whole new meaning to artisan gin – it doesn't get much more home-made than this!
Based in Cromer, the brewery was set up in 2012 with the aim of producing small batches of top-quality beer using unusual processes and ingredients. In 2019 the brewery expanded into gin production, to create gins as unique as their beers.
Their first gin, East Coast Dry Gin, started production in May 2020. Made with eleven hand-picked and prepared botanicals from the local area, recipes were meticulously tested and researched before production began.
The gin itself has hints of coriander and cardamom with a tangy citrus smell. This is a warmth to this gin, with a mix of liquorice, ginger and aniseed. Serve in a G&T with a cinnamon stick and an orange or lime slice.
Their second offering, a limited edition Raspberry & Vanilla Gin, is a sophisticated gin bursting with sharp raspberry and soft vanilla flavours. Try mixing with bubbles for a lovely refreshing cocktail.
The gin distillery is at the rear of the microbrewery in Cromer, and visitors are welcome to pop in on an ad hoc basis. More formal tours and tastings can also be arranged.
Have I missed any Norfolk gins off my list? Drop me a comment below, so I can go and check them out!