Welcome to my local's guide to the best places to eat in Cromer. This historic seaside town is bursting with great restaurants, pubs and cafes. And it's not just about the Cromer crab – Cromer has made the leap from a Victorian seaside town to an eclectic foodie hub with ease.
My family live close to Cromer and have spent decades watching the Norfolk foodie scene flourish and grow – they know all the best places to go and share recommendations and tips, and I've rounded up the top sixteen places to eat in Cromer.
Whenever I visit Norfolk, I check them out with my family, so this really is a local's guide of where to eat in Cromer…
RELATED POST: The Ultimate Local's Guide to Norfolk England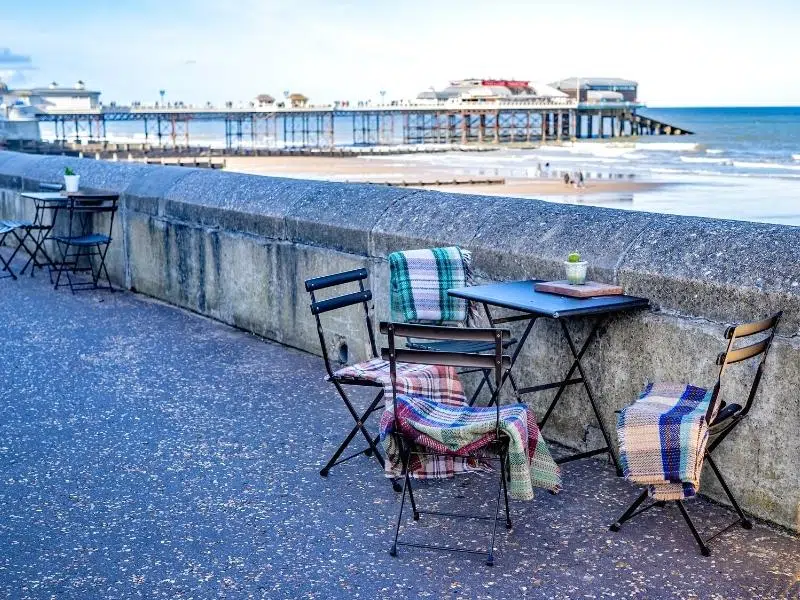 This post may contain affiliate links. If you book something I recommend, I make a small commission without affecting the price you pay!
All The Best Places to Eat in Cromer
Five of the Best Cromer Restaurants & Pubs
The Old Rock Shop Bistro
Breakfast | Brunch | Lunch | Afternoon Tea
A favourite spot for a casual weekend brunch, The Old Rock Shop Bistro is a popular family-run bistro-come cafe in the heart of Cromer. The bistro has a welcoming feel and serves really good homemade and traditional meals and snacks. All the pastries are baked on the premises (you must try the sausage rolls!) and meals are cooked from scratch, with local ingredients like Cromer crab being offered when in season.
The breakfast menu is served until 11am, with an enhanced breakfast and brunch menu on offer at the weekend and served until 11.30am, so no rushing is required! The weekend menu is full of treats like pumpkin spiced porridge, eggs benedict and smoked salmon with scrambled eggs. I am always torn between porridge and eggs benedict, both are absolutely delicious!
Lunch is varied, from baguettes and sandwiches to jackets and homemade soup – and of course, their buttery pastry sausage rolls. I haven't had afternoon tea here, but it gets rave reviews and all the cakes are homemade.
10 Hamilton Road, Cromer NR27 9HL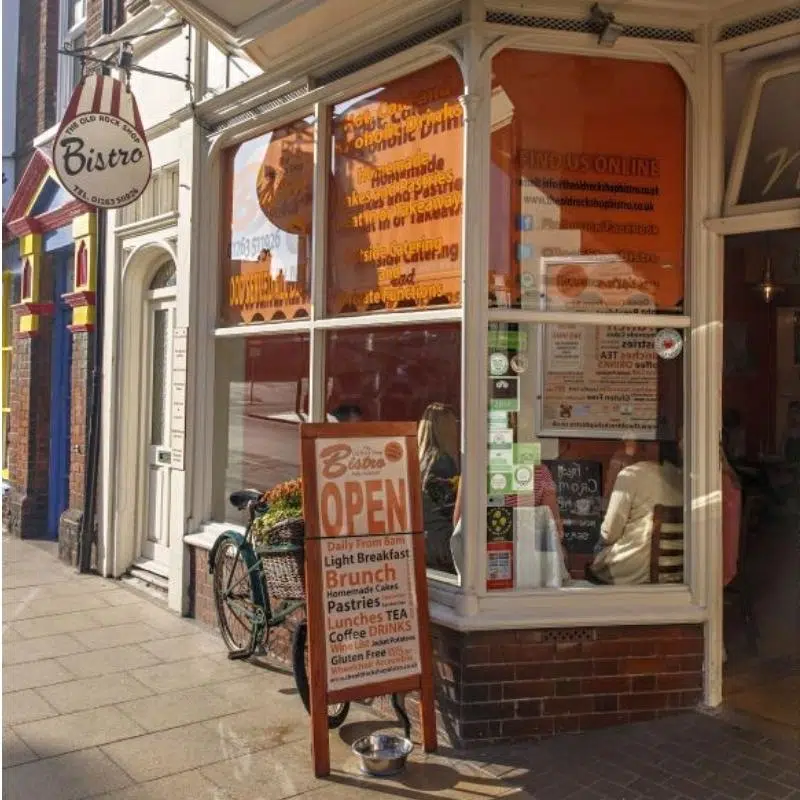 Planning a visit to Cromer? I share tips on getting there, where to stay, places to eat + things to do locally in my ultimate Cromer visitor guide.
The Grove Restaurant
Afternoon Tea | Dinner
This award-winning fine dining restaurant is known for its locally grown and seasonally inspired Norfolk food. Not only does The Grove support local producers, but they also have their own fruit and vegetable gardens and poly-tunnel which supply the restaurant year-round, and this is reflected in their menu which is full of traditional dishes with a twist.
In the grounds of the restaurant is Sundown, a giant teepee restaurant offering seasonal dining. Pizza, Norfolk tapas and ice cream are the order of the day here during the summer months, and for me, it was a real highlight of a recent visit, alongside the comprehensive gin list!
If you're in the area at Christmas, Sundown is open on Friday and Saturday nights too. If you prefer a laid-back dining experience, then this is a great choice.
95 Overstrand Road, Cromer NR27 0DJ
RELATED POST: Hotels in Cromer: 15 of the Best Places to Stay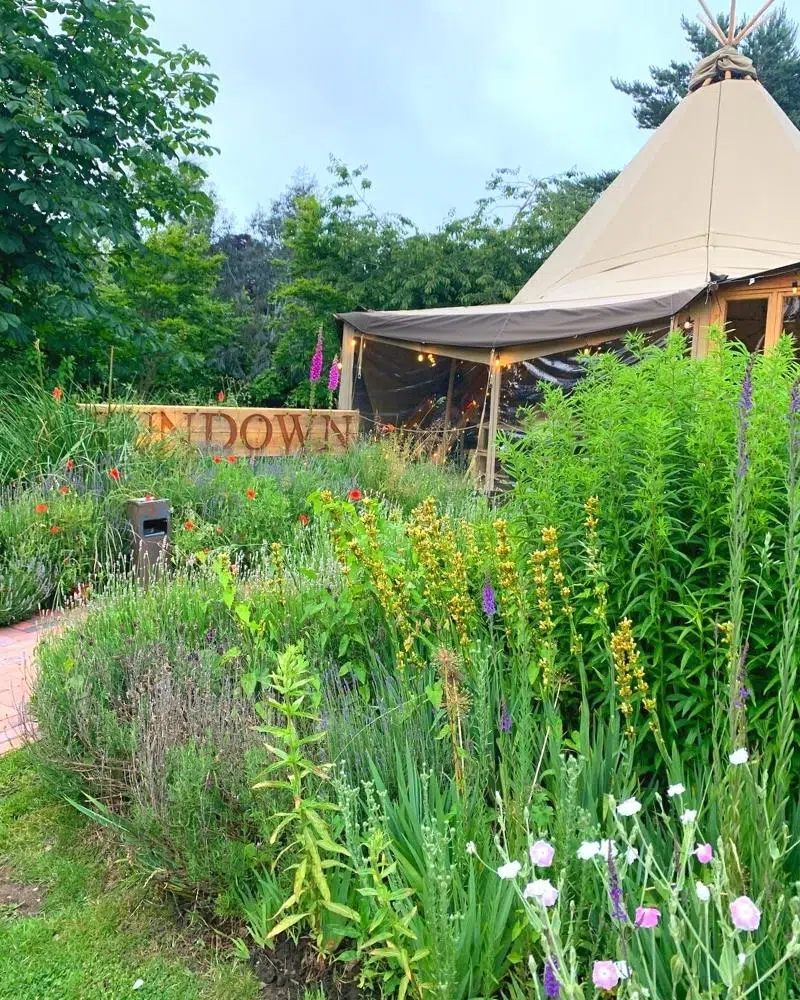 The Red Lion
Lunch | Dinner
This brilliant dog-friendly Victorian pub is right on the seafront in Cromer. Serving traditional pub grub, Sunday roasts and even a doggie menu, this is a perfect spot if you're planning on eating in Cromer.
The very best thing on The Red Lion menu is the seafood sharing platter, a monster dish loaded with battered fish, Cromer crab, prawns, whitebait and lots of other goodies. Combine with a cold pint or chilled glass of white, and this is one of the best lunches in town, in one of the best Cromer pubs!
Brook Street, Cromer NR27 9HD
RELATED POST: 26 Norfolk Food & Drink You Must Try!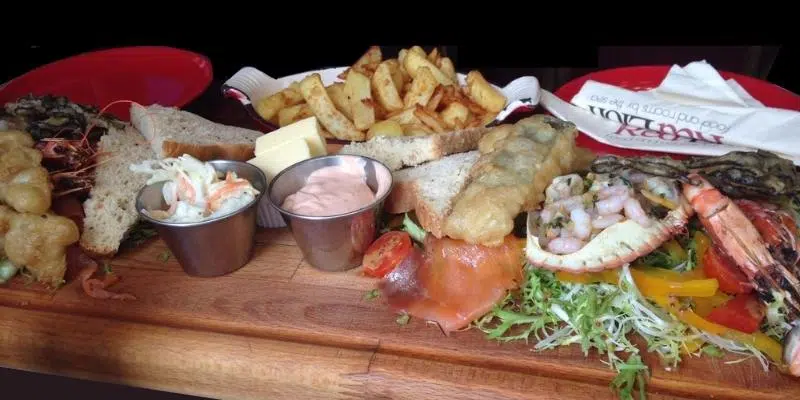 Bann Thai Restaurant
Dinner
This is the perfect antidote if you're all crabbed or fish and chipped out! Serving really good, authentic Thai food, the Bann Thai Cromer is super-popular amongst Cromer locals in the know.
I'm not a Thai food expert, but I can definitely vouch for the food I've eaten here, which is always delicious. The staff are friendly and happy to explain the different dishes if you're new to Thai flavours. If you're looking for something different, this is the place to go!
1A Church Street, Cromer NR27 9ER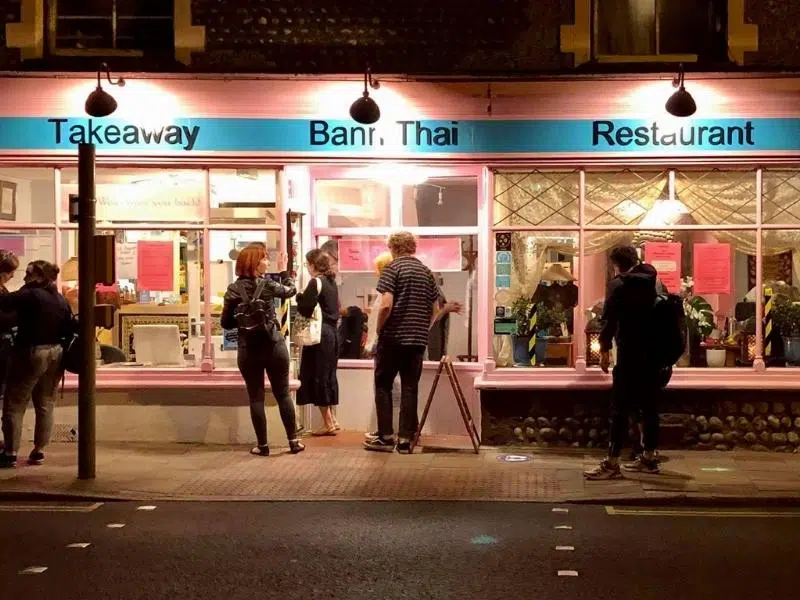 Brownes on Bond Street
Breakfast | Lunch | Afternoon Tea
This family-run and traditional cafe is known for its locally sourced and homemade produce. Brownes serve everything from a traditional cooked breakfast to a delicious afternoon tea with freshly made scones, via an extensive lunch menu. Do you know the menus where you just can't decide? That's Brownes for you.
If the weather is good, the beautiful, flower-filled courtyard is an idyllic space to enjoy lunch. The Ploughman's are huge and the lemon drizzle cake really is to die for!
5 Bond Street, Cromer NR27 9DA
RELATED POST: 21 Of The Best Things to Do in Cromer Norfolk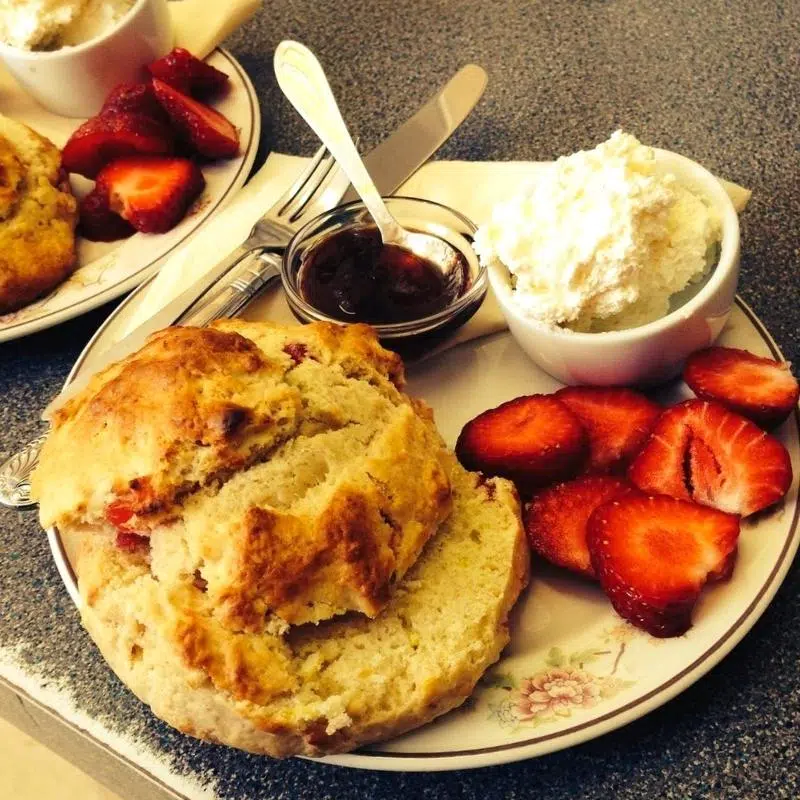 Five of the Best Seafood Restaurants in Cromer
Rocky Bottoms, West Runton
Lunch | Dinner
The brown crab is found all around the coast of the United Kingdom, but off our stretch of Cromer, in the shallow nutrient-rich waters on the chalk reef, brown crabs are sweeter and more tender than anywhere else and are a must try if you're visiting Cromer.
My favourite place for Cromer crab is Rocky Bottoms, which is actually in West Runton, three miles from Cromer on the coast road east to Sheringham. This is a locally run family business, where they catch crabs using their own fishing boat, and then feed you in their restaurant.
They also serve other local delicacies like samphire which grows wild in the nearby dunes. You can also buy dressed and prepared crab at the Crab Hut to take home – yummy!
Cromer Road, West Runton NR27 9QA
RELATED POST: Cromer Crab: All You Need to Know About Norfolk's Favourite Food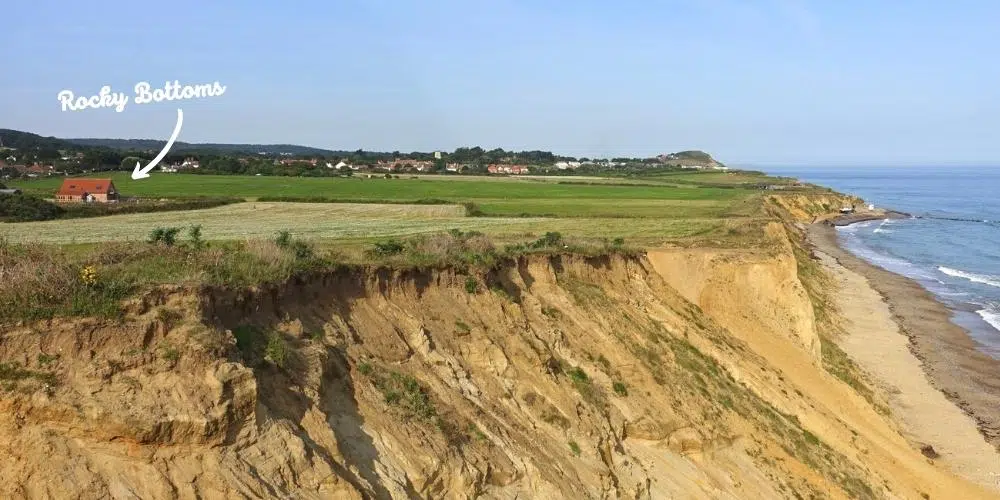 Hot Rocks
Lunch | Dinner
I love the concept of this restaurant, which reminds me of going for teppanyaki, where the ingredients are cooked right in front of you. Hot Rocks don't serve Japanese food, but locally caught fish and juicy steaks, cooked at the table as you like, on hot rocks.
This really is food theatre, with the sizzling stone bought to the table with the raw ingredients. Not everything is raw though! If you order the mixed seafood platter, you cook the prawns and scallops yourself, and the rest of the fish is already prepared. It's fun, especially in a larger group!
9 Garden Street, Cromer NR27 9HN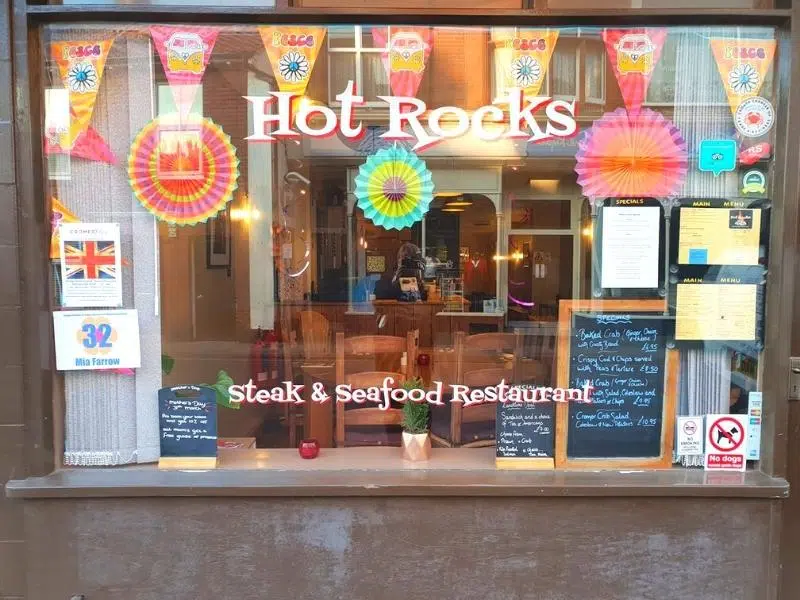 Upstairs No 1 Cromer
Lunch | Dinner
By far the best eat-in fish and chips in Cromer, if not the Norfolk coast! Upstairs No 1 Cromer has an enviable pier view and offers a simple menu where fish and chips are the stars of the show. Owned by the Michelin-starred chef Galton Blackiston, who also owns nearby Morston Hall, eating here is a real pleasure.
If you want to sit upstairs and linger over the view, I would suggest booking in the summer months. Downstairs, No 1 Fish and Chips Cromer serves the same menu in slightly starker surroundings, and tables are offered on a first-come, first-served basis.
1 New Street, Cromer NR27 9HP
RELATED POST: Best Fish & Chips Norfolk: 14 Top Places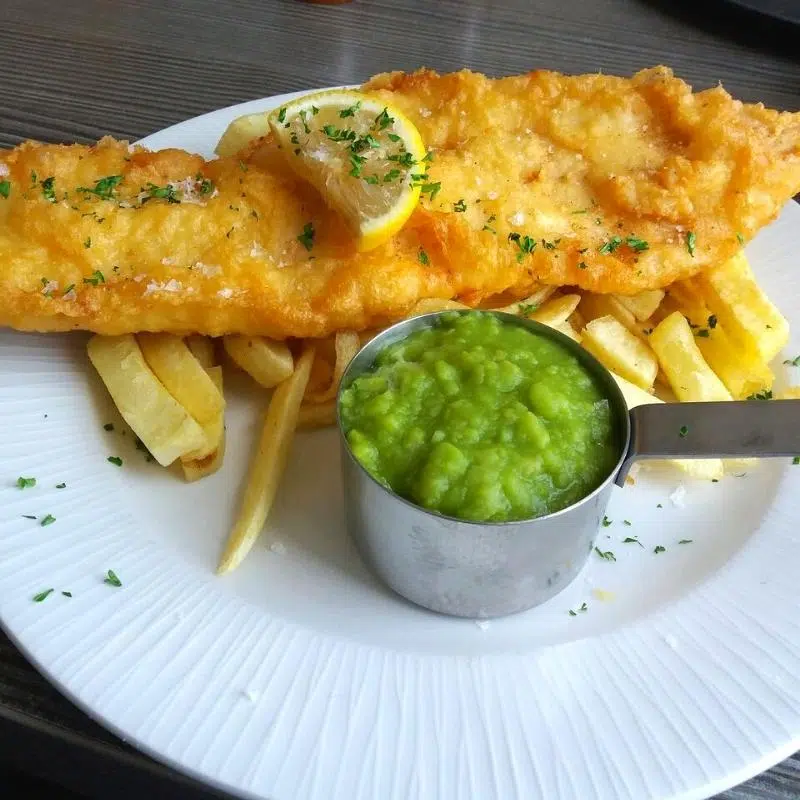 Crab Pot Cafe
Breakfast | Brunch | Lunch
The Crab Pot Cafe is a traditional seaside cafe, which serves some of the best Cromer crab in the town and also does an excellent breakfast and proper afternoon tea, with a cake stand and a variety of sandwiches before the sweet treats.
The crab here is freshly prepared on the day it is caught in the waters off Cromer, and the cafe offers it in a variety of ways. From the well-known crab salad or sandwich to crab and asparagus quiche and really tasty crab cakes, however you like crab, you'll find it here!
7 Hamilton Road, Cromer NR27 9HL
RELATED POST: What's On in Norfolk – 70+ Dates for Your Diary in 2022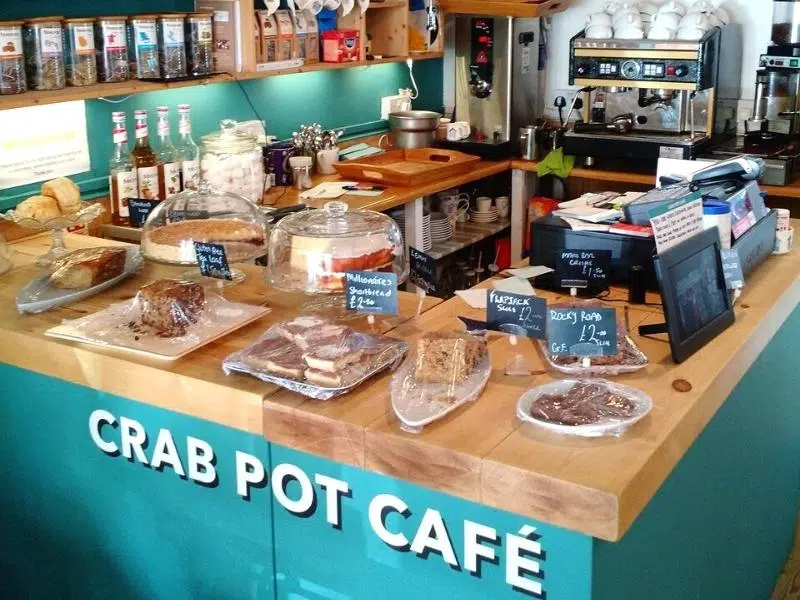 The Jetty Cafe
Breakfast | Brunch | Lunch
Another great cafe doing local Cromer seafood, the Jetty Cafe is simple and unfussy, and doesn't even have a website or Facebook page for me to link to!
But, they put a whole Cromer crab in every sandwich, make enormous and very delicious fruit scones and serve one of the best breakfasts, especially good after a long walk on Cromer Beach. Oh, and I love to read the quirky and informative chalkboards outside!
11 High Street, Cromer NR27 9HG
RELATED POST: North Norfolk Coast – 19 Unmissable Highlights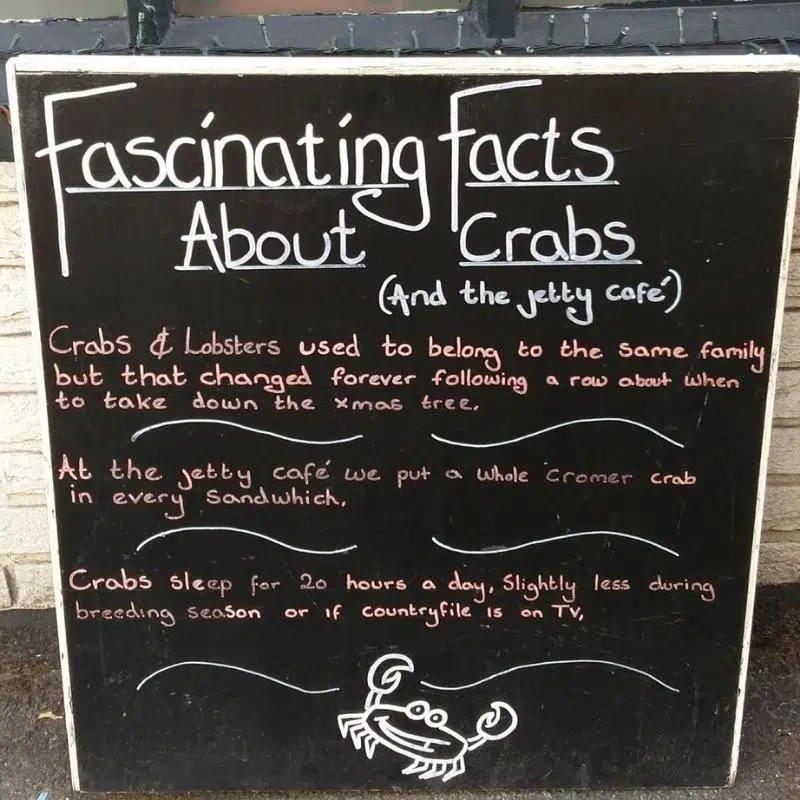 Five of the Best Tearooms in Cromer
Hatters Tea Shop
Brunch | Lunch | Afternoon Tea
Set in an old Victorian building which has been restored, Hatters Tea Shop offers cosy corners and relaxed seating, and they also have a gift shop where you can buy beautiful handicrafts and gifts from Norfolk to take home with you.
The big deal here is the afternoon tea, which you need to book at least 24 hours in advance, perfect for a celebration or party. Beautifully served with mismatched vintage china, and including a selection of traditional afternoon tea sandwiches like egg and cress and smoked salmon and cream cheese, home-made scones and mini cakes, you can also enjoy this with a bottle or glass of Prosecco for an extra special treat.
34 Prince of Wales Road, Cromer NR27 9HS
RELATED POST: 30 of the Very Best Things To Do in Norfolk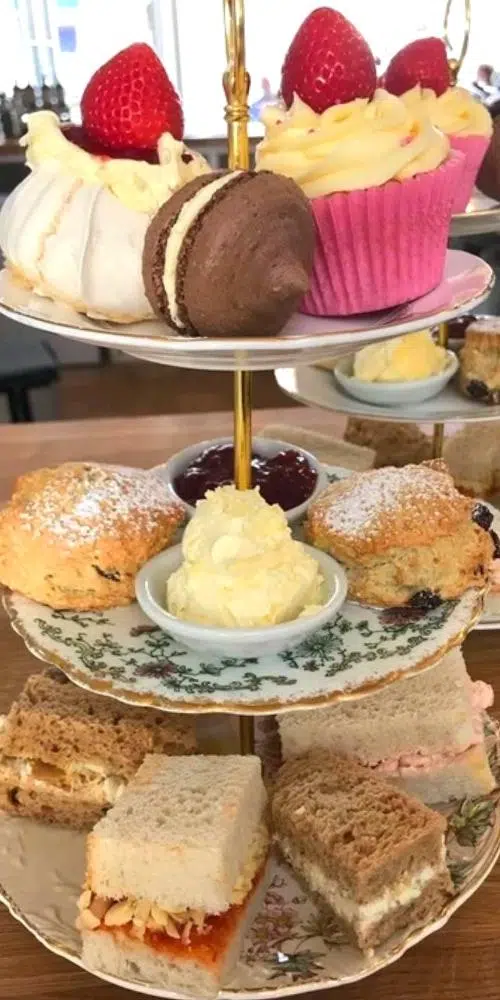 Huckleberries
Brunch | Lunch | Tea & Coffee
Huckleberries is one of those quirky, independent coffee shops that once you've visited, you'll want to keep going back! All their cakes and savouries are homemade and their bread all comes from their own bakery.
They also have a strong plant-based ethos and serve a great vegetarian and vegan range, as well as offering a treat box delivery service making it a real local favourite.
43 Church Street, Cromer NR27 9HH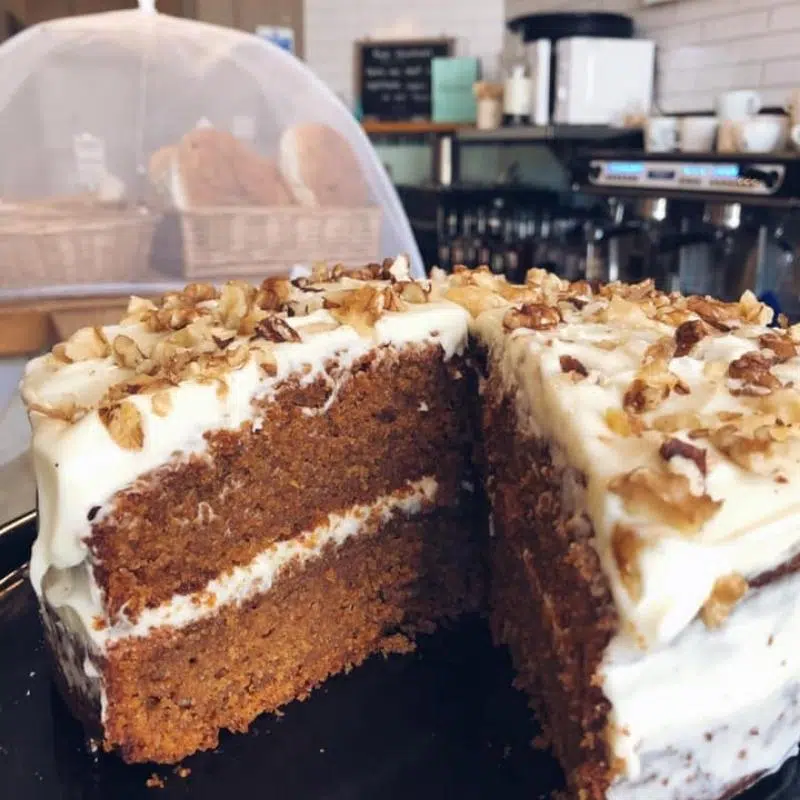 The Art House Cafe
Brunch | Lunch | Tea & Coffee
A stylish cafe, The Art House serves an extensive coffee menu and a simple but contemporary food menu including light lunch bites and homemade cakes.
Dotted around the walls of the cafe are original works by local artists (all for sale) creating a gallery and exhibition space that lifts this cafe into a delightful place to stop for a cuppa.
10 High Street, Cromer NR27 9HG
RELATED POST: 26 Pictures of Norfolk England to Inspire Your Trip!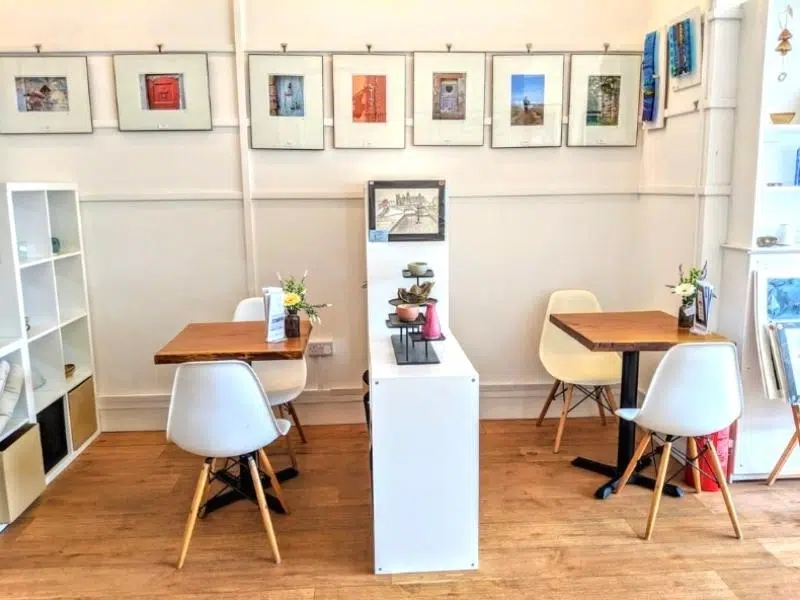 Henry's Coffee & Tea Store
Breakfast | Lunch | Tea & Coffee
Known for their truly epic sausage rolls, Henry's Coffee & Tea Store is a stalwart of the Cromer cafe scene. If you're popping in for brekkie try the Cromer breakfast with crab and homemade chilli jam, it's delish!
Henry's also offers a good selection of gluten-free and vegan bread and spreads, vegan sausage rolls and dairy-free cream and cheese.
2 Church Street, Cromer NR27 9ER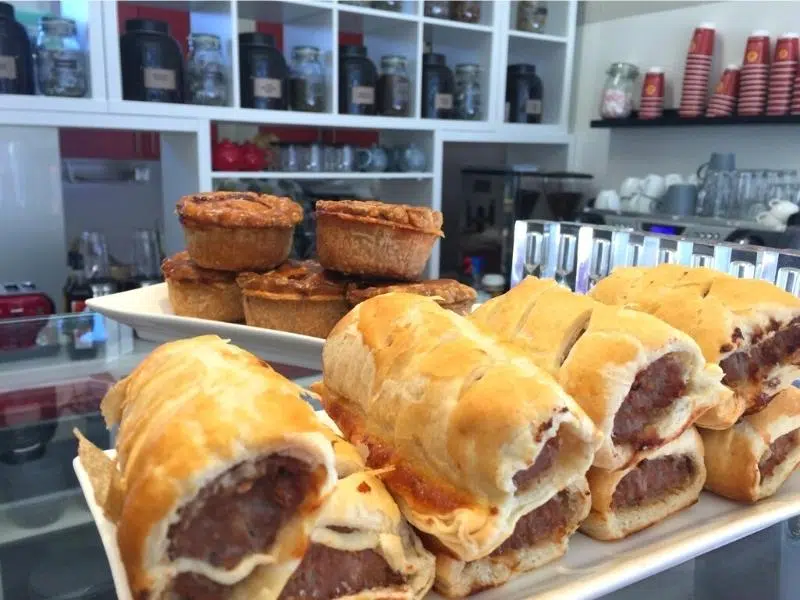 Buttercups Tearooms
Breakfast | Lunch | Tea & Coffee
Buttercups Tearooms is a good old-fashioned tea rooms in the heart of Cromer. With a focus on homemade food and friendly welcoming service, Buttercups is a great option if you're craving something sweet!
5 High Street, Cromer NR27 9HG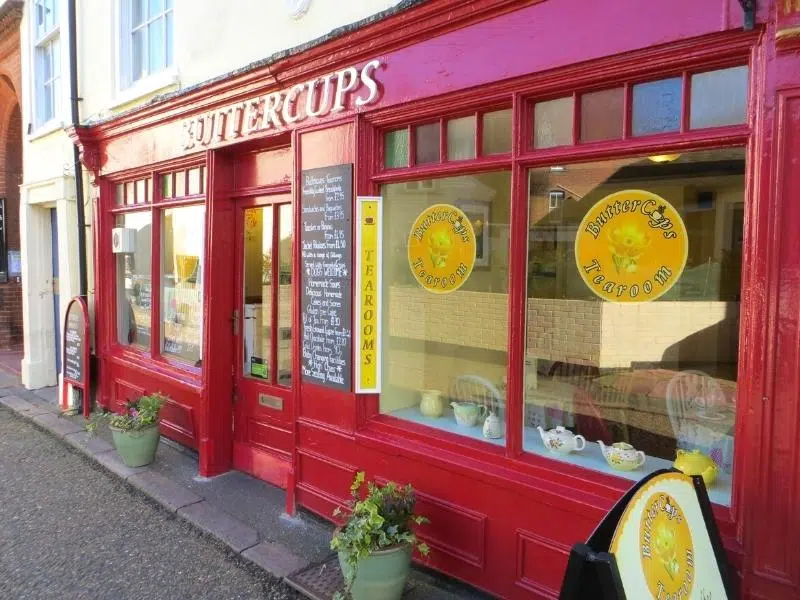 And one more for dog owners…
Doggie Diner
Lunch | Snacks | Tea & Coffee
The canine cafe for humans and hounds has a well-deserved reputation. The Doggie Diner offers both dog and human menus, with the food choices on each being really delicious – well I assume so, given the speed at which the homemade dog biscuit was wolfed down!
This is the perfect place to take your pooch for a treat after a walk on the beach, you can even stop by at the shop and pick up their favourites.
16 Mount Street, Limetree Court, Cromer NR27 9DB
RELATED POST: Afternoon Tea in Norfolk – 15 of the Best Places
Have I missed your favourite place to eat in Cromer, Norfolk? Leave a comment below so I can include it in this post!
Love it? Pin It!