Welcome to my local's guide to the best campsites in Norfolk England. The fantastic county of Norfolk in East Anglia is the perfect place for a holiday or break, with activities, attractions and adventures to suit couples and families alike. Pick from Norfolk camping sites on the coast to inland meadows and Norfolk Broads views.
Whether you're in a tent, road tripping Norfolk and looking for a motorhome touring pitch, or want to try a self-catering pod or glamping hut, I've rounded up the top eleven campsites in Norfolk for you to choose from.
My family live in Norfolk and I grew up on its borders. I've spent years camping in Norfolk with both tent and motorhome, so know all the best Norfolk campsites from first-hand, personal experience. This really is a local's guide of where to camp in Norfolk.
RELATED POST: The Ultimate Local's Guide to Norfolk England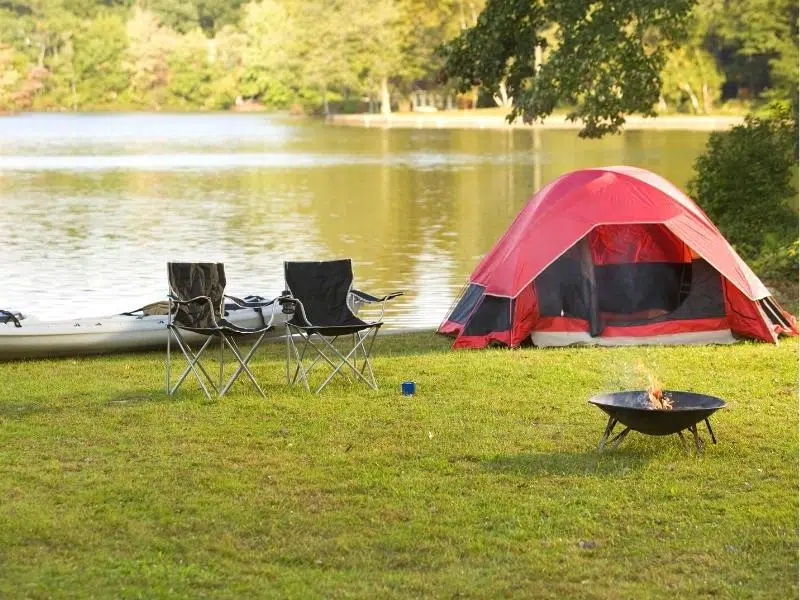 This post may contain affiliate links. If you book something I recommend, I make a small commission without affecting the price you pay!
All these sites are very popular and book up early in the year. Save yourself the stress and expense of finding a pitch or campsite accommodation at the last minute, and organise your Norfolk camping holiday as early as you can. Just click the link for your chosen campsite to check availability and book .
Camping Norfolk – Top 11 Sites
Clippesby Hall
Website: https://www.clippesbyhall.com/
Address: Hall Road, Clippesby, Great Yarmouth NR29 3BL
This award-winning holiday park, tucked between Norwich and the beautiful North Norfolk Coast Area of Outstanding Natural Beauty, has a great family atmosphere and is well-deserving of it's AA Regional Campsite of the Year award.
With acres of green space, with woodland and meadow settings, a small swimming pool and the impressive Basecamp complex, you could easily spend your whole holiday at this campsite in Norfolk and never leave!
Basecamp offers family-friendly dining, a small farm shop, a cafe and bar. You can buy your morning paper and fresh bread here, enjoy a pizza on the deck, grab an ice cream or sit-down to a delicious Sunday roast.
There's a pool table inside and a mini-golf course outside to keep people entertained. There's also an information centre, where you can find out more about things to do in Norfolk.
Close to some of the best beaches in Norfolk, the medieval city of Norwich and the lively seaside town of Great Yarmouth, Clippesby Hall is well located for a Norfolk holiday.
Camping & Touring
As one of Norfolk's premier camping and caravan parks, camping and touring facilities are as good as you'd expect them to be.
There is a choice of grass or hardstanding pitches, with or without electric hook-up, depending on how you camp. Even though this is one of Norfolk's best dog-friendly campsites, there's also a dog-free zone!
I love the fact that some of the sanitary facilities have a bath – brilliant for smaller kids and great for warming up if you're camping in poor weather. Yep, it's a factor of camping holidays in Norfolk!
Accommodation
Also one of Norfolk's best-known glamping sites, pine lodges for six (complete with hot tub!), country cottages for two and a shepherd's hut make up the holiday home accommodation.
RELATED POST: North Norfolk Coast – 19 Unmissable Highlights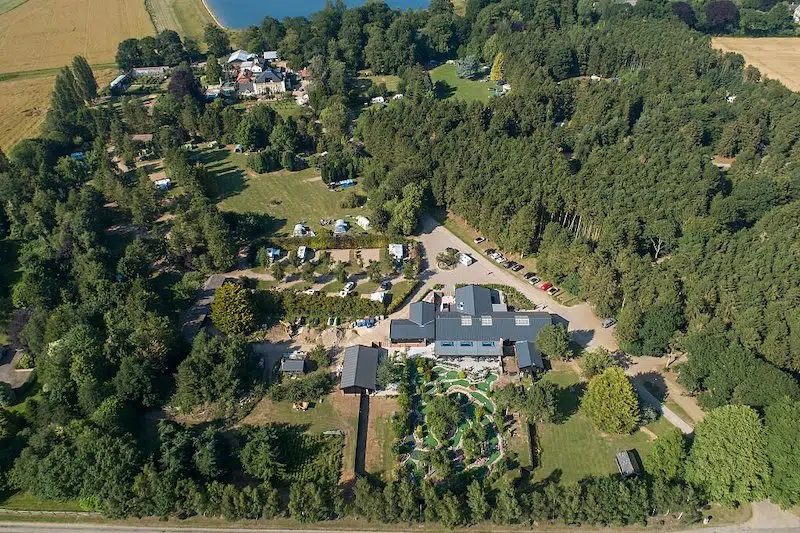 Whitlingham Broad Campsite
Website: https://www.whitlinghambroadcampsite.com/
Address: Whitlingham Lane, Trowse, Norwich NR14 8TR
If you're craving the simple way of life, with minimal fuss and facilities, then Whitlingham Broad Campsite, on the doorstep of Norwich will most definitely deliver.
Set in a country park just a few miles from Norwich, the Norfolk Boards National Park and the North Norfolk Coast, this family-run site is the perfect place to get back to nature and enjoy a fire pit at night, before you nod off to sleep listening to the sound of owls.
On the banks of Whitlingham Broad, the campsite is the ideal place for kayaking and stand-up paddle (there are hire places close by on the Broad), boating adventures, walking and bird watching. You can also cycle into the centre of historic Norwich, just 2.5 miles away, on a Beryl Bike (which can be picked up at the site) or explore the many Norfolk attractions in the surrounding area by car.
Camping & Touring
Whitlingham Broad Campsite is ideal for tents and smaller campers – in fact, they prefer smaller motorhomes as there is no hard-standing. Bookings cannot be taken for caravans and trailer tents, which are not allowed due to planning restrictions.
There are no grey waste or chemical toilet disposal points, so the excellent site facilities will have to suffice. There's no EHU available either, so you'll need solar, or, get back to basics and chill for a bit with traditional camping lights.
This all makes for the kind of camping I remember as a kid – sleeping bags, UHT milk and the heaviest canvas tent imaginable! Although I prefer a decent quilt, fresh milk and a lightweight tent these days, the nostalgia of those simple holidays remain, and this is exactly what Whitlingham Broad Campsite offer.
Accommodation
If you're looking for a ready-made roof, book a yurt, converted goods wagon, shepherd's hut, bell tent glamping or a stunning tree-house-style woodland den. With all the amenities you need provided, this is a great alternative to booking a hotel for a Norwich break.
RELATED POST: 31 Amazing Things To Do in Norwich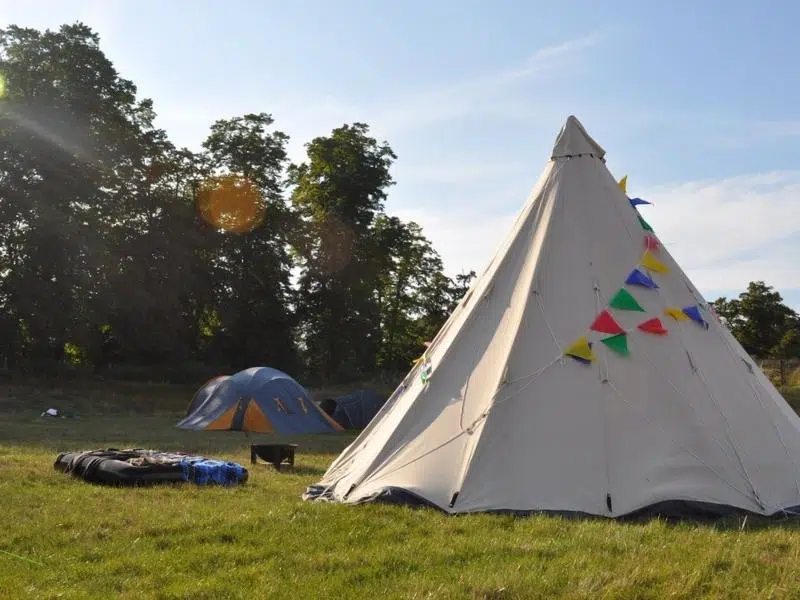 The Old Vicarage Campsite
Website: http://oldvicaragecamping.co.uk/
Address: Moulton St. Mary, Norwich NR13 3NH
With a Cool Camping Certificate of Excellence, The Old Vicarage Campsite is three acres of grass meadows sandwiched between the River Yare and River Bure, where the owner Bernie is passionate about good old-fashioned camping.
The spacious site means you can pitch wherever and however you want, with loads of space for activities, running about (kids and adults!) and social distancing around every tent. Family-oriented and dog friendly, you'll often find larger groups camping here together.
Fire pits are a popular feature here, with the owner providing a 'Bernie' brazier and actively encouraging people to light a campfire as an integral part of their camping experience. Bring on the marshmallows!
The enviable position means the nature reserves of the Broads, the lively town of Great Yarmouth and historic Norwich are all within easy reach, making this a great spot for your next Norfolk visit.
Camping & Touring
The Old Vicarage is a tent-only site. As long as your roof is made of fabric, you'll be able to pitch here. Caravans, campervans, motorhomes and trailer tents are not accepted and cars are parked in the field next door – with wheelbarrows provided for you to move all your gear!
The approach is refreshing – pitch where you like, with as many tents as you want (within reason obvs!) all for one flat rate regardless of holidays or high seasons. There are no extras or hidden costs.
Sanitary (eco-friendly composting toilets) and dishwashing facilities are basic, but clean and do the job! You'll also find hot showers, drinking water taps, rubbish and recycling bins, a USB charging point and a freezer for re-freezing ice blocks. There is no electric hook-up on site – it saves you from taking loads of electrical kit you just don't need!
Accommodation
Fully furnished classic canvas bell tents and simple wooden pods provide self-catering accommodation.
RELATED POST: 13 Exciting Things To Do in Great Yarmouth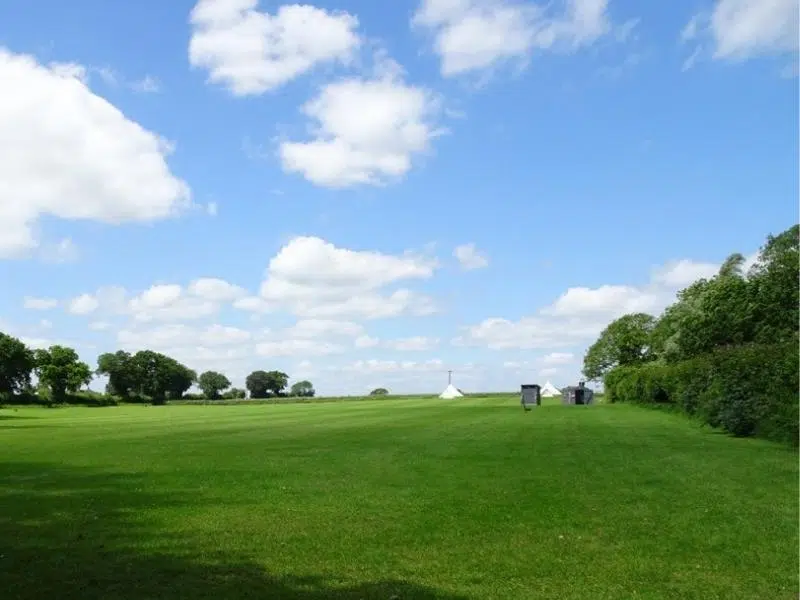 Hickling Campsite
Website: https://www.hicklingcampsite.co.uk/
Address: Heath Road, Hickling, Norwich NR12 0AU
Hickling Campsite is at the heart of the largest and most beautiful Broad in Norfolk, and is the perfect base to pitch up and go exploring the region's incredible coastline and beaches, and of course, the Norfolk Broads!
With a back-to-nature camping philosophy, the couple who run the site, Tom and Jo, have built a place they would want to stay. With no fixed pitches, campfires encouraged and the best of the Broads on the doorstep, this is a really delightful campsite.
The Hickling Hut camp shop provides fresh locally sourced produce like milk, bread and Norfolk ice cream, as well as barista coffee.
The campsite is a 20 minute cycle ride or 10 minute drive from the vast sandy beaches of the North Norfolk Coast, and under ten minute stroll to Hickling village, with a couple of good pubs to choose from. Hickling Broad and the Norfolk Wildlife Trust national nature reserve is a haven for birds and wildlife and there are lots of boat trips for visitors to explore the area.
Camping & Touring
Hickling Campsite is a tent and trailer tent-only site. There is lots of space for both, with no set tent pitches and no specific check-in or check-out times.
The facilities are basic, but the shower water is hot and plentiful, with no annoying push-buttons. Washing up sinks are outside. Fire pits are provided and you can buy wood on-site. You'll also find drinking water taps, rubbish bins for recycling and general waste, a freezer for ice blocks and a couple of plug sockets for charging your devices.
Accommodation
Glamping at Hickling Campsite takes place in their shepherd's huts or a wooden pod, both of which are fully insulated, with a proper bed!
Tom and Jo also run Canal Camping near North Walsham. We haven't included the campsite on our best camp sites in Norfolk list because we have yet to stay there!
RELATED POST: 26 Exciting Things To Do On the Norfolk Broads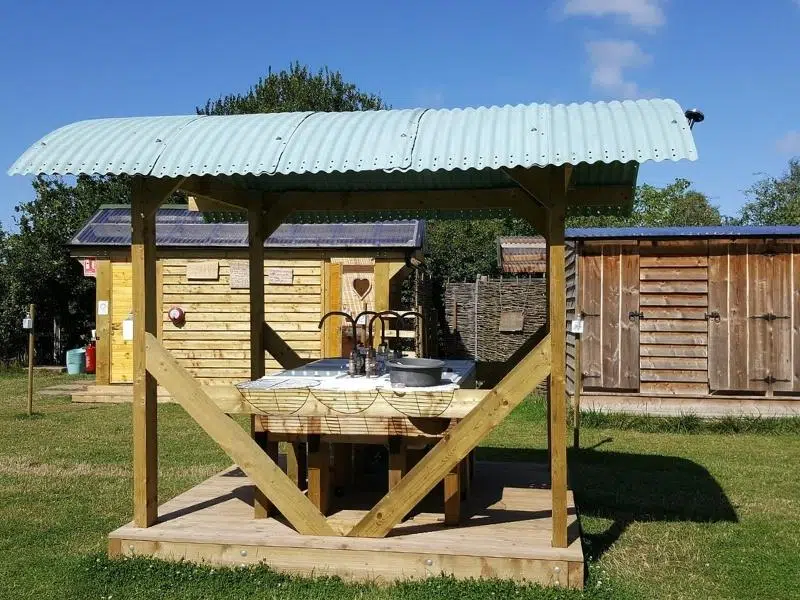 Kelling Heath Holiday Park
Website: https://www.kellingheath.co.uk/
Address: Weybourne, Holt NR25 7HW
Kelling Heath is a natural site, nestled amidst rare open heathland and enjoying a surrounding landscape of mature pine and native woodland. The campsite is a Dark Sky Discovery Site, where the seven stars of the Orion constellation and the Milky Way are visible to the naked eye.
This peaceful spot is a great place to stay if you're looking to explore the North Norfolk coastline and the attractions of West Norfolk. Just 6.5 miles from the coast and 5 miles from Sheringham, you've got the best of Norfolk right on the doorstep.
Camping & Touring
Motorhomes, campervans and caravans are welcome here, with a variety of pitches to choose from. All pitches are serviced with electric hook-up points, and fully serviced pitches also have water and grey waste points. Premium pitches are larger, and all come with a hard-standing option.
Tents are equally well provided for. The amenity buildings are equipped with hot showers, washing facilities, individual cubicles, toilets and razor points. Disabled and baby-changing facilities and dishwashing and laundry sinks are also available.
During early spring and late autumn, two of the amenity buildings are heated for extra comfort. A launderette providing washers and dryers is located to the side of the Village Square.
Accommodation
If you want the campsite experience, but don't have a motorhome or tent, then book one of their Woodland Lodges. With everything you need for a Norfolk short break or a longer holiday, you'll get to enjoy all the peace and tranquillity of the site, from hotel-like accommodation.
RELATED POST: 23 Amazing Things To Do in Sheringham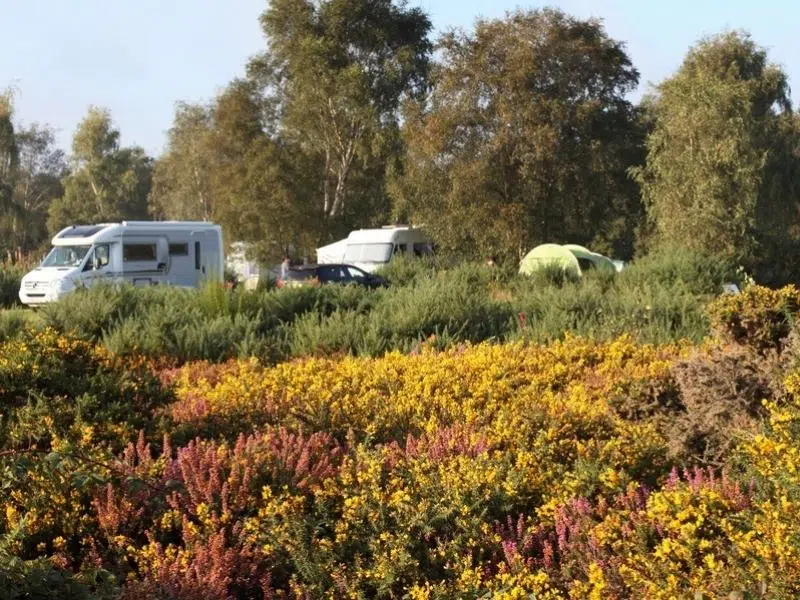 Dower House Touring Park
Website: https://www.dowerhouse.co.uk/
Address: Thetford Forest, East Harling NR16 2SE
The Dower House Touring Park is a family-run camping site set in the heart of the beautiful Thetford Forest. With a close to nature and friendly feel, this woodlands caravan park is a wonderful spot for active and adventurous families, who enjoy being away from the hustle and bustle of the more touristy spots.
With an outdoor pool, a well-stocked shop, an onsite pub and a children's activity area with log play equipment and a badminton come volleyball net, there's plenty to keep the whole family entertained. Off-site there's the historic town of Thetford to explore, and the fast swathe of Thetford Forest, with its cycling and walking tracks crisscrossing the area.
Camping & Touring
With a variety of pitches in different sizes with or without EHU, and with hard-standing options, you'll find the perfect pitch for your van or tent.
Sanitary facilities are basic and perhaps a bit dated, but the water is hot and plentiful and there are enough showers and loos to go around at peak times. Hairdryers are provided in the ladies' bathrooms.
Accommodation
The accommodation comes in the form of furnished and equipped bell tents, hygge huts, mini lodges and shepherds huts – true Norfolk glamping style!
RELATED POST: 19 Top Things To Do in Thetford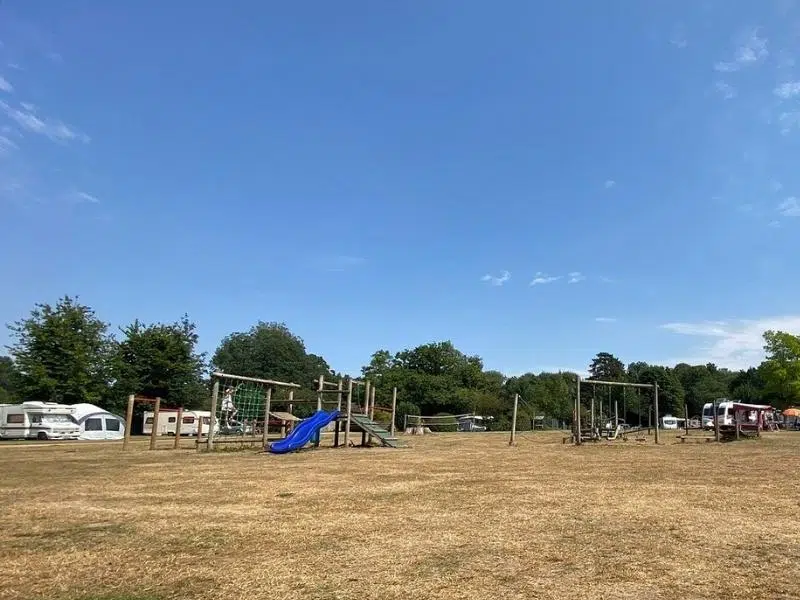 Woodhill Park
Website: https://www.woodhill-park.com/
Address: Cromer Road, East Runton NR27 9PX
Located in a breathtaking clifftop location between Cromer and Sheringham, Woodhill Park enjoys panoramic views of the coastline and surrounding countryside. It's the ideal spot to sit back, relax and take in the inspiring natural landscape, and explore the gorgeous North Norfolk coast.
With the beach and Norfolk Coast Path on the doorstep, local cycle routes easily accessible and a natural landscape of wildflowers around the site, relaxing and setting into holiday life is easy here!
Camping & Touring
Suitable for motorhomes, tourers and tents, there's a good selection of pitch styles here from the top of the range XL fully serviced hard-standing pitch, to the more modest non-electric grass pitch, perfect for getting back to nature, and facilities are excellent.
Accommodation
The accommodation here is the Norfolk staple, the static caravan. The vans here are in the luxury class, with everything you need including a welcome bag and complimentary toiletries.
RELATED POST: Norfolk Coast – 8 Amazing Ways to Explore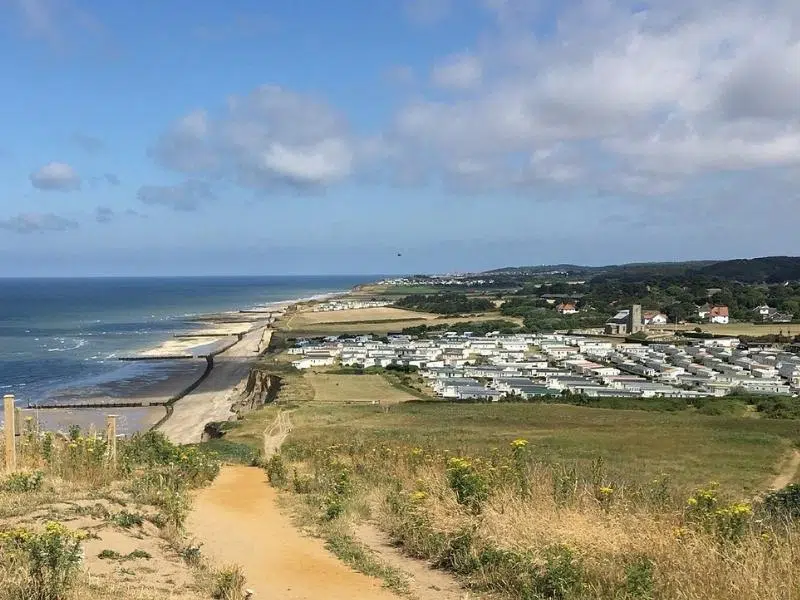 Baconsthorpe Meadows Camping
Website: https://www.baconsthorpemeadows.co.uk/
Address: Pitt Farms, Baconsthorpe, Holt NR25 6LF
Baconsthorpe Meadows Campsite is a friendly site nestled close to the North Norfolk Coast, just outside the pretty Georgian market town of Holt.
This tranquil spot provides the perfect place for a Norfolk camping holiday, where easy access to the beaches, seaside towns, nature reserves and attractions of the wonderful Norfolk countryside make for a great family adventure.
On the edge of the North Norfolk AONB, Baconsthorpe Meadows is the perfect place to soak up nature and enjoy a slower pace of life. With no light pollution, the dark skies of the area will reward star gazers – you can even light the brazier on cold evenings.
Camping & Touring
Baconsthorpe Meadows Campsite is a tent camping-only site. There are a few serviced pitches with electric hook-up, but there must be booked in advance.
The sanitary facilities are super clean and well-managed. There is a small shop and playground on site. You'll also find washing-up sinks, a chemical waste point, a freezer for ice blocks, a washing machine and tumble dryer, a microwave, phone charging points and free WiFi in reception.
Accommodation
Self-catered accommodation is provided by wooden camping pods, equipped with double or twin single beds and an outside deck.
RELATED POST: 21 Of The Best Things to Do in Cromer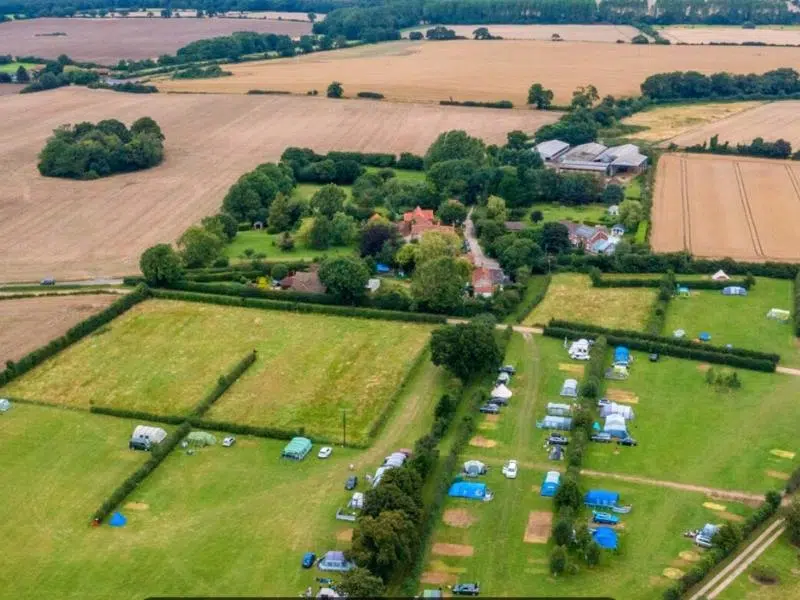 Deepdale Camping & Rooms
Website: https://www.deepdalebackpackers.co.uk/camping/
Address: Deepdale Farm, Burnham Deepdale PE31 8DD
A quiet and family friendly campsite, Deepdale Camping is located near the sea in the stunning North Norfolk countryside. The award winning campsite, which always gets fantastic reviews, has also just been named the most popular campsite in the UK and its one of our favourite north Norfolk campsites!
This dog-friendly campsite is located in the village of Burnham Deepdale, in the North Norfolk Area of Outstanding Natural Beauty. There is fantastic walking on the doorstep and nearby bike access to the National Cycle Network and the Rebellion Way at Burnham Market, and fabulous North Norfolk beaches like Burnham Overy Staithe and Brancaster are within very easy reach.
With abundant bird and wildlife and the big open skies, which are breathtaking, particularly at night, this is a great campsite for outdoor enthusiasts.
There is also ample opportunity to chill out and relax on-site at the Deepdale Cafe or try one of the traditional nearby pubs which serve local Norfolk beers and locally caught seafood.
Camping & Touring
Deepdale has 85 pitches suitable for tents, campervans, motorhomes & trailer tents, but no caravans due to a planning restriction, set in six well-maintained grassy paddocks. The site is a haven of peace and quiet, and not suitable for large groups.
There's been a lot of development since 2016, with fantastic newly built facilities, including 16a electric hook-up, chemical toilet disposal points, fully serviced hard-standing pitches, and underfloor heated toilet & shower blocks, together with lots of landscaping including hedging, trees and landscaping for the farm paddocks. There's also a laundry facility, free Wifi and fire pit hire.
Accommodation
If you're planning a self-catering holiday without a tent, Deepdale will supply you with a fully equipped and erected safari tent on a large grass pitch, or check out their basic, but comfortable, private en-suite rooms.
RELATED POST: Brancaster Staithe: A Hidden Gem in North Norfolk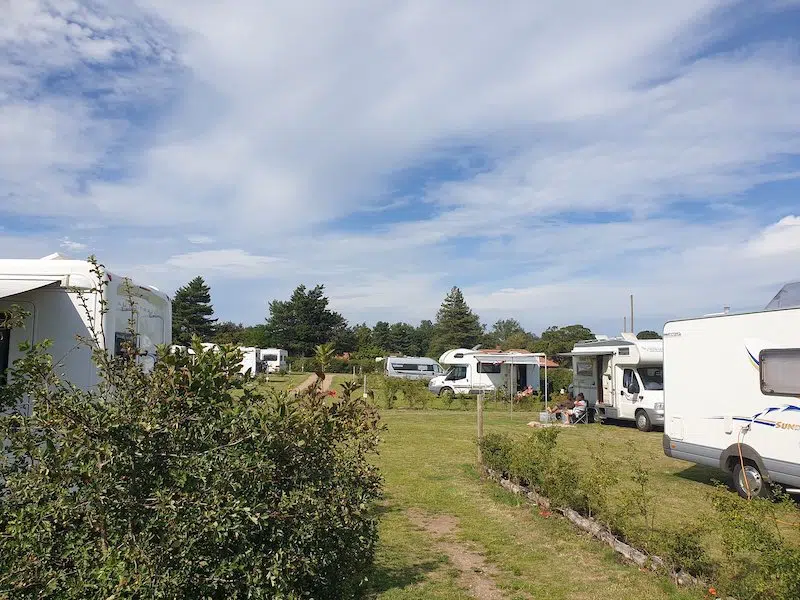 Breydon Water Holiday Park
Website: https://www.parkdeanresorts.co.uk/location/east-anglia-lincolnshire/breydon-water/
Address: Burgh Castle NR31 9QB
Breydon Water Holiday Park is right on the edge of the Norfolk Broads National Park, and just six miles from bustling Great Yarmouth. A lively site, there's plenty to do here for everyone, including outdoor and indoor pools, a gym and an adventure playground.
Within striking distance of Broads and the coast, as well as Norfolk's capital city of Norwich, Breydon Water makes a great spot from which to explore the southern half of the county, and is the perfect place to camp as a family.
Camping & Touring
Suitable for all types of tourers and tents, there are no hemmed-in pitches here. The touring area is across a large and level grassy field, giving an open feel. Choose between pitches with or without an electric hook-up.
You'll find sanitary and washing-up facilities to a good standard, along with fresh water and waste points. There is also a laundrette and convenience store on site.
Accommodation
Self-catering accommodation comes in the form of static caravans. Equipped with everything you need for your holiday, these make a great cost-effective option.
RELATED POST: 30 of the Very Best Things To Do in Norfolk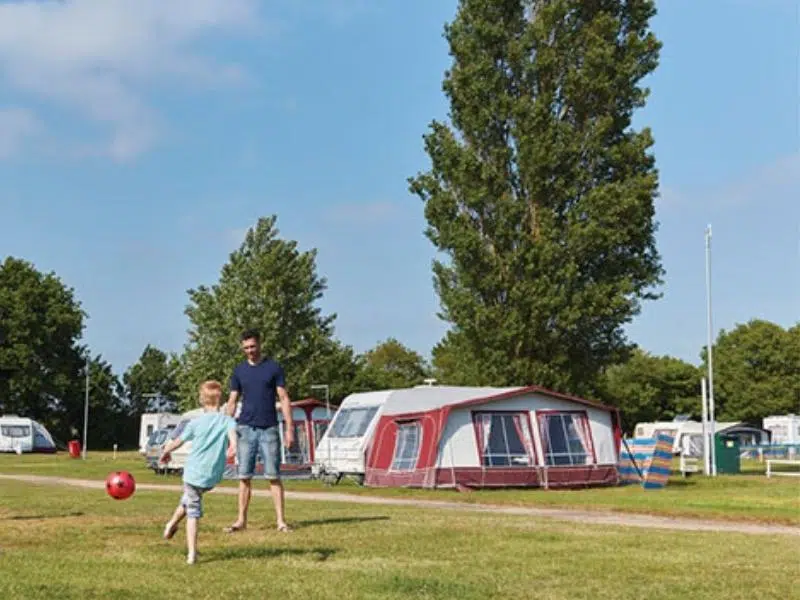 Gatton Waters Caravan Site
Website: https://www.gattonwaters.co.uk/
Address:
Lynn Road, King's Lynn PE31 6BZ
Gatton Waters has been run by the Donaldson family for over 30 years and is situated on a 24 acre site in the beautiful West Norfolk countryside.
Just 5 minutes from the Sandringham Estate and a short drive from the North Norfolk Coast and historic King's Lynn, Gatton Waters is an adult only site and boasts a well stocked 8-acre coarse fishing lake and is surrounded by beautiful woodlands, footpaths and wildlife.
Camping & Touring
Suitable for all types of caravans, motorhome and campervans, there are no hemmed-in pitches here. The touring and seasonal pitches are on a level grassy field with all pitches having a lake view.
You'll find sanitary and washing-up facilities to a good standard, along with fresh water and waste points and metered electric hook up for each pitch.
RELATED POST: All the Best Things To Do in King's Lynn Norfolk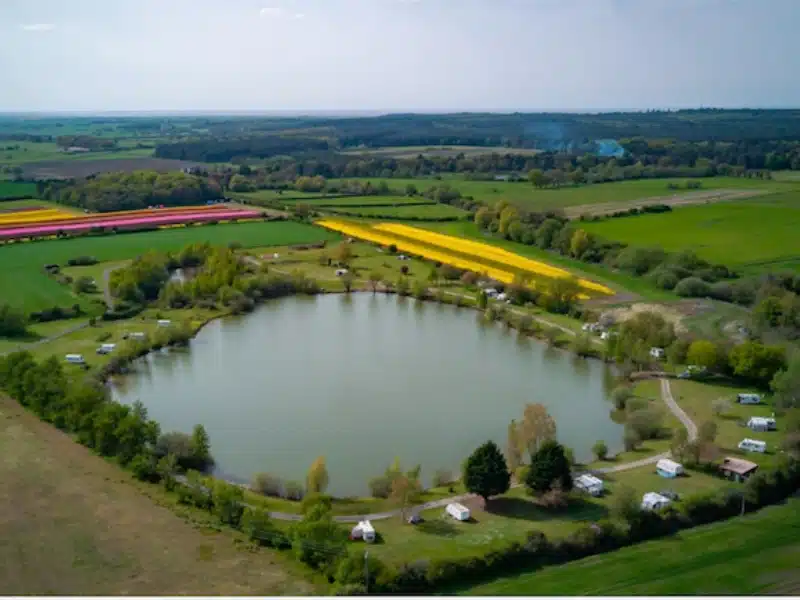 Have I missed your favourite place to camp in Norfolk? Leave a comment below so I can include it in this post!
Love it? Pin It!