Did you know that Norfolk has some of the largest common and grey seal colonies in the United Kingdom? Around half of the world's grey seals live around the British Coast, and Norfolk is one of the best places to see these curious and charismatic marine mammals.
As a Norfolk local, I've become used to seeing nosy seals in the water as I walk along my favourite Norfolk beaches. They love to pop their heads up to check out what we humans are up to, and will often follow for miles on a long walk!
If you're planning a trip and wondering how and where to see seals in Norfolk, then I've got all the information you need on the best places to see seals in Norfolk, plus plenty of local's tips that you won't find in other guides, for an amazing Norfolk seal experience!
RELATED POST: The Ultimate Local's Guide to Norfolk England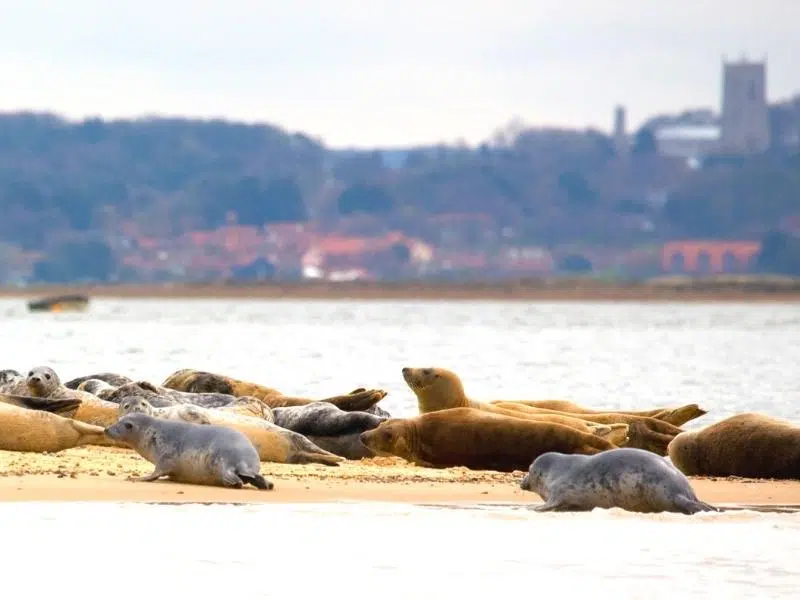 This post may contain affiliate links. If you book something I recommend, I make a small commission without affecting the price you pay!
Norfolk Seal Facts
Grey seals are the biggest land-breeding mammal in the UK.
Grey seals can dive up to a whopping 300 metres when searching for food, and they can stay underwater for up to an hour – that's a long time without breathing!
The scientific name for a grey seal is halichoerus grypus which derives from the Latin meaning 'hook-nosed sea pig'! They are also known as horsehead seals due to the distinctive shape of the male's head.
Adult seals can reach 8-9 feet long (2.6 metres). Males can weigh in at about 660 pounds (300kg) and females about 440 pounds (200kg) – that's a lot of seal blubber!
Grey seals are a protected species under the Conservation of Seals Act 1970, the Wildlife (Northern Ireland) Order 1985 and the Marine (Scotland) Act 2010.
Grey seal pups weigh a huge 30 pounds (14kg) at birth and will be fed around six times a day for 10 minutes at a time for the first three weeks of life, with mum losing up to 25% of her body weight before the pup moults (looses its white fur) and is ready to be weaned.
Grey seals and common harbour seals interact and co-habit outside of the mating and pupping seasons. You can tell them apart by the much larger size of the grey seals and the head profile – the common seal has a concave and short head, whereas the grey seal's head is flat and elongated.
Seals spend much of their time at sea hunting for food. Between tides, they haul themselves out onto beaches around the North Norfolk coast, with Blakeney Point being the largest Norfolk colony.
Grey seals are gregarious at these haul-outs, and large groups of several hundred animals are not uncommon.
In the winter months, grey seals congregate at traditional sites on land to breed and give birth. During this time, male grey seals come ashore to mate.
The largest males, usually more than ten years old, compete for a position within groups of breeding females. Occasionally males fight and may sustain deep scars on their necks as a result.
The timing of the breeding season varies around the coast – in Norfolk, grey seal pupping usually happens from late October to the end of January. In 2022, there were nearly 4,000 seal pups born at Blakeney Point – an increase of 160% in 20 years! It is expected in the coming season that this number will top 4,500.
Thanks to the Mammal Society for these seal facts.
RELATED POST: Christmas in Norfolk – 45+ Dates for Your Diary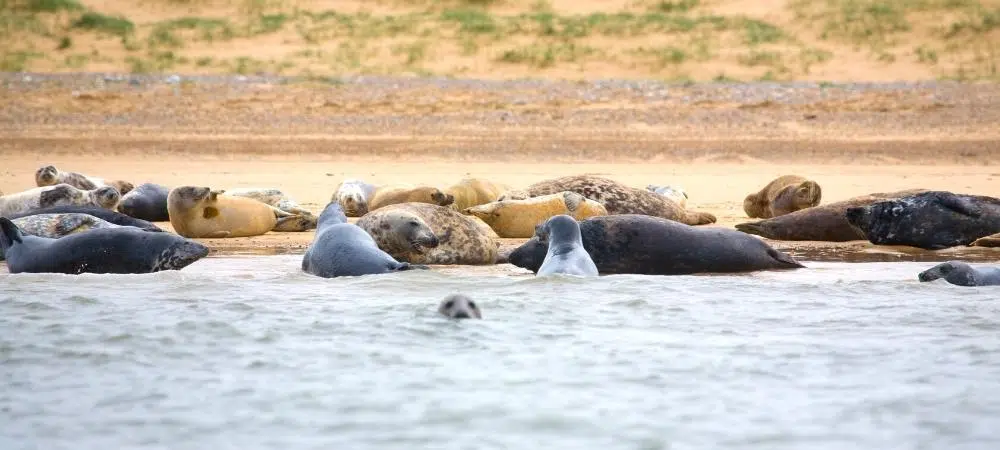 The Best Eight Places for Seal Watching in Norfolk
Blakeney Point
Blakeney Point Boat Trips
Blakeney Point in the National Trust Blakeney National Nature Reserve is home to England's largest grey seal colony, as well as many summer breeding birds, and is the best place to see seals in Norfolk. The easiest way to get up close to the wildlife on Blakeney Point is to book a boat trip.
Blakeney Point boat trips are a real highlight of any trip to the Norfolk coast, and allow you to get up close to the seal colonies that live in Norfolk's seas.
Trips depart from Blakeney Quay or Morston Quay regularly throughout the year, with more trips on offer in the summer months. Trips to see the seals are one of the most popular things to do in Blakeney, and I would strongly advise that you book your trip in advance as the boats fill quickly and you may not get a seat on the day.
Beans Boat Trips is a family-run business which has been going strong in Norfolk for over 50 years. They run seal boat trips from Morston Quay throughout the year, with twice-daily trips during the summer months and on most days throughout the winter.
Bishop's Boats have been running seal-watching boat trips departing from Blakeney Harbour and Morston Quay since the '60s. This family-run business has two traditional purpose-built wooden boats and one smaller boat and runs trip multiple daily trips between April and October.
The traditional clinker-built ferry boat Ptarmigan sails from Morston Quay daily from April to September. In high season, the Ptarmigan sails up to three times a day.
Temples Seal Trips have been operating their distinctive red and white boats year-round for well over 60 years from Morston Quay. They offer daily boat trips and in high season sail up to three times a day.
What to Expect on Your Boat Trip to Blakeney Point
All the trips above last between one hour to two hours, on boats manned by a fully qualified crew, who can also explain the geography of the area and point out different birds and seal species to you. Some of the operators will land you on one of Blakeney Point's beaches for a brief leg stretch.
You must be mobile enough to embark and disembark the boat – the crew will assist you with balance and so on, but you must be able to get onto and off the boat yourself.
Make sure to take a waterproof jacket and warm layers on overcast days or winter trips. It can get chilly out on the water, even in summer.
Wear suitable footwear – no flip-flops or high heels!
Remember to take binoculars and your camera or phone for those all-important snaps.
You may want to take a drink and snack with you.
Most of these operators will accept well-behaved dogs on leads but do check first.
You will need to arrive at least 30 minutes before your booked departure time (this does vary between operators so please check first).
Park at either Blakeney Carnser car park or Morston Quay car park, where parking is free for National Trust members. Parking at both Blakeney and Morston can fill very quickly in summer, so allow extra time to find a space.
RELATED POST: Norfolk Coast – 8 Amazing Ways to Explore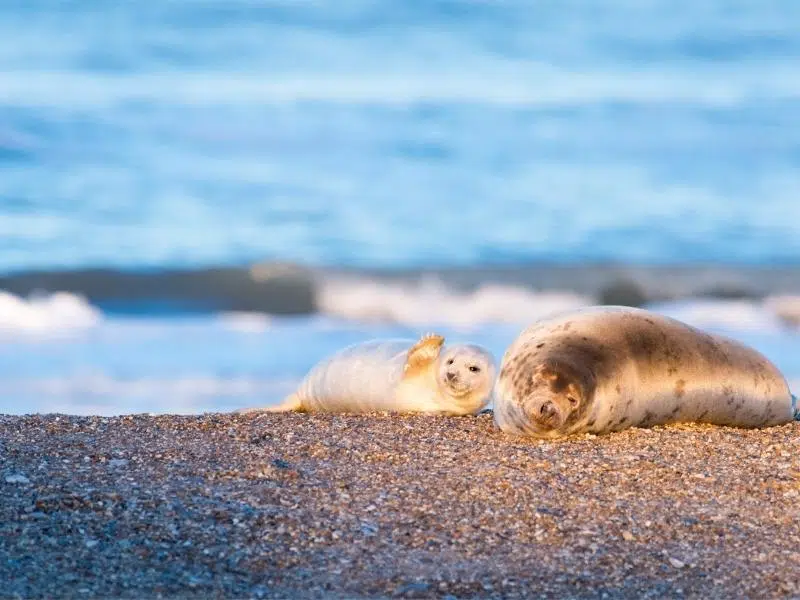 Planning a visit to Blakeney Norfolk? I share tips on getting there, where to stay, places to eat + things to do locally in my ultimate Blakeney visitor guide.
Hiking & Kayaking to Blakeney Point
It is possible to take a four mile coastal walk out to the point (and it is a stunning walk), but you cannot get to the part of Blakeney Point where the seal colonies make their home as this has protected status and is fenced off. It's likely though that you'll see seals in the water and on the beaches of this hike.
Alternatively, the creeks and waterways around Blakeney and Morston are ideal places for exploring by kayak or even paddle board. Try starting from Morston Quay and following this circular route, and you may be lucky enough to spot a seal.
Experienced kayakers can paddle out to Blakeney Point – the best time of day is late afternoon, tide permitting after the boat trips have been and gone.
RELATED POST: Walks in Norfolk – 14 of the Best Trails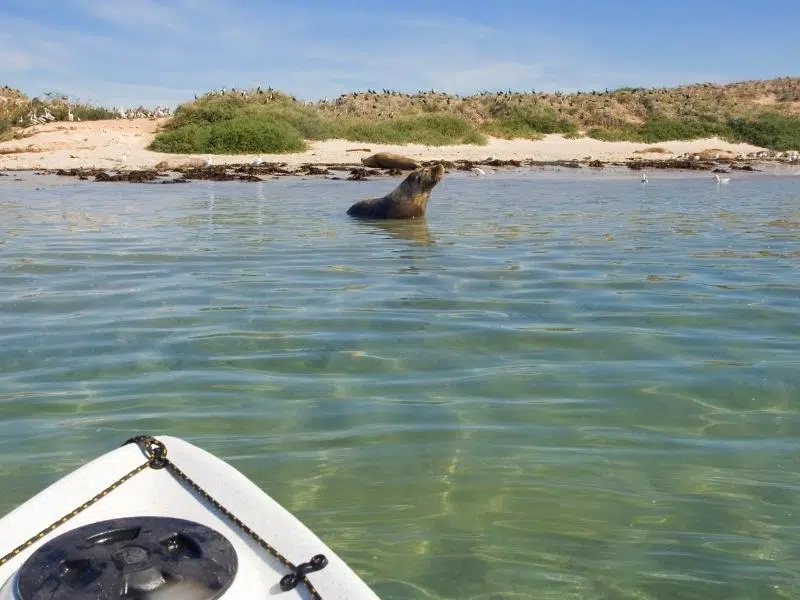 Horsey Gap
Horsey, where the Norfolk Broads meet the coast, is a remote and secluded location, perfect for walking and bird watching throughout the seasons, and Horsey Gap Beach is one of the best places in the country to see the annual spectacle of hundreds of female seals coming onto the beach to give birth and nurse their pups.
The sands are out of bounds during this time, but viewing platforms along the beach are easily accessed, so you can ooh and ahh at the Horsey beach seals and their very cute seal pups!
The flat sands of Horsey beach, shallow waters and high dunes make this an ideal birthing destination for seals and in most winters, over 2,000 seal pups are born here. It's an incredible sight as you walk over the dunes to the viewing platform to see thousands of seals and their pups spread out across the sands.
You'll see volunteer Wardens from Friends of Horsey Seals around during the breeding season and they are a great source of knowledge about the colony and seal behaviour and will answer all your questions.
Even if you're visiting in summer, you'll see seals bobbing along in the sea – popping up to have a gander when they know people are on the beach! Sometimes you'll see a few seals basking in the sun here – you must remain at least 10 metres from the seals, and put your dog on a lead, so as not to disturb them.
Horsey Gap pay and display car park is the best if you're visiting the seals, with a ten minute walk when you arrive at the beach to reach the viewing areas.
Alternatively, there is an easy 1.5 mile Norfolk Broads walk from the iconic Horsey Windpump to Horsey Gap. The Horsey Windpump car park is owned by the National Trust, and parking there if free for members. Or park at the Nelson Head car park in the village, pop in and let them know you're there, and then have a drink or lunch after your walk.
RELATED POST: Horsey Beach – Complete Visitor Guide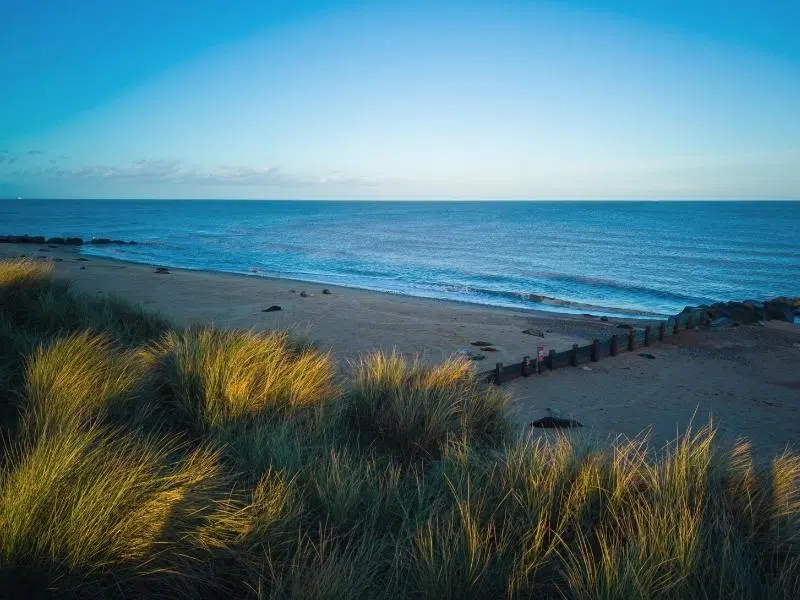 Winterton-on-Sea Beach
Winterton on Sea is home to Winterton Beach, a cracking three mile stretch of sandy beach to the east of Norwich, backed by the Winterton Dunes National Nature Reserve and some of the finest sand dunes in Norfolk.
You can see the Winterton seals swimming all along the beach here year-round, as they pop up their heads to check out what's happening on the beach and follow you, especially if you're walking with a dog!
In winter, around late October to early January, cow seals come onto the beach at Winterton to have their pups. You are asked not to walk on the beach from November to late January or early February (depending on the year) to prevent the seals from being disturbed, but you can see the seals and their pups from the dunes and roped-off viewing areas behind Winterton Beach.
There is a clifftop car park at Winterton Beach, but this area regularly gets battered by North Sea storms and suffers from severe erosion, so the car park may have to move inland at some point in the near future.
RELATED POST: 30 of the Very Best Things To Do in Norfolk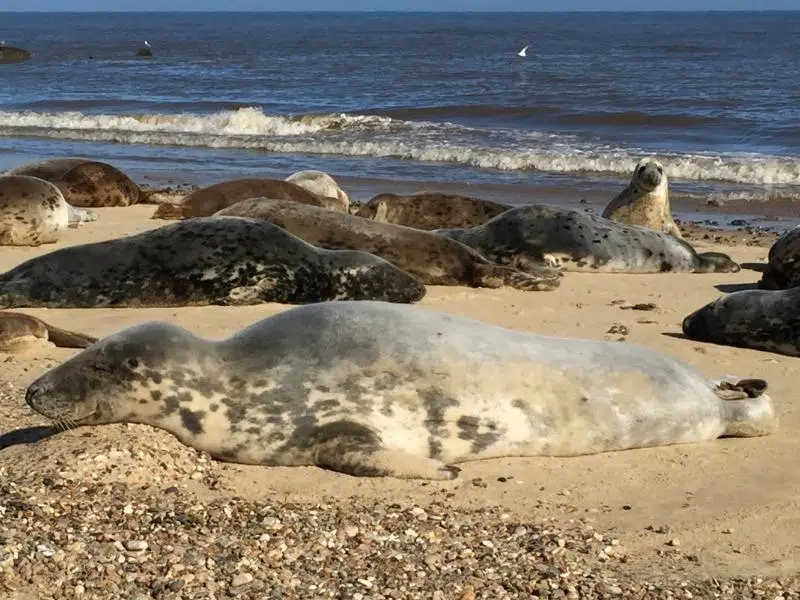 Waxham Beach
The relatively undiscovered Waxham Beach is delightfully off the beaten track and just down the road from the impossibly small village of Waxham, which is really just a crumbling church, a farm and the historic Waxham Great Barn, home to the excellent Dunes Cafe.
This peaceful stretch of coast falls within the Norfolk Coast Area of Outstanding Natural Beauty. As with near neighbour Horsey Beach, Waxham Beach is a great spot for seal spotting in small numbers throughout the year.
In the summer, seals have been known to investigate swimmers and surfers in these waters – the seals won't harm you when you're swimming, they're just curious.
In the winter, you may find a few seals coming onto shore to give birth, but you won't see the large numbers that are such a spectacle at other spots. If you want to see seals and their pups en masse head for Horsey or Blakeney Point instead.
There isn't any designated parking for the beach, but parking is allowed along the verges of Church Road, which encircles the small village.
RELATED POST: North Norfolk Coast – 19 Unmissable Highlights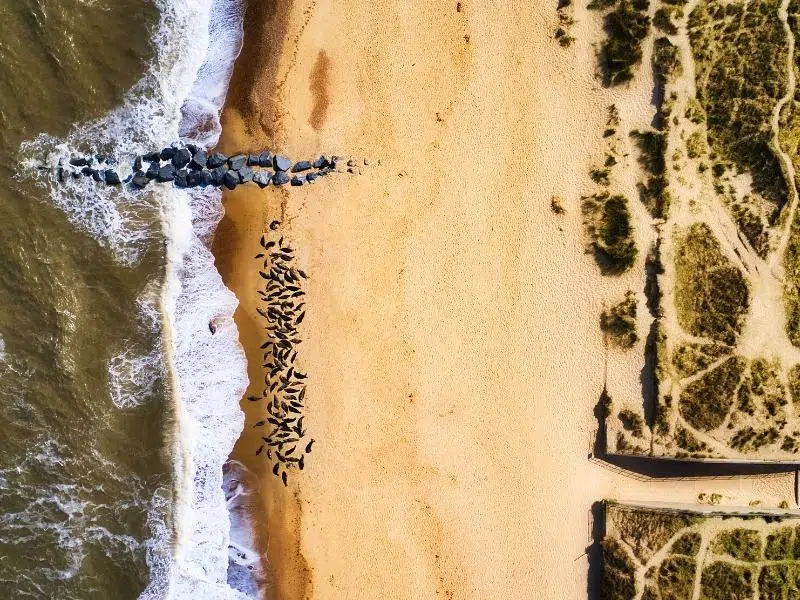 Brancaster Beach
Brancaster Beach in summer can be a good spot to see small groups of seals in the water as they swim west along the coast from Blakeney in search of food. If you're swimming here, you may well have a visit from a curious seal, popping up to check you out.
Generally speaking, you're unlikely to see a seal on the beach at Brancaster, they tend not to come ashore here as there is no established colony or breeding ground.
The road to Brancaster Beach can flood at high tide, and it's usually too deep for cars to pass. Use the tide times website to check for the best time to visit.
There is a car park and it can fill quickly in summer, so get to the beach early!
RELATED POST: Norfolk Beaches – Ultimate A-Z Guide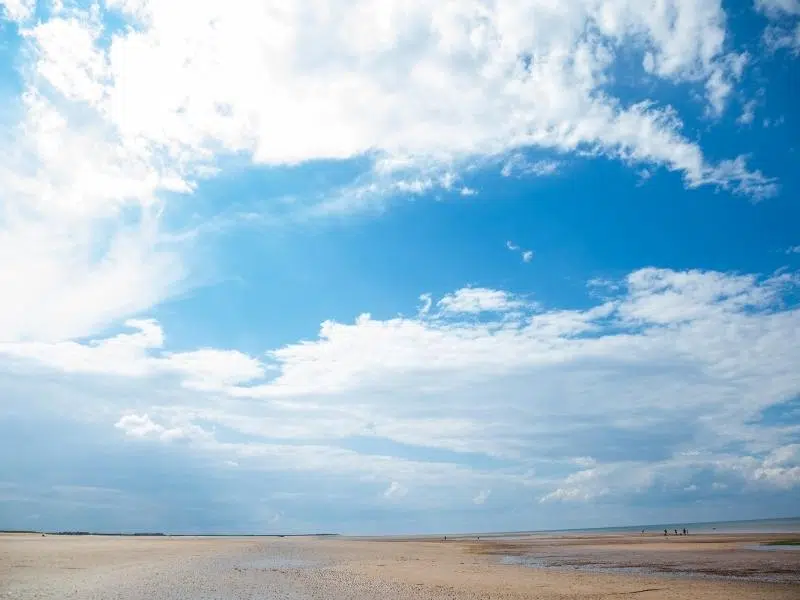 The Wash
You can take a seal safari boat tour to see the Hunstanton seals in the Wash, home to a group of over 3,000 common seals, the largest colony in the UK and possibly the world. The area has a vast expanse of shallow tidal sandbanks and is fed by four large tributaries, creating the ideal environment for seals to thrive.
Jump aboard the famous Hunstanton Wash Monster, an amphibious vessel which departs from Hunstanton's Central Promenade and provides a truly fascinating and fun way of discovering the local seal population. You'll also learn about local history and fascinating legends from around the Wash.
Award-winning Searles Sea Tours offer seal safari tours in Wizzy the Wash Monster daily between April and October – these trips must be pre-booked. Common seals breed and give birth between June and August, so you may get lucky on a summer trip and see the pups on local sandbanks during your boat trip.
RELATED POST: 15 Norfolk Seaside Towns for Your Next Trip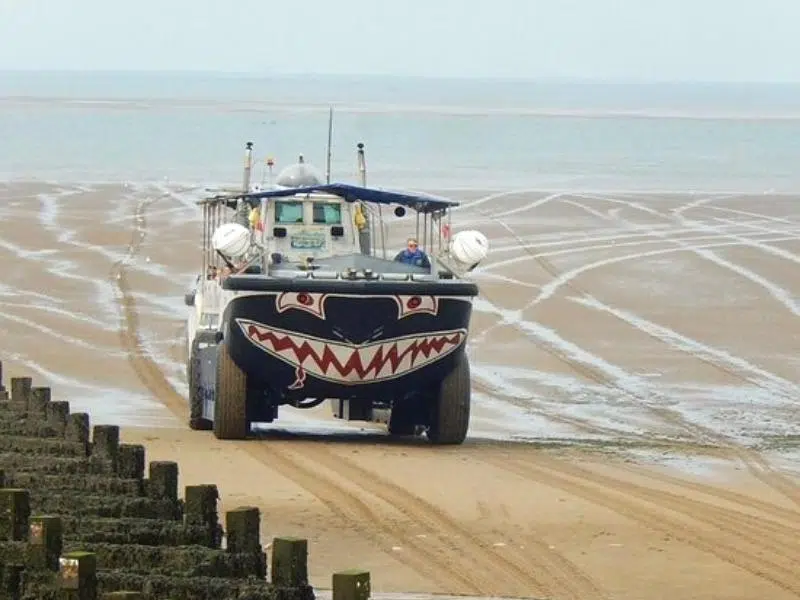 Scroby Sands
Scroby Sands is located just over a mile offshore from Great Yarmouth and Gorleston-on-Sea and is most famous for its 30 wind turbines that generate 60 megawatts of electricity, enough to power 41,000 homes.
In the past Scroby Sandbank was responsible for many shipwrecks, but the sandbank is now the home to a colony of grey seals. You can see both seals and wind turbines up close when you take a two hour trip on a RIB with Jet Adventures, departing from Lowestoft.
There are large numbers of seals to see on this trip. At low water, they'll be on the sandbank en masse and at high water, the seals will be surrounding the boat and bobbing about in the water.
RELATED POST: 13 Exciting Things To Do in Great Yarmouth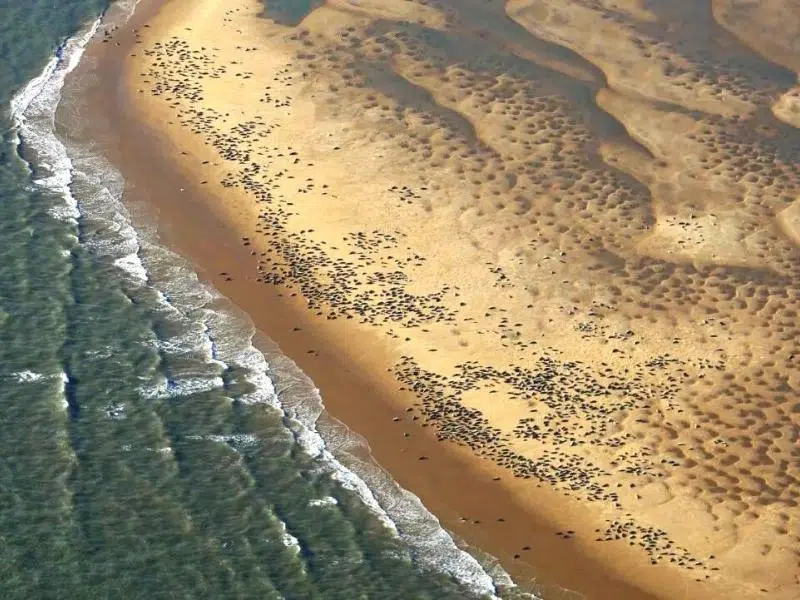 SEALIFE Hunstanton
Next to the fairground on the South Promenade in Hunstanton is the SEA LIFE sanctuary and aquarium. A really popular family attraction, this SEA LIFE centre is a bit different as it's also home to Norfolk's Seal Rescue Centre and Hospital.
Based in Hunstanton because of the large population of grey and common seals along the nearby North Norfolk coast, the seal hospital cares for injured and vulnerable seals and seal pups until they can be released back into the wild.
RELATED POST: 21 of the Best Things To Do in Hunstanton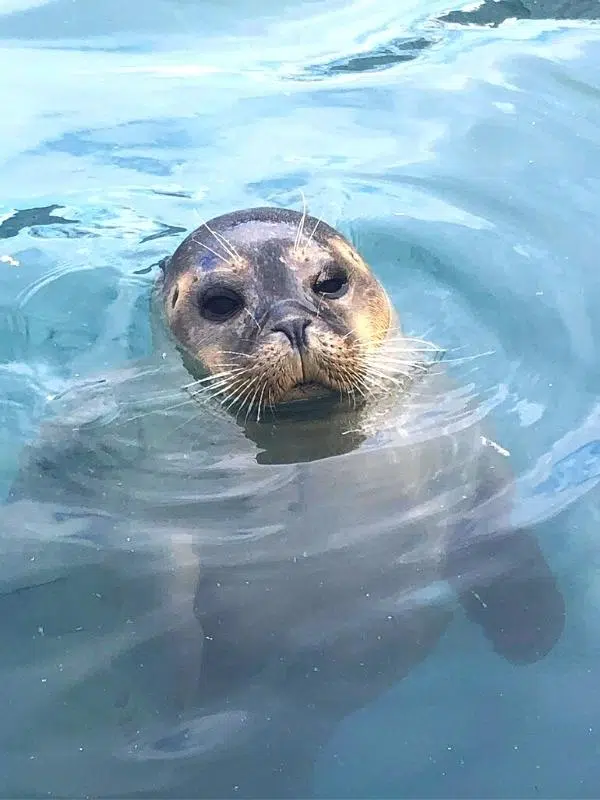 Don't & Don'ts of Norfolk Seal Watching
Don't walk on the beaches at Horsey and Winterton between November and January during the pupping and breeding season. It is likely to lead to abandonments and starvation among pups.
Get your timings right – in hot weather, seals typically leave the beach each morning by 8am at the latest. They'll gradually return to the beach in the late afternoon, once the shade or incoming tide has cooled off the sand.
Use the roped-off paths and safe viewing areas on the dunes. Wardens will help to direct you.
Don't attempt to feed seals – they don't tolerate human food and must not learn to rely on it.
Never come between a pup and its mother. Getting too close to seal pups could lead to the mother abandoning the pup and never returning, leaving it to starve to death. In addition, the mother could attack you.
Bull seals can be dangerous. They are huge territorial mammals and can move much faster than you over a short distance, especially going downhill.
Don't let kids run off and explore the dunes in the breeding season. Sometimes a bull seal may follow a cow seal into the dunes to mate, and they can be concealed by hollows in the terrain and the grasses that grow there.
Always put dogs on a short lead to keep both the seals and your dog safe. Seals are particularly protective of their young and will bite a dog if approached. Seals see dogs as predators.
Don't chase seal pups into the sea, they are not waterproof until they moult, and are likely to drown.
Don't get too close – you should never be nearer than 10 metres. If seals are disturbed, they automatically go into a flight or fight response. If threatened they might attack and bite, or could crush pups in their haste to get away.
Seal bites can lead to serious infections in both humans and dogs. If bitten, seek immediate medical or veterinarian treatment.
If you come across a seal that is injured or in distress, please call British Marine Divers on 01825 765546, the RSPCA on 0300 1245 999, Friends of Horsey Seals on 07706 314514 or Marine and Wildlife Rescue on 01692 650338.
Thanks to the Friends of Horsey Seals for these seal guidelines.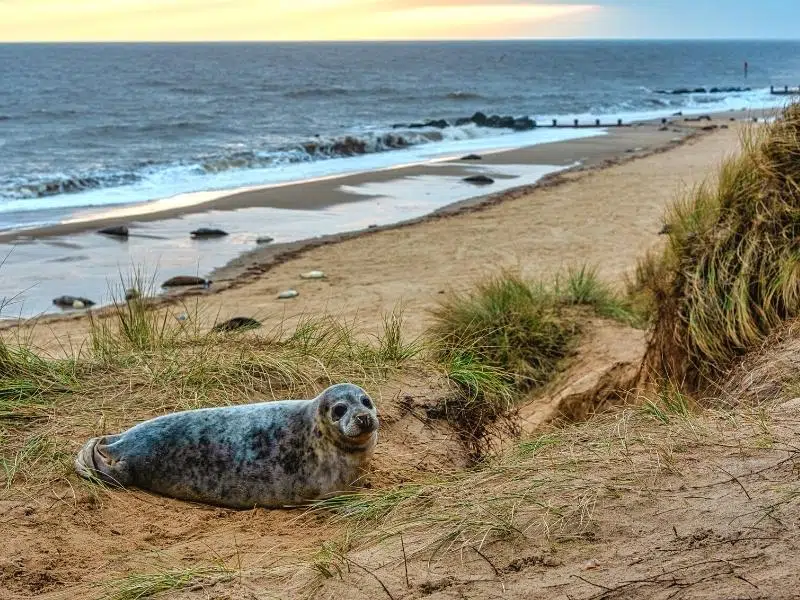 Have you been to see the seals in Norfolk? Do you know of a Norfolk beach where you can see seals? Tell us about it in the comments below!
Love it? Pin it!