A charming and historic coastal village in North Norfolk, Blakeney is located within the Norfolk Coast Area of Outstanding Natural Beauty and the North Norfolk Heritage Coast, and is a wonderful place for a holiday, or to explore on a Norfolk day out.
There's lots to do in Blakeney, from visiting the seal colony at Blakeney Point and discovering the otherworldly salt marshes and creeks, to spending time exploring the lively quay, where boat trips launch, hikers pass through and holidaymakers try their hand at crabbing.
This round-up of all the must-do things in Blakeney and top attractions in the surrounding area will help you plan your trip. Read on for my top Blakeney highlights…
RELATED POST: The Ultimate Local's Guide to Norfolk England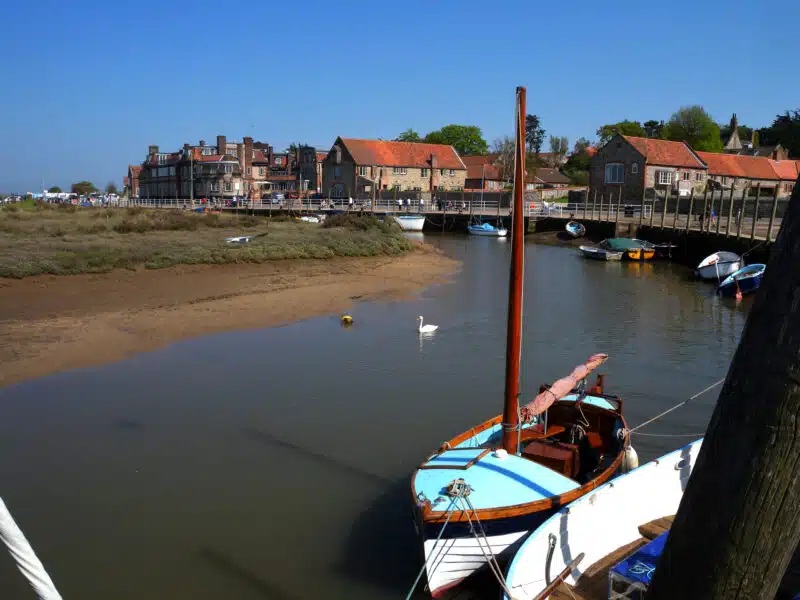 This post may contain affiliate links. If you book something I recommend, I make a small commission without affecting the price you pay!
The Best Things to Do In Blakeney
Visit the Seals at Blakeney Point
Did you know that Norfolk has some of the largest common and grey seal colonies in the United Kingdom? Around half of the world's grey seals live around the British Coast, and Blakeney Point in the National Trust Blakeney National Nature Reserve is one of the best places to see these curious and charismatic marine mammals.
The easiest way to get up close to the wildlife and visit Blakeney Point is to book a boat trip, a real highlight of any visit to the Norfolk coast. These wildlife trips allow you to get up close to the seal colonies that live in Norfolk's seas.
Boats depart from Blakeney Quay or nearby Morston Quay regularly throughout the year, with more trips on offer in the summer months. I would strongly advise that you book your trip in advance as the boats fill quickly and you may not get a seat on the day.
Beans Boat Trips is a family-run business which has been going strong in Norfolk for over 50 years. They run seal boat trips from Morston Quay throughout the year, with twice-daily trips during the summer months and on most days throughout the winter.
Bishop's Boats Seal Trips have been running seal watching boat trips departing from Blakeney harbour and Morston Quay since the 60s. This family-run business has two traditional purpose-built wooden boats and one smaller boat, and runs trip multiple daily trips between April and October.
The traditional clinker-built ferry boat Ptarmigan sails from Morston Quay daily from April to September. In high season, the Ptarmigan sails up to three times a day.
Temples Seal Trips have been operating their distinctive red and white boats year-round for well over 60 years from Morston Quay. They offer daily boat trips and in high season sail up to three times a day.
The North Norfolk Wheelyboat is a specially designed ferry boat called Poppy, which enables access to Blakeney Harbour for the disabled. Make sure to book well in advance, so the crew can organise the safety and comfort of passengers.
All the trips above last between one hour to two hours, on boats manned by a fully qualified crew, who can also explain about the geography of the area and point out different birds and seal species to you.
Some of the operators will land you on one of Blakeney Point's beaches for a brief leg stretch, although you're not allowed to land where the seal colonies make their home – it's dangerous for both you and the seals.
Alternatively, the creeks and waterways around Blakeney and Morston are ideal places for exploring by kayak or even paddle board. Try starting from Morston Quay and following this circular route, and you may be lucky enough to spot a seal.
Experienced kayakers can paddle out to Blakeney Point – the best time of day is late afternoon, tide permitting after the boat trips have been and gone.
RELATED POST: Seals in Norfolk – Where & How to See Them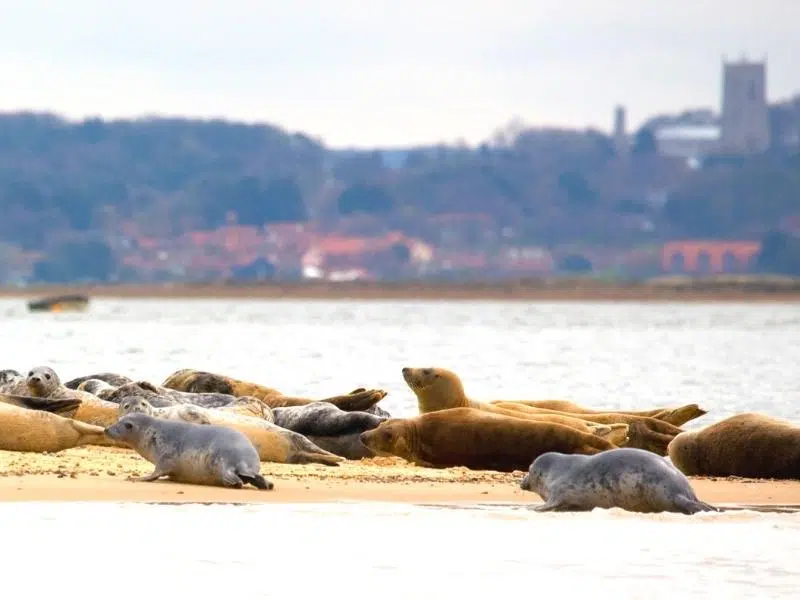 Planning a visit to Blakeney Norfolk? I share tips on getting there, where to stay, places to eat + things to do locally in my ultimate Blakeney visitor guide.
Take a Hike!
Norfolk Coast Path
Very probably the best-loved of the Norfolk trails, and one of the best ways to experience the wilderness and unique landscapes of the Norfolk coastline, the Norfolk Coast Path runs from Hunstanton in West Norfolk to Hopton-on-Sea in South Norfolk, where Norfolk meets Suffolk.
The path runs for 84 miles and passes through the stark and beautiful landscape of the Norfolk Coast AONB, where you'll encounter tidal marshes brimming with wildlife, and cross wide sandy beaches under the huge skies that Norfolk is famous for.
Blakeney is right on the coastal path and it's easy to walk a few stages from the village – you'll find the path signed at either end of The Quay. Head west to Morston Quay and Stiffkey (pronounced stew•key), and east to Cley (pronounced cl•eye) or Weybourne, and then catch the CoastHopper bus back to Blakeney.
Blakeney Point Walk
There is a fantastic 3.5 mile linear walk (7 mile return walk) out to the Blakeney Point from the Norfolk Wildlife Trust car park at Cley Beach to the Point, through the Blakeney Point Nature Reserve and the Norfolk Area of Outstanding Natural Beauty.
One of the best Norfolk nature walks, you'll pass marshes, sand dunes, vegetated shingle, and the iconic blue Lifeboat House, seeing plenty of bird life as you go. You can find details and the route to Blakeney Point here.
Please be aware that dogs are not allowed on Blakeney Point between 1st April and 15th August due to ground-nesting birds, and at all other times must be kept on short leads.
Although you may see seals on the walk, it is not possible to see the seal colony at Blakeney Point on foot, as this part of the spit is closed off. If you want to see the seals then you'll need to take one of the boat trips from Blakeney or Morston Quay.
RELATED POST: Walks in Norfolk – 14 of the Best Trails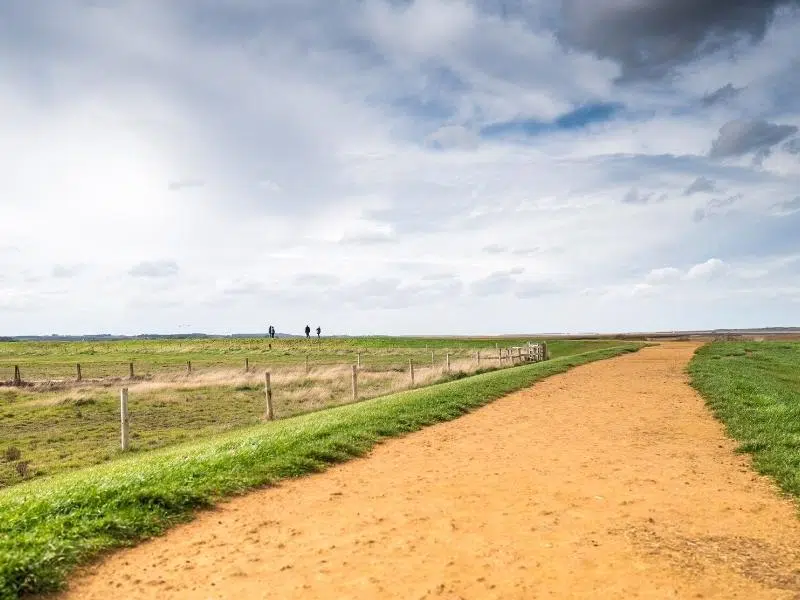 Go Crabbing on The Quay
Blakeney is a great crabbing destination because of its estuarial and creek waters in which the crabs like living, and The Quay makes an easy spot from which to dangle your line and bait, as you wait for the crabs to bite.
In Norfolk, crabbing is sometimes called gillying. The term comes from the name for the crabs that are most commonly caught, which are called Norfolk gillie crabs.
I loved crabbing in Blakeney as a kid, and with my kids, and still remember the thrill of the catch, and working out all the tricks I could deploy to catch more crabs than anyone else!
You can buy crabbing kits all over the village, but there are some crabbing rules and tips to follow to keep the crabs safe and well – and remember, the crabs you catch in Blakeney are not edible!
RELATED POST: North Norfolk Coast – 19 Unmissable Highlights
Explore Blakeney Village
Blakeney is a lovely spot for a meander. The pretty village is full of traditional Norfolk flint cottages which were once home to local fishermen, and a good collection of hotels, independent gift shops, delis, cafés and art galleries to visit.
Blakeney was the third most important port in Norfolk during the 15th century, and the wealth that came from the sea trade was put to good use, leaving a fascinating built heritage to explore.
The flint and stone Blakeney Guildhall, on the High Street up from The Quay, is reflective of the importance of the village at the time it was built, and was home to Blakeney's Guild of Fish Merchants who were granted a charter by Henry VIII. Since then it's been used as an inn, a coal cellar and a mortuary for shipwrecked sailors during WWI.
Continue up the High Street, where almost all of the flint cottages are listed, to visit the church of St Nicholas, which stands on a hill above the village. The church has two towers and it is thought the smaller tower held a lantern to guide ships safely back into the harbour.
You can climb the 137 steep spiral steps to the top of the 'proper' tower, for panoramic views of the village. The church tower is open on Tuesdays, Wednesdays and Thursdays from 10am to 4pm.
RELATED POST: 15 Norfolk Seaside Towns for Your Next Trip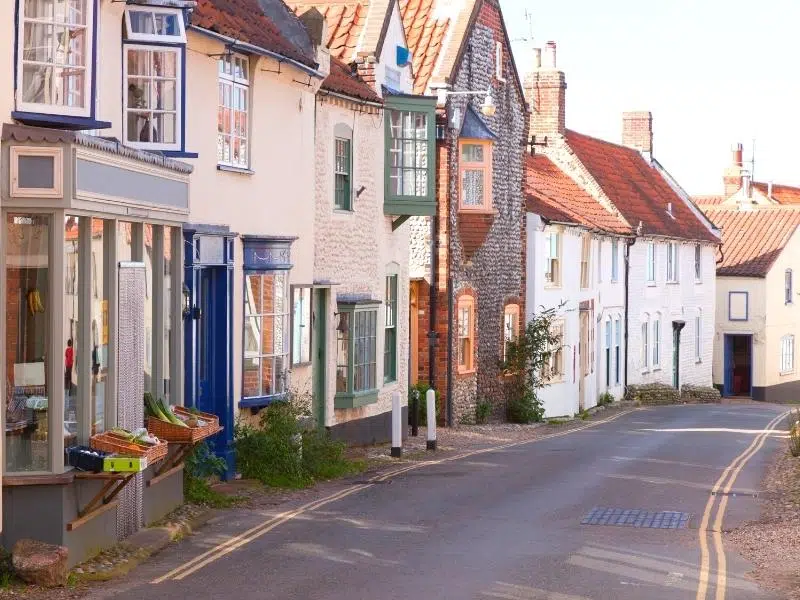 Check Out the Blakeney Pubs
One of life's great pleasures is finding a good pub after a long coastal walk, and Blakeney has both! Make sure to try local Norfolk ale or Norfolk gin made in the county when you visit.
My favourite Blakeney pub is The White Horse, who serve Adnams, which is brewed in Suffolk. Other pubs worth a visit are The Kings Arms, a classic Norfolk pub with rooms which serves Woodforde's ales, and the bar at Blakeney House, which serve Moon Gazer ales from the Norfolk Brewhouse.
Just along the coast road in Cley is The George and Dragon, a gastro pub who serve ales from Ampersand Brew Company, based in Diss in South Norfolk, and two miles south is the Langham Blue Bell, serving ales from Barsham Brewery near Fakenham.
RELATED POST: Breweries in Norfolk – Best 16 to Visit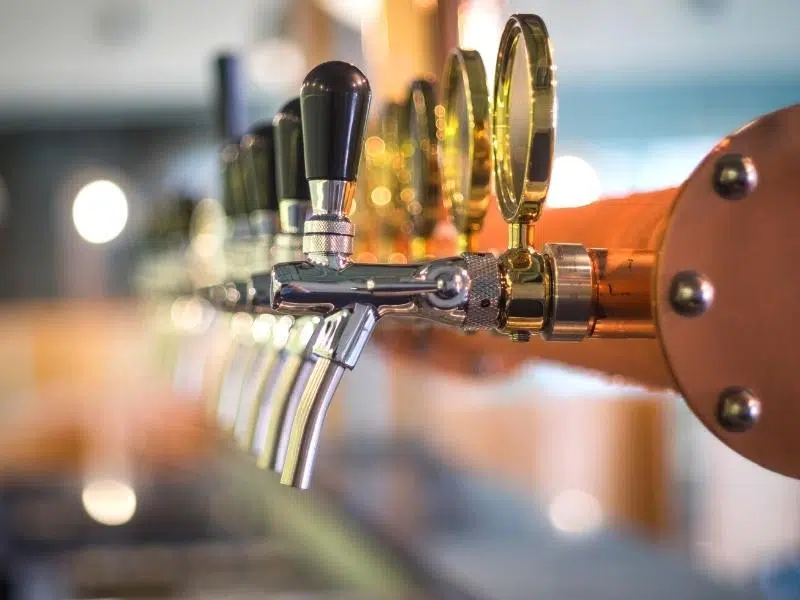 Things To Do Near Blakeney
Explore Holt
The historic Georgian town of Holt is just five miles from Blakeney, and with lots to do and see, the town makes a wonderful destination for a day out.
Holt's fine 18th century Georgian buildings, local flint walls and secret yards make the town one of the most attractive in North Norfolk, and with its many art galleries, antique and book shops, independent boutiques, places to eat and even a country park, it's a lovely setting in which to spend a day mooching.
RELATED POST: 22 Perfect Things To Do in Holt Norfolk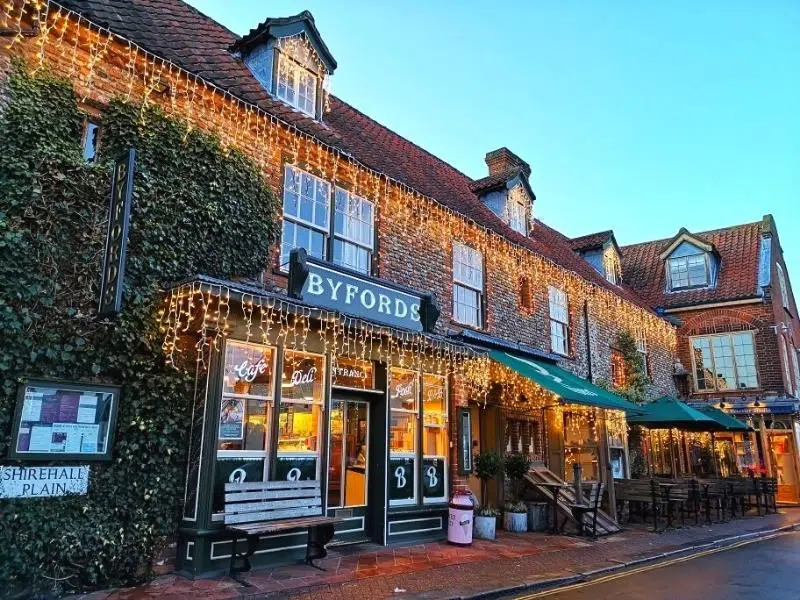 Spend a Day in Sheringham
RELATED POST: 23 Amazing Things To Do in Sheringham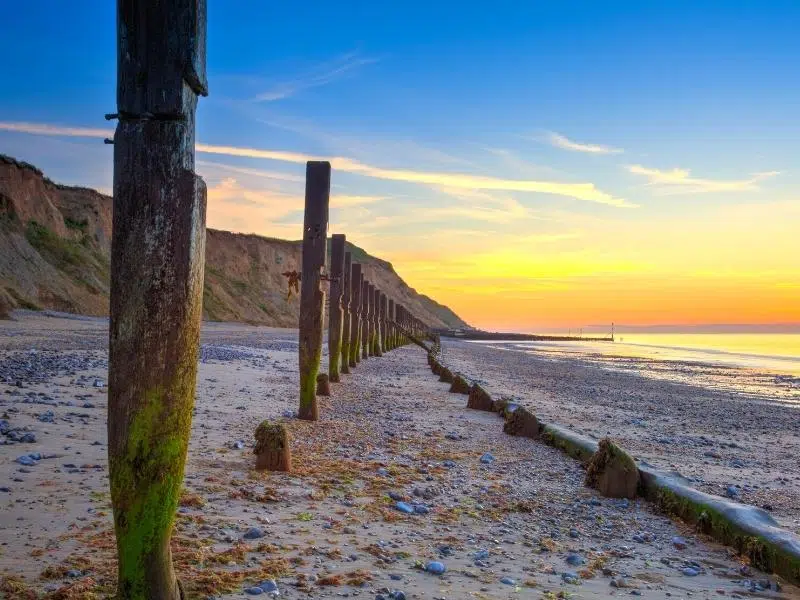 Discover Wiveton Hall
Wiveton Hall is such a wonderful place to visit – if anyone's coming for a long Norfolk weekend, we head here! Just a fifteen minute walk from Blakeney, Wiveton is a Grade II listed country house with a fascinating history – as well as being the star of the BBC2 show 'Normal for Norfolk'!
The flint-fronted Jacobean mansion was built in 1652 but the remains of an older building on the grounds are thought to have dated back to 1280. Since then, the hall has changed hands numerous times, until the family who restored the hall and farm the land today, bought it.
There is a farm shop which sells lots of lovely local produce and has a pick-your-own area. Alongside is the fantastic Wiverton Farm Café, which serves amazing home-cooked food made with local ingredients. Both are situated with a view over the marshes to the sea, making it a lovely spot for afternoon tea.
RELATED POST: 14 Stately Homes in Norfolk to Visit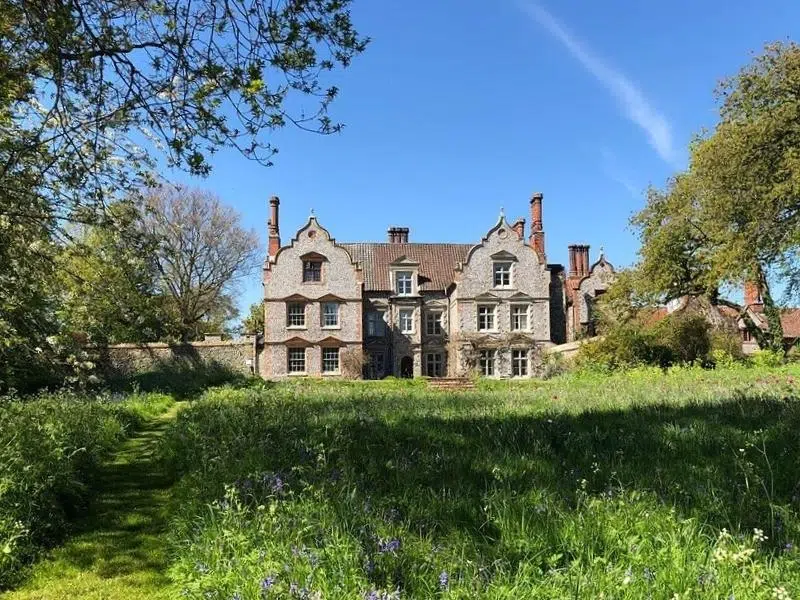 Visit The Shell Musuem
A fifteen minute bike ride from Blakeney, The Shell Museum at Glandford is the oldest purpose-built museum in Norfolk, and houses one of the finest seashell collections in Great Britain.
The quality and quantity of the shells on display is unique, and the museum also contains birds' eggs, fossils, local archaeological finds and a beautiful tapestry, Panorama of the Norfolk Coast, by the local fisherman and artist John Craske.
Nearby are charming Glandford Church and the Art Café, an excellent vegetarian restaurant, licensed café and gallery.
RELATED POST: 21 Museums in Norfolk You Won't Want to Miss!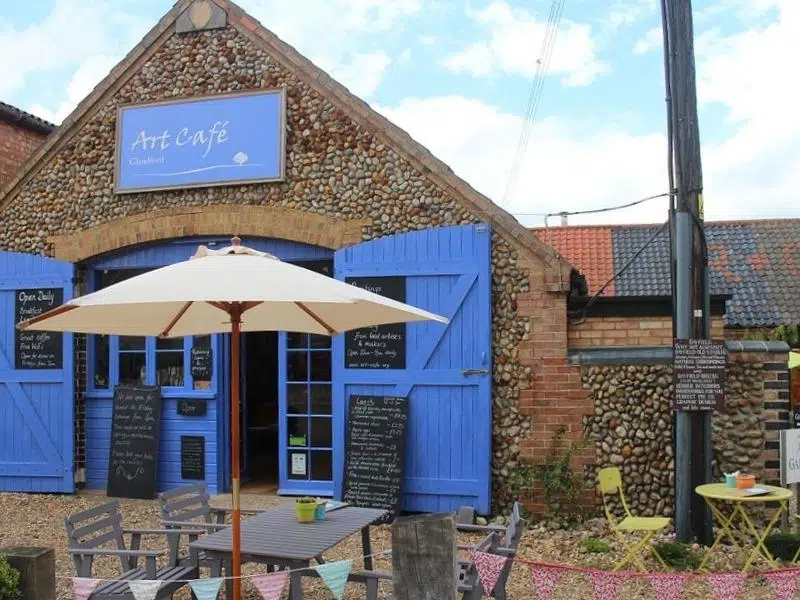 Hit the Beach at Wells-next-the-Sea
Wells-next-the-Sea is a lively harbour town eight miles to the west of Blakeney. Known simply as Wells, it is one of North Norfolk's top seaside towns and makes a perfect place for a day out.
There are lots of attractions to keep everyone busy in Wells. With an award-winning long sandy beach lined with colourful wooden beach huts, a pretty Georgian town centre with a good mix of traditional and contemporary shops and eateries, and a bustling quay, Wells will entertain the whole family.
RELATED POST: 20 Brilliant Things To Do in Wells-next-the-Sea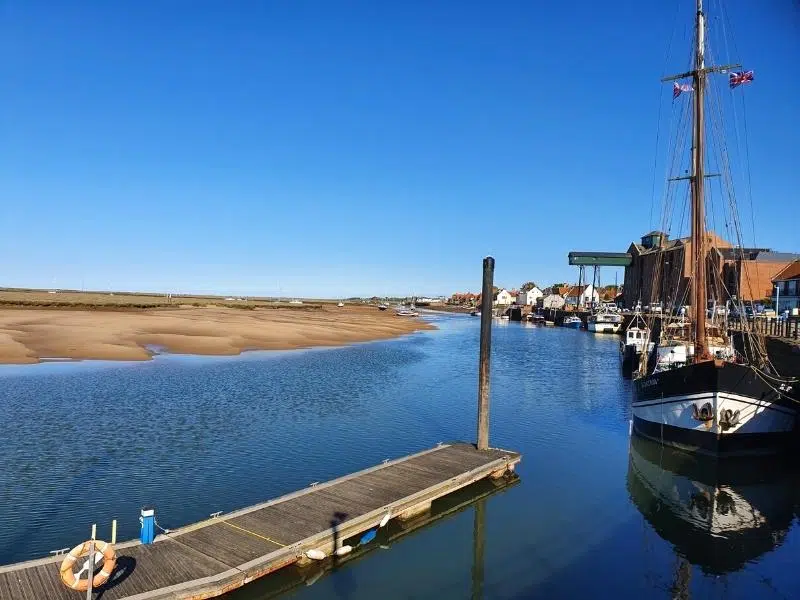 Visit Natural Surroundings
Just three miles from Blakeney, Natural Surroundings is a one-of-a-kind place that combines wildlife-friendly gardens and grounds with a cafe, shop, and plant sales.
The centre is on a mission to promote wildlife-friendly gardening and champion wildlife, and the 20 demonstration gardens are designed to inspire gardeners to take the design ideas away and they them at home.
RELATED POST: The 21 Best Gardens in Norfolk to Visit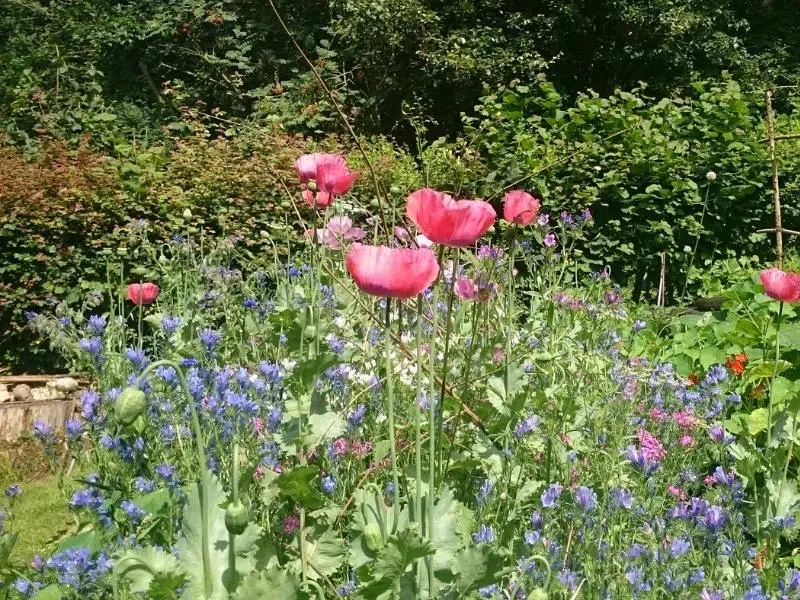 Go Bird Watching
For bird watchers, Norfolk's coastal nature reserves, with their open expanses of marshes and reedbeds, are a haven for all sorts of bird life throughout the seasons.
The Norfolk Wildlife Trust's Cley and Salthouse Marshes is the NWT's oldest and best-known nature reserve and an incredible landscape in which to see many bird species in their natural habitat. There are six hides accessible via boardwalks to give far-reaching views across pools and scrapes that are specially managed to attract breeding and passage birds.
The award-winning Cley Marshes Visitor Centre features interactive interpretation, regularly changing exhibitions, and a well-stocked gift and book shop. There is also an excellent café with indoor panoramic views of the marshes and huge skies that North Norfolk is known for.
RELATED POST: Norfolk Nature Reserves – Ultimate A-Z Guide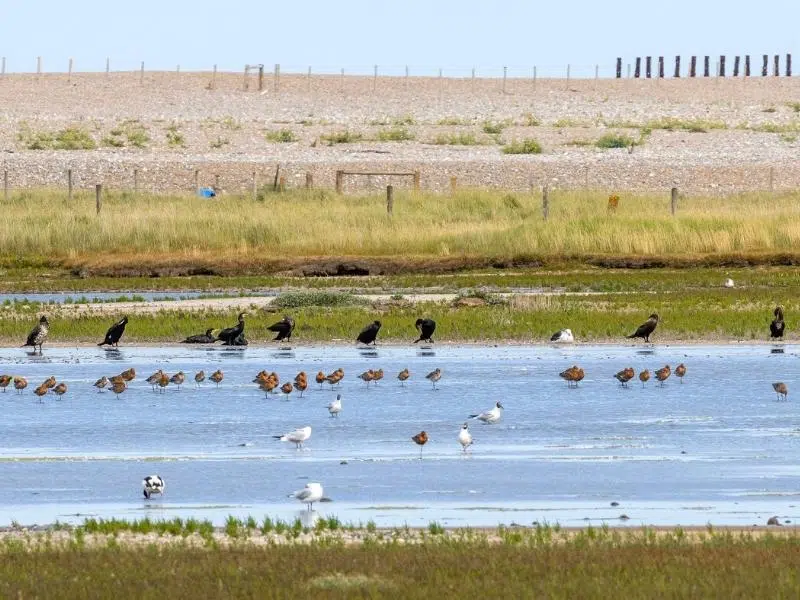 Discover the Muckleburgh Military Collection
Located near Weybourne at the former Royal Artillery Anti-Aircraft training camp, the Muckleburgh Military Collection is Norfolk's largest working museum of military vehicles and includes displays of tanks, guns and a large range of other weapons.
Most of the large range of armoured cars and tanks are kept in working condition and exhibits include machine guns, artillery, and missiles, in addition to a fine collection of ships and land warfare models. You can even book to drive a tank here!
The museum also includes the Suffolk and Norfolk Yeomanry collection of weapons, uniforms, documents and photographs, as well as RAF Reconnaissance and Air Sea Rescue and Marine Craft exhibits.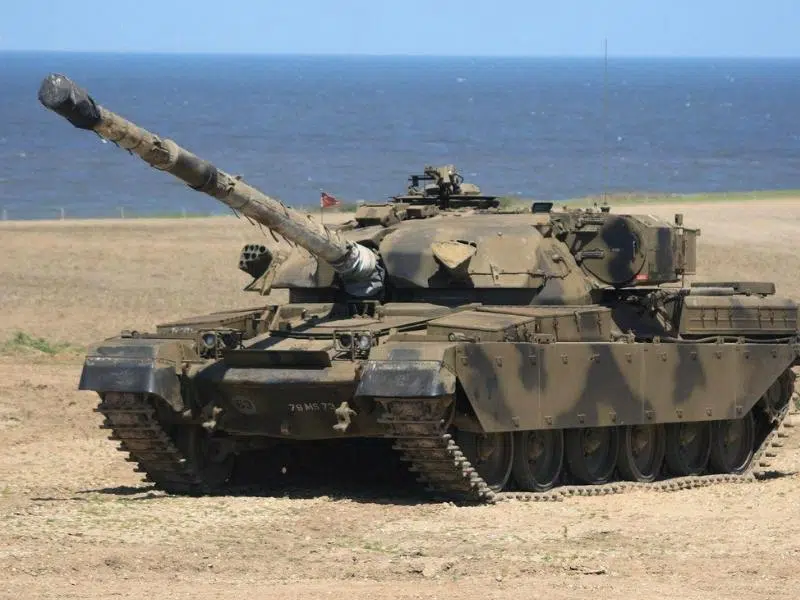 Have I missed your favourite things to do in Blakeney Norfolk? Share your thoughts in the comments below!
Love it? Pin it!