There are scores of colourful wooden beach huts in Norfolk, dotting the beaches and promenades of the beautiful coastline, providing a picturesque and colourful backdrop to any Norfolk holiday.
Spending a week at the beach with a beach hut is magical, especially if you're holidaying with kids. When you hire a beach hut, there's no need to cart all your stuff to the beach every day or spend ages trying to get organised on the sands. Relax by your hut, retreat inside for card games or lazily turn the pages of a good book if it rains, and enjoy lunch without the sand in your sandwich!
In this round-up of beach huts in Norfolk, I'll be sharing all the best beach hut spots, how to rent a beach hut, and the do's and don't of using a beach hut, to help you get the most from your beach hut holidays in Norfolk.
RELATED POST: The Ultimate Local's Guide to Norfolk England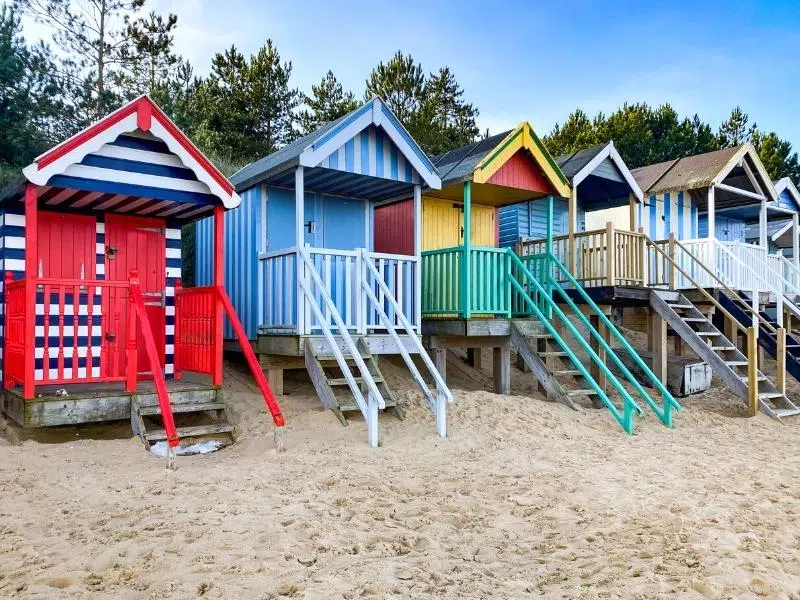 This post may contain affiliate links. If you book something I recommend, I make a small commission without affecting the price you pay!
Beach Huts Norfolk – A Brief History
The peculiarly British beach hut tradition has roots in the Victorian era when holidaymakers would use what looked like little beach huts on wheels, called bathing machines, to protect their modesty when bathing.
The bather would hire the hut for 30 minutes and then change in the hut, above the water line. The horse would pull the bathing machine to the water's edge, where the bather would step out and into the water, modesty intact. Wow ….what a palaver!
Many of these machines, along with former fishermen's huts and boatsheds, have been converted into the Norfolk beach huts you see today. There are thought to be more than 20,000 beach huts around the United Kingdom, many in private use and some owned by local authorities.
When you're looking for a beach hut to rent in Norfolk, you'll also come across beach chalets in Cromer and Sheringham, owned by the local authority. The stock varies in age from Edwardian to circa the 1970s and is currently undergoing a refurbishment programme. These terraced beachside accommodations are available for weekly lets and long-term leases, and unlike beach huts, can be used for overnight stays.
RELATED POST: North Norfolk Coast – 19 Unmissable Highlights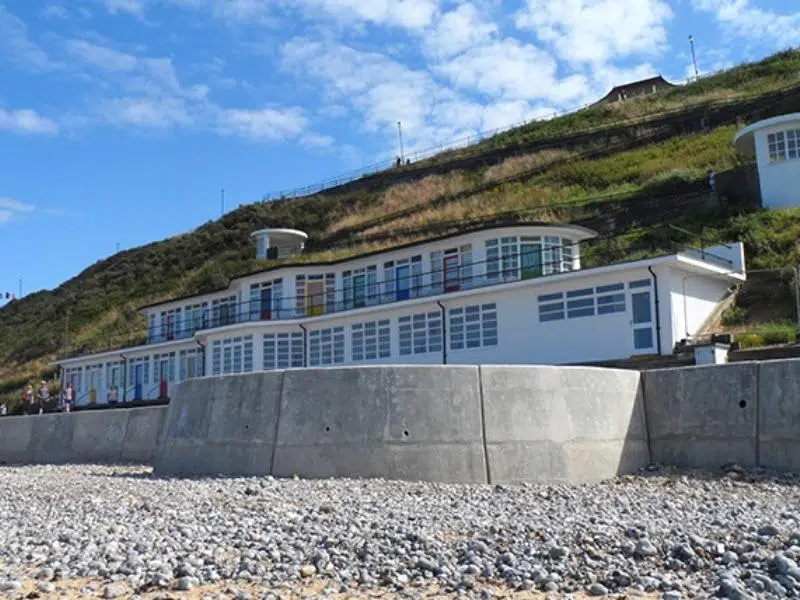 Beach Huts in Norfolk
Cromer Beach Huts
Blue flag Cromer beach has a collection of colourful wooden and concrete beach huts along the promenade on the east side of the beach, and a few to the west, which can be rented on a weekly or annual basis from North Norfolk District Council.
Weekly lets start on a Saturday only, from 28th May until 24th September. From 1st October to 21st May, the beach huts can be block booked for the winter period. There are usually long waiting lists for annual lets, so get your name down early if you want to spend a year at the beach!
Council beach huts in Cromer are not serviced and cannot be used overnight for sleeping, and may only be used between 6am and 11pm daily. Unlike privately rented beach huts elsewhere on the Norfolk coast, council lets are basic with just a patio table and chairs, a drying line and a dustpan and brush provided!
There are also no facilities or electricity in Cromer's beach huts. The nearest toilets are on the West Promenade, close to the beach huts on the west side, and a ten minute walk from the beach huts to the east. There is drinking water available close to both sets of huts.
This means you'll need to plan carefully and bring all your beach hut equipment on the first day. There is some restricted vehicle access to the west beach huts, although you must park in a designated car park once unloaded.
There is no car access to the east beach huts, meaning a ten minute walk with all your stuff, but it's worth it for the sea and beach view when you arrive!
RELATED POST: 22 Of The Best Things To Do in Cromer Norfolk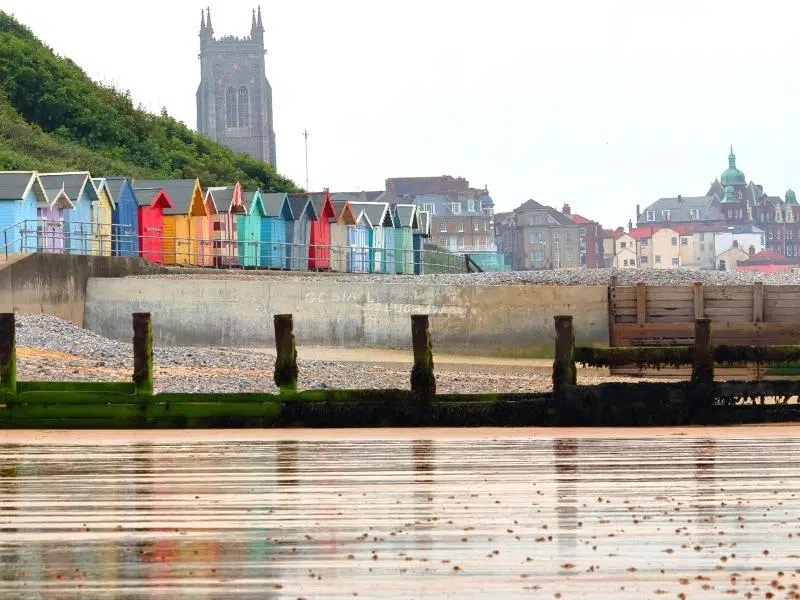 Sheringham Beach Huts
Sheringham has a row of colourful beach huts towards the eastern side of the prom, and a few on the west, which sit above the blue flag beach, also owned by North Norfolk District Council.
Just as with Cromer beach huts, weekly lets start on a Saturday only, from 28th May until 24th September. From 1st October to 21st May, Sheringham beach huts can be block booked for the winter period.
The nearest toilets for the beach huts on the west side are at the top of the Esplanade. On the east side, the toilets on the East Promenade are behind the beach huts there. There is drinking water available close to both sets of huts.
There is restricted vehicular access for unloading, but as with Cromer, cars must be parked in designated parking.
The same beach hut rules apply as with the Cromer huts.
RELATED POST: 23 Amazing Things To Do in Sheringham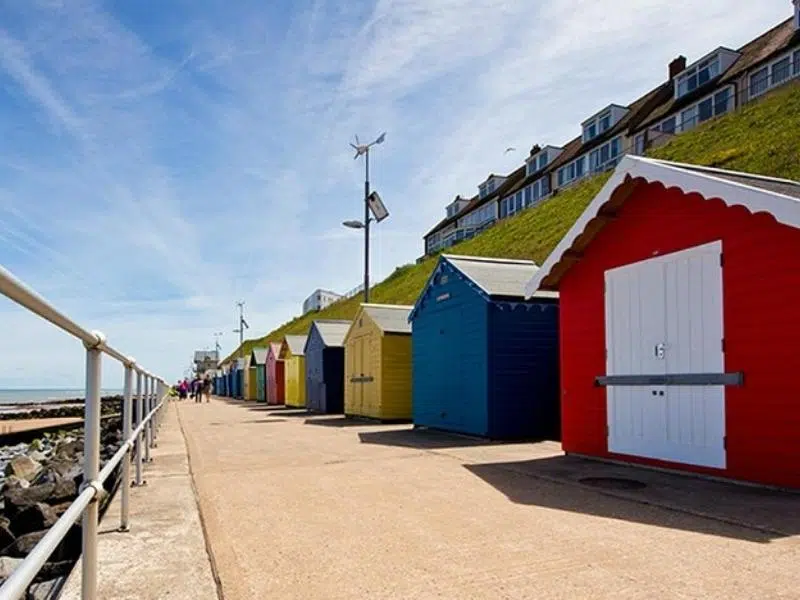 Wells-next-the-Sea Beach Huts
Probably the most famous beach huts in Norfolk, this row of 200 or so brightly painted seaside beach huts on stilts are actually right on the award-winning beach at Wells. Because of this, they are less suitable for anyone with mobility issues, as they also have stairs to access each hut.
Their location on the Wells-next-the-Sea beach with direct access to the sands and sea makes them perfect for a family holiday, spending long lazy days messing about on the beach and in the sea, before heading back to your hotel or accommodation in town.
Wells-next-the-Sea beach huts are all privately owned and many of them have been in families for generations. There are a good number available for weekly or daily let either directly or through a management company.
Check out our favourite beach hut hire company The Happy Huts, who specialise in Wells beach huts. Or try BeachHuts.com, which has options around the UK, and several huts in Wells.
Privately rented beach huts usually come with everything you need, including tables and chairs, a windbreak and a gas stove and kettle for that all-important cuppa. Many provide basics like tea and coffee and condiments. Some even have hammocks so you can take a nap in comfort!
These huts on the beach don't have any facilities or electricity. There are drinking water taps in the Beach car park, by the lifeguard hut, by beach hut 41, and near beach hut 138. Most hut lets include a drinking water container for you to collect supplies for the day.
There are public toilets at Beach Road car park, and in the summer months, temporary toilets are set up in the Pinewoods.
The nearest car park at Beach Road is a few minute's walk to the start of the beach hut row, but is usually full by 10am. You can also park in Wells and walk the 25 minutes to the beach along East Fleet.
RELATED POST: Wells-next-the-Sea Visitor Guide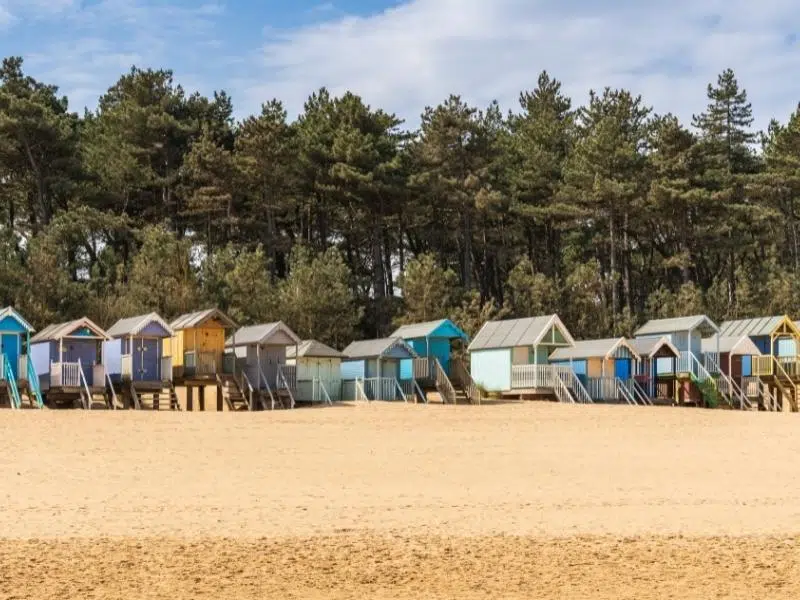 Old Hunstanton Beach Huts
I love the beach huts at Old Hunstanton. The huts are understated and dotted amongst the soft sandy hollows of the dunes. Spending a day in a beach hut here offers real peace and tranquillity.
The beach huts at Old Hunstanton beach tend to be a bit larger than the huts elsewhere in Norfolk, but you're still not allowed to sleep in them. They are also arranged in rows, and beach huts on the front row always command a higher price than those behind!
Old Hunstanton beach huts are all privately owned, and occasionally come on the market for sale – often in excess of £50,000! If you prefer to let, look out for BeachHuts.com or BeachHuts4Hire.
If your plan is to rent holiday accommodation in the area, some Norfolk holiday let companies offer a beach hut with the main let – it's something to consider when making your booking if you love spending time at the beach.
Beach huts here come with the usual equipment to ensure you have everything you need, and although there are no facilities in the huts, there is fresh water, a toilet and car parking within a few metres of the first beach hut.
RELATED POST: 21 of the Best Things To Do in Hunstanton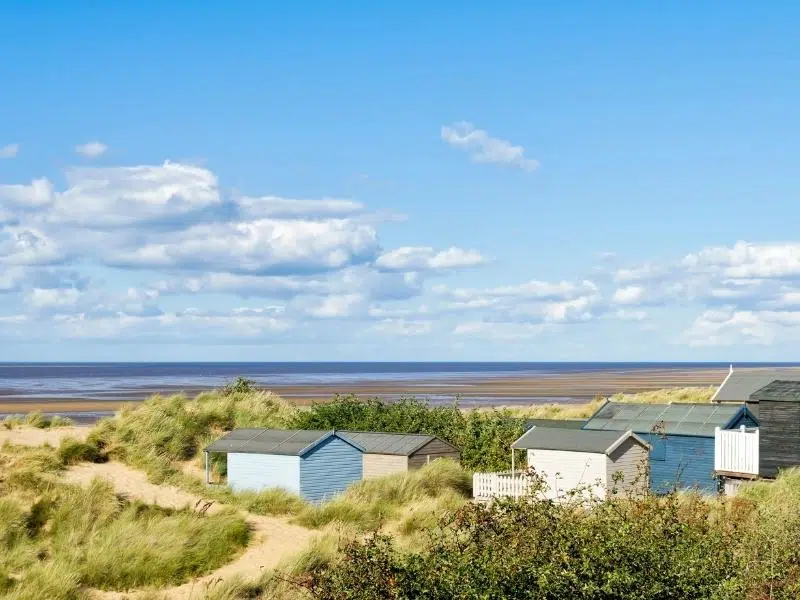 Great Yarmouth Beach Huts
Great Yarmouth has a small number of local authority-owned beach huts for day hire. It's not possible to book in advance, but head to the beach huts which are in front of SEALIFE, where you'll find a kiosk where you can book for the day. We suggest getting there early!
You'll find the nearest parking at Jetty North car park, where there is also a public loo. The Beach House Cafe is right next to the beach huts, and you can buy water and cold drinks there.
You can also park behind the beach huts to unload – we are not aware that any equipment is provided.
Elsewhere, Munchies Cafe hires beach huts by the day or week, close to Marine Crescent right on the beach. You can also hire deck chairs and windbreaks too, so you don't have to worry about taking loads of stuff – just remember your picnic and bucket and spade!
RELATED POST: 13 Exciting Things To Do in Great Yarmouth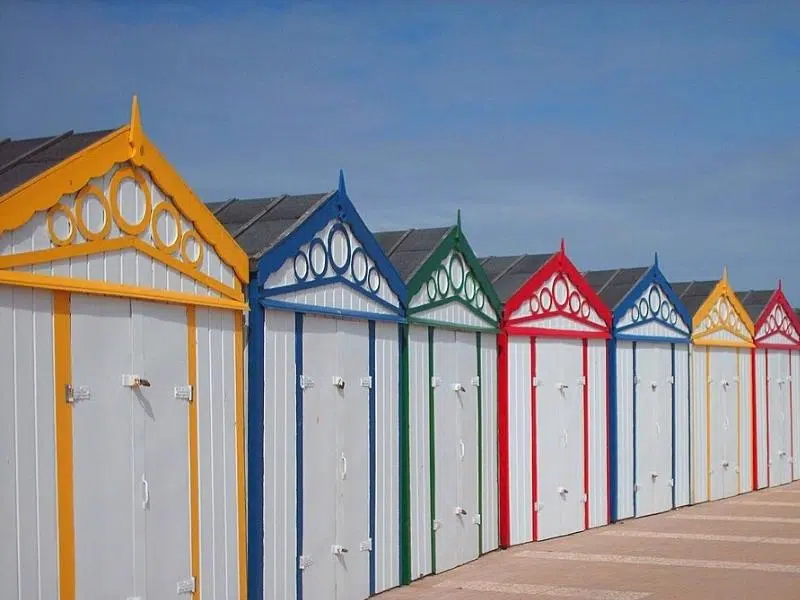 Gorleston-on-Sea Beach Huts
There is a mix of local authority and privately owned beach huts in Gorleston. Great Yarmouth Borough Council currently have 48 modern wooden huts along the Lower Esplanade, with plans to add more in coming years.
These beach huts can only be hired on an annual lease though, making them ideal for locals but not so attractive to holidaymakers. The beach huts are equipped with two chairs and a table, plus access to a dedicated amenity block with wash basins, toilets and drinking water.
Privately, there are a few beach huts to hire including Bertie Boutique Beach Hut, Happy Days Beach Hut and Dickie's Beach Hut.
RELATED POST: Gorleston-on-Sea: A Traditional Norfolk Seaside Town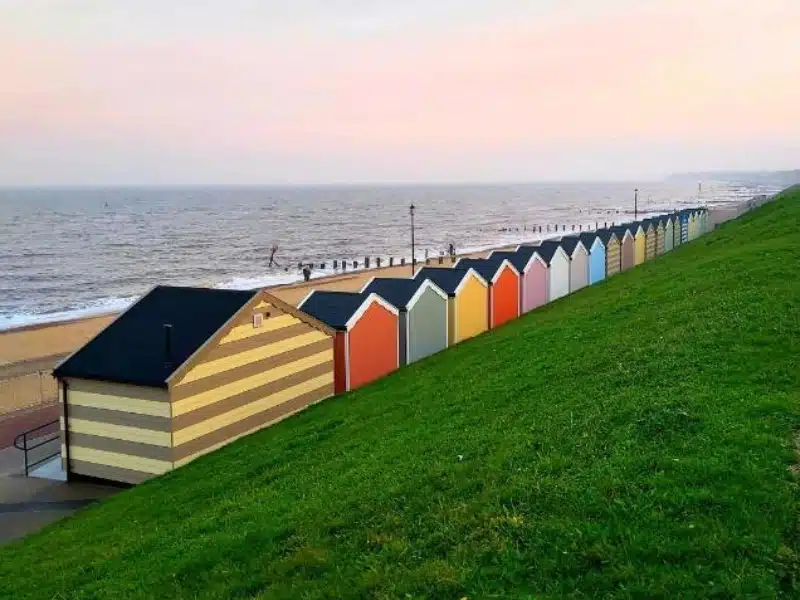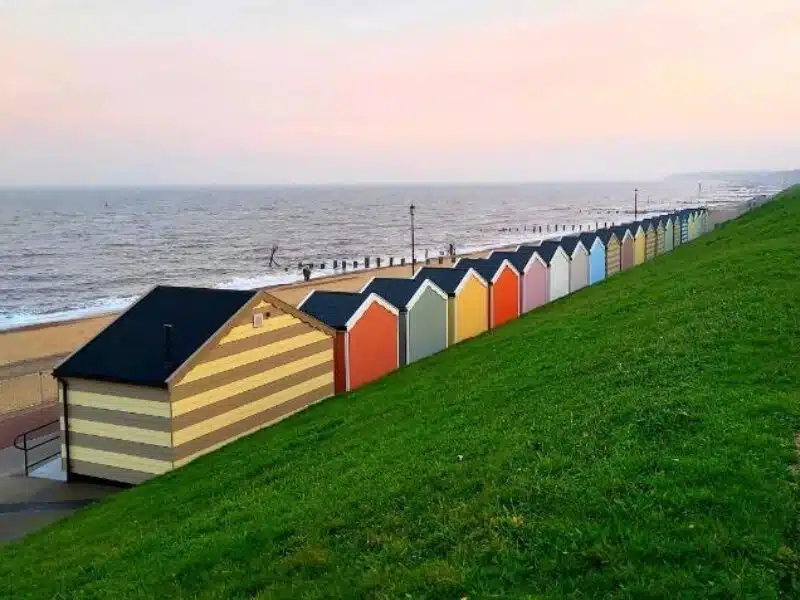 Mundesley Beach Huts
The brightly coloured beach huts at the blue flag Mundesley Beach are situated at the bottom of the steep ramp down, on a narrow concrete prom raised from the beach. The huts can be hired on a weekly or annual basis by North Norfolk District Council.
Just as with Cromer and Sheringham, Mundesley beach huts are let from Saturday to Saturday only, from 28th May until 24th September. The beach huts at Mundesley are not normally booked over the winter period due to the storms and erosion suffered on this part of the coast, and the subsequent damage to beach huts if they are not removed for the season.
The nearest parking and toilets for the beach huts are on the cliff top at the Beach car park. Drinking water is also available here.
There is no vehicular access for unloading, so you face carting everything down the cliff path from the car park – easy on the way down, a bit harder on the way back up!
The same beach hut rules apply as with the Cromer and Sheringham huts.
RELATED POST: Mundesley: Norfolk's Best Kept Secret?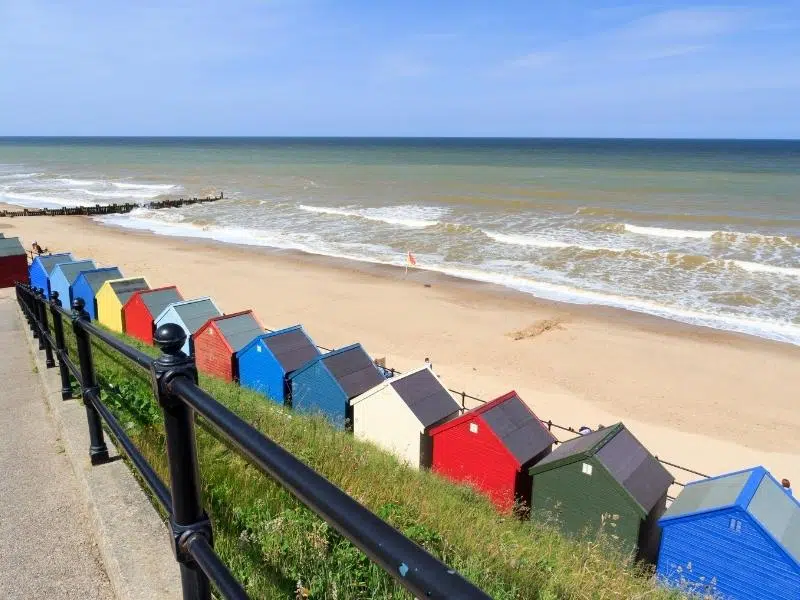 Overstrand Beach Huts
North Norfolk District Council also rents out beach hut sites along the promenade at Overstrand, on five-year leases. The occupier has to provide their own beach hut to the council's specifications, and the waiting list is long! You can find details about leases and availability on their website here.
This long-term option, most suited to local residents, is also available at Cromer, Sheringham and Mundesley.
RELATED POST: Norfolk Beaches – Ultimate A-Z Guide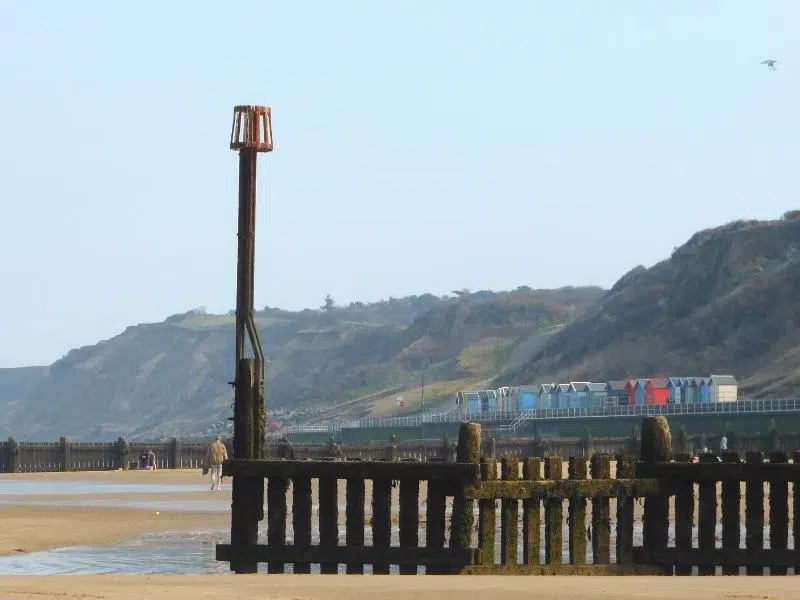 Other Beach Huts
There are also beach huts at Heacham North, a great west facing beach for the sunset, and at Brancaster beach, sandwiched between the dunes and the golf course. Unusually, these beach huts face inland – maybe so the owners can watch the golf!
The Heacham North beach huts and those at Brancaster are all privately owned, and my research suggests they do not come up for sale often. They do make for good photography though, especially the Brancaster beach huts.
RELATED POST: Heacham: Beaches & Family Fun in West Norfolk
Beach Hut Etiquette
There are some do's and don'ts that are the same for every beach hut, and some hirers will have additional requirements, so make sure you read the small print when booking.
You cannot sleep in any Norfolk beach huts, they are let for the purposes of bathing, rest and recreation only.
If your beach hut is on a promenade, you must not obstruct the prom with your stuff.
Don't spread out so far that you encroach into other's beach hut space.
Beach huts tend to be most used by families and are sited in popular family locations. They are not the place for parties, large groups and loud noise or music.
Please respect the 'leave no trace' principle and take away your rubbish when you leave for the day.
Don't light fires around the beach huts and take care when using gas – many huts are of wooden construction and any naked flame is a fire risk.
Some beach huts are pet friendly – if you want to take your dog to the beach hut, make sure you're booking a hut in the dog friendly, not the dog-free, part of the beach.
At all times, be considerate to others around you.
The last one is important – have lots of fun on your beach hut holiday!

Have you ever used a beach hut in Norfolk? Share your experience in the comments below!
Love it? Pin it!