We're here to help you find the best motorhome sites in Norfolk for your next trip! The beautiful county of Norfolk in East Anglia is the perfect place for a motorhome holiday, with the North Norfolk coast, Norfolk Broads and many Norfolk attractions and activities to keep everyone entertained.
As a motorhomer myself, I know how important the perfect campsite is. Get the location, facilities and feel of the site right, and your holiday is sure to be a success.
My family live in Norfolk and I grew up on its borders. I've spent years visiting with both tent and motorhome, so know all the best Norfolk motorhome parks from first-hand, personal experience. This really is a local's guide of where to stay in a motorhome in Norfolk.
If you're looking for regular camping with a tent, check out these top campsites in Norfolk and these Norfolk glamping spots.
RELATED POST: The Ultimate Local's Guide to Norfolk England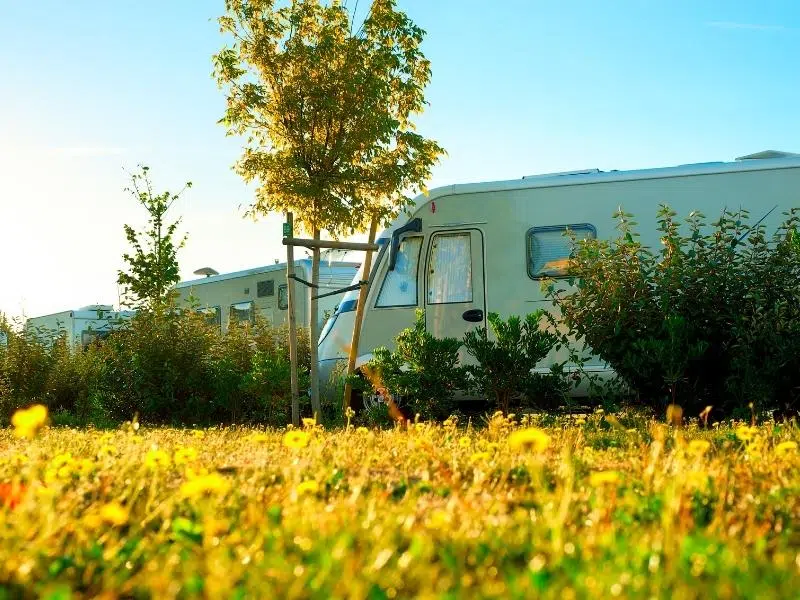 This post may contain affiliate links. If you book something I recommend, I make a small commission without affecting the price you pay!
The Best Motorhome Campsites in Norfolk
Clippesby Hall
Website: https://www.clippesbyhall.com/
Address: Hall Road, Clippesby, Great Yarmouth NR29 3BL
This award winning holiday park, tucked between Norwich and the beautiful North Norfolk Coast Area of Outstanding Natural Beauty, has a great family atmosphere and is well-deserving of its AA Regional Campsite of the Year award.
With acres of green space in a mixed woodland and meadow setting, a small swimming pool and the impressive Basecamp complex, you could easily spend your whole holiday here and never leave!
Basecamp offers family friendly dining, a small farm shop, cafe and bar. You can buy your morning paper and fresh bread here, enjoy a pizza on the deck, grab an ice-cream, or sit-down to a delicious Sunday roast.
There's a pool table inside and a mini-golf course outside to keep people entertained. There's also an information centre, where you can find out more about things to do in Norfolk.
Close to some of the best beaches in Norfolk, stately homes and gorgeous gardens, the medieval city of Norwich and the lively seaside town of Great Yarmouth, Clippesby Hall is well located for a Norfolk holiday.
Pitches & Facilities
As one of Norfolk's premier camping and caravan parks, touring facilities are as good as you'd expect them to be.
There is a choice of grass or hard-standing pitches, with or without electric hook up, depending on how you camp. Even though this is one of Norfolk's best dog friendly campsites, there's also a dog-free zone!
I love the fact that some of the sanitary facilities have a bath – brilliant for smaller kids and great for warming up if you're camping in poor weather. Yep, it's factor of camping holidays in Norfolk!
RELATED POST: North Norfolk Coast – 14 Unmissable Highlights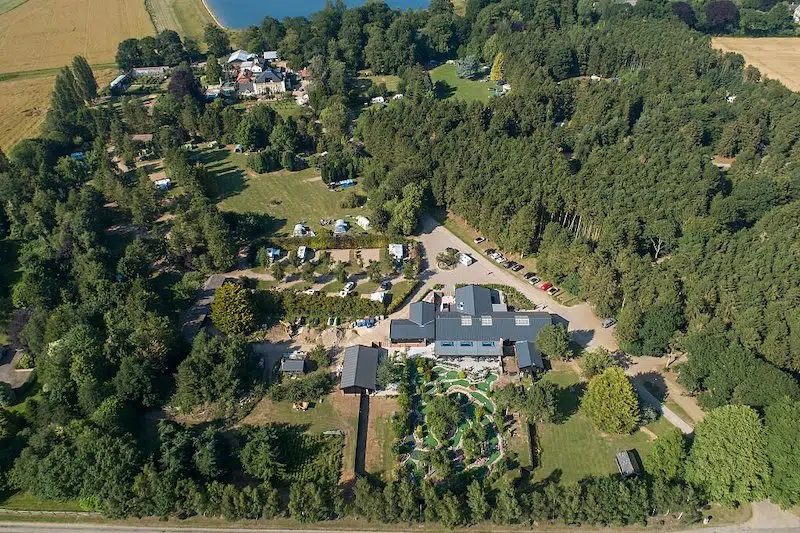 Kelling Heath Holiday Park
Website: https://www.kellingheath.co.uk/
Address: Weybourne, Holt NR25 7HW
Kelling Heath is a natural site, nestled amidst rare open heathland and enjoying a surrounding landscape of mature pine and native woodland. The campsite is a Dark Sky Discovery Site, where the seven stars of the Orion constellation and the Milky Way are visible to the naked eye.
This peaceful spot is a great place to stay if you're looking to explore the North Norfolk coast and the attractions of West Norfolk. Just 6.5 miles from the coast and 5 miles from Sheringham, you've got the best of Norfolk right on the doorstep.
Pitches & Facilities
Motorhomes, campervans and caravans are welcomed here, with a variety of pitches to choose from. All pitches are serviced with electric hook-up points, and fully serviced pitches also have water and grey waste points. Premium pitches are larger, and all come with a hard-standing option.
The amenity buildings are equipped with hot showers, washing facilities, individual cubicles, toilets and razor points. Disabled and baby changing facilities and dishwashing and laundry sinks are also available.
During early spring and late autumn, two of the amenity buildings are heated for extra comfort. A launderette providing washers and dryers is located to the side of the Village Square.
RELATED POST: 23 Amazing Things To Do in Sheringham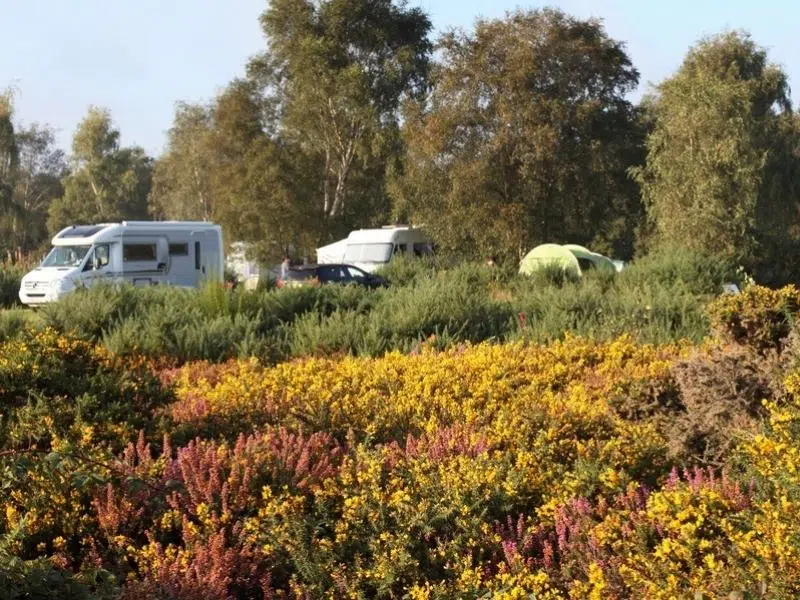 Nelson's Patch
Website: https://www.nelsonspatch.co.uk/
Address: Coast Road, Walcott NR12 0PE
With a fitting name for a motorhome campsite in Nelson's County, Nelson's Patch Motorhome Park is a new and family-owned holiday park for touring caravans, motorhomes, trailer tents and campervans on Norfolk's Deep History Coast.
This is an ideal spot for a short break in Norfolk, and from which to explore the gorgeous coastline dotted with blue flag beaches, the Norfolk Broads just a few miles away, and the historic city of Norwich with its architecture and museums.
If you prefer to walk, long sandy beaches, iconic lighthouses, the Norfolk Coast Path and beautiful countryside are all within a stroll of the site, and you're welcome to take two well-behaved dogs with you.
Pitches & Facilities
All their pitches are large with both hard-standing for your van, and a grassy patch for lounging on! All their pitches are also serviced with EHU, a drinking water tap and grey waste disposal point.
There are no sanitary facilities, so you must be happy using your on-board shower, loo and washing up facilities if you stay here – easy when the pitch is fully serviced. There is wifi included in the price throughout the site.
RELATED POST: 30 of the Very Best Things To Do in Norfolk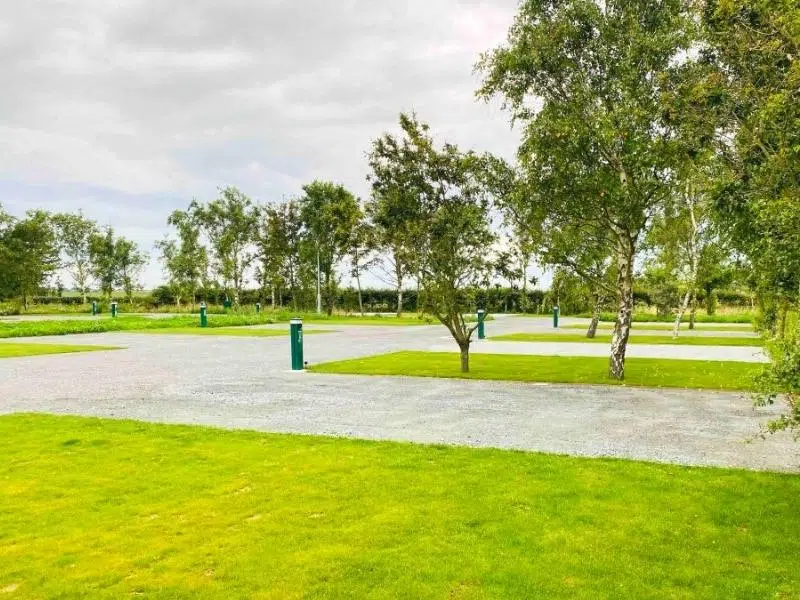 Deer's Glade Caravan and Camping Park
Website: https://www.deersglade.co.uk/
Address: Whitepost Road, Hanworth NR11 7HN
Deer's Glade is an award winning five star family run campsite set in a beautiful woodland clearing six miles from North Walsham, a perfect spot for a relaxing motorhome holiday in the gorgeous Norfolk countryside.
Open year round, this rural and dog-friendly motorhome and caravan camping site is a David Bellamy Conservation Gold Award site, where the emphasis is on the countryside, wildlife and conservation.
With lots of North Norfolk attractions close to the site and the beaches along the coast within a 6 mile drive or cycle ride, this site is perfectly positioned for exploring.
Pitches & Facilities
There are 100 deluxe pitches with EHU and TV points, and 14 standard pitches on this sheltered site. Pitches are mainly grassy and demarcated with hedging. There are some hard standing pitches available, but book these early.
There are two amenity blocks with power showers, toilets, basins, and a disabled-come-family room in each block. There are also laundry and washing up facilities.
Showers can feel busy at peak times when the site is full as there are also tent camping and glamping options available.
If you're looking for an adults only caravan and camping park, their sister site Deer's Mead is 1.5 miles away.
RELATED POST: 21 Of The Best Things To Do in Cromer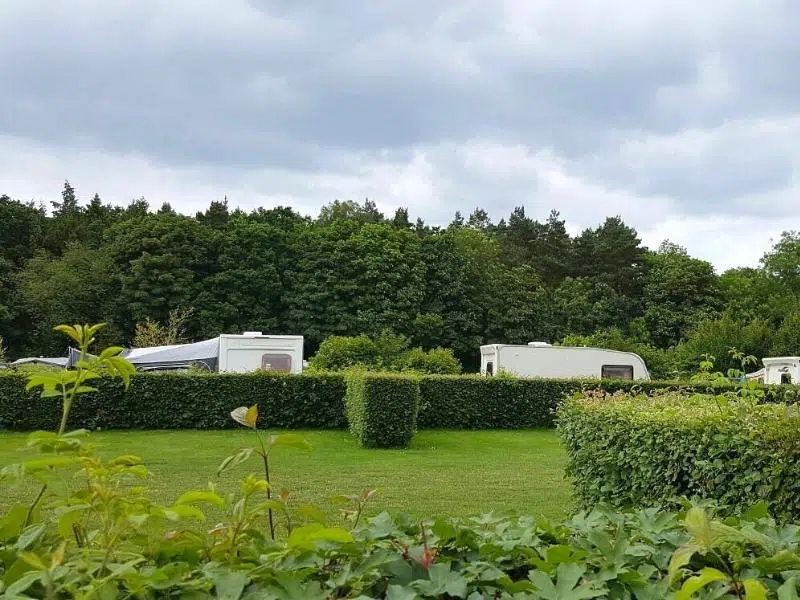 Galley Hill Farm Camping
Website: http://www.galleyhillfarmcamping.co.uk/
Address: Langham Road, Blakeney NR25 7PR
One of my favourites, Galley Hill is just a mile away from the lively picture perfect harbour town of Blakeney, home to the UK's largest seal colony, and a must visit place on this part of the wild and untamed North Norfolk coast.
If you're looking for peace, quiet, glorious scenery and huge skies then Galley Hill Farm caravan and motorhome camping ticks all the boxes. With Cromer to the east with it's pier, crabbing, and colourful beach huts, Thornham to the west, and the whole of the Norfolk Area of Outstanding Natural Beauty in between, this is a wonderful place from which to explore.
Pitches & Facilities
This is a small and intimate site, with just thirteen non-electric pitches, and six electric pitches, all on grass.
Facilities are as you would expect and toilets and showers are in static units. There are no services on pitches but water and waste points are easy to access.
This is the motorhome site to choose if you want to get away from it all!
RELATED POST: Seals in Norfolk – Where & How to See Them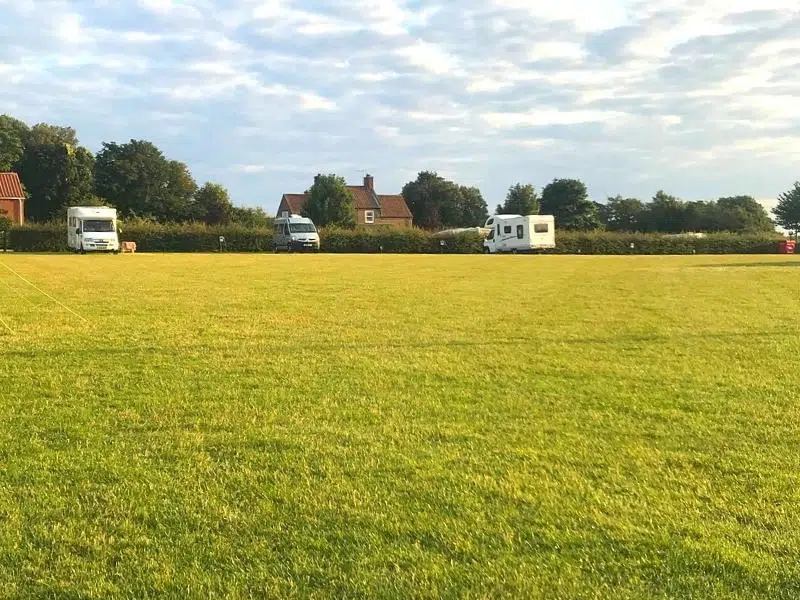 Rose Farm Touring Park
Website: https://www.rosefarmtouringpark.com/
Address: Stepshort, Belton, Great Yarmouth NR31 9JS
Rose Farm campsite is a peaceful site, situated in a rural village near Great Yarmouth and Gorleston-on-Sea, and perfect for a long or short getaway with friends, as a couple or family.
There's lots of things to see and do around the local area, with the Norfolk Broads and coast around Great Yarmouth easily accessible. Whether you're interested in nature and boating, scrambling around the ruins of ancient castles, or visiting local theme parks with the kids, you'll find all these attractions and more close by.
Pitches & Facilities
Pitches are a generous size and can accommodate any size of touring caravan or motorhome. Seasonal pitches are on grass, with a few hard standing pitches available for winter touring, as the site is open year round. There is a choice of electric or non-electric, with all waste and water services being at a central point.
There are three toilet blocks at regular intervals, as well as washing and laundry facilities. You'll also find a freezer for ice-blocks, a TV and internet lounge, and Calor gas exchange.
RELATED POST: 12 Norfolk Castles for You to Explore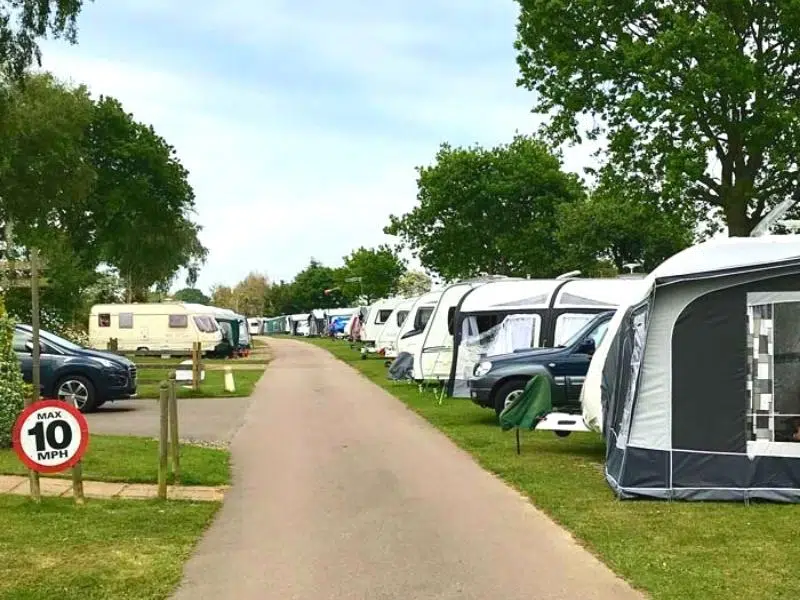 Dower House Touring Park
Website: https://www.dowerhouse.co.uk/
Address: Thetford Forest, East Harling NR16 2SE
The Dower House motorhome and caravan site is a family run camping site set in the heart of beautiful Thetford Forest. With a close to nature and friendly feel, this woodlands caravan park is a wonderful spot for active and adventurous families, who enjoy being away from the hustle and bustle of the more touristy spots.
With an outdoor pool, well stocked shop, an onsite pub and a children's activity area with log play equipment and a badminton come volley ball net, there's plenty to keep the whole familiy entertained. Off-site there's the historic town of Thetford to explore, and the vast swathe of Thetford Forest, with its cycling and walking tracks criss-crossing the area.
Pitches & Facilities
With a variety of pitches in different sizes with or without EHU, and with hard standing options, you'll find the perfect pitch for your van.
Sanitary facilities are basic and perhaps a bit dated, but the water is hot and plentiful and there are enough showers and loos to go round at peak times. Hairdryers are provided in the ladies bathrooms.
RELATED POST: 19 Top Things To Do in Thetford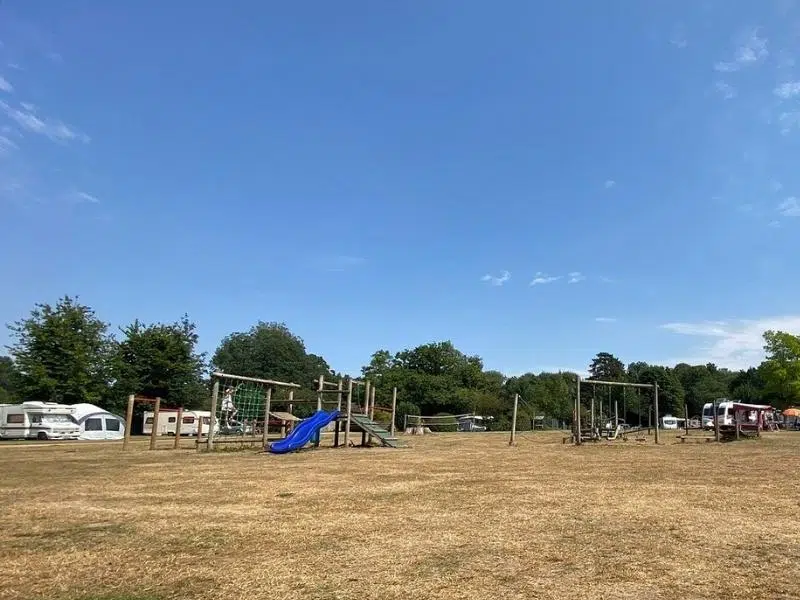 Sandringham Camping and Caravanning Club Site
Website: https://www.campingandcaravanningclub.co.uk/campsites/uk/norfolk/sandringham/sandringham-camping-and-caravanning-club-site/
Address: Coach Road, The Sandringham Estate PE35 6EA
Set within the grounds of the Sandringham Royal Estate, this tranquil Camping and Caravanning Club site is in a wonderfully secluded woodland spot.
With more than 60 acres of gardens and 600 acres of woodland and heath, the Sandringham Estate is the country retreat of Her Majesty the Queen, and over a quarter of the country park is open to the public, including a visitor centre, restaurant and a museum of memorabilia and vehicles, as well as the gardens and some parts of the house itself.
Away from the site, the historic town of King's Lynn, Castle Rising and the beaches of Hunstanton are waiting to be explored. Nature lovers will enjoy the local RSPB reserves at Snettisham and Titchwell Marsh, and the Norfolk Wildlife Trust reserve at Cley Marshes.
Pitches & Facilities
There are a selection of grass and hard-standing pitches in a variety of sizes, and with a choice of electric or non-electric – you may need a long cable at this site, as the posts are few and far between.
Facilities are adequate, but a little tired and could do with an update, although there is always plentiful hot water.
You don't need to be a club member to book here, but you'll get a discount if you are.
RELATED POST: All the Best Things To Do in King's Lynn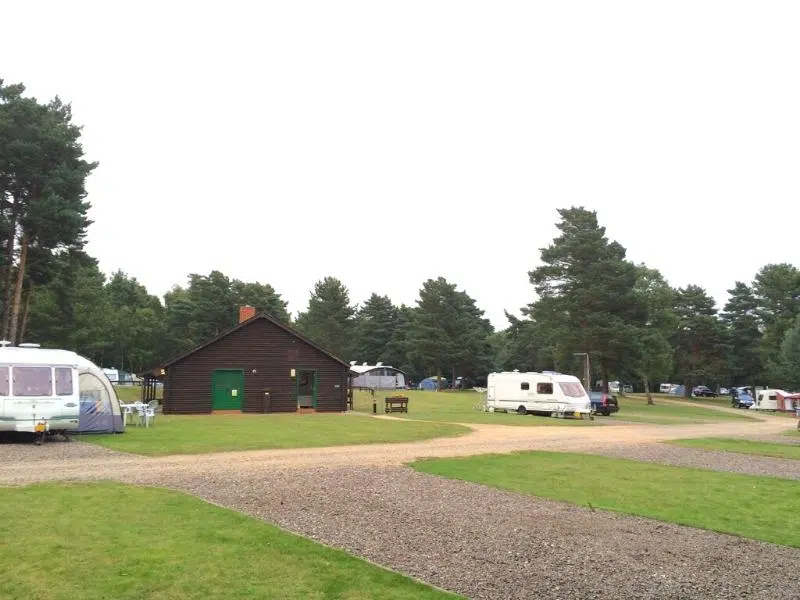 Website: https://www.reedhamferry.co.uk/touring-park/
Address: Ferry Road, Reedham NR13 3HA
Situated in the heart of Norfolk Broads on the River Yare, and close to historic Norwich and lively Great Yarmouth, this four acre landscaped site is an idyllic setting for your campervan holiday in Norfolk.
The Broads are a haven for unique wildlife and are fantastic to explore by boat or on foot, and there are some brilliant Norfolk Broads walks which pass right by the campsite, including the famous Wherryman's Way, which follows the Yare from Norwich, through Wroxham, to Great Yarmouth.
Pitches & Facilities
There is a choice of non-electric, regular and premier pitches, some run parallel to the river with a bank in between – the site has it's own slipway which is free for motorhomers to use.
Facilities are modern and provide everything you would expect, but can get busy at peak times.
The site cannot accommodate motorhomes over 7.5 metres long.
RELATED POST: 26 Exciting Things To Do On the Norfolk Broads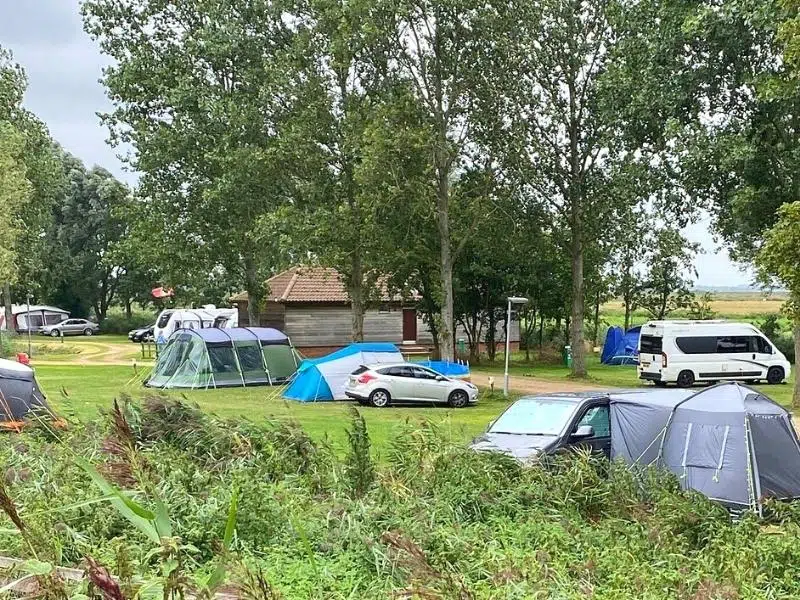 Woodhill Park
Website: https://www.woodhill-park.com/
Address: Cromer Road, East Runton NR27 9PX
Located in a breathtaking clifftop location between Cromer and Sheringham, Woodhill Park enjoys panoramic views of the coastline and surrounding countryside. It's the ideal spot to sit back, relax and take in the inspiring natural landscape, and explore the gorgeous North Norfolk coast.
With the Deep History Coast West Runton beach and Norfolk Coast Path on the doorstep, local cycle routes easily accessible and a natural landscape of wildflowers around the site, relaxing and settling into the slow pace of Norfolk life is easy here!
Pitches & Facilities
Suitable for motorhomes, tourers and tents, there's a good selection of pitch styles here from the top of the range XL fully serviced hard standing pitch, to the more modest non-electric grass pitch, perfect for getting back to nature.
Facilities are excellent and include toilets, showers, hairdryers, baby changing, laundry and washing up sinks as well as a toilet and shower for the disabled. There is also a family bathroom with a bath, great for kids and brilliant if you're camping in chilly weather. One sanitary block is heated in early and late season.
RELATED POST: Norfolk Coast – 8 Amazing Ways to Explore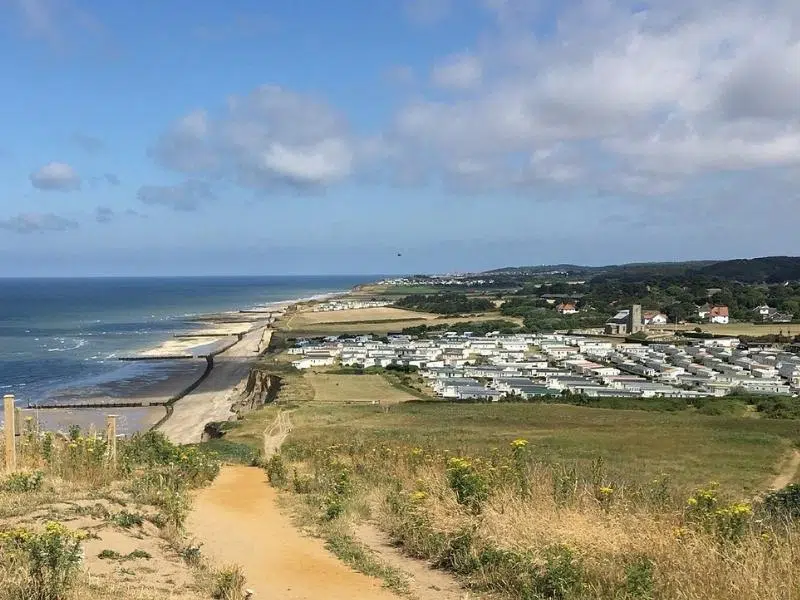 The Old Brick Kilns Caravan & Camping Park
Website: https://www.old-brick-kilns.co.uk/
Address: Little Barney Lane, Barney, Fakenham NR21 0NL
The award-winning Old Brick Kilns campsite is just 8 miles from the sea, and is positioned in pleasant undulating countryside. The site is ideally located to cover an area embracing the long sandy beaches and nature reserves of the North and West Norfolk coasts.
This dog-friendly site has a tranquil, rural atmosphere and features a wildlife pond, kids play area, small fishing lake and a licensed bar with take-aways. Nearby are the stately homes and wonderful gardens of North Norfolk, long sandy beaches, peaceful walks and pretty Norfolk towns to explore.
Pitches & Facilities
There are 60 spacious all weather pitches on hard standing and surrounded by grass. All pitches have electric hook up, with super pitches also having a TV point and grey waste disposal. There are also five Caravan and Motorhome Club premier pitches on Heydon's Meadow – although this is not a club site, this area is classed as a certified location.
There is a small on-site shop which has an off-licence, supplies most basic foodstuffs and toiletries, as well as local Norfolk food and fresh bread. To start the day you can order warm croissants, pain au chocolat and bacon turnovers to collect the following morning – yum!
Sanitary blocks are modern with good water pressure and underfloor heating. Cubicles have the toilet and shower together, and have a small seat and plenty of hooks, and hot water is available 24/7. There are also hair dryers and shaving points provided.
RELATED POST: 14 Stately Homes in Norfolk to Visit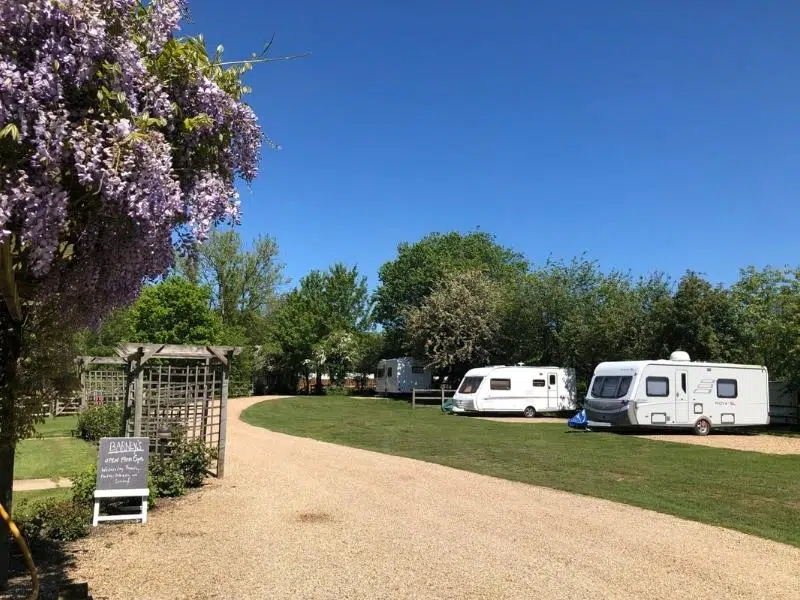 Deepdale Camping
Website: https://www.deepdalebackpackers.co.uk/camping/
Address: Deepdale Farm, Burnham Deepdale PE31 8DD
A quiet and friendly campsite, Deepdale Camping is located near the sea in the stunning North Norfolk countryside. The campsite, which always gets fantastic reviews, has also just been named as the most popular campsite in the UK!
This dog friendly campsite is located in the village of Burnham Deepdale, in the North Norfolk Area of Outstanding Natural Beauty. There is fantastic walking on the doorstep and nearby bike access to the National Cycle Network at Burnham Market, and the fabulous North Norfolk beaches within very easy reach. With abundant bird and wild life and the big open skies, which are breathtaking, particularly at night, this is a great campsite for outdoor enthusiasts.
There is also ample opportunity to chill out and relax on site at the Deepdale Cafe, or try one of the traditional nearby pubs which serve local Norfolk beers and locally caught seafood.
Pitches & Facilities
Deepdale has 85 pitches suitable for tents, campervans, motorhomes & trailer tents, but no caravans due to a planning restriction, set in six well-maintained grassy paddocks. The site is a haven of peace & quiet, and not suitable for large groups.
There's been a lot of development since 2016, with fantastic newly built facilities, including 16amp electric hook-up, chemical toilet disposal points, fully serviced hard standing pitches, and underfloor heated toilet & shower blocks, together with lots of landscaping including hedging, trees and landscaping for the farm paddocks. There's also a laundry facility, free wifi and fire pit hire.
RELATED POST: 20 Brilliant Things To Do in Wells-next-the-Sea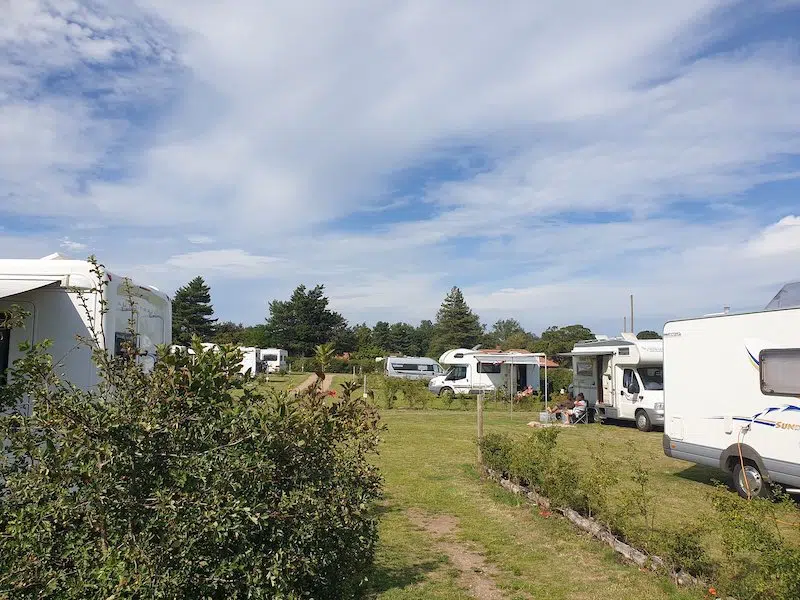 Breydon Water Holiday Park
Website: https://www.parkdeanresorts.co.uk/location/east-anglia-lincolnshire/breydon-water/
Address: Burgh Castle NR31 9QB
Breydon Water Holiday Park is right on the edge of the Norfolk Broads National Park, and just six miles from bustling Great Yarmouth. A lively site, there's plenty to do here for everyone, including outdoor and indoor pools, a gym and an adventure playground.
Within striking distance of Broads and coast, as well as Norfolk's capital city of Norwich, Breydon Water makes a great spot from which to explore the southern half of the county, and is the perfect place to camp as a family.
Pitches & Facilities
Suitable for all types of motorhomes and campervans, there are no hemmed in pitches here. The touring area ia spread across a large and level grassy field, giving an open feel. Choose between pitches with or without electric hook up.
You'll find sanitary and washing up facilities to a good standard, along with fresh water and waste points. There is also a laundrette and convenience store on site.
RELATED POST: 13 Exciting Things To Do in Great Yarmouth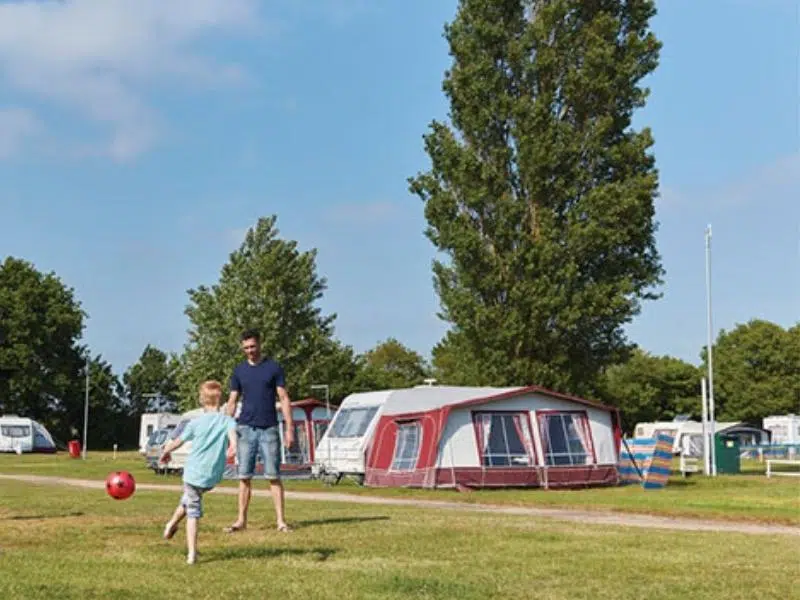 Map of Motorhome Sites in Norfolk
How to use this map – Use your finges (or computer mouse) to zoom in and out. Click or touch the icons to get more info about a place, and click the arrow in the box top left to open the index. To add to your own Google Maps account, click the star next to the title of the map.
Have I missed your favourite place to motorhome camp in Norfolk? Leave a comment below so I can include it in this post!
Love it? Pin it!