A small coastal village in North Norfolk's Area of Outstanding Natural Beauty, Thornham offers remote peace and tranquillity surrounded by huge skies and atmospheric marshes.
Thornham is popular with walkers, photographers, artists and bird watchers who are attracted by the abundance of wildlife, the ethereal light and the solitude of the powerful and wild landscape.
Don't come to Thornham expecting a bucket and spade destination, but if you're looking for fantastic coastal walking, unique wildlife encounters and a taste of the real Norfolk, then you'll find it in Thornham.
RELATED POST: The Ultimate Local's Guide to Norfolk England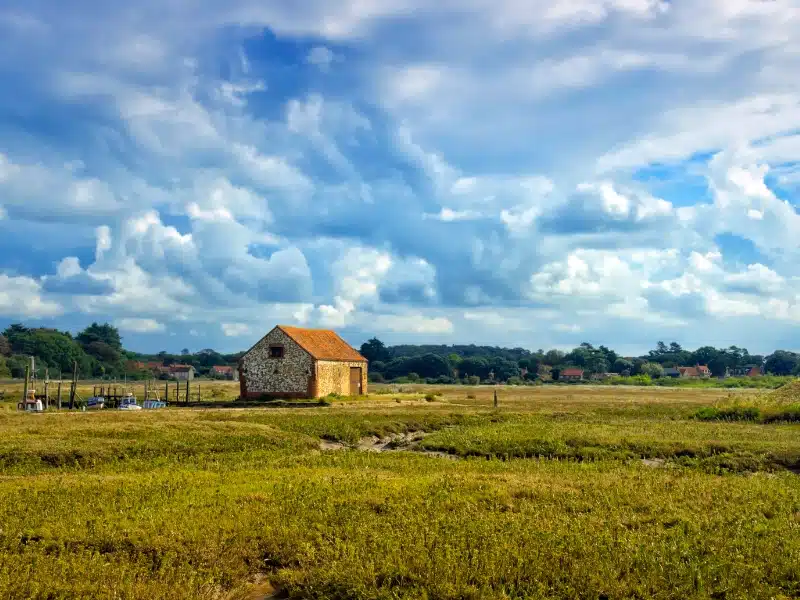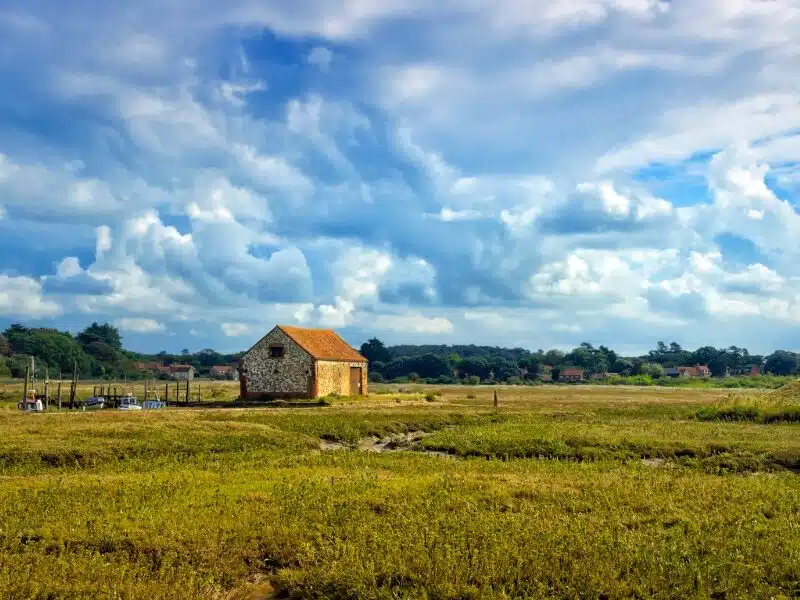 This post may contain affiliate links. If you book something I recommend, I make a small commission without affecting the price you pay!
Where is Thornham Norfolk?
In the North Norfolk Area of Outstanding Natural Beauty, Thornham is situated 43 miles northwest of Norwich and 21 miles northeast of King's Lynn. The village is located on the A149 a mile or so from the coast and Thornham beach, which is accessed along a footpath through Thornham Marshes.
The nearest large settlement is the holiday resort of Hunstanton, five miles to the west, and to the east are the villages of Brancaster Staithe and Burnham Deepdale.
RELATED POST: Norfolk Coast – 8 Amazing Ways to Explore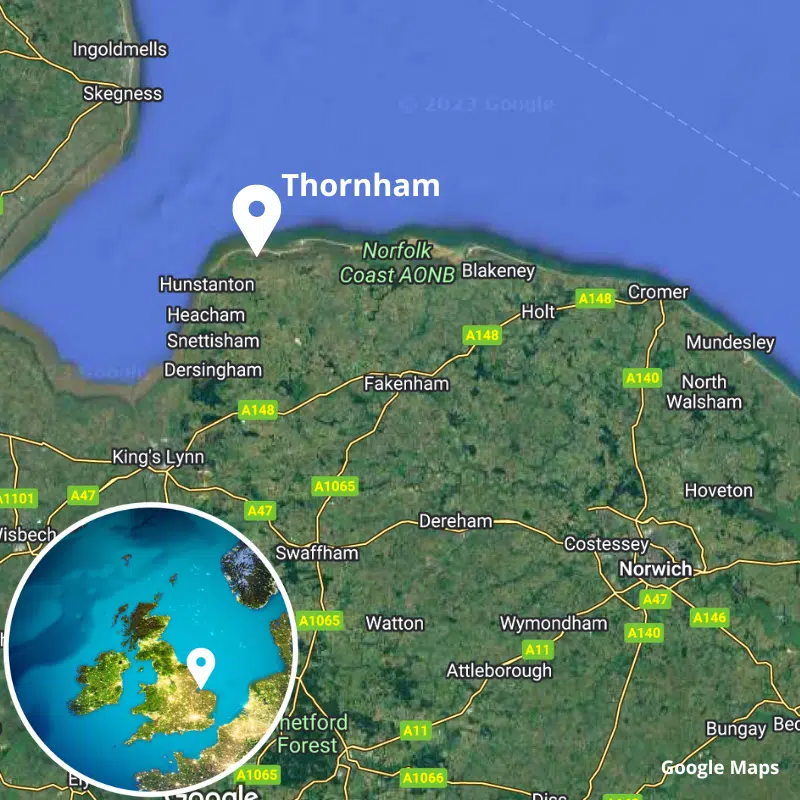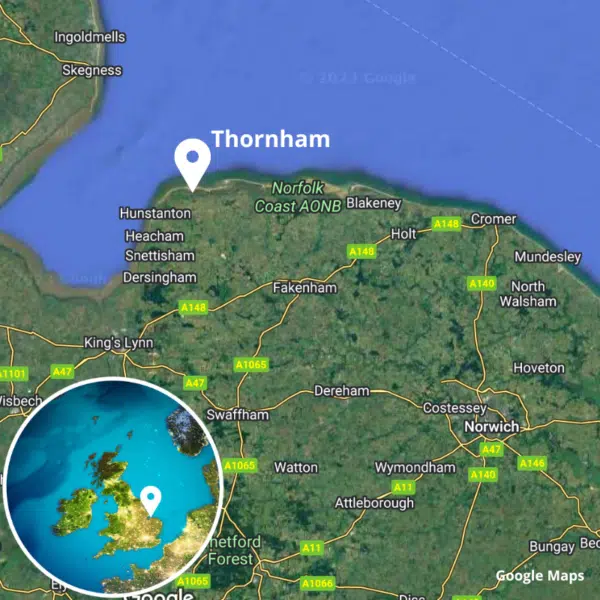 Thornham – Getting There & Getting Around
Driving to Thornham
If you're travelling from the north of the United Kingdom, pick up the A17 south at Newark-on-Trent and follow the route around the Wash to King's Lynn. This road is mainly single-carriageway, and slow-moving agricultural traffic and trucks can cause delays, so built this into your travel plans.
If you're travelling from the Midlands, you'll come into Norfolk via Peterborough and pick up the A47 north and east to King's Lynn. From the south, the A10 brings you through Cambridge directly to King's Lynn.
From King's Lynn, which is well worth a stop on the way through, pick up the A149 coast road to Hunstanton and then Thornham.
Parking in Thornham
There is free parking for around 20 cars a third of a mile from the village on Staithe Lane, where the Norfolk Coastal Path intersects with the road.
There is also a small free car park at the top of Staithe Lane at Thornham Old Harbour, half a mile north of the village, which is most suitable for walkers and those heading to the beach.
Beware of spring tides along Staithe Lane, it has been known for walkers to return to a submerged car! You can find information about Thornham tide times on the Willy Weather website.
There is also free parking at Thornham Village Hall, although there are plans to introduce pay and display parking here, and free parking for customers at The Lifeboat Inn and Thornham Deli.
It is also possible to park and stay overnight in a campervan or motorhome in The Lifeboat Inn car park, for a charge of £10.
RELATED POST: All the Best Things To Do in King's Lynn Norfolk
Getting To Thornham by Public Transport
The county of Norfolk is within easy reach of the rest of the UK, with excellent transport links. You can get to the West Norfolk town of King's Lynn by mainline train from London in less than two hours. Simply take the regular Greater Anglia service from London King's Cross, which leaves every hour or so.
Alternatively, you can take a National Express coach from Victoria Coach Station to King's Lynn. This takes around 6.5 hours depending on the time of day, and you do need to change at Norwich, but it's often much cheaper than the train, especially when booked in advance.
At King's Lynn train station get the CoastLiner 36 bus from the Transport Interchange next door, and get off at either the Post Office or Orange Tree stop, just over an hour and a quarter later.
If you're planning a visit from elsewhere in Norfolk, the CoastHopper from Cromer and Sheringham connects with the CoastLiner bus at Wells-next-the-Sea, and Sheringham is connected to Norwich via the Greater Anglia train service.
RELATED POST: 21 Of The Best Things To Do in Cromer Norfolk
Getting Around North Norfolk
The Coastliner 36 bus heads on to Burnham Market and Holkham before arriving in Wells-next-the-Sea, where you can hop onto the CoastHopper bus to Stiffkey, Morston, Blakeney, Cley, Salthouse, Weybourne, Sheringham, East Runton, West Runton and Cromer, meaning you can get to many of the best spots in the North Norfolk coast by bus.
There is also the regular X44 bus which connects Sheringham to Norwich and Holt, and from there the Norfolk Coastlink service connects Norwich with Great Yarmouth.
How about getting around by bike? The Norfolk Coast Cycleway runs from King's Lynn to Great Yarmouth and the Rebellion Way is a circular route around Norfolk. Both follow a network of byways, bridleways and quiet country lanes which are perfect for cycling, and link pretty villages around the county.
These lanes, bordered by fields of wheat, hedgerows and woodlands, see little traffic, which means you can explore the Norfolk coast at a leisurely and safe pace. You can hire bikes at Open Sky Cycles at Drove Orchards in the village.
RELATED POST: North Norfolk Coast – 19 Unmissable Highlights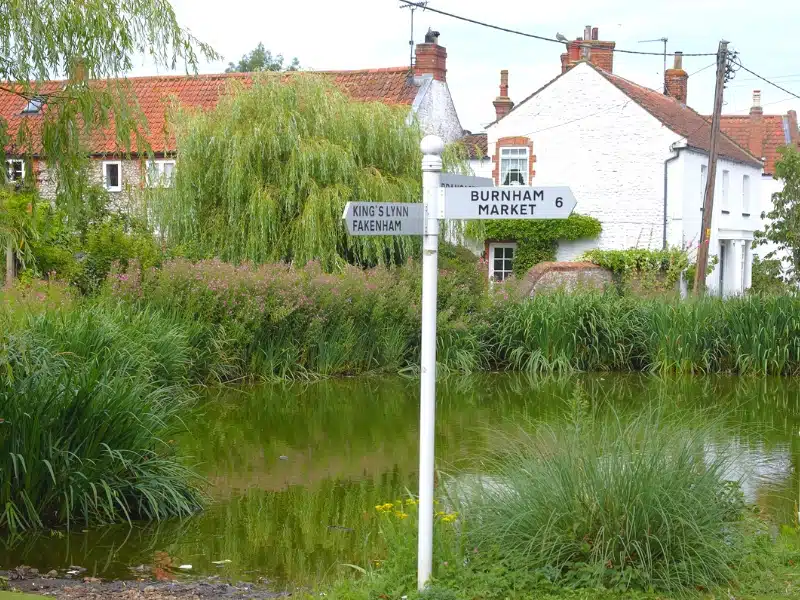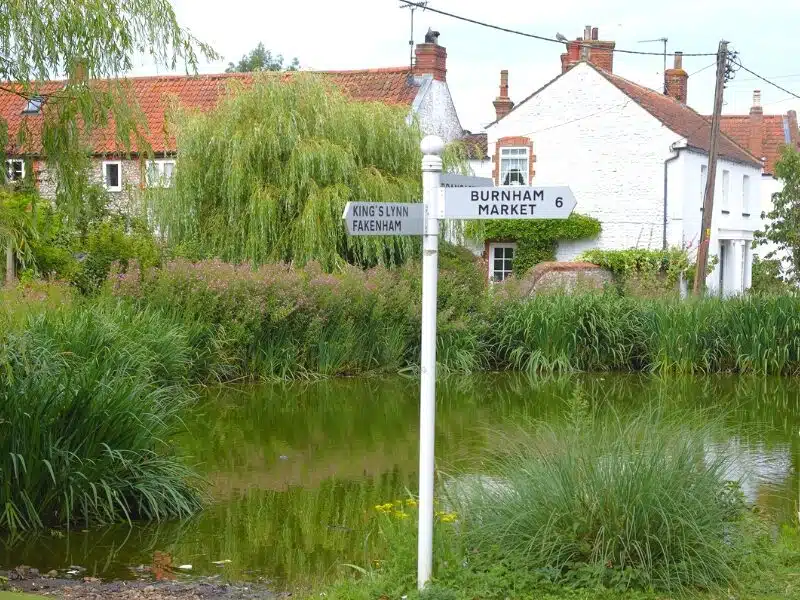 Thornham History (in brief!)
The village's name means 'thorn-tree homestead/village' and there is archaeological evidence of Palaeolithic and Neolithic inhabitants including flint scrapers, blades and axe heads found on Thornham beach.
The Iron Age or Roman Thornham Fort was constructed in the 1st century CE, and it is known that the site was re-used as a cemetery in the Early to Middle Saxon period. In the Domesday Book Thornham was held by the Bishop of Thetford and is recorded as having a mill and a flock of five hundred sheep.
The only medieval building to survive in the parish is All Saints' Church, which dates from the 13th and 15th centuries and was restored in the 19th century, and Beacon Hill, to the south of the village, which was the site of a medieval beacon that is recorded in 13th century documents.
Property development was rife in the Georgian era, and there remain a number of 17th and 18th century buildings of note including Thornham Cottage, Ilex Cottage, the Manor House and the King's Head Hotel (now The Orange Tree) and Thornham Hall, whose landscaped park has trees from that period still standing today.
Around the 1780s violent smuggling and banditry became a major occupation in the village, culminating in the Battle of Thornham between the smuggling barons and the Superintendent Of Excise on December 31st 1782, described by Neil Holmes in his excellent book The Lawless Coast: Murder, Smuggling and Anarchy in the 1780s on the North Norfolk Coast.
At the end of the 19th century, Thornham Ironworks was set up by the Lady of the Manor and the works became famous after completing pieces for the Prince of Wales at nearby Sandringham. WWI saw most of the workforce leave for the trenches and the factory closed in 1920.
Thornham Marsh was used between 1914 and 1918 by the Royal Flying Corps as a practice bombing range, and there was a military hospital on nearby Titchwell Marsh. The Royal Air Force returned to Thornham Marsh between 1950 and 1959 when bombing practice was supervised from a control tower, which has since been demolished. The remains of two Second World War Covenanter tanks, probably used as targets, are sometimes exposed at low tide.
Things To Do in Thornham
Spend the Day at Thornham Beach
Thornham Beach is my go-to beach when I want bracing sea air, a good walk and a big dose of solitude. Thornham is the most remote beach in Norfolk, meaning it ticks all those boxes.
Set in the North Norfolk Area of Outstanding Natural Beauty, getting to the beach requires a walk of half a mile or so, and this is why the beach is never crowded.
The beach itself is covered with fine soft sand and a few small areas of shingle. When the tide comes in, you can retreat to the sand dunes, which remain dry and a great place to shelter from any wind. As with most North Norfolk beaches, when the tide is out, you're left with an endless stretch of hard sand, ideal for walking and exploring the beach.
Thornham Beach is tidal so sandbanks do form. When you're walking away from the beach, it's easy to lose track of time and get stranded on one of the sandbanks by the incoming tide. There are no lifeguards on this beach, so make sure to check the tide times before visiting.
To get to the beach, take the raised bank from Staithe Lane along a small stretch of the Norfolk Coast Path, passing the Old Coal Shed (where the smugglers used to operate), fascinating salt marshes and meandering creeks.
Keep going until you get to the wooden boardwalk, and you'll see Broad Water pond on your left and a clear path to your right, which takes you through the huge expanse of dunes and onto Thornham Beach, bordered by Holme Beach to the west, and the mouth of Thornham Creek to the east.
As well as the parking on Staithe Lane, there is also parking closer to the beach at the Norfolk Wildlife Trust Holme Dunes Nature Reserve. The car park is free to NWT members, non-members will need to pay a parking charge – although the charm of this beach is really the walk!
Thornham Beach is very dog friendly and has no restrictions, although it does border the Norfolk Wildlife Trust Holme Dunes Nature Reserve so it's advisable to keep your dogs on a lead during nesting season between April ad September.
There are no facilities at Thornham beach. No ice cream van, no toilets, no kiosk selling coffee… just a whole lot of nothing, which is what makes this place so special.
RELATED POST: Norfolk Beaches – Ultimate A-Z Guide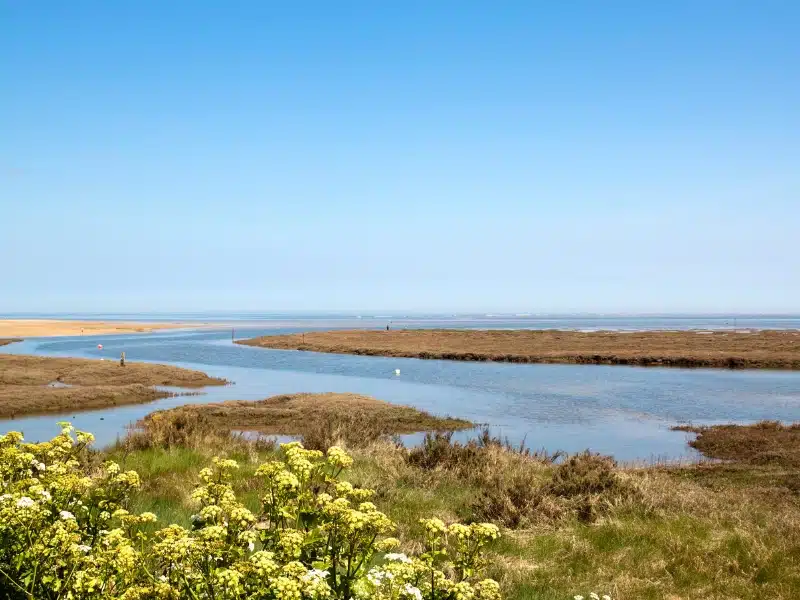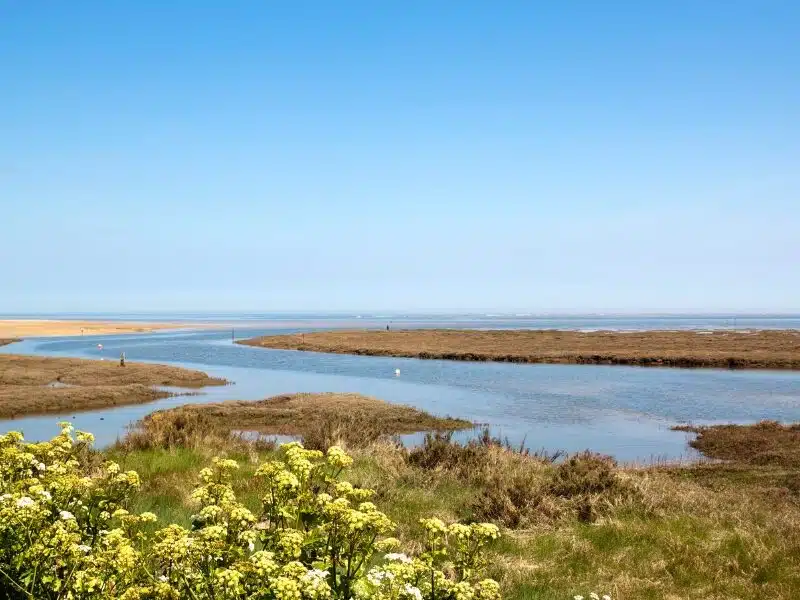 Discover Local Nature
Thornham is prime bird-watching country, being sandwiched between the RSPB at Titchwell and the Norfolk Wildlife Trust at Holme Dunes. Thornham Harbour is also an excellent birding site, with waders and wildfowl on the seaward side, birds such as wheatears, twite and linnets on the landward side, and marsh harriers and red kites present over the grazing marshes.
NWT Holme Dunes
One of 32 NWT-protected nature reserves in Norfolk, the Holme Dunes National Nature Reserve is a Site of Special Scientific Interest (SSSI), an important area for nesting birds, and perfectly located to attract migrating birds.
Holme Dunes is also home to a variety of important habitats such as mudflats, sand dunes, scrub, pines, saltmarsh, freshwater and grazing marsh which support numerous other wildlife species including natterjack toads, butterflies and dragonflies, as well as large numbers of interesting plants.
This wonderful bird observatory has trails to hides and walks around the reserve from the visitor centre on Broadwater Road, where there is also a small shop selling gifts, and a café.
RSPB Titchwell Marsh
A special place where water and land merge and combine in different ways to create ideal places for a wide range of wildlife, Titchwell Marsh is one of the most popular RSPB reserves in Norfolk.
Titchwell is blessed with diverse habitats that include reedbeds, salt marsh and freshwater lagoons where avocets, bearded tits and marsh harriers nest. There's also a wide sandy beach here, which offers extensive views across the Wash.
Head out around vast reedbeds where bitterns boom and bearded tits ting. The Freshmarsh lagoons are a popular stopping-off point for migrating wading birds and wildfowl. Where there was once farmland, saltmarsh now rules, with the salty waters providing a home to little egrets, water pipits and Chinese water deer.
RELATED POST: Norfolk Nature Reserves – Ultimate A-Z Guide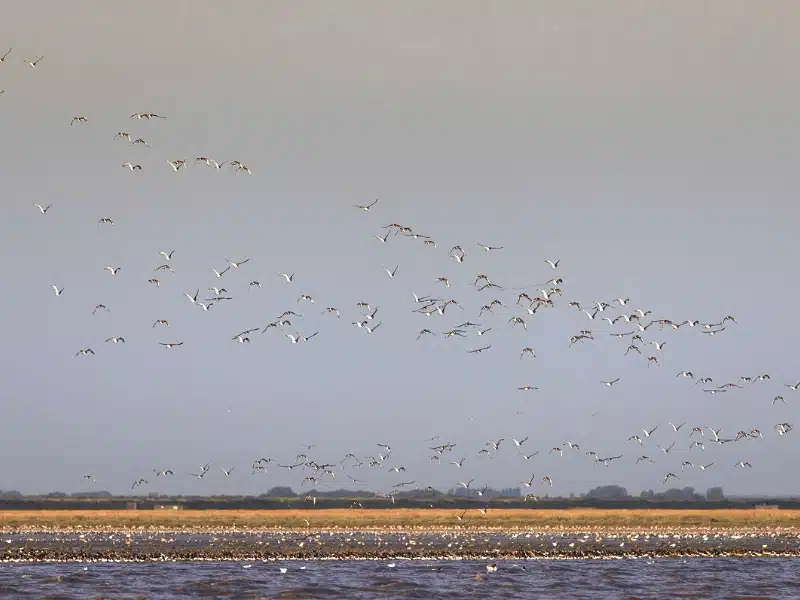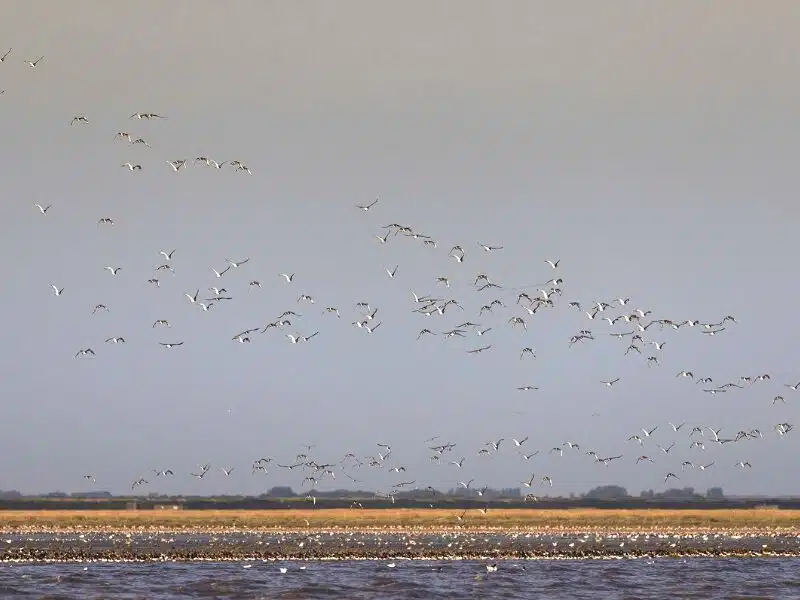 Explore the Thornham Shops
Thornham Deli
Thornham Deli is the place to go shopping in this part of Norfolk. Way more than a deli – although that bit is good too – Thornham Deli sells stylish and contemporary homewares and even has an interior design and personal shopper service, so you can take a little bit of Norfolk style home with you!
From bath and beauty to gorgeous fabrics and kitchenware and art, this is the perfect place for a spot of gift shopping, and in the deli, you can pick up freshly-made pastries, cakes, home-cooked frozen meals, juices and smoothies.
Oh, and did we mention they have a restaurant and rooms too? But more of that later…
Drove Orchards
A mile west of the village on the A149 is the small Drove Orchards complex, home to the fabulous Drove Orchards Farm Shop, Gurney's Fish Shop, Hortico Garden Centre and Cider Barn Antiques and Vintage.
Surrounded by 40 acres of lush orchards, the farm shop sells its own apples, pears, plums, gages, juice and cider, and a huge range of locally grown and produced fruit, vegetables, meat, cheese, jams, pickles, chutneys, eggs, oils and even Norfolk gin and wine!
In season, you call also pick your own apples, pears, plums and gages in the orchards, and blackcurrants, whitecurrants, redcurrants and jostaberries, a delicious mix of blackcurrant and gooseberry flavours, from the soft fruit beds.
Gurney's sells locally produced smoked fish, shellfish and wet fish, mainly landed locally, including delicious Thornham oysters.
Elsewhere on site, you'll find antiques, crafts, gifts and Norfolk souvenirs. There's also Mims Icecream serving homemade East Coast Gelato and Eric's Fish and Chips, frying some of Norfolk's best fish and chips!
RELATED POST: 43 Norfolk Farm Shops for Amazing Local Produce!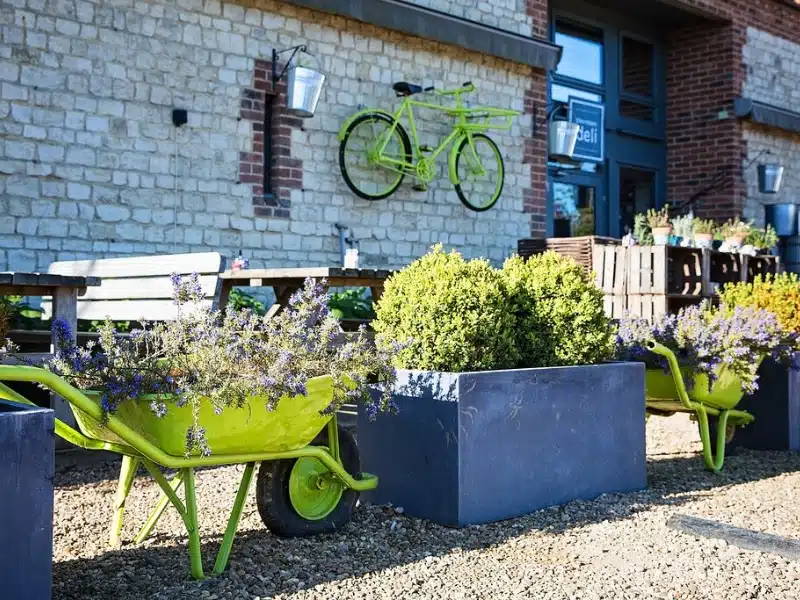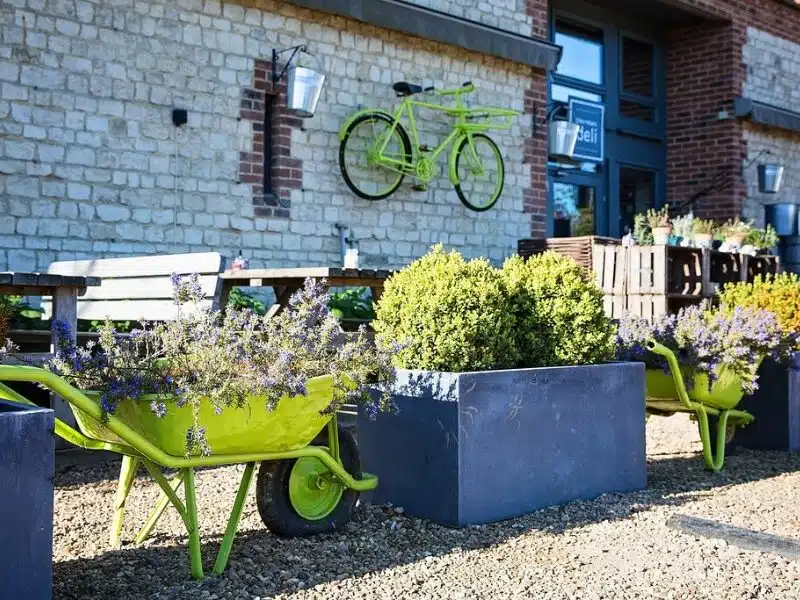 Discover All Saints Church
Thornham Church was started by the Normans, but building came to an abrupt stop in 1348 as the Black Death ravaged England's countryside.
The tower, started in 1633, was left unfinished after the Great Fire of London in 1666 when the stonemasons departed Norfolk to help rebuild London. The tower was not completed until 1935 when it was finished to commemorate King George V's Silver Jubilee.
The minesweeper HMS Thornham gave its ship's bell and accompanying ship's flag, which was flown on HMS Victory, to Thornham Church in 1969. The bell is rung only once a year in November to signal the two minute silence on Remembrance Day.
RELATED POST: Norfolk Churches: 16 of the Best to Visit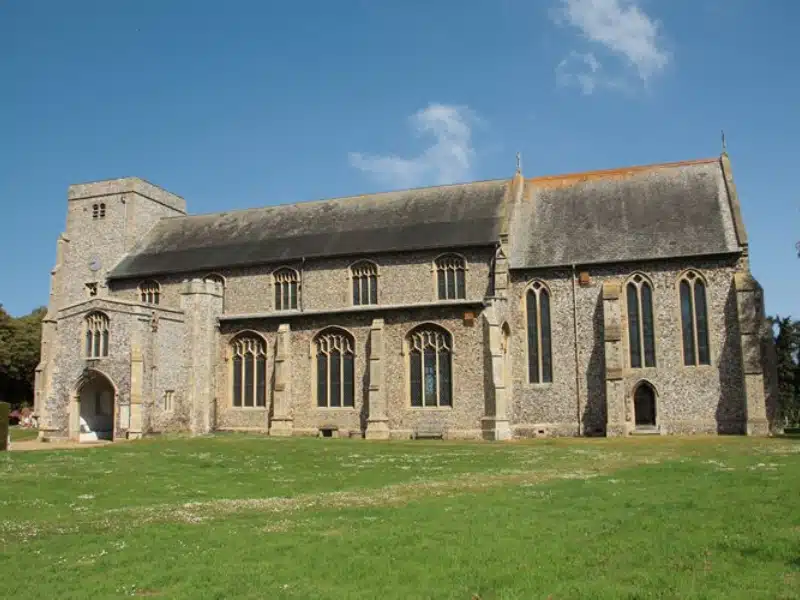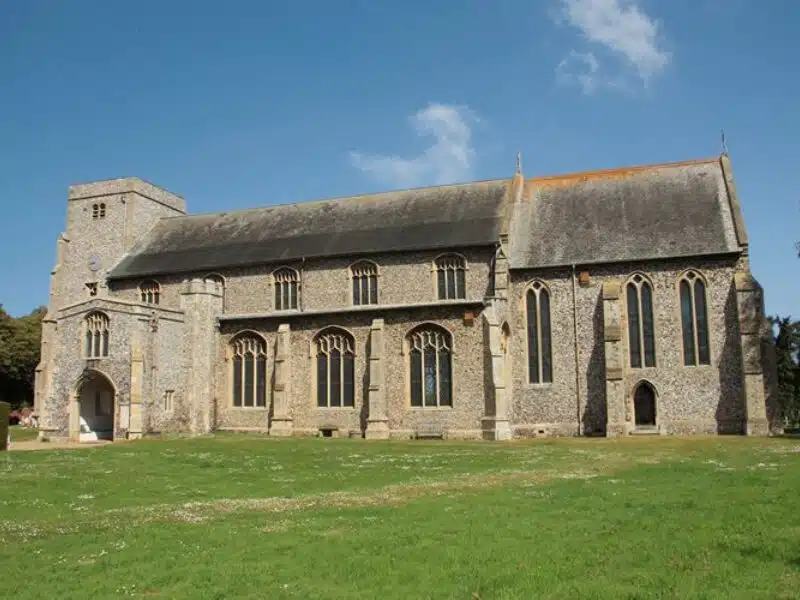 Try the Local Produce
The seas off the coast of Norfolk are bountiful with shellfish including crab, lobster, mussels and oysters. This is because an ecosystem is created by a current of cold water which sweeps south from Norway, and brings an abundance of nutrients with it, creating the perfect environment for shellfish to thrive.
Norfolk Oysters
The humble oyster was once a staple of Norfolk coastal communities, where the shallow bays and inlets are full of cold clear water and natural nutrients, perfect for oysters to flourish.
There are Pacific Rock oysters, which taste of the sea, being grown and farmed along the North Norfolk Coast, by the Thornham Oyster Company, the Norfolk Oyster Company and Brancaster Oysters.
You can buy local oysters from Gurney's Fishmarket, who have a shop on the doorstep in Thornham and also in Burnham Market, seven miles east along the coast. Gurney's are happy to shuck one for you to taste before you buy.
Brancaster Mussels
Freshly caught mussels from nearby Brancaster Staithe harbour are a real treat. The mussels are collected when they are at the juvenile stage from wild settlements around the Wash, and then placed in the harbour, where they can feed on the nutrients running off the salt marshes and grow into the delicious mussels that Brancaster is famous for.
In season from September to April, these delicious and juicy shellfish will be on every hotel and restaurant menu, and in every fishmonger in Norfolk. Get your Brancaster mussel fix at the Thornham Deli, The White Horse Brancaster, where they serve a mean Moules Frites accompanied by glorious views across the marshes, or at the slightly more formal Titchwell Manor, just up the road.
Samphire
Samphire, pronounced locally as sampha, thrives in the salt marshes of North Norfolk. Known as 'sea asparagus' or 'sea pickle', samphire can be purchased throughout Norfolk from spring onwards and is found in abundance around Thornham, Brancaster and the Burnham's.
You'll find it for sale in countryside lay-bys, outside cottages, in villages along the coast, and in many North Norfolk farm shops.
RELATED POST: 26 Norfolk Food & Drink You Must Try!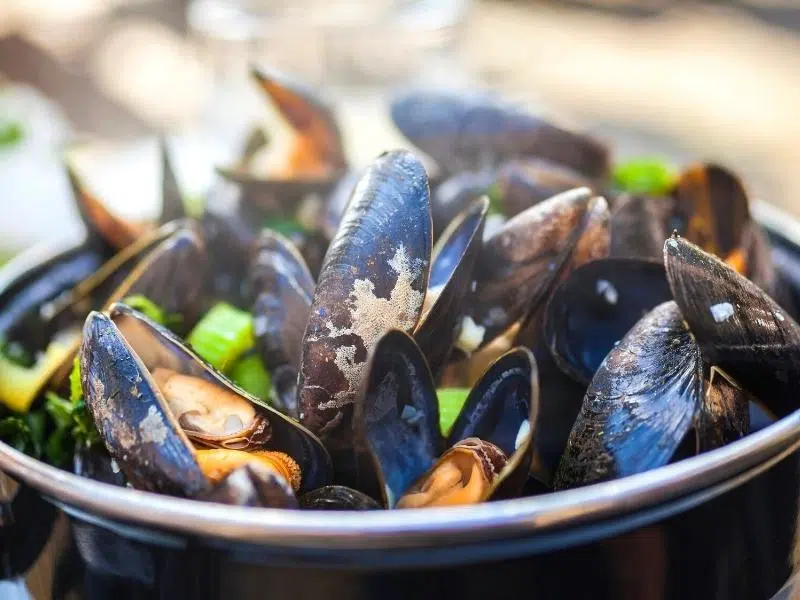 Explore the Norfolk Coast Path
Very probably the best-loved of the Norfolk trails, and one of the best ways to experience the wilderness and unique landscapes of the Norfolk coastline, the Norfolk Coast Path runs from Hunstanton in West Norfolk, to Hopton-on-Sea in South Norfolk, where Norfolk meets Suffolk.
The path runs for 84 miles and passes through the stark and beautiful landscape of the Norfolk coast Area of Outstanding Natural Beauty, where you'll encounter tidal marshes brimming with wildlife, and cross wide sandy beaches under the huge skies that Norfolk is famous for.
Thornham is right on the coastal path and the stage between here and Hunstanton is my favourite part of the whole route, a six mile stretch which will give you a real flavour of the wild and raw nature of this part of Norfolk's coastline.
Start on Staithe Lane, where you'll pick up the signs for the path heading northwest. As you follow the boardwalk through the Holme Dunes Nature Reserve, the beach to your right is where the 4000-year-old timber circle, known as Seahenge, was discovered. You can see parts of the original wooden structure in Lynn Museum.
At the far end of Holme Beach, you meet the end of the Peddars Way, which heads south for 46 miles to Knettishall Heath in the Suffolk Brecks, a unique area of forest, heath and low river valleys.
Follow the path down through the dunes, pausing at the top to admire the expanse of Holme Beach and Hunstanton cliffs, before heading past the beach huts alongside the Hunstanton Golf Club championship links course.
Pass the RNLI lifeboat station and the Lighthouse at Old Hunstanton, looking out for the nearby ruins of St Edmund's Chapel dating back to 1272.
Once you arrive at the bowling greens to the north of the Esplanade Gardens, you've arrived at the end of the Norfolk Coast Path.
Pick up the Coastline bus from the Lincoln Square bus stop heading north, and hop off back in Thornham.
RELATED POST: Walks in Norfolk – 14 of the Best Trails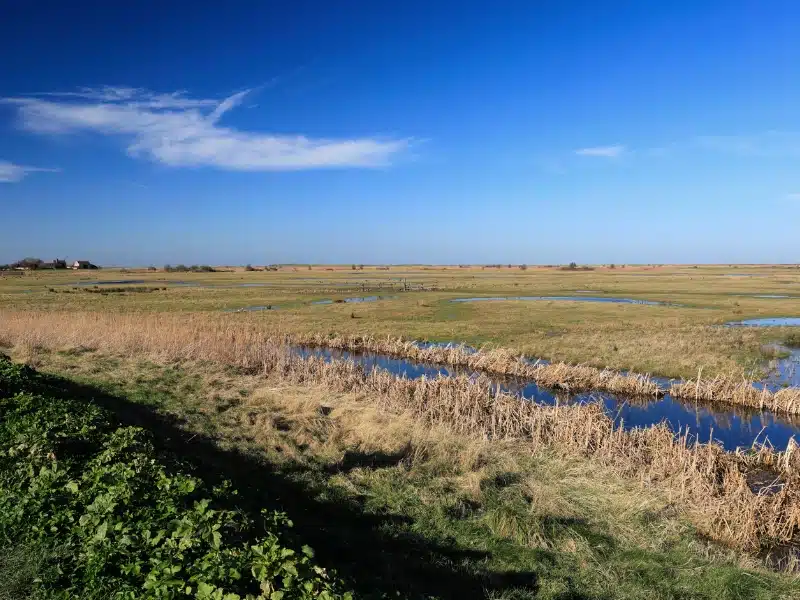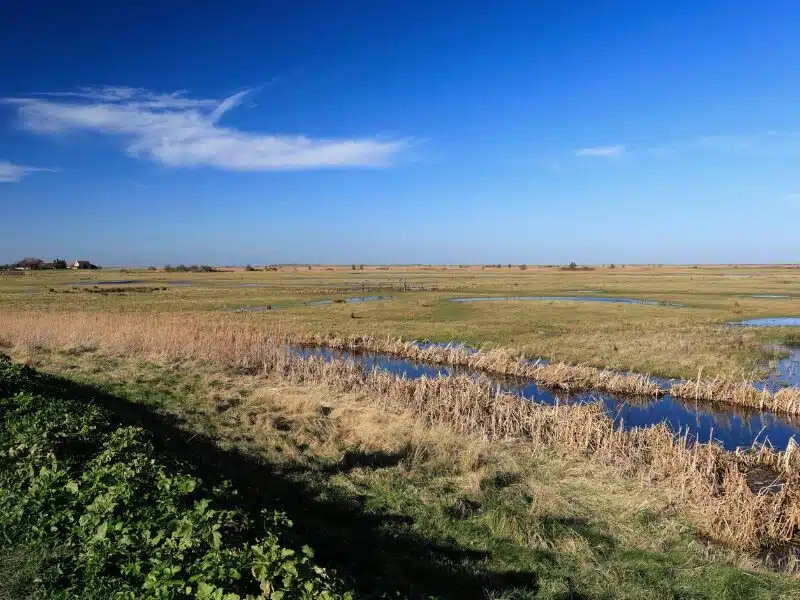 Explore Hunstanton
Hunstanton, or 'Sunny Hunny' as it's known by locals, is a real mixed bag of traditional seaside resort, great beaches, fairground rides, crazy golf and amusements.
It's a wonderful family holiday destination with lots for all ages to do and see. The beach is a focal point, with lots of water sports and rides available, as well as traditional donkeys and family beach games.
You can also take a boat trip on the Wash Monster to see Norfolk's famous seals from Hunstanton and visit the SEA LIFE centre, where they have a seal hospital!
Grown-ups will love the beautiful 19th century heritage gardens and enjoy the unique red and white striped cliffs, one of Norfolk's most iconic and enduring images, and Old Hunstanton, a smaller and more peaceful village, which has its own quiet expanse of golden sand with a collection of wonderful beach huts nested in the dunes.
RELATED POST: 21 of the Best Things To Do in Hunstanton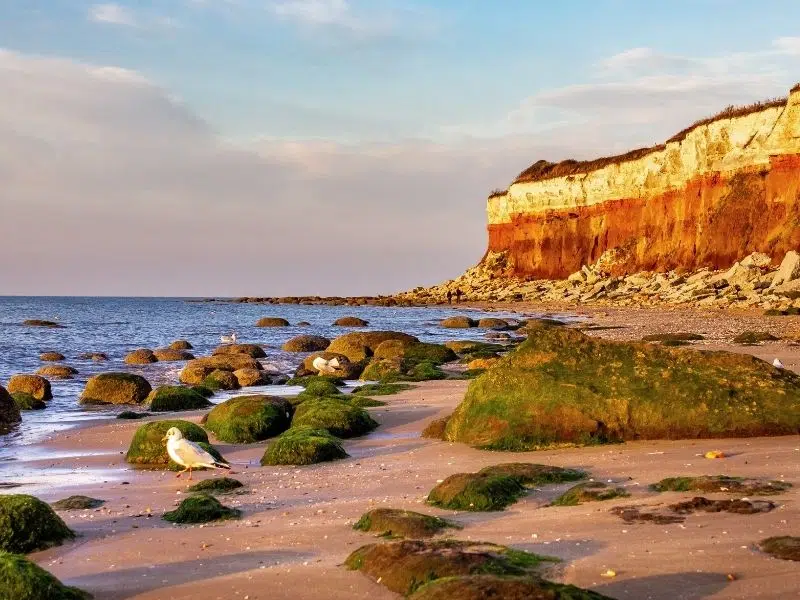 Thornham Accommodation
Thornham has a good selection of quirky Airbnb-style accommodation, pretty holiday cottages and holiday homes for rent, and some great campsites nearby. Whatever your accommodation style, we've rounded up the best options for your Thornham holidays.
The Lifeboat Inn Thornham
If you're looking for a great place to stay that is brilliantly positioned for walking and bird-watching holidays, look no further than The Lifeboat Inn, the best known of the Thornham hotels, located on a quiet lane with views over the marshland and sea to Thornham Old Harbour and direct access to the Norfolk Coast Path.
With some parts of this coastal hotel dating back to the 16th century, this atmospheric smuggler's inn has a collection of simply decorated pet-friendly rooms, a cosy bar where you can get a local Norfolk ale, and a good restaurant.
No 33 Thornham Suites
The are four luxurious suites above Thornham Deli, decorated with the immaculate taste and style that you'll spot in the shop below.
Details like stylish and comfortable furnishings, well-thought-out living areas where you can curl up and read and beds made with Egyptian cotton sheets promote a sense of tranquillity and calm and reflect the coastal beauty around them – and the breakfast is pretty good too!
Thornham Rooms at The Chequers
Thornham Rooms at The Chequers is a unique, room-only place to stay. The Rooms are the latest iteration in the rich history of this Thornham pub which has welcomed visitors since the 16th century.
Now, the eleven elegant bedrooms and comfortable downstairs sitting rooms have become the base for unforgettable stays on the glorious North Norfolk Coast and make a great hideaway and a wonderful place for walkers and wildlife spotters.
Anna's House Thornham
The perfect place for a well-deserved Norfolk break, at Anna's House you get your own private entrance, designated parking, a hot tub and quiet terraces where you can relax and escape from the world.
Different from staying in a hotel or B&B but in a good way, Anna's House offers five beautifully designed rooms and suites in the centre of Thornham village.
Titchwell Manor Brancaster
Two miles east of Thornham is Titchwell Manor Hotel, a stylish Norfolk boutique hotel that overlooks the coastline of North Norfolk, the RSPB reserve at Titchwell Marsh and Brancaster Beach.
The manor house hotel has been lovingly restored but still has a wonderful contemporary vibe running throughout, making it one of my favourite North Norfolk coast hotels. The 26 rooms inspired by the colours of the sky, sea and dunes are located in either the main house or renovated outbuildings and in the meadow are a couple of luxury shepherd's huts which are perfect for a romantic weekend.
Thornham Holiday Cottages
There are lots of holiday cottages and Airbnb-style holiday rentals in and around Thornham. From one-bed cottages and static caravans to huge converted barns, use VRBO to search for the best deals and find availability on Thornham holiday accommodation.
Wild Luxury Glamping Thornham
Wild Luxury offers three locations around Thornham and their award-winning Serengeti Lodges offer over 600 square feet of top-quality safari tent-style accommodation, and provide sleeping accommodation for up to 6 people, with the Zambezi Lodges sleeping six adults or families of ten.
There is also a VIP Wild Camp, which offers exclusive use in summer, and can sleep up to 12 people who want their own outdoor adventure in luxury bell tents.
All the safari tents are warm and cosy with everything you need for your stay, including things like cutlery, utensils and bedding provided. The beds are supremely comfortable and wood-burning stoves take care of all the cooking and heating requirements. Every lodge has private loos and showers. You can chill on the sundeck, relax on the leather sofas or gather around the dining table for a natter.
RELATED POST: Norfolk Glamping – 15 of the Best Spots
Deepdale Camping & Rooms Burnham Deepdale
A quiet and friendly Norfolk campsite, Deepdale Camping has been named as the most popular campsite in the UK!
This dog-friendly campsite in the village of Burnham Deepdale, five miles east of Thornham, has 85 pitches suitable for tents, campervans, motorhomes & trailer tents, but no caravans due to a planning restriction. Set in six well-maintained grassy paddocks, the site is a haven of peace and quiet.
Camping facilities include 16a electric hook-up, chemical toilet disposal points, fully serviced hard-standing pitches, and underfloor heated toilet & shower blocks, together with lots of landscaping including hedging, trees and landscaping for the farm paddocks. There's also a laundry facility, free WiFi and fire pit hire.
If you're planning a self-catering holiday without a tent, Deepdale will supply you with a fully equipped and erected safari-style glamping tent on a large grass pitch, or check out their basic, but comfortable, private en-suite rooms.
RELATED POST: The Ten Best Campsites in Norfolk
Norfolk Coast Path Camping & Glamping Site Holme
Two miles to the west is the mYminiBreak Norfolk Coast Path Camping & Glamping, with pitches for tents, campervans and motorhomes. Dogs are welcome and you can also make your own campfire.
The back-to-basics campsite has all the amenities that you need such as fresh water taps, toilets and showers and dishwashing facilities, but no electric hook-up. The site is within easy reach of the Norfolk Coast Path, local shops, pubs, cafés and restaurants.
Where to Eat in Thornham
Alongside Titchwell Manor and The Lifeboat Inn, which both offer a full restaurant service to non-residents, there are lots of other great places to eat in and around Thornham.
The Orange Tree
A stylish and contemporary dining pub, The Orange Tree Inn and Restaurant is a family-owned business, serving award-winning food sourced from top-quality local produce, in a laid-back environment.
Alongside their menu of fresh, traditional dishes crafted from great seasonal produce, they also serve classic botanical cocktails, fine wines and local craft beers. You can choose to eat in the bar or restaurant or dine al fresco in the garden.
Thornham Deli
The Thornham Deli restaurant is a blend of contemporary, industrial-style architecture using local materials furnished in an eclectic style with beautiful fabrics and interesting art.
The menu is easy and familiar, with dishes like the catch of the day and pie of the day, alongside wraps, burgers, sandwiches and a selection of street food style tapas. I always go here for their excellent breakfast, which can segue into brunch, when I'm out and about.
Eric's at Drove Orchards
Just outside of town at Drove Orchards are Eric's Pizza and Eric's Fish and Chips. The latter has been a long-standing place to eat in Thornham, with the pizza edition a fairly new offering.
I can say, after sampling them a fair few times, that Eric's fish and chips are excellent – crispy batter, slightly soggy chip shop chips and a great selection of sides including battered squid rings and deep-fried black pudding, all of which can be eaten in or taken away.
Eric's Pizza is set up in a large circular yurt on the same site, which offers a cosy place to eat with the all-important pizza oven taking pride of place. There's a good selection of anti-pasti on the menu, and the sourdough pizzas come with fixed toppings and the option to add extras – I'm relieved to see there's pineapple on the menu!
RELATED POST: Best Fish & Chips Norfolk: 14 Top Places
Have I missed your favourite Thornham hotel, restaurant or activity from my list? Let me know in the comments so I can check it out and add it to this round-up!
Love it? Pin it!