Fakenham, the largest town in North Norfolk, is a traditional working market town located on the meandering River Wensum and close to the fabulous North Norfolk coast.
The rural town is known for its beautiful countryside, historic market, printing heritage and being voted the 7th best place to live in England by Country Life magazine!
There's plenty to do for visitors to Fakenham, making the town an ideal destination and local base for those looking to explore North and West Norfolk.
RELATED POST: The Ultimate Local's Guide to Norfolk England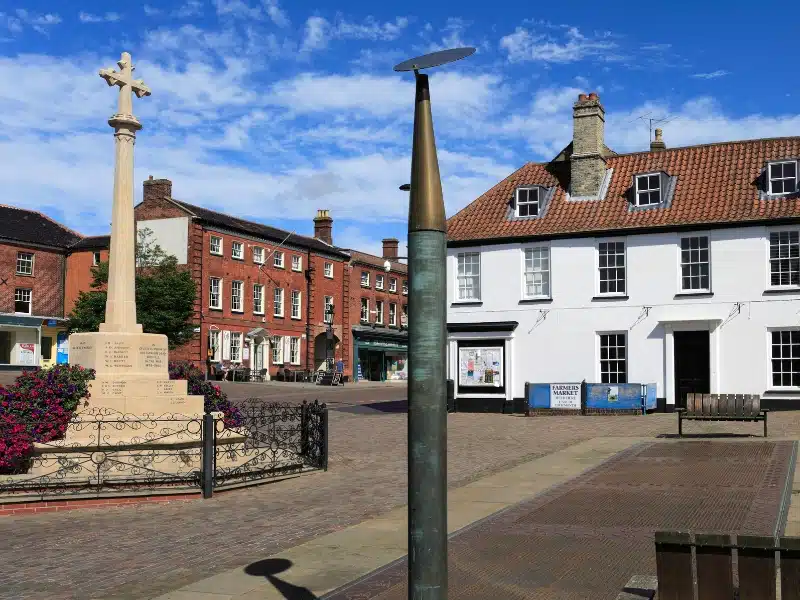 This post may contain affiliate links. If you book something I recommend, I make a small commission without affecting the price you pay!
Where is Fakenham Norfolk?
The Norfolk market town of Fakenham sits in a triangle of roads between Norwich, King's Lynn and Cromer, surrounded by the gentle North Norfolk rural landscape.
Fakenham is located 25 miles north west of Norwich, 22 miles north east of King's Lynn and 12 miles south from the coast at Wells-next-the-Sea.
RELATED POST: 30 of the Very Best Things To Do in Norfolk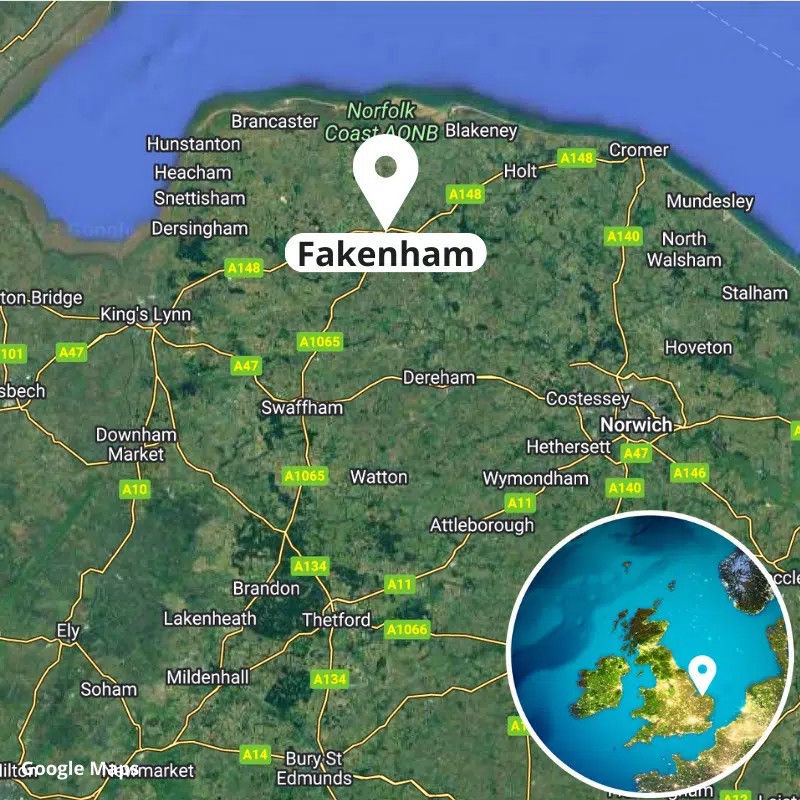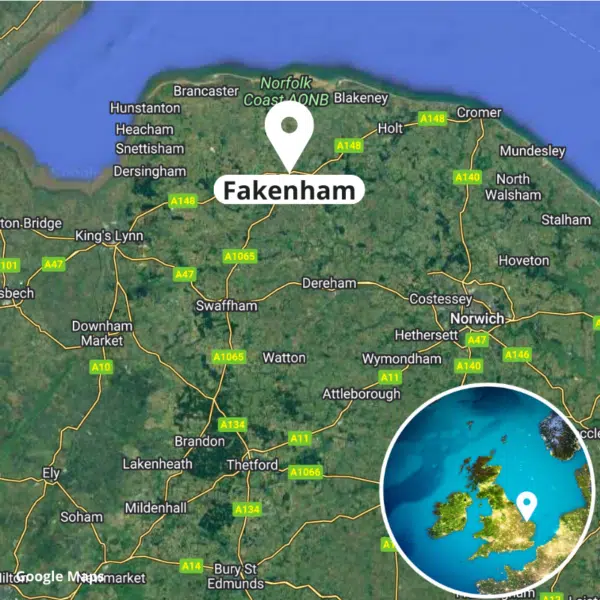 Fakenham – Getting There & Getting Around
Driving to Fakenham
If you're travelling from the north of the United Kingdom, pick up the A17 south at Newark-on-Trent and follow the route around the Wash to King's Lynn. This road is mainly single carriageway, and slow-moving agricultural traffic and trucks can cause delays, so built this into your travel plans.
If you're travelling from the Midlands, you'll come into Norfolk via Peterborough and pick up the A47 north to King's Lynn.
From King's Lynn, well worth a stop on the way through, take the A149 to Knight's Hill roundabout, and then the A148 directly to Fakenham.
Getting To Fakenham by Public Transport
You can get to Norfolk's capital city Norwich by mainline train from London in less than two hours. Take the regular Greater Anglia service from London Liverpool Street, which leaves every hour or so.
Alternatively, you can take a National Express bus service from Victoria Coach Station to Norwich. This takes around 2 hours depending on the time of day, but it's often much cheaper than the train, especially when booked in advance.
From Norwich train station head into the city centre and pick up the First Bus Yellow Line 28/29/x29 from Anglia Square, Tombland, Castle Meadow or St Stephens Street bus stops, and you'll arrive in Fakenham 90 minutes later.
Getting Around North Norfolk
The Coastliner 36 travels between King's Lynn and Fakenham, stopping at Dersingham, Snettisham, Heacham, Hunstanton, Brancaster, Burnham Market and Holkham before arriving in Wells-next-the-Sea, where you can hop onto the CoastHopper bus to Stiffkey, Morston, Blakeney, Cley, Salthouse, Weybourne, Sheringham, East Runton, West Runton and Cromer, meaning you can get to many of the best spots on the North Norfolk coast by bus.
How about getting around by bike? Fakenham is surrounded by a network of byways, bridleways and quiet country lanes which are perfect for cycling and link pretty villages around the county. Experience Cycling UK has several short cycling routes around Fakenham including the Seaside Pilgrimage, Medieval Meandering and Rural Riches.
RELATED POST: Best of the North Norfolk Coast: 20 Unmissable Highlights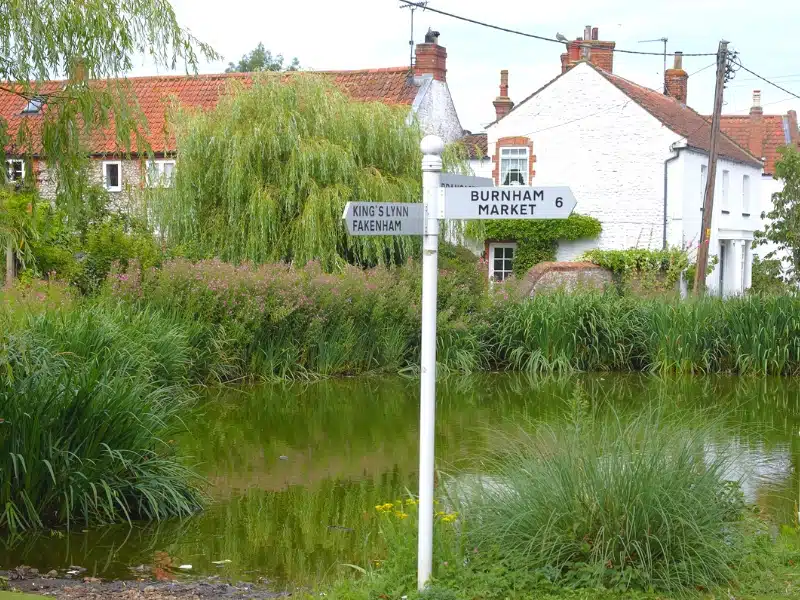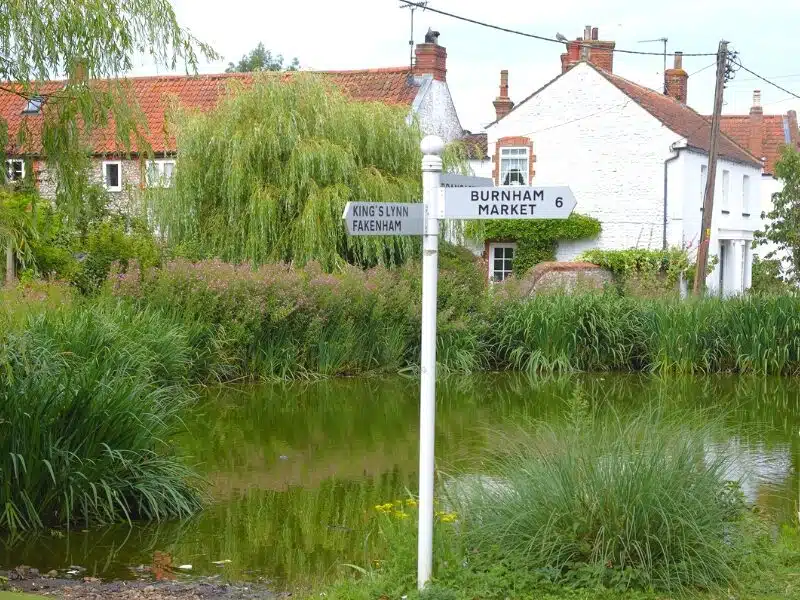 Fakenham History (in brief!)
Fakenham has been a market town since 1250 and was known for its trading of corn, barley, and wheat.
The name Fakenham is Saxon and has been interpreted as meaning 'homestead of Facca' or 'Fair Place', or 'Place on a Fair River'. The parish has numerous arrowheads and flint tools indicating occupation during Neolithic times and in 2015, a lead plaque was found near Fakenham dating to the Early Medieval period.
Fakenham was a settlement in the Domesday Book of 1086, with a population of five villagers, 20 smallholders and four slaves alongside 20 pigs and 200 sheep.
Fakenham's long name of Fakenham Lancaster comes from the transfer of ownership of the manor in 1377 to John of Gaunt, the Duke of Lancaster. Today, the name is still used with the two wards that cover the town for electing councillors to North Norfolk District Council being called Lancaster North and Lancaster South.
Before 1066, the manor of Fakenham was held by King Harold and was later taken by King William the Conqueror. The manor was relatively large, containing surrounding villages such as Pudding Norton and Thorpland. A number of Early to Late Saxon broaches, buckles and pottery have been unearthed in the area. A Middle Saxon coin found in the parish is of Beonna, King of East Anglia from 749.
Fires broke out in the town in 1660, 1718, and 1738, which destroyed or partly destroyed a number of buildings. The 4 August 1738 fire destroyed 26 buildings in Fakenham.
Fakenham Town Sign
The Coat of Arms on Fakenham's town sign illustrates the town's connection with John of Gaunt progenitor of the Plantagenet House of Lancaster with its three lions and three fleurs-de-lis.
The printer depicted on the sign shows the importance of the 19th century printing industry to the town, and the ship represents Sir Robert Seppings, born in Fakenham in 1767. Orphaned at the age of 14, by 1816 he had become Surveyor of the Navy and was knighted at sea aboard the Royal Yacht.
The penny farthing is for John C Garrood, born in Fakenham in 1851. He started a cycle manufacturing business in 1870 and introduced the strong but lightweight tubular cycle forks and grips for the pedals and was also an early user of ball bearings.
The plough represents the life of Sir George Edwards who was born in Marsham in 1850 to poor parents. He became a Primitive Methodist preacher and was one of the first agricultural trade unionists, and his union eventually merged with the Transport & General Workers' Union. Aged 70, George entered Parliament for the first time in a by-election.
The Quaker with a Bible represents the Peckover family who were influential in the area for many years and amongst the founders of Barclays Bank. The ox wagon represents the missionary life of Reverend Henry Buckenham. He was born in Holt Road in 1844, and after marrying a Burnham girl he became a missionary on the Orange River in South Africa, from where he and his wife trekked by ox wagon over 2000 miles to the Zambezi where they set up a successful mission.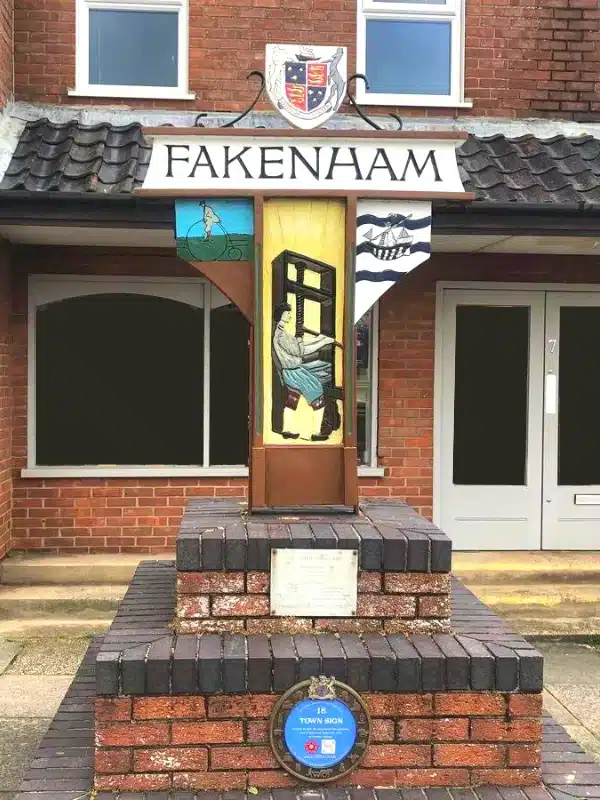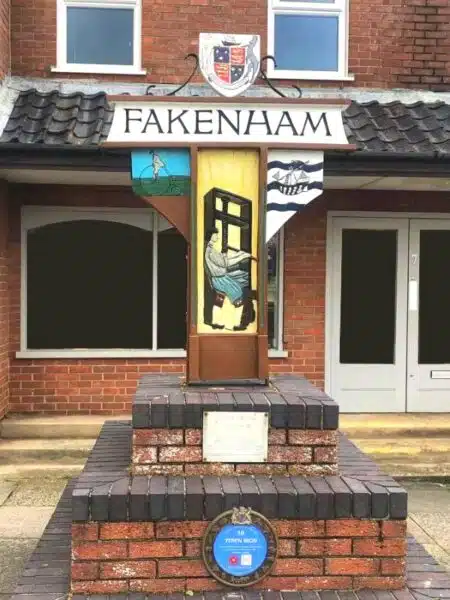 Things To Do in Fakenham Town
Follow the Fakenham Lancaster Heritage Trail
An interactive trail, the Fakenham Lancaster Heritage Trail was launched in 2022 and is the best way to find out about the rich and often hidden history of Fakenham.
With 32 plaques to find along the route, each including a QR code which connects your phone to their website and an audio guide with historic images, this heritage trail is great fun and actually really interesting.
From the Market Place and the important buildings of the Corn Exchange, St Peter and St Paul Church, Fakenham Mill and Hall Staithe, the trail shares the ever changing history the town and the people who helped build and shape it.
Start in Market Place, where there is also a tourist information point, and end at Fakenham Racecourse after several hours of meandering the streets of Fakenham (and maybe popping into the Chocolate Factory Shop) enjoying the historic architecture and being surprised by the depth of history in this Norfolk town.
RELATED POST: Towns in Norfolk – 27 Towns to Visit in Norfolk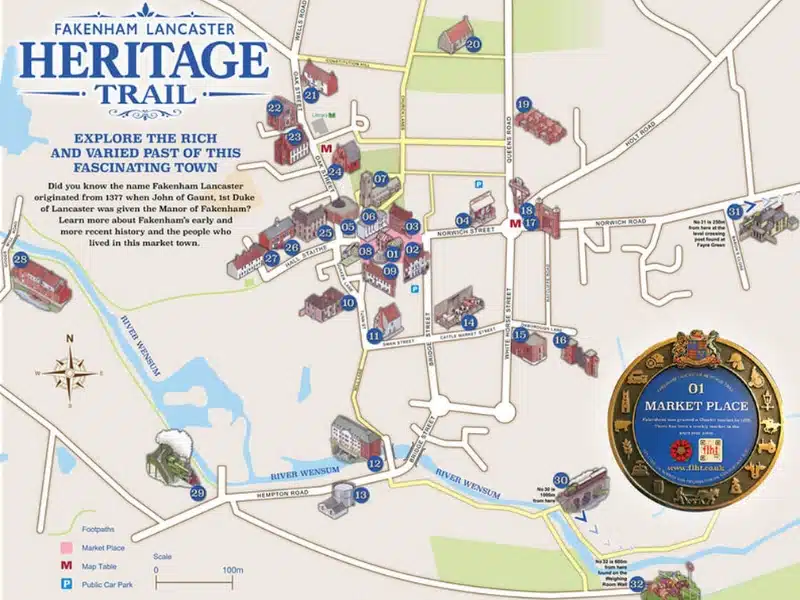 Explore the Fakenham Gasworks Museum
The Fakenham Museum of Gas and Local History is the only surviving town gasworks in England and Wales, complete with all equipment used for the manufacture of gas from coal including retorts, condensers, purifiers, meters and a gasholder.
The museum is housed in the town's former gasworks, which ceased production of gas from the heating of coal in 1965 following the discovery of natural gas in the North Sea. The gas works is a Scheduled Ancient Monument and provides an insight into the UKs cultural, social and industrial heritage with displays of lighting, heating, cooking and domestic equipment.
The gas works buildings and the museum collection held within them allow a glimpse into the past where one man, William Murdoch, changed everyday living, bringing light to the darkest corners of the country.
The free museum is open every Thursday and Friday between 10am and 1pm, and closes for winter from the end of October until Easter.
RELATED POST: 21 Museums in Norfolk You Won't Want to Miss!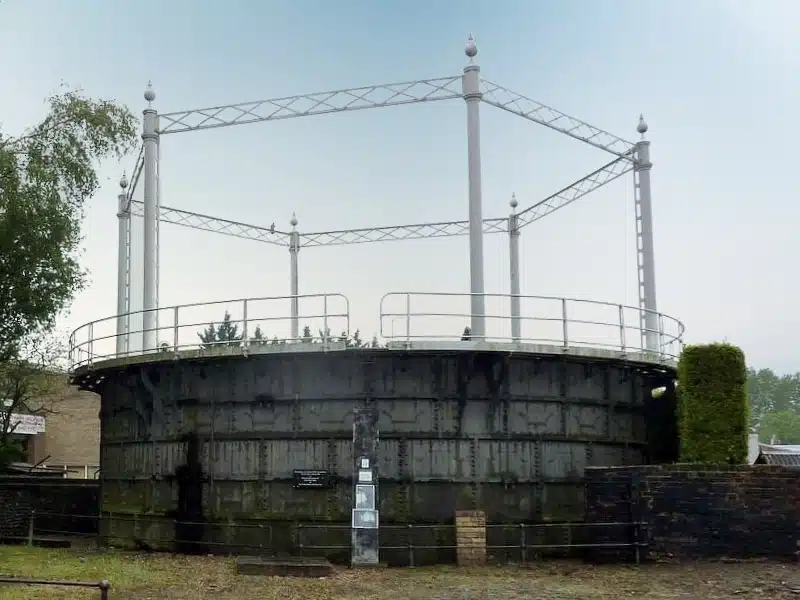 Discover Langham Glass
Established in 1979 by Master Glassmaker Paul Miller, Langham Glass makes modern glass by hand to the highest level of craftsmanship, using traditional methods to create high-quality handmade crystal.
A visit can include watching a demonstration or enjoying a glass-making experience, where you actually get to blow glass yourself. There are also half-day and full-day courses where you can learn to make paperweights, vases and bowls.
There is also a shop and the Nelson Café to enjoy sandwiches, cakes and hot drinks. Book your tickets early, Langham Glass is a very popular Fakenham attraction.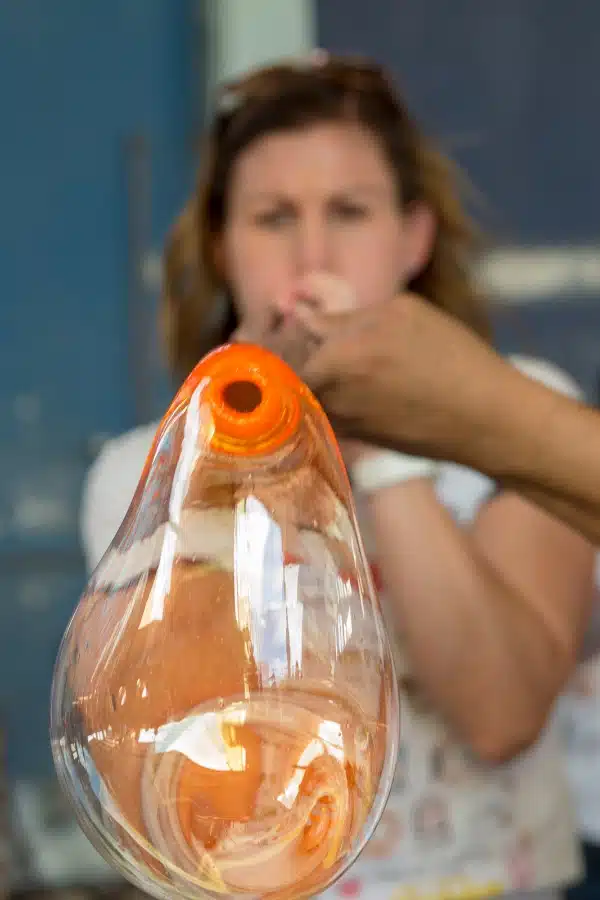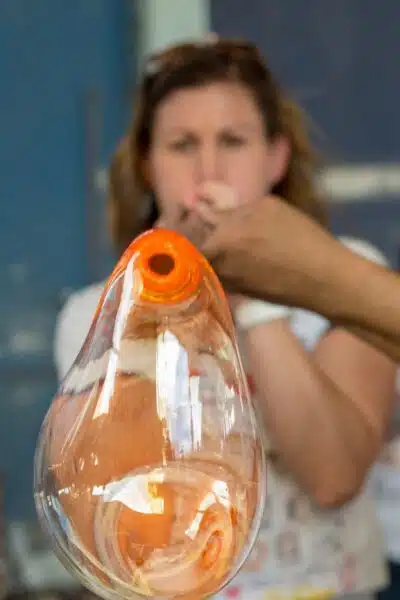 Visit St Peter and St Paul's Church
Set in the busy Market Place, the Grade I Listed Fakenham Parish Church probably existed in some shape or form during Saxon times and this is borne our by ancient stones in the north east corner.
The doorway in the north aisle formed part of the post-conquest Early English building. During the 14th century, the Nave and Chancel were built in the Decorated style with the impressive 35 metre / 115 foot church tower added in the 15th century.
Major restoration took place in Victorian times and the present nave and chancel roofs date from this period, as do the pine pews.
St Peter and St Paul's Church is also home to the Fakenham Christmas Tree Festival, when 55 beautifully decorated Christmas trees decorated by various charities line the aisle of the church.
Something of a Norfolk Christmas tradition, the trees themselves are donated each year by Fakenham Garden Centre, and each has its own collecting bucket. All the money placed in the buckets by visitors goes to charity, so if you do visit, please give what you can.
Several thousand people attend the festival each year and, as well as the trees, you can enjoy tea and coffee, homemade cakes and light lunches. There is also a stall selling Christmas gifts, cakes and books, a raffle and a tombola.
RELATED POST: Norfolk Churches: 16 of the Best to Visit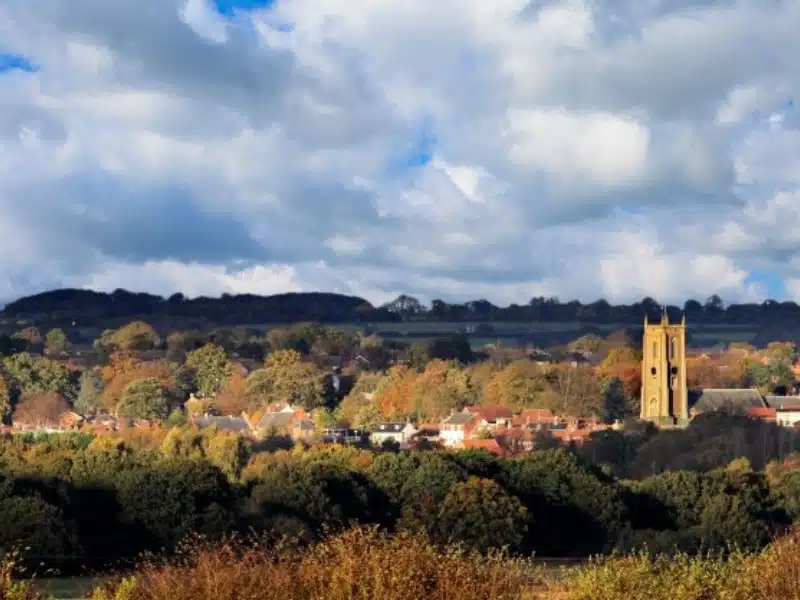 Shop at Fakenham Thursday Market
The historic Fakenham market takes place every Thursday from 8am to 2pm on Market Place.
This weekly market has grocery stalls, local food producers, bric-a-brac, fresh meat and fish, baked goods, plants and hot food stalls, as well as the Fakenham Flea Market at 11am along Millers Walk – it's a great place to grab a bargain!
RELATED POST: 26 Norfolk Food & Drink You Must Try!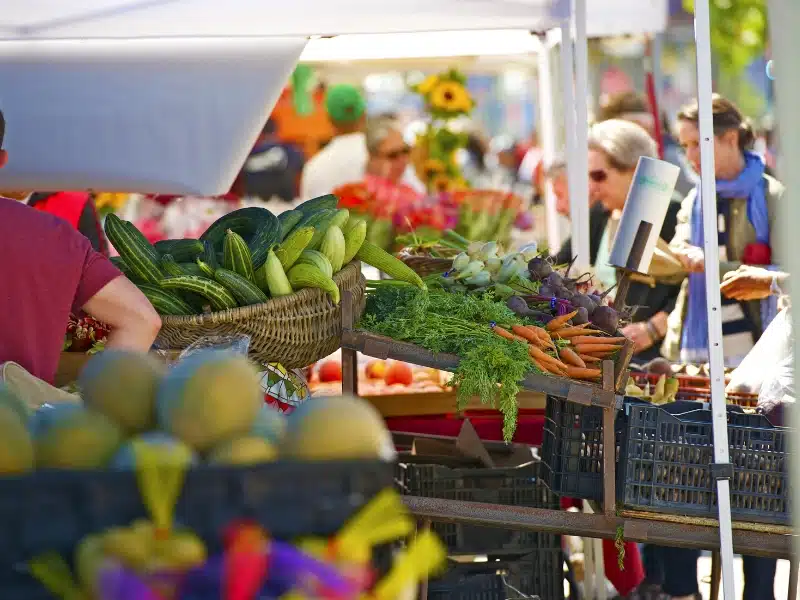 Spend a Day at the Races
Fakenham Racecourse, one of only two in Norfolk – the other in Great Yarmouth, is a thoroughbred horse racing venue of which King Charles III is patron.
The first ever steeplechase race held at Fakenham took place on Easter Monday in 1905 and this annual meeting has taken place every year since except for breaks during the world wars and the more recent pandemic. In 1926, there was the introduction of a hurdle race and after WWII, racing resumed with an additional meeting on Whitsun Bank Holiday Monday.
Today, Fakenham holds six National Hunt fixtures a year, with the most prominent being the Fakenham Silver Cup held in March and Jarrold Ladies Day in June. They make great days out, especially as Fakenham is a relaxed and friendly course where everyone, locals and visitors alike, are welcomed.
The racecourse is also home to the Fakenham Racecourse Caravan, Motorhome and Camping Site, within walking distance of the town and a 20 minute drive to the north Norfolk coast.
RELATED POST: The Eleven Best Campsites in Norfolk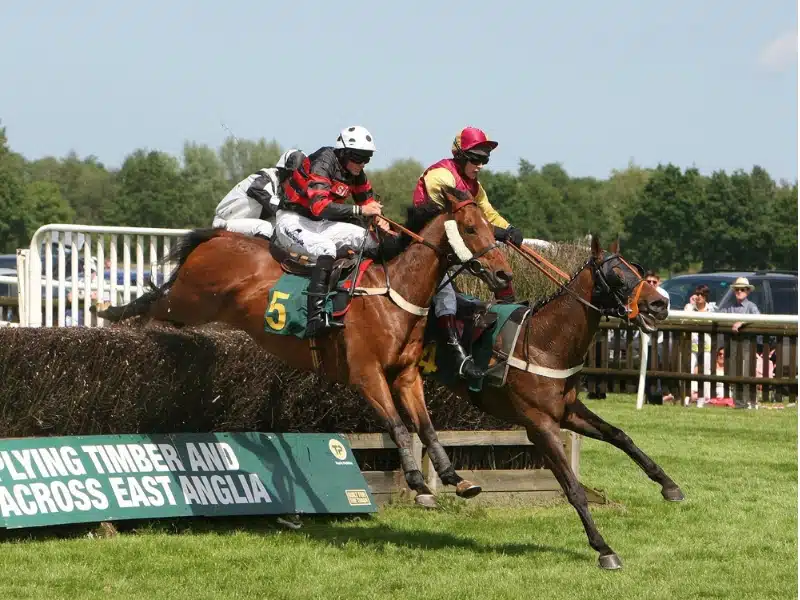 Things to Do Near Fakenham
Discover Pensthorpe Natural Park
One of Norfolk's top attractions, Pensthorpe Natural Park makes a fantastic day out for the whole family and is home to a nature reserve, expansive gardens and lots of stuff to keep the kids happy.
This Norfolk wildlife park, managed by Pensthorpe Conservation Trust, has a diverse range of habitats like wetlands, hedgerows, woodland, water meadows and riverbanks which are home for many species of birds, mammals, invertebrates and plants.
Alongside the nature reserve are four beautiful gardens, including a wildlife habitat garden, planted with species designed to encourage animals and insects to visit, and a gorgoeus meadow-style garden of colour and texture, planted with swathes of perennials and grasses.
For the kids, there is WildRootz, full of interactive trails, zip lines, tunnels and boardwalks, whilst hands-on activities such as wildlife spotting, pond dipping and bird feeding give younger visitors a chance to get closer to Pensthorpe's wildlife.
RELATED POST: The 21 Best Gardens in Norfolk to Visit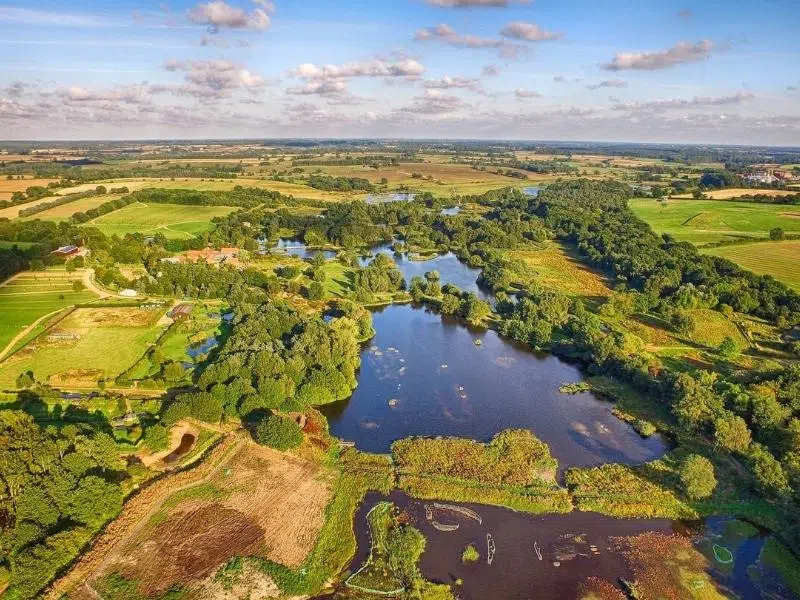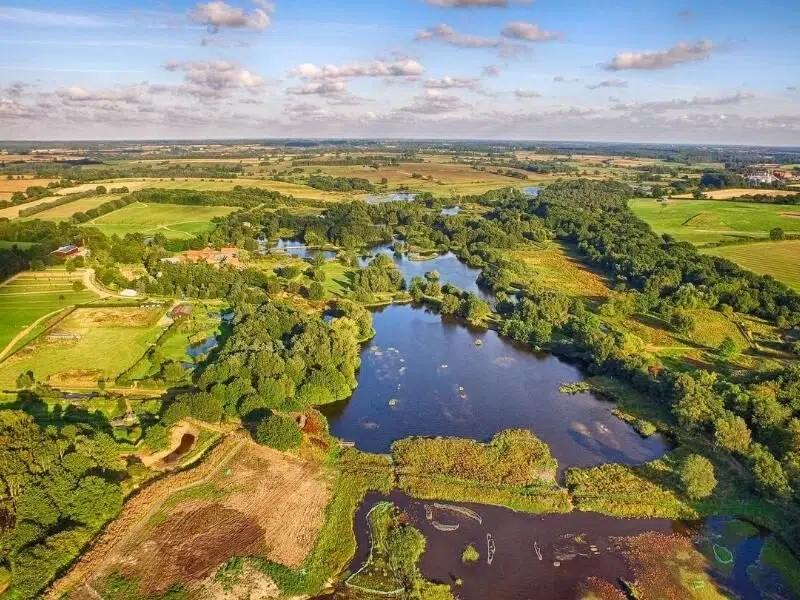 Explore the North Norfolk Coast
Fakenham is within an easy drive or bus ride of some of Norfolk's best beaches – Holkham Beach, Wells-next-the-Sea Beach and Burnham Overy Staithe Beach – one of my favourites because it's so peaceful and remote.
If you want a traditional bucket and spade day, head for Cromer, where you can crab off Cromer Pier, learn to surf, see a Banksy and swim from a lifeguarded beach. Just along the way is Sheringham, with its very own snorkel trail!
For fossil hunting, Happisburgh and West Runton have been the site of ancient finds including 850,000-year-old footsteps in the sand and a 600,000-year-old mammoth. You can still find mammoth teeth on the beaches of the Deep History Coast if you're lucky!
Head west for the windswept beaches and birds of Thornham, Holme and Brancaster, and Norfolk's seals, which you can visit on a boat trip from Blakeney or Morston Quay.
RELATED POST: Norfolk Coast: 8 Amazing Ways to Explore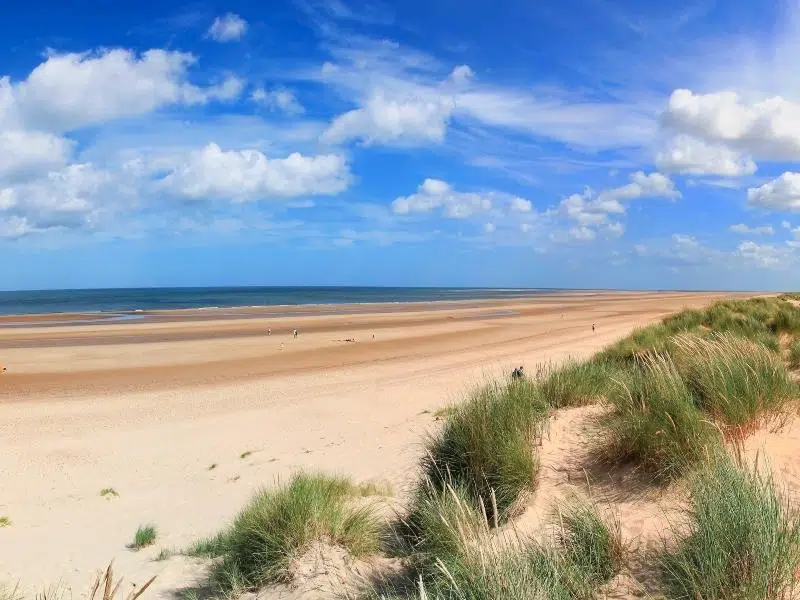 Visit Sulthorpe Moor Nature Reserve
Run by the Hawk and Owl Trust, Sculthorpe Moor nature reserve is one of the county's most accessible reserves, and is internationally recognised for its wildlife. Sculthorpe Moor nature reserve is located in the beautiful Wensum Valley and is a peaceful place with a huge variety of wildlife in a rich and unusual mosaic of woodland, fen and reedbed habitats.
Boardwalks make access easy for everyone, and lead you through the reserve, visiting all the best areas. Bird feeders and nest boxes are sited along the way, adding further interest and there are viewing platforms and places to sit and relax along the way.
RELATED POST: Norfolk Nature Reserves – Ultimate A-Z Guide
Discover Little Walsingham
Between Fakenham and Wells, the Saxon village Walsingham tells the story of religious pilgrimage which dates back to the 11th century, when The Lady Walsingham received visions of the Virgin Mary.
Today's pretty rural village, which is actually the villages of Great Walsingham and Little Walsingham together has plenty of 14th and 15th century buildings. Guided tours of Walsingham give visitors an insight into the fascinating history of one of the most famous, but almost undiscovered villages, in England.
Visit The Shirehall Museum, Walsingham's Georgian Courtroom where you can discover village history from 1061, and the explore Walsingham Abbey, where the grounds surrounding the historic house are famous for the ruins of the medieval Priory of our Lady of Walsingham.
You can also pick up the Wells & Walsingham Light Railway, a 10 1/4 inch narrow gauge steam railway that is the smallest in the world! The steam trains travels between Walsingham and Wells-next-the-Sea, and the journey takes around 30 minutes.
There is no need to book in advance as the railway operates on a first come first served basis – you may have to queue on busy days. If they are not too busy, dogs can enjoy the ride too.
RELATED POST: Steam Train Norfolk: 8 of the Best Journeys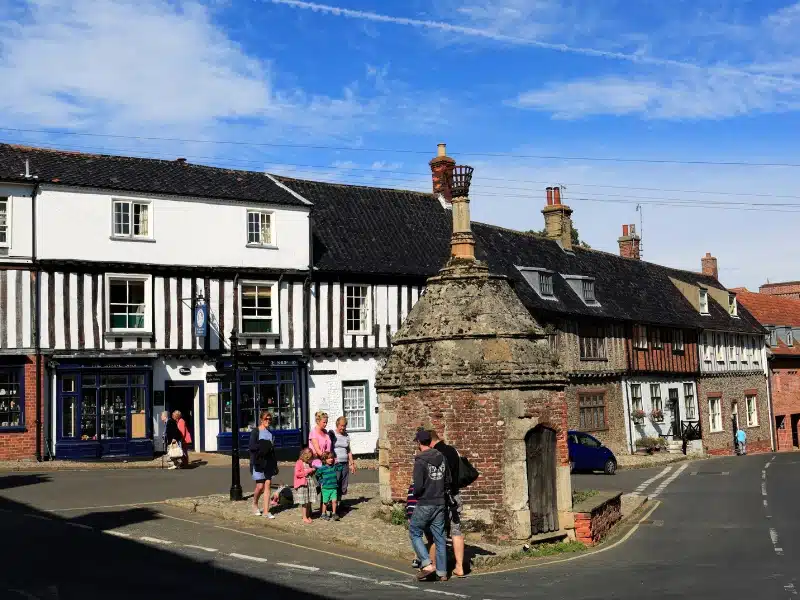 Explore RAF Sculthorpe Heritage Centre
RAF Sculthorpe Heritage Centre was once Norfolk's largest and most strategically important American airbase, home to 10,000 personnel. For over a decade, RAF Sulthorpe was an atomic deterrent against the Soviet Union.
The fascinating heritage centre tells the history and stories of North Norfolk's only USAF atomic base through many exhibits, helpful volunteers and even the wreckage of a crashed B-29!
The centre is open on the first Sunday of the month from February to November, between 10am and 4pm.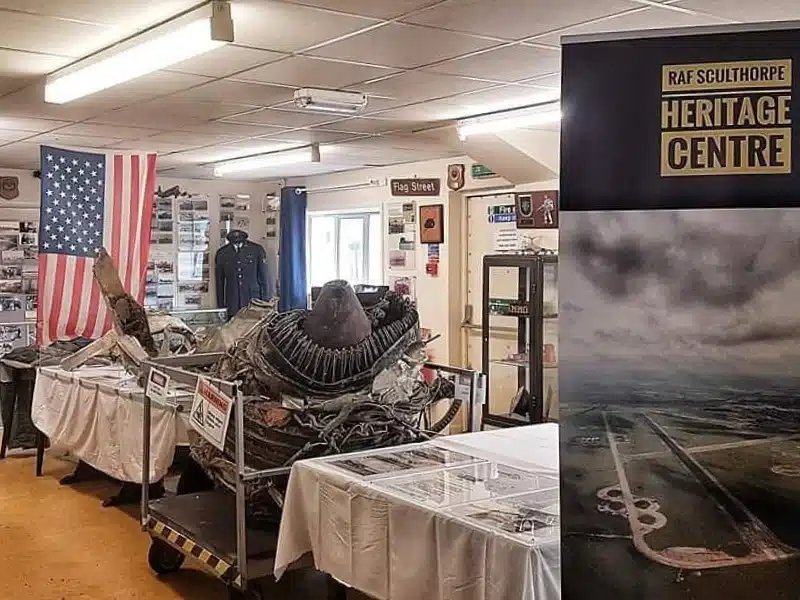 Enjoy a Picnic at Creake Abbey
Between Fakenham and Burnham Market is Creake Abbey, the impressive flint-walled ruins of an Augustinian abbey dating from 1206. Located in a beautiful water meadow setting, the ruins are managed by English Heritage. Free to enter, they are the perfect place for a picnic.
Next door, you'll find a collection of independent shops, Creake Abbey Café and Food Hall, and the location of the popular Creake Abbey farmers market held on the first Saturday of each month.
The shop is small but does offer a brilliant food experience, with everything from fresh sourdough bread, colourful salads, Norfolk cheeses and freshly prepared deli items, to frozen meals along with fruit and vegetables in season, soft drinks, wine and beer. So if you didn't make a picnic, you can get one here!
Just a few miles away is Burn Valley Vineyard, one of six vineyards in Norfolk producing award-winning English wines, where you can enjoy wine tastings and other lively events.
RELATED POST: The Best Norfolk Farmers Markets You Won't Want to Miss!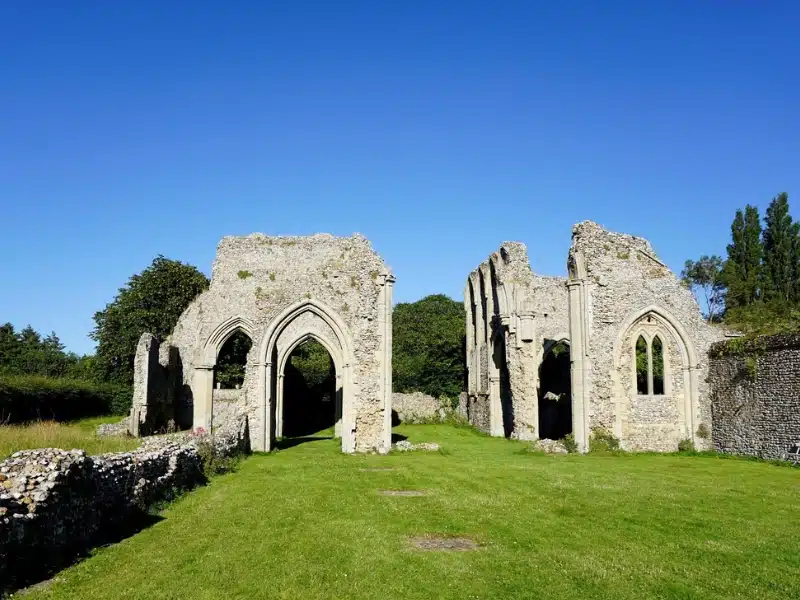 Discover Thursford
Just six miles north east of Fakenham is Thursford, home to the Thursford Collection. Billed as the world's largest collection of steam engines and organs, fairground rides and the Wurlitzer, a kind of electric piano. It's a curious place, but steam lovers will enjoy visiting, and their Christmas show is legendary!
RELATED POST: Christmas in Norfolk 2023 – 40+ Dates for Your Diary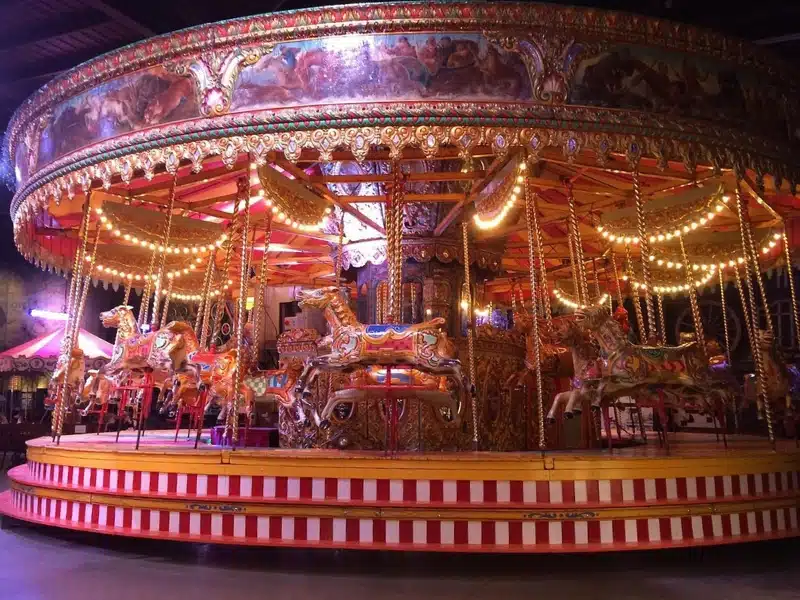 Visit Houghton Hall and Gardens
Houghton Hall was built in the 1720s for Great Britain's first Prime Minister, Sir Robert Walpole, and is one of Norfolk's finest stately homes, along with Holkham Hall, Felbrigg Hall and Blickling Hall.
Houghton's sumptuous staterooms are lavishly endowed with pictures, statuary and fine furniture. A collaboration between the two defining British architects of the time, Colen Campbell and James Gibbs, and with lavish interiors by William Kent, Houghton was designed and built to reflect the wealth, taste, and power of its owner.
Walpole also amassed one of the greatest collections of European art in Britain, and Houghton became a museum to the collection. Today, Houghton is the home of the Marquess of Cholmondeley, a direct descendant of Sir Robert Walpole.
Houghton Hall's five-acre award-winning walled garden is a riot of colour in summer and an absolute joy to visit. The old kitchen garden has been divided into several contrasting garden 'rooms', including a spectacular double-sided herbaceous border, an Italian garden, a formal rose parterre and fruit and vegetable gardens.
Elsewhere in the parkland surrounding Houghton Hall, you'll find the contemporary Sculpture Park, showcasing the work of world-renowned artists and a model soldier musuem.
RELATED POST: 14 Stately Homes in Norfolk to Visit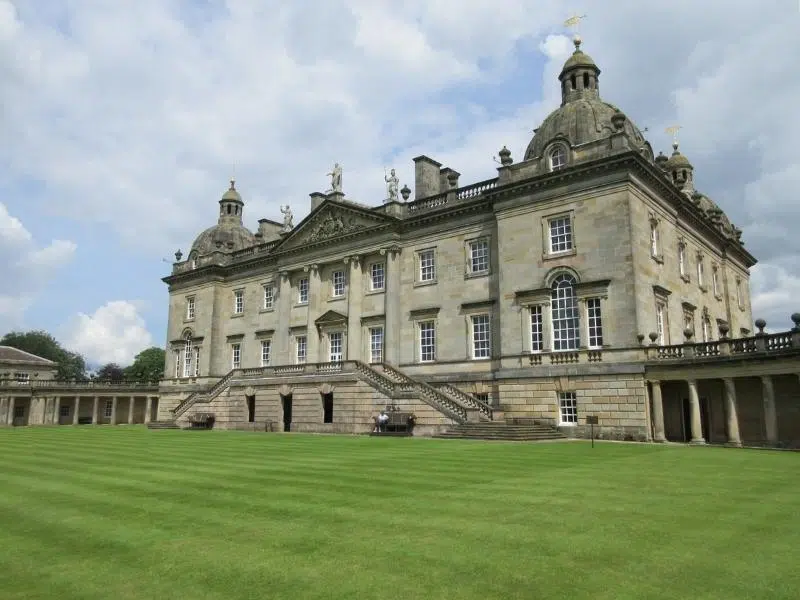 Try the Local Gin!
Archangel Distillery
Archangel Gin is handcrafted just outside Fakenham. With a distinctive Norfolk heritage, Archangel gins are made in small-scale production on a working farm, using local produce and local labour.
Archangel Gin is rich and deep, with the mix of juniper, verbena and sea-buckthorn botanicals creating a delicious fragrance, topped off by sharp citrus notes which make your mouth water.
You can take a tour of the Archangel Distillery where you can learn about the history of gin, and the story of Archangel, visit the still room and see how Archangel Gin is made. Afterwards, you get to taste three different gins!
Black Shuck Distillery
Black Shuck has been producing a wide variety of gins, as well as rum and vodka, at their distillery in the centre of Fakenham since 2012. Named after the legend of Black Shuck, and using ingredients from the bountiful North Norfolk Coast, this really is a gin rooted in the county.
Their award-winning Norwich Dry Gin includes the Norfolk botanicals of sea buckthorn and lavender. Alongside coriander, juniper and bitter orange peel, these flavours give the gin a distinctive fruity taste, perfect for a G&T.
Pop in to pick up a bottle of your favourite tipple or for a gin tasting, but make sure to call or email in advance to book a mutually convenient time.
RELATED POST: 11 Norfolk Gins You Have To Try!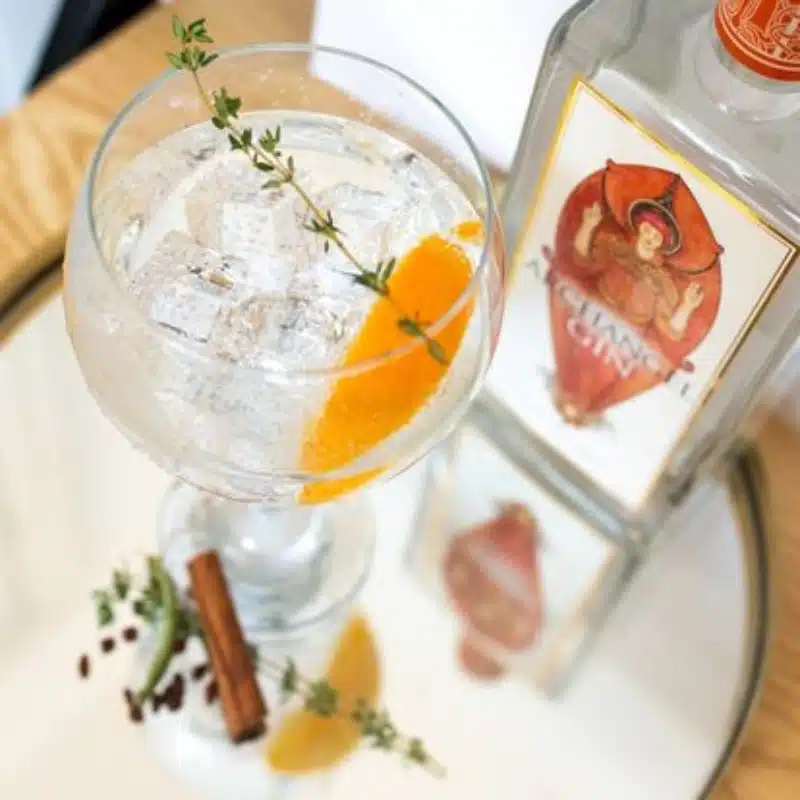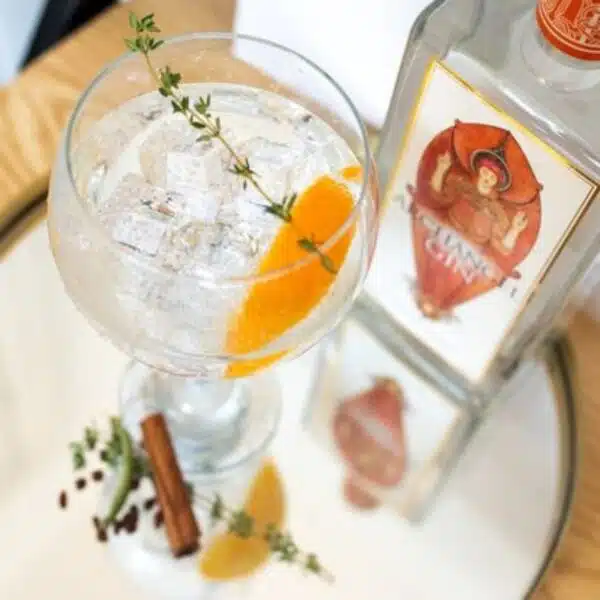 Discover Gressenhall Farm and Workhouse
Gressenhall Farm and Workhouse, just 10 miles south of Fakenham, is a family-friendly venue with a recreated historic workhouse, a heritage farm with rare breeds, agriculture and rural life displays and steam engines.
At this museum of Norfolk life, you can stand in an evocative workhouse setting, face to face with projections of staff and inmates, who share their tragic and inspirational stories first-hand, helping you to understand what life and work there was like.
The building is the perfect backdrop to discover rare surviving relics from the Gressenhall Museum's nationally important workhouse collection – the largest such collection in the country.
Gressenhall is also the starting point for several Norfolk walks, including the Nar Valley Way and the Wensum Way.
RELATED POST: Walks in Norfolk – 14 of the Best Trails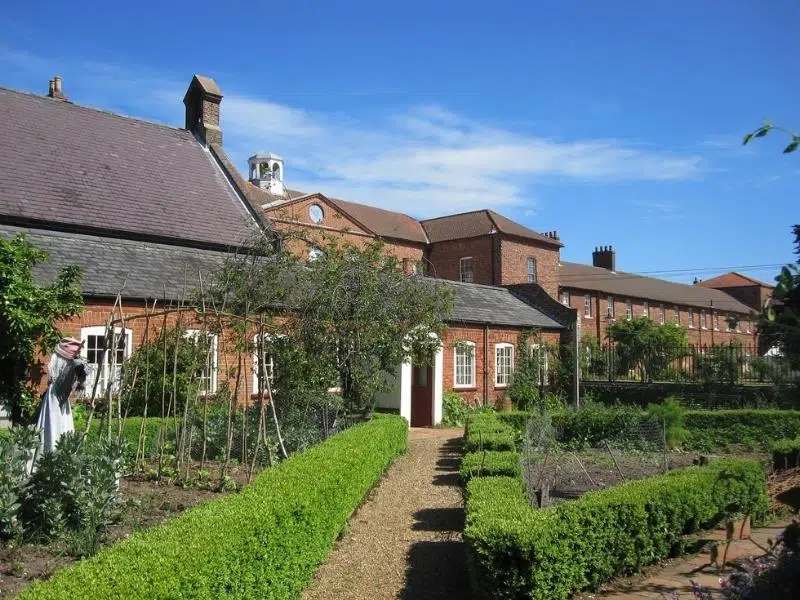 Explore Castle Acre
A 12 mile drive from Fakenham is the tranquil rural village of Castle Acre, home to an extraordinary wealth of history. The village is a complete Norman planned settlement, the work of a baronial family, the Warennes, during the 11th and 12th centuries. Alongside the village, the settlement includes a castle, parish church and Priory.
The Norman ruins of Castle Acre Castle, founded soon after the Battle of Hastings by the first William de Warenne, a close associate of William the Conqueror, are a superb and well-preserved example of a motte and bailey castle, and remain one of the most impressive Norman earthworks in the country.
I loved going to the Castle Acre Castle as a kid, and taking my children, as there are so many grassy areas to run around and have fun. We used to roly-poly down the ancient grass-covered earthworks which surround the site of the ruined castle before heading into the pretty village through the historic Bailey Gate for an ice cream, or Norfolk cream tea (if we were very lucky!).
The (mostly) ruined Castle Acre Priory is across the small village and you can see the beautiful west end church gable, prior's lodging and remains of many of the buildings around the cloister. The beautiful recreated herb garden grows some of the herbs the monks would have used for medicinal, culinary and decorative purposes.
RELATED POST: 12 Norfolk Castles for You to Explore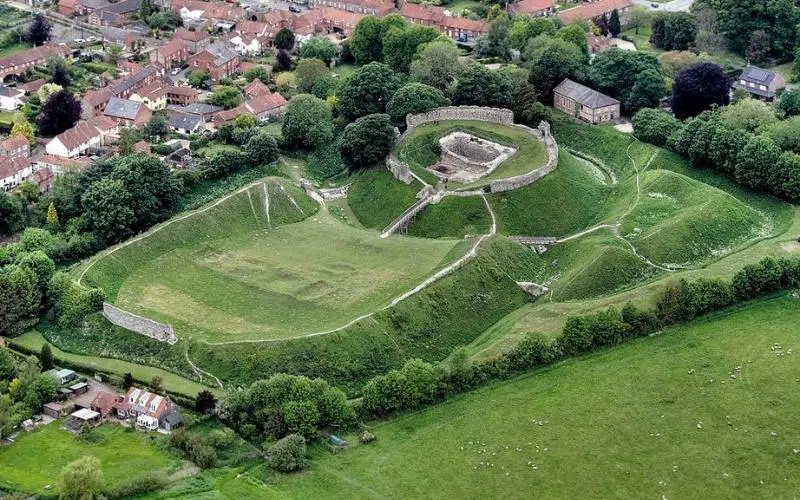 Where to Stay in Fakenham
Fakenham has a good selection of hotels and B&Bs, and some great campsites nearby. Whatever your accommodation style, we've rounded up the best options for your Fakenham trip.
The Crown Fakenham – Historic Georgian coaching inn right in the centre of town.
Sculthorpe Mill – Award-winning watermill riverside pub with boutique hotel rooms just outside town.
Melody House B&B – Welcoming and traditional luxury bed and breakfast in nearby Great Ryburgh.
The Ostrich Inn – Traditional Norfolk village pub and restaurant with stylish rooms in nearby South Creake.
The Rampant Horse – Simple B&B accommodation in a lively town centre pub.
Jeffrey's B and B – Tranquil bed and breakfast surrounded by beautiful countryside in Houghton St. Giles.
Blue Boar Inn – A boutique bed & breakfast with the option of evening dining and a licensed bar in Great Ryburgh.
Fakenham Holiday Homes – There are lots of holiday cottages and Airbnb-style holiday rentals in and around Fakenham. From one-bed cottages to huge converted barns, use VRBO to search for the best deals and find availability on Fakenham holiday accommodation.
Fakenham Fairways – 50 tent, motorhome and caravan pitches, an adult-only area, a family field and a 9-hole pitch and putt golf course.
North Norfolk Glamping – Luxury Norfolk camping in safari pods with hot tubs, bell tents and star gazer geometric domes.
The Oaks Glamping – A peaceful haven with big skies, beautiful natural surroundings with wildflowers and a butterfly meadow in Colkirk.
RELATED POST: Norfolk Glamping – 15 of the Best Spots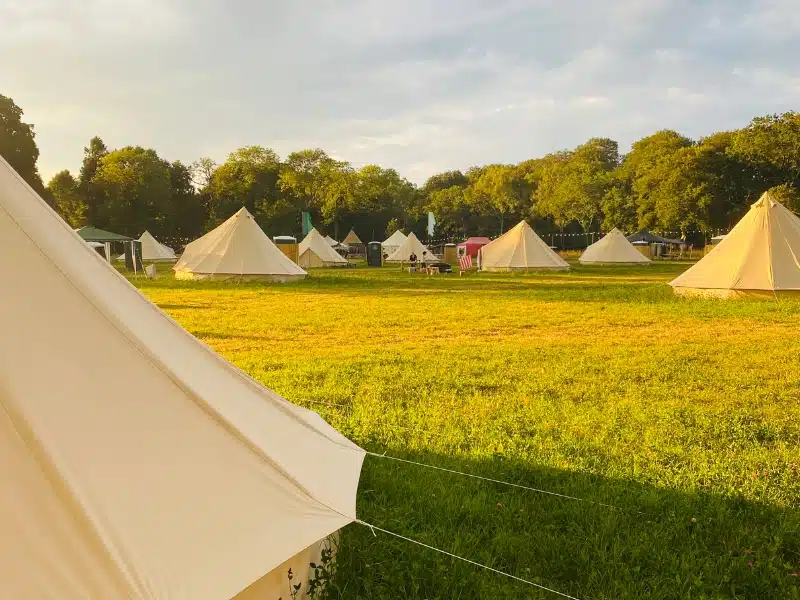 Have I missed your favourite Fakenham hotel, campsite, restaurant or activity from my list? Let me know in the comments so I can check it out and add it to this round-up!
Love it? Pin it!