Norfolk is a county full of fascinating history, and that means there are also castles! Dotted around the gorgeous landscapes and pretty rural villages of Norfolk are twelve historic castles for you to explore.
Whether you're looking for castles in Norfolk which are well-preserved and tell their story through their architecture and interiors, atmospheric tumble-down ruins where kids can run around playing sword fights, or grassy earthworks which remain a mystery, there's a castle in Norfolk for you!
RELATED POST: The Ultimate Local's Guide to Norfolk England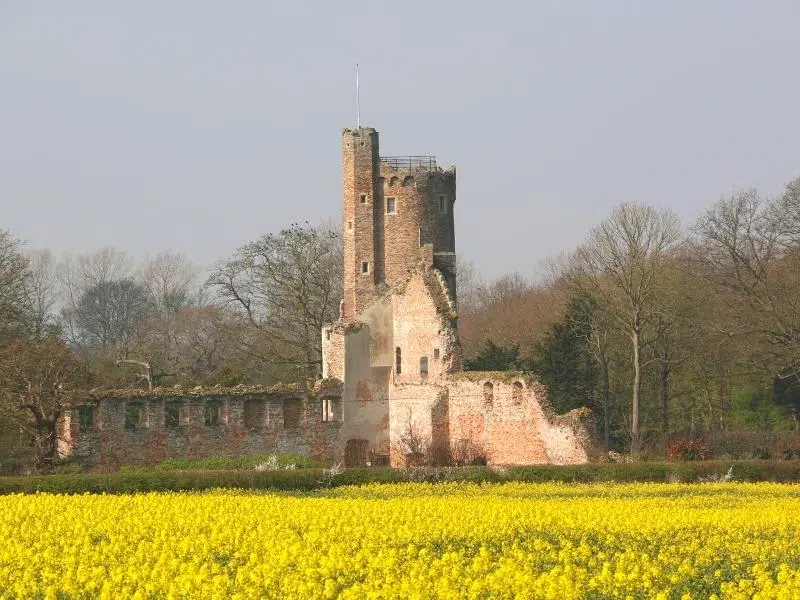 This post may contain affiliate links. If you book something I recommend, I make a small commission without affecting the price you pay!
Scroll down for an interactive map of the castles of Norfolk.
A-Z of the Best Norfolk Castles to Visit
Baconsthorpe Castle
Located close to the village of Baconsthorpe in beautiful North Norfolk, are the extensive ruins of Baconsthorpe Castle, a moated and fortified 15th century manor house.
Baconsthorpe Castle tells the story the rise and fall of a leading Norfolk family, the Heydons, who built, enlarged and modernised this castle over 200 years, before it was finally abandoning in mid-17th century.
The castle has an interesting history over several hundred years of bad judgment and the family living beyond the money they made in the fabric trade, all of which led to their eventual downfall.
During the 1940s, Baconsthorpe Castle was given to the Ministry of Public Works, and it was later opened to the general public. Today, it is a Grade I and Grade II listed building, and is also a scheduled monument.
Opening Times: Open any reasonable time during daylight hours.
Address: Castle Road, Baconsthorpe NR25 6LL
Website: https://www.english-heritage.org.uk/visit/places/baconsthorpe-castle/
Cost: Free entry for all.
Parking: Free for members with a valid English Heritage car sticker on display, and £2 for non-members.
RELATED POST: 21 Amazing Things To Do in Sheringham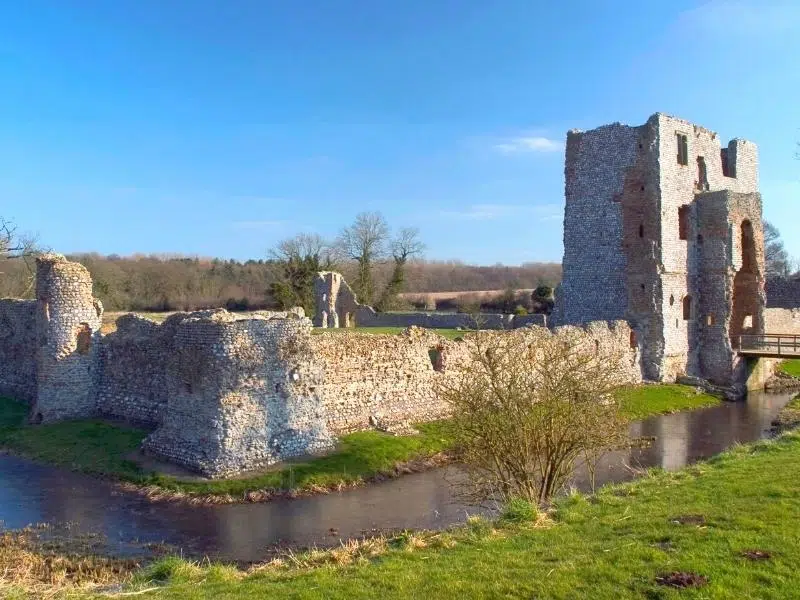 Buckenham Castle
Old Buckenham Castle and Buckenham Castle are two castles adjacent respectively to the villages of Old Buckenham and New Buckenham.
There is very little remaining of Old Buckenham Castle, just a few earth mounds. But in 1145, a new castle was built by William d'Albini, two miles to the south east, at New Buckenham, and part of this remains today.
The foundations of this circular stone shell keep, the oldest in England, are well worth a visit if you're in the area, especially as local legend says that the castle was where the Gunpowder Plot of 1605 was hatched!
The keep was an almost perfectly circular moat, enclosing two outer baileys and an inner bailey. Within the inner bailey was the heart of the castle, a circular stone keep which is all that remains standing today. Built of local flint, the keep had massive walls, up to 3.3m thick at the base, and rising to a height of 12 metres, and the whole was 18 metres in diameter.
The moat and the earth ramparts are all that can be seen today, after the demolition in 1649 which was ordered by Parliament after the end of the English Civil War. It's a beautifully tranquil spot to visit in Norfolk, surrounded by trees and greenery, with no tourist trappings whatsoever.
Opening Times: 7am to 7pm Monday to Saturday, and 8am to 12noon on Sundays (when King's Stores are open).
Address: Castle Hill Road, New Buckenham NR16 2AG
Website: this castle doesn't have a website, but you can collect the key for the gate from King's Stores in the village (King St, New Buckenham NR16 2AF).
Cost: There is a small fee to help with the upkeep of the grounds.
Parking: In the village, along the B113 or Chapel Street.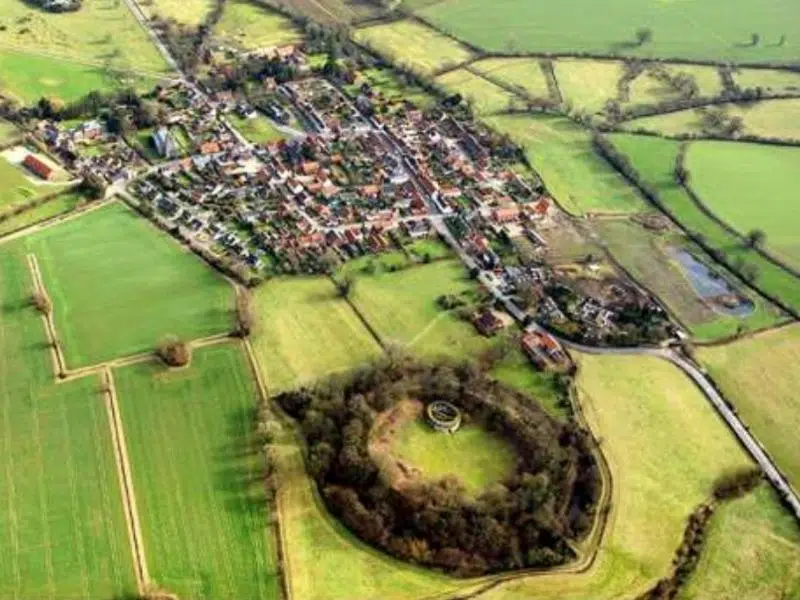 Burgh Castle
The fantastic 3rd century Burgh Castle is an historic shore fort that dates back to Roman times, when it was constructed as a defence system against the bloodthirsty Saxon raids that occurred along the rivers of the east and south coasts of Britain.
Because Burgh Castle has existed for such a long time, it has seen a lot of changes through the years, and had many uses. It is believed to have been occupied by a monastic settlement between the 7th and 9th centuries, and was the home of a Norman motte and bailey castle between the 11th and 12th century, amidst the Norman Conquest of England during the 1060s.
Today, the castle is owned by the Norfolk Archaeological Trust and is one of best tourist attractions near Great Yarmouth. The views inland from the ruins across the River Yare and Norfolk Broads are spectacular, and you can see Berney Arms Mill, the tallest drainage mill in the country, in the distance.
You can walk part of the Angles Way National Trail from Burgh Castle to Great Yarmouth and Gorleston-on-Sea, along the Yare and Breydon Water, where the sea meets the beautiful Norfolk Broads.
Opening Times: Open any reasonable time during daylight hours.
Address: Butt Lane, Burgh Castle, Great Yarmouth NR31 9QB
Website: https://www.english-heritage.org.uk/visit/places/burgh-castle/
Cost: Free entry for all.
Parking: There is a free car park (not managed by English Heritage) in nearby Butts Lane which is is locked at 6pm. It is a 600m walk from the car park to Burgh Castle.
RELATED POST: 13 of the Best Norfolk Broads Walks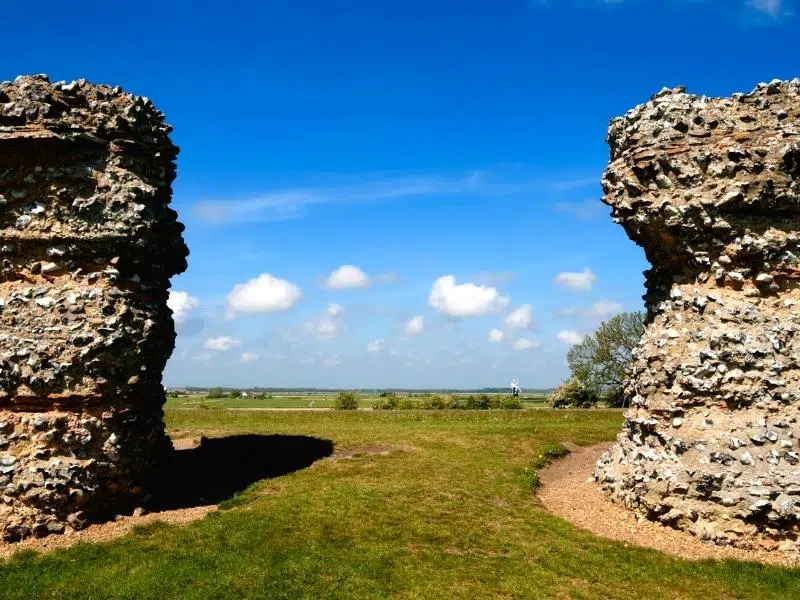 Caister Castle
Caister Castle is believed to have been constructed originally in the 15th century, between the years 1432 and 1446 by Sir John Fastolf, a prominent late medieval landowner who inspired William Shakespeare's 'Falstaff'.
The castle saw a large amount of action and conflict during its 'working' lifetime, and was badly damaged during 1469 after the Duke of Norfolk (whose seat, despite his title, is Arundel Castle in Sussex) captured and besieged it. The castle then fell into ruin and disrepair in the early 17th century, after a new manor house was built in the same place.
Today, you can see the remains of the brick-built castle, surrounded by a moat. The original 27m tower is still standing and has been maintained so visitors can climb to the top for panoramic views of the surrounding landscape, coast and beaches.
Caister Castle is also well-known for its car museum, which holds the largest private collection of motor vehicles in Britain, and includes many rare veteran, vintage, classic, sports and touring automobiles and motorcycles.
It is not possible to visit just the castle and grounds – the ticket price covers the castle, grounds and car museum, making this an expensive trip if you just want to see the castle. Although if you are interested in cars, that's a completely different matter!
Opening Times: 16th May to 30th September from 10am to 4.30pm daily except Saturdays, when the castle is closed.
Address: Castle Lane, Caister-on-Sea NR30 5SN
Website: https://www.caistercastle.co.uk/castle
Cost: Adults £20, Seniors £18, Families £55, Kids 5-15 £10, Under 5s are free.
Parking: On site and free.
RELATED POST: 21 Museums in Norfolk You Won't Want to Miss!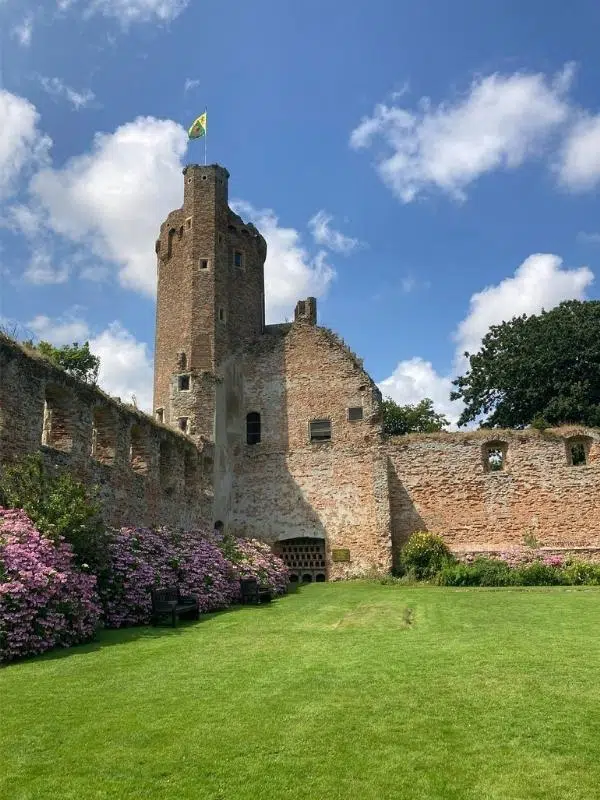 Castle Acre Castle
A 25 minute drive from King's Lynn is the tranquil rural village of Castle Acre, home to an extraordinary wealth of history. The village is a complete Norman planned settlement, the work of a baronial family, the Warennes, during the 11th and 12th centuries. Alongside the village, the settlement includes a castle, parish church and Priory.
The Norman ruins of Castle Acre Castle, founded soon after the Battle of Hastings by the first William de Warenne, a close associate of William the Conqueror, are a superb and well-preserved example of a motte and bailey castle, and remain one of the most impressive Norman earthworks in the country.
I loved going to the Castle Acre Castle as a kid, and taking my children, as there are so many grassy areas to run around and have fun. We used to roly-poly down the ancient grass covered earthworks which surround the site of the ruined castle before heading into the pretty village through the historic Bailey Gate for an ice-cream, or Norfolk cream tea (if we were very lucky!).
The (mostly) ruined Castle Acre Priory is across the small village and you can see the beautiful west end church gable, prior's lodging and remains of many of the buildings round the cloister. The beautiful recreated herb garden grows some of the herbs the monks would have used for medicinal, culinary and decorative purposes.
There are some lovely Castle Acre walks in the surrounding countryside and the village sits on the Nar Valley Way, a delightful Norfolk walking route from King's Lynn to Gressenhall.
Opening Times: Open any reasonable time during daylight hours.
Address: Pye's Lane, Castle Acre, King's Lynn PE32 2XB
Website: https://www.english-heritage.org.uk/visit/places/castle-acre-castle-and-bailey-gate/
Cost: Free entry for all.
Parking: There is a free small car park off Pye's Lane at the north east corner of the castle grounds.
RELATED POST: All the Best Things To Do in King's Lynn Norfolk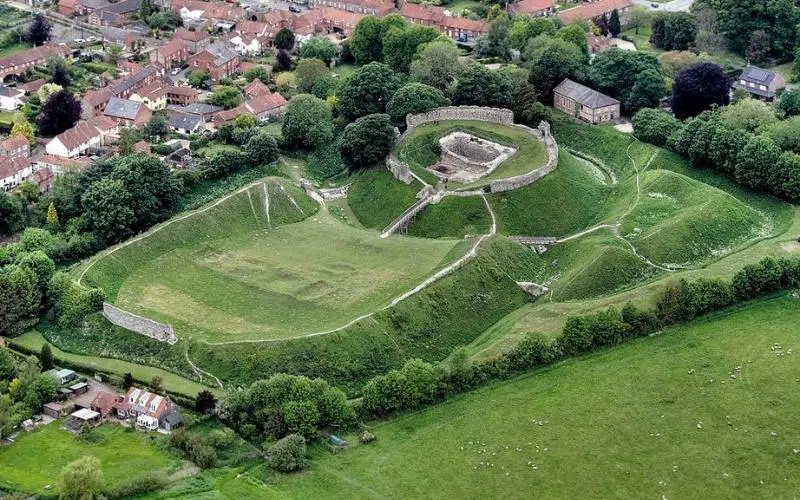 Castle Rising
Castle Rising Castle is one of the most famous 12th century castles in England. The imposing stone keep was built in 1140CE and is amongst the finest surviving examples of its kind in Great Britain.
The massive surrounding earthworks, not only ensure that Rising is a castle of national importance, but give lots of opportunity for kids to run off steam and play at sword fighting!
I love to visit Castle Rising, especially with children. It's one of the few castles where you can get up close to the atmospheric and unspoilt interiors, full of hidden corners, steps worn smooth over centuries, and arrow slits with incredible Norfolk views.
Opening Times: 10am to 6pm or dusk if earlier.
Address: Castle Rising, Lynn Road, Kings Lynn PE31 6AH
Website: https://www.english-heritage.org.uk/visit/places/castle-rising-castle/
Cost: Free for members of English Heritage, otherwise Adults £5, Kids 5-17 £3.50, Concession £4, Families £15.50, Under 5s are free.
Parking: On site, free of charge.
RELATED POST: 30 of the Very Best Things To Do in Norfolk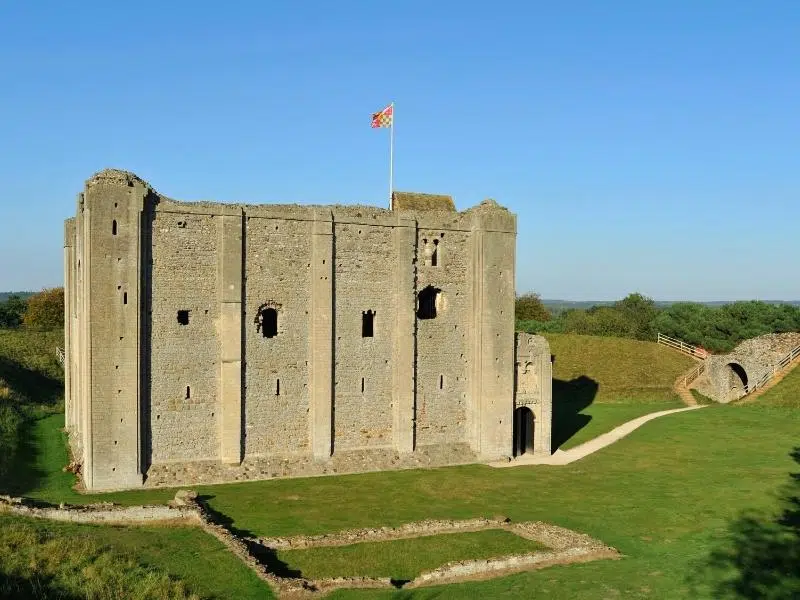 Denton Castle
The remains of Denton Castle, one of a few well preserved small motte and bailey castles in Norfolk, are in Darrow Wood. This small, hedge-enclosed, lightly wooded pasture field is home a number of earthworks including Denton Castle, although you'll have to look carefully amongst the trees and bushes to see anything!
It is thought that Denton Castle was built after 1088, following the Norman invasion of England, probably by William d'Albini, who linked his estate at Denton to that at Buckenham, where he also built a castle.
Opening Times: Dawn to dusk.
Address: Darrow Green Road, Denton, Harleston IP20 0AY
Cost: Free entry for all.
Website: https://www.nationaltrust.org.uk/darrow-wood
Parking: Very limited road side parking with a walk across fields required.
What is a Motte and Bailey Castle?
A motte-and-bailey castle is a European fortification with a wooden or stone keep situated on a raised area of ground called a motte, accompanied by a walled courtyard, or bailey, surrounded by a protective ditch and palisade. These castles were built across northern Europe from the 10th century onwards, spreading from France, into the Holy Roman Empire in the 11th century. The Normans introduced the design into England and Wales. By the end of the 13th century, the design was largely superseded by alternative forms of fortification, but the earthworks remain a prominent feature around the United Kingdom.
Middleton Mount
Middleton Mount is the remains of a medieval castle. The castle was built by the Normans on a pre-existing Anglo-Saxon estate, a common practice after the Norman conquest of England.
Middleton Mount was a motte and bailey castle built during the Norman period. The motte is 49m in diameter and protected by an 11m wide ditch, and would have been topped by a wooden keep. The castle's crescent-shaped bailey and three rectangular enclosures of uncertain medieval date lay alongside the motte.
The site was excavated in 1987 before the development of much of the surrounding land for local housing. The castle was bought by the Norfolk Archaeological Trust in 2006 and is a scheduled monument. Surrounded by a grassy field, with resident sheep, it's a peaceful place for a wander, and there are steps to the top.
Opening Times: Daylight hours.
Address: Middleton Mount, Hall Orchards, Middleton, King's Lynn PE32 1YA
Cost: Free entry for all.
Website: https://explorewestnorfolk.co.uk/venues/middleton-mount-71/
Parking: Visitors may park in Mount View Close.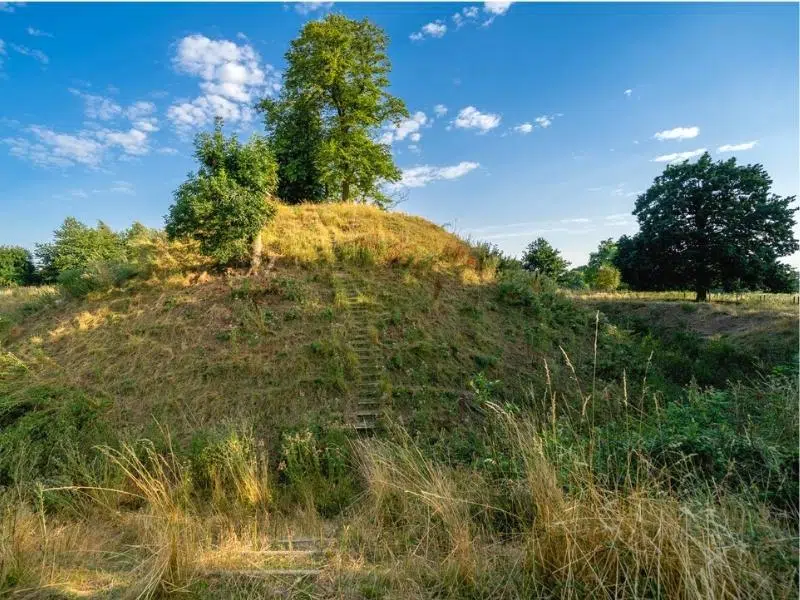 North Elmham Castle
North Elmham Castle, or North Elmham Chapel, is an mysterious site with an interesting history. The ruins are those of a small Norman chapel of unique design, which was converted into a small castle whose defensive banks and moats still surround the site.
In the 14th century, Bishop Henry le Despencer held the manor of North Elmham. He turned the chapel into a house and in 1388 obtained a royal licence to fortify. He was not a popular man, especially in Norfolk where he was despised for his brutal supression of the Peasants' Revolt in 1381, and this fortification suggests he needsed the protection of castle walls.
When Elmham passed into the hands of the notorious Thomas Cromwell the 'castle' site was assigned to the vicarage and gradually fell into ruin.
Opening Times: Open any reasonable time during daylight hours.
Address: Church Lane, North Elmham, Dereham NR20 5JU
Cost: Free entry for all.
Website: https://www.english-heritage.org.uk/visit/places/north-elmham-chapel/
Parking: No designated car park but on-street parking is available in Church Lane.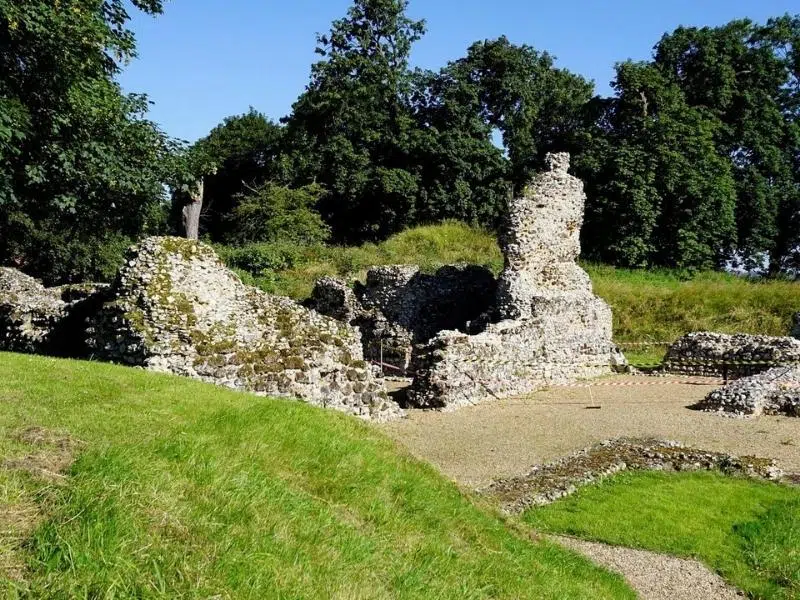 Norwich Castle
The daddy of Norfolk's castles, Norwich Castle is built on a large artificial mound in the centre of Norfolk's capital city, and consists of a magnificent Norman keep constructed in 1095 by William II.
Norwich Castle is a medieval royal fortification, comissioned by William the Conqueror who ordered its construction in the aftermath of the Norman conquest of England. The castle was used as a gaol from 1220 to 1887, and is now home to the excellent Norwich Castle Museum and Art Gallery and the Royal Norfolk Regimental Museum.
The historic national importance of the Norwich Castle site was recognised in 1915 with its listing as a Scheduled Ancient Monument. In 1954, the castle buildings, including the keep, attached gothic style gatehouse and former prison wings, were given Grade I listed building status.
Norwich Castle is one of a group of twelve heritage sites in Norwich, which were brought together as an international showcase of English urban and cultural development over the last 1,000 years, including architecture from the Norman, medieval, Georgian, Victorian and modern eras.
The other eleven sites are The Great Hospital (1249); The Halls – St Andrew's and Blackfriars' (1307–1470); The Guildhall (1407–1424); Dragon Hall (1427–1430); The Assembly House (1754–1755); St James Mill (1836–1839); The Cathedral of St John the Baptist (1884–1910); Surrey House (1900–1912); City Hall (1936–1938) and The Forum (1999–2001). You can explore these historic buildings on the Norwich 12 Walk, which is a self-guided route around the city.
The Castle site comprises the 900 year old Castle, and a large gallery complex converted from the city's Victorian prison, which houses internationally important collections in archaeology, natural history, regimental history, and fine, decorative and contemporary art, making it a top Norwich attraction.
Please note due to the major redevelopment project Norwich Castle: Royal Palace Reborn, the original medieval castle, dungeons and battlements are currently closed to the public.
Opening Times: 10am to 5pm Monday to Saturday and 1pm to 5pm on Sundays.
Address: Castle Hill, Norwich NR1 3JU
Cost: Adults: £7.00, Concession £6.70, Kids 4-18 £6.00, Families £18.30-£24.60, Twilight (one hour before closing) £2.50, Under 4's are free.
Website: https://www.museums.norfolk.gov.uk/norwich-castle
Parking: The closest car park is situated in the Castle Quarter shopping mall. Levels K to N offer the shortest route to Norwich Castle.
RELATED POST: A Local's Guide to Norwich Norfolk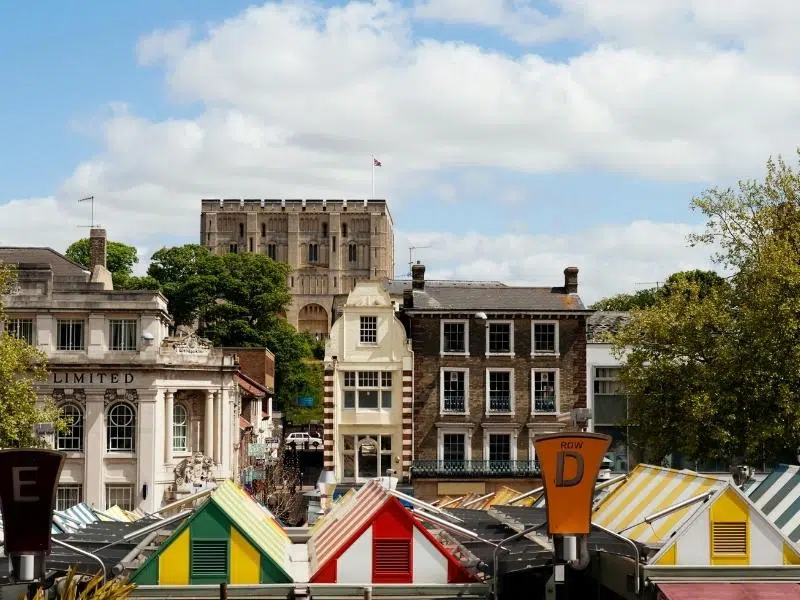 Thetford Castle
Thetford Castle is a 12th century medieval motte and bailey castle, which replaced the original Norman ringwork known as Red Castle, built in the 11th century.
Thetford Castle was largely destroyed in 1173 by Henry II, although the huge motte, the second largest man-made mound in England at over 12 metres, remains intact. The remains are known variously as Castle Hill, Castle Mound and Military Parade.
The motte, recognised as a scheduled monument, now forms part of a Castle Park, a lovely urban green space in Thetford. The mount has steps and tracks up to the top and is a magnet for kids (and dogs!), who will love running up and down the mounts and practicing being king of the castle!
Opening Times: 24 hours a day.
Address: Castle St, Thetford IP24 2HG
Cost: Free entry for all.
Website: https://www.britainexpress.com/attractions.htm?attraction=3089
Parking: The closest car park is the free public parking on Pike Lane, opposite Castle Park.
RELATED POST: 18 Top Things to Do In Thetford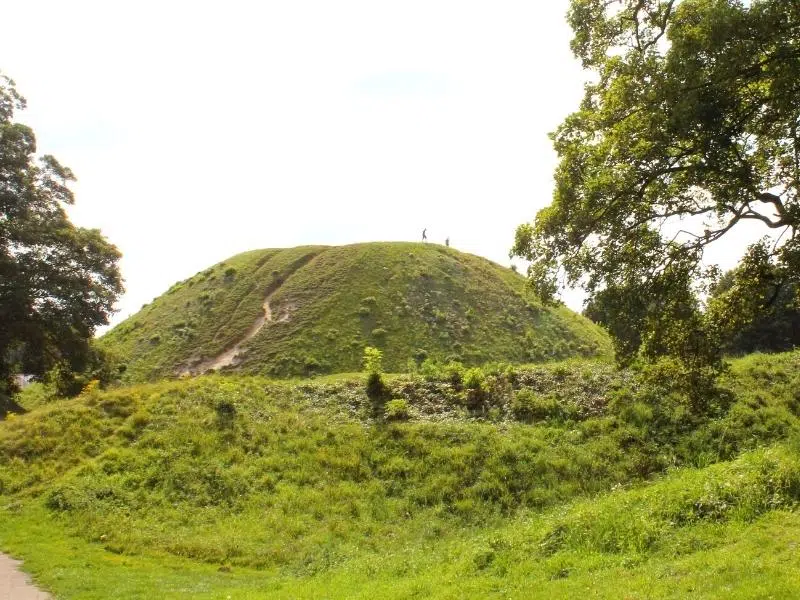 Weeting Castle
The ruins of Weeting Castle are a example of a grand 12th century manor house, and a typical example of an East Anglian 'great house', built in local flint.
Despite its name, Weeting Castle was never fortified. The moat which surrounded the building was added in the mid-13th century and was built to demonstrate the wealth and power of the owners, before the hall was abandoned in the late 14th century.
The site has a long history of use, from the 10th century until the late 18th century. Archaeological excavations at the southern end of the hall have discovered artefacts dating back to the Saxon period, suggesting that a Saxon settlement existed here before the stone hall was built.
Opening Times: Open any reasonable time during daylight hours.
Address: Castle Close, Weeting IP27 0RQ
Cost: Free entry for all.
Website: https://www.english-heritage.org.uk/visit/places/weeting-castle/
Parking: There is a small lay-by next to the castle entrance, just in front of Weeting village church.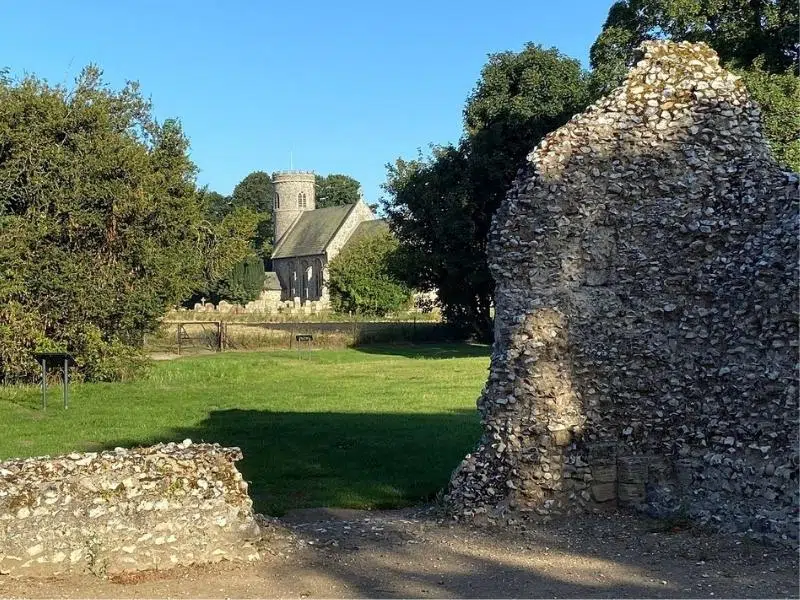 Norfolk Castles Map
How to use this map – Use your finges (or computer mouse) to zoom in and out. Click or touch the icons to get more info about a place, and click the arrow in the box top left to open the index. To add to your own Google Maps account, click the star next to the title of the map.
Have I missed any Norfolk Castles from my list? Leave a comment below so I can add your favourite to my list!
Love it? Pin it!