My home county, Norfolk is one of my favourite places in the world. Blessed with breathtaking landscapes and packed with lots of interesting things to do and see, I don't need a reason to visit, but you might!
Let me persuade you to visit Norfolk by sharing the highlights and what I think makes this wonderful county so special.
RELATED POST: The Ultimate Local's Guide to Norfolk England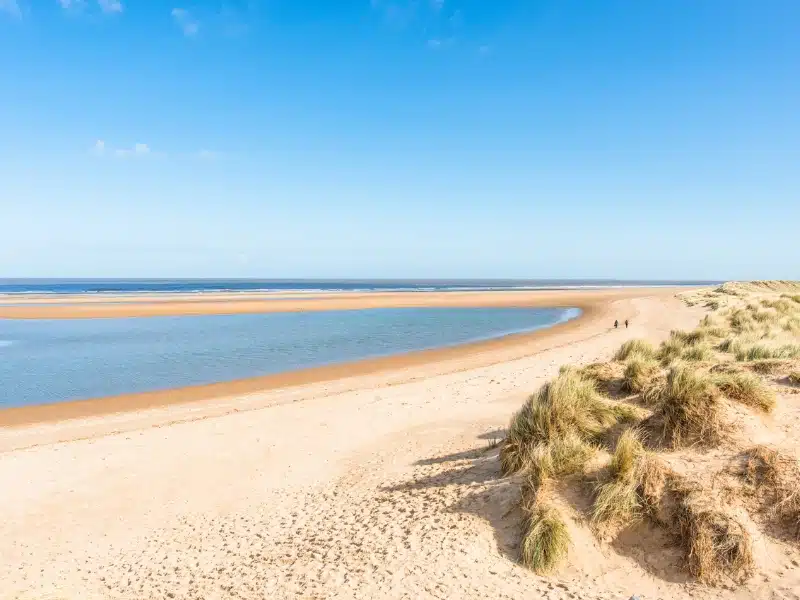 This post may contain affiliate links. If you book something I recommend, I make a small commission without affecting the price you pay!
The Beaches
With 84 fabulous miles of coastline, some within the North Norfolk Area of Outstanding Natural Beauty, and 52 beaches in Norfolk, you're sure to find one you love.
From wild and windswept beaches on the North Norfolk coast to award-winning family-friendly beaches in South Norfolk, there are many styles of beach in Norfolk to entice you.
Dog walkers, bird watchers, nature lovers and families come to Norfolk for this variety, which offers year-round opportunities. From the seals at Blakeney Point to migrating birds at Thornham and the Victorian Pier at Cromer, Norfolk's beaches offer a wealth of interest and activities.
RELATED POST: Norfolk Beaches – Ultimate A-Z Guide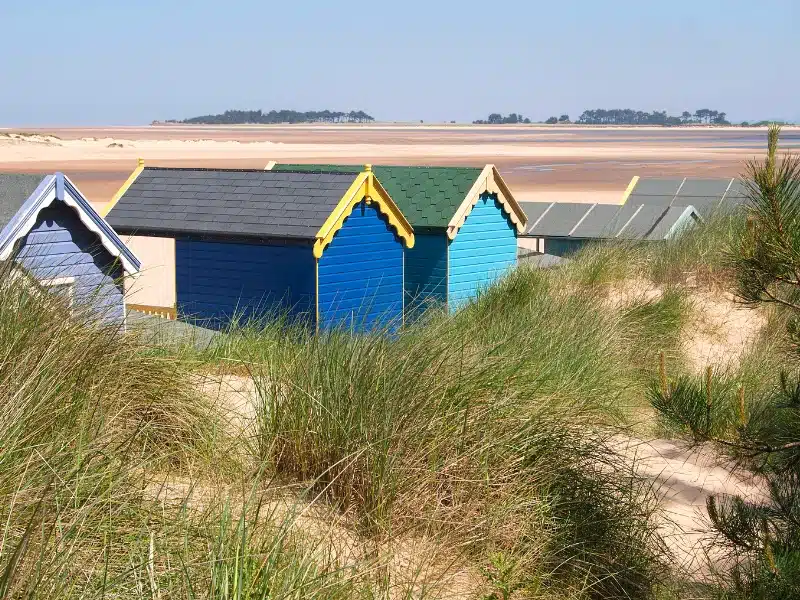 The Wildlife
Home to several world-class RSPB sites, the UK's largest Atlantic and Grey seal colonies and the unique flora and fauna of the Norfolk Broads National Park it's no surprise that wildlife enthusiasts flock to Norfolk.
Boat trips from Blakeney, Morston Quay, Great Yarmouth and Hunstanton take visitors out to see the Norfolk seal colonies basking on their sandbanks in the North Sea and at Blakeney Point National Nature Reserve.
It's also possible to see Norfolk's seals at several beaches along the coast, including Horsey Beach and Winterton Beach. In winter, seeing the seals and their pups, which number in the thousands, is a real spectacle.
Further west are the RSPB reserves at Titchwell Marsh and Snettisham, the latter known for the 'whirling wader spectacle' when thousands of wading birds lift off the mud flats as the rising tide comes in.
The Norfolk Wildlife Trust manages over 40 reserves in Norfolk, including the fantastic Broads floating wildlife centre on Ranworth Broad, Scolt Head Island, an offshore barrier island between Brancaster and Wells-next-the-Sea, and Cley and Salthouse Marshes, one of the country's most popular birdwatching sites.
RELATED POST: Norfolk Nature Reserves – Ultimate A-Z Guide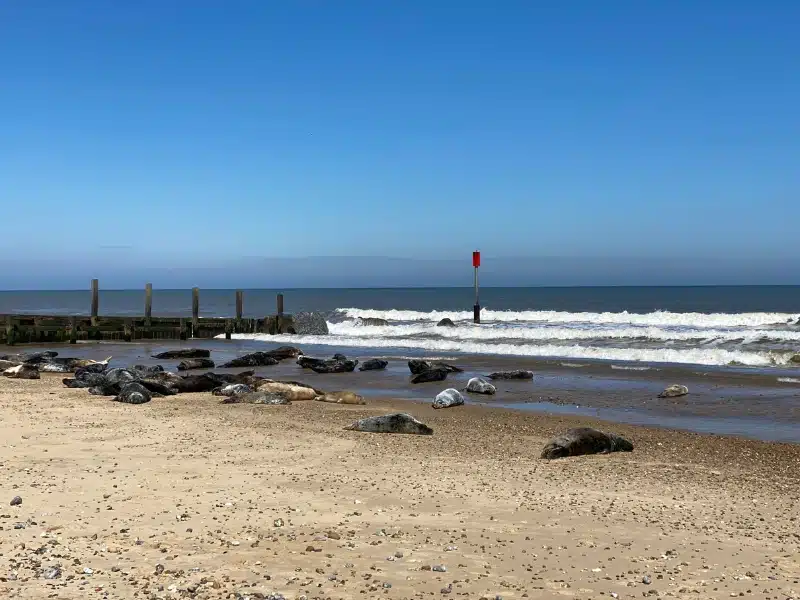 The North Norfolk Coast
One of the most stunning parts of the UK coast, the North Norfolk coastline is justifiably famous. With a million years of history – not to mention HUGE skies, fabulous beaches and a gentle nature – the North Norfolk coast is balm for the soul.
Peppered with remote beaches, small coastal villages and traditional seaside resorts, nature reserves, windmills, lofty seamark churches and family attractions, much of the coast is in an Area of Outstanding Natural Beauty.
The landscape here switches between vast stretches of golden sand which shifts to accommodate the tides and salt marshes which create intricate waterways between the coastal villages and the sea. Hike the Norfolk Coast Path or paddle between the mainland and Blakeney Head or Scolt Head Island for a completely different perspective.
RELATED POST: North Norfolk Coast – 19 Unmissable Highlights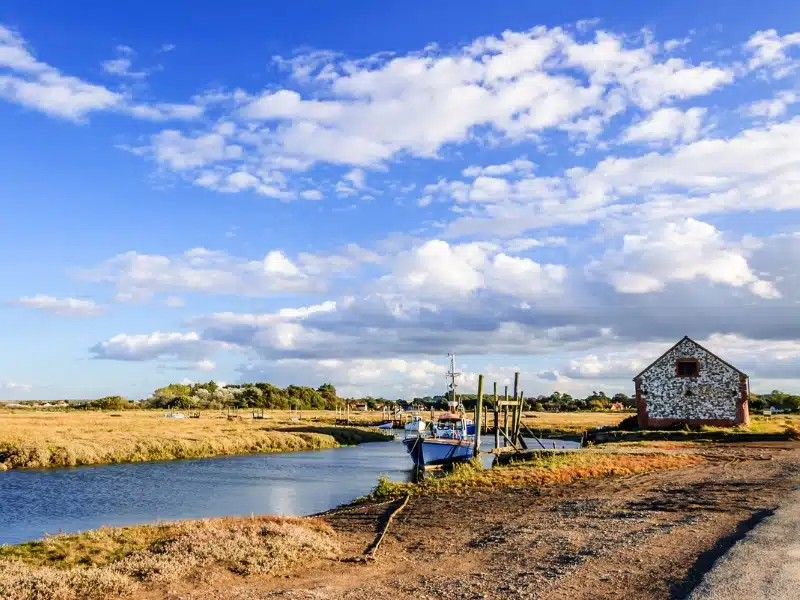 The History
Like all counties of the United Kingdom, Norfolk has its own fair share of diverse and interesting history.
The legendary Boudicca, queen of the ancient British Iceni tribe led a failed uprising in Norfolk against the conquering forces of the Roman Empire in 60 or 61 CE. You can follow the story from the Roman city of Venta Icenorum on the Rebellion Way cycle route.
Along the North Norfolk coast, you can learn about the fascinating history of the RNLI and the local Norfolk people who have a deep connection with the sea. Shipwrecks, smuggling and fortunes made and lost tell the history of this beautiful coastline.
On the Deep History Coast between Weybourne and Cart Gap, the history goes back even further. The Steppe Mammoth, found in the cliff face at West Runton Beach in 1990, is one of the oldest fossil elephants to be found in the UK, and Happisburgh Beach made international headlines in 2013 when a layer of sediment was exposed by the tide to reveal a set of footprints, dated over 850,000 years old.
The mammoth and footprints, along with the discovery of a 500,000-year-old flint handaxe also discovered in Happisburgh, have now made this part of the Norfolk coastline an integral part of ancient British history.
RELATED POST: 21 Museums in Norfolk You Won't Want to Miss!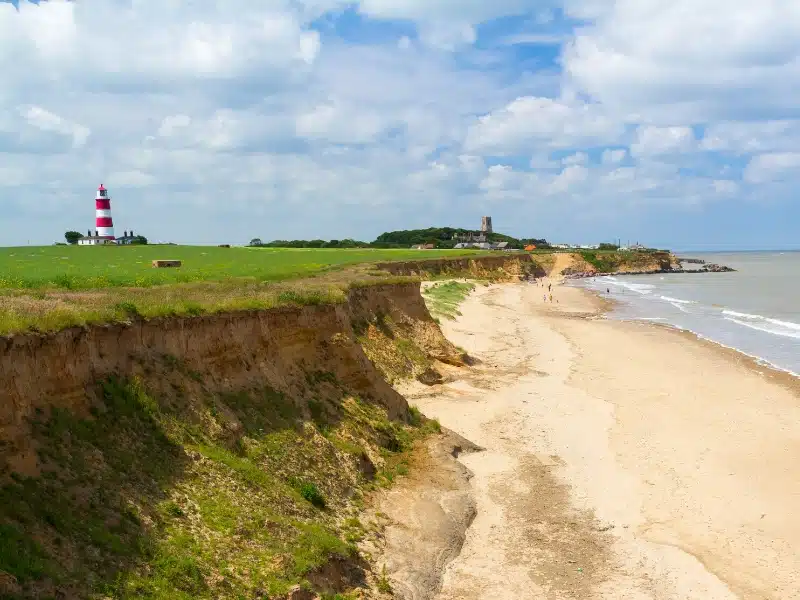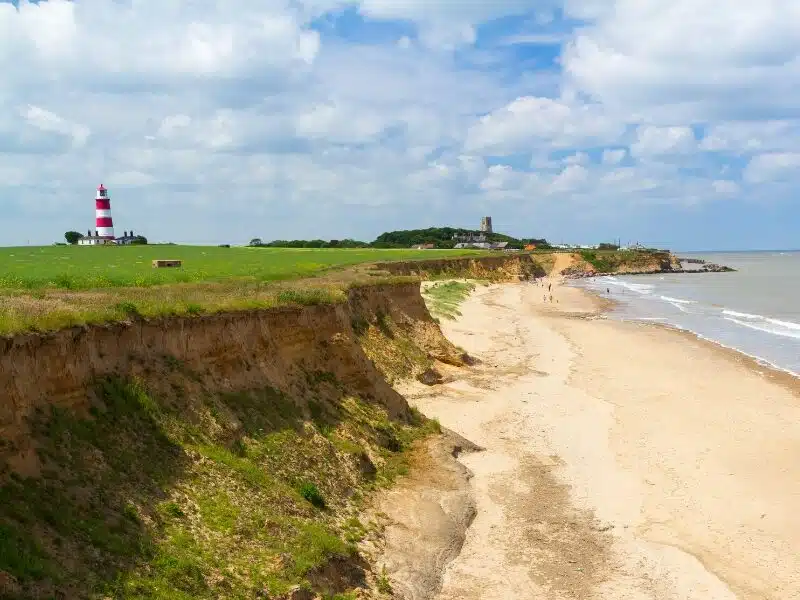 The Food
Where do I even start? Norfolk's food offer is superb. With its rich fishing and agricultural heritage, there is a huge variety of Norfolk foods and drink to discover, that is grown, reared, and produced in the county.
From deliciously sweet seafood caught off the North Norfolk coast, the best malt barley perfect for brewing, cheese from lush green pastures, and the perfect terroir for grapes, there is an abundance of excellent local food in Norfolk, courtesy of the land, sea and climate.
Highlights include the highly prized Cromer crab, mussels grown in the nutrient-rich waters around Brancaster, cockles from Stiffkey and oysters from Thornham, all of which go beautifully with marsh-grown samphire, a true Norfolk speciality known as sea asparagus.
Coupled with a handful of award-winning cheese makers, six vineyards making outstanding English wine, 47 active breweries and micro-breweries including Woodfordes and over ten Norfolk gin distilleries, Norfolk is a real foodie destination.
Available at farmer's markets, in farm shops and local pubs, cafés and restaurants around the county, there is no shortage of places to sample the local produce!
RELATED POST: 26 Norfolk Food & Drink You Must Try!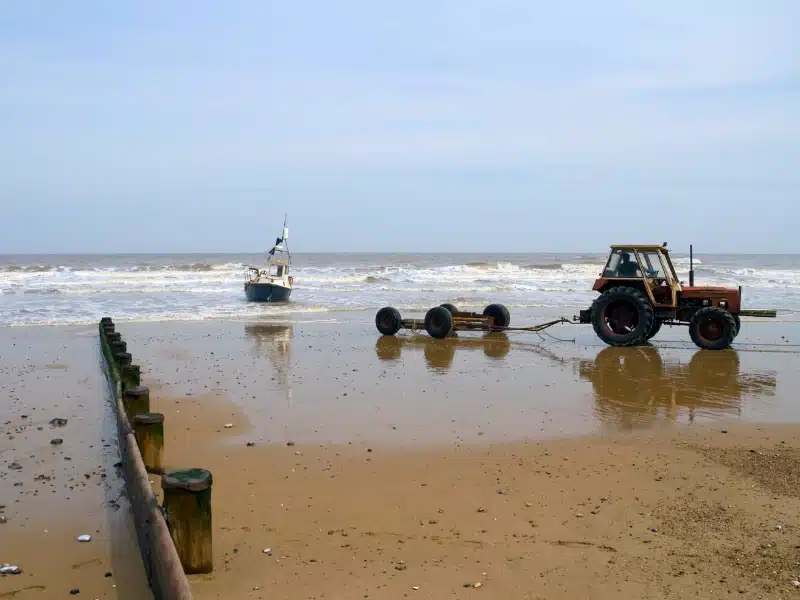 The Seaside Towns
There are officially fifteen seaside towns in Norfolk, and plenty more villages, ranging from beautiful parishes steeped in history to traditional bucket and spade resorts with fabulous beaches.
Whether you're looking for a lively resort town as a base for a holiday with kids, or a sleepy and unspoilt village with a fabulous beach, there's a coastal town in Norfolk for everyone.
Cromer is probably the best known, with its Victorian Pier and Cromer crab, closely followed by its near neighbour Sheringham, home to the brilliant North Norfolk Steam Railway and would you believe, a snorkel trail and Hunstanton, an eclectic resort which faces west!
North of here, the hidden gems of Thornham and Brancaster Staithe await, with their marshy setting perfect for exploring by paddleboard or kayak.
To the west and east are Norfolk's largest towns, King's Lynn and Great Yarmouth respectively. In huge contrast, King's Lynn is considered one of the country's best preserved medieval towns and has a rich Hanseatic history, whilst Great Yarmouth is a loud and lively modern holiday resort complete with its own theme park!
RELATED POST: 15 Norfolk Seaside Towns for Your Next Trip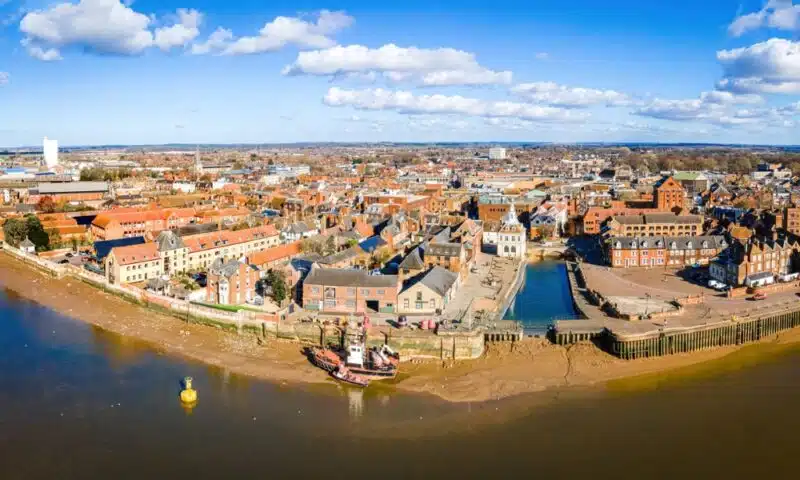 The Walking
The beautiful landscape of Norfolk is perfect for walking. Richly agricultural and low-lying, with huge skies and dramatic moments, Norfolk is ideal for hikers who enjoy exploring natural surroundings and local culture.
From multi-day national trails, deserted coastal walks and riverside paths, to heritage trails through lush countryside and pretty Norfolk villages, there are walks here for serious hikers, day trippers, amblers and families alike.
RELATED POST: Walks in Norfolk – 14 of the Best Trails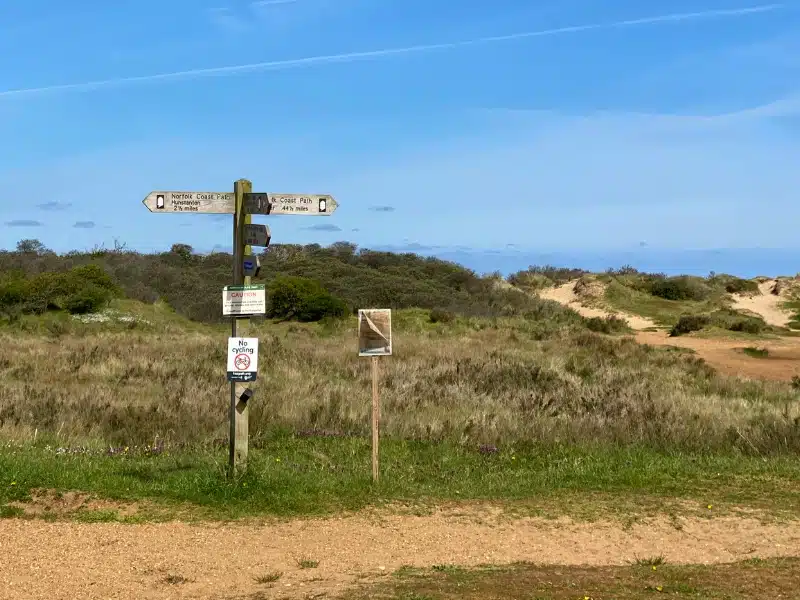 Norwich
Historic buildings, a thriving food scene and a cultural hub… Norfolk's capital city of Norwich has so much to offer visitors and makes a great location from which to explore the county.
The only city in Norfolk, Norwich is the most complete medieval city in the United Kingdom today. Home to a splendid Cathedral, medieval cobbled streets, half-timbered houses, one of the oldest outdoor markets in the country, the newly restored Art Nouveau 1899 Royal Arcade, and the winding River Wensum that flows through the city centre, Norwich is a feast of history and architecture.
Add to that the growing gastro scene in the city, the focus on culture, the arts and literature, cool cafes and the flourishing mix of quirky independent boutiques and high street stalwarts, and it's clear why Norwich is fast becoming one of the most popular cities in England.
RELATED POST: 32 Amazing Things To Do in Norwich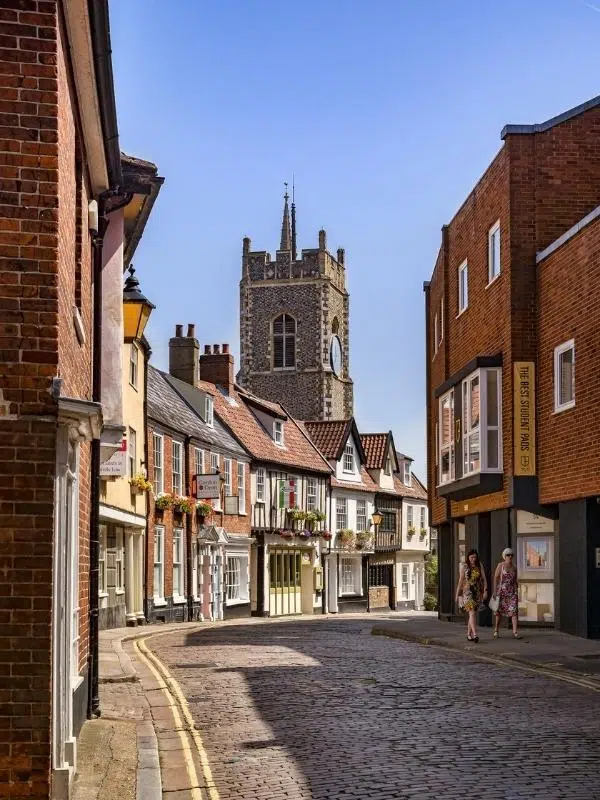 The Stately Homes & Castles
Norfolk is a county full of fascinating history, and that means there are also castles and stately homes dotted amongst the pretty rural villages of Norfolk.
Once a county of affluent landowners, there is a rich and diverse collection of historic houses in Norfolk that offer a unique insight into the story of Norfolk and the people and politics who shaped not only Nelson's County but the United Kingdom too.
Many of them also have fabulous gardens to discover, and wider parkland, ideal for walking, running around with the kids or simply enjoying the beautiful Norfolk landscapes.
The famous trio of Holkham Hall with its beach and the Holkham National Nature Reserve, the Jacobean mansion Blickling Hall and 17th century Felbrigg are all must-visits but don't forget the smaller and perhaps more peaceful stately homes which offer a fascinating glimpse of Norfolk's past.
RELATED POST: 14 Stately Homes in Norfolk to Visit
There are twelve castles in Norfolk to explore. Some are remarkably well-preserved and some are atmospheric tumble-down ruins, whilst others are castles in name only, and all that remains are the massive mounds and grassy earthworks to show what once existed.
The two most famous castles in Norfolk are Castle Acre Castle, with the historic Bailey Gate and nearby Castle Acre Priory and Castle Rising Castle, one of the most famous 12th century castles in England.
RELATED POST: 12 Norfolk Castles for You to Explore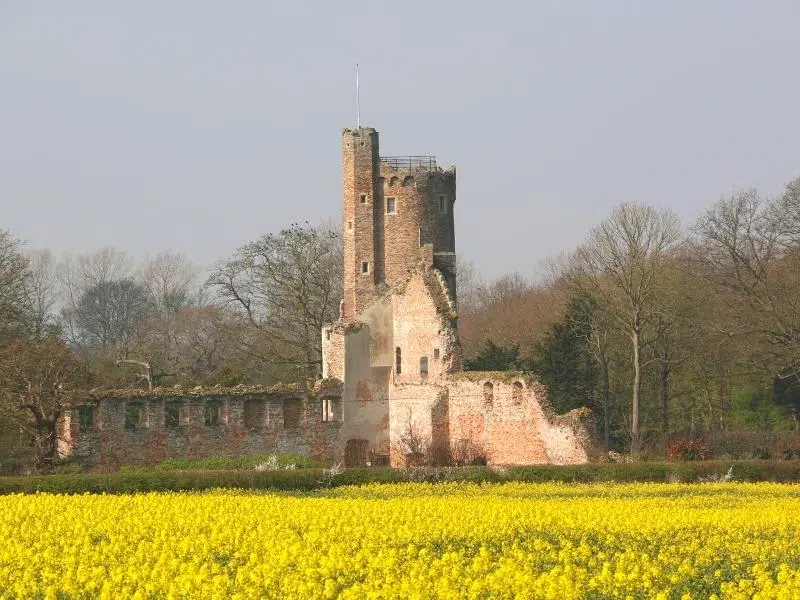 The Norfolk Broads
Huge skies, undulating landscapes, a slow pace of life and LOTS of water make up the Norfolk Broads. An Area of Outstanding Natural Beauty, the Broads are where rivers, lakes and sea combine to create a unique and diverse place full of natural beauty, wildlife and cultural heritage.
With breathtaking scenery, boat trips from Wroxham, riverside pubs, pretty market towns and great walking, it is no surprise that people have been flocking to the Norfolk Broads since the 19th century!
The Broads themselves are actually shallow lakes formed in medieval times when peat was dug out for use as fuel. Over the centuries water levels rose and the peat diggings flooded creating the Broads we know today.
Encapsulated in the Broads National Park, the Broads and the seven rivers which flow through them to the sea are home to over a quarter of the UK's rarest plant and animal species.
The Broads Authority has three tourist information centres at Ranworth, Hoveton and Toad Hole Cottage at How Hill Nature Reserve, where knowledgeable staff can make sure you get the most out of your visit.
RELATED POST: 26 Exciting Things To Do On the Norfolk Broads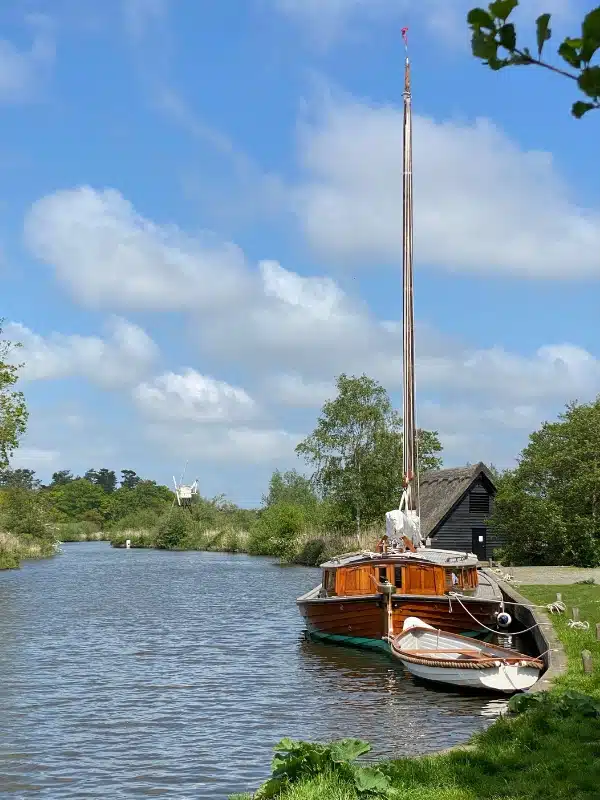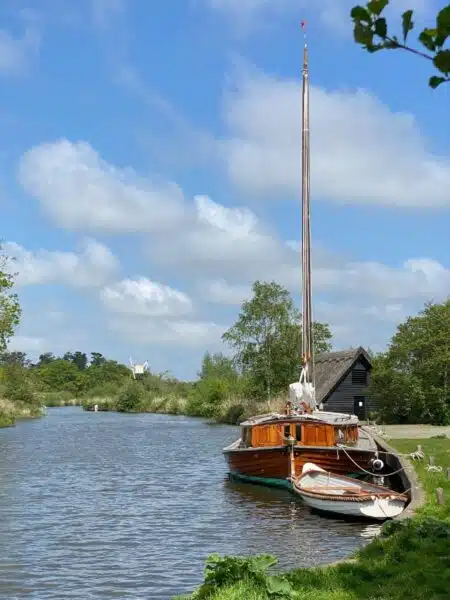 Have I missed your favourite reason to visit Norfolk? Let me know so I can add it to my list!
Love it? Pin it!