The North Norfolk Railway is one of Norfolk's most popular heritage attractions and offers many ways of travelling on one of their fantastic steam trains from the seaside town of Sheringham to Holt.
I decided to take a 5.5 mile steam journey on the Norfolk Fryer, the North Norfolk Railway's fish and chip train, which run regularly through the spring, summer and autumn months.
I took my hubby, dad and step-mum for this special treat, and to find out for myself whether the North Norfolk Railway is really as good as they say!
RELATED POST: The Ultimate Local's Guide to Norfolk England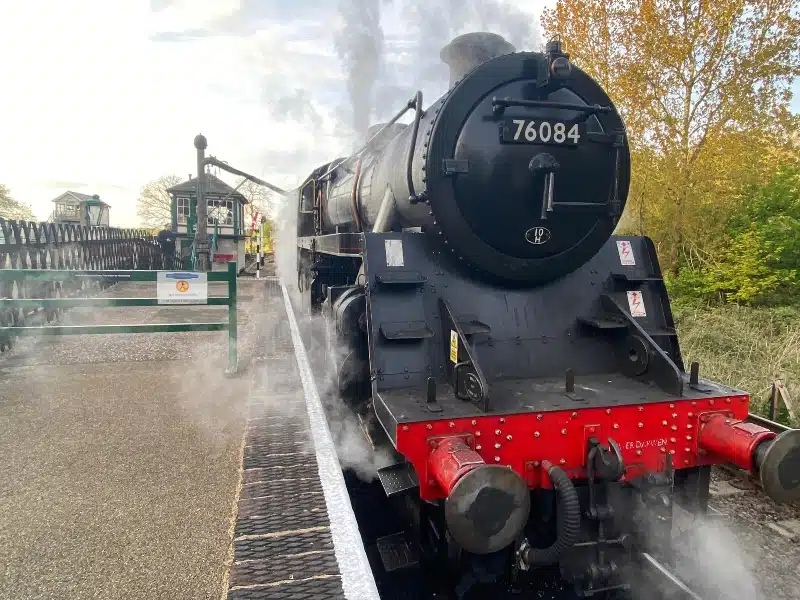 This post may contain affiliate links. If you book something I recommend, I make a small commission without affecting the price you pay!
What is the North Norfolk Railway?
The most well-known of the Norfolk heritage railways, the North Norfolk Steam Railway has fought through closure, eviction and redevelopment to become a much-loved and voluntarily run major attraction in the Victorian seaside town of Sheringham.
The Sheringham steam train known as the 'Poppy Line' offers an eleven miles round trip, with vintage diesel trains on some journeys, through the North Norfolk Area of Outstanding Natural Beauty.
To the south are rolling woodlands and farmland and to the north, fields and then infinate sea. A journey on this heritage railway is definitely one to remember!
RELATED POST: Steam Train Norfolk: 8 of the Best Journeys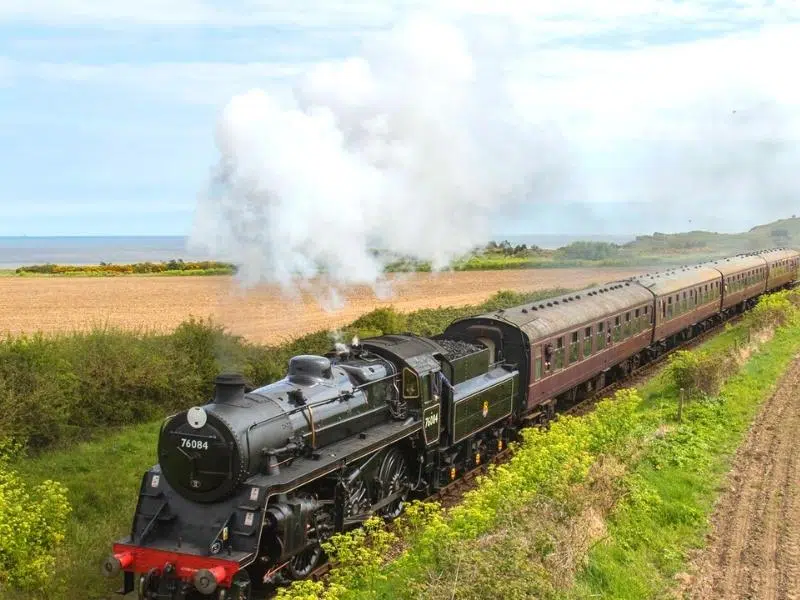 Why is the North Norfolk Railway called 'The Poppy Line'?
Poppy Land is a term that was coined in the 19th century by the poet Clement Scott in his quote "Neath the blue of the sky in the green of the corn, it is here that the regal red poppies are born" and generally refers to the section of the North Norfolk coast from Sheringham to Mundesley.
Over the years, the term has come to be used for a longer stretch of the coast and has been adopted by the North Norfolk Railway as their trains pass through Poppy Land on their route.
Booking the North Norfolk Railway
You will absolutely need to book your North Norfolk Railway experience in advance, whether it's a food train or a regular journey. Due to the popularity of the railway, seats get snapped up really quickly, especially during the high season of late July and August.
The booking process is simple. Just head to https://www.nnrailway.co.uk/ and navigate to the 'Visit Us' tab on the top menu. A drop-down box will allow you to select from 'Special Events', 'Dining Trains' and 'Railway Experiences'. Click and you'll go through to a page displaying all the options for your selection.
Select your option and then navigate to the 'Book Now' tab where you'll find availability and ticket details. You can also check Norfolk Norfolk railway timetables on their website if you're planning a visit around a special date.
You are asked to arrive 20 minutes early, presumably so they can get everyone on board and leave on time. The bar also opens about 30 minutes before the train leaves, so you can start your trip with a tipple!
I booked our North Norfolk Railway tickets this way and received my email confirmation within minutes. It's not necessary to print the confirmation as long as you keep the email with barcode on your phone, to show on arrival.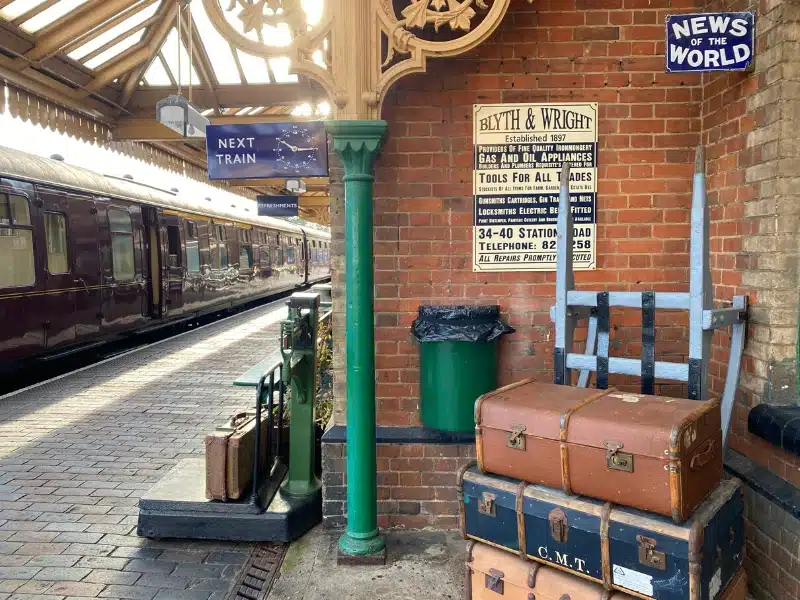 North Norfolk Railway Stations
You can drive and park at North Norfolk Railway station at Sheringham, or jump on the regular Bittern Line from Norwich and change onto the NNR at Sheringham Railway Station – the stations are just a few minutes walk apart.
The NNR station at Sheringham has been delightfully styled and decorated with heritage items like old suitcases and signs, but there are modern toilets and disabled access as well.
You can head to the front of the train along the platform to watch the driver and fireman preparing to leave. The fireman is busy shovelling coal into the engine and the driver is making sure all his levels are in order and working. I loved watching this before we set off!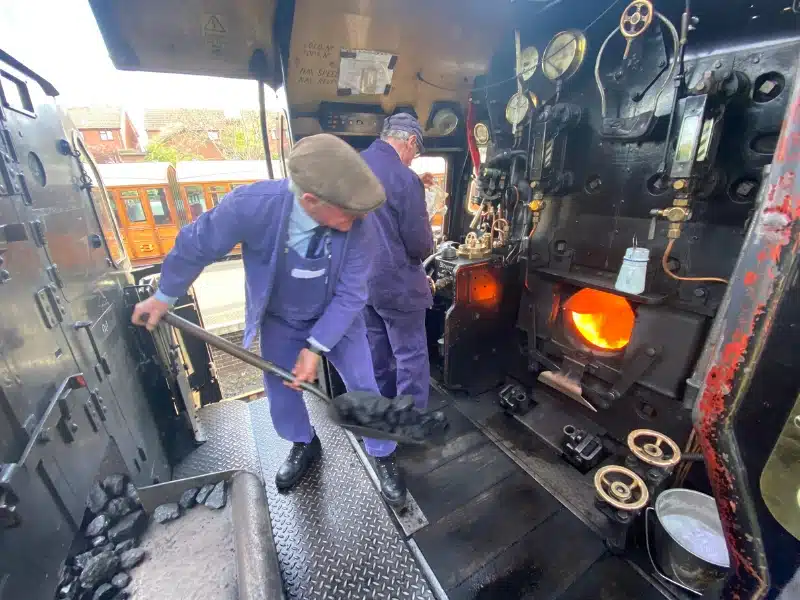 Further down the line picture-perfect Holt station, whilst not on the original site, is a faithful re-creation of a Midland and Great Northern country station in the early 20th century and uses station buildings recovered from various locations around East Anglia.
The train usually stops at Holt station (where there is a loo) for around 20 minutes as they de-couple the engine and take it to the back, soon to become the front, of the train.
It's worth stepping off to take a look around the model railway which depicts Broad Sidlinch, a fictional town featured in Thomas Hardy's short story The Grave, and the William Marriot Museum housed in a recreated goods shed. The museum tells the history of M&GN, and beautifully restored goods vehicles can be viewed in the loading bay just outside the museum.
If you're travelling on the railway on a day visit, you can also walk or catch the bus into the pretty Georgian market town of Holt, which is about a mile from the station, before coming back for the return journey.
RELATED POST: 23 Amazing Things To Do in Sheringham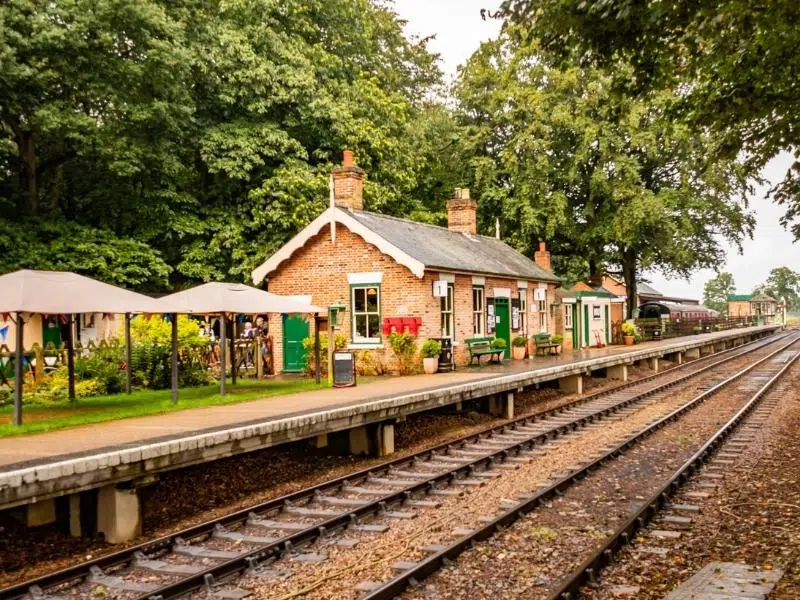 The Journey
The Poppy Line railway train doesn't get up much speed, but this gives you a good chance to enjoy the splendid scenery as you pass by with steam puffing along outside the windows, which makes for an atmospheric ride.
The route takes in the Norfolk Coast Area of Outstanding Natural Beauty, views of Sheringham Park, Kelling Heath and of course, fantastic views across the Norfolk farmland to the coast. If you look carefully, you can see Weybourne Mill in the distance.
The train passes through and sometimes stops at Weybourne station before heading inland to Kelling Heath station, but you cannot get off at these stations.
When you return to Sheringham station, it's time to disembark. Make sure to stay and watch the engine being turned again when you can get close-up photos.
RELATED POST: North Norfolk Coast – 19 Unmissable Highlights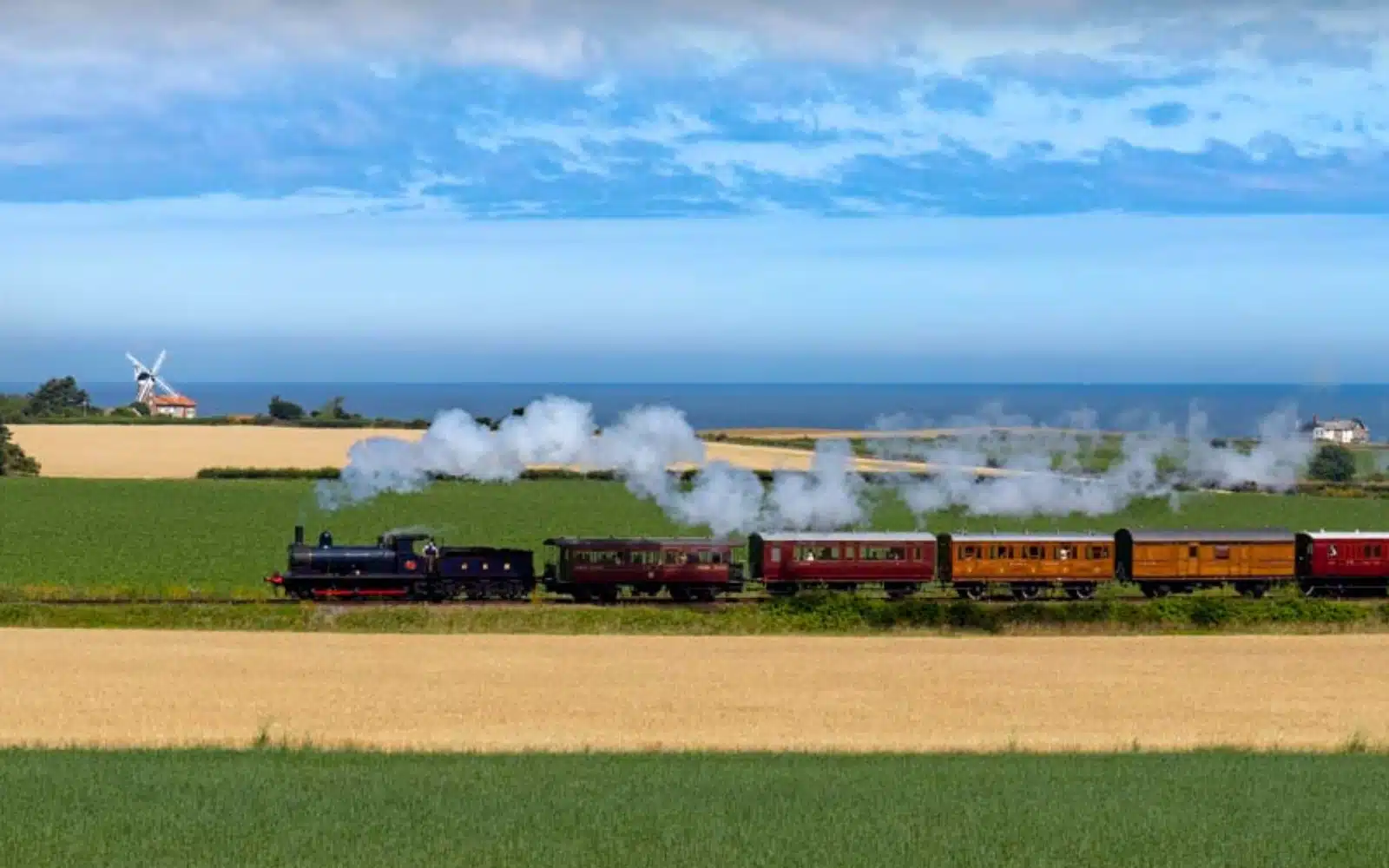 The Food
There is a bar on board which serves soft drinks, wine, beer and cider, but no spirits. One of the benefits of arriving in good time is to organise your drinks before the train starts moving! You can pay by cash or card.
Once the train is underway, the volunteer staff quickly delivered our fish and chips, warm and wrapped in paper direct from Dave's Fish Bar in Sheringham.
The traditional fish and chip supper was delicious, with just-soggy-enough chips and chunky bits of fish. Inevitably, the batter was not as crisp as I would have liked and was a victim of being wrapped as it was delivered to the train. But the pay-off was being able to eat my fish and chips on a steam train puffing through the beautiful Norfolk landscape – not something you do every day!
The cutlery was biodegradable wood and there were serviettes, sachets of vinegar, tartare sauce and tomato sauce as well as salt and vinegar on each table.
Once we had finished the brilliant staff came to collect the empty wrappers and within ten minutes or so, pots of delicious locally-produced Ronaldo's ice cream were being delivered. We had a choice of salted caramel (my favourite), rhubarb and ginger, chocolate or strawberry.
RELATED POST: Best Fish & Chips Norfolk: 14 Top Places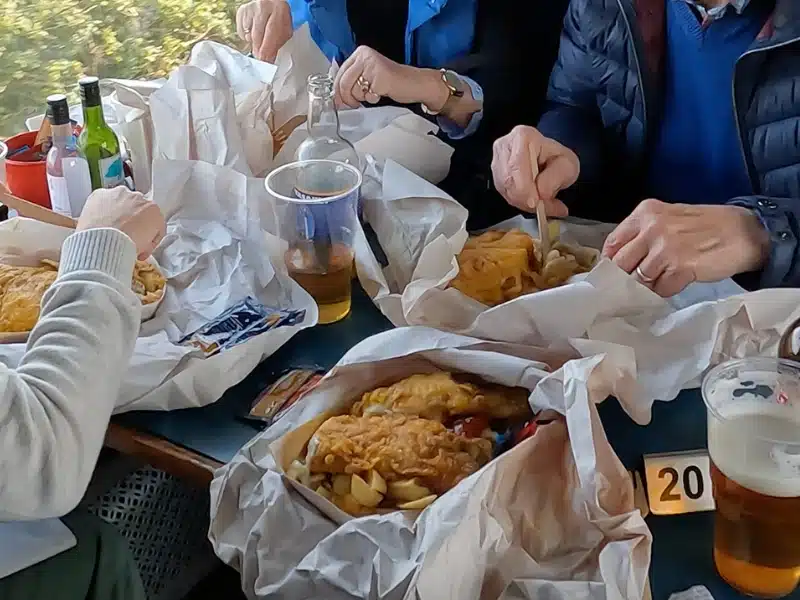 Value for Money
I paid £28 per head for our fish and chip dining train and we all absolutely loved the experience. The staff were wonderful – helpful, obliging and good fun.
The food was really good and the atmosphere in our train carriage was great, with people laughing, enjoying the experience and generally having a really good time.
Although I can't say for certain that all experiences, dining trains and events would be as good as our adventure, I do believe that the spirit of taking pleasure in work which comes from volunteering, a common purpose to keep this fabulous heritage steam railway open and a fantastic concept mean that you'll be sure to enjoy whatever you do on the North Norfolk Railway.
As proof of this, I'm about to book a murder mystery dining experience because I enjoyed my first North Norfolk Railway journey so much!
Other NNR Experiences
Day Visits
You can catch the North Norfolk Railway on most days between April and October when there are two or more historic trains in operation. A rover ticket is valid for unlimited travel allowing you to hop on and hop off all day, and start your journey at either Sheringham or Holt.
On some days you can 'ride the mixed' on your rover ticket, a combination of steam and diesel engines pulling passenger coaches and goods wagons.
Dining Trains
There are a number of different dining experiences which make for a really memorable trip and a perfect for celebrating a special event or occasion. You can choose from the following:
North Norfolkman Evening Dining – A truly first-class four-course meal served at your seat aboard the North Norfolkman.
The Gin Train – Sit back, relax in first class and enjoy the Norfolk Gin Train.
Premier Lunchtime Dining Trains – A delicious luncheon served on the move.
Murder Mystery Dining – A themed murder mystery "whodunnit?" and evening dinner on a steam train.
Fish and Chip Trains – A traditional favourite served at your seat aboard the North Norfolk Fryer.
Cream Tea on a Steam Train – Enjoy a traditional cream tea as you steam between Sheringham and Holt.
Special Events
Check the NNR website for galas, vintage transport weekends, beer festivals, Victorian Sundays, Make Tracks to the Sixties and Steam Back to the Forties weekends, the Norfolk lights express at Christmas and other special events held during the year.
You need to book these well in advance as people travel from all over the UK to take part.
Railway Experiences
Steam buffs will love the railway experiences on offer, which include a steam driver experience, a signalling experience day and a diesel driver experience. These once-in-a-lifetime experiences make great gifts too.
Have you travelled on the North Norfolk Railway? Share your journey and thoughts below in the comments!
Love it? Pin it!