A lively seaside town in Norfolk, Great Yarmouth makes for an action-packed day out and holiday destination. With its famous Pleasure Beach, amusements and attractions, there's lots to keep the whole family busy.
You don't need to wonder what to do in Great Yarmouth, because there is loads to see and do in the town itself. The area surrounding the town is absolutely stunning, with plenty of places for day trips including long sandy beaches stretching along the coast and the tranquil Norfolk Broads inland.
I'm sharing all the best things to do in Great Yarmouth, to help you get started with your trip planning.
RELATED POST: The Ultimate Local's Guide to Norfolk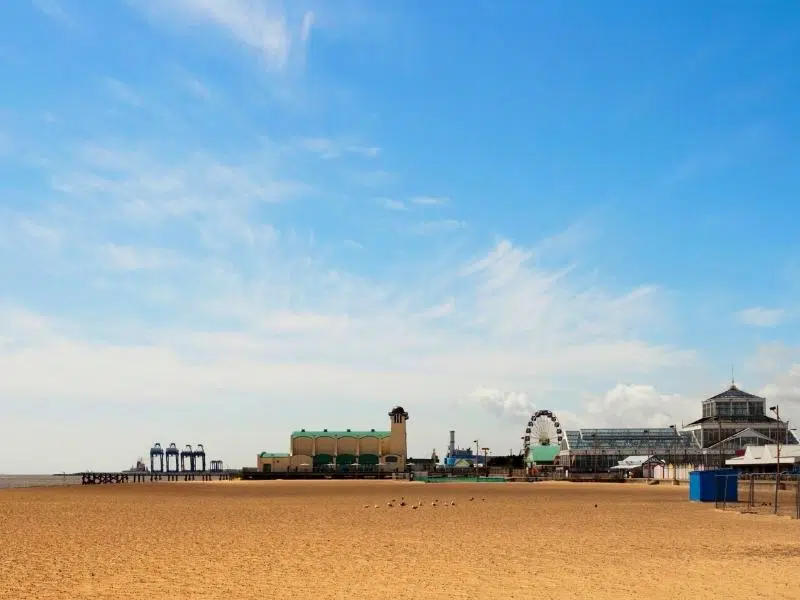 This post may contain affiliate links. If you book something I recommend, I make a small commission without affecting the price you pay!
Things to Do in Great Yarmouth
Have Fun at Great Yarmouth Pleasure Beach
Sitting at the top of Great Yarmouth's Golden Mile and sprawling across a huge nine-acre site is the Pleasure Beach, Great Yarmouth's #1 attraction and one of East Anglia's top amusement parks.
This Norfolk theme park is loud, full of bright lights, music and fun making it the perfect place to take the kids for a day out!
With a mix of 28 adrenaline-pumping white-knuckle rides, traditional attractions including a 1932 wooden roller coaster, the Pleasure Beach Gardens for younger children, amusement arcades and food outlets, you need to devote a whole day to the Pleasure Beach, even though you'll be exhausted by the end of it!
RELATED POST: Norfolk Theme Parks – Ultimate A-Z Guide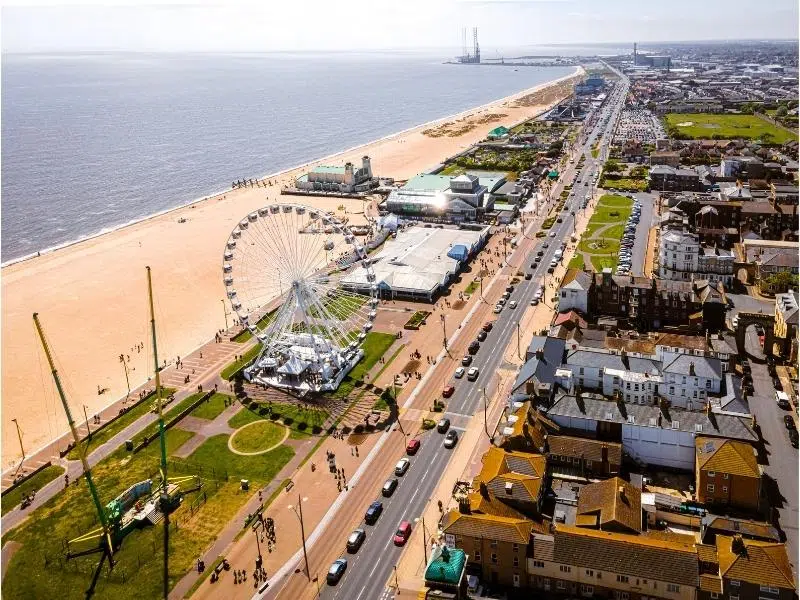 Be Entranced at Sea Life Great Yarmouth
At the centre of the Golden Mile on Marine Parade is the SEA LIFE Centre, a brilliant family attraction, home to over 1,500 fascinating sea creatures, an underwater tunnel and a rock pool encounter.
Kids can get up close to the marine animals and interact with Humboldt penguins, starfish and incredible rays for a really special experience. During school holidays, you'll also be able to attend daily talks about different marine creatures and help with animal feeds.
In the vast aquariums, you can watch deadly sharks and crocodiles, beautiful turtles and seahorses and fascinating jellyfish and there's even a shark nursery to visit.
SEALIFE Great Yarmouth is the perfect way to combine education with family fun, and an especially good place to visit when it's raining – which has been known to happen!
RELATED POST: 30 of the Very Best Things To Do in Norfolk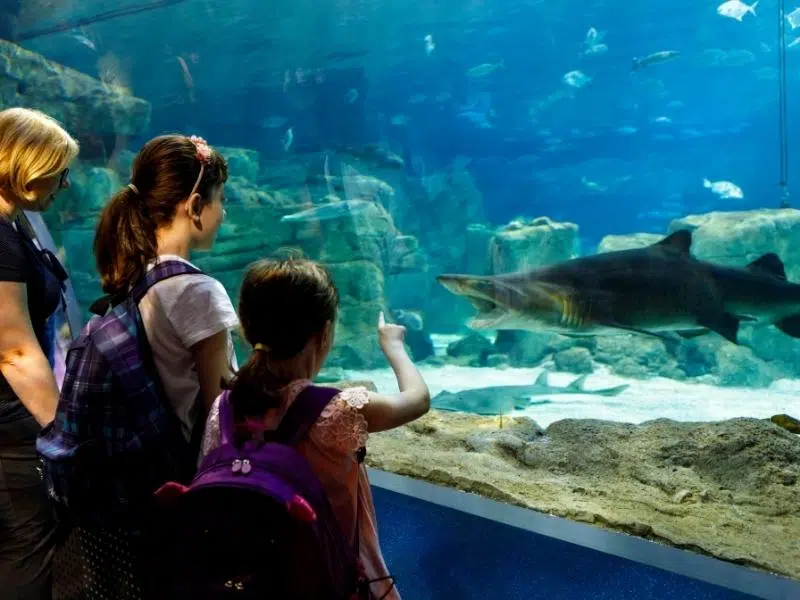 Explore History at the Time & Tide Museum of Norfolk Life
In an unlikely but perfectly suited setting in one of the UK's best preserved Victorian herring curing works and smokehouse, is the Time & Tide Museum.
This museum tells the history of Great Yarmouth from its Ice Age beginnings through to the thriving port and seaside resort we know today.
With lots of fascinating interactive exhibits, it's easy to get a feel for the rich maritime heritage of Great Yarmouth, and how the town has developed into a popular seaside resort. This is another great spot for a rainy day!
RELATED POST: Museums in Norfolk: 21 You Won't Want to Miss!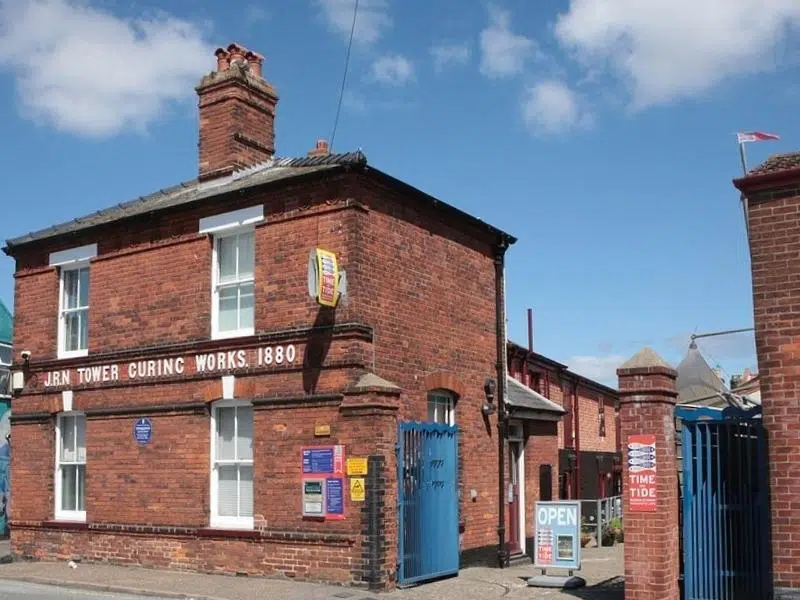 Play Crazy Golf
OK, I have a confession to make. Along with 2p slots, I LOVE crazy golf. It may be naff and laughed at by every other country in the world, but there's nothing like a game for a bit of family bonding!
There are two mini golf places in Great Yarmouth – Pirates Cove Adventure Golf and Castaway Island, both 18-hole courses along the Golden Mile.
Both courses get harder as you go along and it might take a while to get around, especially if you're with little ones. The decor is befitting for the theme, but it's more about the competition than anything else! Celebrate the winner with an ice cream afterwards!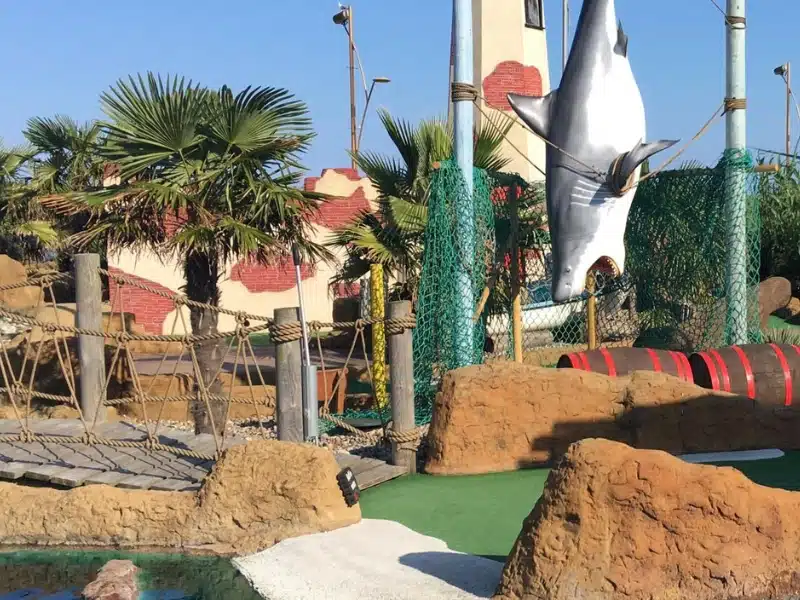 Enjoy Great Yarmouth Central Beach
Great Yarmouth's central beach runs for nearly four miles along the whole of the town's seafront, from the river Yare to Caister-on-Sea. Passing the Pleasure Beach and numerous other attractions, this is where holidaymakers come for a bit of respite from the lively attractions.
Busy in summer, and often deserted in winter, this long stretch of sandy beach is perfect for a lounge or a stroll all year round.
The stretch close to town has lots of facilities like deckchairs and beach hut hire, access ramps for the disabled, play areas, shops, cafes, fast food outlets, ice cream sellers and public toilets.
You can also board a boat at Britannia Pier to venture out to Scroby Sands to spot seals and visit the offshore wind farm.
RELATED POST: Norfolk Beaches – Ultimate A-Z Guide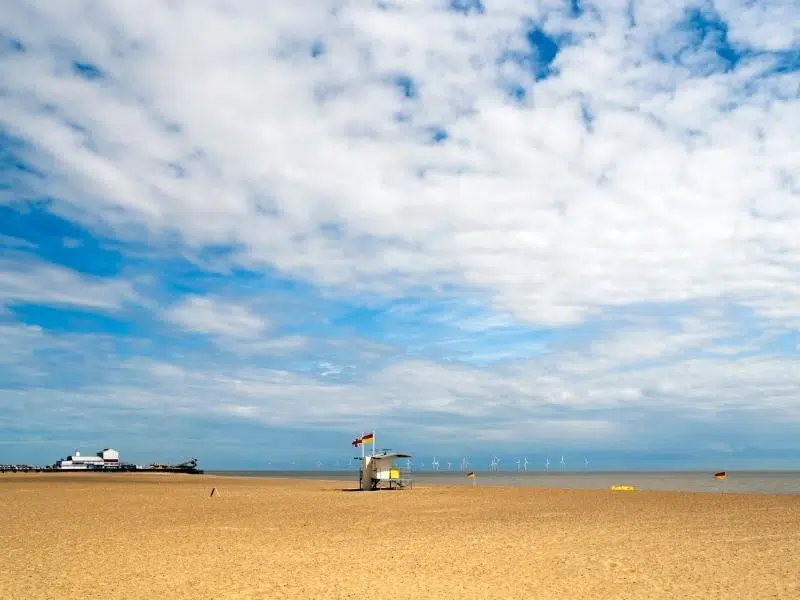 Have Fun at Great Yarmouth's Piers
Wellington Pier
The original 210 metre Wellington Pier opened on Great Yarmouth seafront in 1853 to great success but by the end of the 19th century, the pier was failing and has had mixed success ever since.
Today the pier is run by Family Amusements alongside the Winter Gardens complex (currently closed due to structural issues) and the Britannia Pier further north on the seafront.
The old theatre has been converted into Wellington Bowl, a large bowling alley and bars and the original steel and ironwork restored and is on display in the new building.
The original entrance part of the pier is now the most modern arcade in Great Yarmouth, and the main arena of the complex is dominated by bright lights and action from state-of-the-art video games, simulator rides, and a huge range of coin-operated slot machines. If you love amusement arcades, this is the place to come!
Britannia Pier
The original Britannia Pier was opened in 1858 was slightly longer than its rival at 213 meters. During several storms, the pier was damaged and eventually demolished in 1899.
A new pier was opened in 1901 with a temporary Pavilion at the pier's far end which was replaced with a Grand Pavilion which opened in 1902 and was destroyed by fire just seven years later. A second Pavilion was completed in 1910 but this too burned down in 1914, and several other parts of the pier were also affected by fire over the coming years.
The present Britannia Pier Theatre opened in 1958 and today has live shows, alongside amusements, fairground rides and food outlets and bars.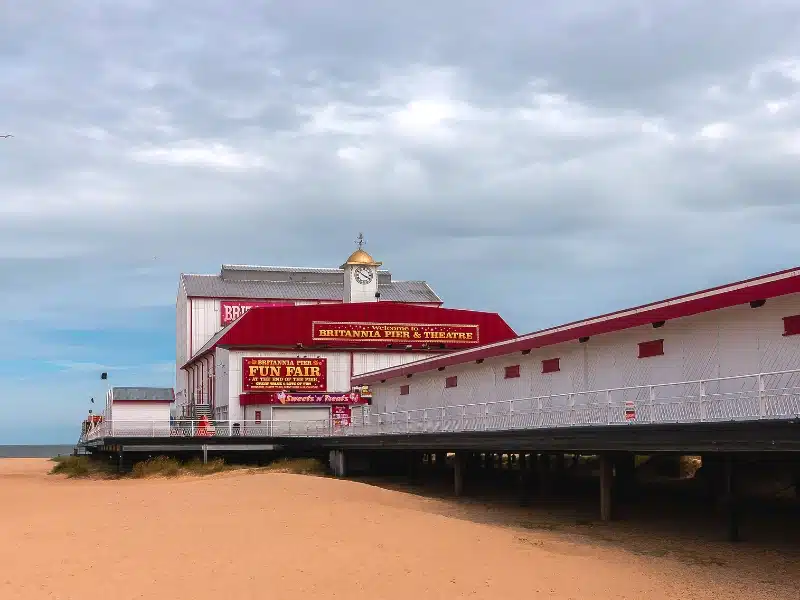 Hire a Great Yarmouth Beach Hut
Great Yarmouth has several beach huts managed by Great Yarmouth Borough Council for day hire in the summer months. It's not possible to book in advance but head to the beach huts which are in front of SEA LIFE, where you'll find a kiosk where you can book for the day. We suggest getting there early!
You'll find the nearest parking at Jetty North car park, where there is also a public loo. The Beach House Café is right next to the beach huts, and you can buy water and cold drinks there.
You can also park behind the beach huts to unload – we are not aware that any equipment is provided.
Elsewhere, Munchies Cafe hires beach huts by the day or week, close to Marine Crescent right on the beach. You can also hire deck chairs and windbreaks too, so you don't have to worry about taking loads of stuff – just remember your picnic and bucket and spade!
RELATED POST: Hiring a Beach Hut in Norfolk – All You Need to Know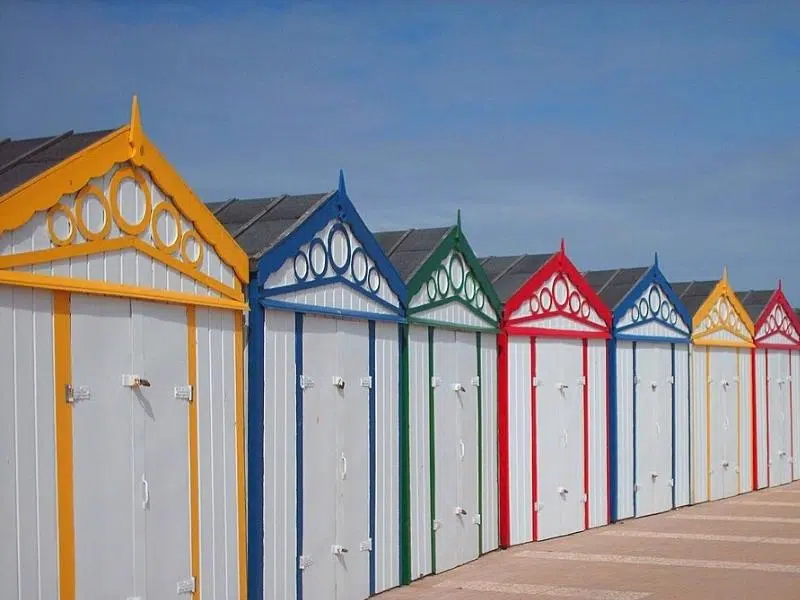 Learn at the Elizabethan House Museum
Located at the heart of the Heritage Quarter, and hiding behind a Georgian facade, this fascinating 16th century merchant's house on South Quay dates from Tudor times and has been converted into the Elizabethan House Museum by the National Trust.
The house is famous for its rich history and connections with Oliver Cromwell who is said to have frequently visited his friend, who was a prominent local merchant in Great Yarmouth, at the house.
The premises became a regular meeting place for Parliamentarians during the Civil War and it is here, allegedly, in November 1648 that it was decided that Charles I would be executed, and the course of history was changed.
The Elizabethan House Museum holds an extensive collection and each room of the house has something different to see, including costumes, fine art, furniture and even toys from the Tudor period.
RELATED POST: Norfolk Coast – 8 Amazing Ways to Explore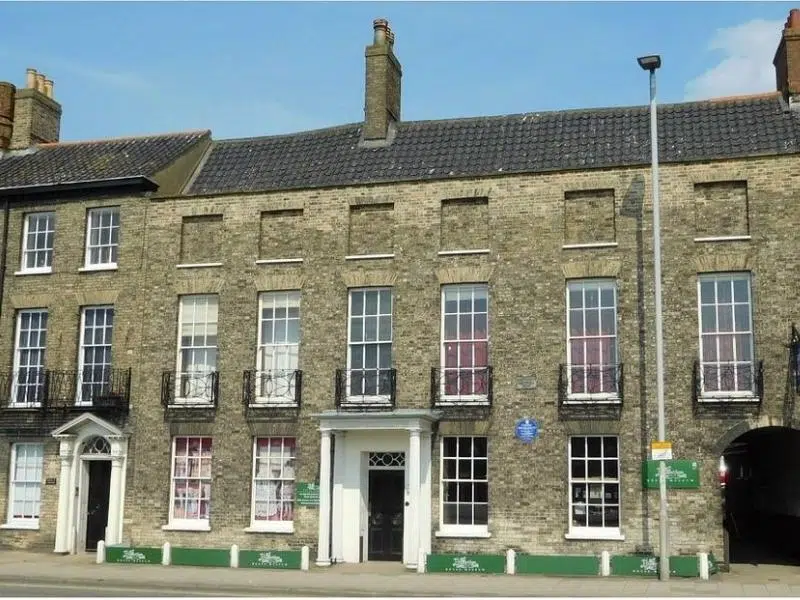 Visit the Past at Tolhouse Museum
The Tolhouse, a Grade I listed historic building also known as Tolhouse Gaol, is a 12th century building in Great Yarmouth's ton centre which was been used as a jail and a courthouse and is now a museum.
The flint and ashlar building itself is fascinating. Built around 1150 by local merchants, it is the oldest civic building in Great Yarmouth and one of the oldest remaining buildings in the town.
Used as a toll house for herring catches, a police station, a jail for smugglers and pirates, and a courthouse for witch trials, the Tolhouse stopped being a jail in 1836 due to the poor conditions and eventually became the Tolhouse Museum.
Now you can see the original cells and discover the fate of the prisoners confined here and there is a free audio guide to hear the gaoler and his prisoners describe their experiences, alongside interactive displays, models and dressing up.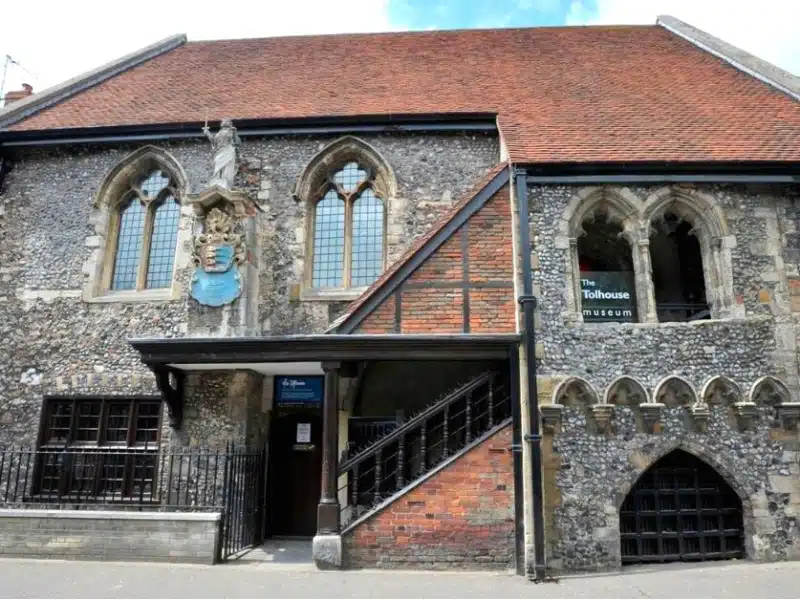 Visit Merrivale Model Village
On South Beach Parade, Merrivale Model Village is exactly what it says on the tin! A model village covering over an acre, representing the typical English countryside that surrounds Great Yarmouth, including a busy town centre, a perfectly kept village inn, farm, travelling fair, sports stadium, zoo, holiday park, country club, castle and cottages.
Model railway enthusiasts will be delighted by the 350m of 45mm G gauge track running through the gardens. There are 28 different types and styles of locomotives, trams, novelty vehicles and associated rolling stock with carriages, all of which run on different days. You may need to visit more than once to catch them all!
There's also a crazy golf course, penny arcade and tea rooms serving homemade cake and cream teas, perfect for that afternoon treat!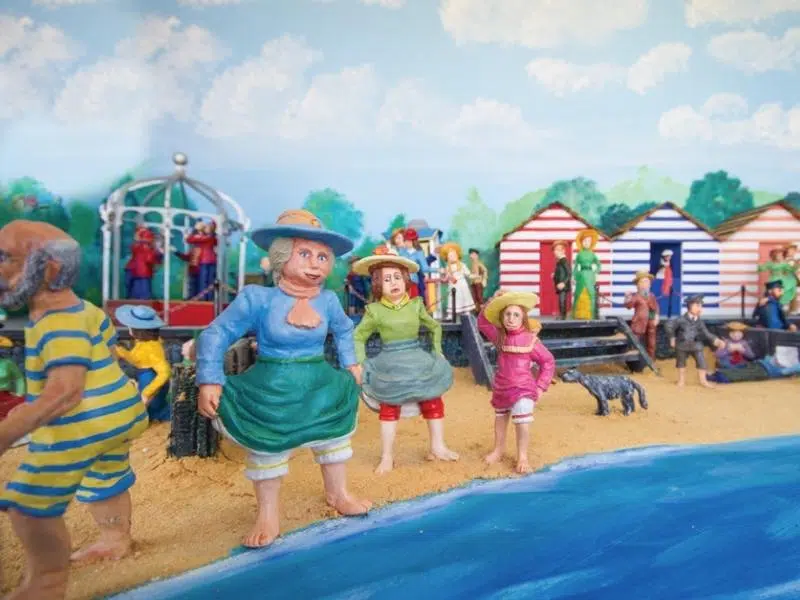 Discover Great Yarmouth's Row Houses
Managed by English Heritage, the beautiful Row Houses at Row 111 and the Old Merchant's House are all that's left of the original distinctive 'Rows' which were a network of narrow alleyways linking Yarmouth's three main thoroughfares.
Many Row Houses were damaged by World War II bombing or demolished after the war, but two surviving properties show what these typical Norfolk homes would have looked like at various stages in their history. There is also an excellent recreation of a Row at the nearby Time and Tide Museum.
Nearby stands Greyfriars' Cloisters, the remains of a 13th century friary of Franciscan 'grey friars', later converted into a number of Row dwellings. You can still see traces of their interior features, revealed by the wartime bombing, on the walls of the cloister and church.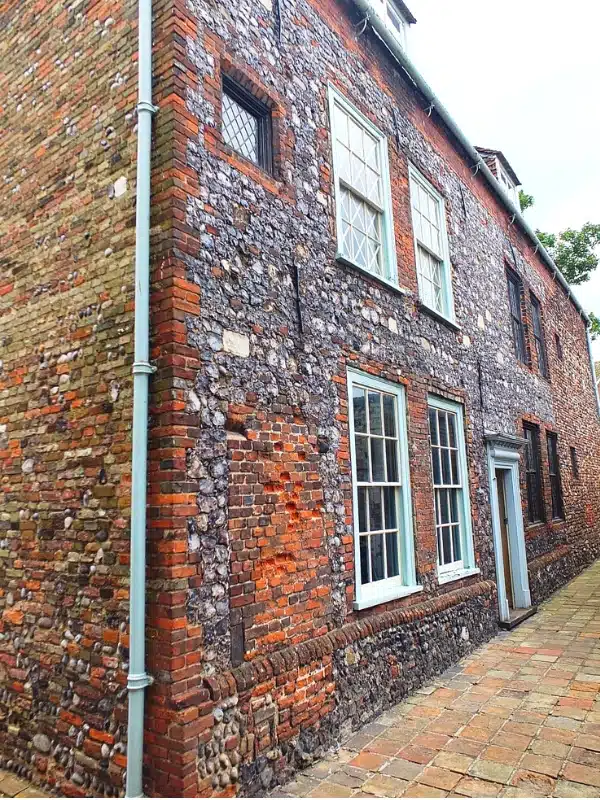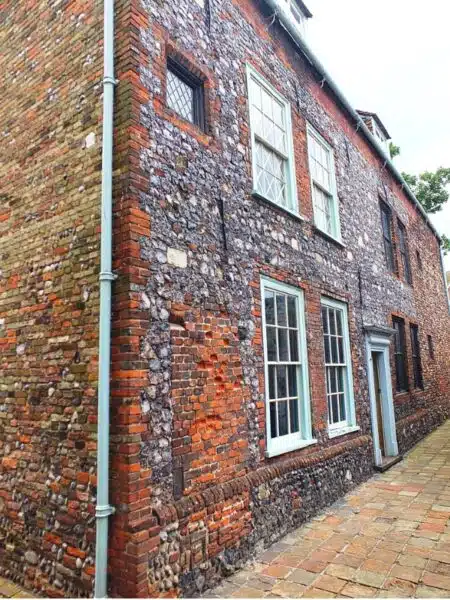 See the Admiralty Road Banksy
In August 2021, the stealthy street artist visited the East Coast on a self-titled 'Great British Spraycation'. Over several days, Banksy left his art in Great Yarmouth, Gorleston, Lowestoft, Oulton Broad, Cromer and King's Lynn.
Great Yarmouth awoke to find a piece depicting a man and a woman dancing while an accordionist plays, behind the bus stop on Admiralty Road and it was soon confirmed as a Banksy.
Today, the piece remains on display on the side of the private property, covered in Perspex to protect it from the elements and vandals.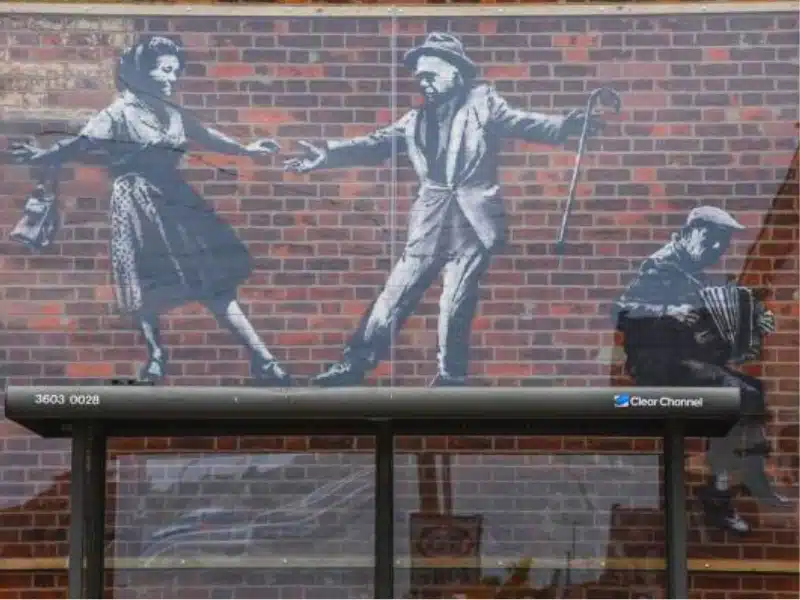 Visit Great Yarmouth Minster
OK, so maybe it's not the most exciting of the Great Yarmouth attractions, but the Mister Church of St Nicholas is well worth a visit.
Founded in 1101 by the Bishop of Norwich, it is the largest parish church in England and probably the oldest building in Great Yarmouth.
During the Medieval period, when Great Yarmouth was in its heyday and the fourth wealthiest town in England, the church was at its most magnificent with stained glass, tapestries, painted and gilded walls and various relics of the saints held within. Sadly, the interior was destroyed during the Reformation and the Priory dissolved.
Now beautifully restored, the church is open daily and has become a hub of the community where lots of events are held.
RELATED POST: Norfolk Churches: 16 of the Best to Visit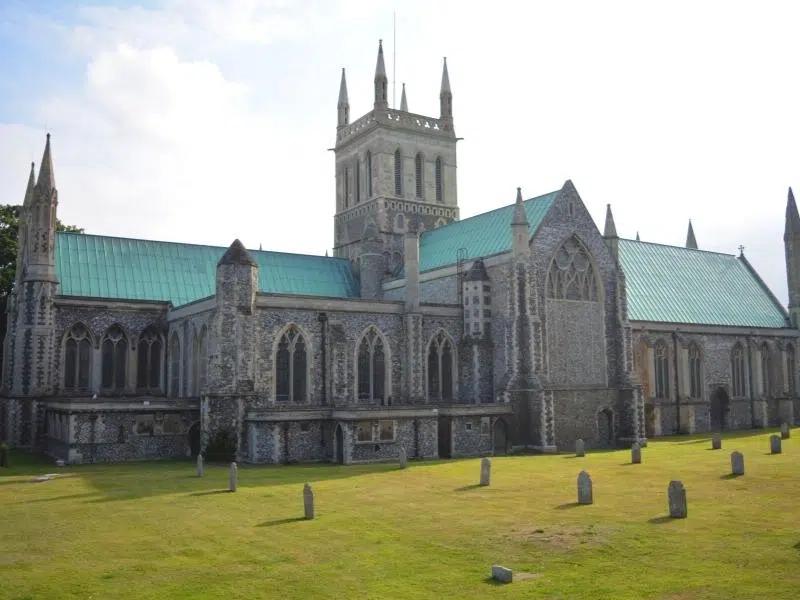 Spend a Day at the Races
Great Yarmouth Racecourse is a historic racing venue. With horse racing taking place over the summer season with 23 flat race meetings, a day at the races is one of the best things to do in Great Yarmouth for adults.
The John Musker Fillies' Stakes, a valuable race run over a mile and a quarter in September, is the highlight of Great Yarmouth's horse racing calendar.
With its proximity to Newmarket, the course is also an ideal spot to catch up-and-coming two-year-olds in action, some of whom go on to win prestigious races.
The Racecourse also holds a variety of events throughout the year including Ladies Evening in July every year, live music and competitions and several Christmas events.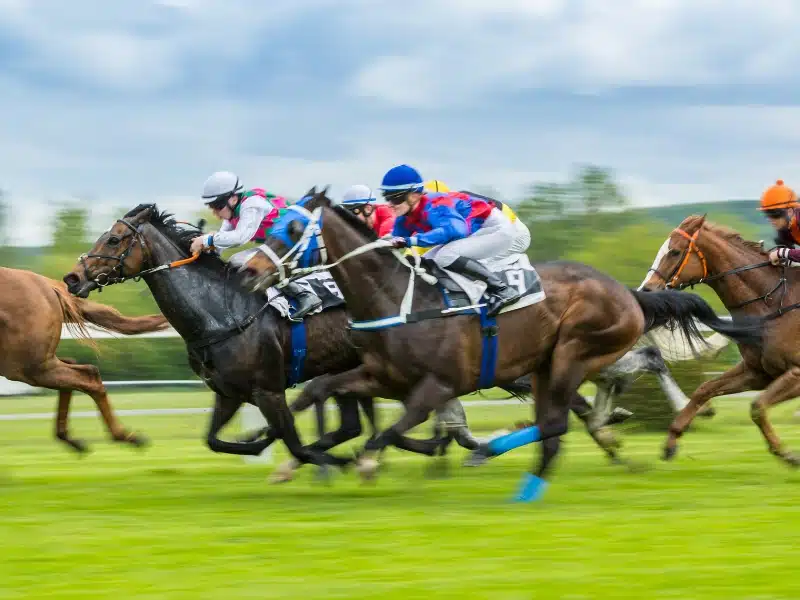 See a Show at the Hippodrome Circus
Always a holiday highlight when my kids were small, an outing to the Hippodrome Circus summer show was something we all looked forward to.
Built in 1903, the legendary Hippodrome is Britain's only surviving total circus building – and what a building it is! Hidden behind a fairly average facade is a full-sized circus, including a drop ring which becomes a pool!
There are lots of different shows throughout the year, with the summer circus and water spectacular being our firm favourite – probably because it feels like two shows for the price of one! There are also Halloween and Christmas shows every year if you're visiting out of season.
RELATED POST: Christmas in Norfolk – 45+ Dates for Your Diary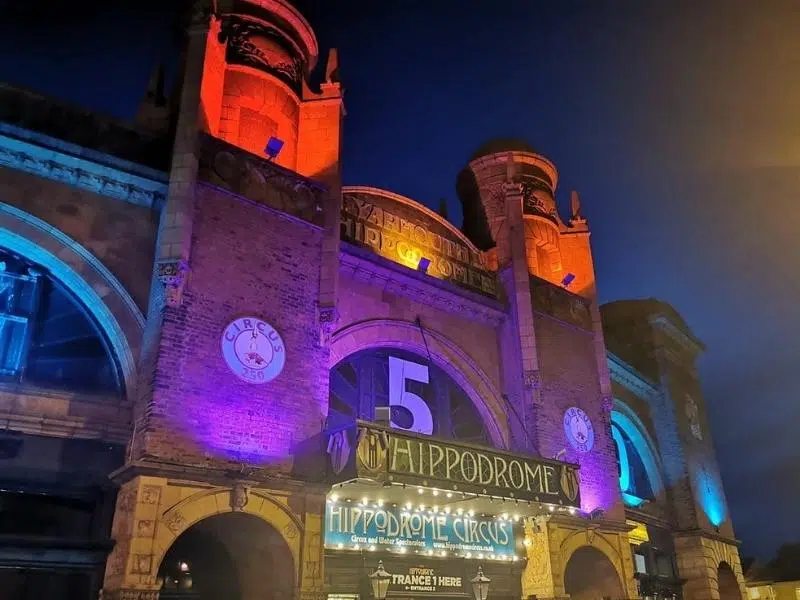 Walk the Town Wall Art Trail
A new and evolving art trail around Great Yarmouth's medieval town wall, one of the best preserved and most complete in England, is being developed. A series of 20 sculptures will be installed as an outdoor gallery to highlight the often-overlooked town wall ancient monument.
The 1.2 mile long historic wall will serve as a backdrop for the artworks, which will celebrate different elements of Great Yarmouth's heritage and history.
To date, two works have been installed, both of which celebrate the rich history of Great Yarmouth's fishing industry.
Fisher Girl by Bridget Heriz celebrates the fisher girls of Great Yarmouth at the turn of the 20th century. As they followed the huge shoals of herring which moved south along the coast, the fisher girls, many from the highlands and islands of Scotland, gutted and packed herring for the autumn fishing season and played a significant role in the success of Yarmouth's fishing industry.
The second sculpture is Swills by Alison Atkins, named after the functional yet beautiful baskets used by Yarmouth fishermen to carry herring from the boats and auction houses which once lined the quayside. Unique to Great Yarmouth and woven from willow, swills were shaped to allow them to be transported down the narrow Yarmouth Rows and were the perfect dimensions so that two people, each with a swill basket, could pass by in the Row without blocking it.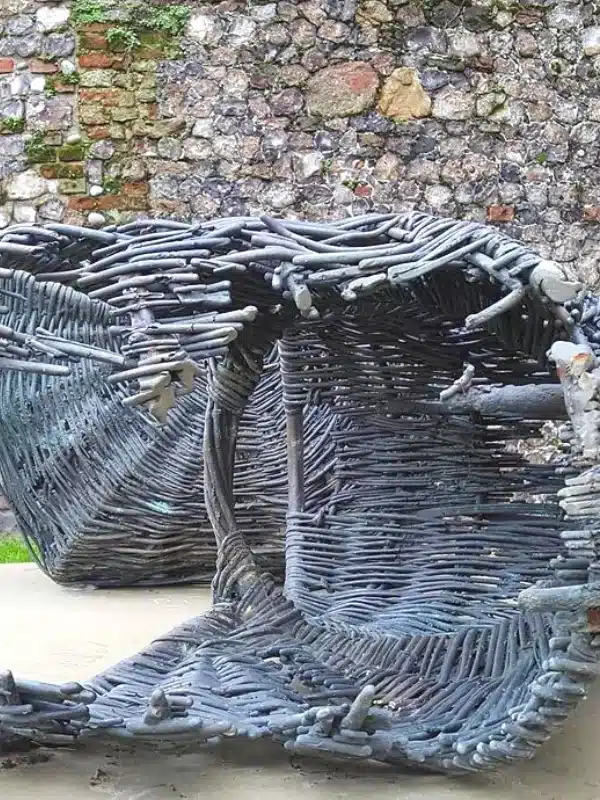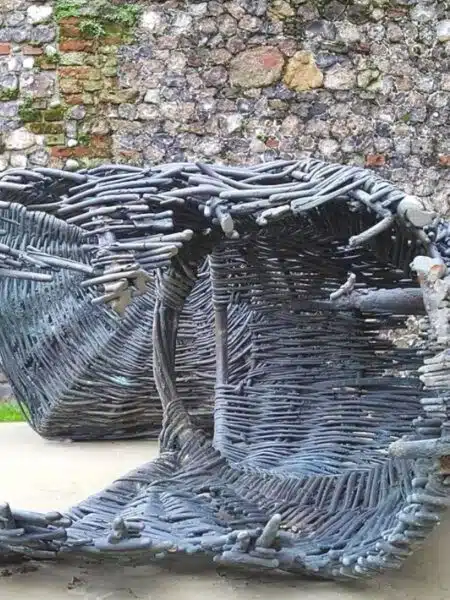 Discover the Yare Gallery
The Yare Gallery, sister gallery to Skippings Gallery, is housed in a Grade II listed 17th century merchant's house which was previously the home of the Norfolk Nelson Museum. The gallery is a new project from the team at Great Yarmouth Preservation Trust.
In the heart of Great Yarmouth's historic South Quay, The Yare Gallery enjoys far-reaching views across the River Yare and hosts exhibitions across three floors, all flooded with natural light from Norfolk's famous big skies.
The free-to-enter gallery celebrates local artists and has a diverse programme that changes regularly, so there's always something new to see and do.
Things to Do Near Great Yarmouth
Head for Hemsby Beach
Hemsby Beach is a lively village resort with gift shops, amusements, attractions and cafés, a bit like a mini Great Yarmouth!
The spectacular wide and natural sandy beach with its grassy sand dunes makes this a popular spot for a fun day out with visitors all year round.
From here you can take a leisurely stroll north along miles of sandy beaches to Winterton on Sea, where Winterton Beach and Horsey Beach are one of the highlights of the Norfolk coast and a great place for seal watching.
RELATED POST: Best of the North Norfolk Coast – 20 Unmissable Highlights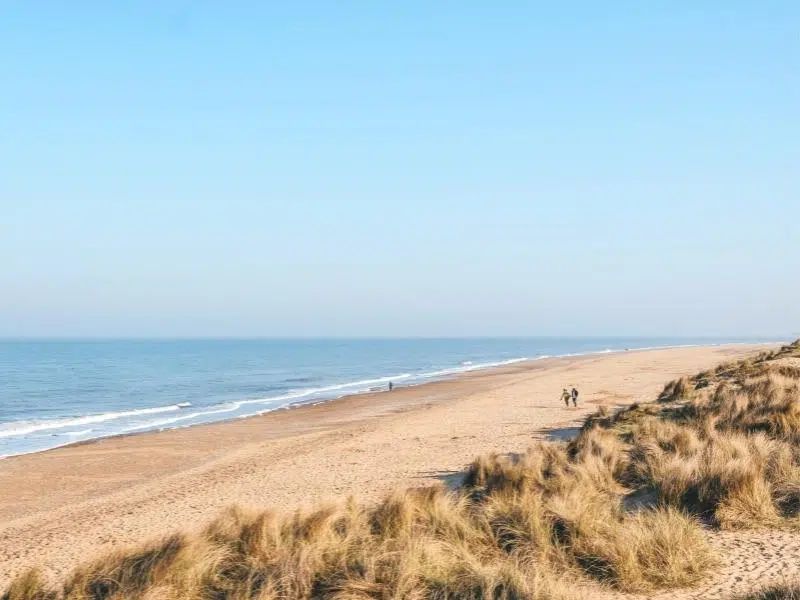 Treat Yourself to Afternoon Tea
Commanding fabulous sea views over Gorelston Beach, The Cliff Hotel is the best place for afternoon tea around Great Yarmouth.
The Cliff Hotel gives its luxurious afternoon tea the focus it deserves, with a perfect spot to enjoy the occasion on the terrace and gardens overlooking the sea.
A delicious selection of sandwiches, canapes, scones and petit fours, all traditional flavours but with a twist, are served on a modern oblong cake tier.
RELATED POST: Afternoon Tea in Norfolk – 15 of the Best Places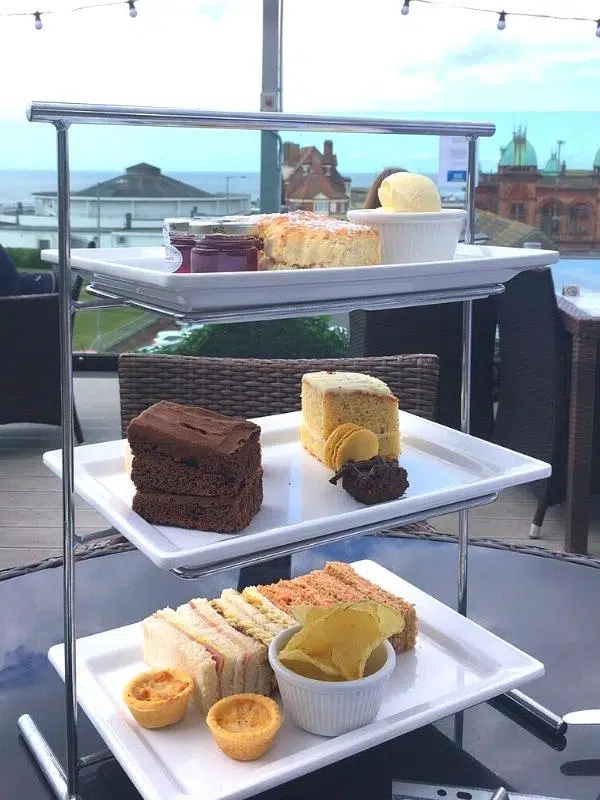 Discover the Norfolk Broads National Park
Head inland from Great Yarmouth, and in just a few miles you'll be in the heart of the peaceful Norfolk Broads. A great antidote to the noise and colour of the town, the Broads offer a relaxed pace and lots of water-based activities and boat trips.
The Norfolk Broads National Park is made up of over 60 open areas of water known as Broads, originally dug out in medieval times to provide peat for fuel. In the 14th century, these peat diggings flooded, creating the beautiful waterways we see today.
This is one of the most diverse national parks in the United Kingdom, with a vast range of flora and fauna to be explored, and my Norfolk Broads guide has all the info you need.
Start in Wroxham, the capital of the Norfolk Broads and hire a canoe, kayak or paddle board and set off on an adventure. Take a picnic and binoculars to spot the many different birds you'll encounter, or book a guided trail where a local expert will take you to backwaters where motorised boats can't go, for the best opportunities to see kingfishers, bitterns and even the elusive otter.
If you're not confident on the water but still want to explore this gorgeous part of Norfolk, hop on a Broads boat tour from Wroxham Bridge.
RELATED POST: 26 Exciting Things To Do On the Norfolk Broads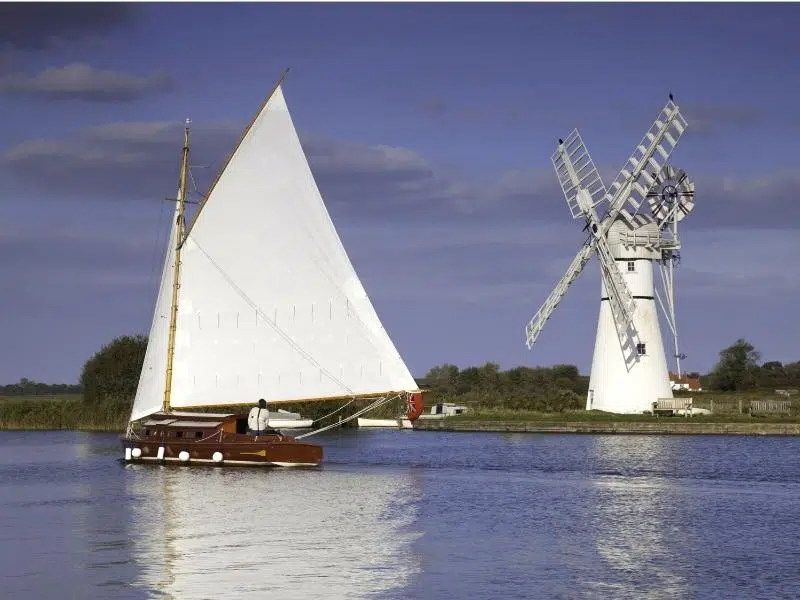 Chill at Gorleston-on-Sea Beach
Just across the River Yare from Great Yarmouth is the much less visited Gorleston-on-Sea. Take the buckets and spades or kites to gorgeous Gorleston Beach for a great day out on the biggest beach with golden sands for miles around.
Have a go on the fiendishly difficult yachting pond, dip your toes in the paddling pool and explore the wide esplanade below the grassy cliffs before settling in for fish and chips and ice cream for tea!
RELATED POST: Gorleston-on-Sea: A Traditional Norfolk Seaside Town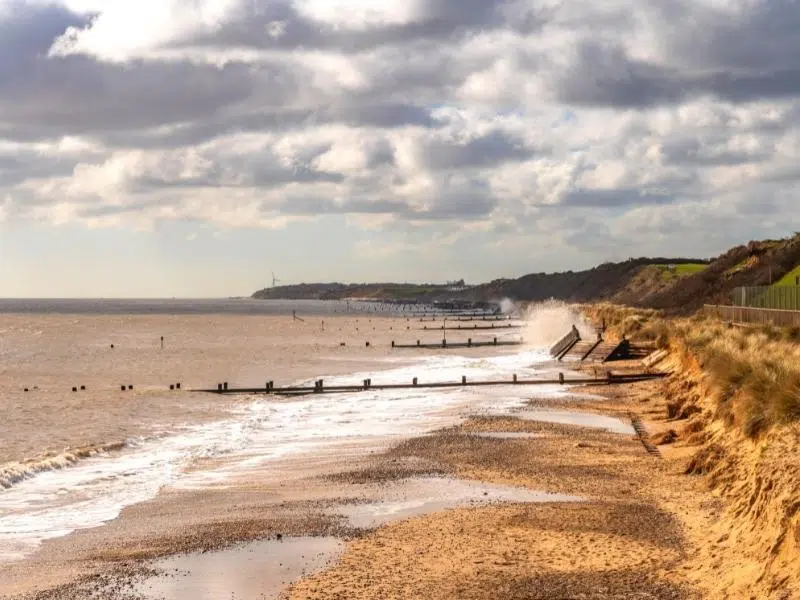 Explore Hirsty's Farm
Award-winning Hirsty's in the Great Yarmouth area is great for a fun family day out. Open during school holidays, this working farm has acres of space to explore including the Summer Mega Maze, the giant maze made of maize where kids can get lost in the corn maze, find the clues to the quiz and collect stickers on their journey to find the way out – you hope!
Elsewhere on the farm, there is a variety of animals to see, and lots of activities to burn off energy like the hay bale mountain, zip wire, a soft play area, bouncy castles, go-karting and trampolines. There is also a great café and farm shop selling produce grown on the farm and locally.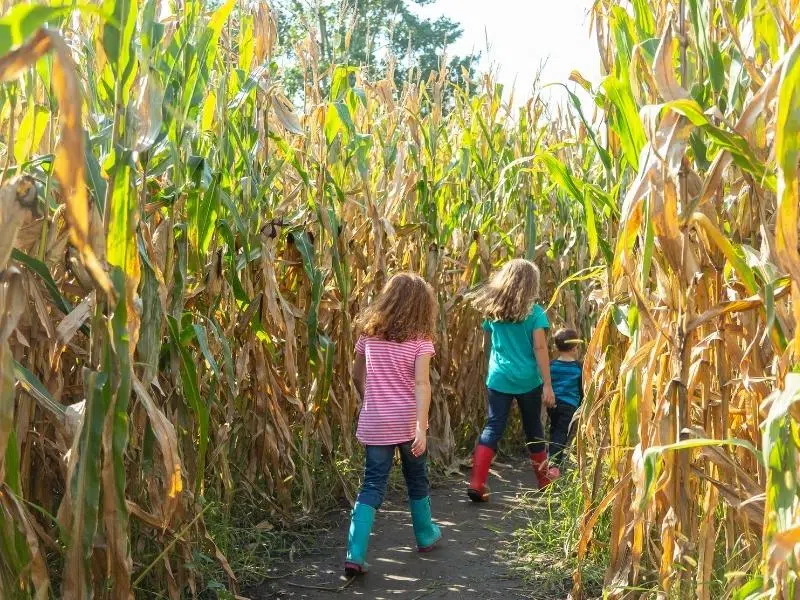 Walk the Angles Way National Trail
Just inland from Great Yarmouth, you can ramble around the majestic 3rd century Roman flint walls at Burgh Castle, one of 12 castles in Norfolk, and enjoy the great outdoors away from the busy beaches.
On a clear day, you can see for miles with panoramic views across the Rivers Yare and Waveney to the marshes and Berney Arms windmill in the distance, perfect for capturing that iconic Norfolk image.
From the ruins, head to the river and join the Angles Way National Trail to Great Yarmouth. At the river, turn right and you'll find the path that runs alongside the river, before arriving at Breydon Water National Nature Reserve where the sea meets the Broads.
From here, the path takes you to the Breydon Bridge, where you can cross the river back into Great Yarmouth. This Norfolk walk is 4 miles one way, which will take around an hour and a half at a relaxed pace.
RELATED POST: 13 of the Best Norfolk Broads Walks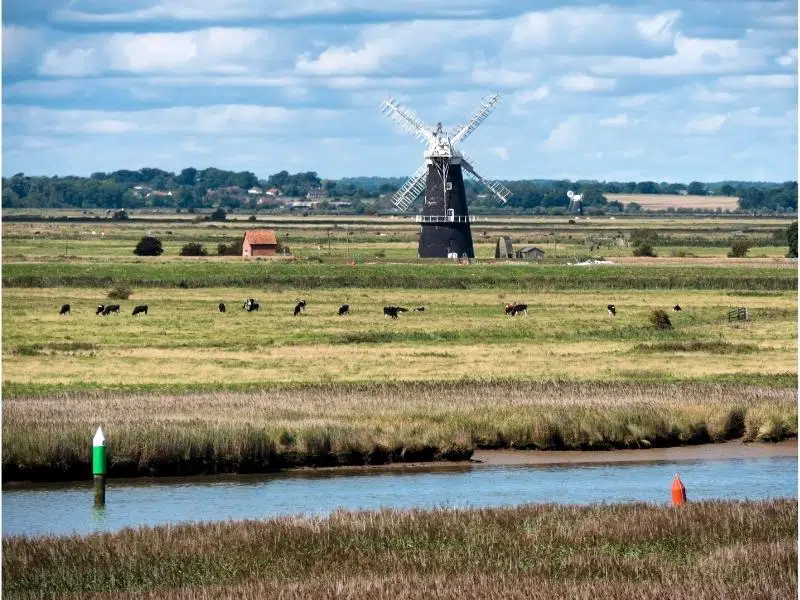 Discover Thrigby Hall Wildlife Gardens
Thrigby Hall Wildlife Gardens boasts 250-year-old landscaped gardens, play areas, and a stunning willow pattern garden.
One of the best things to do near Great Yarmouth, the park is famous for its collection of Asian mammals, birds, and reptiles, all set amidst the picturesque grounds.
Visitors of all ages can enjoy the snow leopards, rare tigers, gibbons, otters, crocodiles, and various other species, as well as the gift shop and café. The park's tropical and forest houses provide excellent all-weather cover.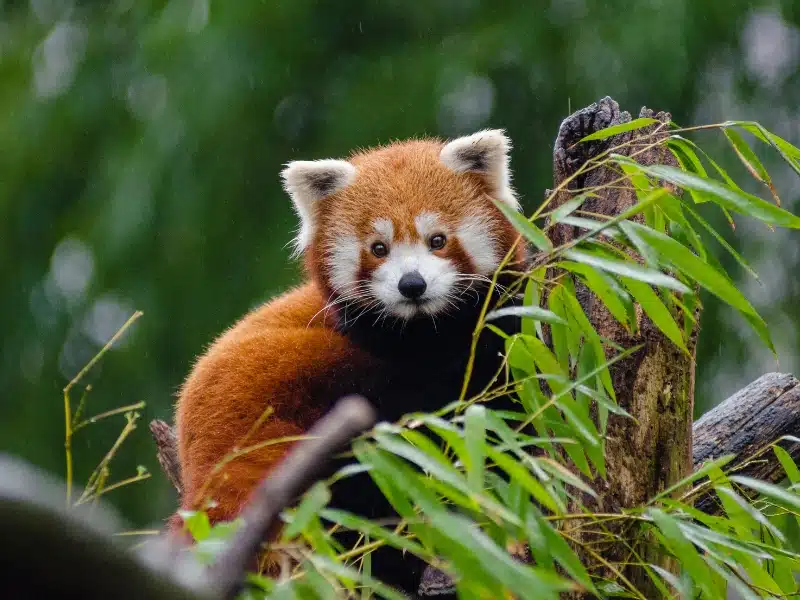 Great Yarmouth FAQs
Is Great Yarmouth worth visiting?
Yes! Great Yarmouth is a great place for families to spend time together and have fun. There are plenty of things to do in Great Yarmouth, from theme parks and beach activities to visiting nearby attractions and enjoying nature.
What is Great Yarmouth known for?
Once a bustling port renowned for its smoked herring in Victorian times, the Great Yarmouth of today is a significant hub for North Sea gas and oil exploration. The local economy also thrives on electronics, engineering, furniture-making, brewing, and other light industries.
Is Great Yarmouth in Norfolk or Suffolk?
Great Yarmouth is in Norfolk. However, it is only 5 miles south, as the crow flies, to the border with Suffolk.
Map of Great Yarmouth Attractions
How to use this map – Use your fingers (or computer mouse) to zoom in and out. Click or touch the icons to get more info about a place, and click the arrow in the box top left to open the index. To add to your own Google Maps account, click the star next to the title of the map.
Have I missed any of you favourite things to do in Great Yarmouth? Scroll down to leave a comment…
Love it? Pin It!