Escape rooms and virtual reality are two of the biggest gaming trends right now and are a great way to have a lot of fun with your family and friends, testing your skills and working together to solve puzzles and escape the room or win the game.
When you combine the escape room concept with state-of-the-art virtual reality, the excitement factor really ramps up. Vector VR Norwich offers just that in their suite of pods and escape rooms at the Castle Quarter in the city centre, and kindly hosted me for a session.
I took my hubby along and we played in the pods and the escape room. But is this new craze really as good as they say and is Vector VR the right place for your Norfolk escape room outing?
RELATED POST: The Ultimate Local's Guide to Norfolk England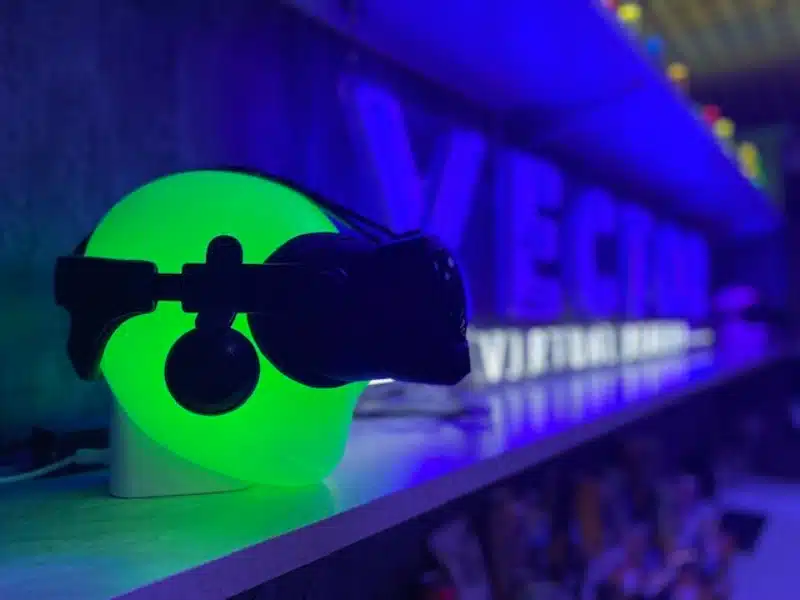 This post may contain affiliate links. If you book something I recommend, I make a small commission without affecting the price you pay!
What Are Escape Rooms?
Oxford Languages describes an escape room as this:
A room in which people are locked in order to play a game requiring them to solve a series of puzzles within a certain amount of time to accomplish a goal, typically finding the key to unlock the room i.e. "they will have to race against the clock and decipher clues to find their way out of the escape room".
In a traditional escape room, sometimes called a puzzlescape, exit game, puzzle room, cryptic escape room or riddle room, the environment is real and the clues are hidden around the room.
What is Virtual Reality?
Oxford Languages describes virtual reality as this:
The computer-generated simulation of a three-dimensional image or environment that can be interacted with in a seemingly real or physical way by a person using special electronic equipment, such as a helmet with a screen inside, eye goggles or gloves fitted with sensors.
What is Vector VR Norwich?
Vector VR offers virtual reality escape rooms and gaming in the heart of Norwich. You can jump into one of many realities to play with or against your friends and family, or even on your own.
Vector VR offers over 50 high-quality games and virtual escape room scenarios across ten purpose-built pods and a large virtual free-roam escape room, where you can move freely within the virtual environment.
From gentle nature treks, deep sea diving and magic school to war simulations, speed games and shoot-em-ups, there's a VR game here whatever your age, skill level or interest. You'll solve mysteries, hunt for ghosts or compete against each other in a high-paced shooter.
If you're looking for something to do in Norfolk on a rainy day, a party venue for kids or an interactive family activity, then Vector Virtual Reality in Norwich makes a great option, and scores 5 on Tripadvisor, so lots of other people think the same!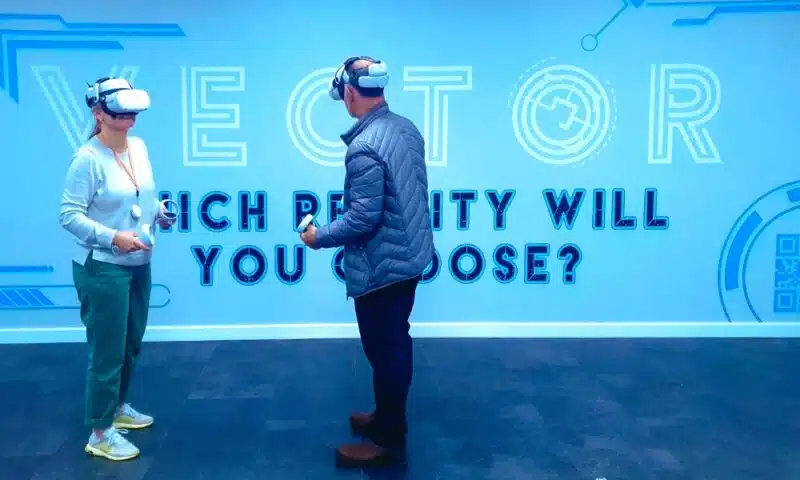 Our Experience
We went along on a Tuesday afternoon to check out the facilities and have a go in both the pods and free-roam escape room.
Neither of us have ever done anything like this before and didn't really have any idea what to expect, or even whether we'd enjoy the experience.
How wrong were we! What followed was an afternoon of adrenalin pumping teamwork, puzzle solving and a LOT of high energy fun – no wonder VR escape rooms are taking the United Kingdom by storm!
On arrival, we were greeted by the very helpful and knowledgeable Anna and Rebeka, who talked us through how Vector VR works, the types of games available and what would happen once we entered the pods and escape room.
The Pods
When you go into the pod, the staff will help you get the headset on and adjusted comfortably. You can also choose to wear a haptic vest, which vibrates to simulate being shot or stabbed – without the blood and pain!
Once you're ready, a short introduction to VR takes place, within a VR world of course! This helps to orientate you to the handheld controllers, which help you move around the virtual world, shoot baddies and monsters, and pick things up.
In the pods, the headset is connected with cabling to the VR servers, so you only have a limited range of movement. It took me a few minutes to get used to moving in virtual reality whilst standing still in the real world. This effect can cause motion sickness in some people, although I was too fired up to feel ill!
I was desperate to play a zombie shoot-em-up and picked Arizona Sunshine – a single and multi-player 18+ game where individuals in each pod can be connected over audio with up to three others, making the experience truly interactive.
It took a while to get the hang of the wild west VR world of Arizona Sunshine. Working out how to move around, open car doors and grab stuff you might need on the journey took a good ten minutes – but it was fun along the way, especially with a pistol in each hand!
At one stage, I was almost defeated by having to climb a virtual ladder, but Anna was on hand to talk me through it via the headset and I made it to the top – unfortunately, there were a lot of zombies up there!
The game itself was a lot of fun and the virtual reality world was very realistic. I jumped out of my skin and screamed when I realised a zombie was right behind me, about to take a chunk out of my virtual shoulder!
Phil, my hubby, played a more immersive game called Half-Life Alyx, a 16+ classic first-person shooter game for one, with elements of horror and exploration – just like an escape hunt!
Watching Phil as he peered through windows, looked in boxes and grappled with climbing across roofs in the virtual world was really funny – I could tell he was having a great time!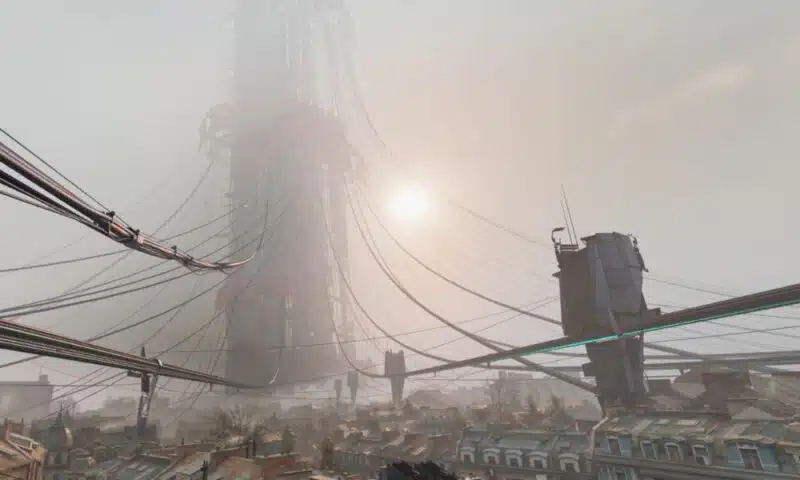 The Free-Roam Escape Room
The premium free-roam escape room is a totally different experience from the pods. Here you're fitted with a similar headset and handheld controls, which look like proper hands and fingers through the VR headset.
The big difference with the free-roam room is that your headset is not attached to anything and you're free to move around the room as much as you like and wherever you want. Your movement corresponds with how you move in the VR world you choose.
We picked Space Station Tiberia, a spaceship tasked with saving the world by targeting and blowing up a huge asteroid heading towards us, and then planet Earth.
When the game switched on, it took us a moment to find our bearings and get clued up, and then we realised we were in a glass-bottomed spaceship over Earth, surrounded by floating objects like batteries and laptops, and fixed information screens on the walls.
Our first task was to get the space station working again (of course it was broken!) by using the objects and information available in the spaceship. There are clues to help get you started, and we quickly realised we needed to find power for the virtual laptop to work – just as a virtual battery pack floated past!
The quality of this virtual reality world blew us away (see what I did there…). We were able to grab stuff from the air with our hands, smash small flying asteroids and space debris into tiny pieces and lift and carry items around the craft.
Once we got the spaceship working, we went through a virtual door to the outside where we were immediately under fire from asteroids. Our task here was to manoeuvre a large magnetic crane to collect more items we needed to get the huge weapon working to target the planet-killing asteroid.
I will confess that we lost lots of items into space as we flung ourselves around trying to catch stuff and bat away flying objects, and didn't always get the clues, but we did save the world (and achieve room escape) in the end!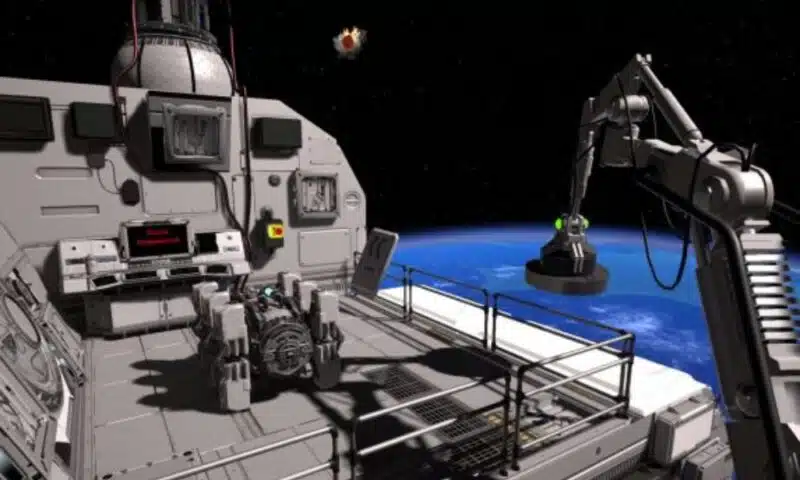 Pods v. Free-Roam
We really enjoyed both experiences. Your choice of pod or free-roam room, and game, depends on what you're looking for from your visit, and the age and number in your party.
For team building and family fun, I think the free-roam escape room is hard to beat, and I loved being able to move around at will.
The virtual reality world was so immersive we could feel ourselves being pulled in, our adrenalin was pumping as we navigated the mental and physical tasks, and we had to be quick and nimble under fire. We left the game feeling really pumped up and full of our heroics!
If you're playing adult games with your mates, the pods are ideal. With little movement but a full multi-player experience in the virtual world and via audio, these games work well for the experienced VR player.
Booking
Booking is easy online, where you can search for sessions by date and time. You do need to decide at the booking stage whether to go for a pod or the free-roam room, but you can always ring and speak to the friendly staff about what you're looking for.
There's no need to pick your game at the time of booking, you can do that on arrival.
You can also buy gift vouchers online from £10 to £100, which any VR, gaming or escape room enthusiast will love.
To book Vectr VR Norwich, click here for their website.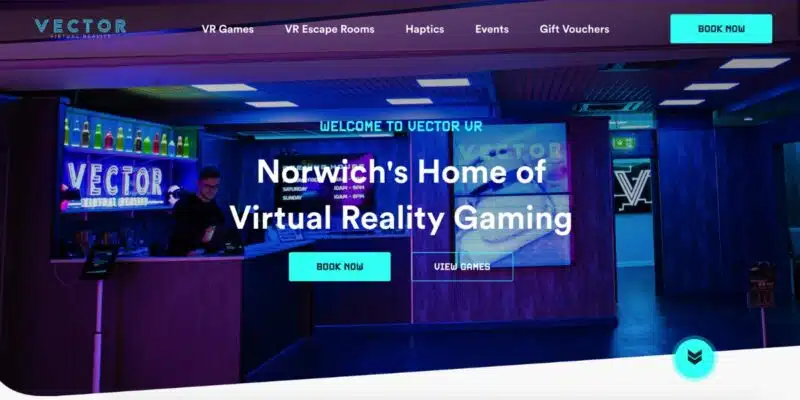 Value for Money
We thought that the experience offered great value for money, especially on subsequent visits where you're familiar with the equipment and how to play.
From around £25 per person for an hour in a pod, and £56 for two players in the premium escape room, this is more expensive than going to the cinema, but way more fun and way more interactive.
It may seem a misnomer, but in a world where we're all absorbed by device screens, virtual reality offers connection and engagement by the bucket load.
Conclusion
We didn't expect to enjoy Vector VR as much as we did. Although we're both pretty tech-savvy 50-somethings, it was not an experience we had tried before or had wanted to try – perhaps we had not seen the value in this type of activity.
But we've been converted and have been raving about our experience to friends and family. Now I've saved the world, I'm keen to find out what other VR options there are, and we'll definitely be back for more sessions.
Have you used a Norfolk escape room or tried VR gaming before? Share your experience in the comments!
Love it? Pin it!