Wells-next-the-Sea is a lively heritage harbour town in North Norfolk's Area of Outstanding Natural Beauty. Known simply as Wells, it is one of North Norfolk's top seaside towns and makes a perfect base for a Norfolk holiday or day out.
There are lots of attractions to keep everyone busy in Wells. With an award winning long sandy beach, a pretty Georgian town centre with a good mix of traditional and contemporary shops and eateries, and a bustling quay perfect for crabbing, Wells will entertain the whole family.
This round-up of all the must-do things in Wells-next-the-Sea and the surrounding area will help you plan your trip, so here are my top Wells highlights…
RELATED POST: The Ultimate Local's Guide to Norfolk England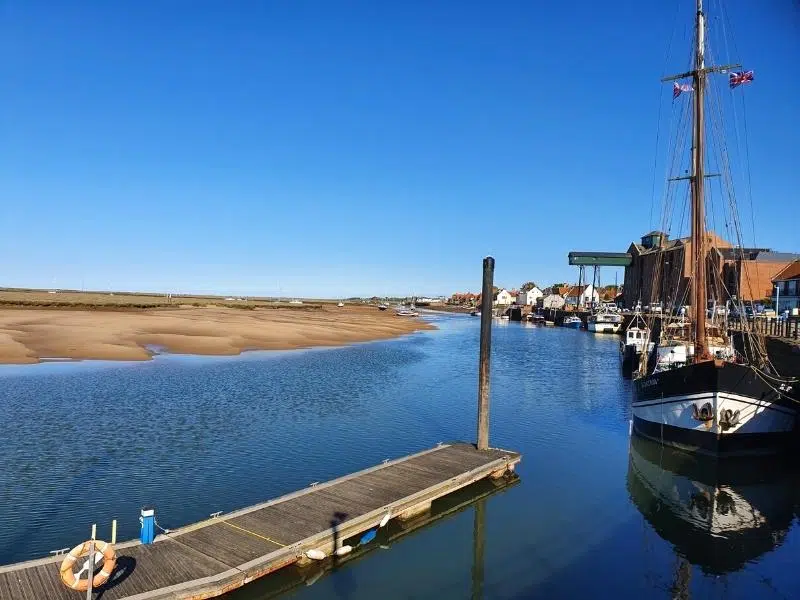 This post may contain affiliate links. If you book something I recommend, I make a small commission without affecting the price you pay!
The Best Things to Do In Wells-Next-The-Sea
Spend a Day on Wells-next-the-Sea Beach
Award winning Wells Beach is one of the most perfect Norfolk beaches for families. With endless expanses of soft, golden sand just right for sandcastle building, raised and sheltered dunes to picnic in, space to fly a kite or play games, and the beautiful clear water of the North Sea, a day spent here is always a good one.
There are also the the gorgeously shady Pinewoods to explore, with the Norfolk Coast Path running through them, criss-crossing from the trees to the beach. You can also follow the coastal path all the way to Holkham Beach and make a circular walk back to Wells, if you're feeling energetic!
Check out the colourful beach huts, like nowhere else in Norfolk, which can be privately rented for a day or longer. Most Wells beach huts are in private ownership, but a quick Google search will find ones that can be hired. I like The Happy Huts, whose beach huts are equipped with outdoor chairs, windbreaks, beach toys and a gas stove, for your afternoon cuppa!
RELATED POST: Beach Huts in Norfolk – All You Need to Know
Spending a few days with a beach hut is magical, especially with kids. No need to cart all your stuff to the beach (and it is a bit of a walk from the town) or spend ages trying to get organised on the beach. Relax by your hut, retreat inside for card games or to read a good book if it rains, and enjoy lunch without the sand in your sandwich!
Be sure to follow these tips about when using Wells beach;
Swimmers should stay within the area marked by yellow buoys to avoid boat traffic.
RNLI Lifeguards and Coastwatch volunteers watch the beach from July to September between 10am and 6pm daily.
The beach continues eastward from the main entrance but can be cut off by the tide which comes in very quickly.
Check tide times and be sure to return to the beach-side of the main channel when the warning siren sounds or around four hours before high water.
Dogs are allowed on the beach at Wells all year round subject to certain restrictions. A dog-free zone operates for the first 200 yards of beach from the main entrance so that people can dig in the sand without fear of finding something unpleasant, but there are no restrictions from the Pinewoods entrances.
It is a 20 minute walk from Wells town to the beach along the buggy-friendly beach mile. If that's too far, there's an excellent car park next to the beach. Literally get out of your car, climb the wooden steps to the top of the dunes, climb down the other side, and you're on the beach! The car park fills quickly in the summer, so you need to get there early.
There is a cafe at the western side of the car park and public toilets, and in the summer, an ice cream van, of course!
RELATED POST: Dog Friendly Beaches Norfolk: The Best for Unleashed Fun!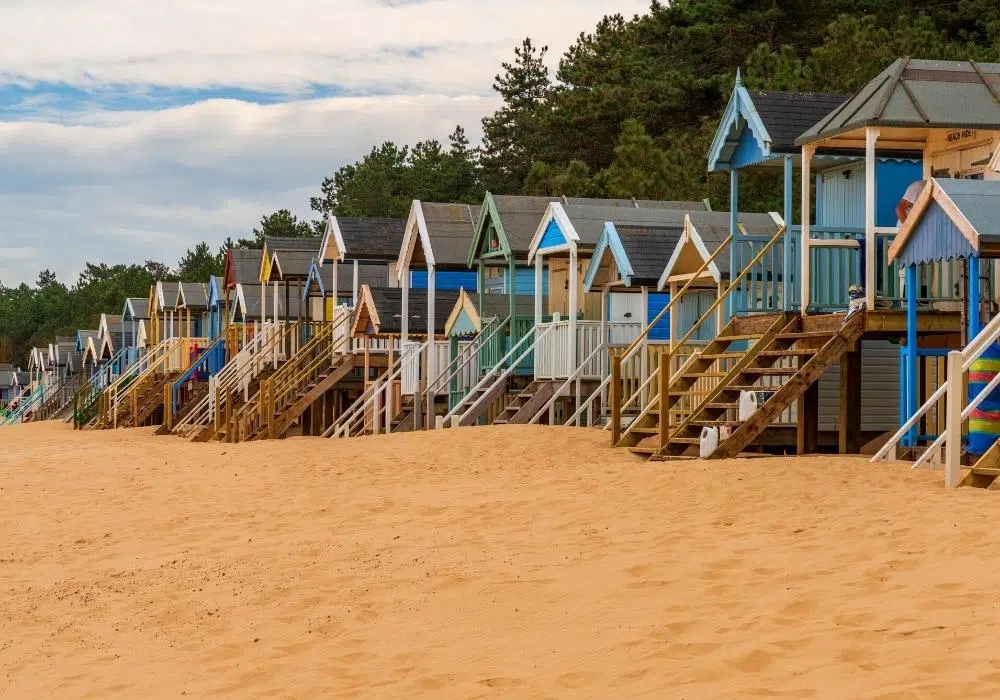 Planning a visit to Wells Norfolk? I share tips on getting to Wells-next-the-Sea by car and public transport, where to park, where to stay, places to eat + things to do locally in my ultimate Wells-next-the-Sea visitor guide.
Go Crabbing on Wells Quay
You must go crabbing (or gillying as it's known locally) on Wells quay, one of the best crabbing spots on the North Norfolk Coast.
If you're new to crabbing, it involves dropping a baited line into the water and waiting for the crab to take the bait, so you can pull him or her gently up. All you need are a line, bucket, and bait, which you can buy all over town. Follow out tried and tested crabbing tips;
When I was a kid, the best bait was raw bacon with rind (who knew?), but anything like chicken, small fish or even dog food works. I even used a bit from inside a pie once!
The best crabbing takes place as the tide is coming in – crabs are clever and know when the tide is heading out and bury themselves in the mud.
If you need to hold the crab, do so at either side behind the pincers.
Be prepared and have your bucket full of salt water with your net to hand.
No more than two crabs to a bucket, and try and keep the bucket shady. Crab's don't have much sun protection!
Wait – crabbing is a game of patience and you will be rewarded, I promise!
Don't keep the crabs too long, and definitely don't take them home as pets (the crabs you catch here are also not edible). Pop them back into the sea gently with thanks for being your captive!
RELATED POST: Wells-next-the-Sea Visitor Guide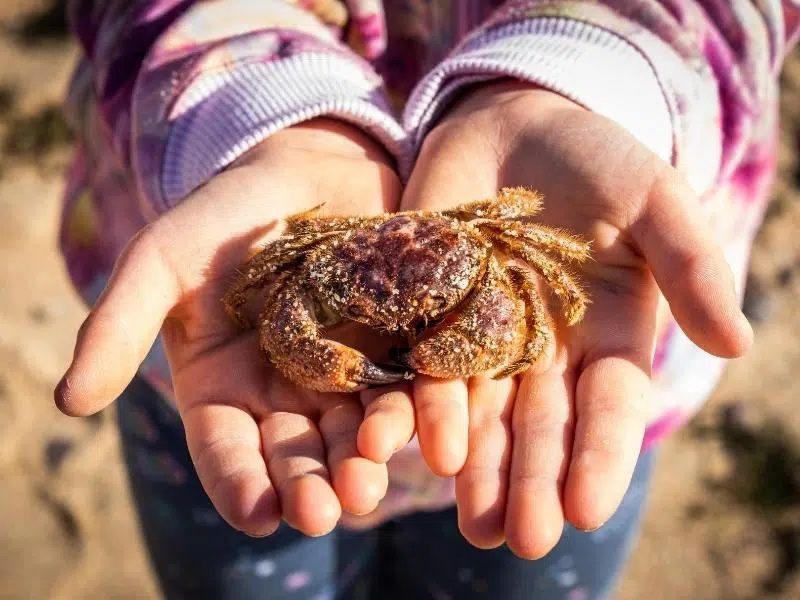 Take a Wells Harbour Boat Tour
With a busy harbour sheltered by salt marshes from the open sea, Wells was one of the great Tudor ports of East Anglia and home to many fishing boats. Today, the harbour is used by sailing and crabbing boats and is watched over by a picturesque granary dating from 1904.
You can see Wells from a different perspective with a boat tour of the harbour, beach and marshes. The skipper will provide commentary and share the history of Wells harbour in detail, whilst kids get the opportunity to hop off the boat onto the marshes.
Wells Harbour Tours offer boat trips which take around an hour and depart regularly every day from the end of March to the end of October, weather permitting. Car parks in and around Wells get very busy in the summer, so allow yourself plenty of time if you're booked on a boat tour.
Or, for something a little different, tour the harbour in the boat Lucy Lavers. This former lifeboat and Dunkirk veteran was restored by Rescue Wooden Boats and now lives in Wells' working fishing port, acting as a floating ambassador to help people understand and experience Norfolk's maritime heritage.
Dunkirk Little Ship Lucy Lavers is operated by Curlew Coastal Charters, who offer daily cruises of 1.5 hours in or near Wells harbour, where you can learn about the fascinating history of the boat. You can also privately charter the boat for trips along the Norfolk coastline, visiting local harbours and areas of outstanding natural beauty. Bespoke trips include a yummy locally sourced seafood picnic.
RELATED POST: Norfolk Coast – 8 Amazing Ways to Explore
Enjoy a Wells Stand Up Paddle Safari
Take a SUP tour of Wells harbour with North Norfolk Paddleboards or Barefoot SUP. Spend 2-3 hours with a local expert paddle boarder exploring the harbour and local creeks and salt marshes on a paddle board.
You'll get up close to the sea clipper Albatros and the Lifeboat Horse, before exploring further afield.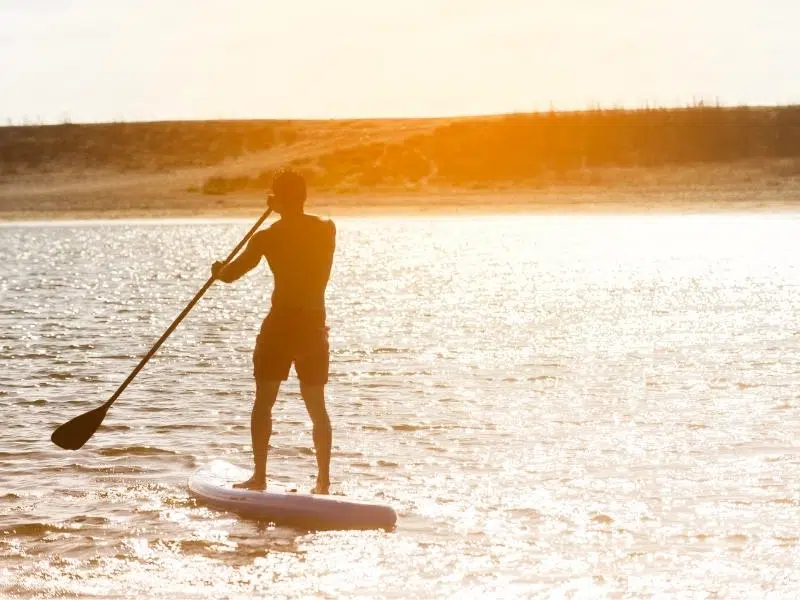 Take a Ride on the Wells & Walsingham Light Railway
Hop on to the smallest public railway in the world! The Wells & Walsingham Light Railway steams between Wells-next-the-Sea and the historic Saxon village of Walsingham, home to the famous pilgrimage site of Our Lady of Walsingham.
You can start your 30 minute journey at either end of the line, or take a return trip. There is no need to book in advance as the railway operates on a first come first served basis – you may have to queue on busy days. If they are not too busy, dogs can enjoy the ride too.
Trains depart daily between the 2nd April and 30th October, leaving Wells at 10.30am, 12 noon, 2pm and 3.30pm. The return train from Walsingham departs at 11.15am, 12.45pm, 2.45pm and 4.15pm. Choose an enclosed covered carriage, or an open carriage when the sun is shining.
You can buy snacks from the Signal Box Café, housed in an actual redundant signal box! They also have a play area to keep kids entertained whilst waiting for the train, and ample parking at the Wells station on Stiffkey Road.
In case you're wondering about the narrow gauge Wells Harbour Railway which ran alongside the mile long sea wall north of the harbour, it was permanently closed in 2021 🙁
RELATED POST: Steam Train Norfolk: 8 of the Best Journeys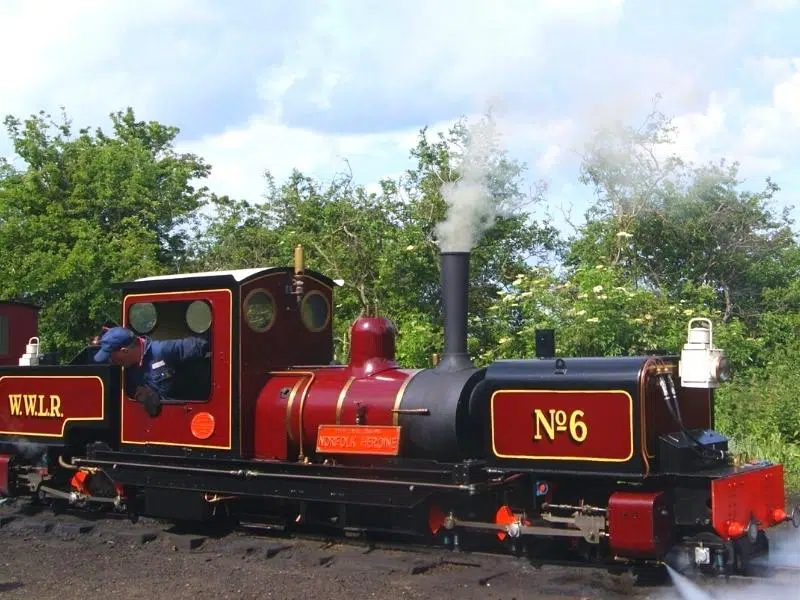 Go Alpaca Trekking
It's not the most obvious thing to do in the midst of Norfolk, but Wells Alpaca Trekking has become a really popular attraction for those visiting Wells-next-the-Sea.
Alpacas are similar to llamas, and are known to be more sweet-natured and easier to handle. Native to South America, they are quiet, curious and intelligent herd animals who thrive on company.
The perfect walking companions, alpacas are gentle, friendly and naturally shy. They all have their own unique personalities and seem to have a very calming influence of anyone who comes into contact with them – its no surprise that alpaca walking in the UK has become so popular.
When you arrive for your alpaca walk, you'll be given brief talk about the alpacas, their temperament and how to handle them. Once introduced, your alpaca is put on a lead and then led by you on a walk through the village and local coastal path, where they may want to stop to graze on grass or even enjoy a roll around!
When you get back from the walk, your alpaca will go back to their pen, and you'll be able to feed them chopped apples.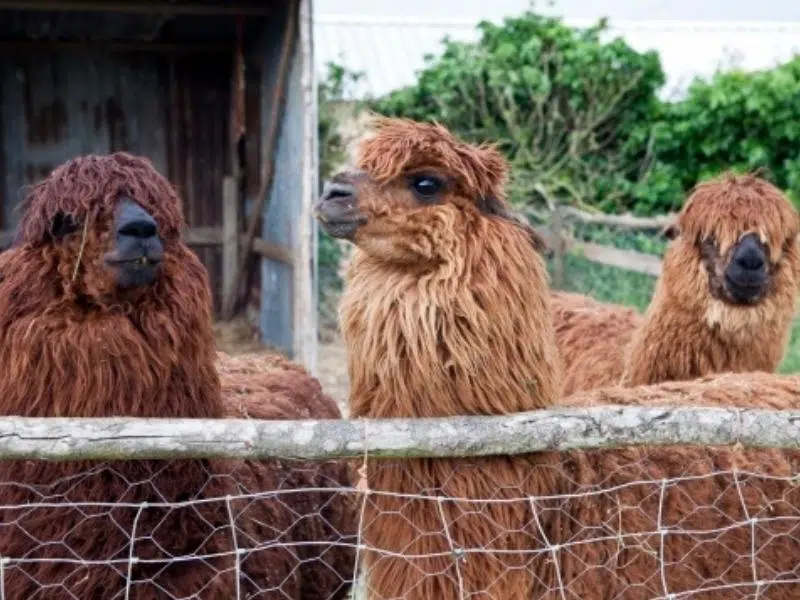 Admire the Lifeboat Horse
The Lifeboat Horse stands proudly in Wells harbour, and as the name suggests, honours the life-saving horses that one pulled Wells' lifeboat more than two miles from the quay to Holkham Gap whenever the lifeboat was launched.
Created by artist Rachel Long and made from steel bars and whisky barrels, the Lifeboat Horse has found a permanent home in the harbour sands, where it is fully visible at low tide and partly submerged at high tide, as it appears to swim through the waves.
The best view of the Lifeboat Horse is from Beach Road as you head north from the quay, or from a boat trip around the harbour.
RELATED POST: 30 of the Very Best Things To Do in Norfolk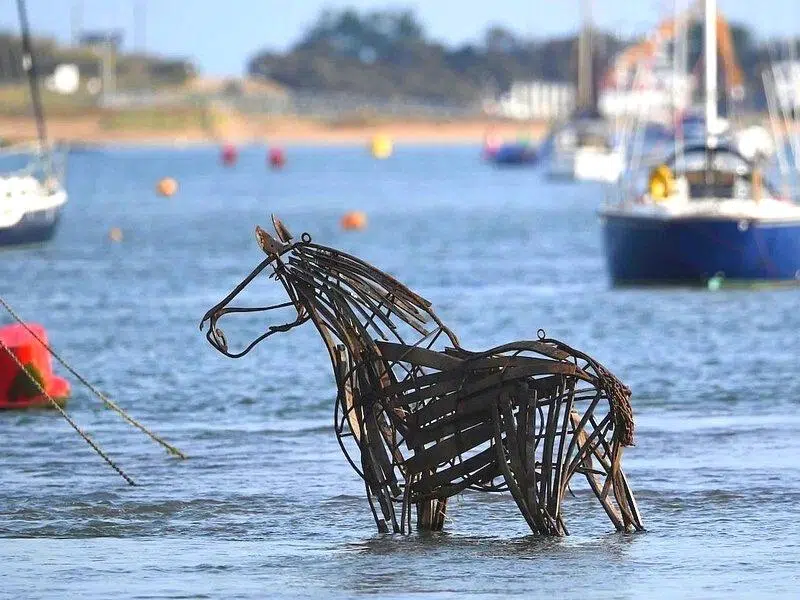 Visit the RNLI Lifeboat Station
There has been a lifeboat stationed at Wells for over a hundred and fifty years. The first Wells RNLI lifeboat station was built in 1869, and the one you see below had become an iconic landmark along the Norfolk Coast Path, but was sadly demolished in November 2022, to comply with planning permission and make way for a new all-weather station.
The new contemporary building, along with the new Shannon lifeboat, shop, visitor information centre and public viewing gallery is now open. From January 2023, volunteer guides will be providing tours of the lifeboat station, which you must book in advance here.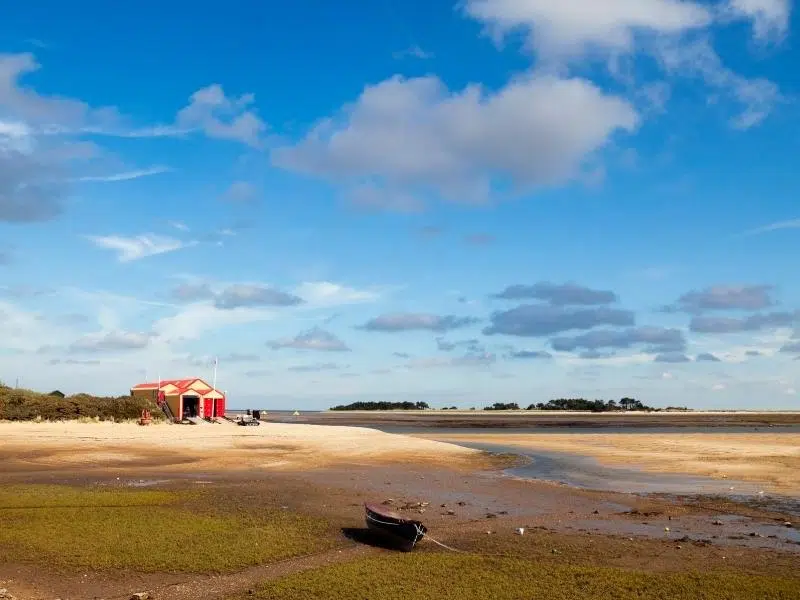 Explore Wells Town
One of the oldest Norfolk coastal towns, Wells has been a sea and fishing port since before the 14th century. In 1337, it is recorded that Wells had thirteen fishing boats which brought first herring and then cod from Iceland between the 15th and 17th centuries.
Wells was also a large manufacturer of malt, and in its 18th century heyday boasted up to twelve maltings, one of which can be seen on The Quay today, which contributed a third of the exports of malt from the country to the Netherlands, more than any other East Anglian port save Great Yarmouth.
In 1845 the quay was substantially rebuilt and Improvement Commissioners were given the task of making the town 'commodious and attractive' to residents and visitors, who became the first tourists to Wells with coming of the railway in 1857.
Wells Maltings is a new arts, heritage and community complex housed in the renovated Grade II listed Maltings. Home to a state-of-the-art theatre and cinema, café and bar, visitor information centre, box office and gift shop, it's well worth a visit when you're in town, especially if you want to learn about the history of Wells. You can find out what's on at the Wells Maltings here.
Stoll further along Staithe Street to find many of the town's independent shops, galleries, cafes and restaurants, perfect for souvenir shopping or treating yourself to a gift from Norfolk.
The Buttlands is the perfect spot for lunch or a drink, where you can find two of Wells' stalwarts looking out over the tree lined green; the delightful Globe Inn and The Crown Hotel, known for its Norfolk afternoon tea!
Other good places in Wells town to grab a quick bite or coffee and cake are;
Continue south along the High Street until you reach Church Plain, where you'll find St Nicholas Church, a huge Grade II* Norfolk church situated in the central Conservation Area of the town.
Originally built in the 13th century with a large scale restoration taking place around 1460, the church was destroyed by a devastating fire in 1879. The medieval tower, most of the external walls and the south porch survived the fire and the church was re-built in 1883.
RELATED POST: 26 Norfolk Food & Drink You Must Try!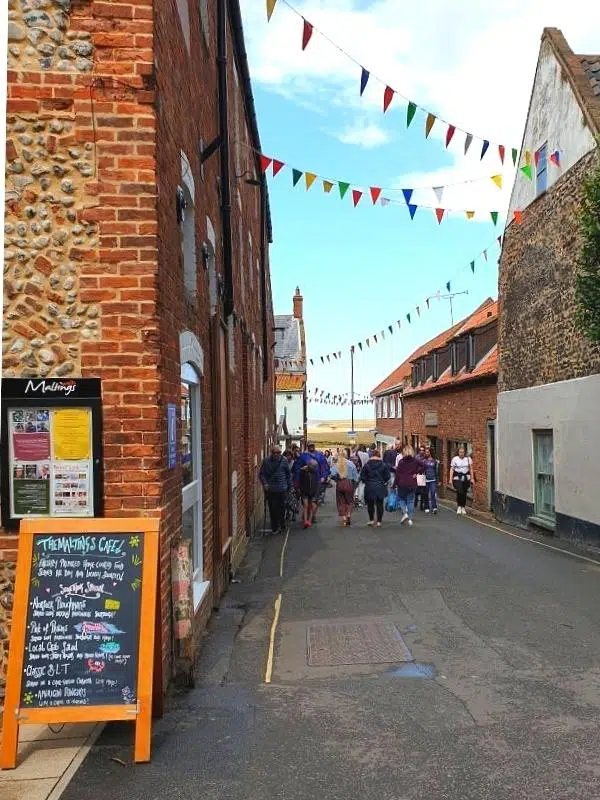 Wondering where to stay in Wells?
Check Out the Local Art
Norfolk has the perfect light, landscapes and huge skies for painters. There are several art galleries in Wells which showcase local painters and other Norfolk artists including scuplters, potters, jewellers and artisan crafters.
Art galleries to check out include Gallery Plus, home to the open studio of local artist Trevor Woods, Quay Art Gallery, a printmakers gallery where all the art is inspired by coast and countryside, and The Staithe Gallery, which also features handmade bespoke furniture.
Discover Whin Hill Norfolk Cider
Whin Hill Norfolk Cider is a small farm-to-table producer making quality cider, perry (pear cider) and apple juice from their own locally grown ingredients, using traditional production methods.
Pop into the ciderworks and find a seat in the pretty courtyard to sample their delicious range of cider. In the shop you can buy the cider, their potent Apple brandy and even fresh honey produced by the bees kept in their orchard.
RELATED POST: Six Vineyards in Norfolk You Need to Know About!
RELATED POST: Breweries in Norfolk – Best 16 to Visit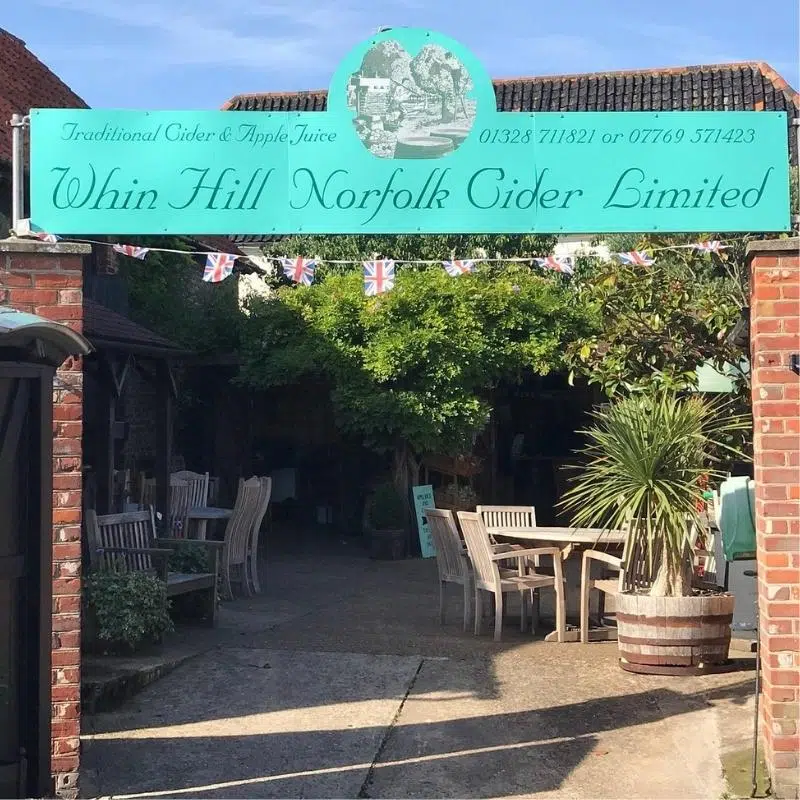 Have a Ball at Wells Annual Events
Wells Carnival
If you're visiting Wells around the first week of August, you'll have a ringside seat for the Wells-next-the-Sea traditional summer Carnival.
Wells-next-the-Sea Carnival is full of family fun and events, including a carnival procession around the town with floats and fancy dress, which takes place on the first Saturday in August. Traditional seaside activities include a sand-castle building competition and the crowning of the carnival king and queen.
Don't worry about getting peckish, you'll find stalls selling everything from local delicacies to exotic street food.
North Norfolk Triathlon
North Norfolk's popular Triathlon is held in Wells-next-the-Sea each year, staged by the Wells Harbour Maritime Trust, usually in September but the event is very tide dependent.
The start, transition and finish is located at the picturesque quayside and the 1.5km open water swim is held in the sea in Wells Harbour, followed by a 40km bike route around North Norfolk's coastal villages. The 10km running course follows the Norfolk Coast Path, returning back to the quayside for the finish.
RELATED POST: What's On in Norfolk – 80+ Dates for Your Diary
Wells Christmas Tide Festival
The Wells Christmas festival usually takes place in late November every year. There are lots of events to help you get into the festive spirit, including carol singing with the Fakenham Town Band and Wells United Churches Choir, mulled wine and sweet treats, all-day entertainment on The Quay, along with craft and product stalls at Wells Maltings, and the annual Christmas Tree Festival.
The big event is the Christmas lights switich on followed by the spectacle of Santa arriving from the North Pole at Wells Quay by boat!
RELATED POST: Christmas in Norfolk – 45+ Dates for Your Diary
Eat Fish & Chips on Wells Quay
Fish and chips are a very important part of the Great British holiday! Eating fish and chips from the wrapper on the harbour wall is a great way to end a day in Wells.
The best traditional fish and chips in Wells come from French's Fish Shop which has been serving them right on the quay since 1921.
RELATED POST: Best Fish & Chips Norfolk: 14 Top Places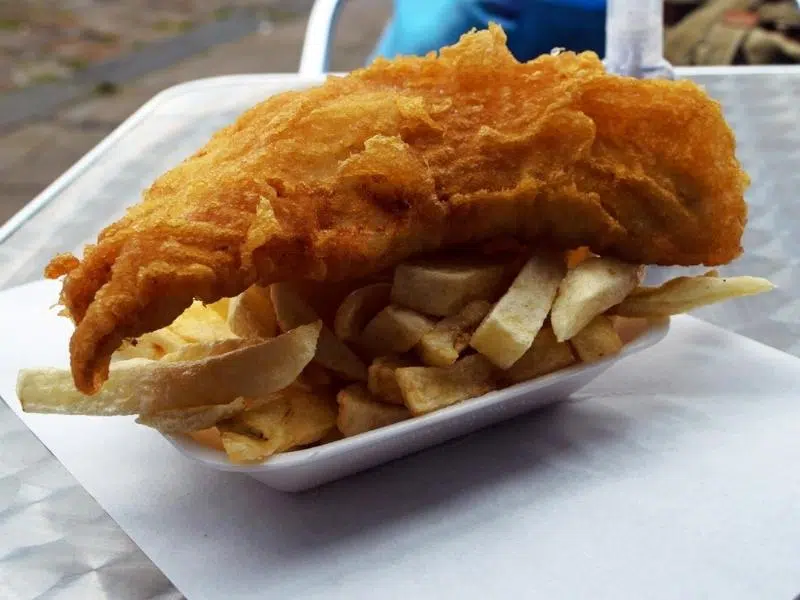 Things to Do Around Wells next the Sea
Take a Norfolk Hike!
Wells lies directly on the Norfolk Coast Path, an 83 mile signposted trail which starts in Hunstanton and ends in Hopton-on-Sea and passes through the dramatic landscape of North Norfolk's AONB. You can walk along this national trail east or west from Wells, and catch the Coasthopper bus back from any of the villages along the route.
Alternatively, you could do the Holkham circular walk from Wells. It's an easy walk, about seven miles long and mostly flat. You can stop at The Lookout at Holkham Gap or the Victoria Inn in Holkham village, for a break and something to eat. Get the map here.
RELATED POST: Walks in Norfolk – 14 of the Best Trails
Explore Holkham Estate
A wonderful destination, Holkham has it all. The small village boasts a stately home and estate, a pub, cafe, a beach, nature reserve and even a high ropes course – there's a lot going on here! Holkham is less than three miles from Wells, close enough to hire a bike in Wells and cycle there.
One of the best stately homes in Norfolk, Holkham Hall is an 18th century Palladian masterpiece, with a fantastic walled garden, surrounded by rolling parkland and home to a herd of Fallow deer.
Holkham Beach is simply vast and probably the best beach in Norfolk – even in summer you can find a quiet spot here, although you may have to walk a little way from the car park to do so.
The windswept tidelines, miles of dunes and maze of creeks which make up Holkham National Nature Reserve are ripe for exploring by intrepid adventurers – young and old alike!
The Holkham high ropes course is brilliant for teenagers, taking them on a trail of discovery through the treetops, finishing with a descent down two zip lines to get their feet back on the ground!
If you're visiting Holkham Hall, parking is signposted from the village. For Holkham beach and nature reserve head to Lady Anne's Drive Just of the A149, and you'll find designated parking along the sides of the road. Dogs that are kept under close control or on a lead are welcomed on the beach.
RELATED POST: North Norfolk Coast – 19 Unmissable Highlights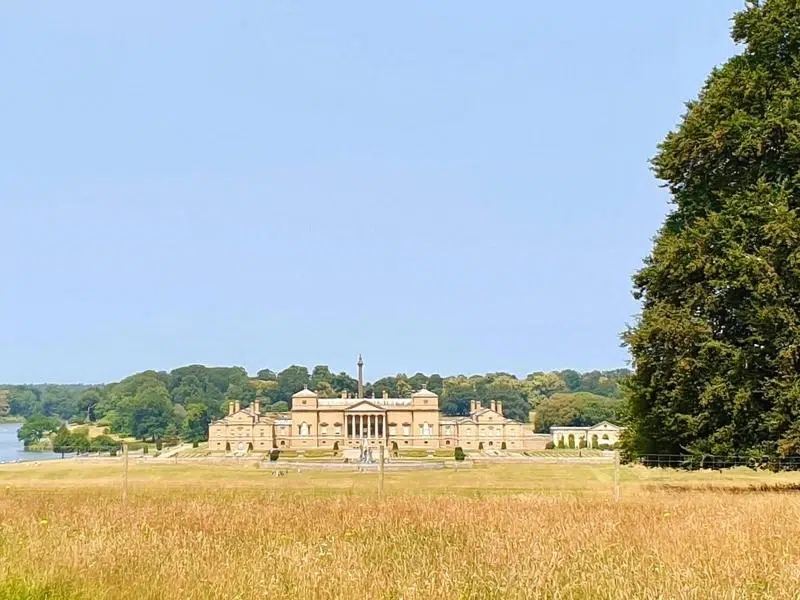 Enjoy a Picnic at Binham Priory
Just five miles south east of Wells is Binham Priory, one of the most complete and impressive monastic ruins in Norfolk, run by English Heritage.
This Benedictine priory was founded in 1091 by Peter des Valoines, a nephew of William the Conqueror, but many of its priors were unscrupulous and the history of the priory is one of almost continuous scandal.
The nave of the priory church, with its 13th century west front and fine tiers of Norman arches, is now Binham parish church, and displays the former rood screen with medieval saints overpainted with Protestant texts.
The extensive ruins beyond emphasise the original size of the monastery and are a lovely place to have a picnic on a warm summer's day, especially as it's free! You can drive here, but it's also an easy cycle ride through country lanes once you've crossed the A149 coast road.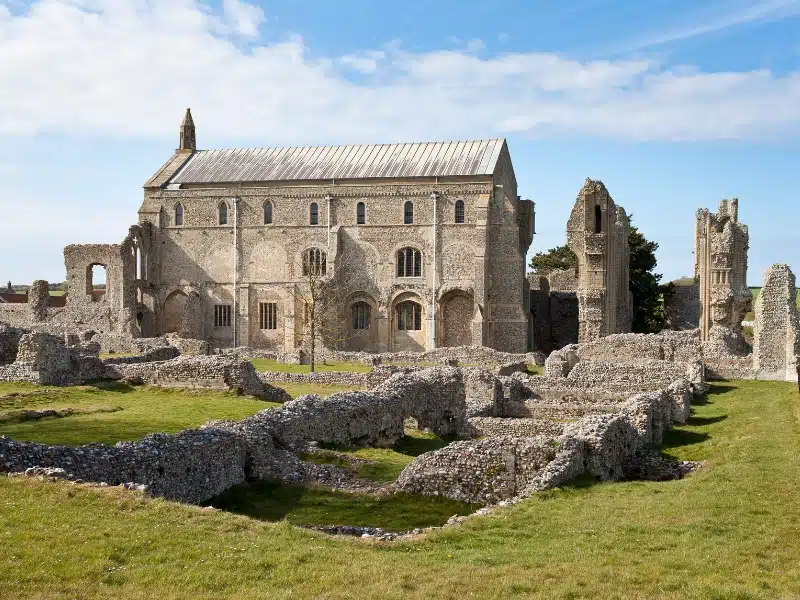 Discover Warham Camp Iron Age Hill Fort
Yes, there really is a hill fort in flat Norfolk! Close to Binham Priory, Warham Camp is an Iron Age circular hill fort near Warham, 3.5 miles south of Wells. It is also a Scheduled Monument and a biological Site of Special Scientific Interest grazed by cattle with a diverse herb species and butterflies including the chalkhill blue.
The well-defined circular fort is divided into two parts by a channel of the River Stiffkey constructed in the eighteenth century and the whole dates to the last few centuries before the Roman invasion of Britain. It is though the hill fort may have been occupied by Queen Boudicca's Iceni tribe after the brave but tragic defeat of her tribal uprising against the Romans in AD61.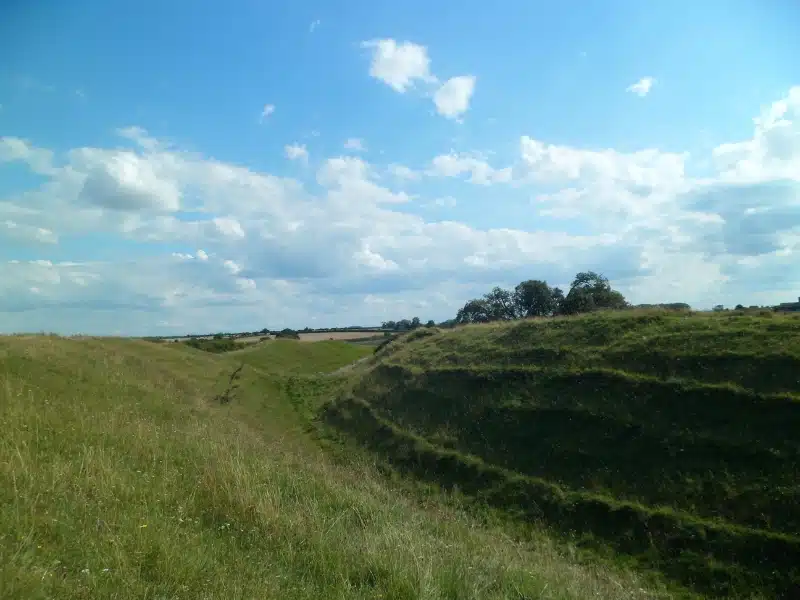 Visit Walsingham
Between Wells and Fakenham, Walsingham is a religious pilgrimage destination from as far back as the 11th century. The Lady Walsingham, Richeldis de Faverches, had received visions of the Virgin Mary and requested that a replica of the Holy House at Nazareth be built at Walsingham. This became 'England's Nazareth', one of Europe's four great pilgrim places in the Middle Ages.
Today's historic and pretty village has many medieval half-timbered buildings and incorporates both Great Walsingham and Little Walsingham. Learn about village history from 1061 in The Shirehall Museum, which was once Walsingham's Georgian Courtroom.
Walsingham Abbey is famous for the ruins of the medieval Priory of our Lady of Walsingham in its grounds, as well as beautiful swathes of snowdrops in early spring, before grounds come to life with daffodils, and the woods with bluebells.
RELATED POST: Fakenham: A North Norfolk Heritage Town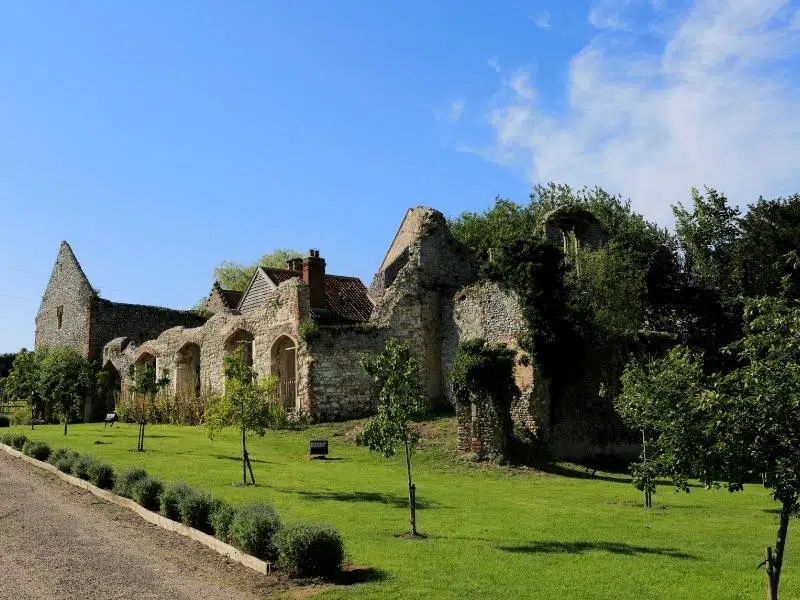 Discover Pensthorpe Natural Park
Pensthorpe is home to a nature reserve, beautiful gardens and lots of stuff to keep kids entertained. Just eleven miles from Wells, Pensthorpe Natural Park makes a fantastic day out for the whole family.
Pensthorpe is a natural home for many species of birds, mammals, invertebrates and plants, which live in a diverse range of habitats like wetlands, hedgerows, woodland, water meadows and riverbanks, all managed by Pensthorpe Conservation Trust.
Alongside the nature reserve are four of the most spectacular Norfolk gardens, which include The Millennium Garden which was designed by world-famous Dutch plantsman and garden designer, Piet Oudolf. The garden is a stunning meadow style landscape of colour and texture, planted with swathes of grasses and perennials.
There is also a Wildlife Habitat Garden, planted with species designed to encourage animals and insects to visit, the Wave Garden, where you'll find a simple planting structure and contemporary sculpture, and the Infinity Garden, which is wrapped by an impressive curved piece of rusty Corten steel, and is home to exotics like banana and ginger plants.
For the kids, there are interactive trails, bird hides and boardwalks that weave through the wilderness of the reserve, whilst hands-on activities such as wildlife spotting, pond dipping and bird feeding give younger visitors a chance to get closer to the native and visiting wildlife.
There's also an indoor play area and an outdoor eco-play area including towers to climb, zip-wires, underground tunnels to explore and worm-like slides, all next to a perfect paddling stream!
RELATED POST: Norfolk Nature Reserves – Ultimate A-Z Guide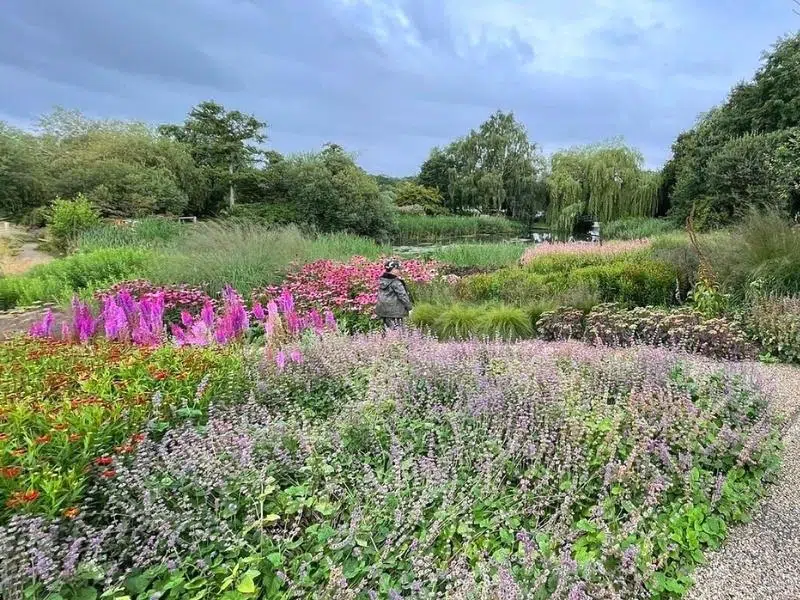 Explore the Burnhams
Just six miles from Wells, the popular Georgian town of Burnham Market, and the Burnham villages, are situated around the River Burn on the North Norfolk Coast, and perfect for a day out.
There's lots of interest around the Burnhams, with walks between the picture-perfect "seven Burnhams by the sea", unspoilt coastal villages steeped in history, and the legacy of Admiral Lord Nelson.
In Burnham Market itself, you'll find quirky boutiques, antique shops, galleries, farm shops, delicatessens and eateries around the village green, a favourite haunt of celebrities, and a popular place for a weekend in Norfolk.
The other Burnhams are less visited, but from the tidal creeks at Burnham Overy Staithe and Scolt Head Island National Nature Reserve, to Burnham Deepdale, with its round tower church, campsite and market with pop up shops, there's always something interesting to explore.
RELATED POST: Burnham Market – All You Need to Know Before You Go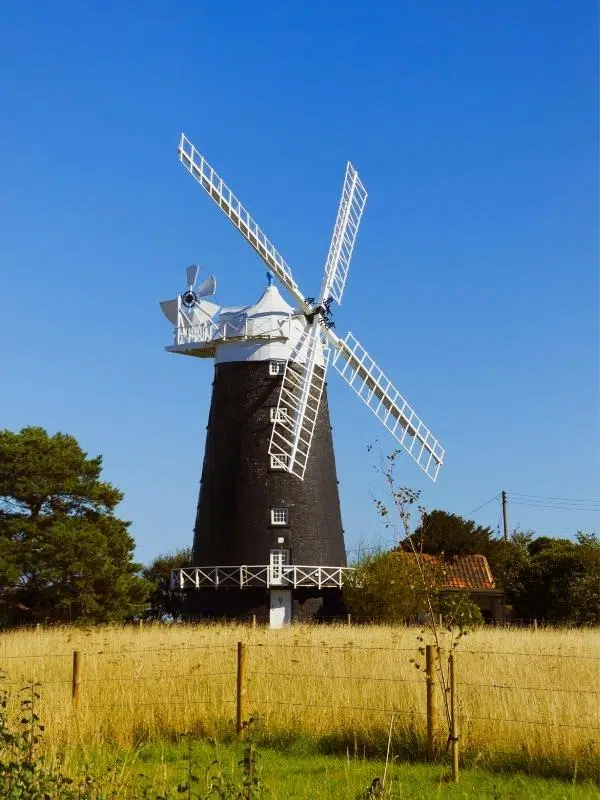 Have you had a holiday or day out in Wells-next-the-Sea? Share your trip in the comments below!
Love it? Pin it!