Welcome to my local's guide to the best places for short breaks in Norfolk. Norfolk is full of wonderful spots for a short break, from the beaches of the North Norfolk coast to the historic architecture of medieval towns, and the gentle nature of the Norfolk Broads.
Whether you're looking for active weekend breaks in Norfolk, midweek breaks to beat the winter blues, a last-minute visit, or somewhere to celebrate a special occasion, you'll find the perfect spot for your Norfolk break here!
RELATED POSTS: The Ultimate Local's Guide to Norfolk England | Where Is Norfolk? Finding The Best Of The County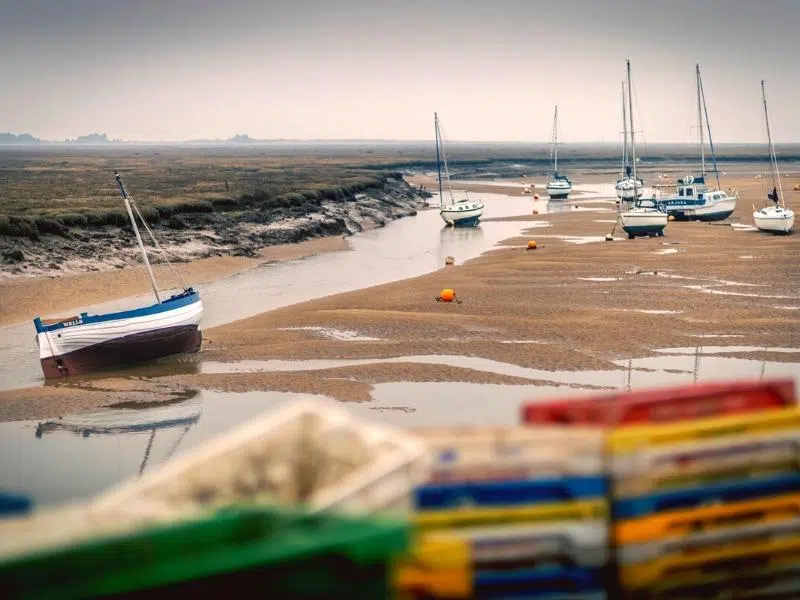 This post may contain affiliate links. If you book something I recommend, I make a small commission without affecting the price you pay!
Norwich
Historic buildings, a thriving food scene and big enough to be interesting, yet small enough to feel intimate, Norwich is the perfect place for a short break in Norfolk.
The only city in Norfolk, Norwich is the most complete medieval city in the United Kingdom today. Home to cobbled streets, ancient buildings, half-timbered houses, secret gardens, twisting medieval lanes, and the winding River Wensum that flows through the city centre, Norwich is packed full of interesting things to see and do.
Add to that the growing gastro scene in the city, cool cafes and a flourishing mix of quirky independent boutiques and high street stalwarts, and it's clear why Norwich is fast becoming one of the most popular cities in England for a weekend break.
Highlights
Explore Medieval Norwich
Explore Norman Norwich Cathedral and nearby Tombland Alley, home to St. Ethelbert's Gate (1272) and Erpingham Gate (1420), on a Norwich self-guided history walk.
Nearby, Elm Hill, is a picture-perfect medieval cobbled street near the River Wensum, which is lined with colourful and historic houses, many of them now pretty shops, restaurants, and cafes.
Shop in the Norwich Lanes
The Norwich Lanes is a series of mostly pedestrianised small lanes, alleyways and streets nestled between the market and the Castle Quarter.
The Lanes are lined with independent boutiques and quirky shops, which personify the lively and independent nature of this feisty city, and have become one of Norwich's must-see attractions.
Escape in The Plantation Garden
Known locally as the Secret Garden and one of Norwich's best-hidden gems, the Plantation Garden is a three-acre Grade II English Heritage garden, established over 100 years ago right in the centre of the city.
Today you'll find Gothic features amongst lush green planting and woodland walkways. This is the perfect place to get away from the buzz of the city centre for a few hours to enjoy a spot of peace and tranquillity.
Where to Stay in Norwich
Stay at 38 St Giles, a friendly B & B full of character and quirky details. Within a few minutes walk of the Norwich Lanes, this guesthouse is right in the centre of the lively city. Spacious and simply decorated rooms, with superbly comfy beds, make for a wonderful stay and account for the high ratings this B & B always receives.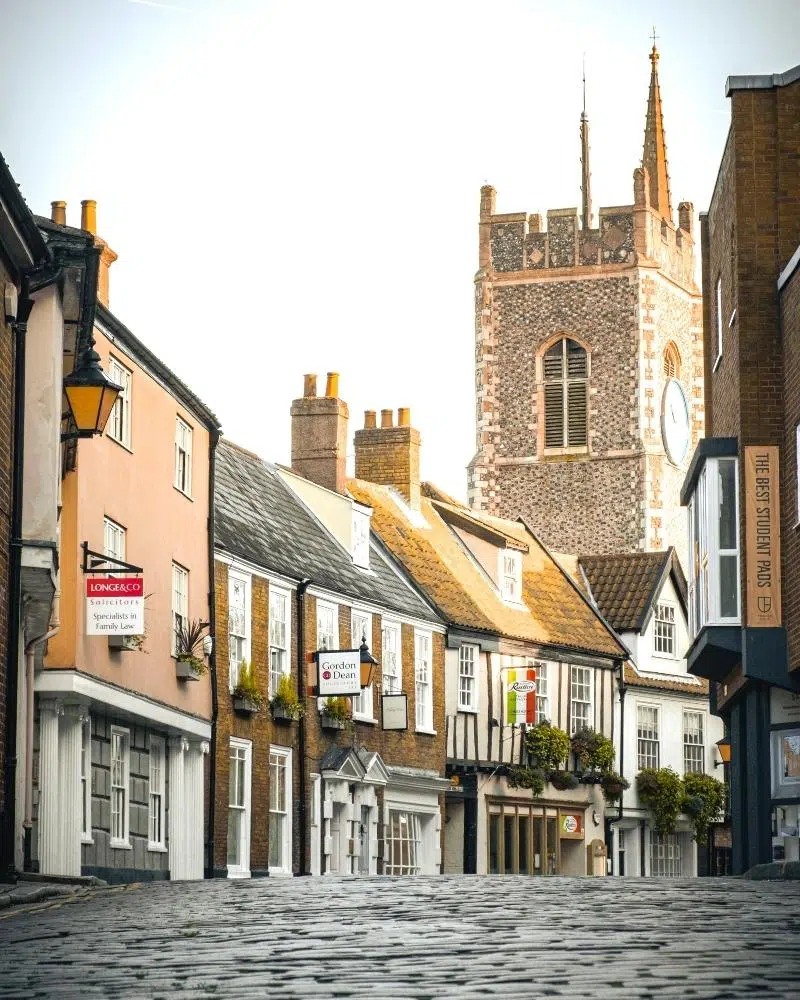 North Norfolk Coast
One of the most stunning parts of the UK coast, the North Norfolk coastline is justifiably famous. With a million years of history, huge skies and fabulous wild beaches, and some of the best things to do in Norfolk, the area is perfect for those looking for a Norfolk holiday to get away from it all.
The Norfolk coastline, part of which is an Area of Outstanding Natural Beauty, consists of long and deep sandy beaches, soft glacial cliffs, salt marshes and sand dunes, interspersed with cute seaside villages, iconic landmarks and nature reserves, which are home to some of England's most diverse flora and fauna.
The drama here is understated, but this coast is starkly beautiful. Being amongst the grasses of the dunes, and walking along the vast beaches will fill you with a deep sense of well-being.
Highlights
Go Crabbing in Blakeney
Blakeney is a charming seaside village with bags of history, its very own nature reserve and a haunting watery landscape. Nearby Blakeney Point is home to England's largest colony of Atlantic Grey seals.
There is lots to do in Blakeney and the village can be busy in summer as it's a perfect crabbing destination, and boat trips take visitors out to Blakeney Point on seal-watching tours. For a quieter experience, walk the sea wall between Blakeney and Morston Quay for fabulous sweeping views of muddy creeks, moored boats and a rich variety of seabirds.
Take Snaps in Happisburgh
A key place along Norfolk's Deep History Coast, Happisburgh (pronounced hayz·bruh) is a prime fossil-hunting beach. Just inland is the wonderful red and white striped Happisburgh Lighthouse, which is one of Norfolk's most photogenic landmarks.
Explore Holkham
A wonderful destination, the small village of Holkham boasts the stately home of Holkham Hall, an 18th century Palladian masterpiece, the fantastic Holkham beach and the Holkham National Nature Reserve.
Holkham Beach is simply vast and probably the best beach in North Norfolk, even in summer you can find a quiet spot here. The windswept tidelines, miles of dunes and maze of creeks which make up Holkham's nature reserve are ripe for exploring all year round.
Where to Stay on the North Norfolk Coast
The award-winning Wiveton Bell is a traditional pub with rooms just outside Blakeney, in the pretty hamlet of Wiveton. Their six luxury rooms and a fantastic local menu showcasing the best of Norfolk produce, make this a wonderful place to stay as you explore the North Norfolk Coast.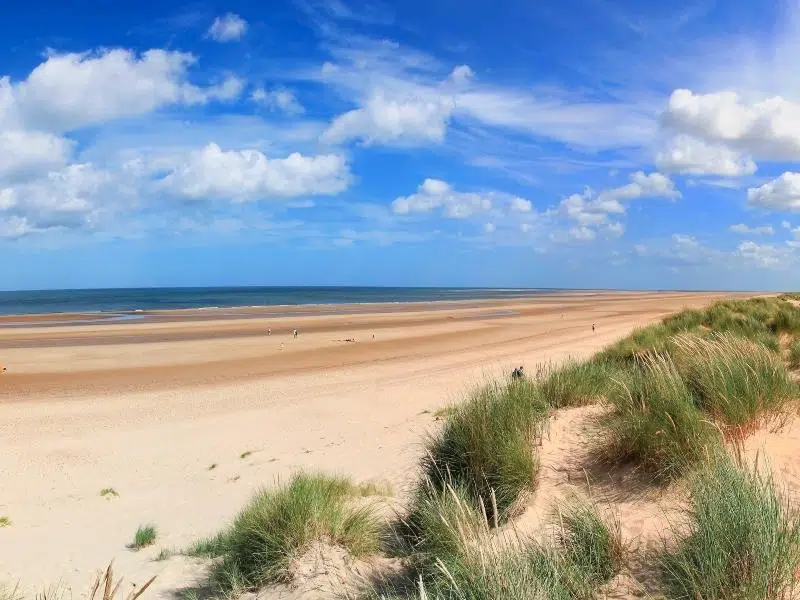 The Norfolk Broads
Lush meadows, undulating landscapes and LOTS of water make up the Norfolk Broads, an Area of Outstanding Natural Beauty in England's East Anglia region. In the Broads, rivers, lakes and sea combine to create a unique place full of natural beauty, wildlife and cultural heritage.
The Norfolk Broads are shallow lakes formed in medieval times and today, the Broads National Park is Britain's largest protected wetland, home to over 125 miles of navigable waterways, and over a quarter of the UK's rarest plant and animal species.
With breathtaking scenery, Broads boat trips, riverside pubs, lively towns like Wroxham, great walking and a wonderfully slow pace of life, you've got all the ingredients for an amazing Norfolk break.
Highlights
Getting Out On the Water
The best way to appreciate and enjoy the Norfolk Broads is from the water. Wroxham, the self-styled capital of the Broads, is a great place to start. Hire a canoe, kayak or paddle board or book a guided trail and set off with a picnic and binoculars to spot the many different birds and animals you'll encounter.
If you prefer to travel in a motor boat, take to the helm and hire a day boat from Wroxham to explore the beauty of the Broads at your own pace. If you're not confident skippering your own boat, hop on a Broads boat tour from Wroxham Bridge, where you can enjoy live commentary, light refreshments and a licensed bar.
Explore Horsey
The ridiculously photogenic Horsey Windpump is a typical Broads mill building which stands watch over Horsey Mere. A climb to the top is rewarded with stunning panoramic views of the surrounding countryside and Broadland landscape.
Horsey, where the Broads meet the coast, is a remote and secluded location, perfect for walking and bird watching throughout the seasons. There is an easy 1.5 mile walk from the mill to Horsey Gap beach, where you can see seal pups on the beach between late October through to February.
In most winters, over 2,000 seal pups are born, and it's an amazing sight to walk over the dunes to the viewing platforms. Even if you're visiting in summer, you'll see seals bobbing along in the sea – they love to have a nosey when there are people on the beach!
Discover the Bure Valley
The Bure Valley Railway, Norfolk's longest narrow gauge railway, runs between the historic market town of Aylsham and the bustling town of Wroxham. The route takes in the heart of the Norfolk Broads, through the lush Bure Valley countryside as it follows the meandering River Bure through meadowland and ancient pastures, dotted with sheep and cows.
Running alongside the entire length of the Bure Valley Railway and linking with the Marriott's Way Heritage Trail at Aylsham, is the picturesque Bure Valley Path, a nine mile footpath and cycle path, run by the Broads Authority. Pack a picnic, walk or cycle the trail, and then hop on the train back again!
Where to Stay in the Norfolk Broads
Set in eight acres of beautifully kept private grounds in the heart of the unspoilt Norfolk Broads, the boutique Norfolk Mead Hotel will spoil your rotten. The rooms and cottages are elegant, the spa treatments hit the spot and the walled garden is a haven of peace and tranquillity – they also do one of the best afternoon teas in Norfolk!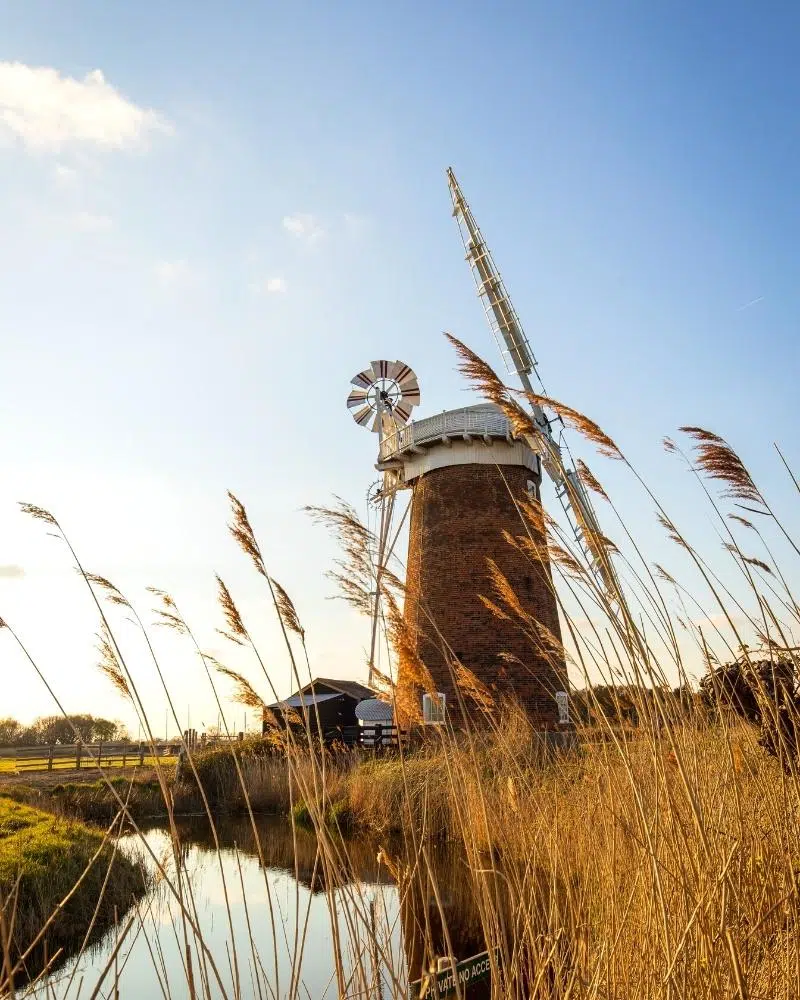 Burnham Market
The popular Norfolk town of Burnham Market, and the Burnham villages, are situated around the River Burn on the North Norfolk Coast. The "seven Burnhams by the sea" are picture-perfect, unspoilt coastal villages steeped in history connected to the sea, and the legacy of Admiral Lord Nelson.
Base yourself in Georgian Burnham Market, where you'll find quirky boutiques, antique shops, galleries, farm shops, delicatessens and eateries around the village green, a favourite haunt of celebrities. There's lots of interest around the Burnhams, with walks between the villages to take you to all the best historical spots.
The other Burnhams are less visited, but from the tidal creeks at Burnham Overy Staithe and Scolt Head Island National Nature Reserve to Burnham Deepdale, with its round tower church and market with pop-up shops, there's always something interesting going on.
Planning a visit to Burnham Market? I share tips on getting there, where to stay, places to eat + things to do locally in my ultimate Burnham Market visitor guide.
Highlights
Go Shopping in Burnham Deepdale
Visit the brilliant Dalegate Market in Burnham Deepdale, where you'll find pop-up shops, Norfolk food, local artisan crafts and the fantastic Deepdale Cafe, where they do a mean cooked breakfast!
Get Active in Burnham Overy Staithe
Discover Scolt Head Island National Nature Reserve, which you can get to by ferry from the quay at Burnham Overy Staithe, or by taking an adventurous hike and crossing from Overy Cockle Strand at low tide. Find out how here.
Also from Burnham Overy Staithe, are guided stand-up paddleboard tours with North Norfolk Paddleboards, along the creeks and salt marshes of the nearby coast.
Explore English Wine
Take a tour and tasting at Burn Valley Vineyard in North Creake. All Burn Valley wines are grown, harvested, fermented and bottled on-site and you can learn more about the wine-making process, and enjoy a tasting when you visit this Norfolk vineyard.
Where to Stay in Burnham Market
The Hoste overlooks Burnham Market's picturesque central green and has been a hotel since the 1650s! The style ranges from traditional character to ground floor luxury opening onto the enclosed garden. There are a number of dining options for guests from informal to brasserie and traditional. Book well in advance, this dog-friendly hotel is a popular spot!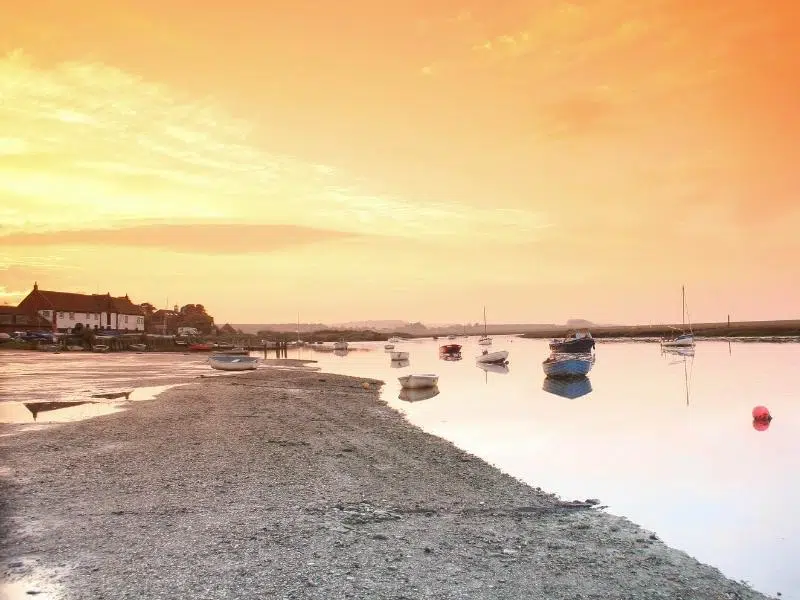 Cromer
Who can resist the traditional resort of Cromer? One of Norfolk's most popular seaside towns and perfect for family-friendly holidays, Cromer is home to the much-loved Victorian Cromer pier, the Cromer crab and a strong connection with the sea through the RNLI.
You won't find many amusements or fairground rides here, but there is plenty to keep you busy in Cromer all year round. With a renowned foodie scene, end-of-pier theatre, fabulous blue flag beach and even a Banksy, Cromer is the place to visit for a Norfolk weekend break.
Planning a visit to Cromer? I share tips on getting there, where to stay, places to eat + things to do locally in my ultimate Cromer visitor guide.
Highlights
Explore Cromer Pier
Exploring Cromer Pier, a much-treasured and loved heritage landmark along the Norfolk coast, is great fun. You'll find a theatre, RNLI lifeboat station and cafe perched along its 151m length. Wander along with an ice cream, fish for crabs, dig your toes into the soft sand of Cromer beach that surrounds the pier, and enjoy the holiday feel.
Find out more about Cromer's deep connection to the sea and Royal National Lifeboat Institute history in Cromer at the Pier Head lifeboat station, the old lifeboat house at the foot of the Gangway, and at the RNLI Henry Blogg Museum.
Visit Felbrigg Hall
The National Trust's Felbrigg Hall is a sublime 17th century English country house. The unaltered house is known for its fine Jacobean architecture and gorgeous Georgian interior, as well as its stunning gardens, considered some of the best in Norfolk.
Discovering Cromer Crab
The Cromer crab is actually a brown crab, which is found all around the coast of the UK, but off this stretch of Cromer, in the shallow nutrient-rich waters, brown crabs are sweeter and more tender than anywhere else.
There are plenty of restaurants in Cromer where you can enjoy the famous Cromer crab. Crab season runs from March to October and in May every year, it's the Sheringham and Cromer Crab and Lobster Festival, a great time visit if you love shellfish!
Where to Stay in Cromer
The Grove Hotel is a stylish and welcoming family-friendly hotel, offering rooms, dog-friendly cottages and glamping. The property has an excellent restaurant, an indoor heated swimming pool and open-air dining with a sea view in the summer. If you're looking for a pet-friendly option, book one of their self-catering holiday cottages.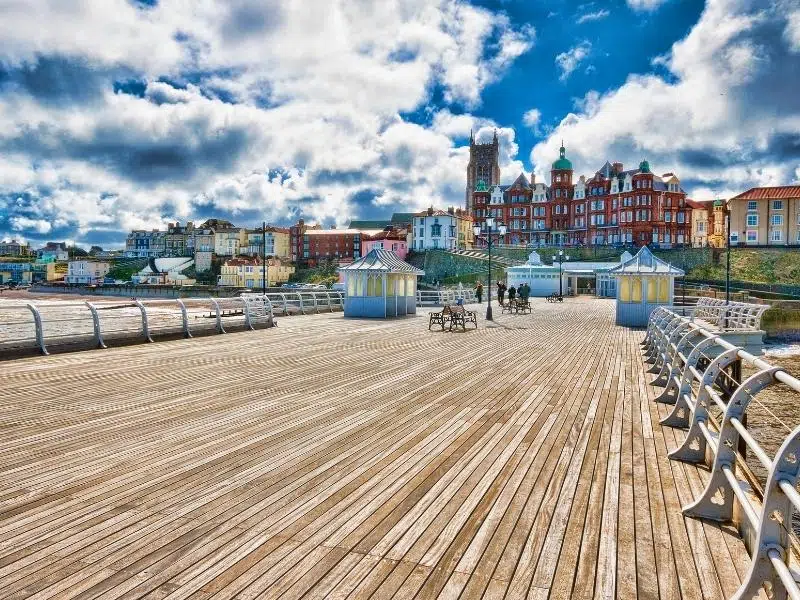 Have you enjoyed a break in Norfolk that's not on my list? Leave a comment below so I can add your idea!
Love it? Pin it!