Wroxham also makes a great base for a holiday, especially if you love being on the water. With waterside houses, holiday cottages and lodges lining the river and nearby Broads, lots going on in and around the village and great options for eating out and shopping, you won't need to leave Wroxham at all!
This round-up of all the must-do things in Wroxham and the surrounding area will help you plan your Norfolk holiday, so here are my top Wroxham highlights…
RELATED POST: The Ultimate Local's Guide to Norfolk England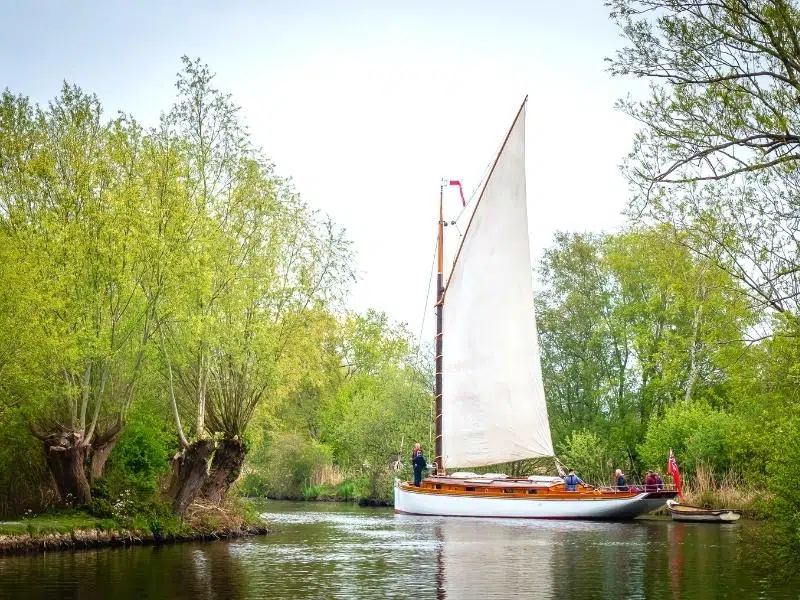 This post may contain affiliate links. If you book something I recommend, I make a small commission without affecting the price you pay!
The Best Things to Do In Hoveton & Wroxham
Hire a Day Boat
If you want facilities like a toilet and a gas burner for cooking, then hire a picnic boat from Wroxham Launch Hire. Also dog friendly, these boats can seat up to nine people, making them great for an extended family outing.
RELATED POST: Norfolk Broads Boat Trips – 17 Top Boating Activities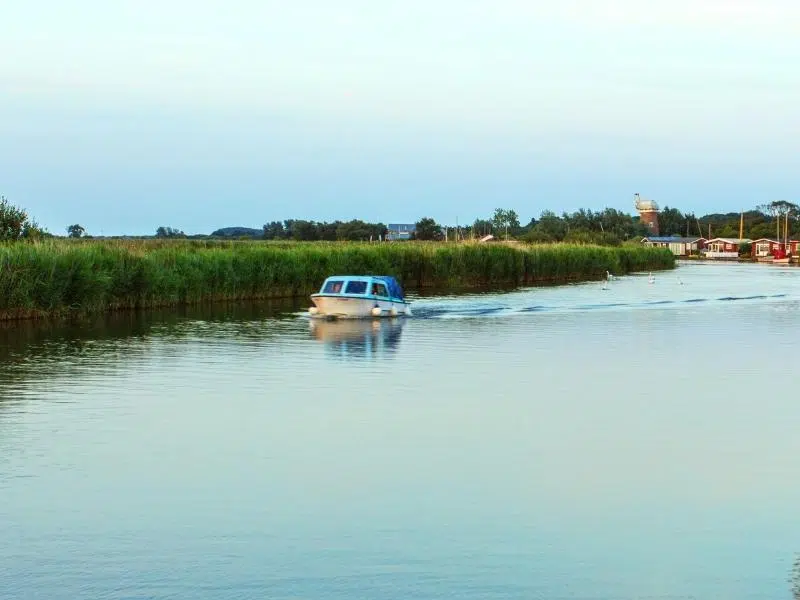 Spend the Day at Wroxham Barns
There's something for everyone at the award winning and popular Wroxham Barns, one of the best things to do in Wroxham and a TripAdvisor Travellers Choice for 2022.
For grown-ups there are craft studios and art galleries where you can watch and meet local crafts people, and shops where Norfolk produce and crafts can be bought, from handmade fudge, bottle beers and local foodstuffs to stained glass, woodcraft, ceramics and jewellery.
Once you've had your retail therapy fix, you can take a break in the Courtyard Cafe, which serves a range of delicious hot lunches, savoury snacks and and popular afternoon teas. If you've got kids with you, head to the Farmyard Cafe, which serves child friendly meals at the weekends and during school holidays.
For families, the Junior Farm has animals galore for kids to pet, grooms, feed and enjoy, including guinea pigs, goats, sheep, alpacas (my favourites) chickens, ponies, pigs, ducks, turkeys & donkeys!
The Fun Park has a fun daily programme of activities for kids, with unlimited rides, activities and a mini golf course (who doesn't love a bit of crazy golf on holiday?), along with brilliant seasonal events like the annual Maize Maze, Pumpkin Festival and Lambing Live. You must book tickets in advance for the Junior Farm and Fun Park.
RELATED POST: Afternoon Tea in Norfolk – 15 of the Best Places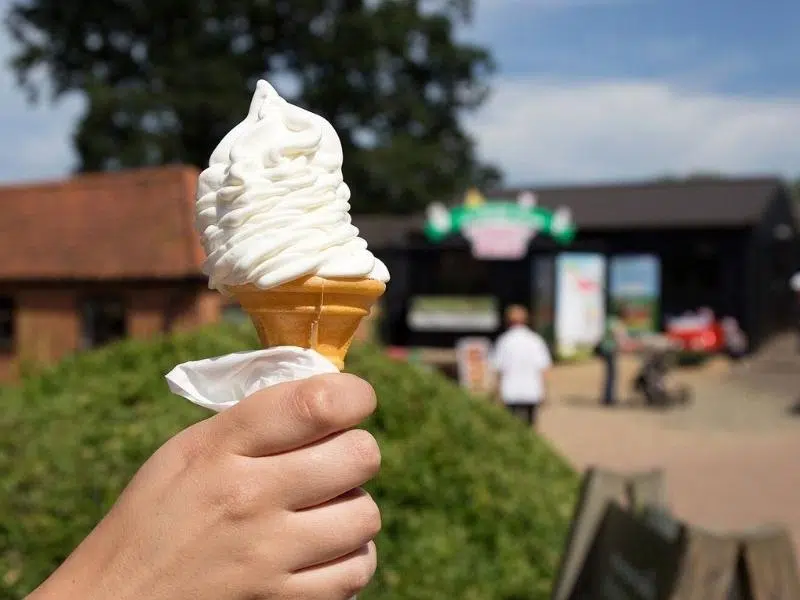 Kayak the Norfolk Broads
The best way to admire and appreciate the Broads is from the water and Wroxham is a great place to start. Hire a canoe, kayak or paddle board and set off on a Swallows and Amazons style adventure, with a picnic and binoculars to spot the many different birds and animals you'll encounter.
For the best opportunities to see kingfishers, bitterns and even the elusive otter, take a guided trail with the CanoeMan, local experts who will take you to backwaters where motorised boats can't go, and share information about life on the Broads.
RELATED POST: 26 Exciting Things To Do On the Norfolk Broads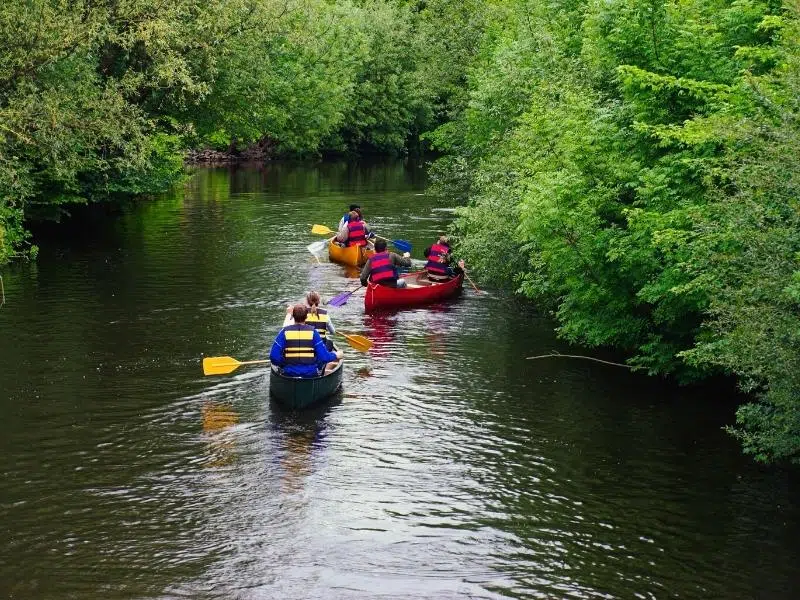 Take a Broads Boat Tour
If you're not confident on the water or skippering your own boat, but still want to explore this gorgeous part of Norfolk, hop on a Broads boat tour. Broads Tours river trips leave from Wroxham Bridge on their four boats – Queen of the Broads, Belle of the Broads, Cordon Rouge and the paddle steamer Vintage Broadsman.
These Wroxham boat trips include a full commentary from the skipper to ensure that you don't miss a thing. You'll learn about the origins and history of the Broads, and find out about various points of interest along the way as well as some tips about spotting local wildlife and what you might see. There is also a licensed bar with light refreshments on board, to help you make the most of your trip!
RELATED POST: 30 of the Very Best Things To Do in Norfolk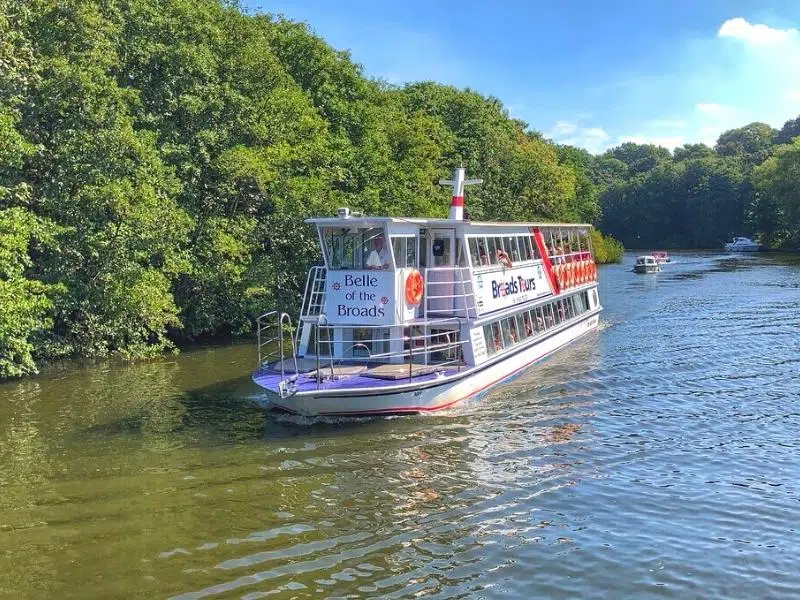 Jump on the Bure Valley Railway
Experience one of Norfolk's best days out on the Bure Valley Railway, Norfolk's longest narrow gauge railway, which runs between the bustling village of Wroxham and the historic market town of Aylsham, through the heart of the lush and tranquil Norfolk Broads.
The eighteen mile round trip by steam takes in the gorgeous Bure Valley countryside following the meandering River Bure through meadowland and ancient pastures, dotted with sheep and cows. Along the line are wayside halts serving the picturesque Broadland villages of Brampton, Buxton and Coltishall.
Running alongside the entire length of the Bure Valley Railway and linking with the Marriott's Way Heritage Trail at Aylsham, is the picturesque Bure Valley Path, a nine mile footpath and cycle path, run by the Broads Authority. It's a great family day out to pack a picnic, walk or cycle the Marriotts Way trail and then hop on the train back again!
RELATED POST: Steam Train Norfolk: 8 of the Best Journeys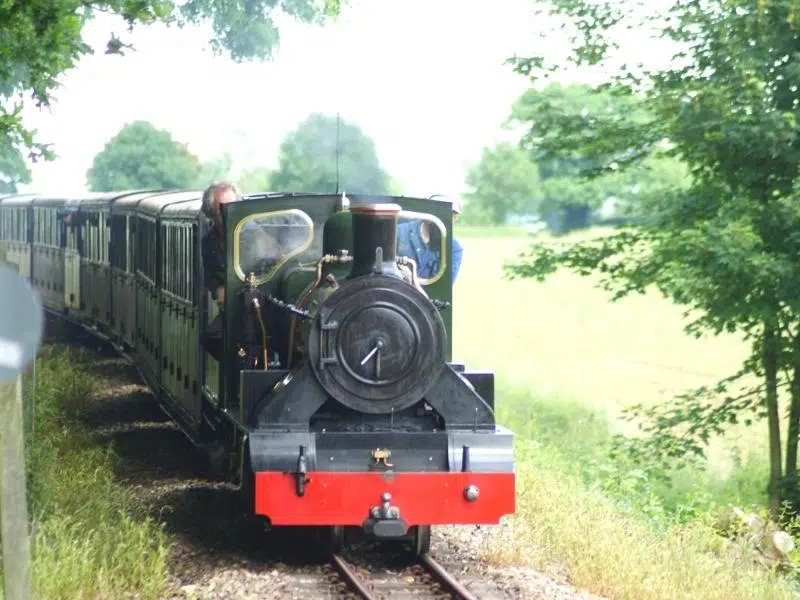 Try Out a Bouyancy Bike
Ever heard of a bouyancy bike? Me neither! But now I know about them, I think they're brilliant fun!
Bouyancy Bikes launch a short ride from the peaceful and sheltered Bridge Broad, where you can spent time cycling on the water in a spot in the heart of the Broads, where kingfisher sightings are common.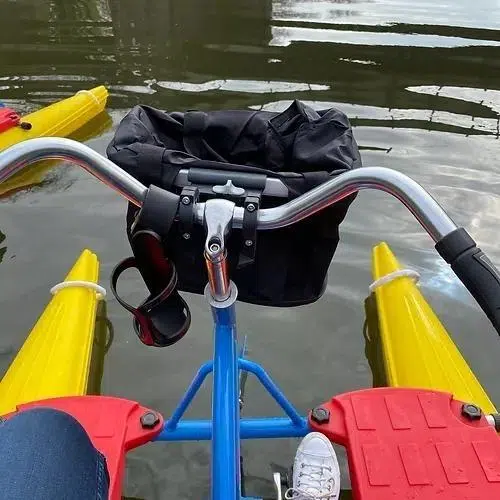 Learn to Sail
The Broads is the perfect place to get behind a tiller for the first time, with gentle inland waterways and Broads with plenty of room to practice tacking. The Norfolk Broads Yacht Club is located on the banks of Wroxham Broad, downstream of the village, and offers a high standard of sail training, with courses for adults and juniors and one to one tuition.
Although Wroxham Broad is privately owned you can navigate across it, as long as you don't stop, and can often see traditional sailing boats racing, particularly during the major Wroxham Week Regatta that is held in the last week of July every year.
RELATED POST: What's On in Norfolk – 45 Dates for Your Diary in 2022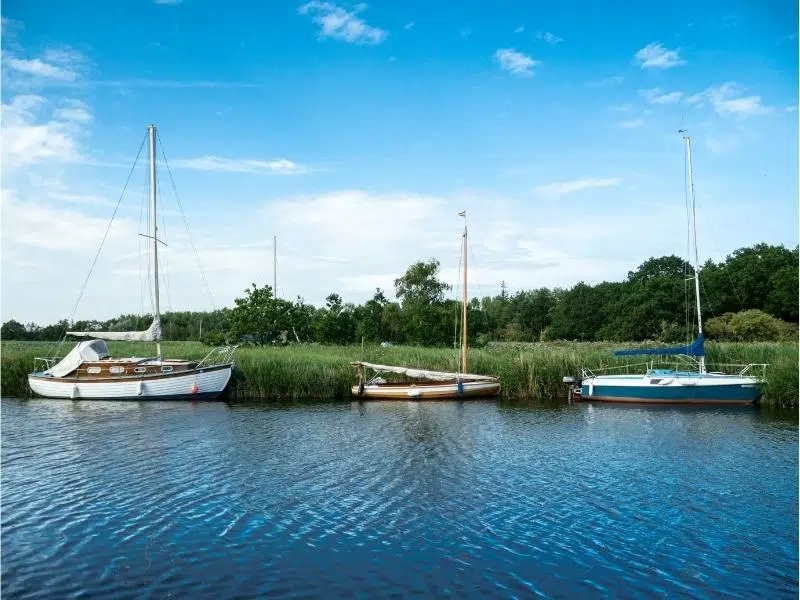 Visit Wroxham Miniature Worlds
Wroxham Miniature Worlds is the United Kingdom's largest indoor model railway attraction. With thousands of model vehicles including trains, planes and cars, tens of thousands of trees and props, and over 5,000 model people, the kids will be entranced by all the different displays.
With treats like dolls world, slot car world and a whole city made from Lego bricks, this is a model enthusiasts paradise. Kids will love the vintage arcade machines, where Space Invaders and Pac Mac can be played. I feel my mis-spent youth coming back!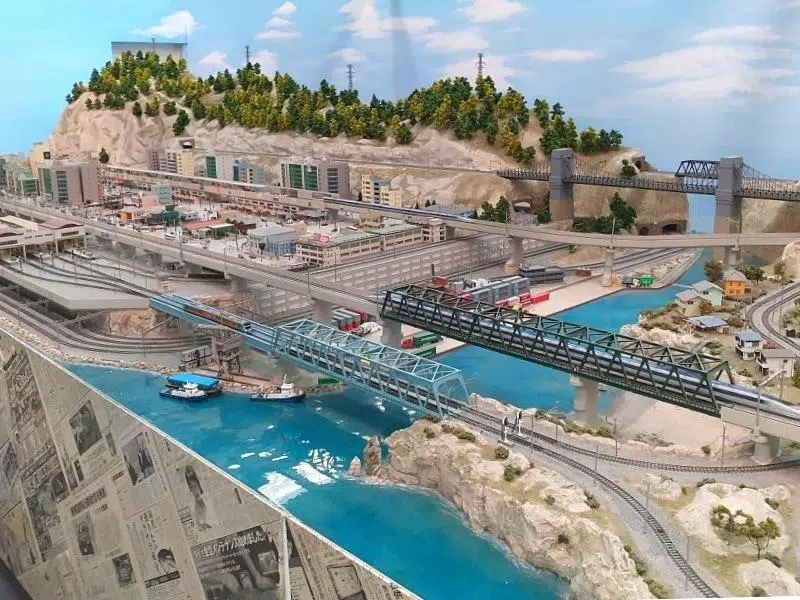 Check Out Roys of Wroxham
In these days of international branding and global corporations, you've got to admire family owned and independent Roys, who have dominated this small town with their commercial offering since 1895. Roys traditional, slightly old-fashioned stores have become a quintessential part of live in Wroxham, and have even spread to other parts of Norfolk and Suffolk.
From Roys department store, known as 'the world's largest village store', to their food hall, garden centre, DIY centre and toy shop, wherever you are in Wroxham, there's a Roys close by (although there are other shops in Wroxham!).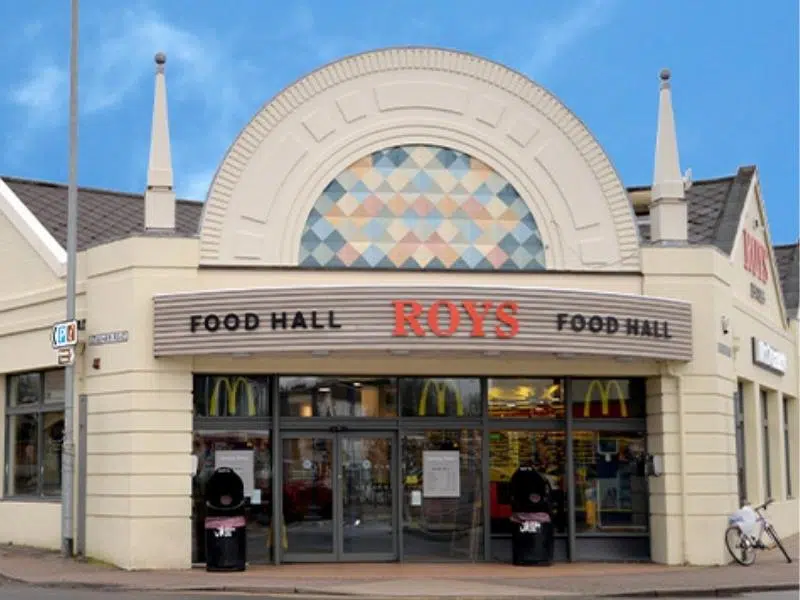 Grab a Ride on Barton House Railway
Located in a beautiful and spacious garden on the banks of the River Bure, Barton House Railway is a miniature ride-on railway with traditional railway atmosphere where the whole family can enjoy the nostalgia of the golden age of steam with two (soon to be three) ride-on railways, a working full-size signalling system and authentic tickets.
During your visit, you can also explore the extensive museum of railway artefacts with a Midland and Great Northern theme, enjoy delicious homemade cakes by the pretty river and watch the signalman at work in their full-size original signal box which acts as the control centre of the railway.
Part of the Wroxham Railway Heritage Trust, Barton House Railway is operated by volunteers and does not run every day – check running days and upcoming events here.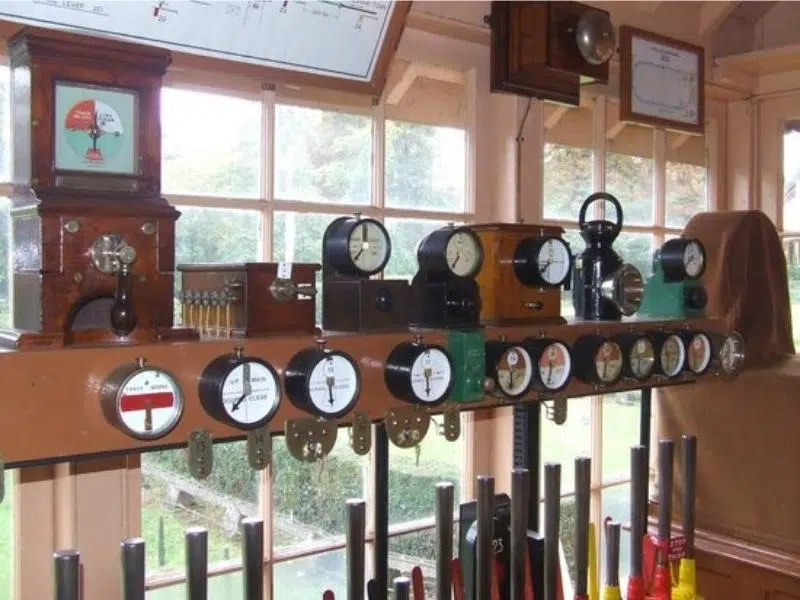 Feast at the Station Smokehouse
A brilliantly original place to eat, The Station Smokehouse on Hoveton and Wroxham Station has a menu packed with a deep South meat fest sort of vibe, all delivered with style and flavour.
Needless to say my adult kids loved it and thought it was one of the best places to eat in Wroxham. You can book a table and enjoy a beer too, or opt for takeaway to feast on at your mooring or campsite!
RELATED POST: A Local's Guide to the Norfolk Broads
The Best Things to Do Near Wroxham
Take a Ride on a Paddle Steamer
Just up the road, the Southern Comfort, a Mississippi paddle boat, sails from Horning along the River Bure to beautiful Ranworth Broad.
This luxury river cruiser was purpose built for the Broads and provides stunning views from its top deck, of traditional Broads cottages, windmills, and Norfolk reed beds as you sail by.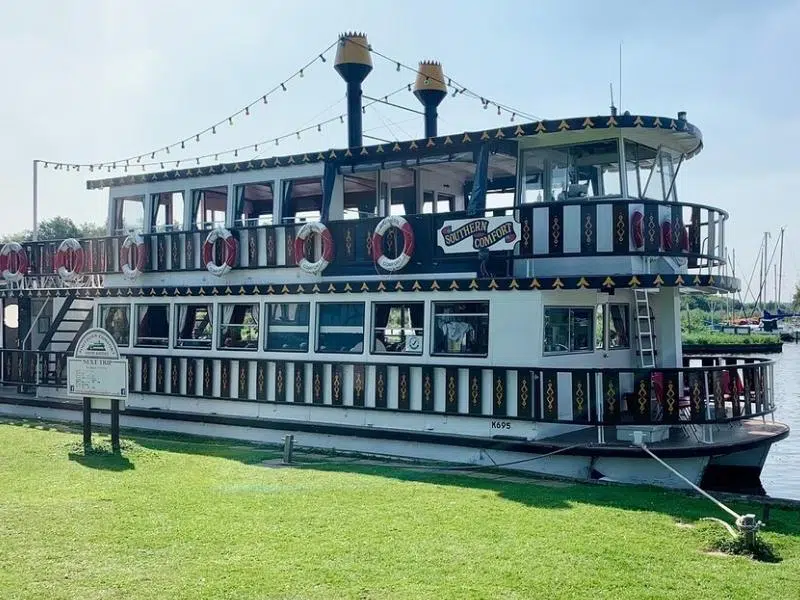 Explore the Broads by Bike
The Broads is a wonderful place to cycle, with country lanes and quite paths in abundance. Discovering the Broads by bike is better fot the environment, good for you, and great fun whatever your level of experience and fitness.
Broadland Cycle Hire in Horning work closely with the Broads Authority, and hire all types of bikes including electric bikes, traditional bikes, tandems, tag alongs and trailers. Bikes can be hired by the half day, full day, weekend of week, giving you plenty of options for a cycling adventure.
They will also provide maps and you can also look for routes on the Broads by Bike website, where maps and sixteen circular routes can be downloaded for free. Popular routes include cycling to Barton Broad from Horning and visting the pretty villages of PotIrstead, Neatishead and Asmanhaugh, the Bure Valley Trail which runs alongside the railway and the Broadland churches route.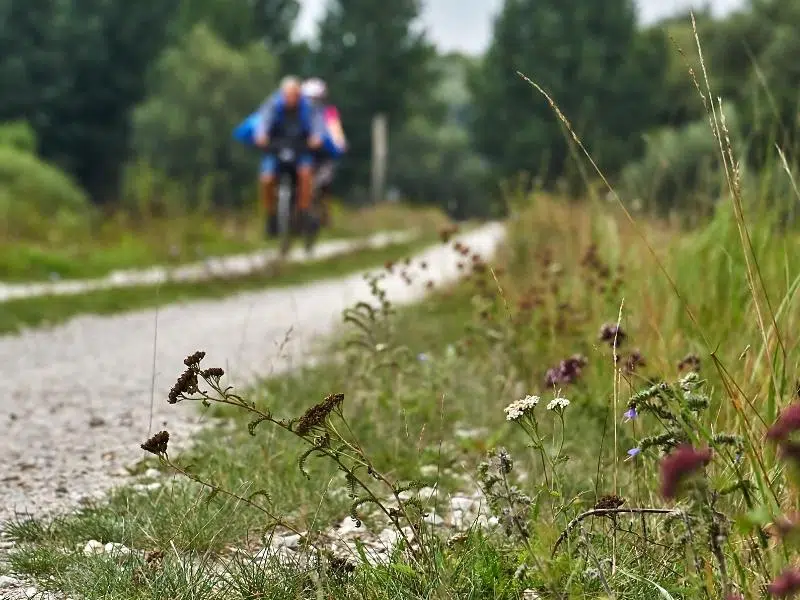 Enjoy Family Fun at BeWILDerwood Norfolk
Probably the number one family attraction in Norfolk, and definately one of the best things to do near Wroxham, BeWILDerwood is a magical woodland adventure park and the ideal place for kids (big and small!) to burn off some energy climbing the numerous treehouses, hurling down zip lines and slides, and crossing the many rope bridges strung between the trees.
The entire park is character themed from a series of children's books, which forms the basis of story-telling and engaging craft sessions. There's also a restaurant and shop. You probably need a full day here, especially in the school holidays when its usually heaving.
RELATED POST: Norfolk Theme Parks – Ultimate A-Z Guide
Visit the RAF Air Defence Radar Museum
Visit the historic RAF Air Defence Radar Museum at Neatishead, the country's only original Cold War operation room, and one of the best indoor activities near Wroxham.
This award winning museum is one of the Broads hidden gems, and you can learn about the fascinating history of Britain's air defence from a real radar station with 23 exhibition rooms displaying over 10,000 items!
There are fascinating daily talks from the knowledgeable volunteers who run the museum, and lots of hands-on activities for kids, as well as cafe for that well earned cuppa at the end of your visit!
RELATED POST: 21 Museums in Norfolk You Won't Want to Miss!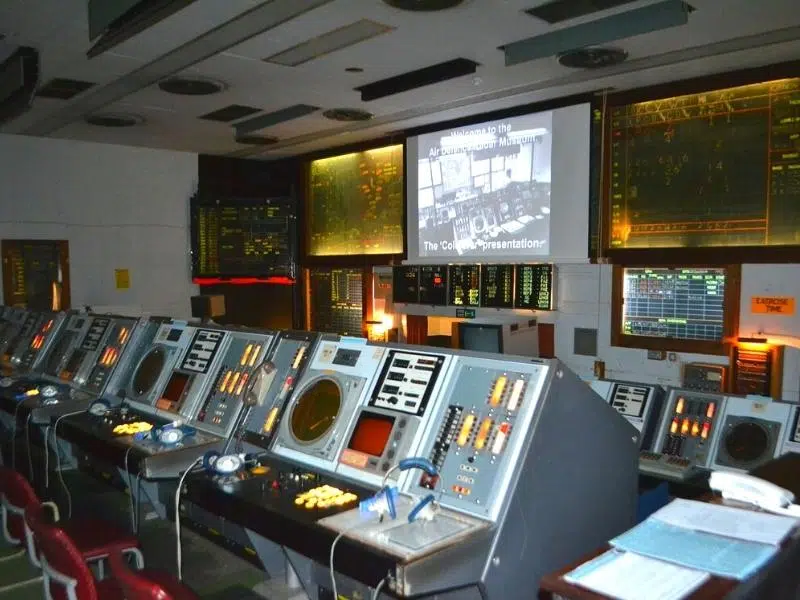 Sail on a Norfolk Wherry
As you travel around the Broads, it's a very surreal experience to see the sails of boats flapping in what looks like a field! If you're lucky you may be looking at the sail of a Norfolk Wherry, a traditional Broads vessel (as well as a local amber ale from Woodforde's Brewery!)
Wherry's were originally cargo boats and pleasure craft which were used all over the Broads, before road transport became easy and cheap. Sadly, there are only eight wherries left sailing today from the original 300 or more – if you see one, you can check which one you spotted here.
You can book a scheduled day trip or charter a wherry from Wherry Yacht Charter, and take a trip around the Broads in a fully skippered and equipped boat.
There are only two surviving trading wherries in existance, Albion and Maud, and both display the distinctive black sail. All other wherries have white sails.
You can visit the 123 year old Albion, which belongs to the Norfolk Wherry Trust in Ludham on one of their open events or day cruises.
RELATED POST: 26 Pictures of Norfolk England to Inspire Your Trip!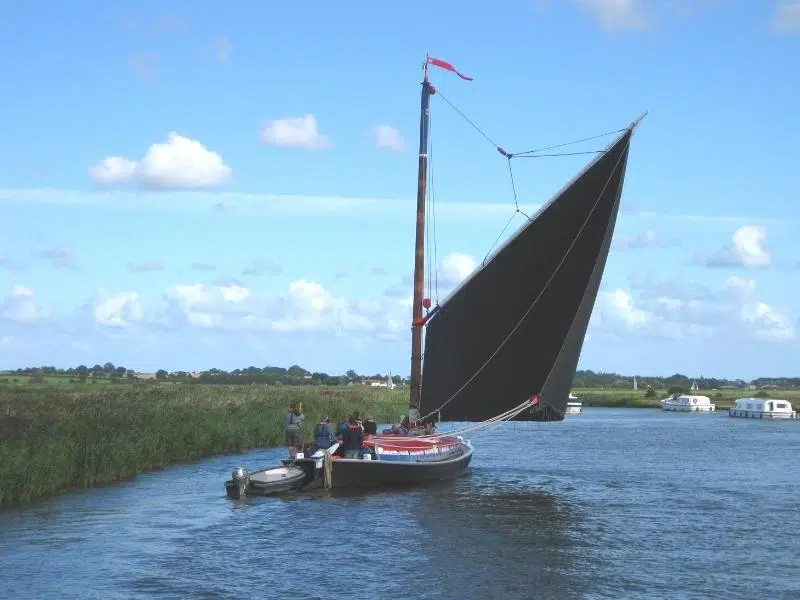 Explore Hoveton Hall Gardens
First planted in the early 19th century, Hoveton Hall Estate covers hundreds of acres of parkland, formal gardens, and woodlands, which are open to visitors.
Complete with a colourful walled garden planted in the English cottage garden style, an old kitchen garden planted with herbaceous borders, fruit trees and formal box hedging, and a beautifully restored 19th century iron glasshouse, these gardens are a place of tranquility.
In the wider parkland are woodland walks, the magnolia garden and a lake, lined with weeping willows, perfect for a summer's afternoon strolling before popping into the Garden Kitchen cafe for afternoon tea.
RELATED POST: 14 Stately Homes in Norfolk to Visit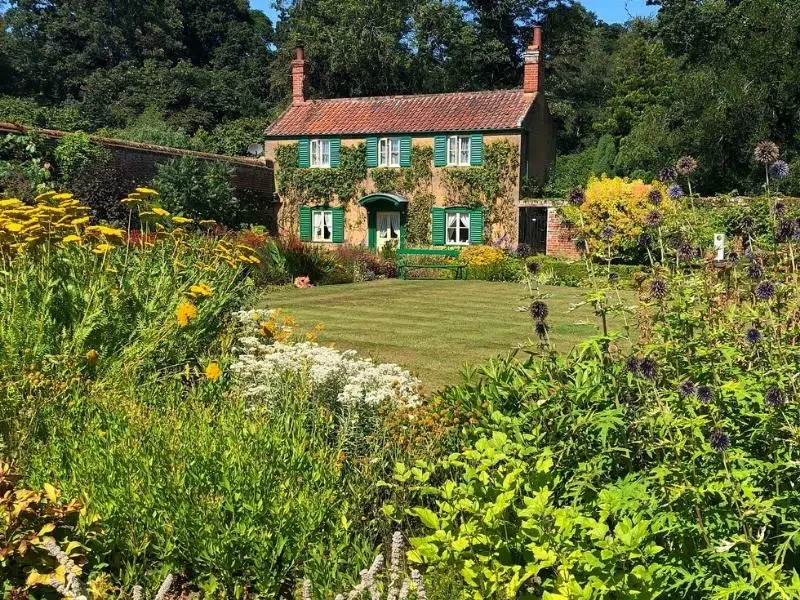 Discover How Hill
The How Hill Estate is a study centre with a fine thatched Edwardian house set in acres of reed, marsh and woodland at the edge of the River Ant, between Wroxham and Potter Heigham. The house is not open to the public, but the estate is, and it makes for a wonderful afternoon of enjoying the local flaura and fauna in this picturesque corner of the Broads.
Explore the secret gardens and formal gardens of the house (closed when groups are in residence, so best to check first). Find out how marshmen lived in the restored marshman's cottage at Toad Hole Cottage Museum, and visit the three restored drainage mills before following the nature trail down to the banks of the River Ant.
You can also take a boat trip on the Broads Authority's Electric Eel boat with an experienced guide who will show you How Hill's wildlife, including gorgeously coloured dragonflies, marsh harriers, wildflowers and swallowtail butterflies.
RELATED POST: The 21 Best Gardens in Norfolk to Visit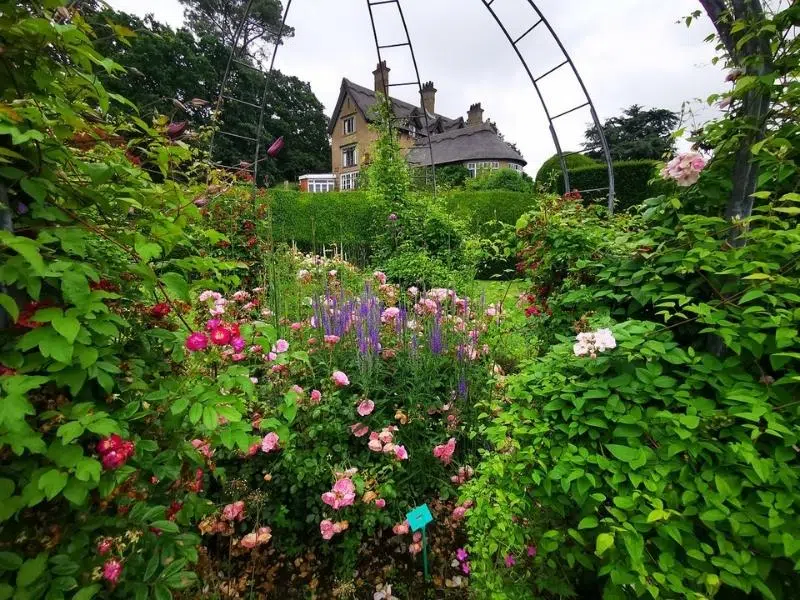 Learn About Norfolk Broads History
Eight miles from Wroxham is The Museum of the Broads at Stalham, the only waterside museum of Broadland life where you can learn about the boats of the Broads and see how the local landscape and culture have been shaped by history and the way people lived and worked in the Broads over the centuries.
The museum covers all aspects of the Broads and has an extensive collection of boats, including the Victorian steam launch 'Falcon' built in 1894, models, marsh working tools, boat plans, social history items and memorabilia.
The museum also exhibits the findings and equipment of ecologist Joyce Lambert, who proved in the 1950's that the lakes and landscape of the Broads were manmade shallow lakes formed in medieval times, when peat was dug out for use as fuel, leaving diggings which then flooded.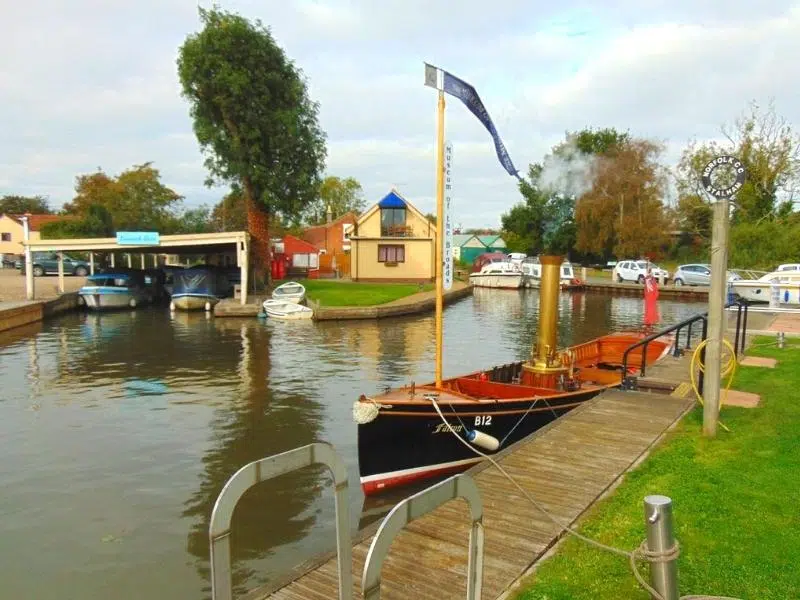 Explore Nature at Ranworth Broad
Just six miles from Wroxham and overlooking Malthouse Broad, Ranworth is a charming Broads' village and one of the best places to visit near Wroxham, especially if you love nature. Take a walk along the boardwalk (or get a ferry from Ranworth staithe) which passes though reed bed habitats, to the Norfolk Wildlife Trust floating wildlife centre on Ranworth Broad.
With far reaching views across Ranworth Broad, widely considered the most beautiful Broad of them all, you can learn more about the unique wildlife of the Broads, and view many of the different birds that visit the area, at the wildlife centre.
In Ranworth village, climb the 89 uneven steps and two ladders to pass through the trap door to get to the top of St Helen's Church, otherwise known as the 'Cathedral of the Broads'. The views from the top are breathtaking – literally! After your climb and descent, reward yourself with a glass of something cold at the village pub, The Maltsters.
RELATED POST: Norfolk Nature Reserves – Ultimate A-Z Guide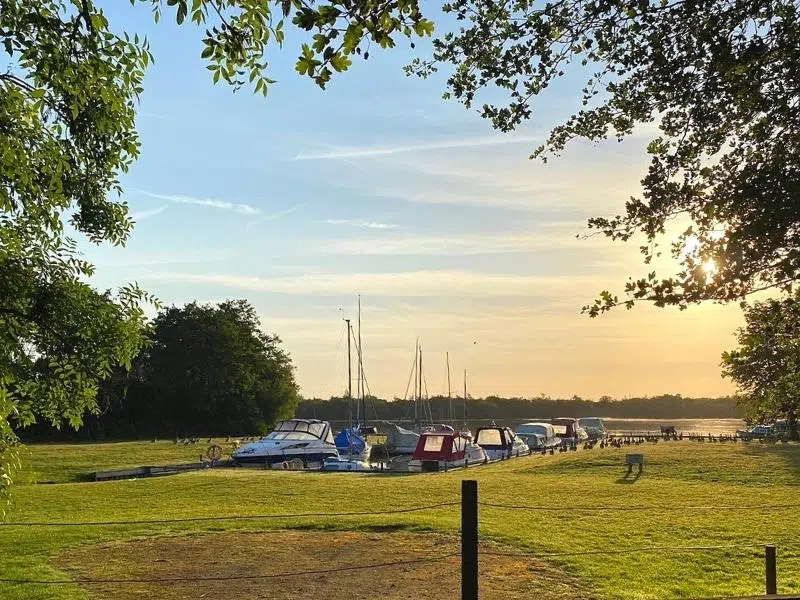 Love Fish at the Bure River Cottage Restaurant
Bure River Cottage Restaurant, Horning
With a strong focus on fish and seafood, much of it caught along the coast of Norfolk, the Bure River Cottage Restaurant is a real gem.
The restaurant itself is unassuming and informal, with simple decor – all the focus goes on great food and service. I ate the best lemon sole here that I have ever tasted, it was sublime! Book in advance all year, this place is as popular with locals as it is with visitors.
RELATED POST: 26 Norfolk Food & Drink You Must Try!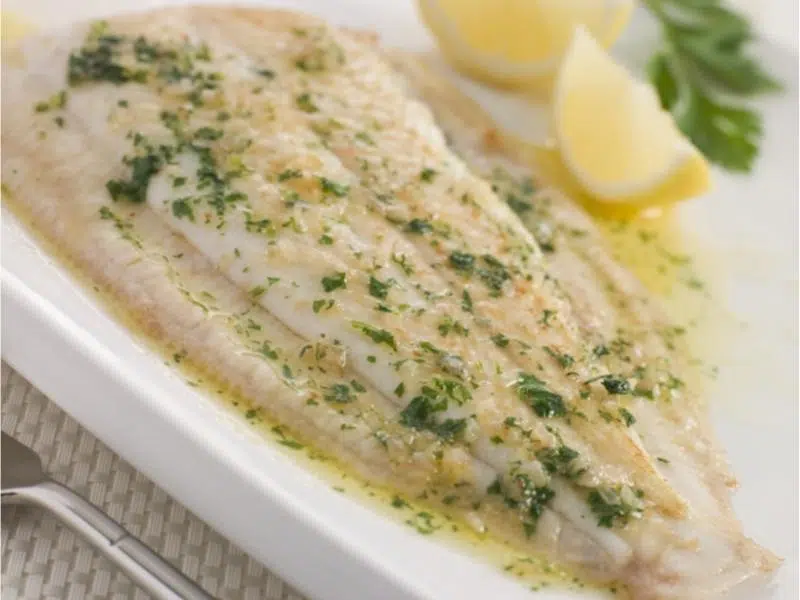 Wondering where to stay in Wroxham?
Have I missed a great Wroxham attraction from my round up? Let me know in the comments so I can include it on my list of things to do in Wroxham!
Love it? Pin it!