Norfolk has an amazing 84 museums that span history, transport, buildings, art, the military, and of course, the wonderful county of Norfolk itself!
There are lots of Norfolk museums you'll want to visit and plenty to keep the whole family happy. Whether you love a stately home, are fascinated by the military, or want to find out more about Norfolk's deep connection with the sea, there's a museum here for when you visit Norfolk.
If you like to learn about where you're visiting, or just want to entertain the kids for a few hours, I've picked 21 of the very best of Norfolk's museums for you.
RELATED POST: The Ultimate Local's Guide to Norfolk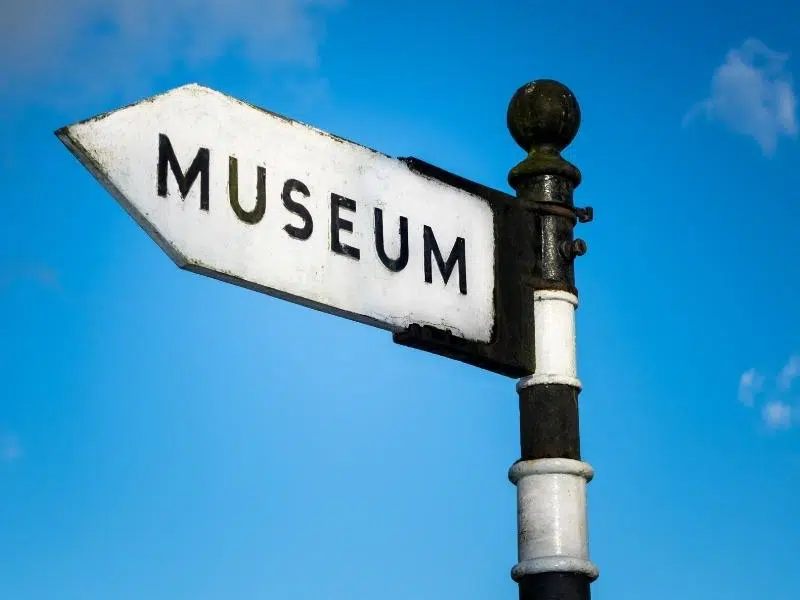 This post may contain affiliate links. If you book something I recommend, I make a small commission without affecting the price you pay!
Scroll down for an interactive map of Norfolk museums.
RNLI Henry Blogg Museum
Address: The Rocket House, The Gangway, Cromer NR27 9ET
Opening Times: Tuesday to Sunday from 10am to 5pm
The RNLI Henry Blogg Museum is named after and celebrates the most decorated lifeboatman in RNLI history, who served on Cromer's lifeboats for a whopping 53 years, and was awarded the British Empire medal for his work saving 873 lives from the North Sea.
At the end of Cromer's Promenade, this free museum gives a fascinating insight into the story of Henry Blogg and his dog Monte, as well as the history of the RNLI in Cromer.
There are historic lifeboats on display and lots of hands-on activities for kids, making this a really family-friendly museum and one of the best places to go in Norfolk to learn about the Royal National Lifeboat Institute.
RELATED POST: 22 Of The Best Things To Do in Cromer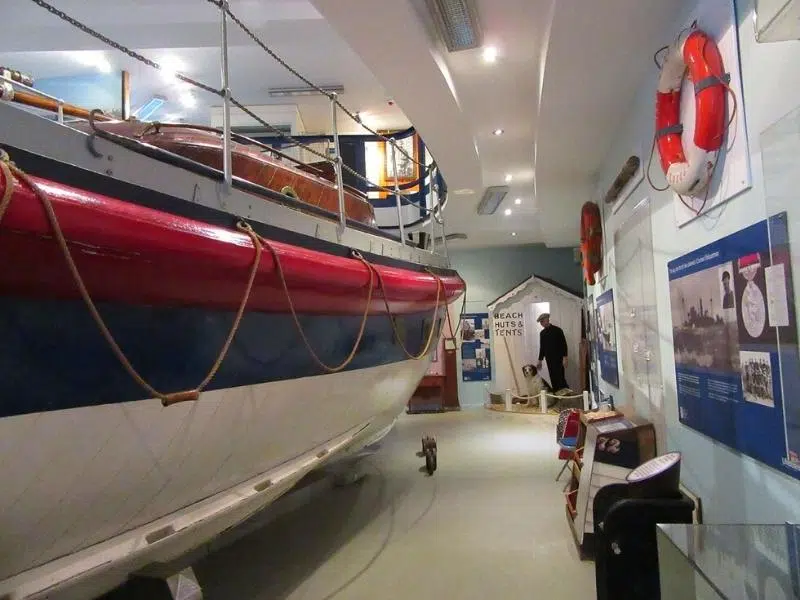 Dad's Army Museum
Address: Cage Lane, Thetford IP24 2DS
Opening Times: Saturdays from 10am to 3pm and Sundays in August from 10am to 1pm
For all its history through the ages, one of the things Thetford is best known for is its role in the famous BBC television series, Dad's Army. In 1968, Thetford found itself playing the part of Walmington-on-Sea, a fictional seaside town on the south coast, on the front line against Hitler.
At the Dad's Army Museum, one of the best places to visit in Thetford, several of the original sets have been reconstructed including the Church Hall, Bunker Room and Home Guard Room. These sets display a range of historic World War II artefacts, military uniforms, photographs, episode scripts and press clippings, as well as models of all the famous characters.
Entrance to this Thetford museum is free, but for the best experience, book the two hour Dad's Army walking tour, which starts at the Charles Burrell Museum in Minstergate, and then takes in the many filming locations around Thetford town centre, the bronze statue of Captain Mainwaring, and ends at the museum, where you can pop into Marigolds Tea Room, for a cuppa and slice of cake!
Walking tours are chargeable and you must book in advance as dates are limited, so don't leave it too late. Find out more about Dad's Army tours here.
RELATED POST: 18 Top Things To Do in Thetford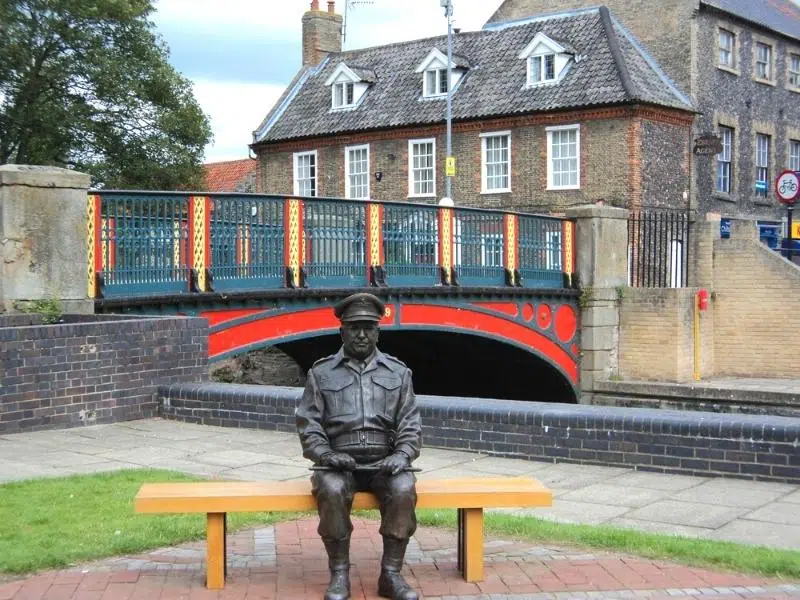 Mundesley Maritime Museum
Address: 9 Beach Road, Mundesley NR11 8BG
Opening Times: Daily (closed on Saturdays) from 10am to 1pm and 2pm to 4pm between 1st June and 30th September
The Lees green on the cliffs above Mundesley beach and its colourful beach huts is home to the Mundesley Maritime Museum, built in 1928 and thought to be the smallest of its kind in the UK!
Displays include information about lifeboat adventures, shipwrecks, the local fishing industry, maritime artefacts and fossils discovered nearby.
The tiny 1st floor has been reinstated as a coastguard lookout of the 1930s and 40's era with a tide clock, fog horn and binoculars. There is also modern equipment like a radar and VHF radio, as the National Coastwatch Institution provides a visual watch service.
Next to the museum is a clifftop memorial to the Royal Engineer Bomb Disposal teams that cleared the Norfolk coast of landmines after World War Two.
RELATED POST: Mundesley: Norfolk's Best Kept Secret?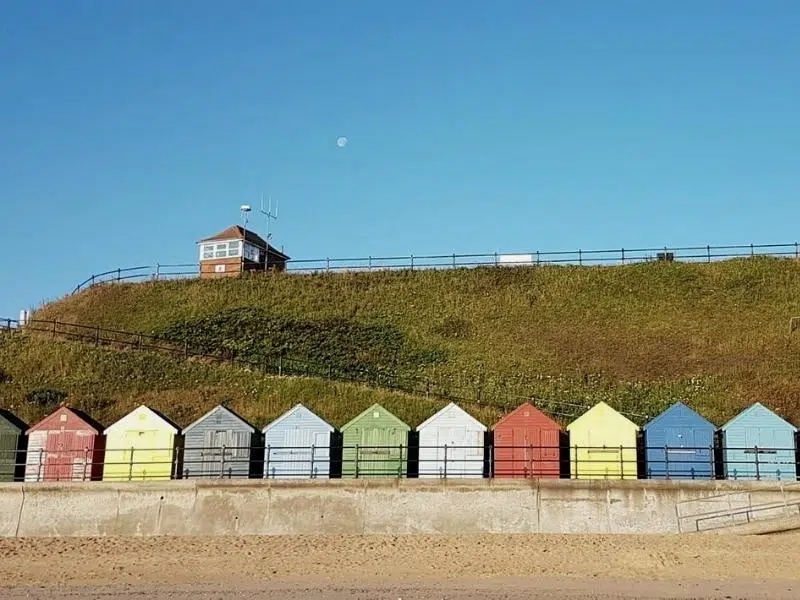 Lynn Museum
Address: Market Street, King's Lynn PE30 1NL
Opening Times: Tuesdays to Saturdays from 10am to 5pm, on Sundays from 12noon to 4pm and closed on Mondays
In 1998 an Early Bronze Age timber circle was discovered on the beach at Holme. An extraordinary find, the arrangement of 55 timber posts surrounding a huge stump that had been buried with its roots upwards, was called Seahenge, as it resembled the famous Stonehenge in Wiltshire.
When Seahenge was created around 2050 BCE, the area around Holme was a salt marsh. Over thousands of years, the marshes were covered in peat beds as the sea encroached, and the peat preserved the timbers, keeping them whole.
The timbers were carefully removed from the sea, cleaned, and vacuum freeze-dried to protect them. The original upturned tree stump and many of the upright timber posts are now on display in a special exhibit in the Lynn Museum.
The Lynn Museum is not just about Seahenge though, it also tells the story of King's Lynn and West Norfolk through diverse artefacts, artwork from prominent local artists, and interactive features.
RELATED POST: All the Best Things To Do in King's Lynn Norfolk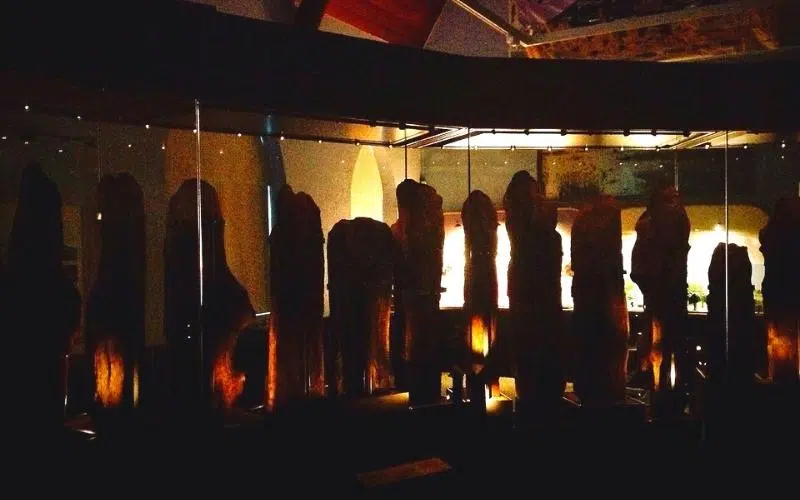 City of Norwich Aviation Museum
Address: Old Norwich Road, Horsham St Faith, Norwich NR10 3JF
Opening Times: Tuesdays to Saturdays from 10am to 5pm, on Sundays from 12noon to 5pm and closed on Mondays
A TripAdvisor travellers choice, the City of Norwich Aviation Museum is situated at the northern edge of the former RAF Horsham St Faith airfield, which opened in 1940 and was operational during the Second World War as a fighter and bomber base, before being redeveloped as Norwich International Airport.
The museum's outdoor exhibits include 30 vintage commercial and military aircraft. Indoor exhibits include sections dedicated to the history of the RAF in Norfolk and to that of the United States Army Air Force, units of which were based at various airfields in Norfolk during the Second World War.
The museum has been home to Norfolk's Aviation Heritage for over forty years and is manned by a crew of volunteers, who provide tours in the Avro Vulcan Bomber, Hawker Siddeley Nimrod, Avro RJ85, Fokker Friendship F27 and Handley Page Herald when numbers allow.
RELATED POST: 31 Amazing Things To Do in Norwich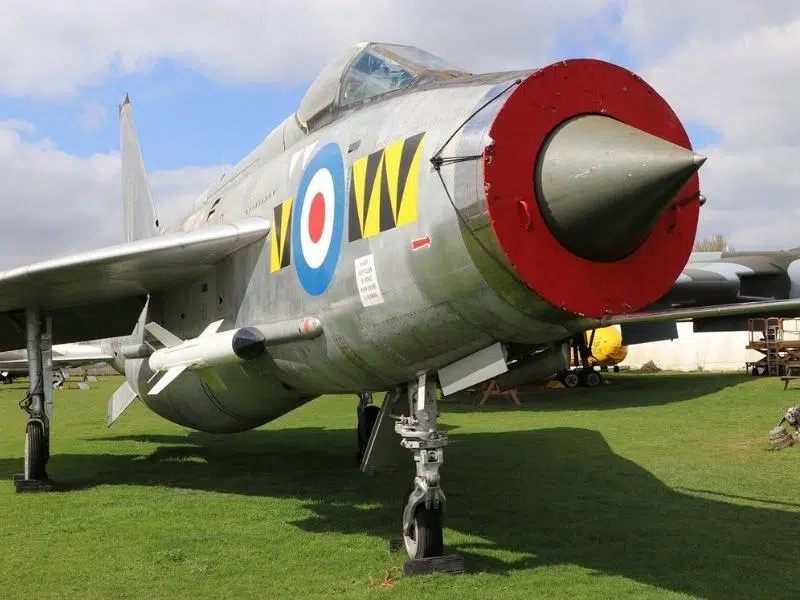 The Shirehall & Bridewell Prison
Address: Common Place, Walsingham NR22 6BP
Opening Times: Opening dates and times can vary, please check here for up-to-date information
Hidden away in Walsingham Abbey grounds are two treasures which you must visit!
The Shirehall Museum is housed in what was a courtroom during the 18th and 19th centuries when Walsingham was a thriving legal and administrative centre.
The building has undergone many adaptations in its lifetime and was probably originally built in the early 16th century as a hostel for important visitors, perfectly positioned only 25 metres from the priory church.
This Georgian courtroom has survived unaltered since it was last used, complete with a lock-up cell where a defendant would wait to come before the magistrate. It is now a hands-on museum where you can put yourself in the dock or play the judge!
The museum also has an excellent display of Walsingham as a place of pilgrimage, as well as local artefacts and photographs and displays about the history of village law and order.
The Bridewell Museum, which was originally the House of Correction, was built in 1787 and stands on the site of the old Leper Hospital. The original building contained eight cells, including a special dark cell (used for additional punishment within the prison itself), a chapel and a day room.
The prison was enlarged in 1822 when a further sixteen cells were added. In 1823 five tread wheels were installed for grinding corn. These served as both exercise and punishment for the inmates. After 1836 the prison was conducted on the silent system, a punishment that aimed to stop prisoners from instructing each other in criminal activities, and was finally closed in 1861.
The prison has survived almost entirely as it was when it was last used to house inmates and makes for an atmospheric visit.
RELATED POST: 20 Brilliant Things To Do in Wells-next-the-Sea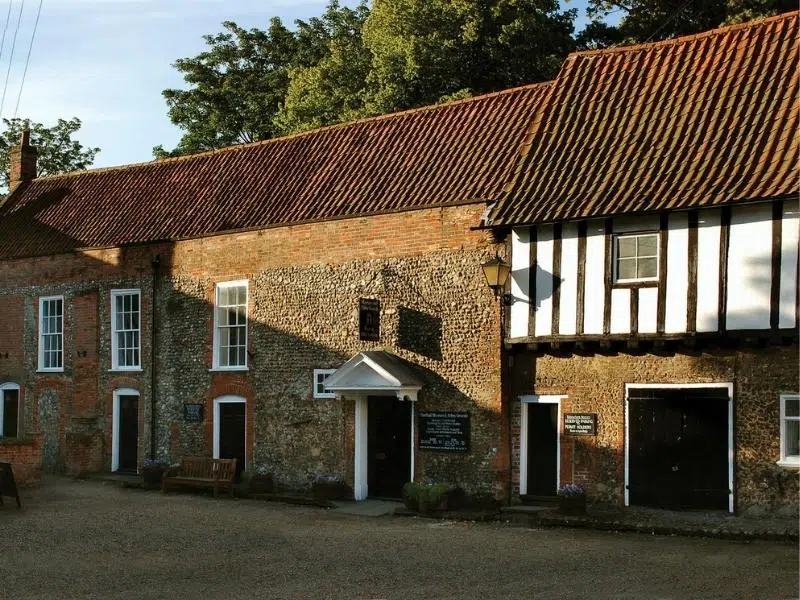 North Norfolk Railway
Address: Sheringham Station, Station Approach, Sheringham NR26 8RA
Opening Times: The Norfolk steam railway operates a timetable throughout the year, check here for the latest information
The North Norfolk Railway has fought through closure, eviction and redevelopment to become a much-loved and voluntarily run museum and major attraction in Norfolk.
Jump onto the Poppy Line for a steam-driven trip between the vintage Sheringham North Norfolk Railway Station and the Georgian market town of Holt, and enjoy amazing views of the countryside as you go.
The railway offers a 10.5 mile round trip by steam train, with vintage diesel trains on some journeys, through the North Norfolk Area of Outstanding Natural Beauty. To the south are rolling woodlands and to the north, infinite sea. This is definitely a journey to remember!
Steam buffs will love the railway experiences on offer, which include a steam driver experience, and a signalling experience day. There are also dining trains, including fish and chip trains, cream tea trains and even gin trains!
North Norfolk Railway also have a full calendar of themed events, so whether you love the forties, the sixties, or vintage transport in general, you'll find an event to attend.
RELATED POST: 23 Amazing Things To Do in Sheringham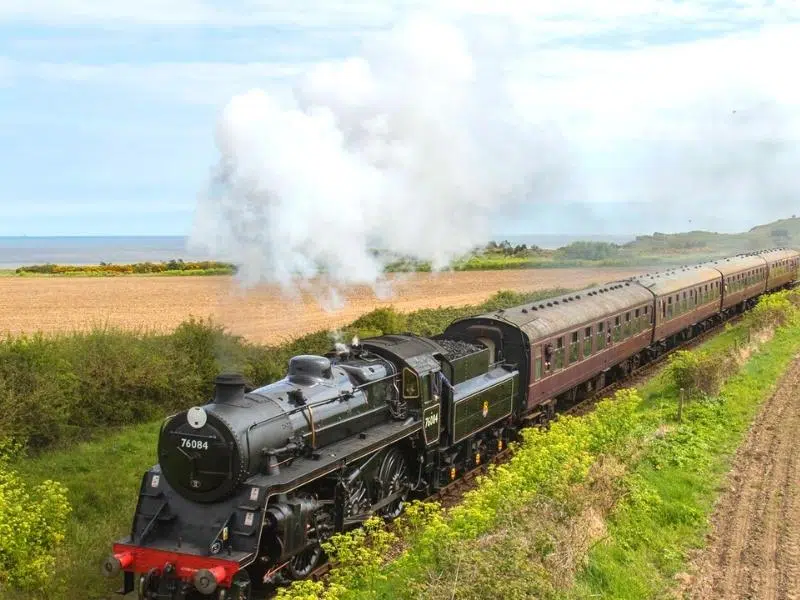 Muckleburgh Military Collection
Address: Weybourne Camp, The Street, Weybourne, Holt NR25 7EH
Opening Times: Daily from 10am to 5pm, from 1st April to 30th October
One of Norfolk's most popular museums, the Muckleburgh Military Collection is housed at the former Royal Artillery Anti-Aircraft training camp near Weybourne. Norfolk's largest working museum of military vehicles includes tanks, armoured cars, guns and a large range of other weapons.
Most of the extensive range of exhibits are maintained in working condition and include artillery, machine guns and missiles in addition to an excellent collection of ships and land warfare models. You can even book to drive a tank here!
The Museum also includes the Suffolk and Norfolk Yeomanry collection of uniforms, weapons, photographs and documents, as well as RAF Reconnaissance and Air Sea Rescue and Marine Craft exhibits.
RELATED POST: North Norfolk Coast – 19 Unmissable Highlights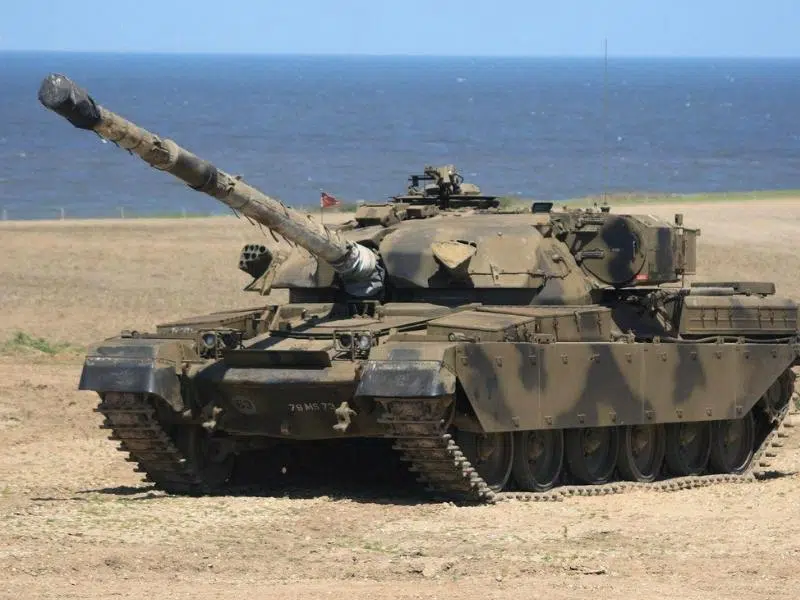 Norwich Castle
Address: Castle Street, Norwich NR1 3JU
Opening Times: Daily from 10am to 5pm and on Sundays from 1pm to 5pm
Norwich Castle overlooks the centre of Norfolk's capital city, and consists of a magnificent Norman keep constructed by William II in 1095.
Norwich Castle was a medieval royal fortification, commissioned by William the Conqueror who ordered its construction in the aftermath of the Norman conquest of England. Used as a gaol from 1220 to 1887, the castle is now home to the excellent Norwich Castle Museum and Art Gallery, and the Royal Norfolk Regimental Museum.
The historic national importance of the Norwich Castle site was recognised in 1915 with its listing as a Scheduled Ancient Monument. The castle buildings, including the keep, Gothic-style gatehouse and former Victorian prison wings, were given Grade I listed building status in 1954
The Castle site comprises the 900-year-old castle, and a large gallery complex which houses important collections in archaeology, natural history, regimental history, and fine, decorative and contemporary art, making it one of the best museums in Norwich.
Please note due to the major redevelopment project Norwich Castle: Royal Palace Reborn, the original medieval castle, dungeons and battlements are currently closed to the public.
RELATED POST: 12 Norfolk Castles for You to Explore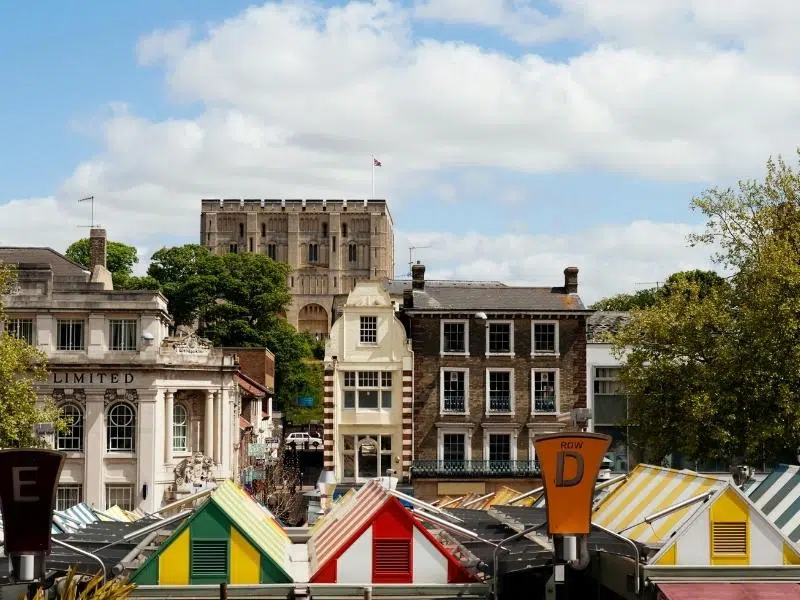 Cromer Museum
Address: 4 Tucker Street, Cromer NR27 9BF
Opening Times: Mondays to Fridays from 10am to 4pm and on Saturdays and Sundays from 12noon to 4pm
Run by the Norfolk Museums Service, Cromer Museum is housed in what was a row of fisherman's cottages, and you can see inside one of these restored Victorian homes and imagine what it was like to live in Cromer at the end of the 19th century.
In the 'Old Cromer' Gallery there are displays of historic photographs and illustrations of the town, helping you to learn about Cromer's history as a Victorian seaside resort, with its fine hotels and scandal of mixed bathing, when men and women entered the sea at the same time!
Visit the Geology Gallery to see an amazing collection of fossils, all found in North Norfolk. There are fascinating displays revealing why Cromer is renowned as a geological area of international importance, and you can learn about the famous West Runton Mammoth and Norfolk's Deep History Coast. The mammoth is Britain's oldest and most complete elephant fossil and in the museum, you're able to see some of its actual bones.
RELATED POST: Norfolk Coast – 8 Amazing Ways to Explore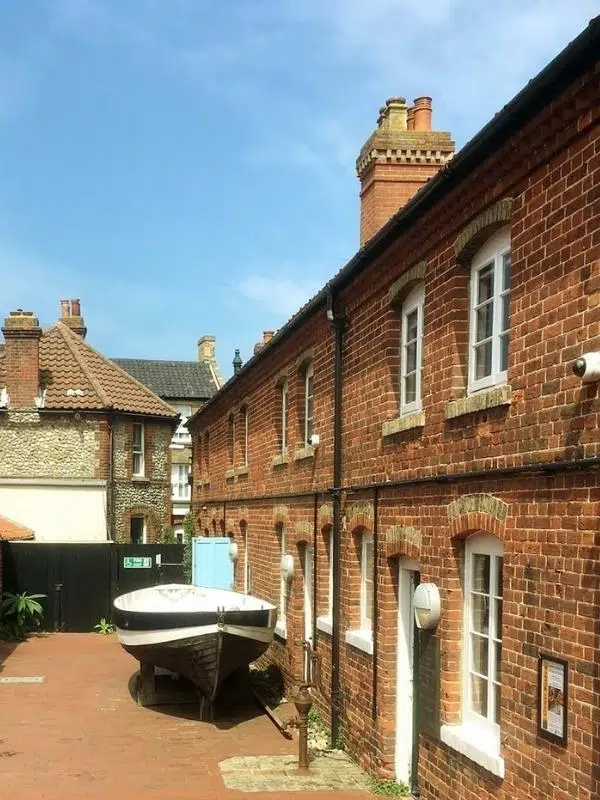 Time and Tide Museum of Great Yarmouth Life
Address: Blackfriars Road, Great Yarmouth NR30 3BX
Opening Times: Daily from 10am to 4pm
In an unlikely but perfectly suited setting in one of the UK's best preserved Victorian herring curing works and smokehouse, is the Time & Tide Museum. This award-winning museum tells the history of Great Yarmouth from its Ice Age beginnings through to the thriving port and seaside resort we know today.
You can experience the noisy and smelly atmosphere of a 1950's fish wharf, and take the wheel of a steam drifter. There are gripping tales of wrecks and rescues, and an opportunity to learn about local characters who made their living from the sea.
Kids will love exploring the original smokehouses where the lingering aroma of smoked fish is a reminder of times gone by, and there are fascinating archive film shows and hands-on displays to help you learn visually about Great Yarmouth's history.
With lots of fascinating interactive exhibits, it's easy to get a feel for the rich maritime heritage of Great Yarmouth, and how the town has developed into a popular seaside resort.
RELATED POST: 13 Exciting Things To Do in Great Yarmouth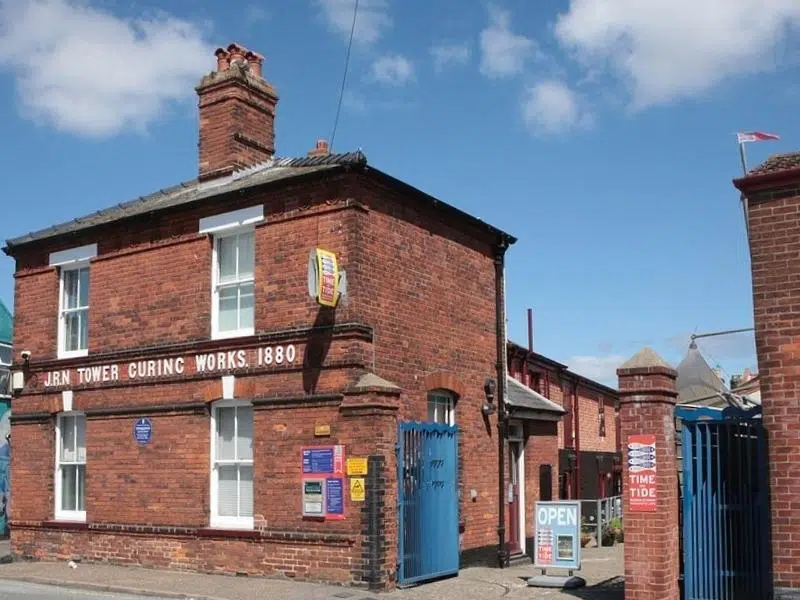 Strangers Hall Museum
Address: 4 Charing Cross, Norwich NR2 4AL
Opening Times: Open Sundays from 1pm to 4.30pm and Wednesdays from 10am to 4.30pm
There has been a house on the site of Strangers' Hall since the 14th century. The early building, of which only the undercroft remains, was probably built for a wealthy merchant and stood well back from the street and at right angles to it. Around 1450 the house was rebuilt, turning the upper storey through ninety degrees so that it ran parallel to the street as it does today.
In 1797 the hall was bought by priests from the nearby Catholic Chapel of St John the Baptist, which stood to the rear of the building and was later converted into the Maddermarket Theatre. Eighty years later the house was standing empty and almost derelict and passed into the hands of a property developer who planned to pull it down, but the house was saved and opened it to the public as a folk museum in 1890.
Today the museum houses one of the largest domestic life collections in the country with exhibits and displays which appeal to visitors of all ages.
RELATED POST: A Local's Guide to Norwich Norfolk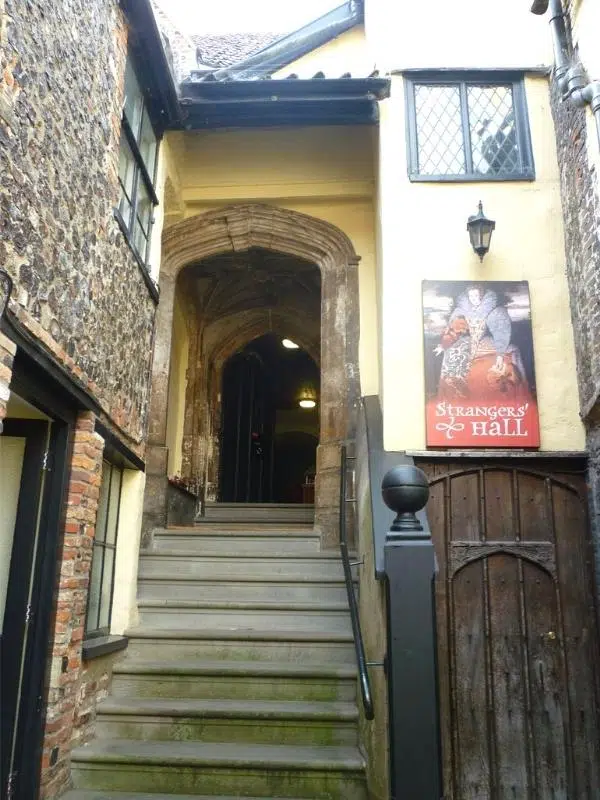 Elizabethan House Museum
Address: 4 South Quay, Great Yarmouth NR30 2QH
Opening Times: Daily from 10am to 4pm and closed on Saturdays
Located at the heart of the Heritage Quarter, and hiding behind a Georgian facade, this fascinating merchant's house on South Quay dates from Tudor times and has been converted into the Elizabethan House Museum by the National Trust.
The house is famous for its connections with Oliver Cromwell who is said to have frequently visited his friend, who was a prominent local merchant in Great Yarmouth, at the house.
The premises became a regular meeting place for Parliamentarians during the Civil War and it is here, allegedly, in November 1648 that it was decided that Charles I would be executed, and the course of history was changed.
The National Trust Elizabethan House Museum holds an extensive collection and each room of the house has something different to see, including costumes, fine art, furniture and even toys from the Tudor period.
RELATED POST: 14 Stately Homes in Norfolk to Visit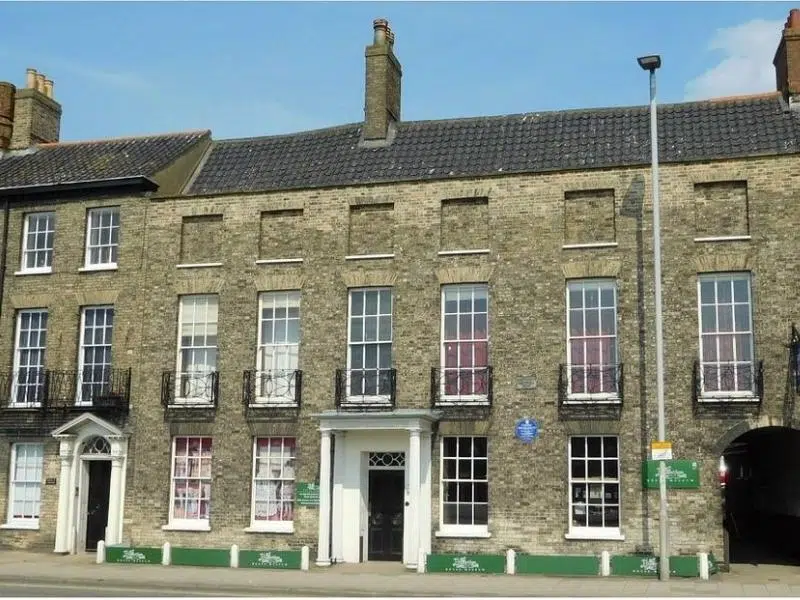 RAF Air Defence Radar Museum
Address: Birds Lane, Horning NR12 8YB
Opening Times: Daily from 10am to 5pm, closed on Sundays and Mondays
Visit the historic RAF Air Defence Radar Museum at Neatishead, the country's only original Cold War operation room.
This award-winning museum is one of the Broad's hidden gems, and you can learn about the fascinating history of Britain's air defence from a real radar station with 23 exhibition rooms displaying over 10,000 items!
There are fascinating daily talks from the knowledgeable volunteers who run the museum, and lots of hands-on activities for kids, as well as a cafe for that well-earned cuppa at the end of your visit!
RELATED POST: 26 Exciting Things To Do On the Norfolk Broads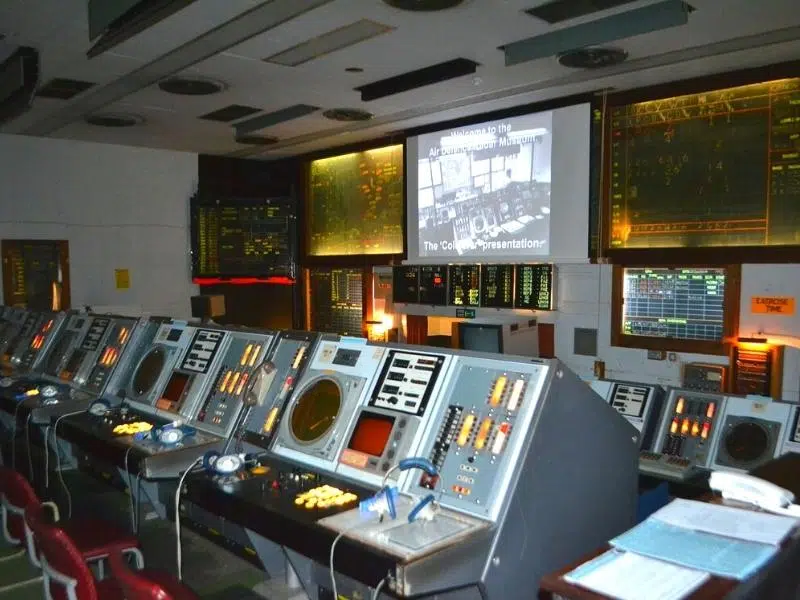 Gressenhall Farm & Workhouse
Address: Gressenhall, Beetley, Dereham NR20 4DR
Opening Times: Daily from 10am to 5pm from 14th March to 30th October
Gressenhall Farm and Workhouse near Dereham is a family-friendly venue with a recreated historic workhouse, a heritage farm with rare breeds, agriculture and rural life displays and steam engines.
At this museum of Norfolk life, you can stand in an evocative workhouse setting, face to face with projections of staff and inmates, who share their tragic and inspirational stories first-hand, helping you to understand what life and work there was like.
The building is the perfect backdrop to discover rare surviving relics from the Gressenhall Museum's nationally important workhouse collection – the largest such collection in the country.
Gressenhall is also the starting point for several Norfolk walks, including the Nar Valley Way and the Wensum Way.
RELATED POST: Walks in Norfolk – 14 of the Best Trails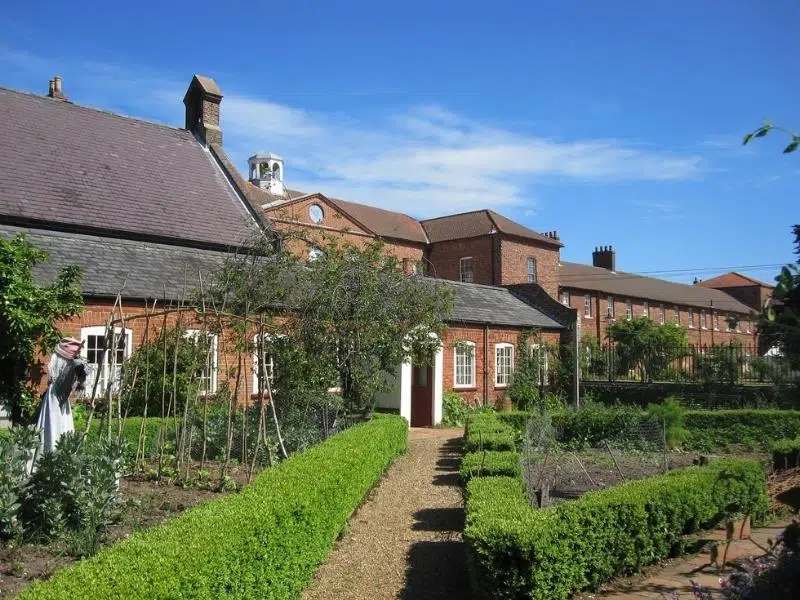 Sandringham House
Address: Sandringham PE35 6EN
Opening Times: Different parts of the estate open at different times, check here for information
Sandringham, a 20,000-acre estate in the Norfolk Coast Area of Outstanding Natural Beauty, is where Queen Elizabeth II and the royal family retreat for Christmas. Nearby, the Duke and Duchess of Cambridge, aka Wills and Kate, also have their home, Anmer Hall.
You can visit Sandringham house, gardens, parkland and St Mary Magdalene Church in a day, with many of the ground floor rooms of Sandringham House remaining as they were in Edwardian times.
The gardens are beautiful and the parkland and woods which surround the house are great spots for dog walking, family activities and picnics.
RELATED POST: The 21 Best Gardens in Norfolk to Visit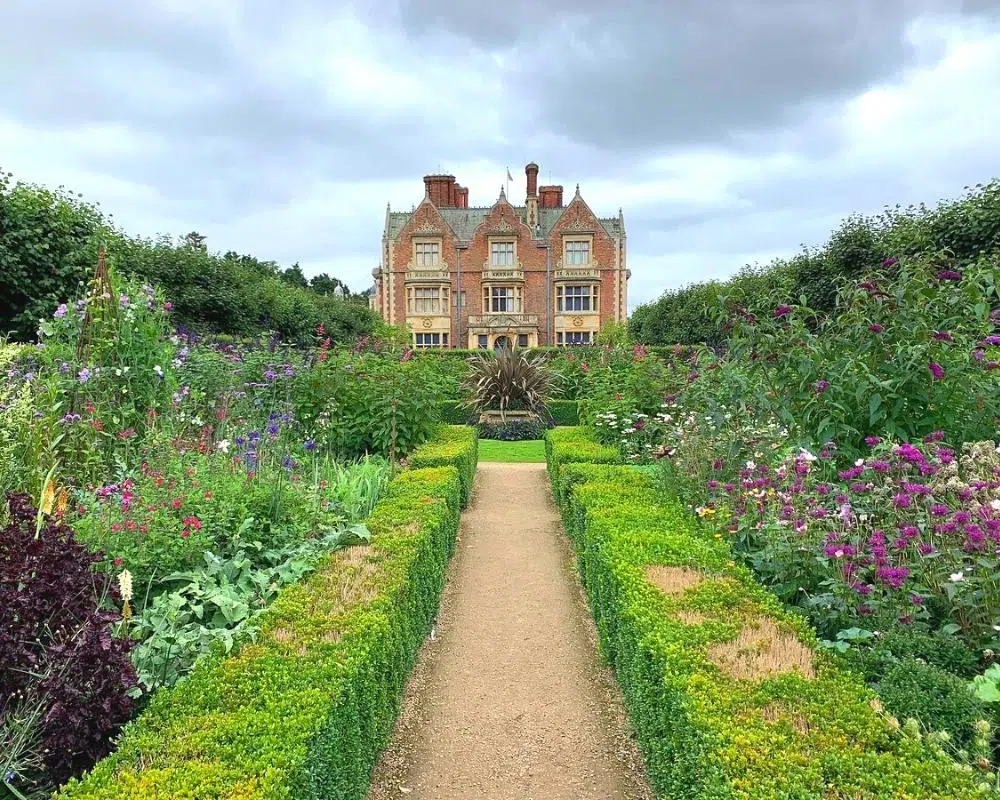 Museum of Norwich at the Bridewell
Address: Bridewell Alley, Norwich NR2 1AQ
Opening Times: Tuesdays to Saturdays from 10am to 4.30pm, closed on Sundays and Mondays
Located in a 14th century merchant's house in the Lanes, the Museum of Norwich at the Bridewell tells the stories of business and industry in the city over hundreds of years.
You'll discover exhibitions about the medieval wool trade, which created a boom in the 13th century, and find out about other famous Norwich products like shoes, chocolate and even Norwich mustard.
There are also displays about how Norwich fared in the wars and the history of the building that houses the museum, which started life as a prison and house of correction for beggars and women.
RELATED POST: 30 of the Very Best Things To Do in Norfolk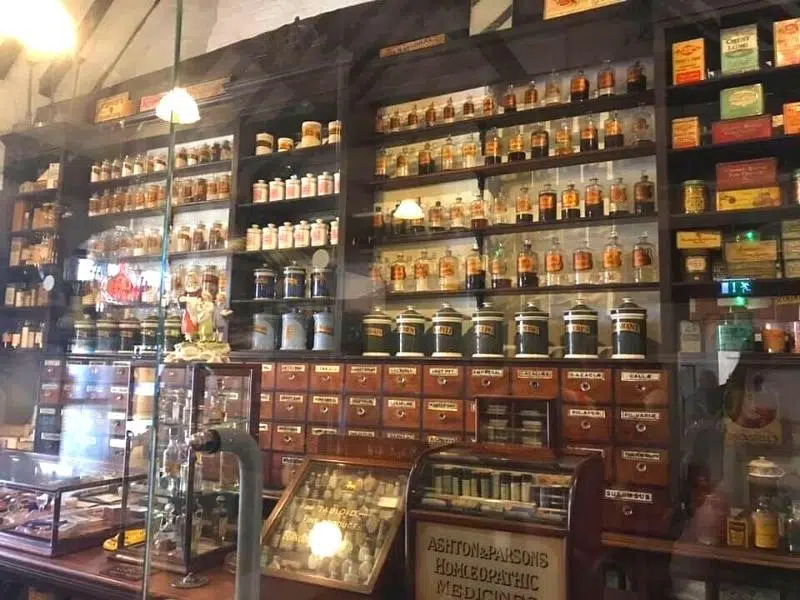 Ancient House Museum of Thetford Life
Address: 21 Whitehart Street, Thetford IP24 1AA
Opening Times: Tuesdays to Saturdays from 10am to 5pm, closed on Sundays and Mondays
A fine Grade II listed Tudor building, the Ancient House Museum is home to a natural and local history collection showing the development of Thetford and Breckland life.
There are exhibits showcasing the rich stories and archaeology of the Thetford area, with objects from the Celtic, Roman, Viking and modern eras, along with replicas of the Thetford Treasure, a remarkable hoard of Roman jewellery discovered locally, with the originals on show in the British Museum.
These parts of the museum are interesting, but it's the fascinating exhibits which highlight the lives of two notable local residents, Maharajah Duleep Singh and Thomas Paine, that are really worth seeing.
Duleep Singh was the last Sikh ruler of the Punjab kingdom, who surrendered his lands and his possessions (including the Koh I Noor diamond) to the British, and came to England to live. He became friends with Queen Victoria and settled at Elveden Hall, near Thetford. His son Prince Frederick was passionate about local history and was one of the driving forces behind the museum.
Thomas Paine was a native of Thetford, born very close to Ancient House in 1737. A writer and political activist, his pamphlets on human rights helped shape modern ideas about democracy, but his ideas were considered dangerously seditious by the British government.
He eventually left Britain for a life in America, where he helped inspire the Patriots of the American Revolution to declare independence from Great Britain in 1776.
Opposite the museum is the Thomas Paine Statue which was gifted to the town of Thetford by the Thomas Paine Foundation in New York. The gilded bronze figure stands in a dramatic pose on top of a large plinth. In his outstretched right hand, he holds a quill pen, and in his left, he holds a copy of Rights of Man, which are notably upside down!
RELATED POST: Towns in Norfolk – 27 Towns to Visit in Norfolk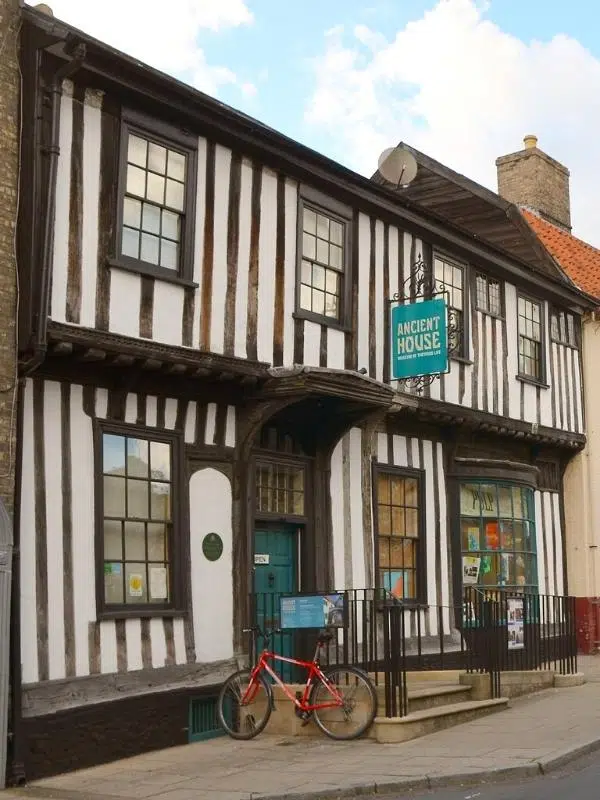 Sainsbury Centre for Visual Arts
Address: Norfolk Road, Norwich NR4 7TJ
Opening Times: Tuesdays to Fridays from 9am to 6pm, Saturdays and Sundays from 10am to 5pm and closed on Mondays
One of the first major public buildings to be designed by the architects Norman Foster and Wendy Cheesman, the Sainsbury Centre, on the campus of the University of East Anglia, was completed in 1978.
Not only is this a stunning contemporary building, it is also a light-filled museum and one of the best art galleries in East Anglia.
You can enjoy free and un-ticketed entry to the sculpture park and permanent collections, which include works by Picasso, Bacon, Moore, Giacometti and Degas.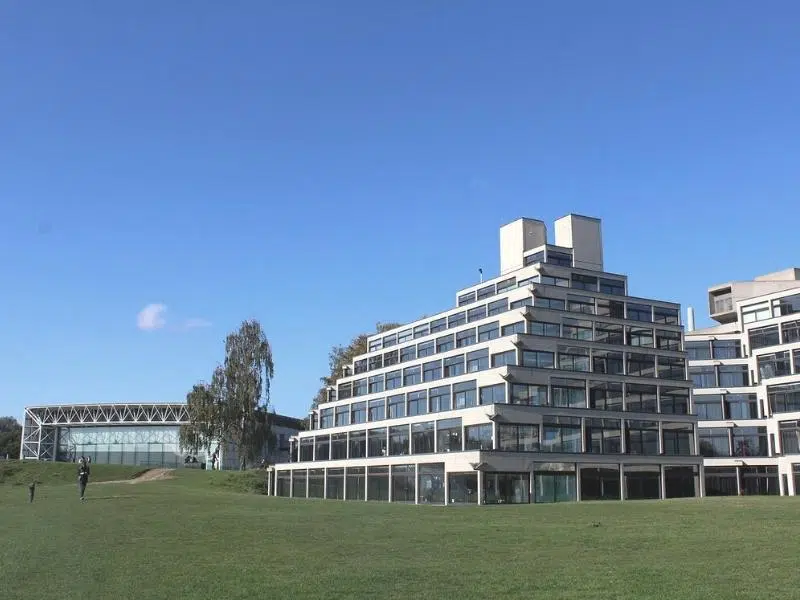 100th Bomb Group Memorial Museum
Address: Common Road, Dickleburgh, Diss IP21 4PH
Opening Times: Saturdays, Sundays and Wednesdays from 10am to 5pm
The 100th Bomb Group Memorial Museum is located in the original control tower and other remaining buildings of RAF Thorpe Abbotts and is dedicated to the American soldiers and members of the United States 8th Air Force who fought with the Allies in Norfolk in World War II. The area became known as the 'Fields of Little America' due to the number of American servicemen and women stationed there.
The former control tower is now a museum space that exhibits historic documents, photographs, uniforms and service equipment. This collection includes a number of maps and other war-related artefacts relating to the 'Bloody Hundredth', as the bomb group became known, due to their heavy losses.
The roof of the control tower is known as the glasshouse, from where the remaining airstrips are visible. Frozen in time, it is as it was when the airfield was operational with the addition of a model of the airbase in the 1940s.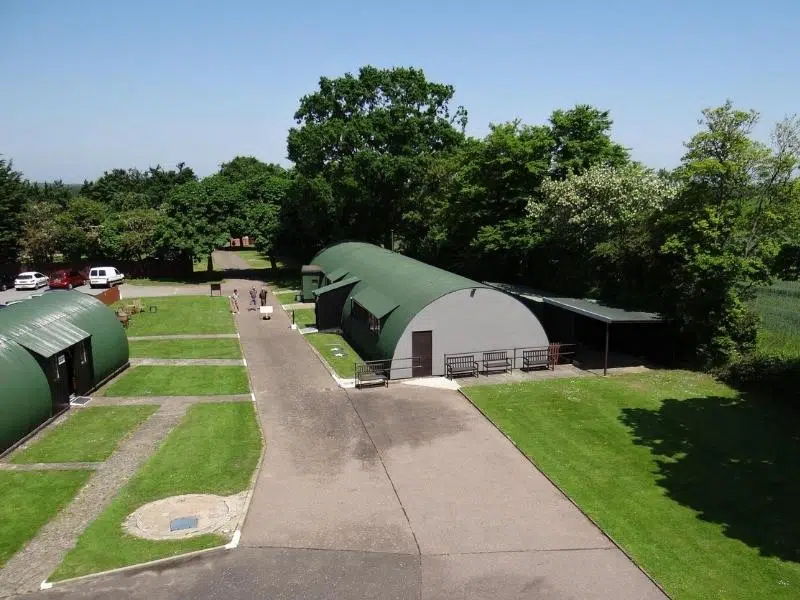 Sheringham Museum
The best place to find out more about the town's history is the Sheringham Museum at the Mo (the 'Mo' was a house named after the daughter, Morag, of a local dignitary). The museum is an independent charity which tells the fascinating story of Sheringham's history, which stretches back over a thousand years, through its people and boats.
The collection includes a rich variety of agricultural and fishing artefacts, as well as a small fleet of boats. There is a fascinating collection of fishermen's ganseys, the beautifully knitted pullovers that have become the icon of the coastal fishing industry.
There are also important historic photographs which record Sheringham's past, fossils ranging from tiny ammonites to bones from a prehistoric elephant, and artefacts from both World Wars.
The tower offers panoramic views over the town and sea and is reached by a lighthouse-like set of steps
There is just enough of everything to make the museum interesting, but not so much of anything that it becomes boring! In other words, the Sheringham Museum is well worth a visit!
RELATED POST: 15 Norfolk Seaside Towns for Your Next Trip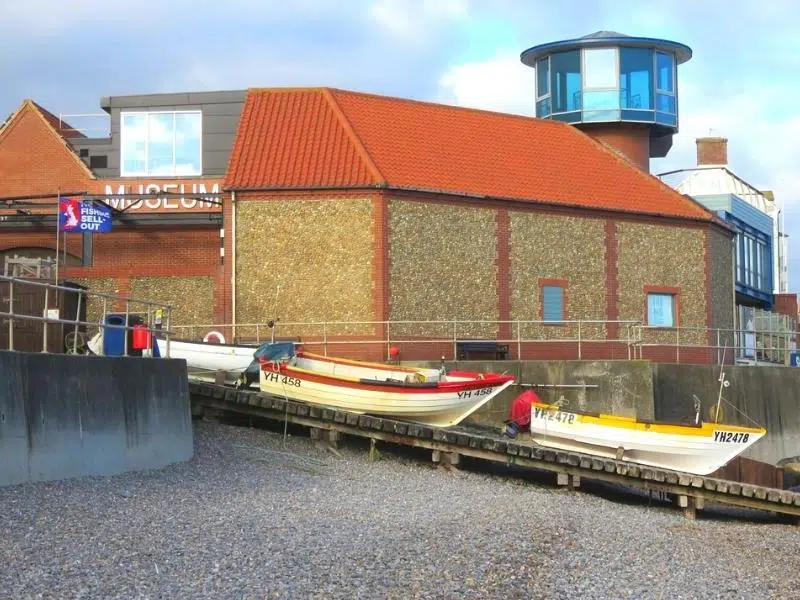 Map of Norfolk's Museums
How to use this map – Use your fingers (or computer mouse) to zoom in and out. Click or touch the icons to get more info about a place, and click the arrow in the box top left to open the index. To add to your own Google Maps account, click the star next to the title of the map.
Where is your favourite Norfolk museum? Share it in the comments below so we can include it in this list of museums in Norfolk!
Love it? Pin it