On the far east side of the Norfolk coast Winterton on Sea is a pretty Norfolk village with a gloriously unspoilt stretch of sandy beach backed by beautiful dunes. The traditional village, fantastic beach, protected dunes and regular seal visitors make Winterton on Sea one of Norfolk's best hidden gems.
Winterton is definitely in my top three Norfolk villages. I love exploring the marram grass-covered dunes and walking on the huge beach where seals pop up their heads to have a nose, before heading to the village pub or tea rooms. One of my favourite secret Norfolk locations, Winterton on Sea is perfect for exploring the Norfolk coast and nearby Norfolk Broads.
My locals guide to Winterton-on-Sea has all the information you need to make the most of your trip and enjoy this beautiful place in Norfolk.
RELATED POST: The Ultimate Local's Guide to Norfolk England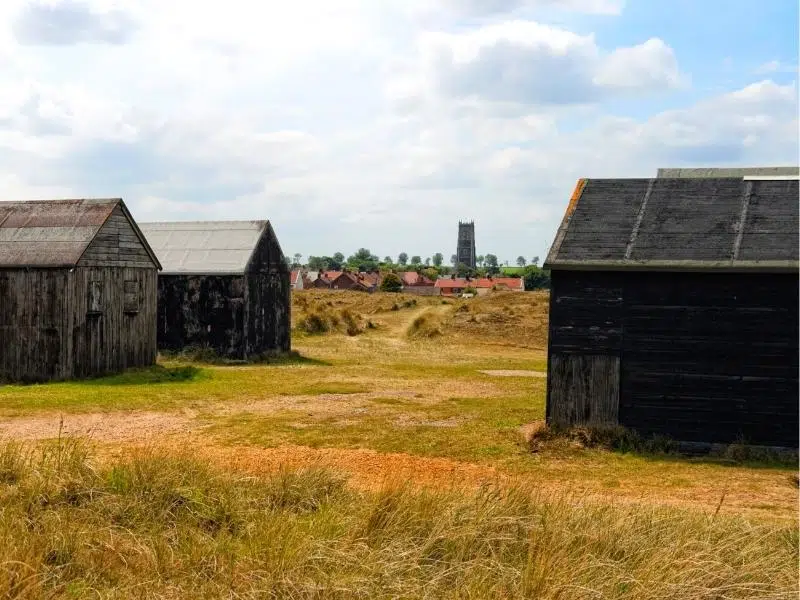 This post may contain affiliate links. If you book something I recommend, I make a small commission without affecting the price you pay!
Where is Winterton on Sea?
The pretty Norfolk seaside village of Winterton on Sea is located nine miles north of Great Yarmouth and 23 miles east of Norwich. Sandwiched between the North Sea and Norfolk Broads, the village is home to traditional brick and flint cottages, a small church with an imposing tower, and a 300-year-old pub.
To the east of the village is Winterton Beach, backed by Winterton Dunes Nature Reserve, a designated National Nature Reserve of 109 hectares, which is home to rare flora and fauna.
RELATED POST: 30 of the Very Best Things To Do in Norfolk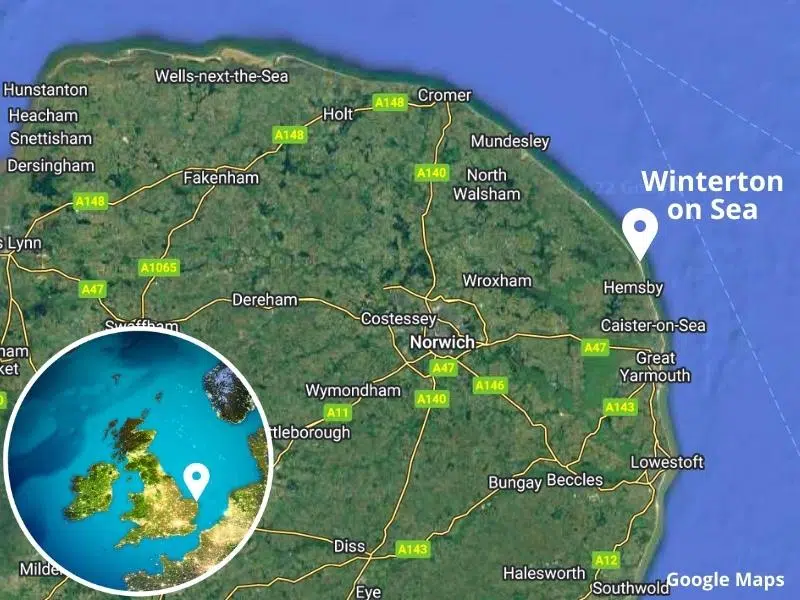 Winterton on Sea – Getting There & Getting Around
Driving to Winterton Norfolk
If you're travelling from the north of the United Kingdom, pick up the A17 south at Newark-on-Trent and follow the route around the Wash to King's Lynn. This road is mainly single carriageway, and slow moving agricultural traffic and trucks can cause delays, so build this in to your travel plans.
From King's Lynn pick up the A47 to Norwich and then Acle. If you're travelling from the Midlands, you'll come into Norfolk via Peterborough and pick up the A47 east. From the south, the A11 brings you through Cambridge directly to Norwich, and then the A47 takes you to Acle.
At Acle, you'll cross country through the Norfolk Broads, passing along narrow country lanes bordered by hedgerows and fields to Winterton-on-Sea.
RELATED POST: 31 Amazing Things To Do in Norwich
Getting to Winterton on Sea by Public Transport
The county of Norfolk is within easy reach of the rest of the UK, with great transport links. You can get to Norwich by mainline train from London in less than two hours. Simply take the regular Greater Anglia service from London Liverpool Street, which leaves every hour or so.
Alternatively, you can take a National Express coach from Victoria Coach Station. This takes around four hours depending on the time of day, but is often much cheaper than the train, especially when booked in advance.
Once in Norwich, hop on the Greater Anglia train service to Great Yarmouth, which leaves every hour or so and takes around an hour to arrive.
At Great Yarmouth train station take the ten minute walk to the bus stop on Market Gates, and hop onto the Coastal Clipper 1 bus service heading north to Winterton. The service leaves every 30 minutes and takes around 40 minutes to arrive at the Winmer Avenue stop in the centre of the village.
RELATED POST: 13 Exciting Things To Do in Great Yarmouth
Getting Around in Norfolk
The Coastal Clipper bus service runs from Lowestoft to Martham, with stops at Winterton, Great Yarmouth, Hemsby, Scratby, Ormsby and Caister, meaning you can explore the whole coast.
Inland, Norwich is easily accessible, and the Norfolk Broads can be explored by car or train, using the Greater Anglia Wherry Lines, which depart from Great Yarmouth.
How about hiring a bike? The Norfolk coast has an abundance of pretty villages linked by a network of byways, bridleways and quiet country lanes, which are perfect for cycling.
These local lanes are flat and gentle, bordered by fields of wheat and see little traffic, which means you can explore the Norfolk coast and Broads at a leisurely and safe pace. Get a good cycle map like the Norfolk Cycle Map or The Broads by Bike and you'll find it a really enjoyable way to get around the area.
RELATED POST: Norfolk Coast – 8 Amazing Ways to Explore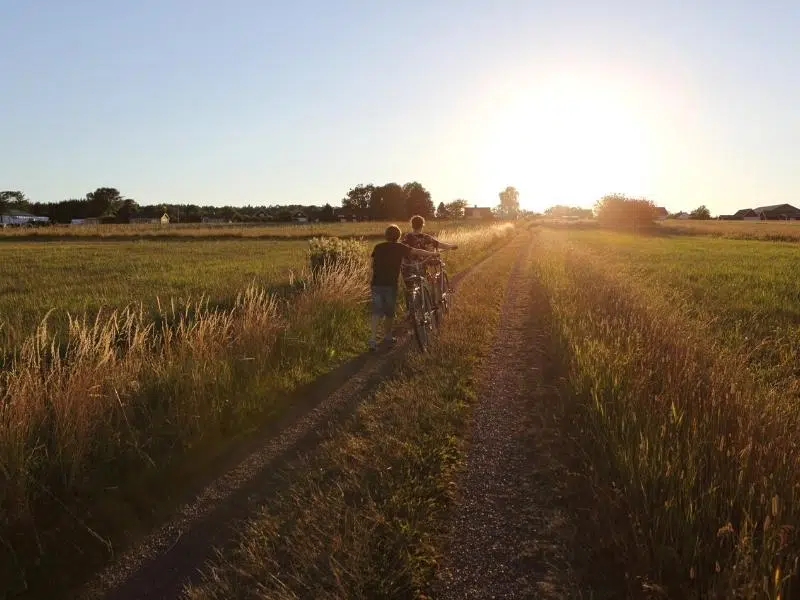 Where to Stay in Winterton on Sea
Hermanus Winterton operates the self-catering holiday park known for the colourful thatched round houses you can see from the dunes. There are also holiday cottages and bungalows on site, 40 acres of gardens plus a swimming pool, children's play area, bar and restaurant, meaning you have everything you need for your Norfolk holiday.
Moonfleet House is a holiday home in Winterton-on-Sea village which sleeps eight, and is just a short walk from the beach. Moonfleet House is fully equipped with everything you need for a great stay, and even has a BBQ in the garden for those sunny evenings.
Driftwood is a four bed, dog-friendly, self-catering chalet on the Winterton Valley Estate, with private Winterton beach access just a three minute walk away. There are no shops, amusements or clubs on the site, enhancing the peaceful atmosphere.
Winterton Lighthouse is the original lighthouse converted into a stunning holiday home, including wrap-around seating in the dramatic Lantern Room which has panoramic views of the Norfolk countryside.
The Fishermans Return Winterton has seven rooms in their village pub, and the self-catering cottage, Skippers Lodge. Beautifully decorated and perfect for a long weekend or short break in Norfolk, you'll also get a fantastic home-cooked breakfast every morning.
If you're looking for a Norfolk campsite close to Winterton, check out Clippesby Hall, one of my favourite sites in Norfolk. With excellent facilities and a great clubhouse, this really is a five-star site and perfect for Norfolk camping or motorhome holidays.
RELATED POST: Norfolk Glamping – 15 of the Best Spots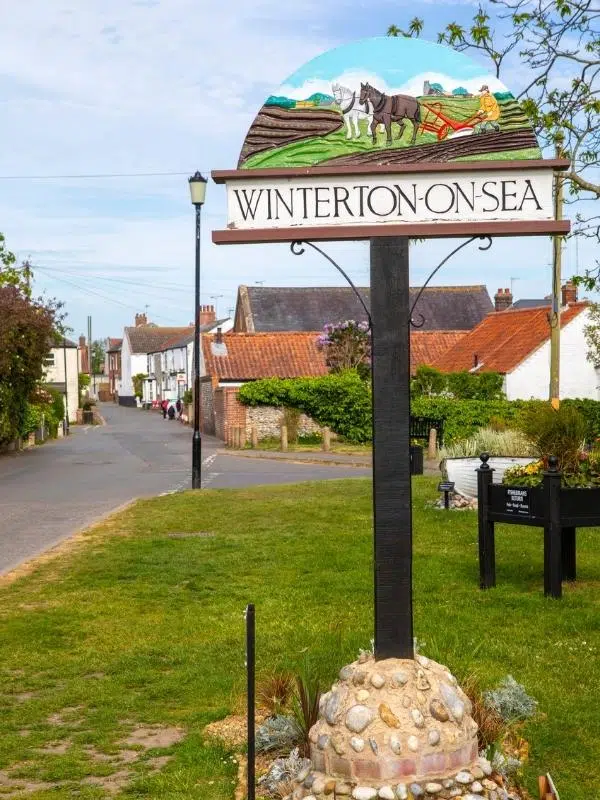 Where to Eat in Winterton on Sea
The charming Poppy's Tea Rooms is based in the same building as the village Post Office. This Winterton-on-Sea café serves a wonderful range of homemade cakes, and the Post Office stores also sell local produce and crafts. You can still pick up your milk and paper, and post your letters, but make sure to grab a slice of delish cake at the same time!
The Winterton Fish Bar serves good quality and traditional freshly fried fish and chips to take away, from Tuesday to Saturday, at lunch and dinner time.
The Fishermans Return serves a wide range of classic pub grub, made with local and seasonal ingredients. I love it here as I can take the dogs in after a long run on the beach, and settle down with a half pint of local ale and their fantastic steak burger!
For many years there has been a café in the beach car park. First the Dunes, which was lost to the sea, then Edge Winterton in their distinctive silver Airsteams, who had to move back from the cliff several times, and now a burger van (November 2022). Don't rely on the beach car park as a place to eat – who knows what will be there next week!
RELATED POST: 26 Norfolk Food & Drink You Must Try!
Things to Do in Winterton on Sea
Winterton on Sea Beach
One of my favourite Norfolk beaches, Winterton Beach is three miles long and quite deep when the tide goes out, and there is still enough room for everyone even when the tide is in!
Sandy and backed by dunes, it's a perfect beach for walking, exploring, beach games, flying a kite and sandcastle building.
Is Winterton on Sea a Dog Friendly Beach?
This is a popular dog walking beach, with no restrictions at all, and your dogs will have a great time meeting lots of other four-legged friends! Please use the dog waste bin provided by the public toilets.
During the seal breeding season between November and January, dog walkers are asked to head south on the beach, or walk their dogs under close control in the dunes.
RELATED POST: Dog Friendly Beaches Norfolk: The Best for Unleashed Fun!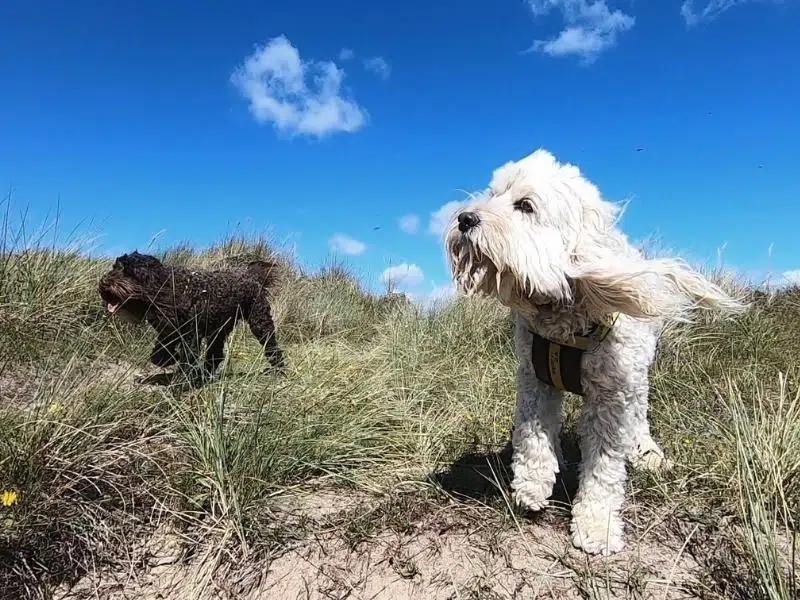 Is Winterton Beach Safe for Kids?
The beach itself is very safe. Smaller children will benefit from jelly sandals or beach shoes as there are small rocks and stones scattered about above the tide line.
There is a gentle slope into the water and waves are usually small. However, this beach is not lifeguarded so children will need supervising in the water, as there is always a chance of rip tides and unexpected currents. It is also advised by HM Coastguard not to use lilos or inflatables at this beach.
Tides at Winterton Beach
Winterton is one of those Norfolk beaches where there is a huge expanse of sand, whether the tide is in or out.
As the tide goes out, Winterton Beach is revealed in all its glory with a vast swathe of firm and flat golden sand, perfect for sand castle building, kite flying and beach games.
You can find out about Winterton Beach tide times here.
Winterton Beach Parking
The car park on Beach Road at Winterton is easily accessible and costs £7 for the day, or £1.50 for an hour (cash only). Once at the car park, you can access the beach using the designated path north from the black boat sheds where there is a level sandy pathway onto the widest part of the beach, or wander through the dunes and find one of the many paths onto the beach.
If this car park is full, which it very rarely is, there is some parking in front of Winterton Village Hall. Motorhomes and campervans are not allowed to use the Winterton Beach car park due to Borough Council planning consent limitations and misuse of the car park in the past, but the spaces at the village hall can accommodate larger vehicles.
There are public toilets opposite the entrance to the car park and the Edge Winterton café at the rear of the car park.
Winterton Beach Erosion
Along with many other places along the east Norfolk coast, the landscape at Winterton Beach changes regularly as erosion takes its toll. The original Dunes Café (now operating at Acle and Waxham) was lost to the sea a few years ago.
The winter of 2021 saw the replacement beach café, which operates out of Airstreams, move inland several times as parts of the road and cliff-top car park took a battering and disappeared into the waves. They have now permanently relocated behind the car park.
In March 2022 the iconic Winterton Coastwatch tower was decommissioned and dismantled as it became apparent that it too would be lost to the weather and the surging sea, as more and more of the soft, sandy cliffs are destroyed.
Because of this erosion and instability, it's important that you only follow marked routes to the beach and not attempt to access areas which are cordoned off.
RELATED POST: Norfolk Beaches – Ultimate A-Z Guide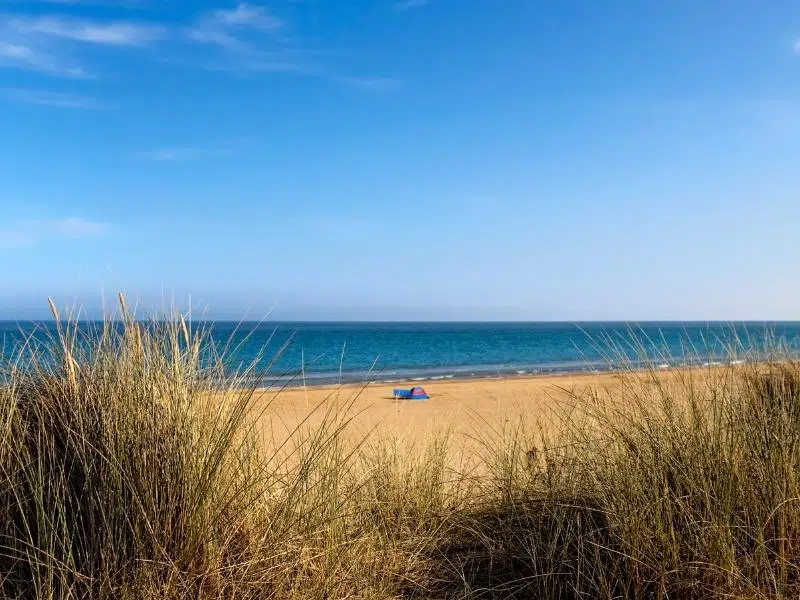 Winterton Beach Seals
There aren't many places in the UK where you can see wild seals lounging on a beach, but we're lucky enough to experience this at Winterton Beach, where grey seals live and breed.
At the northern end of Winterton Beach is Horsey Beach, home to an Atlantic Grey seal colony. You can see the seals from Horsey swimming all along Winterton beach year round, as they pop up their heads to check out what's happening on the beach. I have been followed by Winterton seals on walks along the beach, these curious creatures are really interested in us humans!
In winter, around late October to early January, the female seals come onto the beach at Winterton to have their pups. You are asked not to walk on the beach from November to late January or early February (depending on the year) to prevent the seals from being disturbed, but you can see the seals and their pups from the dunes and roped-off viewing areas.
During the breeding season, there are Volunteer Wardens from Friends of Horsey Seals helping to make sure the seals are allowed to give birth and mother in peace, and they are a great source of knowledge about the colony and seal behaviour.
RELATED POST: Seals in Norfolk – Where & How to See Them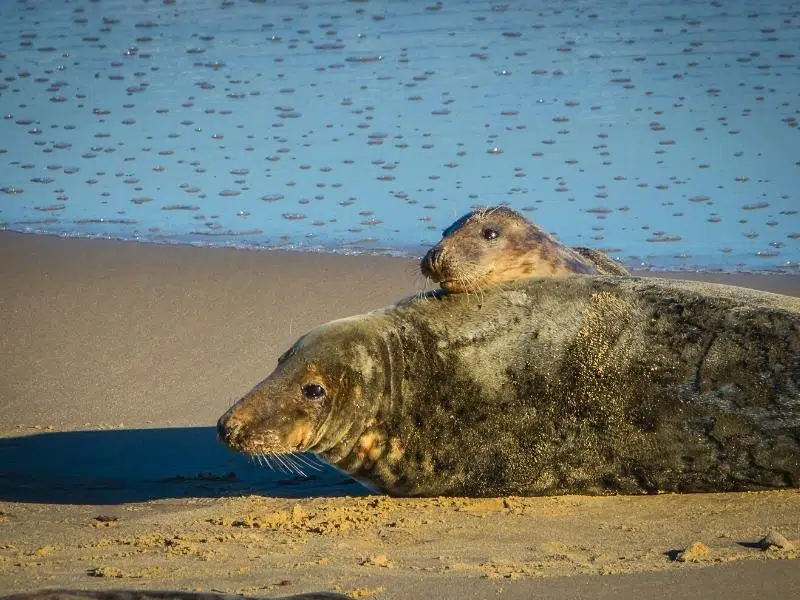 Norfolk Coast Path
At Winterton-on-Sea the Norfolk Coast Path enters the Winterton-Horesy Site of Special Scientific Interest (SSSI) and climbs quickly to the crest of the main dune ridge. From this vantage point, you're treated to panoramic views over the dunes, beach, sea and village.
It's a beautiful 3.5 mile walk north on the Norfolk Coast Path to Horsey Gap, home of the local seal colony, and arguably some of the best views on the coastal path. It's easy to dip inland from here to see the iconic Horsey Mill and Horsey Mere, where the Norfolk Broads meet the sea.
Head south on the next leg to Hembsby through 'the valley', a long meadow bordered by ferns to the west and tall sand dunes to the east. The valley is home to many of the same flora and fauna as the Winterton Dunes reserve, but the character here is altogether different and feels more remote. The birds of prey that hunt above the dunes are easy to spot in the big empty skies, and create interest on the two mile route that's perfect for families – especially with a picnic!
RELATED POST: Walks in Norfolk – 14 of the Best Trails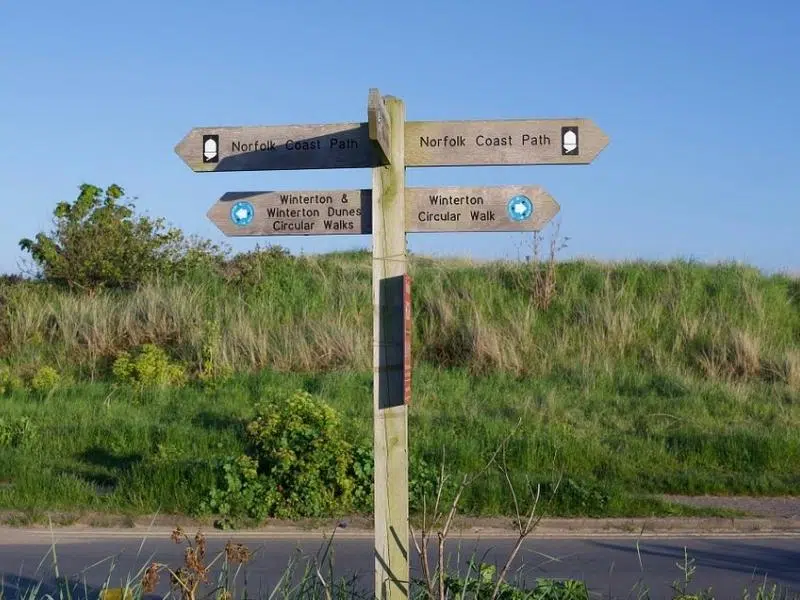 Winterton Dunes National Nature Reserve
Within the Norfolk Coast Area of Outstanding Natural Beauty, Winterton Dunes is an area of dune heath, wet 'slacks' between dunes and dune grassland which grades into grazing marsh and birch woodland.
The reserve is home to species including the rare Natterjack toad which breeds in shallow pools, the largest colony of dark green fritillary and grayling butterflies in Norfolk, as well as the small copper and common blue butterflies, the common hawker dragonfly, and the southern emerald damselfly. The area is also home to the largest little tern colony in the UK.
The nature reserve also overlaps the Winterton-Horsey Dunes Site of Scientific Special Interest which is a Designated Special Area of Conservation because it is the only significant area of dune heath on the east coast of England, and also includes areas of acidic dune grassland, which creates the right habitats for the unusual species found here.
RELATED POST: Norfolk Nature Reserves – Ultimate A-Z Guide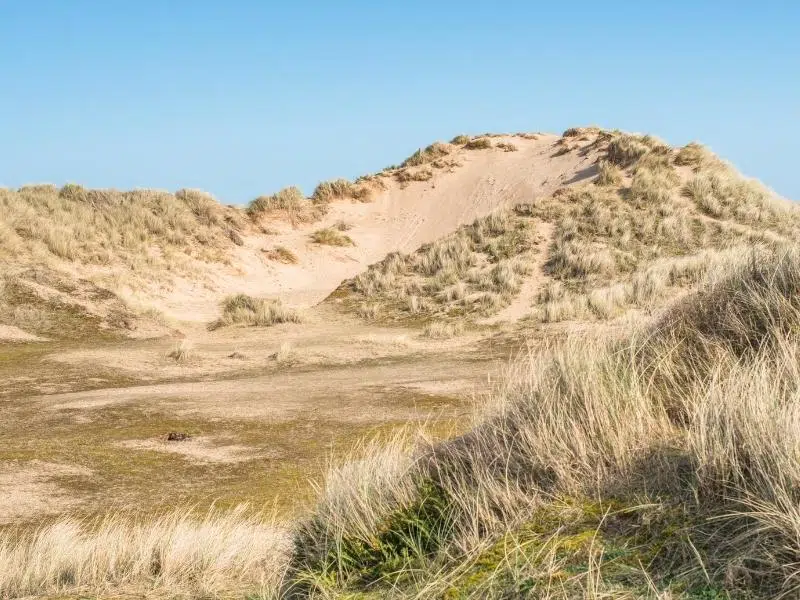 Fisherman's Huts
Look out for the black-painted fisherman's huts adjacent to the beach car park. They are very photogenic and an iconic part of Winterton's coastline, although sadly at risk from the encroaching sea.
RELATED POST: 26 Pictures of Norfolk England to Inspire Your Trip!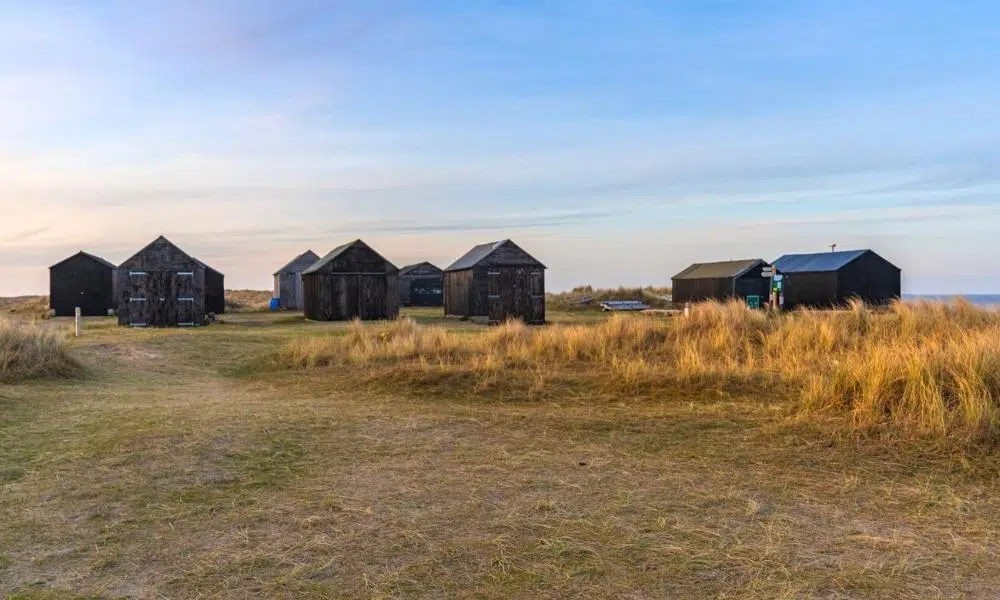 Holy Trinity and All Saints Church
The fishing heritage of Winterton is clear to see as you enter Holy Trinity and All Saints Church. Nets from one of the last fishing boats that made a living from the beach adorn the walls, and at the back of the church is Fisherman's Corner, with a crucifix carved from ships' timbers.
Built in the 14th and 15th centuries, the Grade I listed church is known for its impressive tower. At over 40 metres high it dominates the landscape and served as a lookout post during times of war.
The tower was restored in 2014 and is open to the public on Saturdays during the spring and summer. Climb to the top for wide-reaching views of the surrounding countryside and coastline. On a clear day you can see as far as Happisburgh Lighthouse to the north and Caister water tower to the south.
RELATED POST: Norfolk Churches: 16 of the Best to Visit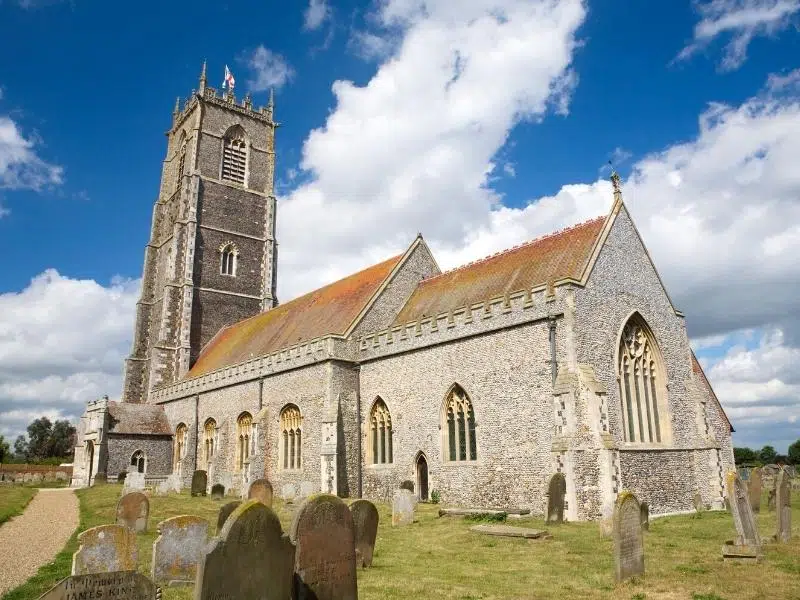 Things To Do Near Winterton on Sea
Norfolk Broads
Head inland from Winterton on Sea, and in just a few miles you'll be in the heart of the peaceful Norfolk Broads, where you'll find a relaxed pace and lots of water-based activities and boat trips.
The Norfolk Broads National Park is made up of over 60 open areas of water known as Broads, originally dug out in medieval times to provide peat for fuel. In the 14th century, these peat diggings flooded, creating the beautiful waterways we see today.
This is one of the most diverse national parks in the United Kingdom, with a vast range of flora and fauna to be explored, and my Norfolk Broads guide has all the info you need.
Start in Wroxham, the capital of the Norfolk Broads and hire a canoe, kayak or paddle board and set off on an adventure. Take a picnic and binoculars to spot the many different birds you'll encounter, or book a guided trail where a local expert will take you to backwaters where motorised boats can't go, for the best opportunities to see kingfishers, bitterns and even the elusive otter.
If you're not confident on the water, but still want to explore this gorgeous part of Norfolk, hop on a Broads boat tour from Wroxham Bridge.
RELATED POST: 26 Exciting Things To Do On the Norfolk Broads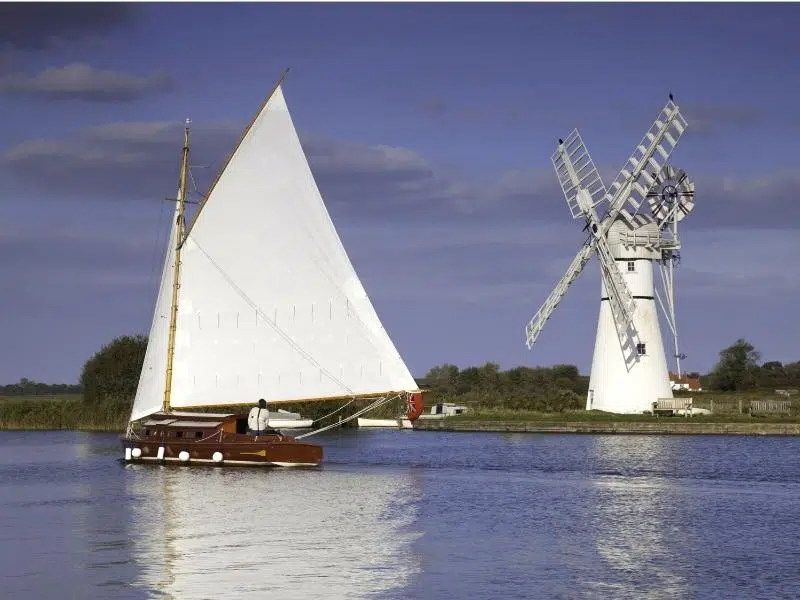 Great Yarmouth
A lively seaside town, Great Yarmouth makes for an action-packed day out. With its famous Pleasure Beach, amusements and attractions, there's lots to keep visitors (especially kids!) busy.
RELATED POST: 13 Exciting Things To Do in Great Yarmouth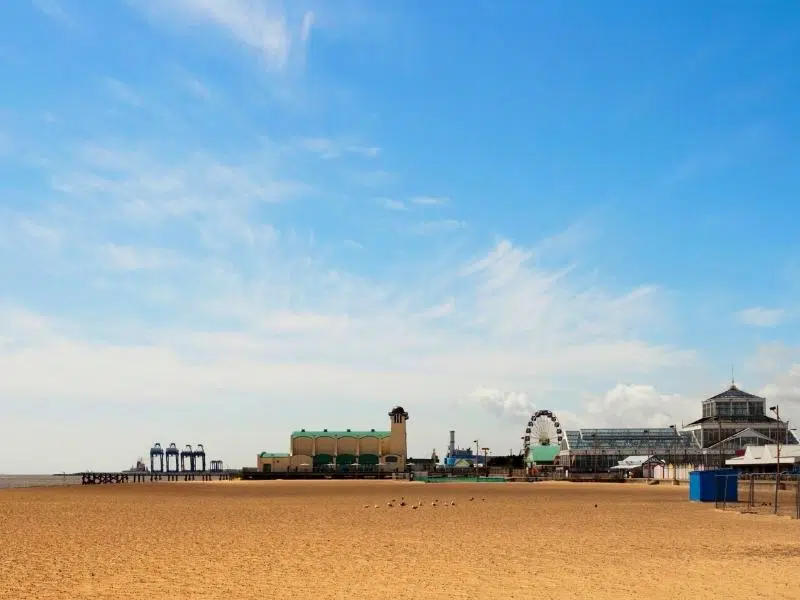 Horsey Windpump
Horsey Windpump is an iconic Broads building with a fascinating past. Standing watch over Horsey Mere, a climb to the top is rewarded with stunning panoramic views of the surrounding countryside and Broadland landscape.

Horsey Windpump is owned by the National Trust, which restored the building after the mill was struck by lightning in 1943 and then abandoned for 75 years.
Now complete with a winding cap and turning sails, this delightful Grade II* listed building is ridiculously photogenic.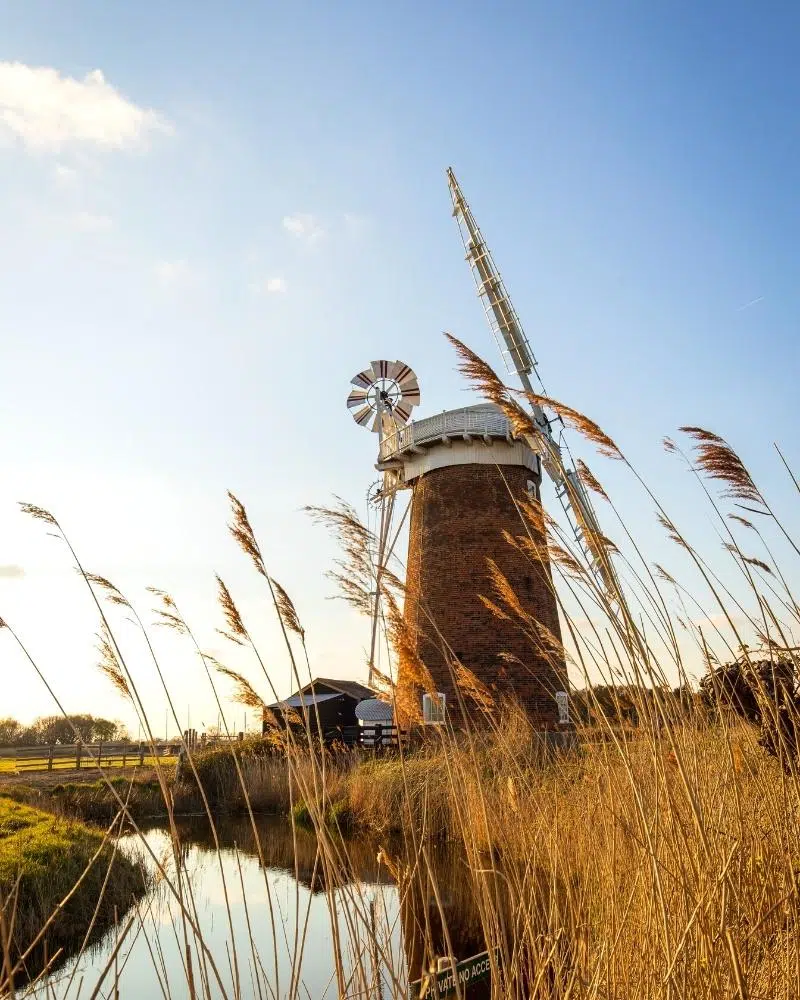 Hickling Broad Nature Reserve
The medieval bridge at touristy Potter Heigham is a gateway to the Upper Thurne, Horsey Mere and Hickling Broad, the largest of all the Broads. On the edge of Hickling Broad is the pretty village of Hickling Heath.
With a staithe, private moorings and even a small man-made beach at the head of the dyke, on the opposite side of the staithe to the Pleasure Boat Inn, this is the perfect place for an active day out. You can hire stand up paddle boards, canoes and kayaks from Norfolk Outdoor Adventures, just behind the pub.
The National Wildlife Trust Hickling Broad Nature Reserve is a year-round haven for wildlife. You'll see the common crane, barn owl, bittern and marsh harriers here, and maybe Chinese water deer and otters too, as well as the local specialities of the swallowtail butterfly and Norfolk hawker dragonfly.
It's a joy to spend a summer's day walking around Hickling's trails or taking in the Broad's secret spots on one of the water trail boat tours.
RELATED POST: 13 of the Best Norfolk Broads Walks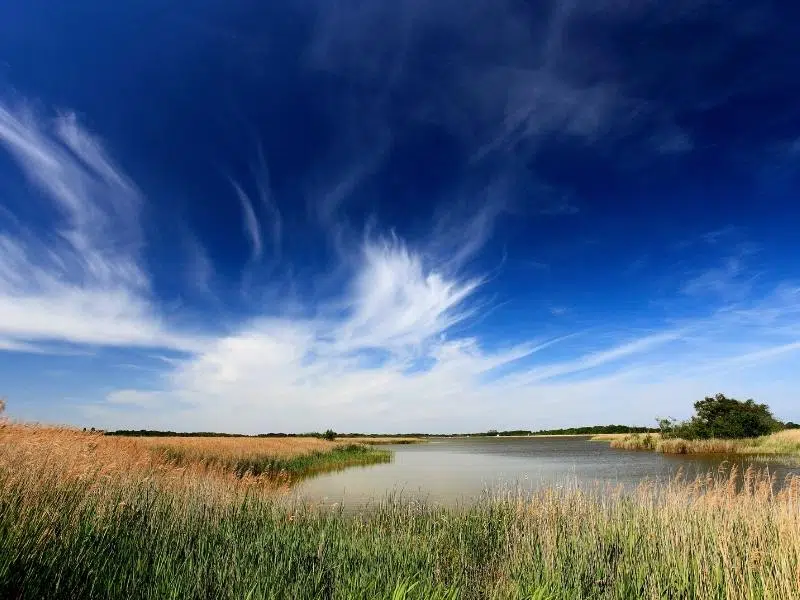 Do you love Winterton on Sea as much as I do? Tell us about your visit there in the comments!
Love it? Pin it!