With some of the best landscapes in the UK along its glorious coastline and in the Broads, Norfolk boasts a wealth of nature reserves, known for migrating birds, seal colonies and unique species that can't be found anywhere else in the country.
Norfolk is a real haven for wildlife and nature lovers alike. With wide open spaces aplenty around the county and huge swathes of protected countryside and shorelines, natural Norfolk thrives and rewards us with opportunities to see bird, animal and plant life in abundance.
If spending a day in peace, bird watching, nature spotting, or just rambling through beautiful countryside is your idea of heaven, you'll find a full list of 66 of the best nature reserves in Norfolk here.
RELATED POST: The Ultimate Local's Guide to Norfolk England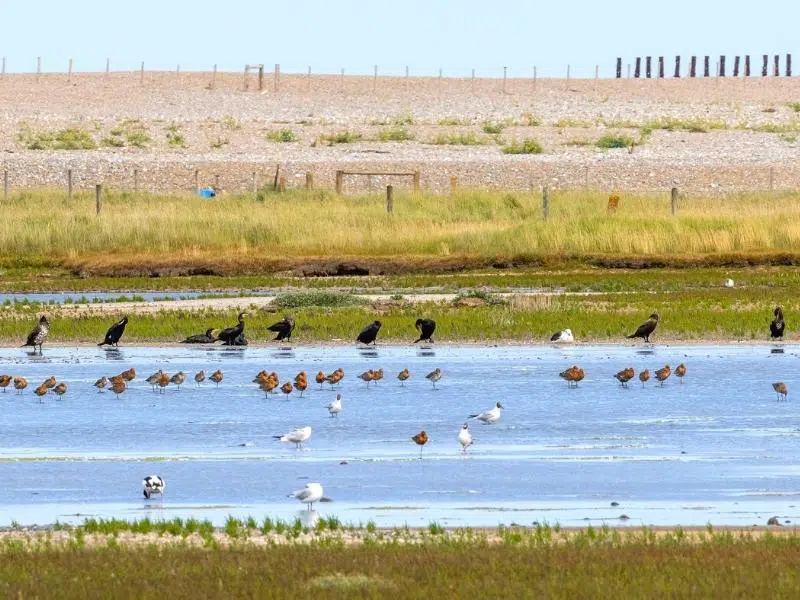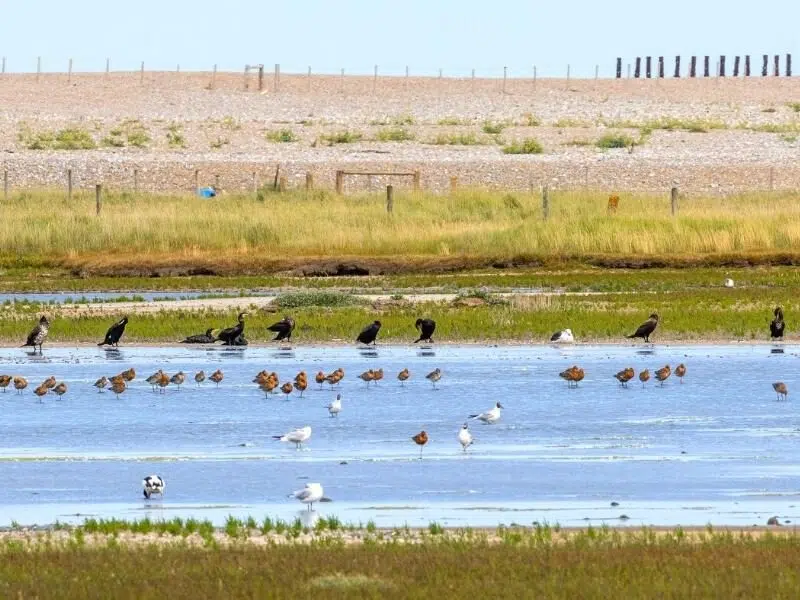 This post may contain affiliate links. If you book something I recommend, I make a small commission without affecting the price you pay!
Scroll down for an interactive map to find Norfolk nature reserves near you.
NWT Alderfen Broad and Marshes
Tucked away in the heart of the Broads National Park, Norfolk Wildlife Trust's Alderfen contains some of the area's finest remaining tussock fen and carr woodland. It also supports a number of scarce plants and good numbers of invertebrates including butterflies and dragonflies.
The explosive song of the Cetti's warbler can be heard throughout the year, with reed and sedge warblers common in the summer alongside occasional grasshopper warblers.
Ant Broads and Marshes National Nature Reserve
The Ant Broads and Marshes reserve is part of the Ant Broads and Marshes Sites of Special Scientific Interest (SSSI), which covers four nature reserves; Sutton Fen, Catfield Fen, the How Hill National Nature Reserve and Barton Broad National Nature Reserve. Together these four important sites are home to the largest colony of fen orchids and the highest density of swallowtail butterflies in Britain.
NWT Barton Broad and Marshes
Barton Broad is the second largest of the Norfolk Broads and since the 1990s, the river quality has steadily improved as nutrient-enriched mud was pumped out of the broad in 1995. With improving water quality, fish and aquatic plants have made an impressive comeback, along with other species such as common terns (which nest on artificial platforms), otters, kingfishers and herons.
Off the beaten path, Barton Broad is a fantastic place for a family adventure. Park in the car park in the nearby village of Neatishead before heading east along Irstead Road, for around fifteen minutes, to the start of the wheelchair and pushchair-friendly boardwalk.
The trail leads you through swampy, wildlife-filled woodland, with resting places and information boards where you can read about the wildlife, before emerging onto a large viewing platform. From here you can enjoy a fantastic panoramic view over Barton, the second largest of the Broads.
If you're looking for a paddling adventure, hire a canoe at Wayford Bridge and paddle down the River Ant to Barton Broad, and moor at Neatishead staithe. From here you can walk the boardwalk and reward yourself with a drink at the nearby Whitehorse Inn, or bring a picnic and eat it on the pretty staithe.
RELATED POST: 26 Exciting Things To Do On the Norfolk Broads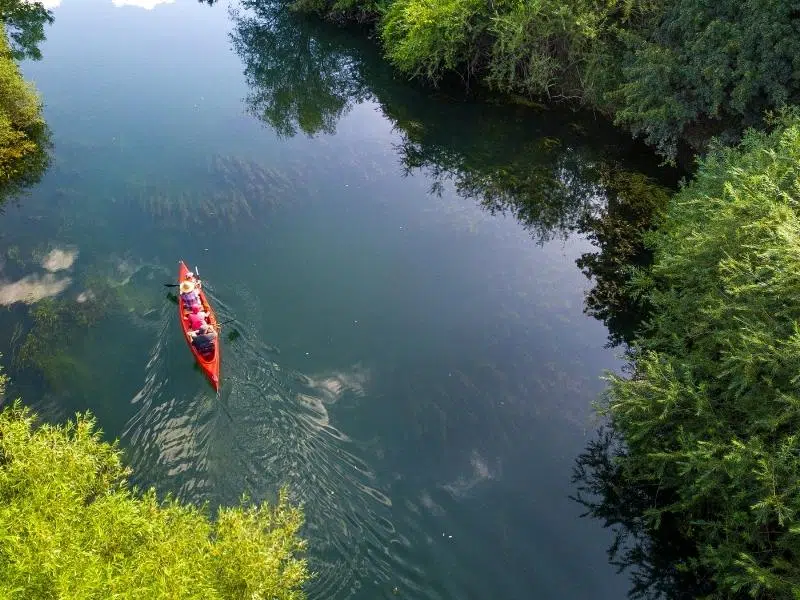 RSPB Berney Marshes and Breydon Water
Experience the spectacle of thousands of wintering ducks, geese and swans when you visit the Breydon Water estuary and surrounding grazing marshes. Up to 64,000 wintering wildfowl visit the reserve every year, including pink-footed geese and wigeons, as well as breeding lapwings, redshanks and avocets. Raptors are also regular visitors.
There is a fantastic walk along Breydon Water from Great Yarmouth and Gorleston-on-Sea on the Angles Way, where you can enjoy the birdlife and fantastic views across the Broads to the iconic Berney Arms windmill.
RELATED POST: 13 of the Best Norfolk Broads Walks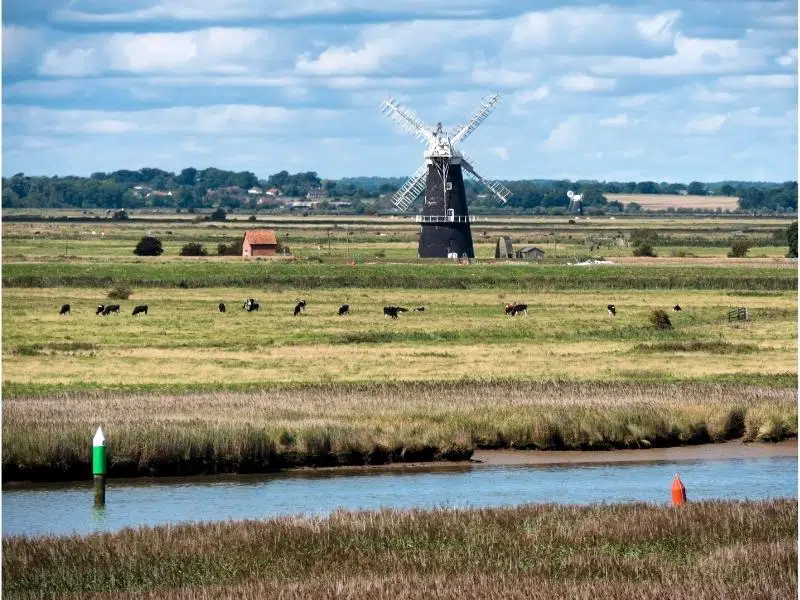 Blakeney National Nature Reserve
Blakeney National Nature Reserve, within the Norfolk coast Area of Outstanding Natural Beauty, boasts wide open spaces and uninterrupted views of the beautiful North Norfolk coastline, as well as being home to one of the largest seal colonies in the UK.
The four mile long sand and shingle spit is one of the best places to see the curious and charismatic seals in their natural habitat, alongside a vast array of residential and migratory wildlife.
The easiest way to get up close to the wildlife on Blakeney Point is to book a boat trip, a real highlight of any trip to Blakeney and the Norfolk coast. These wildlife trips allow you to get up close to the seal colonies that live on Blakeney Point, with boats departing from Blakeney Quay or nearby Morston Quay regularly throughout the year.
RELATED POST: Seals in Norfolk – Where & How to See Them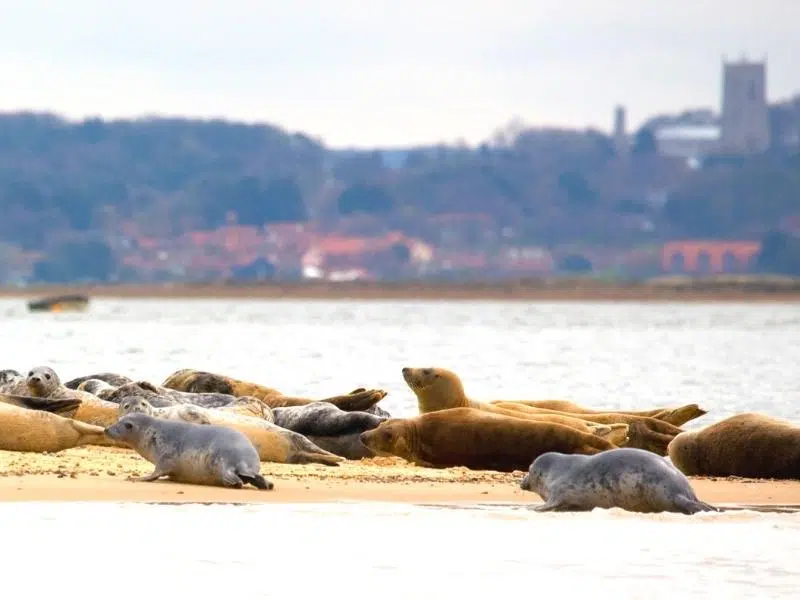 NWT Booton Common
Located in the beautiful Wensum valley, the species-rich Booton Common fen and wet heathland contain several rare plants. The alder woodland that borders the Common contains plants that are usually only found in ancient woodlands, such as the fragrant orchid, the flowers of which are purple-pink. They are one of the few sweet-smelling orchids to be found in Britain, with their orange-like fragrance most noticeable in the evening.
Brettenham Heath National Nature Reserve
Adjacent to the A11 west of Thetford, Brettenham Heath was covered in scrub, trees and bracken before it became a National Nature Reserve. Most has been cleared since 1982 to restore the plant communities and patterned ground. Bracken and, to a lesser extent, scrub still covers several hectares of the reserve, along with woodland of silver birch, oak and Scot's pine.
NWT Bretts Wood
Nested between Fakenham and Thursford, the decades-old conifer plantation of Bretts Wood offers an exciting opportunity for woodland restoration. Currently, the commonest species are conifer-favouring birds such as goldcrest and coal tit, but the site also supports garden warblers, blackcap and willow warbler.
RSPB Buckenham & Cantley Marshes
Buckenham Marshes is a haven for wildlife on the northern bank of the River Yare in Norfolk. It consists of marshland, reedbed, wetland and valley habitats – it often boasts the only regular winter flock of bean geese in England.
Bure Marshes National Nature Reserve
Lying at the heart of the Norfolk Broads near the village of Woodbastwick (also home of Woodforde's Brewery), Bure Marshes National Nature Reserve is a mosaic of rivers, broads, ditches, wet woodland and open fens.
Most of the reserve has restricted access to protect the marshes and wildlife, but there is a lovely boardwalk through the marshes and along Cockshoot Broad, one of the most peaceful, and beautiful, stretches of water in the area.
RELATED POST: Breweries in Norfolk – Best 16 to Visit
NWT Buxton Heath
Buxton Heath is one of the best remaining examples of heathland in Norfolk. Many rare plants and invertebrates can be found, as well as breeding nightjar and woodlark. The site is excellent for butterflies including the rare silver-studded blue, purple hairstreak and white admiral.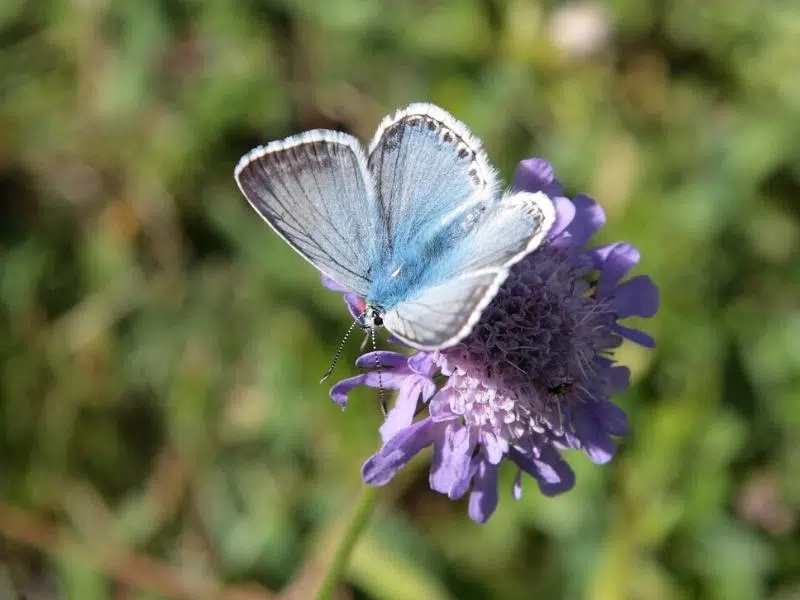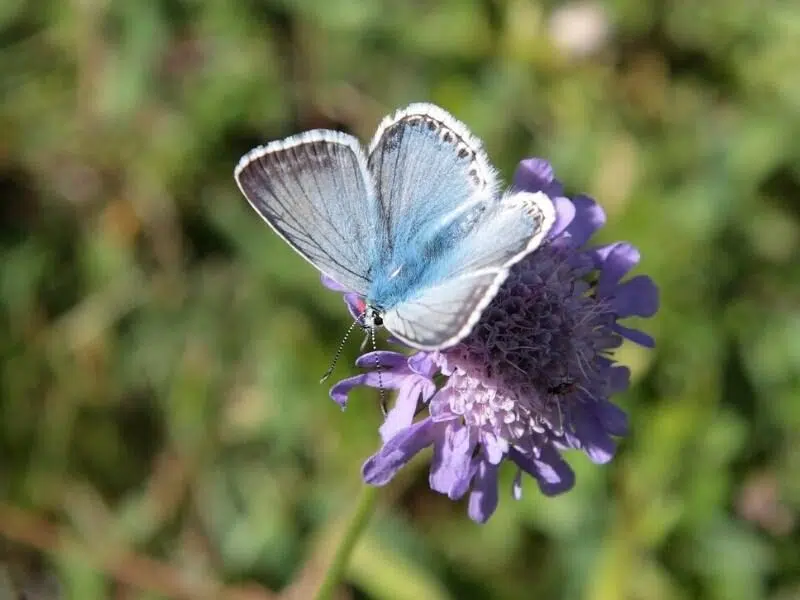 NWT Cley and Salthouse Marshes
For bird watchers, Norfolk's coastal nature reserves, with their open expanses of marshes and reedbeds, are a haven for all sorts of bird life throughout the seasons.
The Norfolk Wildlife Trust's Cley and Salthouse Marshes is the NWT's oldest and best-known nature reserve and an incredible landscape in which to see many bird species in their natural habitat. There are six hides accessible via boardwalks to give far-reaching views across pools and scrapes that are specially managed to attract breeding and passage birds.
The award-winning Cley Marshes Visitor Centre features interactive interpretation, regularly changing exhibitions, and a well-stocked gift and book shop. There is also an excellent café with panoramic views of the marshes and huge skies that North Norfolk is known for.
RELATED POST: Norfolk Coast – 8 Amazing Ways to Explore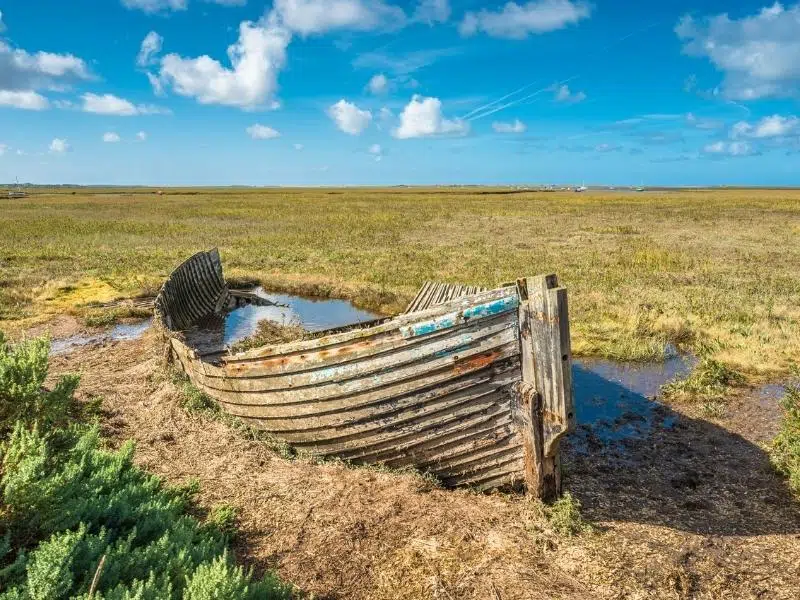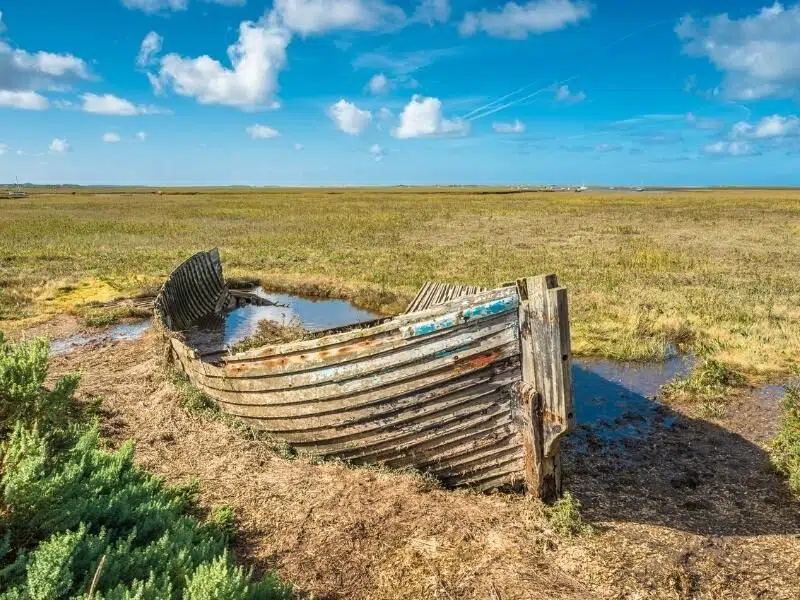 NWT Cockshoot Broad
Cockshoot Broad is a peaceful Broadland oasis full of butterflies, dragonflies, water lilies & birds. There are many damselflies which can be seen resting on the water lilies, including the variable and red-eyed damselfly.
NWT Cranberry Rough
Cranberry Rough near Attleborough is an area of wet woodland and fen that occupies the basin of a former natural lake, Hockham Mere. The reserve is an excellent habitat for many bird species, including teal and mallard in the winter, and is a good place to see rutting red deer in October.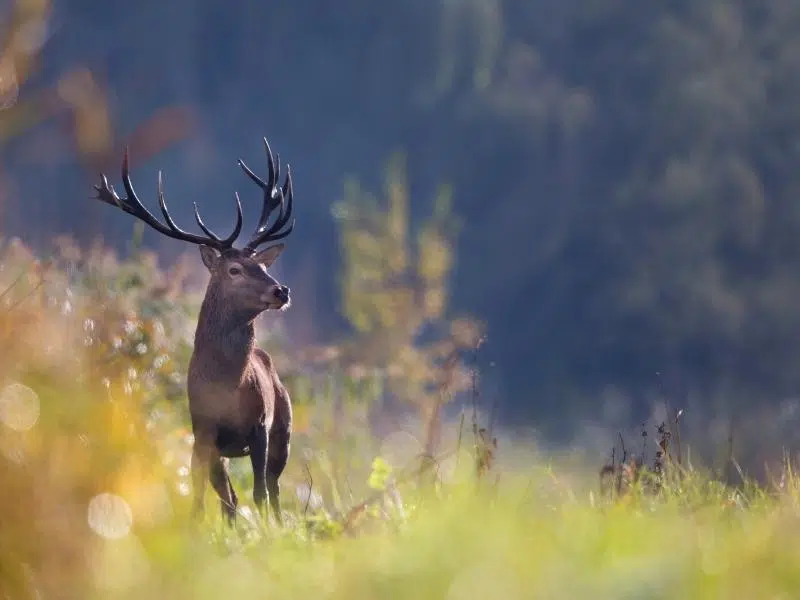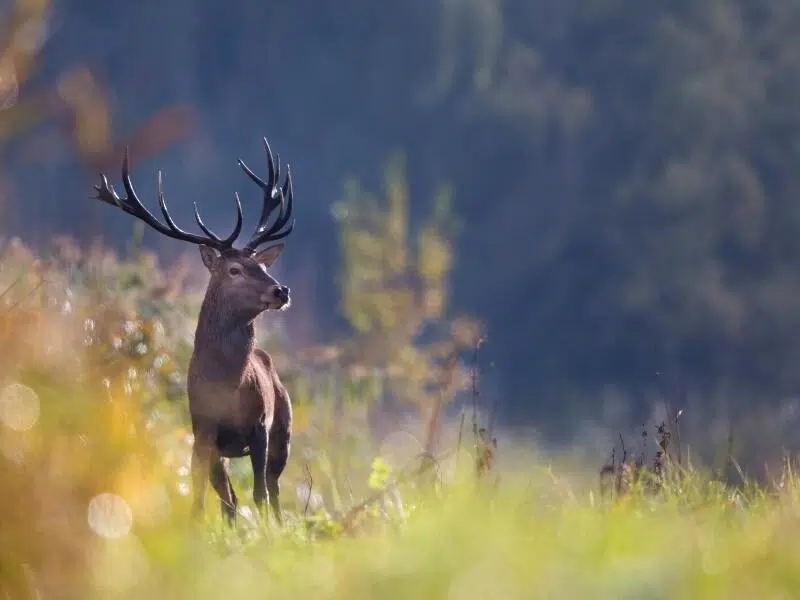 Dersingham Bog National Nature Reserve
Dersingham Bog contains three distinct habitats, mire, heath and woodland. Acid valley mire is found over much of the low-lying parts of the reserve where the ground is waterlogged for most of the year. Dersingham Bog contains the largest remaining example of this kind of habitat in East Anglia.
The Mire's make-up of wet acid peat makes ideal conditions for some rare and diverse species of plants such as bog asphodels, round-leaved sundew, white-beaked sedge and cranberry.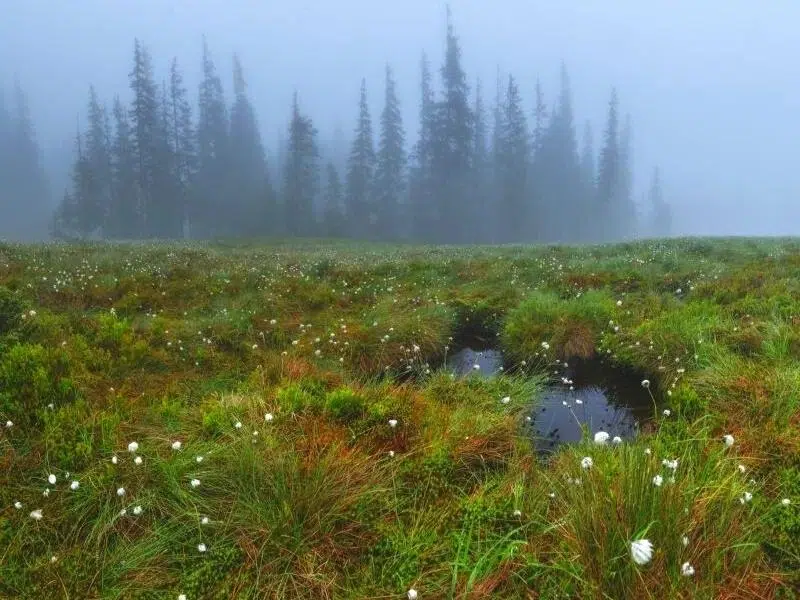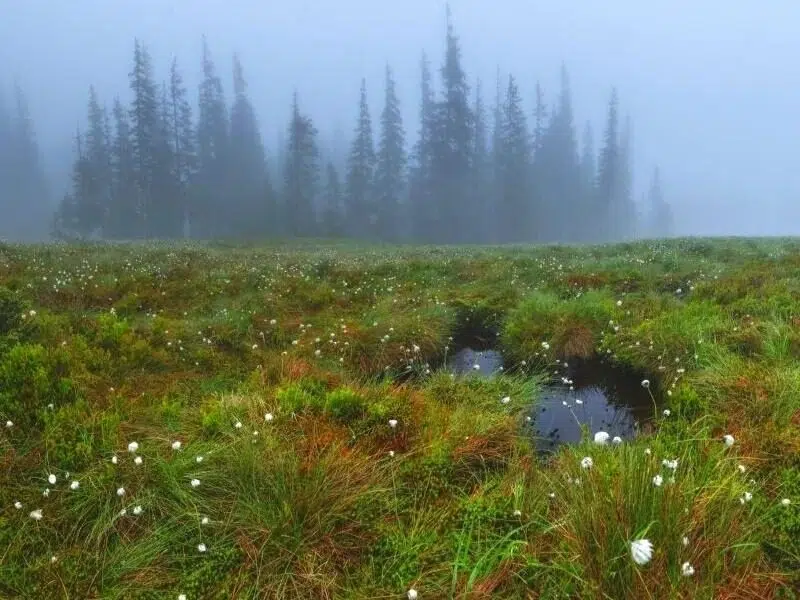 NWT East Winch Common
Close to King's Lynn, East Winch Common consists of a mixture of heather-dominated heathland, interspersed with wet heath and ponds which are home to a number of interesting plants and invertebrates.
Following the restoration of the Common's pools, marsh St John's Wort was rediscovered at the site. This yellow-petalled perennial flowers from July to August and its round, pale greenish-grey leaves are blanketed with soft hairs.
RELATED POST: All the Best Things To Do in King's Lynn Norfolk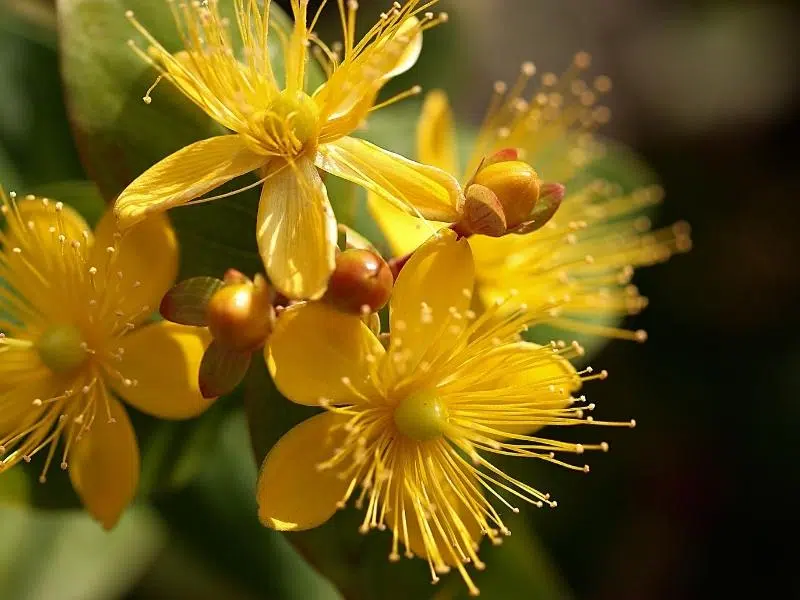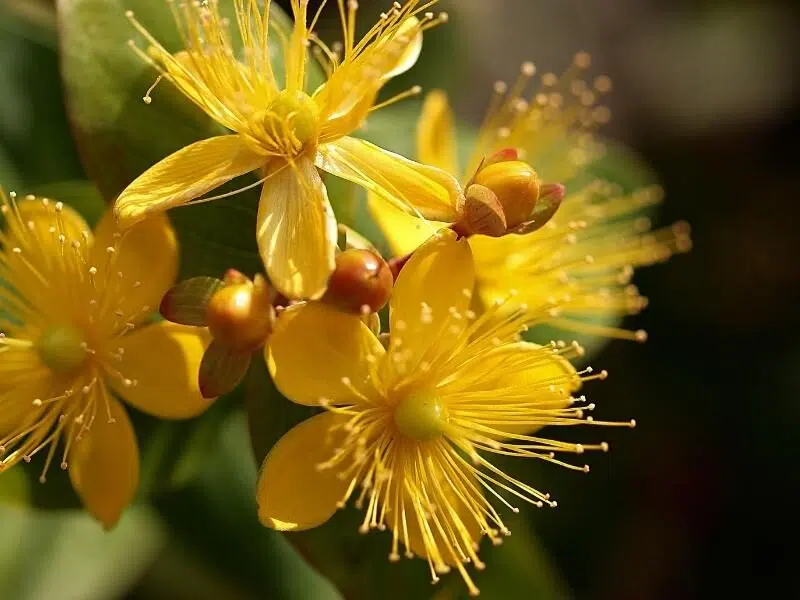 NWT East Wretham Heath
Close to Thetford, the short, close-cropped grassland of East Wreatham Heath is home to many rare species of plant and insect, as well as scarce breeding birds including woodlark and redstart, and stone curlews are also seen occasionally.
NWT Foxley Wood
In early spring pale yellow primroses peek out from the banks of ditches, a prelude to the riot of colour to follow in Foxley Wood in mid to late April to early May when bluebells carpet the dappled woodland floor.
Other interesting woodland plants and wildflowers such as dog's mercury, greater butterfly orchid, wood anemone, wild garlic and herb-Paris can also be found, as well as the locally scarce wild service tree. In total over 350 flowering plant species have been recorded at the site.
RELATED POST: Towns in Norfolk – 27 Towns to Visit in Norfolk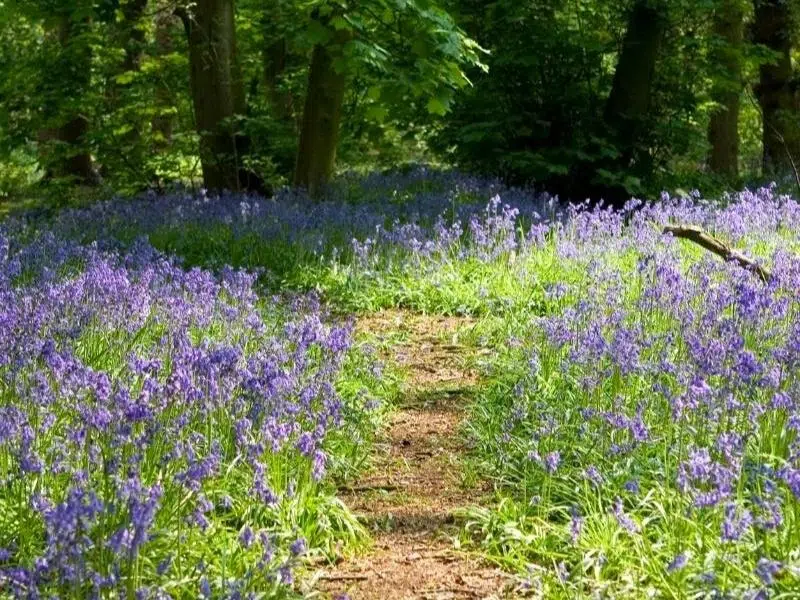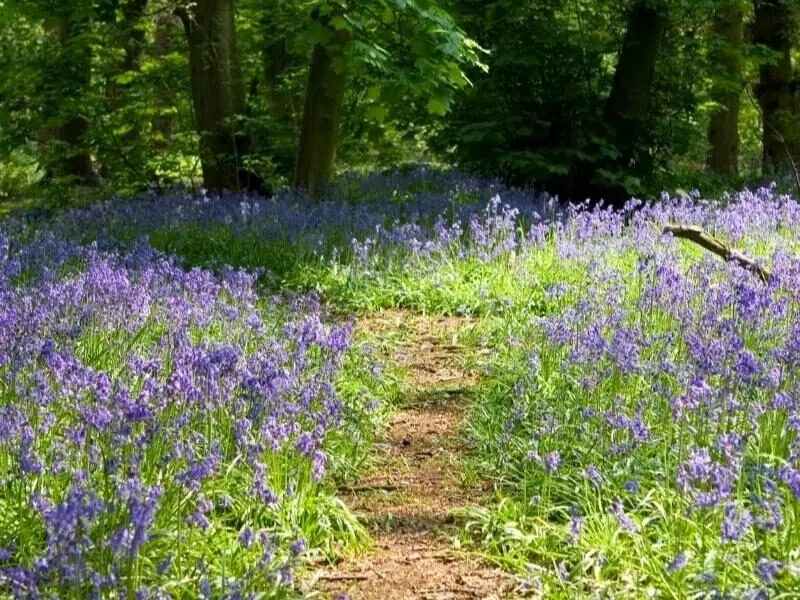 NWT Hethel Old Thorn
Located beside the picturesque Hethel All Saints Church east of Wymondham, Hethel Old Thorne is the smallest nature reserve run by the Norfolk Wildlife Trust, and one of the smallest in the whole of the UK. The reserve consists of just one ancient hawthorn tree, thought to date to the thirteenth century.
NWT Hickling Broad and Marshes
The largest of the Broads, NWT Hickling Broad is a year-round haven for wildlife. It is easy to spend a day walking around Hickling's trails or, in summer, gently while away a couple of hours taking in the Broad's hidden corners on one of NWT's summer wildlife water trail boat tours.
Hickling Broad is situated on the Upper Thurne river system, which holds a significant percentage of the UK population of the common crane as well as important breeding numbers of bittern, marsh harrier, bearded tit and Cetti's warbler.
In winter large numbers of marsh harriers roost in the reedbed northeast of Stubb Mill, and merlin and hen harriers are also regular visitors. Barn owl sightings are almost guaranteed, and you may see kingfisher if you are lucky. Interesting mammals include the introduced Chinese water deer, red deer and hard-to-spot otters.
RELATED POST: Norfolk Broads Boat Trips – 17 Top Boating Activities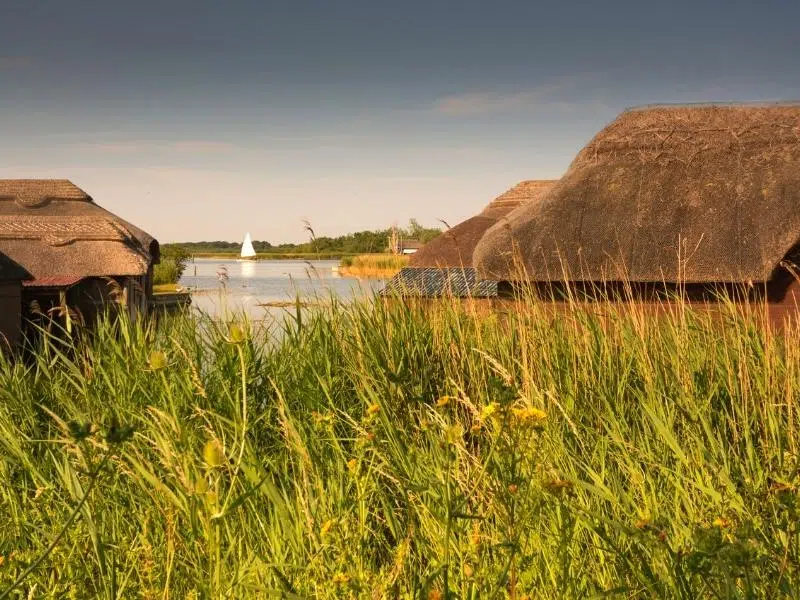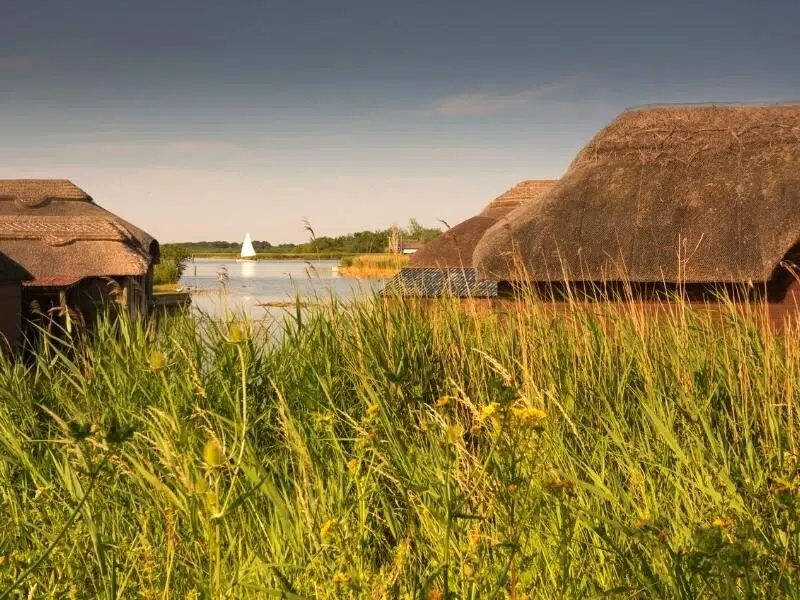 NWT Hoe Rough
Numerous notable plants grow at Hoe Rough including green-winged and early marsh orchids, as well as around 200 invertebrate species. Otter, water vole and white-clawed crayfish have been recorded in the River Whitewater (a tributary of the Wensum), which forms the northern boundary of the reserve.
Holkham National Nature Reserve
Holkham National Nature Reserve stretches from Burnham Norton to Morston and covers 4,000 hectares of exposed shores, creeks, miles of dunes and sandspits, shady pinewoods, green pastures and marshes. This mix of windswept habitats creates the perfect environment for a unique mix of wildlife and plants to flourish.
You can explore most of the area by following the Norfolk Coast Path from Holkham and Wells beach car parks. The core section of the reserve stretches from Wells to Holkham Bay and is crisscrossed by paths allowing access to all the best wildlife habitats.
From Lady Anne's Drive, you can walk to the George Washington bird hide, where lapwings, redshanks, marsh harriers, grebes and many species of duck are just some of the birds that can be seen.
RELATED POST: Holkham Beach – Complete Visitor Guide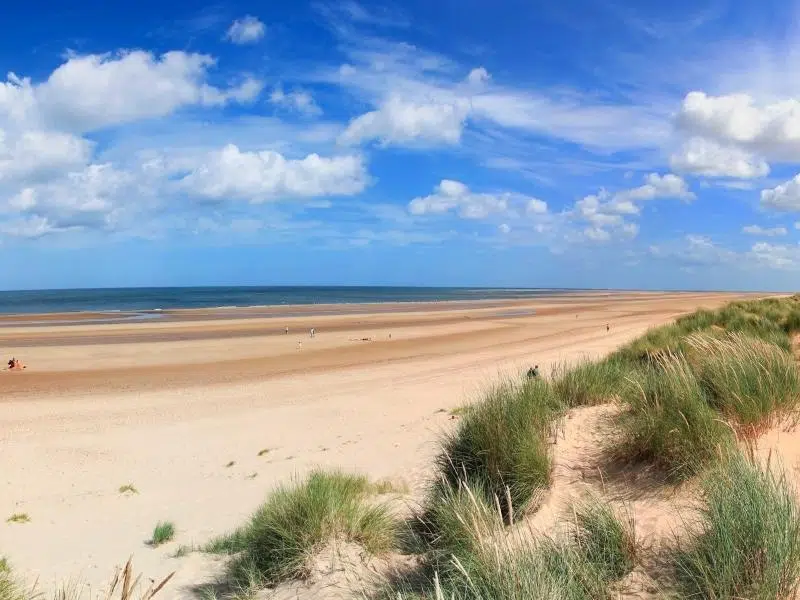 NWT Holme Dunes
At Norfolk's northwest corner, where the Wash meets the North Sea, Norfolk Wildlife Trust Holme Dunes Nature Reserve is superbly located to attract migrating birds.
One of 32 NWT-protected nature reserves in Norfolk, the Holme Dunes Nature Reserve is a Site of Special Scientific Interest (SSSI), an important area for nesting birds, and perfectly located to attract migrating birds.
Holme Dunes is also home to a variety of important habitats such as mudflats, sand dunes, scrub, pines, saltmarsh, freshwater and grazing marsh which support numerous other wildlife species including natterjack toads, butterflies and dragonflies, as well as large numbers of interesting plants.
This wonderful bird observatory has trails to hides and walks around the reserve from the visitor centre on Broadwater Road, where there is also a small shop selling gifts, and a café.
RELATED POST: Holme Beach – Complete Visitor Guide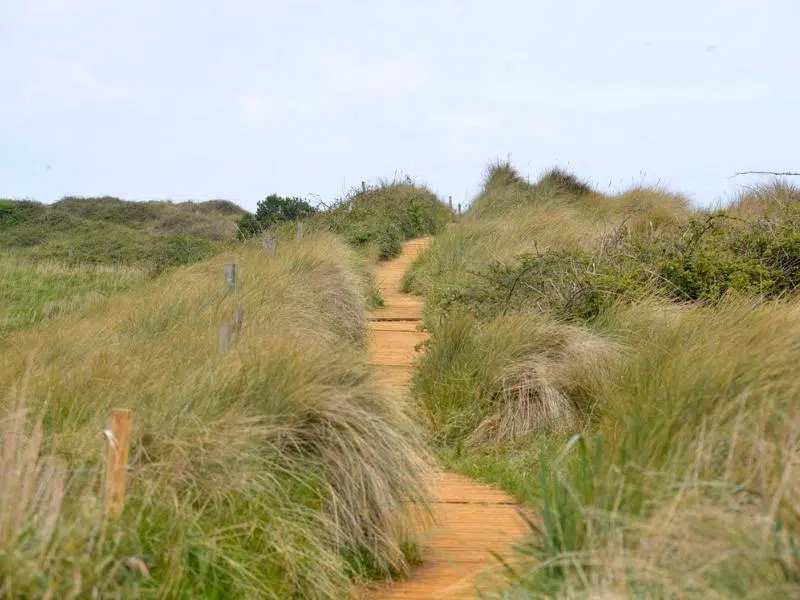 NWT Holt Lowes
Holt Lowes is a botanist's delight, and home to a large number of scarce species. These include marsh fragrant orchid, eyebright, marsh fern, wood horsetail, lesser skullcap and common wintergreen. The site is also excellent for butterflies, with a good population of graylings. However, its speciality is dragonflies with more than 20 species recorded including the rare-keeled skimmer.
RELATED POST: 22 Perfect Things To Do in Holt Norfolk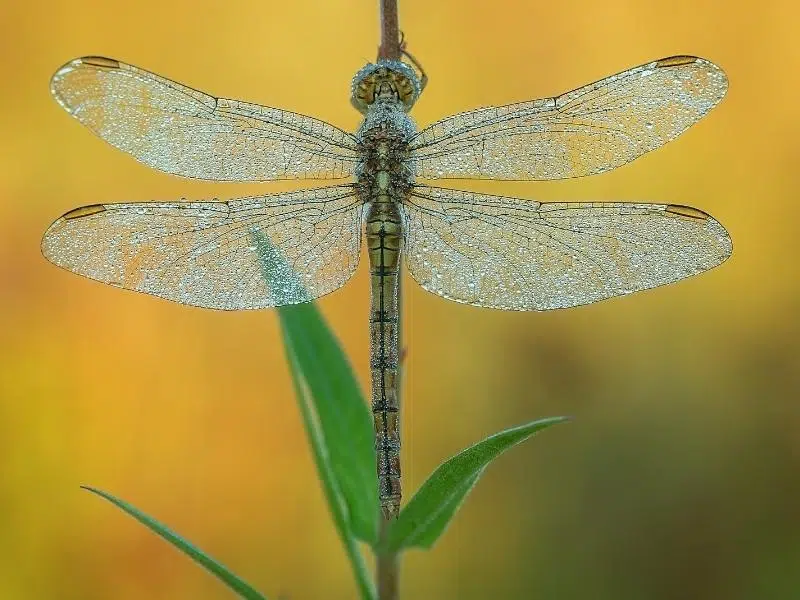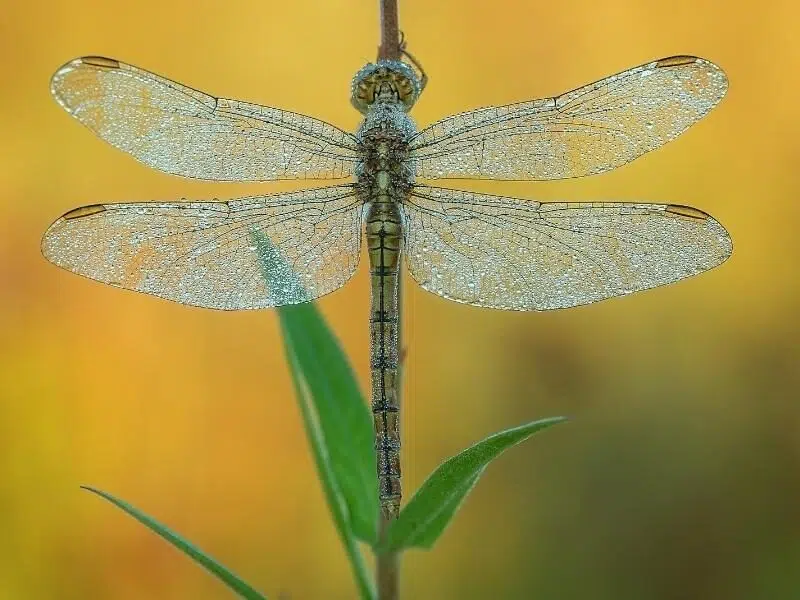 NWT Honeypot Wood
Thought to be a remnant of a wild wood dating back to the retreat of the last Ice Age, Honeypot Wood's more recent history includes a period of distinguished service in World War II when buildings on the site were used as a bomb dump for the adjacent RAF Wendling. The whitish-flowered greater butterfly orchid is present at Honeypot Wood but doesn't flower every year.
How Hill National Nature Reserve
The How Hill Estate is a study centre with a fine thatched Edwardian house set in acres of reed, marsh and woodland at the edge of the River Ant. The house is not open to the public, but the estate is, and it makes for a wonderful afternoon of enjoying the local flora and fauna in this picturesque corner of the Broads.
Explore the secret gardens and formal gardens of the house (closed when groups are in residence, so best to check first). Find out how marshmen lived in the restored marshman's cottage at Toad Hole Cottage Museum, and visit the three restored drainage mills before following the nature trail down to the banks of the River Ant.
You can also take a boat trip on the Broads Authority's Electric Eel boat with an experienced guide who will show you How Hill's wildlife, including gorgeously colourful dragonflies, marsh harriers, wildflowers and swallowtail butterflies.
RELATED POST: The 21 Best Gardens in Norfolk to Visit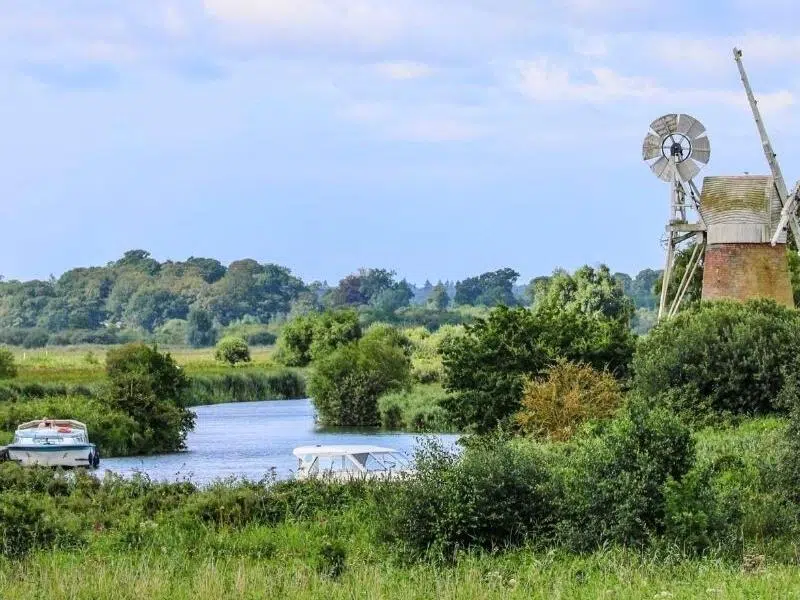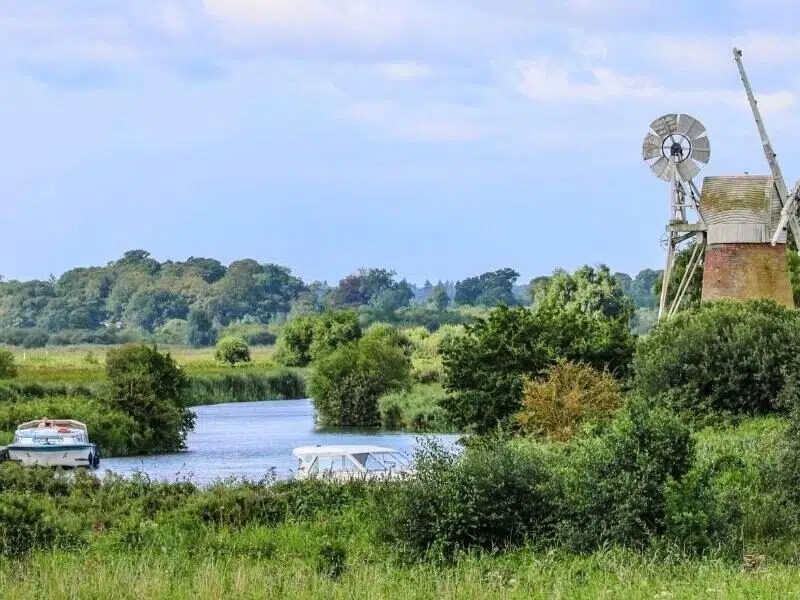 NWT Kay Cliffs Nature Reserve
On the clifftop at East Runton, a small oasis of primarily blackthorn scrub nestles, donated in memory of Peter Crichton Kay. This small piece of 'rough' ground, the Kay Cliffs Nature Reserve, provides shelter and a welcome resting place for tired migrant birds as well as a great vantage point for visitors wishing to 'sea watch'.
RSPB Lakenheath Fen
Lakenheath Fen reserve is located on the Norfolk and Suffolk border between Lakenheath and Hockwold cum Wilton. This reserve forms part of a network of Fenland nature reserves close by which include Wicken Fen, Chippenham Fen and Woodwalton Fen.
NWT Lolly Moore
The little nature reserve of Lolly Moor south of Dereham contains a surprisingly diverse range of habitats and flora for such a small area. Numerous interesting plants can be seen including lesser celandine, primrose, fragrant orchid, southern marsh orchid, marsh helleborine and twayblade.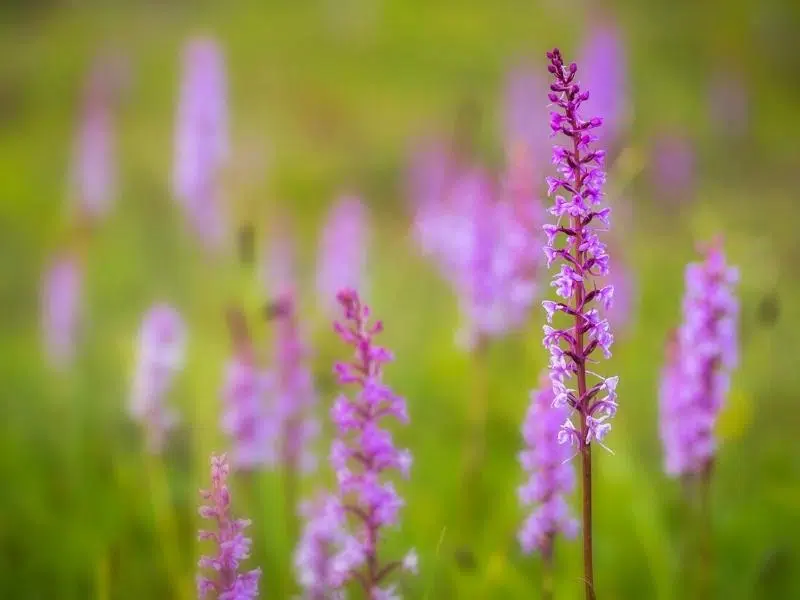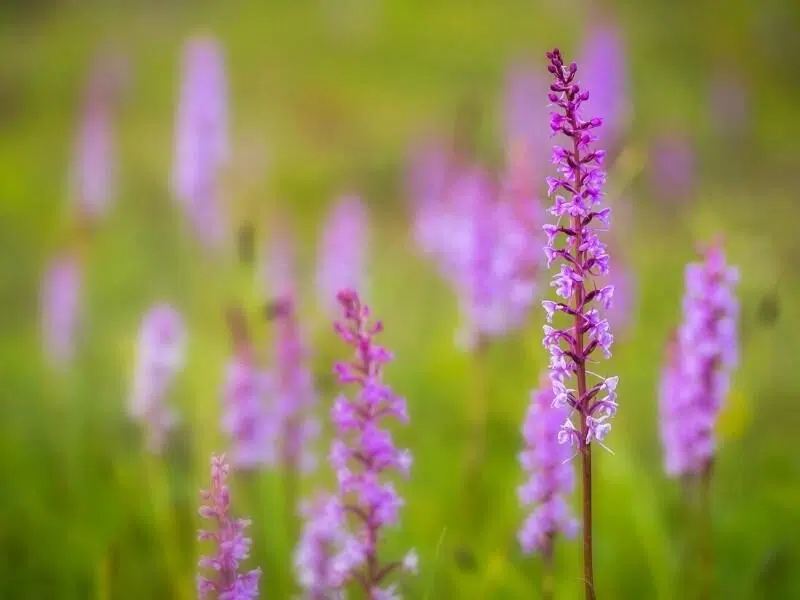 Lower Wood National Nature Reserve
Alongside the bluebells that carpet the woodland floor in spring, wild garlic is also common at Lower Wood, an ancient woodland which is recorded in the Domesday Book, near the rural village of Ashwellthorpe.
Other plants include wood anemone, wood spurge, herb-Paris, twayblade, and a profusion of early purple orchids. More than 200 species of fungi have been recorded here. Butterflies are also well represented, including the white admiral, and s number of common mammals occur including red, roe and muntjac deer, and of course, the ever-present grey squirrel.
Ludham and Potter Heigham Marshes National Nature Reserve
This national nature reserve is a traditionally managed grazing marsh in the Norfolk Broads which supports a diverse range of wetland plant, insect and bird species. Due to the presence of grazing animals and sensitive bird species, you should keep to the public footpaths when walking here.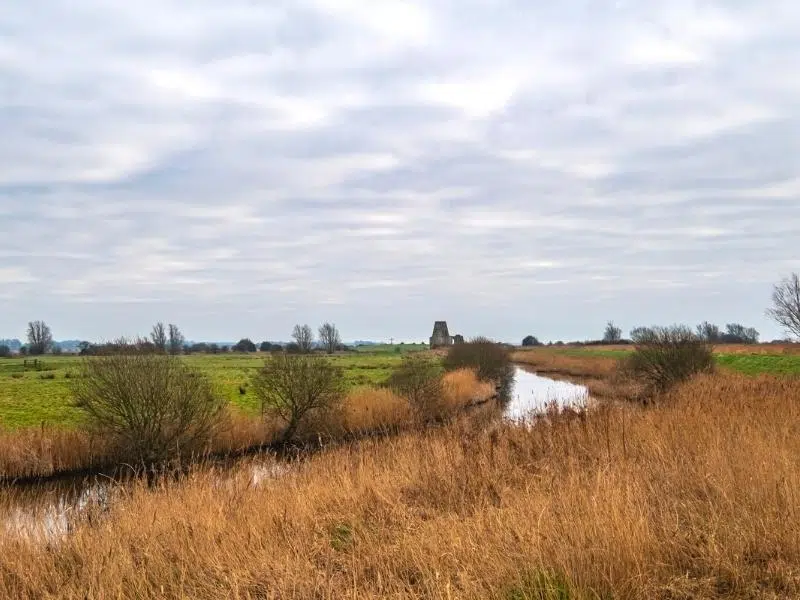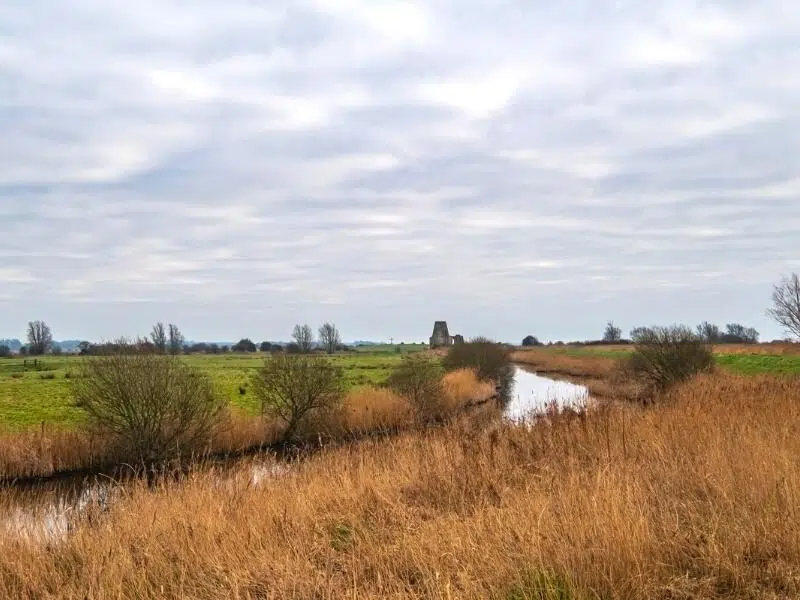 NWT Martham Broad And Marshes
Part of the Bure and Thurne Living Landscape, Martham Broad is a fantastic place to visit, with a wide variety of wildlife. The site actually comprises two shallow Broads bisected by the navigable River Thurne, as well as surrounding fen, reedbed and marsh.
The reserve holds many species of breeding birds including bittern, bearded tit, common tern, Cetti's warbler and marsh harrier.
Mid-Yare National Nature Reserve
The Mid Yare National Nature Reserve is a prime example of a Broadland floodplain wetland with a patchwork of wet woodlands, shallow lakes, reedfen, meadows and wet grassland along five miles of the beautiful Yare Valley. It is a great place to see many iconic Broadland species.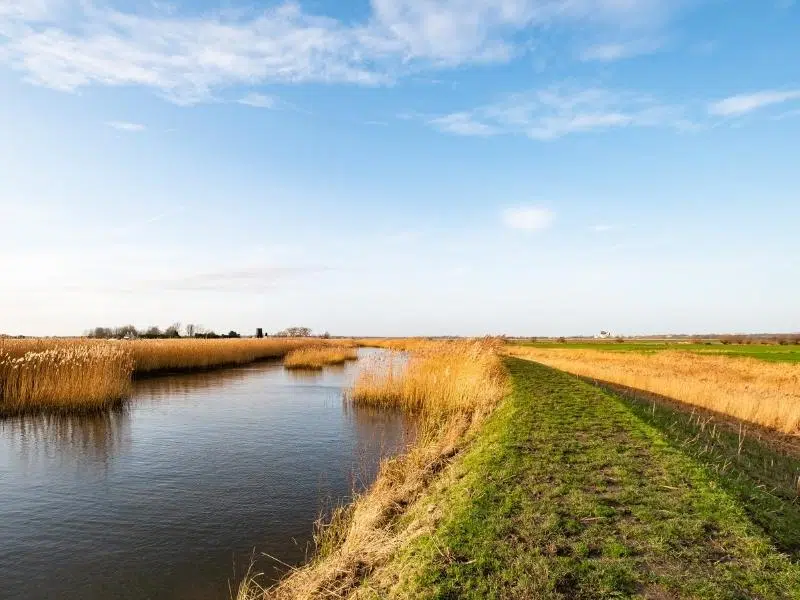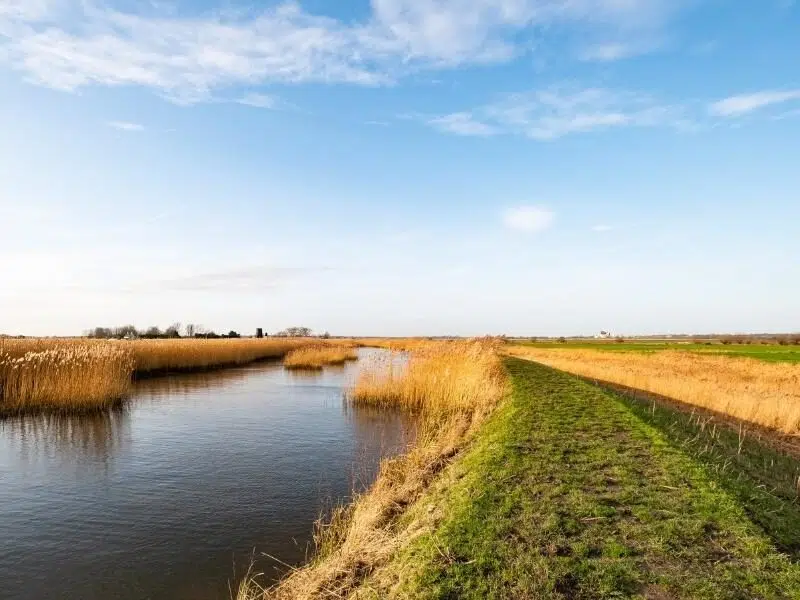 NWT Narborough Railway Line
This disused Narborough railway embankment (the King's Lynn to Dereham line was closed in the 1960s) contains a rare habitat type for Norfolk, chalk grassland. As a consequence, it supports a range of interesting plants, including pyramidal and early purple orchids, marsh helleborine and autumn gentian. It is one of the best sites for butterflies in Norfolk, with at least 30 species recorded.
RELATED POST: Walks in Norfolk – 14 of the Best Trails
NWT New Buckenham Common
The large area of cattle-grazed grassland and scrub at New Buckenham Common is an integral part of New Buckenham village. A number of pools are present, though some dry up in the summer; the largest, known as Spittle Mere, usually holds water all year and is very good for great crested newts.
Paston Great Barn National Nature Reserve
Paston Great Barn is one of the best preserved Tudor thatched great barns in England, owned by the North Norfolk Historic Buildings Trust.
The barn also supports the only known breeding colony of Barbastelle bats, who call the building home. The barn itself is closed to the public to minimise disturbance to the bats, but you can walk around the outside to admire the structure.
Pensthorpe Natural Park
Home to a nature reserve, beautiful gardens and lots of stuff to keep kids entertained, Pensthorpe Natural Park makes a fantastic and fun destination for a family day out.
This Norfolk wildlife park is a natural home for many species of mammals, birds and plants, which live in a wide range of habitats like hedgerows, woodland, wetlands, water meadows and riverbanks, all managed by Pensthorpe Conservation Trust.
There are also four fantastic gardens, all different, including a glorious meadow-style garden of texture and colour, planted with large swathes of grasses and perennials, and a wildlife habitat garden, designed to encourage animals and insects to visit.
There's lots for children too, including interactive trails and boardwalks as well as bird hides for young birders, whilst activities such as wildlife spotting, bird feeding and pond dipping give younger visitors a chance to get hands-on with the wildlife.
RELATED POST: 20 Brilliant Things To Do in Wells-next-the-Sea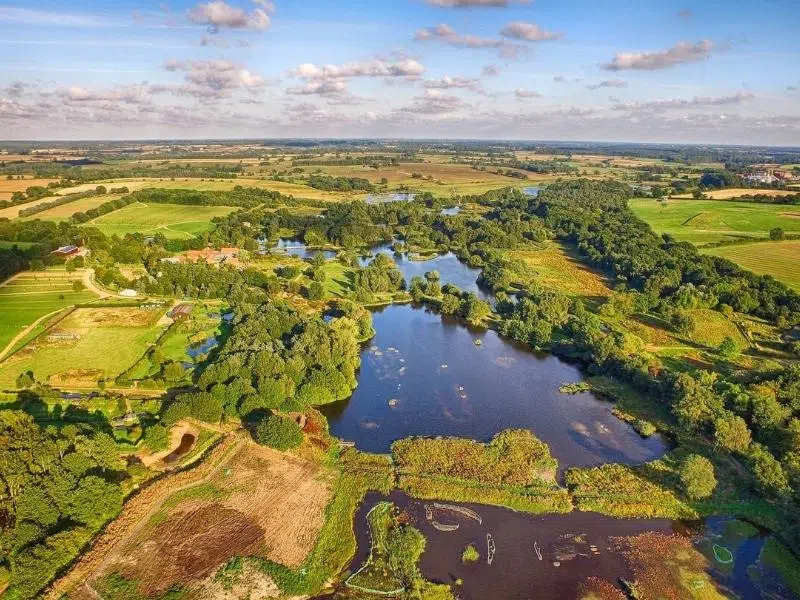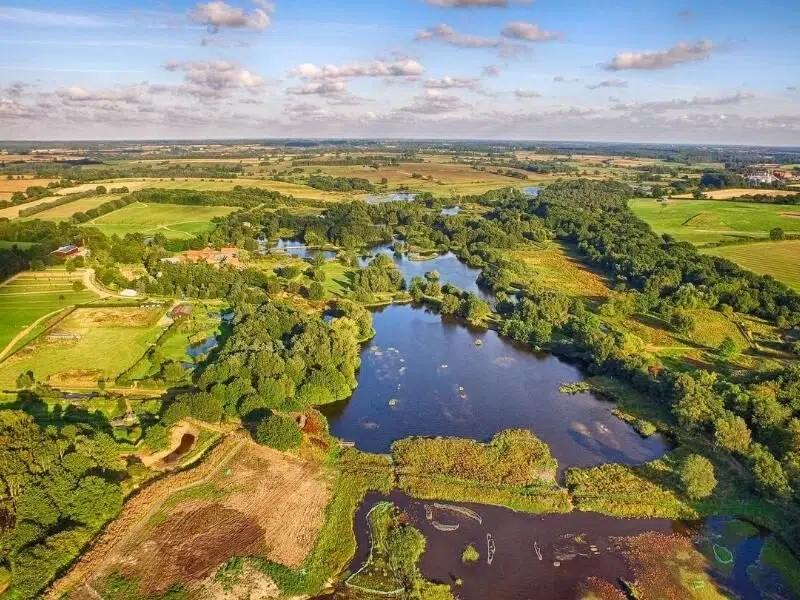 NWT Pigneys Wood
The site near North Walsham has a number of special wildlife features including an impressive 450-year-old ancient oak tree, 'Old Oak' which is next to a small woodland area which boasts a carpet of bluebells in spring.
Pigneys Wood provides an important wildlife refuge for many birds such as the goldcrest, nuthatch and Cetti's warbler. Insects include the red admiral, peacock and holly blue butterflies, dragonflies such as the emperor, migrant hawker, black-tailed skimmer and Norfolk hawker, and mammals such as otter, water vole and badger.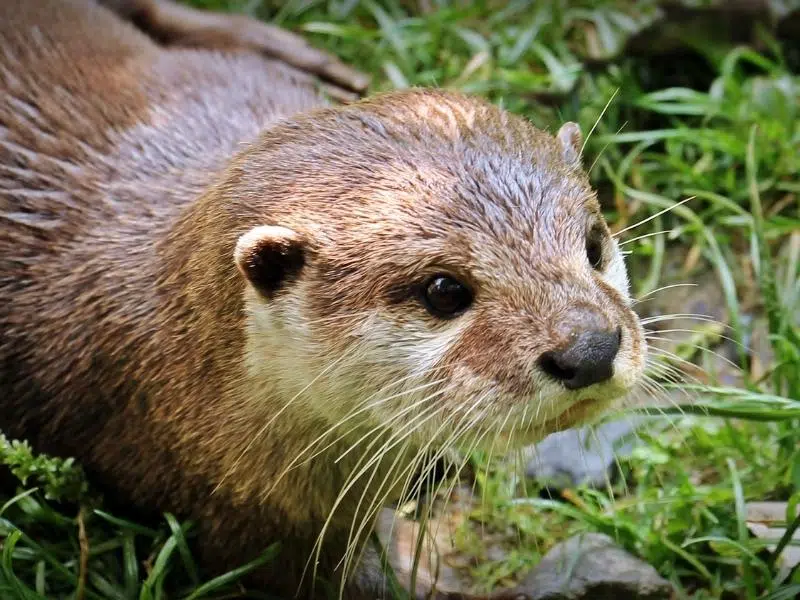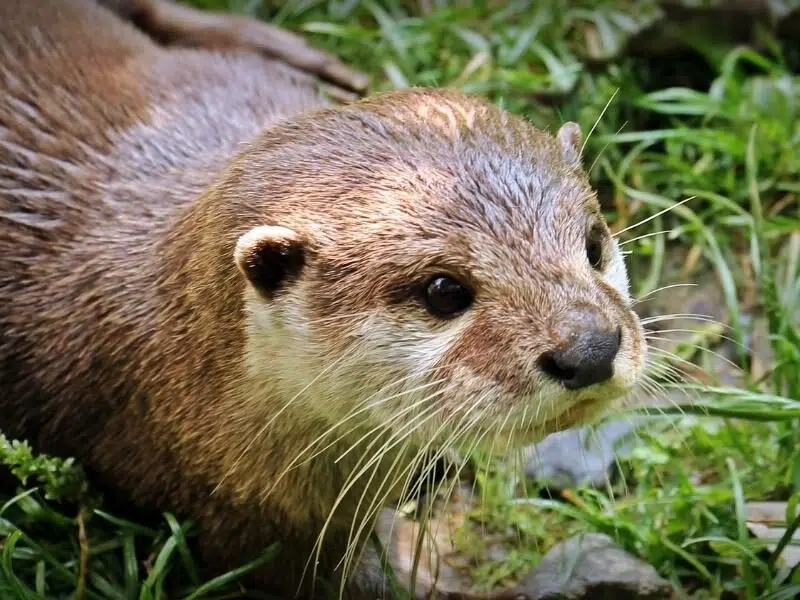 NWT Ranworth Broad and Marshes
Just six miles from Wroxham and overlooking Malthouse Broad, Ranworth is a charming Broadland village. Take a walk along the boardwalk (or get a ferry from Ranworth staithe) which passes through reed bed habitats, to the Norfolk Wildlife Trust floating wildlife centre on Ranworth Broad.
With far-reaching views across Ranworth Broad, widely considered the most beautiful Broad of them all, you can learn more about the unique wildlife of the Broads, and view many of the different birds that visit the area, at the wildlife centre.
In Ranworth village, climb the 89 uneven steps and two ladders to pass through the trap door to get to the top of St Helen's Church, otherwise known as the 'Cathedral of the Broads'. The views from the top are breathtaking – literally!
RELATED POST: 22 Fantastic Things to Do in Wroxham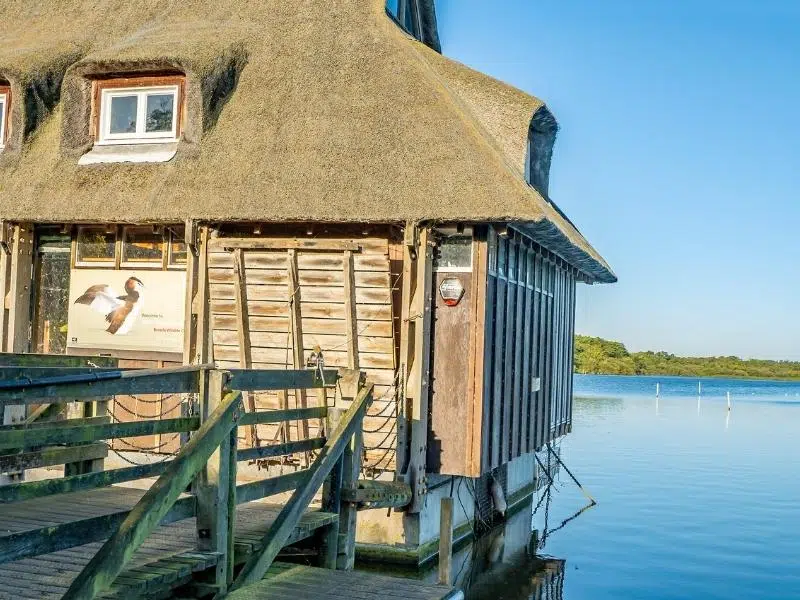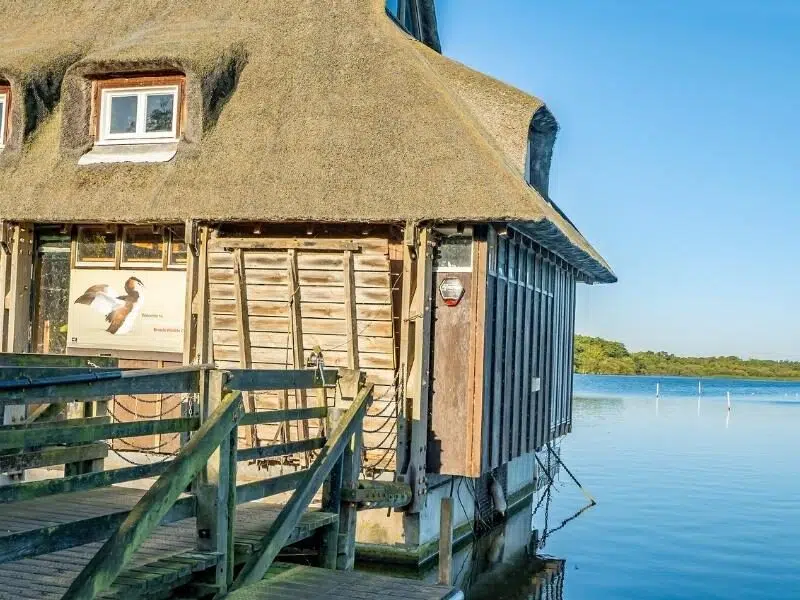 Redgrave and Lopham Fen National Nature Reserve
On the border of Norfolk & Suffolk, this special place supports a diverse range of plants and animals, but it's not just a fen. You can also explore the areas of woodland and heath, and even follow the River Waveney, which rises here.
Whether you're a wildlife enthusiast or just keen to get outside there is always something to enjoy at Redgrave and Lopham Fen. As soon as you step out onto the fen you will experience the peace and tranquillity of this wild open landscape.
NWT Ringstead Downs
One of the largest remaining areas of chalk grassland in the county, Ringstead Downs is an attractive, steep-sided valley which supports a diverse range of plant and animal species. Many interesting plants can be found, as well as around twenty species of butterfly. Several nationally declining birds – yellowhammer, whitethroat and linnet – occur in good numbers.
RSPB Rockland Marshes
The small Rockland Marshes reserve provides superb views over Rockland Broad, the River Yare, reedbeds and open grazing marshes, via a wheelchair-friendly path. A hide overlooks the Broad itself, where in spring and summer, kingfishers and great crested grebes can be seen. Take a quiet stroll and enjoy the peaceful river views.
NWT Roydon Common and Tony Hallam Memorial Reserve
These two fantastic adjacent reserves form part of NWT's Gaywood Valley Living Landscape and share a rich mosaic of habitats. At least fifteen species of dragonfly frequently occur at Roydon including the rare black darter, for which this is one of only three breeding sites in Norfolk.
More than 30 species of butterfly have been seen including white admiral, brown argus, and both green and purple hairstreak. 450 species of moth have been recorded and the impressive minotaur beetle can also be seen here.
Reptiles, including adder, are present. Numerous rare and interesting plants occur, but the greatest spectacle occurs in August and early September when the site's numerous stands of heather are in flower. NWT has added to the national nature reserve in recent years with Grimston Warren, The Delft and Rising Breck.
NWT Rushmeadows
The Rushmeadows site consists of species-rich fen habitats with extensive areas of wet alder woodland. This nature reserve supports wetland specialist plants such as bogbean, marsh orchid and tubular dropwort. It is also the home for many birds including snipe, reed bunting, sedge warbler and reed warbler.
NWT Scarning Fen
Despite its small size, Scarning Fen is home to a number of rare species including liverworts, mosses and several plants, and is excellent for invertebrates with 29 nationally scarce species recorded, including the small red damselfly. The site is very sensitive, so please tread carefully when you visit.
Scolt Head Island National Nature Reserve
From the pretty harbours at Burnham Overy Staithe and Brancaster Staithe, you can catch a ferry to Scolt Head Island National Nature Reserve, situated between Brancaster and Wells-next-the-Sea and a prime example of an offshore barrier island.
The island landscape is comprised of sand dunes, salt marsh, intertidal sand and mud flats, and shingle and supports internationally important numbers of breeding Sandwich and little terns, and nationally significant populations of common and Arctic terns, as well as wintering waders and wildfowl.
Bought by the National Trust in 1923, Scolt Head was subsumed into the North Norfolk Coast SSSI in 1986 and has been largely undisturbed by human activity ever since.
RELATED POST: Burnham Market – All You Need to Know Before You Go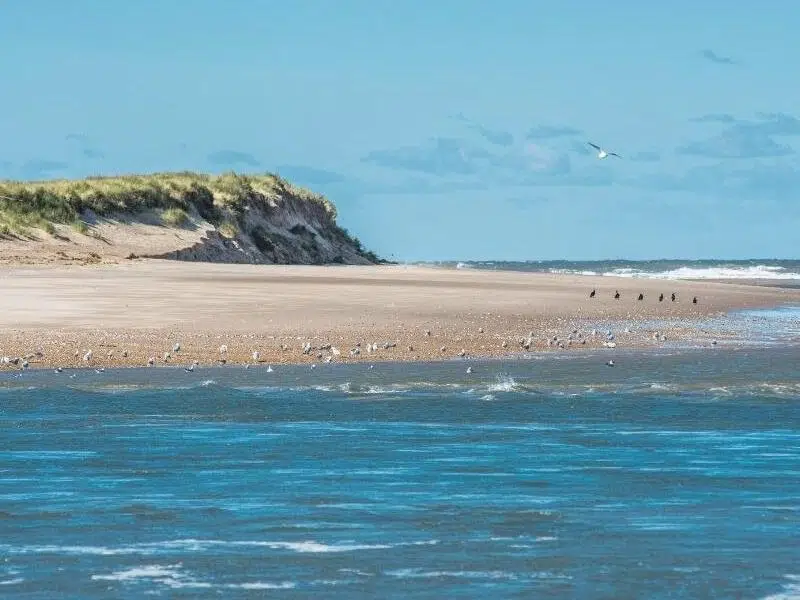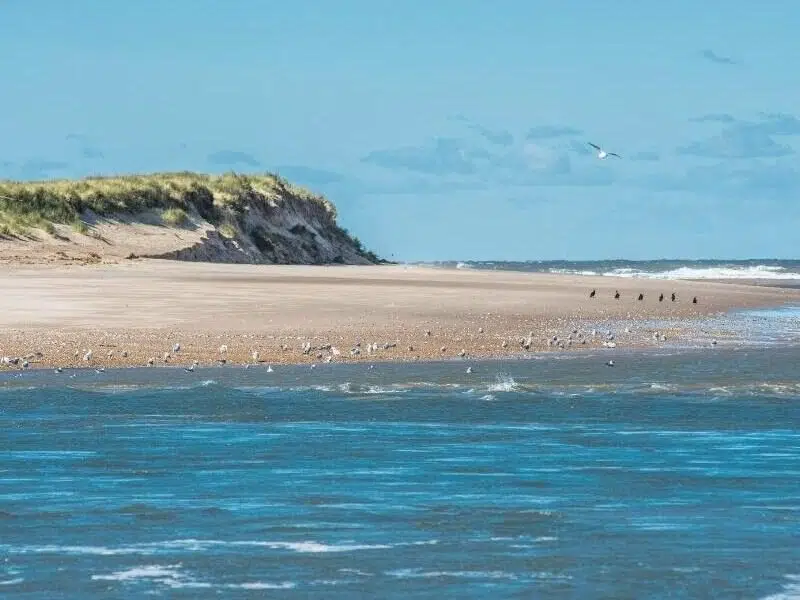 Sculthorpe Moor
Run by the Hawk and Owl Trust, Sculthorpe Moor nature reserve is one of the country's most accessible reserves, and is internationally recognised for its wildlife. Sculthorpe nature reserve is located in the beautiful Wensum valley and is a peaceful place with a huge variety of wildlife in a rich and unusual mosaic of woodland, fen and reedbed habitats.
Boardwalks make access easy for everyone, and lead you through the reserve, visiting all the best areas. Bird feeders and nest boxes are sited along the way, adding further interest and there are viewing platforms and places to sit and relax along the way.
RELATED POST: Fakenham: A North Norfolk Heritage Town
RSPB Snettisham
Wildlife observation hides at Snettisham give panoramic views across the saline lagoons, salt marsh and the vast expanse of mudflats that make up the Wash.
On the biggest high tides from late summer onwards, tens of thousands of wading birds, like knot and oyster catchers, take flight as the incoming tide forces them off the vast mudflats. This is known as the whirling wader spectacle, which is truly incredible to watch.
RELATED POST: Norfolk Beaches – Ultimate A-Z Guide

NWT Southrepps Commons
Southrepps Commons comprises five adjoining sites spread over twelve hectares in the village of Southrepps. Just under half is designated as a Site of Special Scientific Interest (SSSI) and a Special Area of Conservation (SAC).
The sites are a mosaic of woodland, tall-herb fen and reed bed, and home to many special plant species, including grass of Parnassus, fragrant orchids and bog-bean, as well as a wide range of birds and invertebrates.
NWT Sparham Pools
Sparham Pools are former gravel workings that attract a variety of ducks including shoveler, gadwall, mallard, pochard and tufted duck. In winter these may be joined by goosander and, occasionally, goldeneye. The surrounding trees harbour good numbers of common woodland birds.
RSPB Strumpshaw Fen
You'll find Strumpshaw Fen on the River Yare, just six miles east of Norwich. The reserve itself has a full range of Broadland habitats and wildlife, and you can take a peaceful walk around the reedbeds, woodlands and orchid-rich meadows.
Star residents include the barn owl, bittern, Cetti's warbler, marsh harrier, and the elusive kingfisher. In spring, marsh harriers can be seen performing their spectacular 'sky-dancing' displays and in autumn, thousands of starlings often gather to roost.
RELATED POST: 31 Amazing Things To Do in Norwich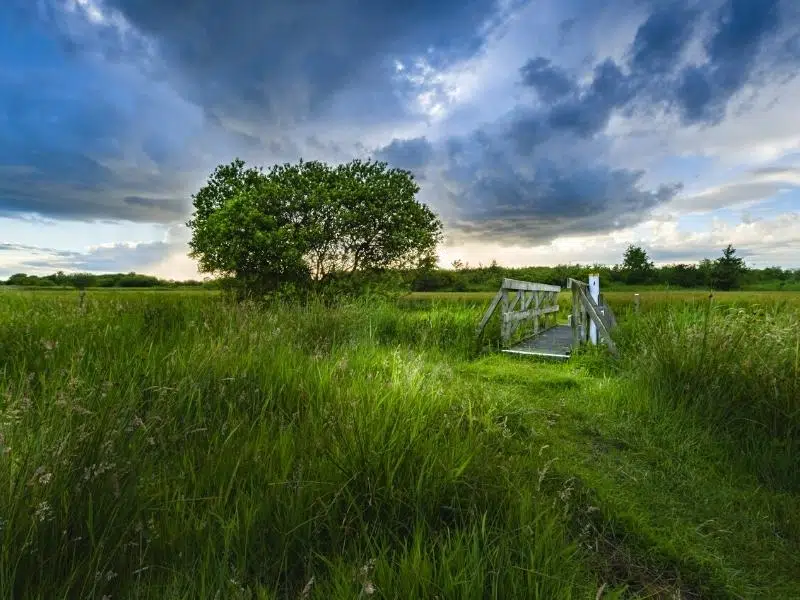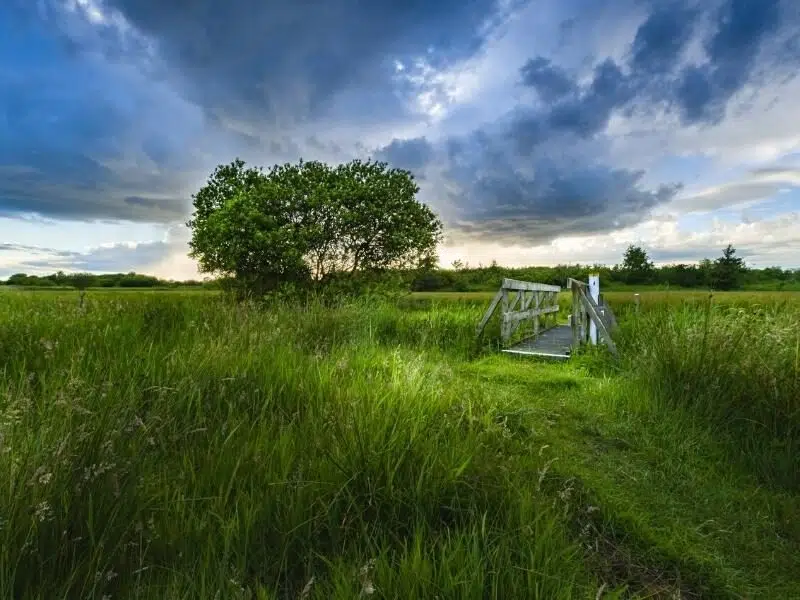 RSPB Surlingham Church Marsh
The small nature reserve of Surlingham Church Marsh is a great place for marshland bird watching on a circular walk around reedbeds, fens and pools. In spring and summer, marsh harriers, kingfishers and warblers can be seen, while wildflowers provide a riot of colour. The site floods in winter, attracting bitterns and gadwalls.
NWT Swangey Fen
Otters do occur at Swangey Fen, although they are shy and you're unlikely to spot one. This area of open fen is managed on a two-year cutting cycle to maintain its species-rich habitat, and numerous interesting fen plants are found, including milk parsley, bog pimpernel, saw-sedge and adder's tongue.
NWT Syderstone Common
Syderstone Common is a wonderful area of grass heath, punctuated with transient ponds, and surrounded by secondary woodland. The site is excellent for reptiles and amphibians, with seven species recorded. Woodlarks occasionally breed, and other notable breeding birds include lesser whitethroat.
NWT Thetford Heath
Thetford Heath National Nature Reserve is an excellent example of Breckland grass heath. Numerous rare plants are found on the site including Breckland thyme, perennial knawel, wall bedstraw and sickle medick, and notable numbers of nationally scarce lichens also occur.
Intensive habitat improvement has recently led to the return of dingy skipper butterflies. The site is also notable for its rare geometric landforms, patterns produced by the sorting of soil moving during repeated freezing and thawing at the edge of glacial areas.
RELATED POST: 19 Top Things To Do in Thetford
RSPB Titchwell Marsh
Located on the north coast of Norfolk, between the villages of Titchwell and Thornham, Titchwell Marsh is one of the most popular RSPB reserves in Norfolk. It's a special place where water and land merge and combine in different ways to create ideal places for a wide range of wildlife.
Titchwell is blessed with diverse habitats that include reedbeds, salt marsh and freshwater lagoons where avocets, bearded tits and marsh harriers nest. There's also a wide sandy beach here, which offers extensive views across the Wash.
Head out around vast reedbeds where bitterns boom and bearded tits ting. The Freshmarsh lagoons are a popular stopping off point for migrating wading birds and wildfowl. Where there was once farmland, saltmarsh now rules, with the salty waters providing a home to little egrets, water pipits and Chinese water deer.
RELATED POST: North Norfolk Coast – 19 Unmissable Highlights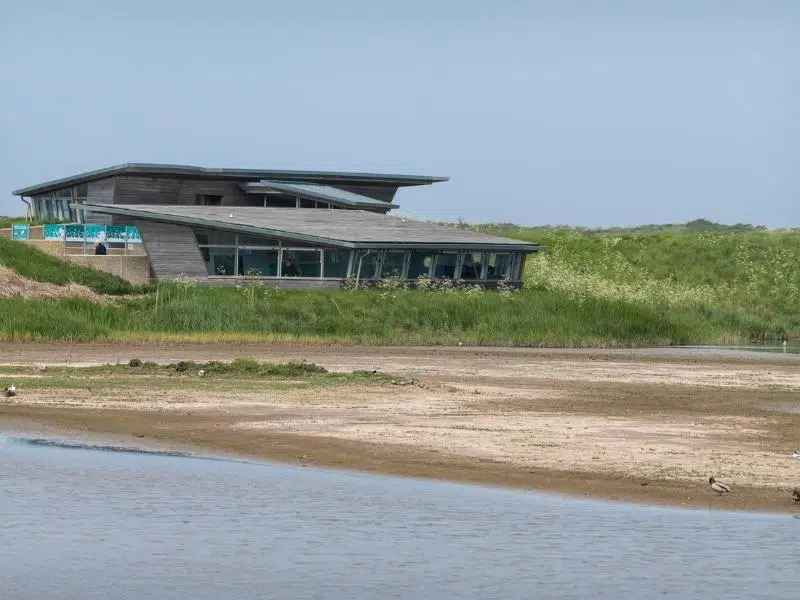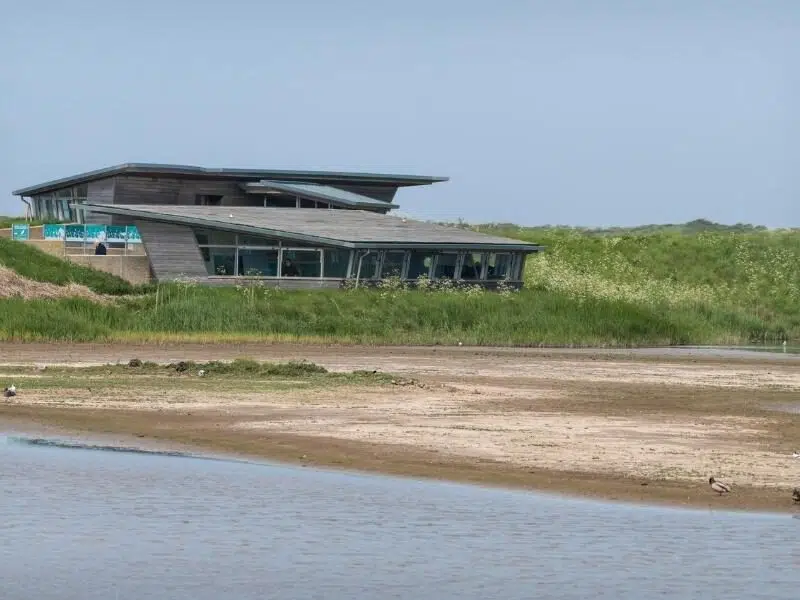 NWT Thompson Water, Carr & Common
Thompson Common near Thetford is famous for its pingos, a series of around 400 post-glacial depressions. These shallow, fluctuating pools harbour a variety of interesting flora and fauna and the site contains a stunning collection of more than 400 plants.
Thompson Common is also one of the most important sites in Norfolk for dragonflies and damselflies, and nineteen species have been recorded as breeding here. Follow the Pingo Trail to visit the site's larger pingos in July and early August, when huge numbers of dragonflies fill the air.
NWT Thorpe Marshes
Thorpe Marshes is a wonderful mixture of habitats including flower-rich marshes crisscrossed with dykes that are home to many dragonflies and damselfly species, including the rare Norfolk hawker, and the even larger emperor dragonfly. Several species of common butterflies can also be encountered on a good day.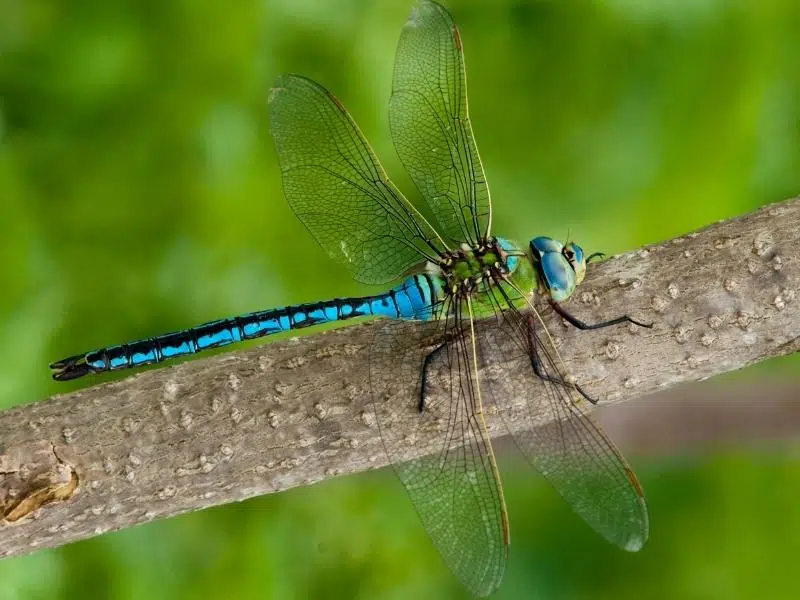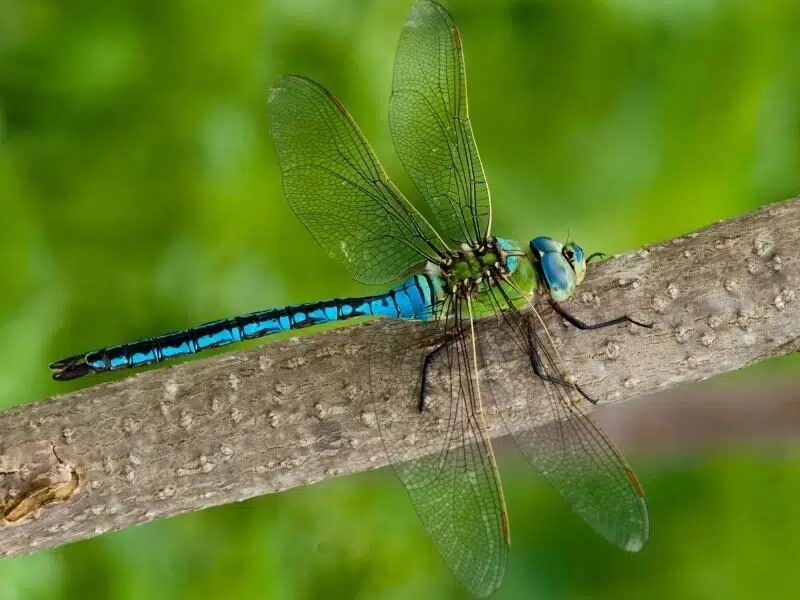 NWT Thursford Wood
As well as containing some of the oldest oak trees in Norfolk, Thursford Wood also has an excellent display of spring bluebells, summer ferns and autumnal fungi. Good numbers of common woodland birds are present.
NWT Trinity Broads
Habitats include wide expanses of shallow open water, extensive tracts of broad shore reedbed and undisturbed areas of wet woodland. Trinity Broads and its margins are owned by Essex & Suffolk Water and managed in partnership with Norfolk Wildlife Trust. Other members of the partnership are Natural England, Environment Agency and Broads Authority.
NWT Upton Broad and Marshes
Upton Broad near South Walsham is a tranquil haven in the heart of the Broads, home to some of Norfolk's rarest wildlife. From iconic swallowtail butterflies and Norfolk hawker dragonflies to otters and water voles, and a staggering array of wetland plants, you'll find unique Norfolk insects and animals here.
The site's impressive mix of habitat, which includes alder carr woodland, fen, reedbed, and grazing marsh, supports ten nationally scarce or rare plant species including fen orchid, marsh fern, marsh pea, cowbane and fen pondweed.
The Wash National Nature Reserve
The reserve is a mix of open deep water, permanent shallow water, mudflats and salt marsh, representing one of Britain's most important winter feeding areas for waders and wildfowl.
The Wash National Nature Reserve comprises Kirton Marsh, Terrington St Clement Marsh, Point Green and the North Wootton Marsh. It's a valuable breeding zone for birds like the redshank, and supports one of the largest common seal populations in England, which you can visit from Hunstanton on the wash monster boat!
RELATED POST: 21 of the Best Things To Do in Hunstanton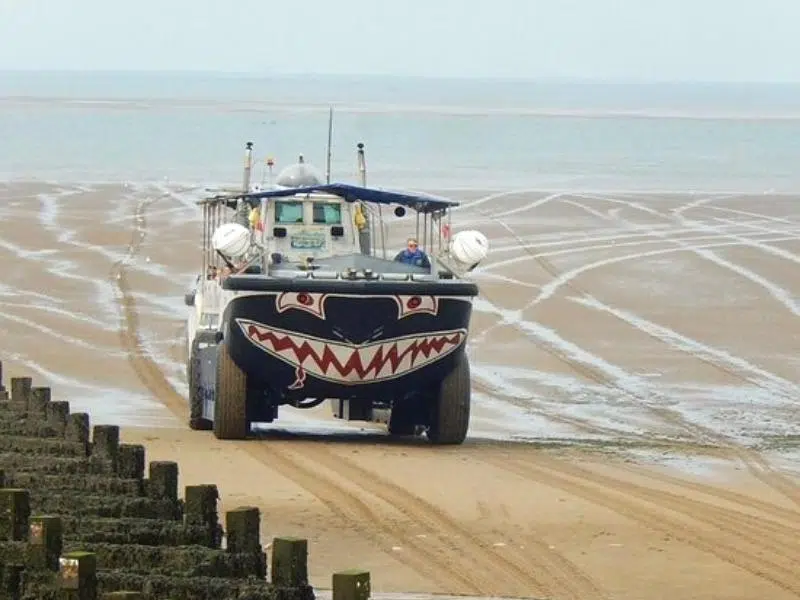 NWT Wayland Wood
Wayland is one of the largest woods in south Norfolk and includes a fine mix of tree species including hazel, oak, downy birch, bird-cherry, sallow, ash, hornbeam and field maple.
Over 125 species of flowering plants have been recorded. These include bluebells, yellow archangels, water avens, wood anemones, early purple orchids, common twayblade, bugles, and the rare yellow star-of-Bethlehem.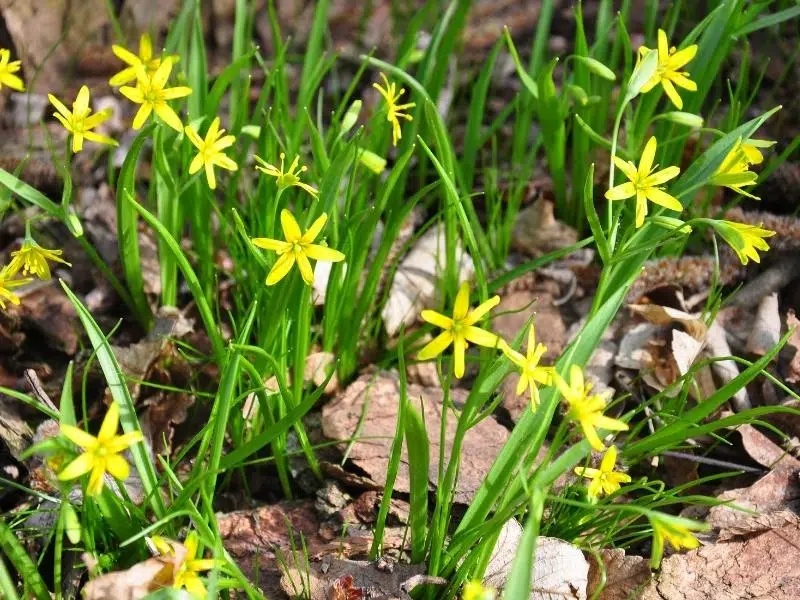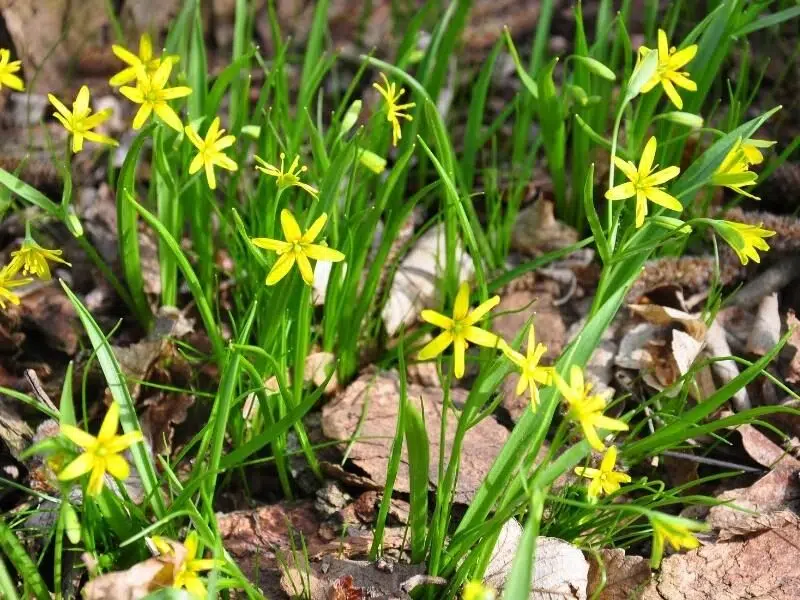 NWT Weeting Heath
Close to the village of Weeting and Weeting Castle, Weeting Heath is the best site in the country to watch the rare and unusual stone curlew. The species requires open, stony ground with short vegetation to breed, making the close-cropped turf of Weeting an ideal site.
This special Breckland habitat has to be managed to keep it so low. As well as sheep, the Norfolk Wildlife Trust employs eager volunteers in the form of rabbits!
RELATED POST: 12 Norfolk Castles for You to Explore
Winterton Dunes National Nature Reserve
Within the Norfolk Coast Area of Outstanding Natural Beauty, Winterton Dunes Nature Reserve is an area of dune heath, wet 'slacks' between dunes and dune grassland which grades into grazing marsh and birch woodland.
The reserve is home to species including the rare Natterjack toad which breeds in shallow pools, the largest colony of dark green fritillary and grayling butterflies in Norfolk, as well as the small copper and common blue butterflies, the common hawker dragonfly, and the southern emerald damselfly. The area is also home to the largest little tern colony in the UK.
The nature reserve overlaps the Winterton Horsey Dunes Site of Scientific Special Interest which is a Designated Special Area of Conservation because it is the only significant area of dune heath on the east coast of England, and also includes areas of acidic dune grassland, which creates the right habitats for the unusual species found here.
RELATED POST: Winterton on Sea – All You Need to Know Before You Go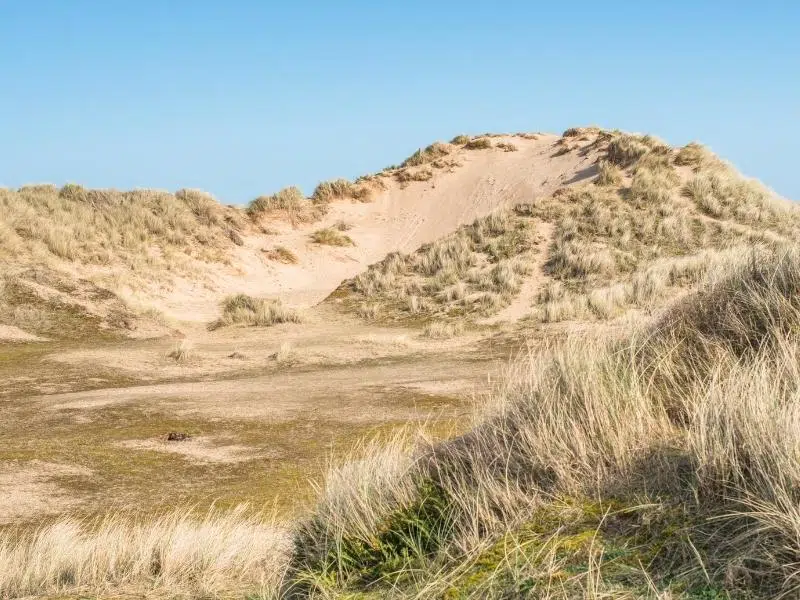 Local Nature Reserves in Norfolk
Local nature reserves (LNRs) are designated by local authorities where there is a special local interest either biologically or geologically. There are 27 LNRs in Norfolk, some of which overlap with the Norfolk Wildlife Trust, where management is a shared responsibility.
These sites offer opportunities to see hyper-local wildlife and plantlife and are great places to go for a ramble and explore. You can find a full list of them here.
Nature Reserves Norfolk Interactive Map
How to use this map – Use your fingers (or computer mouse) to zoom in and out. Click or touch the icons to get more info about a place, and click the arrow in the box top left to open the index. To add to your own Google Maps account, click the star next to the title of the map.
Have I missed any Norfolk nature reserves off this list? Scroll down to leave a comment so I can add the reserve to this round-up list.
Love it? Pin it!