The Norfolk Broads are a huge network of lock free navigable rivers and lakes which together create a diverse landscape of unique wildlife and plant life, and Britain's largest protected wetland.
By far the best way to enjoy and appreciate the Norfolk Broads is to get out on the water. Whether you're an experienced sailer, an adventurous paddler or you're looking for a great day out in a beautiful setting, a Norfolk Broads boat trip will tick all those boxes.
This round-up of all the best Norfolk boat trips covers hiring, chartering, guided trips and tours and day hire of all different types of craft, and will help you have the best boat trip on the Norfolk Broads.
RELATED POST: The Ultimate Local's Guide to Norfolk England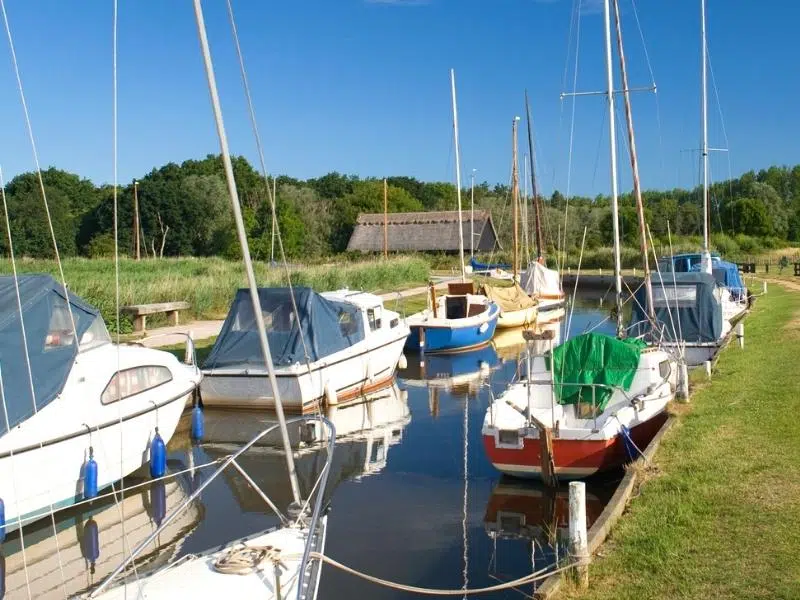 This post may contain affiliate links. If you book something I recommend, I make a small commission without affecting the price you pay!
Norfolk Broads Boat Tours
Broads Tours Wroxham
A Broads boat tour is a great option to explore this gorgeous part of Norfolk if you're not confident on the water or don't fancy skippering your own boat.
If this is you, the best Norfolk Broads boat trip is with Broads Tours, whose river trips leave from Wroxham Bridge on their four boats – Queen of the Broads, Belle of the Broads, Cordon Rouge, and the paddle steamer Vintage Broadsman.
These Wroxham boat trips include a full commentary from the skipper to ensure that you don't miss a thing. You'll learn about the origins and history of the Broads, and find out about various points of interest along the way, as well as some tips about spotting local wildlife and what you might see.
There is also a licensed bar with light refreshments on board, to help you make the most of your trip!
RELATED POST: 22 Fantastic Things to Do in Wroxham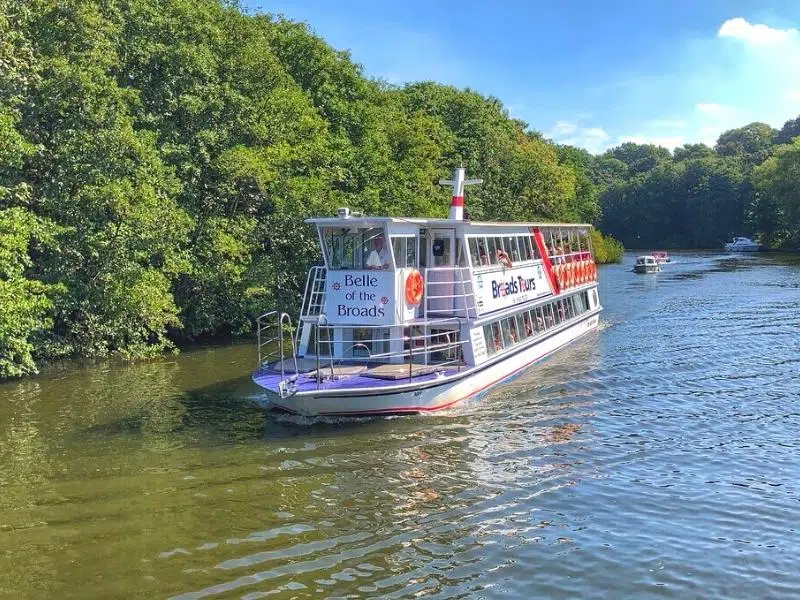 Waveney River Tours
Waveney River Tours have been offering a variety of cruises since 1970. Taking in the ecologically diverse region of the Norfolk and Suffolk Broads and ancient marshland landscapes, the crew share knowledge of the local area, flora and fauna as you go.
All tours start from Mutford Lock on Oulton Broad in Lowestoft, and you can pick from the following cruises;
River Waveney Marshlands Cruise – glide along the grazing pastures of the Norfolk-Suffolk Border and Angles Way hiking trail.
Oulton Broad Circular Tour – sail around beautiful Oulton Broad and the first stretch of Oulton Dyke, and see the boathouses built along the banks of the largest Broad in the National Park.
Victorian Heritage Cruise – follow Sir Samuel Morton Peto's historic East Suffolk railway line through the Waveney Valley to the 100 year old railway swingbridge at Somerleyton.
These Norfolk Broads river tours sail on the Waveney Princess, which is equipped with an open top deck with panoramic views over the Broadland landscape. ​There are toilets onboard along with a fully licensed bar and teashop.
RELATED POST: 13 of the Best Norfolk Broads Walks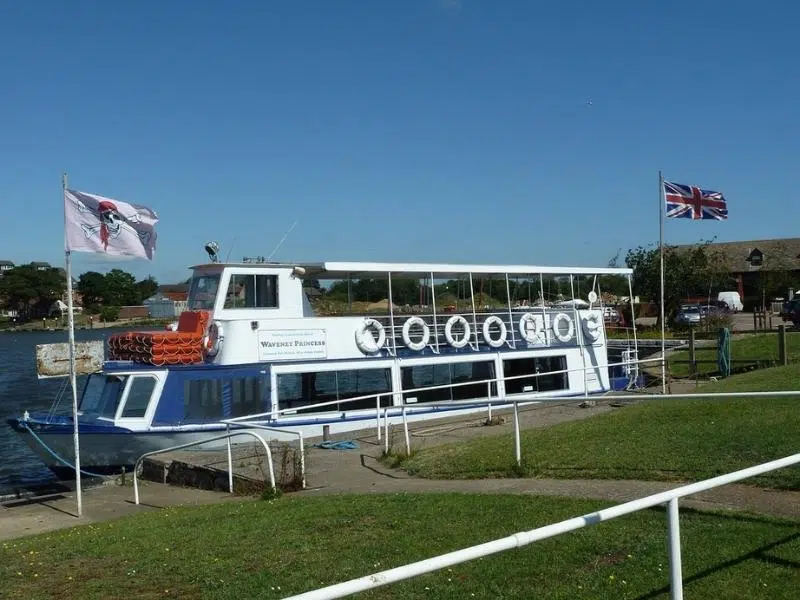 Mississippi Paddle Boat
Colourful and unique to Norfolk, the Southern Comfort is a Mississippi paddle boat which sails from Horning along the River Bure to beautiful Ranworth Broad.
This luxury river cruiser was purpose built for Broads river trips and provides stunning views of traditional Broads cottages, windmills, and Norfolk reed beds from its top deck, as you sail by.
In the summer, the Southern Comfort takes regular evening music cruises with live jazz, a wonderful way to spend a few hours on a warm summer's evening in Norfolk.
The Southern Comfort is also available for private hire, and is the perfect venue for a special celebratory party. Book early though, as it's really popular!
RELATED POST: 26 Exciting Things To Do On the Norfolk Broads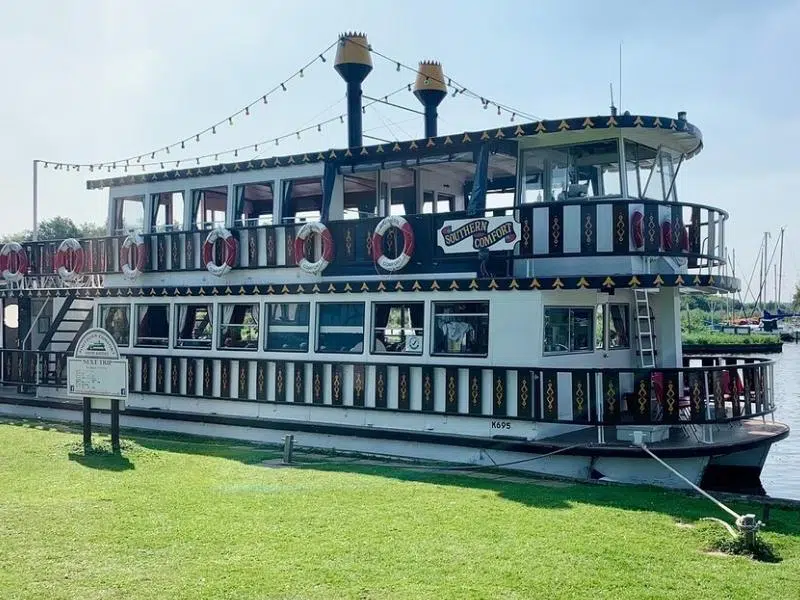 Norfolk Broads Wildlife & Nature Boat Trips
Seal Boat Trips
Scroby Sands is located just over a mile offshore from Great Yarmouth and Gorleston-on-Sea and is most famous for its 30 wind turbines that generate 60 megawatts of electricity, enough to power 41,000 homes.
In the past Scroby Sandbank was responsible for many shipwrecks, but the sandbank is now the home to a colony of grey seals. You can see both seals and wind turbines up close when you take a two hour trip on a RIB with Jet Adventures, departing from Lowestoft.
There are large numbers of seals to see on this trip. At low water they'll be on the sandbank en masse and at high water, the seals will be surrounding the boat and bobbing about in the water.
RELATED POST: Seals in Norfolk – Where & How to See Them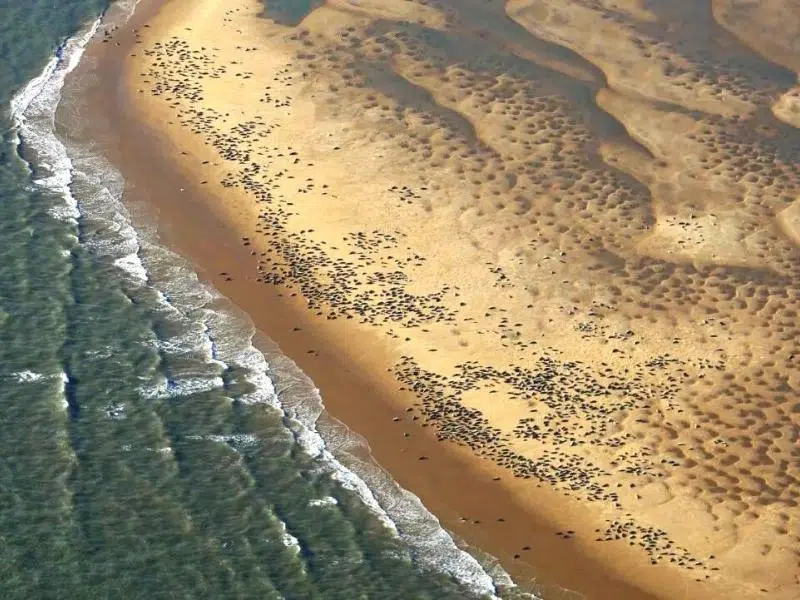 Broads Authority Boat Trips
The Broads Authority manage the Norfolk Broads National Park and has three visitor centres where knowledgeable staff can make sure you get the most out of your days out.
The centres are at Hoveton, Ranworth and How Hill Nature Reserve, and all run daily sustainable boat trips to showcase the landscape and wildlife, and educate people about the importance of conserving this unqiue and precious place.
By the river at How Hill Nature Reserve on the River Ant is a marshman's cottage, now Toad Hole Cottage Museum, from where the Electric Eel sets sail to take passengers on a wildlife water trail along the hidden dykes behind the nature reserve.
You'll see an abundance of colourful dragonflies and damselflies, and in June and July the very rare Swallowtail butterfly that is only found in the Norfolk Broads.
From Ranworth Moorings, your can set off on a voyage of discovery on board Liana, an Edwardian-style electric launch. These wildlife trips sail across Malthouse Broad, then along Ranworth Dam and the River Bure towards Cockshoot Dyke.
The solar-powered boat Ra will transport you along a beautiful and tranquil stretch of the River Bure from Hoveton Riverside Park, going towards Coltishall and into Bridge Broad.
RELATED POST: 30 of the Very Best Things To Do in Norfolk
Ross' Wildlife Boat Trip
Discover the 'hidden' Norfolk Broads by taking a wildlife boat tour with Ross' Wildlife Boat Trips on the MV Lady Ann, a traditional wooden Broads built pleasure boat. Set sail with an exerienced local skipper from the Staithe at the National Trust's Horsey Windpump, a restored Grade II* listed mill which is ridiculously photogenic.
You'll explore Horsey Mere with opportunities to see the rare wildlife that calls this corner of Norfolk home, including marsh harriers, Swallowtail butterflies, bitterns and kingfishers.
RELATED POST: 26 Pictures of Norfolk England to Inspire Your Trip!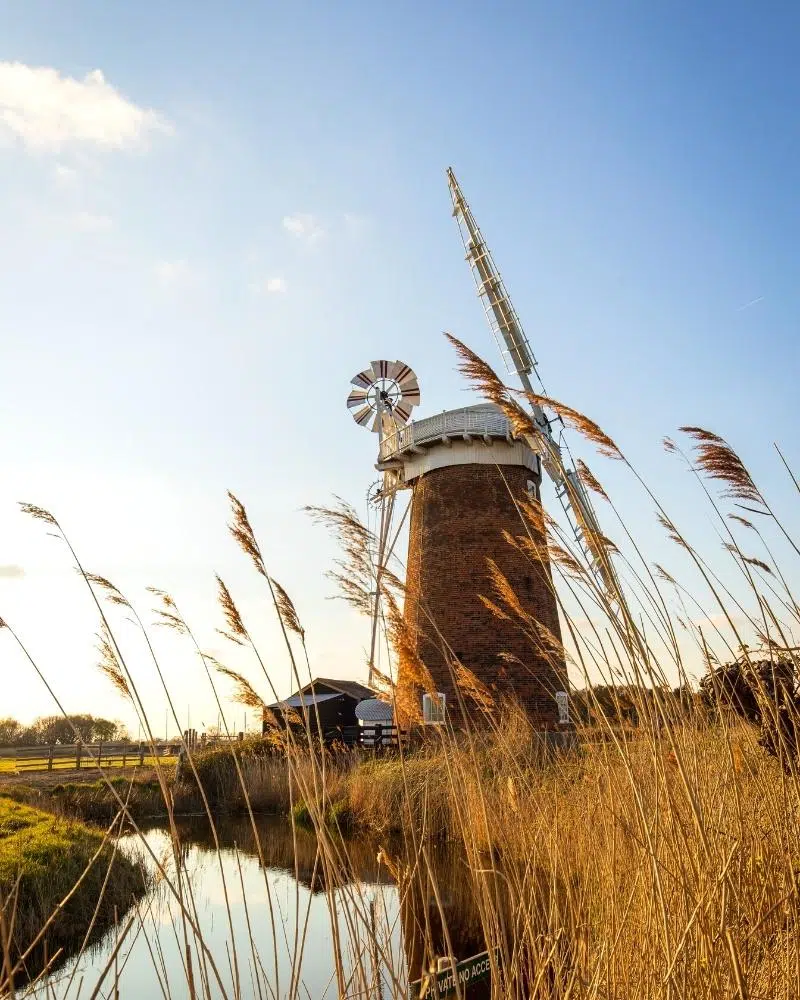 Fairhaven Woodland and Water Garden Boat Trip
Fairhaven Woodland and Water Garden is a fantastic Norfolk Broads day out. With over 130 organic acres of cultivated, wild and natural planting, and a four mile path snaking it's way through the gardens, Fairhaven's award-winning woodland water garden is a great place to explore.
There's lots of year-round interest here with the UK's finest collection of candelabra primulas blooming in spring, alongside bluebells, camellias and wood anemones. In autumn, expect to see flaming colours, migrant birds, fascinating fungi and toadstools.
Fairhaven Gardens operate boat trips on South Walsham Broad on their boat Primrose which gives visitors the ability to view the beautiful gardens and wildlife from the water, and a longer trip takes visitors along the River Bure to view the historic ruins of St Benet's Abbey.
You can also take a family canoe trail, kayak and stand up paddle from Fairhaven, or take a katakanu (a catamaran canoe!) adventure tour to see swans, kingfishers, herons, cormorants, ducks, woodpeckers, geese and falcons, and if you're really lucky, a pair of otters! Book all these activities here.
RELATED POST: The 21 Best Gardens in Norfolk to Visit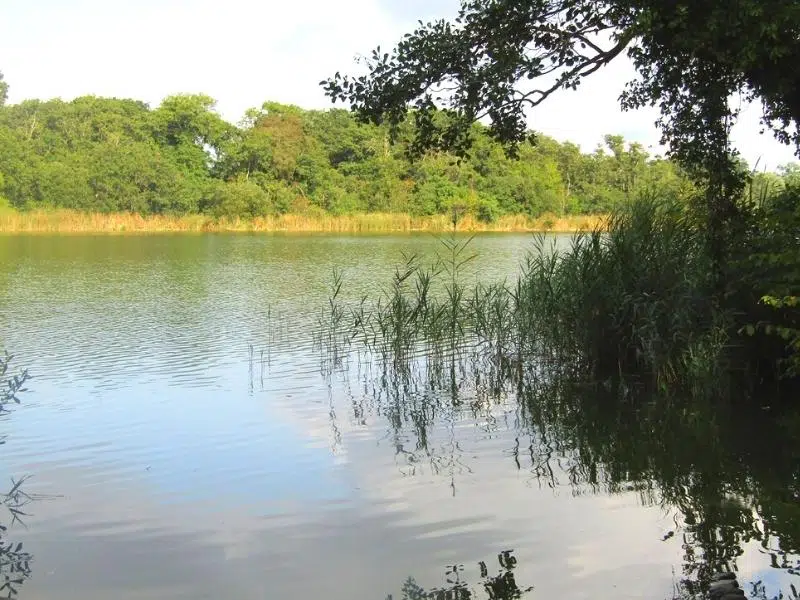 Norfolk Wildlife Trust Boat Trips
The Norfolk Wildlife Trust offer guided wildlife water trails to help you explore the unique environment of the Norfolk Broads.
Travel into the heart of the Broads and discover wildlife-rich marshes, reedbeds and wet woodlands at both Hickling Broad and Ranworth Broad.
At Hickling, you'll set sail on Swallowtail, or the historic Norfolk reedlighter, Little Tern, to spot marsh harriers, great crested grebes and the elusive bittern. You'll visit remote hides only accessible by boat, and an 18 metre tree tower, which provides panoramic views of Hickling Broad and the landscape beyond.
At Ranworth, you'll explore the Broad to see abundant wildlife, as well the wrecks of Norfolk wherries sunk in WWII in an effort to prevent German seaplanes from landing on the water.
The Cockshoot Broad Water Trail follows the beautiful River Bure in the Bure Marshes National Nature Reserve to the very secluded and tranquil Cockshoot Broad. A short walk takes you to the boardwalk, where you'll spot damselflies and dragonflies, and maybe even an osprey.
The Evening Water Trail is a magical guided boat trip from Ranworth to St Benet's Abbey, where you can experience first-hand the beauty and wonder of this unique landscape as the setting sun casts its magical spell.
RELATED POST: Norfolk Nature Reserves – Ultimate A-Z Guide
Hiring a Boat on the Norfolk Broads
Hire a Day Boat
If you want facilities like a toilet and a gas burner for cooking, then hire a picnic boat from Wroxham Launch Hire. Also dog friendly, these day cruisers can seat up to nine people, making them great for an extended family outing.
Away from Wroxham, Herbert Woods hire a fleet of day boats from their boatyard in Potter Heigham. From picnic boats to fishing boats, you'll find a craft to suit your needs here, and have direct access to some of the Broads most iconic scenery.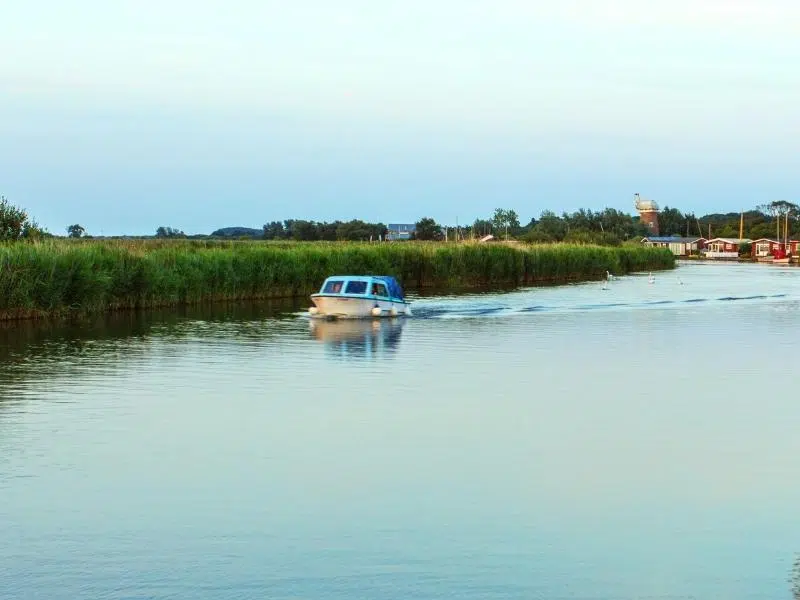 Charter a Luxury Cruiser
If lounging and watching the world go by is more your style, then hire a luxury cruiser for the day. Cruisers are larger than day boats and have more facilities, meaning you can really enjoy your day on the water with all the comforts of home.
Broadland Charters offer a variety of Norfolk Broads cruises for their gorgeous boat, Norfolk Time. With a qualified and friendly crew meaning you can relax onboard, this really is the most glamorous boat on the Norfolk Broads!
Choose from a variety of themed cruises, including afternoon tea and sunset bubbles, organise a special lunch, or even a celebratory party as you enjoy crusing the tranquil waters of the Broads in style.
RELATED POST: Afternoon Tea in Norfolk – 15 of the Best Places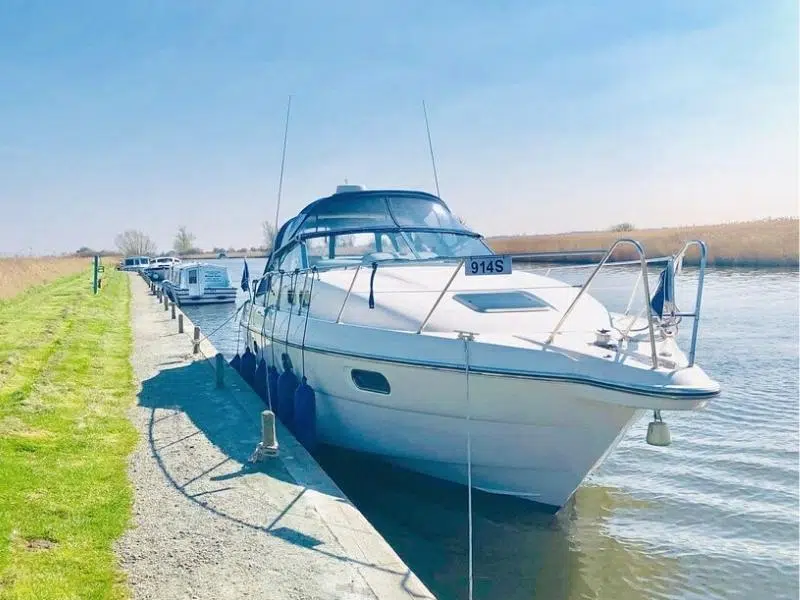 Norfolk Broads Boating Holidays
You don't have to hire a boat just for a day. Why not take your Norfolk Broads holiday on a boat? Spending your nights on a boat on the tranquil Broads is a magical experience, and when you take a boating holidays on the Broads, you can explore the whole area from the comfort of your holiday accommodation, the boat!
Norfolk Broads Direct is well known for boat hire on the Norfolk Broads, offering a modern fleet of high-quality cruisers for hire. The cruisers are all motorised, so you don't need to know how to sail, dog friendly and have everything you need on board for your holidays in Norfolk.
If you prefer to sail your way around the Broads, check out Olivers Sailing Holidays and Waterways Holidays who hire yachts and even offer learning to sail holidays.
RELATED POST: Five Ideas for a Short Break in Norfolk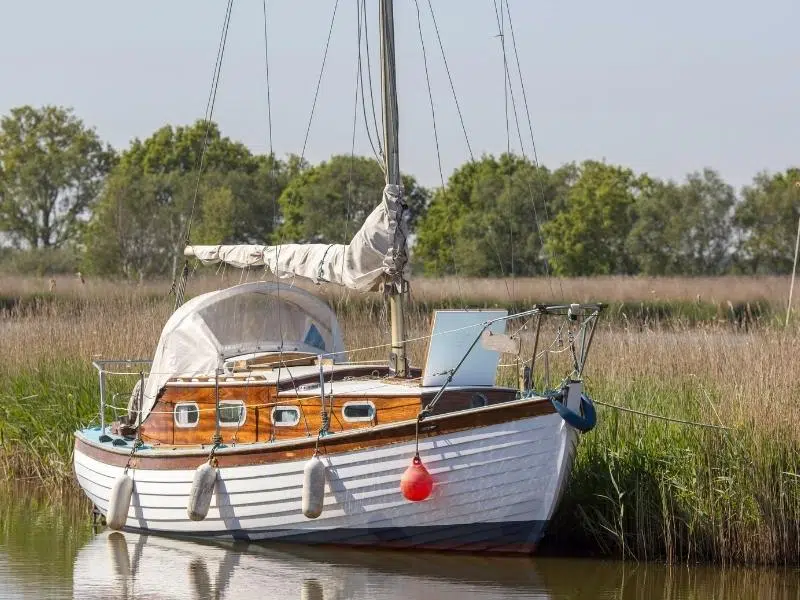 Heritage Boat Trips
Sail on a Norfolk Wherry
As you travel around the Broads, it's a very surreal experience to see the sails of boats flapping in what looks like a field! If you're lucky you may be looking at the sail of a Norfolk Wherry, a traditional Broads vessel (as well as a local amber ale from Woodforde's Brewery!)
Wherry's were originally cargo boats and pleasure craft which were used all over the Broads, before road transport became easy and cheap. Sadly, there are only eight wherries left sailing today from the original 300 or more – if you see one, you can check which one you spotted here.
You can book a scheduled day trip or charter a wherry from Wherry Yacht Charter, who operate five of the remaining eight wherries, and take a trip around the Broads in a fully skippered and equipped boat. Each of the boats is unique and has been beautifully restored, to be returned to their former glory.
There are only two surviving trading wherries in existance, Albion and Maud, and both display the distinctive black sail. All other wherries have white sails.
You can visit the 123 year old Albion, which belongs to the Norfolk Wherry Trust in Ludham on one of their open events or day cruises.
RELATED POST: Breweries in Norfolk – Best 16 to Visit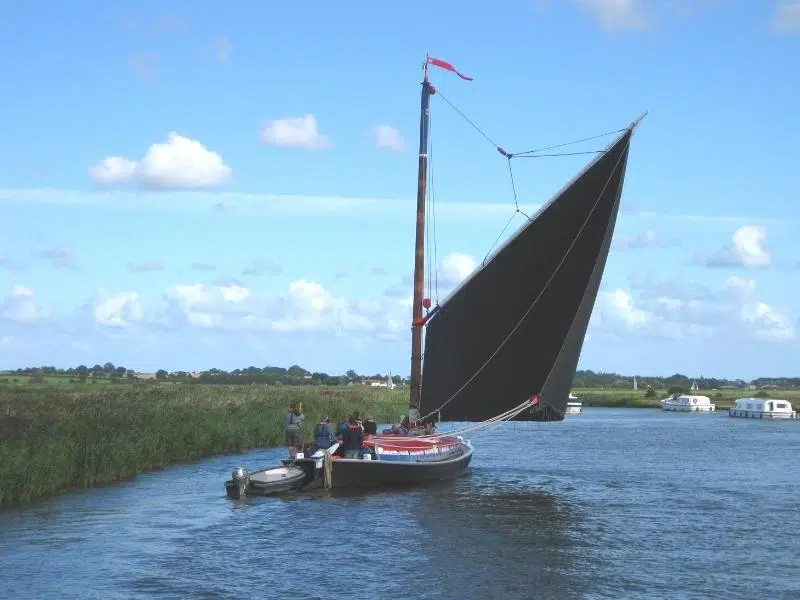 Norfolk Broads History
The Museum of the Broads in Stalham is the only waterside museum of Broadland life where you can learn about the boats of the Broads, and see how the local landscape and culture have been shaped by history, and the way people lived and worked in the Broads over the centuries.
Here you can see the findings and equipment of ecologist Joyce Lambert, who proved in the 1950's that the lakes and landscape of the Broads were manmade and formed in medieval times, when peat was dug out for use as fuel, leaving diggings which then flooded.
The museum has an extensive collection of boats, including the unique Victorian steam launch Falcon built in 1894, and the Marsh Harrier, a modern electric boat. You can take a trip on both these boats, skippered by a local and knowledgeable helm, for a fascinating jaunt along the River Ant, to explore the local landscape and wildlife.
RELATED POST: 21 Museums in Norfolk You Won't Want to Miss!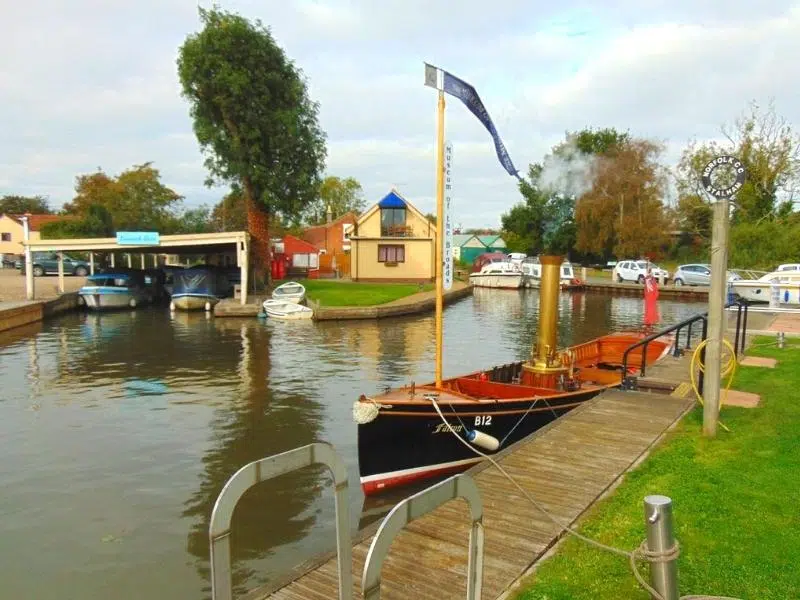 Sail the Seas on Excelsior
Get a taste of life on board the historic Excelsior LT472, a restored 100 year old a traditional Lowestoft fishing smack when you join an adventurous heritage sailing experience day with The Excelsior Trust.
Setting out from Lowestoft (ok, not quite Norfolk but close enough) and you'll get the chance to be hands-on and join in with raising the sails, hoisting out the bowsprit and taking the tiller with the experienced crew to guide and support you, or just sit and enjoy the salty air in your face and the sound of the sea around you as you sail along the beautiful Norfolk coast.
RELATED POST: Norfolk Coast – 8 Amazing Ways to Explore
Paddle the Norfolk Broads
Take a Guided Paddle Tour
The best way to admire and appreciate the Broads is from the water and Wroxham is a great place to start. Hire a kayak or paddle board and set off on a Swallows and Amazons style adventure, with a picnic and binoculars to spot the many different birds and animals you'll encounter.
For the best opportunities to see kingfishers, bitterns and even the elusive otter, take a guided trail with the CanoeMan, local experts who will take you to backwaters where motorised boats can't go, and share information about life on the Broads.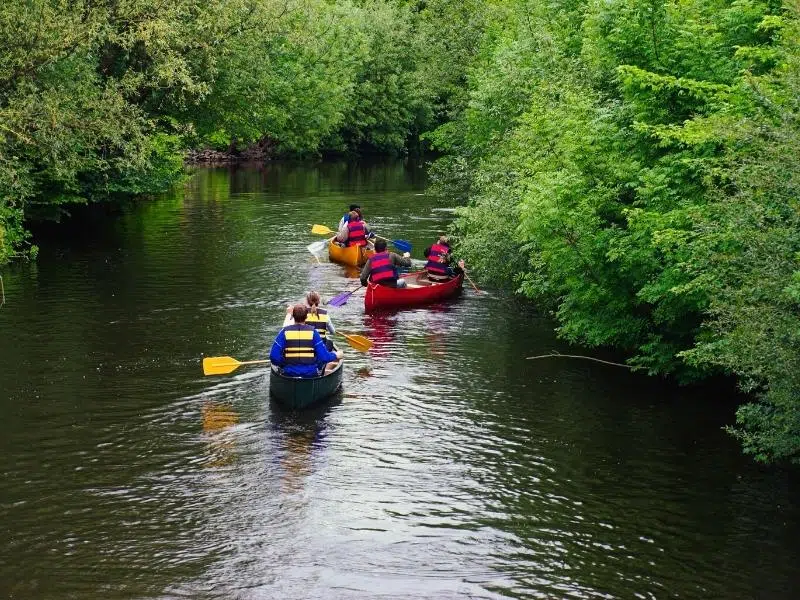 Family Adventure at Barton Broad
If you're looking for family adventure, hire a canoe at Wayford Bridge and paddle down the River Ant to Barton Broad, and moor at Neatishead Staithe. From here you can walk the boardwalk and reward yourself with a drink at the nearby Whitehorse Inn, or bring a picnic and eat it on the pretty staithe.
The boardwalk trail leads you through swampy, wildlife filled woodland, with resting places and information boards where you can read about the wildlife, before emerging onto a large viewing platform. From here you can enjoy a fantastic panoramic view over Barton, second largest of the Broads.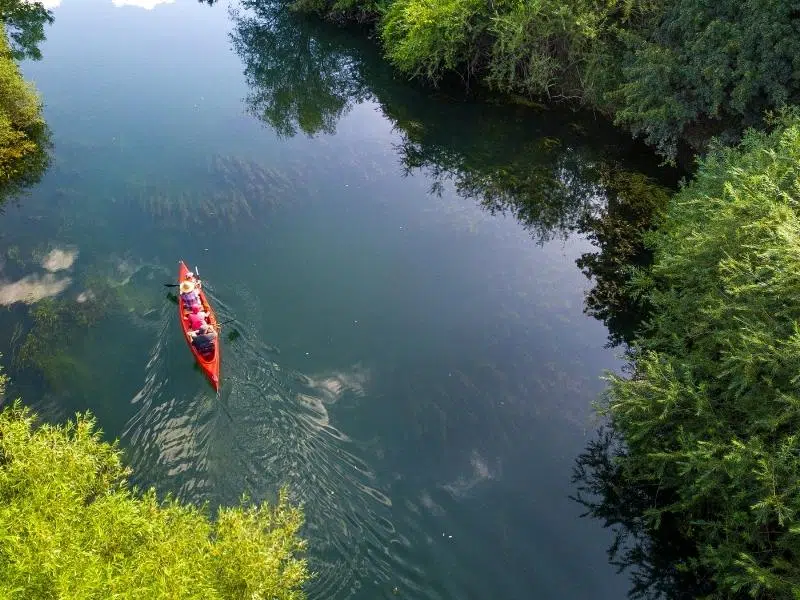 Stand Up Paddle on the Broads
SUP or stand up paddle is becoming one of the most popular sports in the UK, and has really taken off in Norfolk, where the gentle water of the Broads make it easy to learn. You can bring your own equipment or hire at various places.
You can paddle board right through the centre of Norwich on the River Wensum, the longest chalk steam in Norfolk, and meet the River Yare at Whitlingham Broad. Norwich Paddleboard Hire launch from the Gibraltar Pub in the centre of the city.
Or check out the oasis of tranqulity that is Hickling Broad, as you paddle through the 600 hectare nature reserve that's a haven for wildlife. Norfolk Outdoor Adventures hire SUP's at Ferrygate Camping in Martham, on the banks of the Broad, where You can also learn to paddle board and book themed SUP tours and activities.
RELATED POST: 31 Amazing Things To Do in Norwich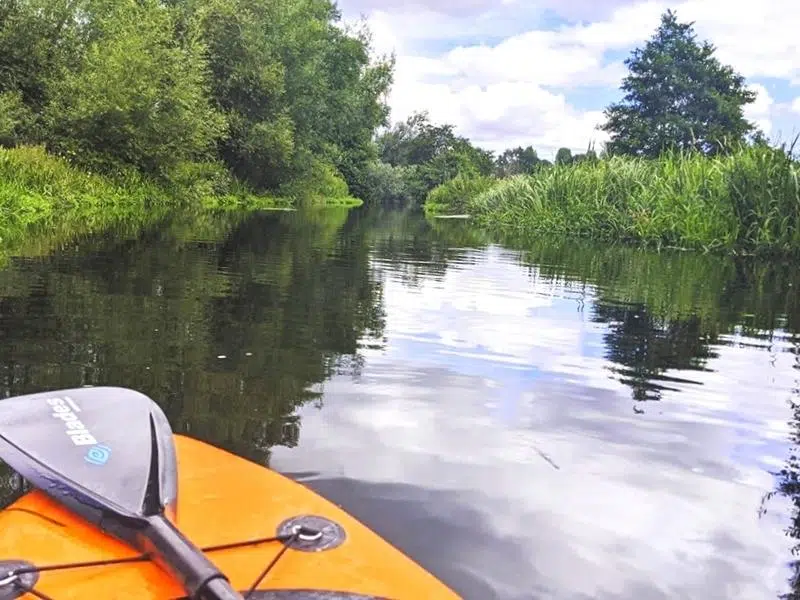 Wondering where to stay in the Norfolk Broads?
Have you taken a Norfolk Broads boat trip, or have a missed your favourite from my round up? Let me know in the comments below so I can check it out!
Love it? Pin it!