An unspoiled and down-to-earth North Norfolk village, Brancaster Staithe is inextricably linked with its near neighbour Burnham Deepdale, with which it shares many ties.
Strung out along the A149 coast road, Brancaster Staithe and Burnham Deepdale merge into one village. But look beyond the road for fantastic hiking and water sports, unique nature, glorious coastal views and lively villages with lots to do and see.
Most people drive through on their way to Brancaster beach or Burnham Market, but I'll share with you why you should stop and explore this hidden gem in Norfolk.
RELATED POST: The Ultimate Local's Guide to Norfolk England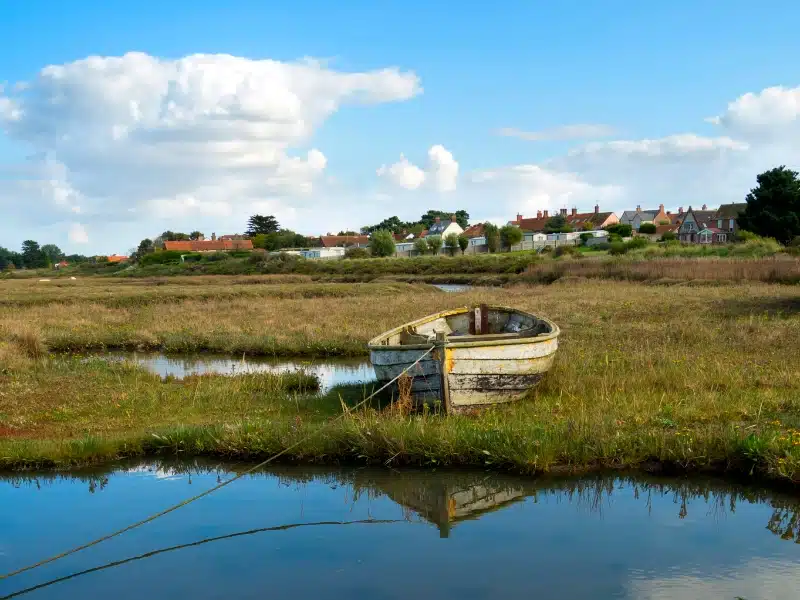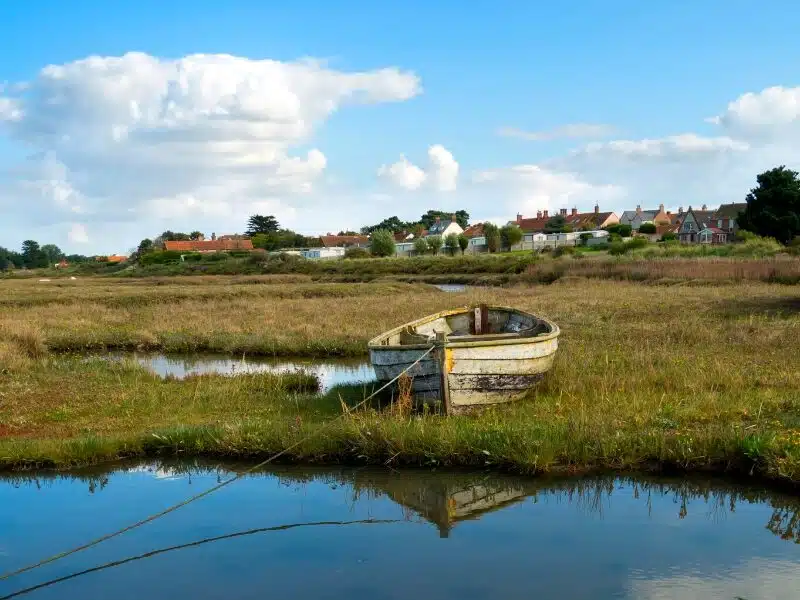 This post may contain affiliate links. If you book something I recommend, I make a small commission without affecting the price you pay!
Where is Brancaster Staithe Norfolk?
In the North Norfolk Area of Outstanding Natural Beauty, Brancaster Staithe is situated 40 miles northwest of Norwich and 25 miles northeast of King's Lynn. The villages are located on the edge of the Brancaster Manor marshland less than a mile inland from Scolt Head Island on the North Norfolk coast, between Brancaster to the west and Burnham Norton to the east.
The nearest large settlement is Burnham Market, three miles to the east, a charming and historic village in West Norfolk with strong links to Admiral Horatio Nelson, and popular with visitors.
There is no Brancaster Staithe beach, although nearby is the vast Brancaster beach. Brancaster Staithe harbour opens onto Mow Creek, which small boats use to sail out past the salt marshes and creeks to Norton Creek and the North Sea.
RELATED POST: Norfolk Coast – 8 Amazing Ways to Explore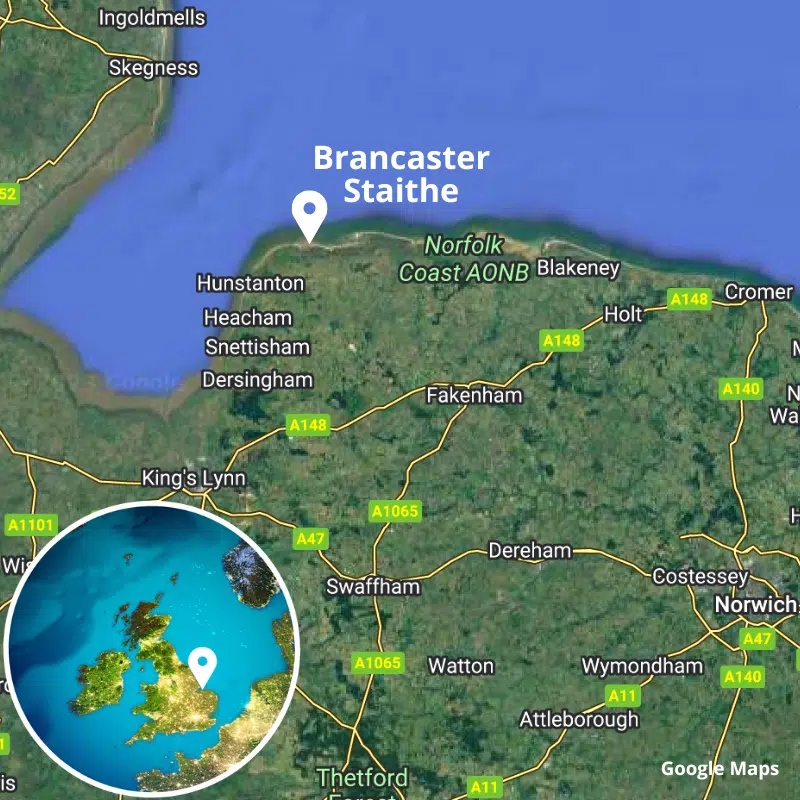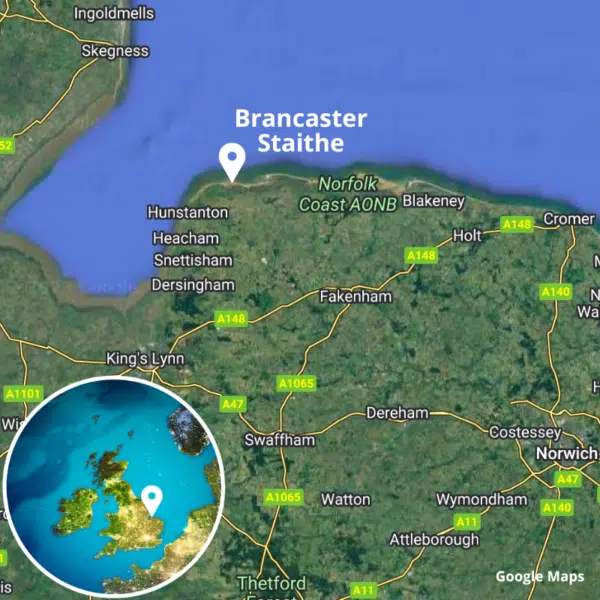 Brancaster Staithe & Burnham Deepdale – Getting There & Getting Around
Driving to Brancaster Staithe
If you're travelling from the north of the United Kingdom, pick up the A17 south at Newark-on-Trent and follow the route around the Wash to King's Lynn. This road is mainly single-carriageway, and slow-moving agricultural traffic and trucks can cause delays, so built this into your travel plans.
If you're travelling from the Midlands, you'll come into Norfolk via Peterborough and pick up the A47 north and east to King's Lynn. From the south, the A10 brings you through Cambridge directly to King's Lynn.
From King's Lynn, which is well worth a stop on the way through, either pick up the A149 coast road to Brancaster Staithe and Burnham Deepdale or go cross-country via Docking and the B1153.
Parking in Brancaster Staithe & Burnham Deepdale
There is no official car park in either village and parking can be difficult, with limited spaces along the A149, at Barrow Common, and at both pubs and Dalegate Market.
You may be lucky and get a spot at the harbour, but check the tide times as people have been known to come back to submerged vehicles!
RELATED POST: All the Best Things To Do in King's Lynn Norfolk
Getting To Brancaster Staithe by Public Transport
The county of Norfolk is within easy reach of the rest of the UK, with excellent transport links. You can get to the West Norfolk town of King's Lynn by mainline train from London in less than two hours. Simply take the regular Greater Anglia service from London King's Cross, which leaves every hour or so.
Alternatively, you can take a National Express coach from Victoria Coach Station to King's Lynn. This takes around 6.5 hours depending on the time of day, and you do need to change at Norwich, but it's often much cheaper than the train, especially when booked in advance.
At King's Lynn train station get the CoastLiner 36 bus from the Transport Interchange next door, and get off at either the Jolly Sailors, White Horse or St Mary's Church in Burnham Deepdale stops, just over an hour later.
If you're planning a visit from elsewhere in Norfolk, the CoastHopper from Cromer and Sheringham connects with the CoastLiner bus at Wells-next-the-Sea, and Sheringham is connected to Norwich via the Greater Anglia train service.
RELATED POST: 21 Of The Best Things To Do in Cromer Norfolk
Getting Around North Norfolk
The Coastliner 36 bus heads on to Burnham Market and Holkham before arriving in Wells-next-the-Sea, where you can hop onto the CoastHopper bus to Stiffkey, Morston, Blakeney, Cley, Salthouse, Weybourne, Sheringham, East Runton, West Runton and Cromer, meaning you can get to many of the best spots in the North Norfolk coast by bus.
There is also the regular X44 bus which connects Sheringham to Norwich and Holt, and from there the Norfolk Coastlink service connects Norwich with Great Yarmouth.
How about hiring a bike? This area of the Norfolk coast has an abundance of pretty villages linked by a network of byways, bridleways and quiet country lanes, which are perfect for cycling, and Burnham Market is on the National Cycle Network and the Rebellion Way.
These lanes, bordered by fields of wheat, hedgerows and woodlands, see little traffic, which means you can explore the Norfolk coast at a leisurely and safe pace. You can hire bikes at Deepdale Farm in Burnham Deepdale and at Burnham Cycles on North Street in Burnham Market.
RELATED POST: North Norfolk Coast – 19 Unmissable Highlights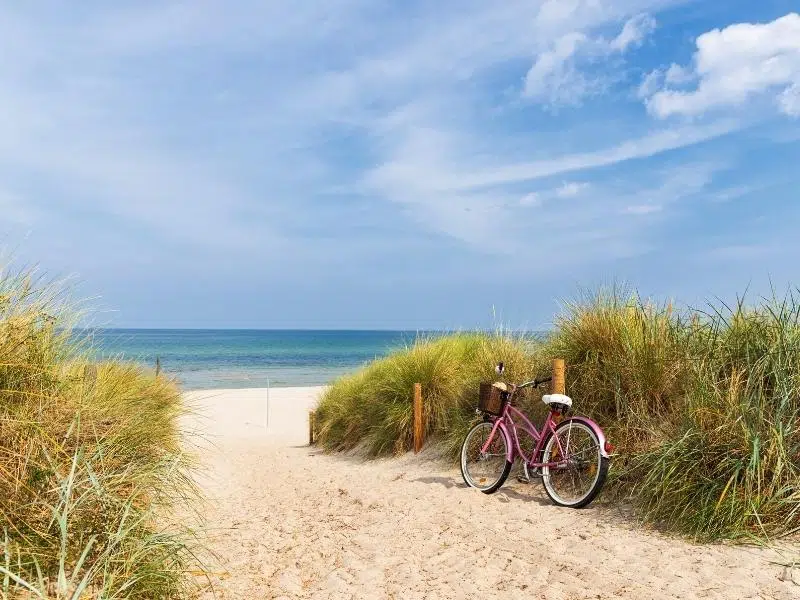 Brancaster Staithe History (in brief!)
The history of Brancaster Staithe began at the Scheduled Ancient Monument of Branodunum. Although all that remains today is a grass field with defensive ditches, this was once an important Roman fort built around 250 BCE, and the northernmost of many Roman forts dotted along the east coast.
The 3.5 metre high walls of the fort survived until the 17th century when they were plundered for buildings in Brancaster Staithe including St. Mary's church.
During the 18th and 19th centuries, the quayside at Brancaster Staithe was a flourishing centre of industry and activity. Local fishing ships and cargo ships packed with coal and grain plied their trade, and behind the brick quay stood the huge 18th century malthouse, the largest in England.
With the decline in trade, as the channels silted up and railways arrived, the condition of the quay gradually deteriorated. In 2007, extensive renovation took place helping Brancaster's thriving fishing to survive, and the harbour is busy with leisure craft.
Things To Do in Brancaster Staithe & Burnham Deepdale
Spend the Day at Brancaster Beach
Managed by the National Trust, Bancaster Beach or 'Branny' as it's known locally, is blessed with soft golden sands perfect for picnics, sandcastle building and walking your dog.
Brancaster beach is also a popular spot with kite surfers, kite buggy fans and kite flyers – I learnt to fly a stunt kite here when I was a teenager. For me, it's one of the best of the North Norfolk beaches.
The water at Brancaster recedes to leave shallow lagoons where young children can safely paddle and play – try and time your family beach visit as the currents can be strong when the tide comes in. You can check Brancaster Beach tide times here.
RELATED POST: Brancaster Beach – Complete Visitor Guide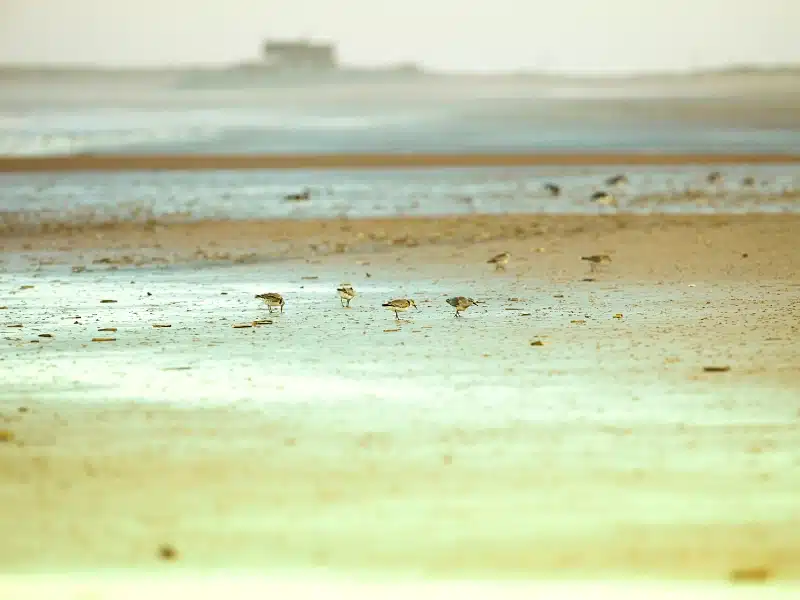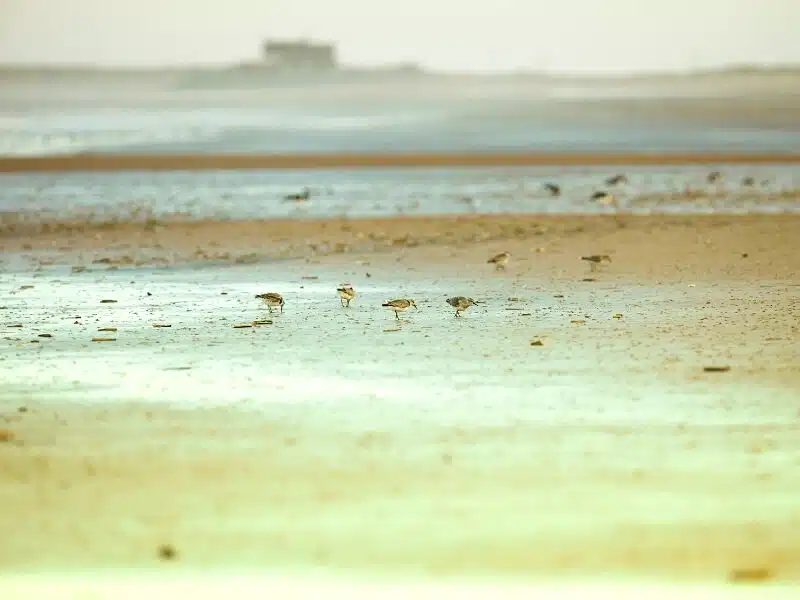 Explore the Norfolk Burnhams
There are four other Burnham villages – Burnham Market, Burnham Norton, Burnham Overy (encompassing Town and Staithe) and Burnham Thorpe. Many years ago, Burnham Sutton, Burnham Ulph and Burnham Westgate came together to create the large village of Burnham Market.
Together these Burnhams, all within a two mile radius around the River Burn, became the Burnhams of the medieval verse which speaks of "London, York and Coventry, and the Seven Burnhams by the sea". Centuries ago, Nelson Of Thorpe Died Well Under Sail was a well-known mnemonic for the seven Burnhams.
Burnham Market
Burnham Market enjoys a pretty setting and interesting history, with 17th and 18th century buildings arranged around a market place and central green.
In the village are top Norfolk hotels, eateries and shops, which, along with easy access to the beautiful beaches and coast attract plenty of weekenders from London, giving the village the nickname of Chelsea-on-Sea.
Burnham Norton
With a population of less than 80, Burnham Norton is the smallest of this group of Norfolk villages. Home to St Margaret's, a Grade I round tower church, it's worth a visit for the magnificent 15th century pulpit and the ruins of Burnham Norton Friary.
Burnham Overy Staithe
More a village than a town, pretty Burnham Overy Staithe occupies an enviable harbourside position between Burnham Market and Burnham Thorpe. From the harbour in the summer, you can catch a ferry to Scolt Head Island National Nature Reserve.
Between Burnham Overy Staithe and the sea, a web of tidal creeks reaches out through the marshes that line this stretch of coast, and finally reach the sea by passing through a gap in the sand dunes. This allows small sailing boats, kayaks and canoes access to Burnham Overy Staithe from the sea, making the town a major recreational sailing centre. You can also hire stand-up paddle boards to explore the marshes and coast.
Burnham Overy Staithe has a fabulously unspoilt and secluded beach which can only be reached by walking for a mile to get there. The huge expanse of beach stretches as far as you can see, and you can walk all the way to Wells-next-the-Sea along this unspoilt bit of Norfolk coast.
Burnham Thorpe
The birthplace of Lord Admiral Horatio Nelson, Burnham Thorpe is a sleepy village worth a quick visit. The Parsonage where Nelson was born on 9th September 1758 no longer exists, but Nelson's Barn, built in its place, has a plaque set into the flintstone wall to mark the spot. You can find the barn on Creake Road, south of the village.
From Nelson's Barn, it's a half a mile walk north towards the village, where Nelson's father was the rector at All Saint's Church. Nelson's parents are buried in the church, and a bust of Nelson is set on the north wall of the chancel above the site of his parent's grave.
RELATED POST: 30 of the Very Best Things To Do in Norfolk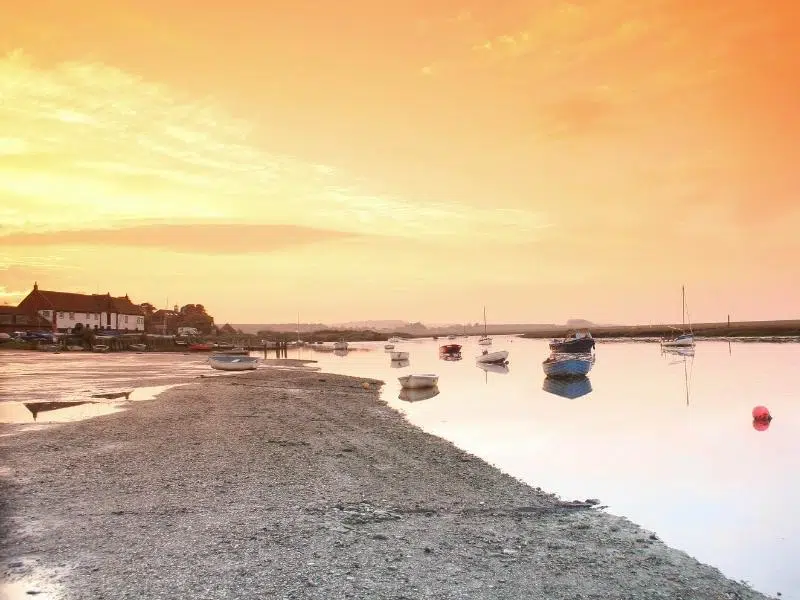 Discover Scolt Head Island Nature Reserve
Scolt Head Island, an offshore barrier island between Brancaster and Wells-next-the-Sea is jointly owned by the National Trust and Norfolk Wildlife Trust.
Accessible by a seasonal ferry from the village of Burnham Overy Staithe, or by or by taking an adventurous hike and crossing from Overy Cockle Strand at low tide, the island is made up of sand dunes, salt marsh, intertidal sand and mud flats, and shingle.
Scolt Head supports internationally important numbers of breeding Sandwich and little terns, and nationally significant populations of common and Arctic terns, as well as wintering waders and wildfowl, and a host of plants that have evolved to thrive in harsh coastal conditions.
RELATED POST: Norfolk Nature Reserves – Ultimate A-Z Guide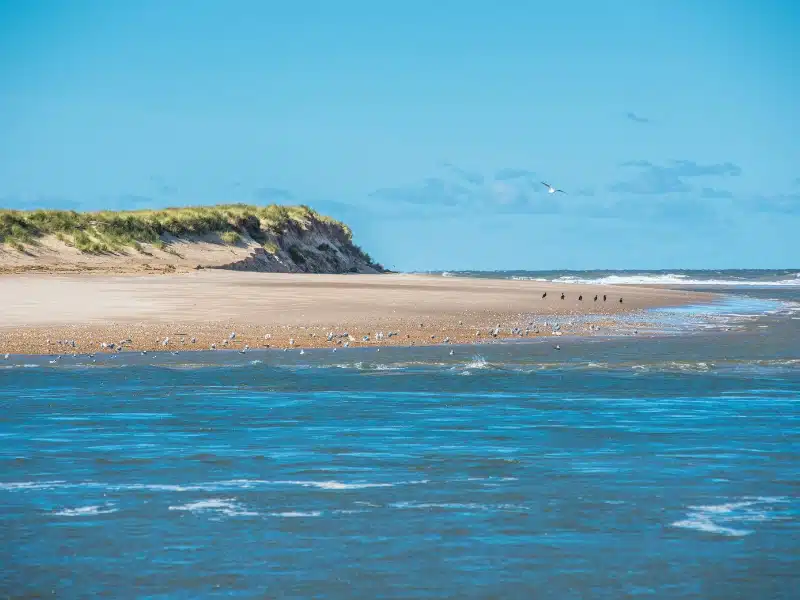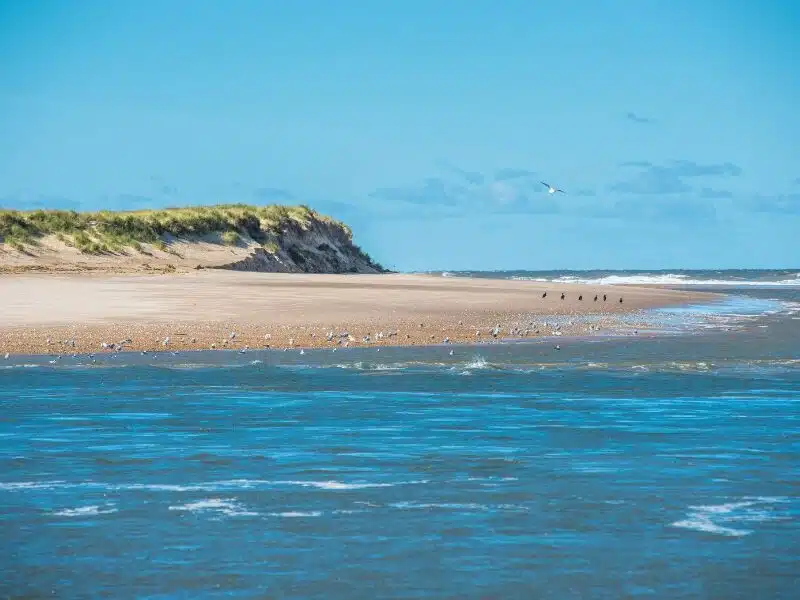 Explore the Brancaster Staithe Shops
Dalegate Market is an independent retail site and north Norfolk coast hub in Burnham Deepdale, which has local shops, as well as a few chains, the really good Deepdale Café and the Deepdale Visitor Information Centre. What started as an idea to provide tourist information has become an important part of the local and visitor community in Brancaster Staithe and Burnham Deepdale.
You'll find Deepdale Stores supermarket, a fuel station, Fat Face clothing, Gone Crabbing which is great for Norfolk clothing and souvenirs, the One Stop Nature Shop for binoculars and all things birdwatching, and a handful of artisan craft galleries.
Dalegate Market also hosts different pop-up shops every week through summer, during the Spring Market and at Christmas, and you'll find all manner of independent traders, Norfolk artisans and producers selling their wares. It's a great place to pick up holiday mementoes or unusual Norfolk Christmas gifts.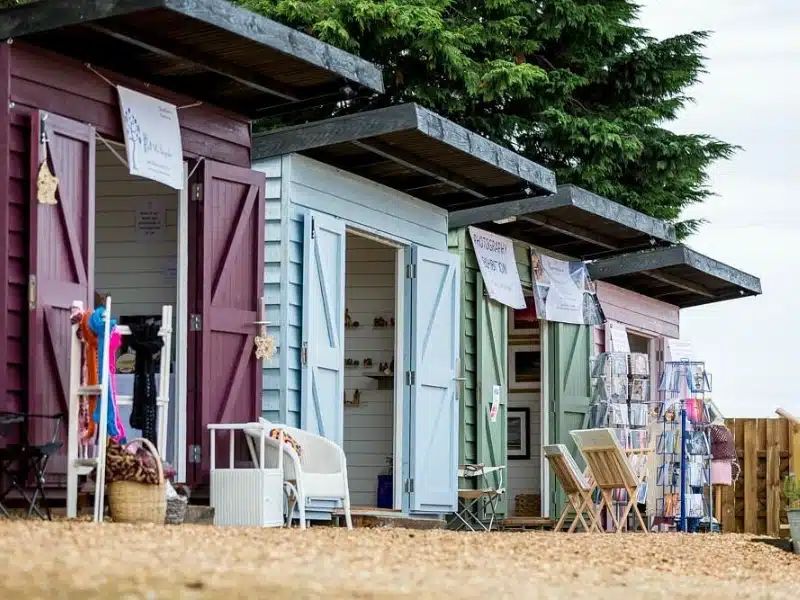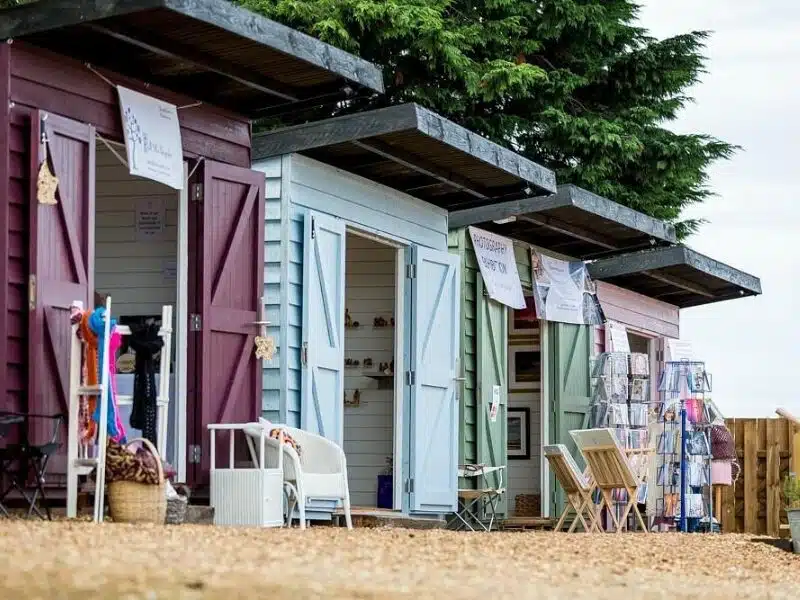 Visit St Mary's Church
St Mary's Church in Burnham Deepdale is well worth a visit for its Saxon round tower (pre-Conquest of 1066), its Norman font, and its collection of medieval glass.
The distinctive round tower is thought to be 950 years old, and the simple construction which means no corners are required is a feature of eleven other churches in West Norfolk. The tower houses a 15th century bell cast by Thomas Derby of King's Lynn.
The Norman font, made of Barnack stone (a type of limestone) is square in shape and depicts a farming figure for each month of the year, showing tasks such as harvesting and threshing.
The colourful medieval stained glass has recently been restored, with the window in the window in the tower being most notable, which depicts an angel and Mary Magdalene.
RELATED POST: Norfolk Churches: 16 of the Best to Visit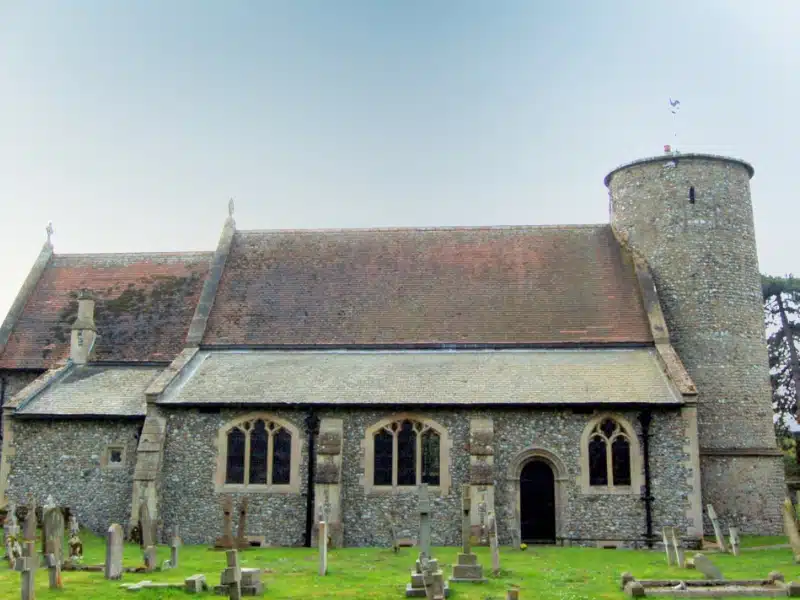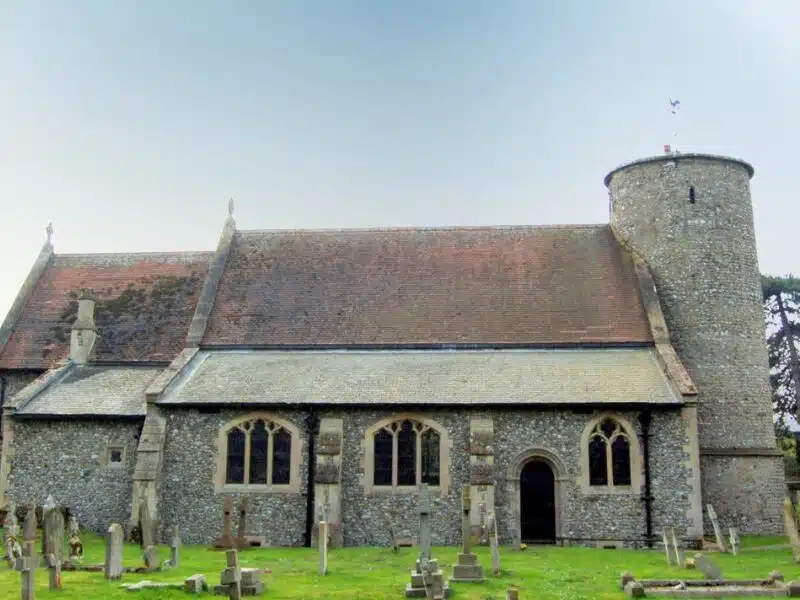 Try the Local Produce
The seas off the coast of Norfolk are bountiful with shellfish including crab, lobster, mussels and cockles. This is because an ecosystem is created by a current of cold water which sweeps south from Norway, and brings an abundance of nutrients with it, creating the perfect environment for shellfish to thrive.
In Brancaster Staithe, there is a small but busy fishing fleet which catches mostly mussels – in season you can watch the fisherman landing and grading their catch. Most of this North Sea produce is caught and sold to local restaurants and eateries on the same day, meaning when you go out to eat, you're served with the freshest and most local Norfolk ingredients imaginable.
Brancaster Mussels
Freshly caught mussels from Brancaster Staithe harbour are a real treat. The mussels are collected when they are at the juvenile stage from wild settlements around the Wash, and then placed in the harbour, where they can feed on the nutrients running off the salt marshes and grow into the delicious mussels that Brancaster is famous for.
In season from September to April, these delicious and juicy shellfish will be on every hotel and restaurant menu, and in every fishmonger in Norfolk during this time. Get your mussel fix at The Crab Shed right on the harbour at Brabcaster Staithe, The White Horse, where they serve a mean Moules Frites accompanied by glorious views across the marshes, or at the slightly more formal Titchwell Manor, just up the road.
If you're buying to take home, look out for signage around the village and at the harbour, or head for thr Crab Hut on Harbour Way, or the Fish Shed on Main Road opposite The White Horse.
Norfolk Oysters
The humble oyster was once a staple of Norfolk coastal communities, where the shallow bays and inlets are full of cold clear water and natural nutrients, perfect for oysters to flourish.
There are Pacific Rock oysters, which taste of the sea, being grown and farmed along the North Norfolk Coast, by the Thornham Oyster Company, the Norfolk Oyster Company and Brancaster Oysters.
You can buy from Gurney's Fishmarket in Thornham and Burnham Market, where they're happy to shuck one for you to taste before you buy or the Fish Shed in Brancaster Staithe itself.
Samphire
Samphire, pronounced locally as sampha, thrives in the salt marshes of North Norfolk. Known as 'sea asparagus' or 'sea pickle', samphire can be purchased throughout Norfolk from spring onwards and is found in abundance around Thornham, Brancaster and the Burnham's.
You'll find it for sale in countryside lay-bys, outside cottages, in villages along the coast, and in North Norfolk farm shops.
RELATED POST: 26 Norfolk Food & Drink You Must Try!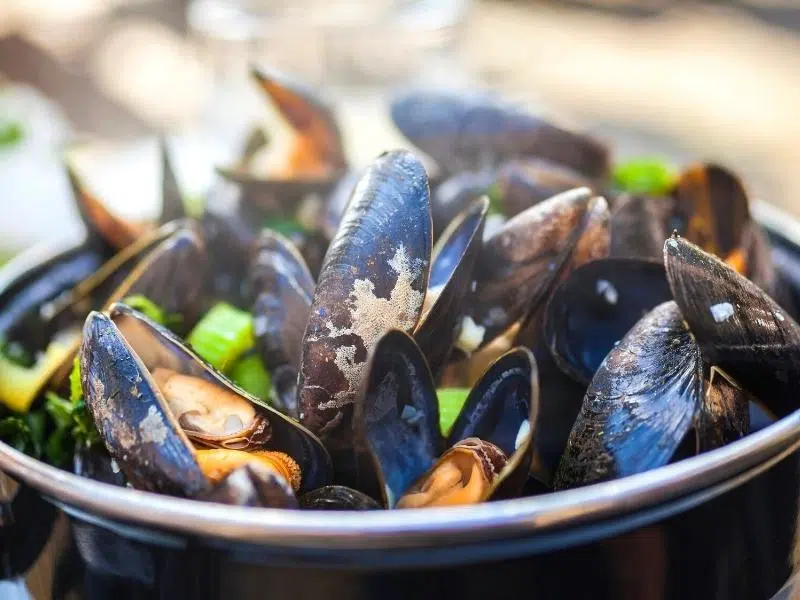 Take to the Water
Local Boat Trips
Local skipper and guide Jon Brown of Branta Cruises takes the Laura May out daily from Brancaster Staithe Harbour to explore the coastal creeks and channels along the shore.
Drawing on Jon's unique local experience you will learn about the coastal landscape and the wildlife that is constantly changing throughout the day between the ebb and flow of tides and changing seasons.
Paddle Board & Kayak
The salt marsh and network of creeks around Brancaster Staithe are fascinating to explore from a paddleboard or kayak. The ever-changing conditions and tides present the perfect opportunity to explore the unique wildlife and nature along this stretch of the North Norfolk coast.
Northshore Paddle Boards and Brancaster Boards offer lessons for beginners, SUP safaris and tours, and equipment rental whatever your level of skill on a board.
The Canoe Man offers guided sea kayaking trails to explore the local wilderness from Brancaster Staithe harbour.
Sailing
There is fantastic sailing from Brancaster Staithe, and it's possible to launch your own craft from the harbour.
RELATED POST: Norfolk Beaches – Ultimate A-Z Guide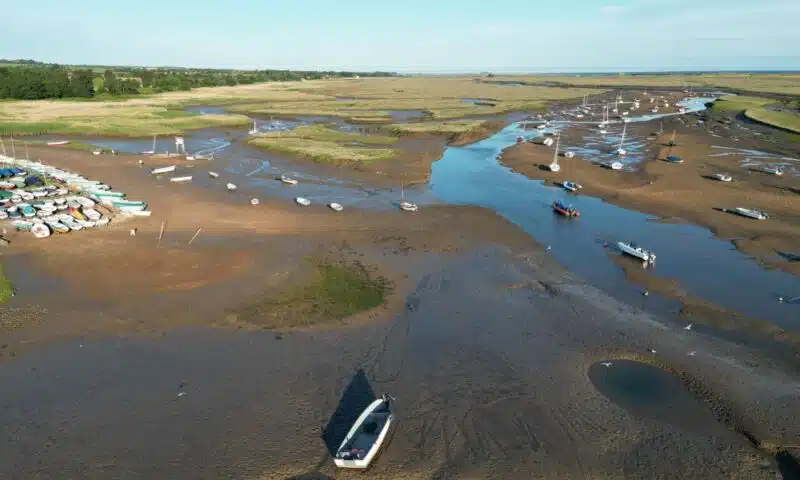 Explore North Norfolk on Foot
Nelson Way
This 404-mile-long distance walk celebrates Britain's naval heritage and England's finest sailor Admiral Horatio Nelson. It follows a route from Burnham Thorpe and links locations associated with Nelson between Norfolk and the HMS Victory, Nelson's flagship in the Battle of Trafalgar, at the wonderful Portsmouth Historic Dockyard.
The Nelson Way is a fitting trail for Norfolk, also known as Nelson's County. If like me, the thought of walking 404 miles is a bit much, you can try my favourite bit of the route from Burnham Thorpe to Holkham.
This 11 mile Norfolk hike through the wetlands, dunes and sands of Holkham National Nature Reserve will reward you with magnificent beach views and huge skies, which accompany you for much of the route.
Norfolk Coast Path
Very probably the best-loved of the Norfolk trails, and one of the best ways to experience the wilderness and unique landscapes of the Norfolk coastline, the Norfolk Coast Path runs from Hunstanton in West Norfolk, to Hopton-on-Sea in South Norfolk, where Norfolk meets Suffolk.
The path runs for 84 miles and passes through the stark and beautiful landscape of the Norfolk coast Area of Outstanding Natural Beauty, where you'll encounter tidal marshes brimming with wildlife, and cross wide sandy beaches under the huge skies that Norfolk is famous for.
Brancaster Staithe and Burnham Deepdale are right on the coastal path and it's easy to walk a stage from the villages – you'll find the path signed at both Brancaster Staithe Quay and The Drove, opposite Deepdale Camping.
Head east for a fantastic 6 mile walk through Deepdale Marshes to Holkham beach, or west to Thornham, then catch the Coastliner bus back to Brancaster Staithe.
Brancaster Staithe Wildlife Walk
This circular route is an easy meander through the village of Brancaster Staithe and the Brancaster Estate, which is owned and managed by the National Trust.
Birdwatchers can see Brent geese, oystercatchers, egrets, curlews and other bird species. Along the way visit the Downs, take in the views from Barrow Common and explore the site of Branodunum Roman Fort. You can find details and a map here.
RELATED POST: Walks in Norfolk – 14 of the Best Trails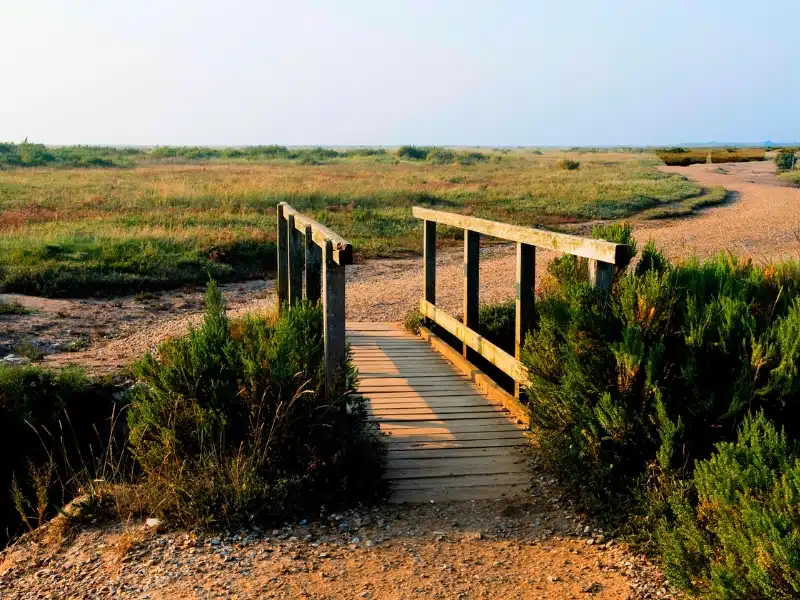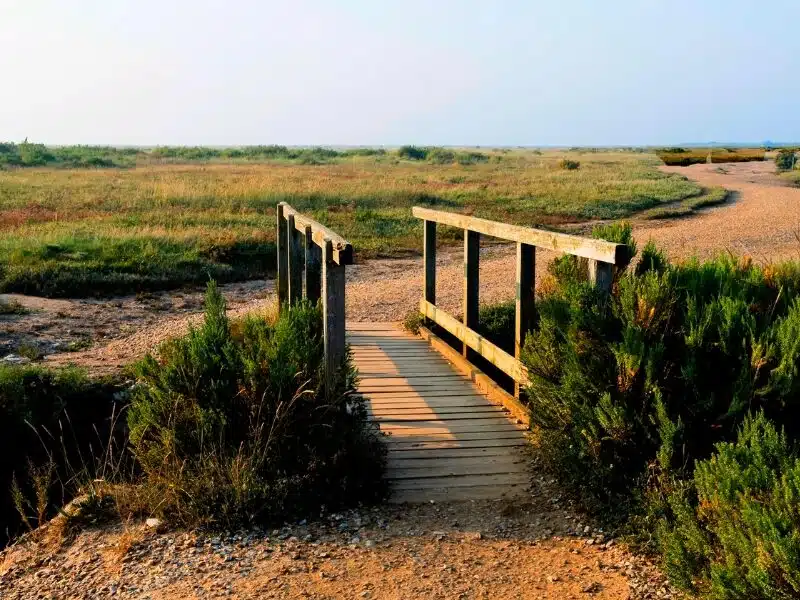 Brancaster Staithe Accommodation
Brancaster Staithe and Burnham Deepdale have a good selection of quirky Airbnb-style accommodation, pretty holiday cottages and holiday homes for rent, and has one of the UK's best campsites nearby. Whatever your accommodation style, we've rounded up the best options for your Norfolk holidays.
The White Horse Brancaster Staithe
The White Horse is a local village pub with rooms, featuring fifteen bedrooms of which eight are garden rooms, beautifully designed with their own terraces and sedum roofs which blends with the marshland beyond.
These rooms are ideal for walkers or cyclists, as they are just yards from the Norfolk Coastal Path, with direct access from the pub itself, making this one of the best Norfolk coast hotels.
The restaurant is passionate about seasonality and the provenance of the ingredients, and they aim to explore, experience and use every available local ingredient in their menus, with locally caught seafood like Brancaster mussels taking pride of place.
The Ship Brancaster
Just up the road in Brancaster, The Ship is a Norfolk boutique hotel and restaurant offering excellent dining and memorable stays. The hotel has nine beautiful sea-themed rooms, with unique touches and stylish decor. Some rooms can be re-configured into family-friendly rooms and all are dog friendly.
The restaurant and bar are popular with both locals and residents, offering excellent locally sourced food and carefully selected wines. They have an extensive Norfolk gin selection including their own Ship's Black Diamond Premium Gin which is hand distilled by Whatahoot Distillery along the coast in King's Lynn.
The Dial House
The Dial House at Brancaster Staithe harbour is a 17th century Grade II-listed traditional Norfolk brick and flint building with a varied history. It is now managed as a National Trust holiday rental, and is perfect for a large family gathering or celebration, as it sleeps 22 people!
Brancaster Staithe Holiday Cottages
There are lots of holiday cottages and Airbnb-style holiday rentals in and around Brancaster Staithe and Burnham Deepdale. From one bed cottages to huge converted barns, use VRBO to search for the best deals and find availability on Brancaster Staithe holiday accommodation.
Deepdale Camping & Rooms
A quiet and friendly Norfolk campsite, Deepdale Camping has been named as the most popular campsite in the UK!
This dog-friendly campsite in the village of Burnham Deepdale has 85 pitches suitable for tents, campervans, motorhomes & trailer tents, but no caravans due to a planning restriction. Set in six well-maintained grassy paddocks, the site is a haven of peace and quiet.
Camping facilities include 16a electric hook-up, chemical toilet disposal points, fully serviced hard-standing pitches, and underfloor heated toilet & shower blocks, together with lots of landscaping including hedging, trees and landscaping for the farm paddocks. There's also a laundry facility, free Wifi and fire pit hire.
If you're planning a self-catering holiday without a tent, Deepdale will supply you with a fully equipped and erected safari-style glamping tent on a large grass pitch, or check out their basic, but comfortable, private en-suite rooms.
RELATED POST: Norfolk Glamping – 15 of the Best Spots
Where to Eat in Brancaster Staithe
Alongside The White Horse and Ship Hotel, which all offer a full restaurant service to non-residents, there are lots of other great places to eat in and around Brancaster Staithe and Burnham Deepdale.
The Jolly Sailors
An award-winning Brancaster Staithe pub, the Jolly Sailors serves classic pub grub, curries and stone-baked pizzas, as well as Norfolk's finest ales from Woodforde's and Brancaster Brewery, in a family-friendly environment.
Deepdale Café
Deepdale Café at Dalegate Market in Burnham Deepdale are open every day from 8am to 4pm, and offers a full breakfast and lunch service, with homemade cakes and a cuppa as an afternoon treat.
The Crab Hut
Another Brancaster favourite, The Crab Hut perches on Harbour Way in Brancaster Staithe and serves freshly caught seafood like Cromer crab, crayfish, prawns and lobster in sub rolls, and cockles, whelks and Brancaster mussels in pots.
Have I missed your favourite Brancaster Staithe hotel, restaurant or activity from my list? Let me know in the comments so I can check it out and add it to this round-up!
Love it? Pin it!